There are so many wonderful kids' room trends to explore, from ultra modern motifs to charming, crafty creations. Today's featured whimsical items bridge the gap between the contemporary and the eclectic, beautifully enhancing modern and enchanting spaces alike. In fact, why does it have to be one or the other? Whether you're a fan of clean-lined style or you like a more fluid, dreamy look, you can create a space that is both modern and magical. Enjoy!
Dreamy Accent Walls
Who doesn't love a good accent wall?! If you're not sure whether you want to take the plunge and paint or wallpaper the whole space, don't fret. Start with one wall and make it special. We're loving the scallop design on this wall featured in a photo from The Land of Nod: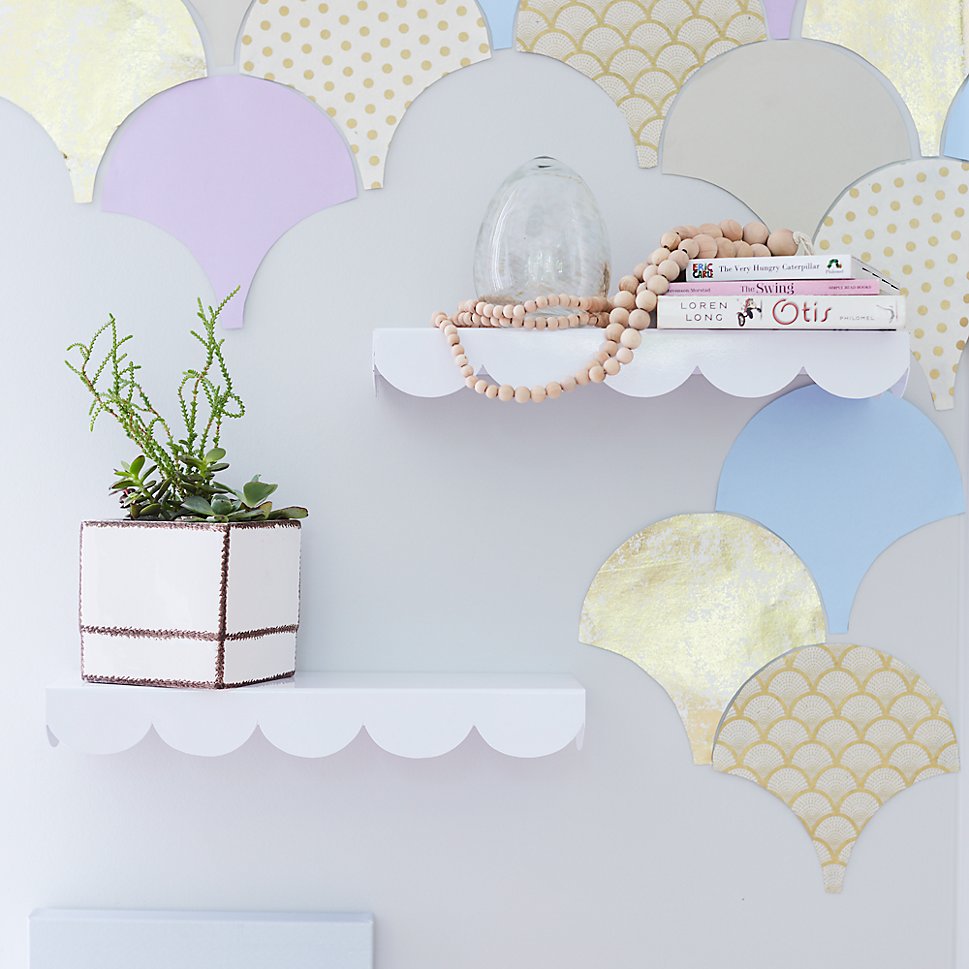 Speaking of scallops, how eye-catching is this Genevieve Gorder Brass Belly Removable Wallpaper? And the "removable" part of the equation makes it perfect for those who don't want to make any permanent changes…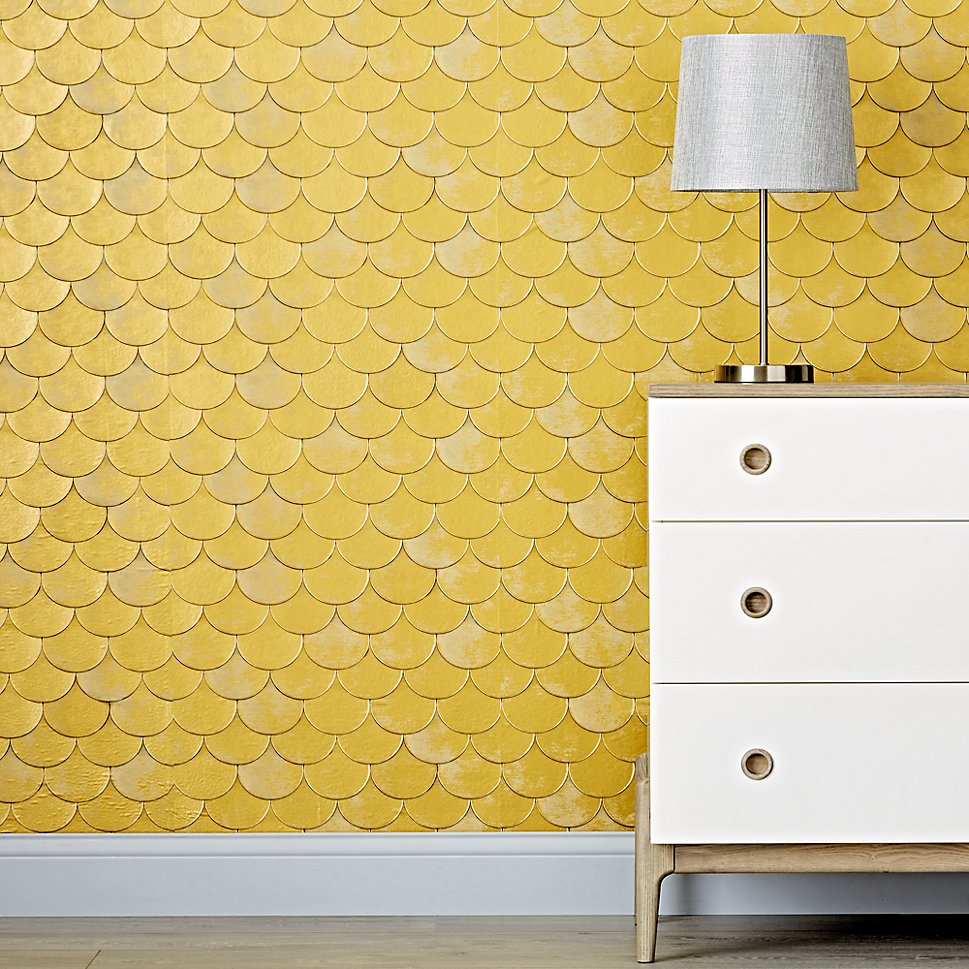 If you like what you see, you'll be delighted to discover that Genevieve Gorder has an entire collaborative line with The Land of Nod, which includes this striking Feather Flock Removable Wallpaper: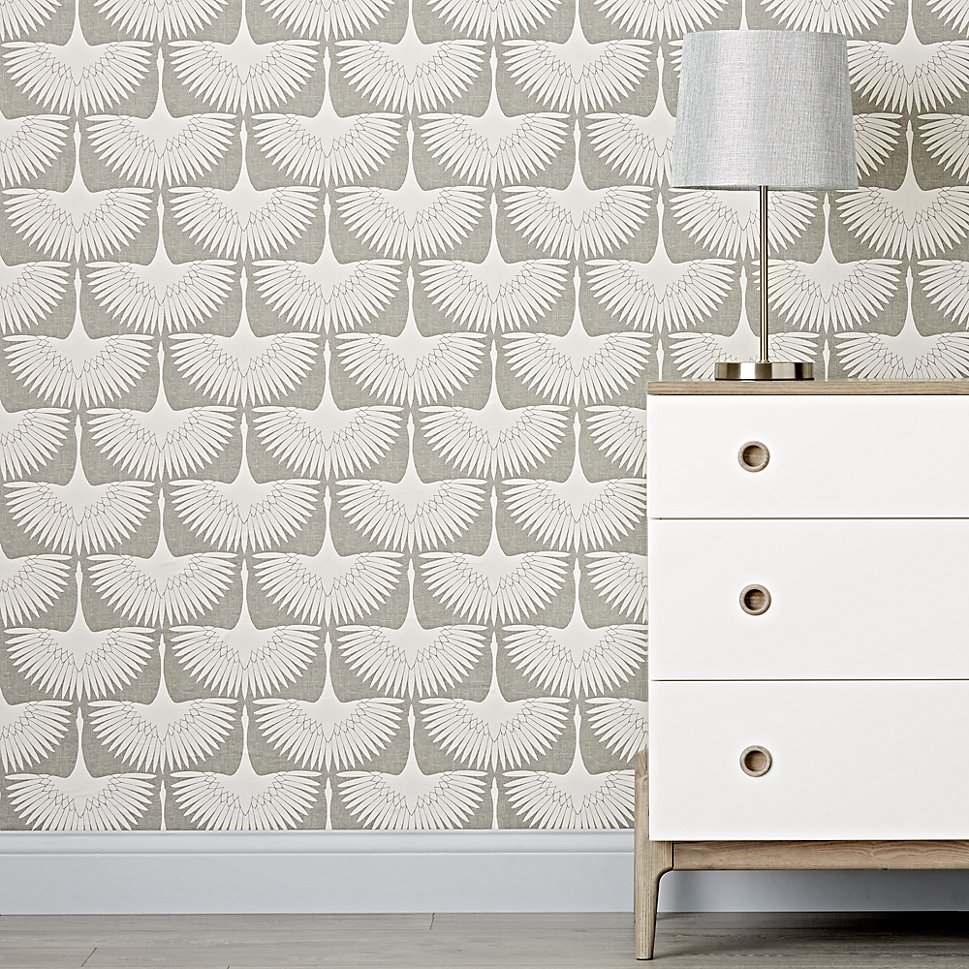 For a stunning nursery that has a gender-neutral vibe and a magical, cozy feel, check out Emily Henderson's nursery tour, which features wallpaper from Bellewood. A mural effect is the result: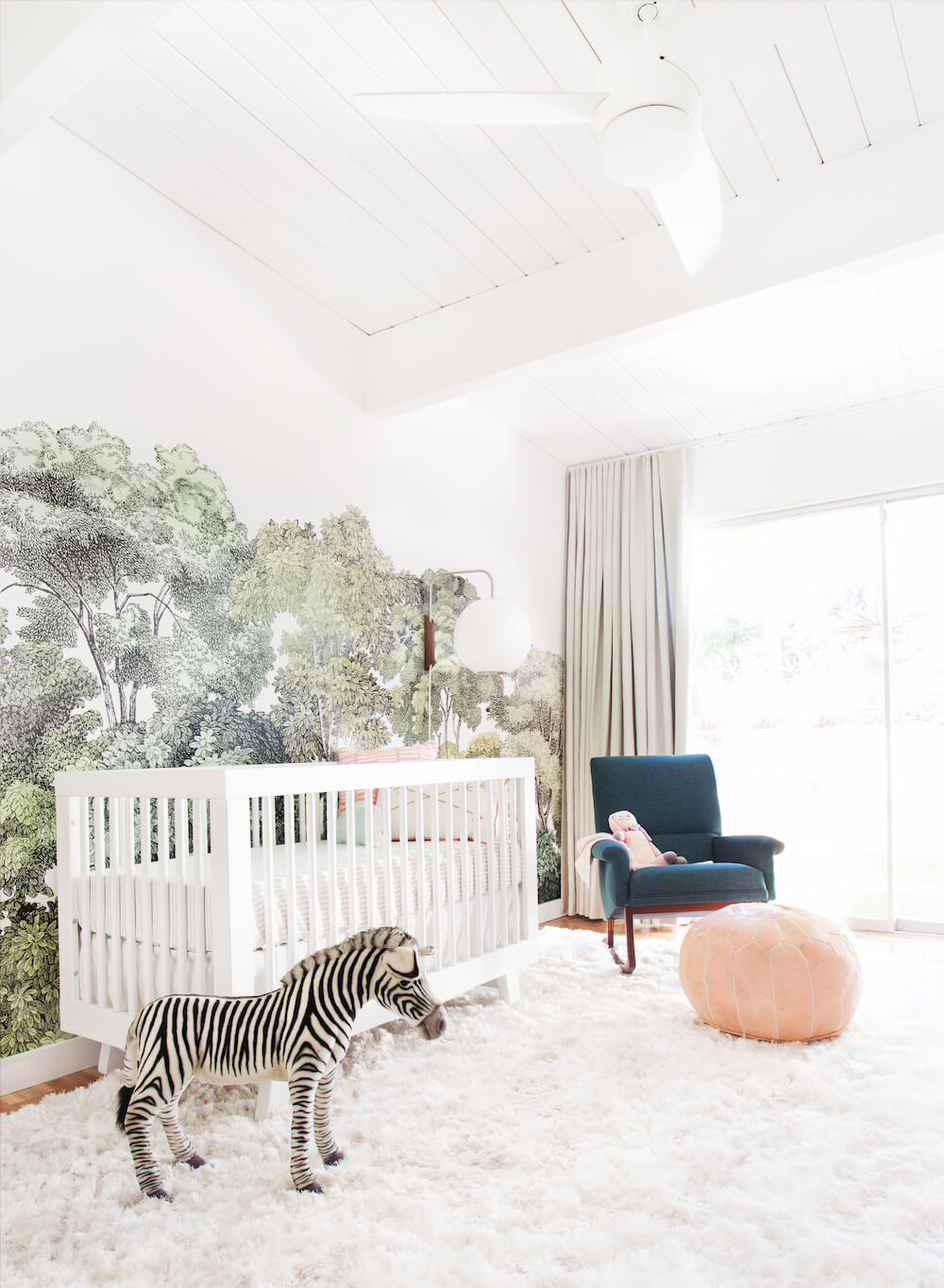 Oh how we adore a good nursery tour! When A Beautiful Mess featured beloved blogger Laura's Nursery Tour, we couldn't take our eyes off this DIY hand-painted wallpaper pattern (see below). Whether you limit it to one accent wall or spread the fabulousness throughout the nursery, start by learning more about the pattern here.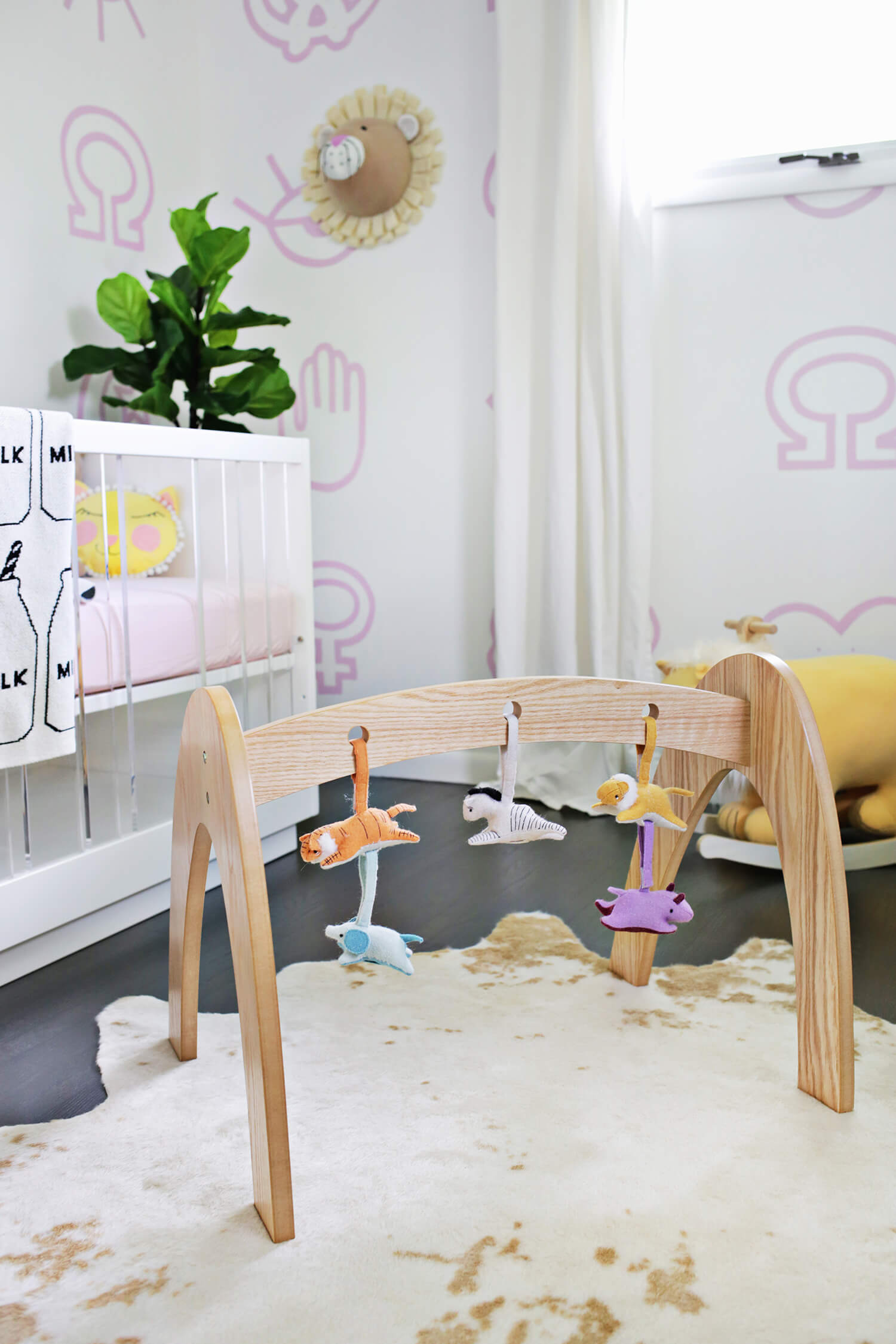 Before moving on from accent walls to garlands, let's check out one more amazing space, this time A Beautiful Mess blogger Elsie's Nursery Tour. You'll spot many items from The Land of Nod, as well as this lovely wallpaper by Lulie Wallace. Learn more here.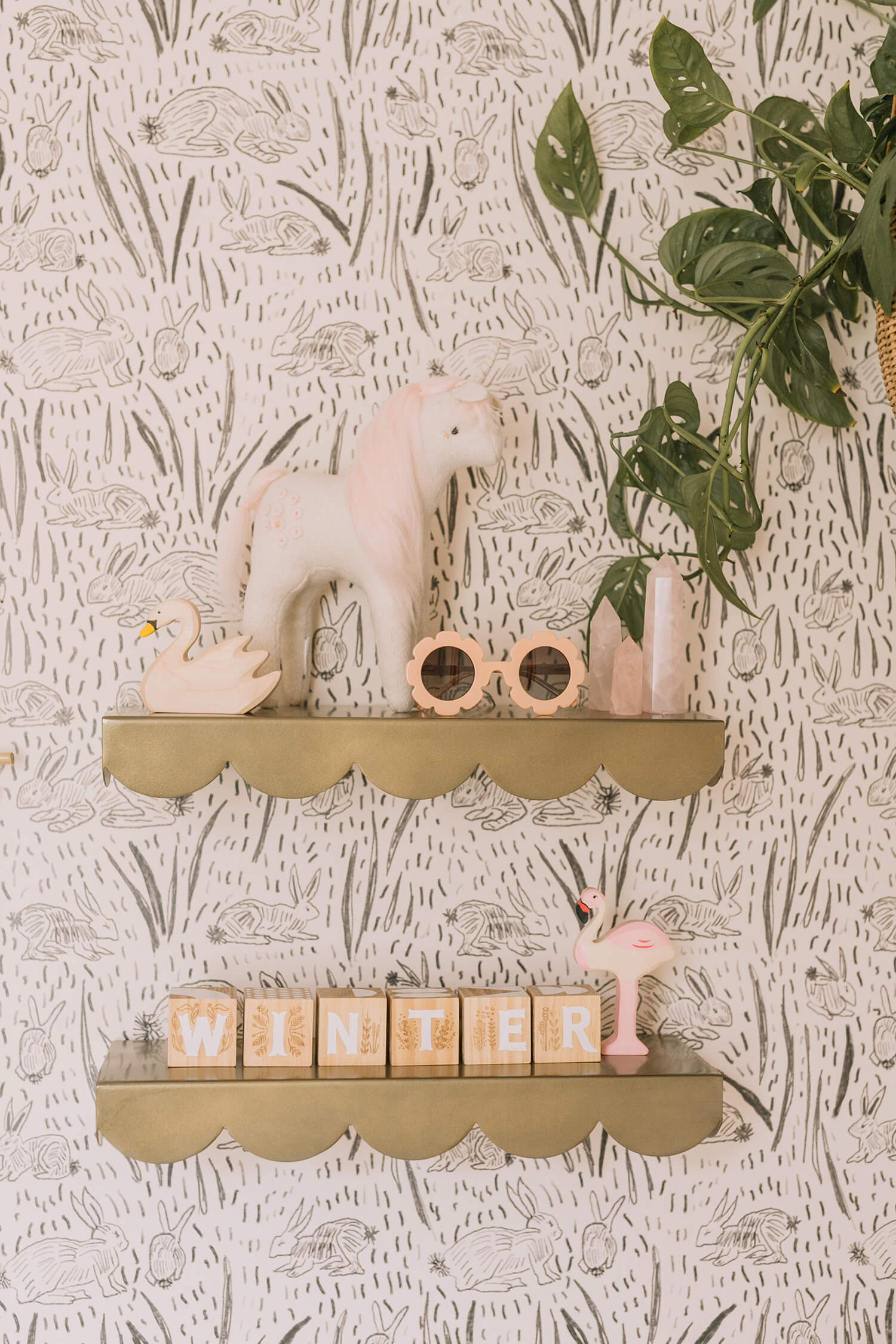 Enchanting Garlands
Get ready to add some enchantment as you deck the walls or ceiling with an unforgettable garland. This FAN-tastic Fabric Garland from The Land of Nod is undeniably festive, and a distinguished palette featuring hues such as blush and teal will work with a range of color schemes: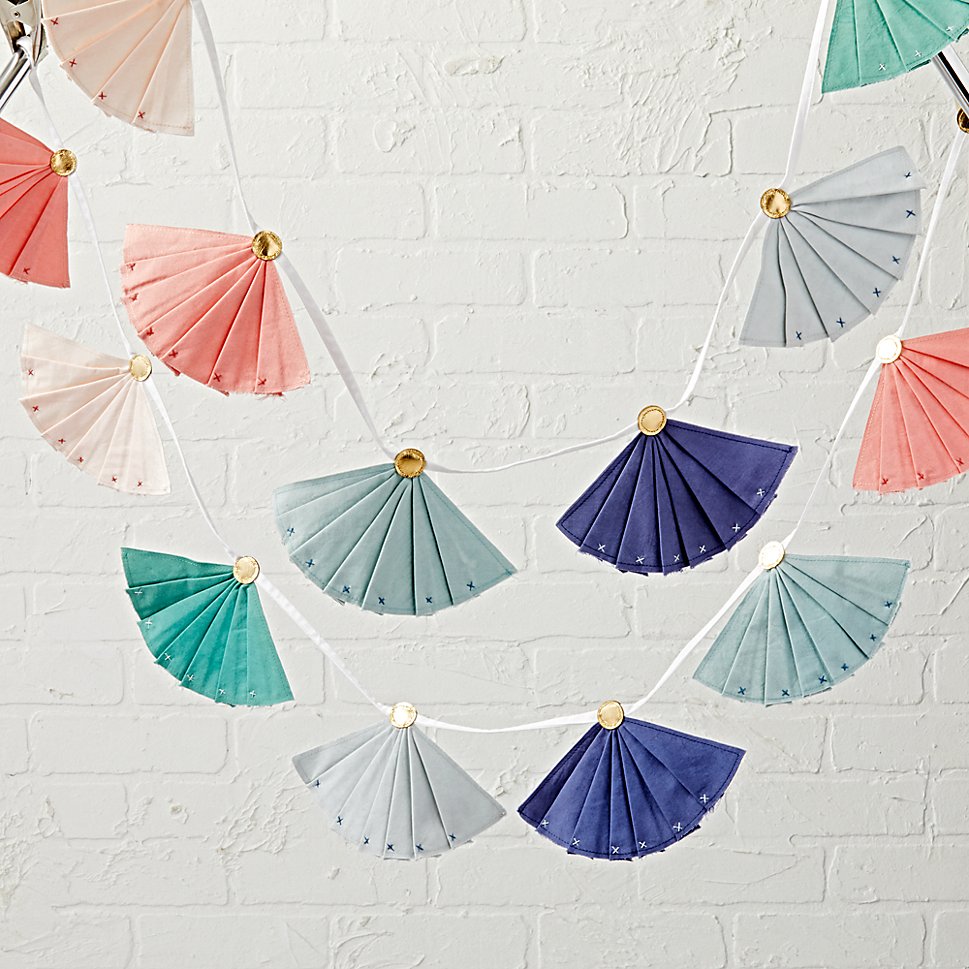 Also from The Land of Nod is this Soft Festival Garland, which features pom poms, tassels and wooden beads. Perfect for parties, yet stylish and substantial enough to display all year long!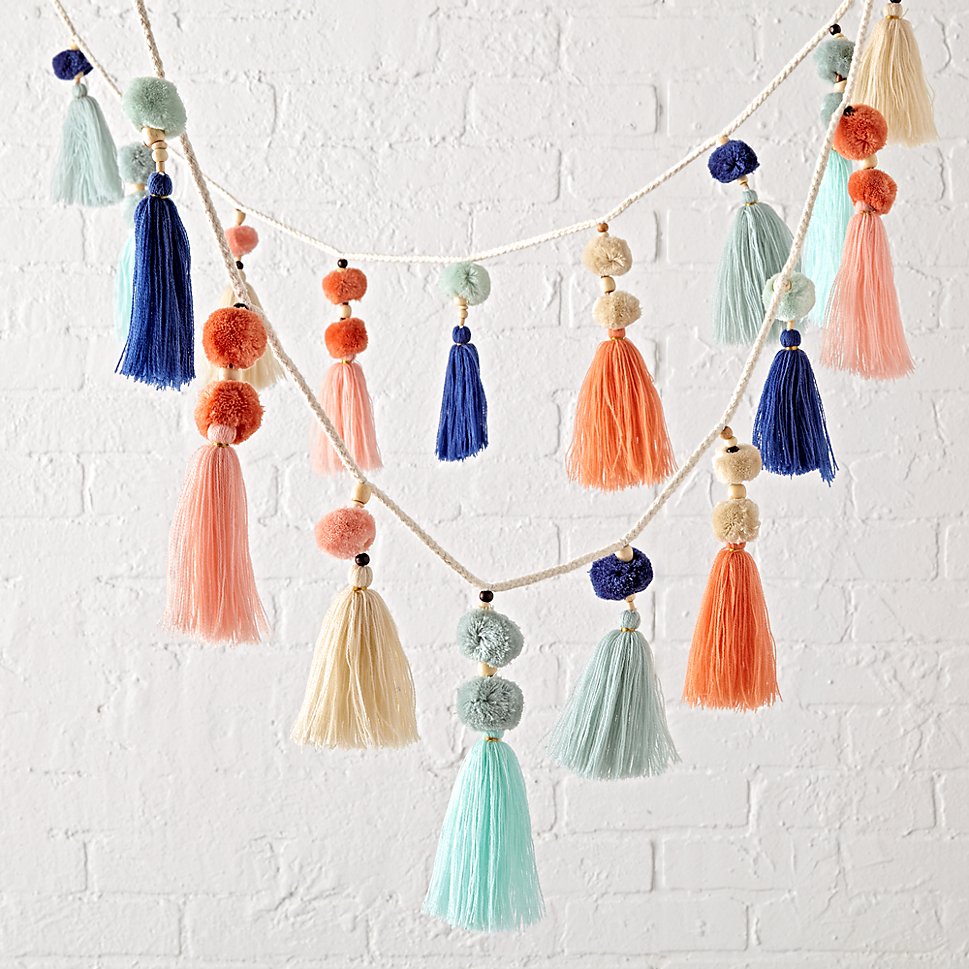 Remember a few years back, when everyone was decorating their nurseries with flag banners? Now that a slew of other garlands have made themselves known, the flags are becoming unique again rather than over-played! These Happy Flags from ferm LIVING (available in three different color palettes) are a great place to start. Acrylic knit is the material of choice: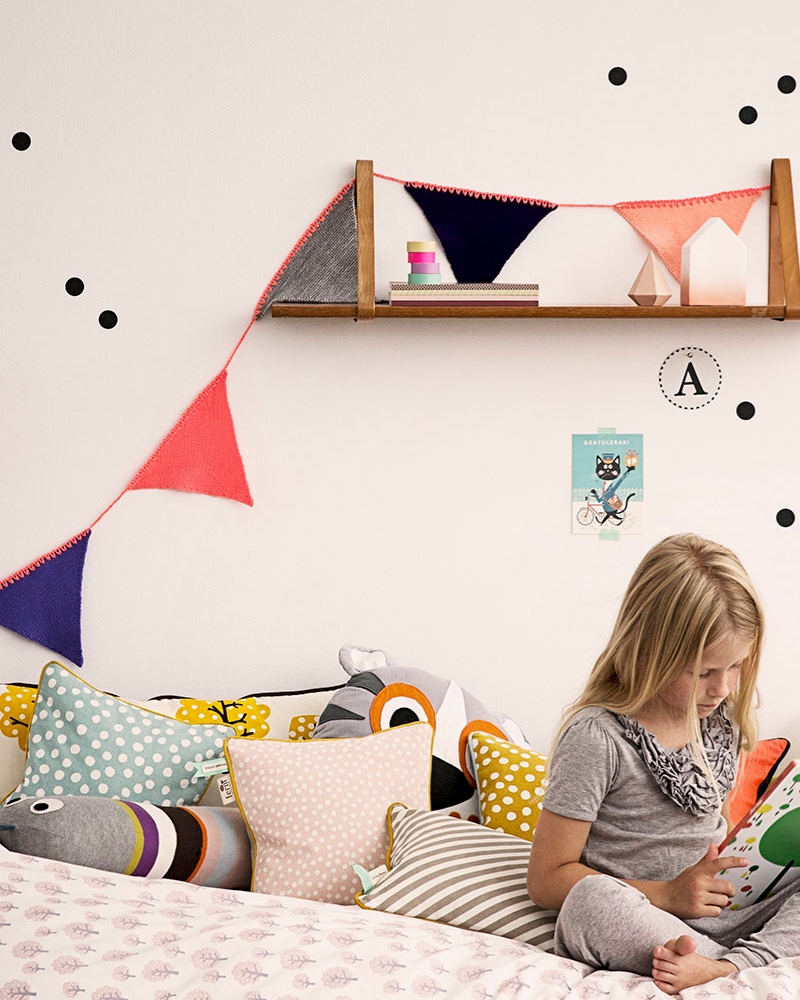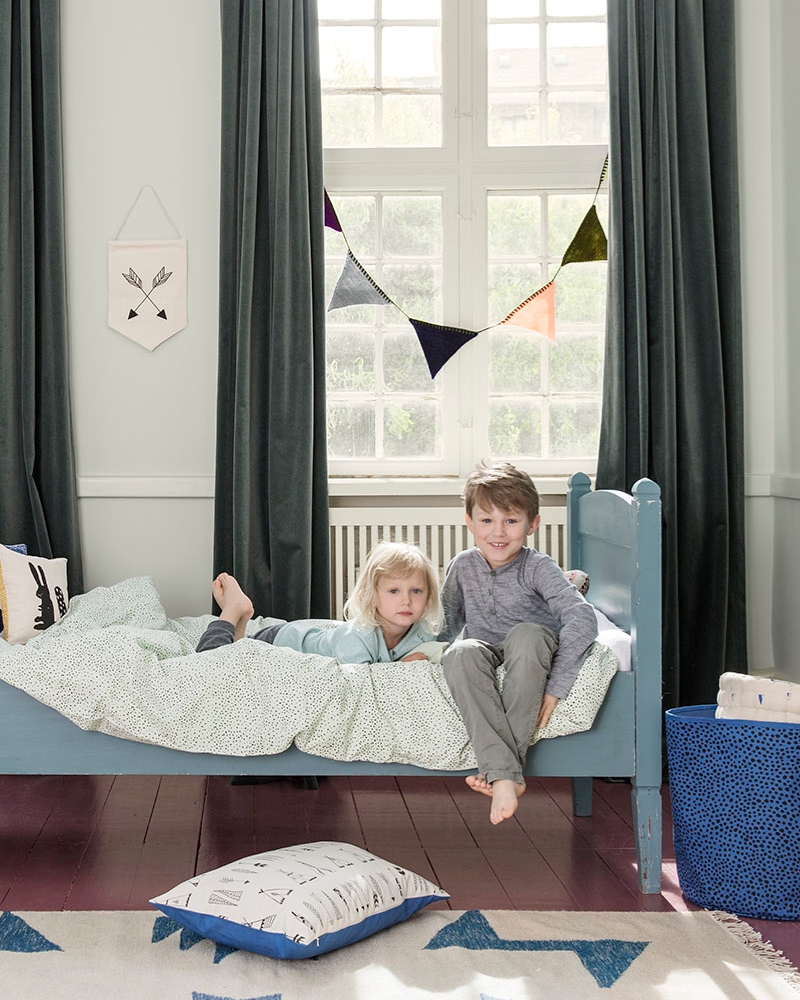 For more fabulous garland options, check out what the artisans of Etsy have been crafting!
Charming Creatures
We end today's post with a slew of creature features, from products donned in rabbit ears to stuffed animals and wall decor. Keep reading for a range of wild, irresistible finds, starting with this Wildlife Clip Lamp from The Land of Nod. Below we see the bunny option, but you can also purchase a lamp with fox ears. Oh, the choices!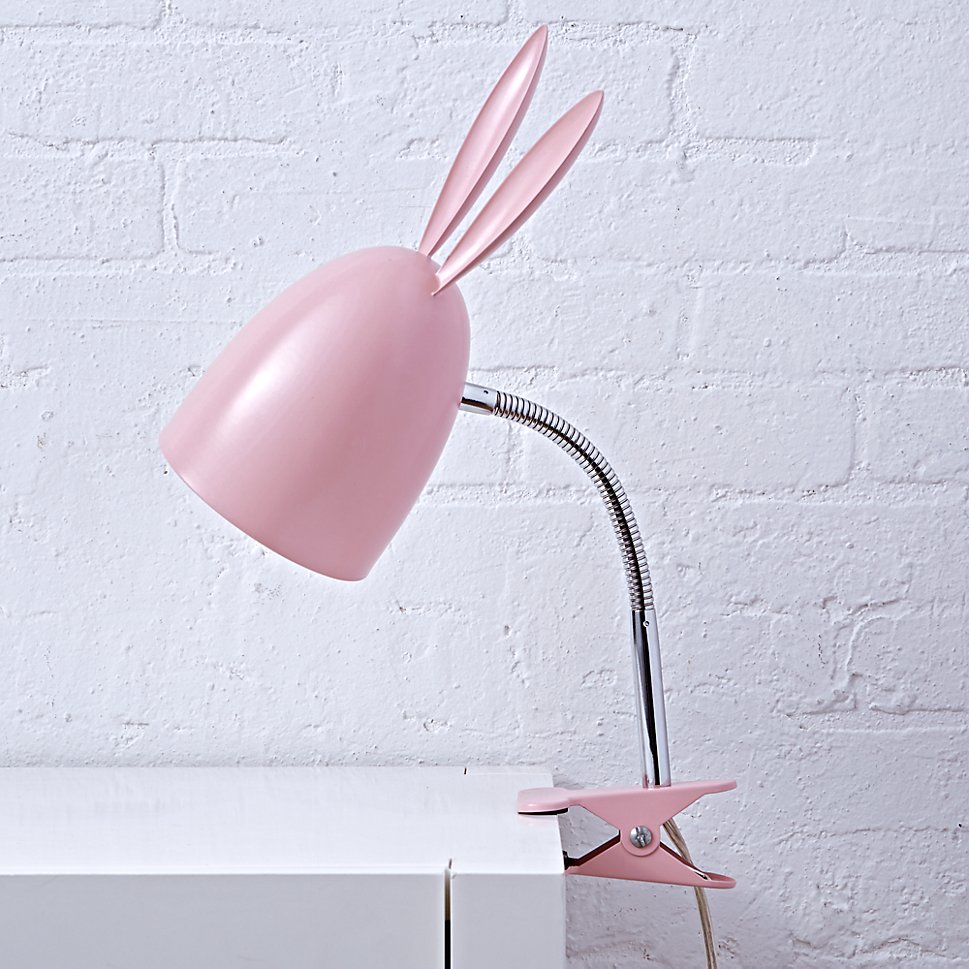 More rascally rabbit fun is available from ferm LIVING, thanks to this Rabbit Mirror featuring two leather ears: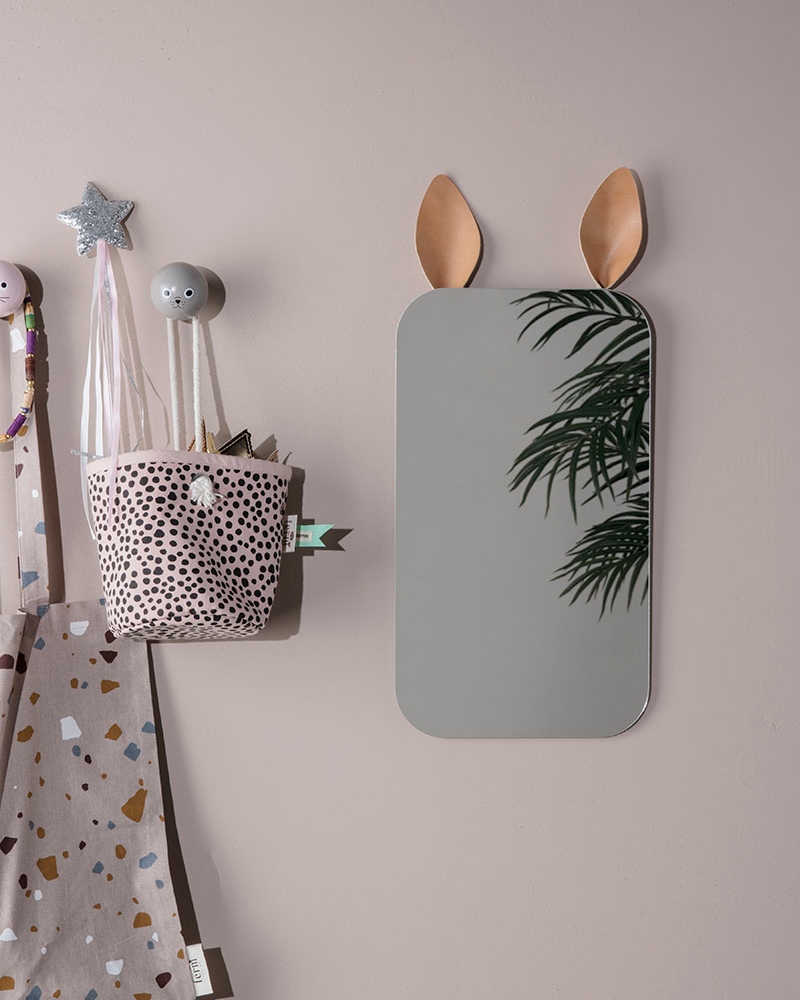 Bring some animal motifs to your bedding with selections like ferm LIVING's Swan Bedding in Rose, crafted from 100% organic GOTS cotton: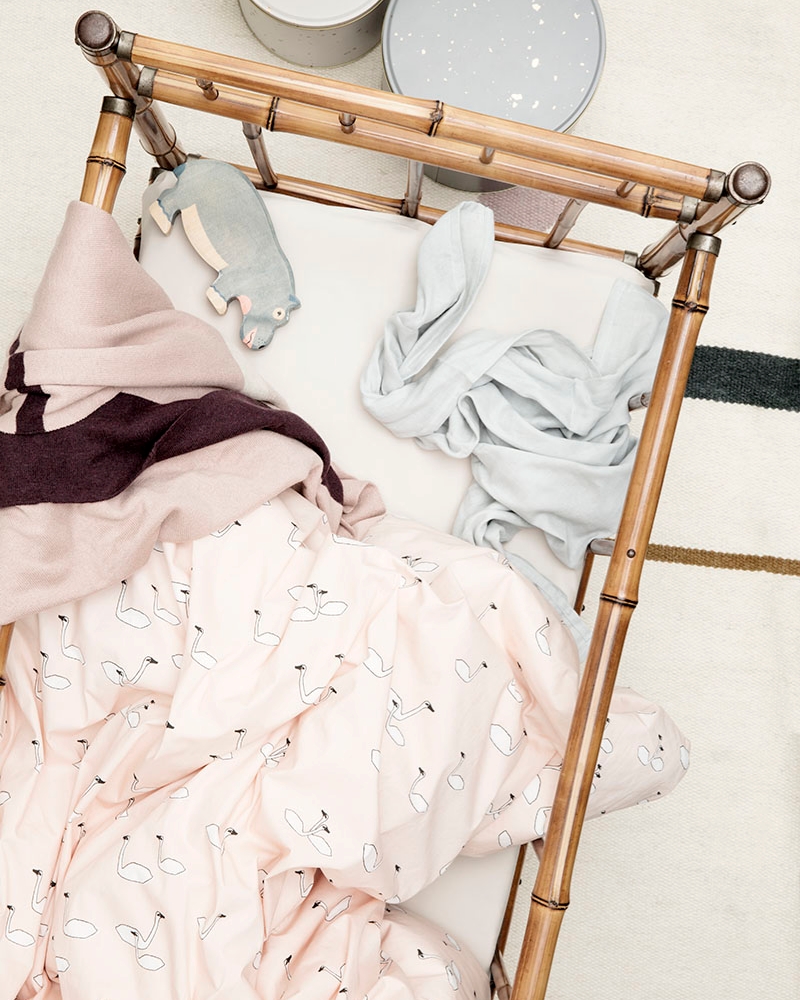 Unicorn motifs are alive and well when it comes to today's kids' decor. You can purchase these Mythical Edition Plush Unicorns as a set or buy them individually. Sabina Gibson designed these wool felt treasures:
Once again, we visit the delightful nursery of Emily Henderson's baby girl, which features Unicorn Head Wall Decor from Target. Tip: many more animal wall decor options await you (including sharks, zebras, bears and more), thanks to Target's wide selection!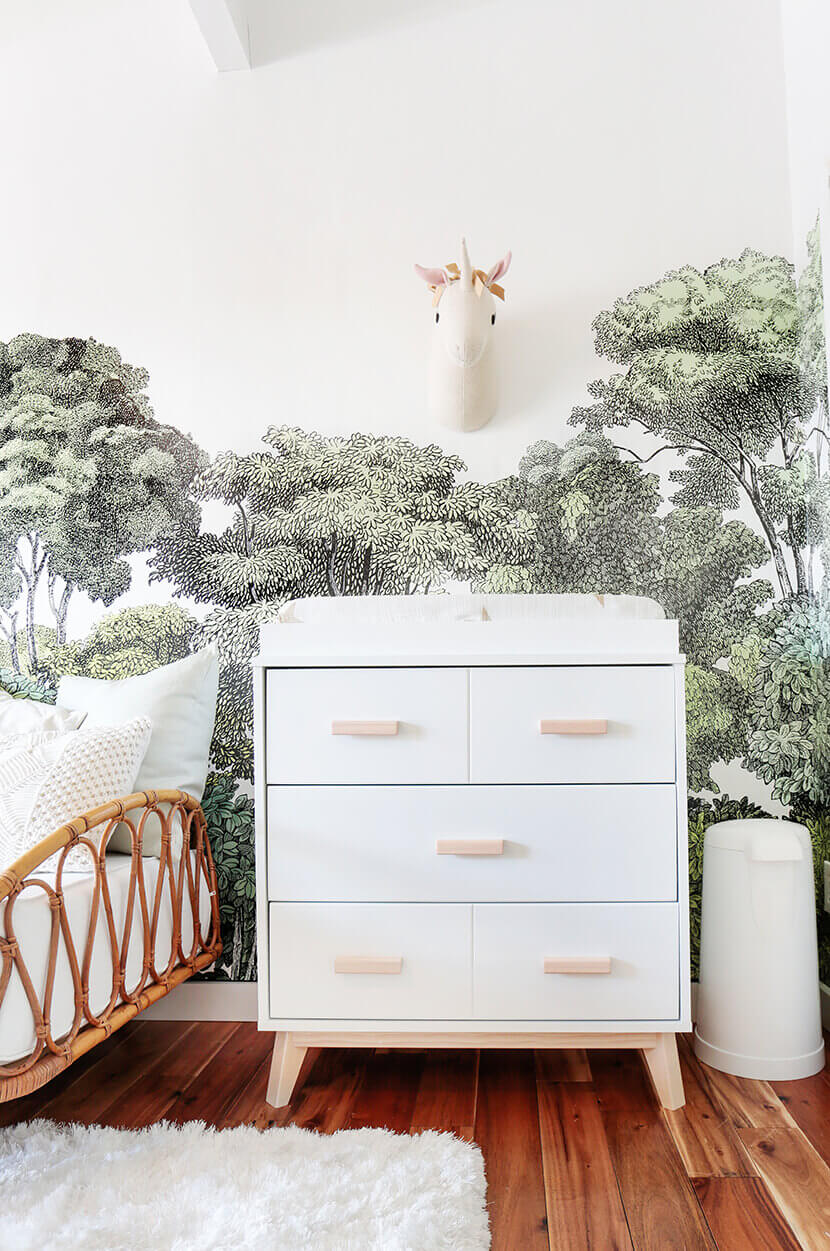 It's time to head under the sea with these mermaid dolls from The Little Market, featuring blue hair, pink hair and purple hair (not pictured). Each doll is hand-knit from soft cotton, and every purchase supports artisans at Naguska in Peru: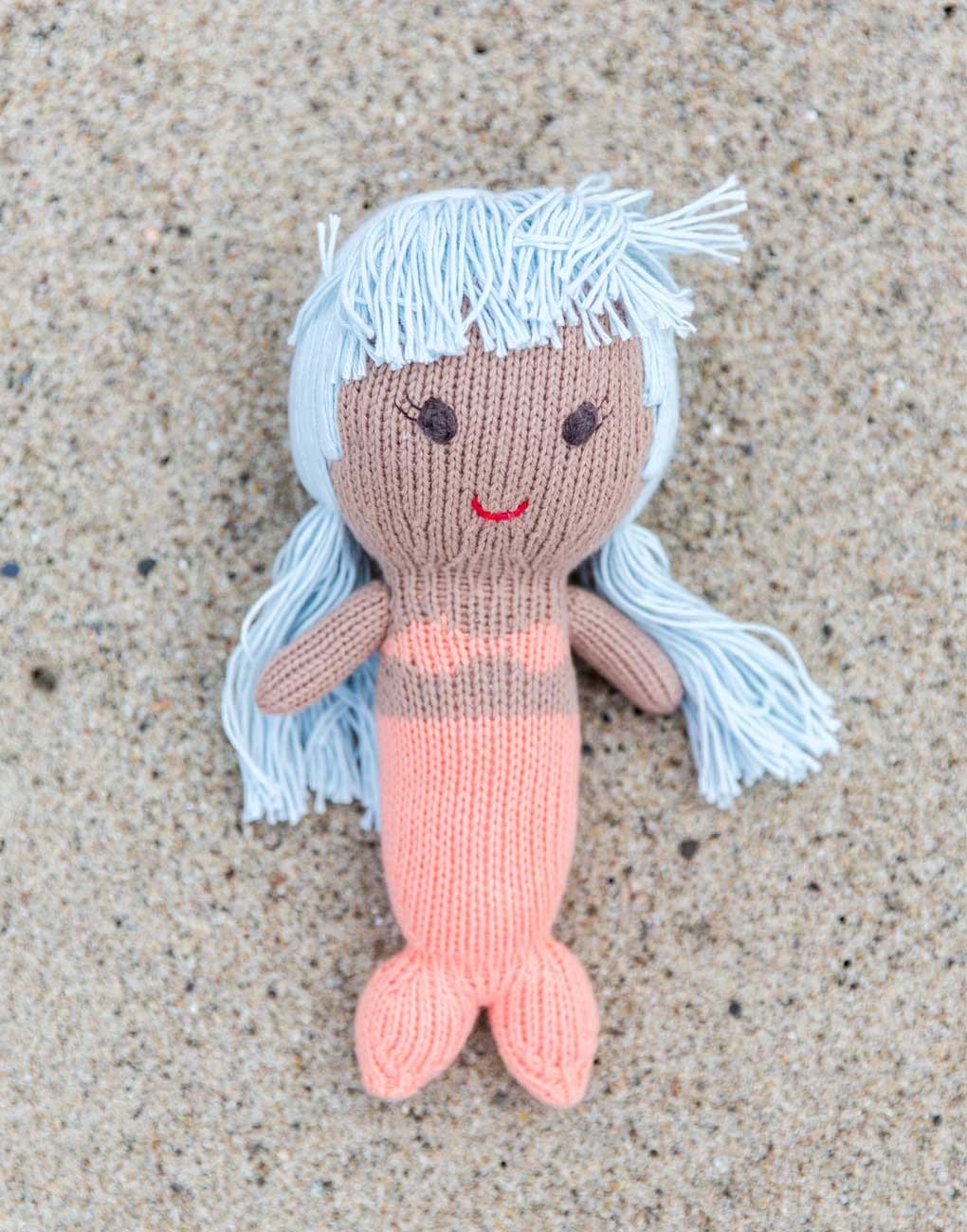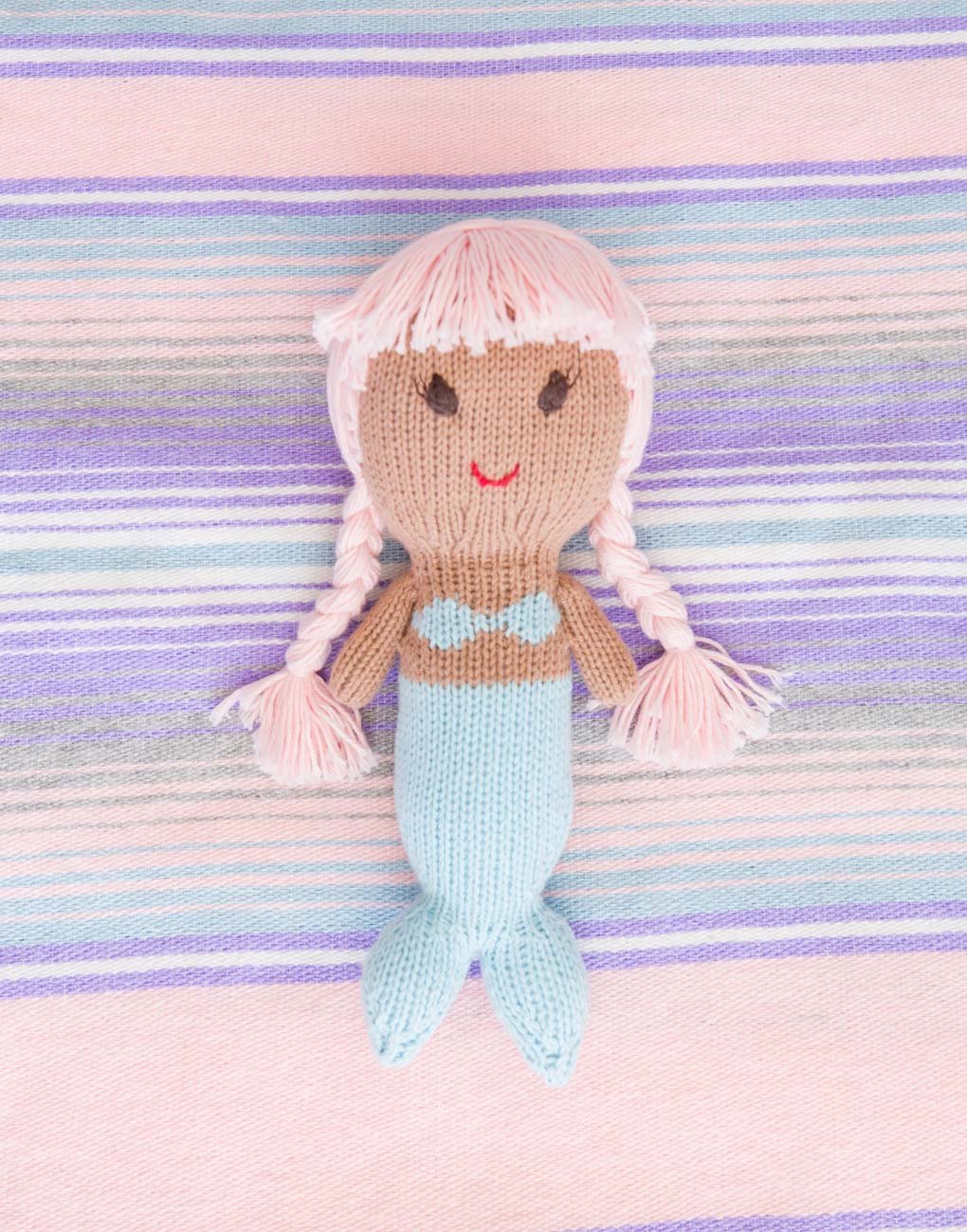 Sometimes the mere hint of undersea magic is all it takes! Mermaid-inspired decor is irresistible, as shown below. Check out the Scallop Throw Pillow from The Land of Nod, pictured with the colorful, geometric Mermaid Mixer Sham: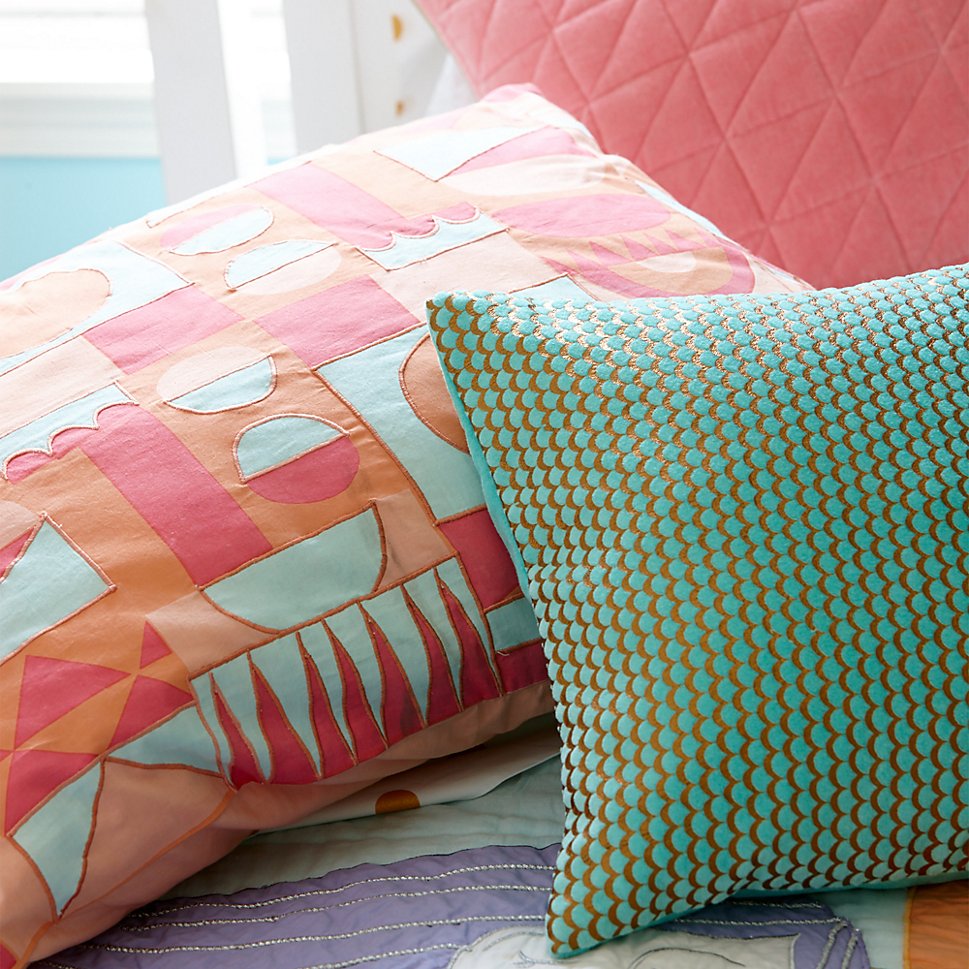 Last but not least, celebrate the wonder of interesting creatures in colorful fashion with this Mythical Creatures Banner, a digital print by Paul Davis, available for purchase at The Land of Nod: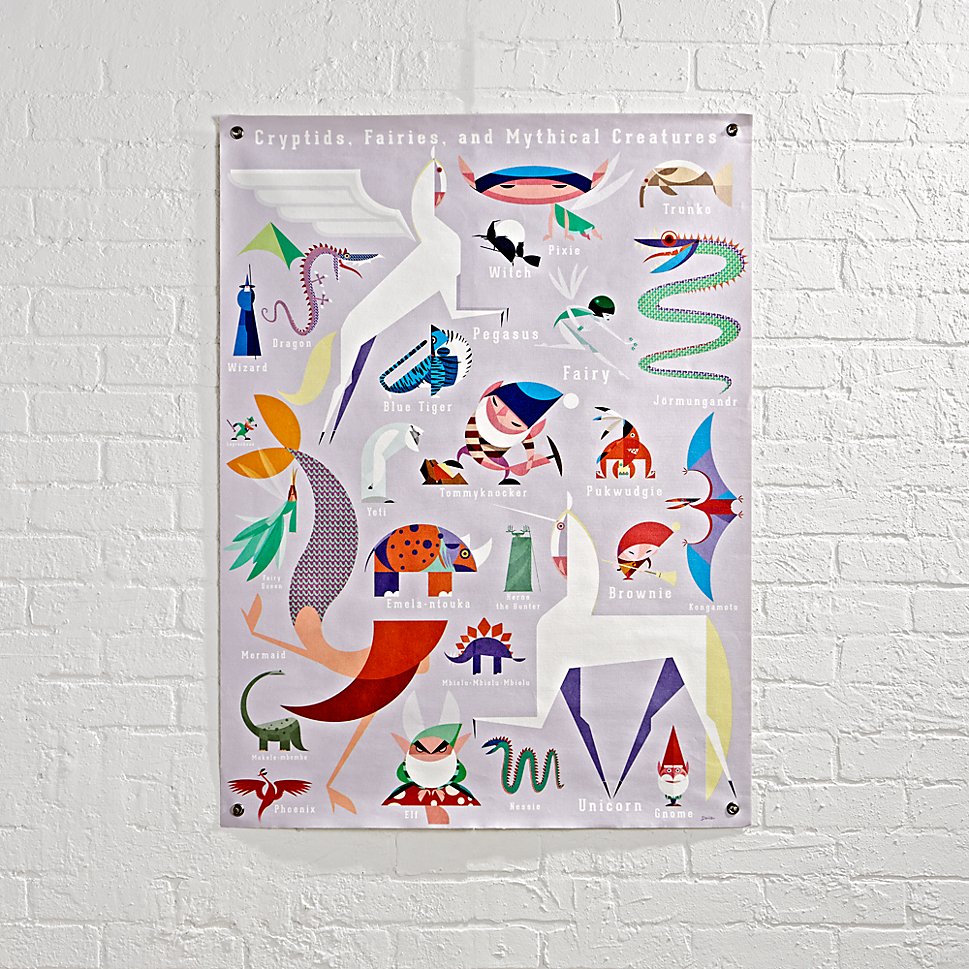 Happy decorating to you and your little ones!