Wedding decorations have come a long way, even in the short span of the last decade. Thanks to the rise of social media and access to platforms such as Pinterest and Instagram, artistic creations are accessible to everyone, especially if you utilize marketplaces such as Etsy, or you're particularly crafty yourself! Wedding decor trends have shifted away from perfect vignettes, instead reflecting a move toward the artistically bold.
Tidy, manicured florals will never go out of style, but big statements utilizing dried foliage such as pampas grass are a fresh take on floral style, adding drama and height. Not to mention, a magical element can be incorporated with celestial motifs involving moons and stars. Geometric forms bring a dash of abstraction, while a touch of blush can be applied to any wedding style, from the most traditional to the most modern. The bottom line: embrace the imperfect and unleash your creativity. It's both liberating and perfectly on trend! Keep reading for a collection of our favorite wedding decor possibilities… [pampas grass chandelier below by Flora Design Co., featured at Ruffled, photo by Leigh Miller Photography]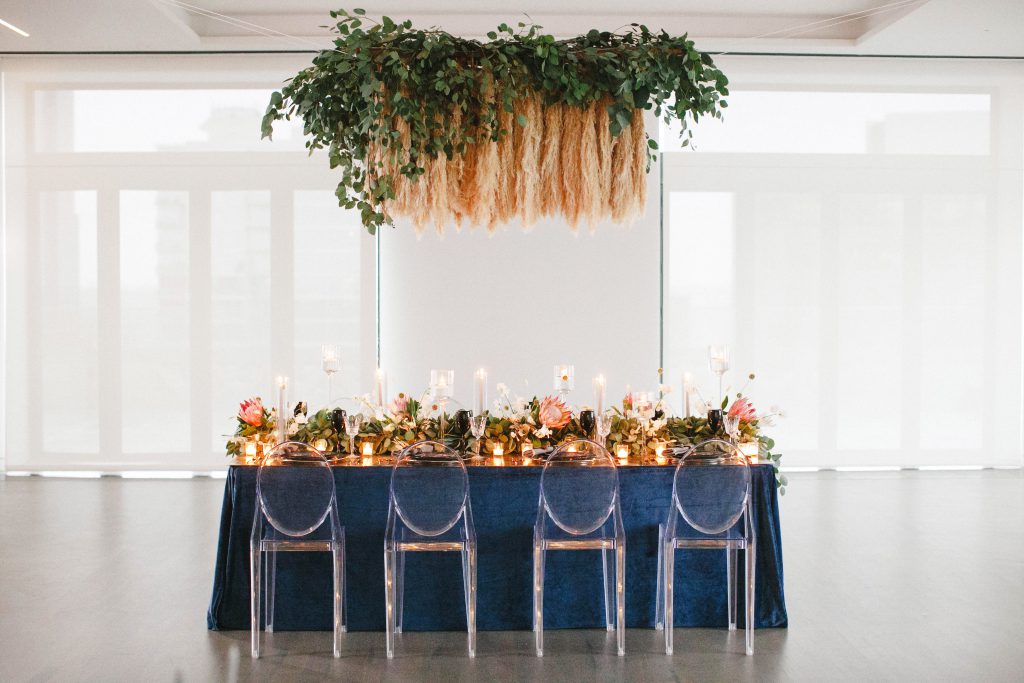 Grasses and Dried Flowers
While a decade ago, branches may have been one of the best ways to achieve height when it came to wedding florals, dried grasses are now making a whole new level of volume possible. Leading the pack is pampas grass, which was popular in the 1970s. Available in fresh cut and dried varieties, the dried version is more fragile, yet that doesn't stop many sellers from offering the option to purchase it online. Today's wedding florists adore pampas grass, as it's boldly used in backdrops and centerpieces, and its wild, feather-like appearance adds a big dash of romance and whimsy. Below we see a stunning backdrop by Liezl Kotze Floral Art, featured at Green Wedding Shoes. [photo by Julia Winkler]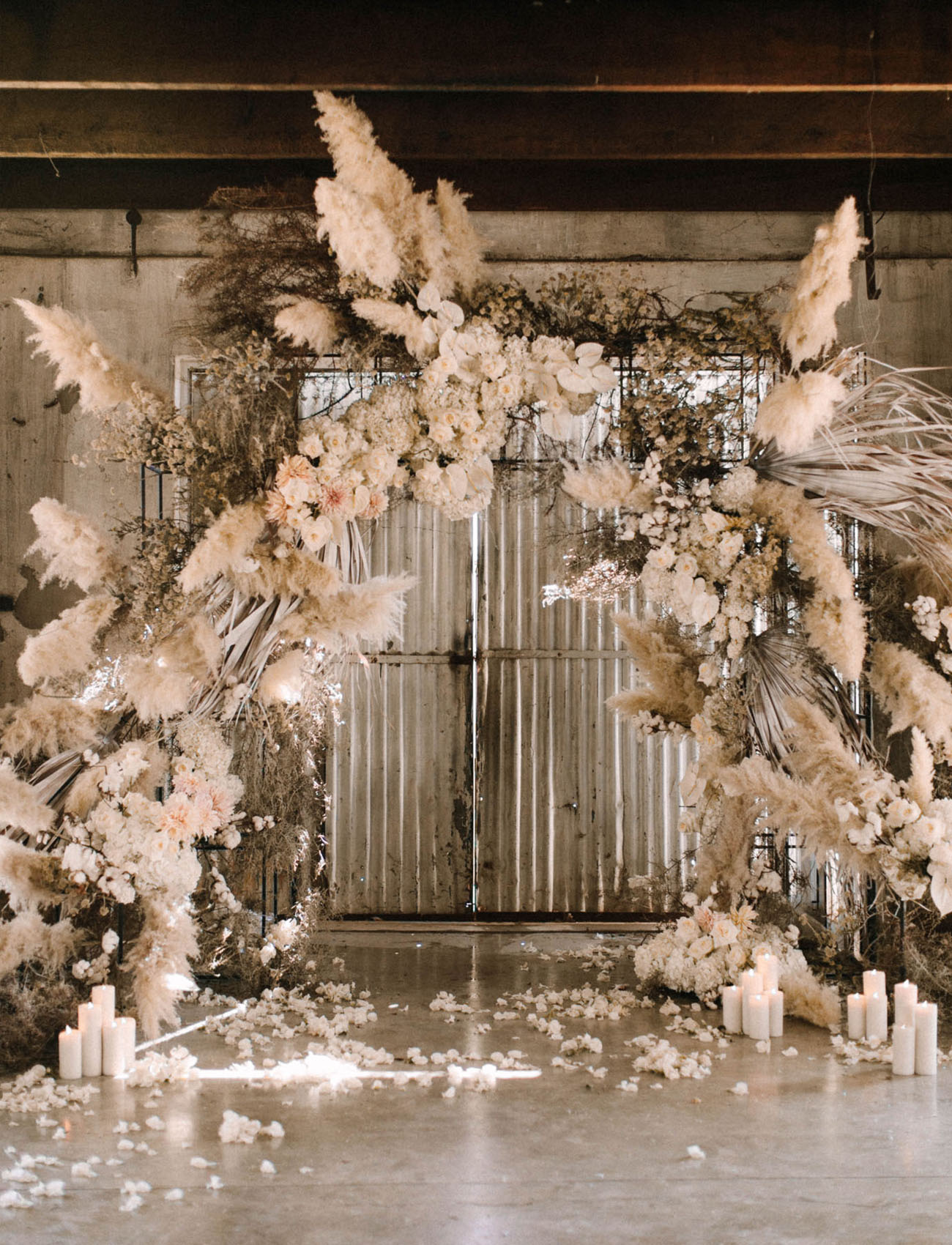 Pampas grass can easily be mixed with other florals for a verdant look. Note its ability to add volume, thanks to its creamy wisps that always seem to convey a sense of motion. The next image features a beautiful floral installation by Windflower Design Co. [photo by Shanell Photography]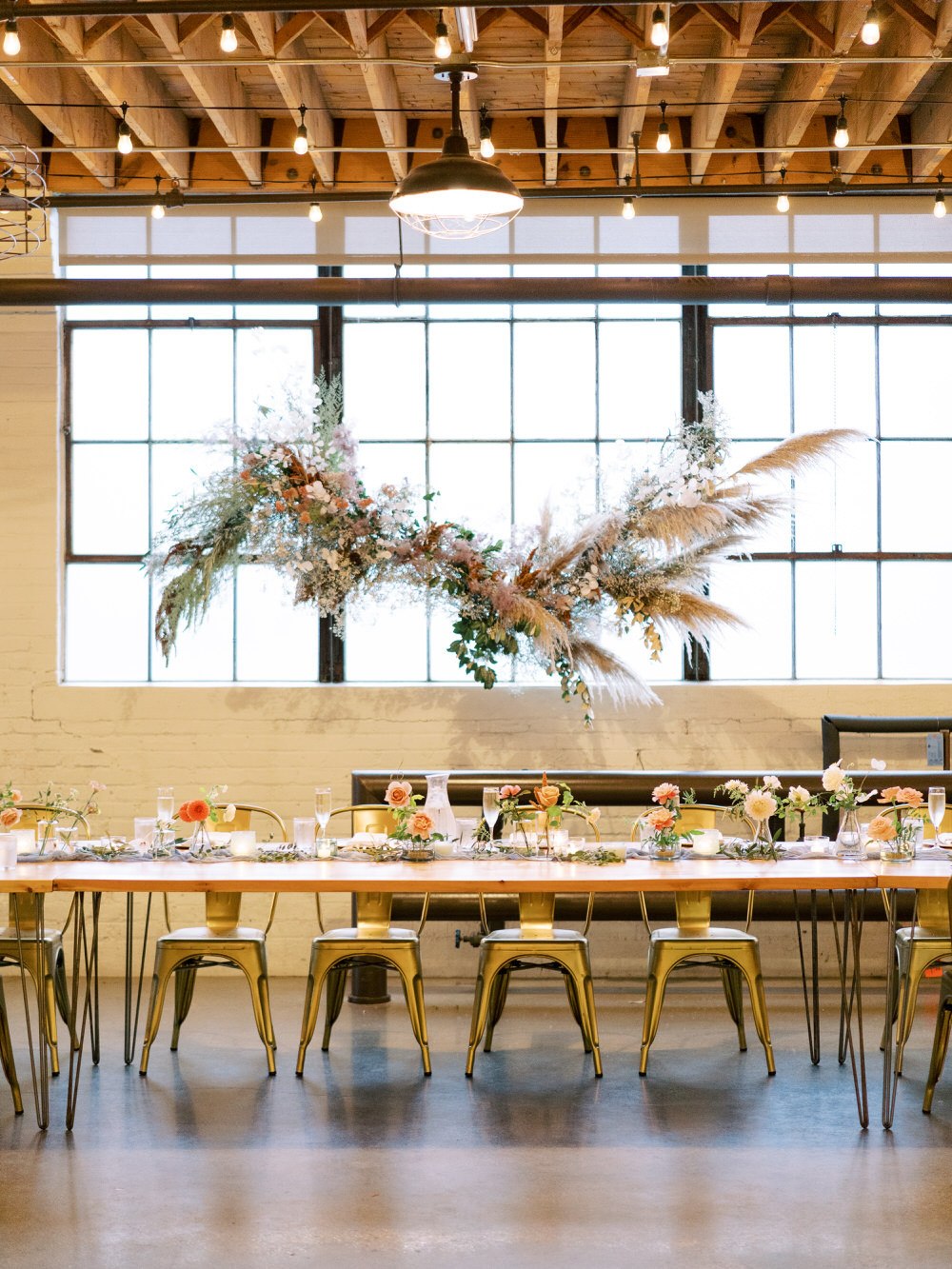 Pampas grass can be ordered in a range of colors, such as this pink variety from Panapasclub. Laguras and fan palms are other popular dried floral options for creating interesting bouquets.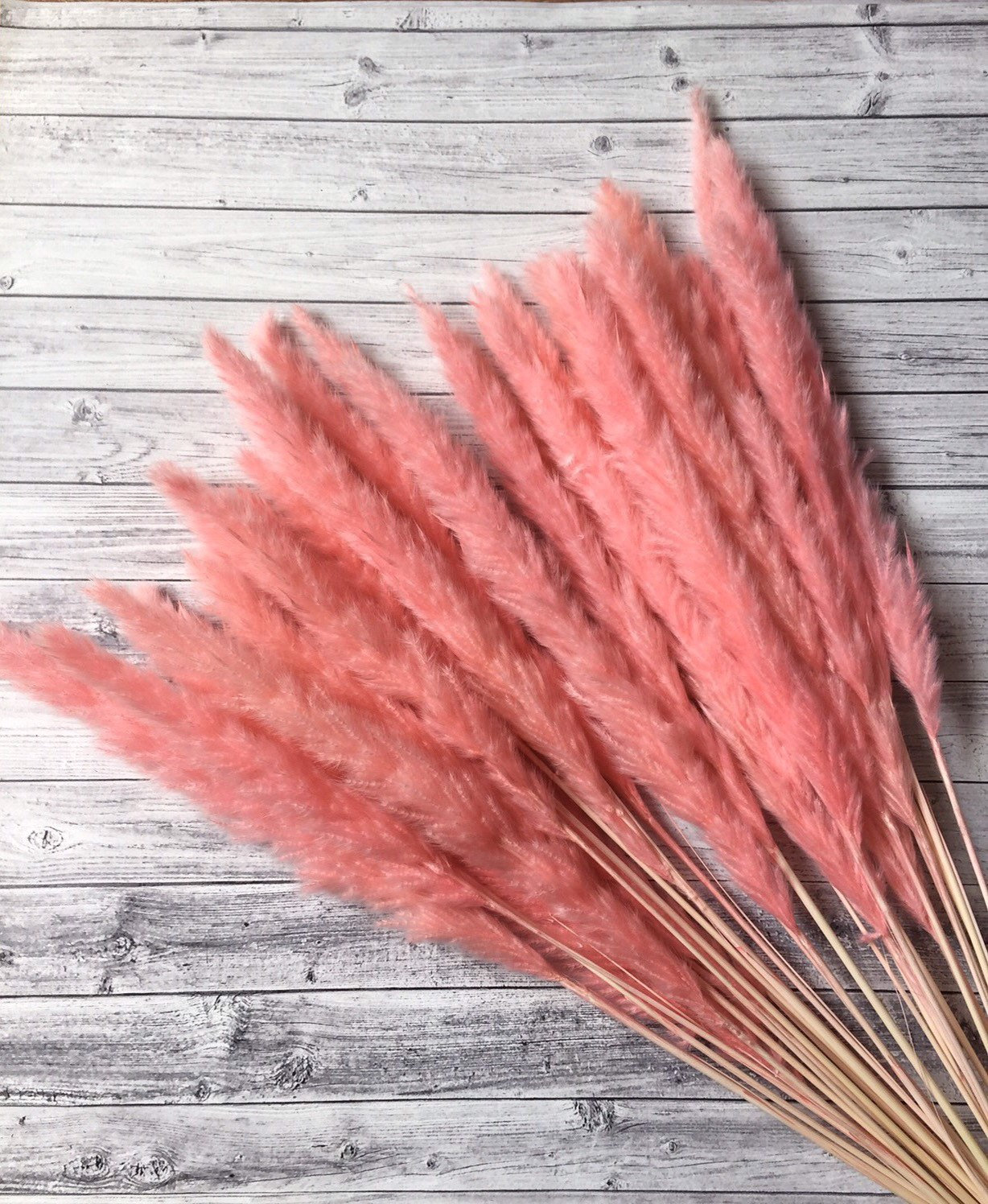 Speaking of fan palms, for a foliage solution that's more DIY than dried, check out this amazing paper palm leaf tutorial from Ruffled. Kraft paper is the ingredient of choice. When mixed in with other floral selections, the results are surprisingly lifelike. And there's nothing like being able to keep a portion of your wedding flowers forever!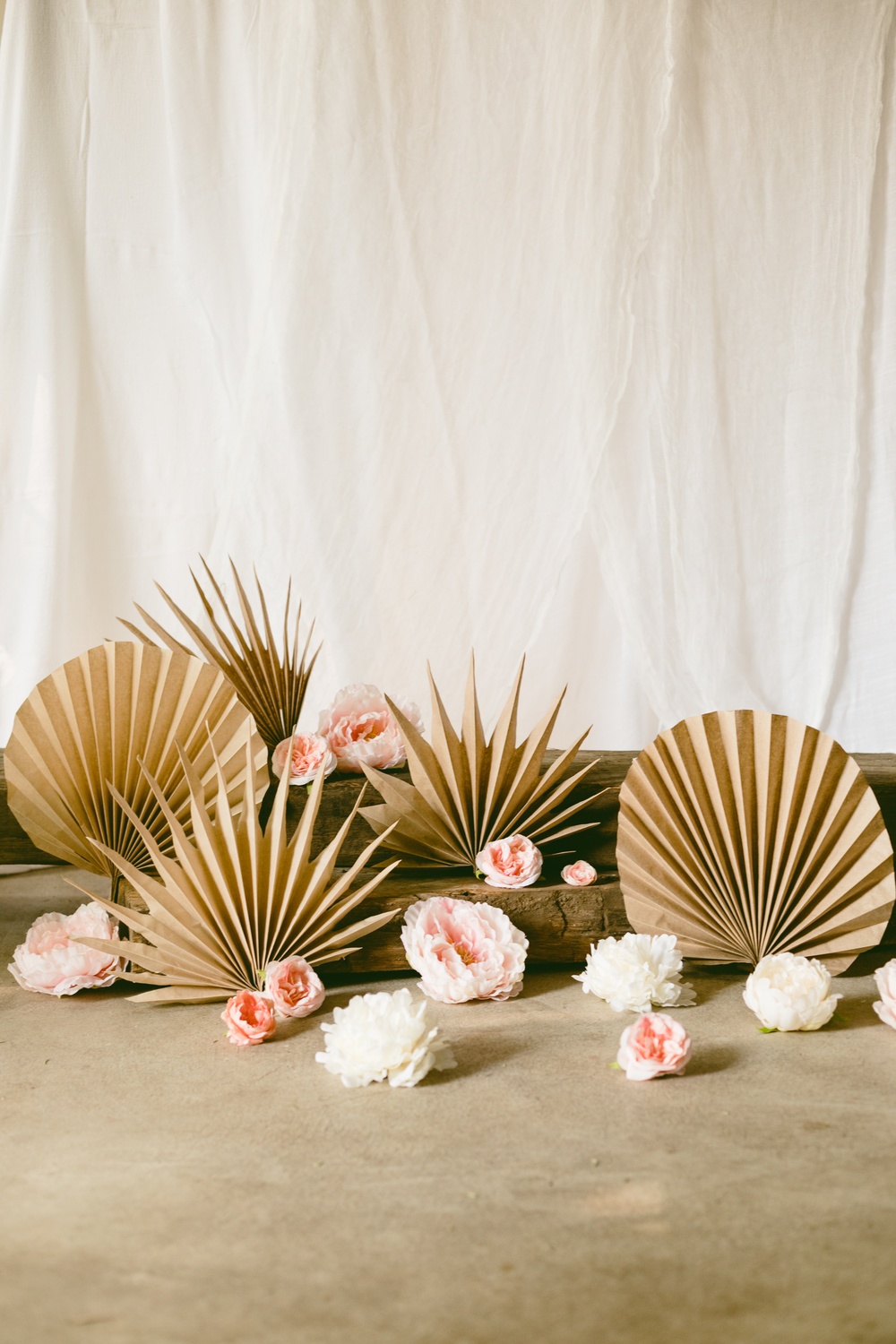 Celestial Style
There are many ways to achieve a bit of magic on your wedding day. Celestial motifs add a mystical element to the event, thanks to moons and stars, often mixed in with crystals and other sparkly elements. Below we see celestial brass moon hoops from Etsy shop Auld Moon. The beads and eucalyptus are not included in the purchase, but don't they give a wonderful sense of what's possible when the (night) sky is the limit?!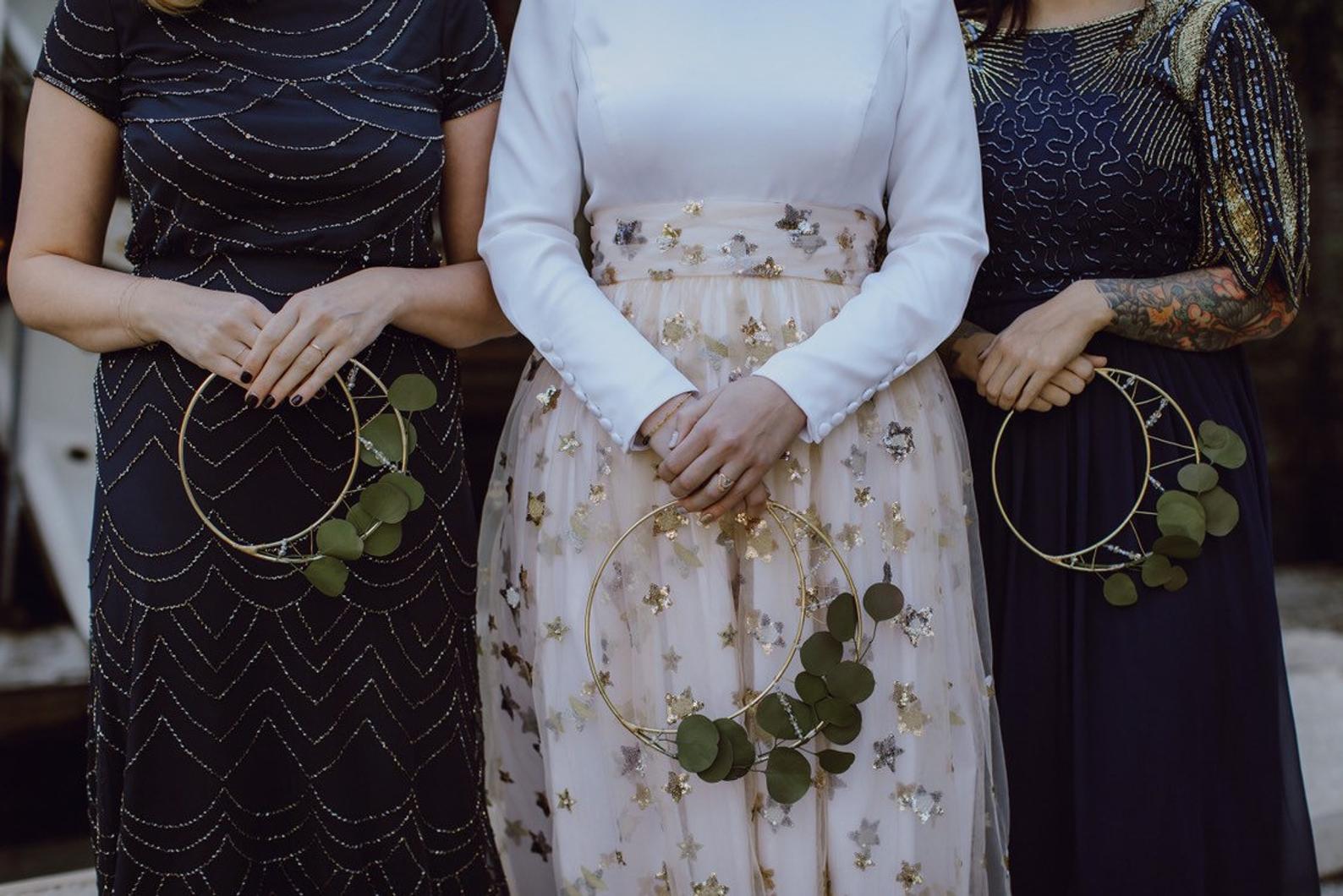 Garlands are an amazing way to add sparkle and festivity, and this Celestial Stars and Moons Banner from Enfete features two gold foil garlands, each seven feet long. Perfect for an engagement party, wedding shower, or even a wedding, this set of garlands can be re-used for future fetes if you don't want the magic to end after your wedding day: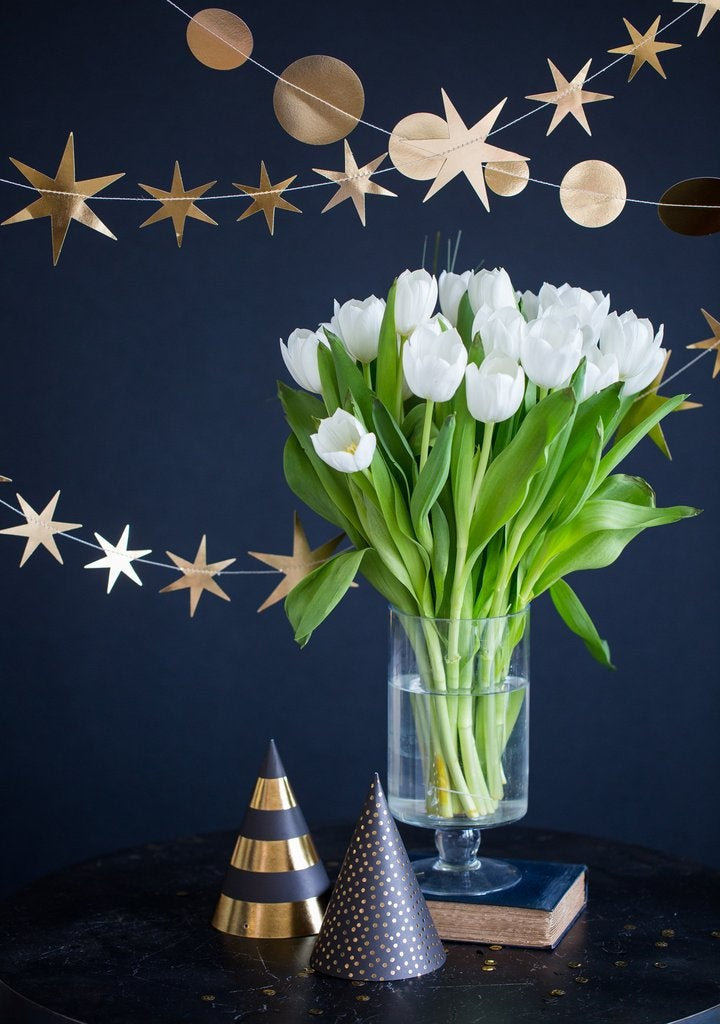 With these rings, I thee wed. And wouldn't it be something if the rings were presented in a heavenly receptacle, like Etsy shop It Looks Like Design's Starry Night Ring Bearer Bowl?! Rest assured a toddler walking down the aisle won't break this beautifully designed piece, as it's crafted from PVC, then hand-painted with blue and white water-based paint. Transparent glass beads add gorgeous detailing:
Moon charms by The Great Lakes Goods serve as the perfect wedding favors, as they are individual works of art that also double as decor for a celestial wedding. Even the simplest of place settings gets a heavenly touch! [photo by Jenny Smith & Co., featured at Green Wedding Shoes]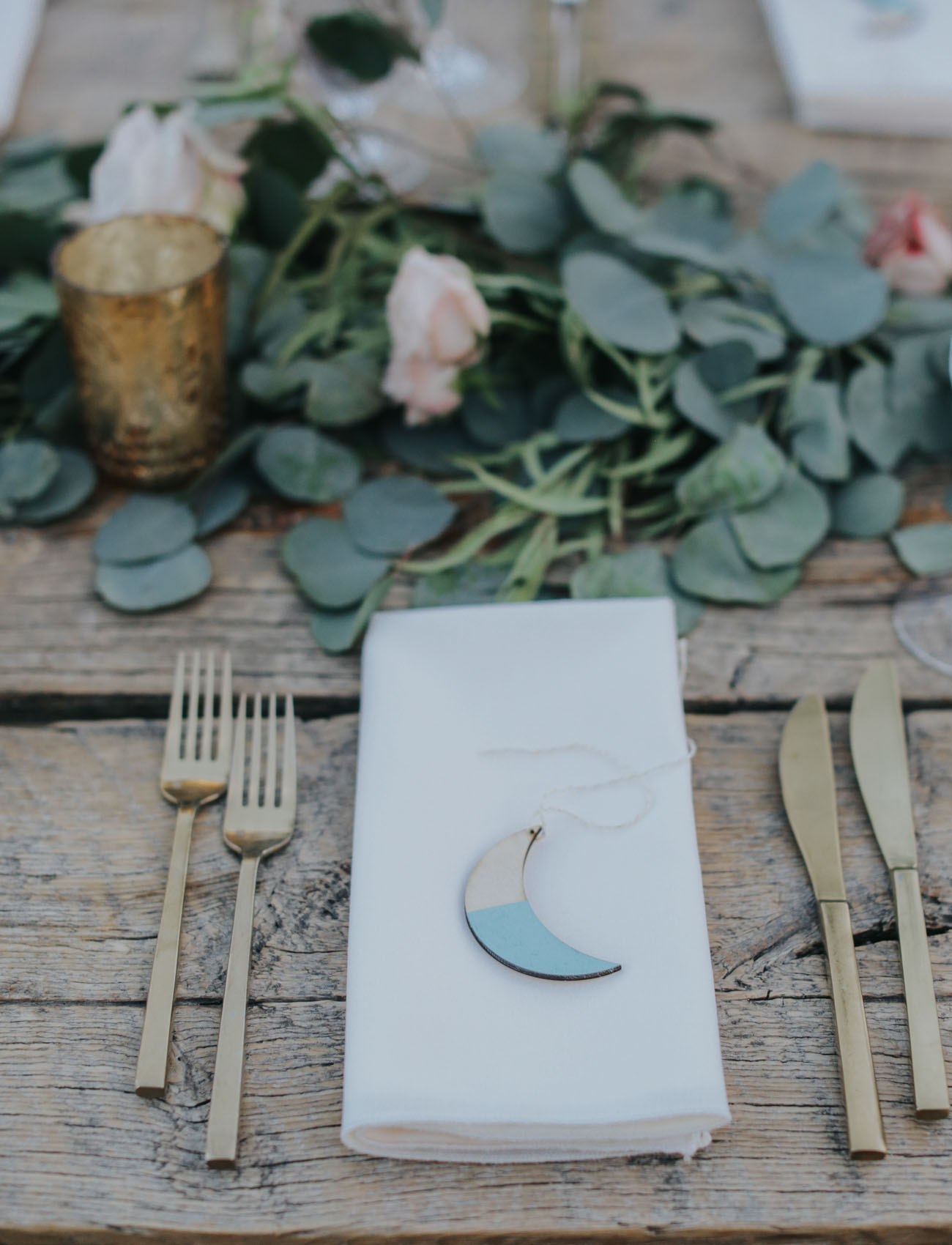 Modern Geometry
If a cake that looks like modern art crafted from polymer clay is appealing to you, the artistic forms featured below are sure to catch your eye! This section of today's post is a reminder to take your cues from modern design motifs, even if you don't first spot them at a wedding. Let's start by viewing an eye-catching art print from Etsy shop iAngel Photography. While it doesn't fall under the category of wedding decorations, it shows just how well a powerful design can be used to inspire a range of wedding imagery, from invitations to cakes.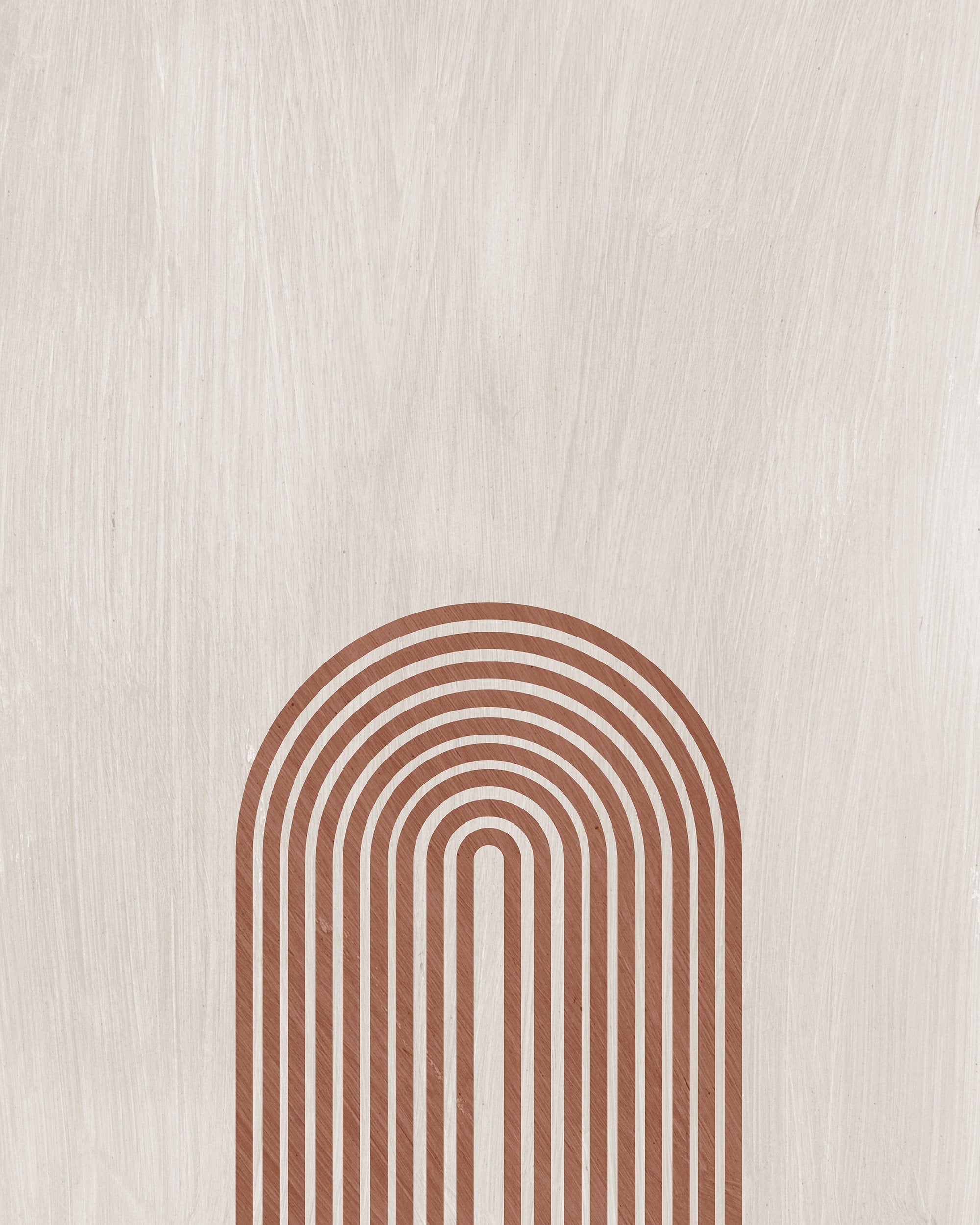 Speaking of cakes (and arches), this beauty from Batter Up Cakery takes center stage on a macrame hanging display stand. See how well a geometric arch can translate to wedding decor?! You may have also seen arches like this on polymer clay earrings (now there's an idea for your bridesmaids!). The work of art below was featured at Green Wedding Shoes. Check out all of the amazing modern details here.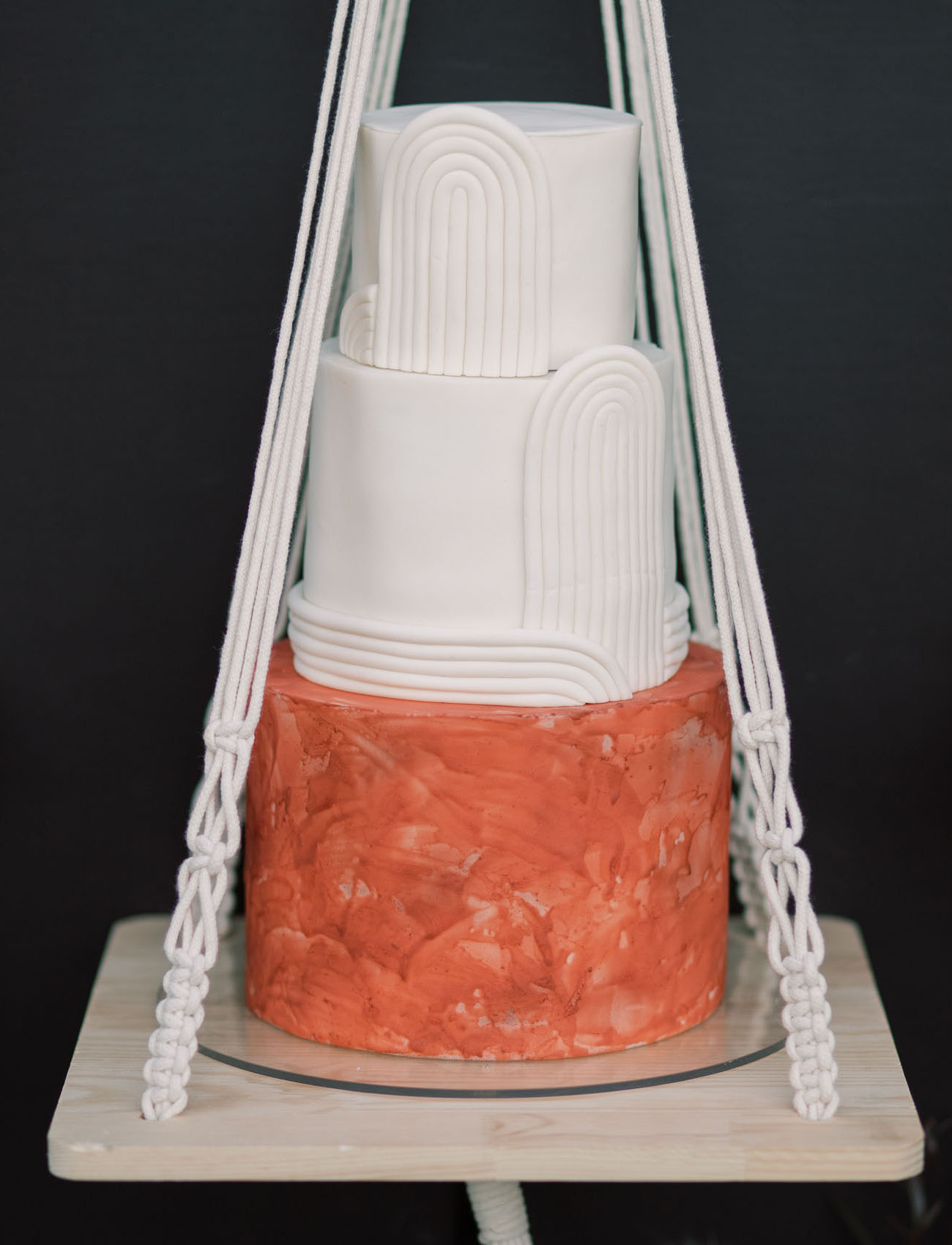 From arches to triangles, next we see how a backdrop covered in pampas grass speaks volumes. The key is not covering the entire form, so the modern geometry can be showcased in all of its minimalist glory. [image by Ashtyn Brooke Photo via Ruffled]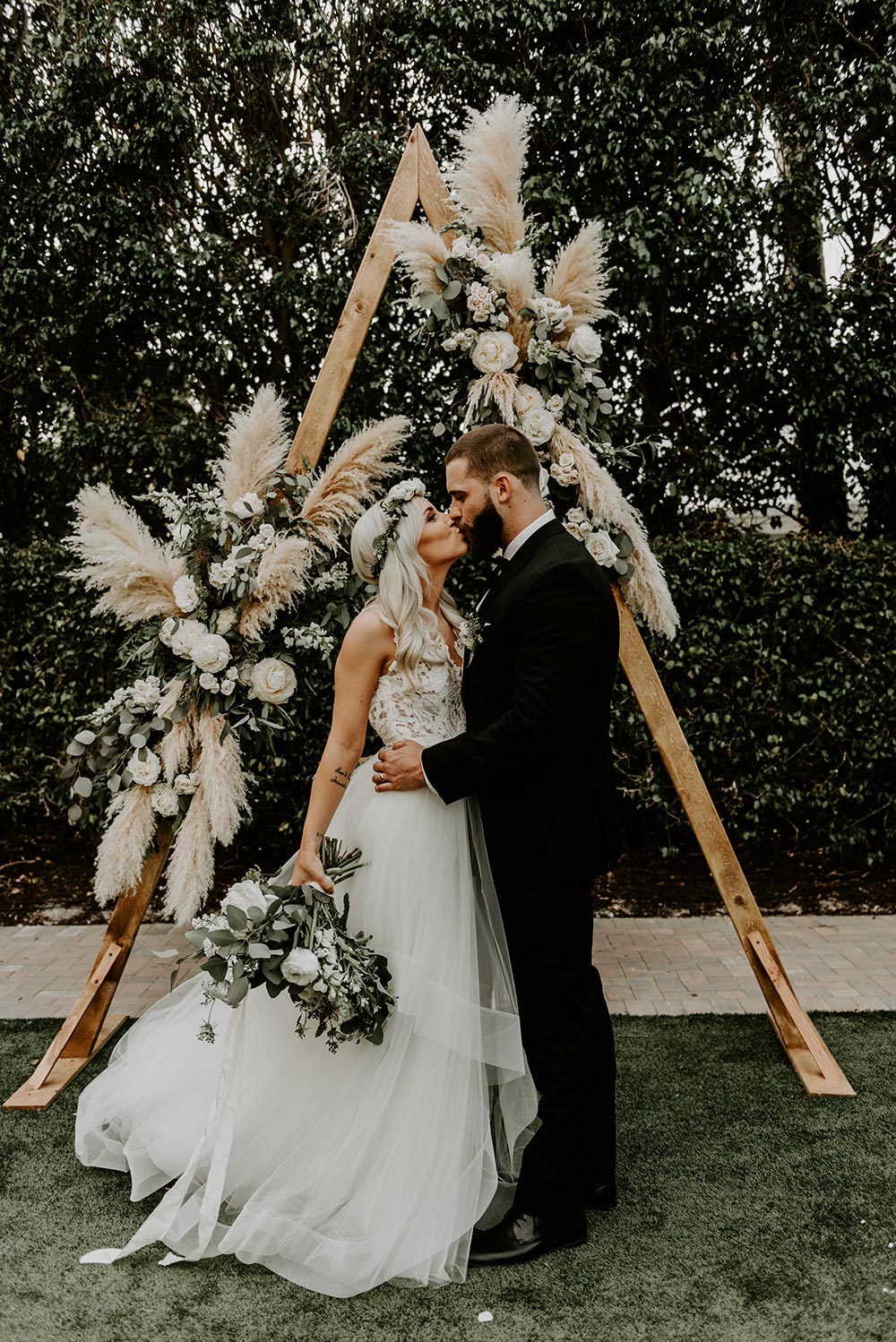 Touches of Blush
If you're a traditional bride, you can still revel in the top tends, thanks to a big dose of blush. Pink has reigned in the design world for more than a few years now, and it shows no signs of disappearing, especially when it comes to weddings. Instead of being described as "delicate and feminine", the color is now more powerful than ever before (hello Millennial Pink), thanks to a peachy update that brings it into the territory of sophisticated neutrals. This Neon Pink Love Sign from Style Me Pretty takes pink to day-glo heights: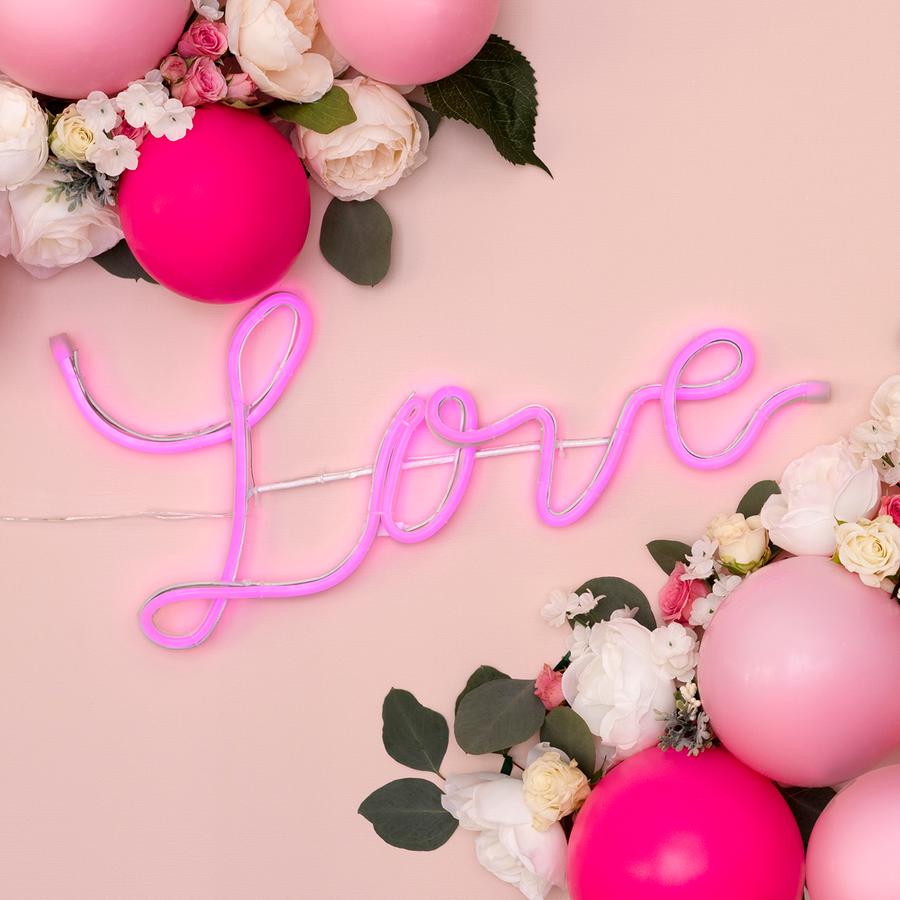 Also from Style me Pretty, these Blush Taper Candles add a touch of pink while reflecting today's top design trends, especially when displayed in gold candle holders. The two-toned, ombre look is a nod to a more modern sensibility, making this display both eye catching and unique.
Style Me Pretty offers a Ribbon Garland featuring shades of blush. Ethereal, gauzy and dreamy, this addition is perfectly pink without being too much: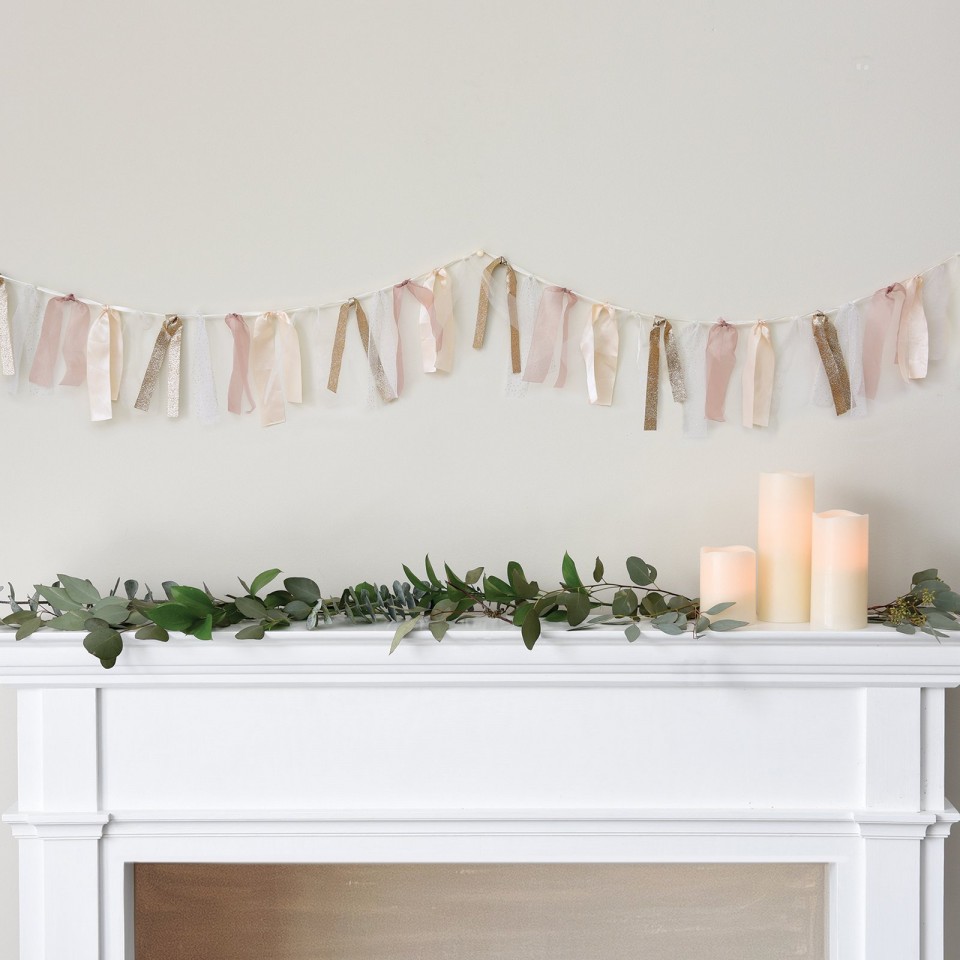 Last but not least, it's more pampas grass. But how could we not feature the way it pops against a peachy-pink backdrop?! The bridal bouquet of Design Love Fest founder Bri Emery, this dried bundle in ivory comes to life when placed in front of a blushing background. Floral design by Of the Flowers is the icing on the cake of this spectacular wedding featured at Green Wedding Shoes (you'll want to check out the way so many of today's design elements combine with '20s New Orleans inspiration at this fete). [photos by Jesse Chamberlin Marble and Caitlin B Photography]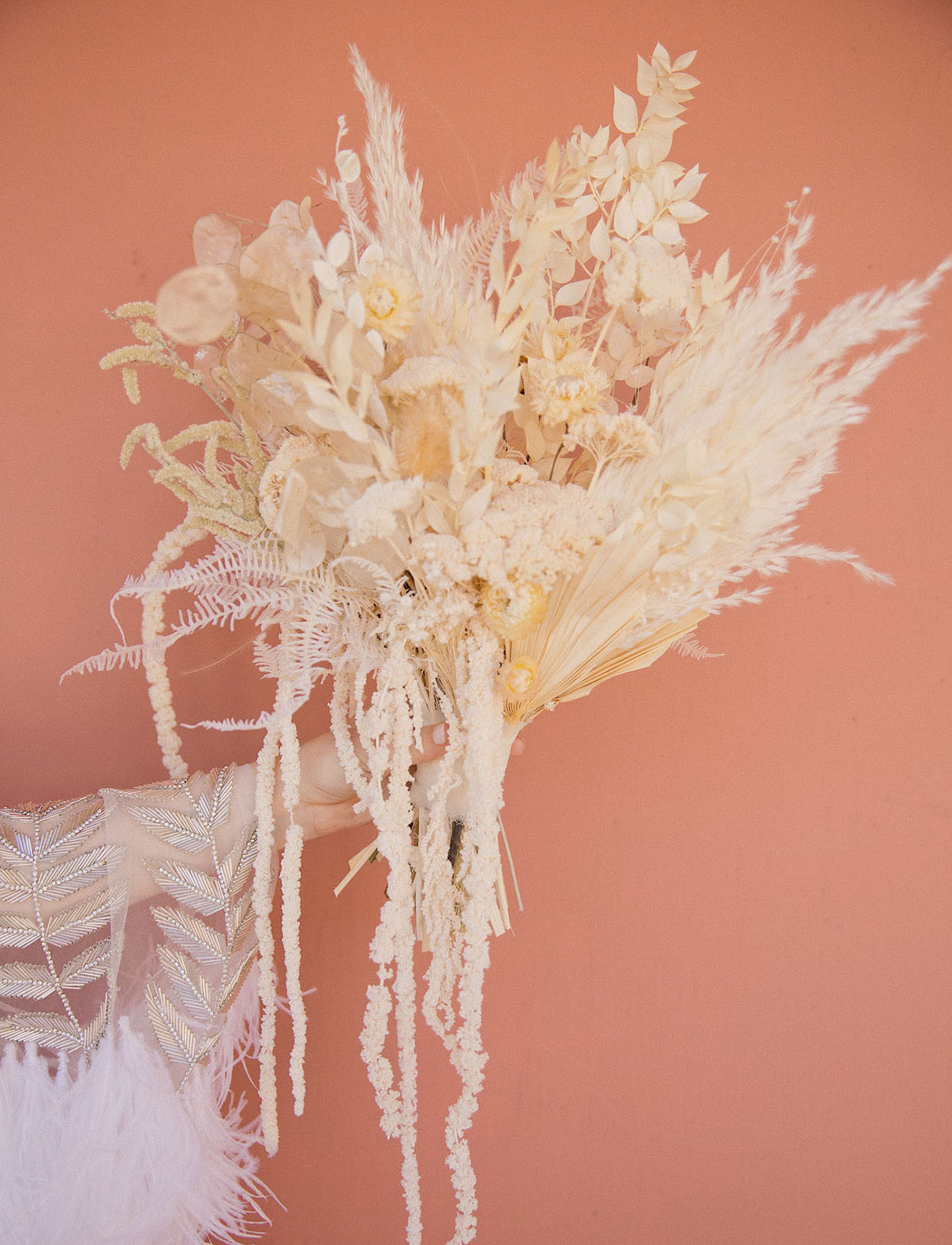 On that note, cheers to love and the magic of beautifully designed wedding decorations! Thanks for reading.