Paint adds so much to our homes, including warmth, color, tranquility and boldness. If you're looking for a way to make a bigger impact with paint, why not consider embellishing a wall (or an entire room) with the help of creative painting techniques? In fact, some of today's top design influences (such as the Memphis-Milano revival) can be a great source of inspiration for decorative painting. Below we've rounded up a collection of photos that showcase specific examples of eye-catching painting techniques, from ombre bands of color to bold wall designs with clean lines. Enjoy… [Below: Gray and Willow living room from House of Fraser, via Houzz]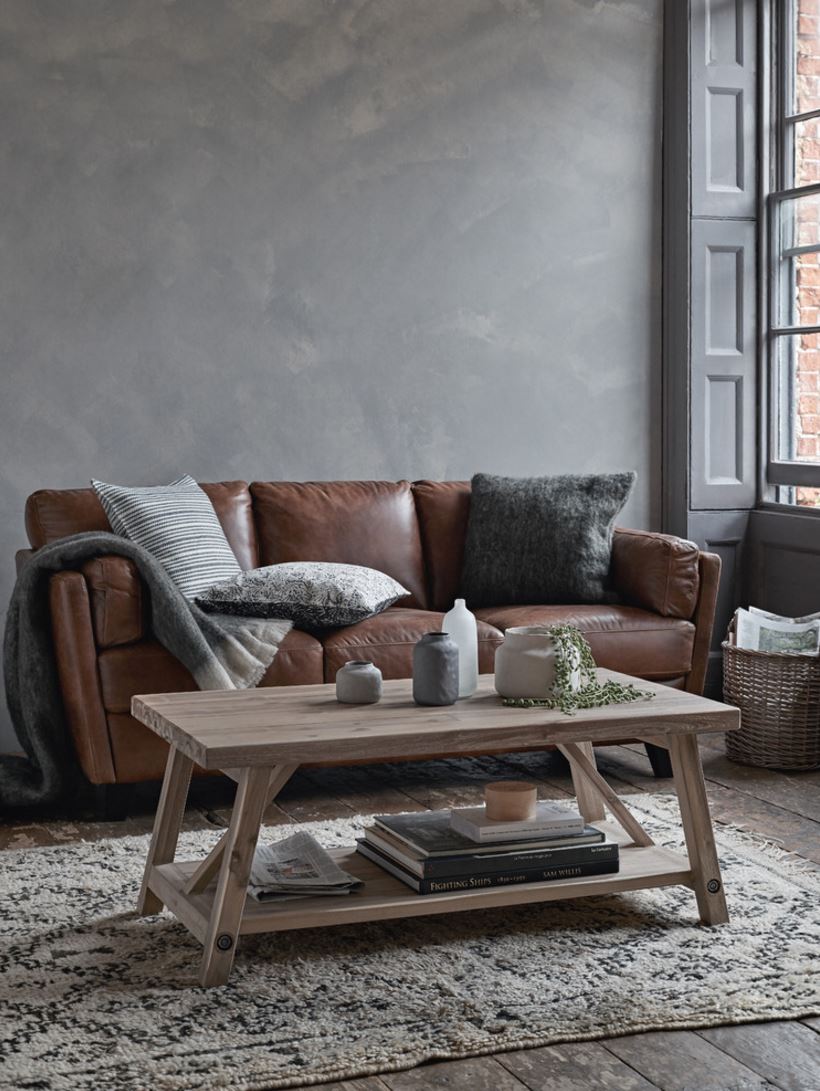 A Memphis-Milano Influence
In 1981, a group of designers came together to challenge current-day conventions and infuse the world of design with a striking dose of color, geometry and pattern. The Memphis Group was born, and it gave birth to motifs such as the Bacterio pattern. Now Memphis is back in a big way, as shown by the backdrop and Revlon nail polish below! [photo/styling by Deja Turner via Into the Gloss]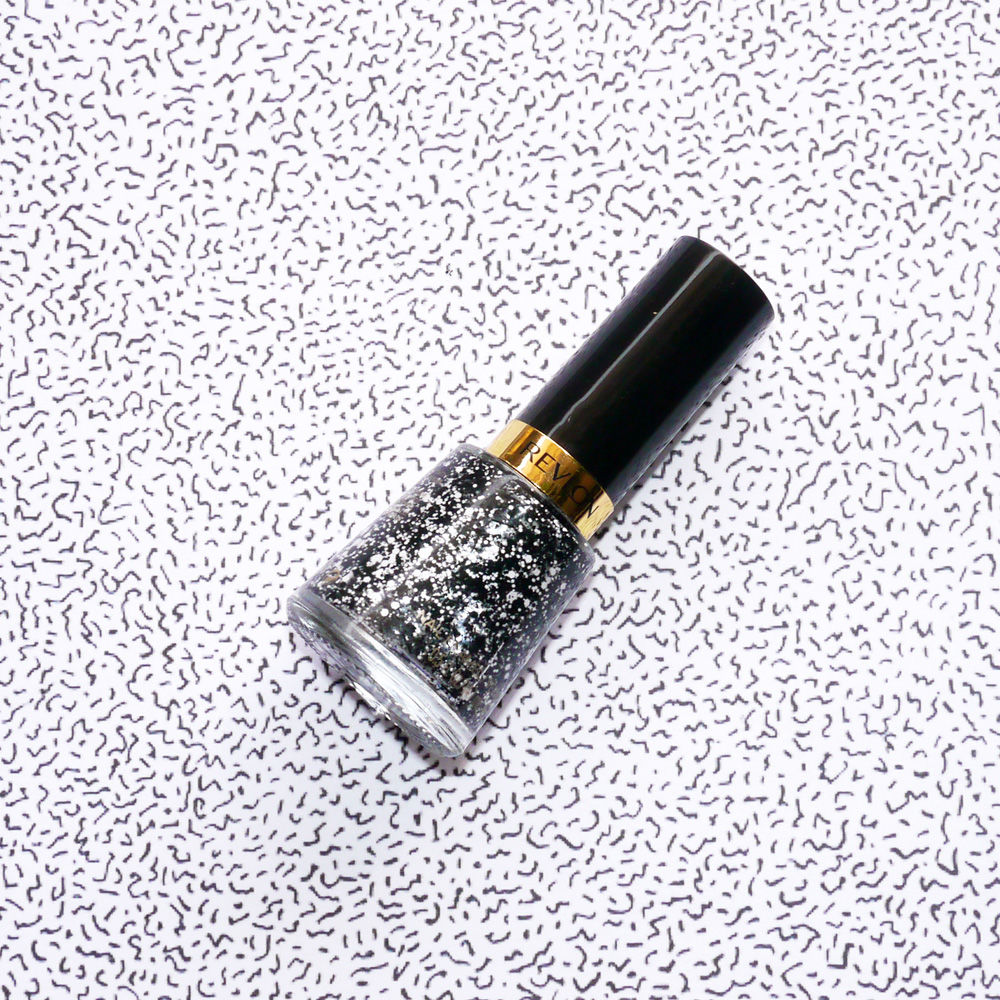 In fact, a range of Memphis-Milano patterns made a big impact in the '80s, as shown in the design below by Nathalie Du Pasquier. Many of these patterns are making their way back to modern-day products ranging from furniture to clothing. Why not bring some of this bold style to the walls?!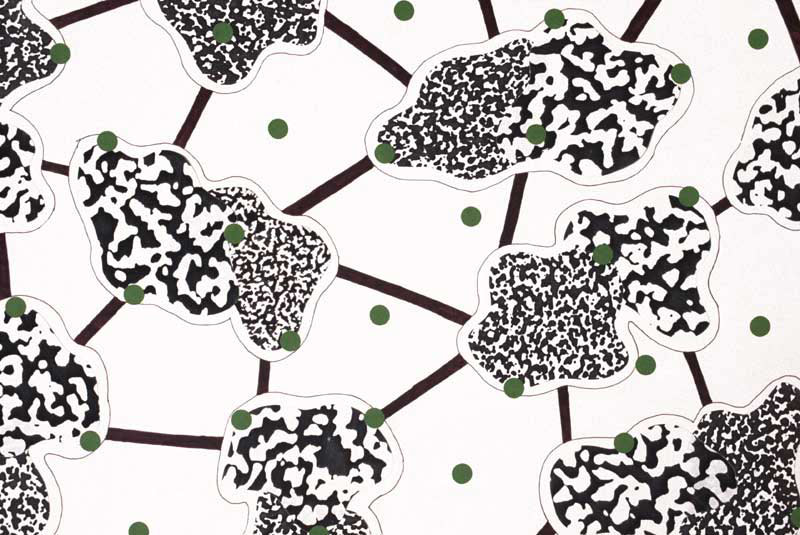 Kitsch Nitsch sure did when they designed this YMS hair salon, which features an array of vibrant surfaces filled with whimsical designs. Are you tempted to create a wall mural with the help of pastel and primary-colored paint? [photo via Fast Co. Design]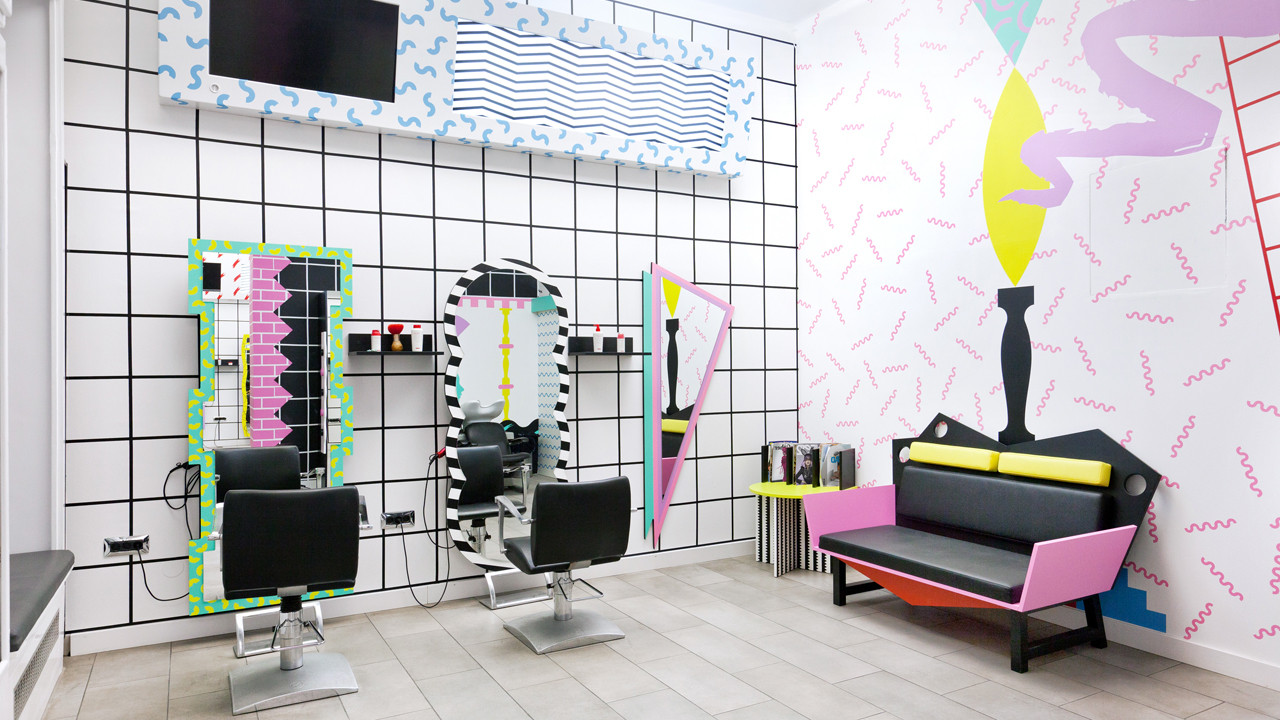 If you're not ready to paint squiggles and sprinkles all over the wall, you can always try something more subtle, like speckles! Small patterns such as these evoke a Memphis feel while remaining low-key. [photo/shutter painting from The V Spot]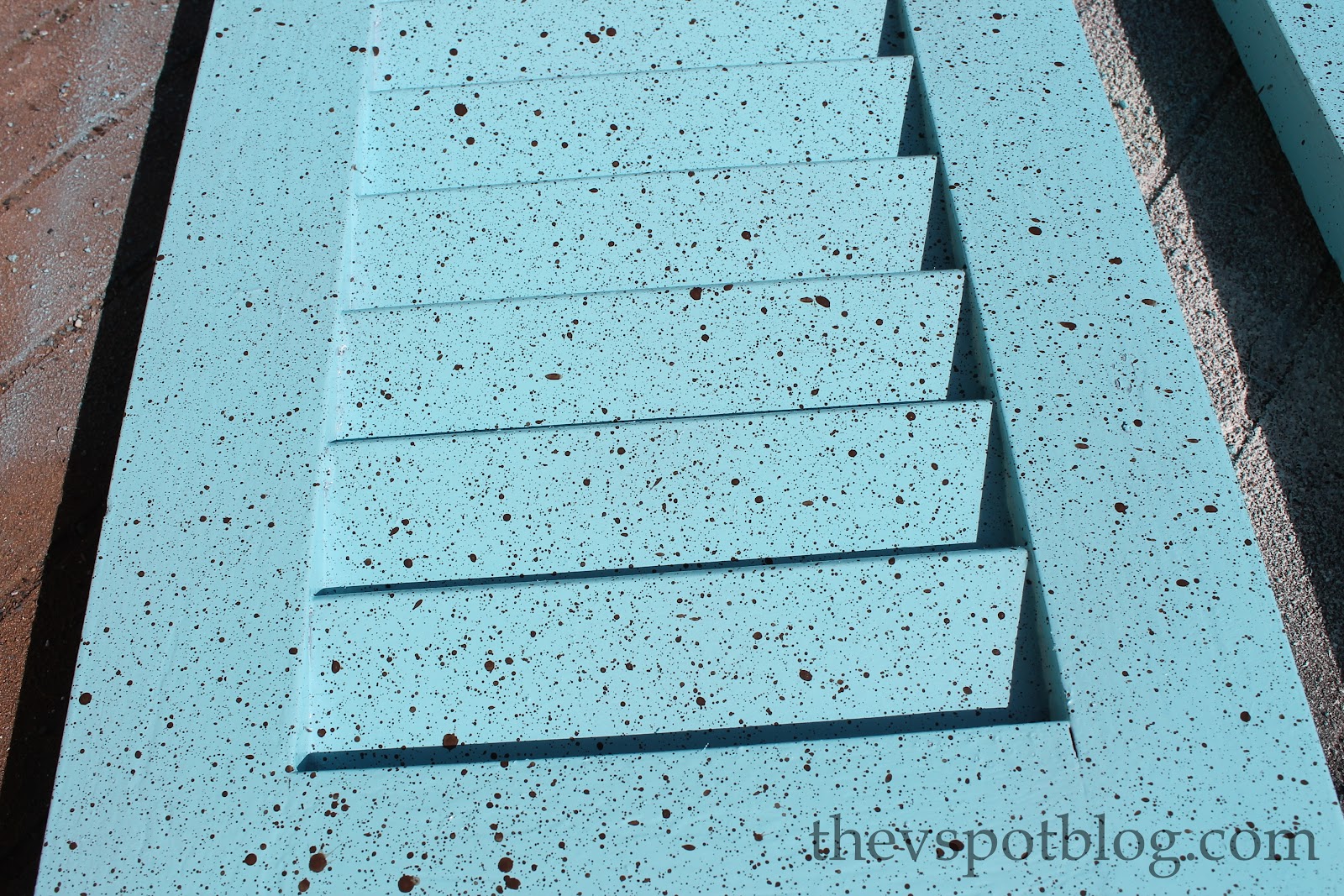 In fact, the speckling technique couldn't be easier when you dip a toothbrush in paint and run your finger along the bristles, pointing the toothbrush in the direction of the surface you want to embellish! [photo and speckling from Mirror80]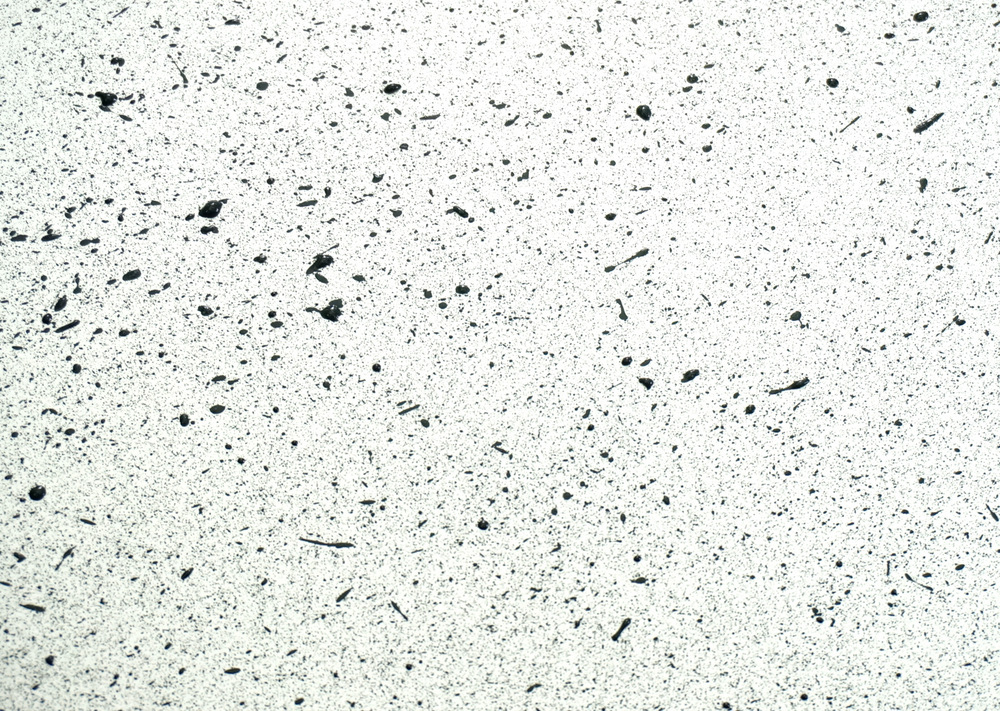 A splatter paint effect is equally enticing, and it's fun to layer a variety of colors and tones. Below we see a Speckled Background by Studio Silver Creek (click on the link for a video tutorial). By diluting the paint with water to form a wash, you can create a marbled background and let the splatters take center stage. It's all about layering on the color and speckles. While this technique would definitely be easier on a flat surface (less dripping), you can always cover a large canvas while it rests on a tabletop and then hang it on the wall. More on canvas possibilities later in the post…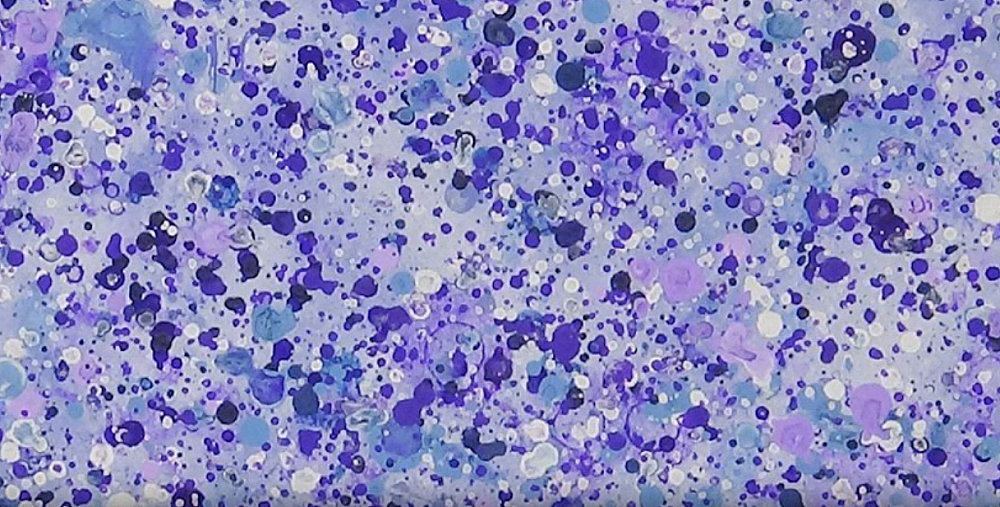 What could be easier than sponging?! A sea sponge is the perfect tool for adding a sense of texture to your walls. However, there is definitely a strategy to this paint technique. Learn more at DIY Network. [photo from DK – Do It Yourself Home Improvement, 2009 Dorling Kindersley Limited]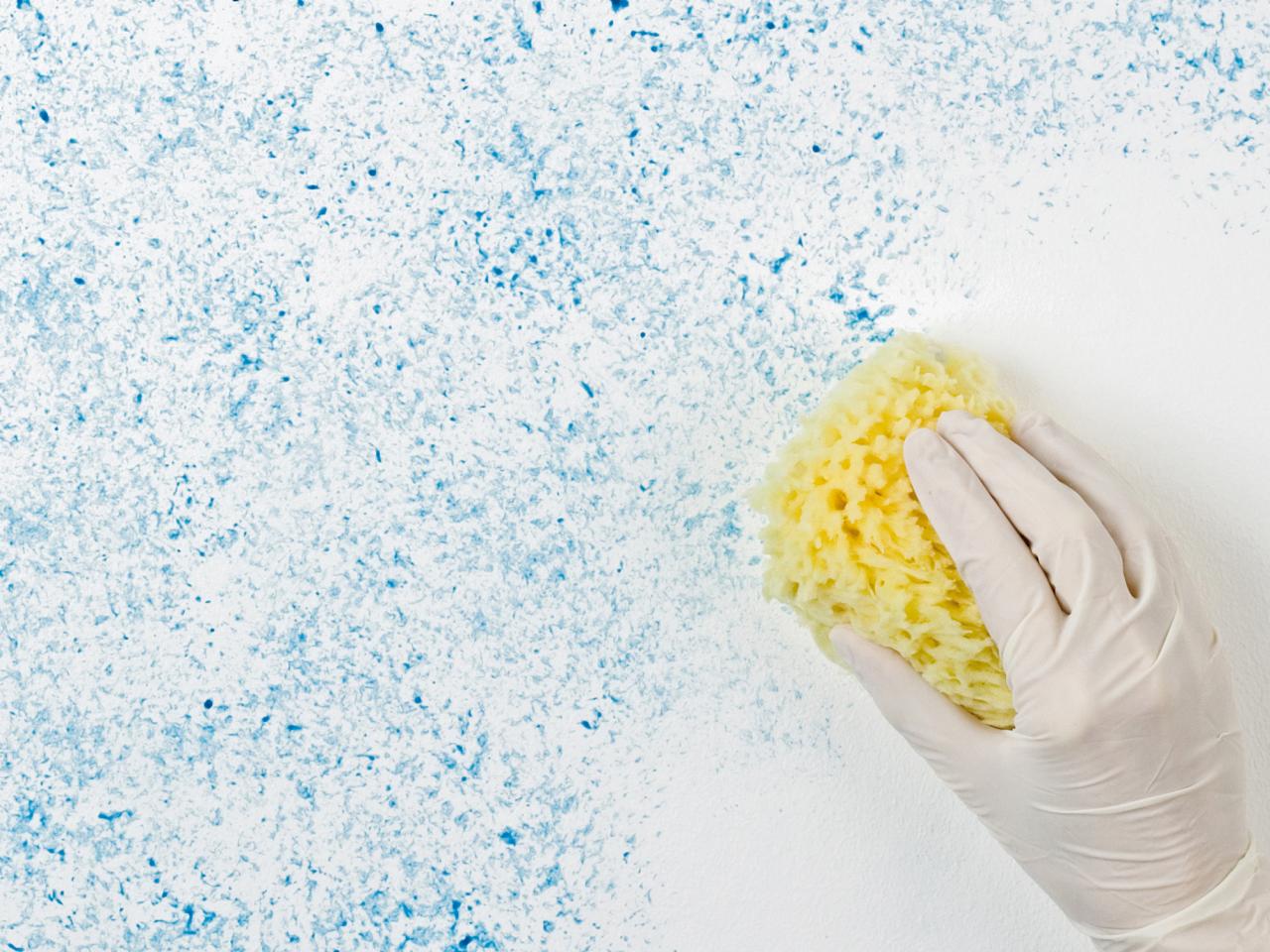 In another take on sponging, a color-wash of translucent glaze is applied to the wall over a base coat, and the sponge is used to draw the glaze away from the wall. The look is smooth yet textured. Once again, more details can be found at DIY Network. [photo from DK – Do It Yourself Home Improvement, 2009 Dorling Kindersley Limited]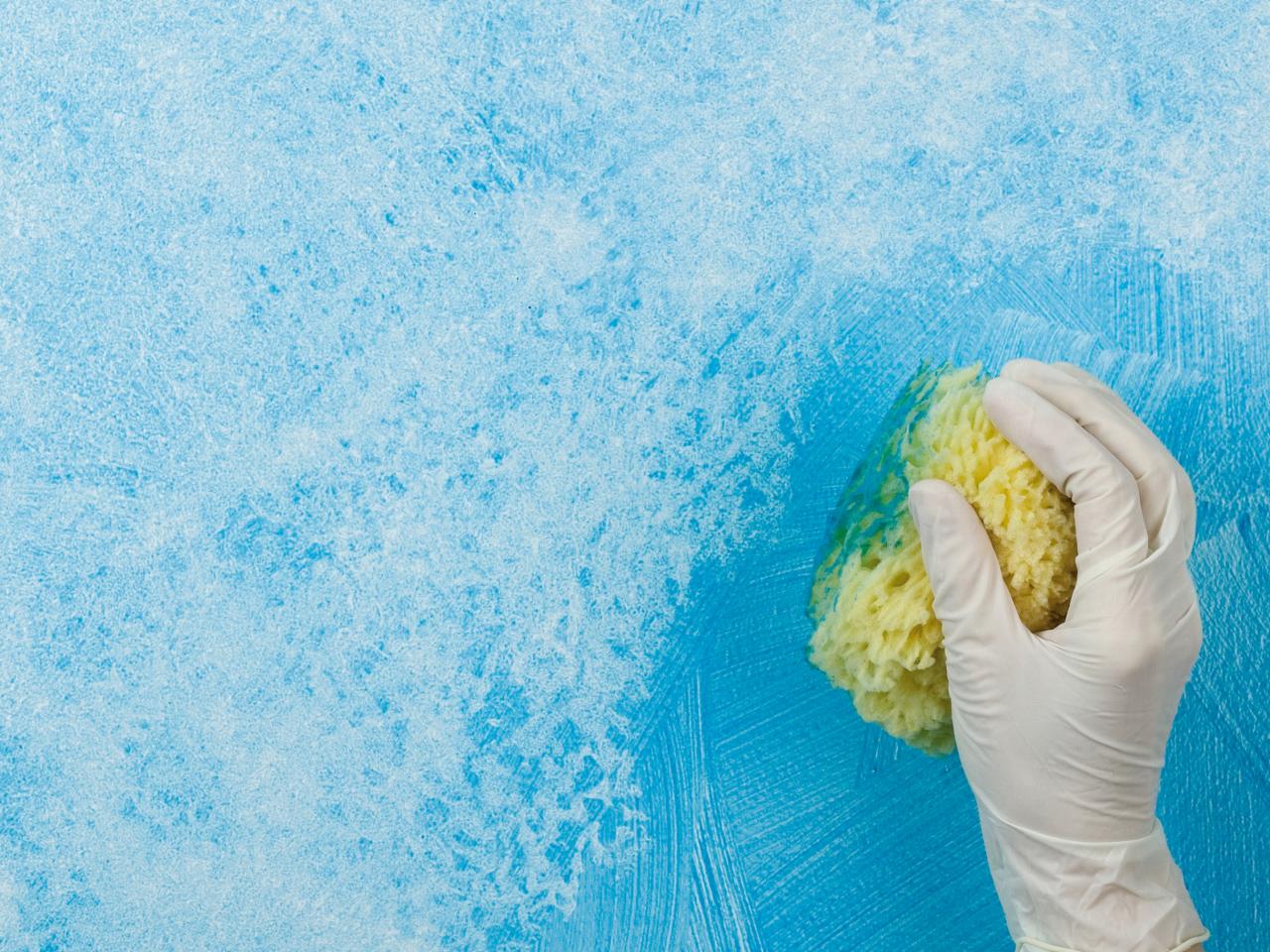 Bands of Color
We now move from splatters, speckles and sponge painting to bands of color. Yet these bands seem to fade into one another, creating a dreamy effect. Shades of blue and peach take center stage in the bedroom below. [from Egue & Seta, styling by Gaila González, photo by Vicugo Foto]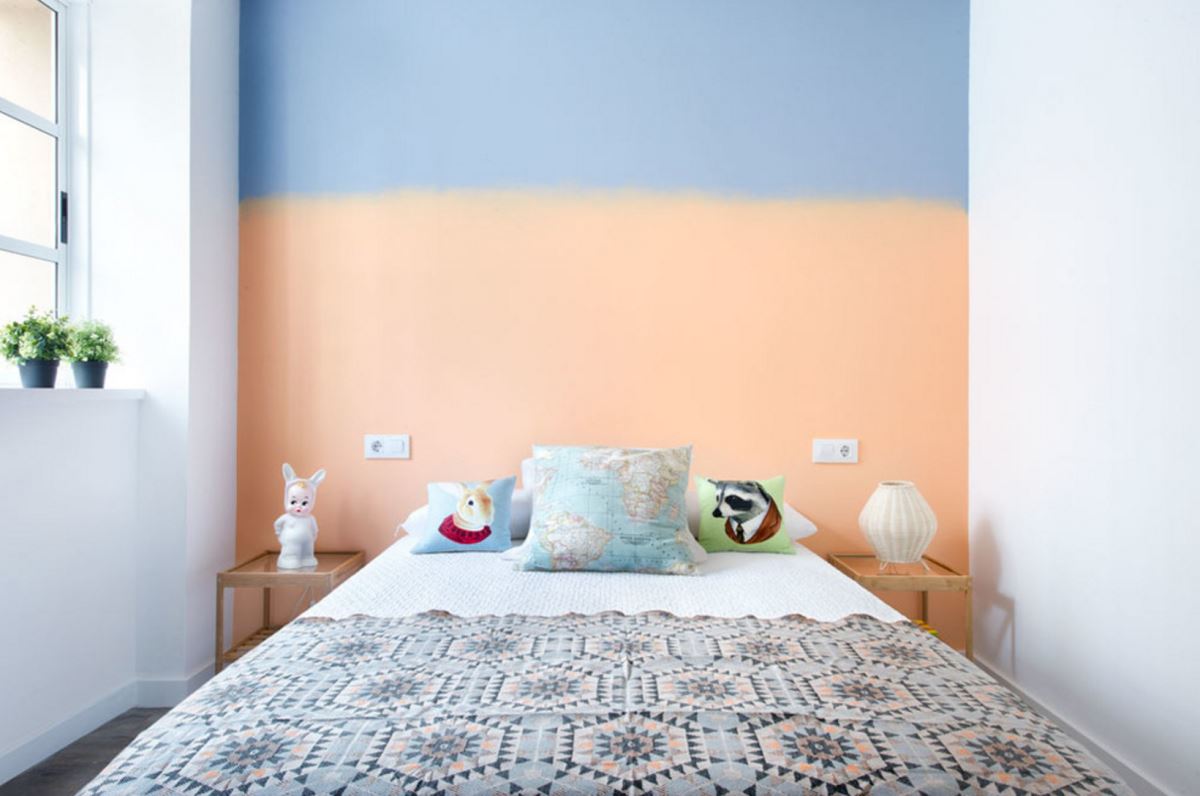 By choosing paint in similar hues and making the most of blending, the transition from one color to another can be almost seamless. To learn more about getting the effect in the next image, head on over to Colorhouse: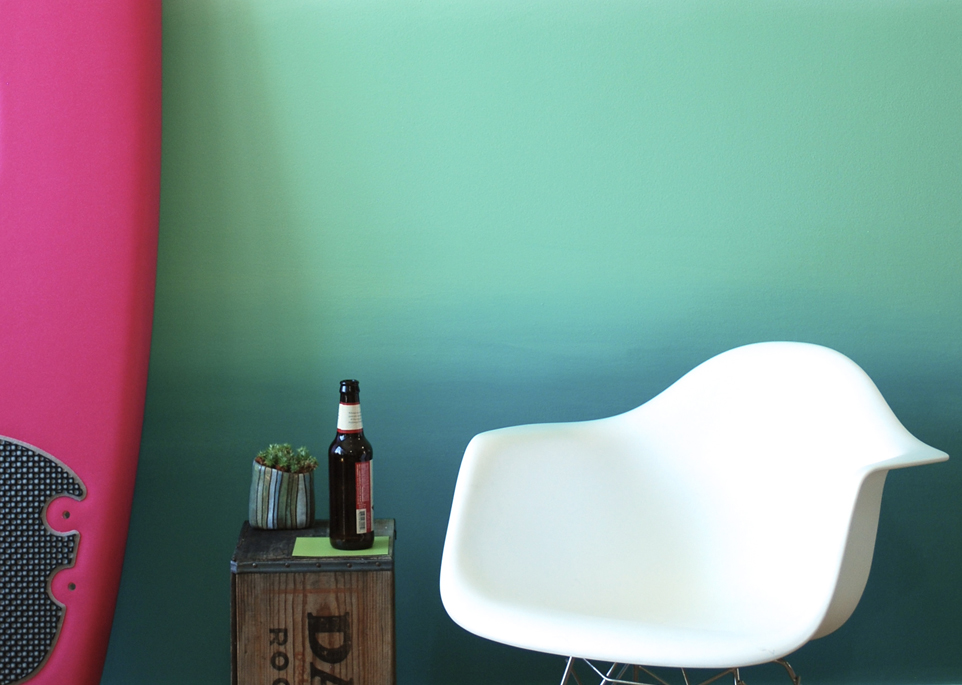 Creating ombre bands of blue that meet in a landscape-like wall design results in a truly serene space, as shown below. [photo by J.E. Evans for Romanelli & Hughes Custom Home Builders]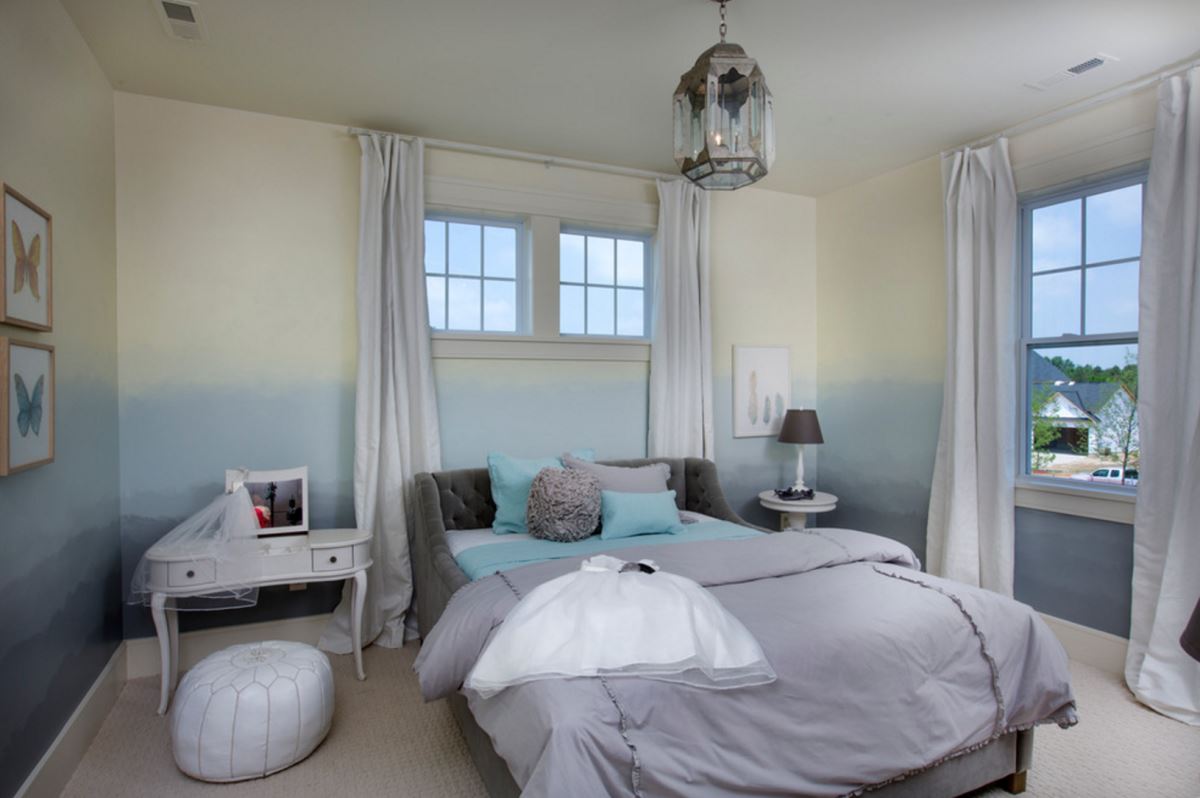 When the landscape-style bands aren't blended, the result is more bold. While the design below graces a furnishing, it can easily be applied to your wall. The question is: which colors will you choose?! [from DIY Network via Houzz]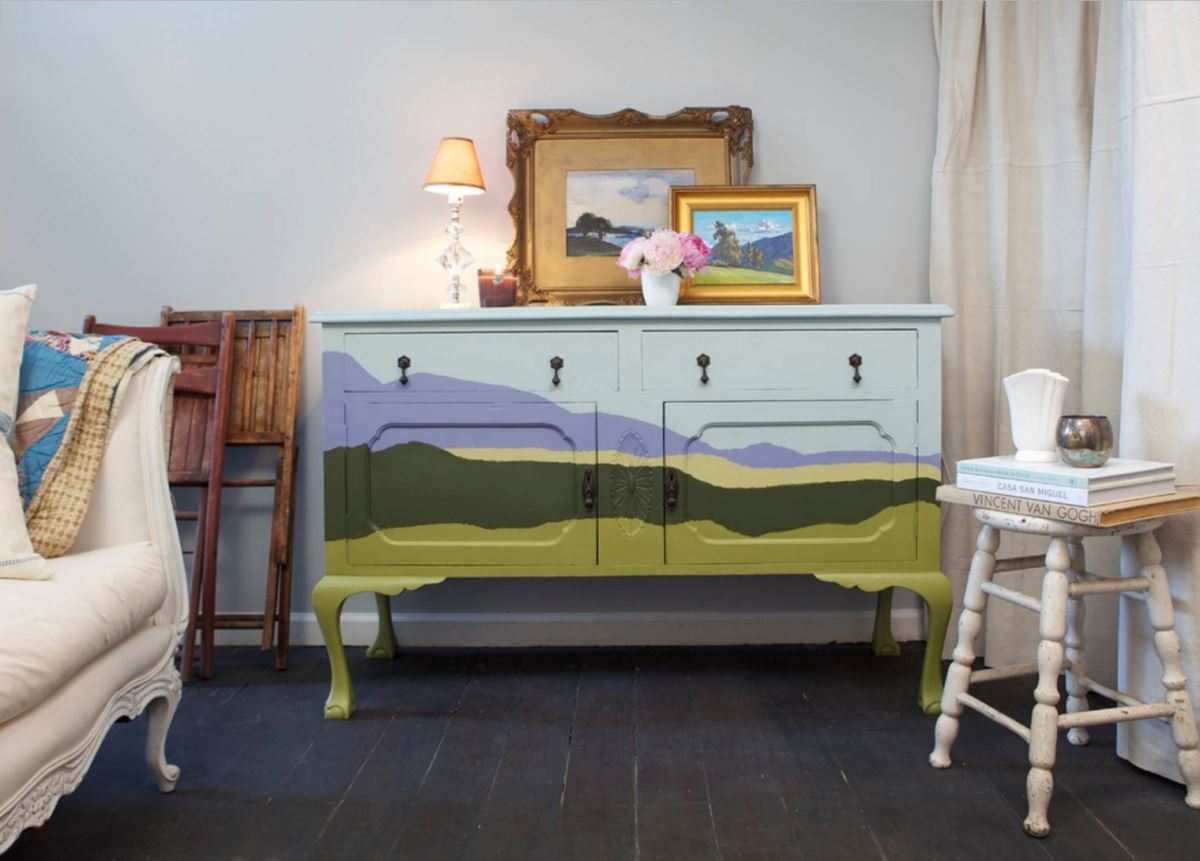 Clean Lines
The lines in the painted walls below are less blurry and wavy than what we've seen above. Bring on the crisp and the clean! In this next interior, a gradient of color creates a retro-modern effect in shades of peacock blue. [photo by Margot Hartford via Houzz]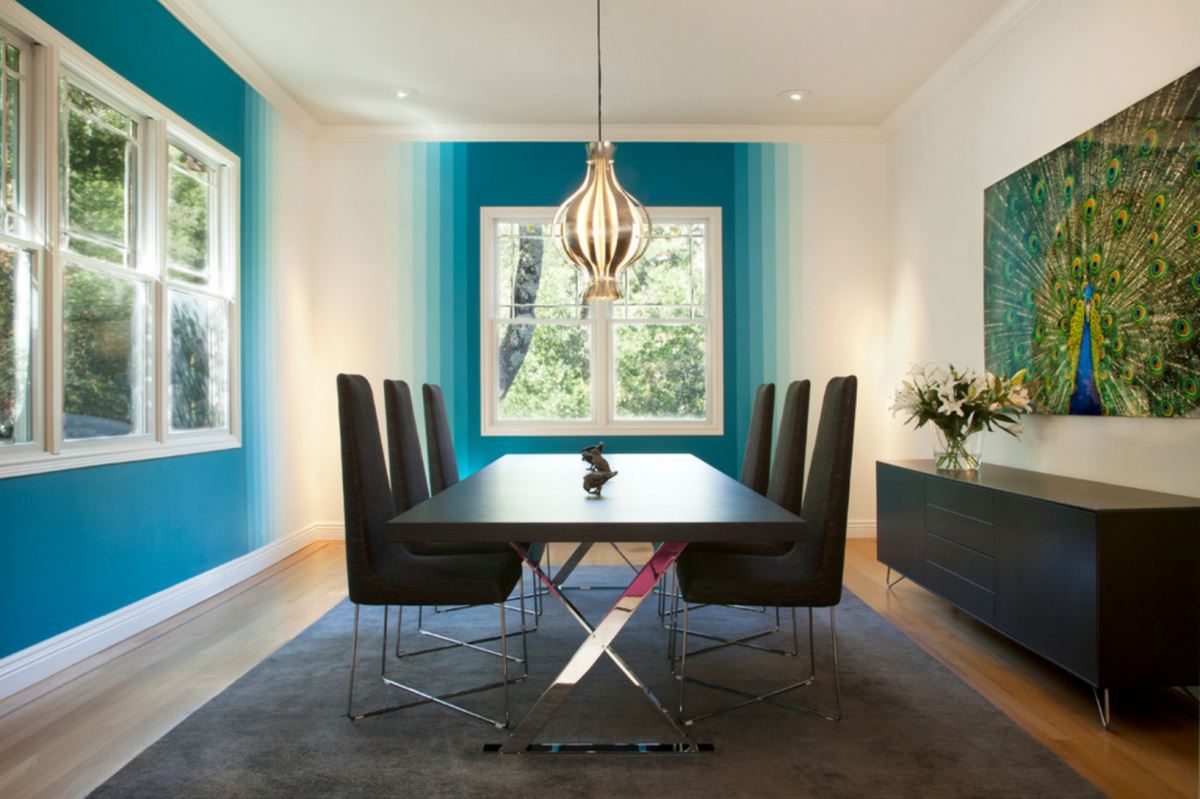 Instead of painting the entire wall, try painting a section of the room. Choose a shape such as a rectangle, and create a 3-D effect by letting the design carry over to the ceiling as well as the walls. [from Sherwin Williams via Houzz]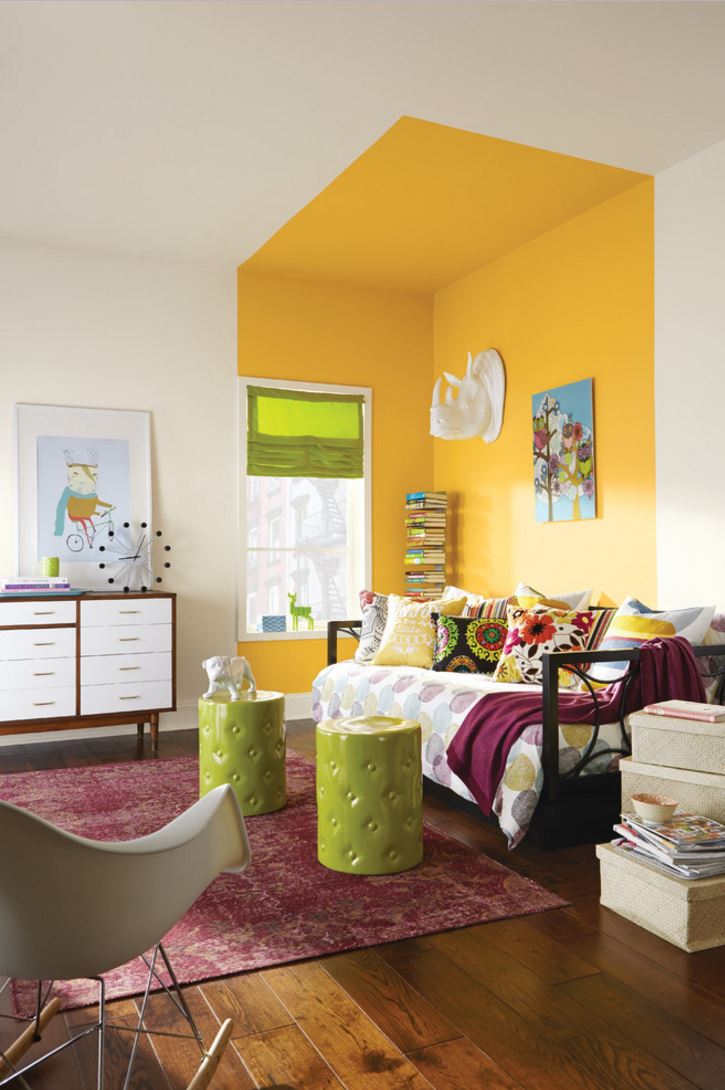 Or create a two-tone effect by splitting the wall into two distinct sections featuring two different colors of paint. The design is less busy when hues in the same color family are chosen. [from Mend]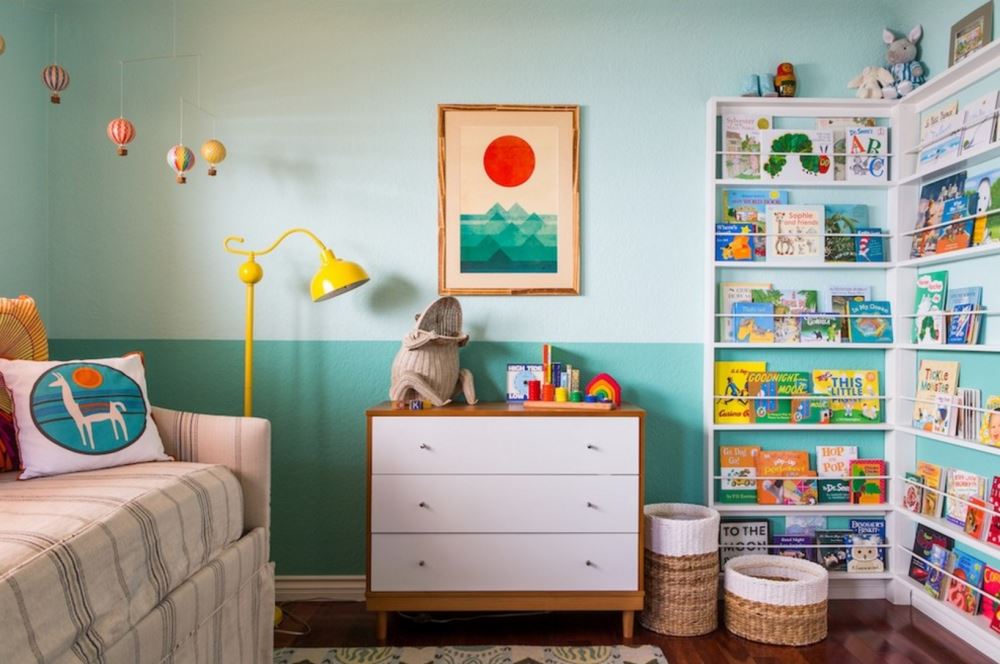 Wall Paint Alternatives
If you're renting or you simply don't want to bring a permanent paint design to the wall, there are other options to consider. For example, you can cover a large canvas or two with paint and hang it on the wall for a mural-like installation! [artwork below by Ros Matson, photo by Jeni Lee via Houzz]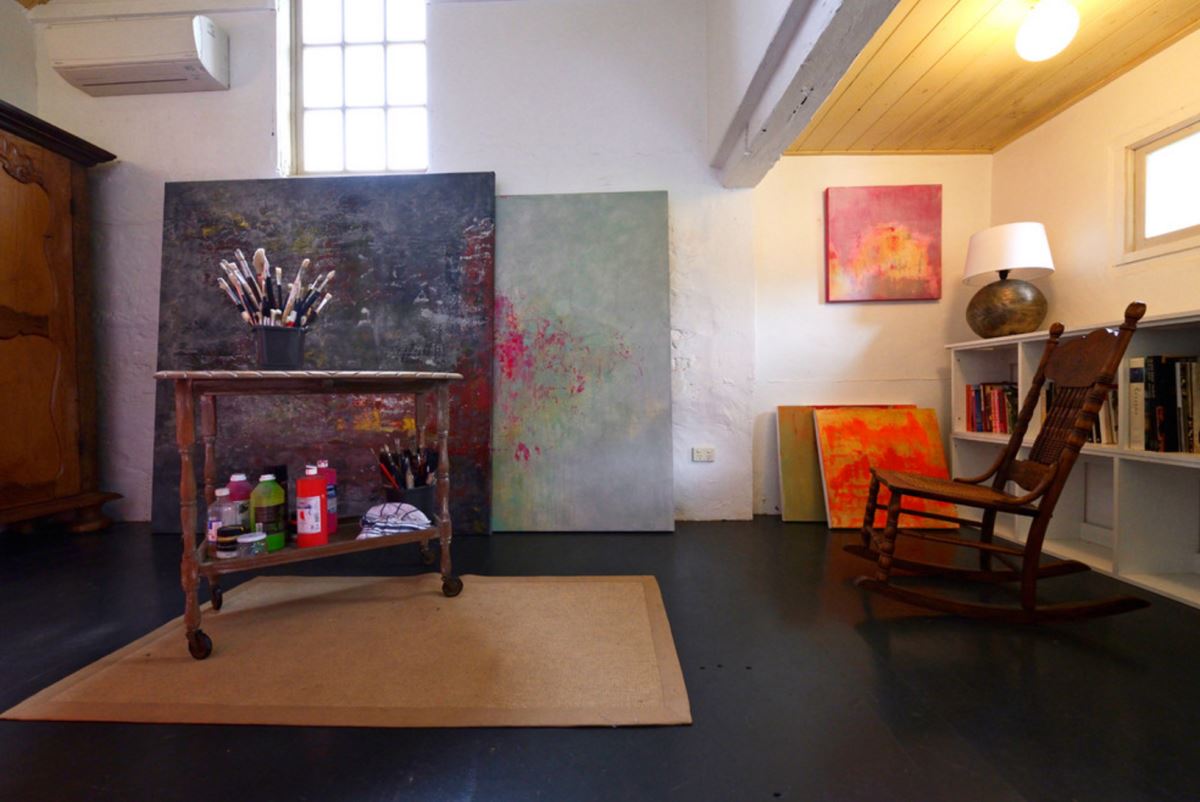 Whether you choose a pattern, a geometric design, or an abstract rendering for your canvas, don't hesitate to hang a number of panels side by side for a bold statement. [from Philpotts Interiors]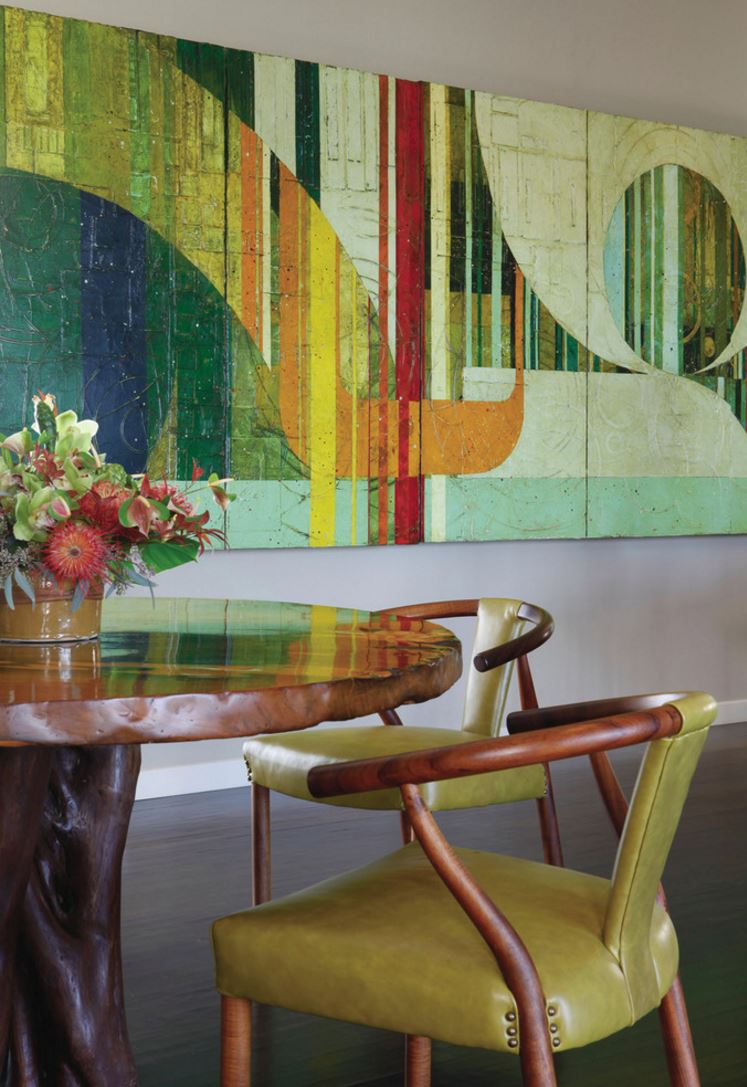 Last but not least, consider wall decals as a way to bring patterned style to your interior. They're easy to apply, and most can be removed without leaving a residue behind. There are a range of options, including these eco-friendly Sprinkles Wall Decals from weeDECOR: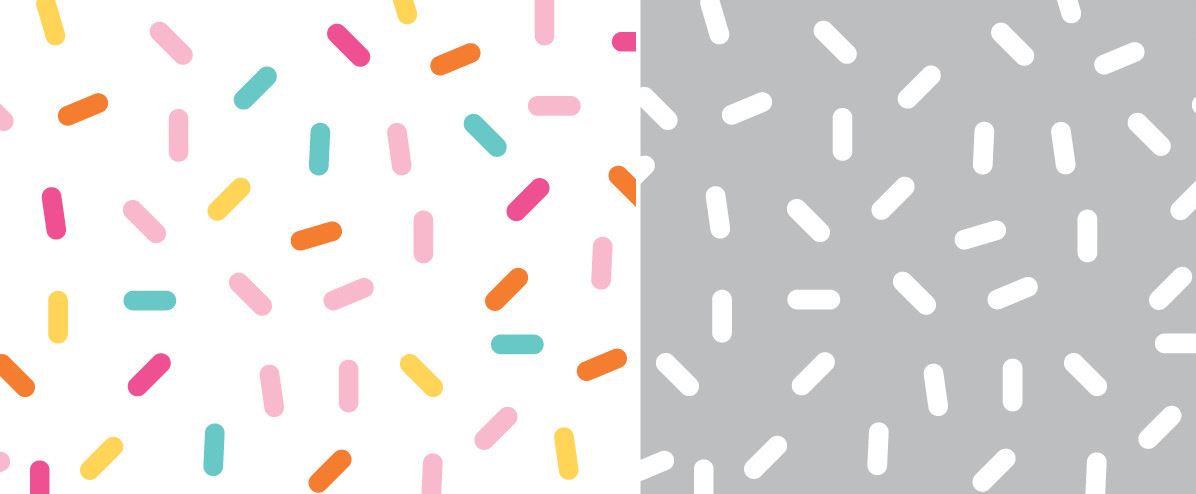 Will you be adding variety to your walls with a painting technique? Which of the designs in today's post caught your attention?