There are doubtless those who harbour contempt for plastic, a material frequently subjected to negative press and often viewed with overbearing disdain. This writer is not one of those people. I believe firmly in the capacity of plastic to make celebrated, beautiful and classic design objects. It is, in truth, a supreme material.
What is Plastic?
Plastic is an umbrella term used to encompass a number of polymers, including (with examples of use): Polyethylene terephthalate (fizzy drink bottles); High-density polyethylene (shampoo bottles); Polyvinyl chloride (PVC windows); Low-density polyethylene (carrier bags); Polypropylene (microwaveable food packaging); Polystyrene (plastic cutlery).
Source: WRAP. [Accessed: 28th February 2016].
Fantastic Plastic Designs
1. Jelly Vase
The 'Jelly' vase is a retro/modern design fusion from Spanish architect and designer Patricia Urquiola for Kartell. The unique structure of its surface emphasises an interior whose appearance is one suggestive of jelly. Made in Kartell's signature plastic form (using mass-dyed or metallic transparent PMMA), the Jelly vase has a pleasing and cool contemporary aesthetic.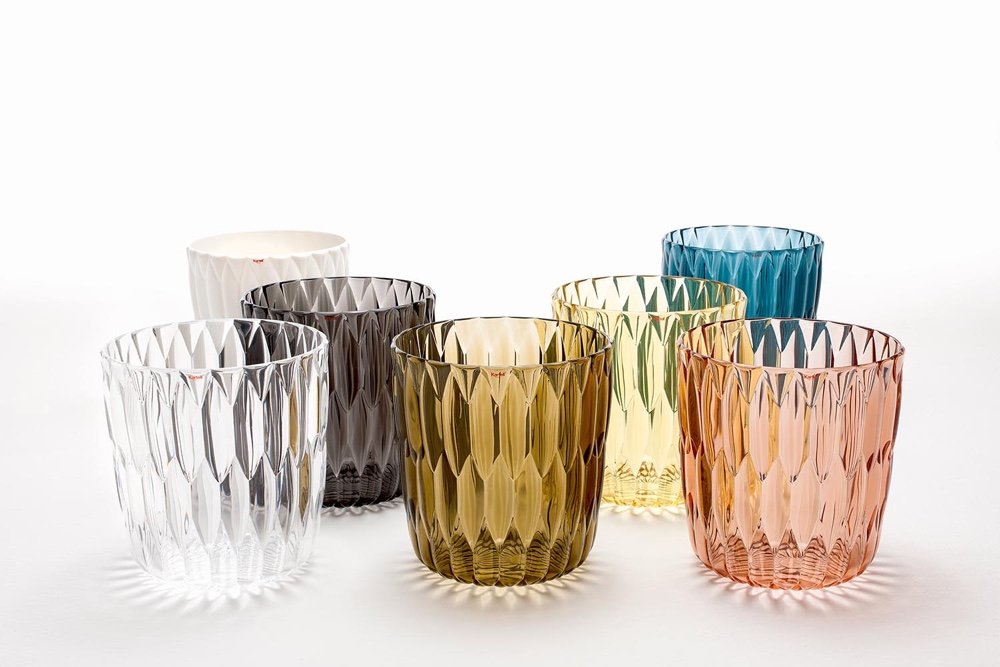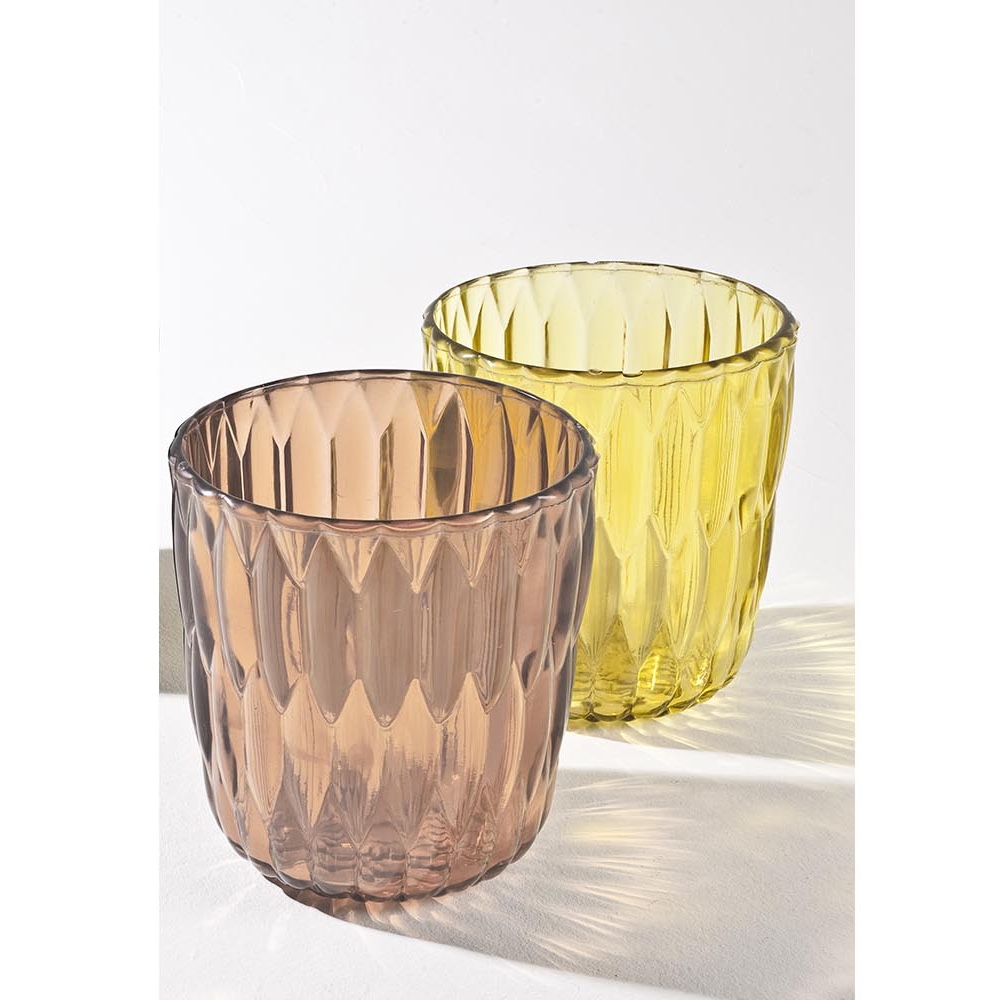 Images via Space Furniture.
2. Ettore Sottsass for Kartell
Postmodern, unconventional and modish, these stool and vase designs, from the celebrated Austrian-born Italian architect Ettore Sottsass for Kartell, are "Memphis" design to a T. Each piece is made using mass-colored thermoplastic technopolymer. (Read more on Ettore Sottsass and the Memphis Movement here: 20 Images That Capture the Spirit of Memphis Design.)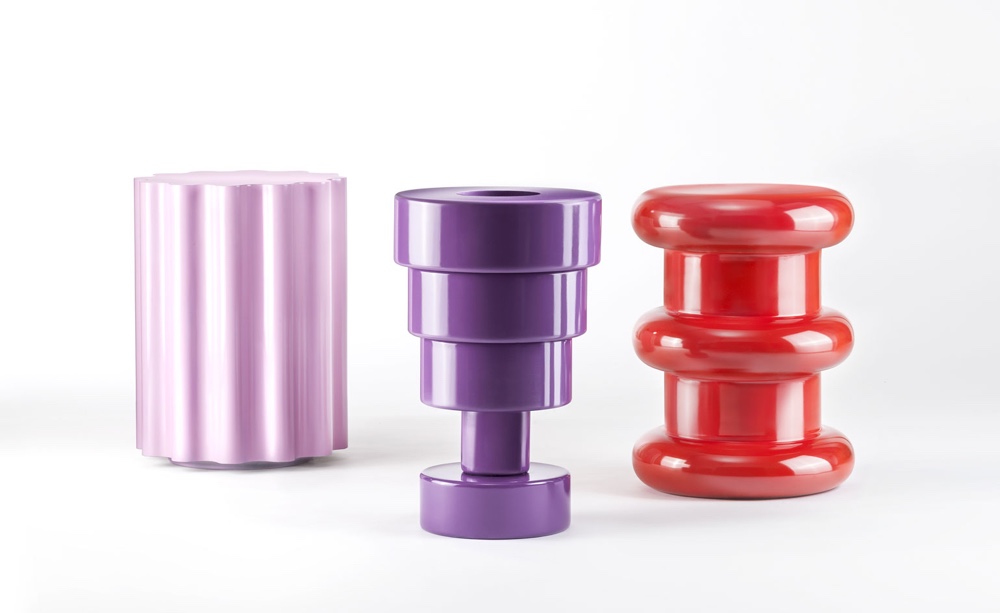 Colonna stool, Calice vase and Pilastro stool. Image via wallpaper.com.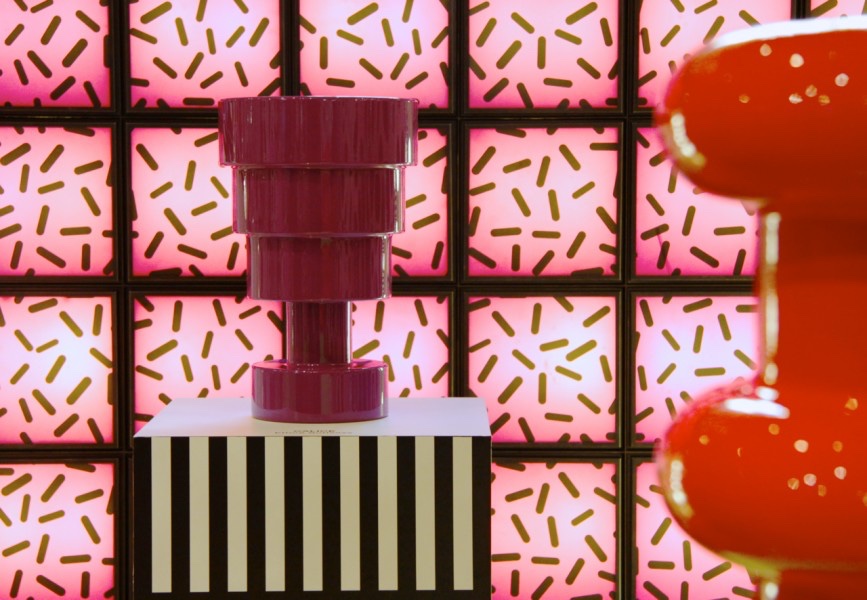 Calice vase and Pilastro stool. Image © 10.Corso.Como.
3. Formwork Accessories
British design studio Industrial Facility designed these smart Formwork Accessories for American manufacturer Herman Miller. The attractive containers, for use in the office and across the home, are made with ABS plastic (acrylonitrile-butadiene-styren is a hard composite plastic) and have a non-slip silicone base.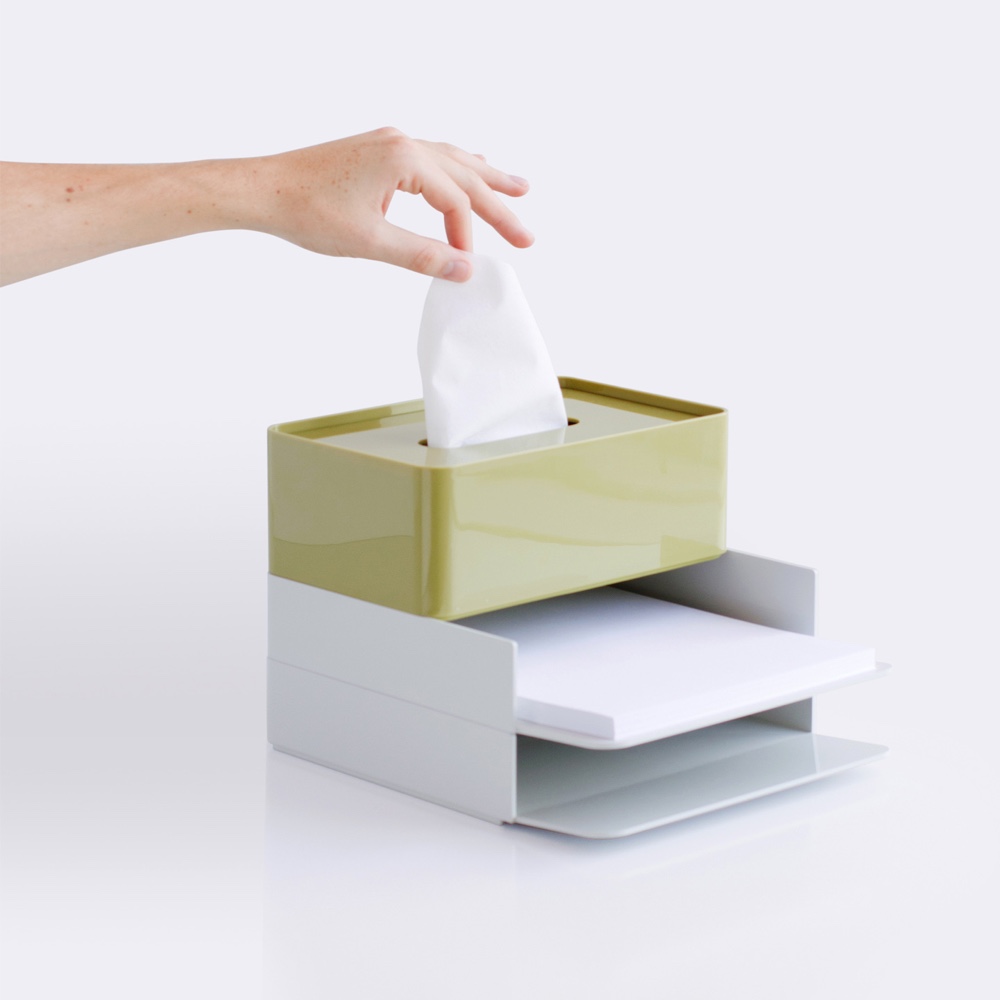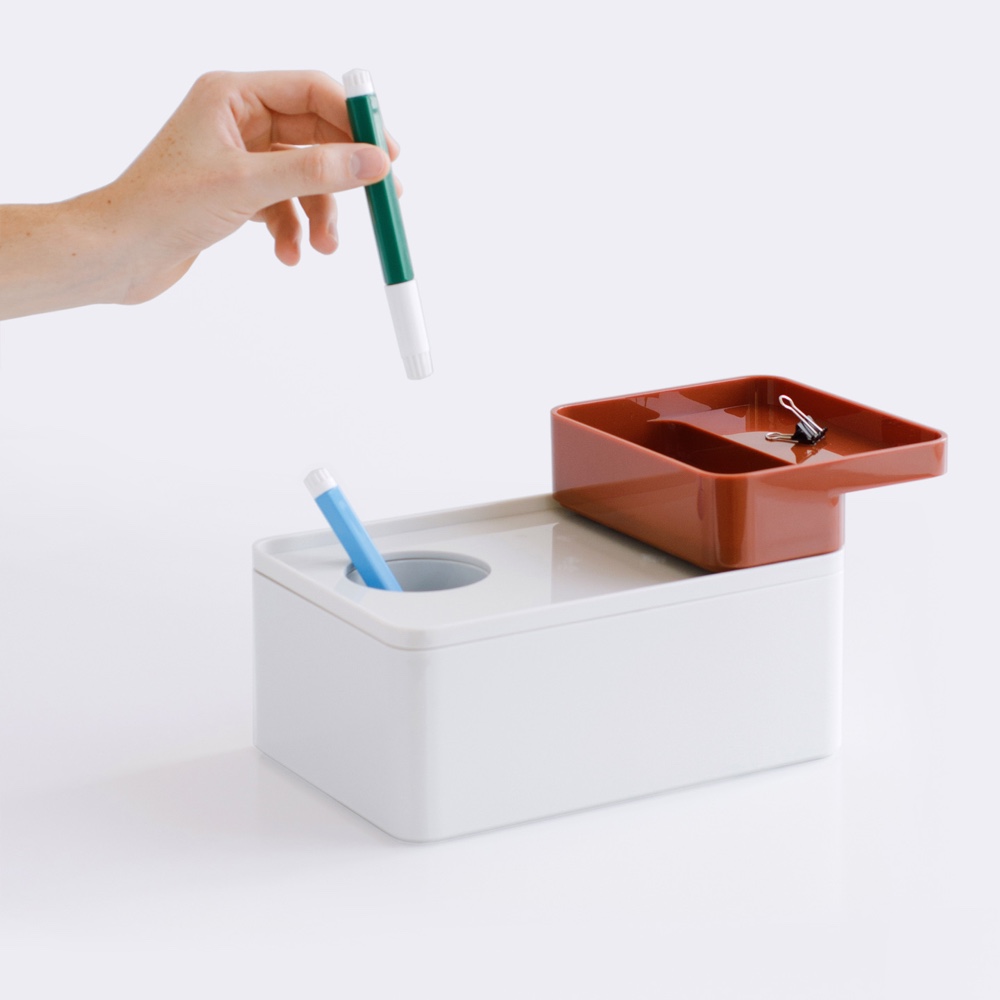 Images © Industrial Facility.
An Abridged History of Plastics (Part I)
In the late nineteenth century, cellulose nitrate was used by George Eastman "Kodak" to make photographic film available to the masses. In addition, cellulose nitrate replaced horn as the preferred material for combs and was used to make baby rattles.
In the 1930s, 3M invented 'Scotch' tape, the first transparent sticky tape, and the first toothbrushes with nylon tufts were manufactured.
In the 1940s, PVC was used to make 12-inch long-play records and Tupperware, made from low density polyethylene, was launched in the USA.
In the 1950s, polyethylene bags first appeared and Eero Saarinen's Tulip Chair, with a seat made using glass fibre reinforced plastic, was launched.
In the 1960s, silicon gel breast implants were pioneered and an astronaut planted a nylon flag on the moon.
More Fantastic Plastic Designs
4. Eames Elephant
The Eames Elephant was designed in 1945 by Charles & Ray Eames. Originally made of plywood, the design was not produced. The Elephant is now manufactured in plastic by Vitra and has become a design icon for kids and adults alike.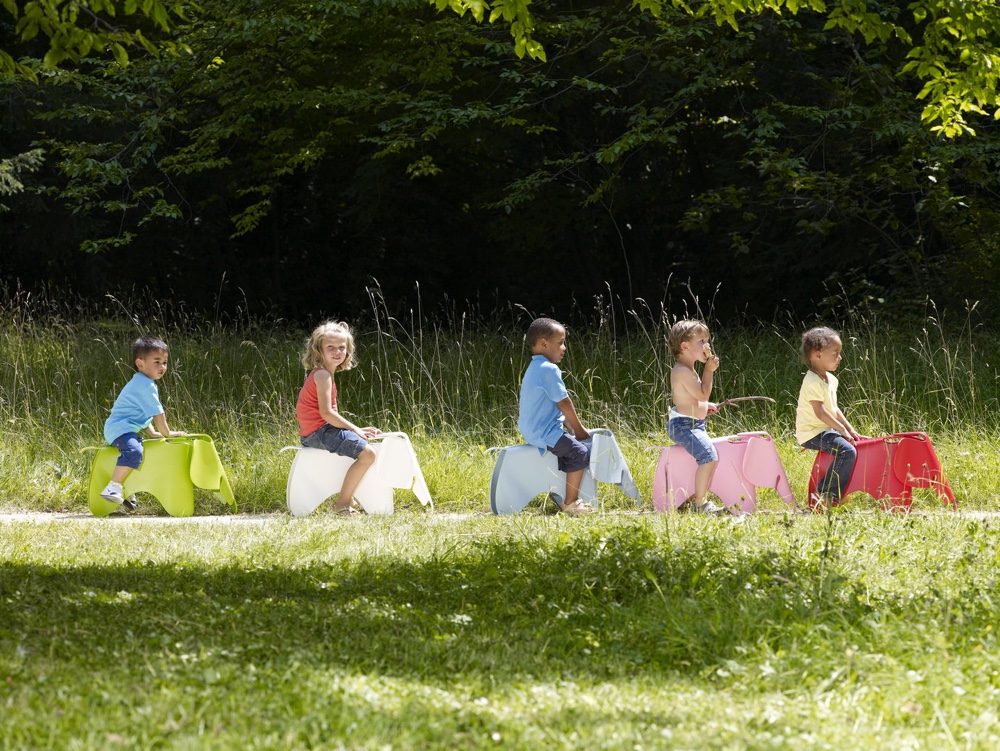 Image © 2016 Vitra AG.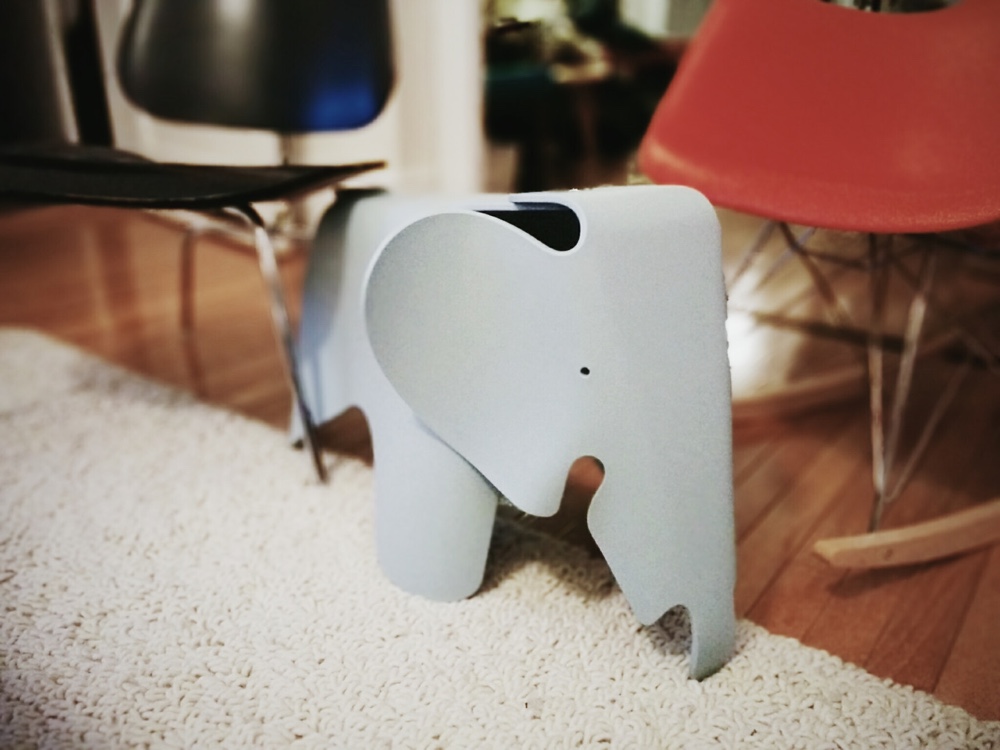 Image via The Eames Restoration Project.
5. Arne Jacobsen Table Clock
Arne Jacobsen designed his Table Clock in 1939 for the private residence of the director of Lauritz Knudsen (a Danish leader in electrical equipment, intelligent systems and solutions for data and communication). The Table Clock was, in part, influenced by Lauritz Knudsen's use of moulding with plastic, a material marvel at that time. Today, the Arne Jacobsen Table Clock is made using hardened glass and plastic by the Rosendahl Design Group.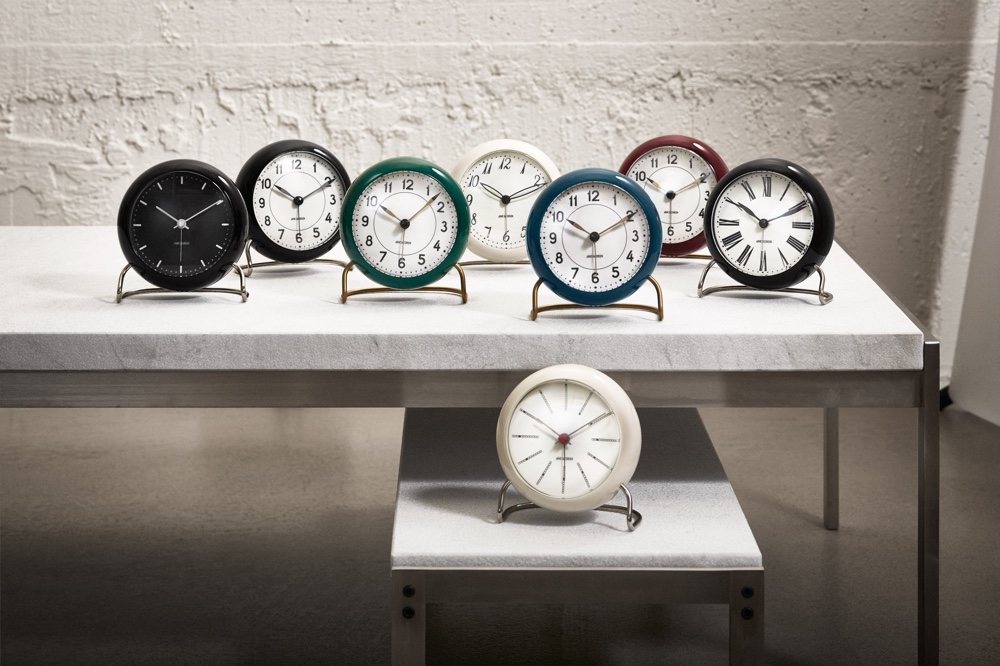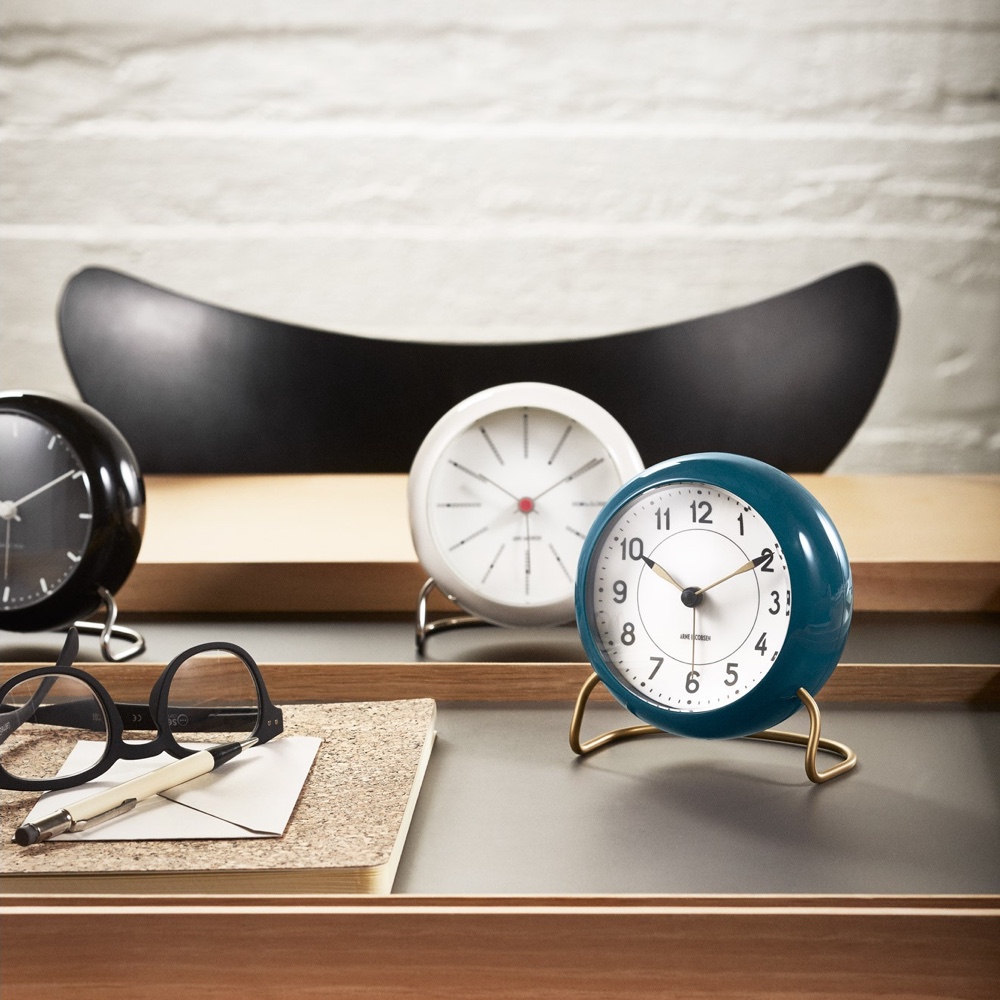 Images via Skandium.
6. Tip Ton
Tip Ton is a solid plastic chair designed in 2011 by Edward Barber & Jay Osgerby for Vitra. The chair's forward tilt motion helps to straighten the pelvis and spine and so improve circulation to the abdominal and back muscles.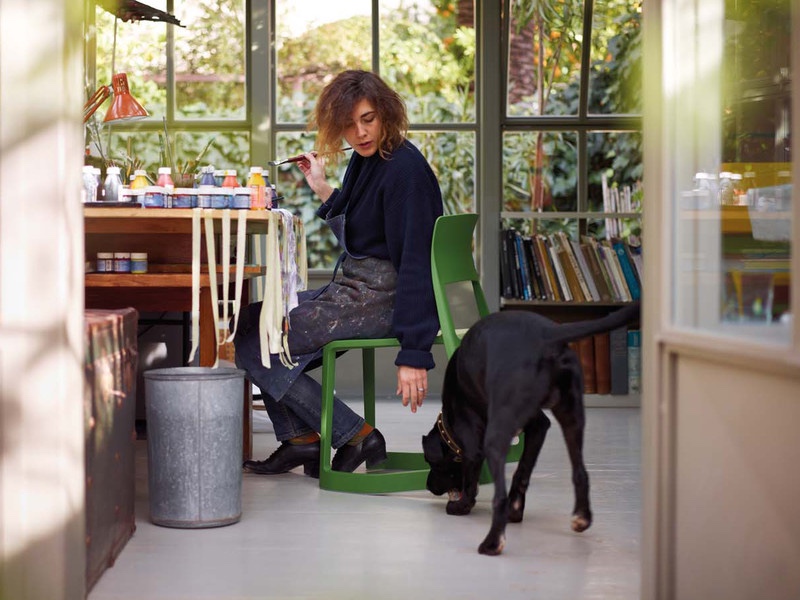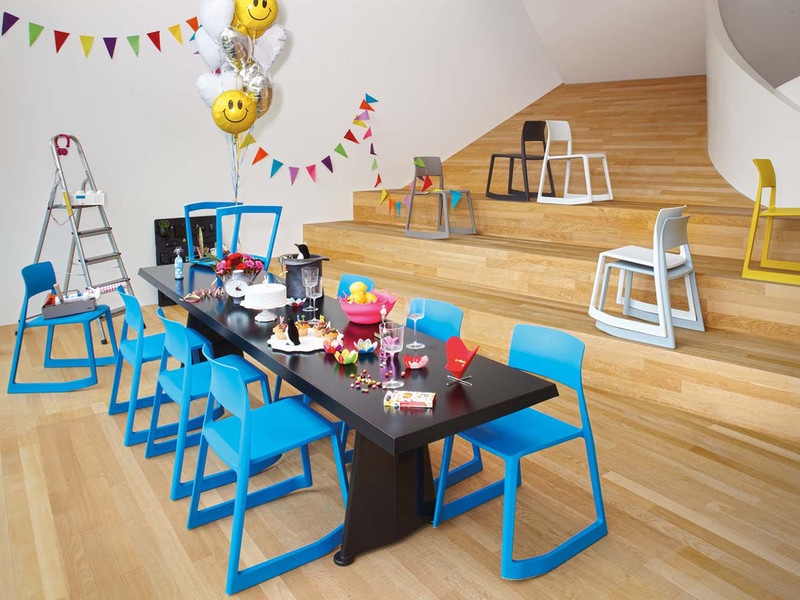 Images via Nest.co.uk.
7. Eames Plastic Chairs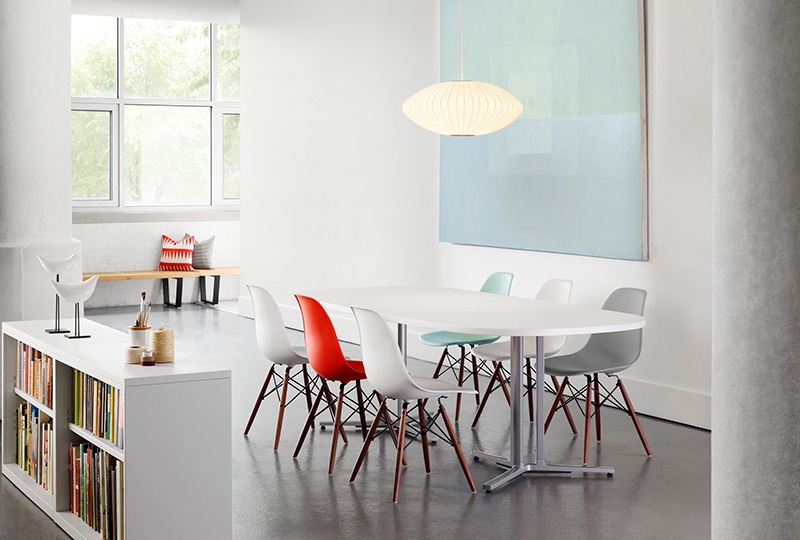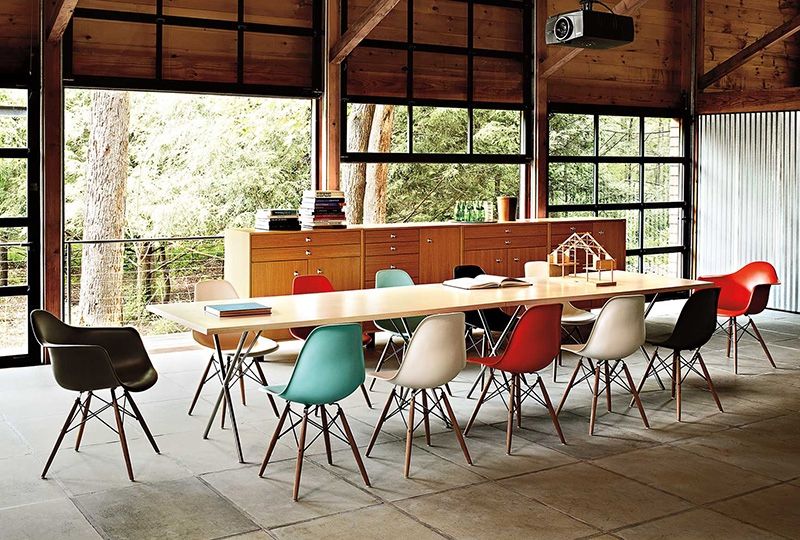 Infinitely famous: the classic Eames plastic chairs. Images © 2016 Herman Miller, Inc. (Read more on these chairs and Eames here: The Eclectic World of Charles and Ray Eames.)
An Abridged History of Plastics (Part II)
In the 1970s, polyethylene terephthalate (PET) beverage bottles were introduced and the first commercial mobile phones were made available.
In the 1980s, a Swatch watch was made using 51 mainly plastic components and triangular recycling symbols relating to plastics were conceived.
In the 1990s, ICI launched the first commercially available biodegradable plastic.
In the 2000s, the iPod was developed by Apple and Boeing's 787 had a skin made with 100% plastic components.
2010+, the University of Sheffield has developed "plastic blood" that mimics haemoglobin and implantable polymers will be used in neurological applications to help control epilepsy, Parkinson's disease and brain trauma.
Source: British Plastics Federation (2016). [Online] Available from: http://www.bpf.co.uk/plastipedia/plastics_history/default.aspx. [Accessed: 28th February 2016].
And More Fantastic Plastic Designs
8. Componibili Storage Unit
The Componibili Storage Unit was designed in 1968 by Anna Castelli Ferrieri for Kartell. A design classic, the unit is functional, adaptable and clever, having numerous uses across the home. Round and square stackable modular units are available in several sizes and colors. Standalone units are also available. The Componibili is made from ABS plastic.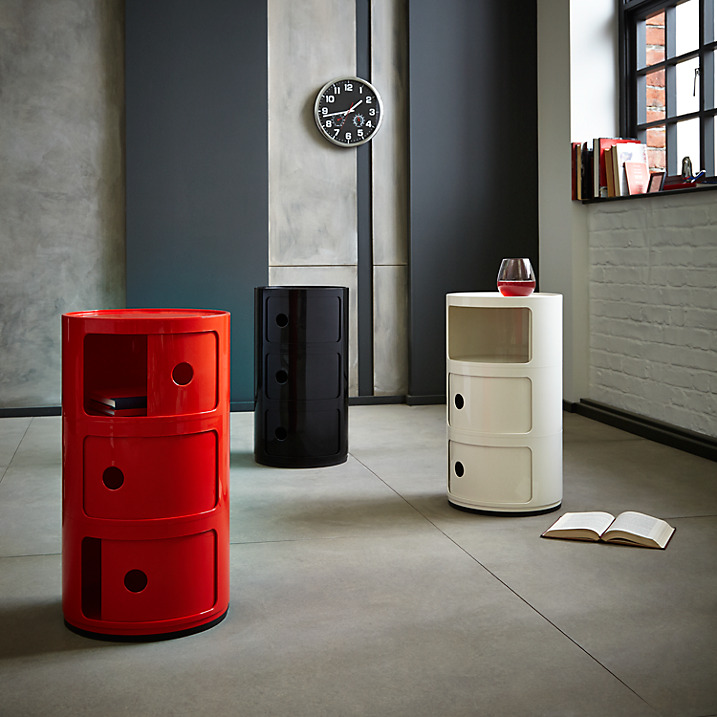 Image © John Lewis Partnership.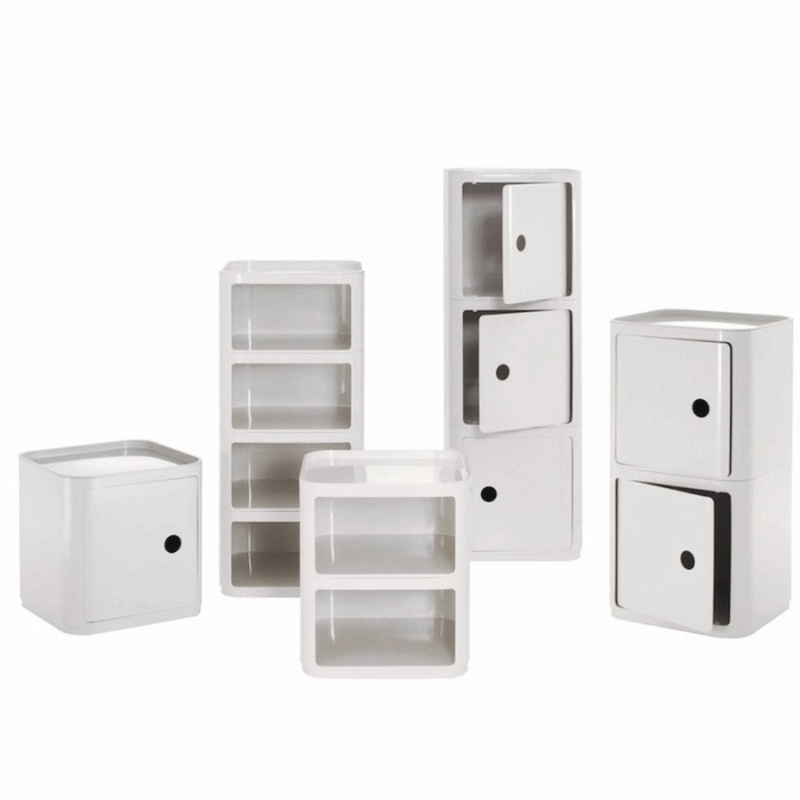 Image via Utility Design.
9. Elephant Stool
The Elephant Stool was designed in 1954 by celebrated Japanese designer Sori Yanagi and is made using dyed-through polypropylene. Clean, minimal and functional, the stool's organic form is a beautiful example of post World War II Japanese design. For use both indoors and out, the Elephant Stool offers an extra seat, a step up and a picnic companion. A versatile little helper, the stool is stackable too.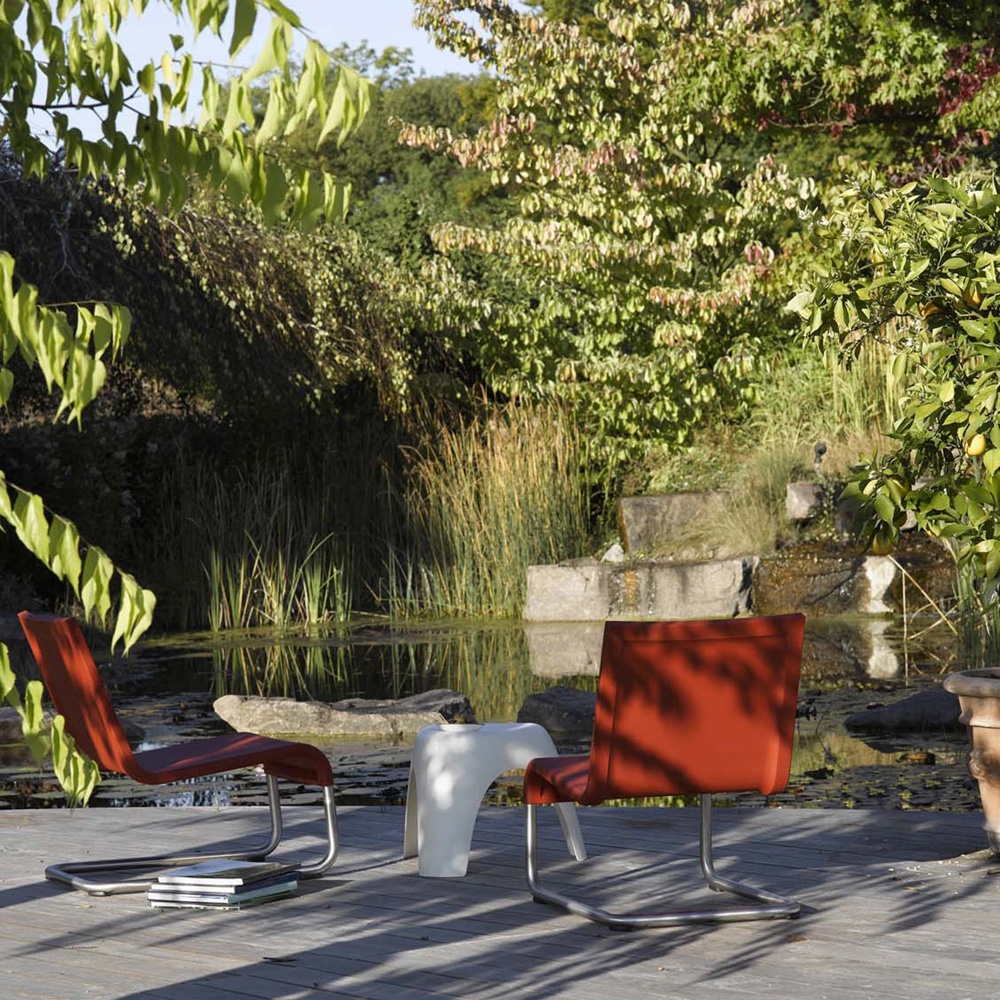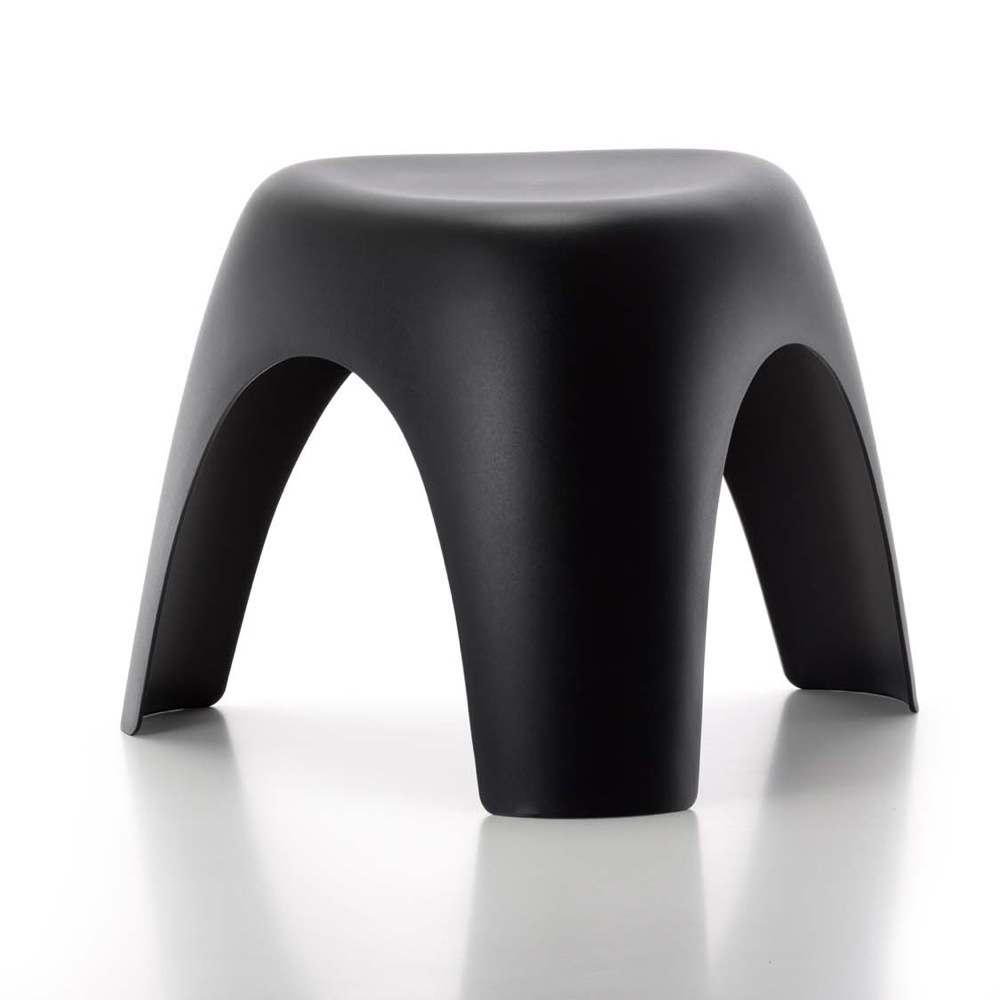 Images © 2016 Vitra AG.
10. Panton Classic Chair and Panton Chair
Danish furniture designer Verner Panton designed his classic Panton Chair in 1960; working with Vitra, the chair went into production in 1967. The Panton Classic Chair was designed with a hard foam plastic shell that features vibrant high-gloss colors.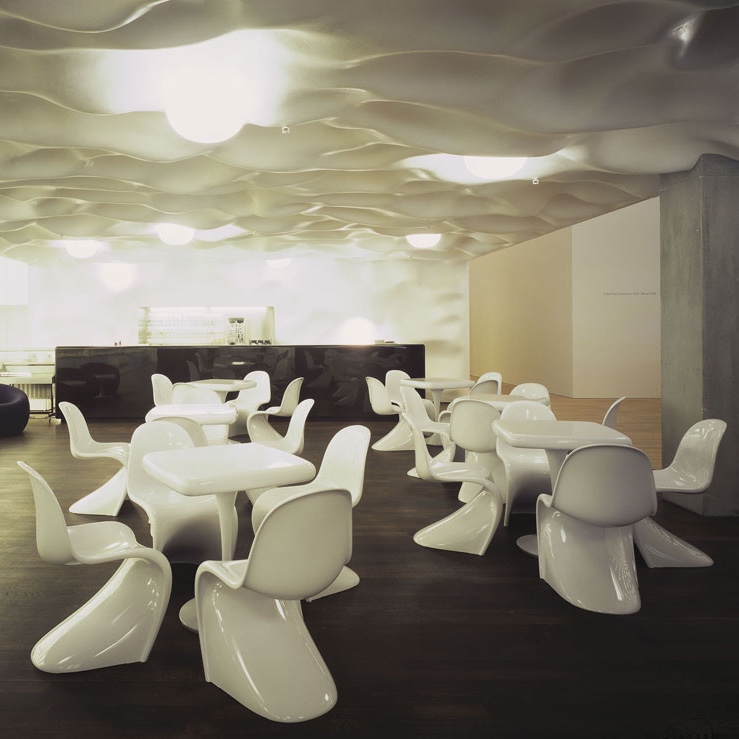 Panton Classic Chairs.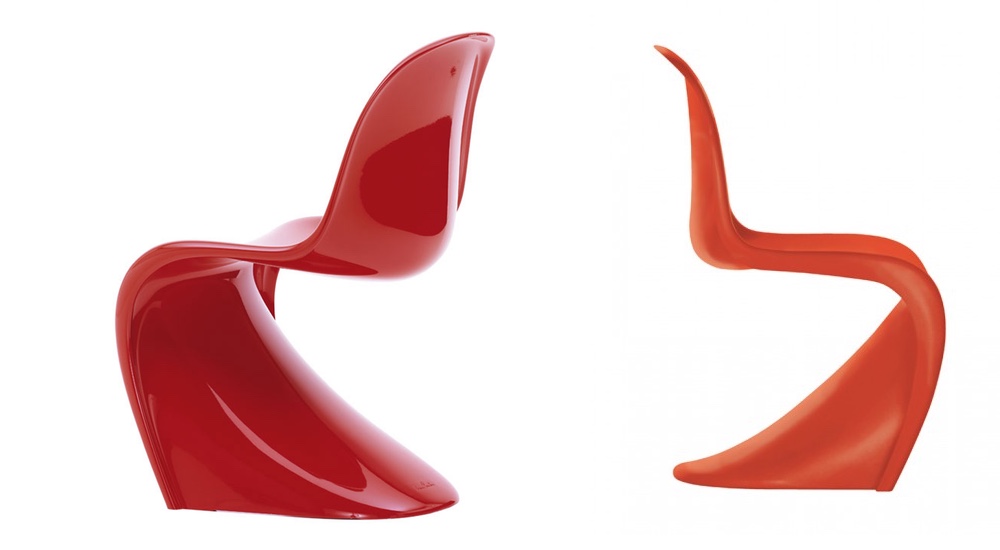 Panton Classic in glossy red and Panton Chair in matt red.
The Panton Chair (an affordable and widely used option) has only been in production since 1999, when Vitra conceived the chair out of a durable dyed-through plastic and matte finish. With its cantilever base, anthropomorphic shape and flexibility, the chair offers great comfort.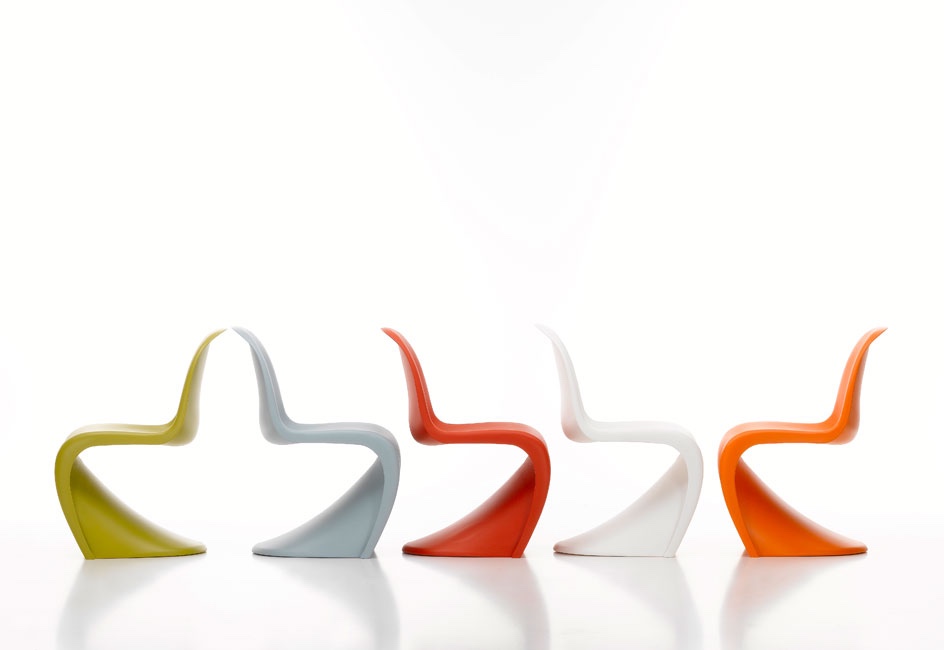 Images via Danish Design Blog.
Why Plastic Is Good
Despite the often negative publicity directed at plastic, it can have many benefits: from saving energy (plastic accounts for a tiny percentage of the crude oil and natural gas consumed annually) to hygienic healthcare use and better insulation. (Source: Aotea Plastics Industries Ltd) Moreover, plastic is a highly durable material, long-lasting, malleable and (for the most part) recyclable. In design terms, plastic has had an incredibly positive impact on what constitutes good design.