We know that photos can be an amazing source of design inspiration, so this article may contain affiliate links that will direct you to a particular decor item. Clicking on a link may result in a portion of proceeds being paid to www.decoist.com
Transforming your home into the super stylish space from your Pinterest board dreams does not necessarily have to break the bank. Each piece that you bring into your home can serve a functional and stylistic purpose – and we're all about trendy functionality. We found the top ten trending decor items that you can get your hands on right now for under $100 at our favorite home decor stores.
#1 Geo Patterned Rug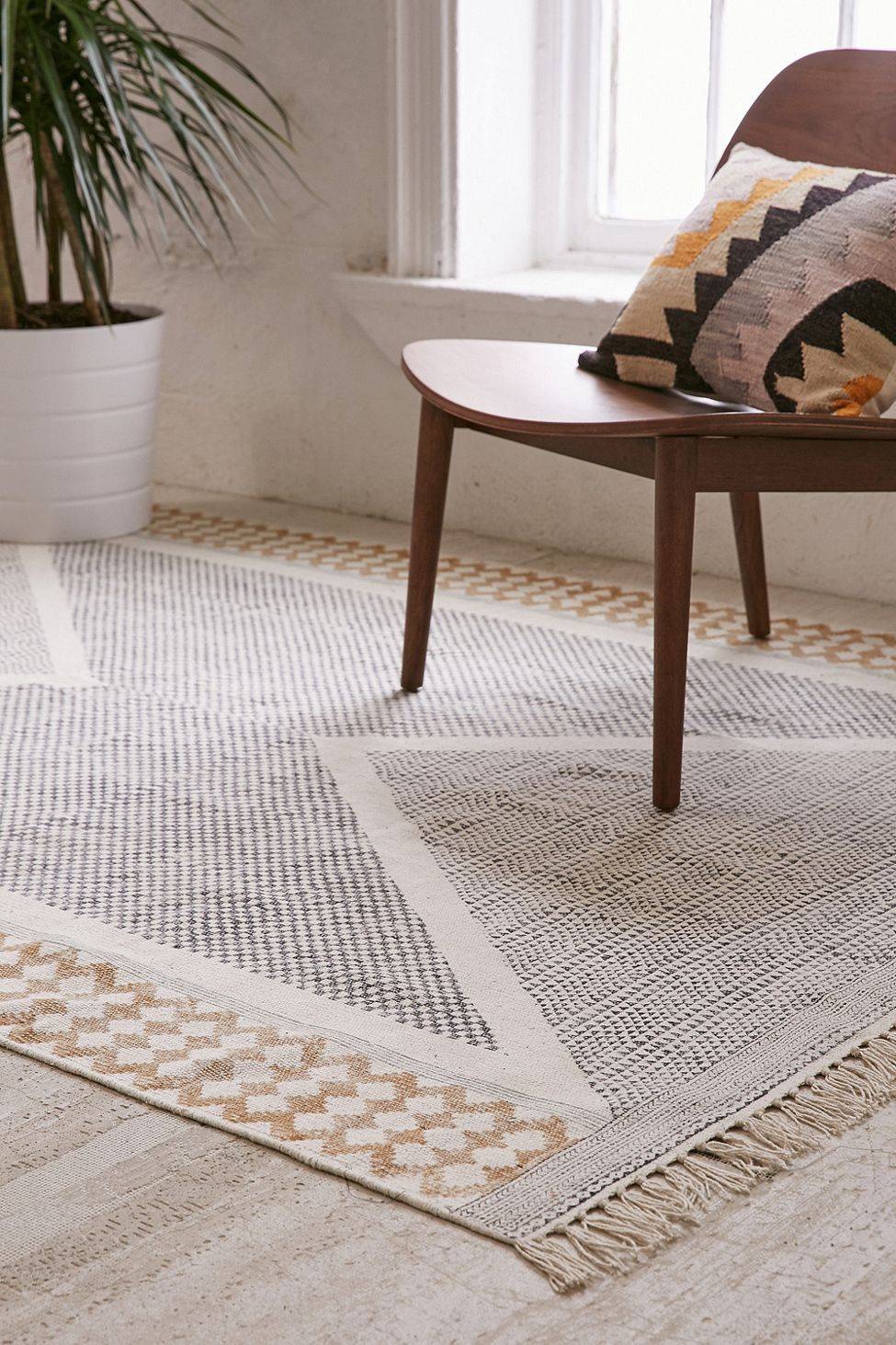 #2 Floor Poufs
Floor poufs are a fun decorative feature that you can introduce to any room to act as a footstool, ottoman, coffee table or lounge seat. We selected a couple of our favorite (and most affordable) options that you can get your hands on today. Check out the Textured Georgette Square Pouf Ottoman at Walmart ($86) for a larger boho option, or the Urban Shop Round Knit Pouf also at Walmart ($67) to achieve the same look as the Crate and Barrel living room below.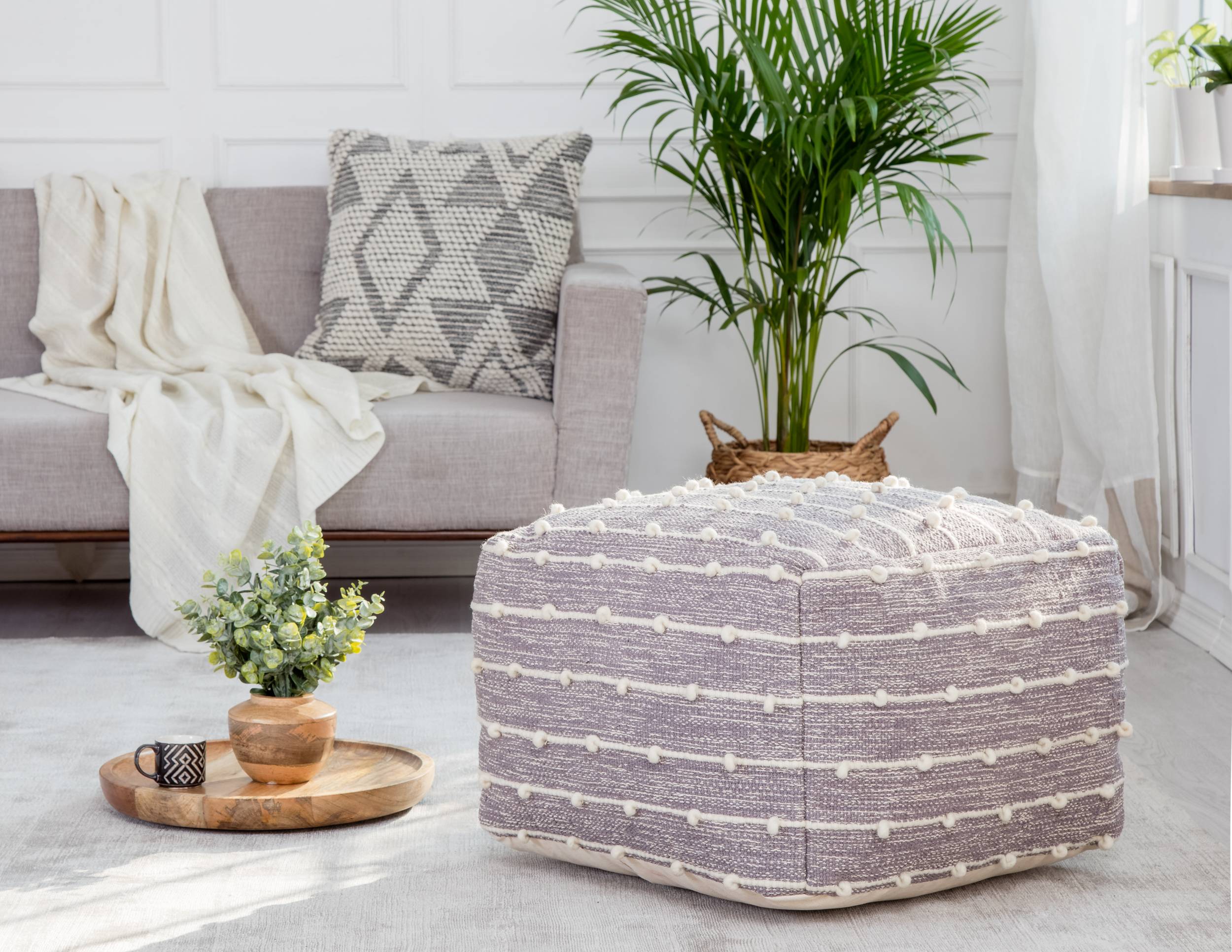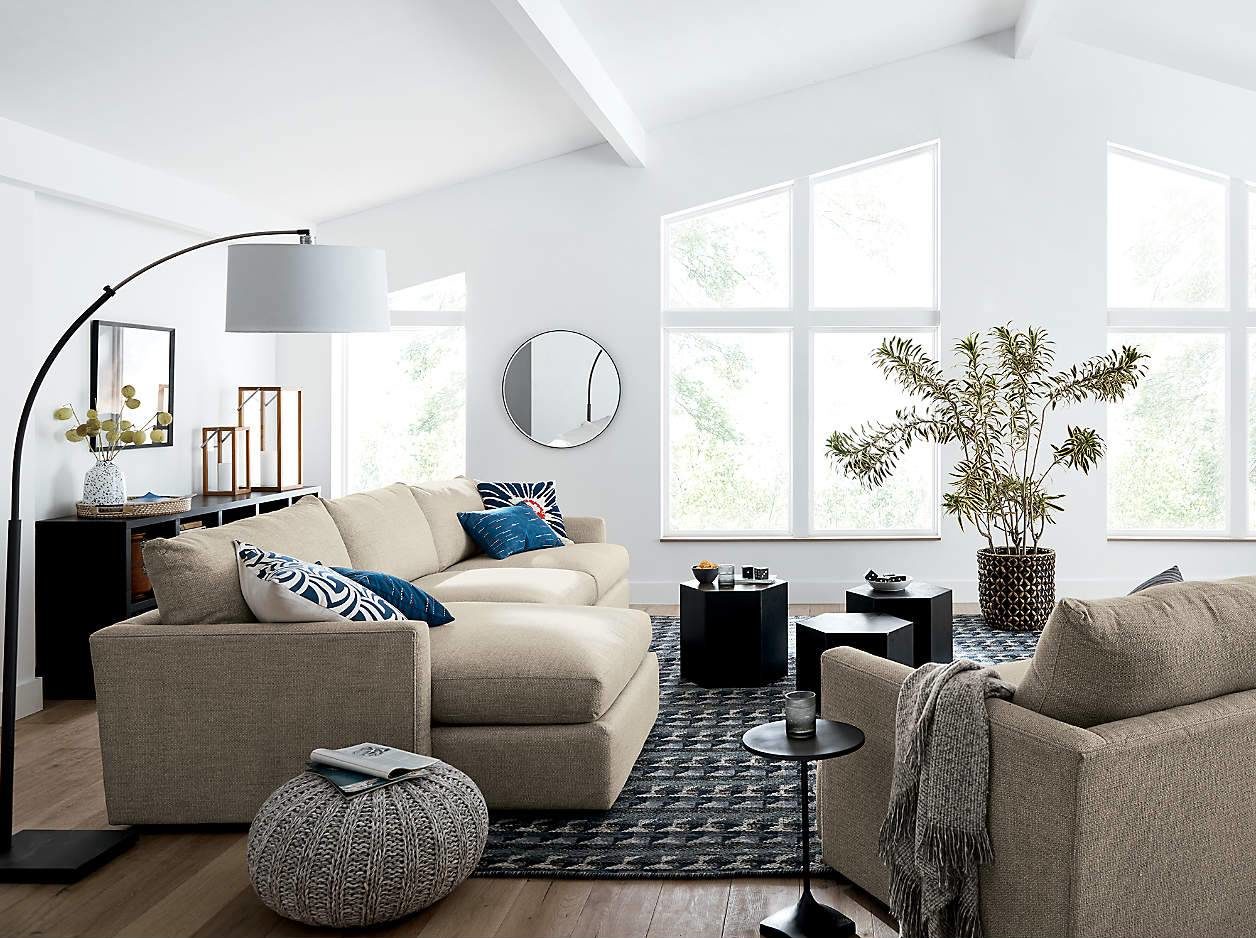 #3 Bohemian Rattan Plant Stands
A set of standing planters can be arranged around any well-lit room to offer cohesion and create some texture in the area. The Rattan Standing Planter set from Urban Outfitters ranges in price from $69-$99 and are available in sizes small, medium, and large.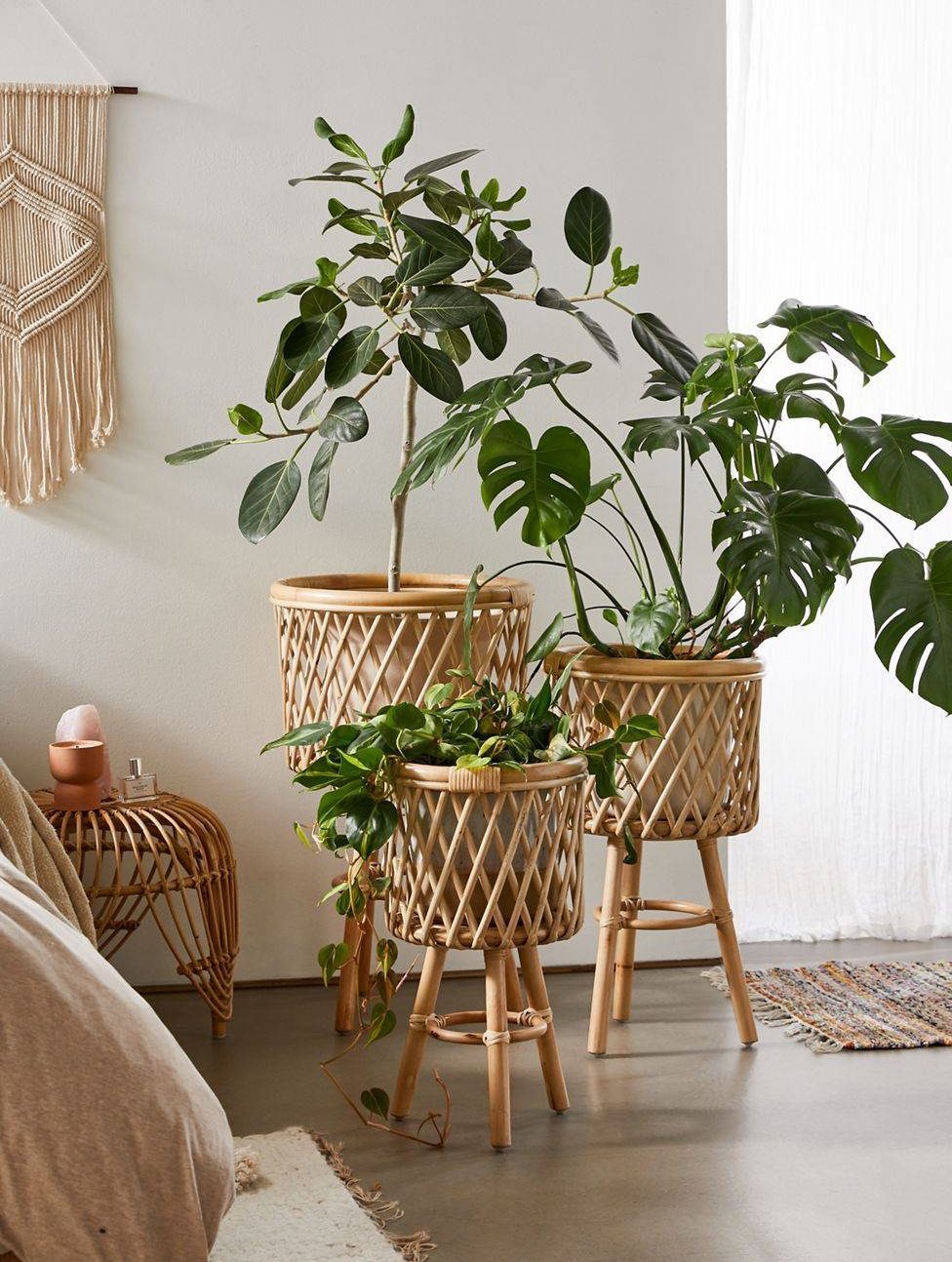 #4 Modern Office Desk Lighting
Adding a small lighting feature to your desk space can help brighten up your work area. Table lamps are preferred for their small footprint on a nightstand or desk while still offering a powerful lighting option so you can work comfortably into the evening hours. The Buckland Table Lamp is a chic mid-century modern inspired lighting option on sale at Nordstrom for $89, pictured below in a modern office space.
PS. if you love this office chair as much as we do, find a similar style at Overstock.com.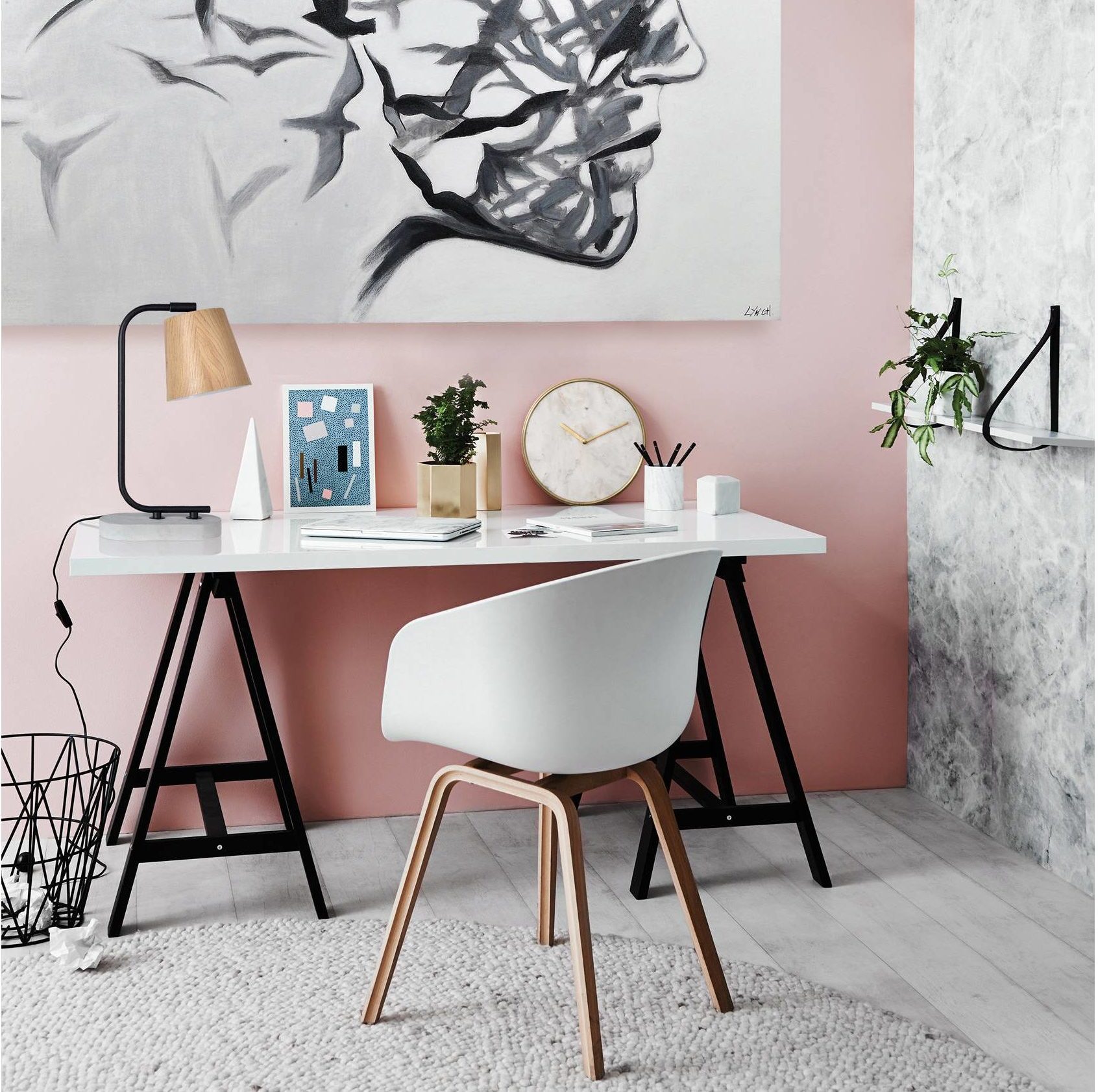 #5 SINNERLIG Pendant Light
This large beautiful pendant light looks amazing both indoors or on a covered patio. It can be styled in a dining room as shown below, or in bedrooms, offices, and living areas to add both lighting and texture. Shop the SINNERLIG Pendant Light at IKEA for $99.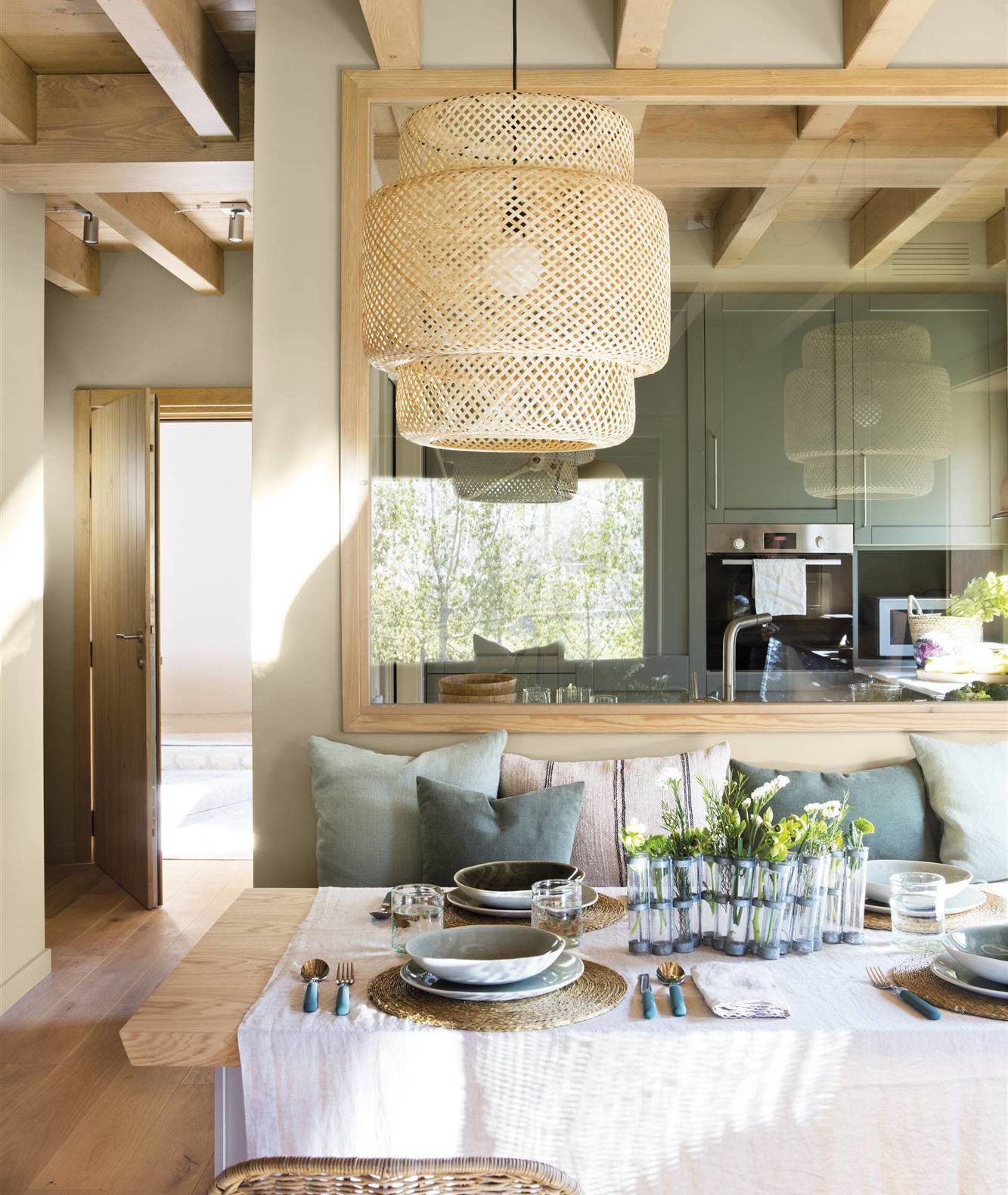 #6 Decorative Throw Pillow Set
Investing in a quality throw pillow set is a simple yet stylish way to mix and match textures and shapes in your home. Multiple pillows add a cozy and comfortable feel to benches, couches and bedrooms. We found inspiration in the trendy pillows available at Pottery Barn and Crate&Barrel; check out the Handwoven Essex Pillow at Anthropologie ($58) and the Neesa Pillow Arrangement from Crate and Barrel (starting at $44.95) to shop the images below.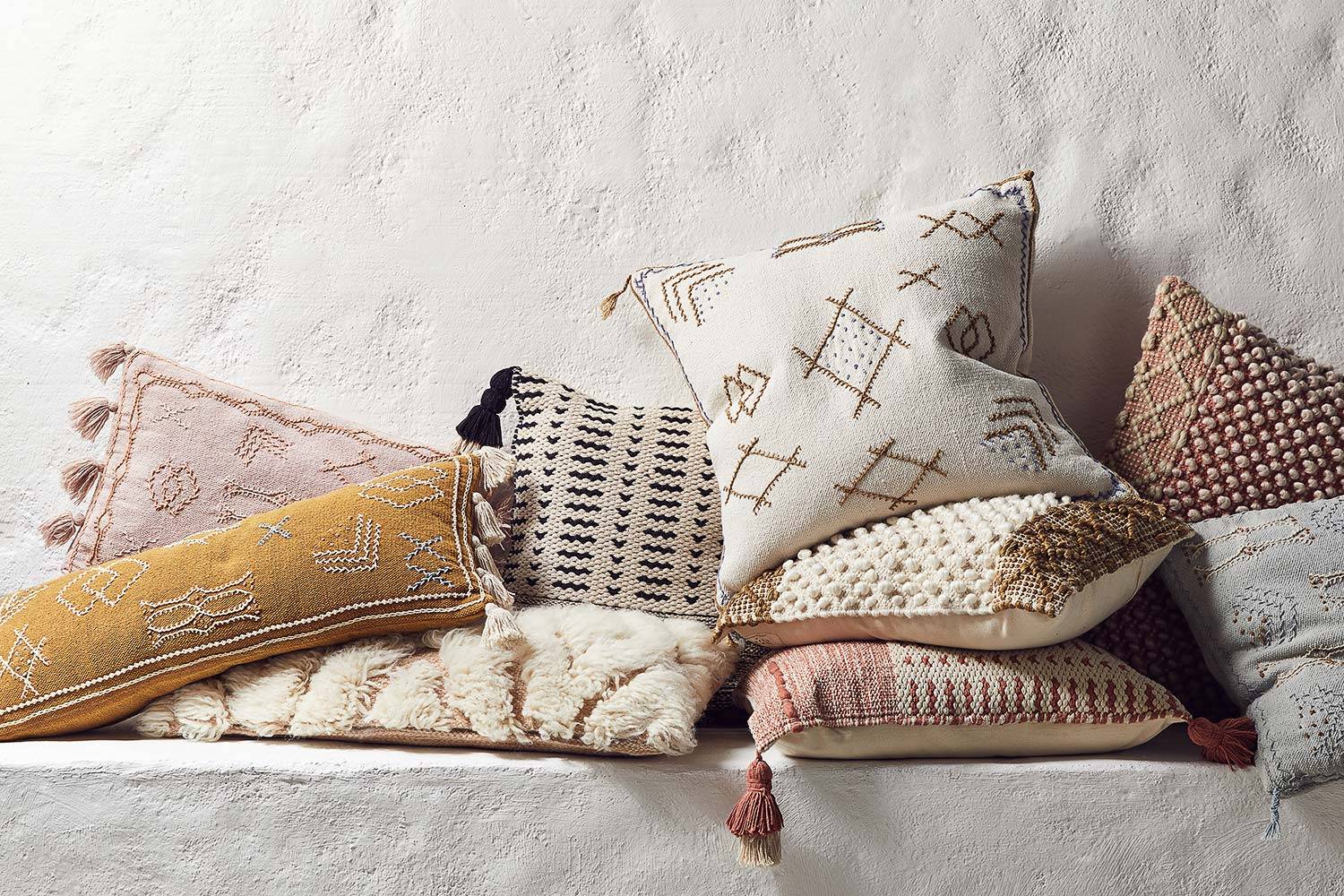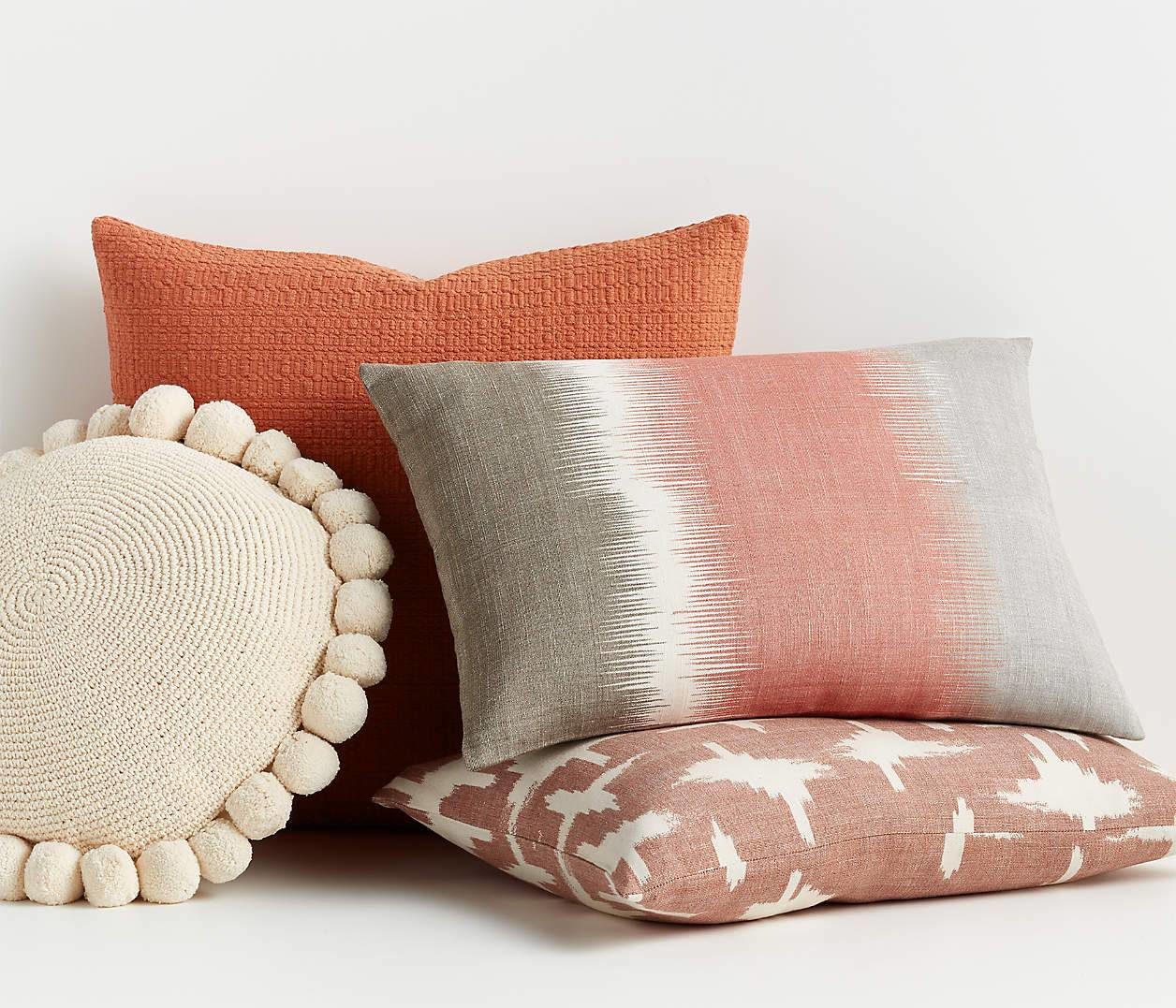 #7 Curved Furniture: Organic Shapes
People are finding inspiration in the curved edges of the mid-century modern design style in order to break up their spaces and add an artistic element to the home. Depending on what your home is best suited for, styling a rounded ottoman, curved bench, or funky coffee table is a great way to add a functional statement piece to your home. Shop the Finley Home Mid-Century Modern Coffee Table Set at Walmart for $90 to get the look.

#8 Statement Chair
The Cavett Wood Frame Chair from Crate&Barrel is one of the most popular accent chairs on the market today. Favored for its clean minimalism mixed with soft, round curves, it works beautifully in an office or living/lounge space. Unfortunately, the authentic Cavett chair is pretty expensive ringing in at $1099.00… but we managed to find an awesome alternative inspired by the style. Shop the Gymax Upholstered Accent Chair from Walmart (on sale for $99) to achieve the same look as this SohoHome living room: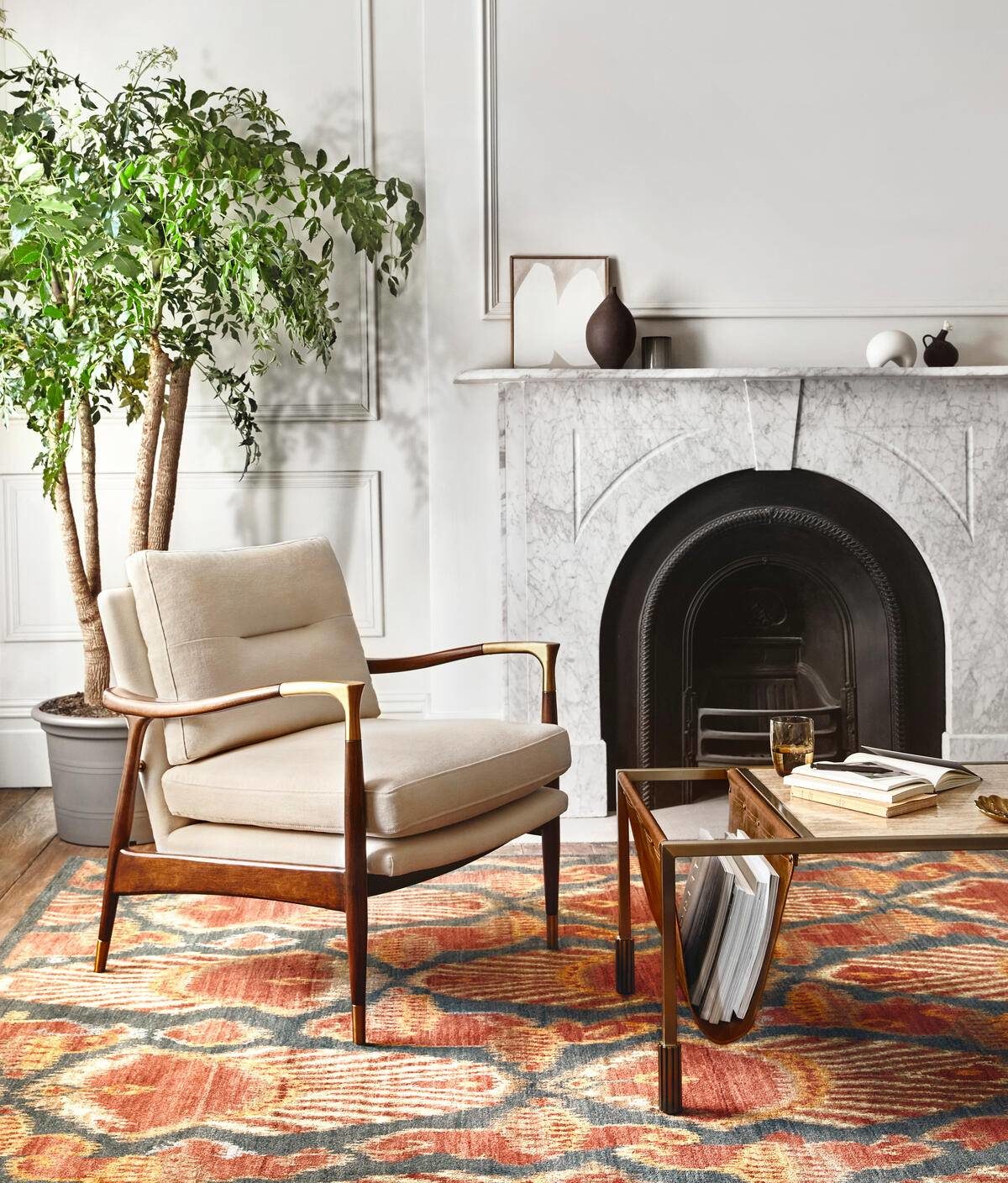 #9 Trendy Rope Basket Storage Set
Universally loved for their natural materials and functionality, rope baskets remain a storage solution that never go out of style. The baskets come in a variety of sizes to fit beautifully into most decor schemes and color palettes. Shop the Wynne Coil Abaca Basket Collection at Pottery Barn, with sizes starting at $49.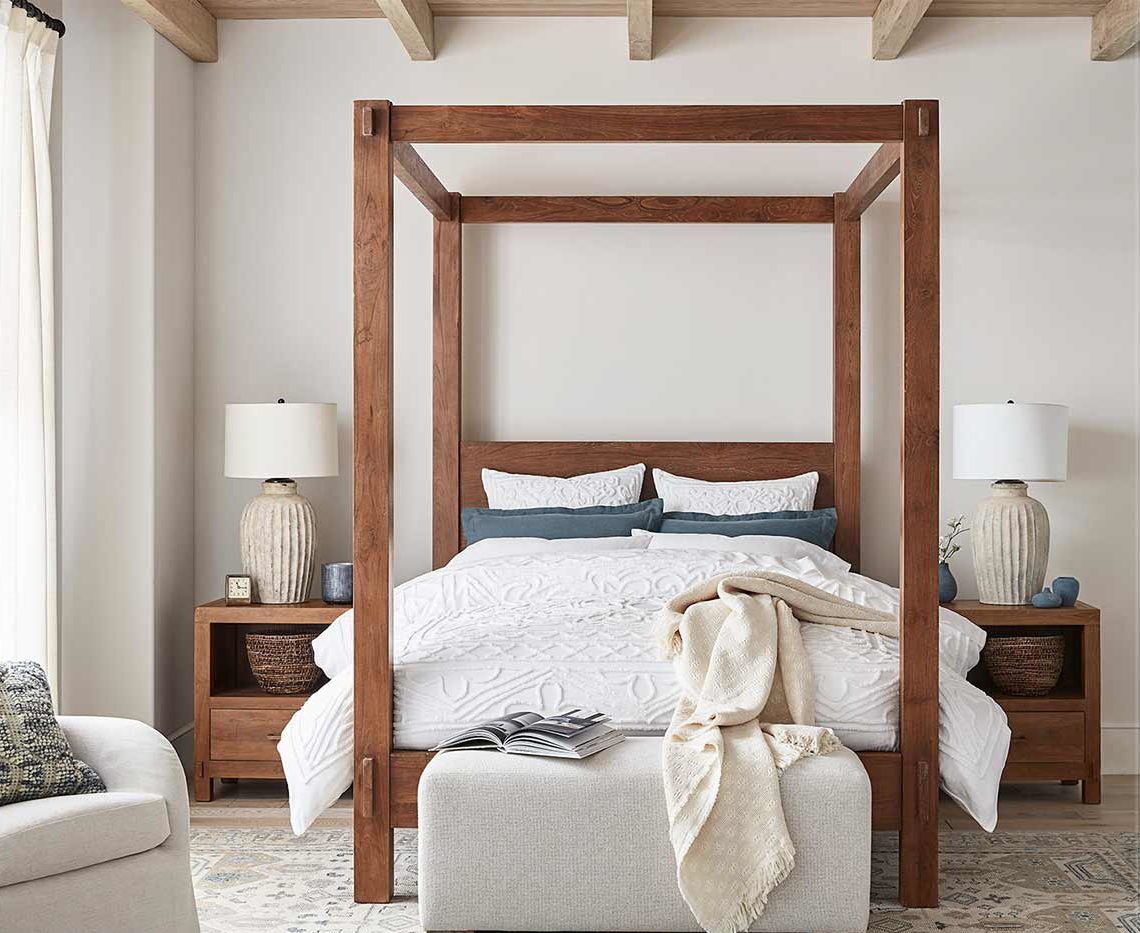 #10 Cozy Luxury Throw Blanket
Throw blankets are a staple item that are sometimes worth splurging on. One of the most luxe item on our list, the Plain Weave Sand Fringe Throw ($99) from Crate&Barrel can be styled in various ways, shown below in a bedroom. Of course there are more affordable options available in collections at H&M Home and Pottery Barn but there's just something about a luxury material to cozy up in that's hard to beat.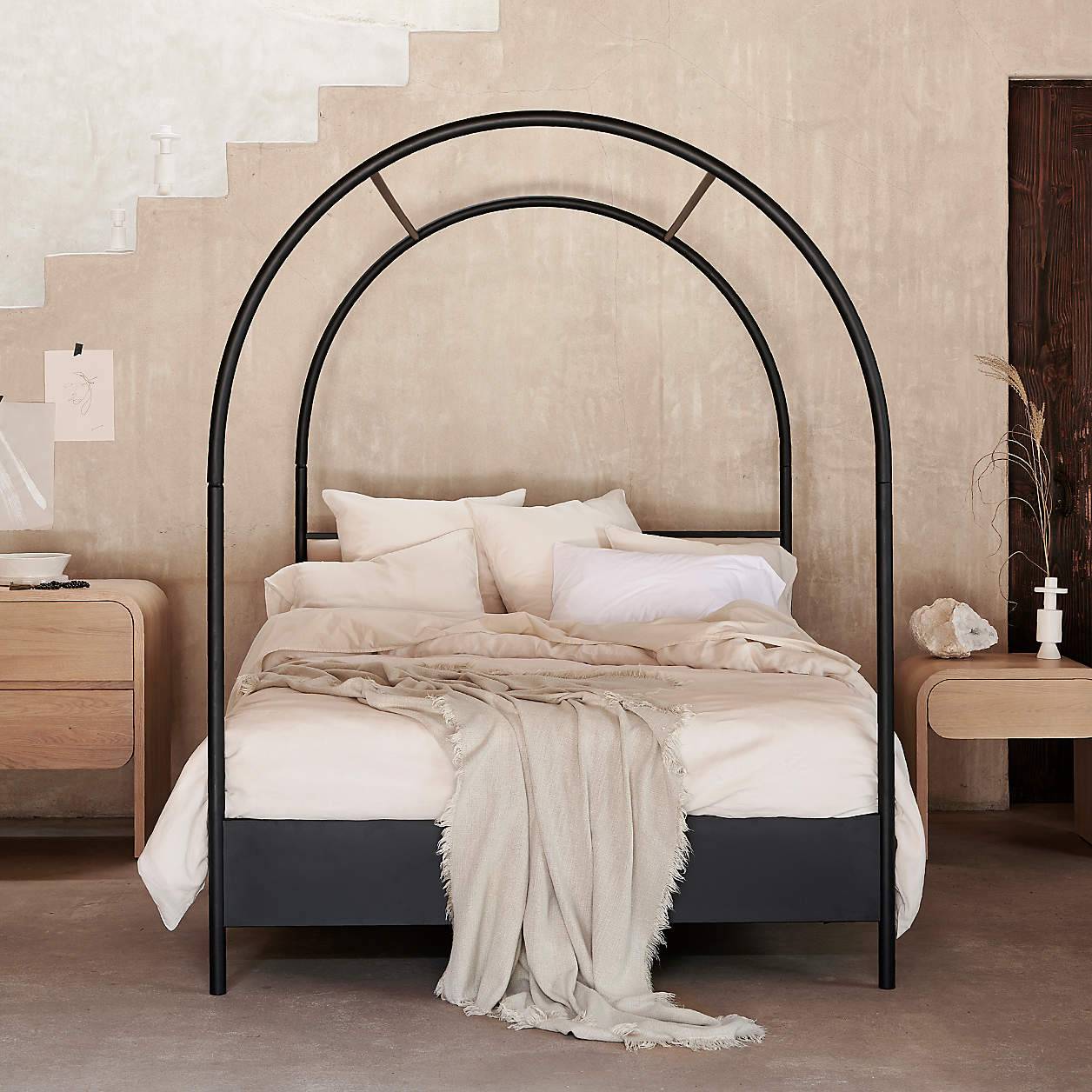 Style your home without breaking the bank by shopping the top trending items at our favorite designer stores for under $100. Check out our Facebook, Pinterest, and Instagram for further inspo to make your home the stylish escape you've always dreamed of.