Terracotta was one of this summer's "it" colors, and it's definitely got the staying power to capture our attention through the fall and beyond. Need proof that this hue is making waves? How about countless room makeovers (from our favorite design bloggers) featuring terracotta walls and decor?! When it comes to modern style, designers are always looking for ways to warm up a space, whether it's through texture, earthy accents, or rich hues. No wonder terracotta was poised to make a big entrance! Not to mention, this orangey-reddish-rosy color isn't a huge departure from the range of blush tones that have been in the spotlight for the last few years. Read on and discover just how versatile this appealing hue can be…
Beautifully Boho
Terracotta can complement many interior design styles, from the modern to the boho. There are so many amazing details in the bedroom below, you can't take it all in at one glance! It's not a cookie-cutter boho space, but there are plenty of features that channel a boho feel, from the pom poms and tassels to the potted plants. Can you spot all of the different terracotta tones?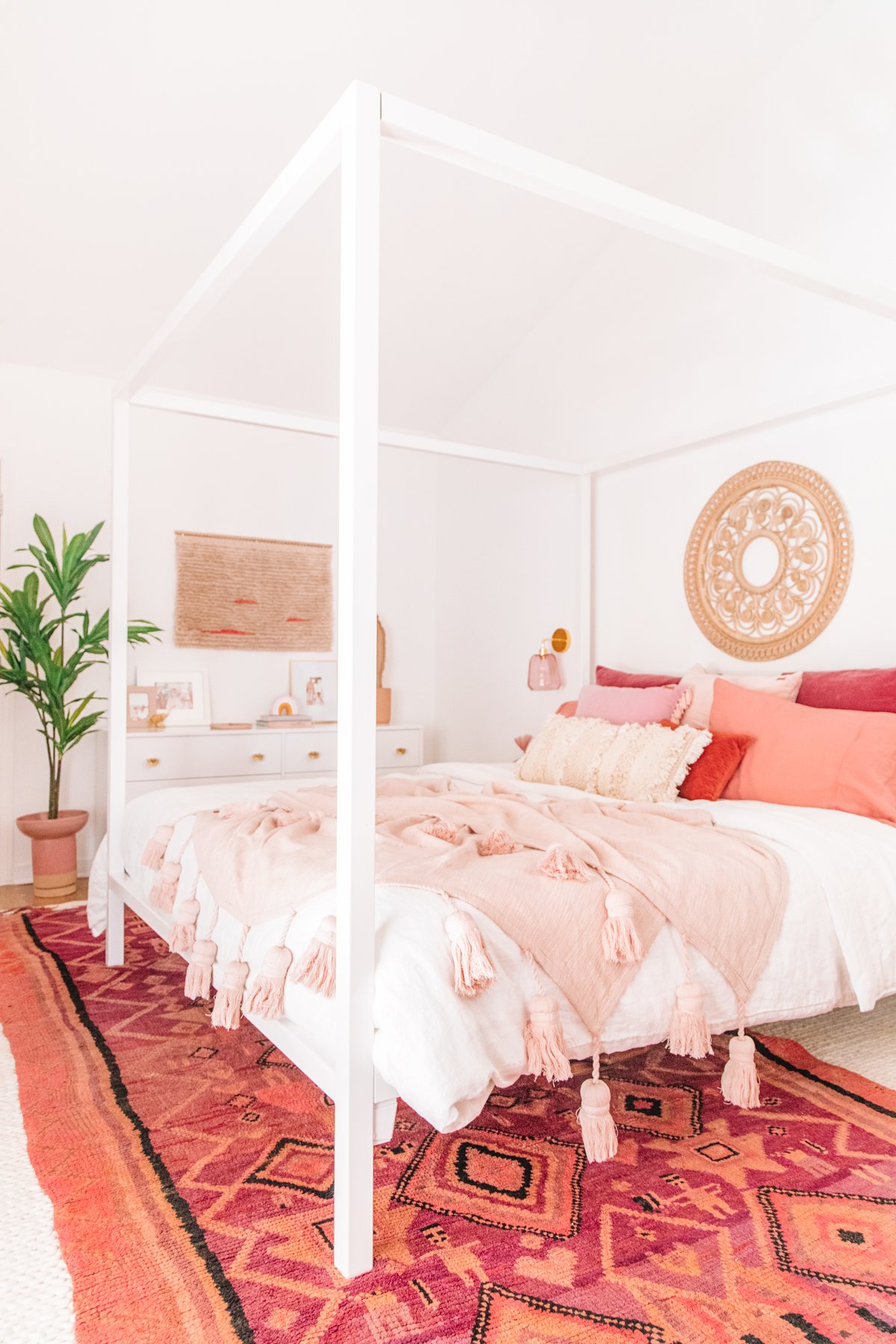 From the rug to the bedding, the warm hues are welcoming and stunning. This is the master bedroom of Studio DIY founders Kelly and Jeff Mindell. Even the wall art (shown below) is impeccably curated and filled with peachy-pink accents. See the entire bedroom reveal here.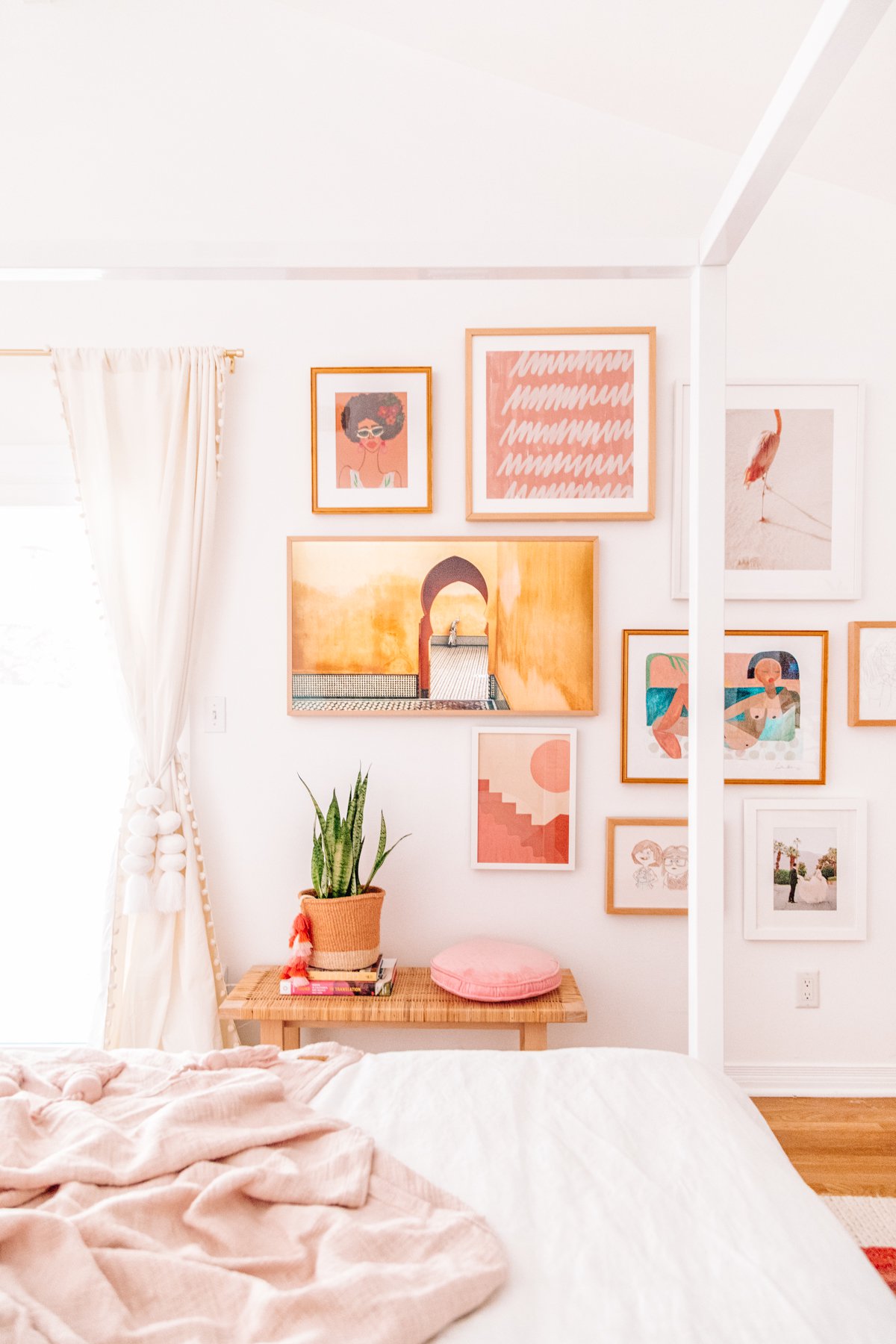 Speaking of pink tones, terracotta blends beautifully with any shade of blush, and some terracotta shades even border on rose. This Tufted Dot Shower Curtain from Urban Outfitters adds the perfect dose of warmth to any powder room. The textured border at the bottom gives the curtain a boho feel.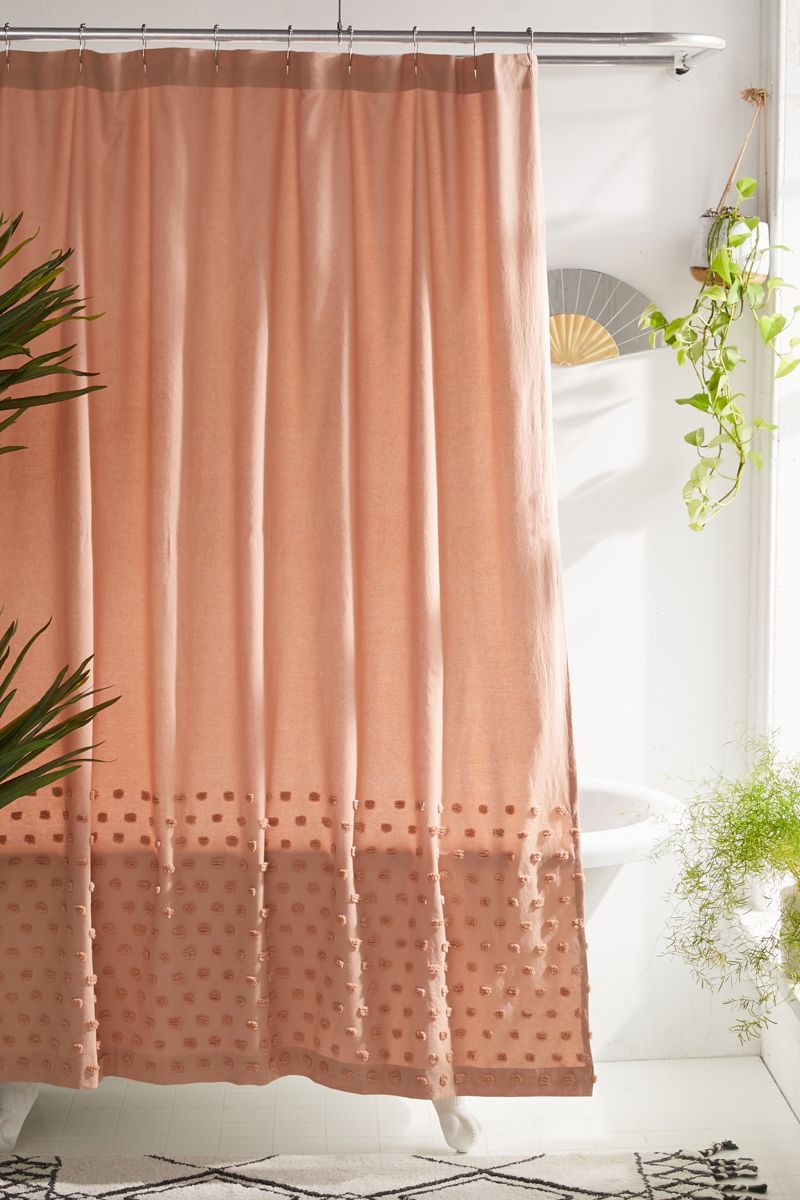 If you love a boho look, be sure to check out Justina Blakeney's Jungalow blog. Blakeney is also a product designer who has created countless stellar pieces, from wall art and tabletop decor to pillows and rugs. How gorgeous is her Cielo Terracotta Rug?!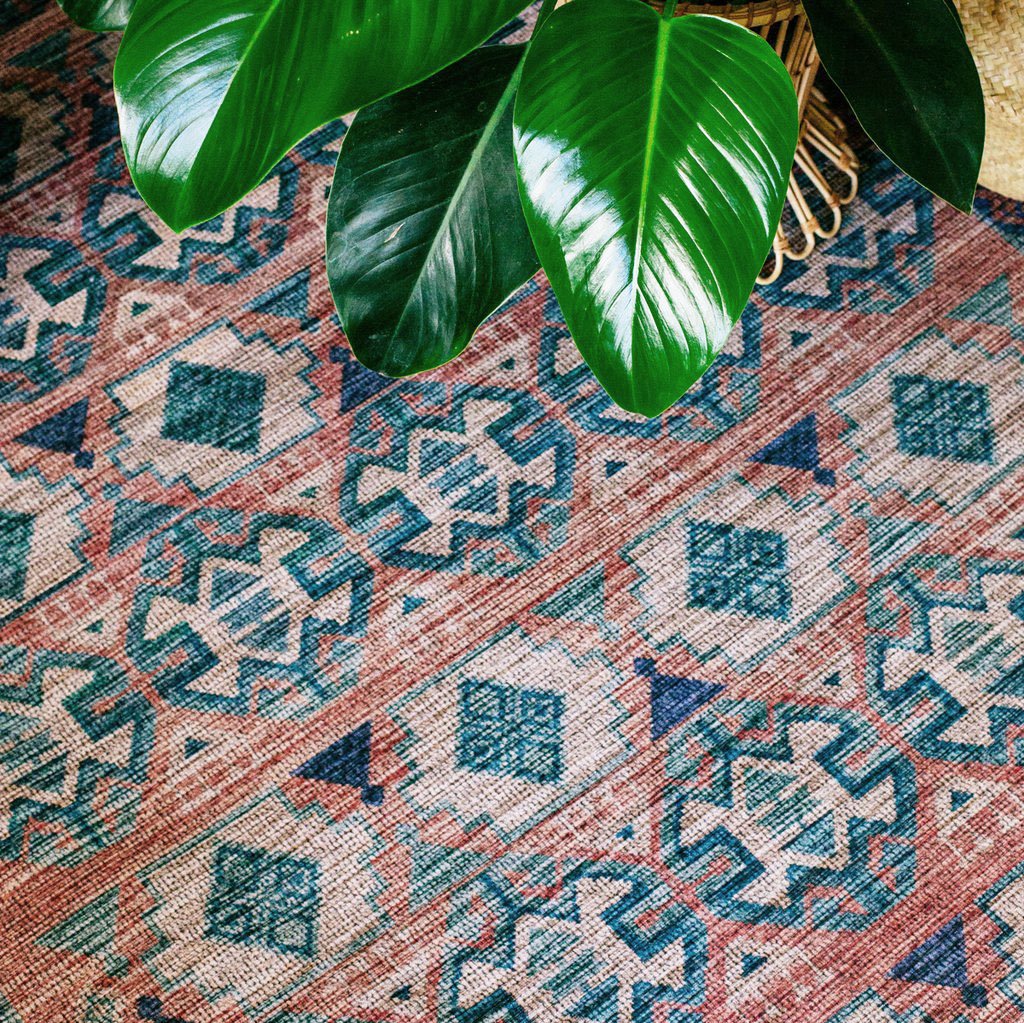 Sleek and Modern
From the boho to the modern, we now turn our focus to sleek, clean-lined products and rooms featuring terracotta. Even small details can add a modern touch, which is why we're loving these Green Dots from CROWDYHOUSE. In fact, these pots always appear to be in motion, thanks to a semi-conical base. Some even feature a two-toned look for contrast: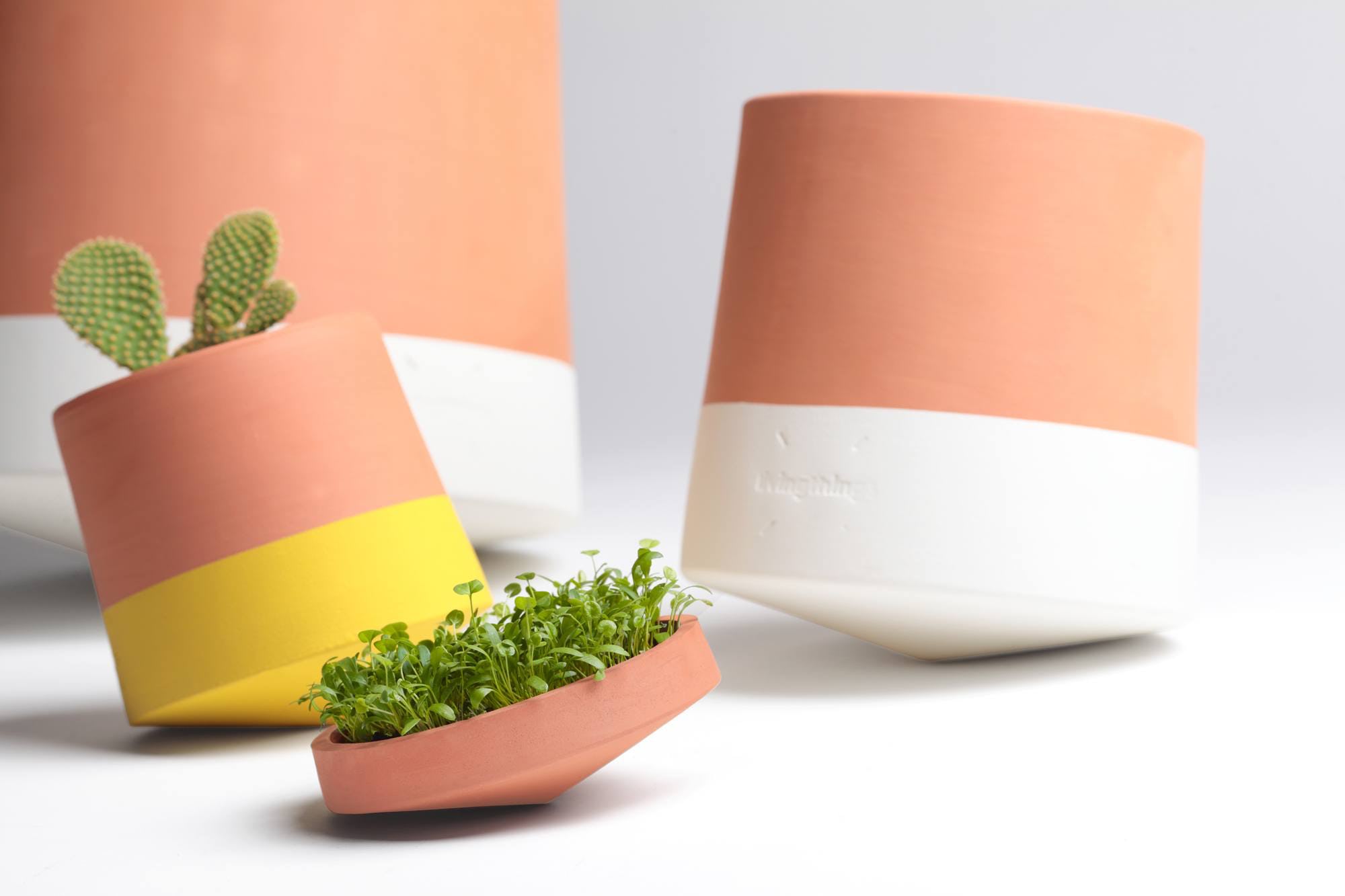 Also from CROWDYHOUSE is this Star Suspension Lamp, which is designed using a 3D printing technique. A modern form meets the beauty of clay: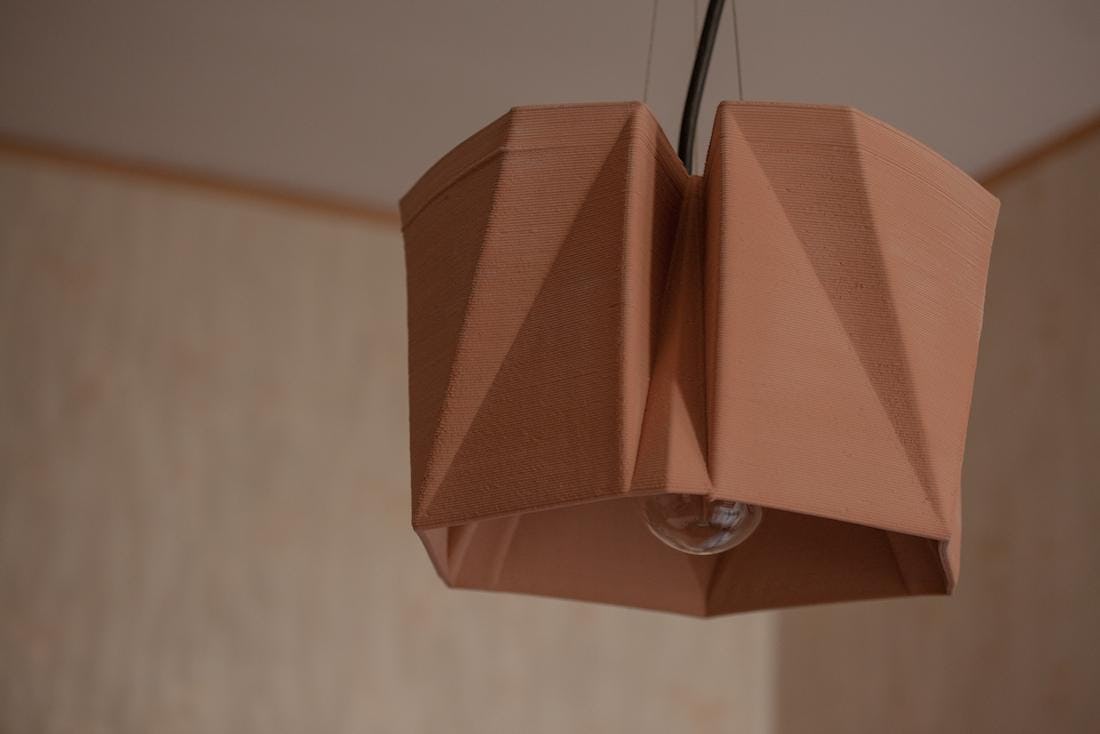 Zara Home is currently featuring a line of terracotta bedding, and the product photography plays up the orange. Below we see the Terracotta Sateen Duvet Cover with Piping, showcased in a modern bedroom space that proves less is more when it comes to decor (but "more is more" when it comes to color)!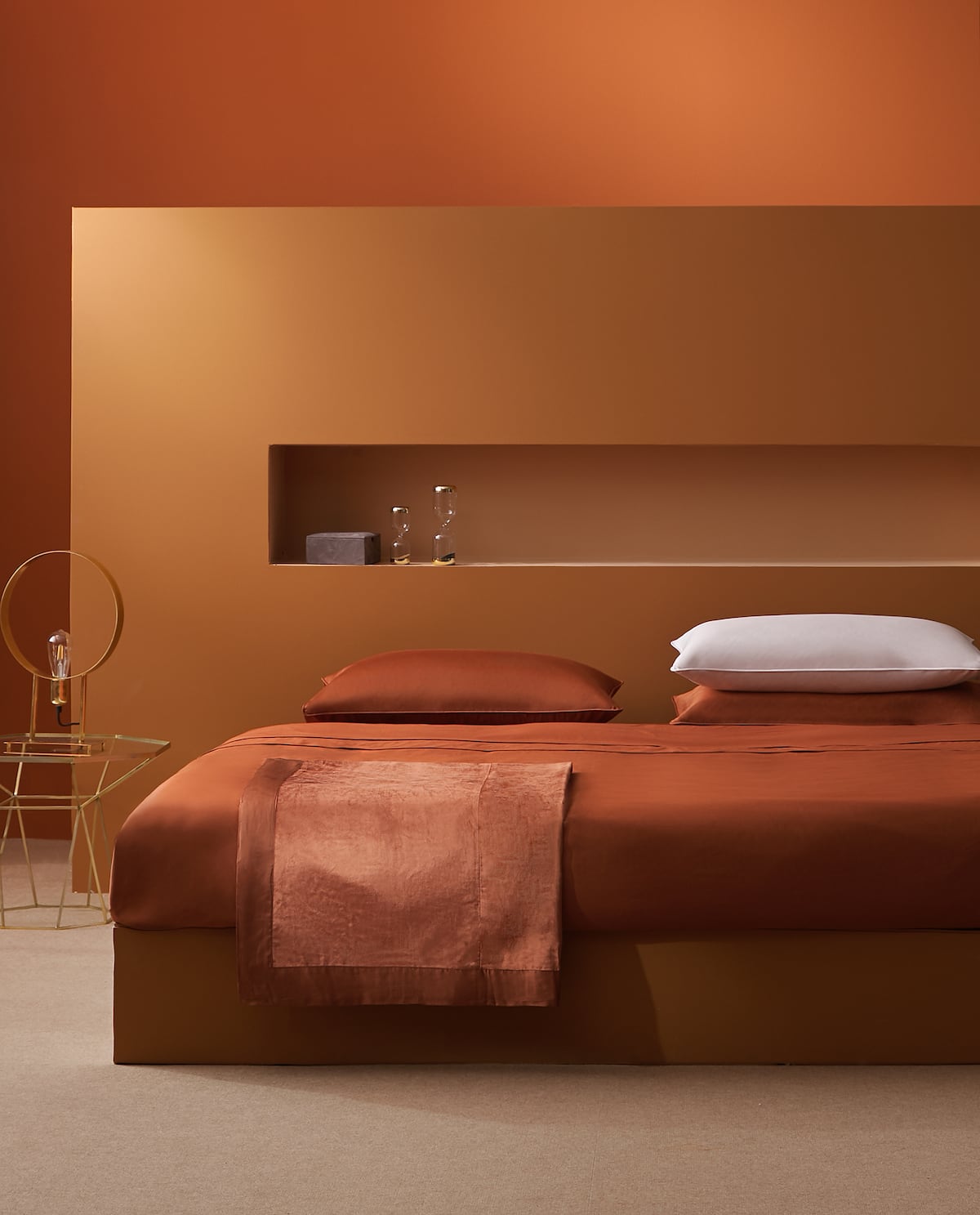 For a smaller dose of terracotta, you can opt for the Pillowcase with Contrasting Sateen Border, which features terracotta as a punctuating color against a backdrop of white: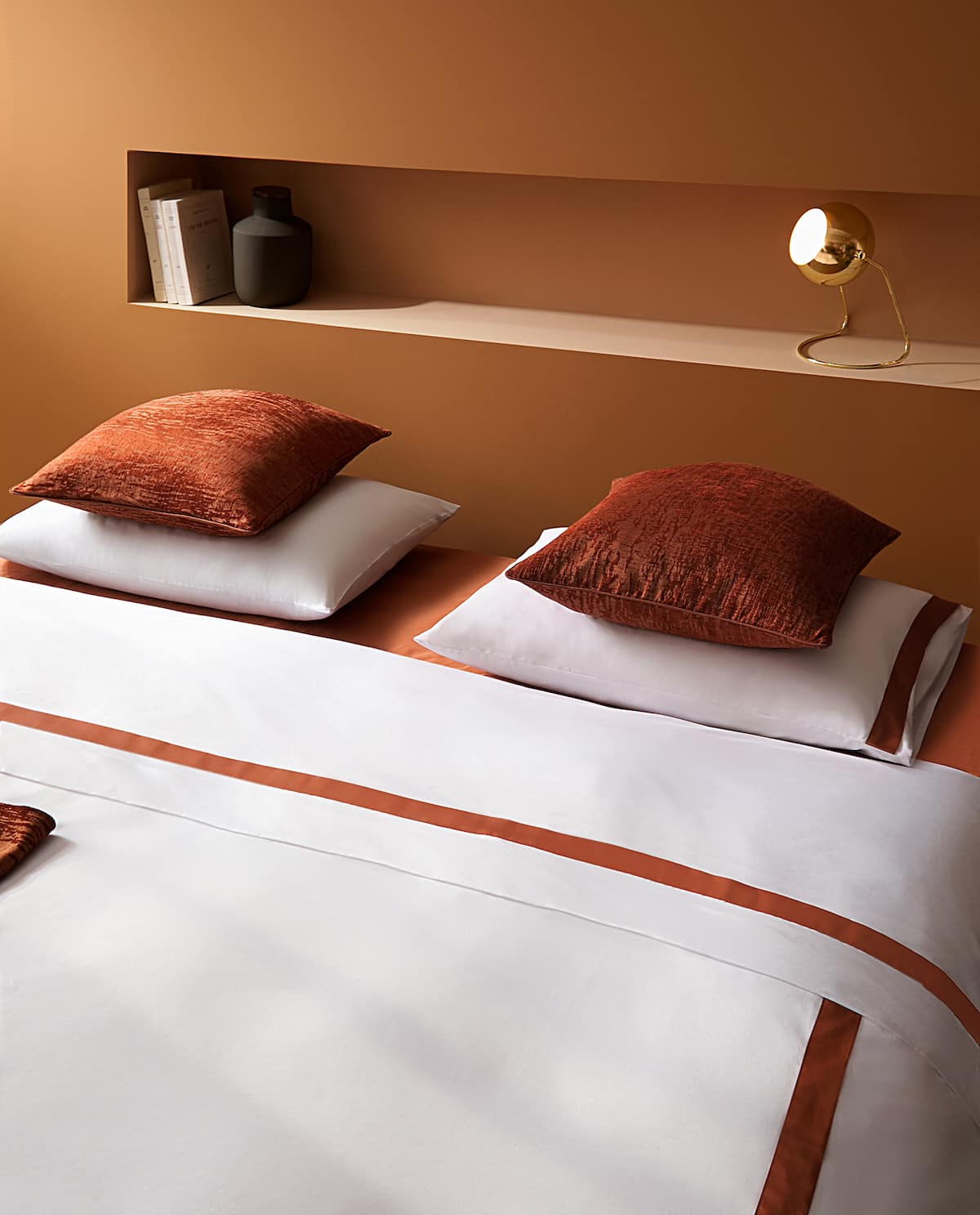 Artfully Eclectic
Is your home eclectic? You don't have to hone a clearly defined design style to appreciate the power of terracotta. In fact, a diverse mix of decor can be the perfect stage for a terracotta debut. This beautiful downtown loft (the former home of Camille Styles Executive Producer Chanel Dror) features a range of interesting pieces. We're loving the gray wall in the home office area, coupled with pops of peach and terracotta, thanks to the lovely rug: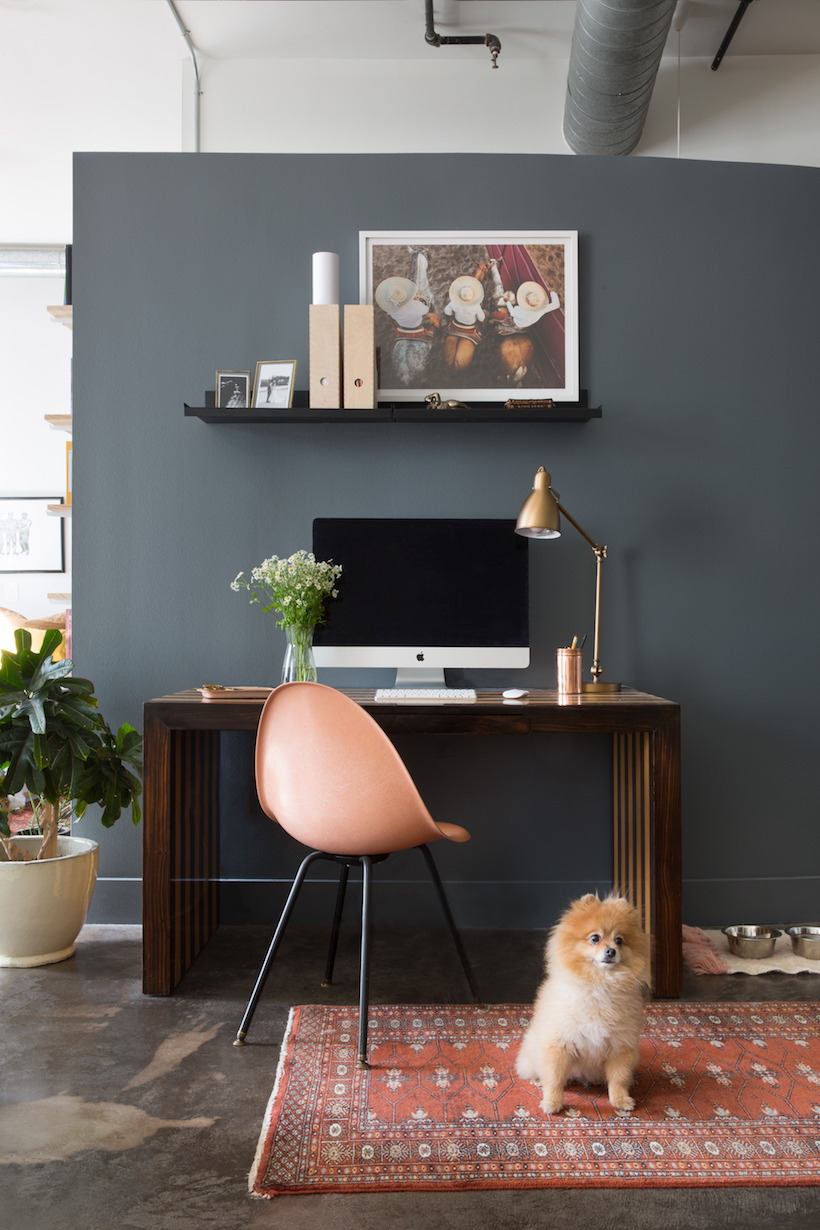 Sometimes one or two pops of terracotta are all you need. As with the home office area above, this little space with a dark wall is perfect for showcasing terracotta pieces, such as the Dual Floor Vase from ferm LIVING: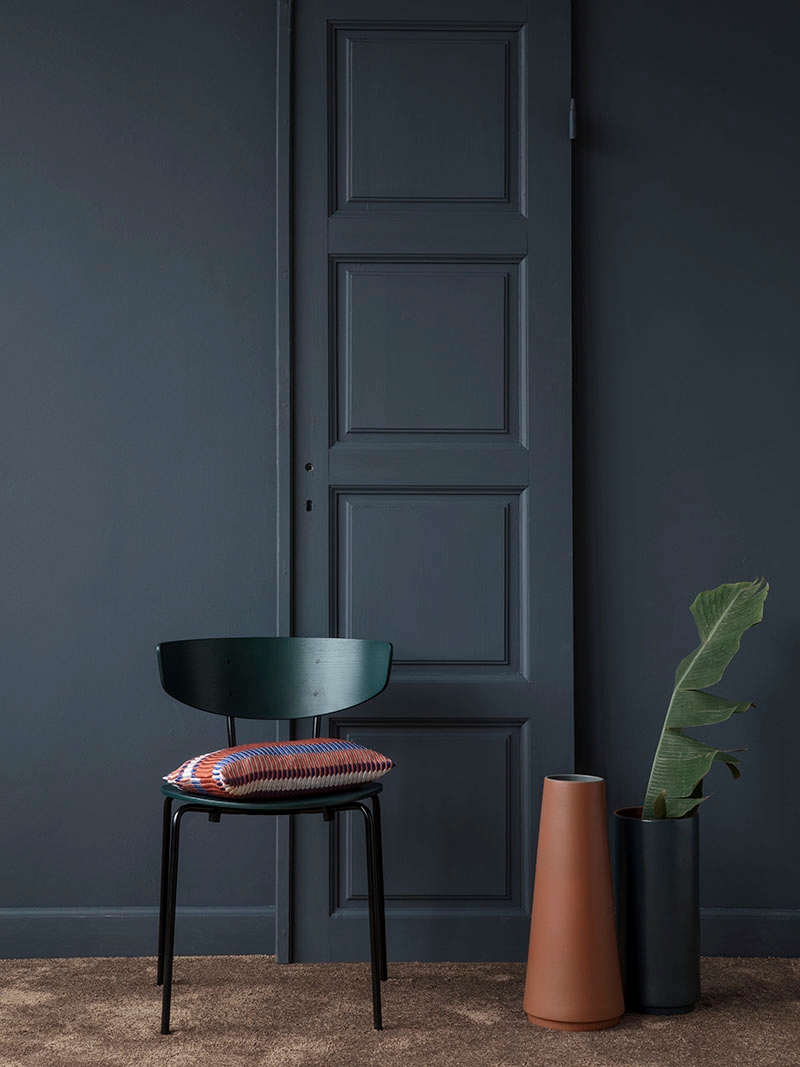 Paper & Stitch Founding Editor/Art Director/Stylist Brittni Mehlhoff repainted the patterned half-wall in the upstairs portion of her studio. The result: a rusty shade of terracotta. This change paved the way for a slew of fun additions. For example, note how each terracotta pot seems perfectly at home: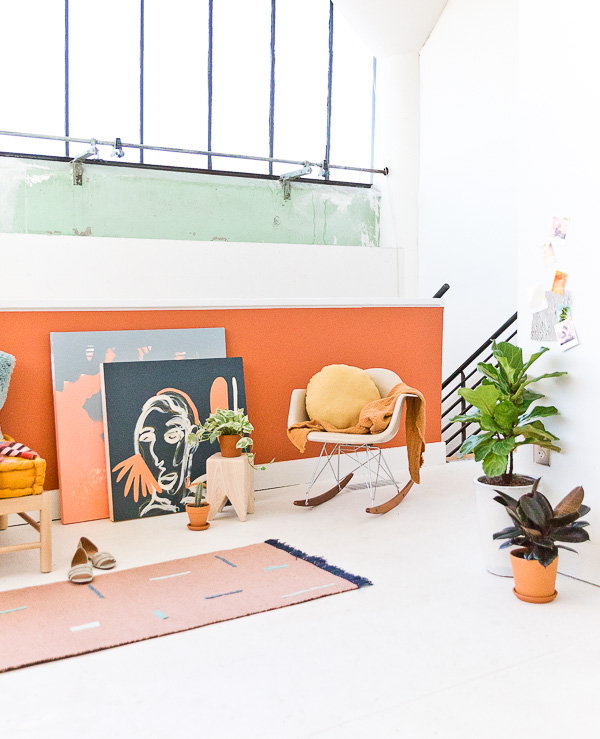 Moving from orange terracotta tones to the deepest of blushes, this bathroom reveal from A Beautiful Mess founder Elsie Larson shows just how eclectic terracotta can be. Gold accents, earthy baskets, carefully chosen potted plants, and a vintage rug are a few details that make this space a multifaceted one. Dusty blush curtains from West Elm beautifully complement the terracotta notes in the rug: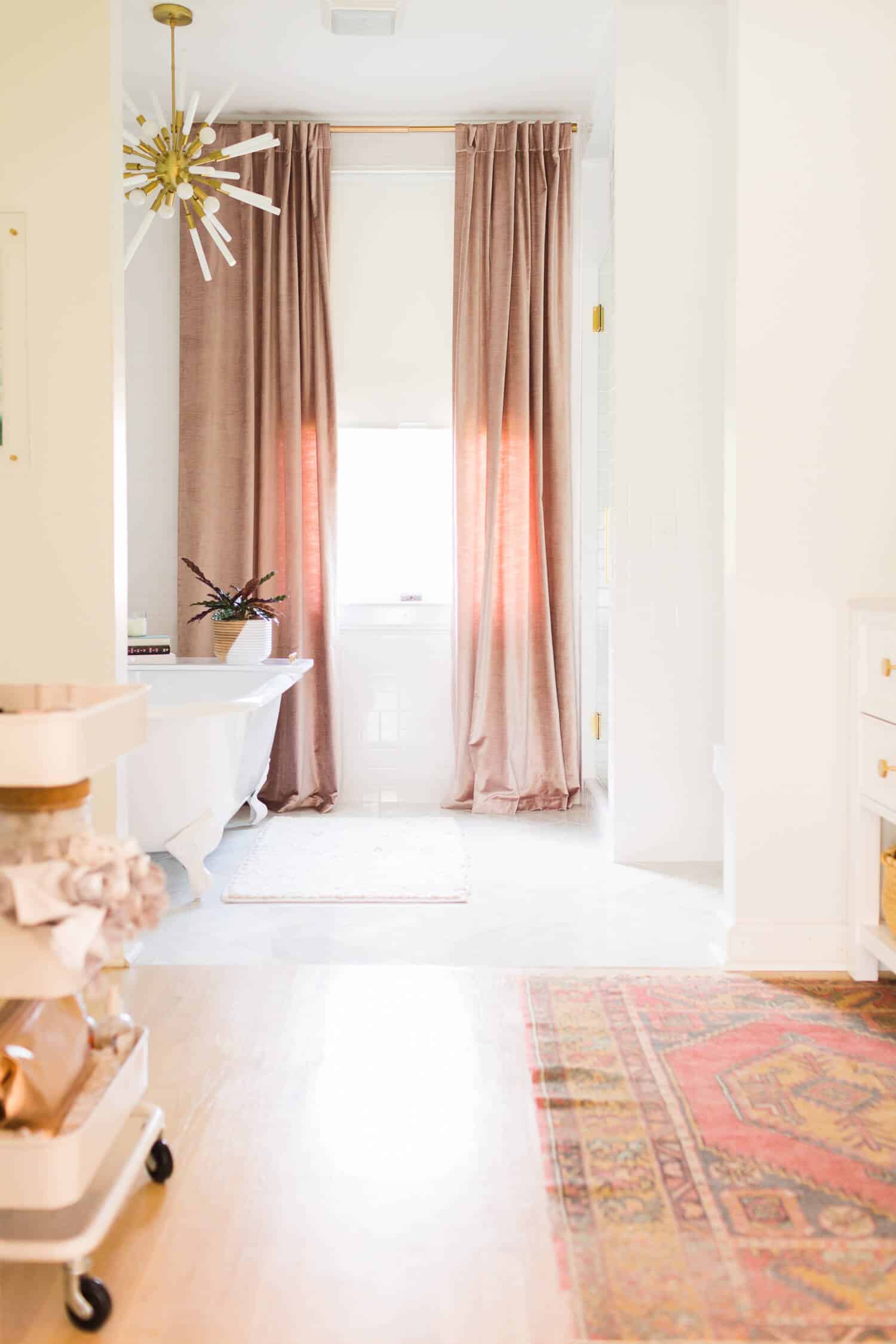 Heading back into orangey-rust territory, this Dessert Plate with Perforated Rim from Zara Home will bring a touch of terracotta to your kitchen or dining room. It's feminine yet earthy: the perfect mix for eclectic spaces! No terracotta accent is too small when it comes to dabbling in this latest design trend.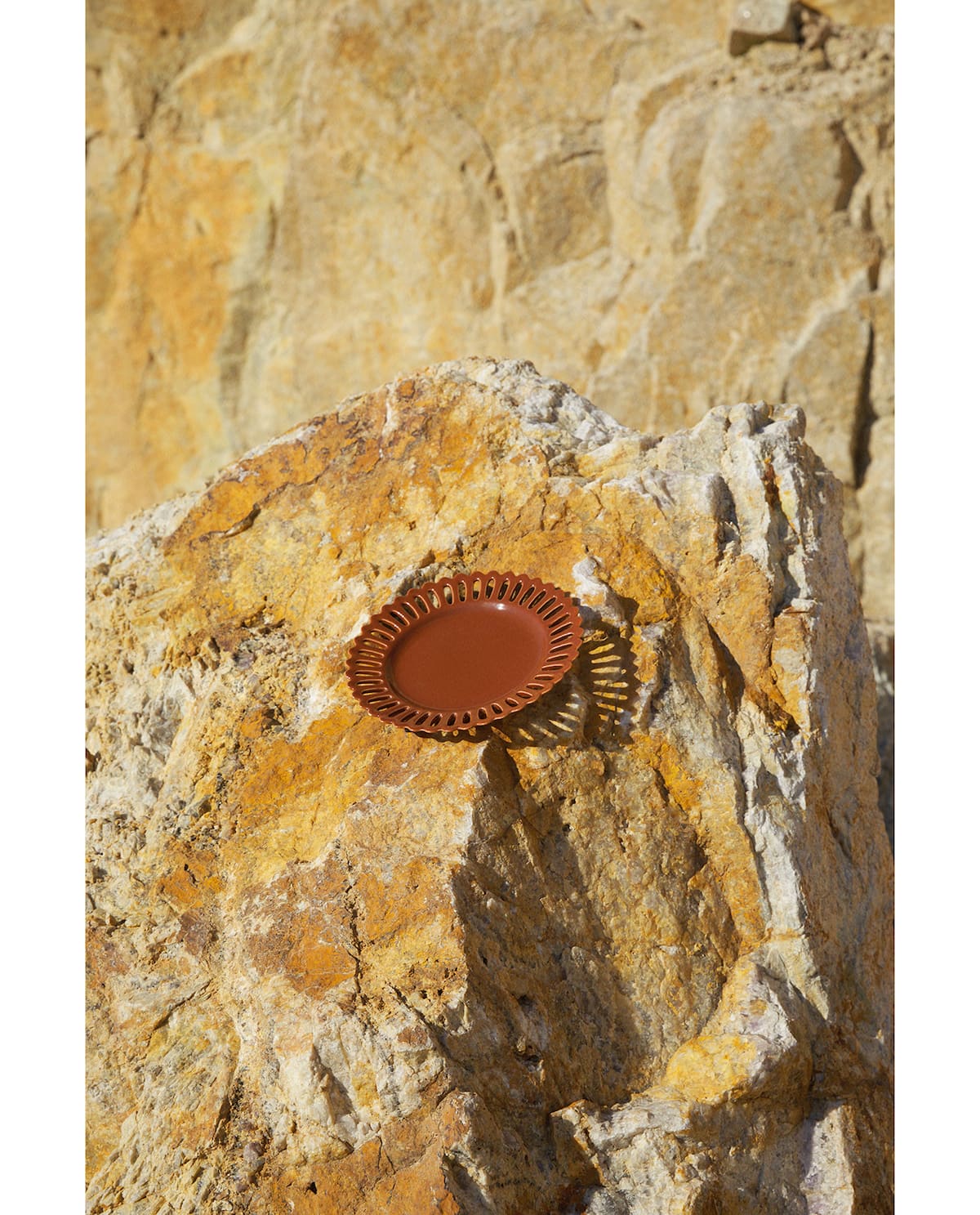 Striking and Scandinavian
Scandinavian design palettes have included many berry tones in recent years, but this year, an array of earthy hues are making their way back into the mix. There's no shortage of terracotta, and this photo of Hexagon Pots from ferm LIVING is a testament to the power of a beautifully painted accent wall: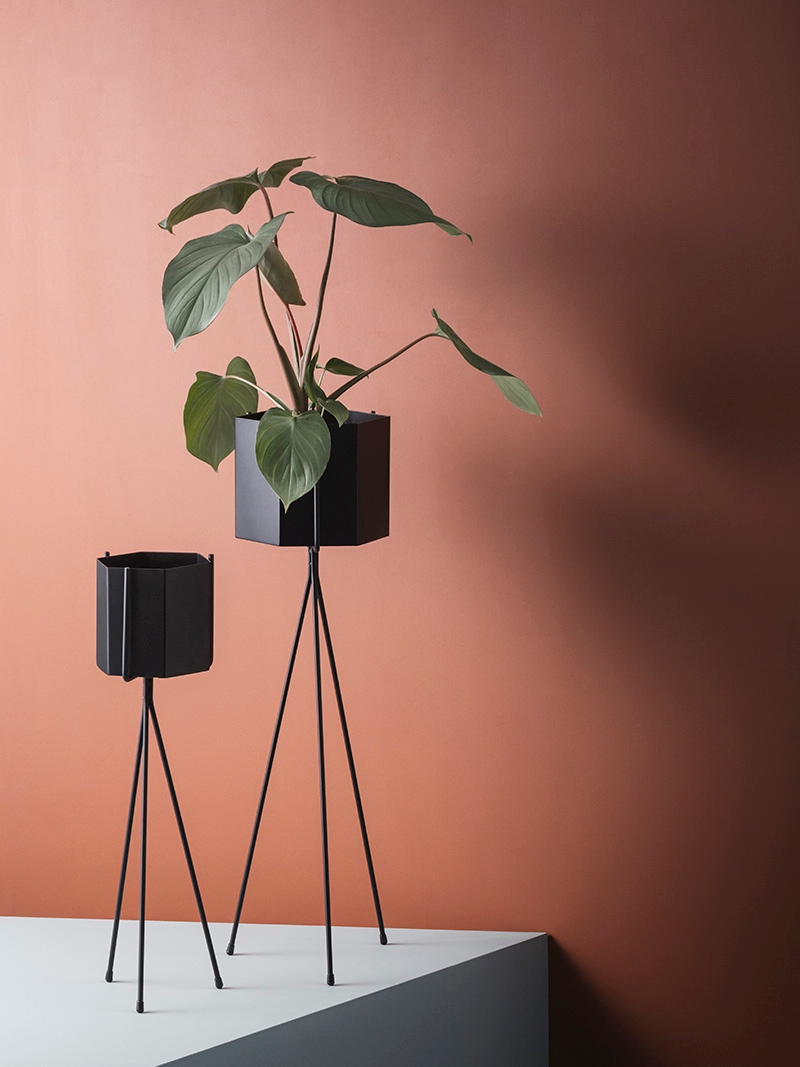 Accent walls aren't the only way to bring terracotta into your Scandinavian palette. Don't forget the power of intriguing wall art! Abstract art featuring terracotta tones complements an assortment of modern vases below, also from ferm LIVING.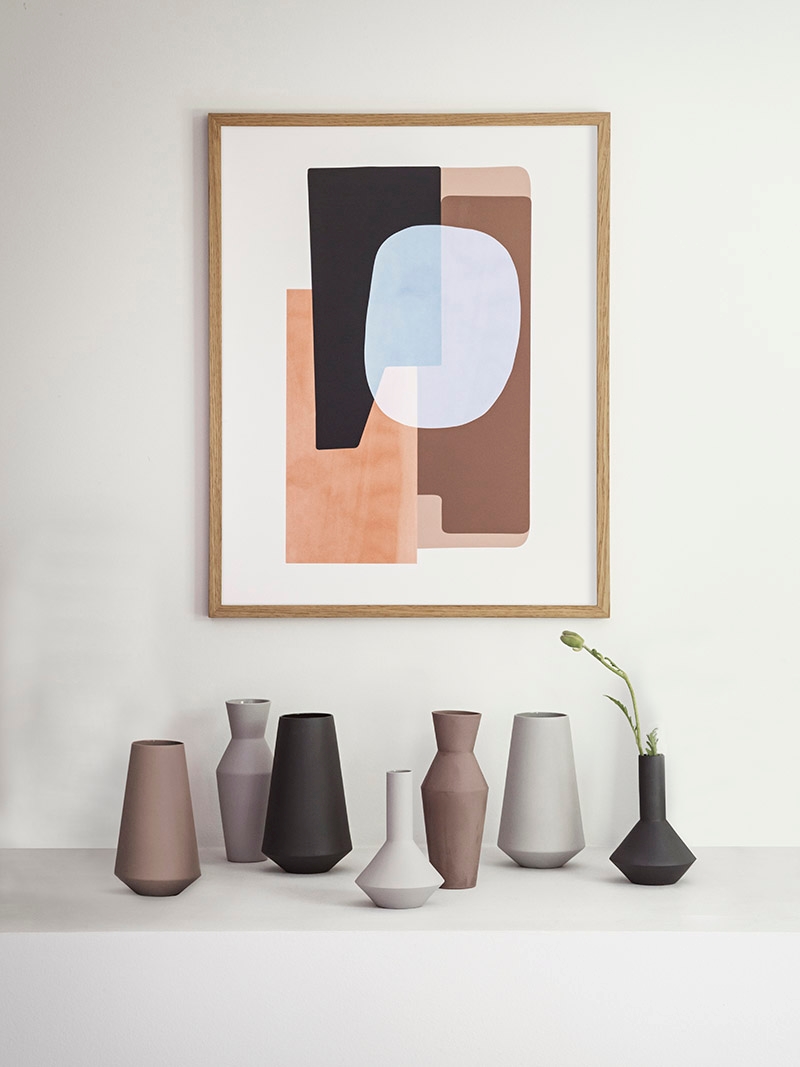 Richly Rust
Last but not least, we visit the deep red end of the terracotta pool, starting with this red brown round Plant Box from ferm LIVING. There's a terracotta tone for every design lover. If you love burgundies and reds, this one just might be for you: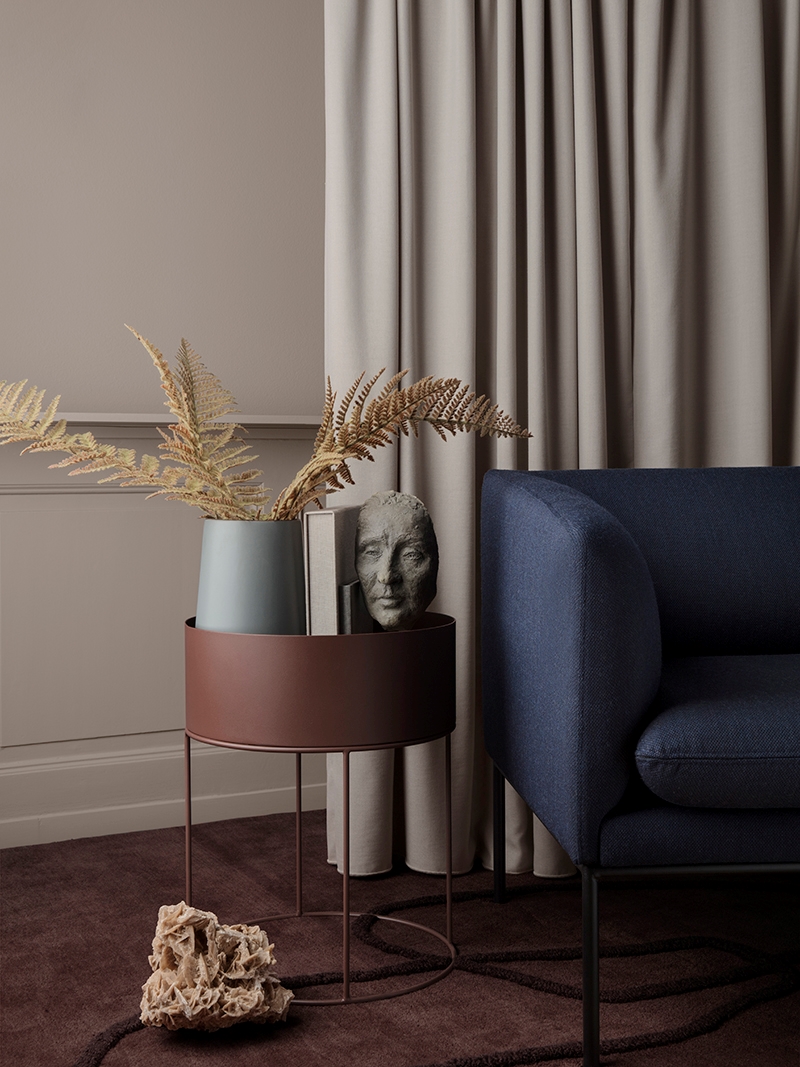 Don't hesitate to layer and combine terracotta hues in your living spaces. Deep red/rust provides a rich complement to terracotta tones of the orange and blush varieties. At the bottom left we see one final ferm LIVING find: the Sekki Pot in Rust.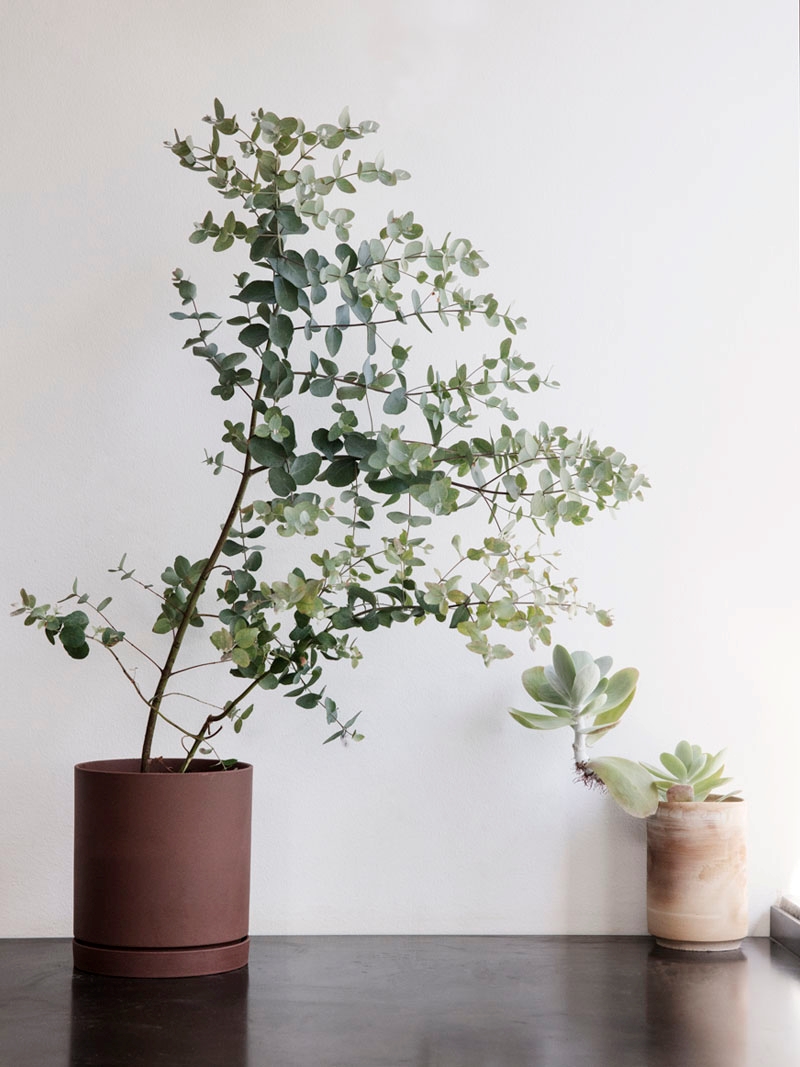 When it comes to the terracotta trend, which shade of this "it" color do you prefer? How does it fit into your design style of choice? Happy decorating, and thanks for reading!