TV rooms and dens used to be quite common, allowing homeowners to entertain their guests in an entirely separate formal living room. But with people opting for more efficient and practical room configurations these days, chances are your main living area now doubles as the place where you and your family gather to watch the tube. But that doesn't mean that your tele has to steal the spotlight all the time. If you're looking for some clever ways to disguise your TV and help it blend into your room's decor, hit the jump for some creative and stylish ideas!
Modern Minimalism
For a sleek and ultra-modern solution, take a look at what Sam Crawford Architects designed for their renovation of a home in New South Wales. Made of monolithic slabs of wood and stone, the minimalist but statement-making console allows the homeowner's TV to sink completely out of sight until it's needed.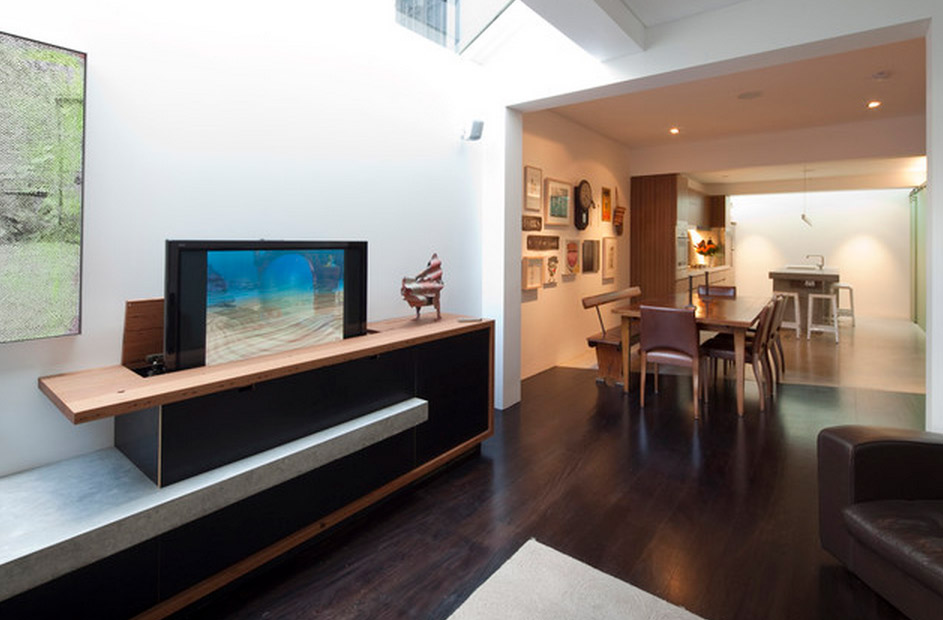 Reclaimed Wood
Can you believe that this sturdy lookin' TV frame was made out of old fence wood? Using a few gates that were blown down after a big storm, the folks over at Remodelaholic created the perfect structure to tie their television in with the rest of their cozy decor.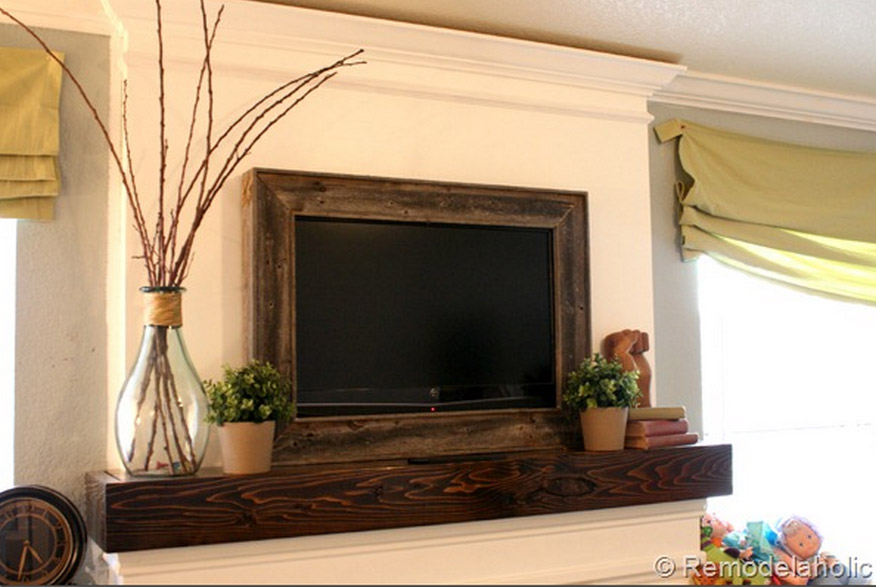 Out of Sight
Karen from Home Love Stories hated looking at her giant black TV, and came up with a "worldly" way to keep it from being an eyesore. With the help of some inexpensive 2×4s from Lowes and an old-school map of the world, she can now tuck the tube away whenever she pleases.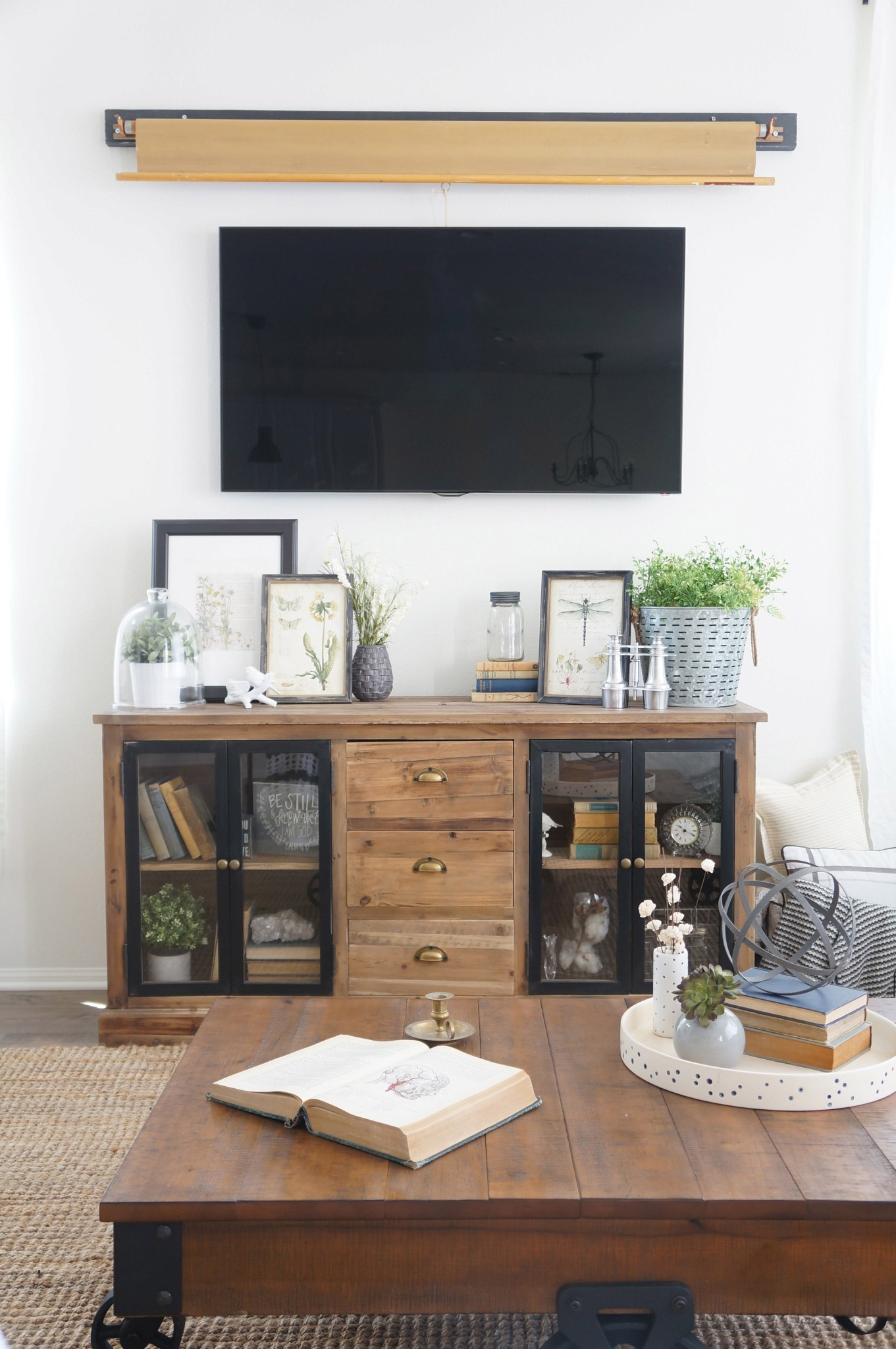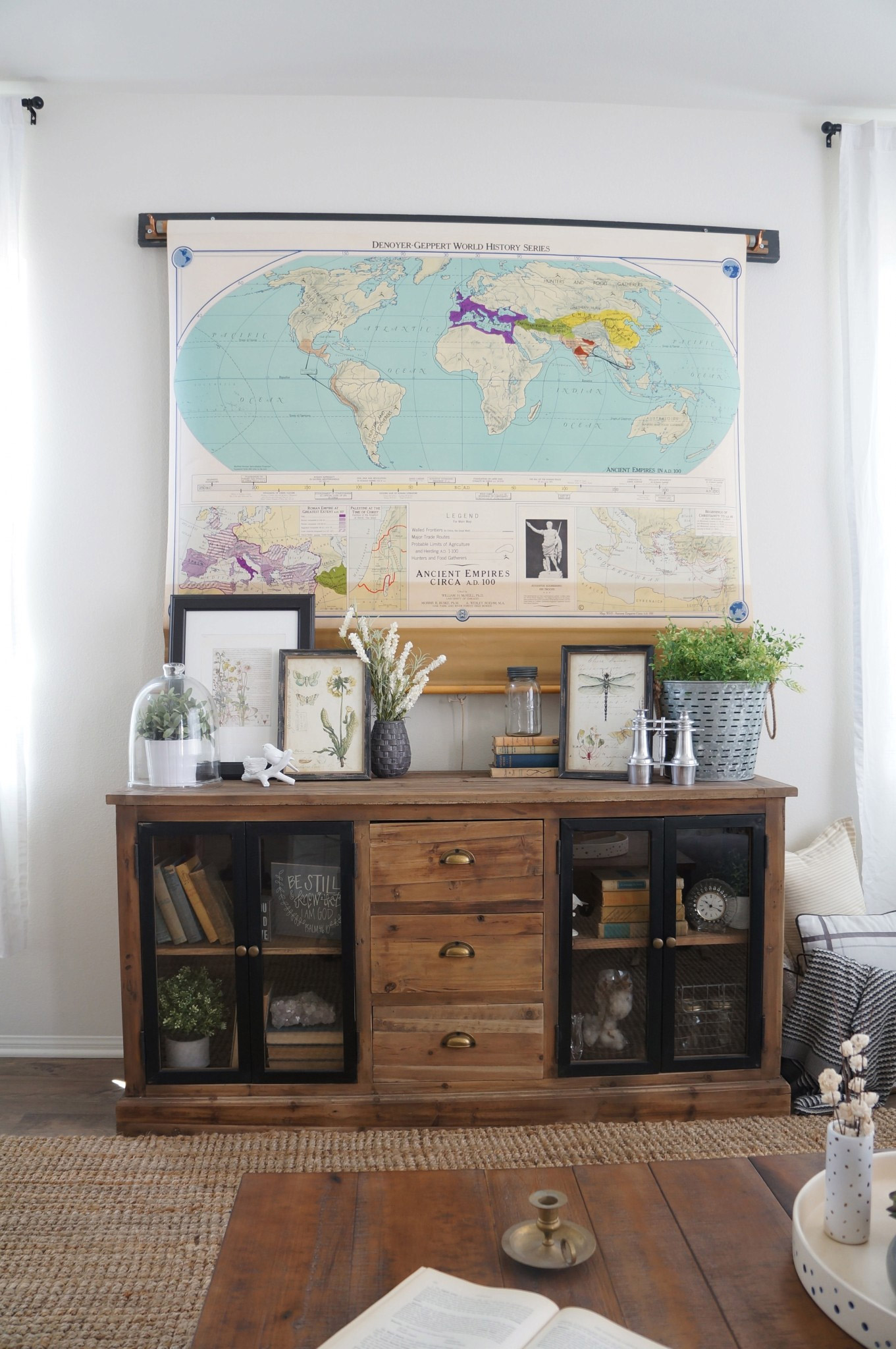 A Fancy Disguise
While this fanciful frame by Prearo doesn't completely obscure the TV from sight, it definitely takes the focus off of the television itself and makes it feel like a work of art. You can achieve the same look by scouring your local flea markets for old frames. Just don't forget to have your TV's measurements handy when you go!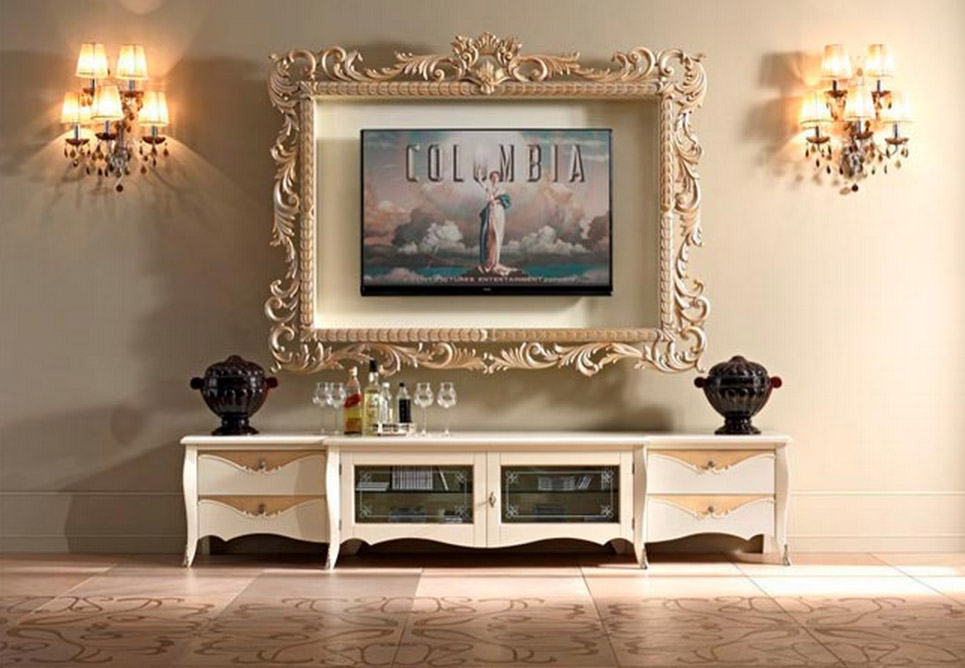 Inventive DIY Solutions
Laine of Just Laine is our hero for turning a $10 yard sale coffee table into a transforming entertainment center. See how she did it here.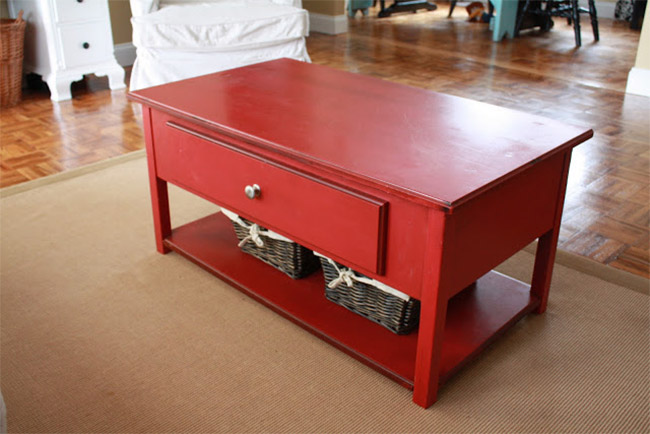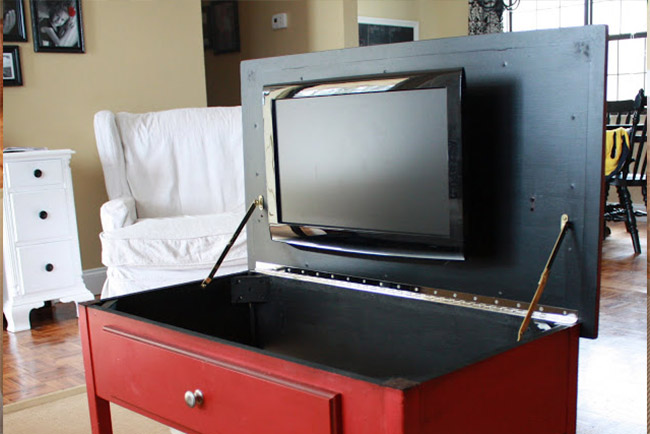 If the DIY route is a bit too advanced for you, check out Pottery Barn's easy-to-install TV cover solution. Doubling as a diptych photo frame, its clean lines will hide your TV when it's not in use while also letting your favorite memories take center stage.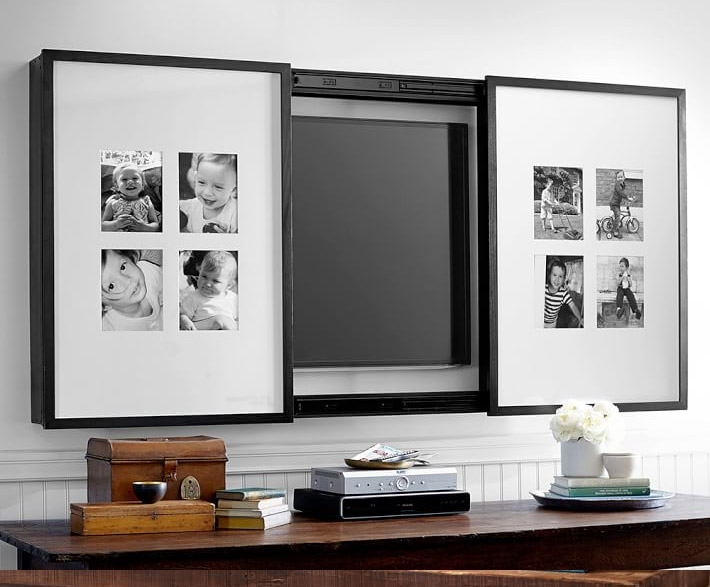 Or for something more on the rustic side, PB also offers a distressed telly cover inspired by champagne riddling racks. The natural mango wood makes it perfect for shutting out technology to return a room to a more tranquil state.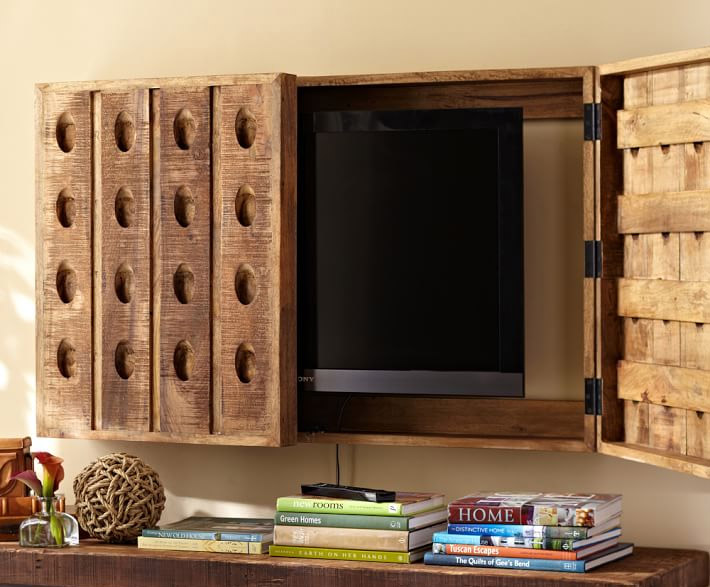 And if you're willing to put in $75 and two or three hours of elbow grease, you can achieve a very similar look for a lot less like Kristen Duke did. Check out the tutorial for her sliding barn door TV cabinet here.
Which of these solutions would look the best in your living room?