If you're into easy-breezy entertaining, the last thing you likely worry about is a charger to set under your plates at the table. Once considered accents for formal dinners, chargers (also called charger plates) are quickly becoming modern staples, even at the most casual of tables. No, you don't need them for every meal, but they can sure make a fun statement, punctuating each plate with texture or shine. There's a charger for every style, so no matter what look you want to create at your dining table, you just might find some design inspiration in the selections below… [photo from Crate & Barrel]

Modern Chargers with Classic Flair
Let's get started with some classic charger options from Crate & Barrel. Yes, they're classic, but these pieces also evoke a modern feel, thanks to their clean lines and striking materials. The Evans Wood Charger Plate is crafted from mango wood: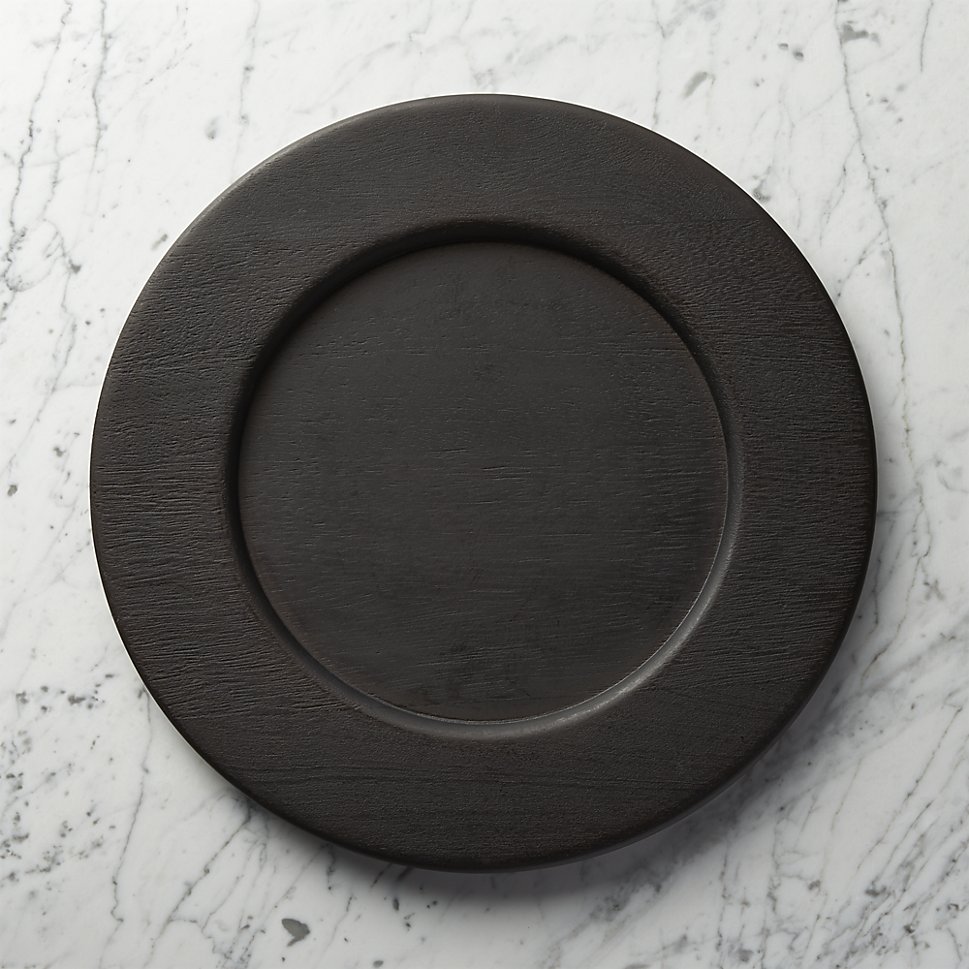 These Shindig Charger Plates are casual and chic, thanks to a galvanized finish. They are perfect for the modern table and can even create a rustic look when combined with earthy accents.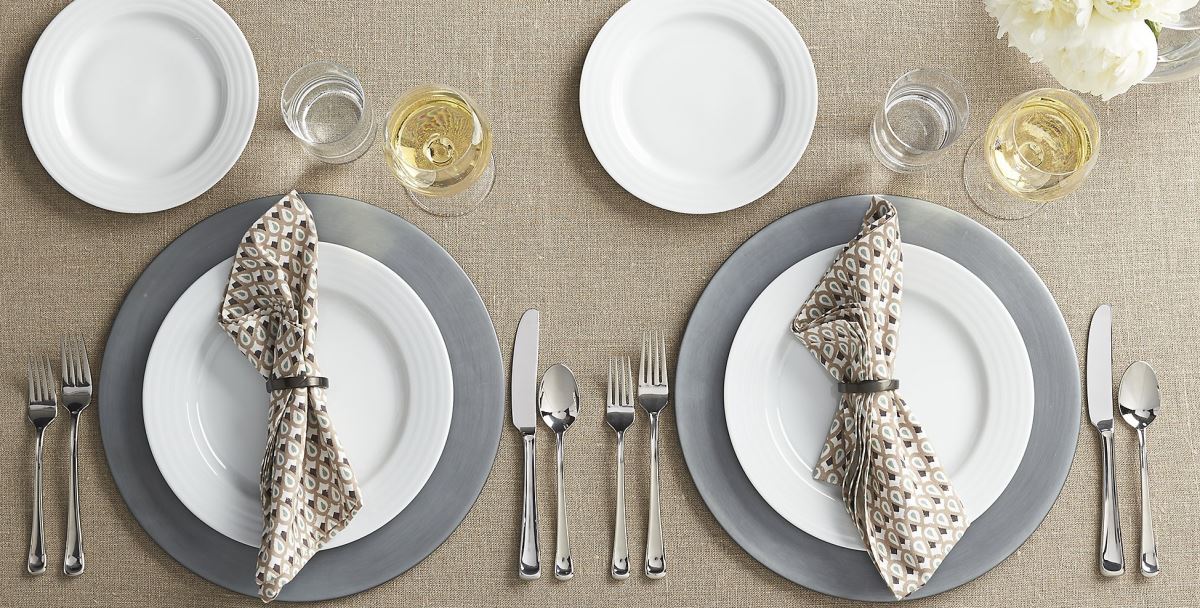 With copper being one of today's leading design materials, it didn't take long for its rosy golden shine to make its way to the tabletop. Below we see the Copper Plated Charger Plate, which features a matte interior and a shiny rim. Isn't it sleek against the metal surface below?!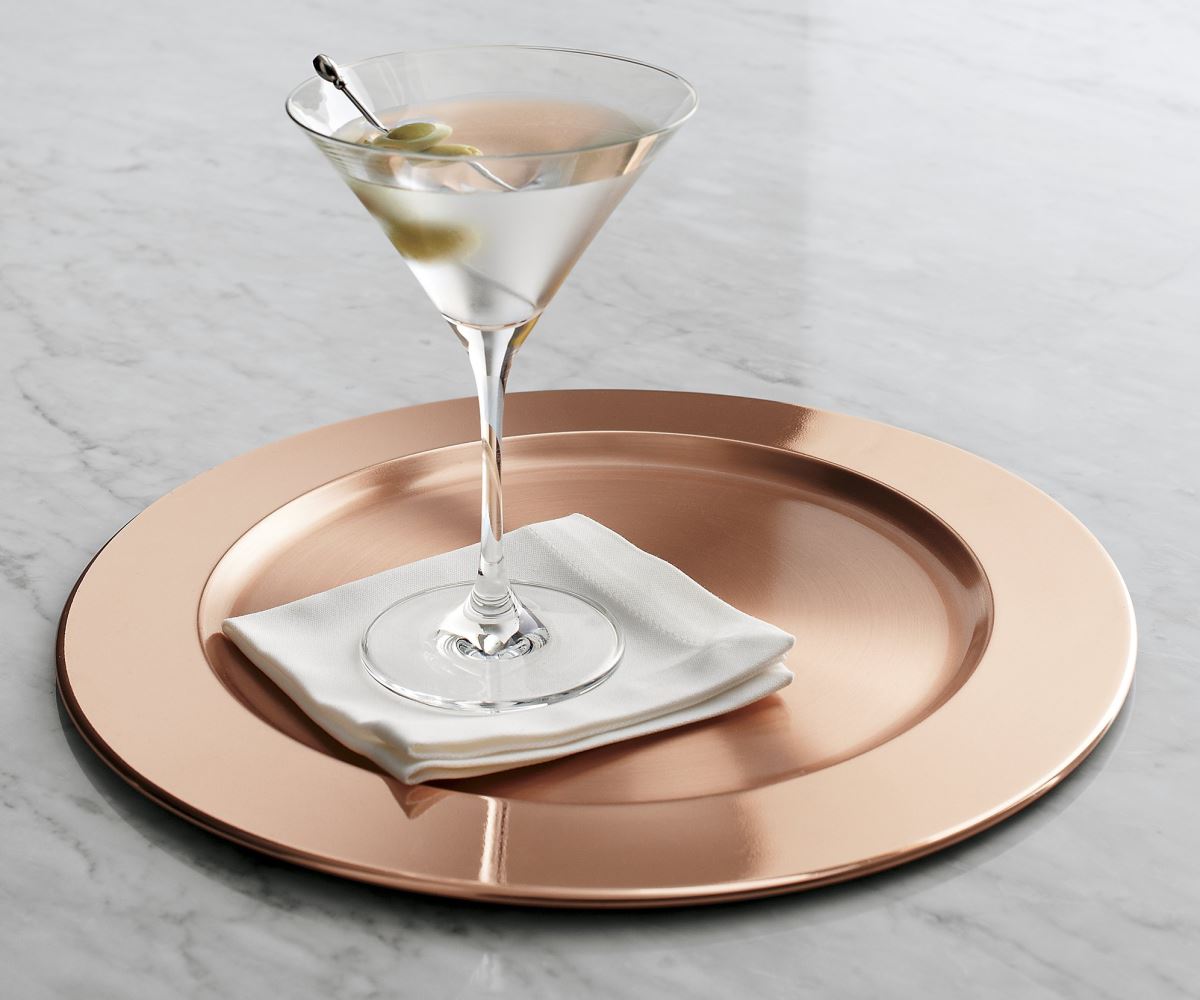 Speaking of metal and marble, the combination can be seen in the next image, which showcases the Stainless Steel Charger Plate. We've personally tried out these chargers, and they are hardy, easy to wipe clean, and always chic. Instant style for your fabulous fete or spontaneous special dinner after a long day…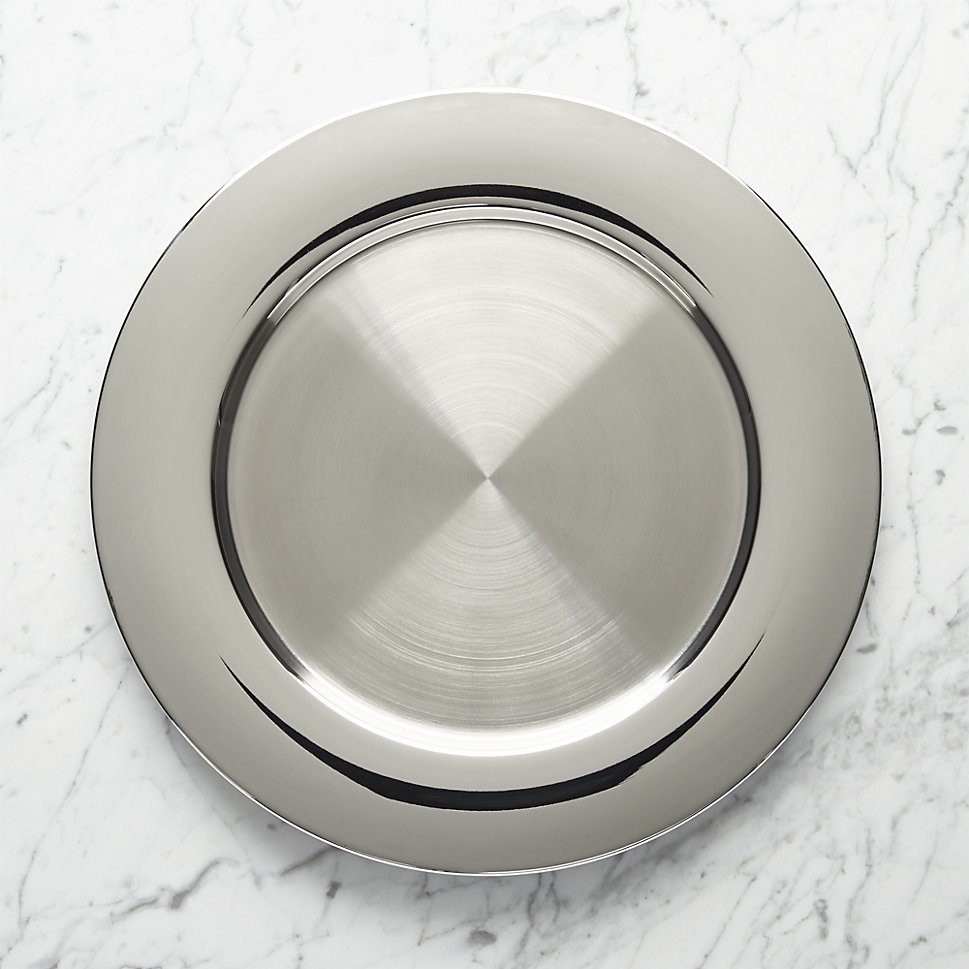 Moving on from Crate & Barrel chargers to offerings from Williams-Sonoma, we now shine the spotlight on the Providence Wood Charger, which is crafted from acacia hardwood. The perfect warm touch for your classic table: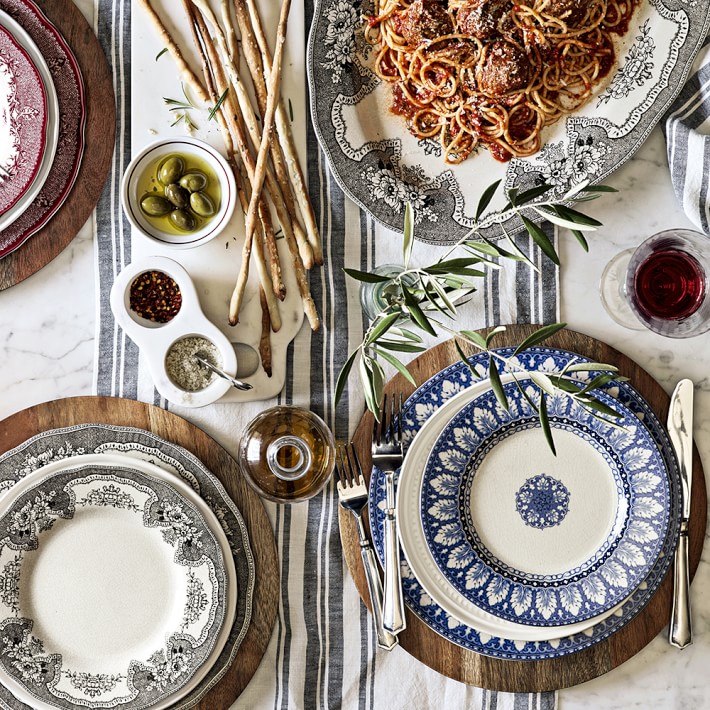 Williams-Sonoma's Beaded Glass Chargers add a subtle yet detailed accent to each place setting. Plus, they go with everything! You can also use them as platters. It's a win-win!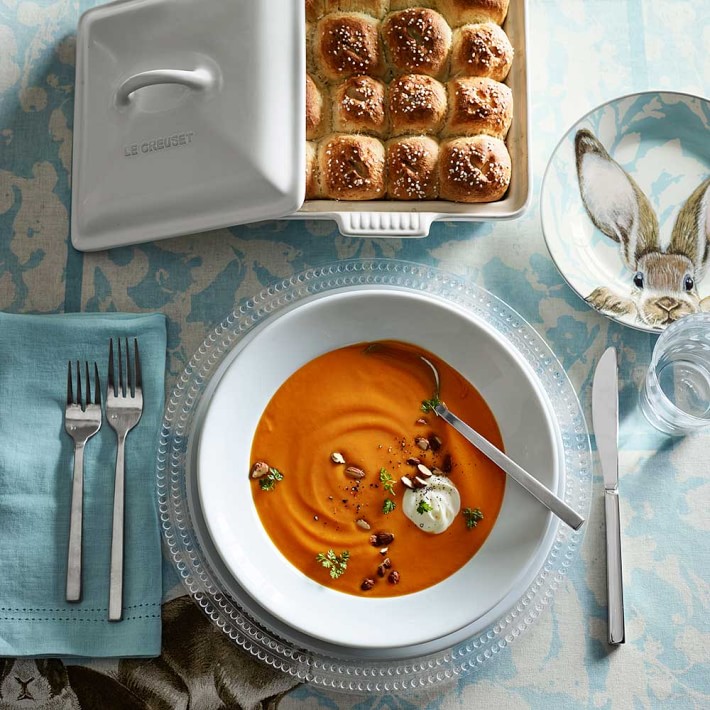 It's hard to get more classic than this Presidio Silver-Plated Charger. Inspired by traditional American tableware, this hand-polished stainless steel and silver charger plate can also double as a serving platter: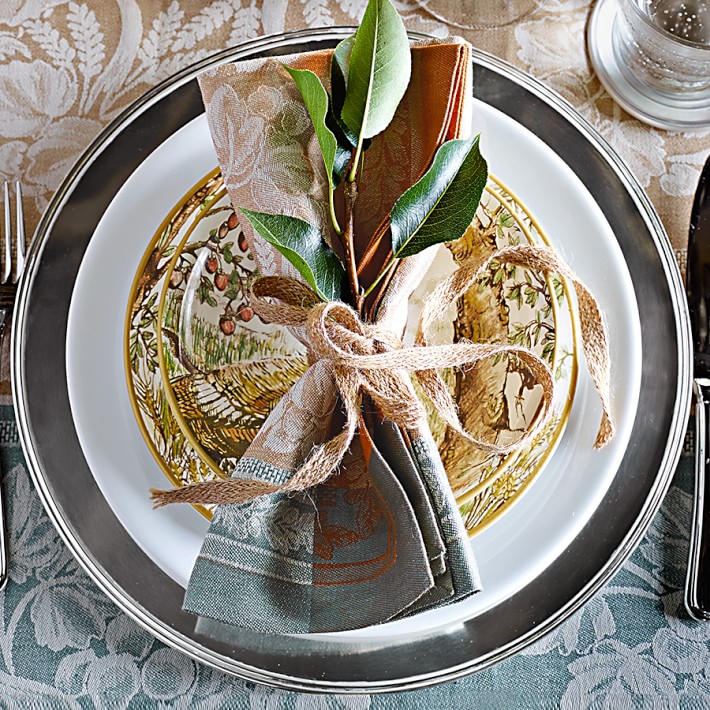 Unique Chargers with Sleek Style
Let's take a moment to celebrate chargers that reflect the best in unique modern design. Are these Mirror Chargers from West Elm mirrors or chargers? We love the fact that it's hard to tell! Slick design at its finest: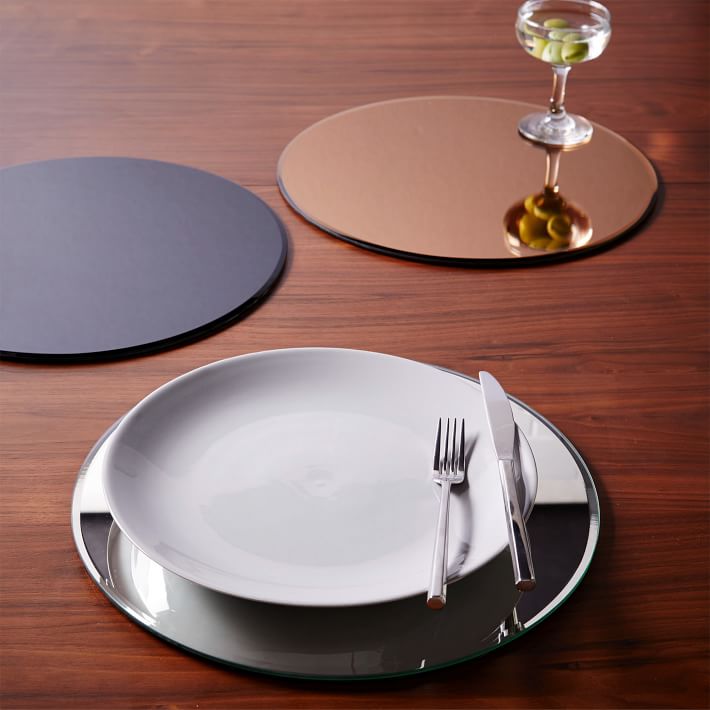 Here's the same charger in black, stylishly set against a white tabletop. An engineered wood backing coats the underside of each charger: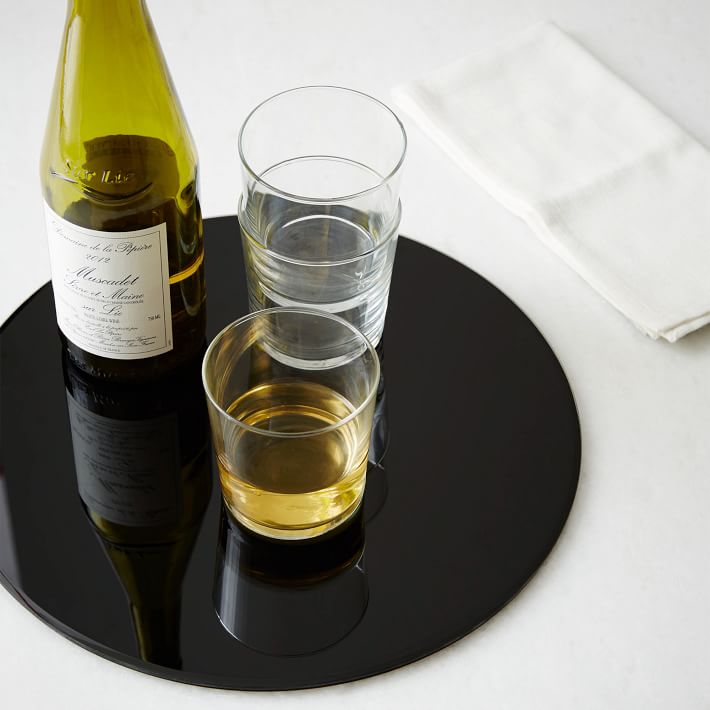 It's too bad this bronze/copper version of the charger is no longer available. There's something unexpected about this warm-toned piece: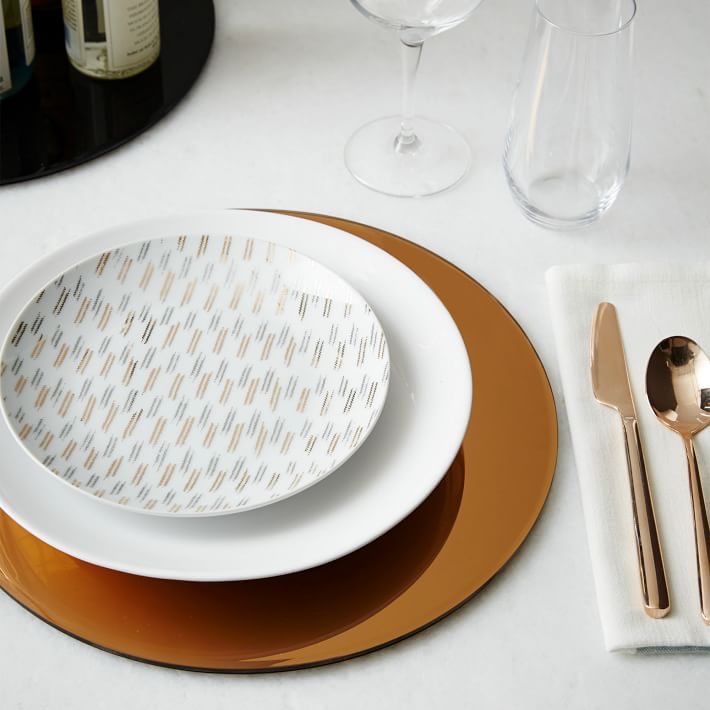 West Elm's Wood Slice Charger looks as if it were carved directly from the tree trunk…and that's why we admire it! Acacia wood is the material of choice: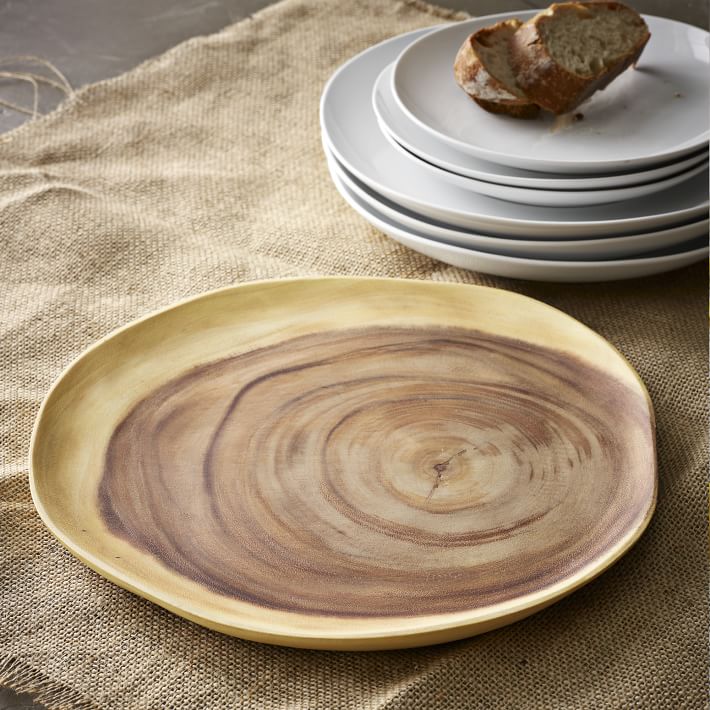 Round Placemats
If you're still not sold on the charger concept, consider round placemats, which create a similar look but protect a larger area of the tablecloth from becoming dirty as food is served and consumed. This Register Copper Placemat from CB2 is crafted from industrial powder-coated iron: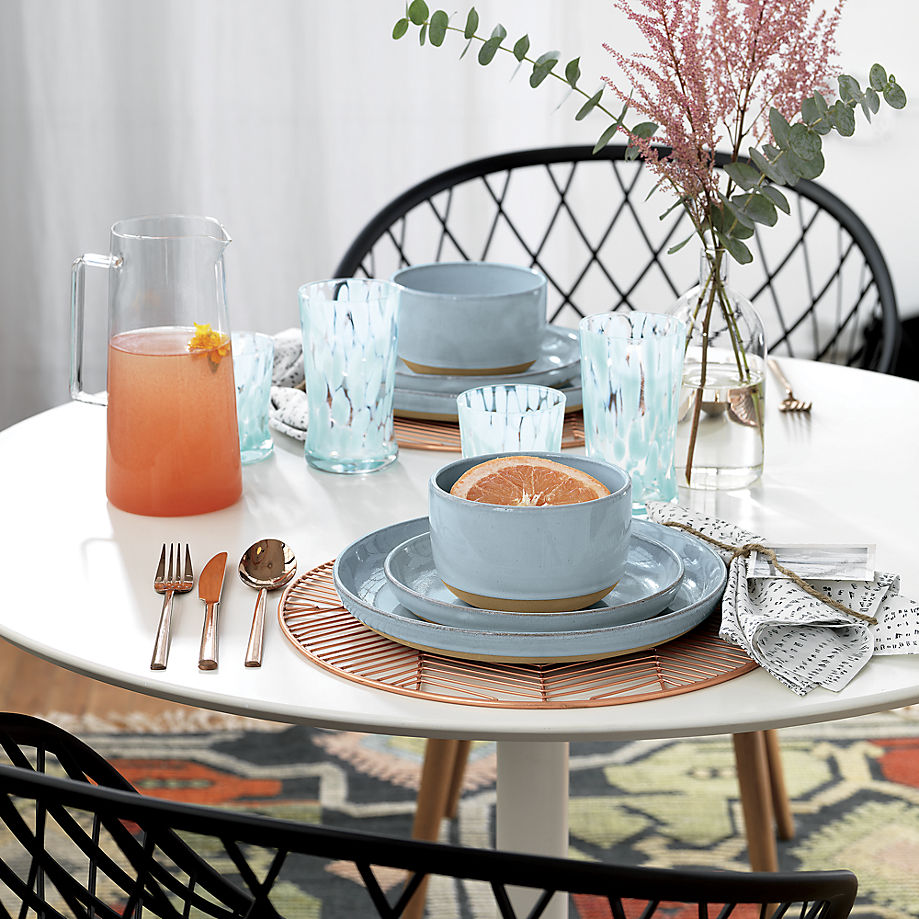 This Williams-Sonoma Open Kitchen Place Mat is made from cork and paper with a clear protective coating. One modern stripe creates a bold statement: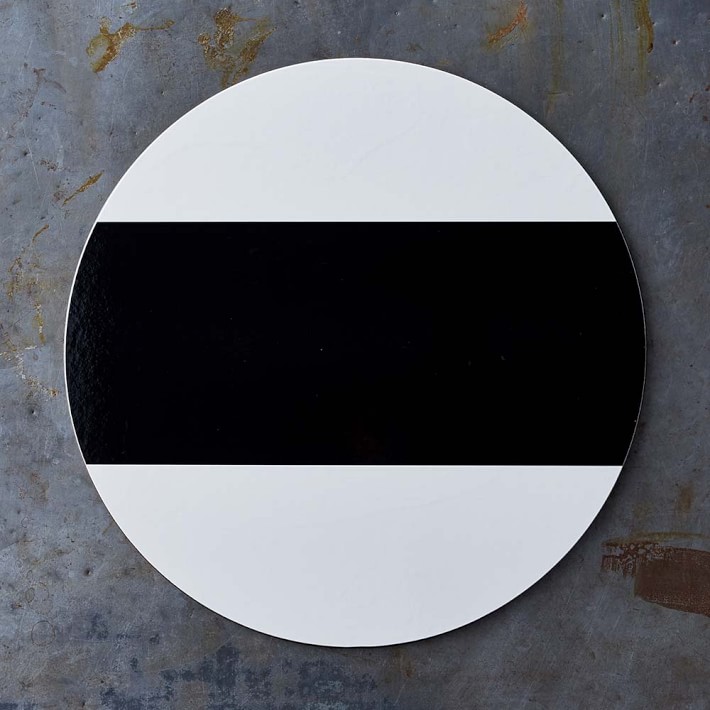 Below we see the place mat in red, which is sure to add festive flair to the table, especially for those light and refreshing summer meals we'll all be enjoying in the months ahead: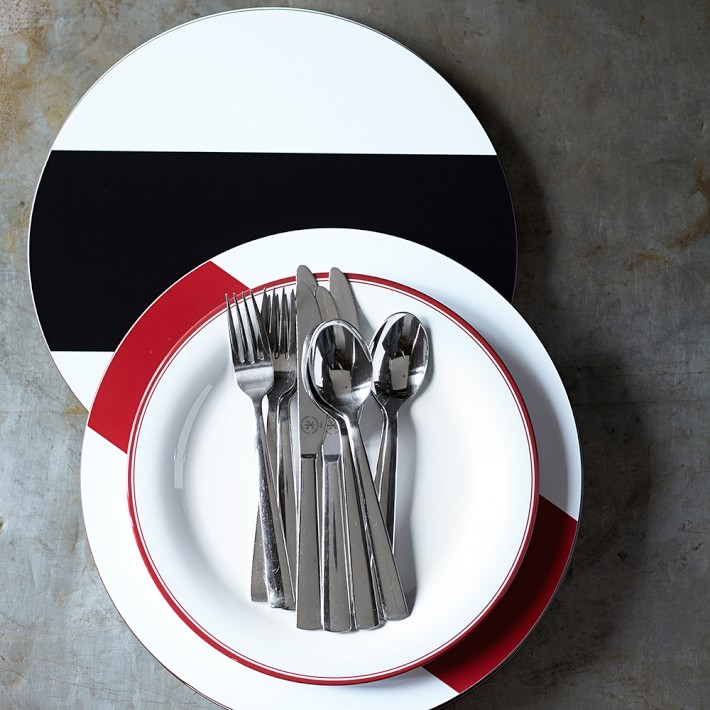 Earthy style is alive and well in this Woven Round Place Mat from Williams-Sonoma. Handwoven rattan creates a beachy look, as well as the perfect backdrop to crisp, bright dinnerware: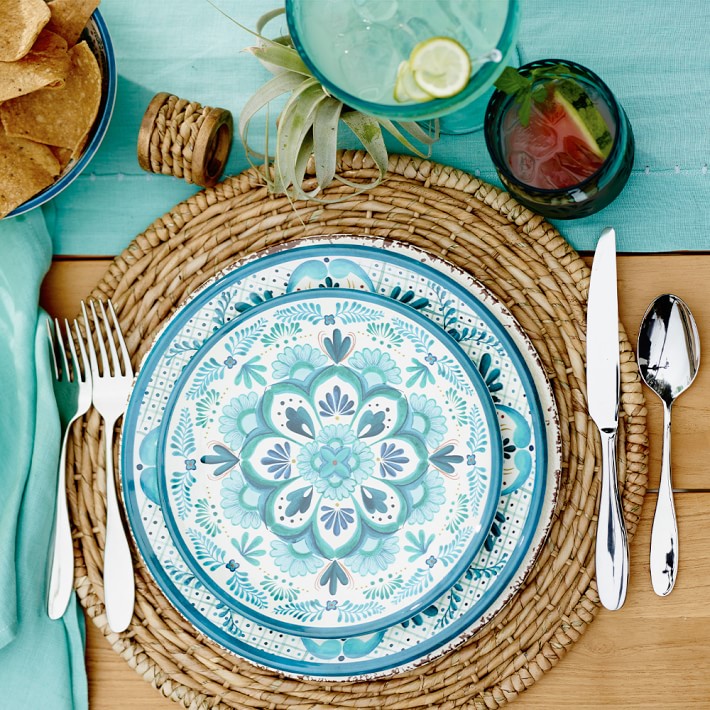 These Round Leather Placemats from Artbox are made from durable, easy-to-clean, solid recycled leather. Their colorful presentation brings a vibrant edge to the table: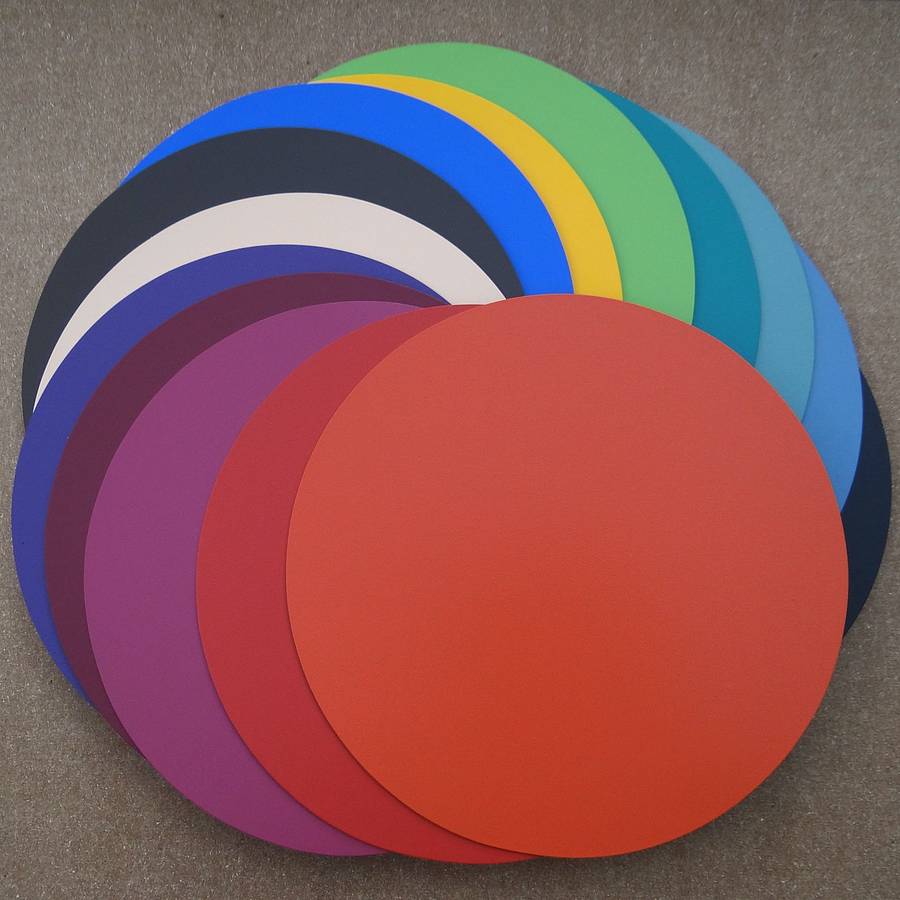 The placemats also come in large, as shown in the image below. Layering the large and small size creates a striking contrast, as well as a layered look: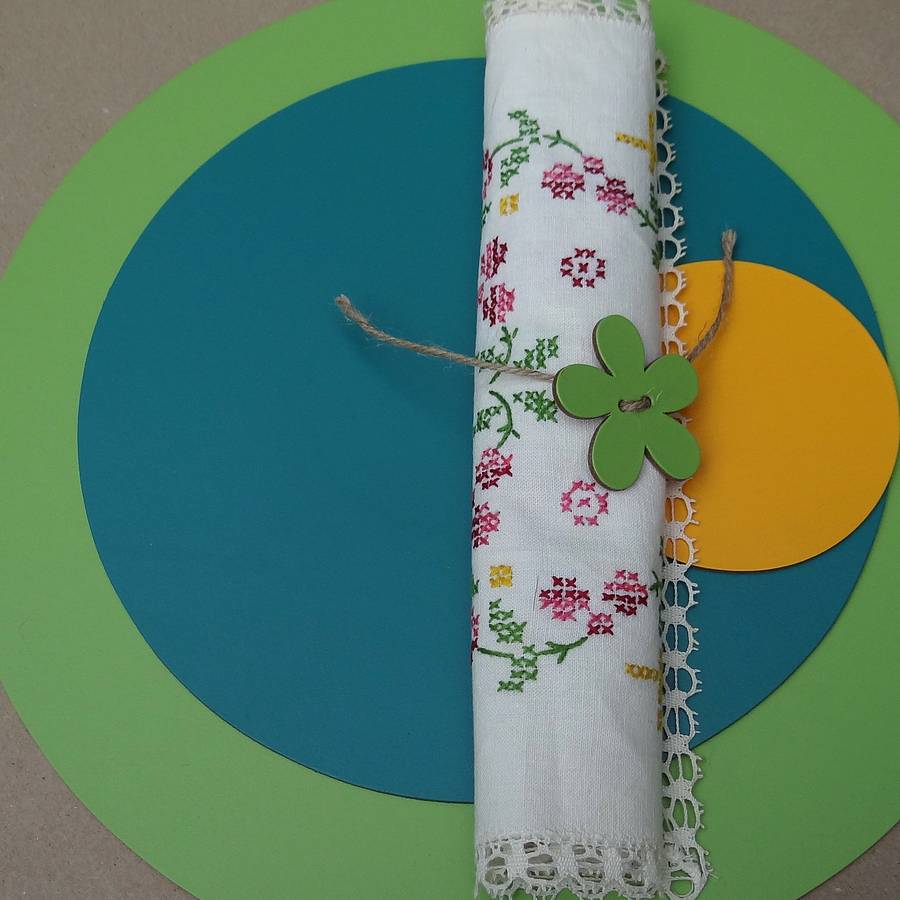 Are you ready to add chargers to your tablescape? Or do you prefer a backdrop of round placemats?