Minimalists everywhere have decided that color in interior spaces can be challenging to work with, preferring to opt for the clean tones of whites, beiges and grey color palettes. Leaning into neutral colors is always a safe bet when decorating your home, however, some decorators have proven that fully embracing color can create a beautiful outcome. There are a few ways to style vibrant color in your home space, and this article will highlight our top 3 favorite ways to bring color inside. Explore our gallery of inspiring spaces that have embraced color by using an accent wall, colorful decor, or statement furniture.
Bold Colorful Walls and Accent Walls
The largest change you can make to your home with color is accomplished by putting it on the walls; this makes the color choice immediately noticeable and sets the tone for the room. The open wall space of your rooms are essentially large canvases to be decorated how you see fit, whether that's with art, shelving, entertainment, or decor. The spaces highlighted below have chosen to use color as a major design element, adding a colorful accent wall (or walls) to bring vibrancy into the room.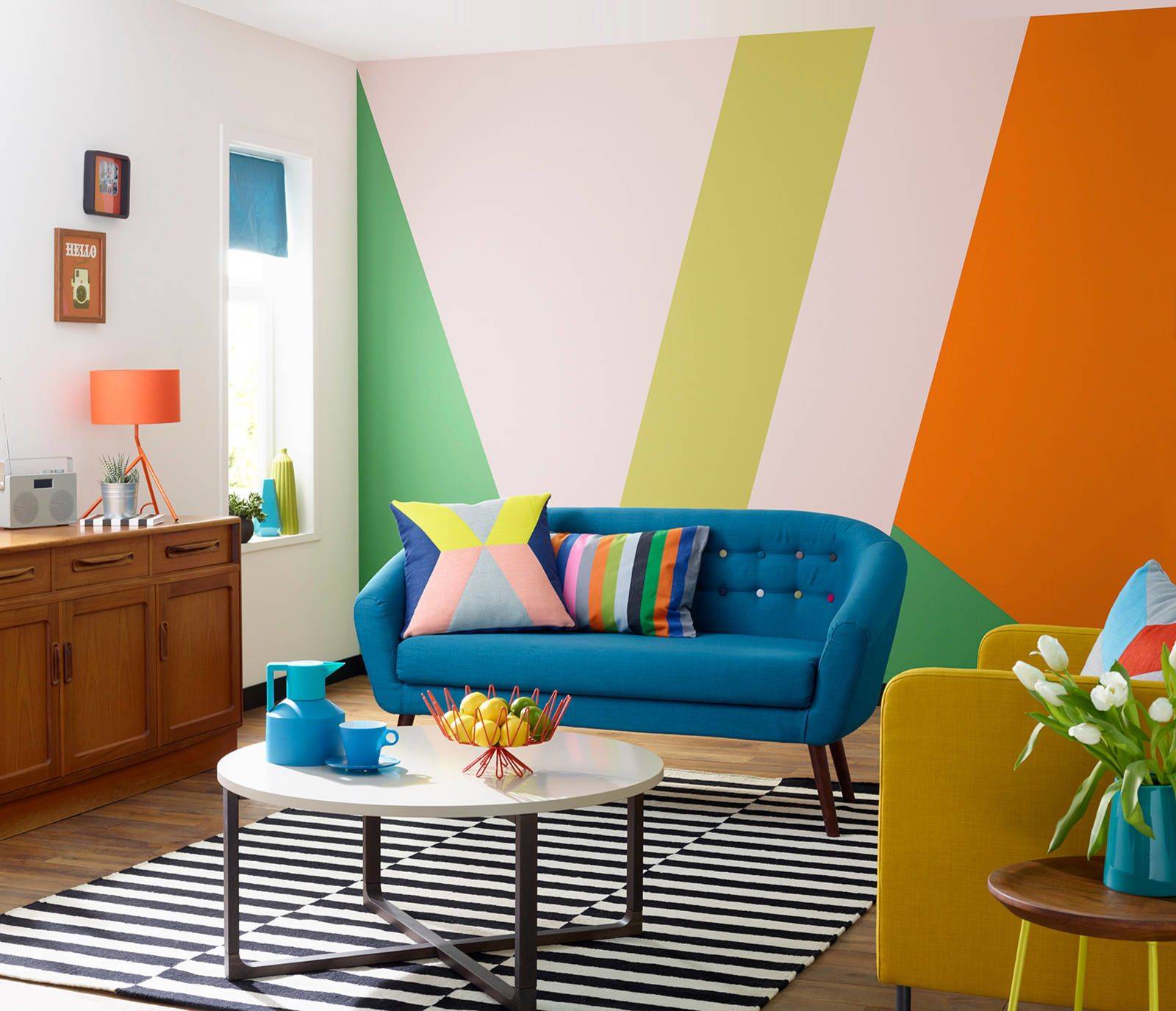 This vibrant living room has a combination of bright colors on an accent wall in random geometric shapes to draw attention to the space. The bold blue statement couch and additional decorative features like the flower pot and yellow side table legs help tie the space together.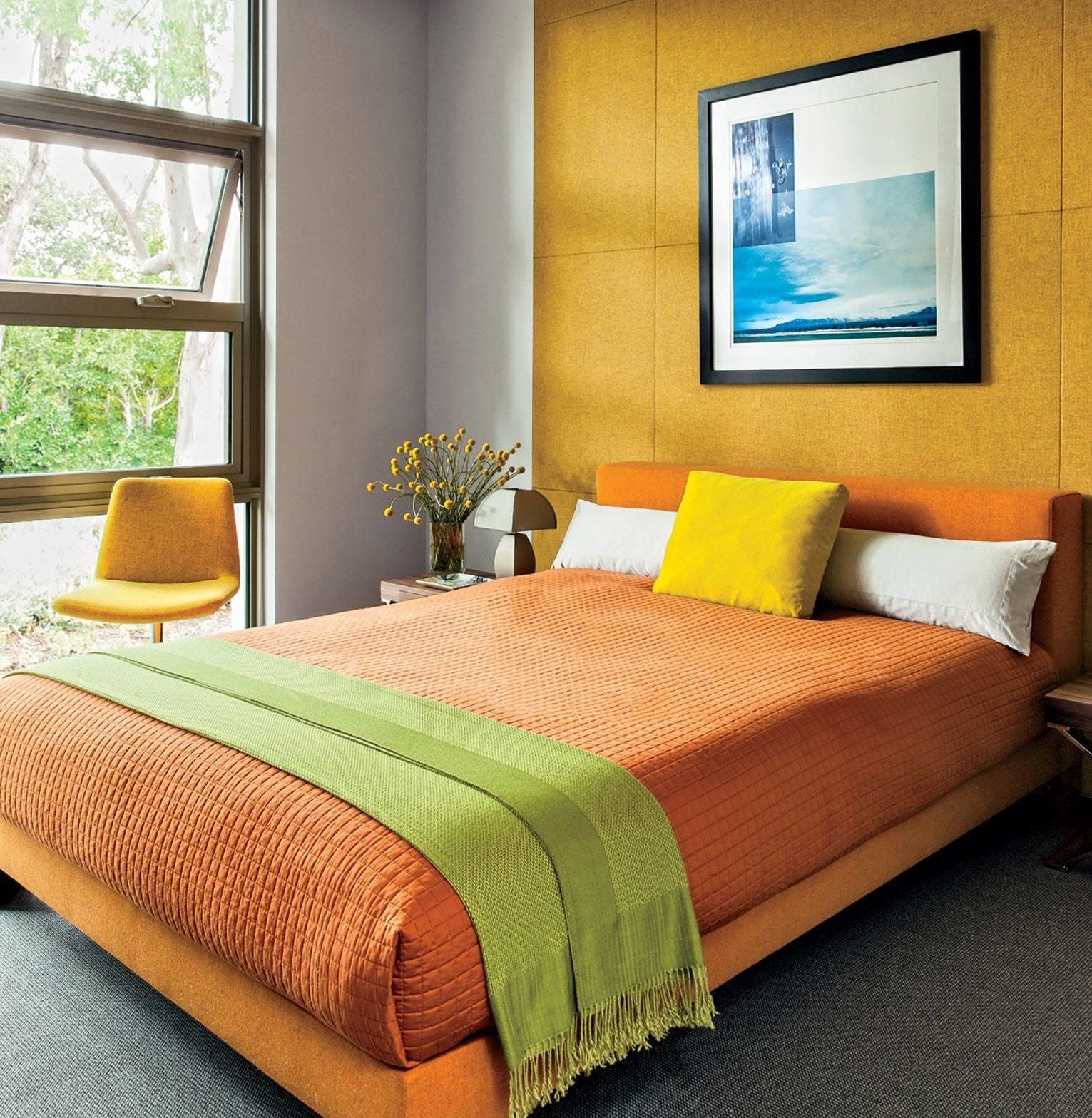 A fabric mustard toned accent wall is complimented by terra cotta quilt bedding, a yellow accent chair, and colorful bed frame in this brightly colored bedroom. The design of the room is successfully minimalist while using bright rust and yellow tones to bring life to the area.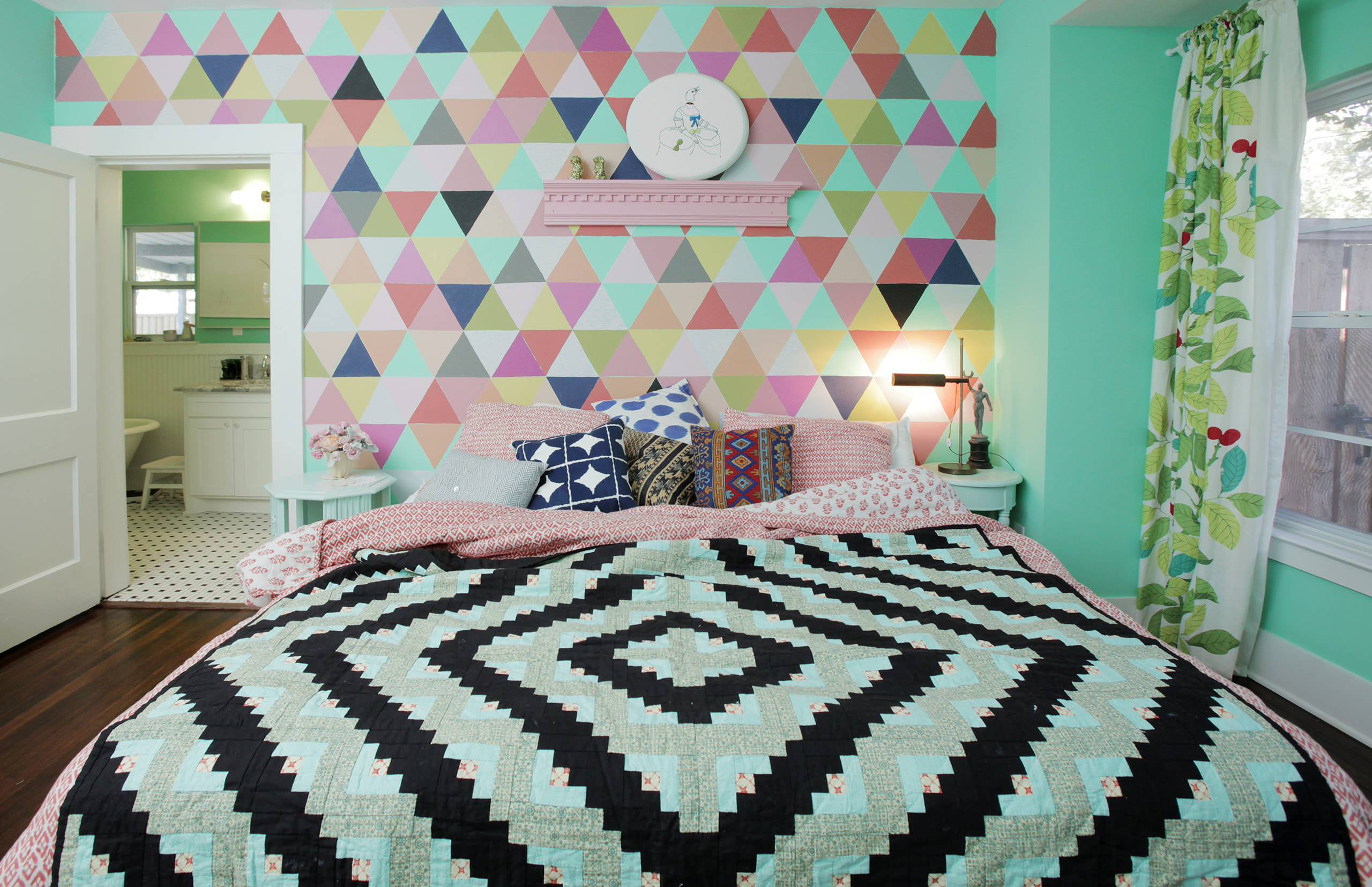 A bright aquamarine bedroom is complimented by a geo accent wall that is accomplished by using a contact paper or wallpaper. Mixed patterns on quilted bedding and the green leaf curtains finish the decor scheme for this vibrant bedroom.
This sunny bedroom has two bright yellow accent walls that bring vibrancy to the bedroom. Complimented by rust colored decor and a patterned area rug, this yellow toned room is both calming and bright at the same time.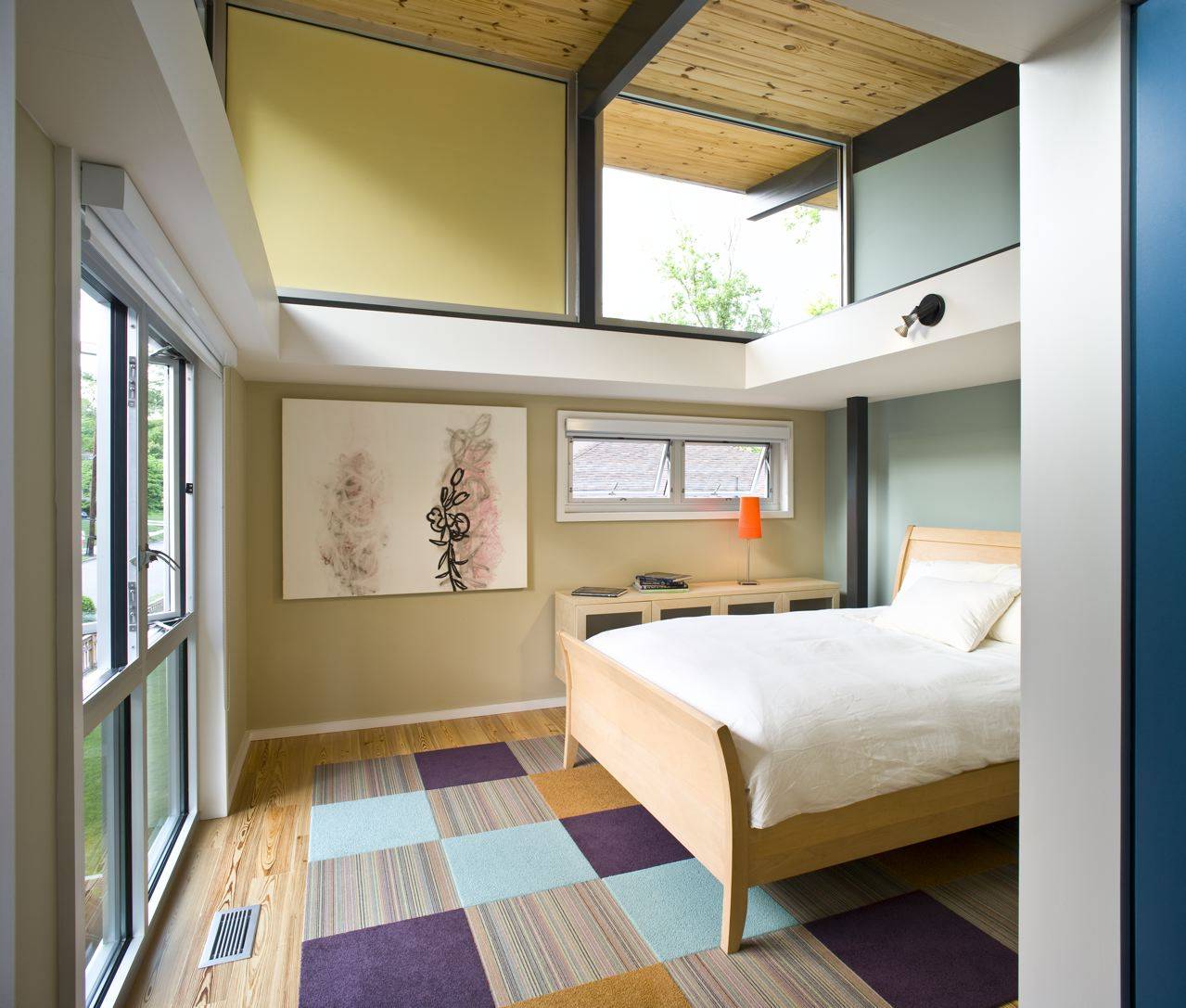 This bedroom is a great example of how you can take a more neutral approach to adding color to your home. By using lighter pastel hues on different walls and tying the colors together with a checkered area rug, the room accomplishes a neutral but noticeable color scheme.
Vibrant Decorative Elements
Selecting the brightest decorative pieces you can find is a popular (and less permanent) way to bring color into your home. Using decor as the main color scheme in a space is preferred for the flexibility that it offers if you happen to change your mind. As trends change, so do our interiors, and colorful accents like throw pillows, rugs, and small furniture accents can be rotated out or replaced much easier than a large painted wall. Consider how the spaces below have used a mix of colorful decor and artwork to bring vibrancy into the home.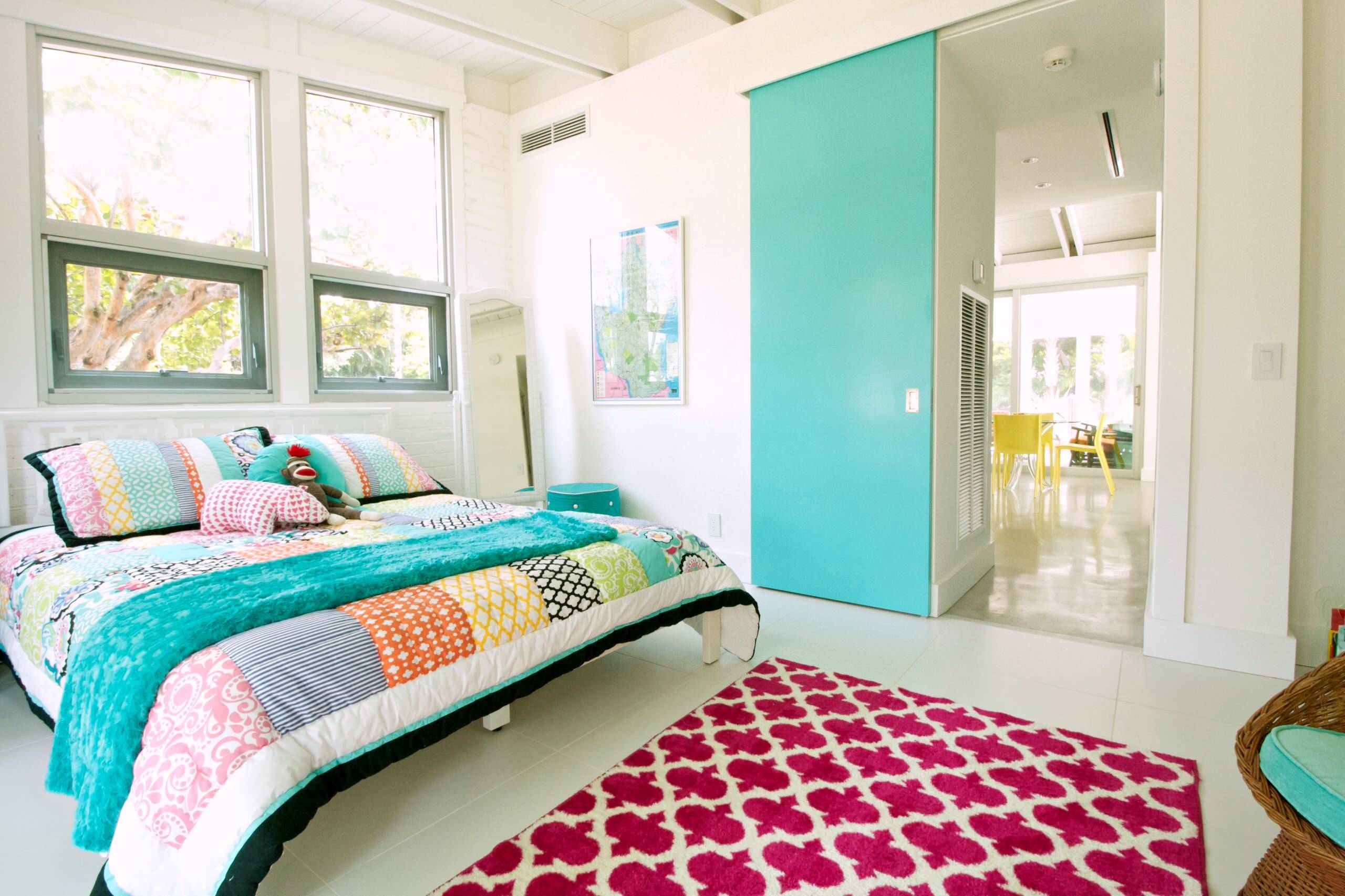 This all white bedroom is decorated with bold teal and aquamarine hues to make the room feel fun and bright. A multi-colored quilt and a patterned red area rug keep the room cozy and trendy at the same time.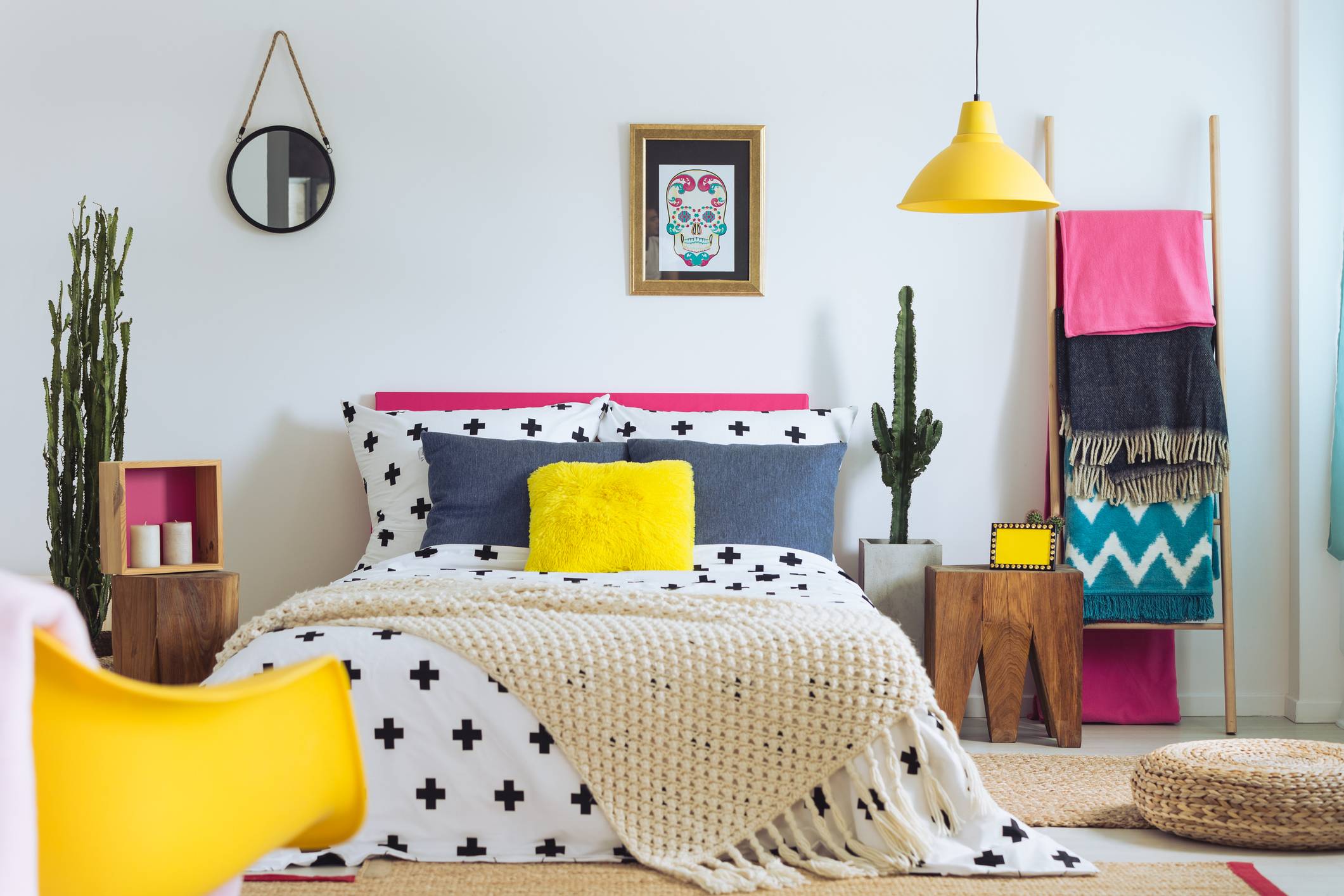 Yellow and pink decor, including throw pillows, a light fixture, and a yellow accent chair, are the defining features of this white bedroom. A blanket ladder with bright patterned throw blankets compliment the comforter and help complete the summery color scheme.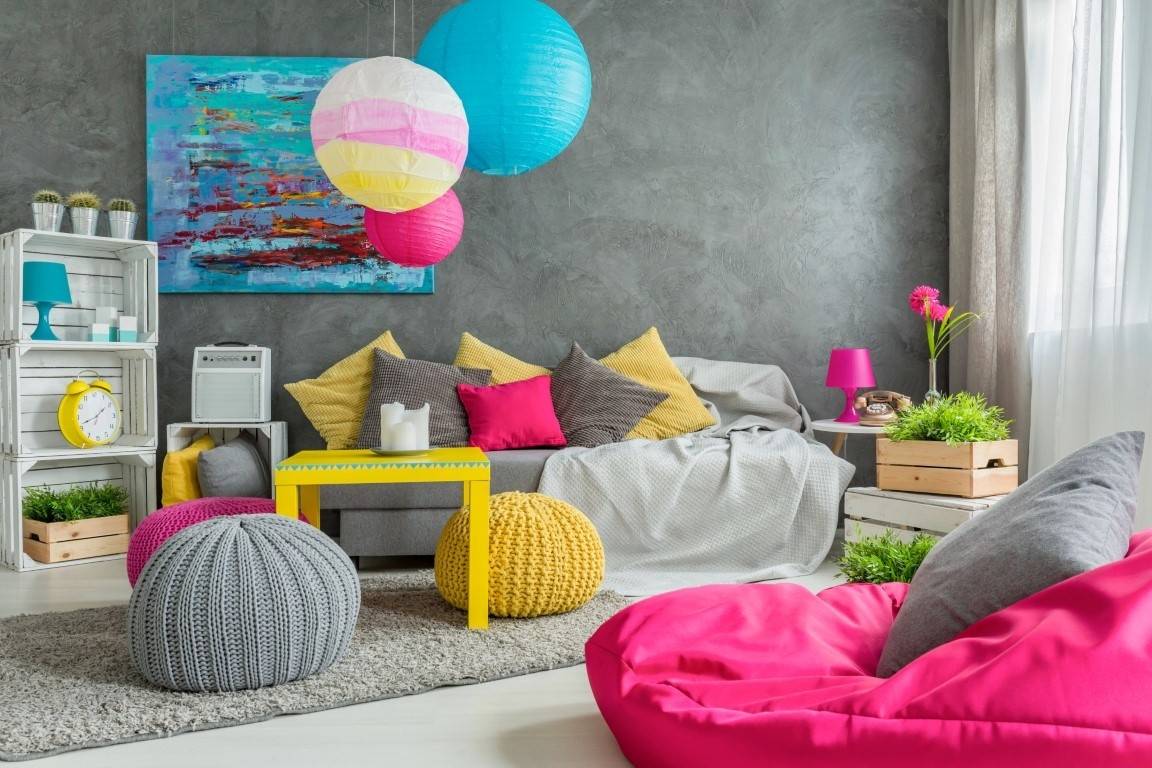 This grey toned lounge space is made much more exciting with the addition of a large pink bean bag chair, yellow and pink throw pillows, and multiple colored floor poufs. Blue accents add bright pops of colour where they are placed around the room and a bright yellow coffee table sits central in this fun color palette.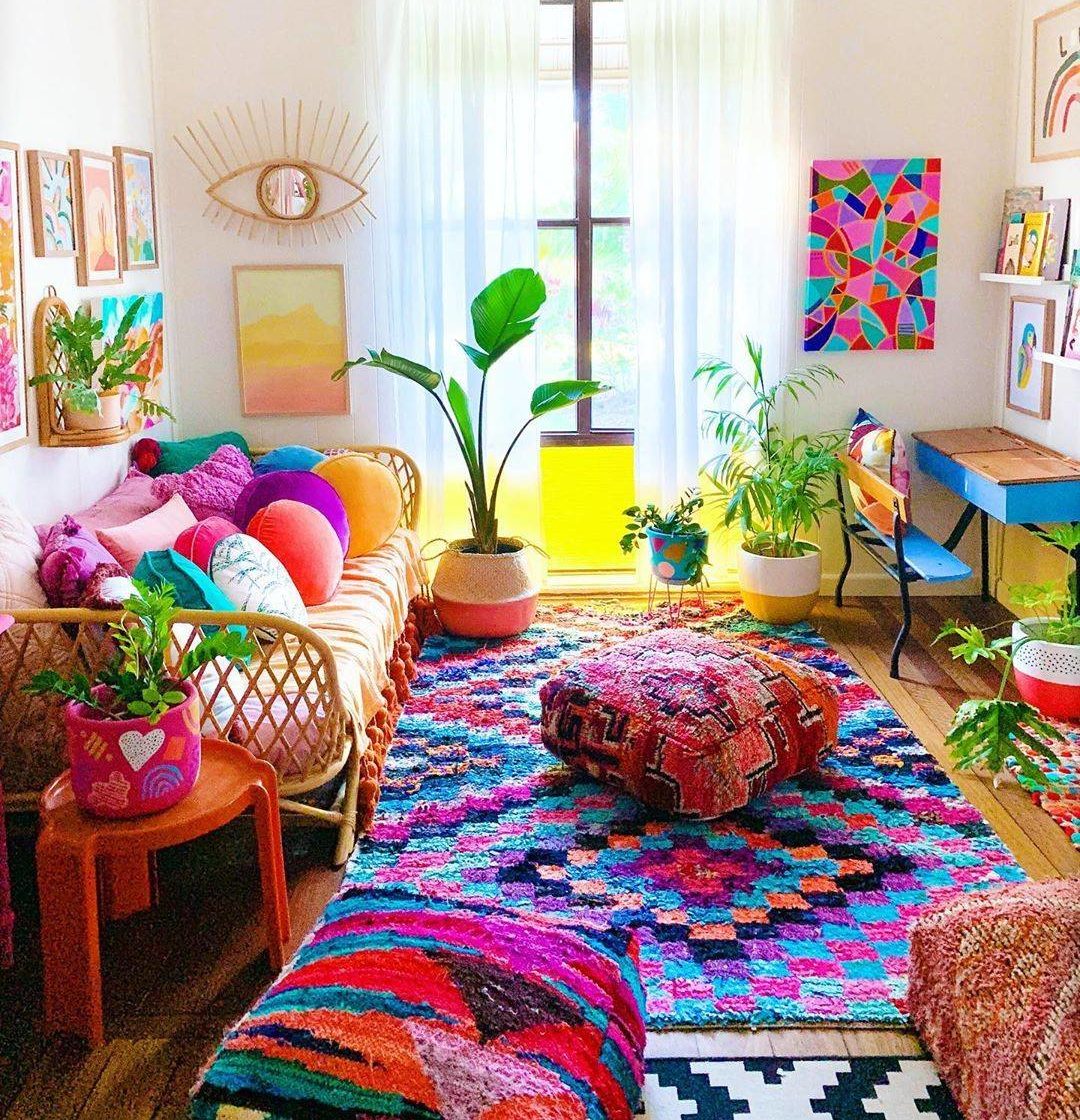 This bohemian living area relies completely on the colorful decor like the checkered area rug, multi-colored floor poufs, throw pillows, and wall art to bring the room to life. This room highlights how colorful decor can make a home seem energetic and lively even when the walls are plain white.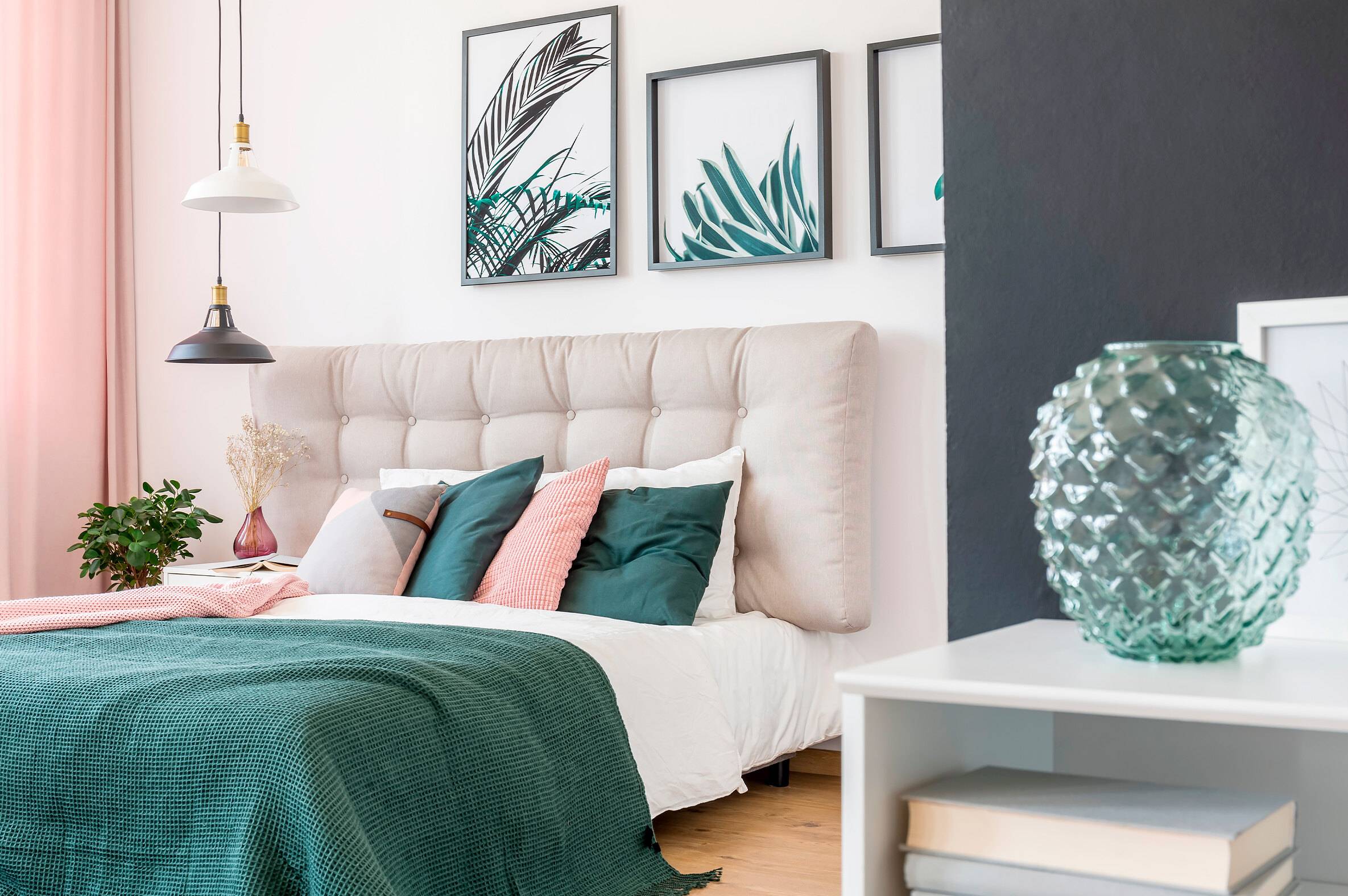 This bedroom is a great example of using minimal colorful decor elements to achieve a large impact in your room. The framed art on the walls, blush toned curtains, and cozy throw blankets tie the calm color scheme together in this feminine bedroom.
Colorful Statement Furniture
Colorful furniture pieces are a unique way to bring vibrancy to your space while still having the freedom of being able to rearrange or relocate the piece. Statement furniture works exceptionally well in rented spaces where you can't paint the walls, or in rooms with a different type of interior wall (like cement or brick for instance). Whether it's a colorful couch, coffee table, headboard or accent chair, a bright statement piece has the ability to transform an area with minimal effort or additional styling.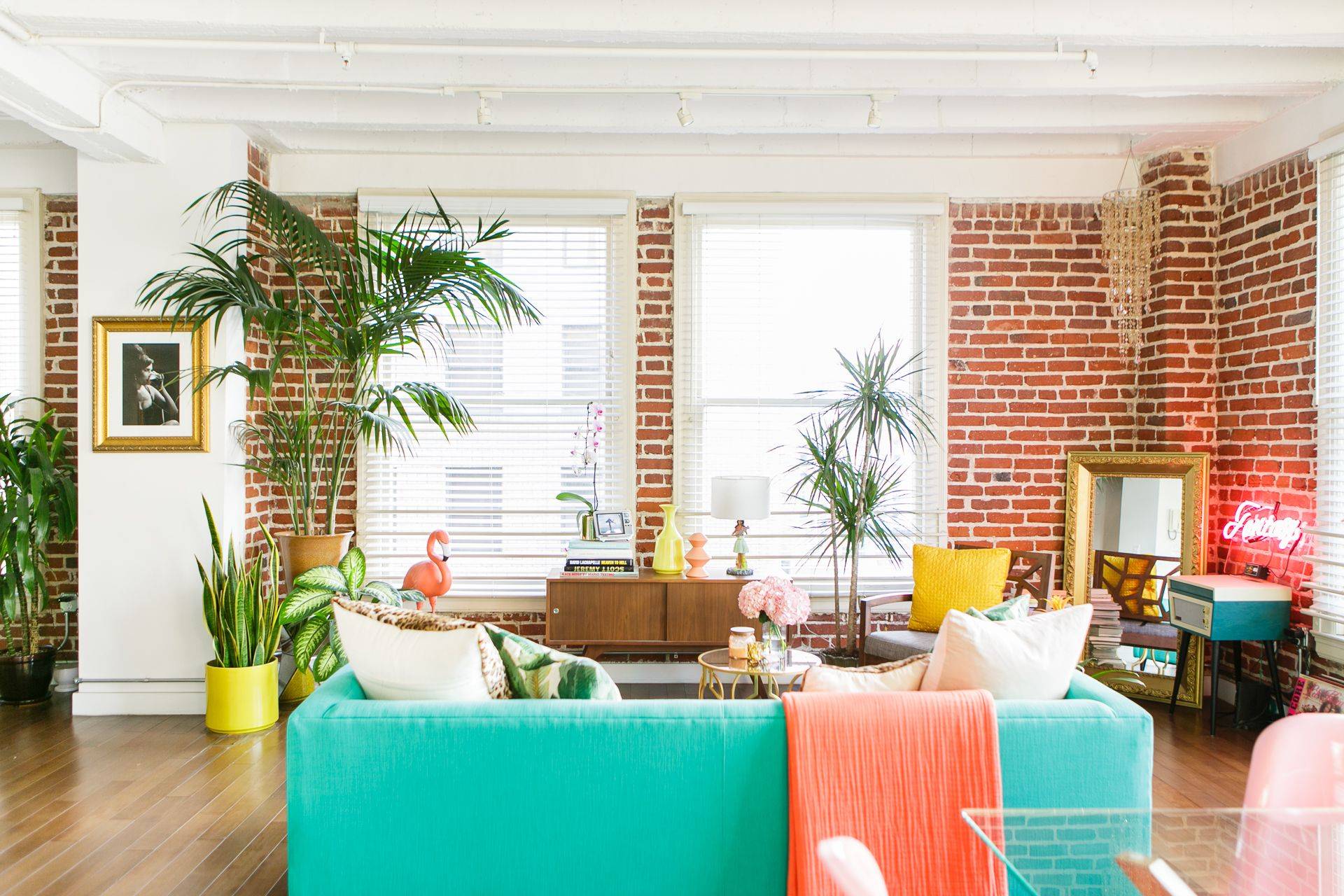 A red-brick-interior apartment is decorated with bold yellow and coral tones surrounding an aquamarine sofa that takes center stage in this colorful loft.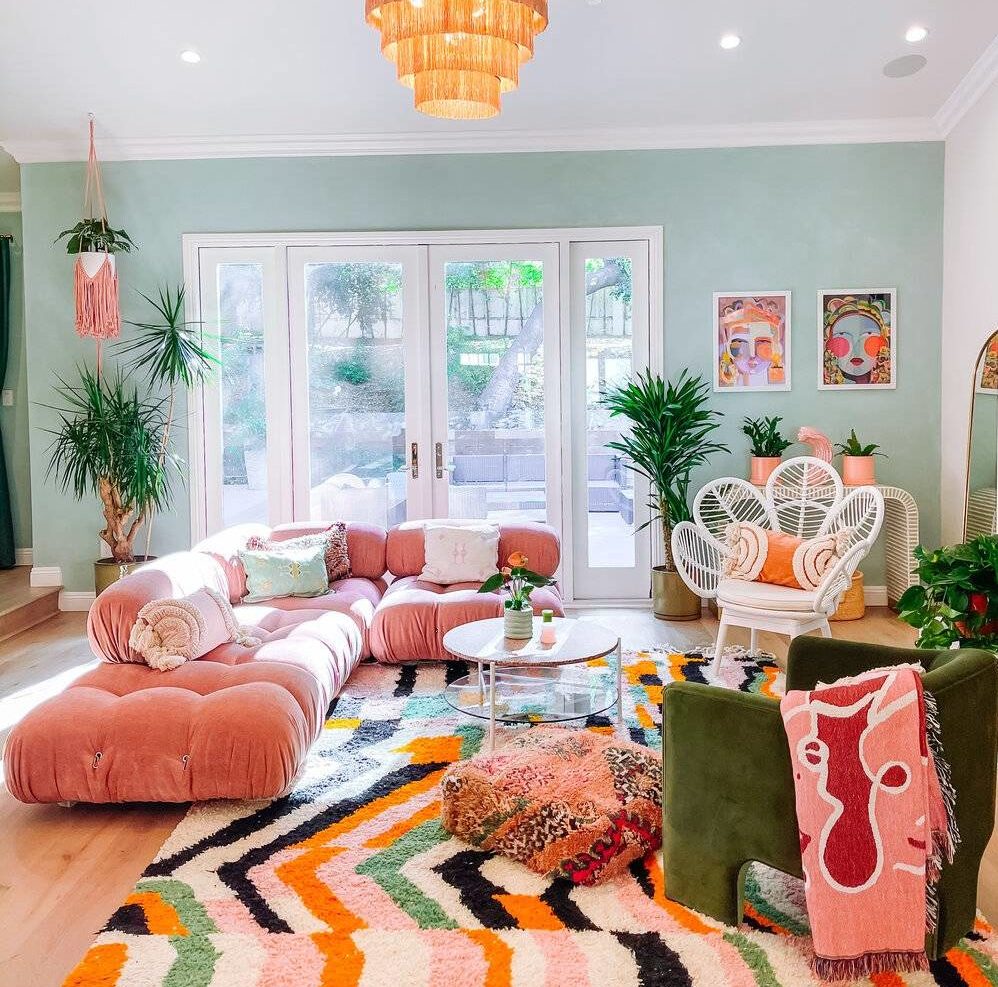 This eccentric mid-century modern inspired living area makes full use of colorful statement furniture with a funky blush-toned sectional couch and a large velvet green accent chair. The room employs lots of other color-focused design techniques like styling a busily patterned area rug and a subtle light blue color on the walls.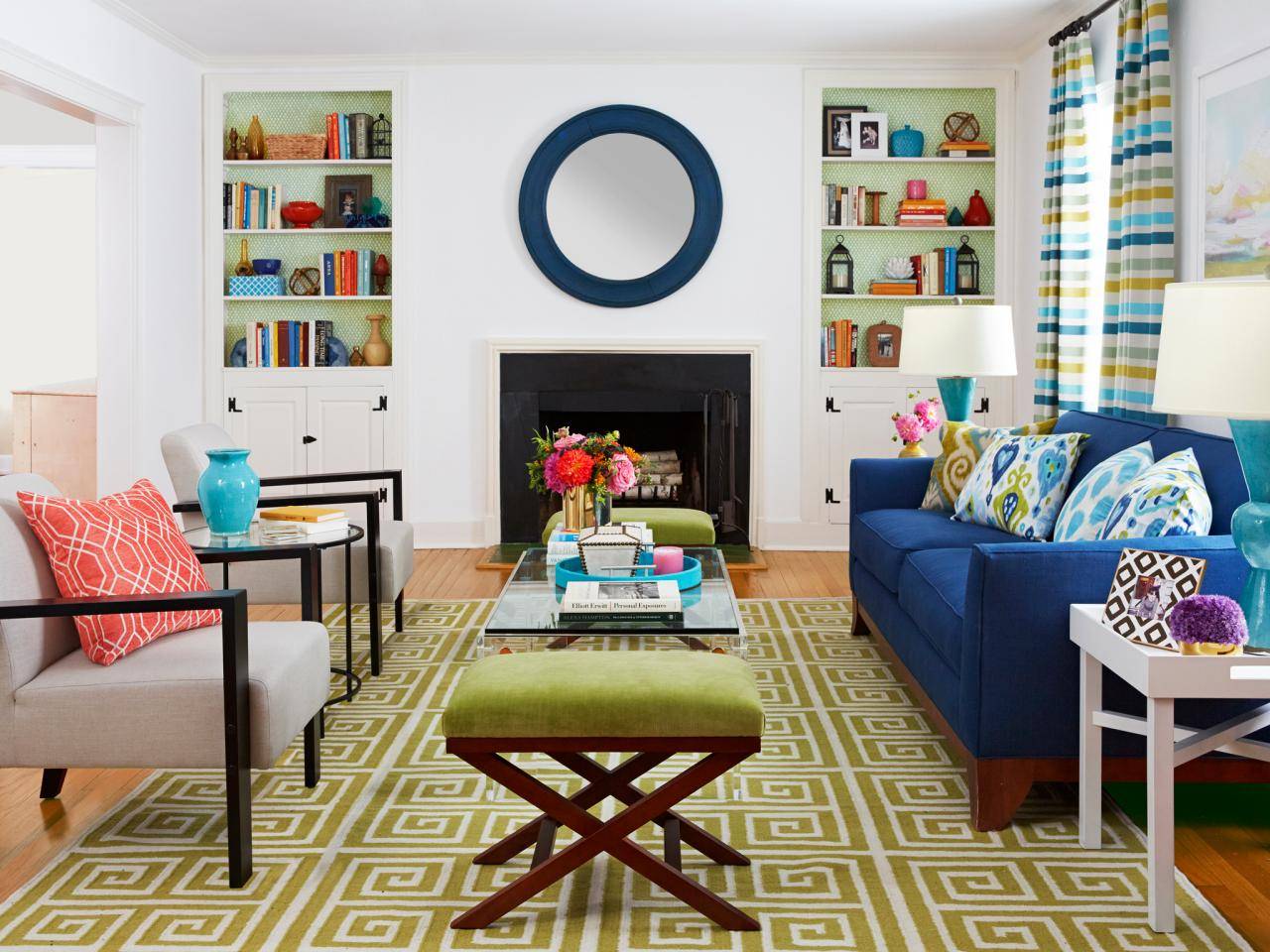 This living room has a blue sofa as the central statement piece of furniture. The decorators then build a complimentary color scheme of varying blues and greens around the sofa and carry the palette throughout the room (in the area rug, book shelf inserts, and curtains).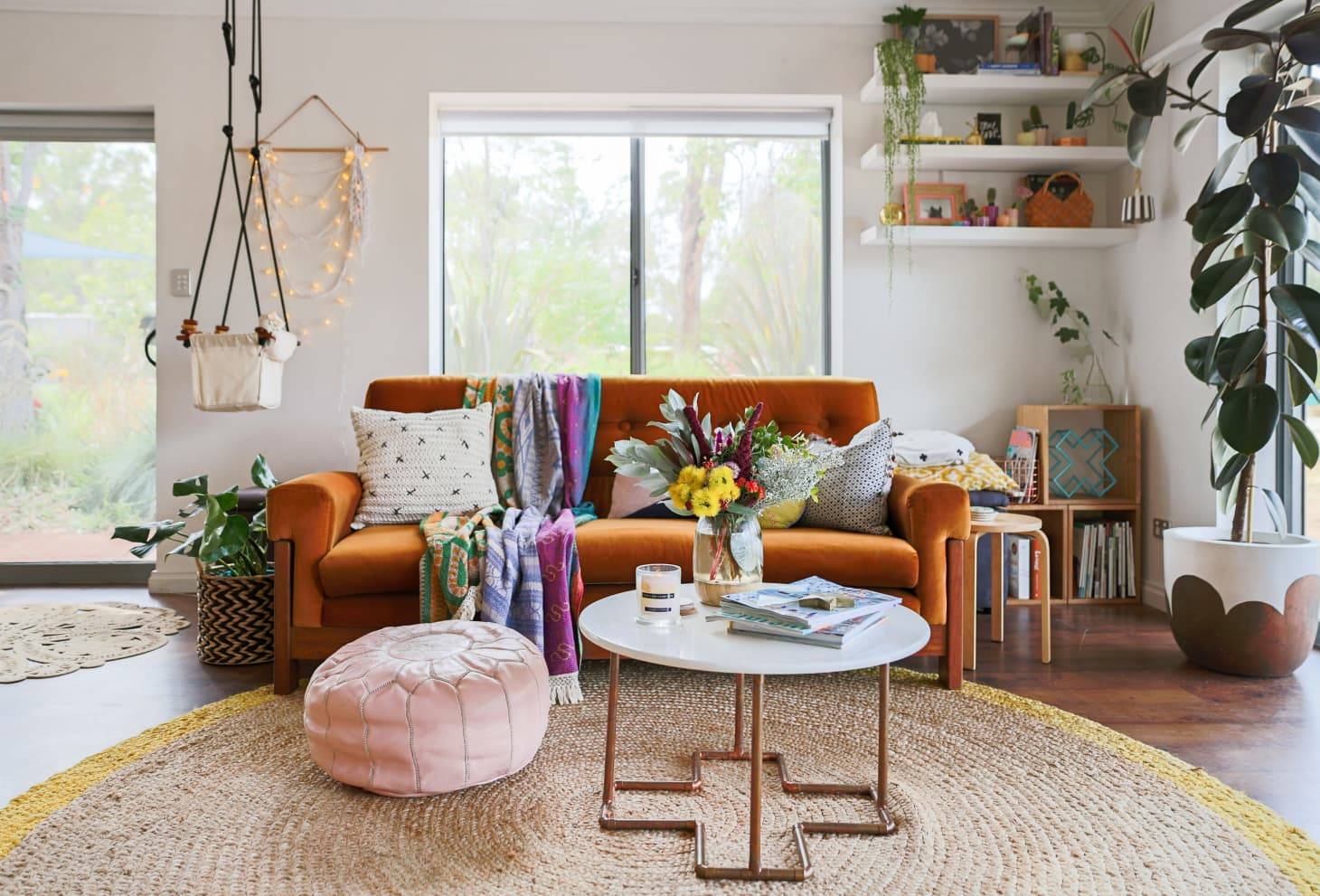 This living room is a perfect example of how bringing in a single colorful statement piece of furniture like this rust-toned couch can often be all that is needed to establish a mood. Additional decor can be neutral in color and still complimentary (like the light pink floor pouf pictured above). Even though the room is not overwhelmed with bright decor, the space still feels colorful and light.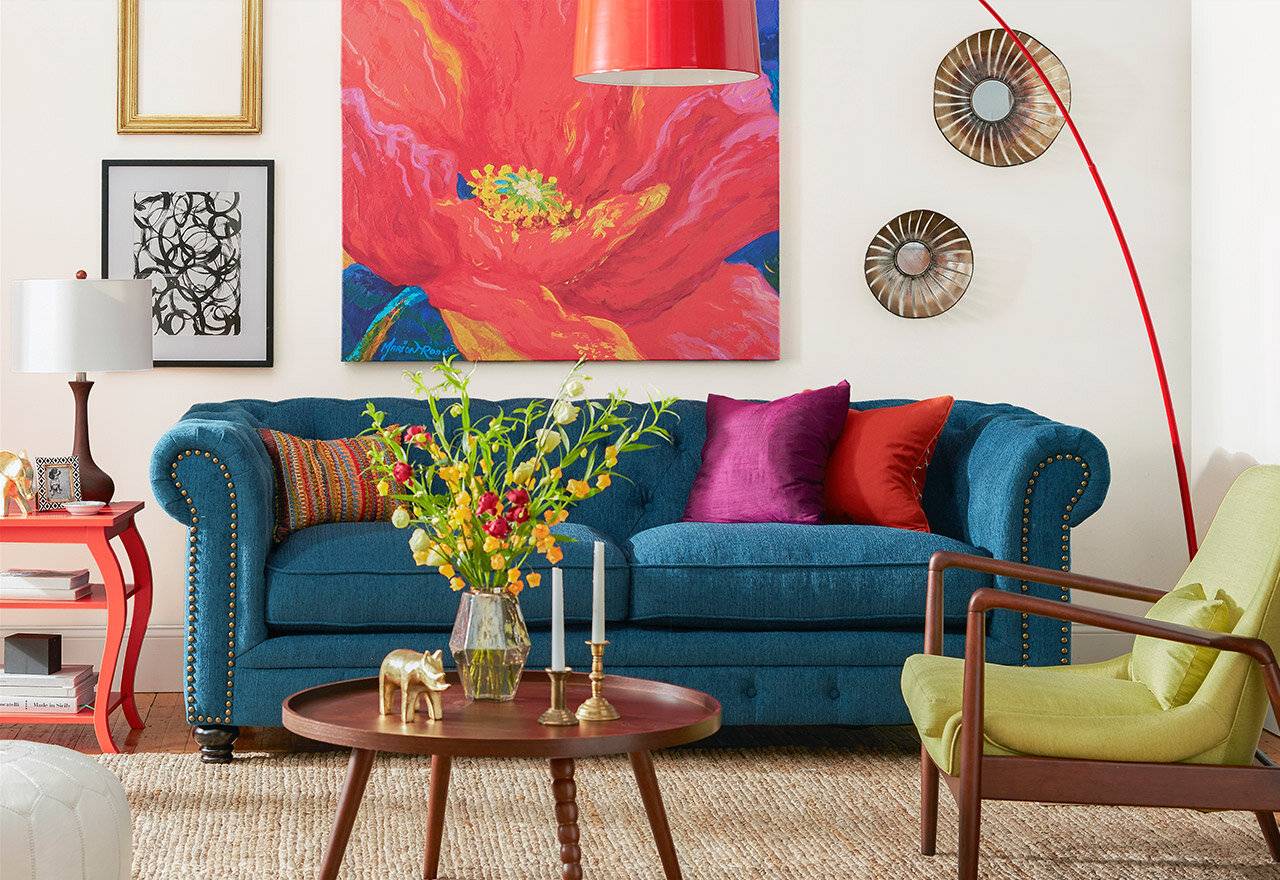 A bright blue sofa is the focal point of this contemporary living space. The sofa is complimented by a lively green accent lounge chair, plus the coral tones of the side table and large floral wall art. Decorative pillows and a unique statement lamp add to the mixture of colors in this spring-inspired living room.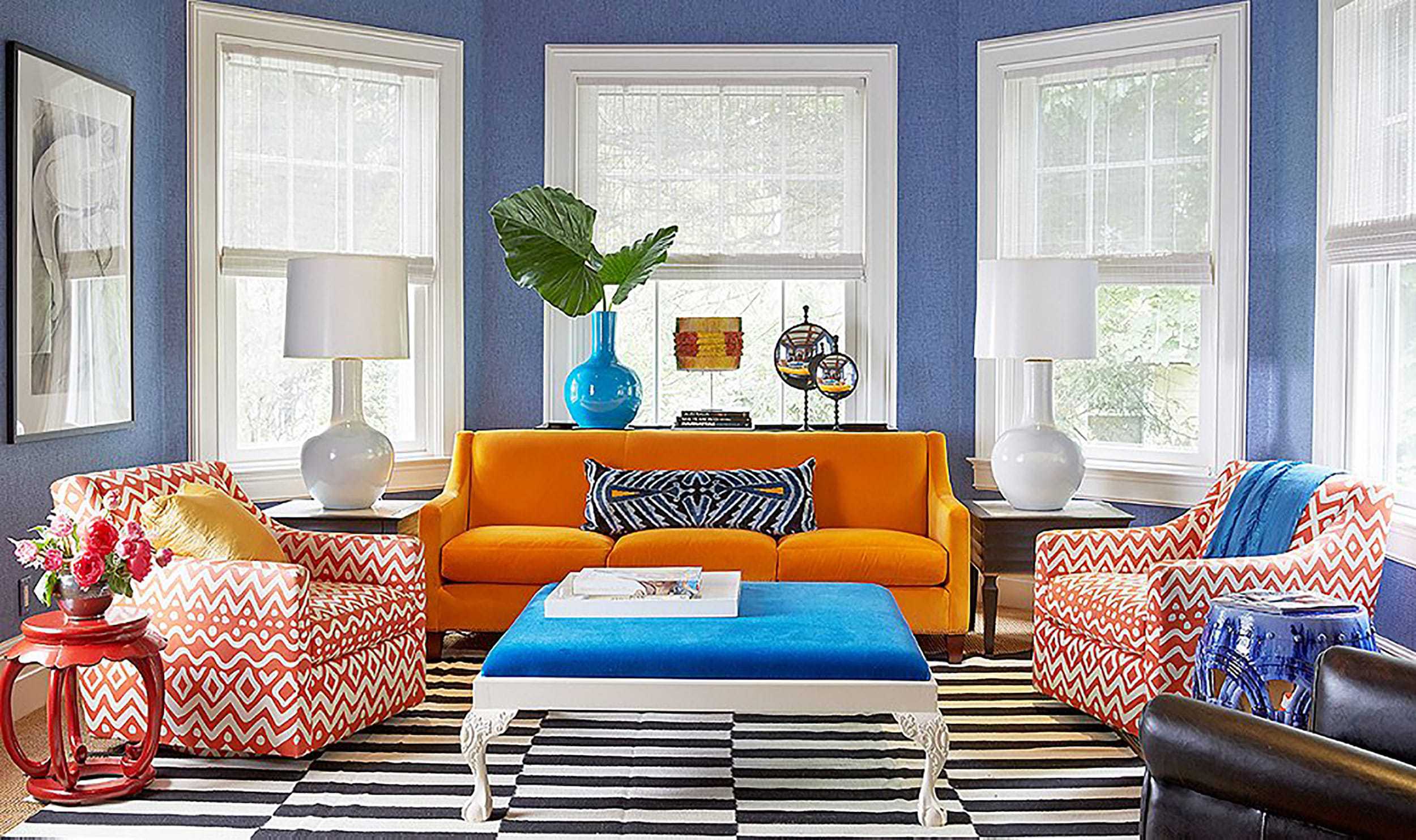 A blue and orange color palette is achieved in this unique living room by combining statement furniture pieces like patterned chairs, a blue velvet cushion ottoman and a bold orange sofa. The blue walls seem subtle in comparison to the busy patterns of the decor.
Embrace Color Where You Can!
Decorating with color in the home does not have to be an intimidating experience, or a risky one for that matter. There are many ways to incorporate color into your interior spaces without getting too carried away and ending up with something that you may end up regretting a few years down the road. The first, and most noticeable option to introduce color to your area is to create a brightly colored accent wall somewhere that works with your decor. A less permanent solution and one that is more flexible for change, is to use various decor elements like pillows, blankets, and art pieces to accomplish your desired color palette. Finally, one of our favorite ways to bring color into interior spaces is by selecting statement pieces of furniture that stand out as the center focus in any room and color scheme. So go ahead and embrace color in your home wherever you possibly can, soak up the vibrancy and mood of your interior spaces by mixing up color palettes in your home.