Spring is the perfect opportunity to make a fresh start, and there's no room that benefits from a clean, refreshing look quite like the powder room! Today we explore four different bathroom color schemes that have the power to transform your space. Can you say "spring makeover"?! We start with two of today's trendiest colors, then veer into clean slate territory with white, wrapping up the post with some clever color combinations. Keep reading for lots of spring decorating inspiration…
Refreshing Mint
Mint: it's not just for garnishing drinks! In fact, mint is one of today's top colors, and the cool, crisp feel it evokes is perfect for powder rooms. Let's begin with an elegant bathroom featuring terrazzo floors and a crystal chandelier. [photo from Lonny]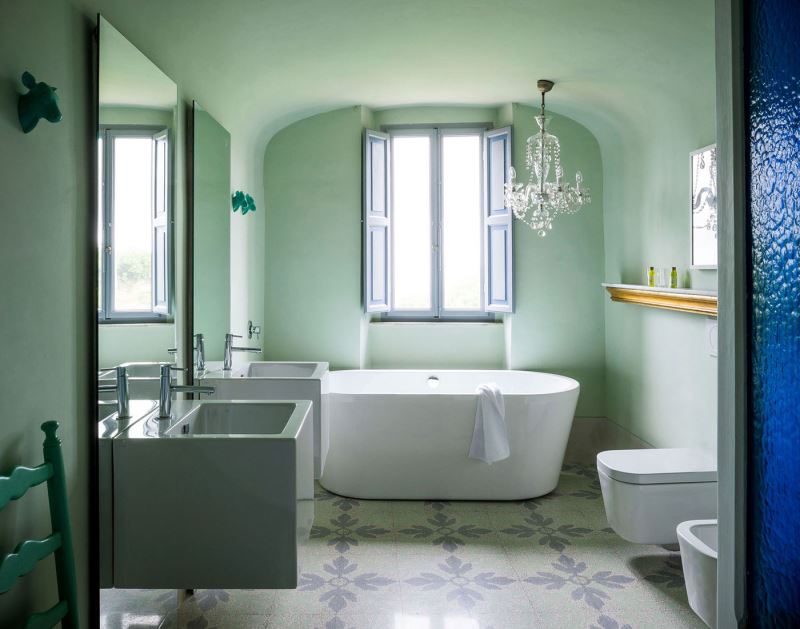 Mint pairs well with white, as the overall effect is soothing and relaxing. Not a bad vibe for the bathroom! [photo from Fulford Home Remodeling]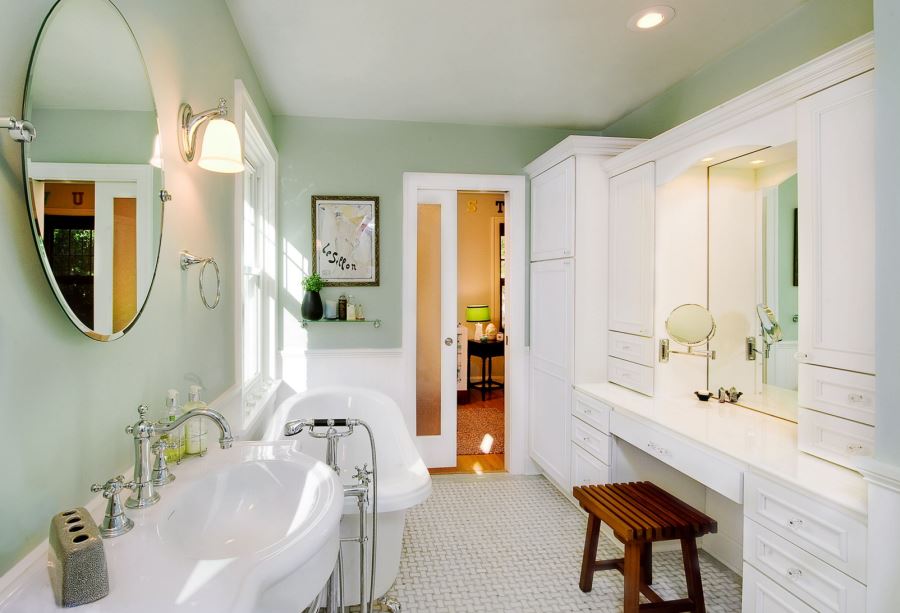 Mint also works well with neutral tones (like the warm glow of wood), as shown in this modern powder room from Studio William Hefner: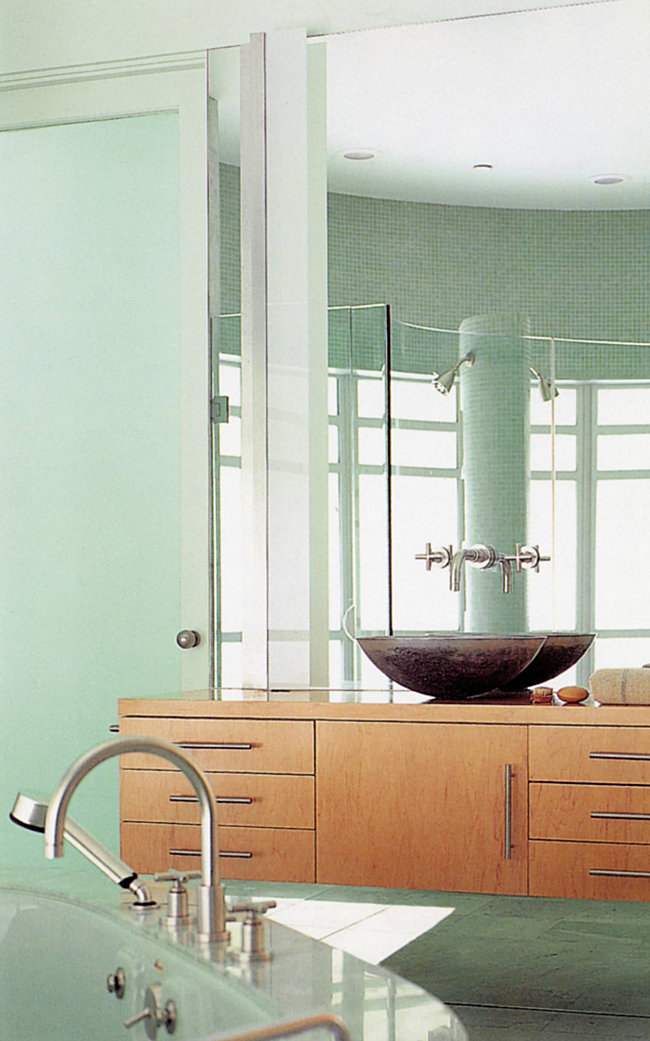 If you're looking for a way to introduce mint without completely covering the walls, try adding mint tile to the shower! Why not go with a modern mermaid hue for the place where you bathe? [photo from Elizabeth Vallino Interiors]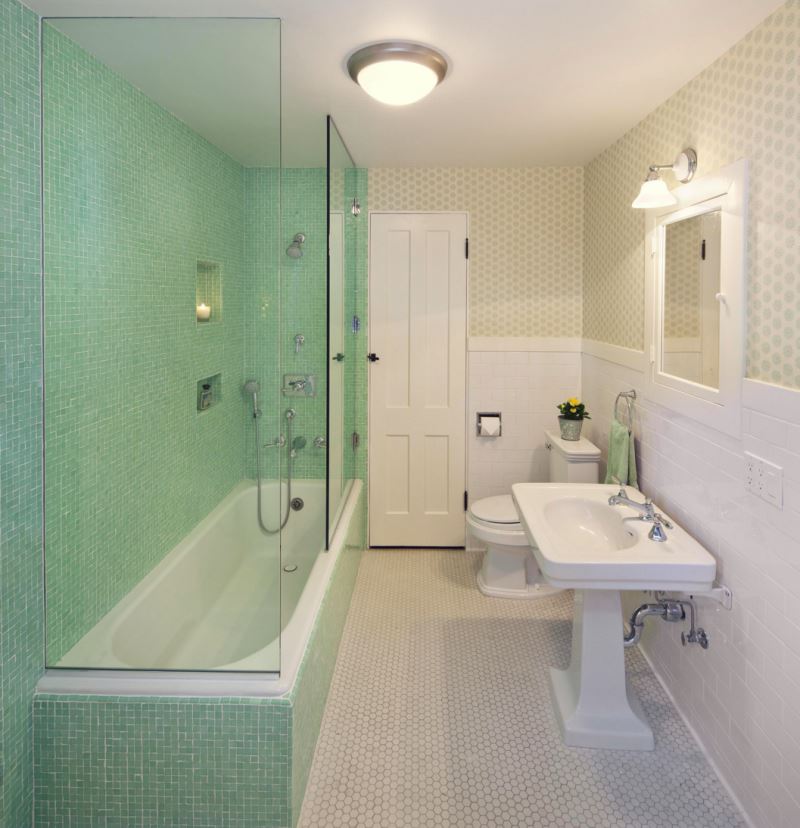 Sometimes a hint of mint is all it takes. This Punk Soap Dish from CB2 is a great place to start: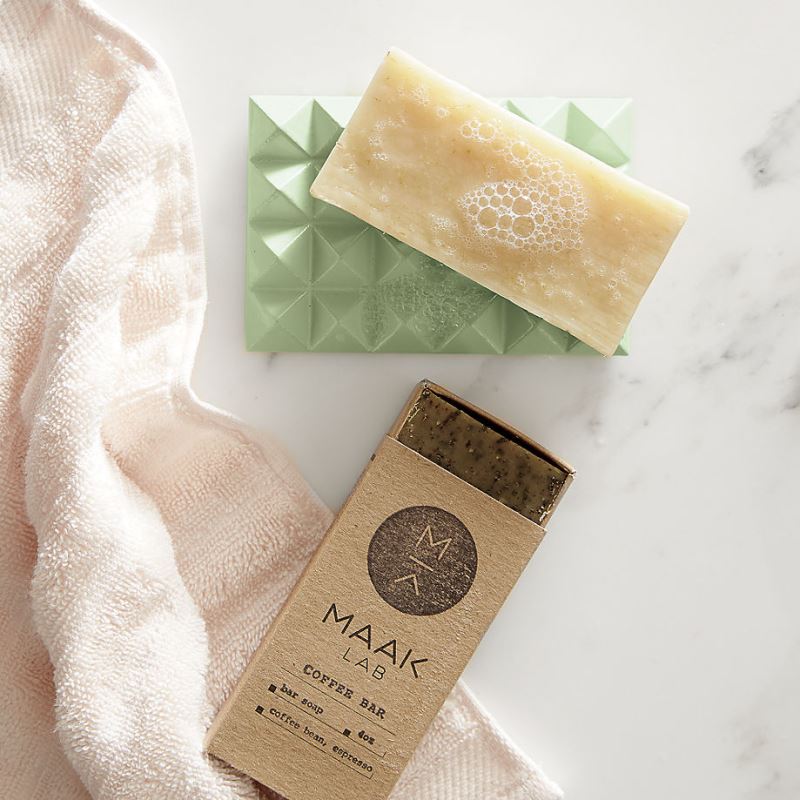 Pastel Pink
If you search online for "pink bathrooms," the results can be a bit off-putting. Garish combinations of pink hues and sickly sweet motifs pop up, but rest assured that this season's new take on pink is fresh and modern. [photo from Oxford Development]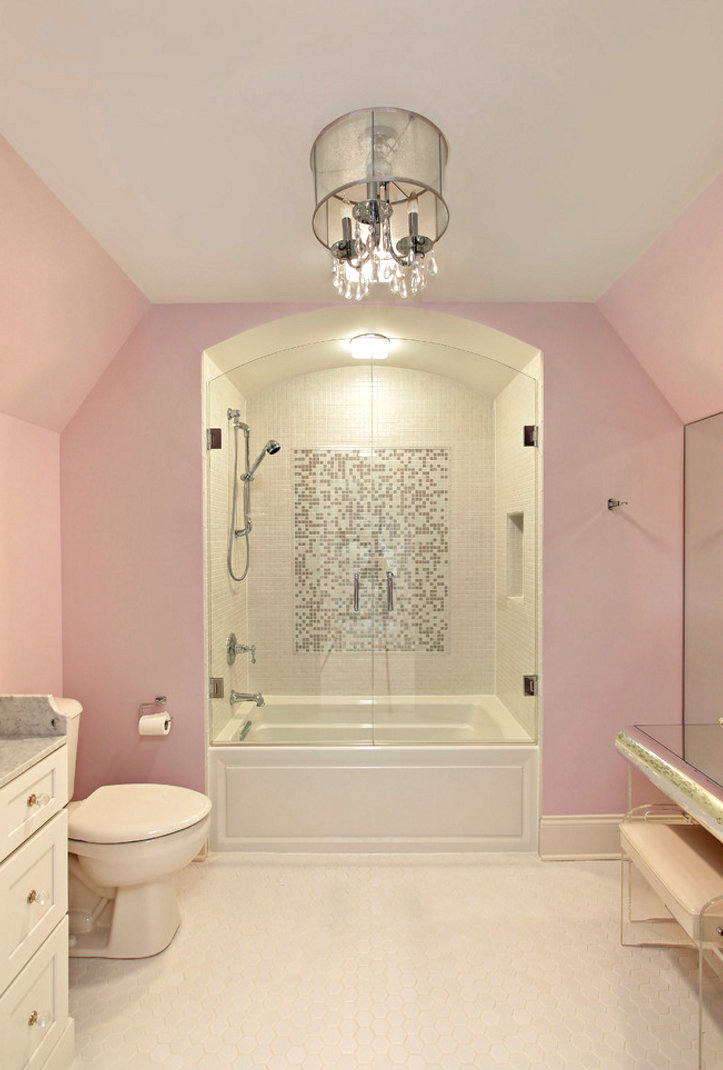 The look to shoot for is a light pastel pink, off-set by crisp white or textured cream tones Bringing in a hint of green is always a good idea, so introduce a houseplant or two into your powder room if you go this route. [photo from Lonny]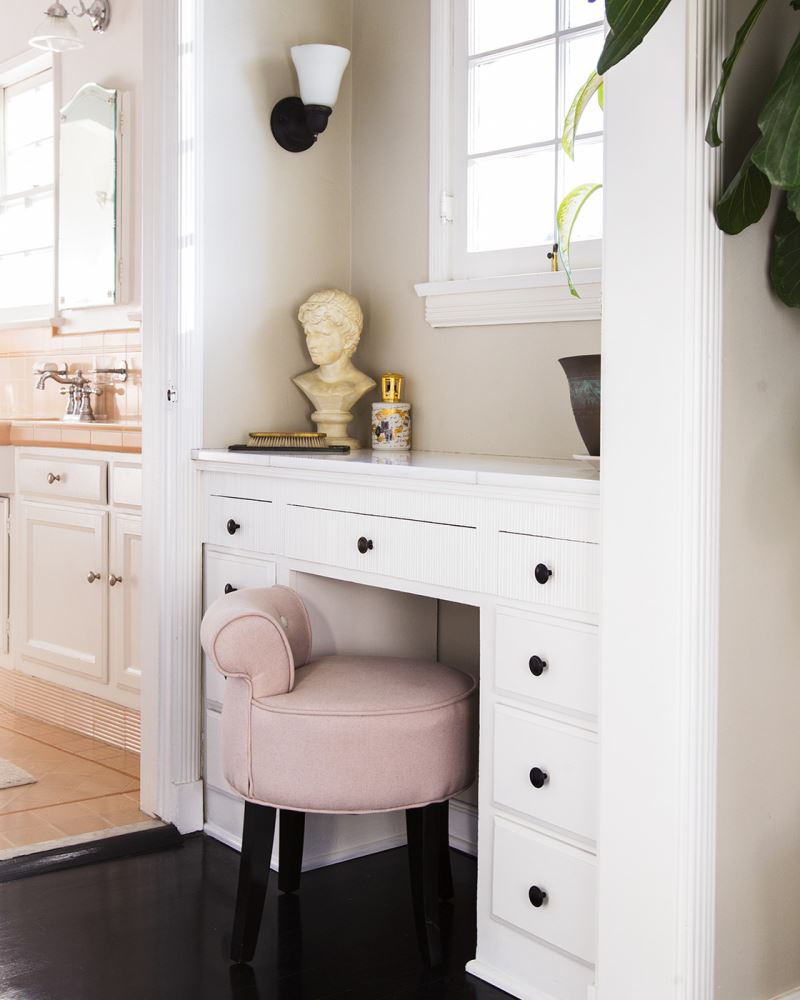 If you're not sure about pink, you can always start with one accent item, such as the Frayed Roses Bath Mat in Pink from Urban Outfitters, shown below. Love the texture!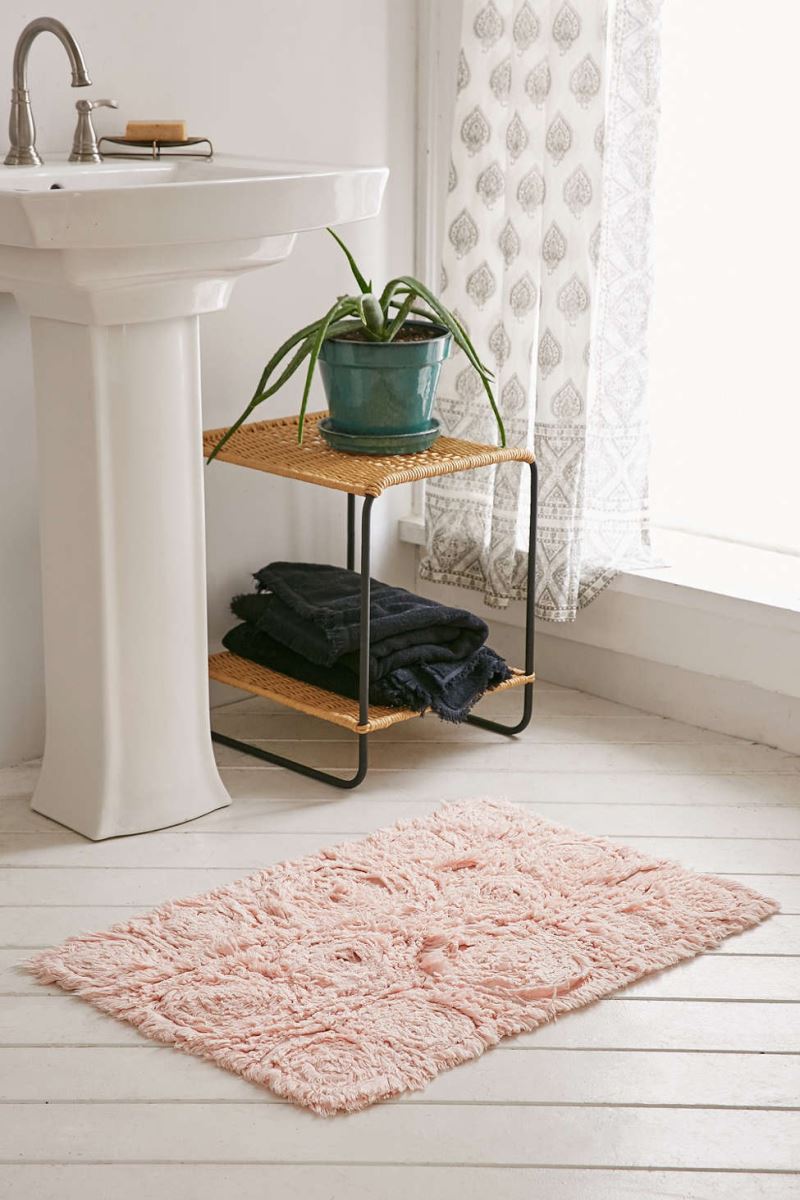 A pink bath towel or two can also be the perfect soft pop of color in an all-white bathroom. Below we see the powder room of blogger Laura Gummerman. For more info on that luxe Lucite towel bar, check out the full DIY at A Beautiful Mess: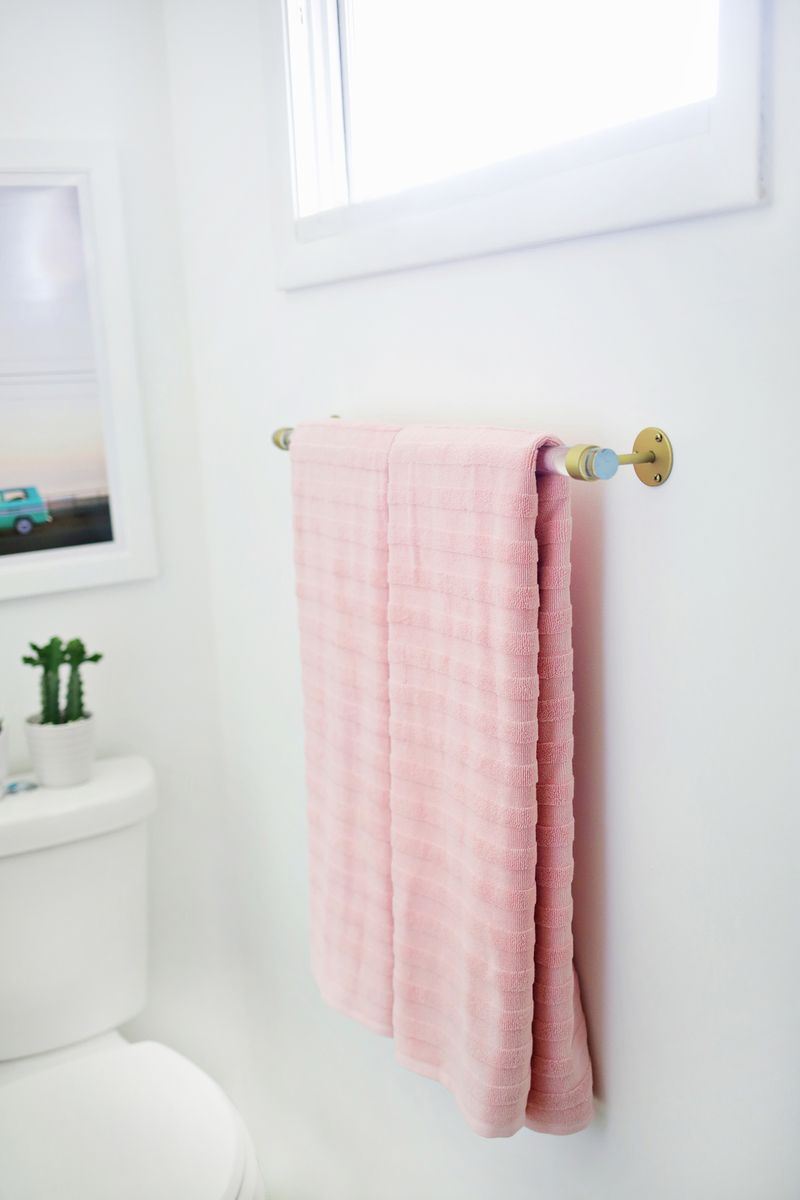 Or you can dive right into rose-hued bliss with a pink tile shower. For an added touch, incorporate a modern or geo pattern, such as the subtle lattice design in the next image. [photo by Jo Pauwels, bathroom designed by Helene and Olivier Lempereur]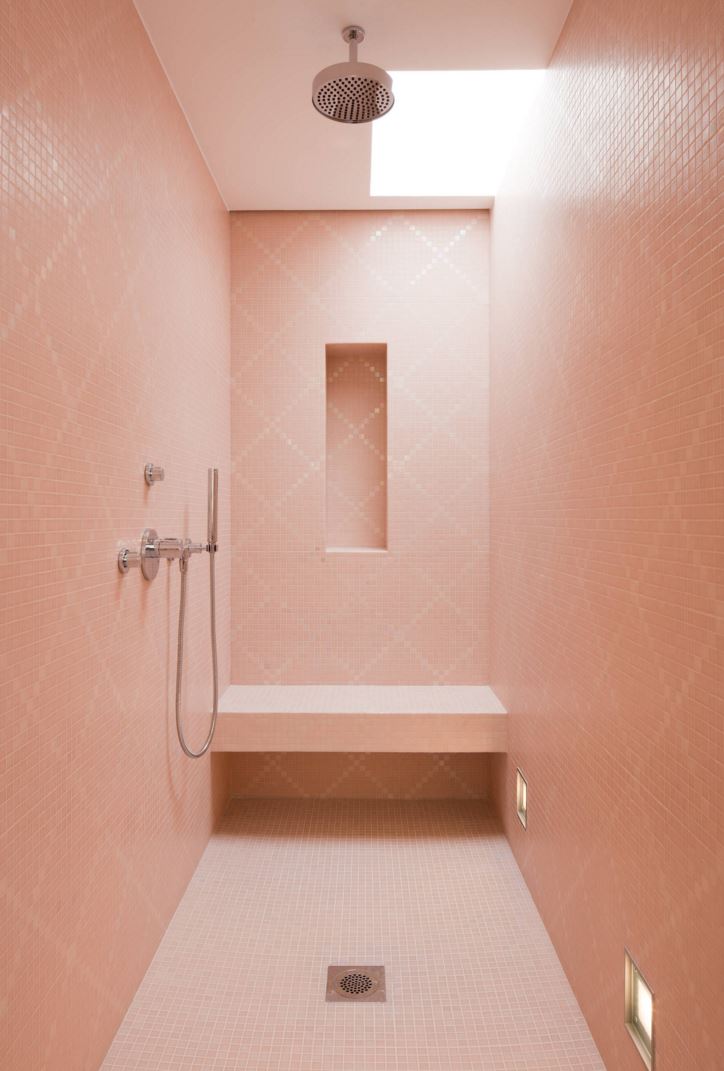 White: A Clean Slate for Spring
For the freshest and most crisp bathroom possible, go all-white! Not only is the look striking and soothing, it instantly channels a spa vibe. Plus, you can add a dose of greenery to celebrate the return of spring! [photo from Archic]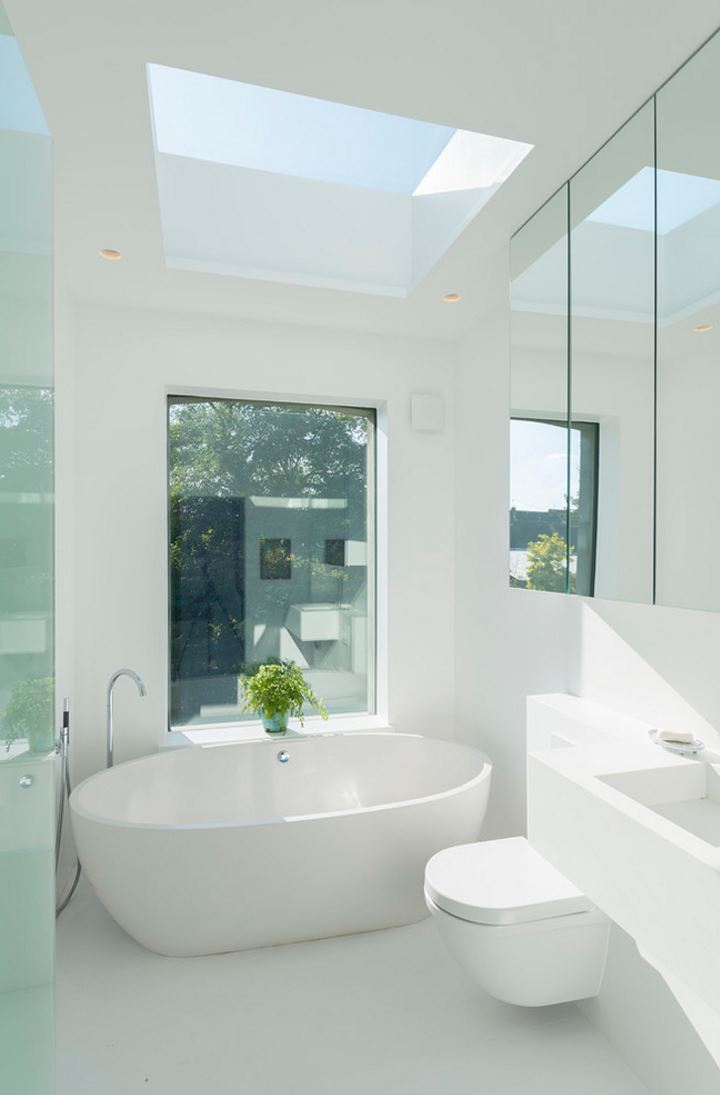 If your bathroom has a view, white is picture-perfect. The white tones serve as a neutral backdrop for the natural beauty just outside the window. And when spring arrives, it's all about shades of green beyond the glass! [photo from PS Design Studio]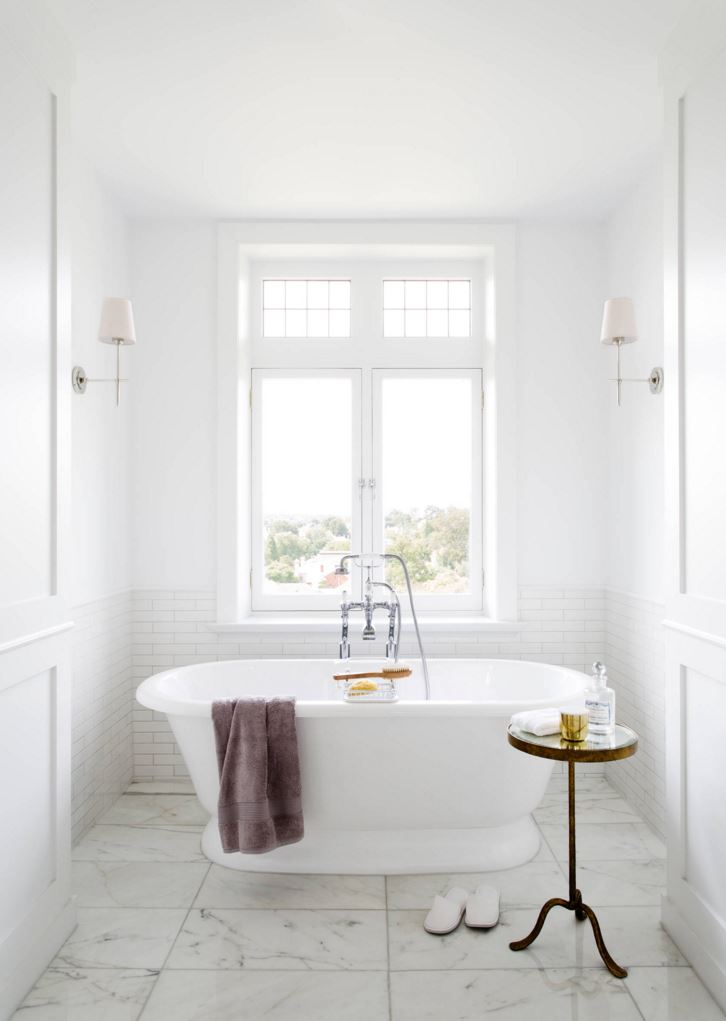 To put a modern luxe twist on the all-white bathroom, try adding brass accents. The look is retro and cutting edge at the same time. [photo from Lonny]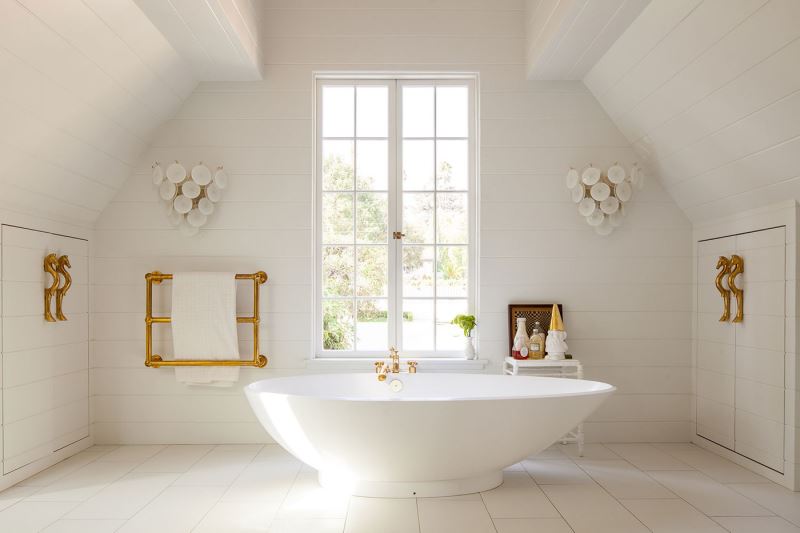 For instant elegance and visual interest, go with white marble tile in the powder room. Line the walls and the tub with the veined stone and enjoy the decadent look that results. Stick with clean lines to keep the feel modern, as shown below. [photo from Stelle Lomont Rouhani Architects]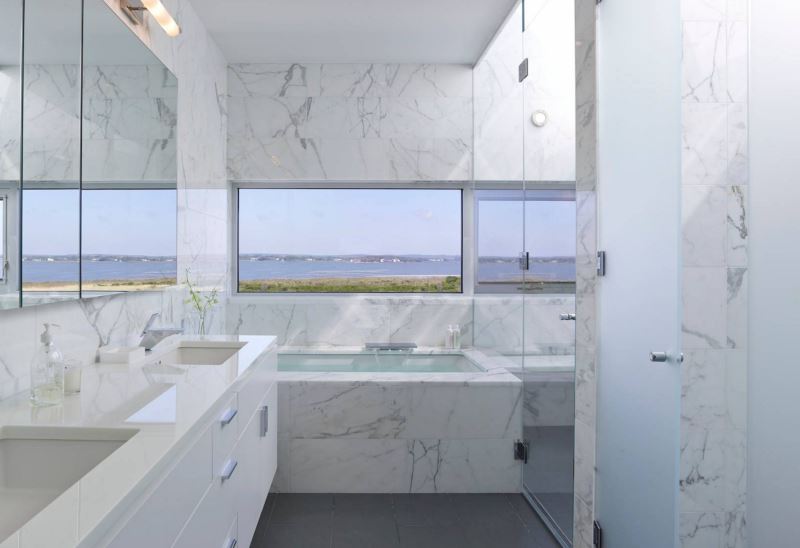 Play up the spa vibe with a white chaise. Throw in some sculptural plants in white planters. Top it all off with a white orchid on the counter. With the bathroom below, the word "stunning" comes to mind. Now who's ready for a spa treatment?! [photo from EuroCraft Interiors Custom Cabinetry]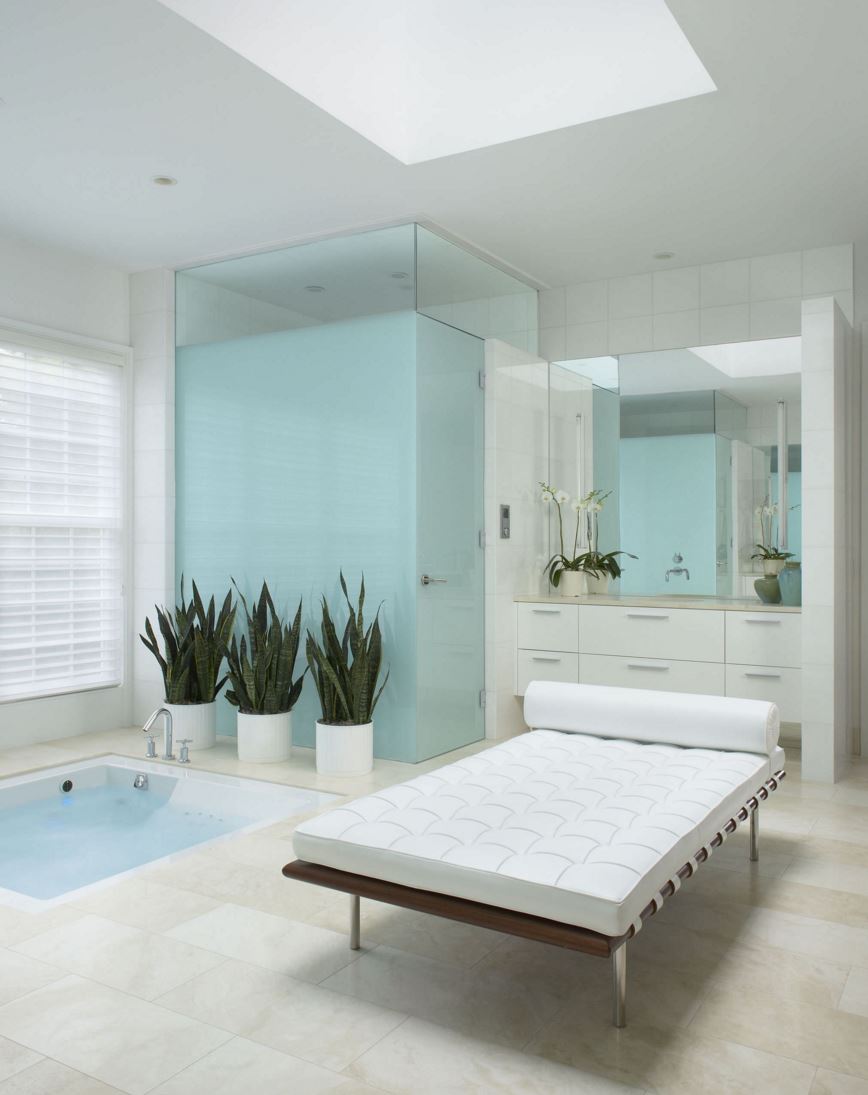 You can add warm touches to an all-white bathroom with details such as draperies, cushy seating, a large houseplant, a sea sponge and more. It's about texture and comfy details. This next powder room has a living room feel, doesn't it?! [photo from Linherr Hollingsworth]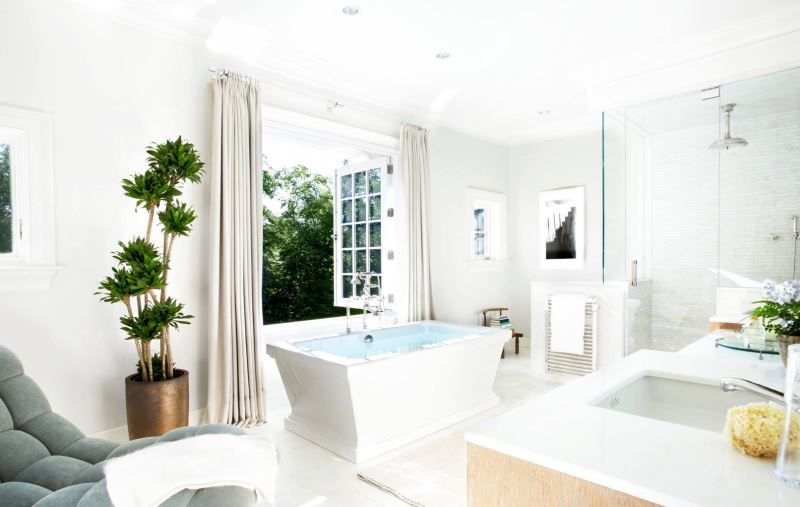 Curated Color
We end today's post by highlighting a bold look that's all about combining bright colors in meaningful ways. While the look can quickly go from modern to circusy, the key is carefully curating the colors so they complement one another, and then being intentional about how you incorporate them into the room. This Paris bathroom is a celebration of neon hues. [photo from Lonny]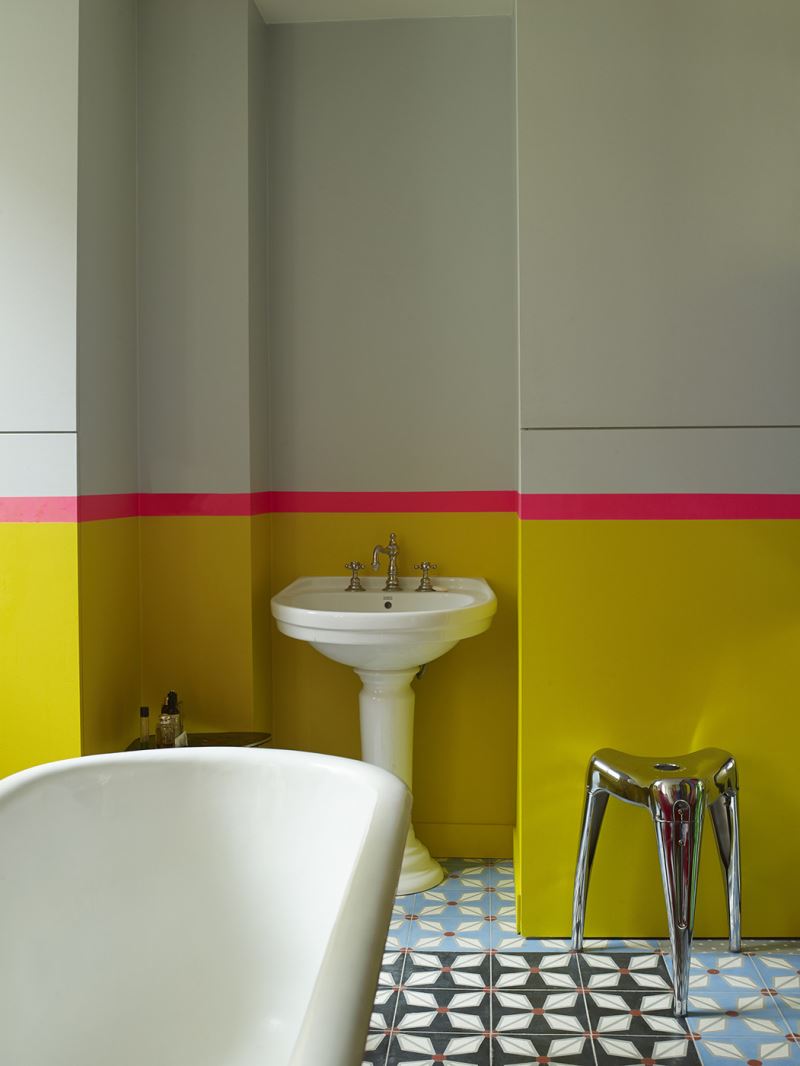 A grouping of modern artwork is another clever way to go when it comes to adding color. Keeping the look simple yet vivid is key, and repetition plays a part here, as shown in this next contemporary powder room. [photo from Wheeler Kearns Architects]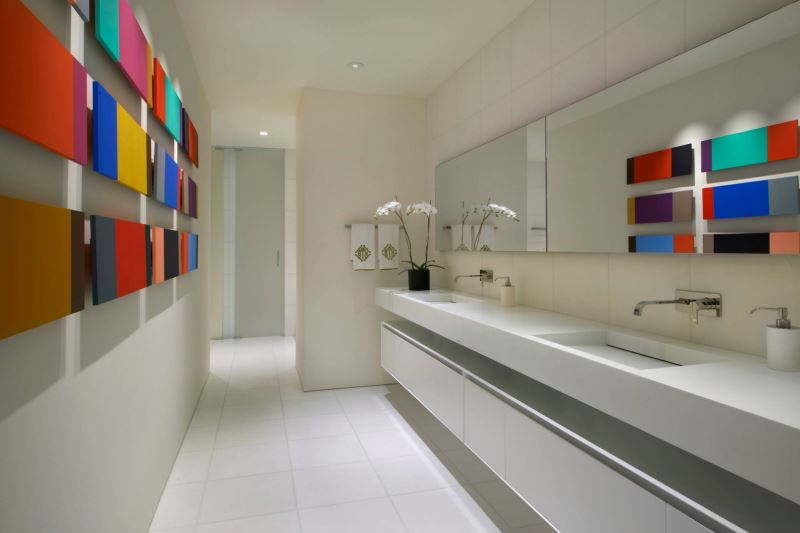 For introducing both color and pattern, try adding wallpaper. Go with a geometric print to keep the look from getting frilly. Geo wallpaper is perfect for retro-modern bathrooms like the one below. Accent with bright artwork in the same color family, and the look is complete! [photo from Lonny]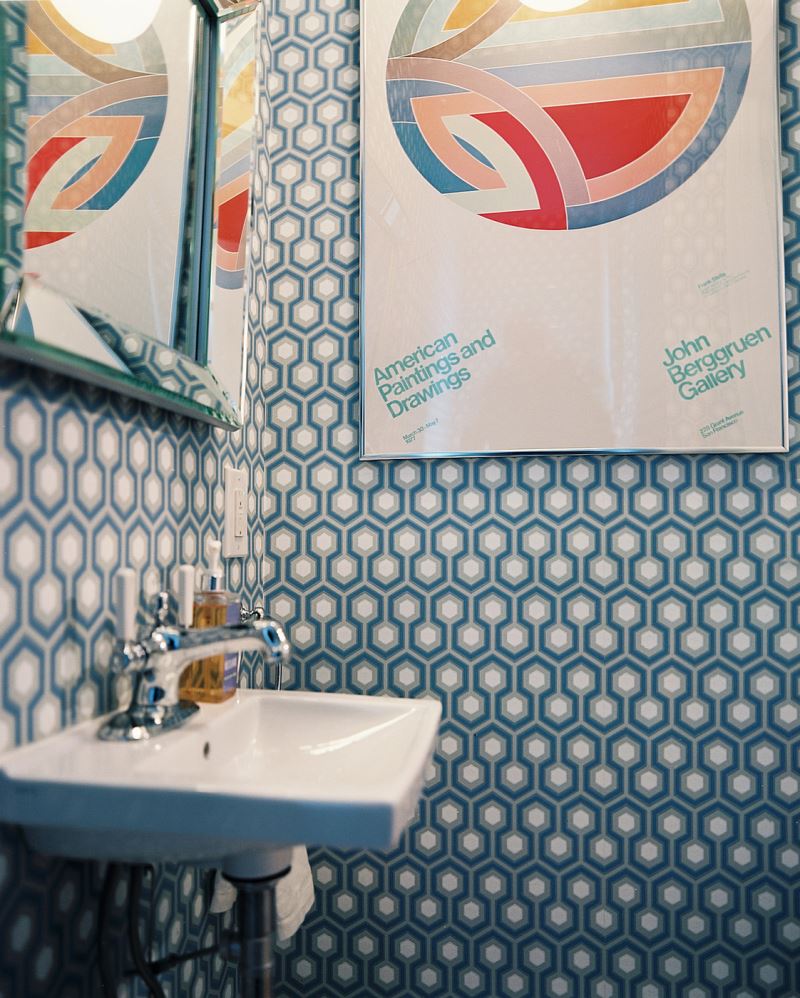 You can always add a tasteful hint of bright color to the powder room with an interesting rug. Kilim rugs are a popular choice, as they combine many hues in earthy patterns. This rug was picked up in Morocco! [photo from 9 Square Studio]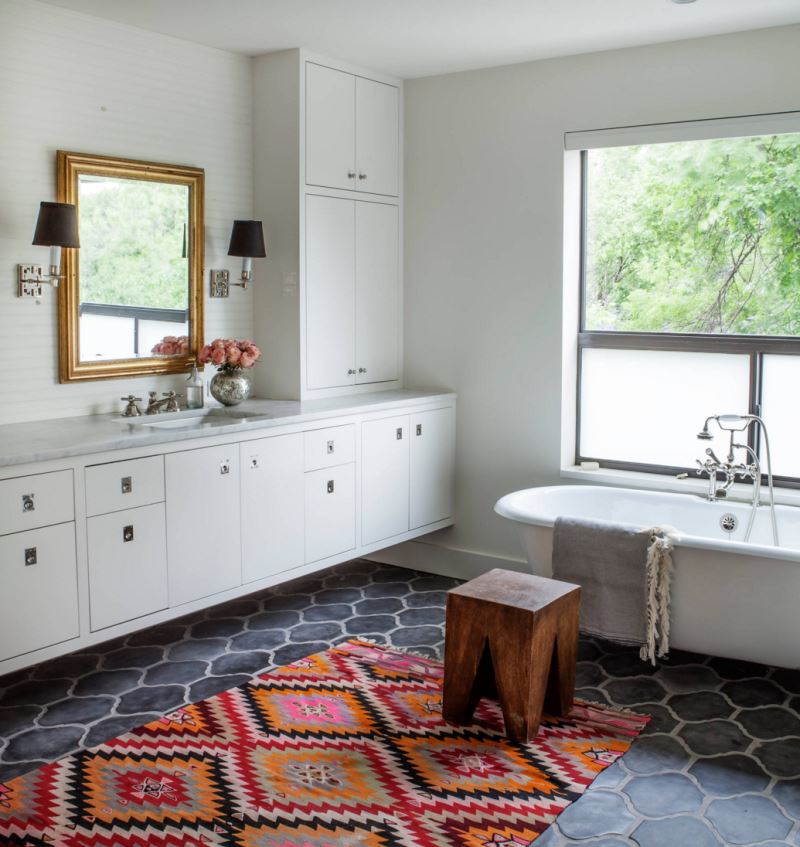 Are you planning a bathroom makeover this spring? We hope today's post has been a source of inspiration!