In the middle of a bedroom makeover? Or perhaps you're looking for a few easy ways to refresh your sleeping space! There are many reasons to revamp the bedroom, from the desire for a new look to the need to de-clutter. With current design trends such as tropical style and pastels on the rise, design statements such as lush greenery and relaxing colors are making their way into the boudoir. Today we spotlight three no-fuss ways to transform your bedroom into a relaxing sanctuary. Read on for handy tips and plenty of bedroom design inspiration…
Fresh Greenery
Let's start with plants, since they provide an easy and affordable style solution. Combining a houseplant with cut greenery is a great way to infuse your space with plant life. One strategy: placing a houseplant on one side of the bed and a vase of flowers or greens on the other. [from Bowerhouse via Houzz]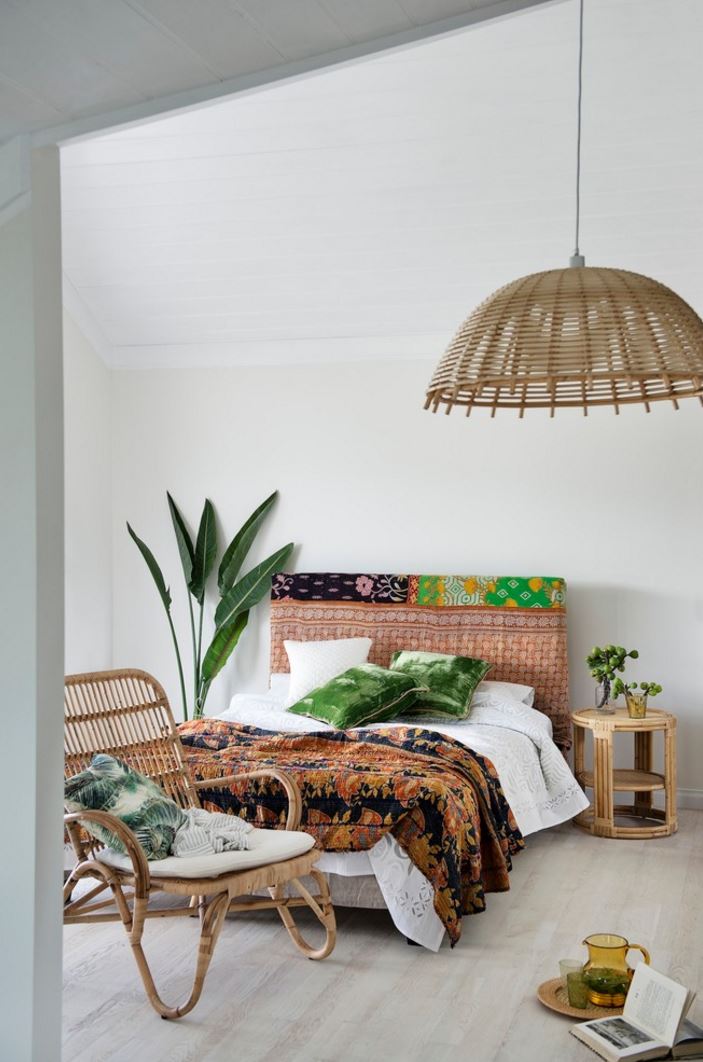 You don't have to spend a lot of money to bring greenery home. This soothing bedroom from West Elm is adorned with two monstera leaves. Tropical leaves are only a few dollars apiece, and they have the potential to last for weeks.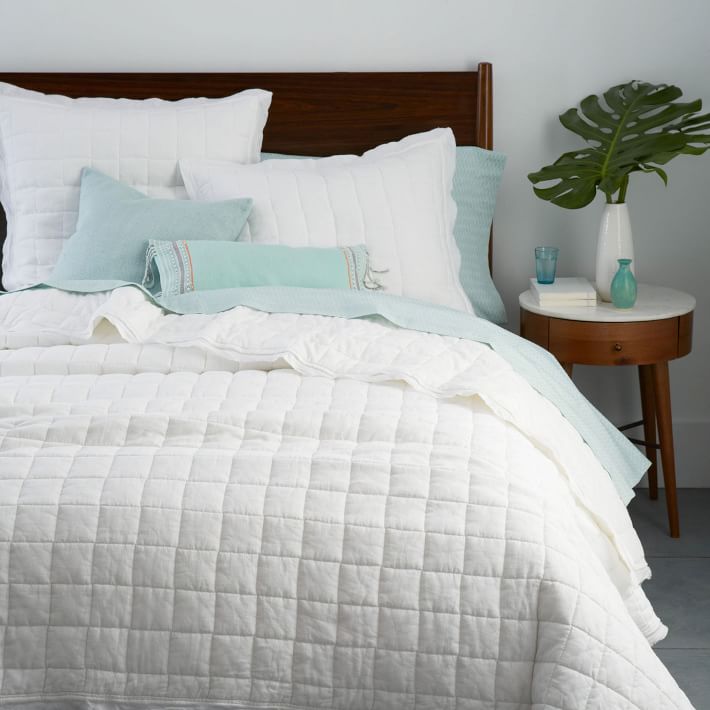 Don't forget that small plants can add just as much interest as large ones. In this bedroom makeover from A Beautiful Mess blogger Laura Gummerman, small plants rest on a shelf above the bed, while a larger snake plant sits on a pedestal in the corner. See the full makeover (and more plants) here: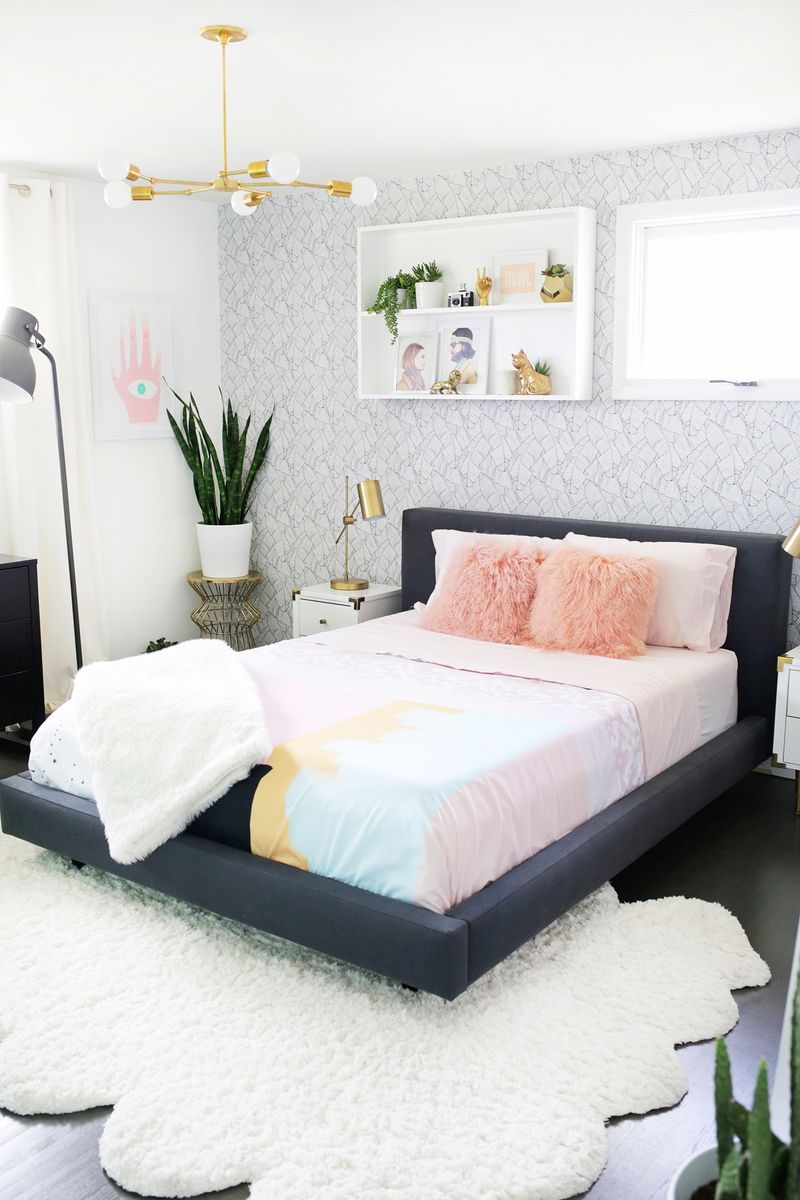 Soothing Colors
For some, changing the color palette of the bedroom makes all the difference! What's your idea of soothing? A white background dotted with candy-colored accents? Or do you like to keep it soft and simple with minimal tones? Peach is the perfect counterpart to the light blue bedding below. The combination of pastels evokes the feel of a tropical vacation. [from Urban Outfitters]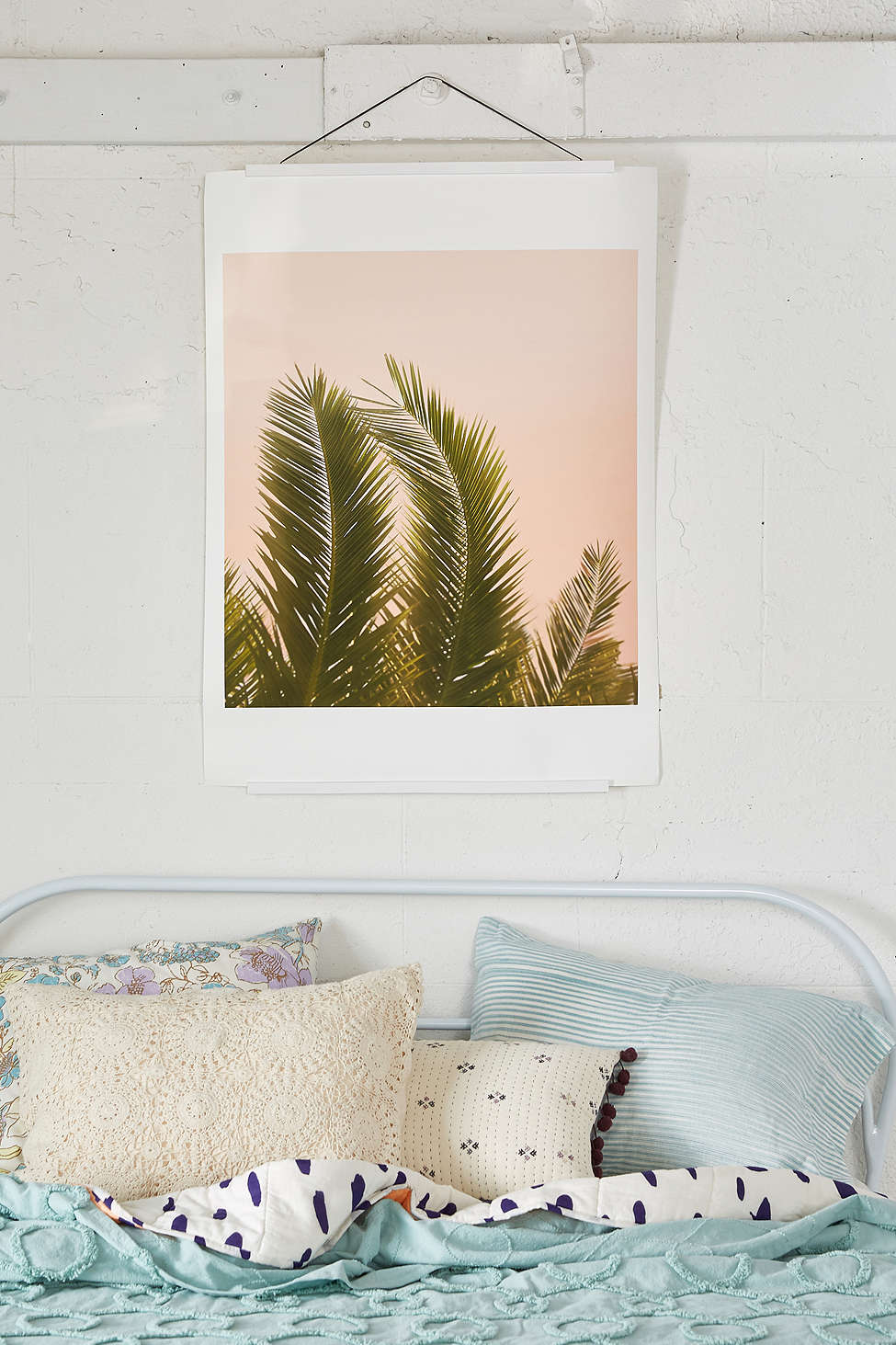 Mint is one of today's hottest colors. Mix it with pink for a trendy, edgy touch, or use it to soften more modern spaces such as the bedroom below. [from Michelle Chaplin Interiors]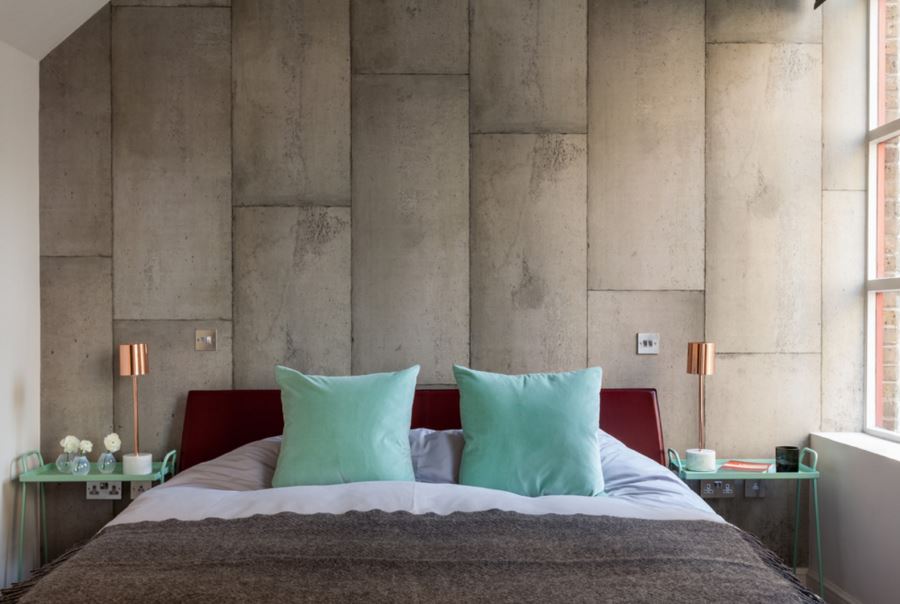 If a soothing atmosphere is all about neutral tones in your eyes, try an "easy does it" approach with shades such as white, cream and muted blue. [from Urban Outfitters]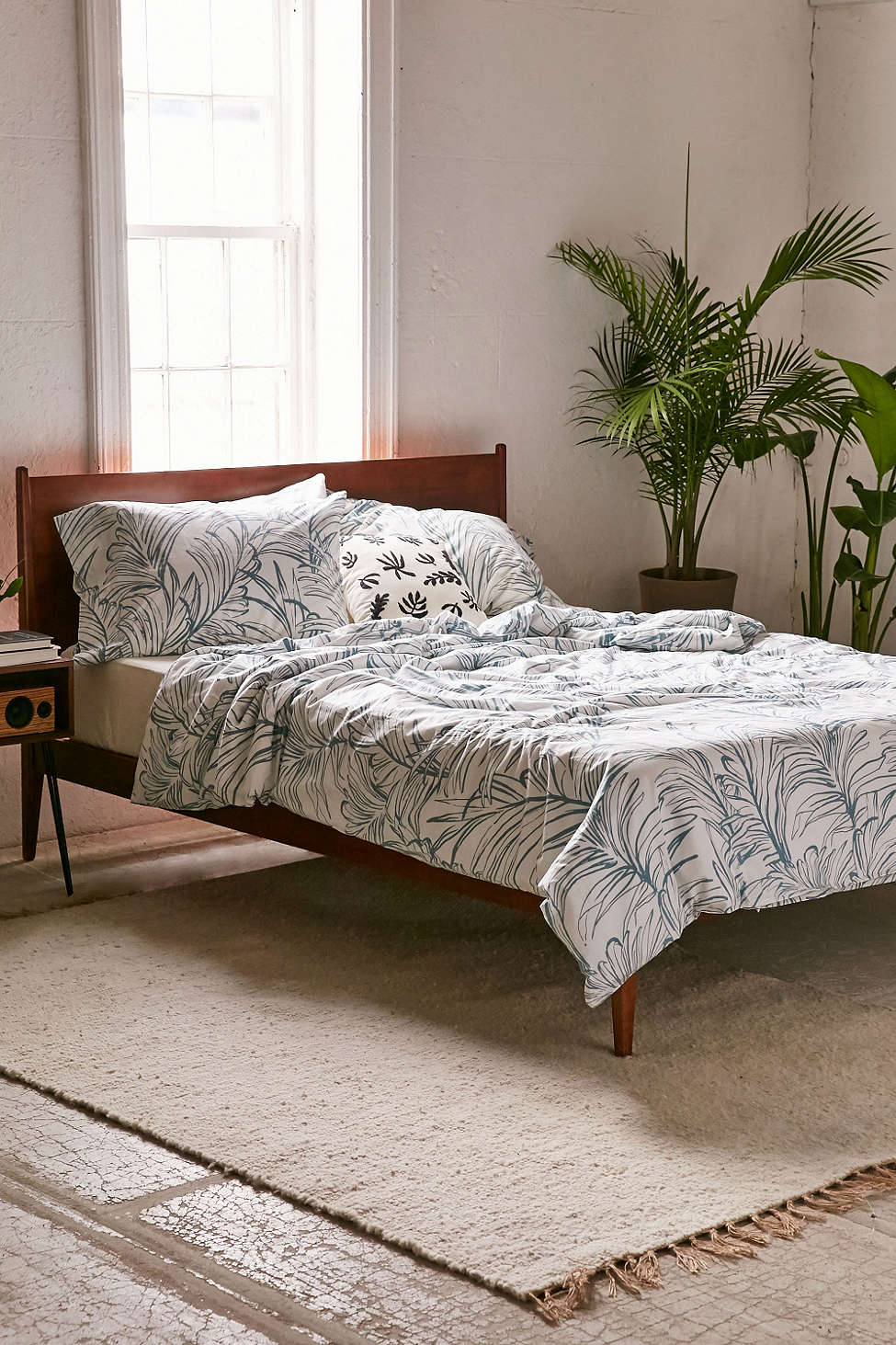 Less Is More
And speaking of "easy does it" style, less can be more when it comes to filling the room with stuff. In this minimalist bedroom from Urban Outfitters, grid lines do all the talking. The palette is nearly all-white, with fresh doses of greenery punctuating the space: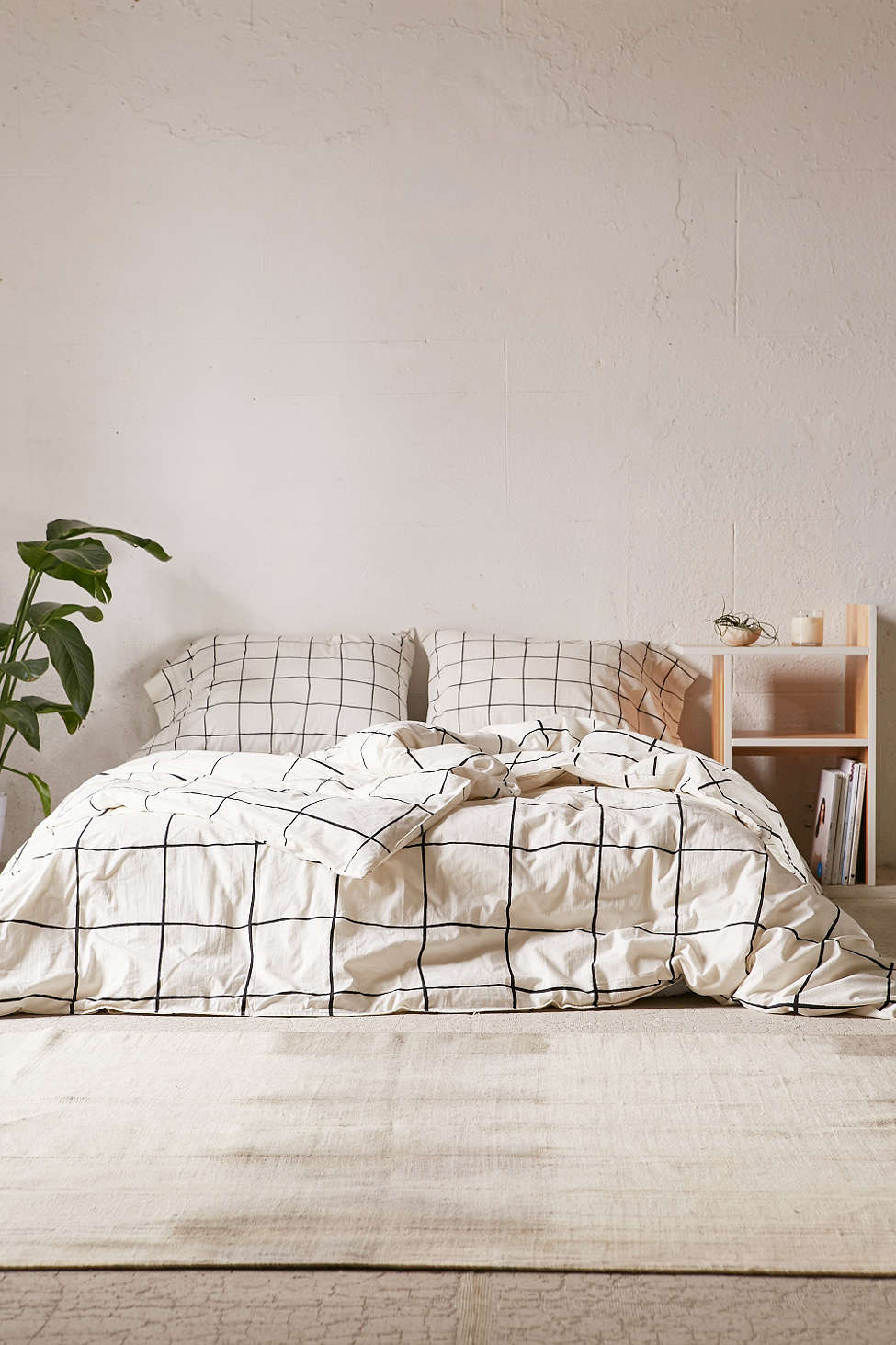 In another bedroom from Urban Outfitters, we see how less is more when it comes to the comforter pattern, as well as the shelving. You don't have to fill every inch of space to create a beautifully appointed room. In fact, ample space (and fewer belongings) can result in a truly serene feel.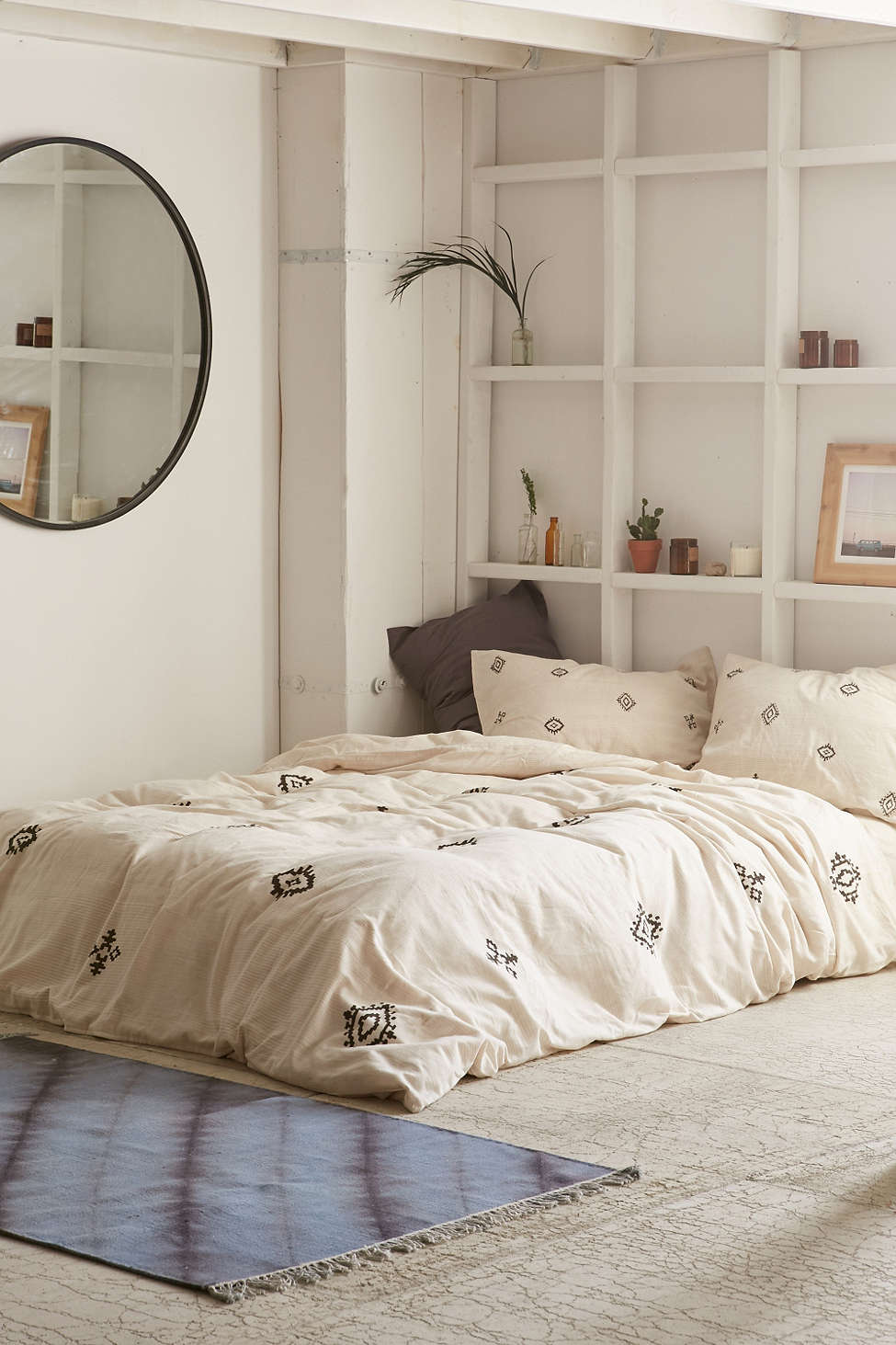 Last but not least, this bedroom update from Design Love Fest blogger Bri Emery features a white-on-white approach that gives the space a clean, fresh look. Even though there are multiple pillows on the bed and an abundance of cozy textures, the feel is spacious rather than cluttered: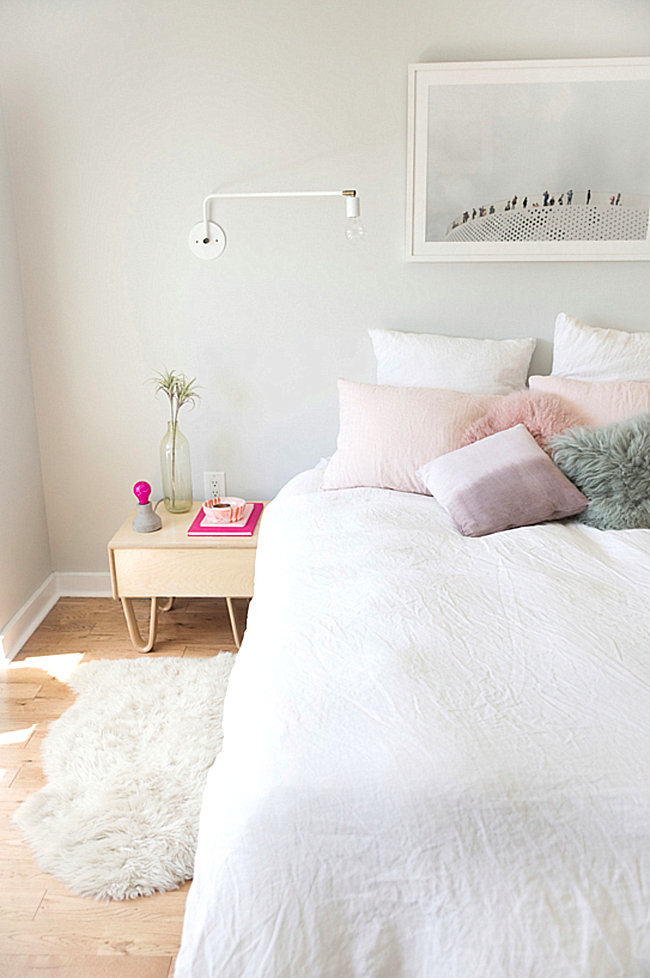 Plants. Soothing colors. Less-is-more style. These are a few ideas for transforming your bedroom into a restful haven. What's your idea of a serene space? Share your thoughts by leaving a comment below…