When it comes to bedroom design, it's often tempting to pile on the decor or use the space as a holding cell for extra furniture. Yet today's inspirational photos reinforce a clean, refreshing look that's all about choosing your colors strategically, using comfy bedding to make a statement, and adding a few select accents to dial up the style factor. If you caught our recent post on bathroom color schemes, you know that we're all about creating a clean slate at home for spring, and this approach definitely extends to the modern bedroom. Make it fresh. Make it crisp. Adopt a "less is more" approach. The photos and tips below will show you how…
A Color Story
Start by establishing a color story for your bedroom. Which hues inspire you to rest and rejuvenate? This doesn't mean the space should put you to sleep, but you definitely want to enjoy the color combinations involved. These Varadero Bed Linens from CB2 are a testament to the power of blue-green: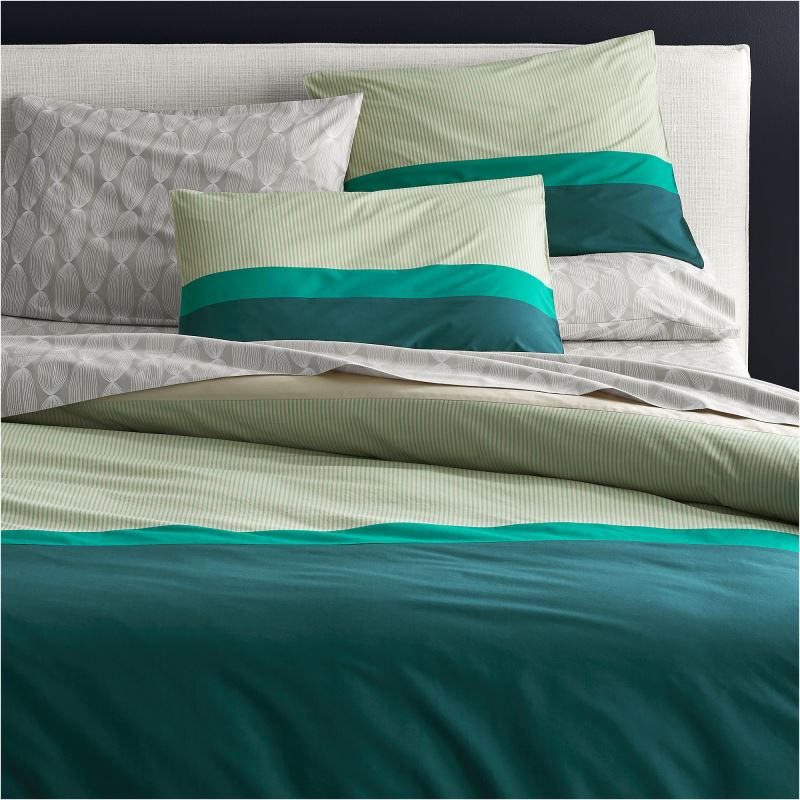 You can also use an accent wall to convey your color story, and a two-tone approach can be very refreshing, especially when white is one of the hues involved! [photo from West Elm]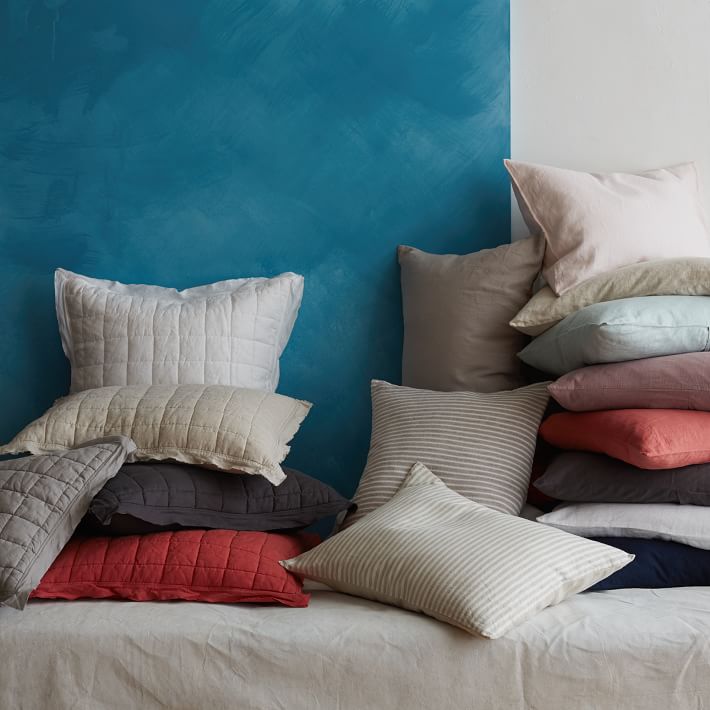 If the room has a special feature, such as a portion of the wall that juts out, don't hesitate to paint it! sometimes a simple yet striking painted accent can add true interest. Below we see a room featuring a soothing shade of mint. [photo from West Elm]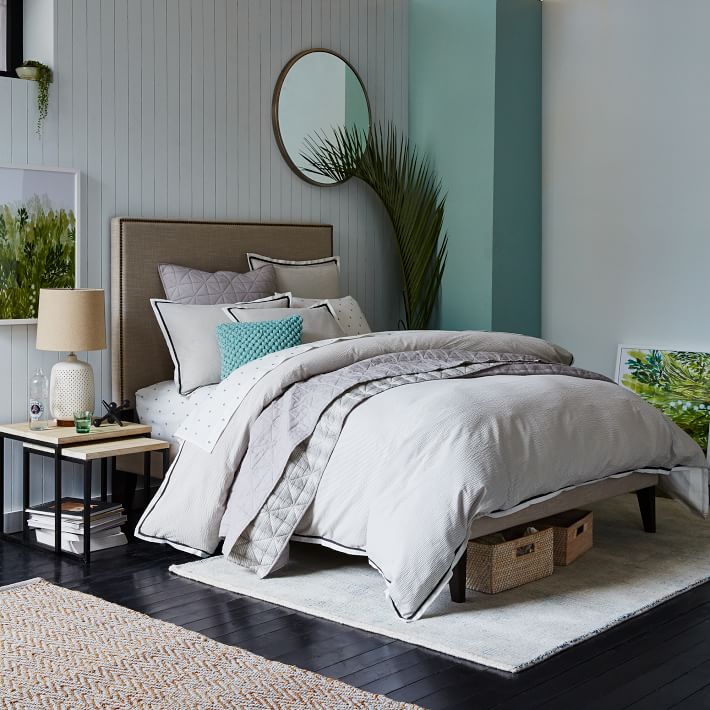 Layering color is a fun approach for the bedroom, and the saturated blue wall below is heightened by the presence of vases in sea green. Learn more about these Vitreluxe Glass Vases at West Elm: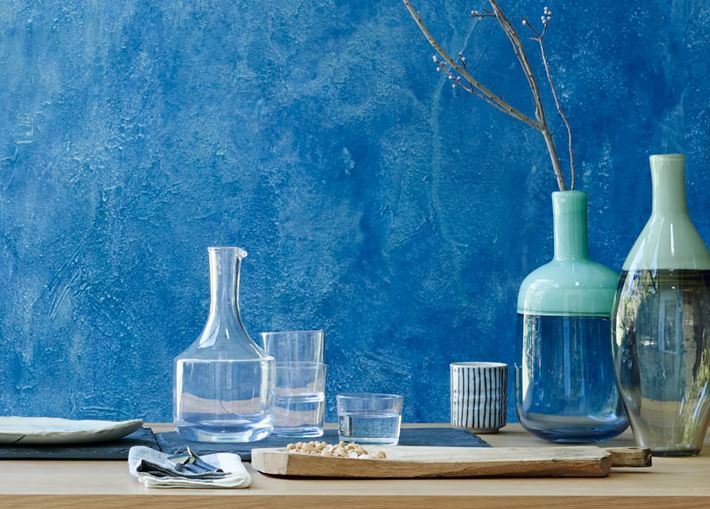 If you have dark bedroom walls, try lightening them up with a display of vases in bright shades. These Waterscape Vases from West Elm are created using a special salt blast technique, resulting in the texture of sea glass: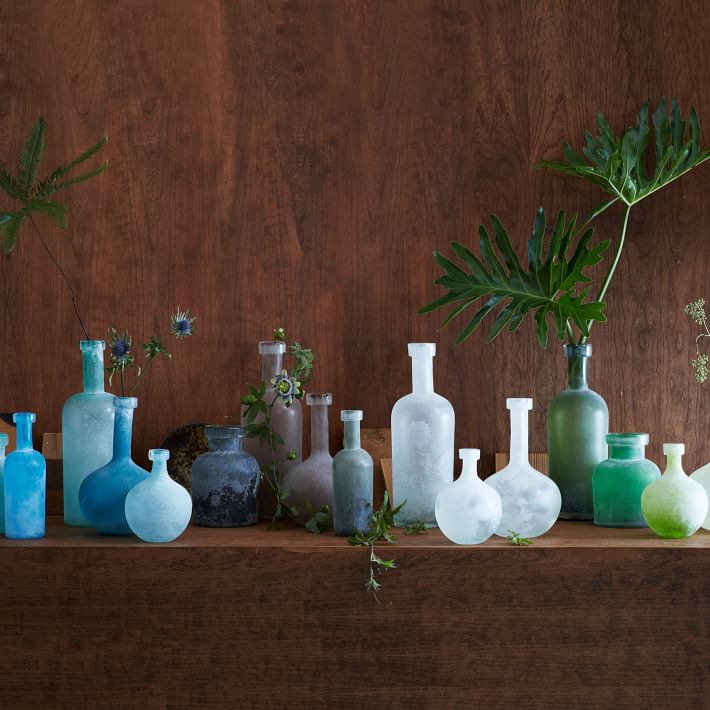 Bedding Basics
Bedding matters. After all, the purpose of your bedroom is to create a space where you can truly rest. Don't skimp on bedding. Make quality bedding a priority, even if it means hunting for bargains at a good sale. In the next image, we see the Organic Brighton Matelasse Duvet Cover + Shams from West Elm: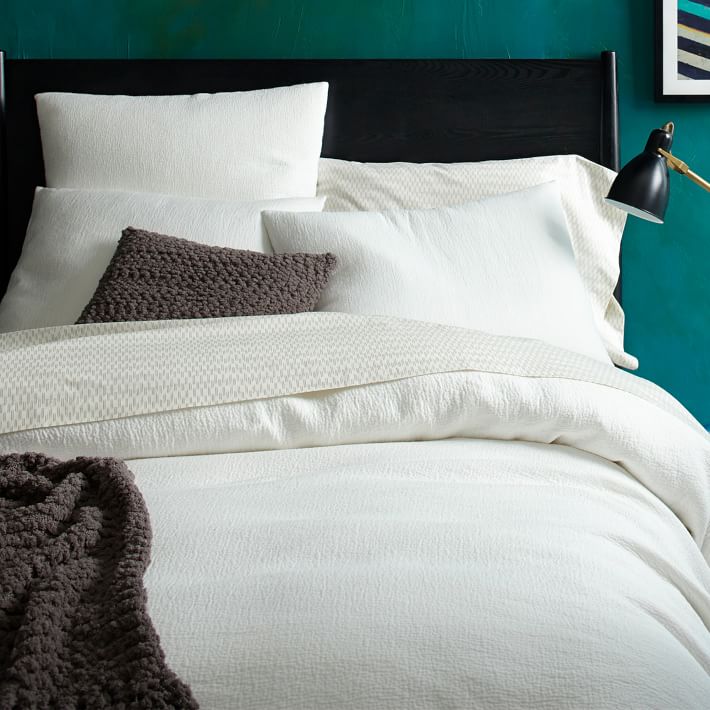 As shown above and below, white is a great color for bedding that rests against a dark wall. This Painterly Diamond Jacquard Duvet Cover from West Elm is textured to add visual interest: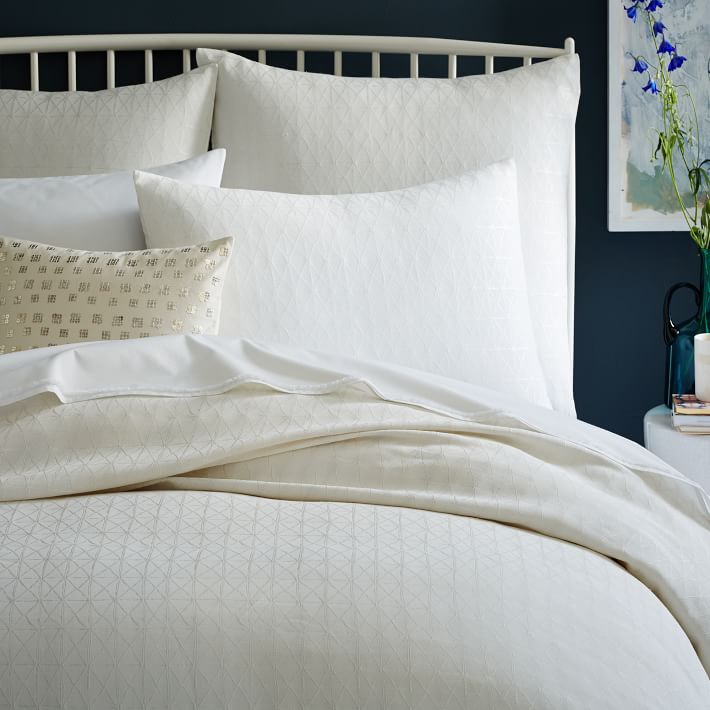 In fact, we've seen a lot of white bedding this spring. Worried about it being too plain? Jazz up white bedding with shams and other accents in bright colors! [photo from Studio Garneau]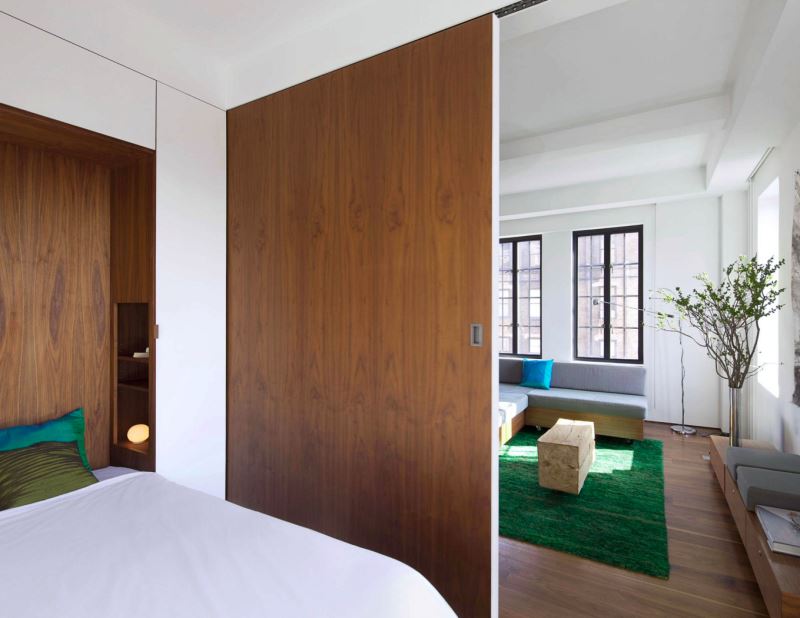 In fact, solid pillowcases in vibrant hues can transform a bedding set featuring neutral tones. This Assembly Home Solid Pillowcase Set from Urban Outfitters is available in bright red (shown below), as well as turquoise, mustard and navy: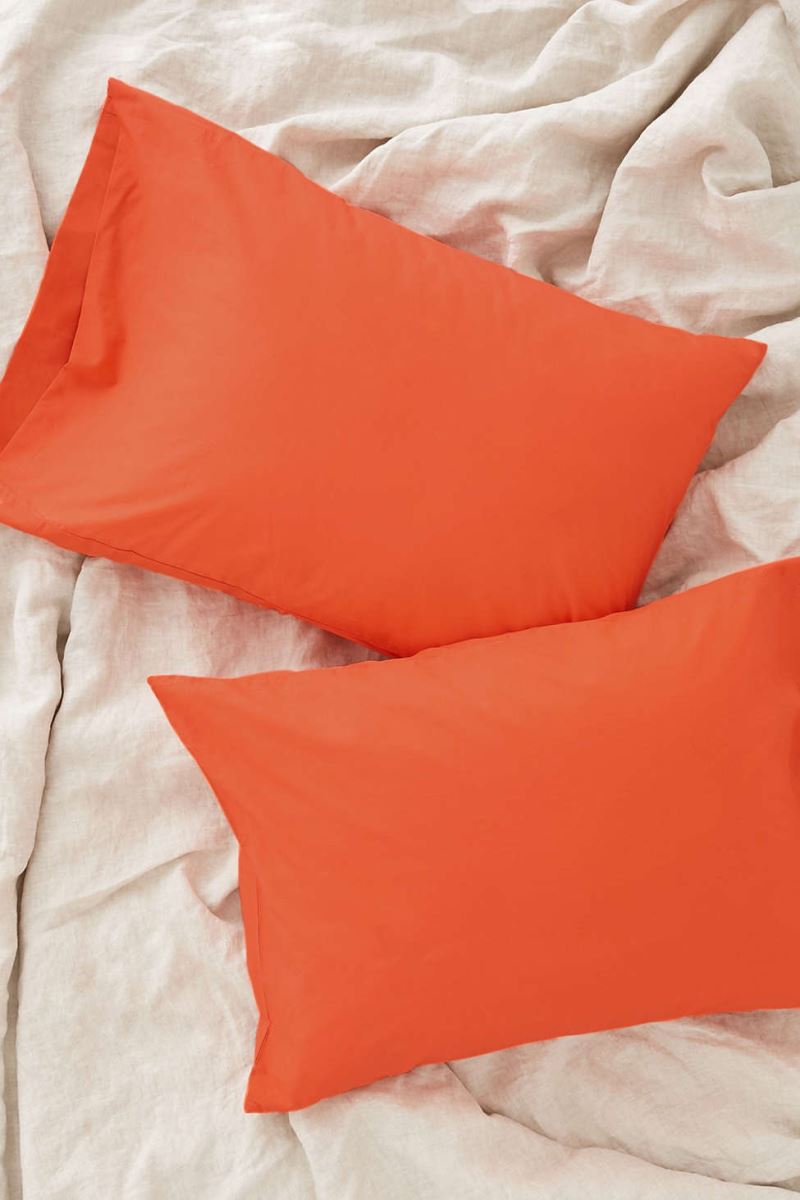 If you decide to introduce a pattern, make sure it's one you can live with. Trendy patterns may come and go after a few seasons, so purchase with caution. Yet if it's a trend that's near and dear to your heart, go for it! [Assembly Home Marble Duvet Cover from Urban Outfitters]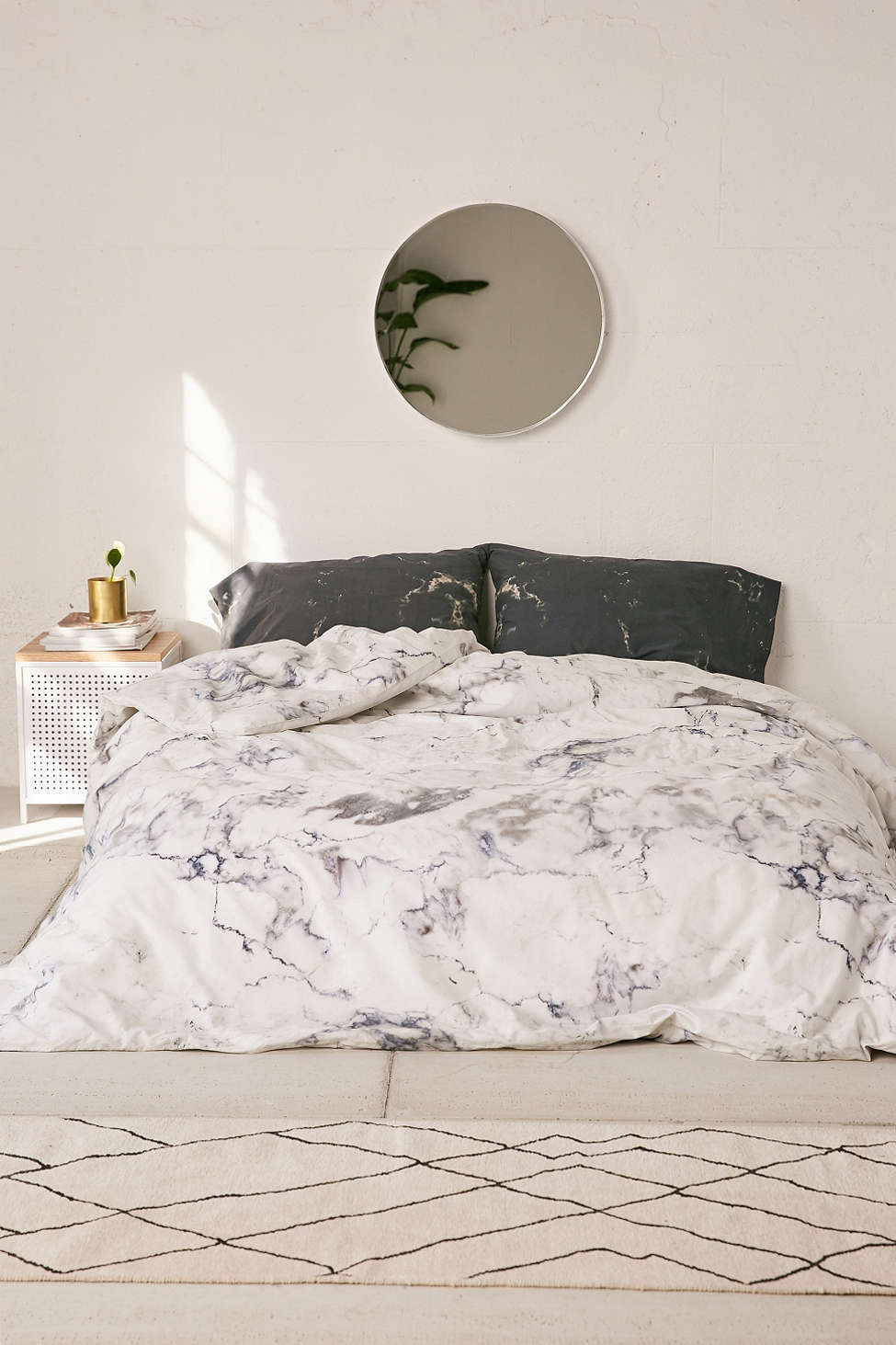 In keeping with today's crisp, fresh approach, note that it's also helpful to purchase a pattern that's soothing rather than jarring. It's hard to go wrong with tropical leaves set against a white background. Below we see Assembly Home Palma bedding from Urban Outfitters: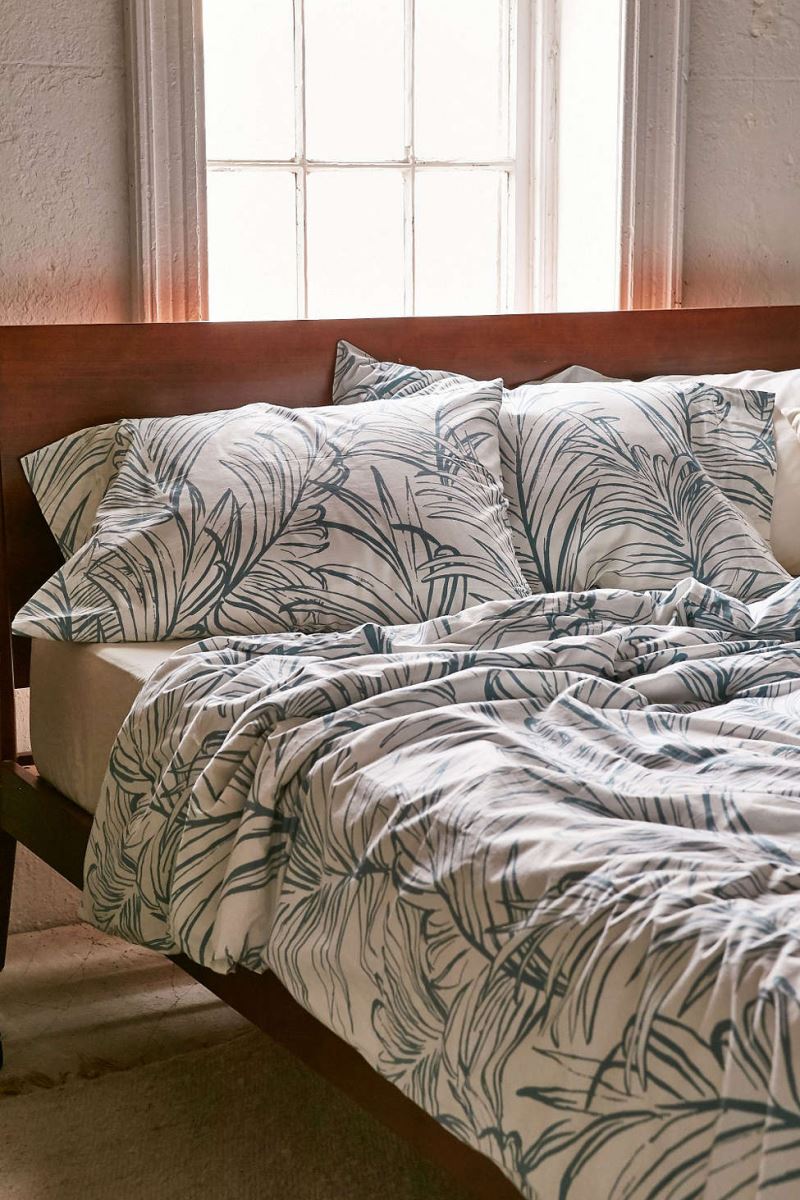 Fun Accents
Don't forget to have some fun with your design! Add a few unexpected accents, such as bold pendant lighting or a bed with a bright headboard. [Aprile Duvet below from Anthropologie]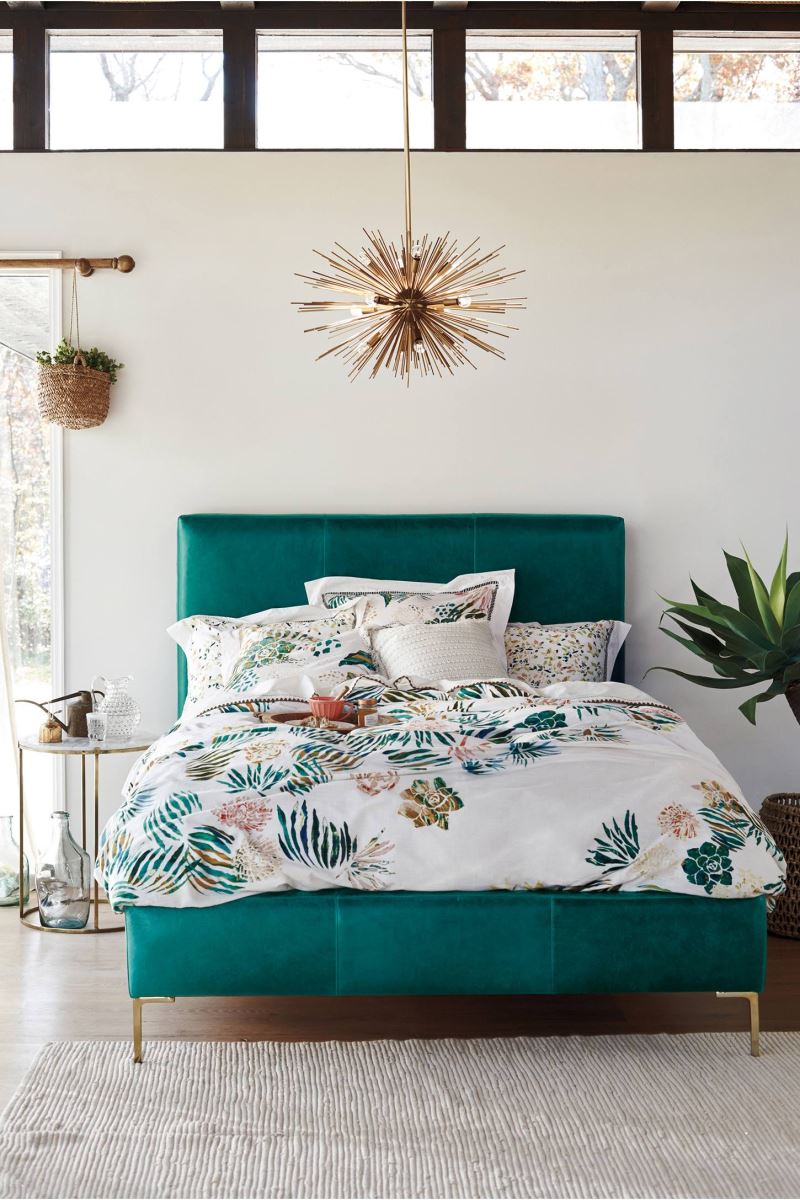 Give a bedroom furnishing a makeover for a fresh take on an old piece! This nightstand table makeover from A Beautiful Mess features some fabulous tropical removable wallpaper: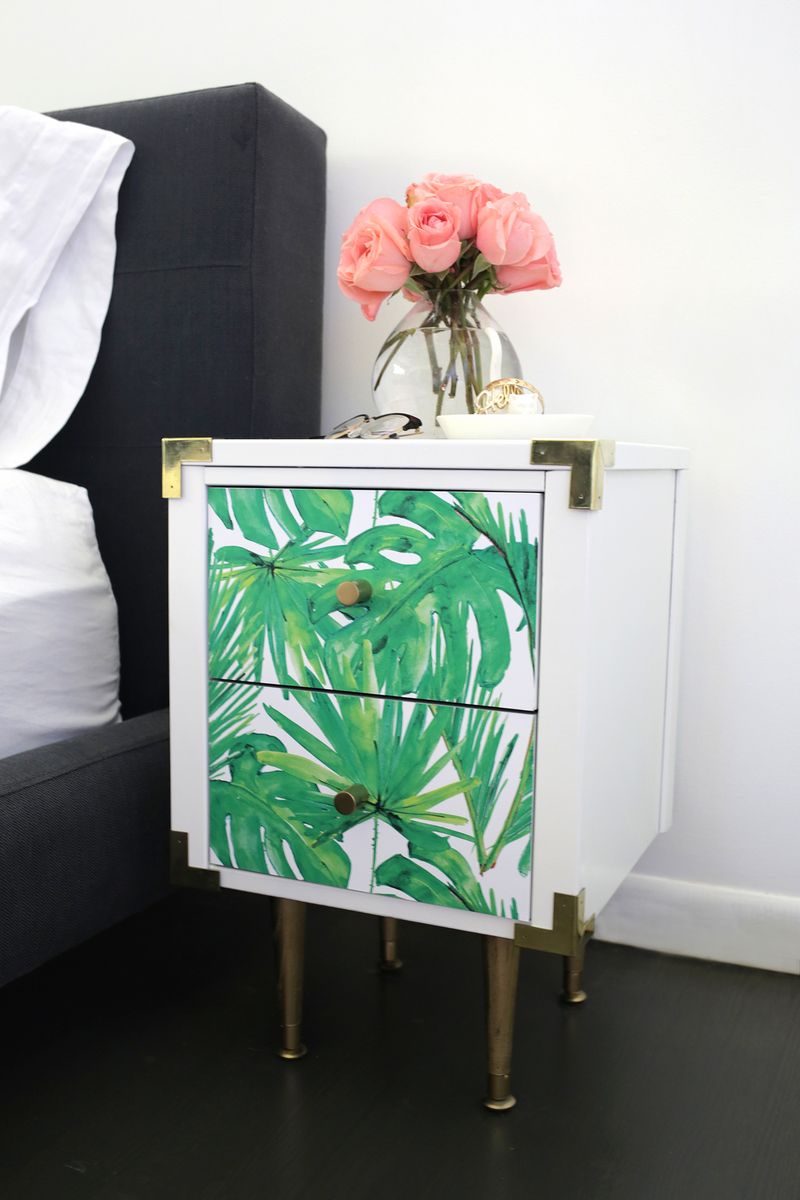 You can also introduce pattern through a tapestry or large piece of wall art. That way, you don't have to commit to the cost or large-scale workload involved in installing wallpaper. This Assembly Home Banana Leaf Tapestry from Urban Outfitters can also be draped over the bed for an instant dash of tropical style: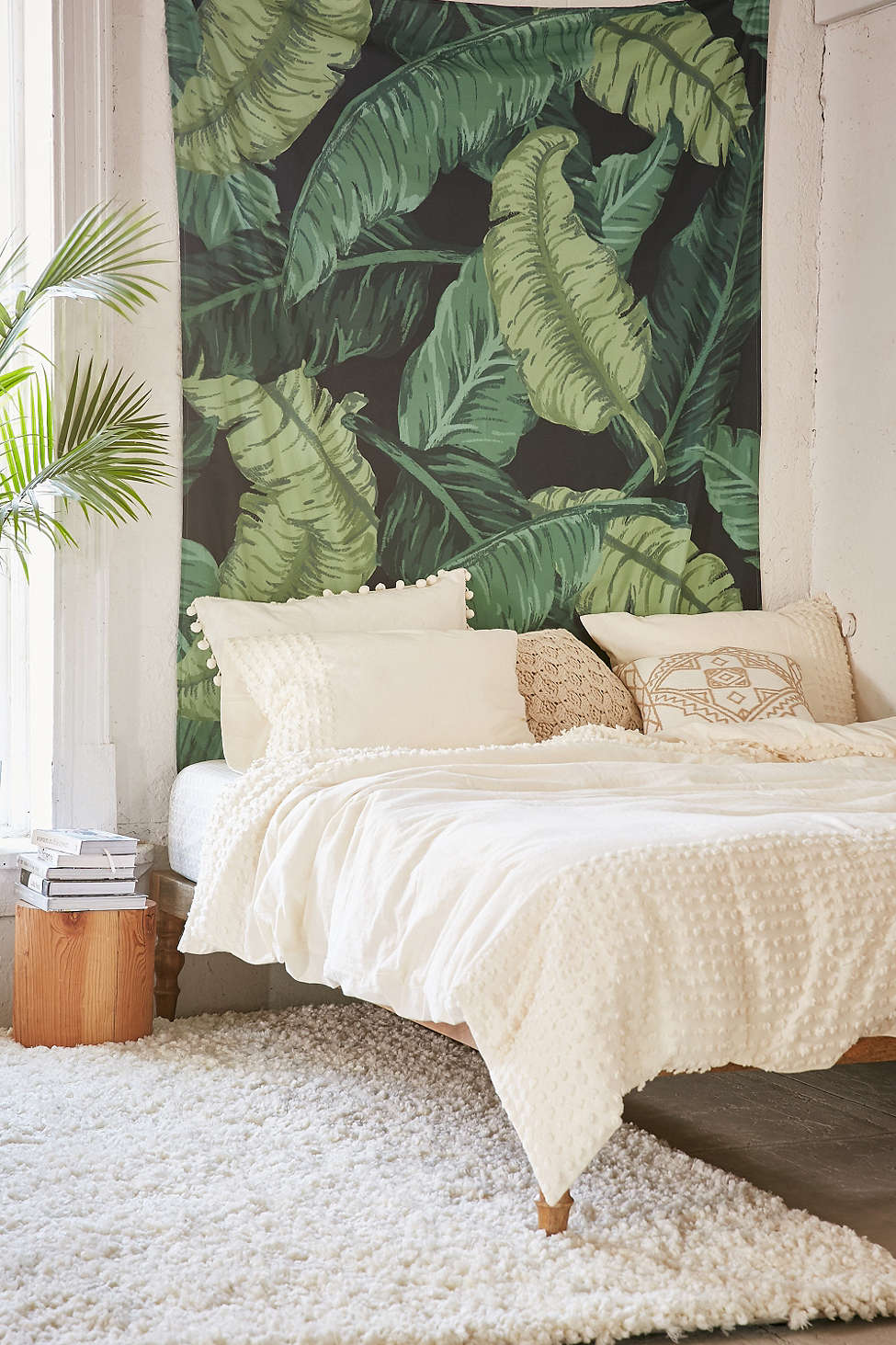 Soothing Statements
Last but not least, we end today's post with a look at a few soothing statements that can make a big difference in the boudoir. A sculptural floral arrangement is always a special treat, especially when it comes to modern style. Aren't these cherry blossom branches divine?! [photo by Steve Freihon from William Reue Architecture]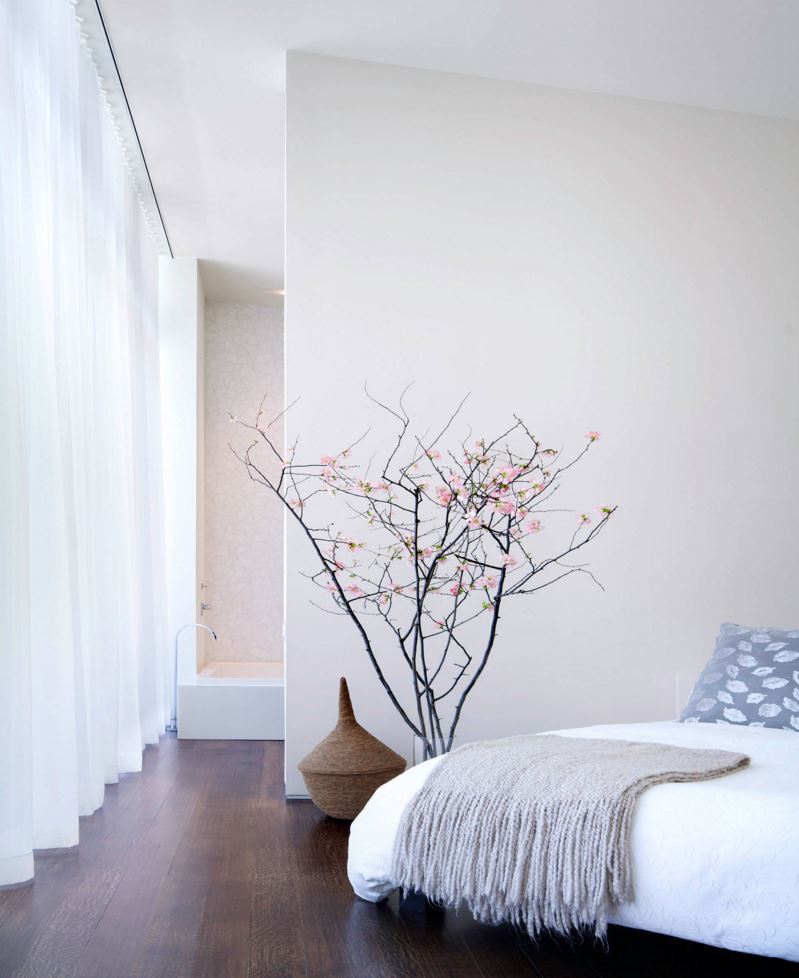 A large tropical plant adds instant style, especially if a nearby mirror can reflect the leaves, compunding the breezy effect! [photo from Urban Outfitters]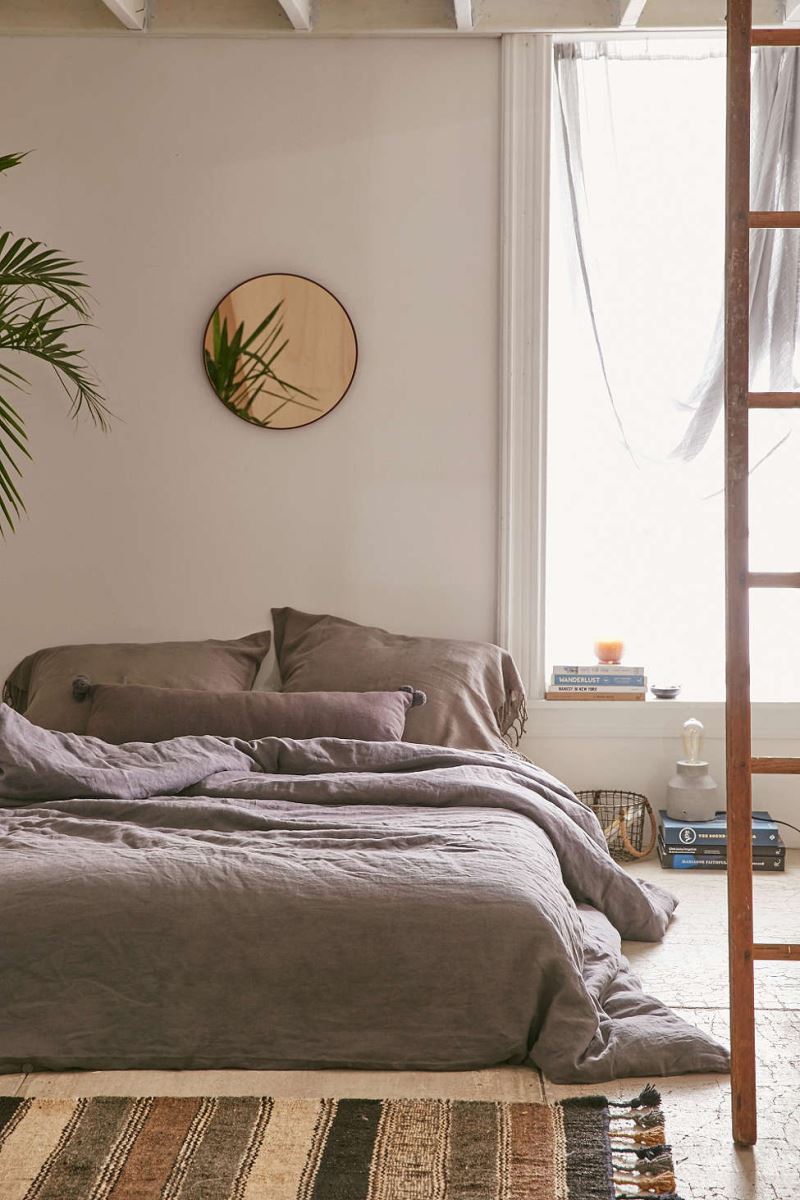 Try an orchid for a dramatic statement. This plant works well in glamorous bedrooms like the one below. Another soothing touch: floor-to-ceiling draperies! They are elegant, they draw the eye upward, and they are functional, as light can be kept to a minimum when you need to take a quick daytime nap. [photo from Soesthetic Group]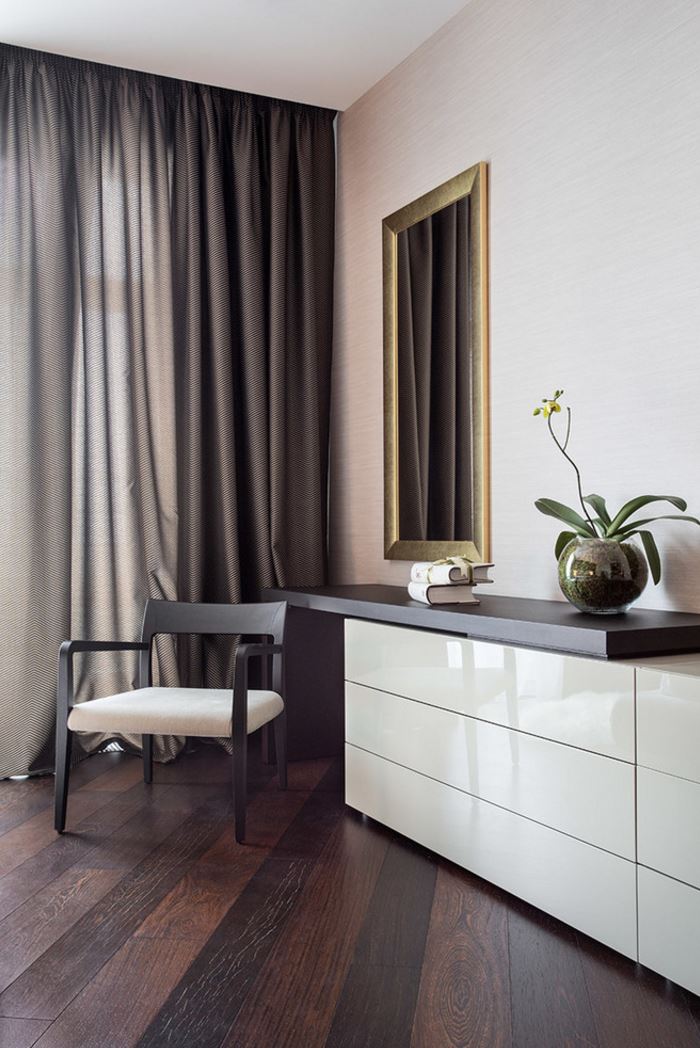 One or two tropical leaves in a modern vase make a fabulous statement. Plus, tropical leaves have the power to last for weeks, making this greenery cost-effective as well as interesting. [photo from West Elm]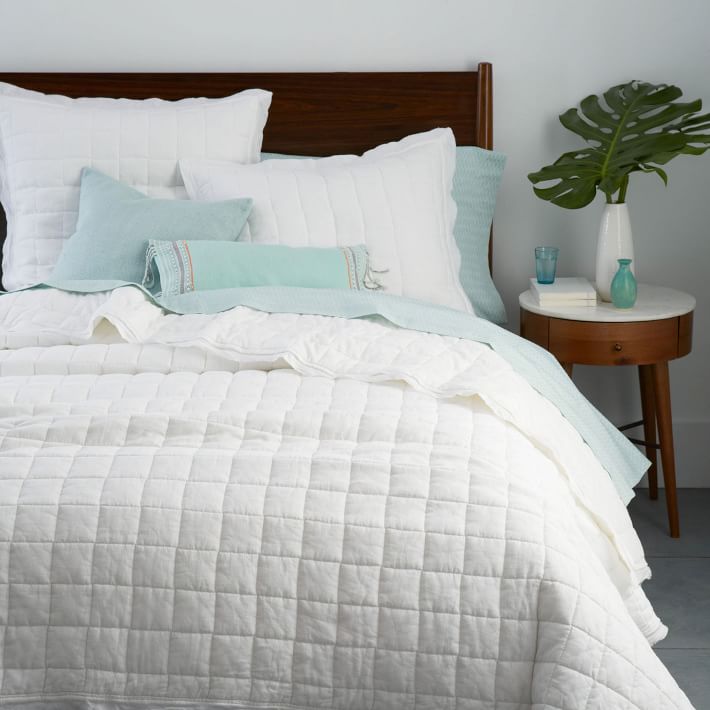 A pillow with a soft tropical pattern can instantly evoke the relaxing vibe of a beach vacation! Below we see the Catherine McDonald for DENY Rainforest Floor Pillow from Urban Outfitters: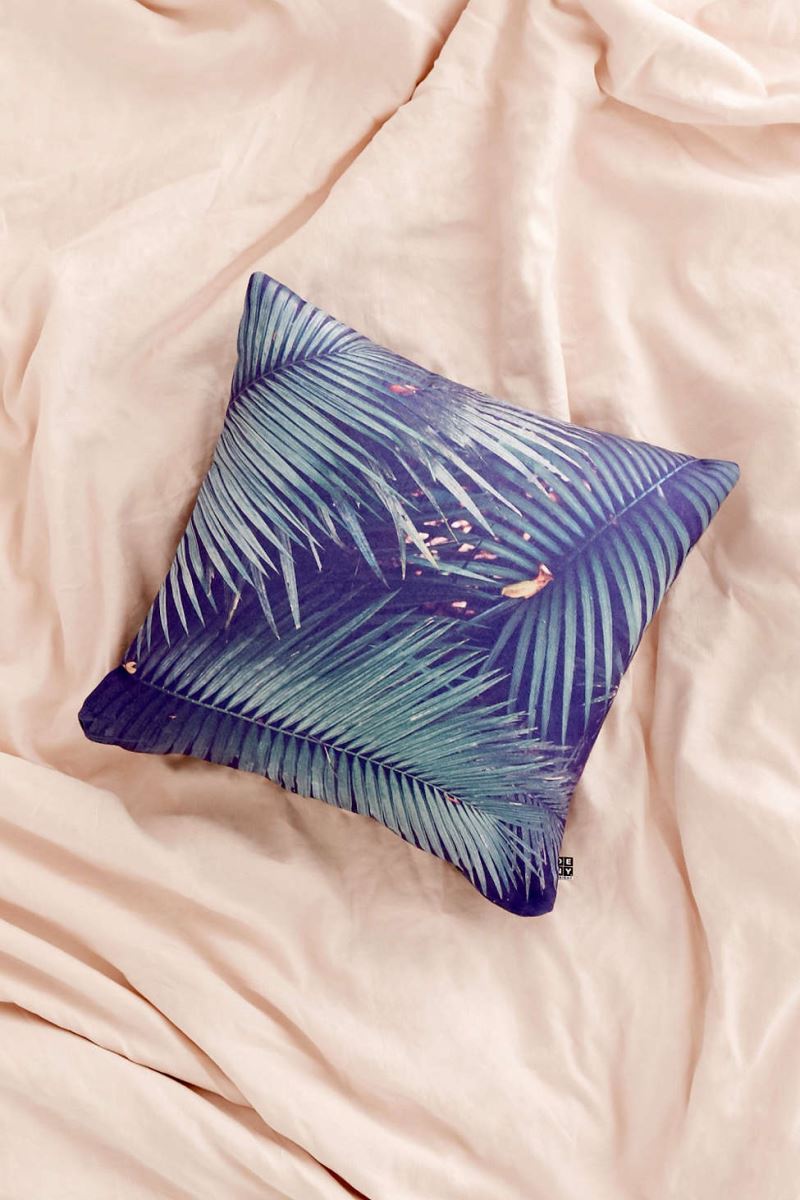 But sometimes the most soothing statement is the view right outside your window! Even if it's not grand, jazz it up with a few potted plants for instant ambiance. [photo from AR Design Studio]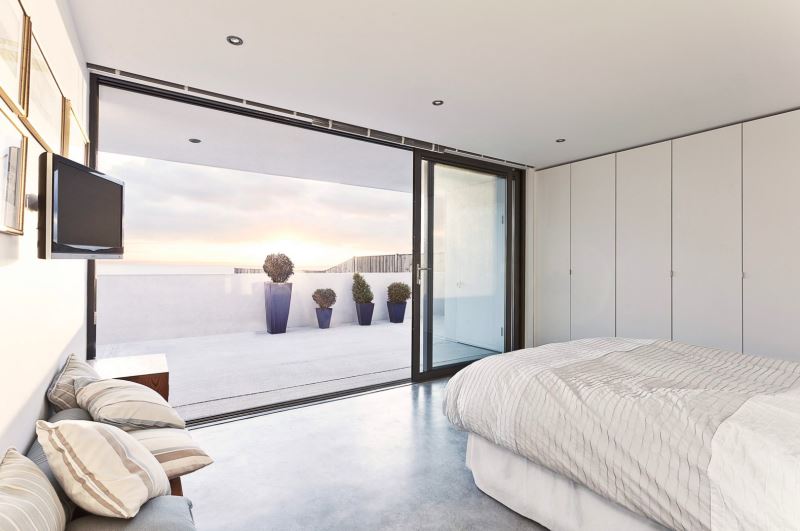 Will you be trying out any of today's bedroom design strategies this spring?