Fall is here and winter is on the way. How will you protect your patio furnishings? Good thing there are a slew of patio furniture covers at the ready! Today we take a look at some of the different options to consider, from sets of furniture coverings to all-in-one patio table and chair covers that envelop your entire outdoor dining set! There are even custom covers that fit specific furnishings from your favorite brands and retailers. Ready for a closer look?…
Practical Outdoor Furniture Covers
It's not difficult to track down patio furniture covers that will work with your furnishings regardless of the brand. Even home improvement stores such as Home Depot offer a range of affordable options: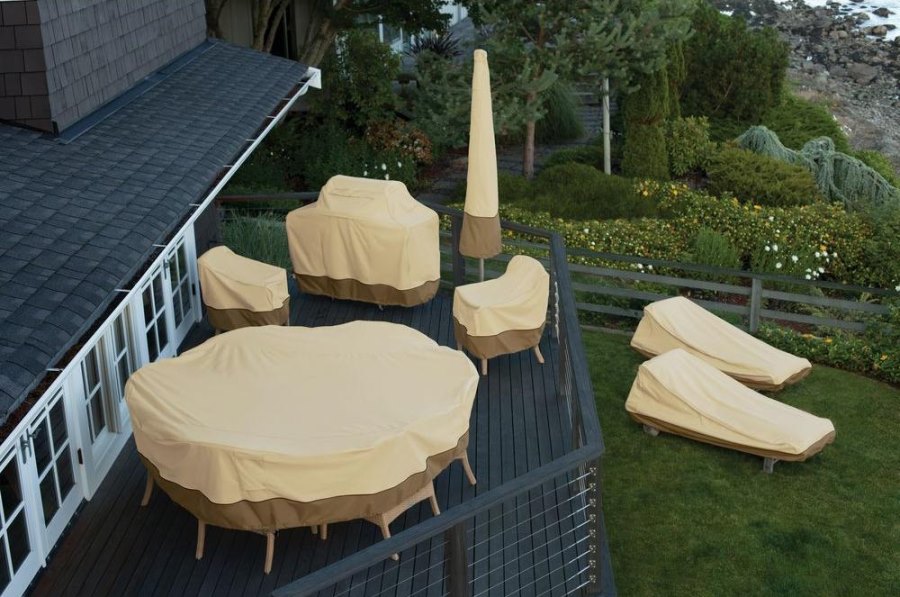 Amazon.com is another fabulous source for patio furniture covers, including super practical options such as covers for stackable chairs, as well as covers that will encompass both your dining table and dining chairs! Companies such as Classic Accessories sell their items via Amazon, offering durable, UV-stabilized and water-resistant covers that are perfect for seasonal weather challenges: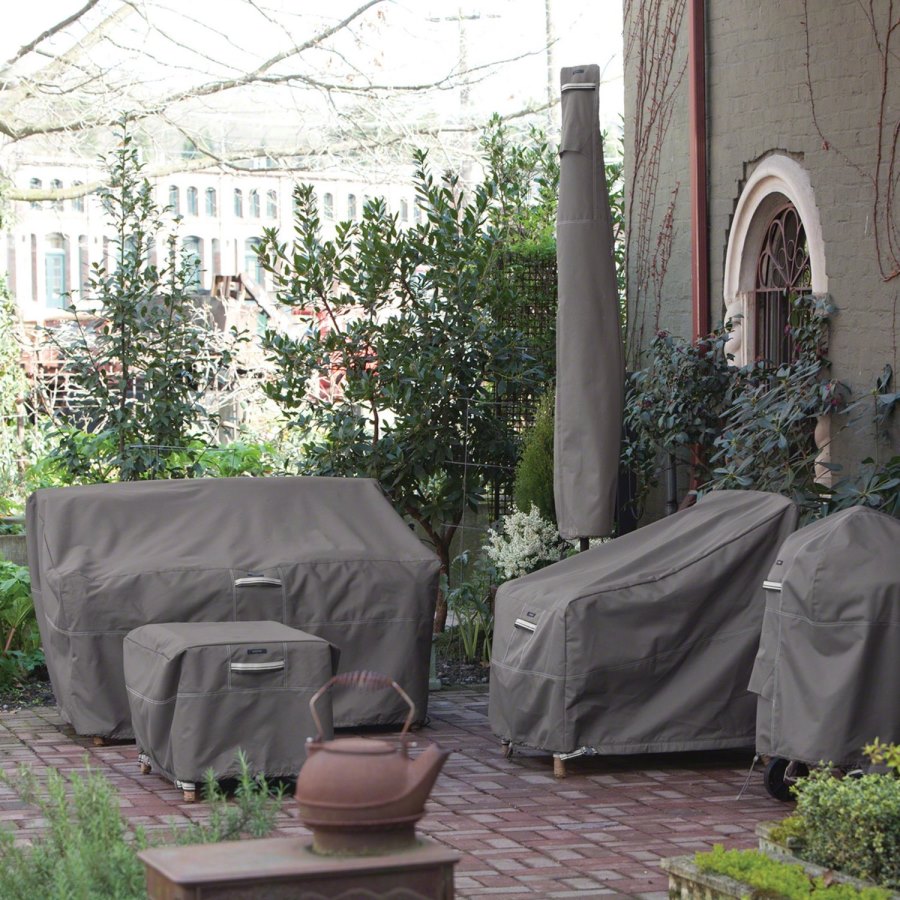 Speaking of coverings that can envelop entire outdoor dining sets, below we see the AmazonBasics Rectangular/Oval Table and Chair Set Patio Cover, available in large and extra large. Don't let rain and snow wreak havoc on your outdoor dining setup! Plus, with click-close straps, the cover can snap around furniture and stay put, even on windy days.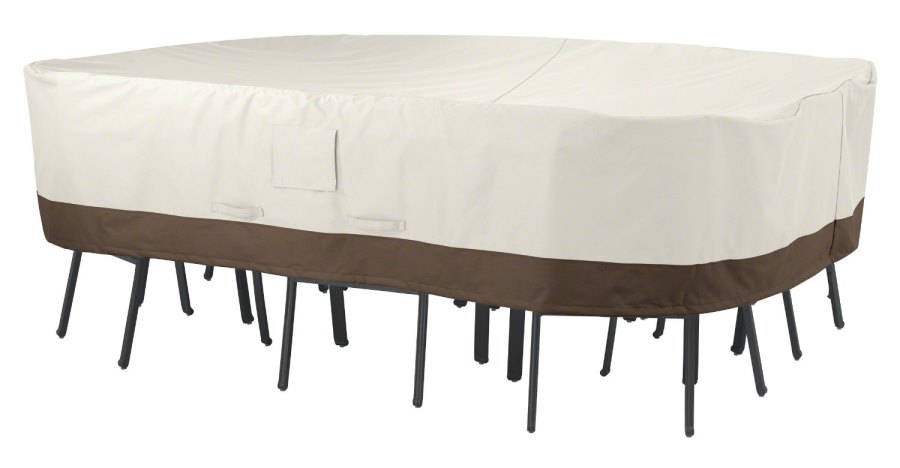 When selecting patio furniture covers, one of the most important issues to consider is the size of your furnishings. Make sure the cover fits! Luckily, product descriptions will have the dimensions available for you, and many coverings can fit a range of sizes. Below we see the CoverMates Outdoor Patio Sofa Cover, available via Amazon.com: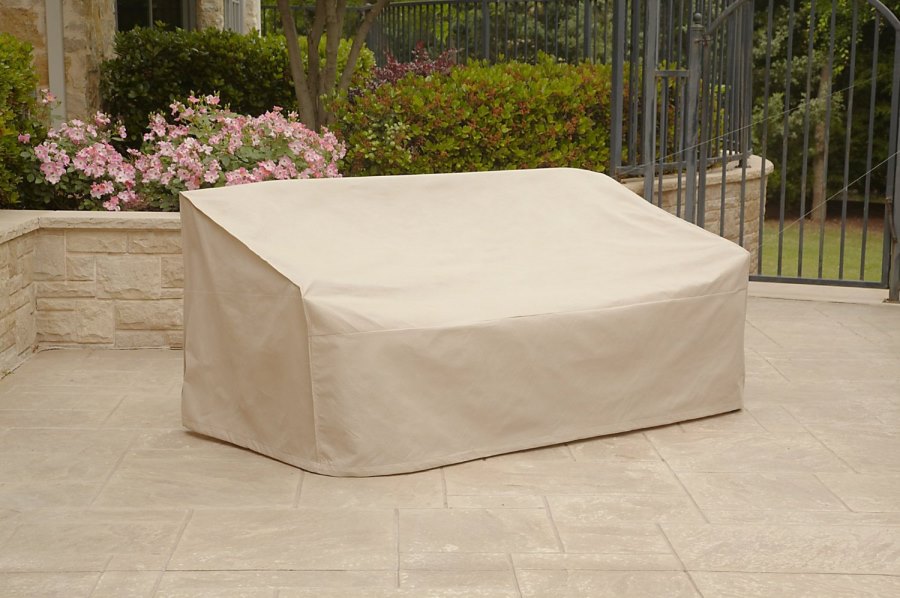 Don't forget about your small patio pieces! The CoverMates Rectangular Accent Table Cover is lightweight and breathable yet durable. Plus, it can fit accent tables that are up to 48W x 28D. Again, this piece is available through Amazon.com.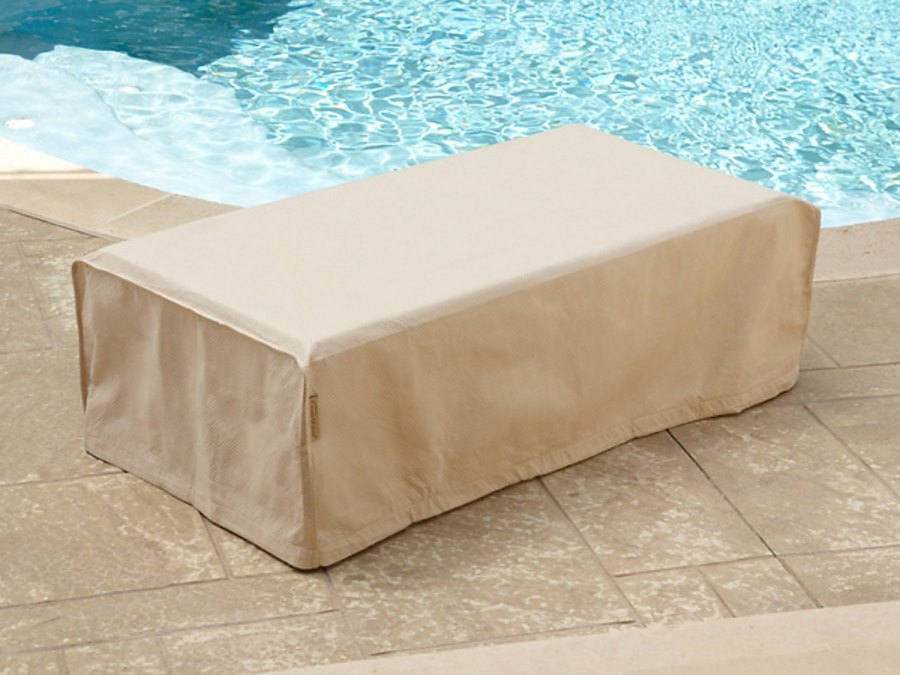 Custom Patio Cover Solutions
We now shine the spotlight on companies and brands that offer patio furniture covers designed to accommodate their own furnishings. Restoration Hardware is one such brand, and it features Deluxe Propane Patio Heater Custom-Fit Outdoor Furniture Covers made from breathable Sur Last® fabric that can withstand issues such as mold, tearing and fading.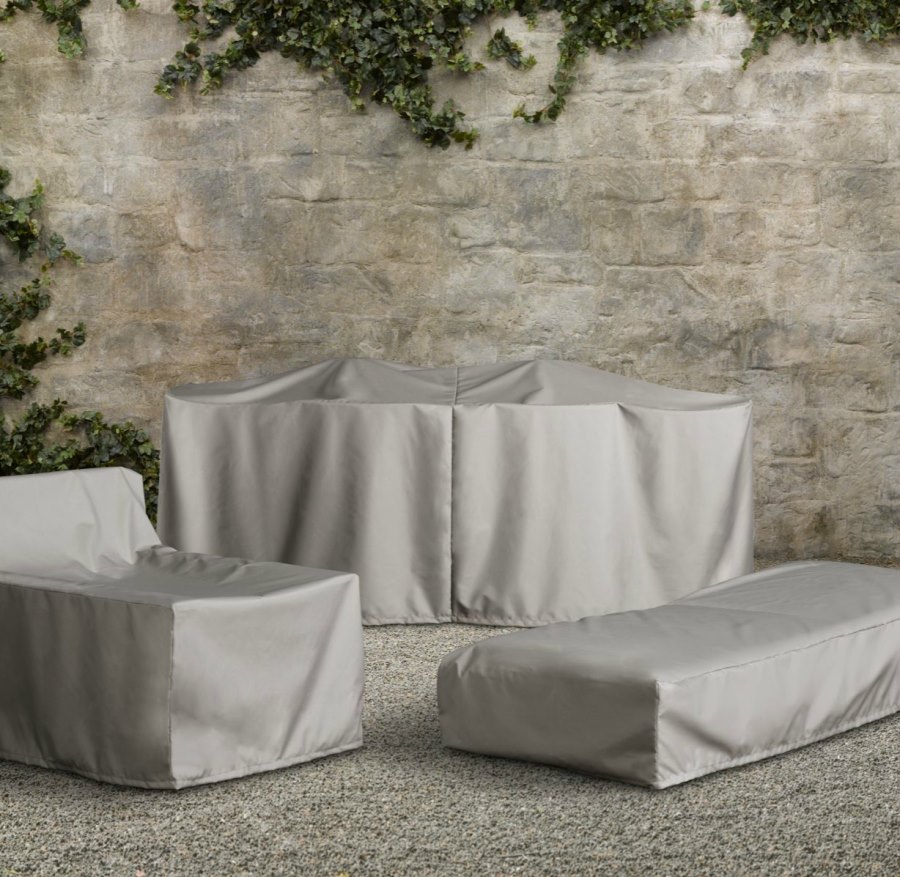 Big surprise: the Casbah Loveseat Cover from CB2 covers the Casbah Loveseat! Yes, CB2 offers specific covers for individual furnishings. There's no doubt that these patio furniture coverings will fit your outdoor items like a glove, proving that custom options are stylish and convenient!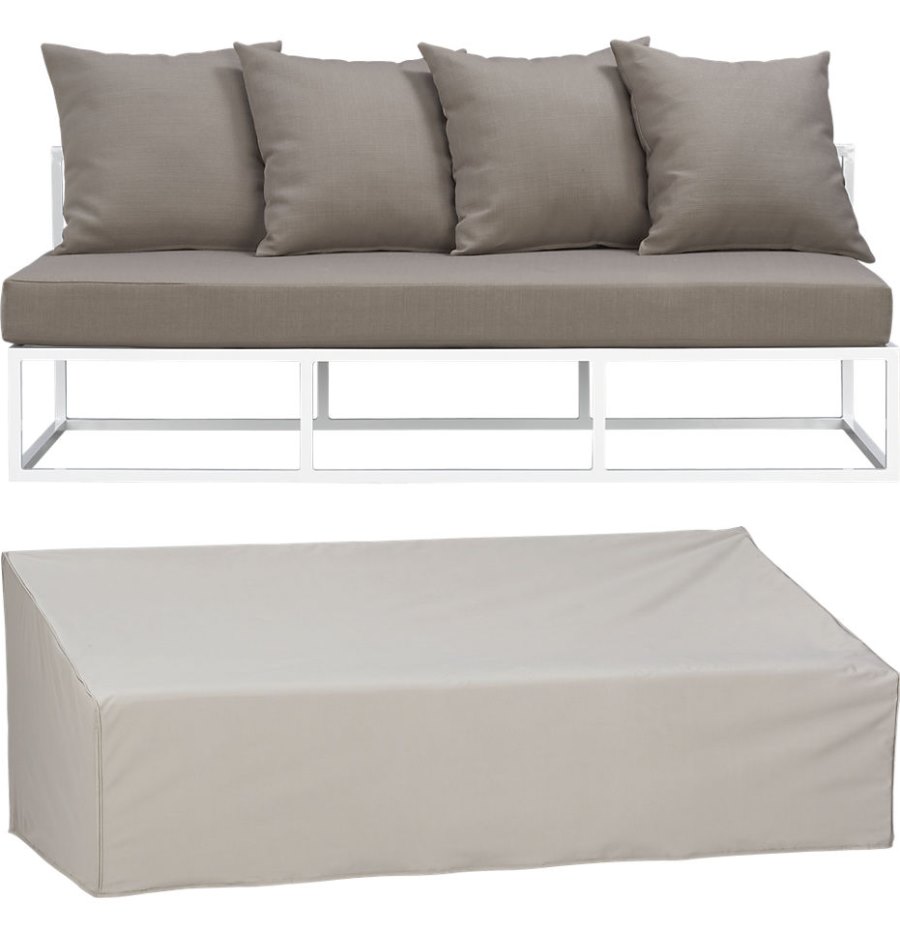 West Elm is another brand that features outdoor furniture covers designed to fit their signature collections, such as their range of Outdoor Mid-Century Collection Covers. Below we see the Loveseat cover: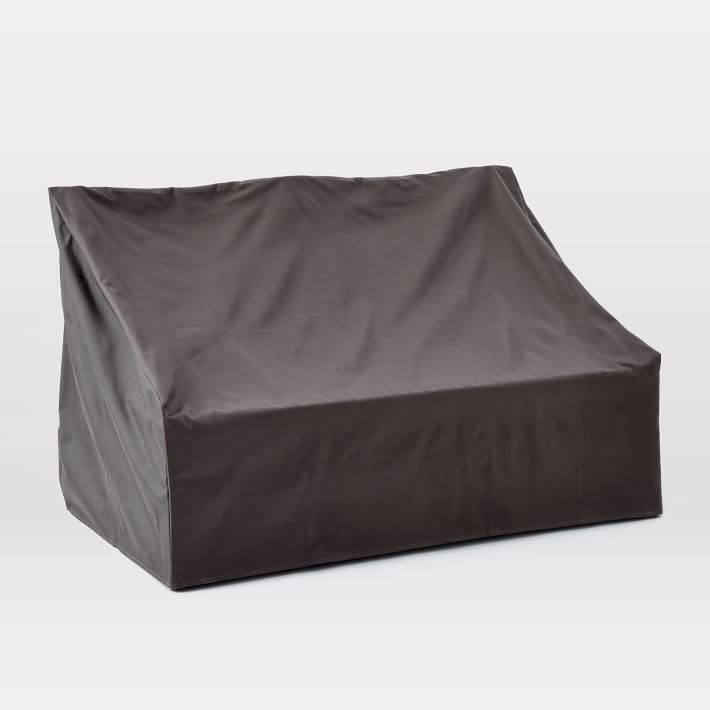 And if you're feeling adventurous, you can always try making your own patio furniture covers. Think of this as the ultimate custom solution! Need a little bit of DIY assistance? This helpful YouTube video tutorial from Sailrite is easy to follow and filled with great visuals guiding you through the process: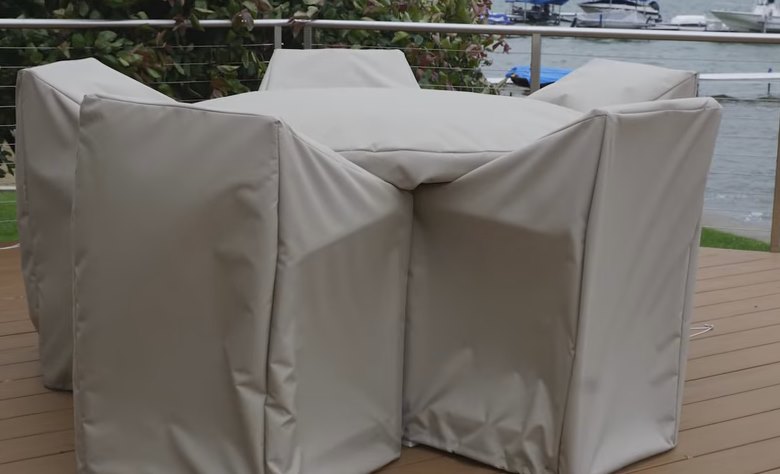 Do you have patio furniture cover solutions to share? Leave a comment below…