There are many reasons to consider an over-the-door mirror. For one thing, it's handy if you're short on wall space. Your clothes may be covering the walls of your closet, but the back of the door is the perfect place to create a dressing room vibe. Not to mention, many over-the-door mirrors are super-easy to install, creating a hassle-free way to add a reflective surface to the room of your choice.
Below we highlight a range of options, from rectangular and oval mirrors to over-the-door mirror and armoire combos. Read on for details…
Rectangular Hanging Mirrors
We begin with rectangular mirrors that add modern style to your interior. In fact, there are plenty of thoughtfully designed options that are anything but bulky. And yes, if the mirror is designed well, you will be able to easily close the door, even with those metal brackets draped over it! This GARNES mirror from IKEA is fastened with two screws at the top of the door. Plus, it's tested and approved for bathroom use: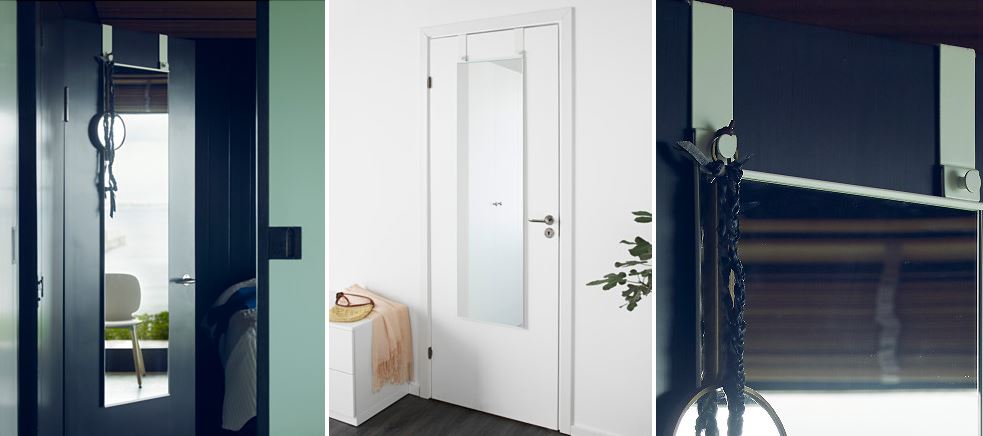 Here's a smaller version of the mirror above, this time sporting a built-in shelf with teeth-like hooks. Compact and convenient!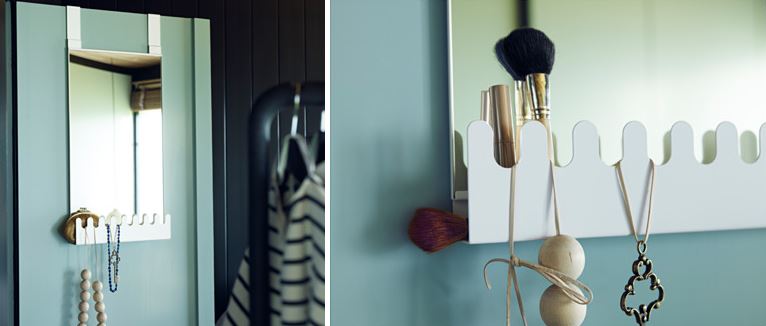 How sleek is this over-the-door mirror from Urban Outfitters?! Its barely there design features a built-in shelf and a delightfully modern form: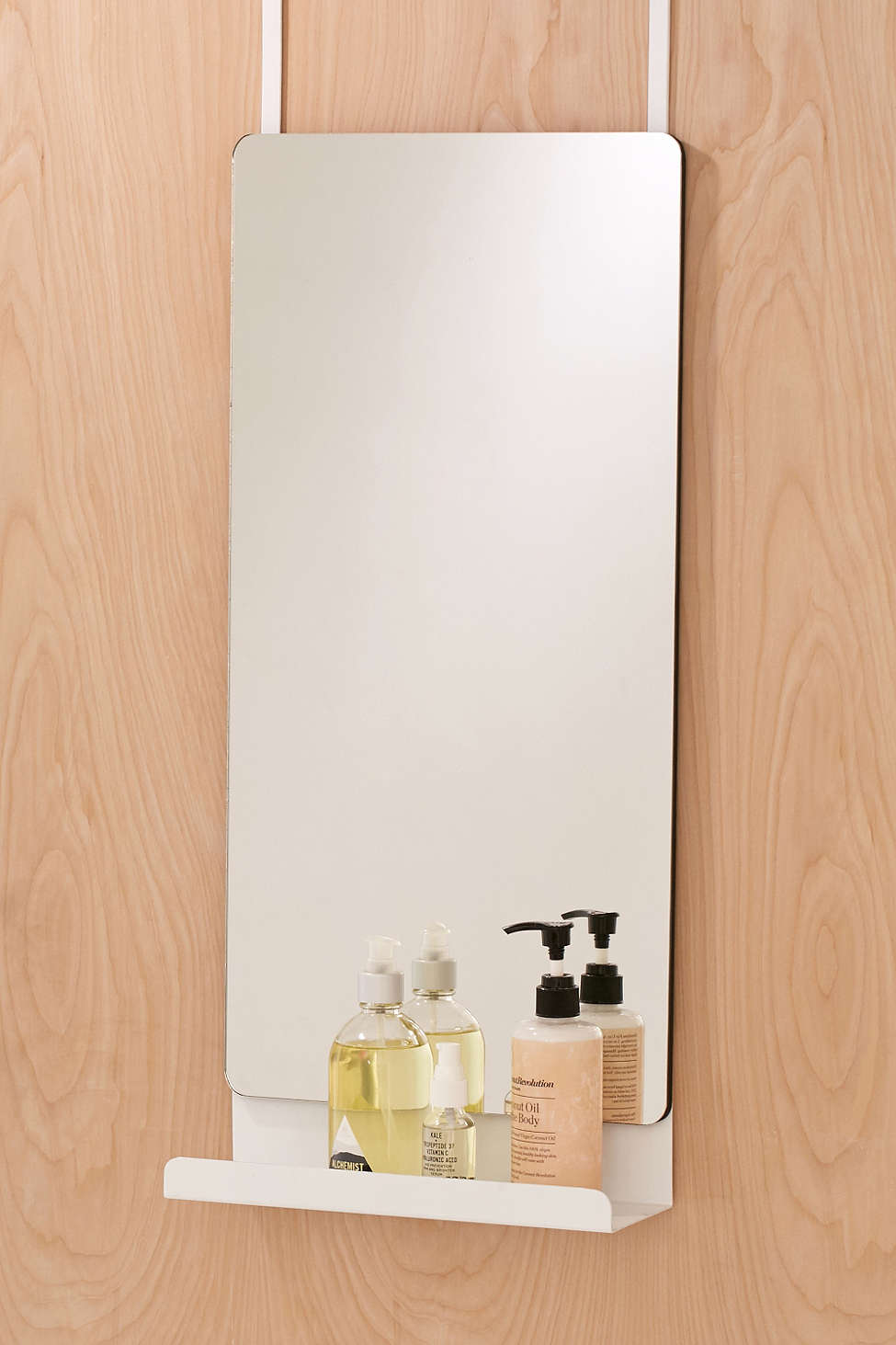 With a bright white wooden frame, this Room Essentials Over the Door Mirror from Target is light and airy, the perfect addition to an entryway, bathroom or bedroom: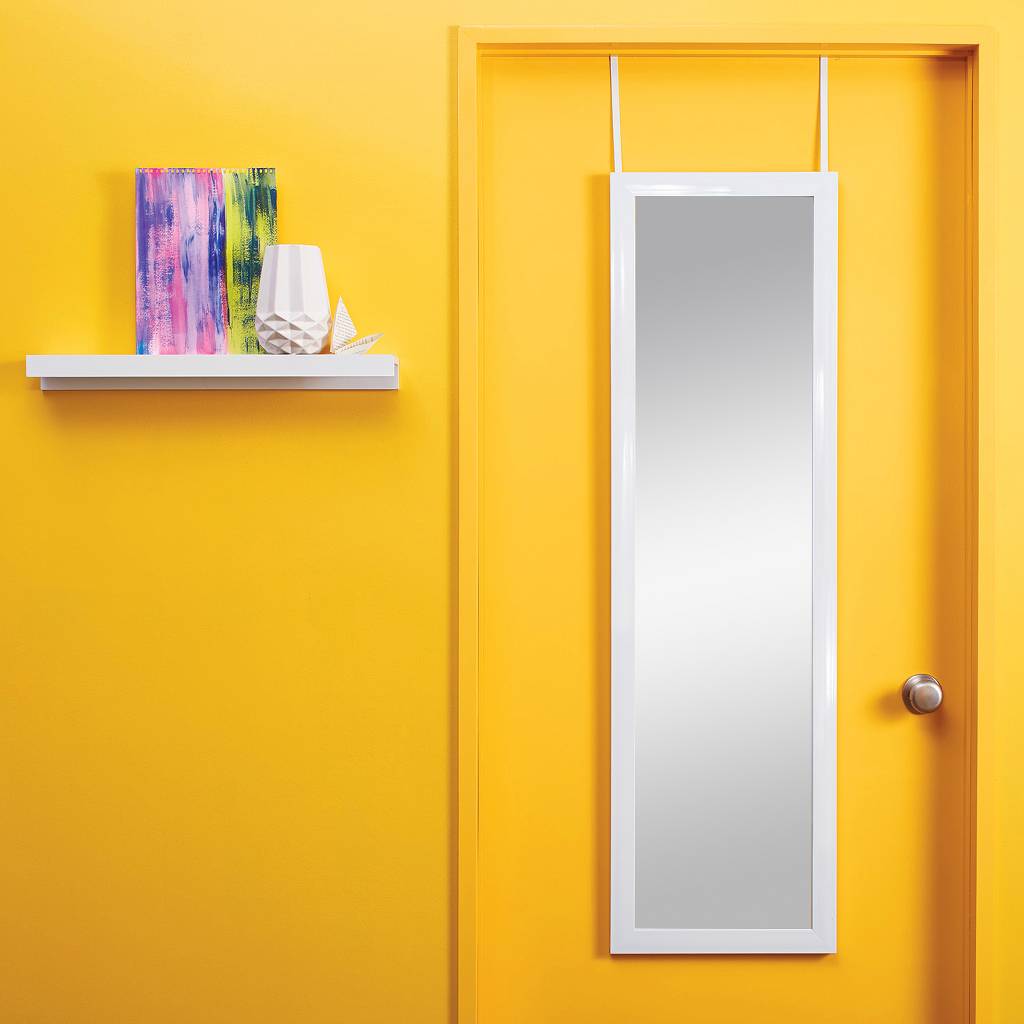 Below we see the same mirror with a black frame, which creates a high-contrast look that can range from the striking to the glamorous: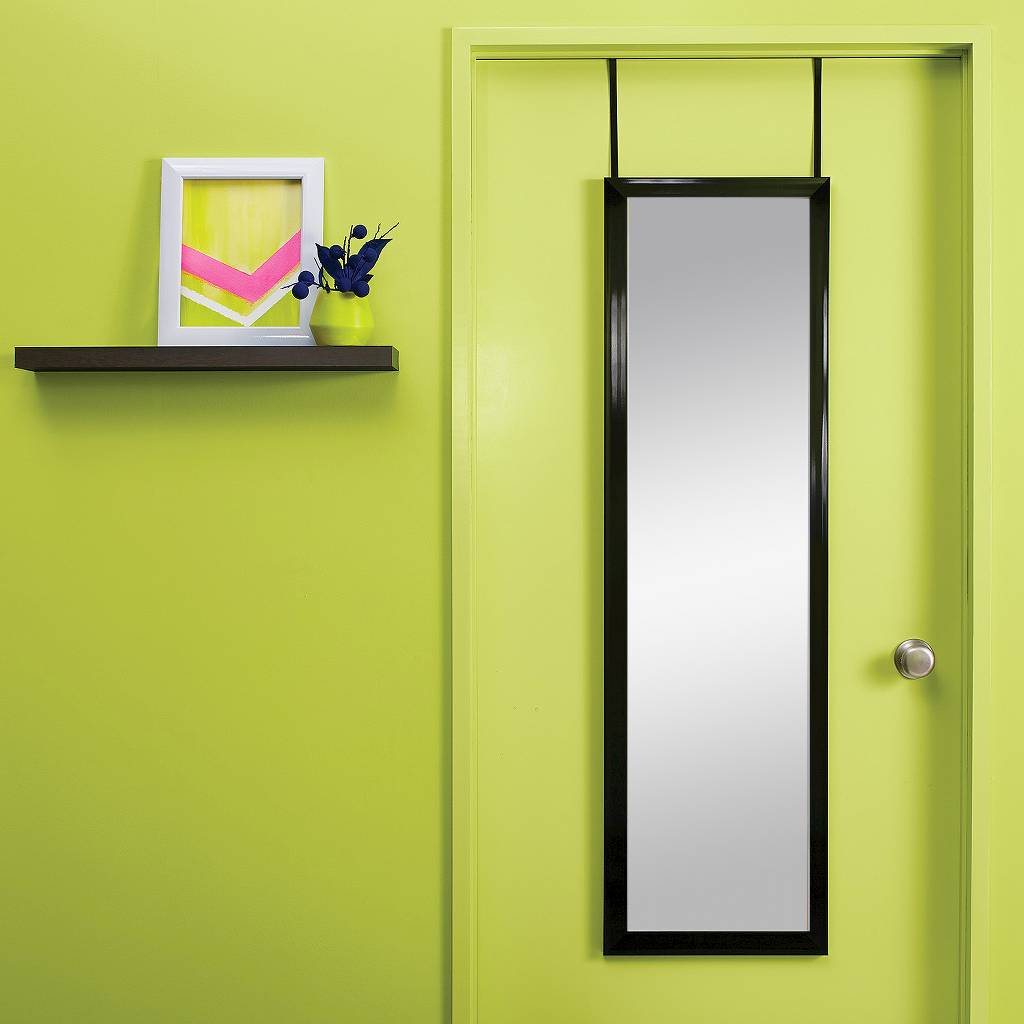 Soft grey is the color of the steel frame on this Over the Door Mirror from Crate & Barrel. As long as your door is less than 1.5 inches wide, this convenient mirror requires no hardware! Easy to install, it also includes optional D-rings in case you'd rather mount it to the door or wall rather than hang it as shown below: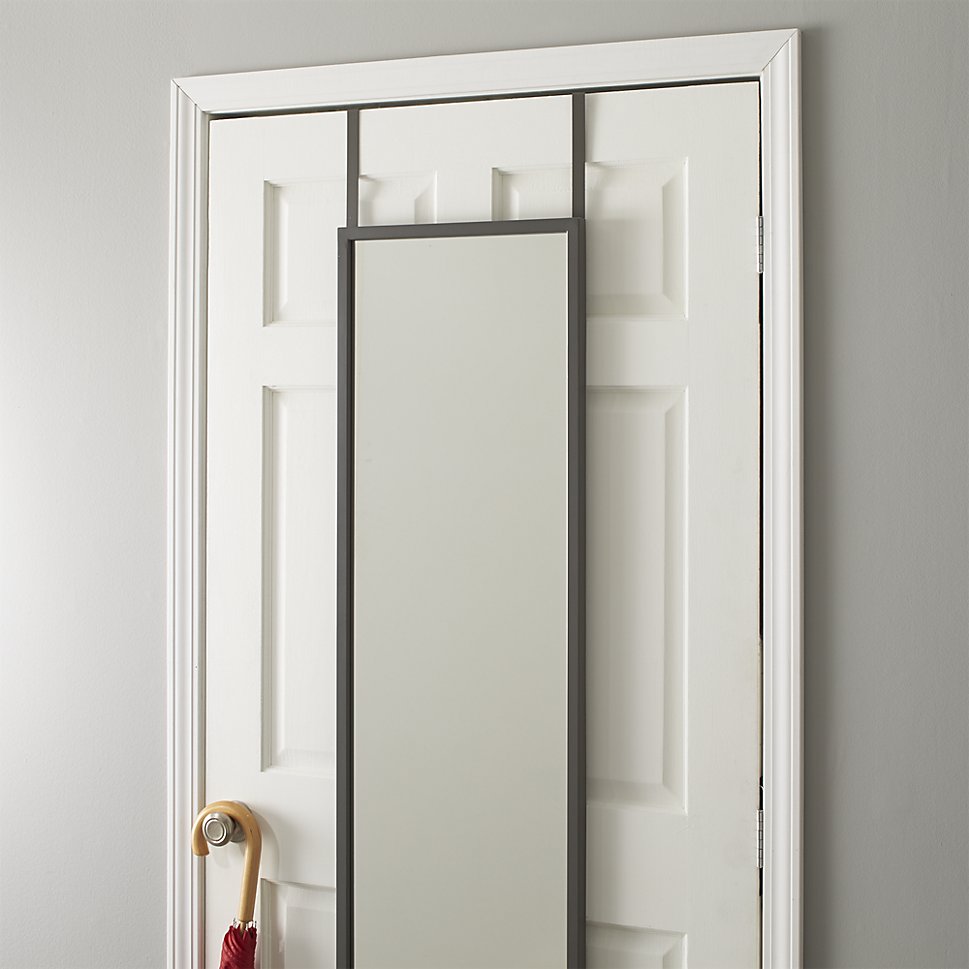 Perfect for dorm rooms and closet doors, this Over the Door Full Length Mirror from PB Teen even includes hooks for scarves and jewelry! An iron frame with a white finish is a product highlight, along with the adjustable height, thanks to brackets that provide a variety of hanging options. Rounded edges complete the look: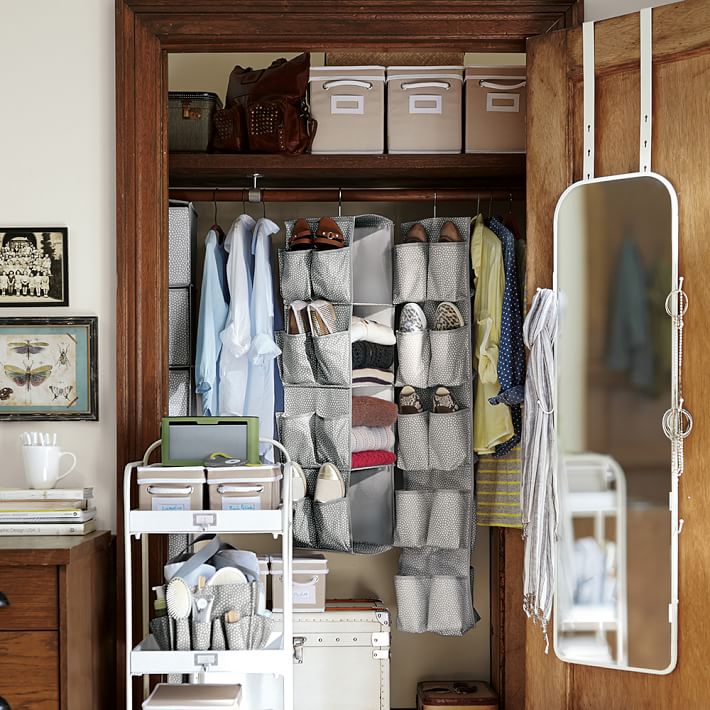 Round Over-the-Door Mirrors
From right angles to round forms, we now reflect on the power of oval mirrors, which have a distinct style of their own. This Oval Over the Door Mirror from Pottery Barn requires no drilling for installation. All you need is the included mounting hardware and bracket with a satin nickel finish.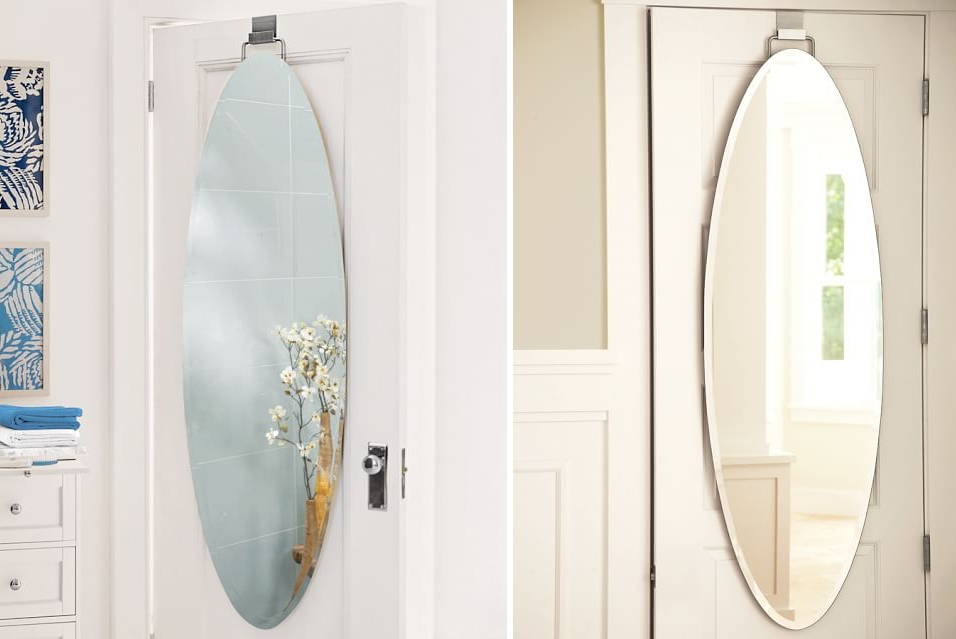 This Over-door Beveled Door Mirror from Grandin Road will create a dressing room feel in the space of your choice. Beveled edges and a clean-lined bracket are design highlights: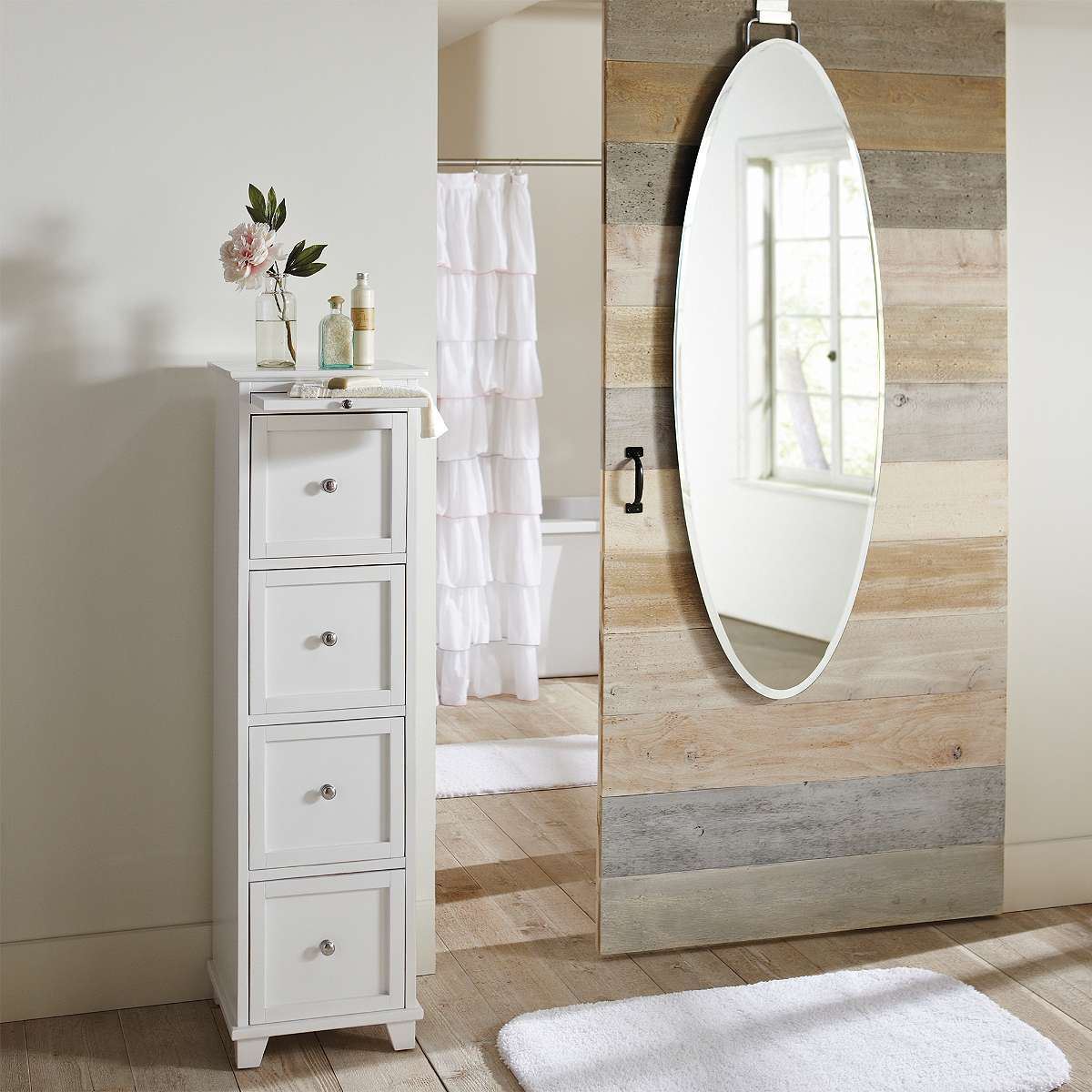 Concerned about broken glass? Hammacher Schlemmer's Shatterproof Over the Door Mirror is crafted from lightweight polyurethane rather than mirrored glass. Plus, the steel hanging bracket features three different height options so you can place your mirror at just the right spot.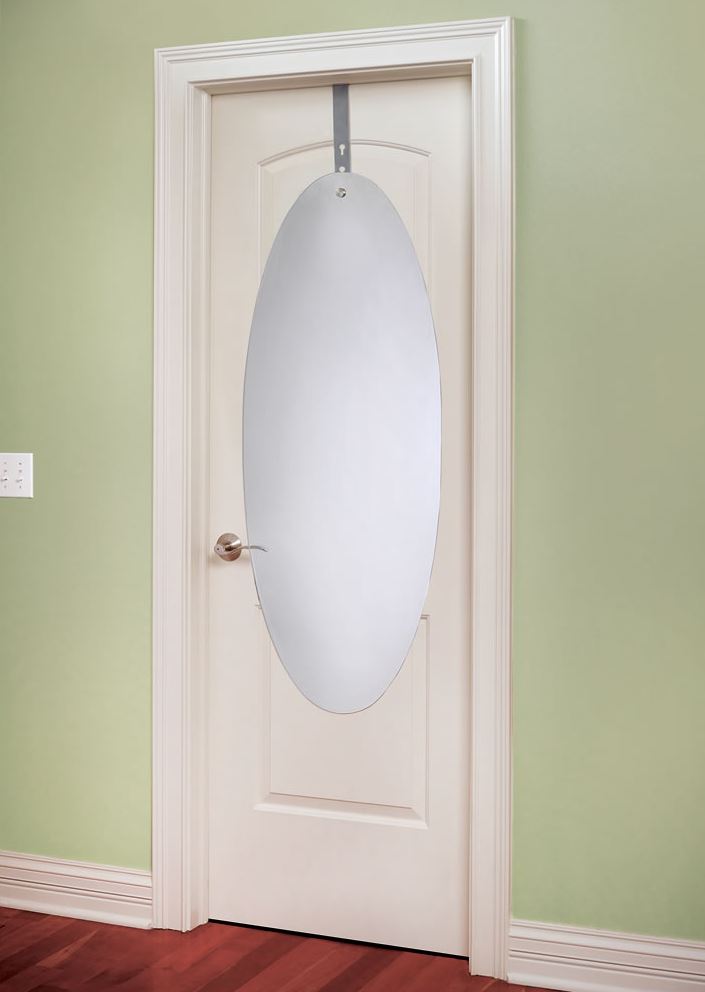 We're loving the shape of this 38″ Over the Door Mirror by JUMBL, available through Amazon. A unique form and white enameled steel frame make a big impact, and once again, there is no need for screws, hooks or hardware: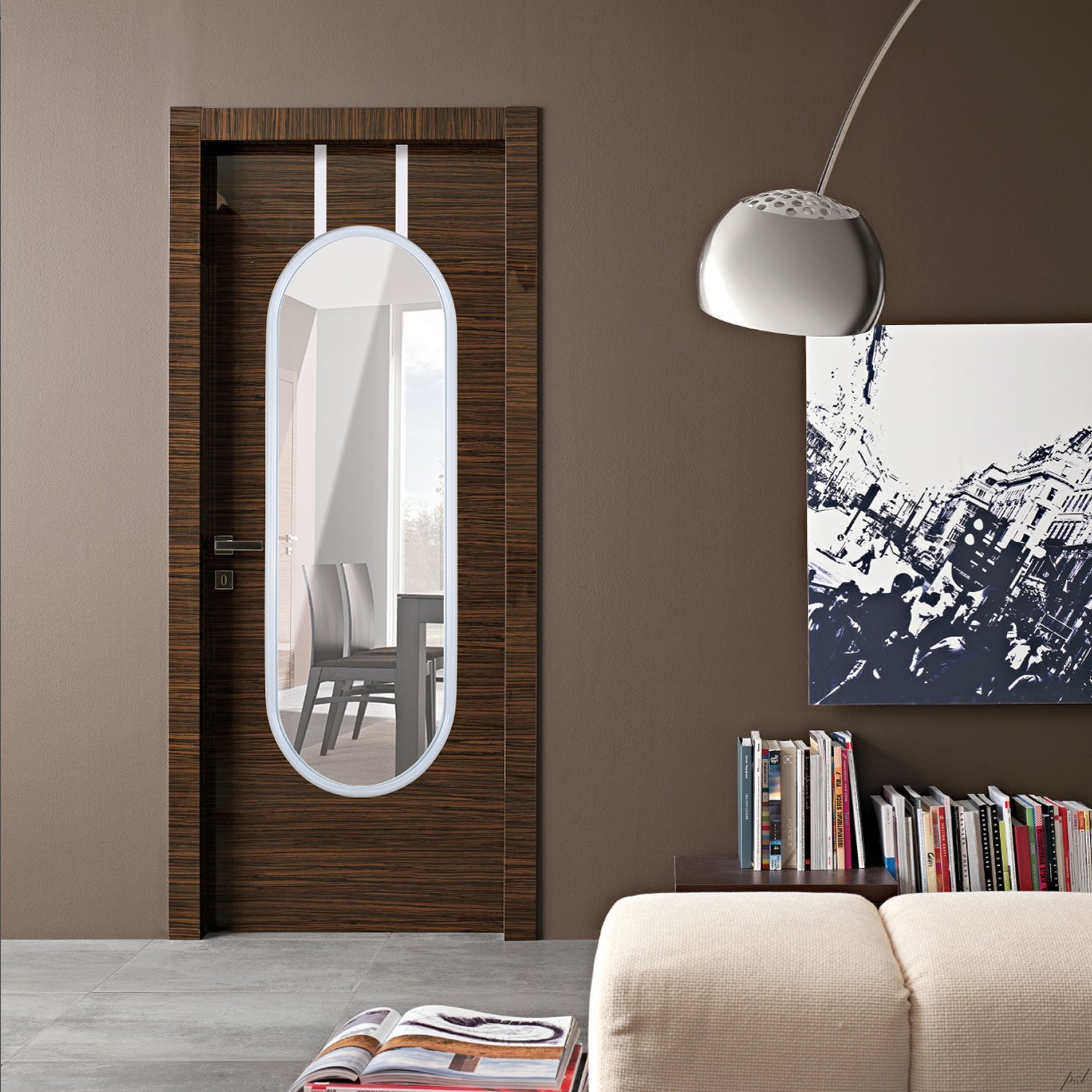 Specialty Mirrors
We end today's post with a group of hanging mirrors that pull double duty, thanks to clever design. First up: the Over the Door Jewelry Armoire with Mirror from Hives & Honey, which is a full-length mirror at first glance…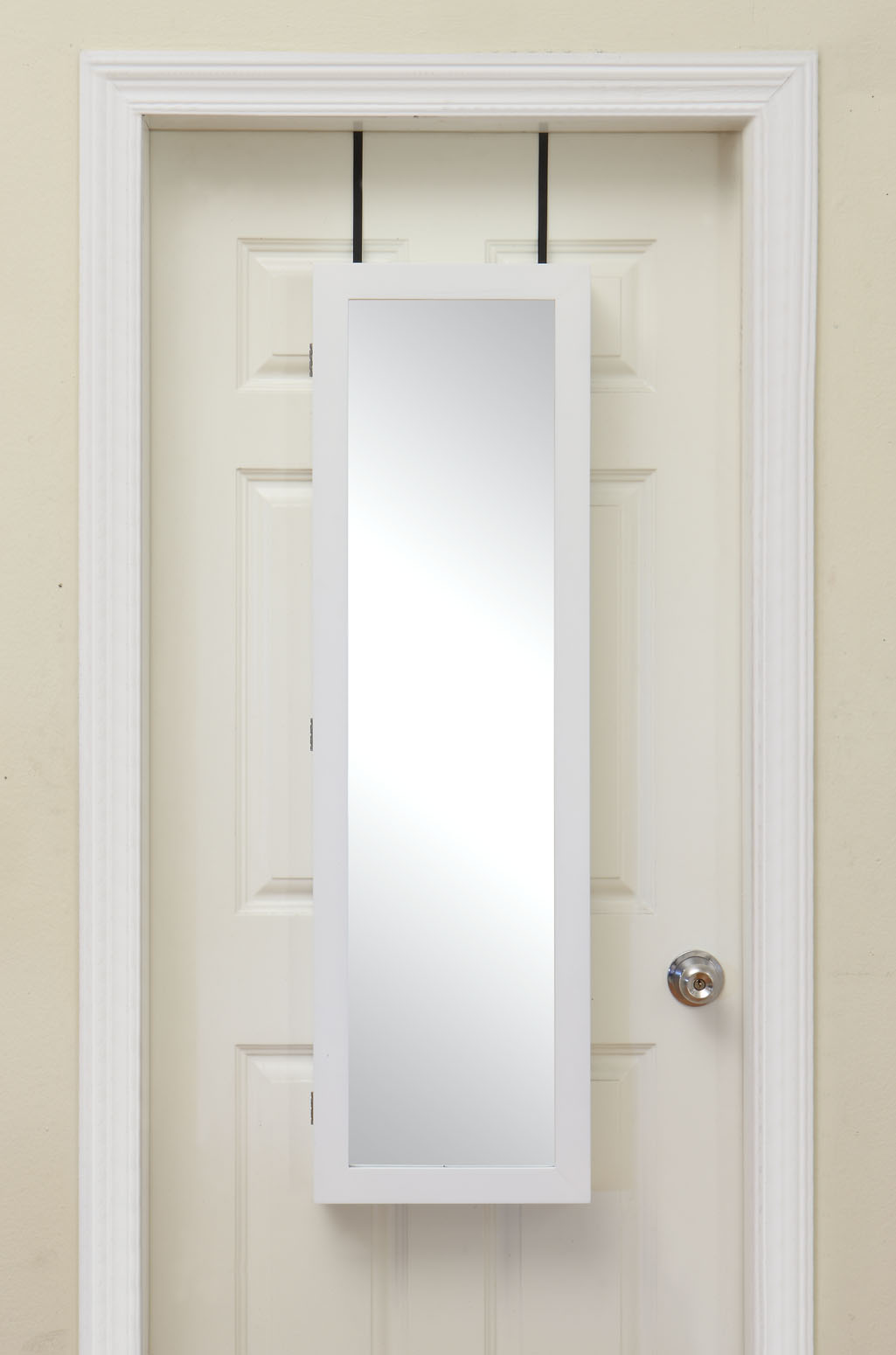 But open the front panel, and you have the perfect stashing place for rings, earrings, necklaces, bracelets and more. It's like a secret compartment that hangs on your door!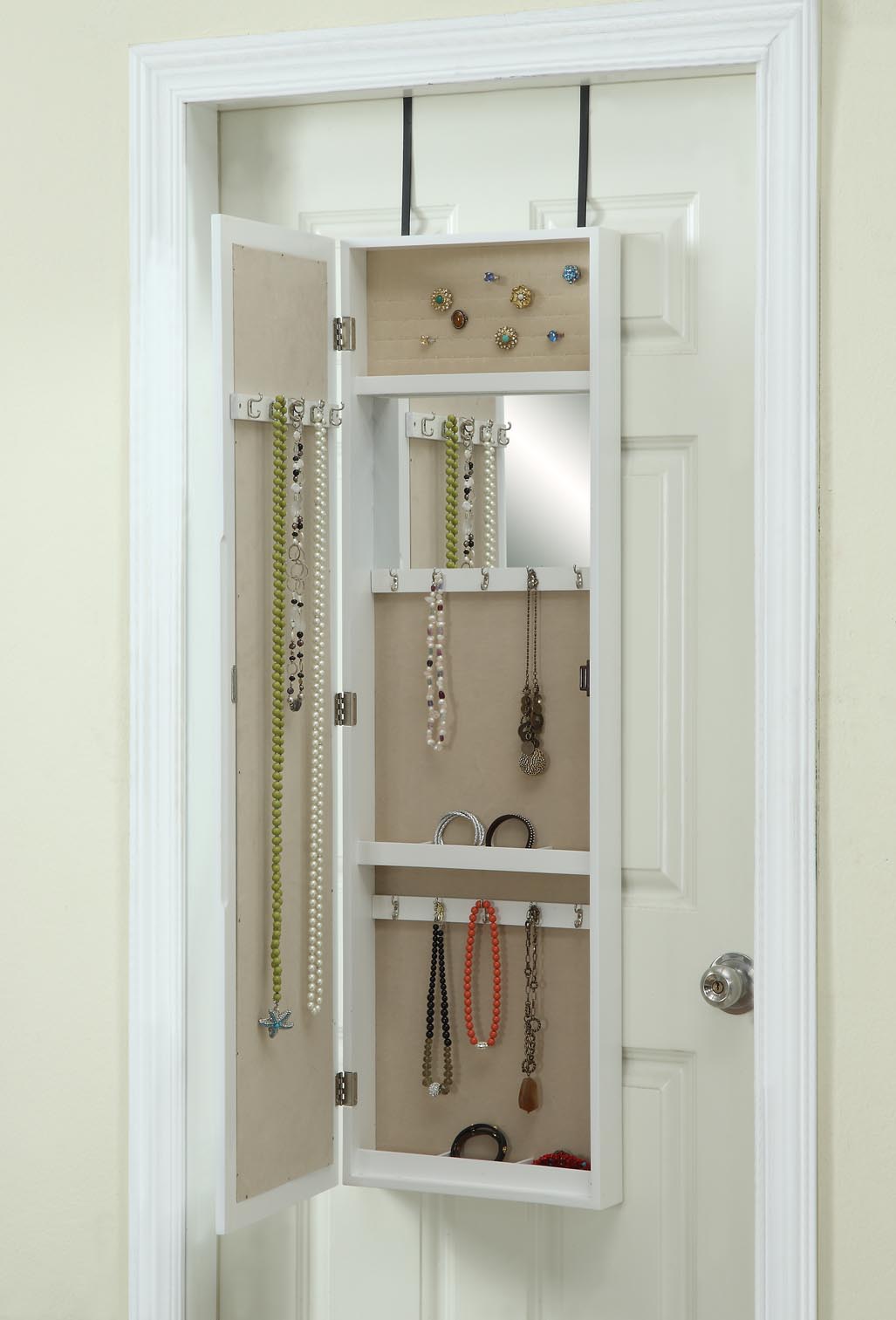 This next item pulls triple duty! It's the Mirrotek Mirrored Makeup & Jewelry Armoire from Amazon. This mirror doubles as a jewelry box…and a makeup storage unit! If you share a bathroom and need some extra space, or if you simply want to view your jewelry, accessories and beauty products in one place, this may be your solution. And yes, the mirror even appears to come with the plastic cups you see below. You've gotta have a place to stash those makeup brushes, right?!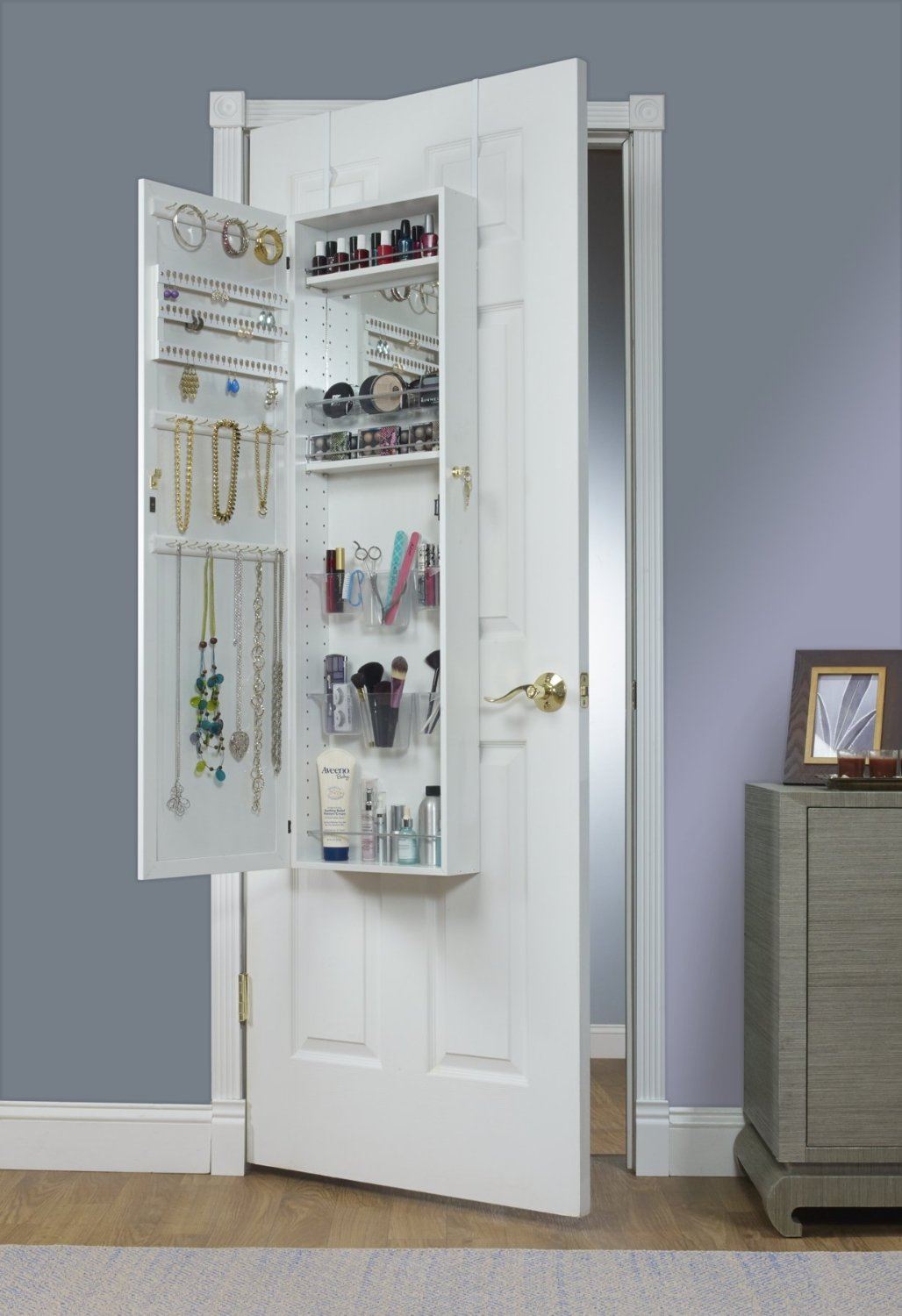 If you want your mirror to sit side-by-side with your makeup shelf, check out this Vanity Station from Pottery Barn. Over-the-door hanging gives you your own personal beauty station in the convenient spot of your choice. The shelf storage piece features a storage bin, as well as two ledges: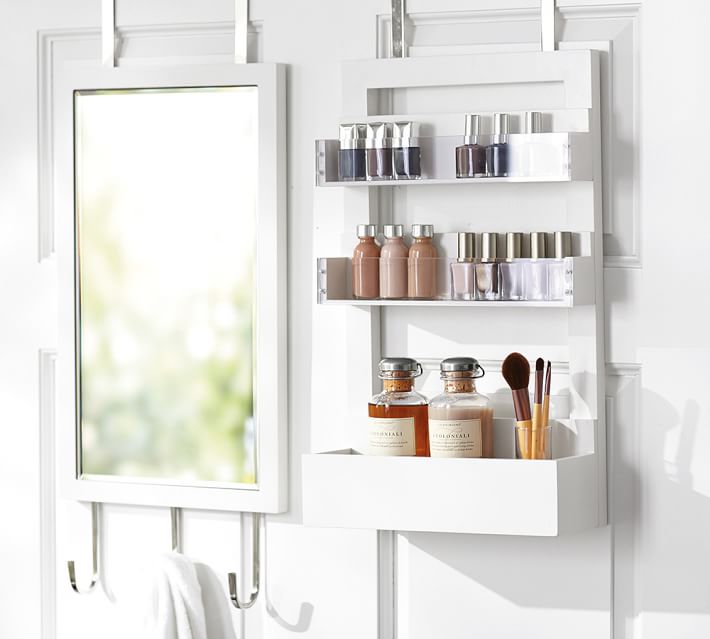 For an all-in-one beauty station option, check out this Over the Door Mirror Rack from PB Teen. Bins for cosmetics and accessories are super handy, while hooks provide the perfect perch for necklaces, bracelets and more. Ideal for dorm rooms, shared rooms, or any room where maximizing space is key: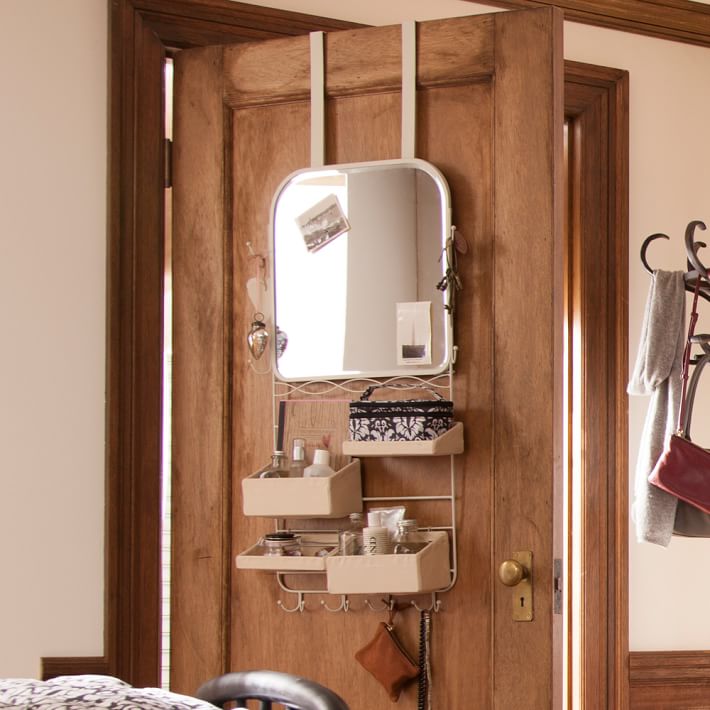 When a mirror blends with a dry erase board, you get the 3-Way Over the Door Mirror from PB Teen. And it's not just any mirror! The tri-fold design ensures that you look great from every angle.
Close up the mirror, and you have a built-in dry erase board where you can write important reminders, upcoming appointments, and motivational tips. The folding panels create two columns for handy memo jotting!
When it comes to over-the-door mirrors, the design possibilities are endless. Even if you need the mirror to double as a storage unit for accessories, there's an option to fit your space. Enjoy shopping!