When it comes to beautifying your outdoor with plants, there are so many outdoor planter ideas that you could take inspiration from. It might be pretty easy to just drive through the store and pick up random planters for your flowers but if you want a beautiful, creative, and elegant outdoor look, then you have to be very intentional about the planter you pick. The good thing is that many times, you don't even have to buy; you can simply create your planters to suit your taste. Your planters are important because they can make all the difference to both the beauty gotten from the plants as well as the health of your plants.
If you're interested in a beautiful garden and you want to see different planter ideas that you can use to sweep your visitors off their feet and get them talking, check these out.
1. Hanging planters
Small plants in your outdoor will flow sweetly with hanging planters. The hangers add a lot of spice to your plants and accentuate the beauty of both the plants and the planter. For this design, you can make use of as many planters as you want and arrange them however you wish. The design works best especially if you have limited space in your garden. Your hanging planters can take a wide variety of designs ranging from metallic hangers to bottle DIY hangers to net plant hangers and much more. Take your time when making decisions on the type of design you would want to use.
2. Freestanding planters
As the name clearly suggests, these are planters that are not attached to anything. They simply sit on your floor, at your entrances, or in the center of your garden. This kind of planter, if chosen well can entirely change your outdoor theme and give it an elegant look. You can go for metallic planters, wooden planters, clay planters, and much more. The options are literally endless. There are also different sizes available that you can choose from.
3. Tiered planters
Tiered Planters are another great option for your outdoor planter. They give an extra special sense of uniqueness and elegance. They are not very common, so definitely, they will grab attention. This kind of planter is also easier to use because it gives you the room to experiment with your flowers and plant different flower types in the same space, leaving room for color and elegant beauty.
4. Antique bathtub and Sinks
Want all your flowers in one same bed yet standing out? Then you should consider antique tubs and sinks. With this planter idea, you have wider space to put your flowers and because of its vintage theme, it also draws attention and adds beauty to your outdoor.
5. Painted Tyres
Painted tyres are another beautiful outdoor planter idea that will add color to your garden without requiring much. You can simply get old tyres and paint them in different appealing colors. These will fit best in your garden and you can plant a variety of flowers inside them, making them a mini-garden of their own.
6. Planter box in benches
Yes, you can have your flowers installed in your outdoor benches and chairs. For this, you can use insect-repelling flowers or plastic flowers. The planter being attached to the chair gives it a warm feel that blends perfectly. This design is the embodiment of loveliness and definitely, if you get one, you're hardly going to want to get up from that bench.
7. Cinder block Planter
Another unique planter idea is cinder blocks. Yes, we know, who would have thought? But to be sincere, this idea is a must try. One of the reasons this design is so great and recommended is because you can literally form out any design you want out of it, you just have to arrange. Want a straight line? Arrange it like that. A curve? or a tier? Whatever it is, you can have it with block planters. Oh yes, and colors too! The options are limitless.
1millionideas.com
8. Old Chandelier
Another DIY, low cost outdoor planter that you can try is a chandelier planter. Options for hanging such planters include right outside your door, in your porch, or even multiple ones in your garden. This probably tops the lists of attention-grabbing planters because no one expects to see plants in a chandelier, but if you can hack it, it will be beautiful to behold.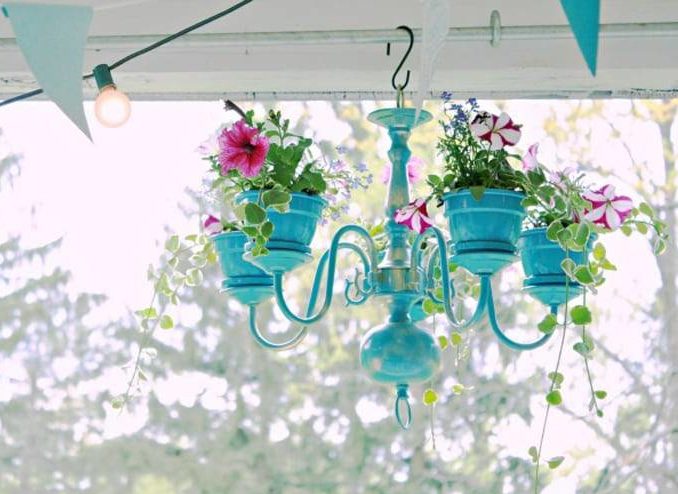 9. Palette and Pot Planter for Small Spaces
Who said you can't have all in one? For your outdoor plants, you can build a garden with small pot planters arranged on a palette. This way, it doesn't take much space and you can still create all the beauty you need. If you want a mix of beauty and functionality, you should definitely try this. You can also experiment with designs, change your pots and flowers whenever you wish and play with colors. The pot planter on a palette is definitely worth the consideration.
None of these designs are limiting. It means for each one we have listed, you can churn out so many other variations from it. You can play with colors, play with shapes, play with your flowers and build exactly what you want. Another great thing about these outdoor planter ideas is that you can modify and tweak them to your taste as time goes on without spending too much. What could be better than flexibility for a plant lover? Pick as many planter ideas as you like, find out the ones that would not cost much, and get to work creating a beautiful, bright, and attractive environment for yourself. The options are limitless so please make sure you do not limit your creativity. Cheers to your upcoming beautiful outdoor planters.