These days some of us have a lot more time on our hands, while others are juggling way too many tasks and just trying to keep the house in order. Wherever you fall on the spectrum, consider organizing by color, at least for some of your items. For starters, it's something that design lovers can appreciate because it's aesthetically beautiful. There's nothing like a rainbow bookshelf to motivate you to get those books and decorative items sorted and displayed! It can also be truly helpful, especially when it comes to supplies such as arts and crafts items. Did we mention that it's kid-friendly?! Keep reading as we check out ways to bring a rainbow of organizational style to your home… [rainbow shelf styling by Kailo Chic]
Strategies for Organizing by Color
When it comes to making rainbow style a reality, there are many strategies you can follow to get the job done. The bottom line: choose a method that works for you and makes the most sense for your space. [photo by Kate Simmons for Decoist]
Some design lovers prioritize a full rainbow effect. Check out the thoughtfully styled bookshelves below, the work of A Beautiful Mess founder Elsie Larson. In planning and executing these stunning statement shelves, Larson accepted the fact that she'd be collecting some new books (on topics she was interested in) in order to rack up more of the colors she needed. She didn't purchase books that she wouldn't want to read, but she was aware that she wouldn't be reading everything cover to cover either! The overall look was a priority, along with staying true to what she loved. We'd say the results are nothing short of amazing:
Another strategy involves using what you have. If you're short on space or you simply don't want to collect additional items just for rainbow effect, you can organize what you've got and make it as rainbow-fabulous as possible, even if it isn't a massive display of the whole spectrum. Even a little bit of rainbow can go a long way.
You may also decide to organize each group of items by color. This works especially well for areas of the home where you're wrangling a large number of supplies. For example, with the craft storage system below, a DreamBox, we see that each little section (ribbons, markers, etc.) is grouped by color, rather putting all of the pink items on one shelf, the blue items on another, etc. This glorious "craft room in a box" is styled by Heidi Kundin of Happiness Is Homemade. Check out all the details here.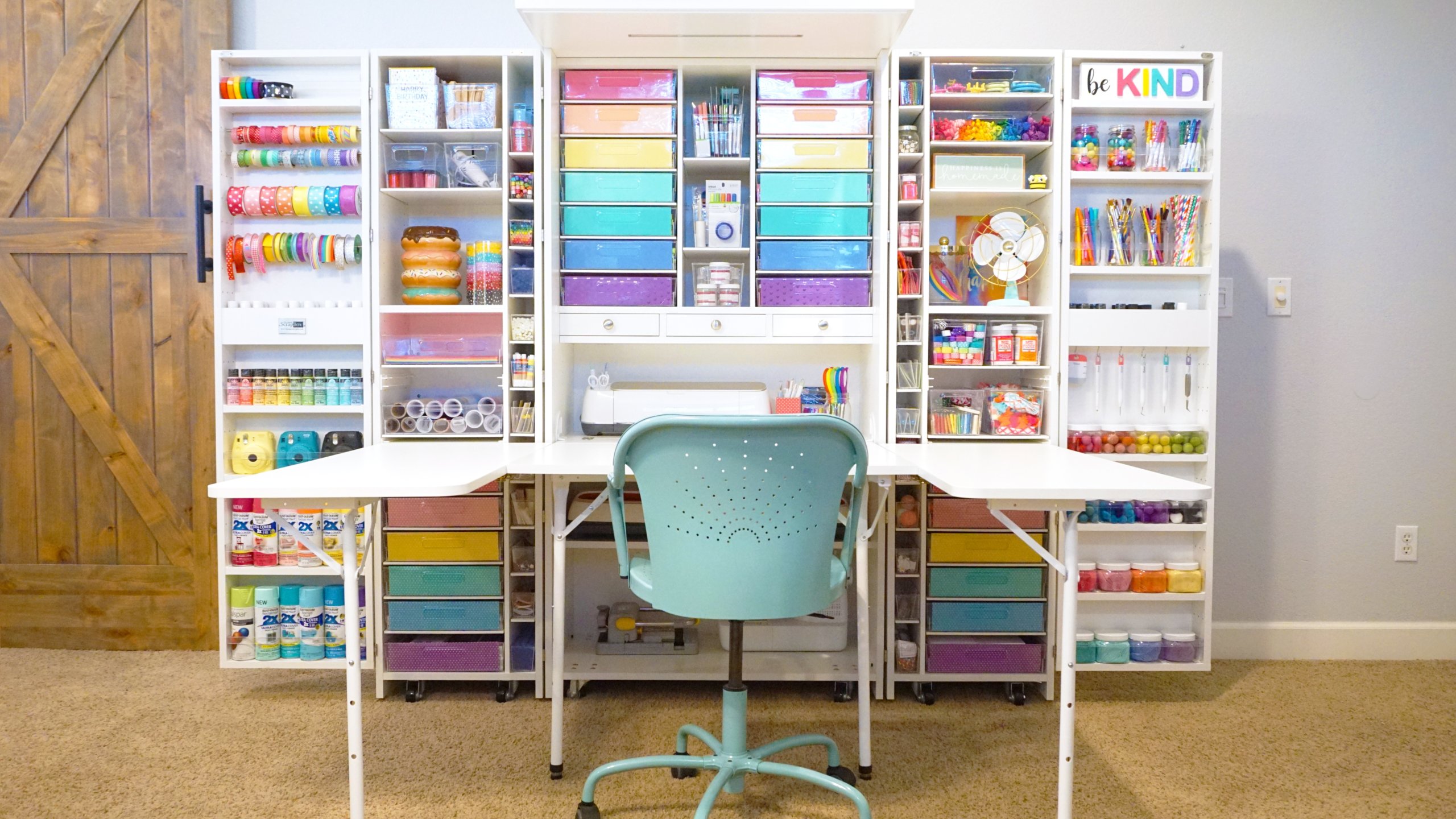 Then there's a full-on creative approach. This is where your individual vision can truly come through, making your home artistic in the best possible way. With the shelf above, we see how the use of rainbow paper as shelf liner in the clear drawers gives them a colorful effect. Below, a bar cart created by Brit + Co. is spray painted with a gradient of style. You could even try grouping items by color within the cart, congregating blues and greens to the left and warmer tones to the right (to match the colors of the paint).
Effective Displays
In this next section of the post, we highlight ways to ensure that you can find what you need at a moment's notice. It's one thing to create a pretty arrangement. It's another thing to make it functional. If you're organizing art supplies, how can you make all of your items as accessible as possible? Are the pom poms easy to grab? Will you group rosy and warm tones (pinks, reds and oranges) one one shelf if it makes the most sense? The key is thinking through the display logically. It may not be the fun part, but it will ensure that the work you put in now will stand the tests of time and function. [photo by Kate Simmons for Decoist]
This yarn display from the fiber art studio of Knits for Life is amazing on many levels. For one thing, pegboard is an ultra-functional material that has true benefits. Not to mention, the yarn is out in the open and ready to grab at a moment's notice. Add the fact that it's beautifully grouped by color, and you have a display that makes it easy to find what you need, all the while being a "wow" statement. It's a win-win!
In this next space, a modern sewing/craft room by Studio Build , it appears that the fabrics are grouped by color as well as type. Vibrant artwork and fabric creations are displayed on the wall, making it clear that this is a place where productivity and inspiration reign. Also note how the open storage for fabric makes each item extremely accessible. Radiant and functional! [featured at Sebring]
You Make the Rules
Are you starting to feel inspired?! As we're all spending more time at home these days, what are the items that you always seem to need? Maybe you're an artist who wants items that inspire you to be grouped in with the supplies you use to create the art. You may be surprised by the fact that grouping unlikely items by color can create a still life feel, which you may want to leave on display at all times. Open shelving and glass cabinets may be the best friend you've ever had! This is your space. These are your rules. [photo by Kate Simmons for Decoist]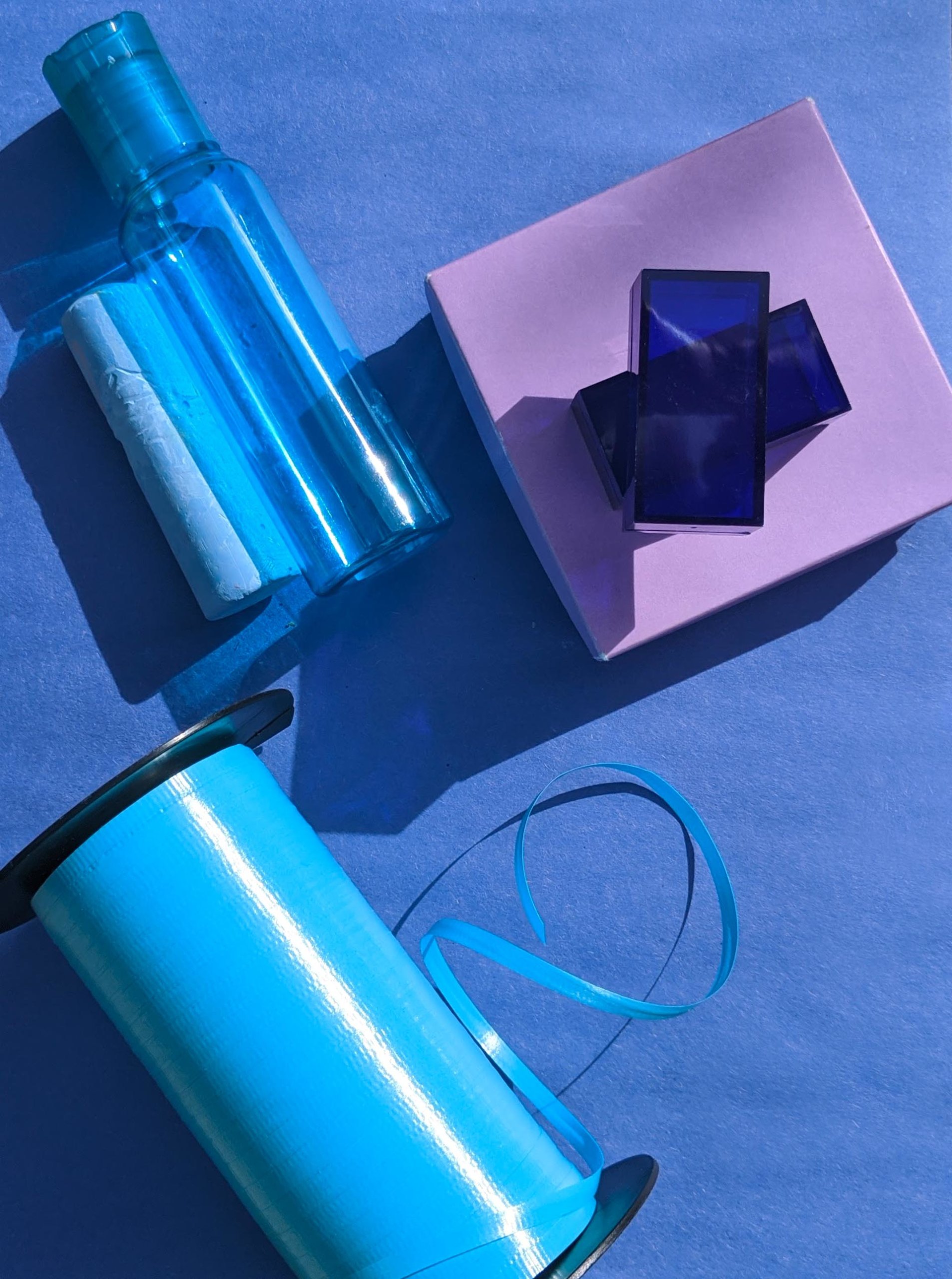 On that note, we're loving the impressive yet realistic book display shown below. While there may have been some special collecting going on to create this rainbow effect, the reality is that many books have cream, brown, black and beige covers and bindings. A floor-to-ceiling rainbow shelf may not be in the cards for many of us, but we can group the vibrant books we have in the more visible areas and then keep the more typical colors near the ground, where furnishings can block them. Our point: make the grouping and organizing work for you. Don't feel the need to ditch or store "boring" items in order to display impractical ones. This is YOUR space and your project. [photo from Hudson Interior Designs, featured at Heather Zerah Interiors]
Fun for Kids
Rainbow groupings are especially fun for children! After all, they're an easy way for kids to instantly recognize what they need. Now is a great time to create a "creativity cabinet" for your little ones. Include items such as art supplies and fillers for the sensory table. For example, green pom poms are on the green shelf, along with the green paper shred and washi tape. Even if you don't have color "shelves", you can organize items such as ribbon by color so kiddos can use hue as an important clue.
Another cool idea: let the kids help create the display. Organization can be fun, and there's no better way to drive that point home than by letting children take the lead on this project. [photo by Kate Simmons for Decoist]
This color-sorting strategy can work for larger items, such as books. The color-coded bookshelf below was created by Studio DIY. We can't think of a better way to showcase beautiful picture books while making it easy for kids to have a visual reminder of where they're stored!
We hope you're all staying positive and finding some energizing inspiration, even during this difficult time. Surrounding yourself with items that encourage you to create and keep things tidy at the same time can be a great way to remain engaged and truly make your home a space that comforts you. Use color to your advantage. Happy organizing!