One of the colors that the world has been falling in love with all over again is orange. The last few seasons have seen homeowners and designers turn to this bright and vivacious hue that was shunned in the 90s as a symbol of the past. And unlike the ascent of gray to the top of the trend charts, this funky color divides opinions and evokes strong 'love it' or 'hate it' responses from everyone. If you are one of those who adores orange, then the powder room inspirations that we have on offer today will surely delight and enthrall. And if you are skeptical about orange, maybe it's about time to give the hue a shot!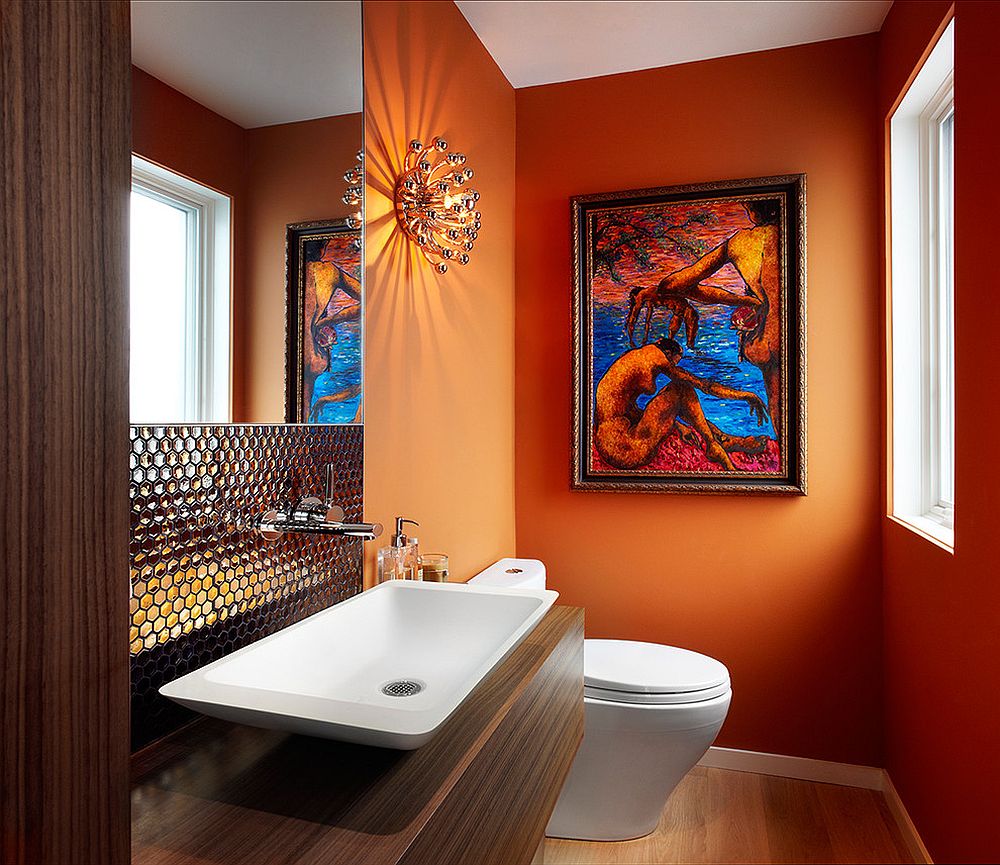 We love powder rooms, as they offer the perfect place to experiment with daring new trends and hot colors that you might simply never try in any other room of your house. The small powder room feels detached from the rest of the house, and often a tangential theme, style or color scheme seems to work best here. So, why not turn this into your little laboratory where you embrace your favorite shade of orange this summer and fall?
The Warmth of Mediterranean Style
We do not believe that your color choice should dictate the style of the powder room, but there is little doubt that orange puts on its best show in inviting Mediterranean bathrooms. Warmth, textural beauty and color are inherent parts of this style, and orange seems to perfectly capture all of these elements. While various shades of yellow can accomplish the same, orange takes the idea of Mediterranean-inspired opulence to a whole new level. If you are looking to wow your guests with a dramatic powder room, this is the color for you.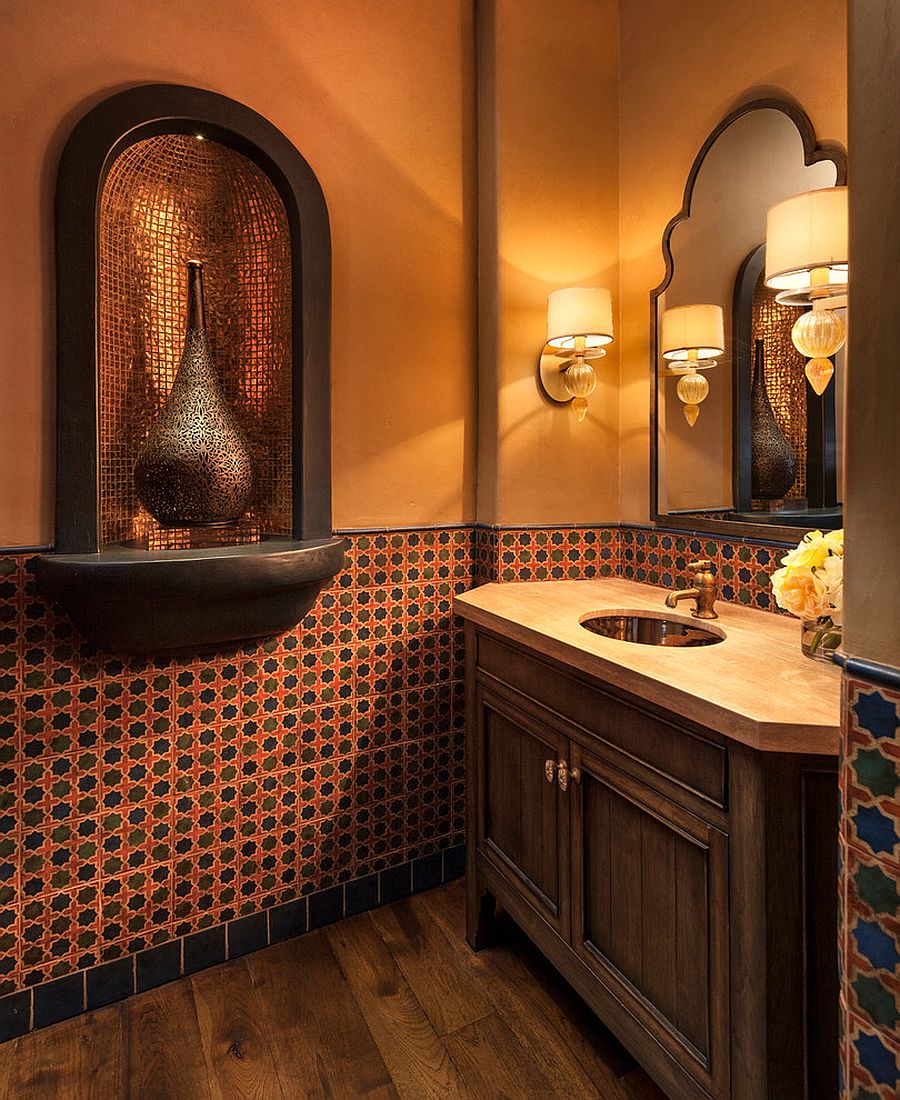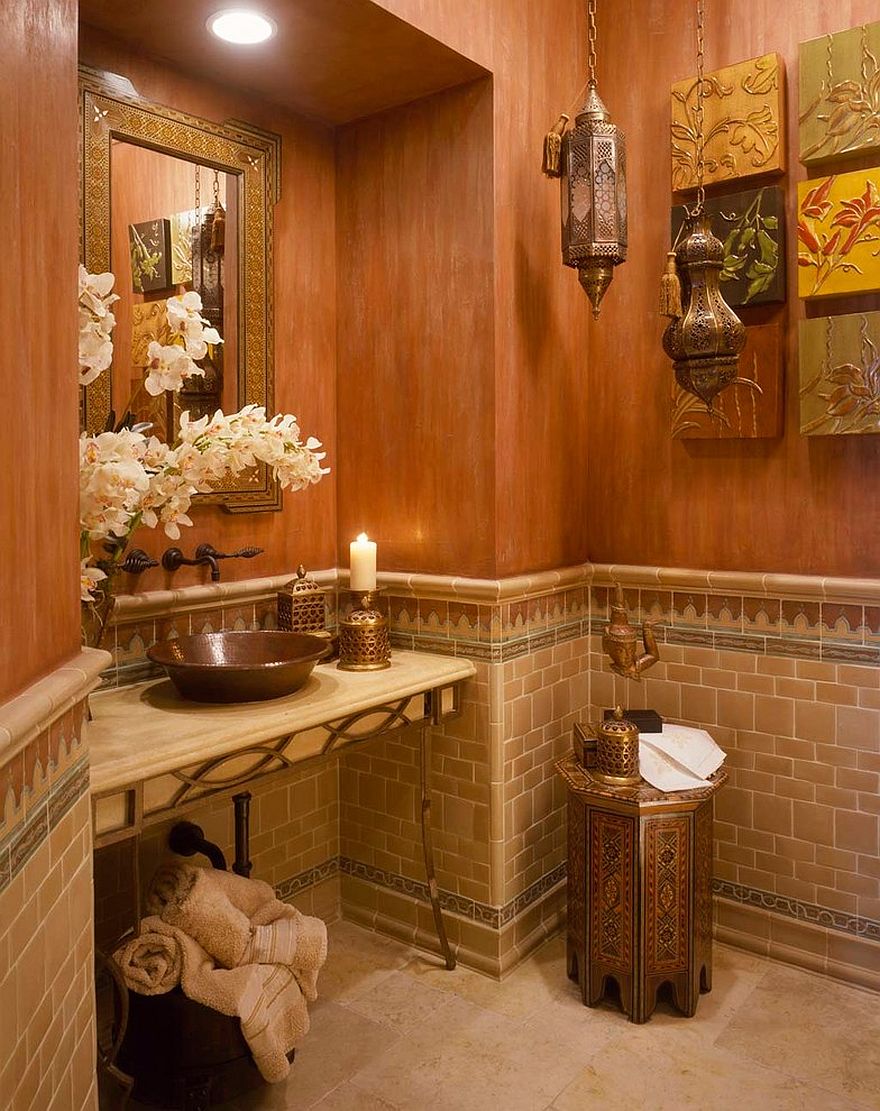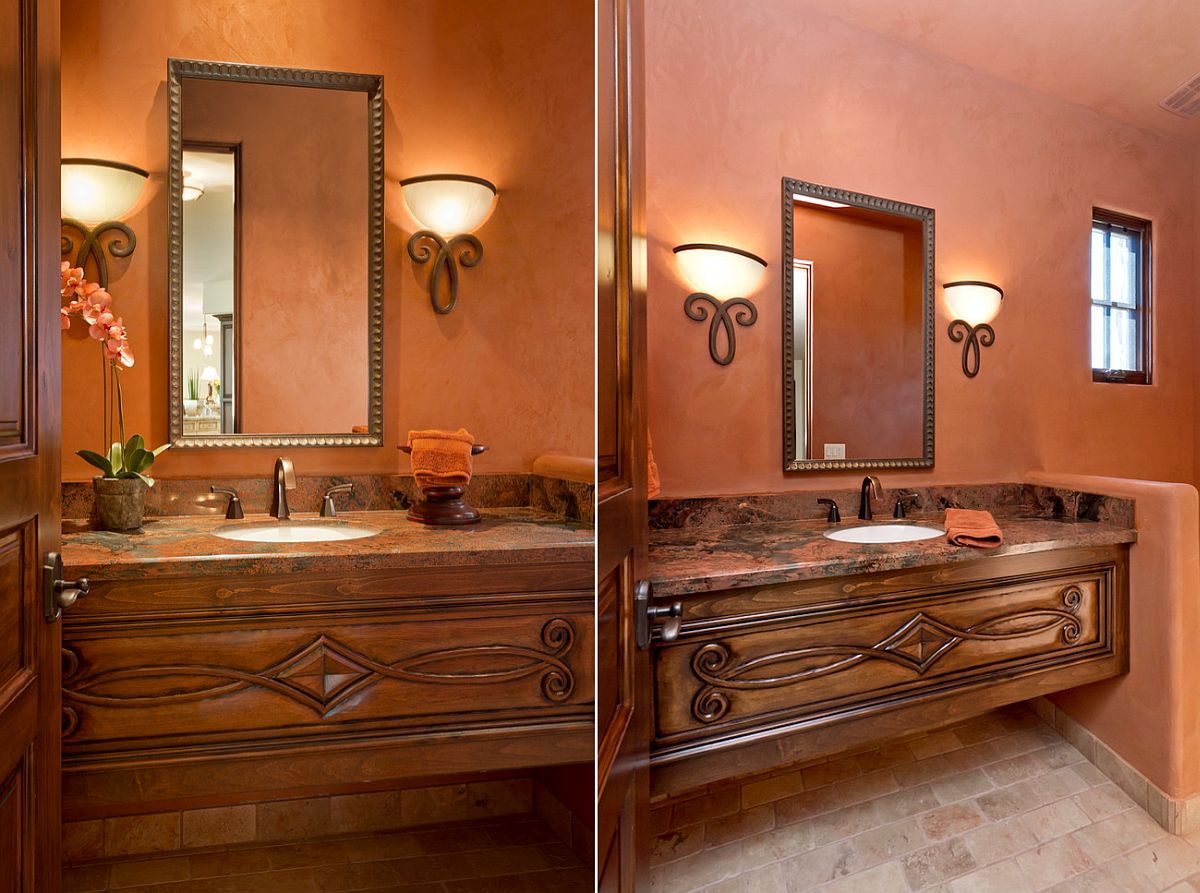 For the Modern Powder Room
Before we move on any further, it is important to remember that orange comes in a wide range of shades and hues. Often the light peach and apricot are forgotten, and one always thinks of bright and brilliant versions of the color with a glossy glint. When using orange in the contemporary or modern powder room, do flip through all of its shades before you settle on your absolute favorite. If you still want a powder room filled with a bright orange glow, combining it with black is a sensible and stylish choice. And once Halloween or Thanksgiving rolls in, your guests will step into a powder room that seems naturally festive and bold!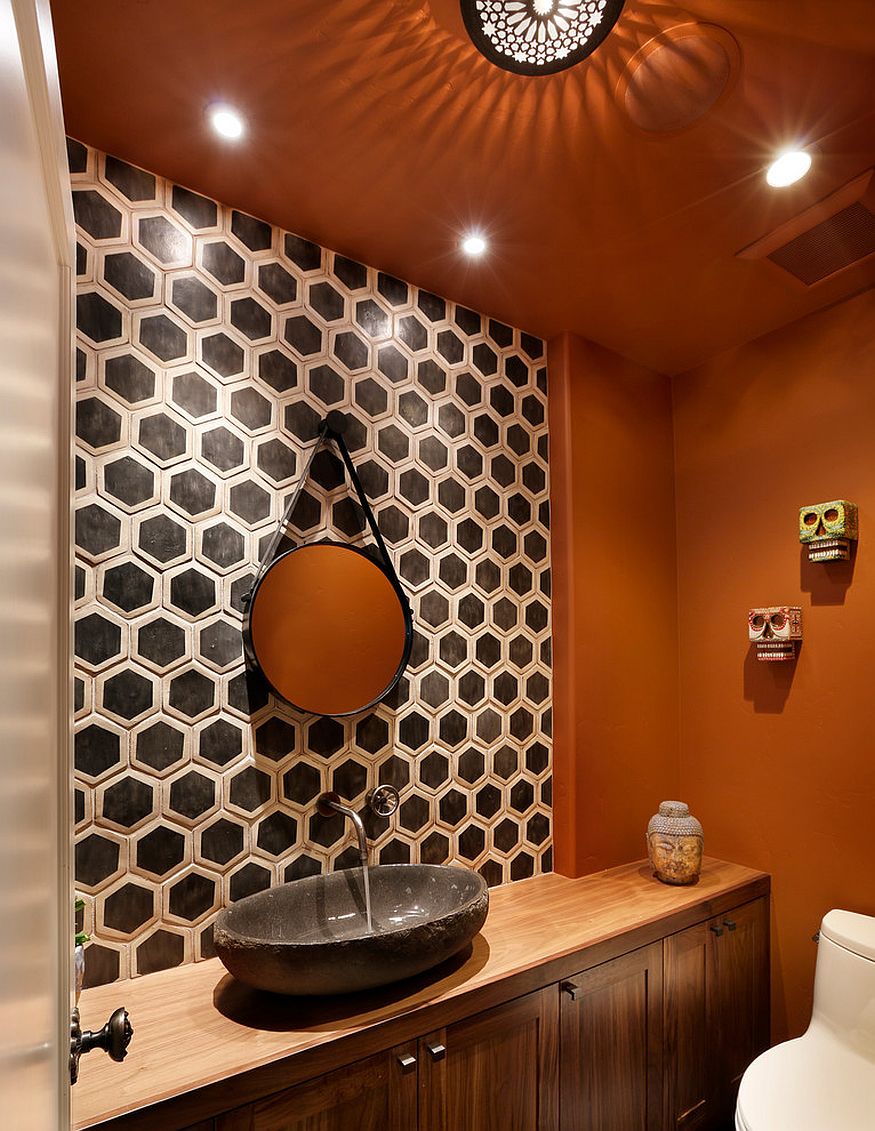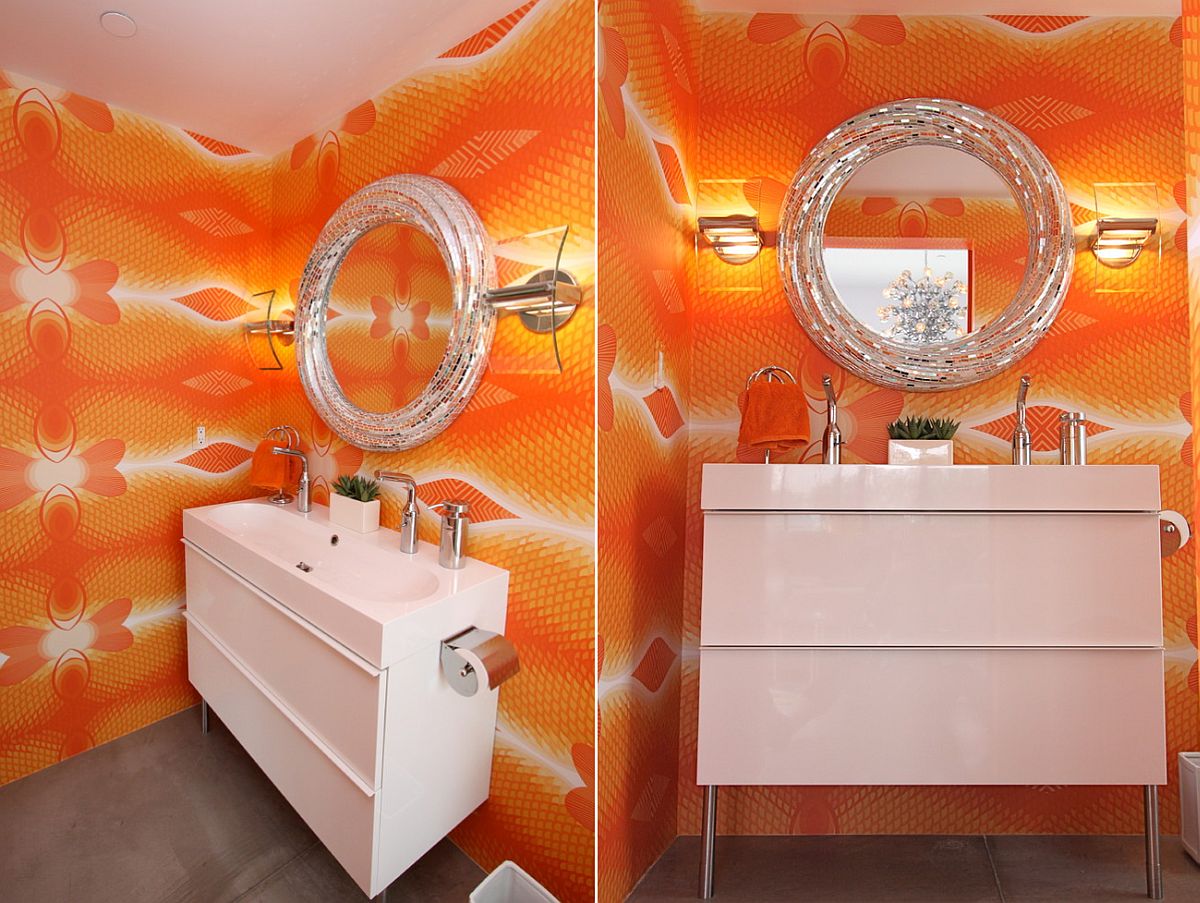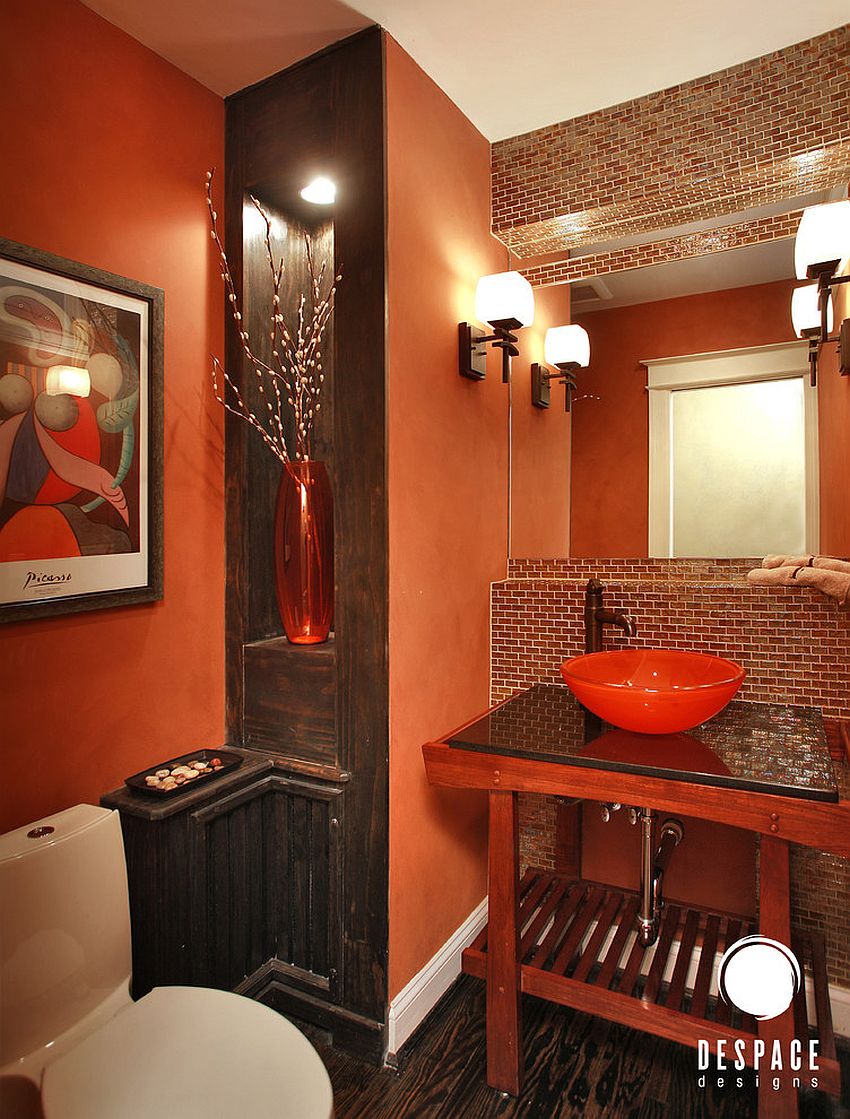 Textured Walls and Pattern
I was discussing wall colors with a friend recently and was surprised to hear that the first hue she could come up with for a living room accent wall was 'burnt orange'. Another shade that seems to be climbing up the popularity chart, burnt orange seems even more alluring in a powder room when coupled with textured walls. You need not move away from contemporary style to get this done, and combining it with white gives the small space a more relaxing aura. For those bored with the idea of repainting the powder room, wallpaper in orange provides a fun alternative that fills the room with a pattern of your choice.