Fall is officially here and with it the colors outside are changing as well. Each year, we have our own list of fabulous hues that top the trends chart for the season. But the one constant in it all is orange – in its many, infinite shades. Sometimes it might orange with a bit of reddish glint and on other occasions it could be burnt orange with its matte finish. Irrespective of the change in hue, tint and shade, orange is undoubtedly a constant when it comes to 'cool fall colors'. 2017 is obviously no different and as you start looking for ways in which you can bring home some orangey spunk, we have a great idea for you to try out – a bright and striking orange door.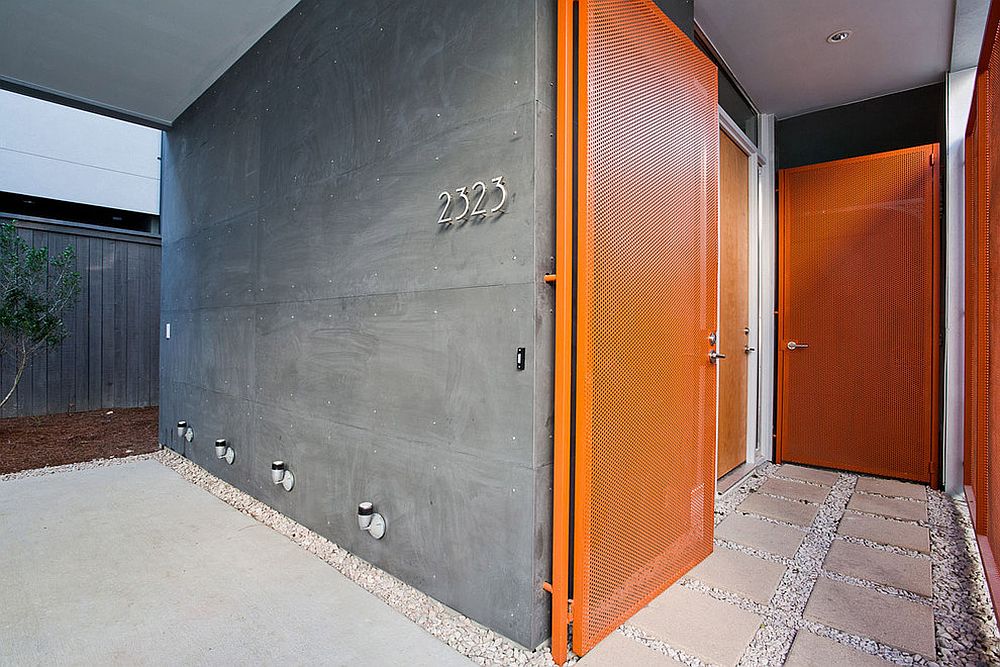 Orange is arguably the most popular color of fall and it surely can be found pretty much everywhere during the early festive season. It is only with the chill of winter and the red and green wave of Christmas that the orange glitz of Halloween and Thanksgiving starts to fade away. So, why not dress your home up for all that festivity with an orange door that steals the spotlight and stays relevant beyond the season! Time to paint the front door orange –
Trending: A Gray and Orange Entry!
An orange front door is not just about embracing the colors of fall and it is not a look that you would have to alter once the season is done. Orange and gray is a trendy color combination for an entry and it is increasingly taking over homes across the globe. This is a combination that blends stoic and stylish appeal of gray with vivacious effervescence of orange at its brilliant best. The dashing door becomes the focal point even as the gray walls and roof provide a gorgeous and soothing backdrop. Of course, if you ever start to get bored with gray, then you can try out a different colored door to completely alter the look of the entryway!
RELATED: The House With The Blue Door: Choosing the Perfect Exterior Colors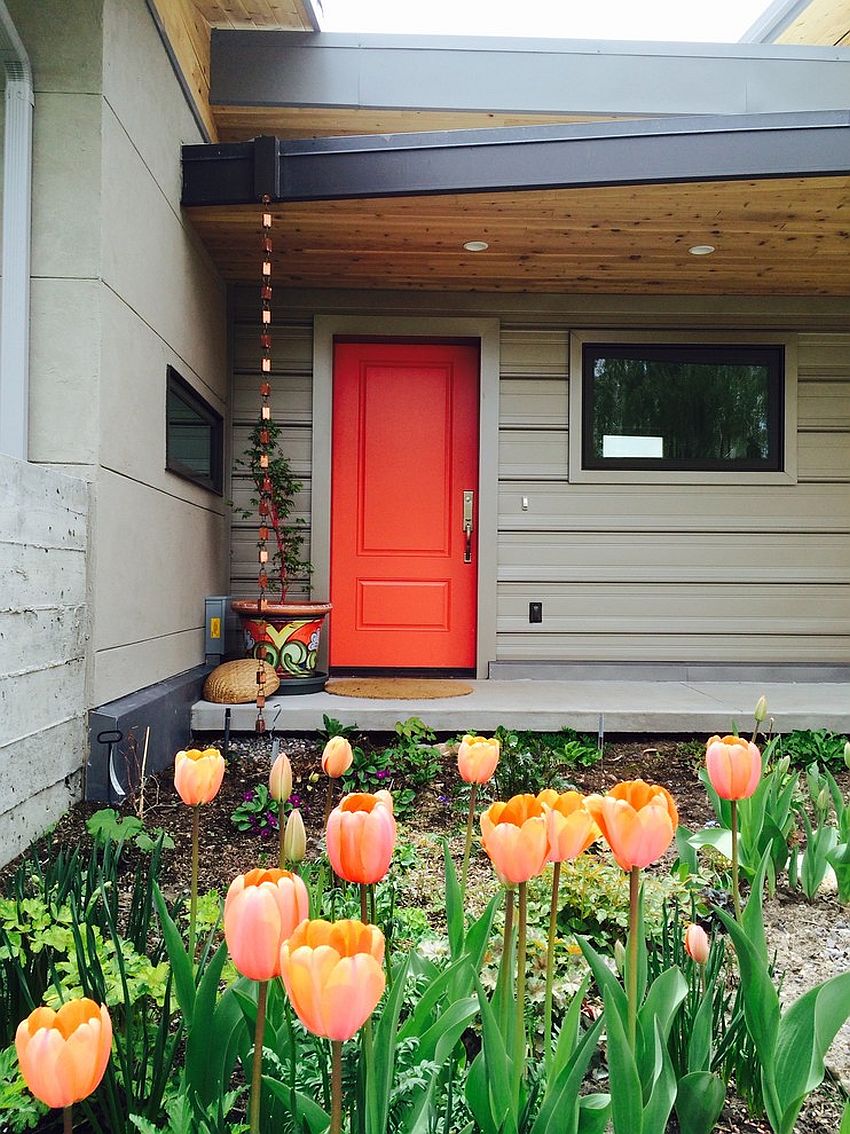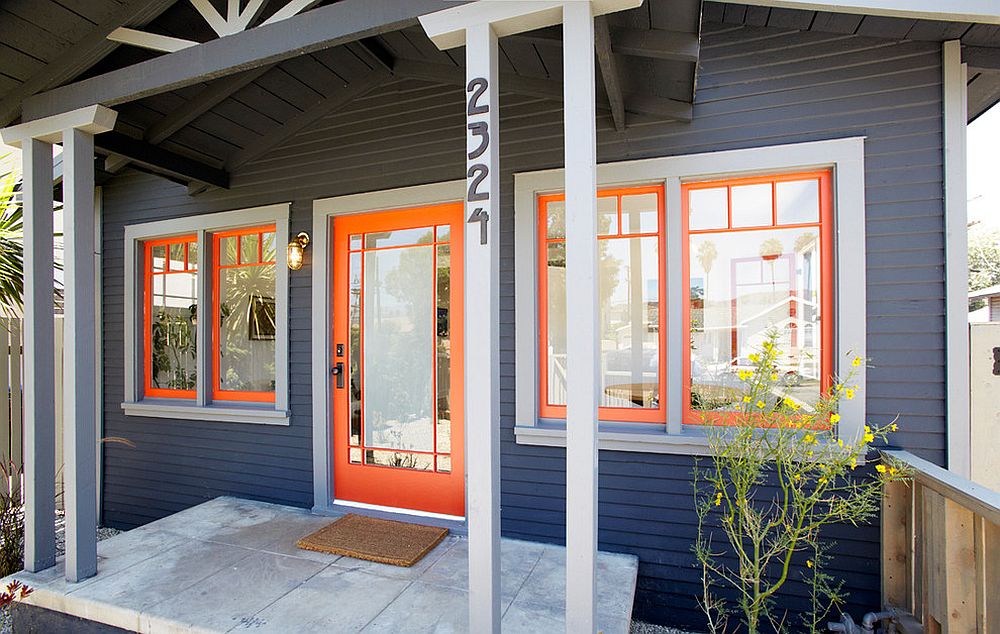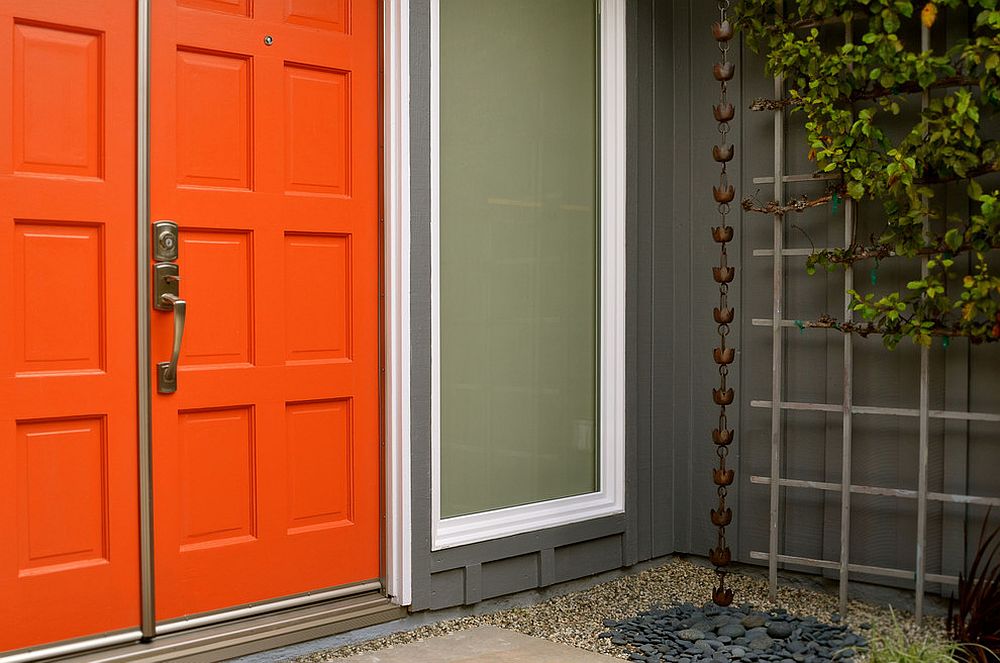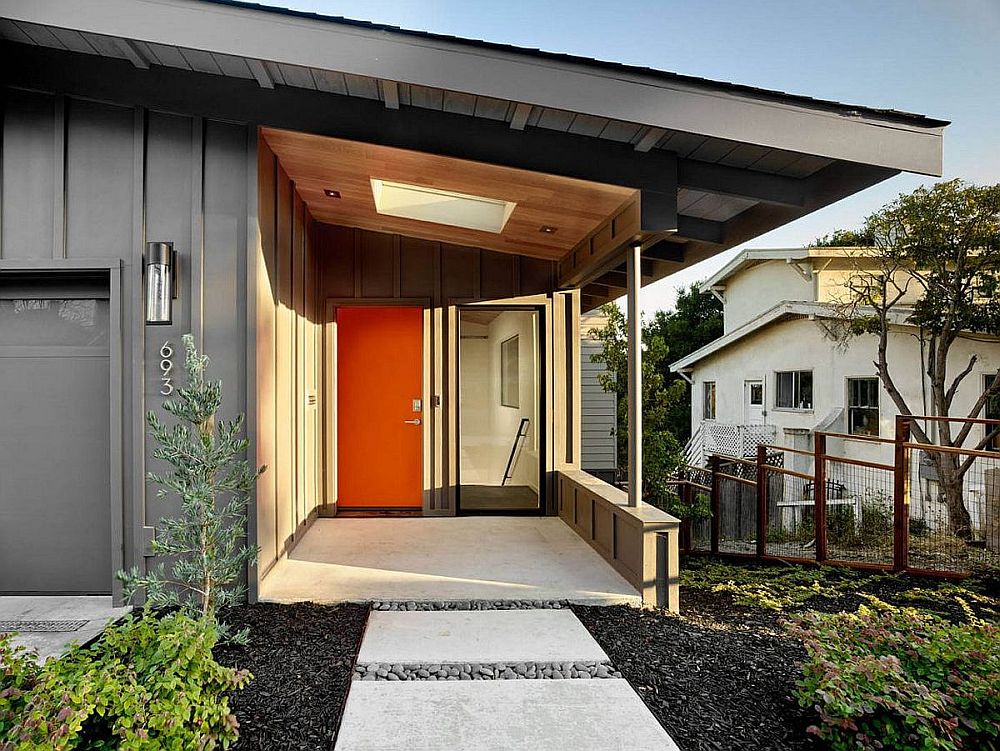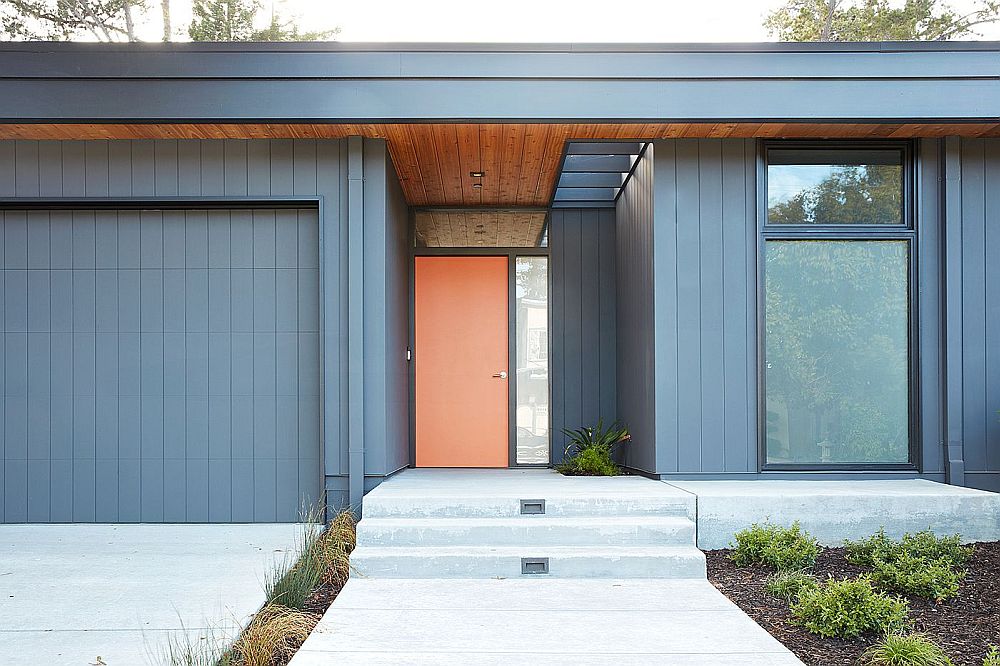 Classic: Orange and White Entryway
Looking to create a more classic entry with orangy zest? Then a white and orange entryway is the way forward. Once again, painting the door orange lets your home stand out from the crowd even as white walls next to present a picture of modernity. It is not just posh, contemporary homes and villas that benefit from this look. A light-filled and bright white corridor leading to an apartment door in orange presents an equally impressive and exciting visual. The whiter the backdrop is, more is the impact of your energetic orange door!
RELATED: Bold Color Duos: Taking Orange And Black Beyond Fall And Halloween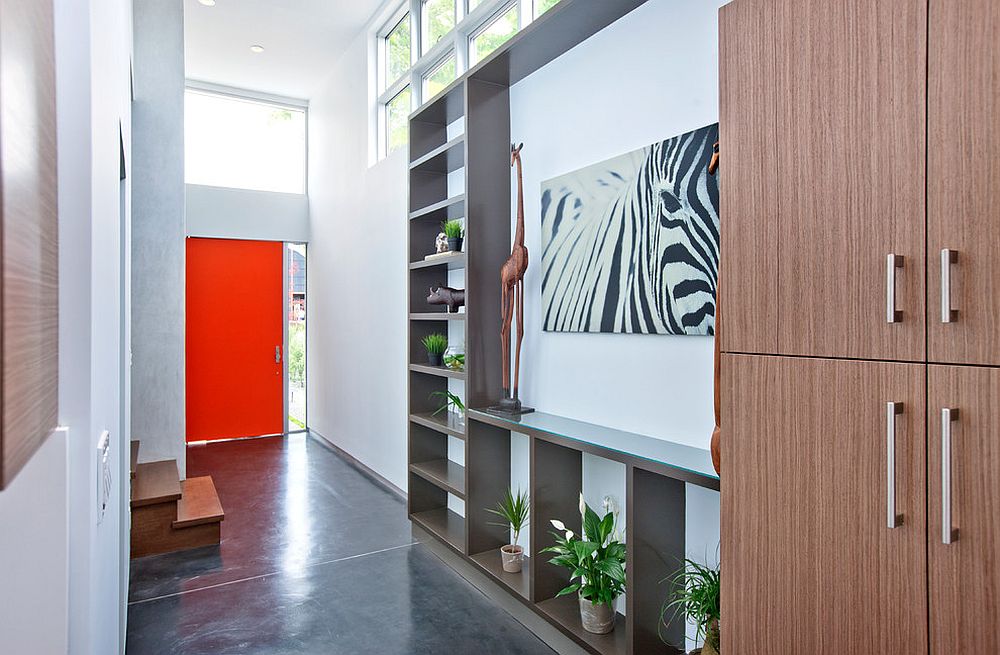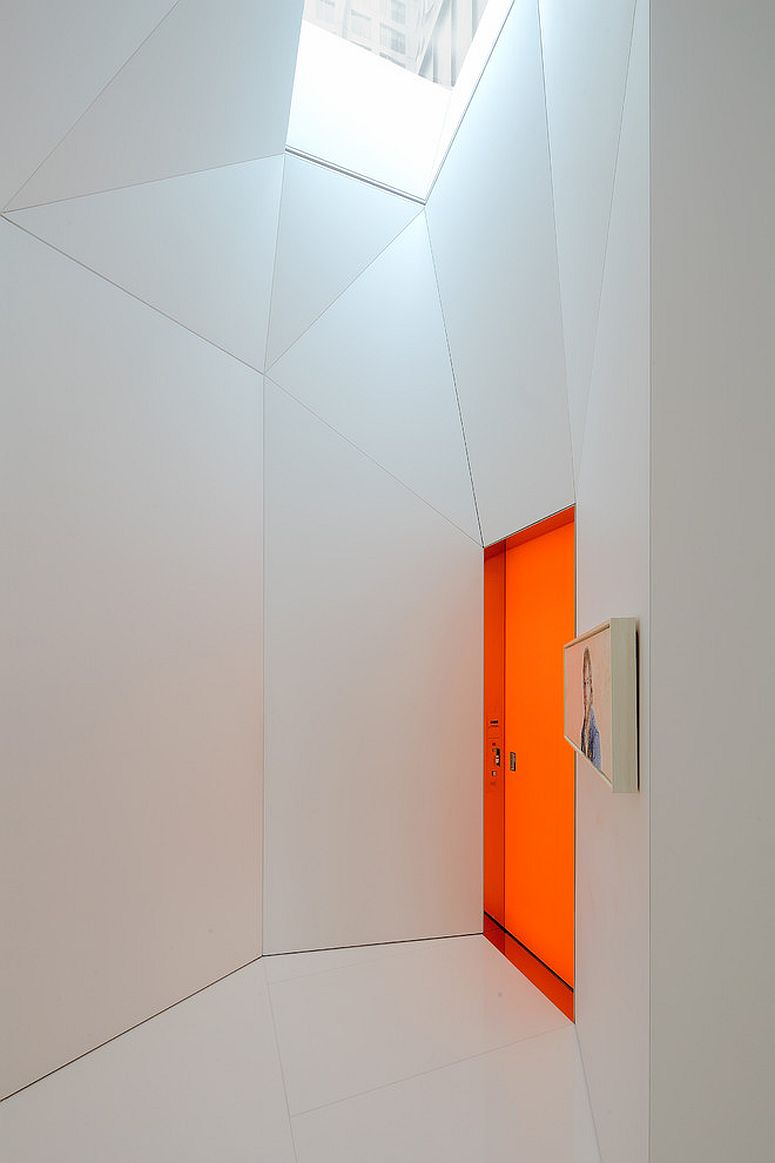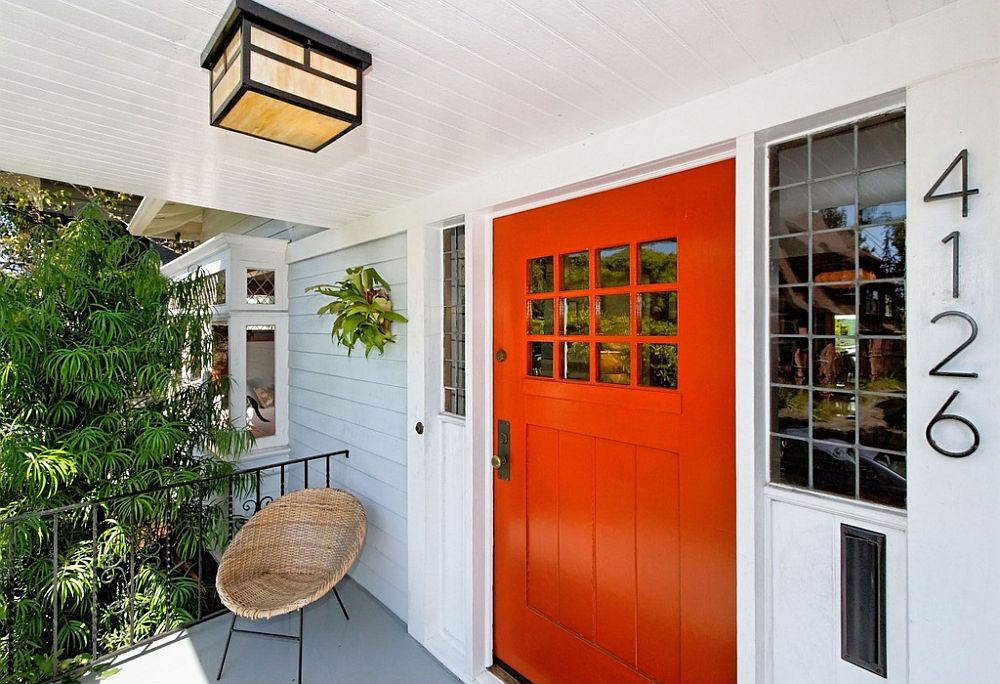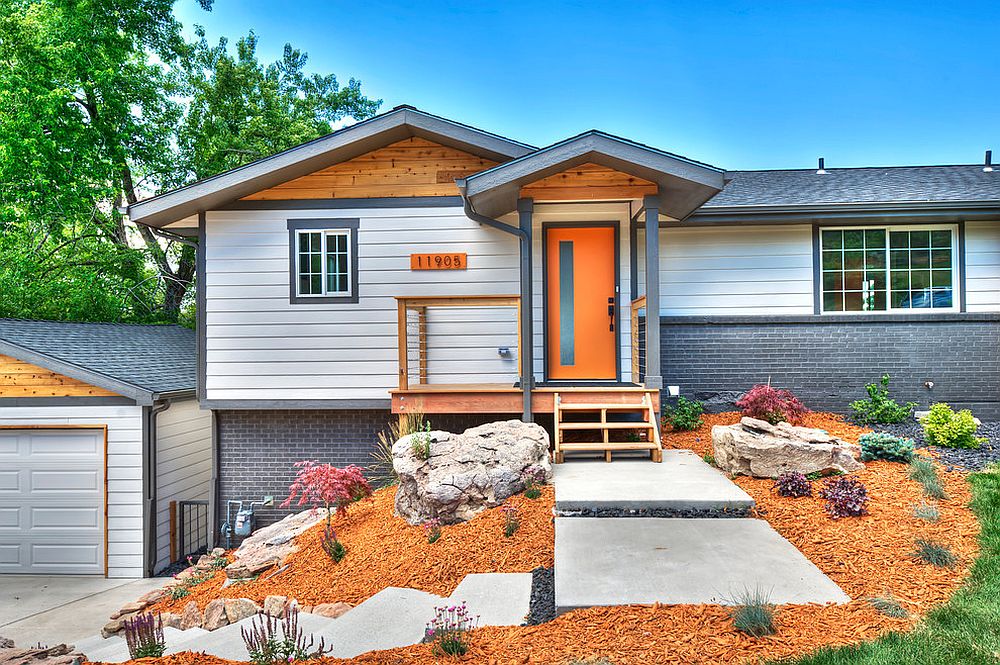 Color and Texture
Orange for the front door is a look that works well with different styles. Exposed concrete walls and an orange front door is a perfect blend of contrasting images for the modern industrial home. Even the rustic allure of stone walls can be combined with a matter orange door in wood. Be it an Asian entry or one with lovely wooden walls and glass panes, a smart door in cheerful orange finds space pretty much everywhere. As a front door color, you simply can't go wrong with orange…
RELATED: Paint the Front Door: 10 Helpful Tips