With a focus on product diversification, Porcelanosa Grupo has positioned itself as an international market leader in the manufacture of ceramic tiles, kitchens and bathroom products. Today, the Spanish Group's eight companies are at the cutting edge of high-end kitchen and bathroom wares; in addition, the Group offers state-of-the-art building solutions for contemporary architecture. For this reason, Porcelanosa is perfectly placed to create homes that combine an aesthetic edge with innovative technology.
Here, we present a home tour that encompasses a range of Porcelanosa design solutions for interior and exterior living spaces. Together, they provide a comprehensive overview of Porcelanosa's creative approach and style—one in which smart home solutions sit side by side in harmony, and where ceramic is a primary, pioneering material.
Living room
Perfect for a living room and dining space, ceramic parquet is a material that fuses the warm, natural and noble qualities of wood—such as grain and texture—with the strength and imperishability of ceramic. Created by Porcelanosa, Par-Ker is an original, highly durable and decorative ceramic parquet, ideal for both flooring and cladding. Distinctive and versatile, Par-Ker is especially notable for its many features: durable, long-lasting, easy to clean, fire resistant, resistant to slipping, impervious to humidity, and eco-friendly. Above all, Par-Ker is an elegant floor and wall solution, one that greatly enhances the living environment.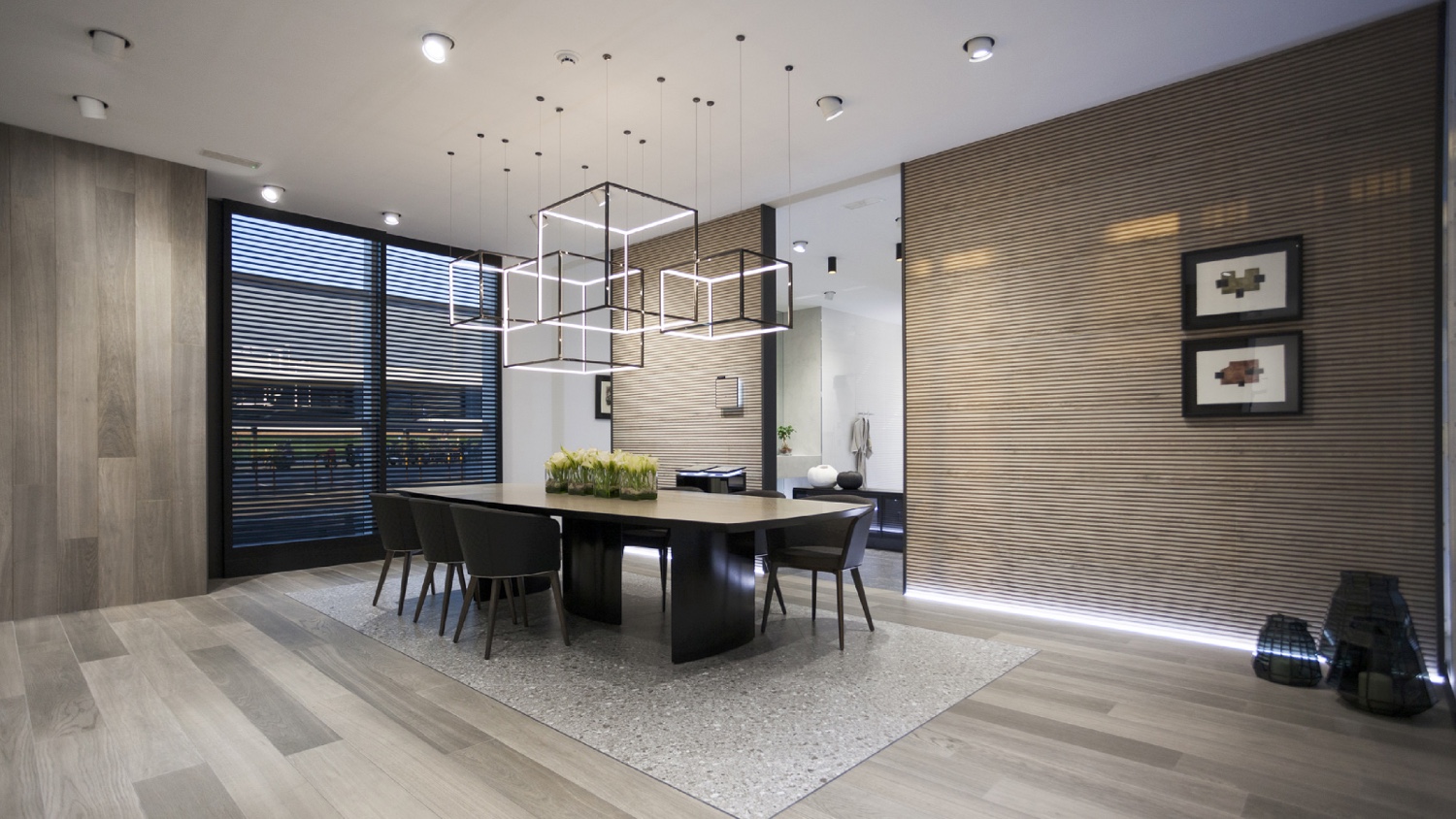 Also by Porcelanosa, Listón Madera is a wall tile that provides a wonderfully visual 3D effect. This clever symmetrical wood strip series plays with texture and a combination of light and shadows, to create a visually appealing composition—to accomplish this, a darker 'inner' strip is placed between 'outer' strips that have a lighter tone. Another product by Porcelanosa is Ston-Ker, a ceramic stone that was developed in response to the most exacting architectural requirements.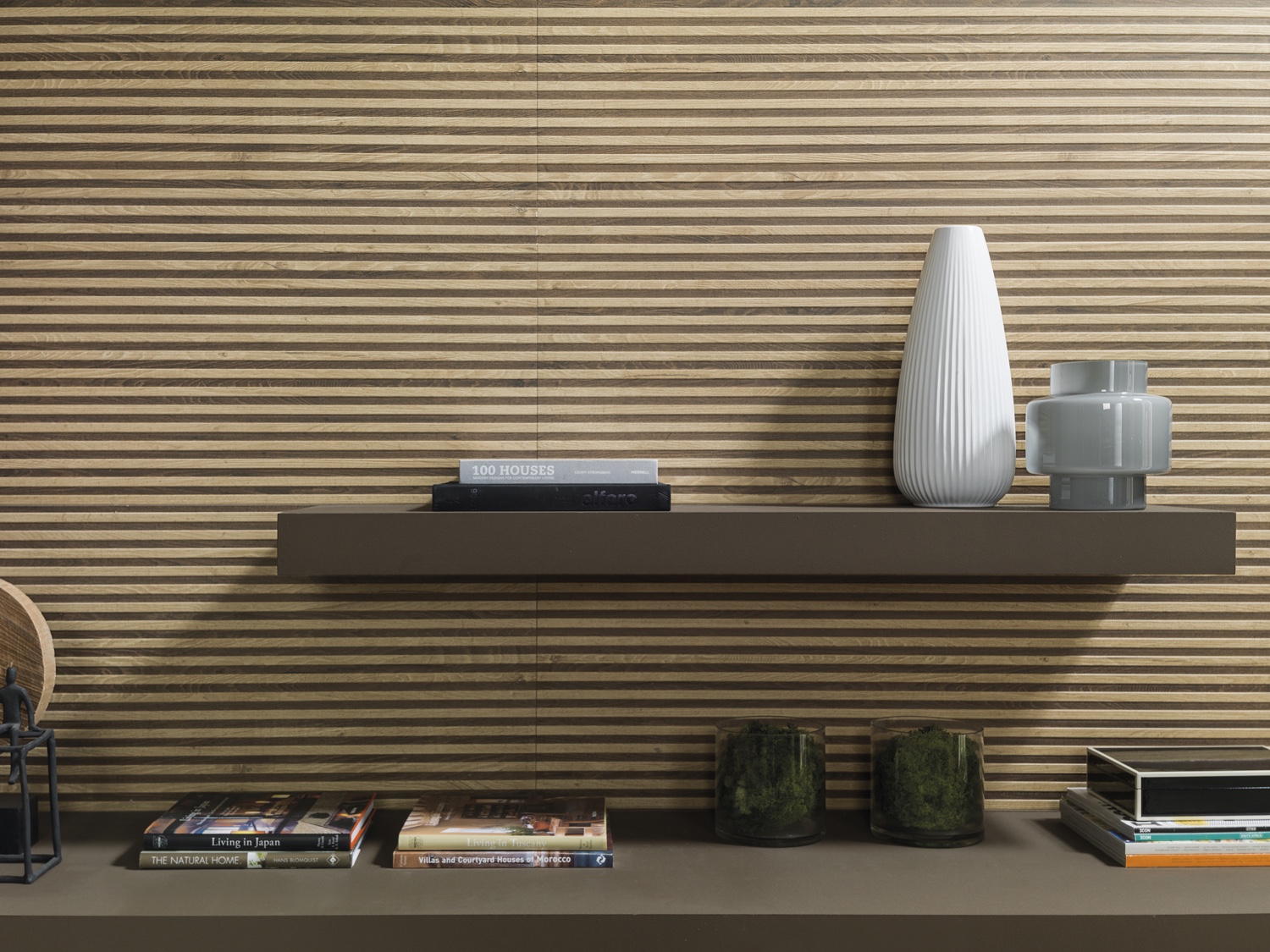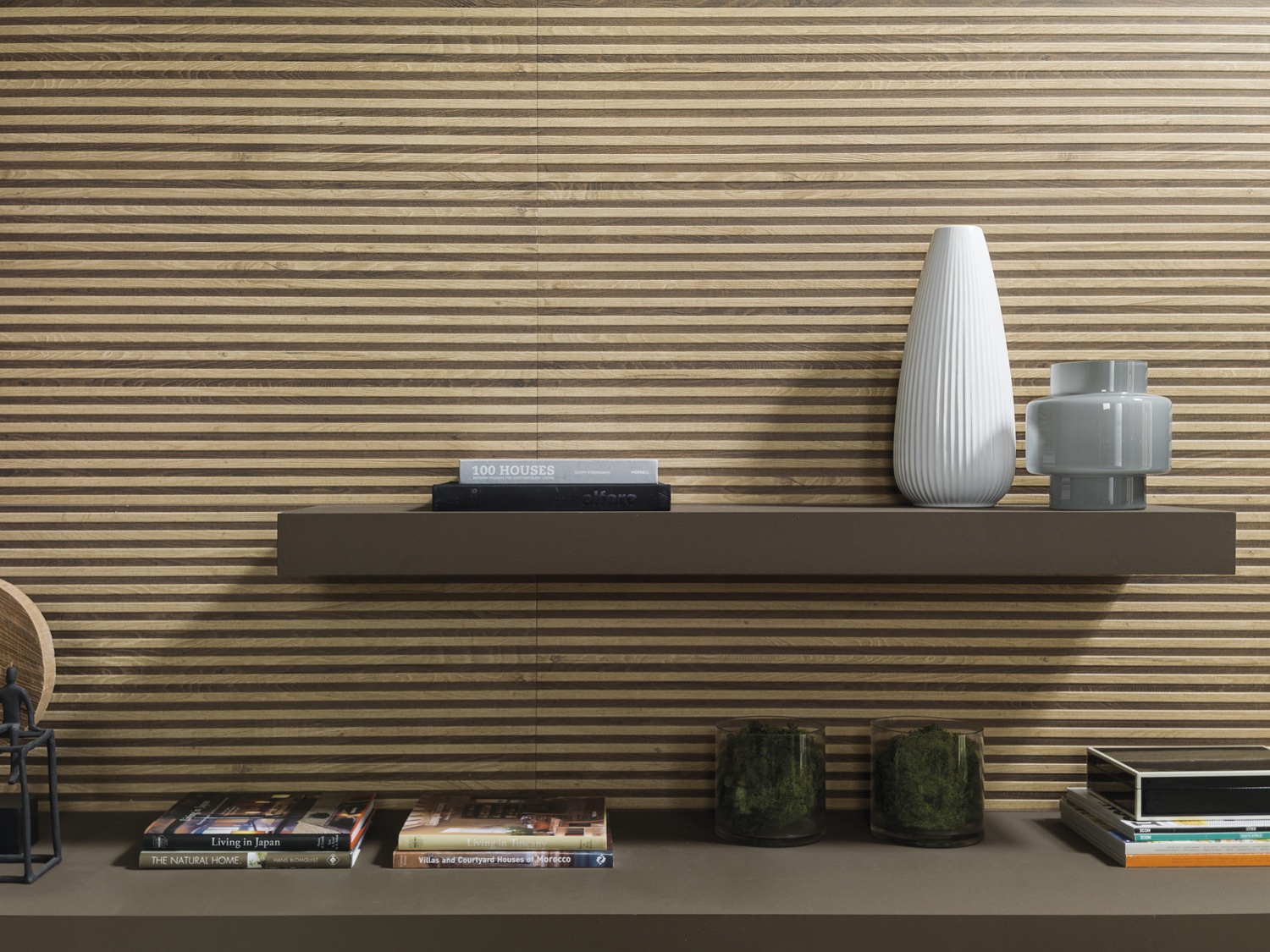 Used in combination, Par-Ker, Listón Madera and Ston-Ker tiles will create a discriminating, durable and welcoming living space.
Kitchen
The 7.30 Roble negro by Gamadecor is a stunning example of contemporary kitchen design. One of the eight Porcelanosa Grupo companies, Gamadecor manufactures kitchen and bathroom furniture of the highest quality. A premium kitchen concept, the handsome 7.30 Roble negro meets the highest of today's modern cooking demands, without compromising on practicality or functionality. With a 'hidden-door' system, this kitchen will integrate seamlessly, without fuss, into a living or dining space.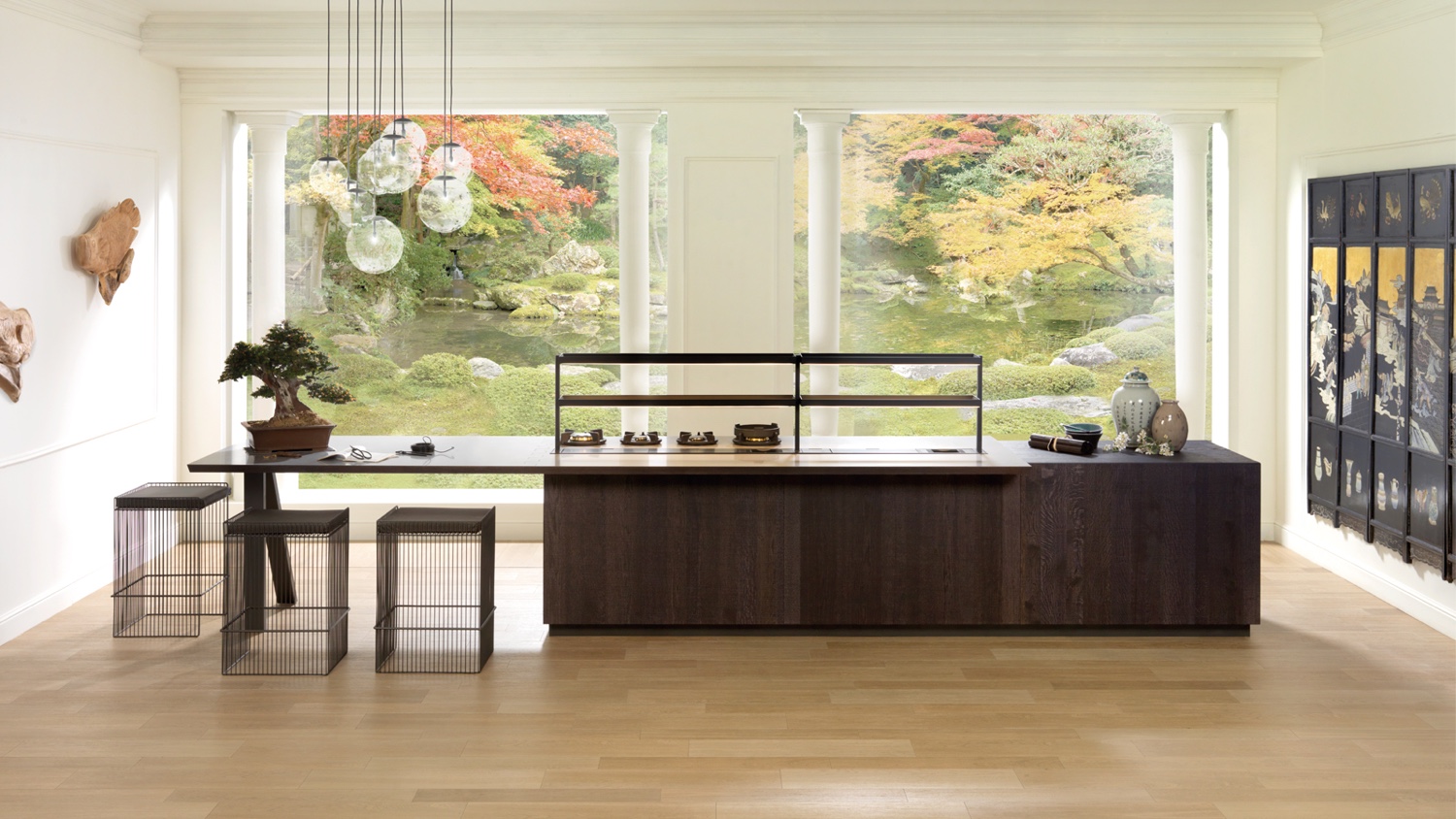 The kitchen's cooking hobs are built into its worktop: an XLIGHT Liem Grey silk work surface was created by Urbatek, part of the Porcelanosa Group. With its a large format (300 cm x 100 cm pieces), minimum thickness (3.5 mm) and lighter weight, XLIGHT is a unique evolution of ceramic.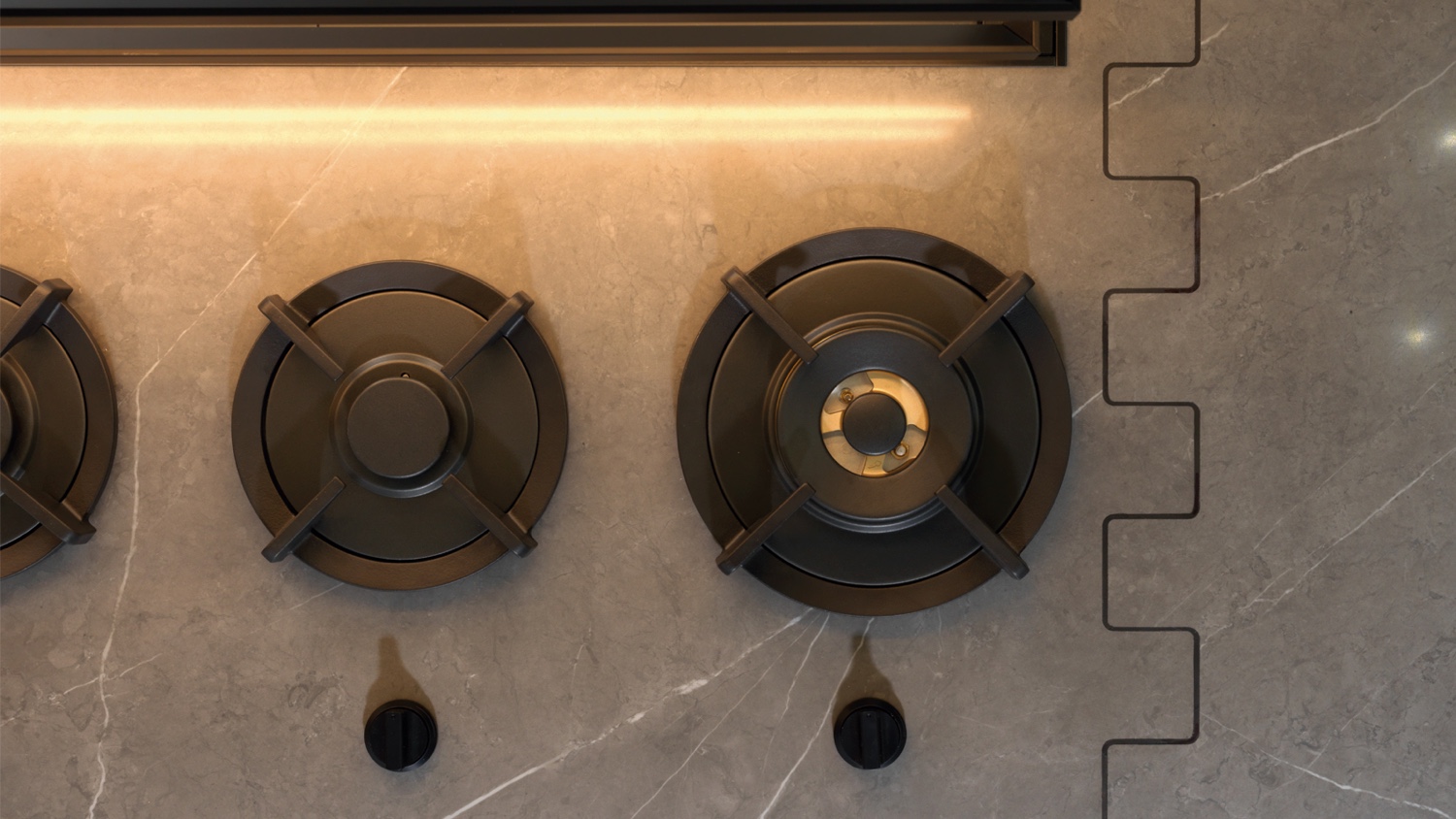 Bedroom
A place for rest and relaxation, the ideal bedroom is a sanctuary from the chaos and noise of modern-day living.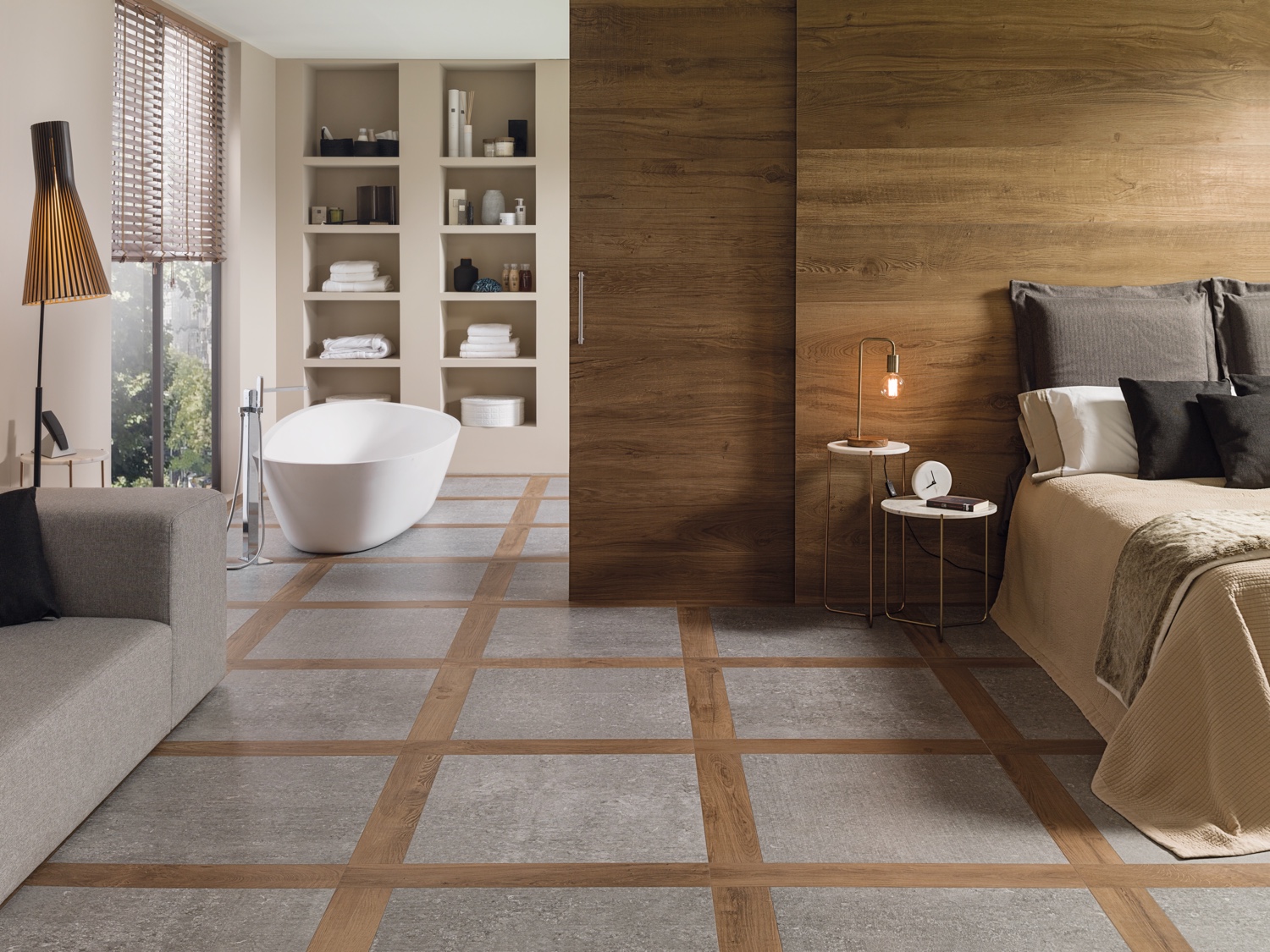 Porcelanosa Group member Venis has forged a leading international reputation as a stoneware and porcelain tile manufacturer. Its Dubai ceramic wall tile collection draws inspiration from cement, wood and marble. Available in metallic bronze, silver or white (in a 33.3 cm x 100 cm format), the hexagonal shapes create the calming, mesmerising effect of a cascading waterfall.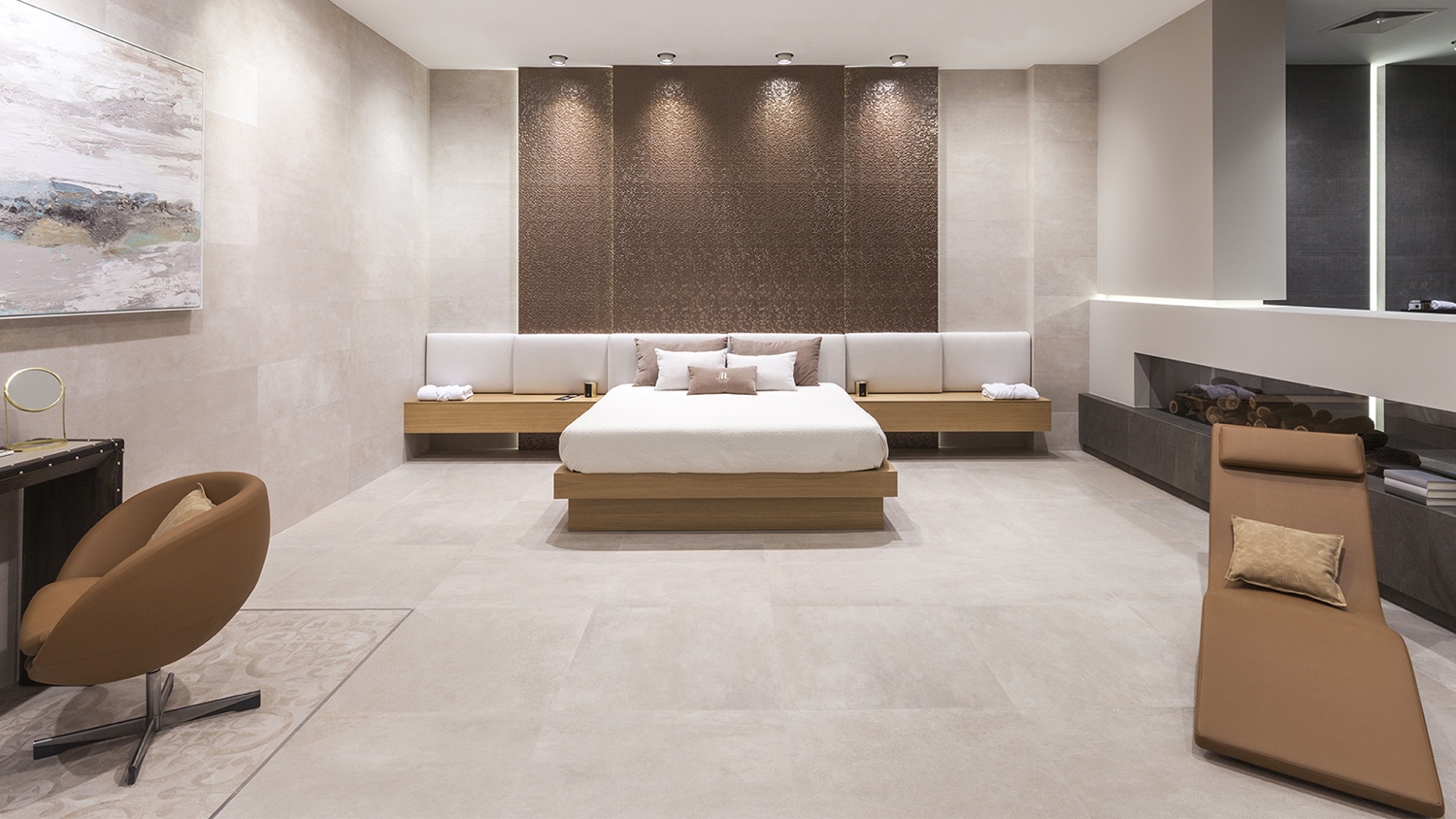 Also by Venis, Newport is an ideal tile for larger surfaces, and has a softer graphic and worn appearance. Available in easily cleaned and maintained white, beige, natural, grey and dark grey colours (and a range of sizes), Newport is perfect for areas with high people traffic: hotels, shopping centres and public spaces.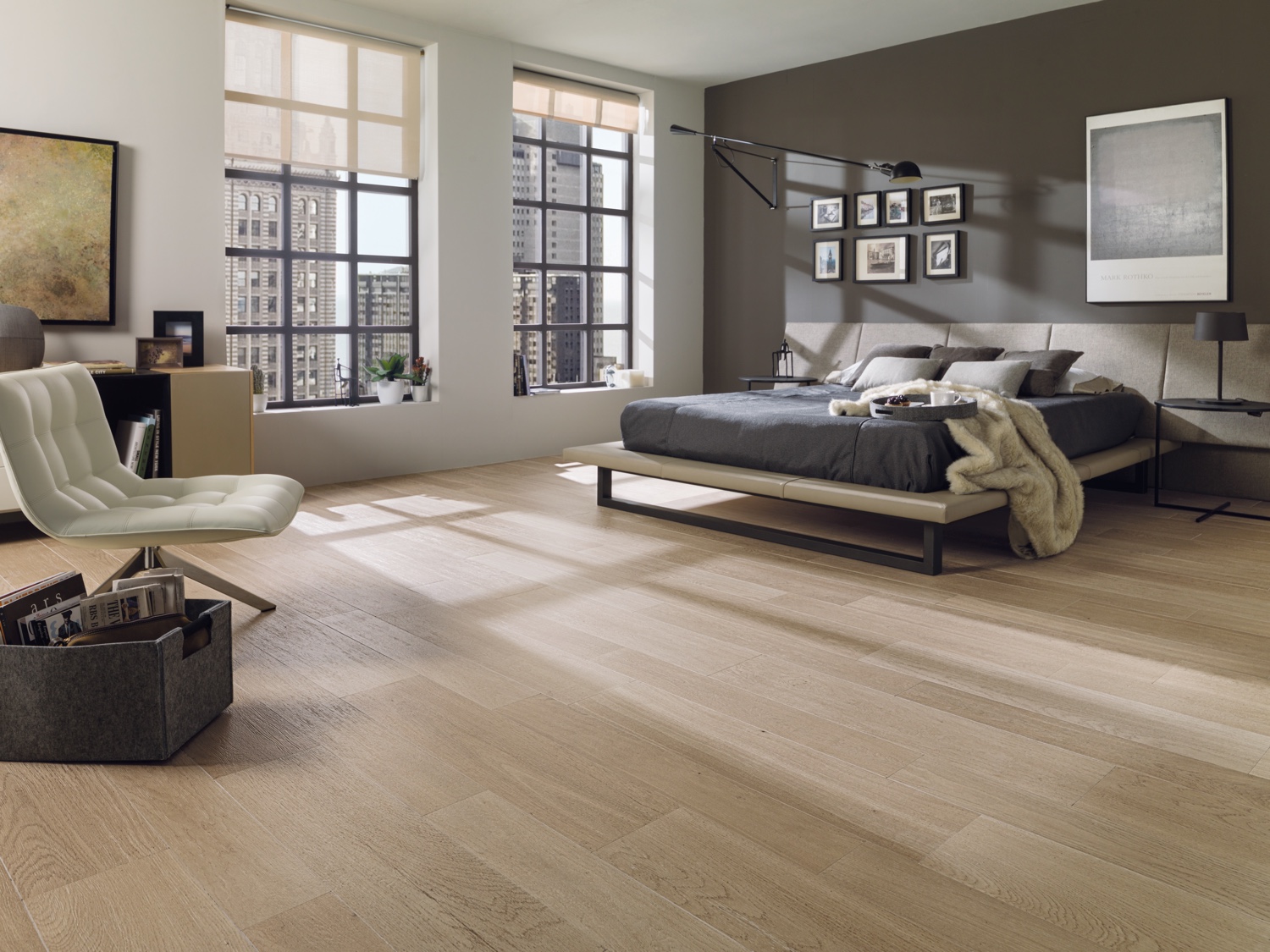 Bathroom
When envisaging a high-end bathroom design, the Porcelanosa Group companies have it covered: from Porcelanosa's Par-Ker ceramic parquet to XLIGHT by Urbatek, bathroom equipment by Noken and bathroom furniture by L'Antic Colonial.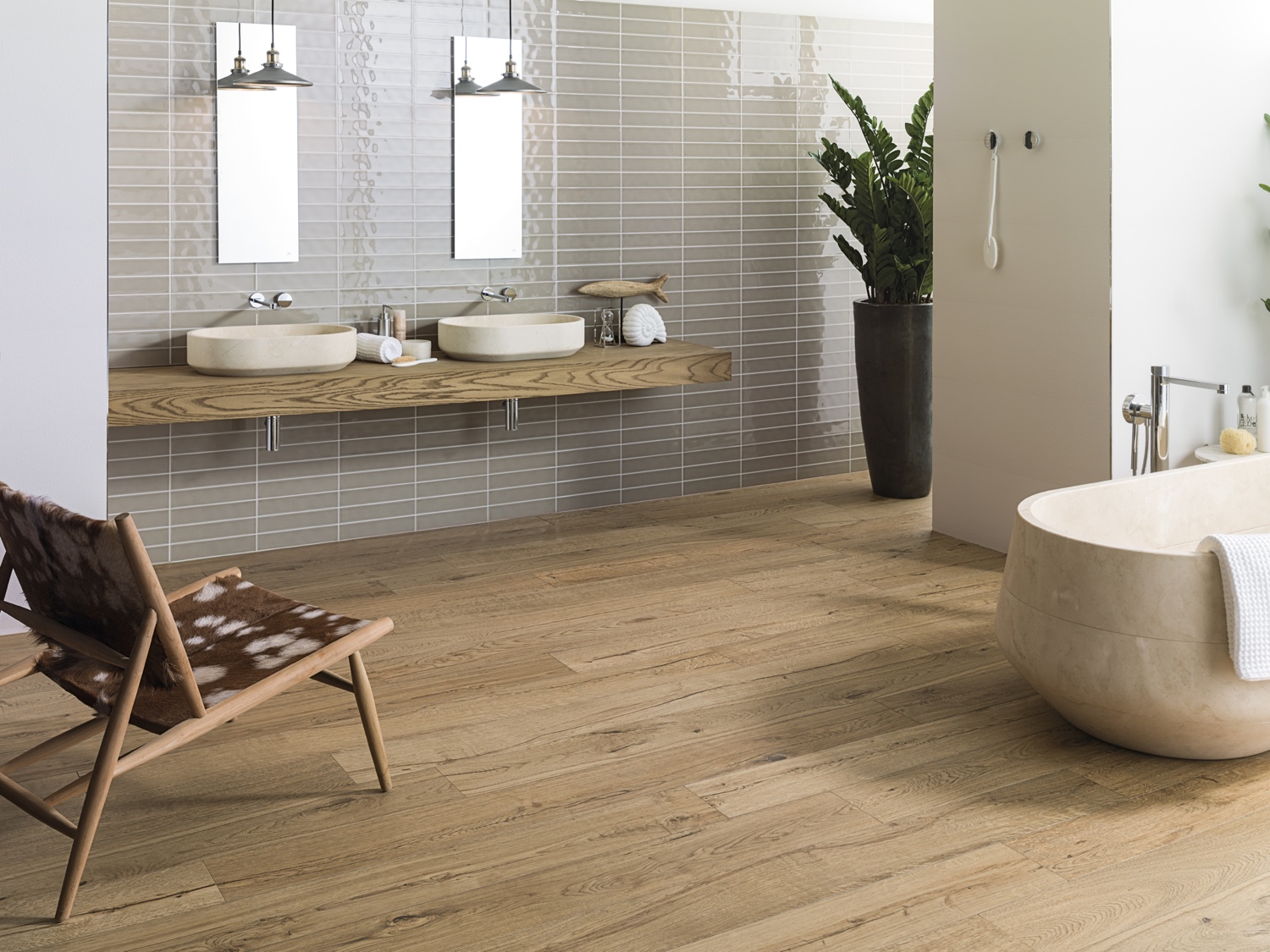 Vitae is a premium bathroom concept from Noken, developed in collaboration with Zaha Hadid Design. This revolutionary bathroom collection is striking in its form and presentation, with integral components that evoke images of Zaha Hadid's dramatic a
rchitecture. In truth, Vitae offers the perfect refuge and escape from life's everyday demands. Meaning 'life', Vitae comprises fluid lines that conjure up images of flowing water. Vitae's taps, basins, sanitaryware, mirrors and bathtubs are both organic and futuristic in their design.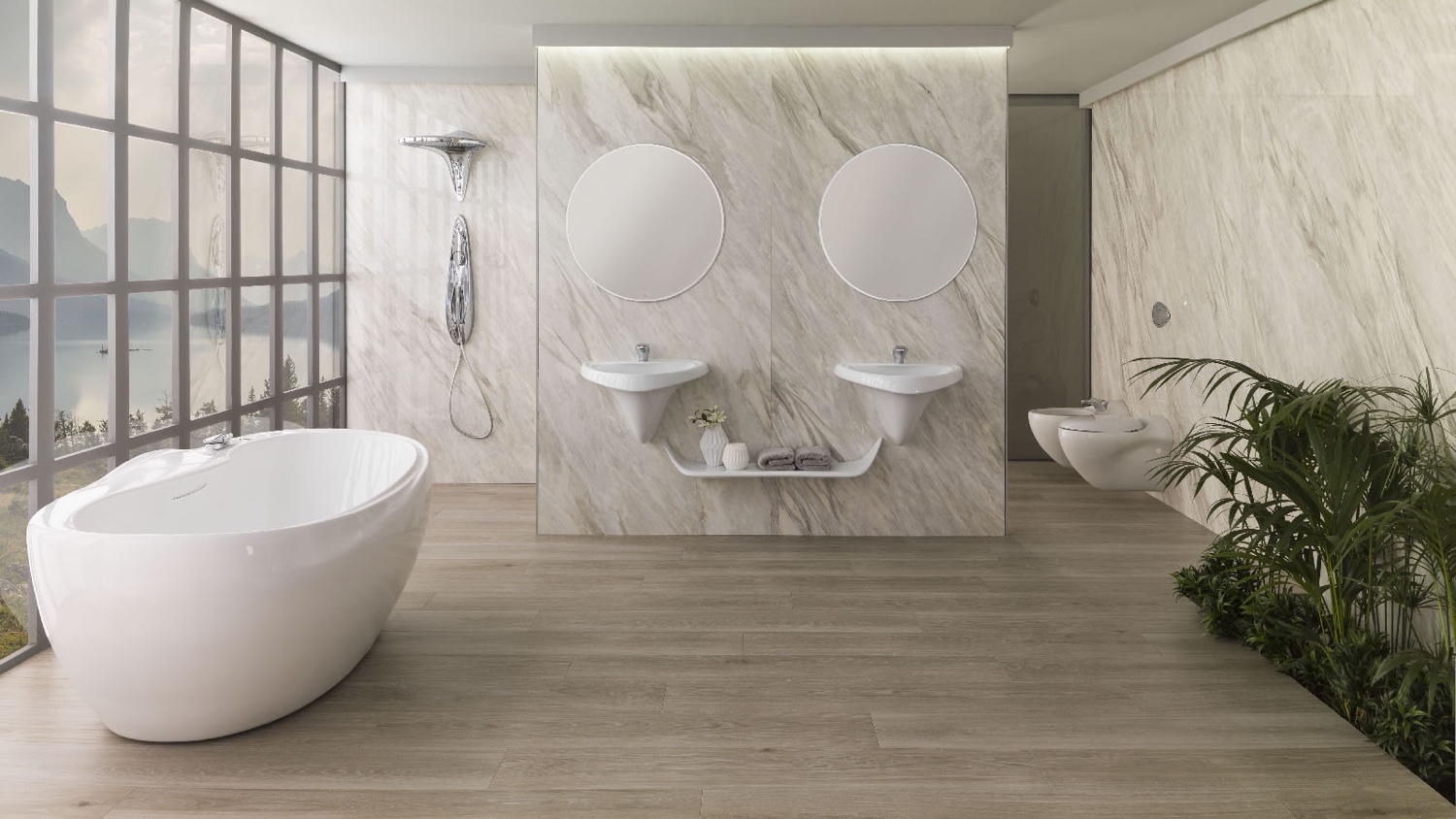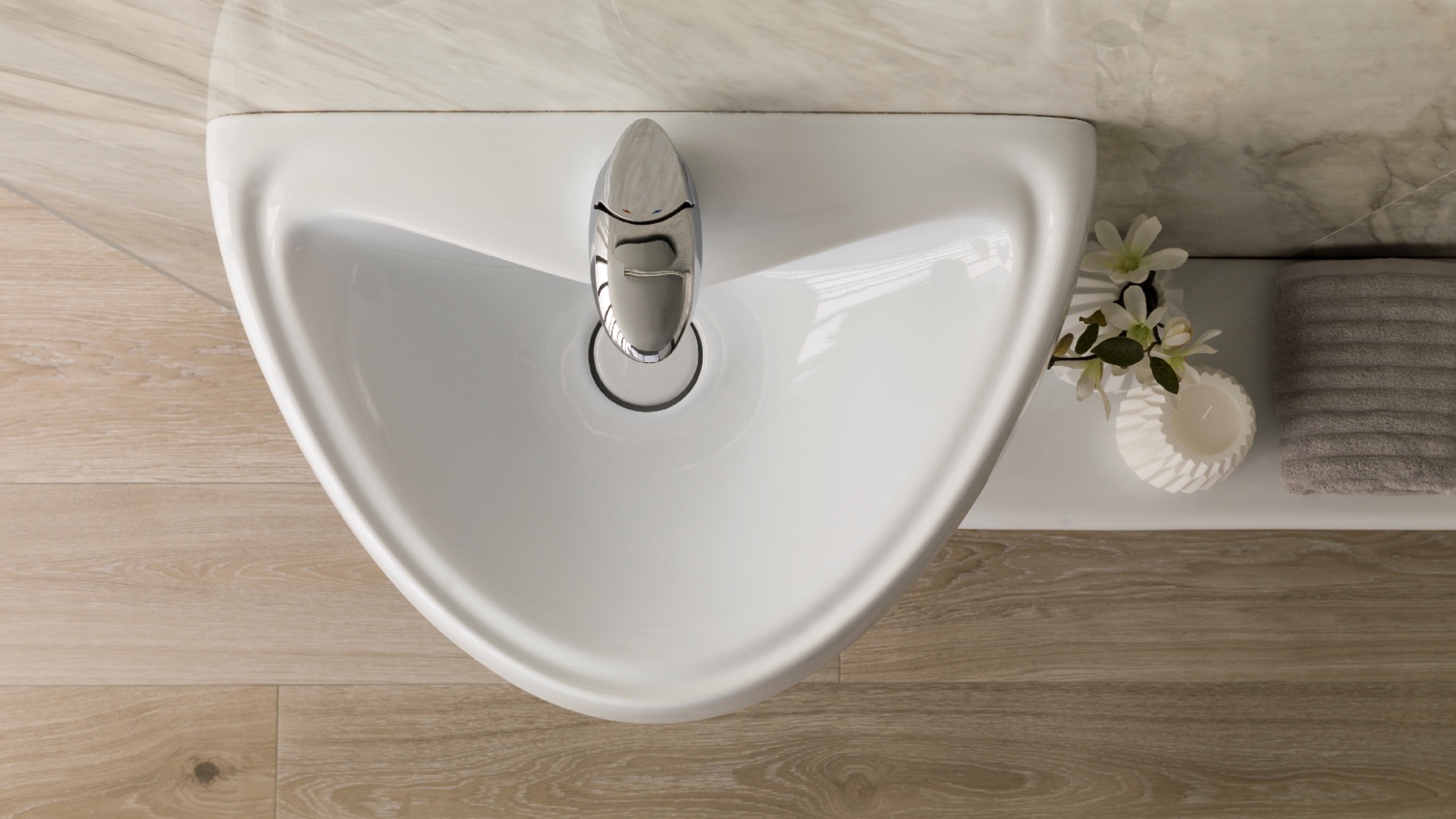 Exterior
An original and versatile product, Porcelanosa's Par-Ker flooring is ideal for use outdoors, such as on a terrace, patio or poolside. Entirely fire resistant, durable and non-slip, Par-Ker's anti-humidity properties and effortless maintenance ensure it is perfect for exterior use. Moreover, Par-Ker copes well in all weather conditions—from the mildest to the most extreme.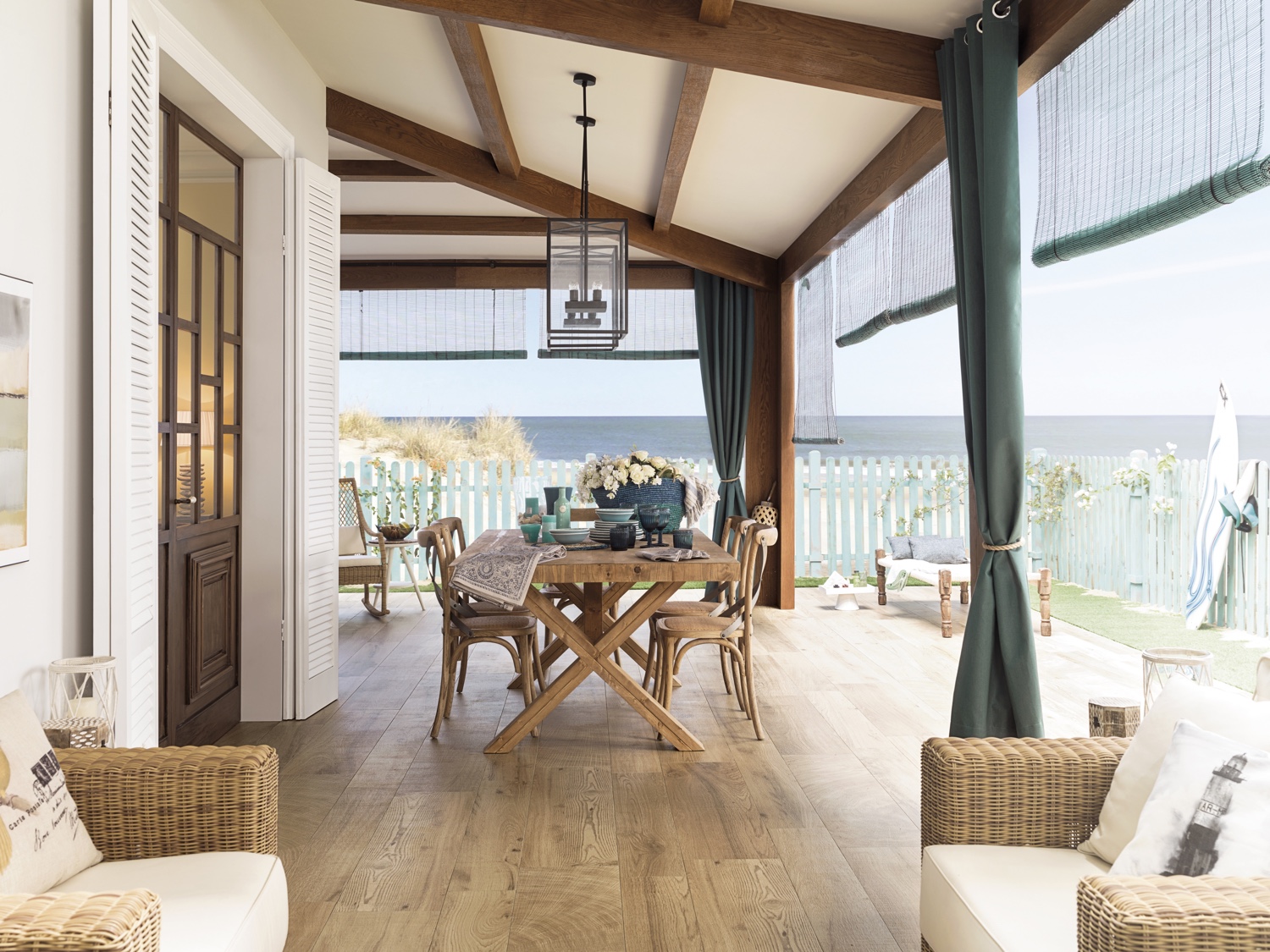 The Vintage tile collection by Venis pays homage to the distinctive style of mid-19th century France and old 20th century Valencian houses. Full of character and charm, the Vintage mosaic tiles add a sense of flair in any context—from the finest traditional dwelling to the most urban abode. Vintage tiles will frame and highlight an area, delimit a room or create a visual 'carpet'.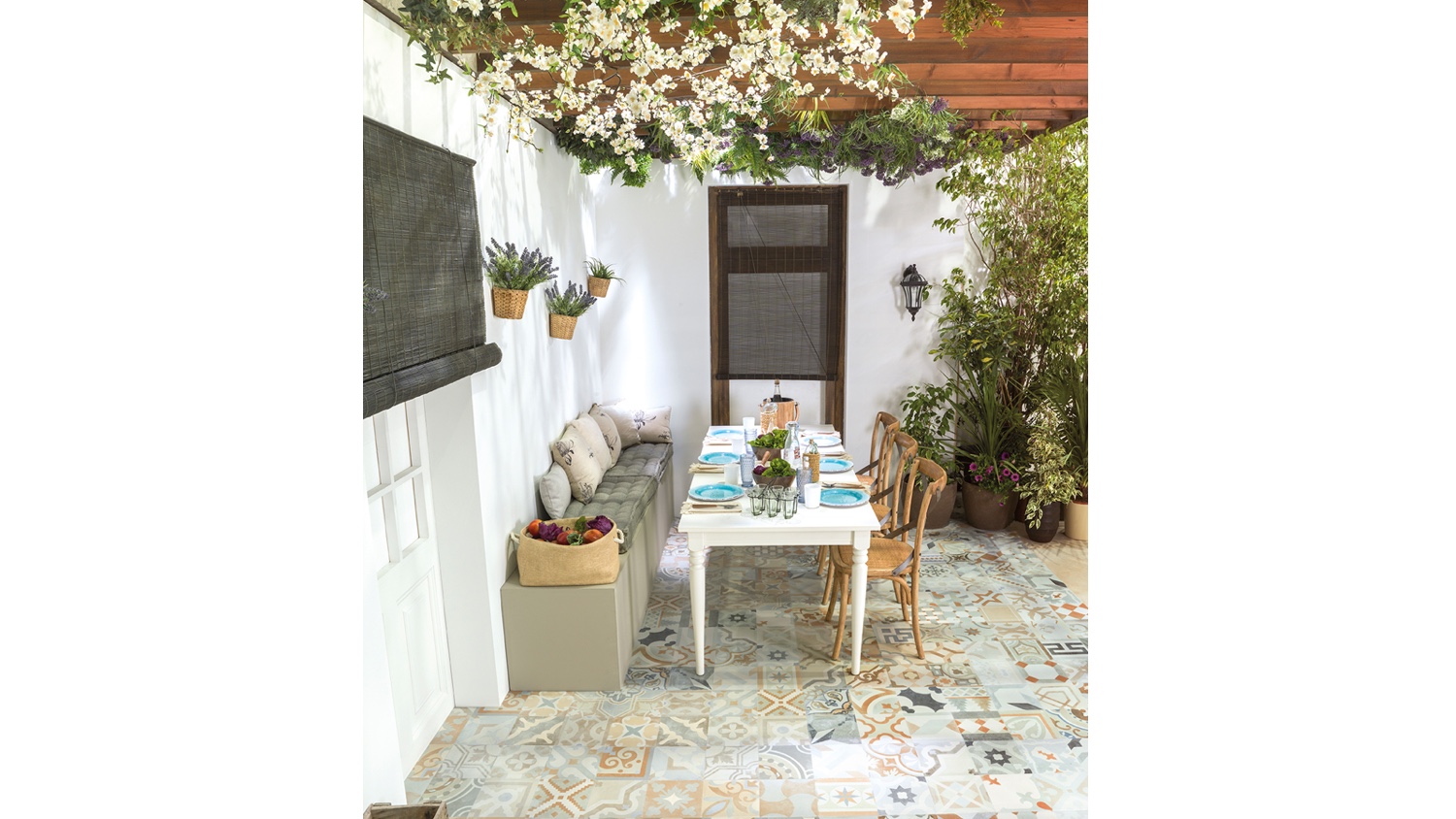 In a spectacular example of Porcelanosa's versatility, Valencia-based Fran Silvestre Arquitectos designed Balint House, an aerodynamic volume with a continuous facade created using Krion® solid surface in a Snow White finish. Developed by Systempool, a Porcelanosa Grupo company, Krion® is made from a combination of natural minerals and high-resistance resins. The Balint House facade was installed by Butech, a Porcelanosa company working on high-tech building solutions.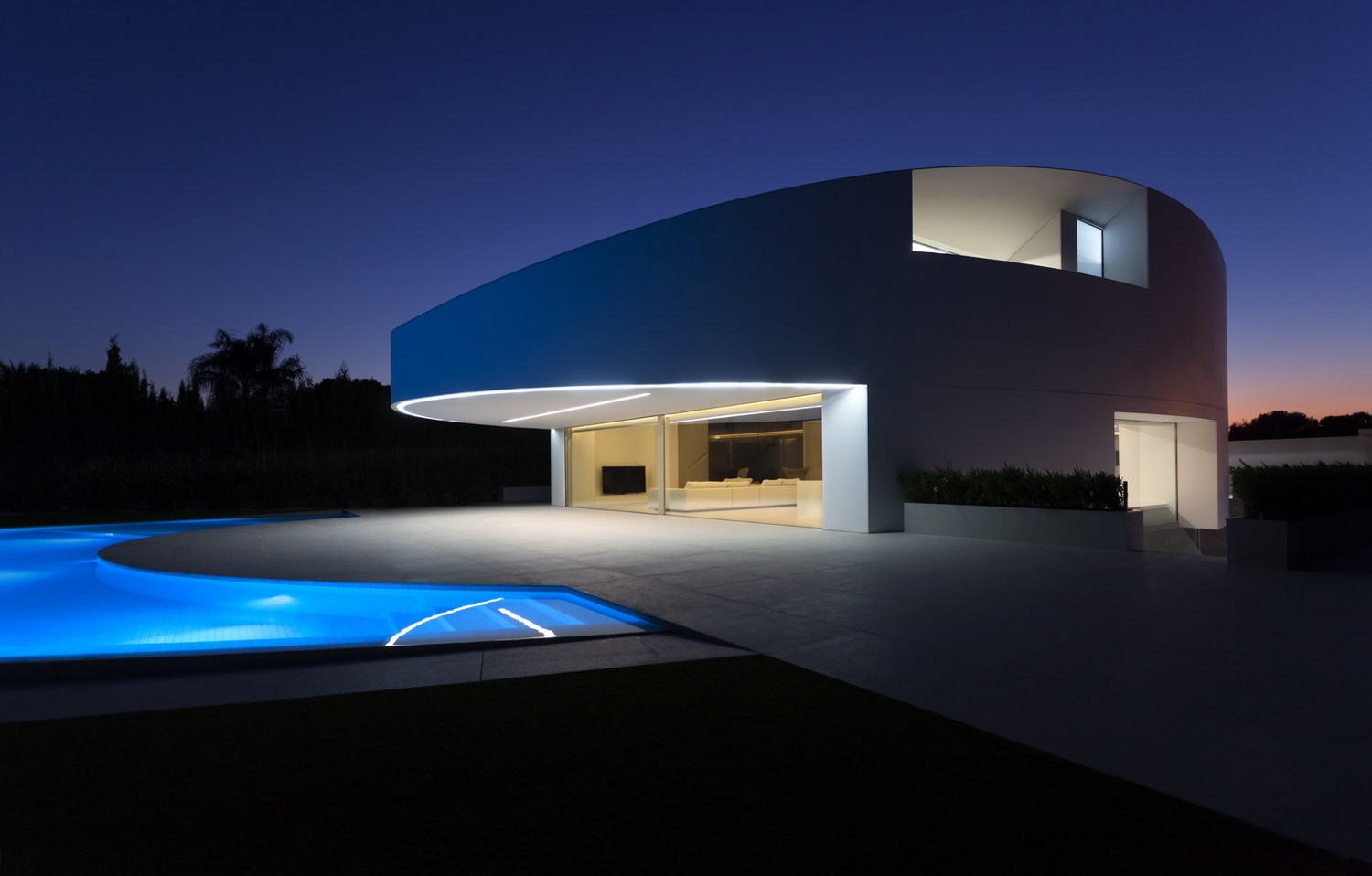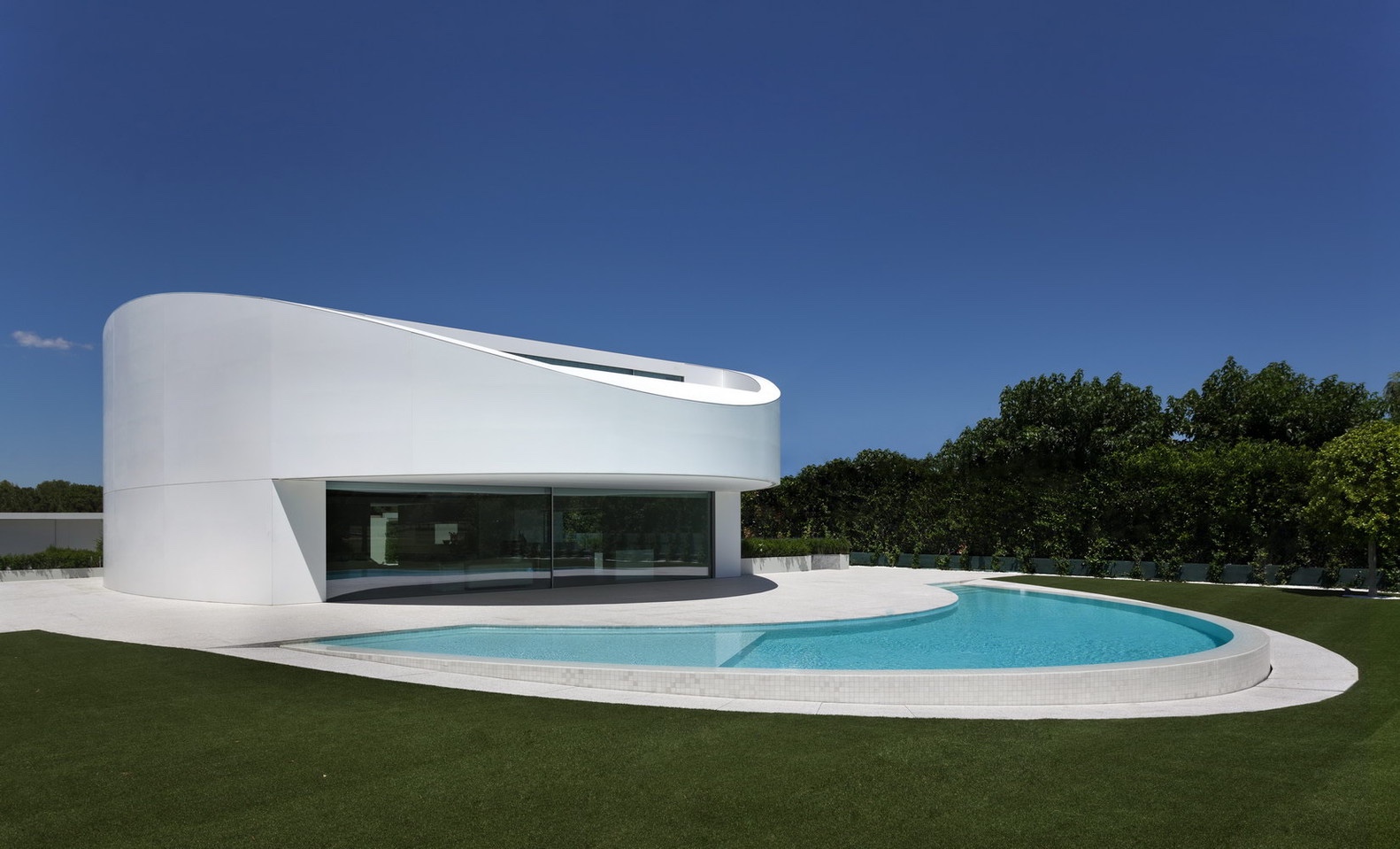 All images © 2018 PORCELANOSA Grupo A.I.E. (except where otherwise indicated).