Nature presents a visual smorgasbord of design, found in its myriad of settings: from forests and fjords to mountains and valleys, across arid rocky plains and vast snowy wilds. Nature's bounty has galvanized people throughout the annals of time, its wares used in clothing, crafting and building. As well as using the materials gifted by nature to create well-designed objects, designers will often feature images inspired by the natural world on their products.
One decorative material finding particular favor with designers is wallpaper: designers are working to present the many faces of nature in a manner that will add a special quality within our homes. With nature's capacity to sooth mind, body and soul, wallpapers that feature the natural world's differing hallmarks can invariably ease the stresses and strains of a harsh and hectic outside world.
The following companies are a small selection of the vast array of ventures offering tasteful wallpapers inspired by nature.
Sandberg
Skog, the Swedish word for forest, is a collection of wallpapers designed for Swedish design company Sandberg with the intention of reconnecting the individual with nature and its innately palliative properties. Picture, for example, a beautiful misty forest green setting with this Skog green digital wallpaper. Designed by Hanna Wendelbo-Hansson and Karolina Kroon.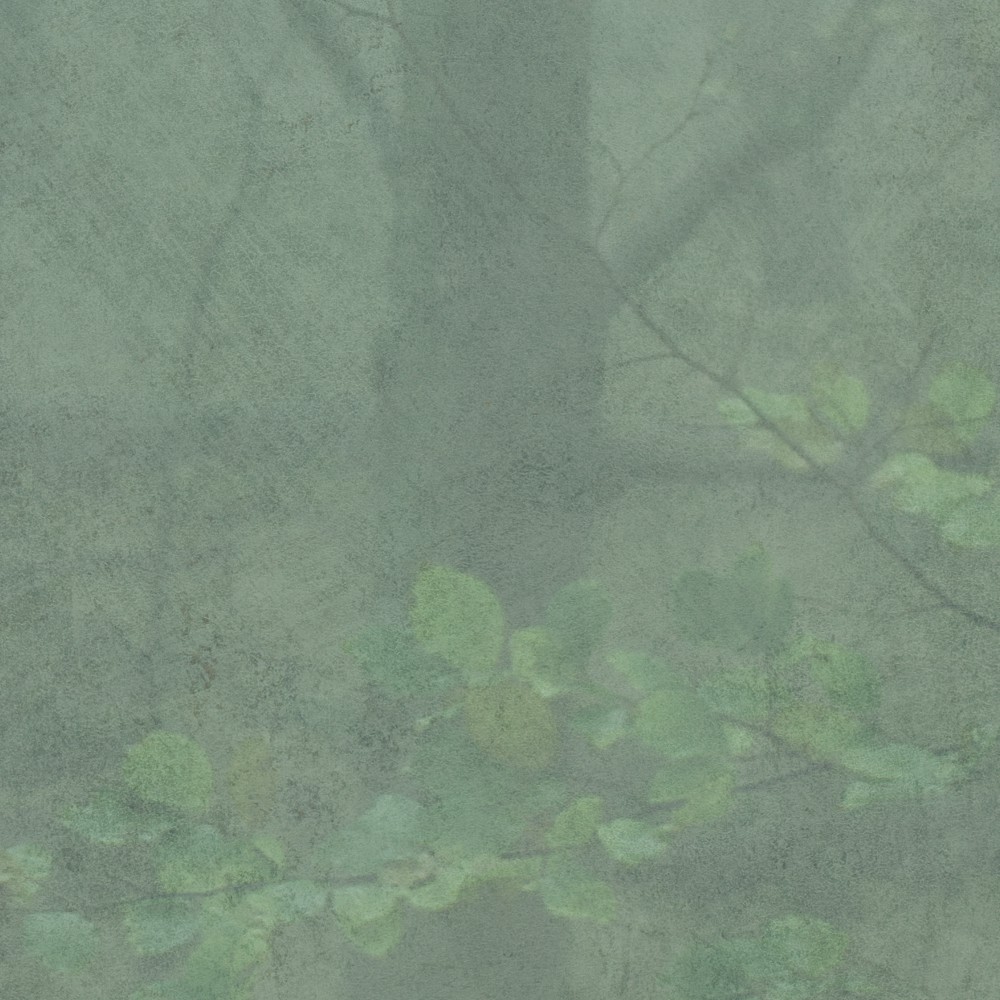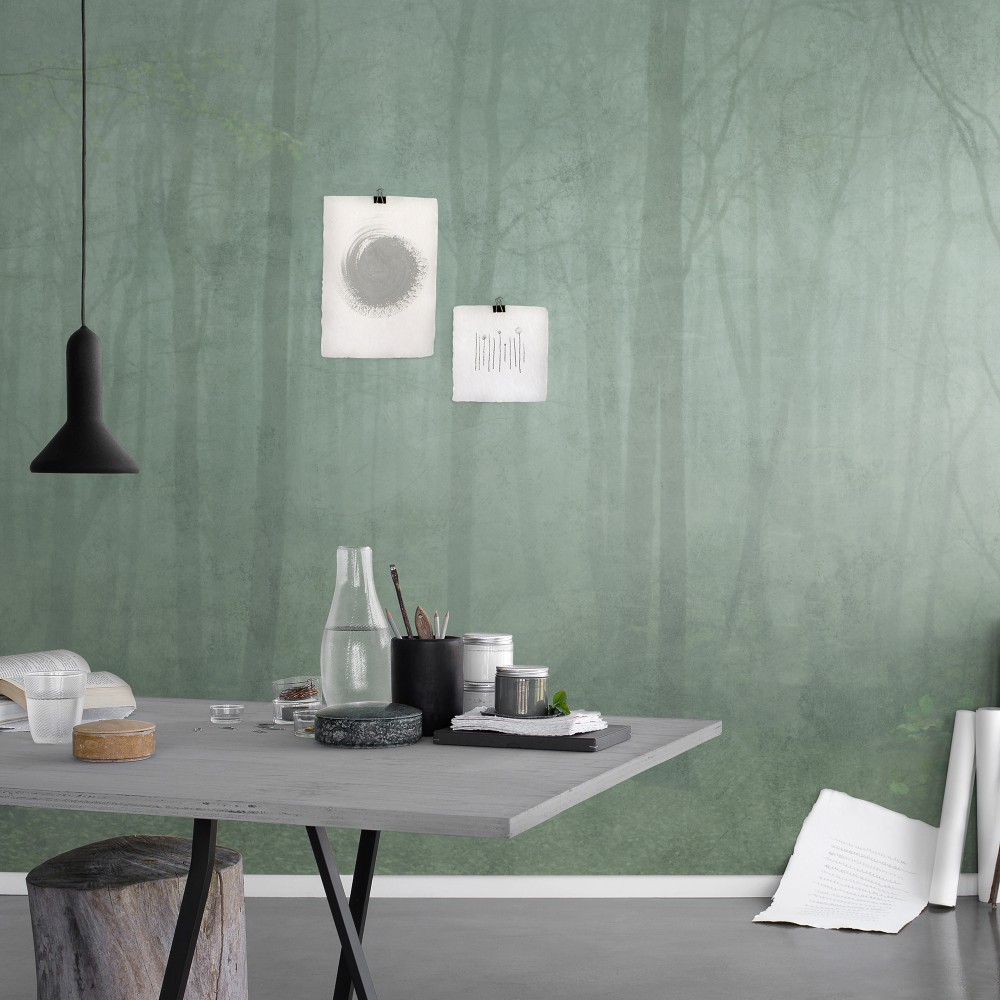 Images © Sandberg.
This Skal light blue wallpaper (a part of the Skog collection), has the essence of snow falling at dusk, watched from a lighted window. Designed by Karolina Kroon.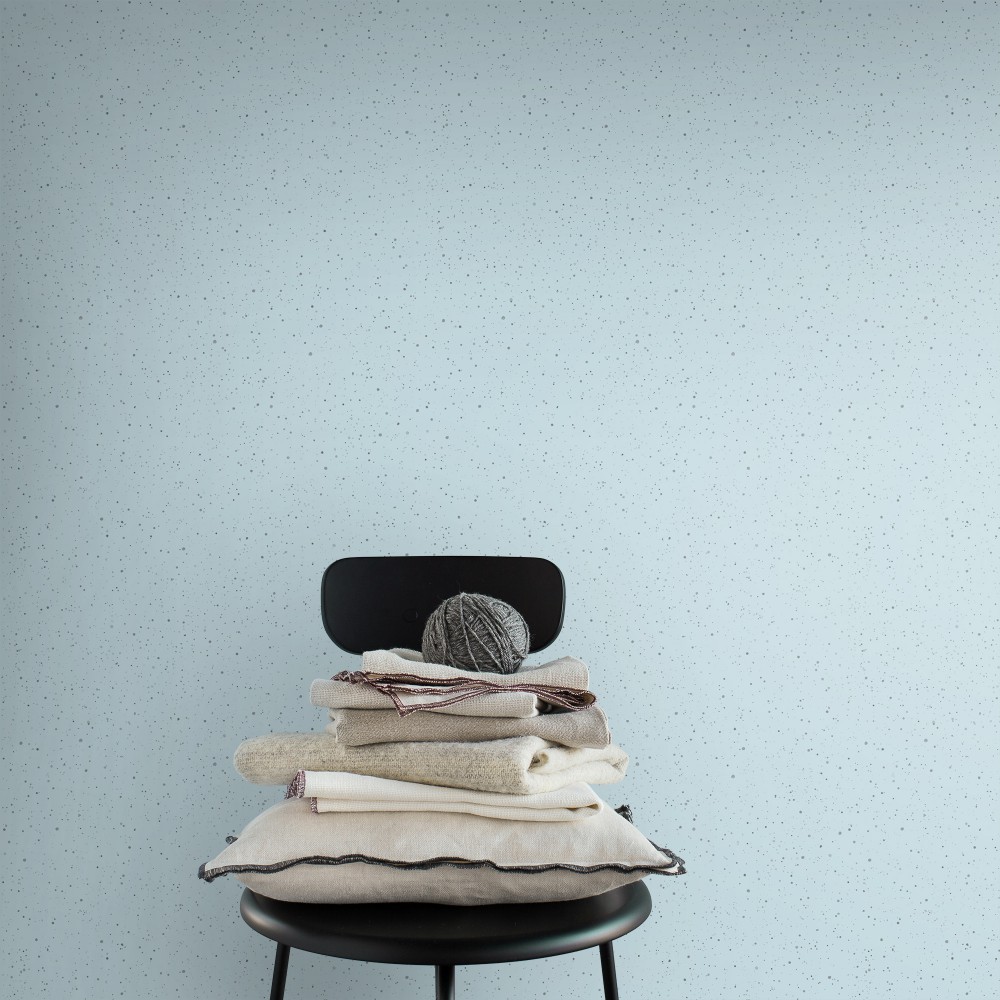 Image © Sandberg.
Other collections by Sanberg:
The Gryning grey and Skymning light pink wallpapers are a visual representation of winter's varied shades: its crisp frosts, snowy hills, pale sunlight and frozen lakes.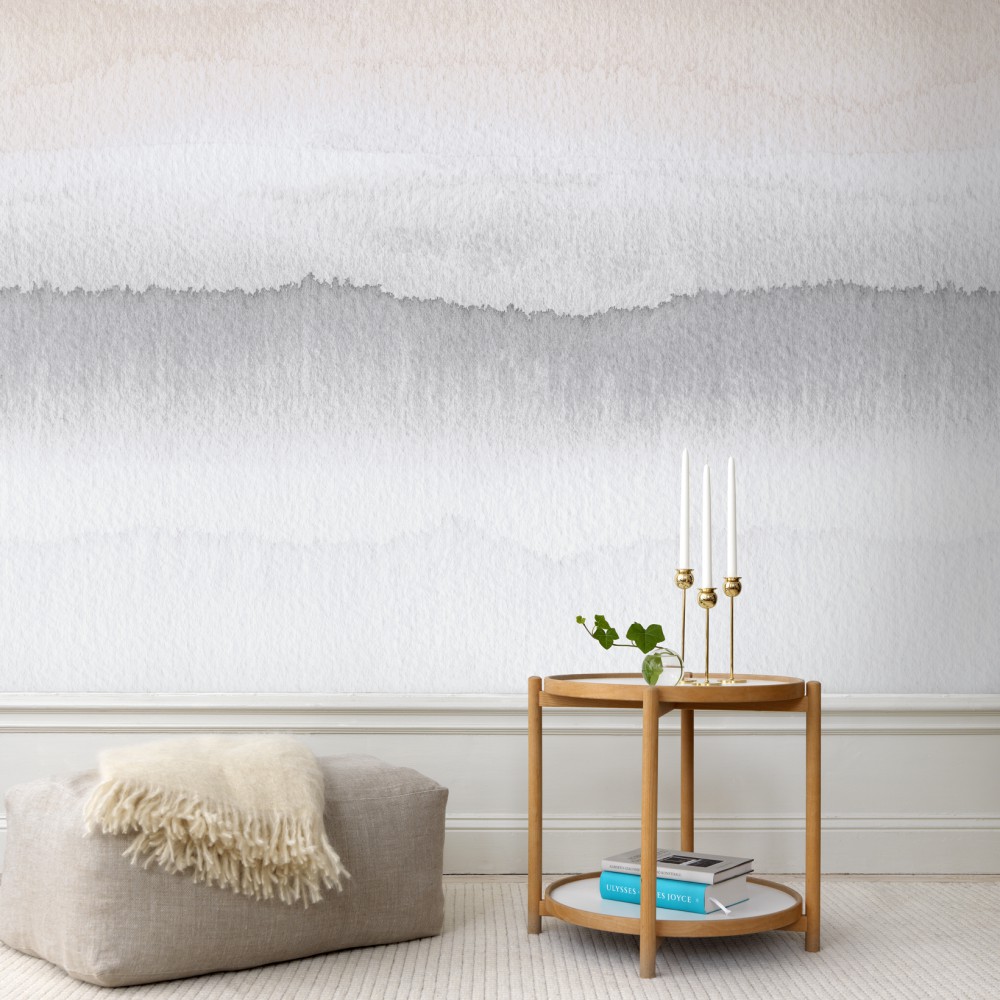 Grinning grey designed by Sissa Sundling. Image © Sandberg.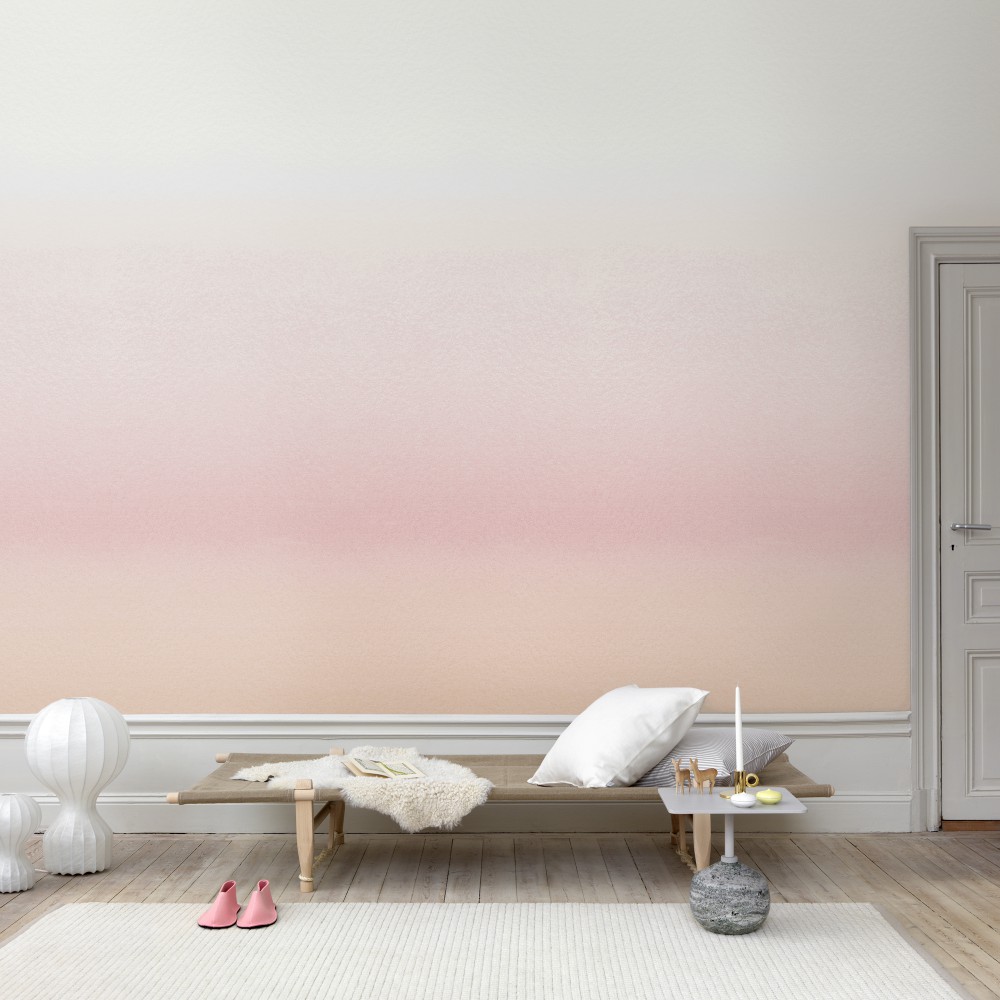 Skymning light pink designed by Karolina Kroon. Image © Sandberg.
With an abundance of flowers from the Swedish garden and its curious flitting butterflies, Christophe is a wallpaper that is reminiscent of more traditional times. Yet with its modern edge, this paper is perfect for a contemporary setting.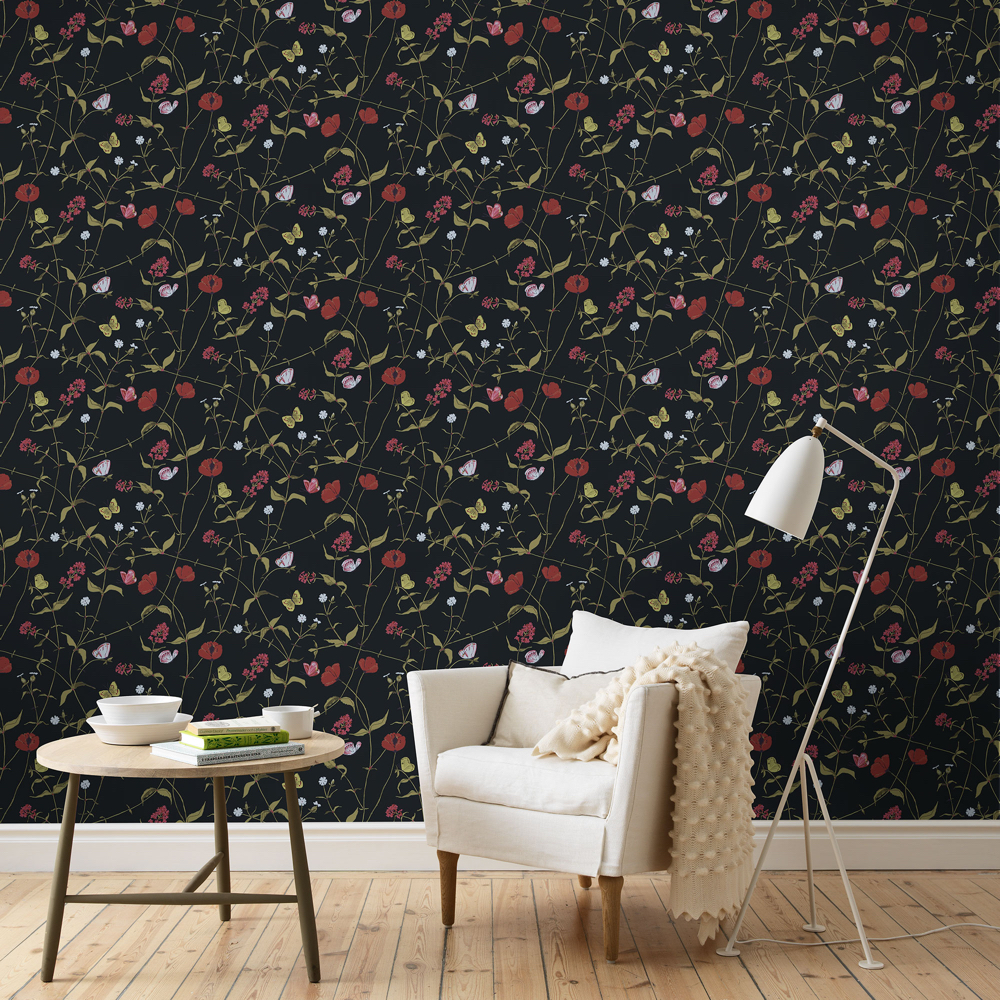 Christophe black. Image © Sandberg.
Liberty
Liberty, that venerable London shopping emporium, is famed for its extensive collection of fabrics and prints. For a recent collection, Liberty embraced the famous Frances Hodgson Burnett 1911 novel, The Secret Garden. Finding inspiration in this classic oeuvre, Liberty Art Fabrics Interiors created "The Secret Garden Collection", an enchanting range of furnishing fabric and wallpaper that manifests the richness of Burnett's prose and natural world. Wallpaper samples from the collection include: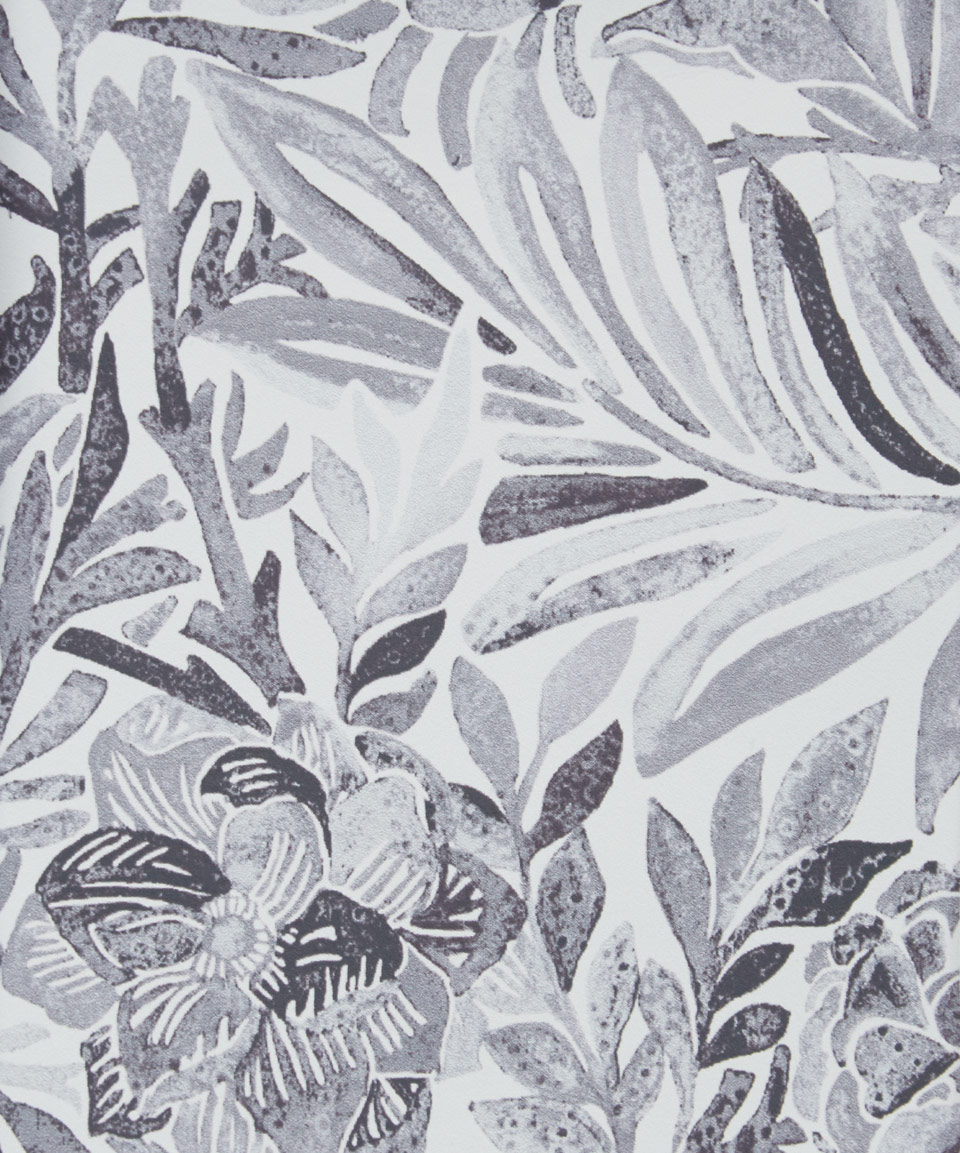 Rock Wallace Secret Garden wallpaper. Image © Liberty 2015.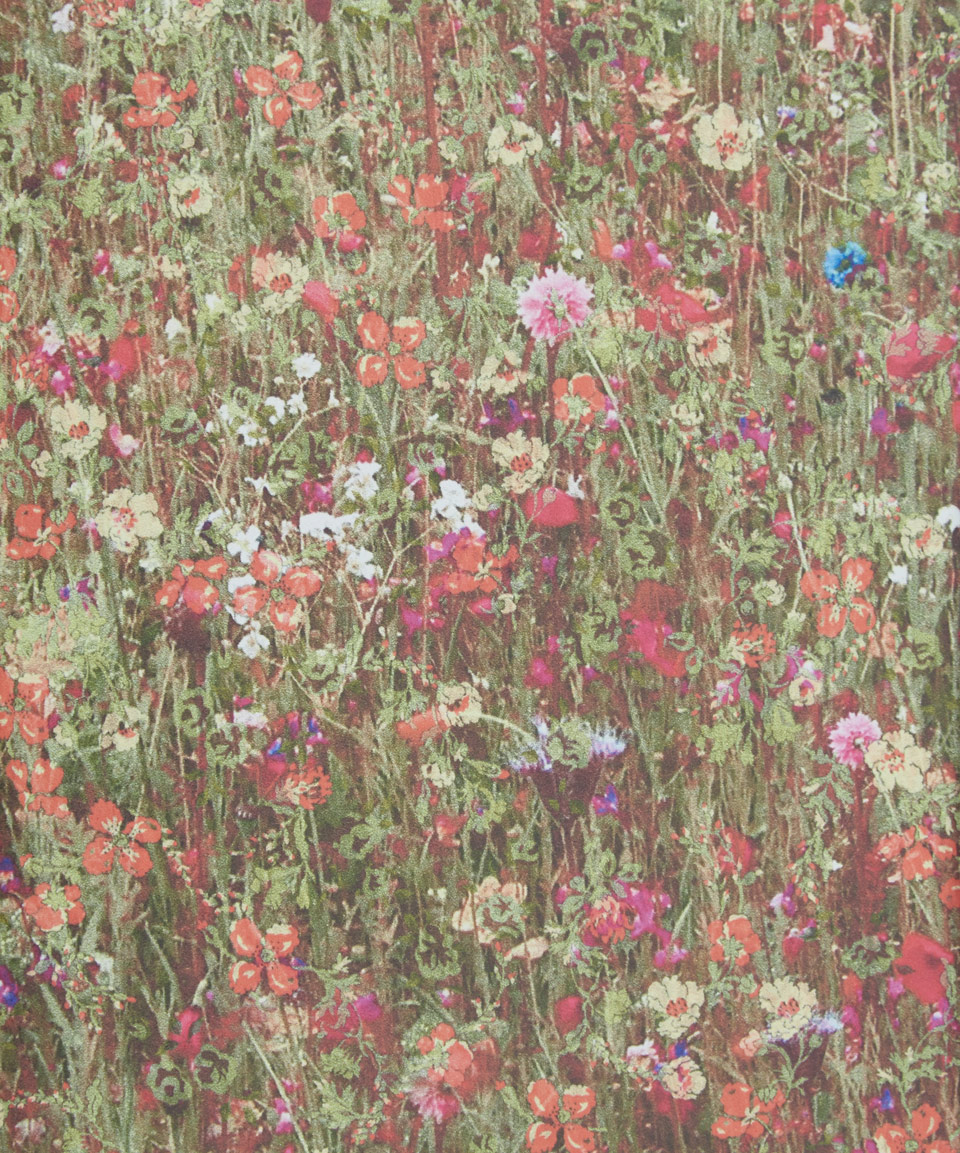 Hedge Mawston Meadow wallpaper. Image © Liberty 2015.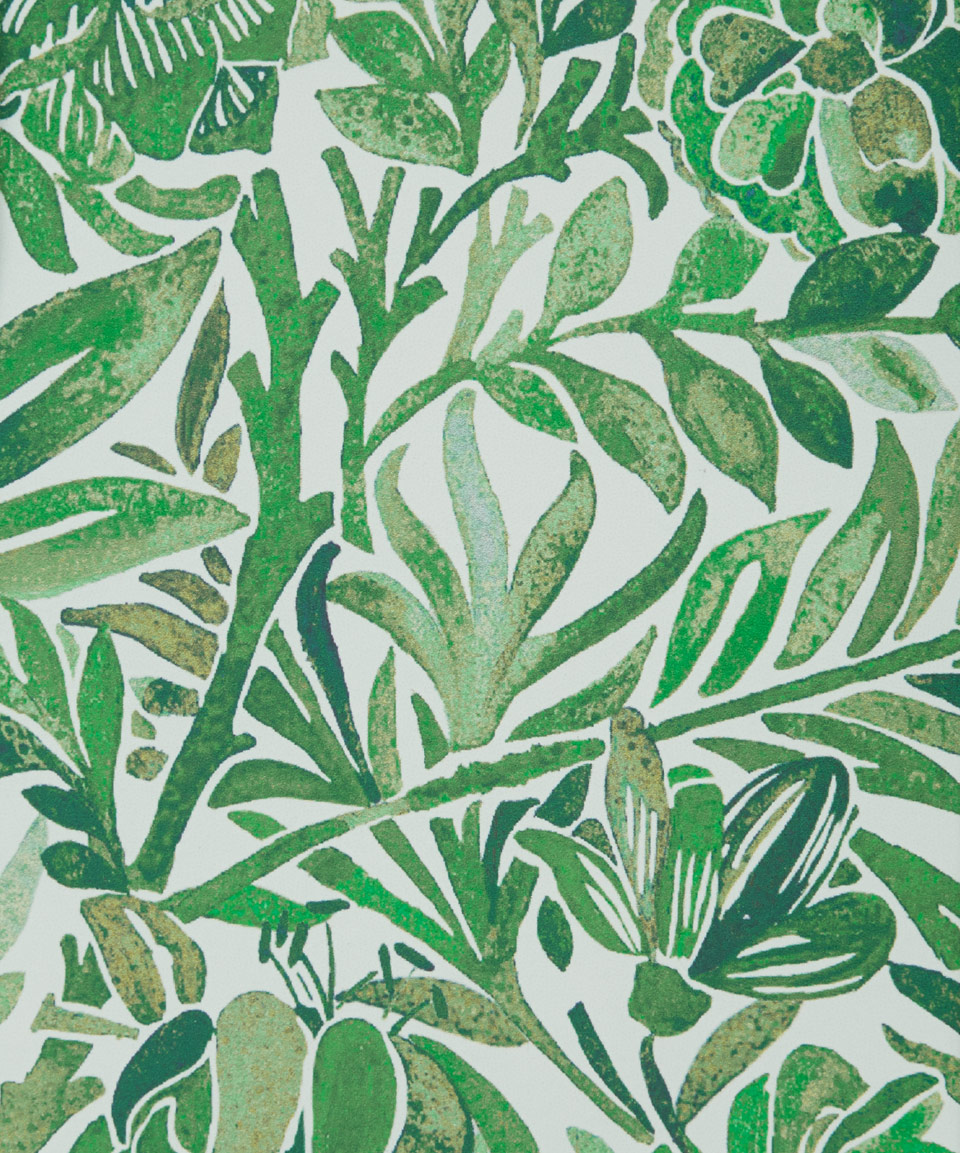 Orchard Wallace Secret Garden wallpaper. Image © Liberty 2015.
Sandudd
The Moomins live in Moominvalley, a place with lush greenery, sloping hills and a sparkling river that flows from the mountains. Moominvalley is in Finland; near to the seashore, it is a delightful place in which the Moomins can frolic and explore throughout spring and summer, and where they hibernate in autumn and winter. These Moomin wallpapers are by Sandudd, a leading wallpaper manufacturer in Finland. Perfect for children and adults alike, they capture the natural spirit of Moominvalley (though with a somewhat darker fairytale-like twist).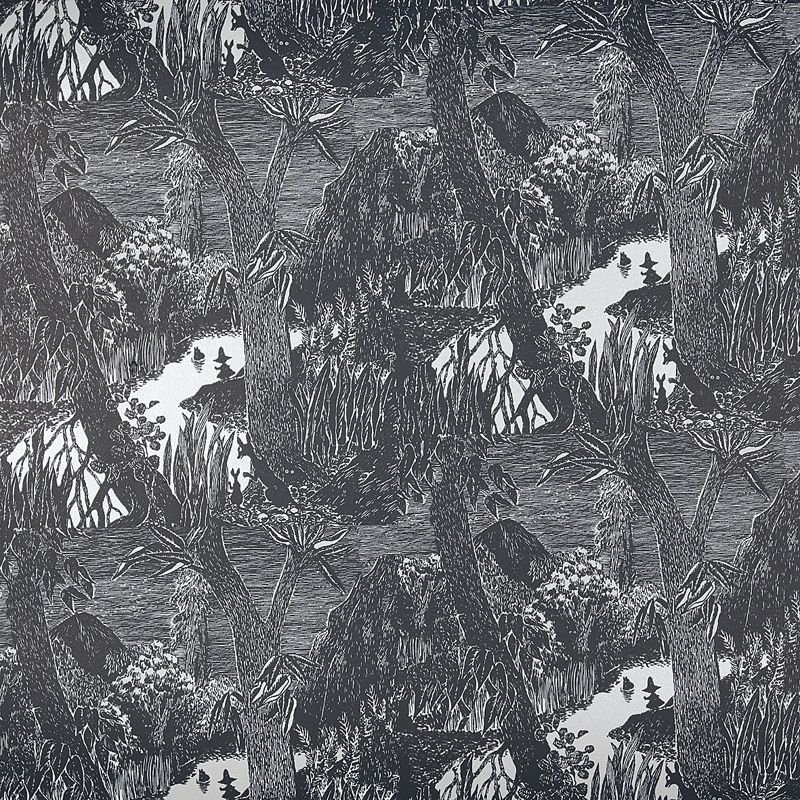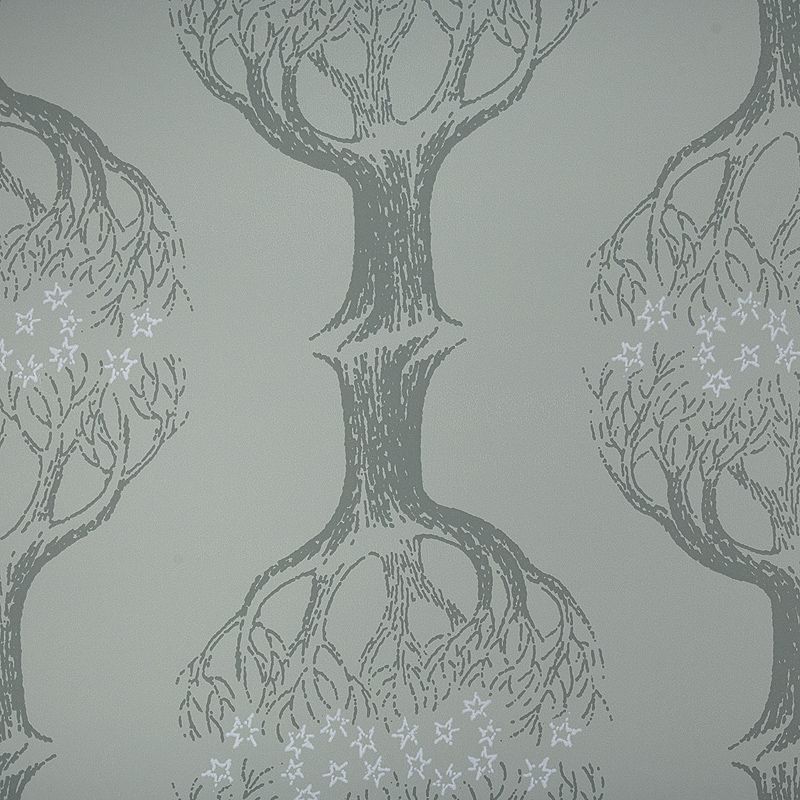 Moomin wallpapers. Images © Sandudd Oy.
ferm LIVING
ferm LIVING has designed a graphic wallpaper print inspired by a Nordic landscape. Perfect for a kid's bedroom or playroom, its Forest wallpaper is enchanting.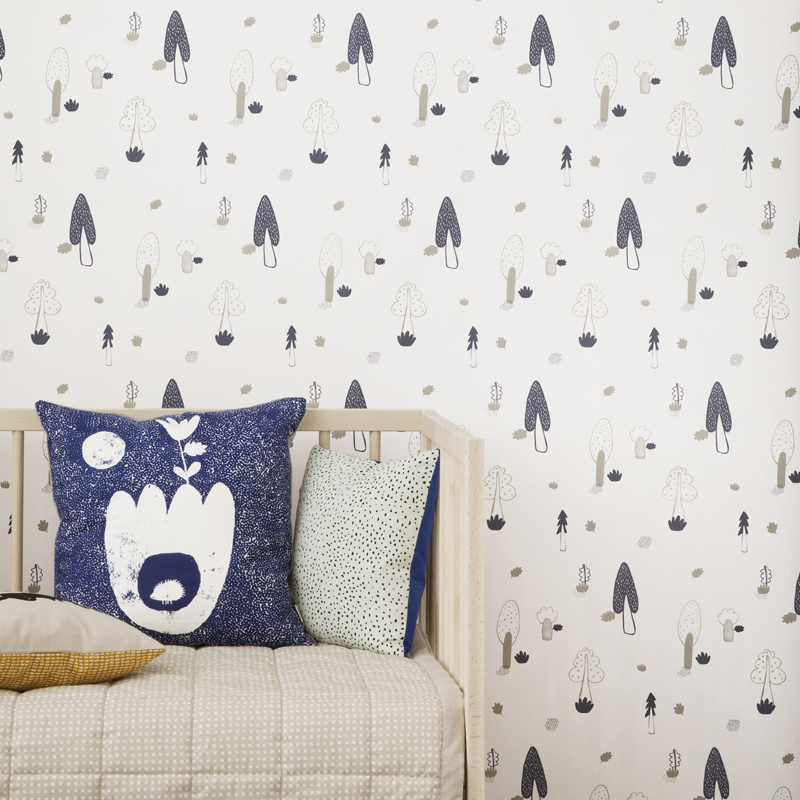 Image © ferm LIVING ApS.
Also by ferm LIVING, this Family Tree wallpaper will add a bold graphic print to a living space or study.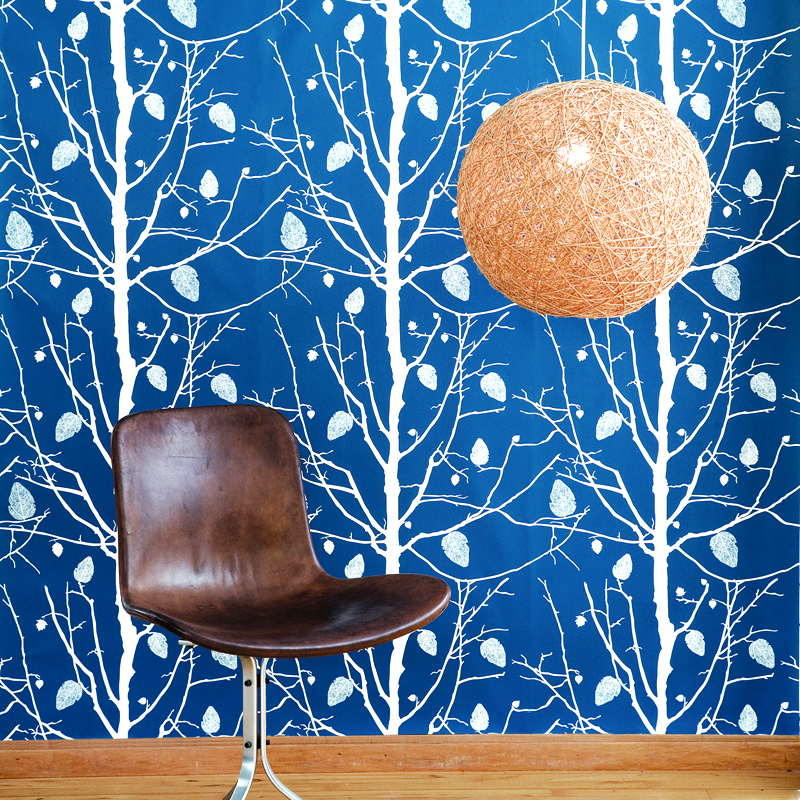 Image © ferm LIVING ApS.
Vallila Interior
The Horisontti collection by Finnish textile brand Vallila Interior has been designed to transport the viewer on a captivating journey through a myriad of dreamy landscapes. The collection includes: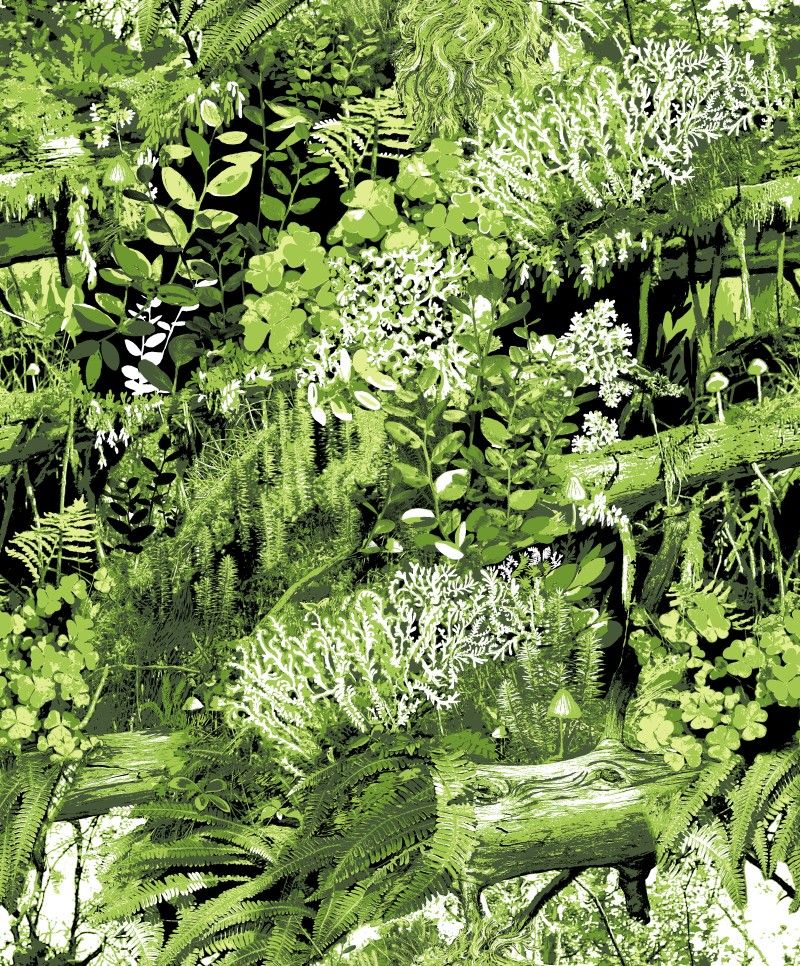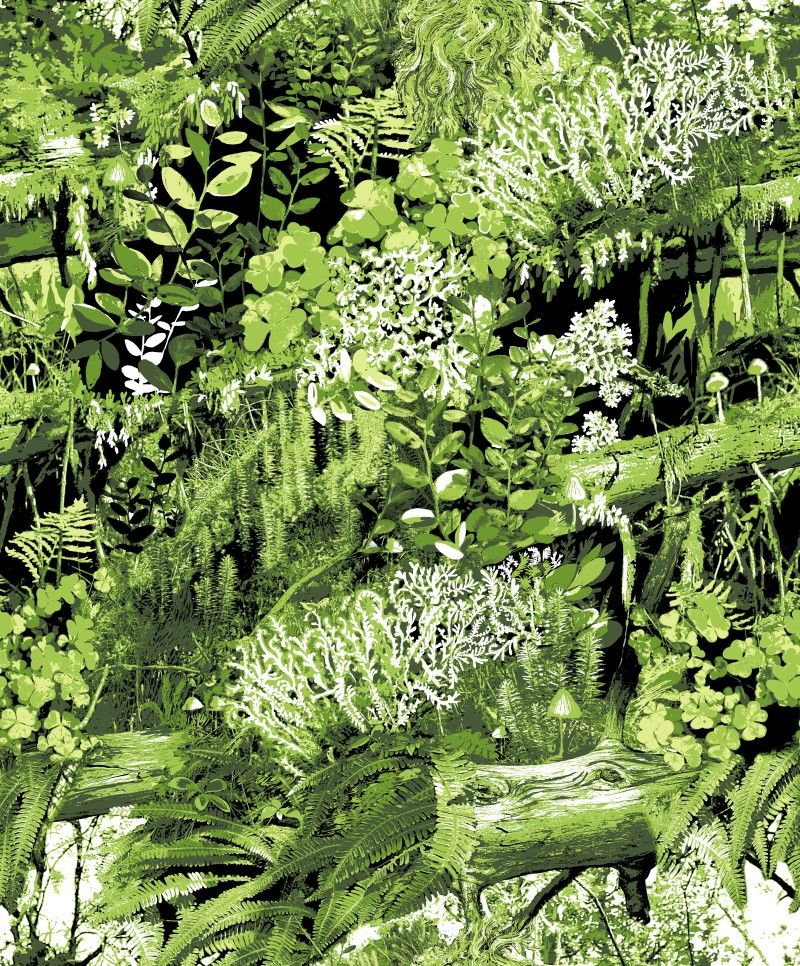 Trollskogen tapetti vihreä. Image © Vallila Interior.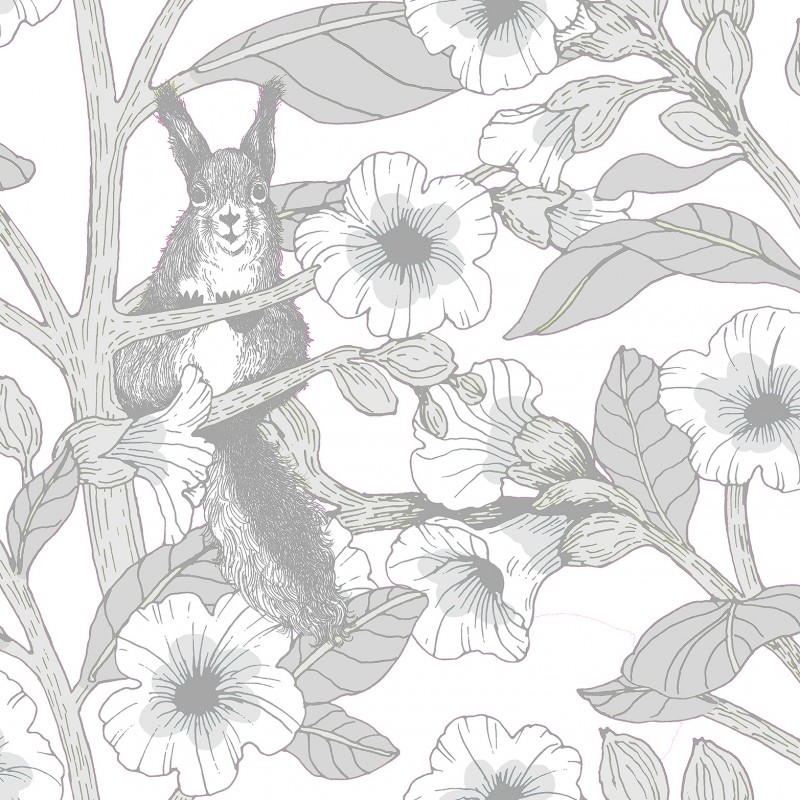 Toivo tapetti beige. Image © Vallila Interior.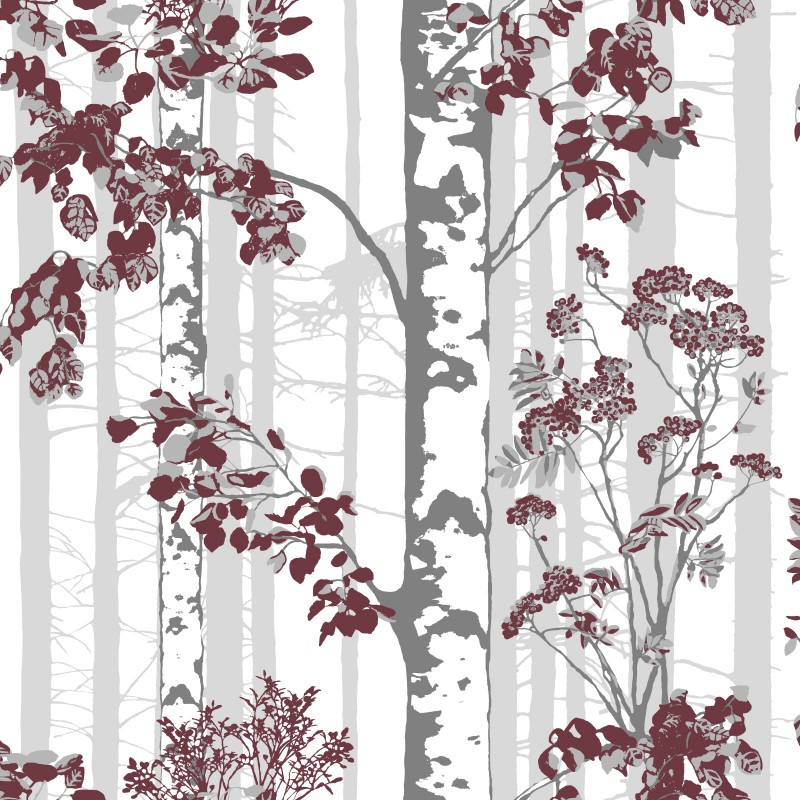 Luontopolku tapetti punainen. Image © Vallila Interior.