Halloween is only days away! If you remember the Halloween palette we chose for last year's tabletop shoot, you know that welcoming dark accents was key. This year is just the opposite, as we take a sunny approach to the holiday and create a palette that you can enjoy throughout the fall. Plus, this cheery color combo is perfect for family-friendly gatherings, as your little ones will love the vibrant touches. Keep reading as we show you how to put together a modern Halloween party palette for all ages…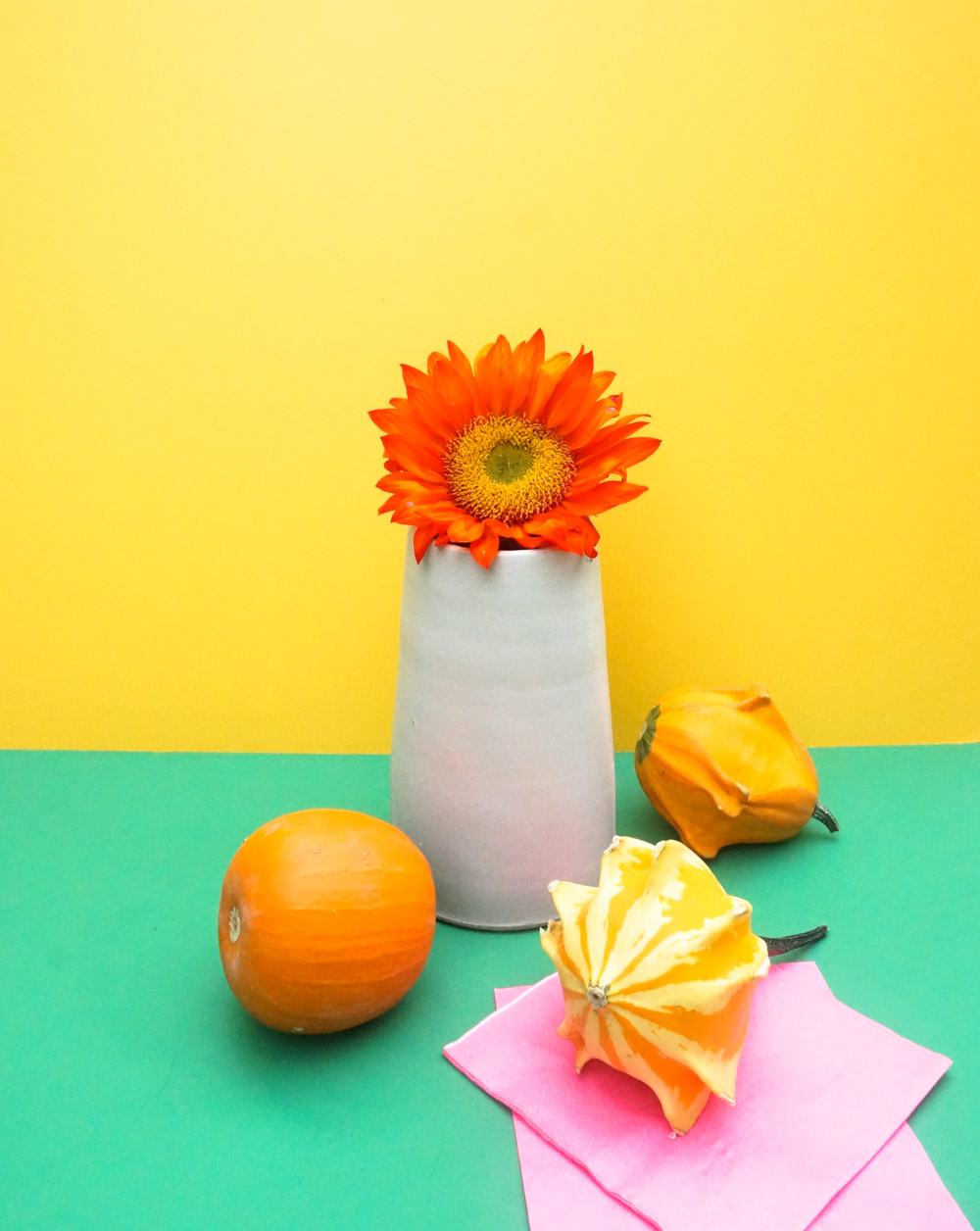 Vibrant Decor
Since blush has been one of the top color trends (hello, Millennial Pink) for the last few years, why not include a bit of pink on your tabletop? Not only is pink a delightfully unexpected touch for Halloween, it beautifully complements orange. Our palette of choice for this party: shades of orange, pink and yellow, with touches of black and green!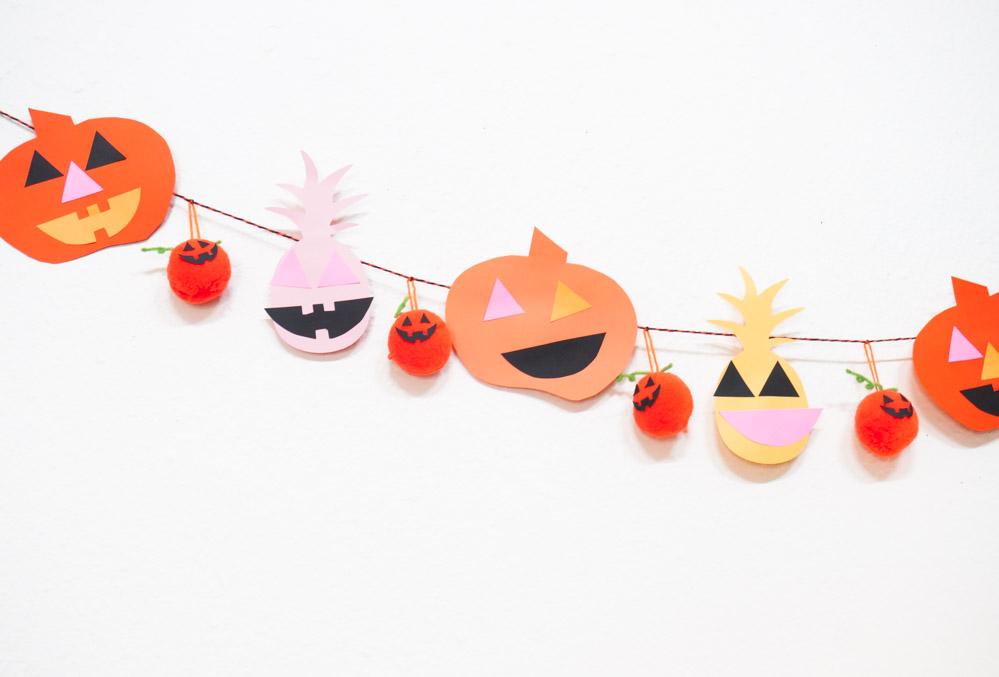 You can create a DIY garland using brightly colored paper, and if you have little ones, let them help! We added paper pumpkin faces to a store-bought garland. As you can see above, we also threw in some pineapples, because why not?! Below we see how an assortment of pumpkins and gourds in peach, orange and yellow create a party-perfect centerpiece: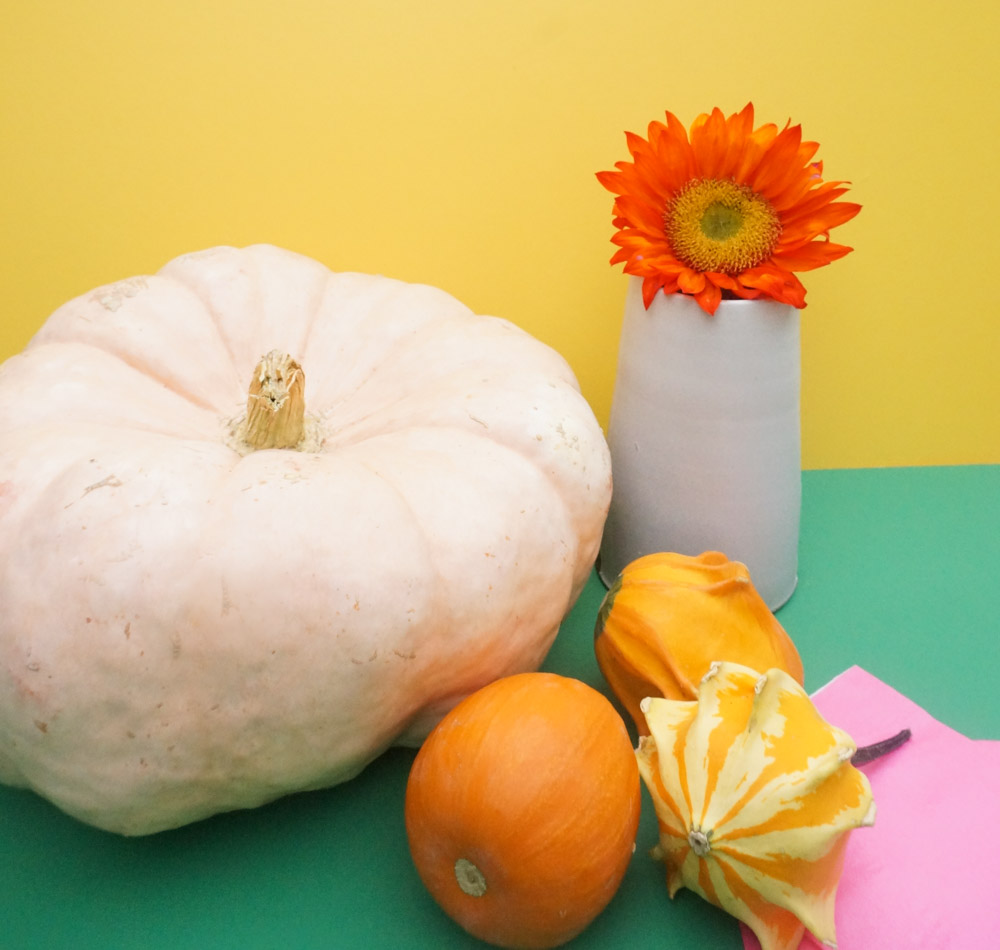 Don't be afraid to throw in some hot pink napkins for an extra pop of color! Our neon cocktail napkins were purchased from the Oh Happy Day Shop: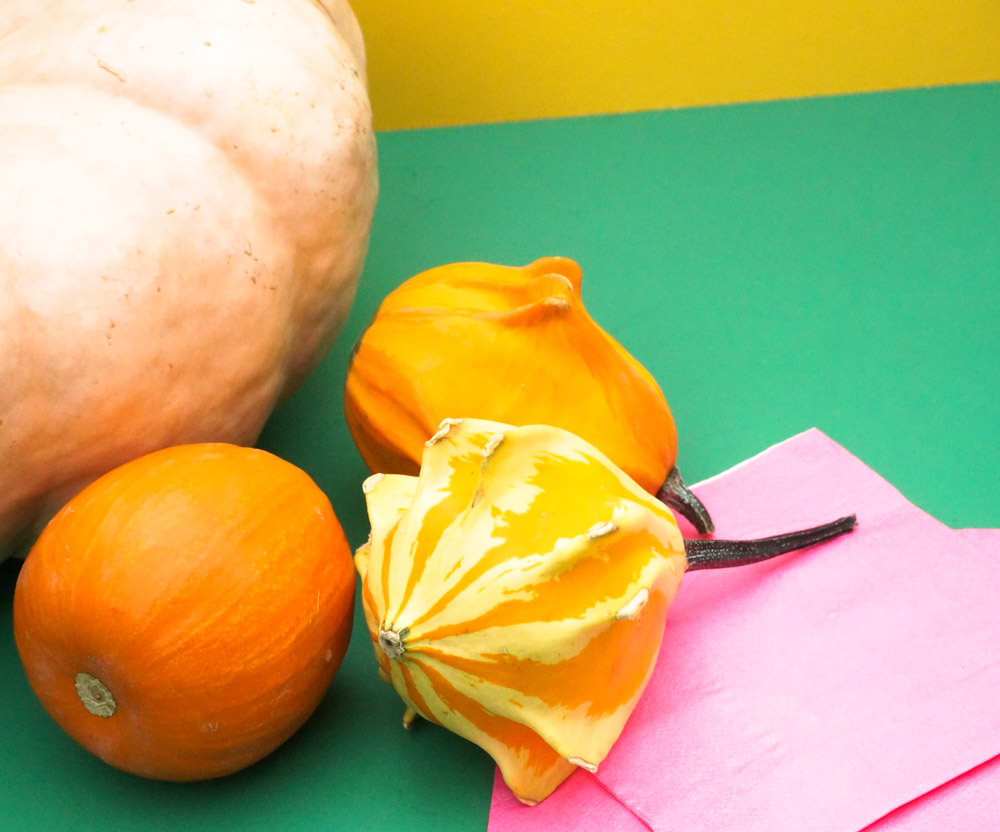 Floral arrangements are lovely at parties, but we kept it simple with one large sunflower in a glorious shade of orange. Sometimes less is more, especially when the "less" has tons of personality and is accompanied by a grouping of produce!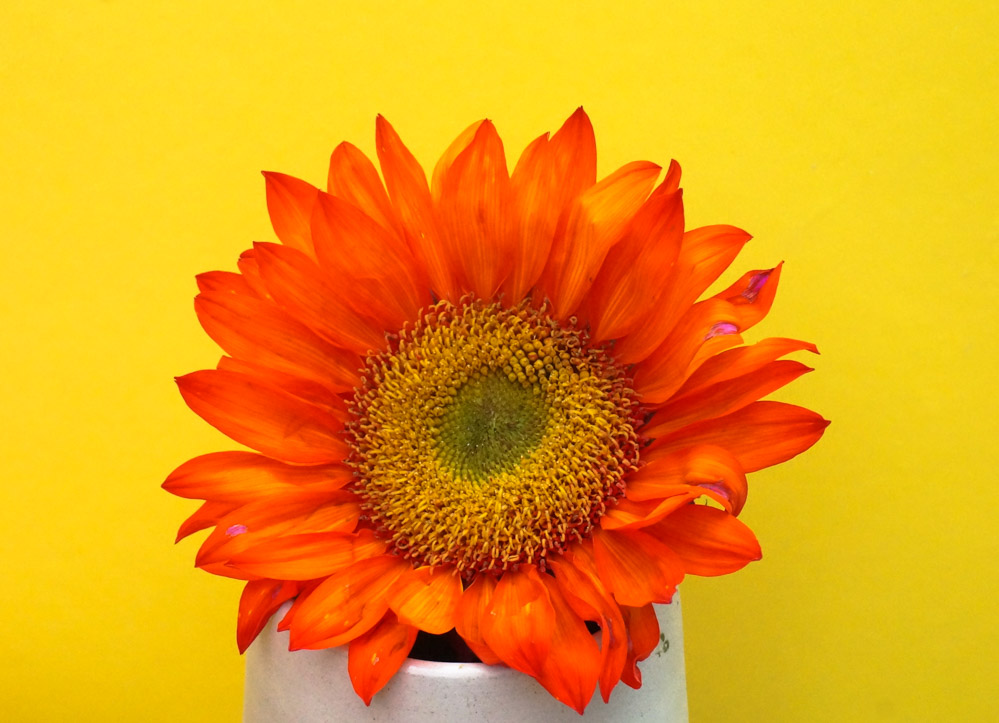 As for tablecloth and backdrop choices, don't be afraid to get creative. We love the vibrant green and yellow hues shown above, but you definitely can't go wrong with shades of pink and peach for this party.
Colorful Consumables
When it comes to party food, go for color! If your party will include children, have plenty of age-appropriate food and drink options. For the adults, you can keep it simple with small bites and fun beverages, but let your food double as decor and display it with pride! You can also add plenty of interesting touches. We used a mortar and pestle to grind up pink Nerds candies into small bits…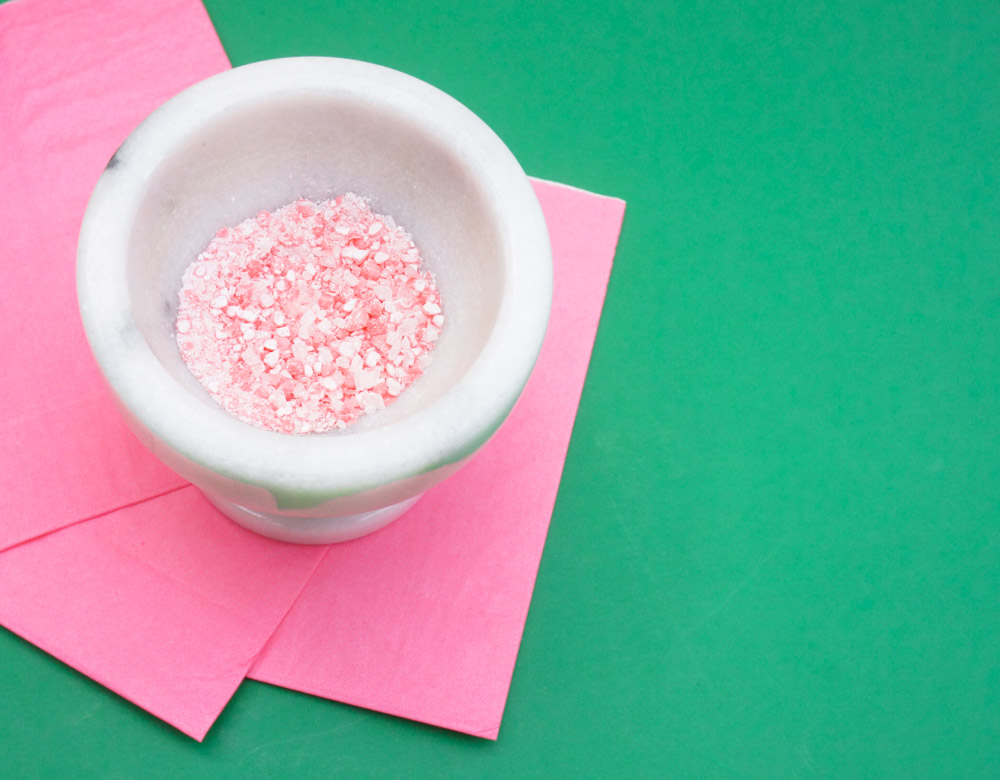 …and used them to line the rims of our coupe glasses (from CB2)! Not only are they a sweet and tangy complement to any drink, they add an unexpected dose of color.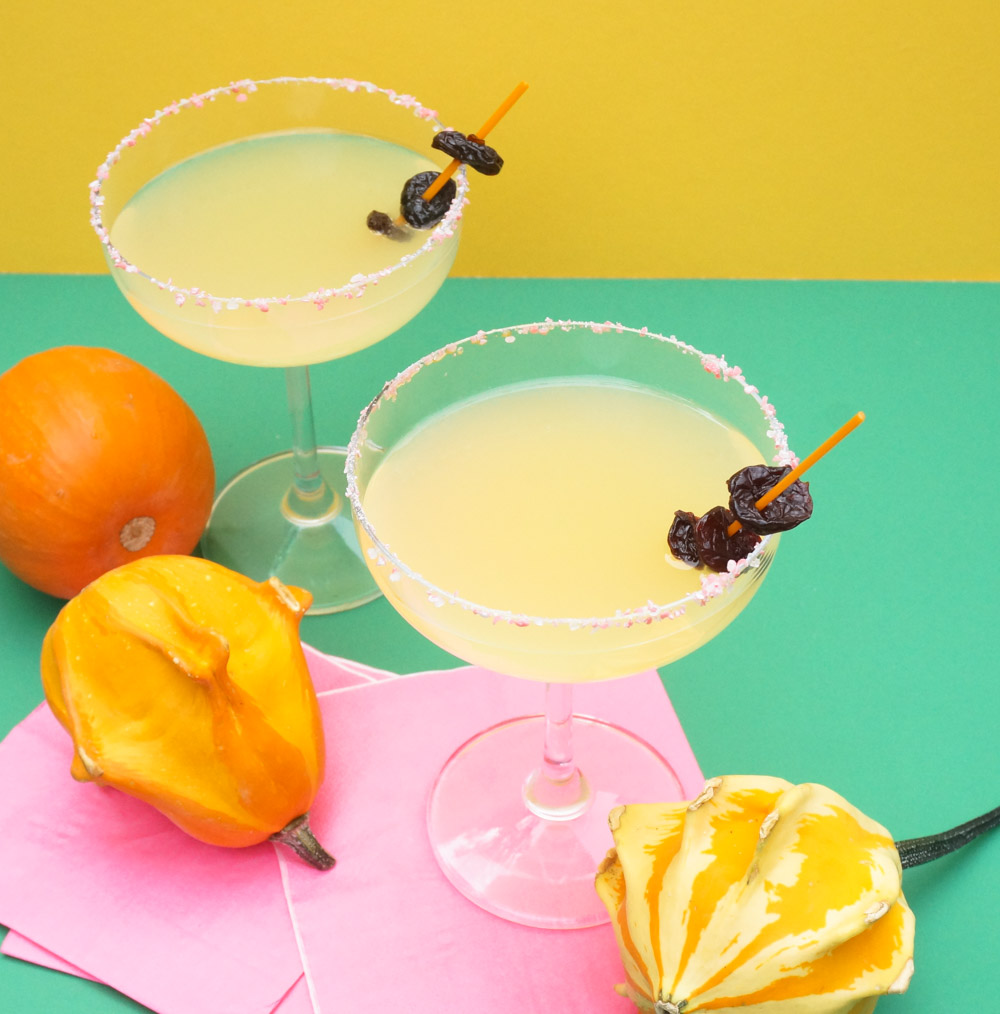 For a spooky touch, we accented drinks with dried sweet/tart cherries on orange cocktail spears, an ode to Halloween:
While our mocktail was citrus based, you can serve up a range of delicious cocktails and concoctions in an equal range of colors. We love the mocktail and cocktail power of ginger beer, especially when it's as festively packaged as this Llanllyr Source Ginger Beer. Hint: these bottles make amazing party favors as well!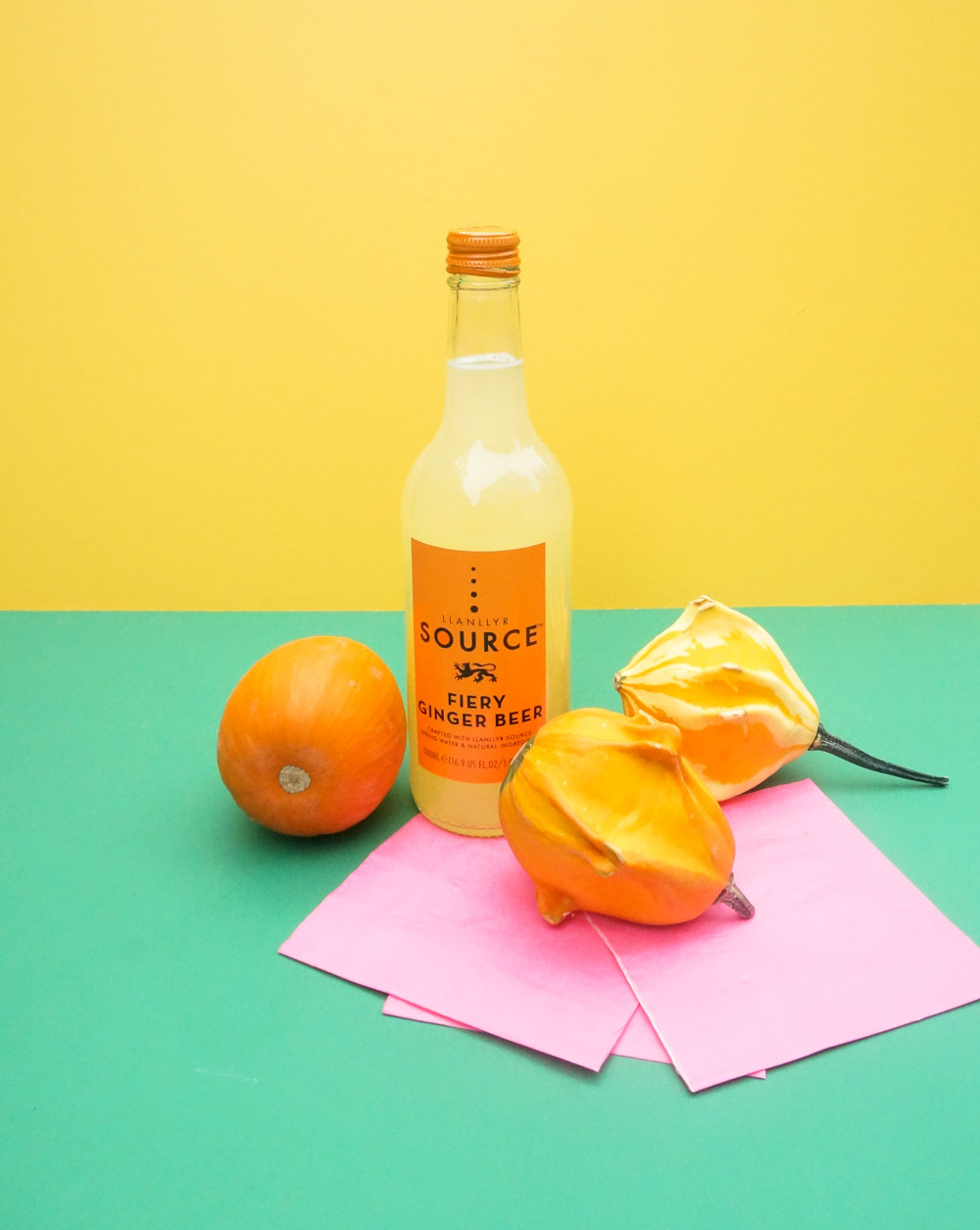 Let candy colors and delicious nibbles and sips guide your party planning efforts, and DON'T FORGET TO HAVE FUN. Wishing you and yours a spook-tacularly colorful Halloween! Thanks for reading!