If you love a good design project, today's post is for you! We live in a DIY culture, and do-it-yourself projects range from major home renovations to crafty endeavors that can be completed in well under an hour. For smaller-scale projects of the modern variety, a few key DIY trends have emerged in recent years. Let's learn more about them, including interesting departures from the tried and true. Below you will find 20 DIY project ideas, complete with links to more detailed instructions. Enjoy…
Wall Hangings
So many wall hangings, so little time! A great addition to the world of wall art, wall hangings have a retro vibe, yet many are surprisingly modern. In the last few years we've seen the wall hanging options multiply, with elements such as metal and mirrors working their way into the designs. This DIY Fringed Mirror Wall Hanging from Sugar & Cloth adds a reflective element to the wall hanging trend, plus a dash of metallic paint!…
Erin, the blogger who created the wall hanging above for Sugar & Cloth, also created the DIY Geometric Metal Wall Hanging below (featured on her own blog, Francois et Moi). Brass, wood and cotton flossing create the perfect marriage of modern style and innovative design:
If you're a fan of wall hangings, you'll enjoy checking out the many interesting DIY options featured at A Beautiful Mess! This Statement Wall Hanging grabbed our attention with its unique form and eye-catching color combination:
Last but not least, this next project combines the wall hanging trend with another trend featured later in the post: tassels! Throw in an ombre effect, and you have a trio of modern design trends on display in one piece. Get all the project details at DIYs.com.
Hand-Dyed Textiles
Hand-dyed textiles are definitely having a moment. Did you catch our post on shibori dyeing? If so, you know all about this ancient Japanese dyeing technique. If you're new to the game, keep in mind that it's as much about manipulating the fabric as it is about dyeing it. This shibori pillowcase project from Camille Styles is one of our all-time favorites: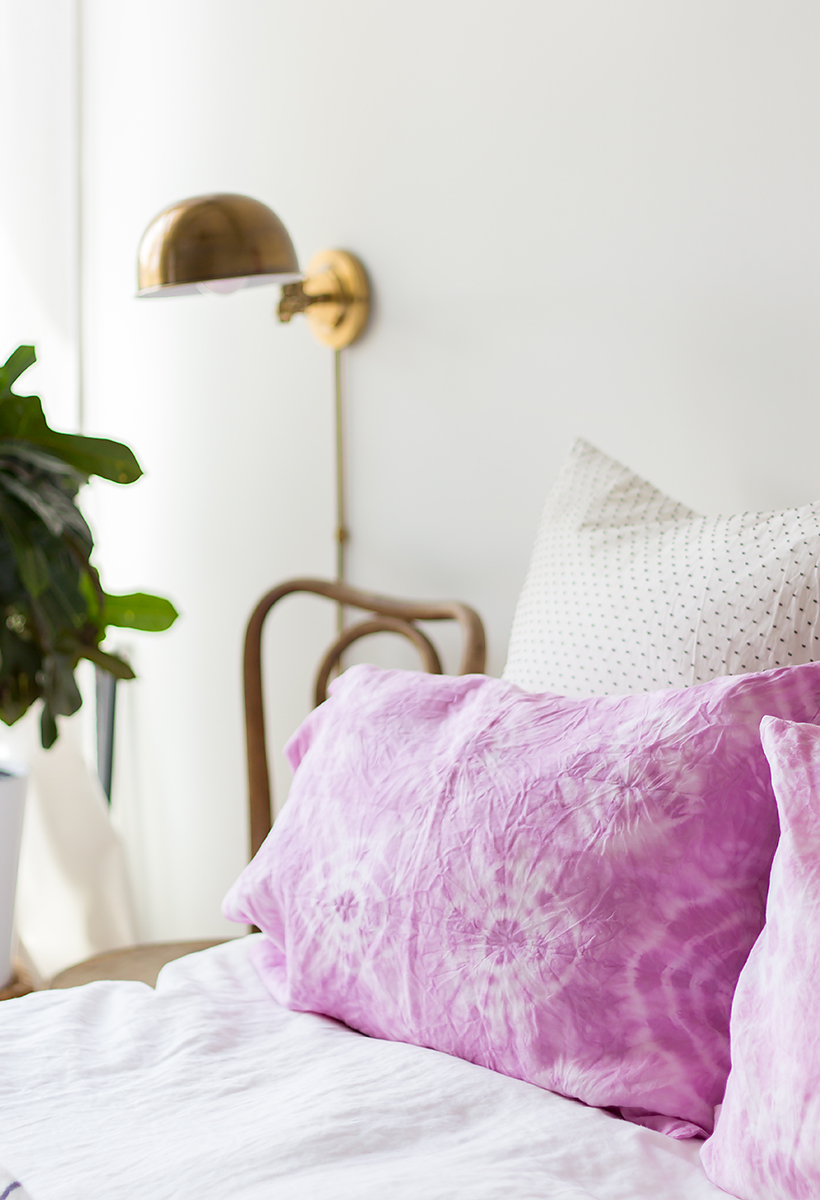 For another dyed pillow DIY, this time with velvet fabric, check out these radiant dyed pillows from A Beautiful Mess. The vibrant pink color is a showstopper!
These Shibori Tie-Dye Cloth Napkins (also from A Beautiful Mess) are striking in their design, as well as their balance of dark and light. You can dress them up or down for your tabletop vignettes:
Ready to try dyeing something larger…like sheets?! This beach sheet DIY from Wildlandia is created with the help of indigo dye and a lot of binding. The results are impressive:
Tassels
When it comes to tassels, what's not to love?! You can use them to embellish almost anything, from curtains to woven baskets. Speaking of woven baskets, this DIY Tassel Seagrass Basket from DIYs.com uses yarn to enhance an affordable earthy basket, with amazing results:
Looking to learn more about tassels? Head back to basics with this tassel tutorial from Brit + Co, which will show you how to craft tassels from a range of fabrics, including yarn, leather and tissue paper!
Baskets, pillows…door handles?! You bet! Why resist the chance to add a splash of color and earthy style to this prominent spot? Sugar & Cloth will show you how to make a DIY Door Handle Tassel using jumbo cotton roping and cotton string flossing:
Last but not least, add some wood and leather to your supply list for a mixed-materials look that's perfectly on-trend! Learn more at Paper & Stitch:
Ring Dishes
Not only are ring dishes the perfect gift, they're a great way to embellish a small space. Since they're practical and easy to craft, it's no wonder DIY bloggers have come up with a slew of clever ways to create these petite treasures! This Marbled Clay Ring Dish is one of A Beautiful Mess's most popular DIY project ever. We can see why!
It's hard not to be smitten with these DIY Clay Ring Dishes from Wildlandia, especially since they cleverly incorporate pepper (yes, pepper!) to create a speckled effect:
Leave an impression on your ring dish with the help of small items such as stencils and stamps. These lovely Imprinted Clay Bowls from Camille Styles are the perfect blend of classy and crafty:
With geo style, Homey Oh My adds metallic flair to their DIY Hexagon Ring Dishes, thanks to a gold leaf pen. Did we mention that oven-bake clay is the material of choice for all of today's featured ring dish projects?!
Letter Boards
If you regularly read design blogs of the DIY nature, you may have seen a letter board or two as part of the photo shoot! Why wouldn't you want to highlight fun slogans and cheeky comments with a retro-style display of text?! Here's a fabulous example from Studio DIY:
Not a design blogger? Message boards aren't just for photo shoots! They're great for your home office as well, especially if you're motivated by encouraging words and funny quotes. As it turns out, making your own message board doesn't have to be tricky, especially with the help of handy tutorials like this one from Treasures & Travels. Felt-covered dowels get the job done:
DIY message boards can get pretty fancy. Isn't this DIY Rainbow Felt Letter Board from Aww Sam vivid and fabulous?!
Still questioning whether or not letter boards are a design blogging phenomenon? This DIY Letter Board Halloween Costume (also from Aww Sam) makes it official:
Now who's ready for Halloween? Happy crafting!