Playing with patterns is the perfect way to bring personality to a space. When done right, patterns help create a vibrant canvas of personal expression. You've likely admired all those gorgeous rooms on Instagram that feature various patterns and now you hope to recreate the look in your own home. This post unlocks the secrets to mastering the art of mixing patterns and we'll also discuss some common mistakes to avoid.
Do: Stick to a unified color palette
It is important to keep a consistent color palette to avoid patterns clashing. Sticking to a unified palette that belongs in the same color family creates a connection between the different patterns. Decide whether you want to stay with primary colors, pastels, or jewel tones. This floral bedding and Moroccan rug carry different patterns but work cohesively together, thanks to the mutual colors.
Do: Start with a neutral base
If you decide to mix patterns and embrace an edgy look, choose neutral colors as a base. They will allow the patterns to be in the spotlight without competing for attention. The white walls and beige sofa provide a neutral backdrop for layering patterns to achieve a boho chic vibe.
Do: Mix simple and intriguing patterns
When you don't want to limit yourself to only one pattern but still want to keep it tasteful, mix a simple and a bold pattern. This lively bedroom is the perfect example of how to achieve this. The botanical bedding is the main focal point, complemented by a simple rug pattern. Green and yellow are prevailing colors in the design scheme, establishing a connection between the prints.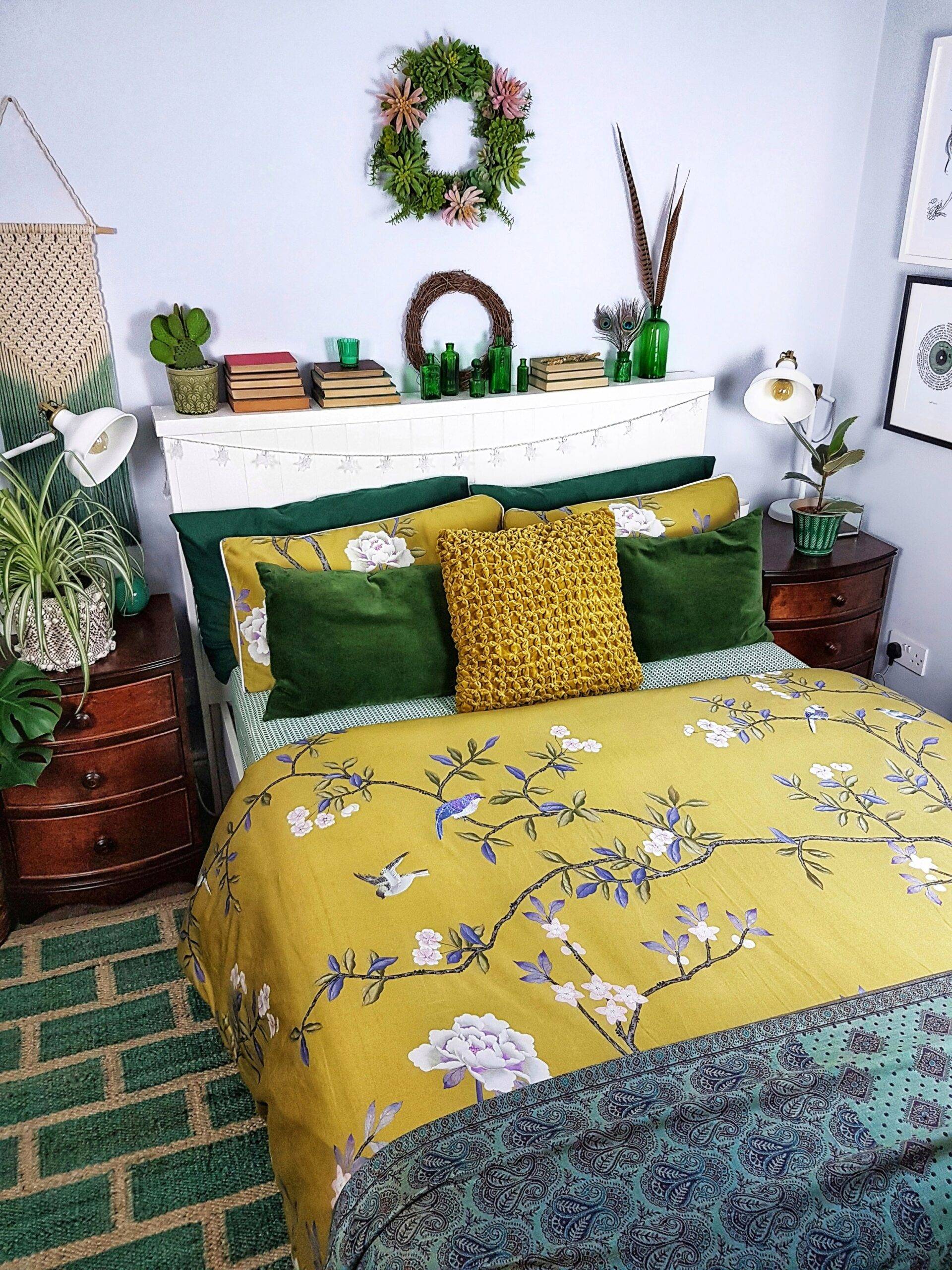 Don't: Choose more than four patterns
Playing with patterns can be challenging, and you can end up with a visually heavy look. To keep it tasteful, limit your patterns to no more than four at a time. Decorating with three to four patterns infuses dynamic energy without overwhelming the space.
Don't: Overlook solid colors
Too many patterned items can overwhelm a room. Instead, pair your patterns with solid colors to tone them down. This camel sofa helps strike a fine balance between the intriguing patterns.
Don't: Miss any well-known combinations
Mixing and matching patterns is challenging for beginner-level decor enthusiasts. To play it safe, many designers will advise you to go for the foolproof combinations that always work.
Pair a floral with a striped pattern to bring a chic vibe to your living room. Tiny polka dots and stripes are also an excellent combination for a modern yet edgy feel. Paisley, graphic, and chevron print is a staple trio to try. Animal prints go well with texture, or mix it up with stripes for a bold look.
Don't: Overlook the designers' formula
If you struggle to strike a balance, you can always refer to the designers' formula for mixing patterns. The secret is to choose a bold print accompanied by a pattern that has half the scale and ground them with a subtle texture or small-scale pattern.
Statement pattern

: Choose a bold pattern that complements the room's style and color palette. Stick with large-scale patterns for the best effect. Animal print and florals are great examples of statement patterns.

Subtle pattern

: Go for a subtle pattern that borrows at least two colors from your statement pattern. Stripes or chevrons can complement the strong statement.

Grounding pattern:

A small-scale pattern such as polka dots or a subtle texture helps to ground the pattern combination.