If you're getting ready to enter baby world, you know just how many items you're confronted with when preparing to welcome a little one. Large, cumbersome products dominate many baby supply stores, and some have so many loud patterns, extra pieces, and bells and whistles, you can feel your home getting more cluttered just by looking at them. What's a minimalist to do?!
While we at Decoist always encourage you to do your own research when it comes to hunting for safe baby products, today we've rounded up a collection of items that have caught our eye. Check them out, investigate their safety and effectiveness, and see if they just might fit into your child-friendly minimalist aesthetic.
Stylish Rugs and Textiles
If you're going with a clean-lined vibe in the nursery, you can add color and pattern through rugs and textiles. This 5 x 8′ Half Stripe Rug in Aqua from The Land of Nod is playful and child-friendly while maintaining a colorful modern aesthetic: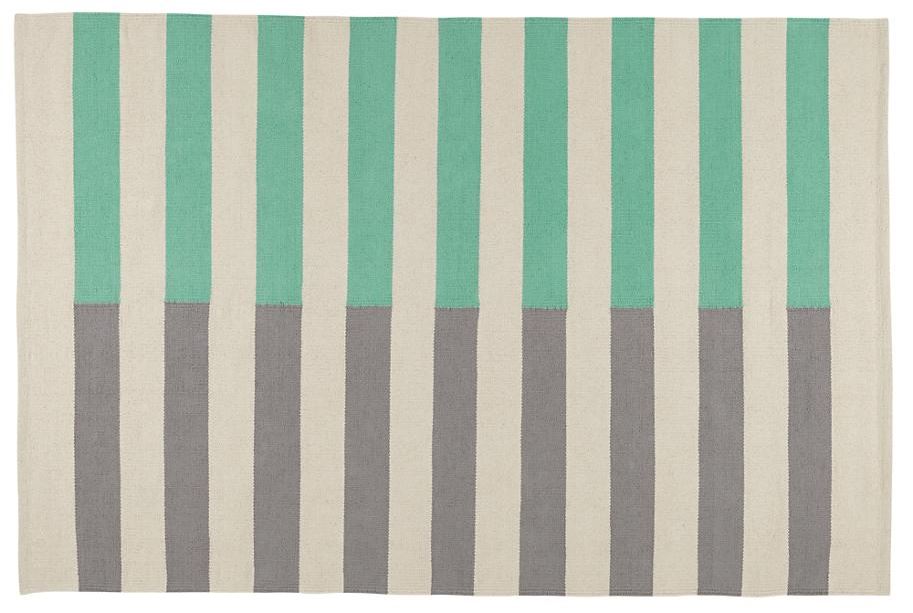 Also from The Land of Nod is the Flokati Fluff Rug, which brings cushy texture to the nursery while being perfectly on-trend in the modern design realm: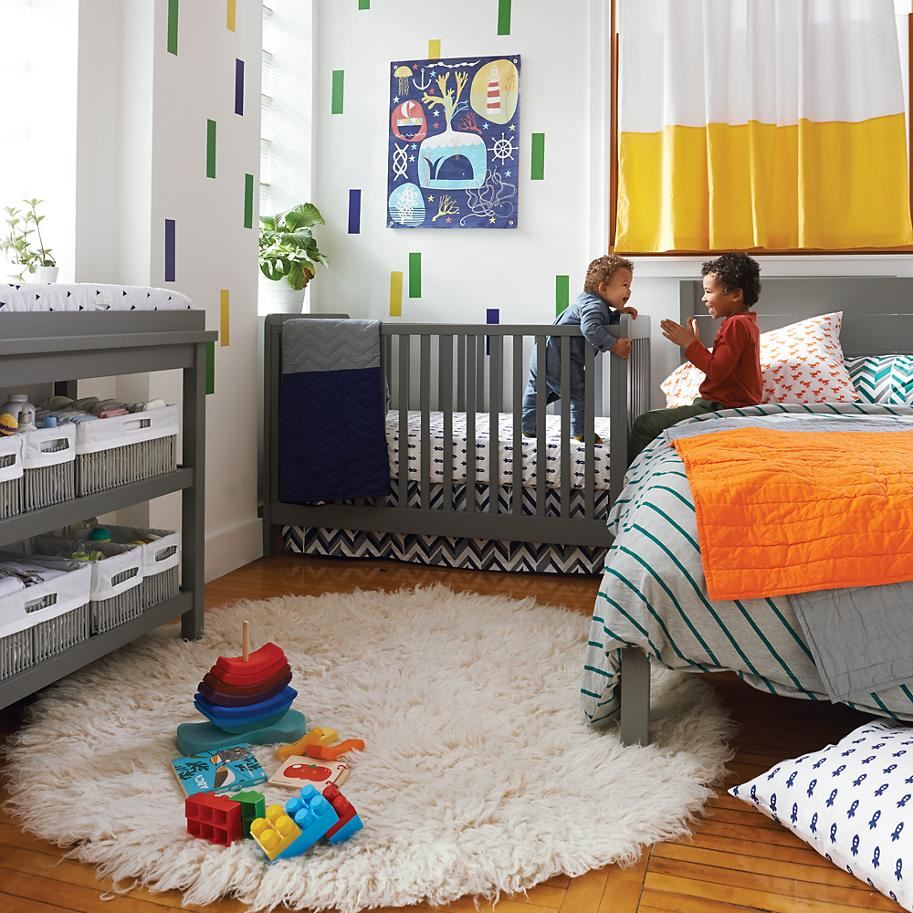 This Marine Queen Crib Fitted Sheet from The Land of Nod has a geometric scale pattern, yet decorative details are peppered into the design without overtaking it: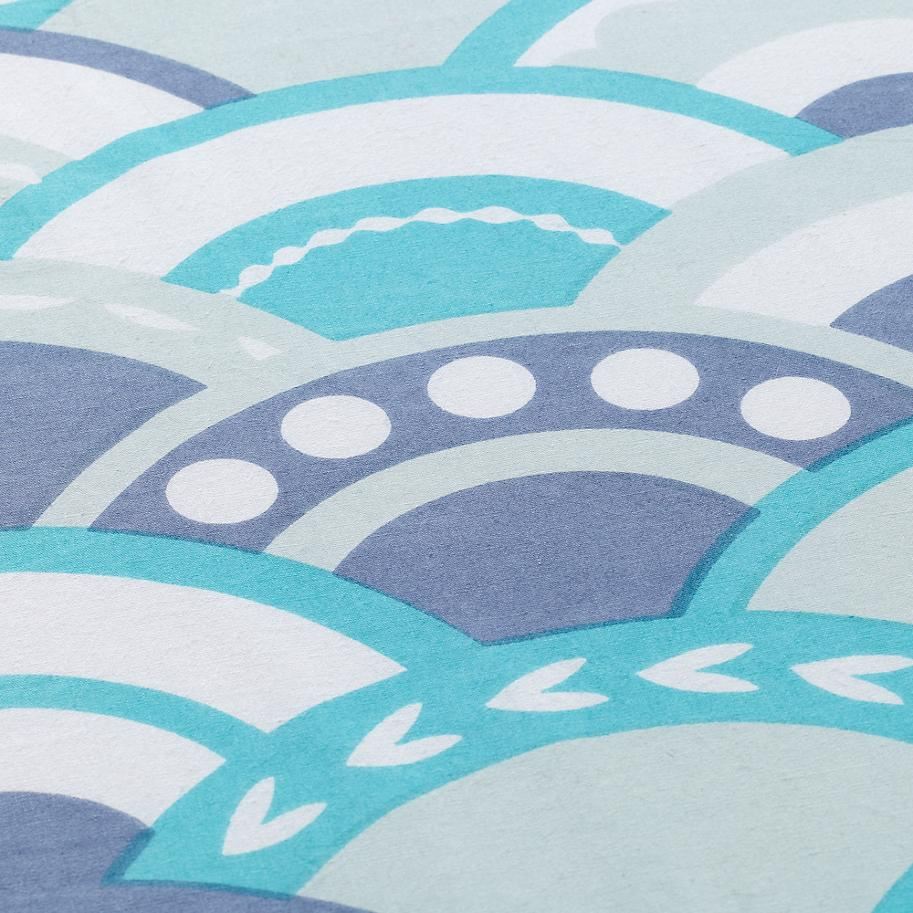 The Babyletto Desert Dreams Fitted Crib Sheet is filled with '80s/'90s tribal style. Unexpected and wonderfully dynamic, this bedding item is pure fun and available through Buy Buy Baby: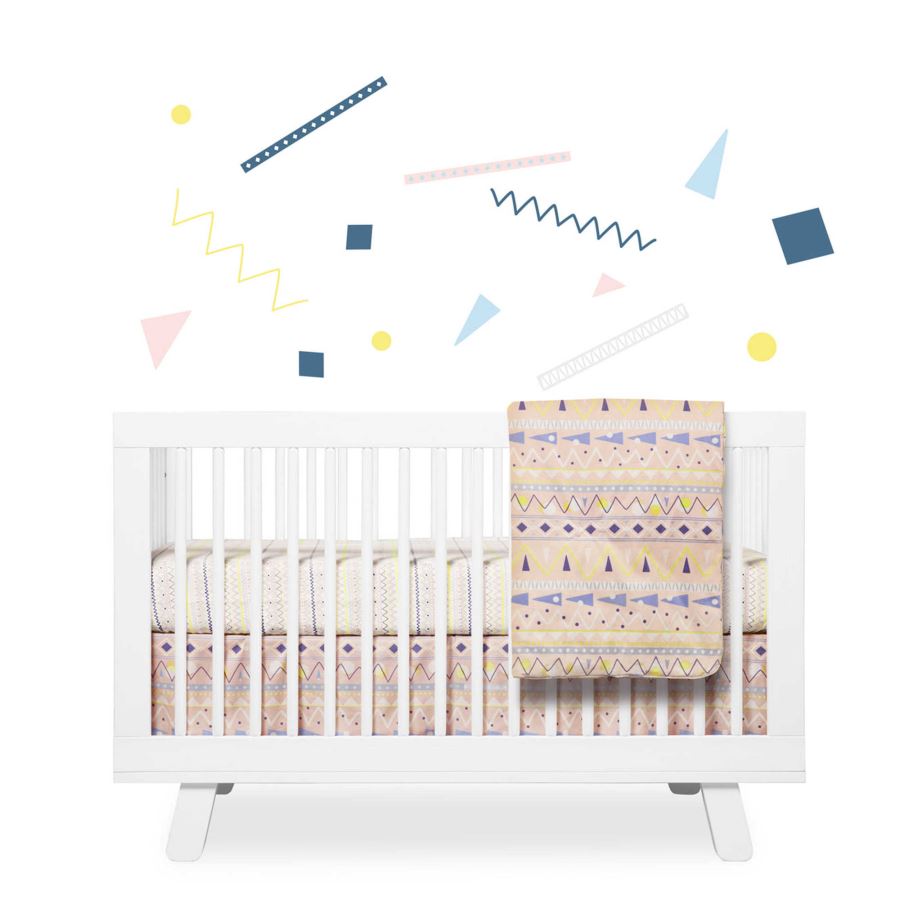 Baba Souk's Clouds Throw is a knitted treasure that adds a dash of whimsy to the nursery. Plus, it's washer and dryer friendly!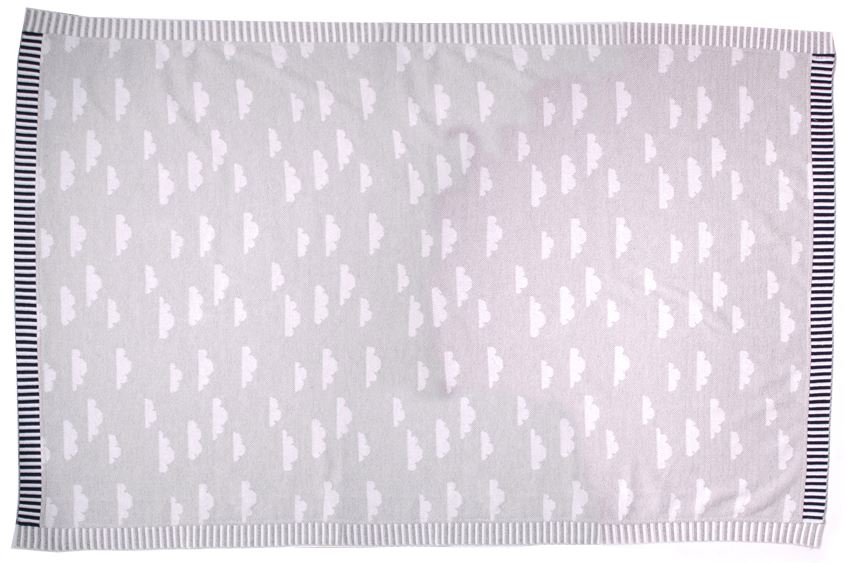 Sleek Furniture
The search for minimalist furnishings can be tricky, especially if you're on a budget. But if you know where to look, you can find quality pieces that fit your style and your price range. For a cradle that allows for ventilation, check out the Baby Cradle by BabyBjorn.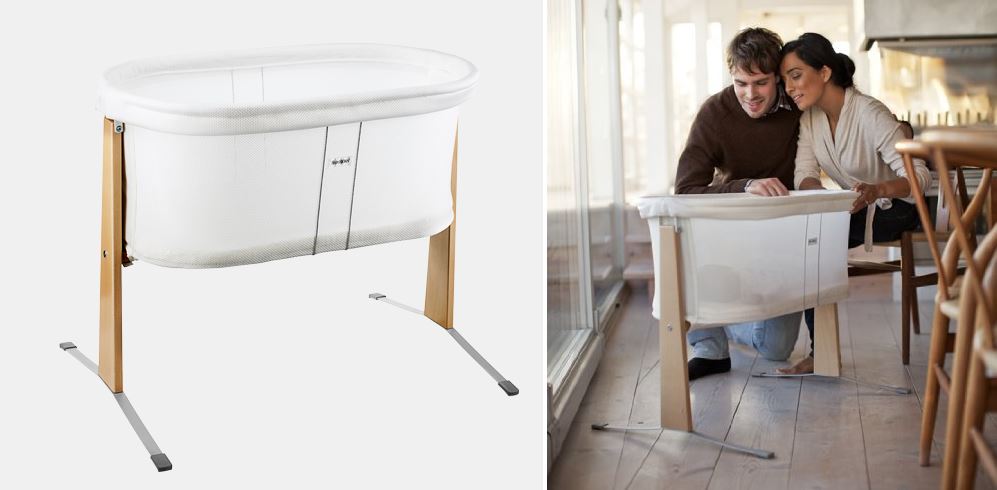 The Babyletto Origami Mini Crib in White is the perfect small-space solution for compact nurseries (and also makes a chic bassinet alternative). Not only does it feature a non-toxic finish, it's crafted of New Zealand pine wood and Carb II Compliant MDF. Available for purchase through Buy Buy Baby.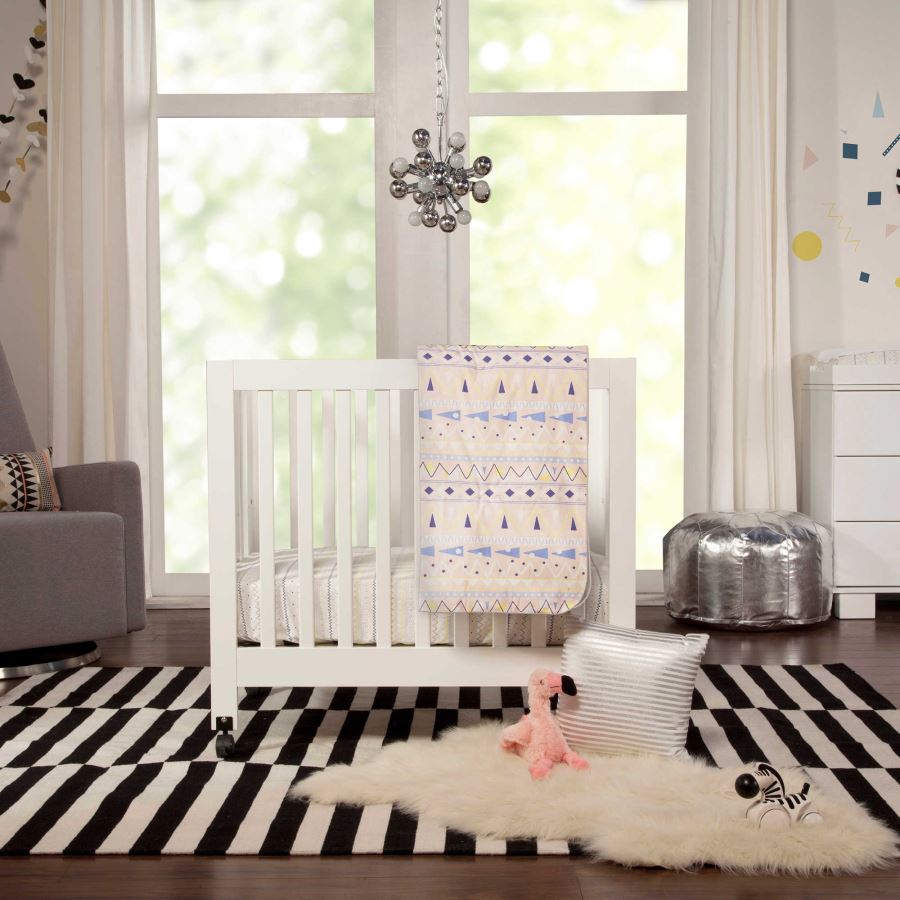 In fact, Babyletto offers a range of design-forward nursery furniture, from cribs to dressers. Below we see the Babyletto Moto Convertible Crib and 3-Drawer Changer Dresser, both in white: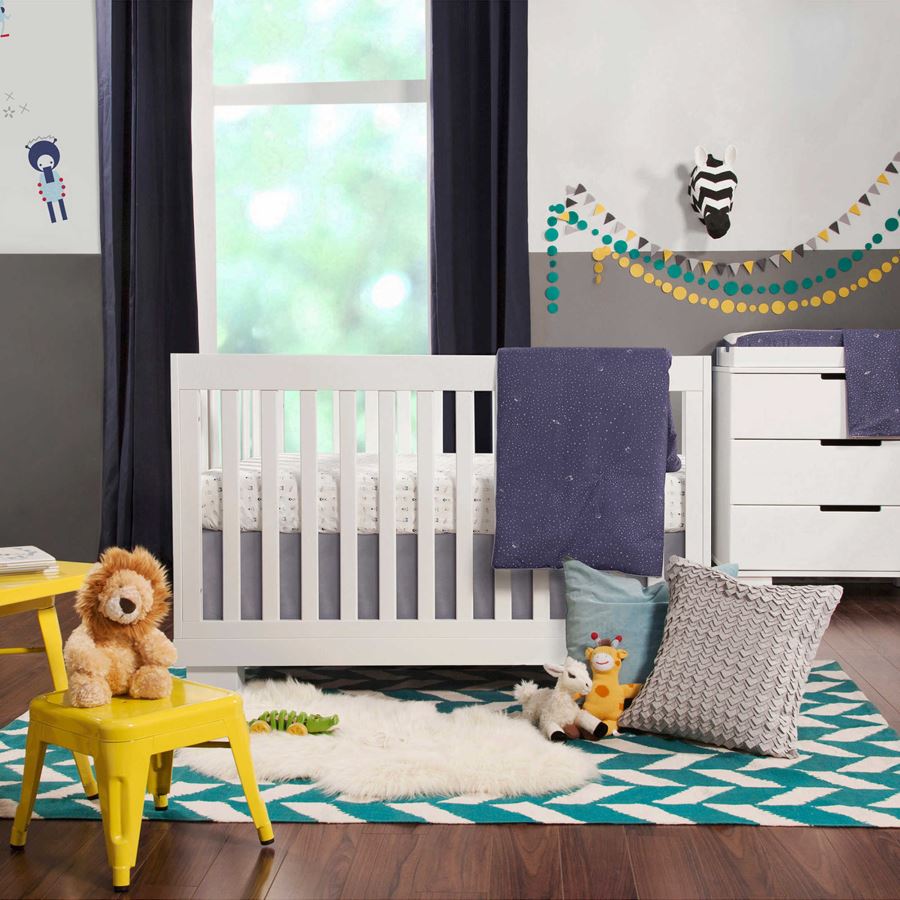 Minimalist Nursery Storage
Let's talk storage! While many minimalists opt for small dressers that double as changing tables, this strategy often leaves little room for surface-top diapers and wipes. While you can always stash them in a drawer, consider placing them in one of these Narrow Cubby Shelves from The Land of Nod.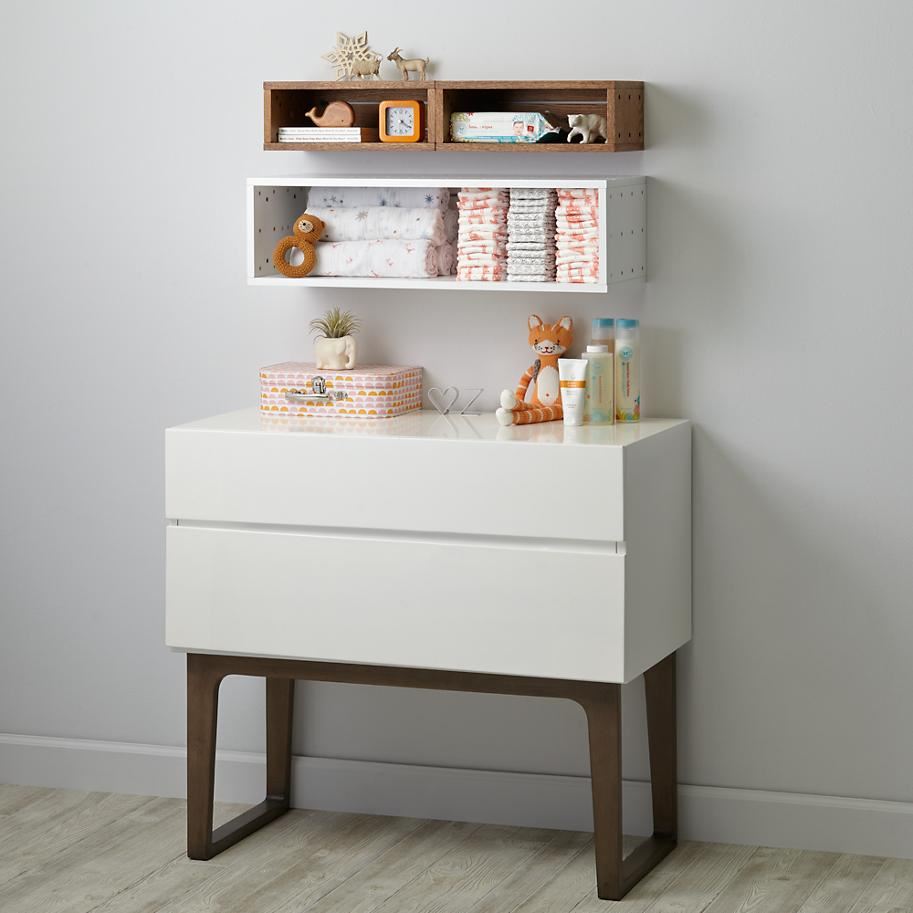 These Triangle Brackets from Bend Goods bring a retro-modern touch to the nursery, making eye-catching supports for the shelving of your choice (such as wood). While the Neon Red version pictured below is currently sold out on the Bend Goods site, you can purchase the brackets from Nannie Inez.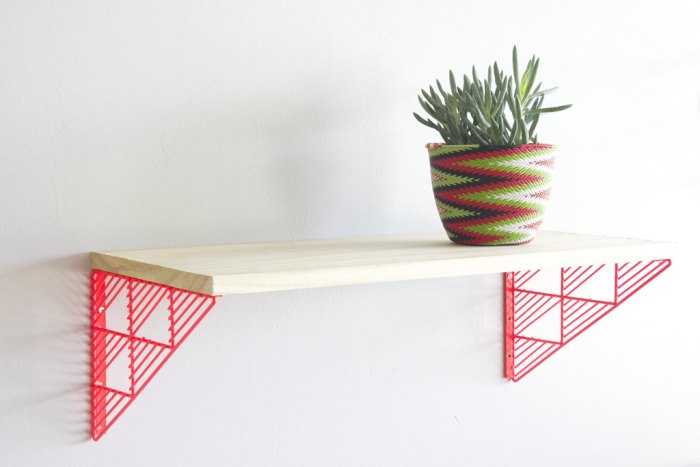 When it comes to corralling items such as diapers, consider sleek storage in shades of grey. The Greyscale Storage Collection from The Land of Nod is linear, compact and effective.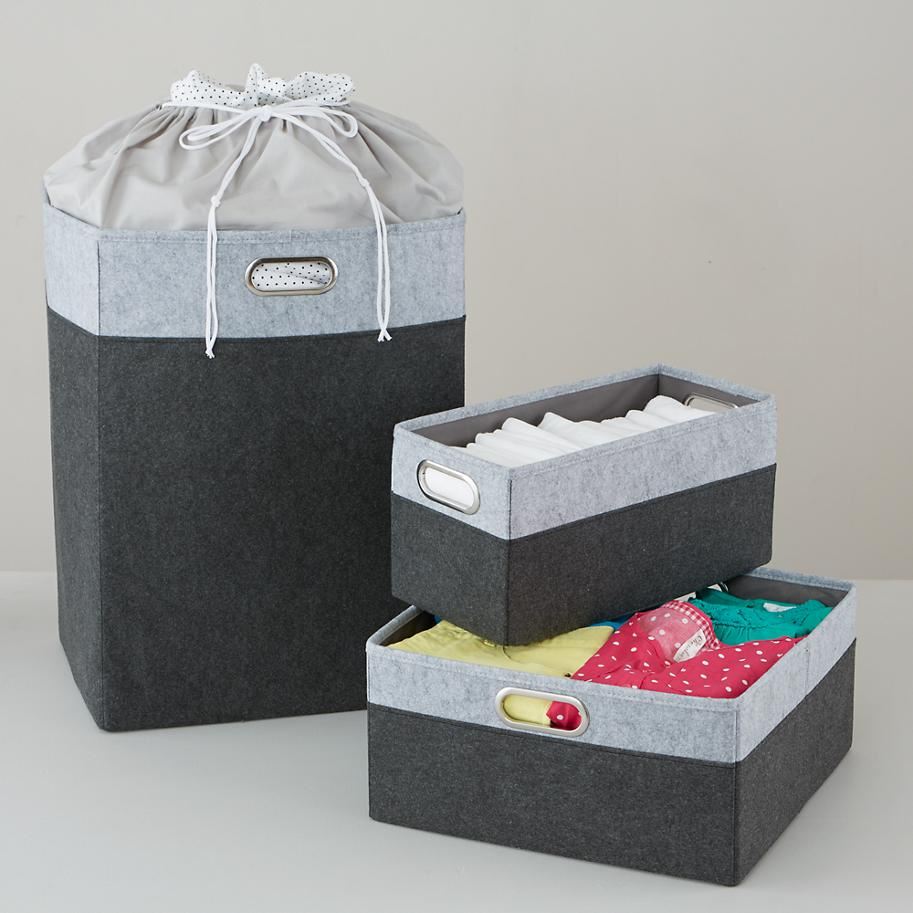 The Land of Nod also offers these cleverly-named Once More with Felting Cube Bins, which provide a clean-lined, sturdy storage solution in a range of colors. We're partial to the yellow, aqua and grey: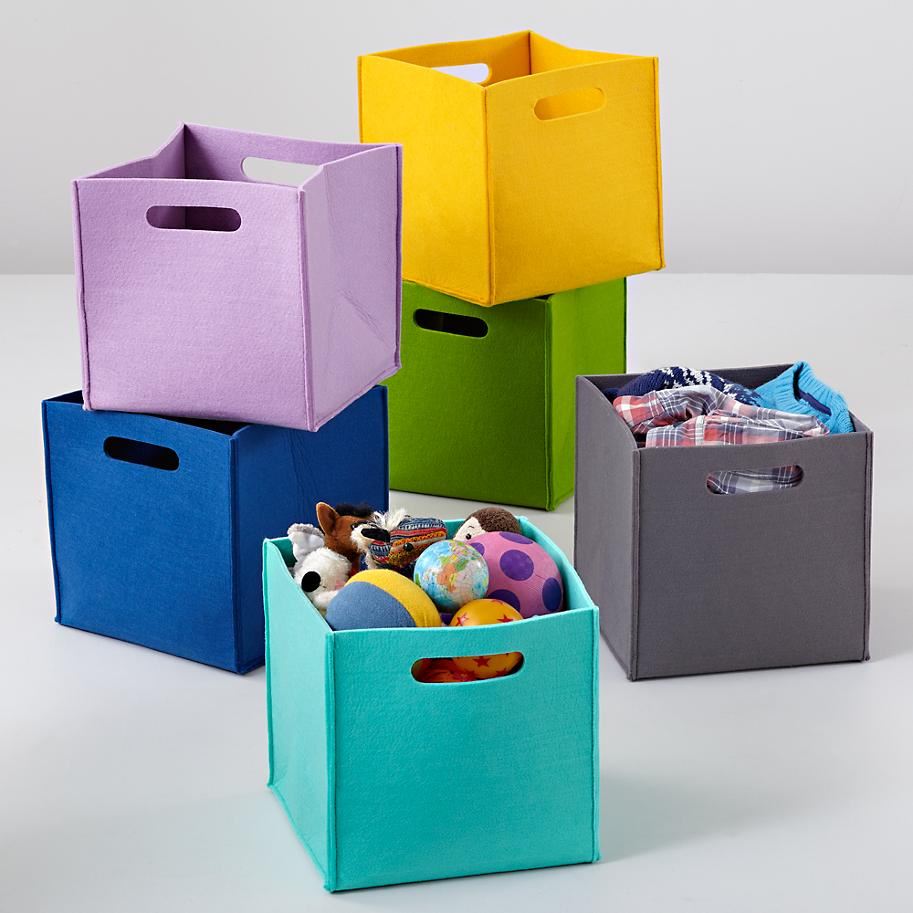 Whimsical Toys and Decor
Should you scrutinize each and every toy that crosses your path in terms of aesthetics? No! Be more concerned with safety and the level of developmental appropriateness. And it never hurts to go colorful! Vibrant toys are fun for baby and can double as nursery decor. Below we see the Bucket O' Blocks (Bright) from The Land of Nod: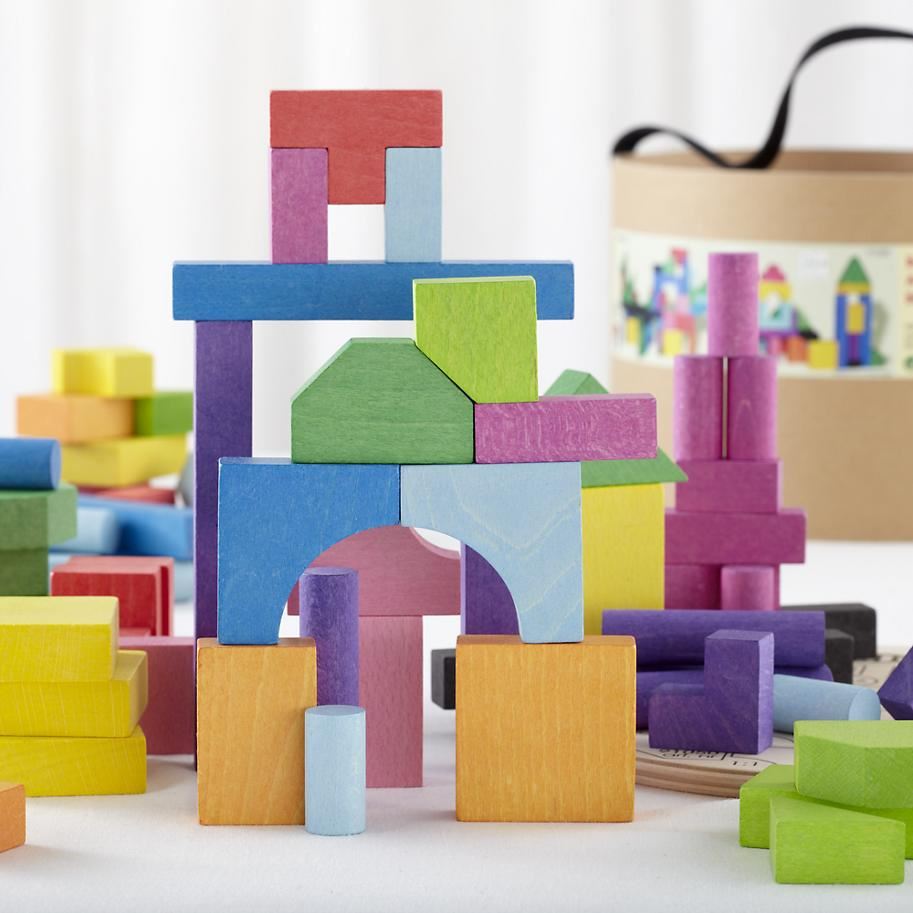 If you're looking for a tasteful baby gym that you can leave on display in your living room, it's hard to get more stylish than this affordable LEKA baby gym from IKEA.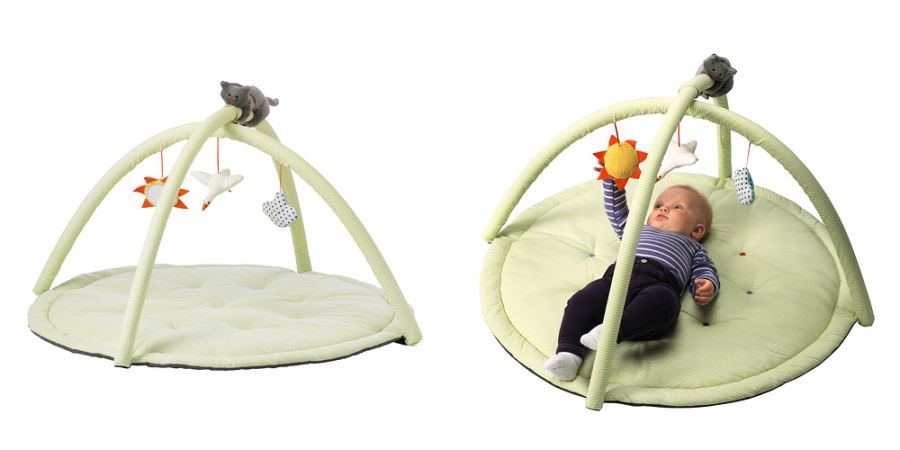 While stark minimalism has its perks, many parents find that "whimsical" is the way to go when it comes to maintaining a sleek yet child-friendly space. One popular motif: moon and stars. Introduce a little bit of celestial style to your modern nursery with this Silver Moon and Star Cloud Mobile from Etsy shop Baby Jives Co.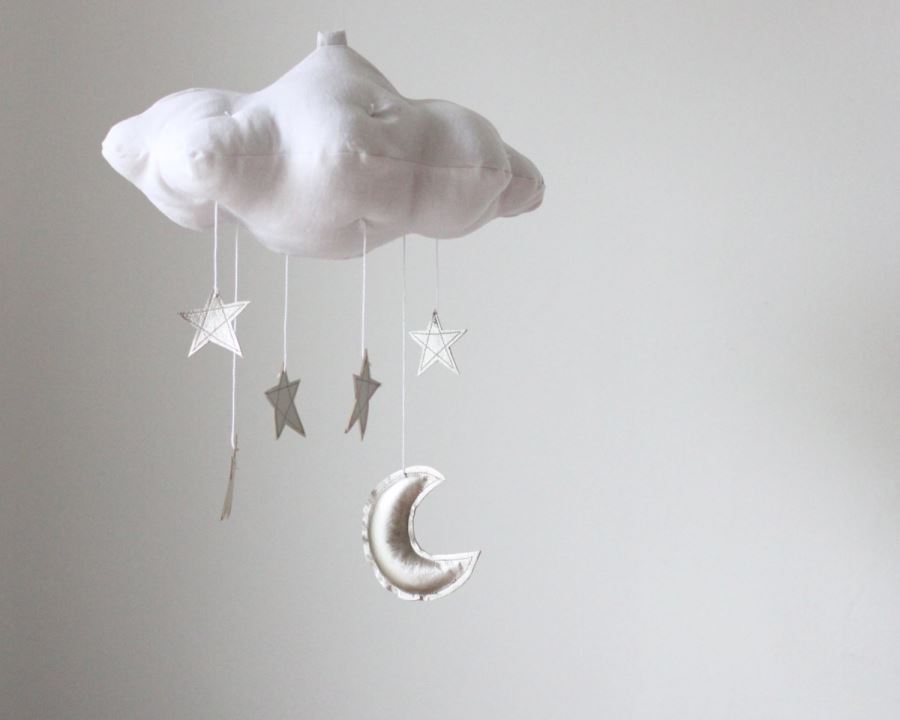 Wearable Style
We won't belabor the fashion angle in today's post, as we are first and foremost an architecture and design blog, but keep in mind that you can wear your design style as well! This Matt and Nat Diaper Bag from The Land of Nod is available in Clay (pictured below), Natural, Midnight Blue and Black. And animal lovers will adore the fact that it's crafted from vegan leather: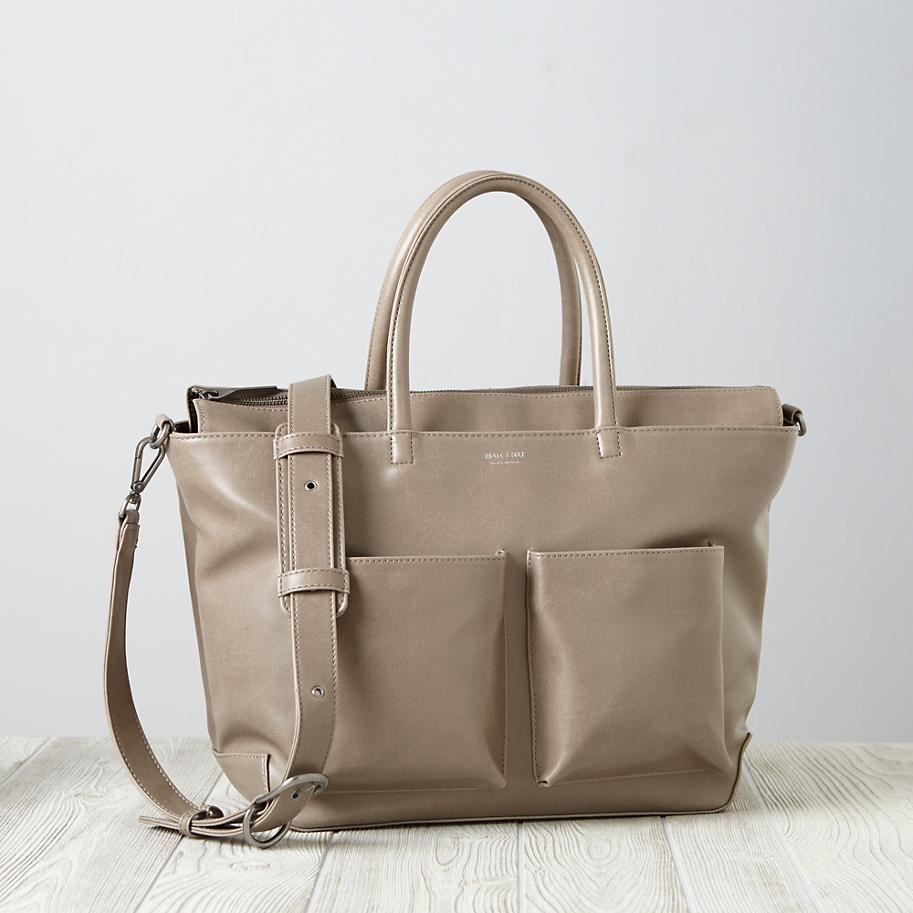 You can always represent your design style through the swaddling blankets that will surround your baby. This 3-Pack of Organic Pastel Tribal Cotton Swaddles are the result of a collaboration between Aden + Anais and Honest. Available through Buy Buy Baby, they're made from soft organic cotton and filled with geo style: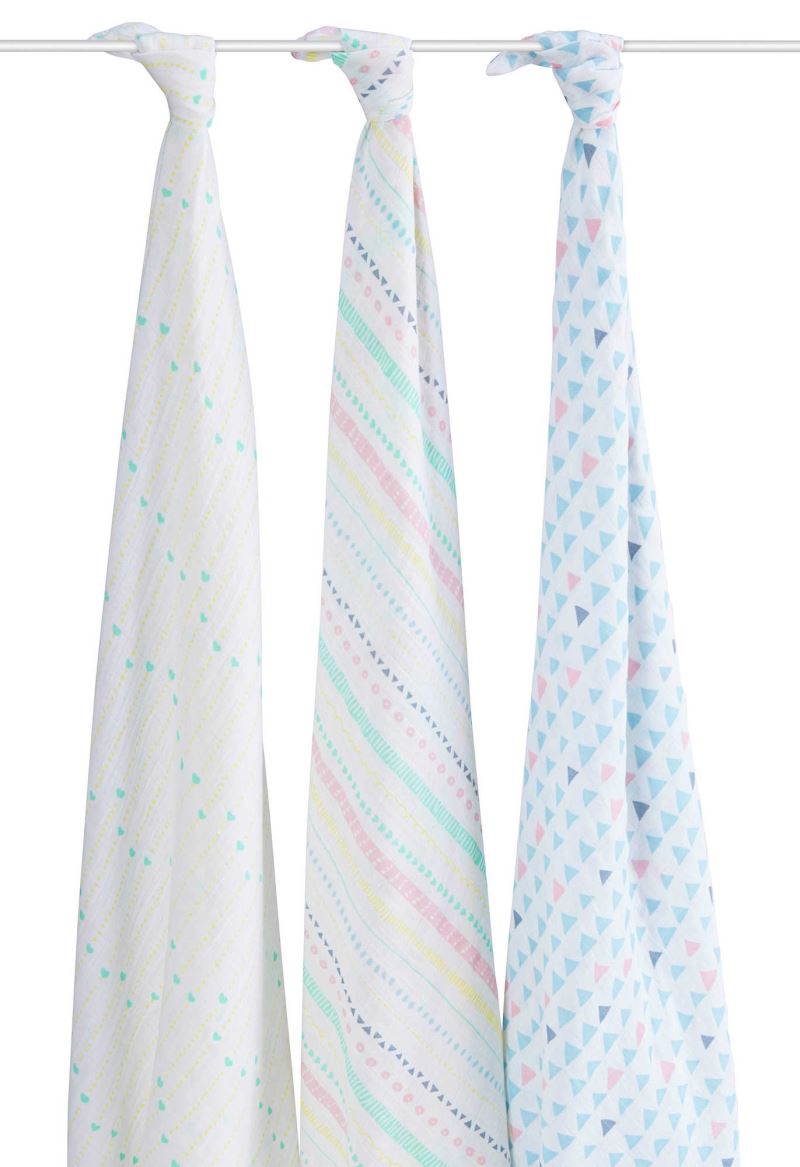 We at Decoist wish you the best as you prepare your home for your baby. Enjoy cultivating a modern, child-friendly style!