A midcentury bathroom often evokes a clean and neat feel with its laidback design. It is one of the most popular and timeless styles that many designers and homeowners adore. It is mostly minimalist and features clean lines with a variety of cool colors. A midcentury modern bathroom borders on elegance and straightforward functionality that screams hygienic appeal and comfort. But functionality aside, you should also pick a theme that is soothing and inspiring.
If you are considering remodeling your home, here is a list of stunning midcentury modern bathroom ideas to try.
15 Amazing Midcentury Modern Bathroom Ideas
Minimalist Combination of Blue and White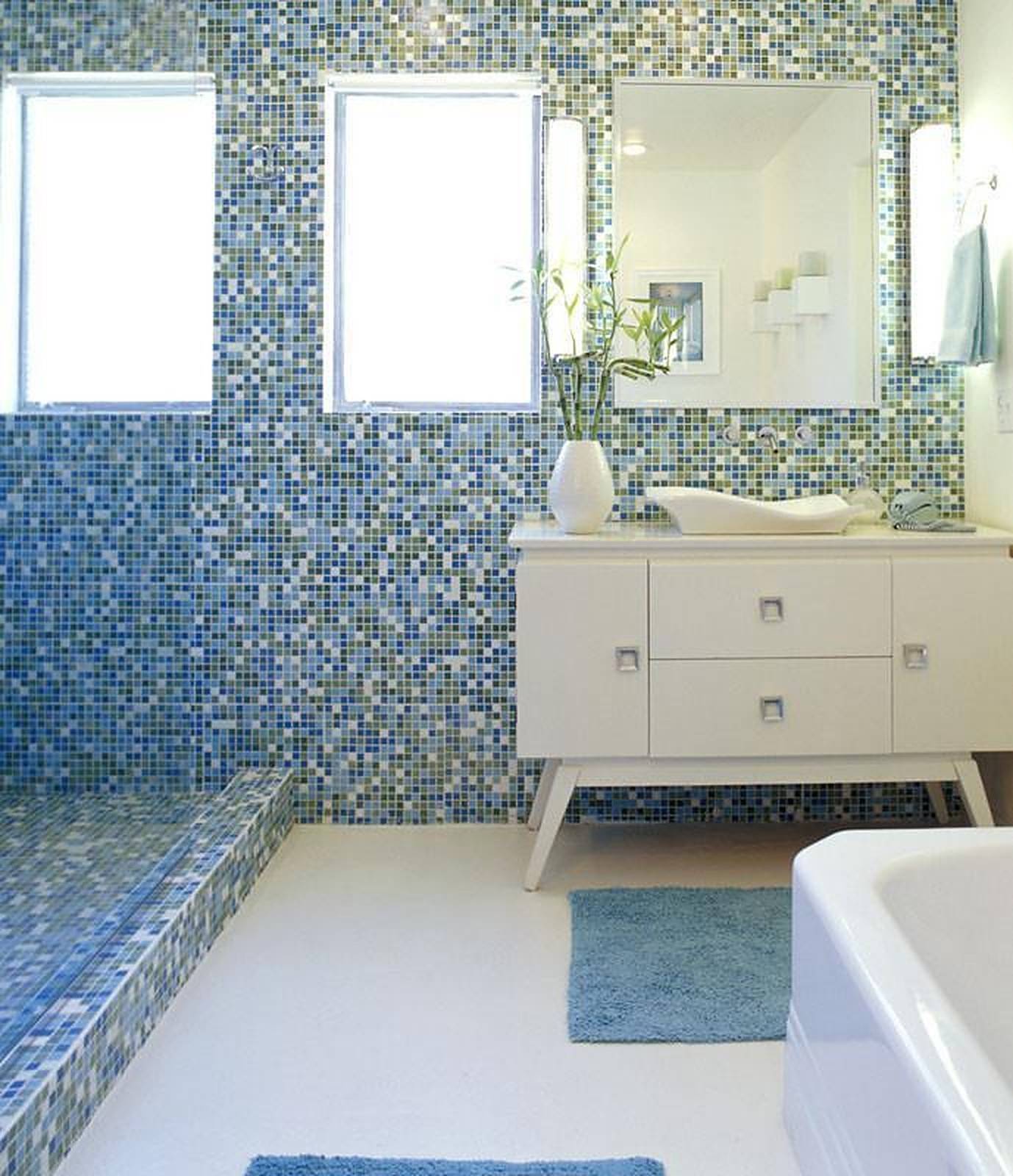 Midcentury modern bathroom style can be executed regardless of your bathroom space. White is very basic but a staple when it comes to designs and color combinations. If your bathroom area is quite limited, using a white color can brighten the space and make it appear larger. Also, to make it more striking, you can incorporate patterned tiles on the walls and floor using the white and blue color combination. Light and pale blue give a relaxing vibe. You can also incorporate a little shade of dark blue or hints of green. This will create contrast and balance so the overall design wouldn't appear plain and drab.
Geometrically Patterned Walls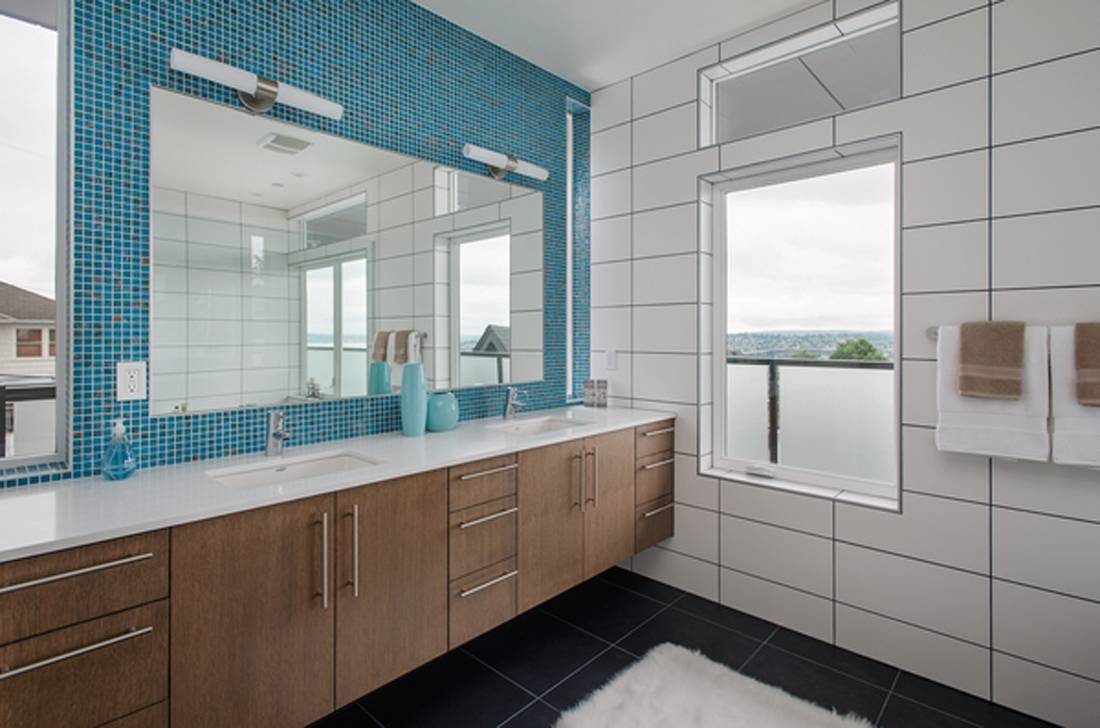 If you want to do away from monochromatic colors, use blue tiles on the stone walls as an accent. Adding other accessories such as large mirrors and lamps can also elevate the overall appearance of the area. The blue tiles adjacent to the white rectangular patterns of the wall give a good balance and contrast completing your midcentury modern bathroom look.
Elegant and Accented White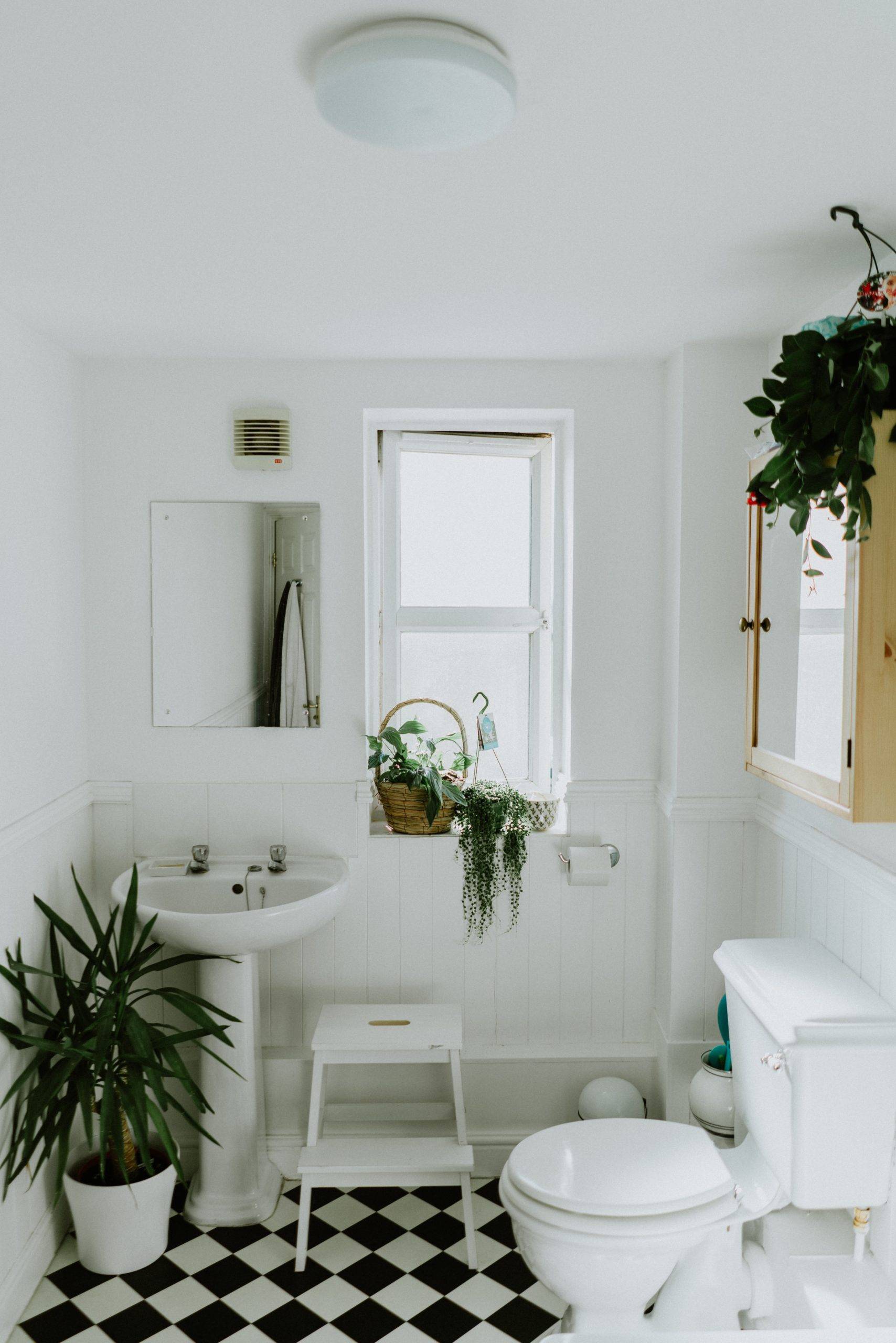 One of the important elements of midcentury modern bathroom style is minimalism. If you don't want any bold contrast or pops of color, you can go for an all-white design. Not only does this brighten up your bathroom, but it will also make it look very neat. Using black and white tiles on the floor will give a subtle contrast and enhance the bathroom's aesthetic. Decorating it with greens such as faux plants also adds visual interest and makes the space livelier.
Marble Patterns and Brass Fixtures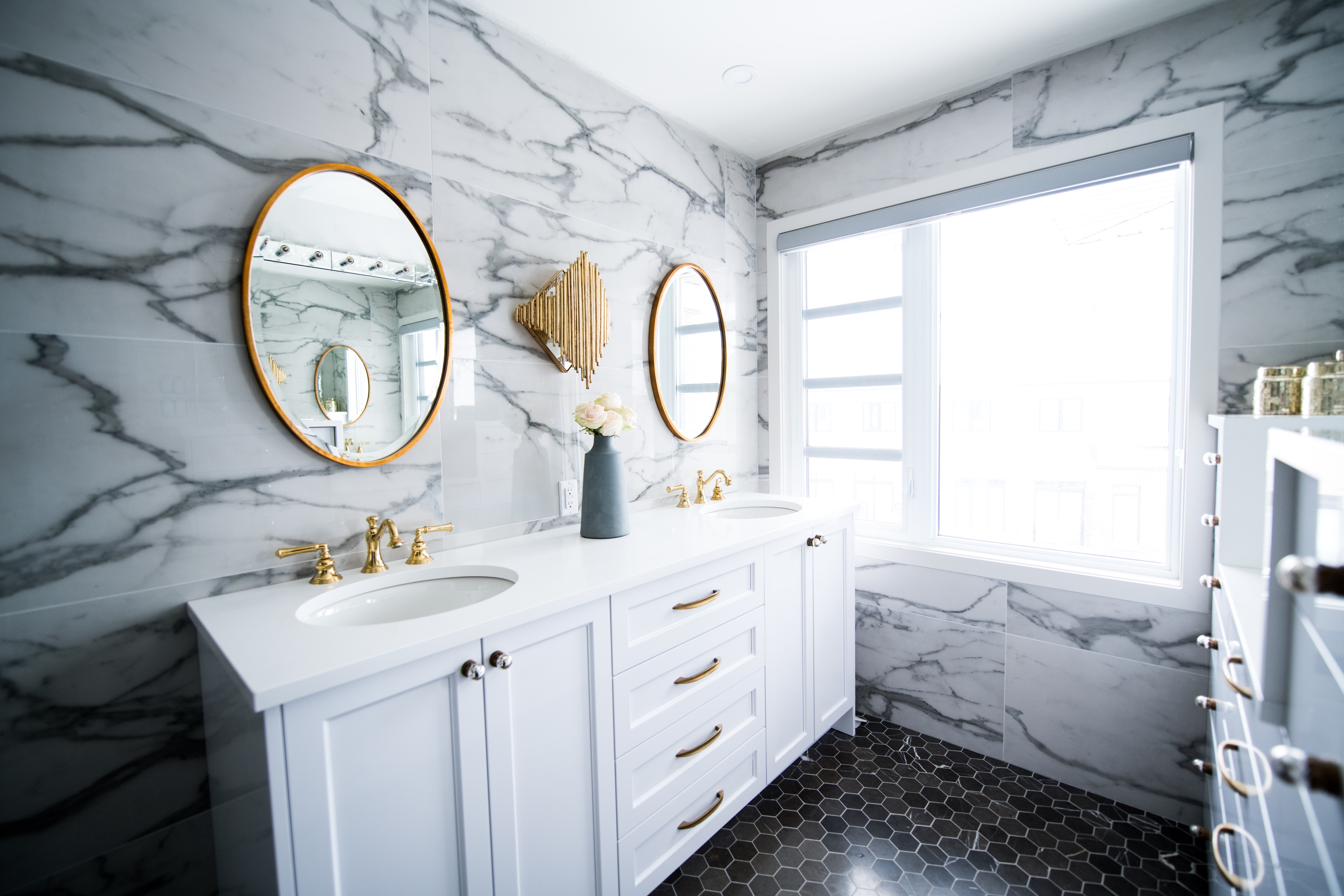 Monochromatic color won't have to be boring especially if you combine the right accessories and design patterns. Instead of using plain rectangular designs on the wall, you can opt for groovy marble patterns to add texture and make it more iconic. The combination of black floor tiles and all-white cabinets also creates a contrasting effect. Accessorizing it with brass faucets and mirror frames adds extra glam. An all-white vanity area, black subway tiles, and brass fixtures provide a neutral but strong character for the midcentury modern bathroom design.
Classic and Vintage Vibe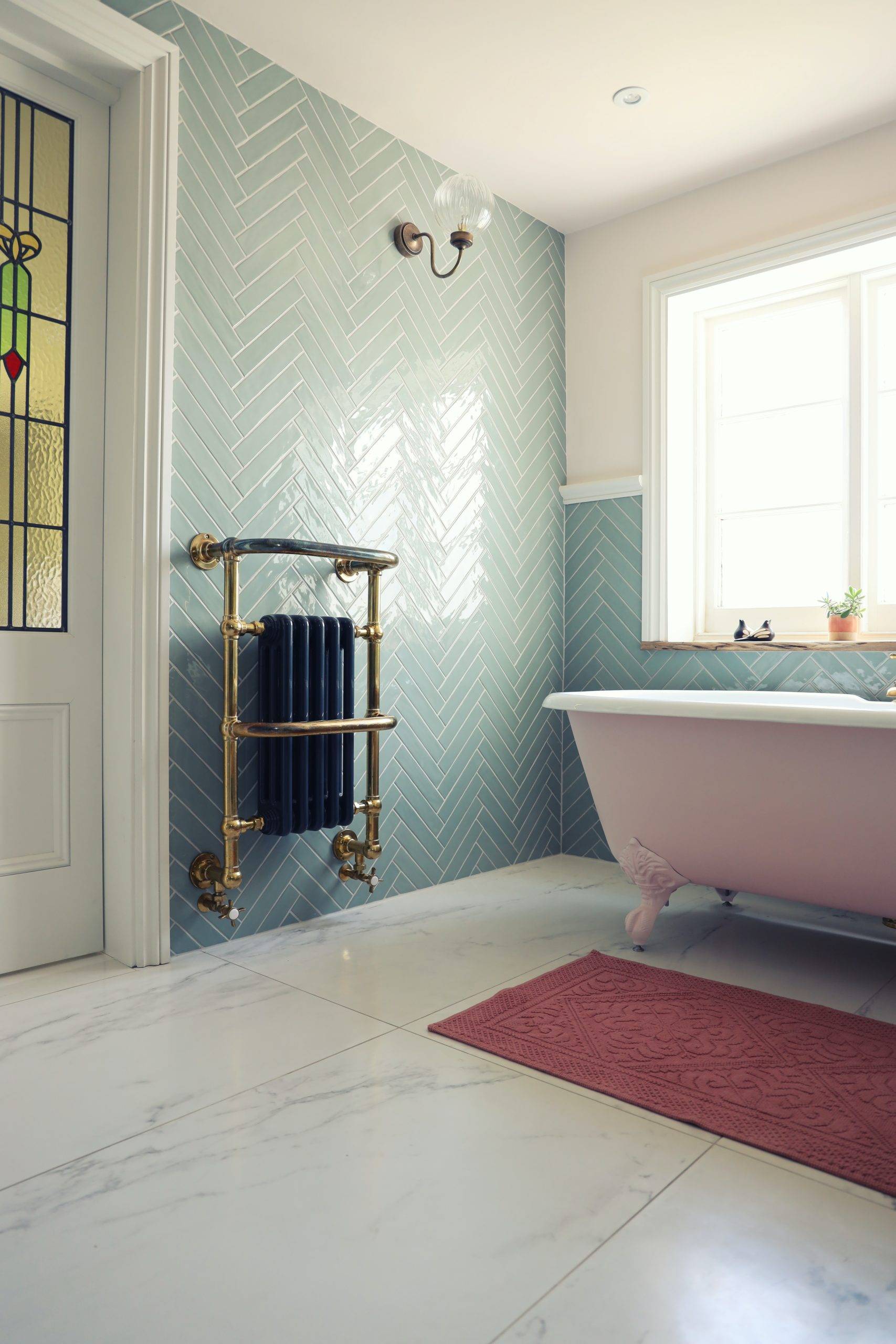 Vintage but luxurious at the same time? Yes, please! What's great about midcentury modern style is that you can mix and match different colors, designs, and elements. The light-colored marble floor contrasting with the dark red velvet rug will make you feel like you're in some lush hotel. Also, combining the light pink color of the tub with a light shade of green wall tiles can create a vintage atmosphere. With brass fittings and vintage lamps as decoration, your mid-century modern bathroom will surely make you feel nostalgic and fancy.
Dark Tones and Warm Lights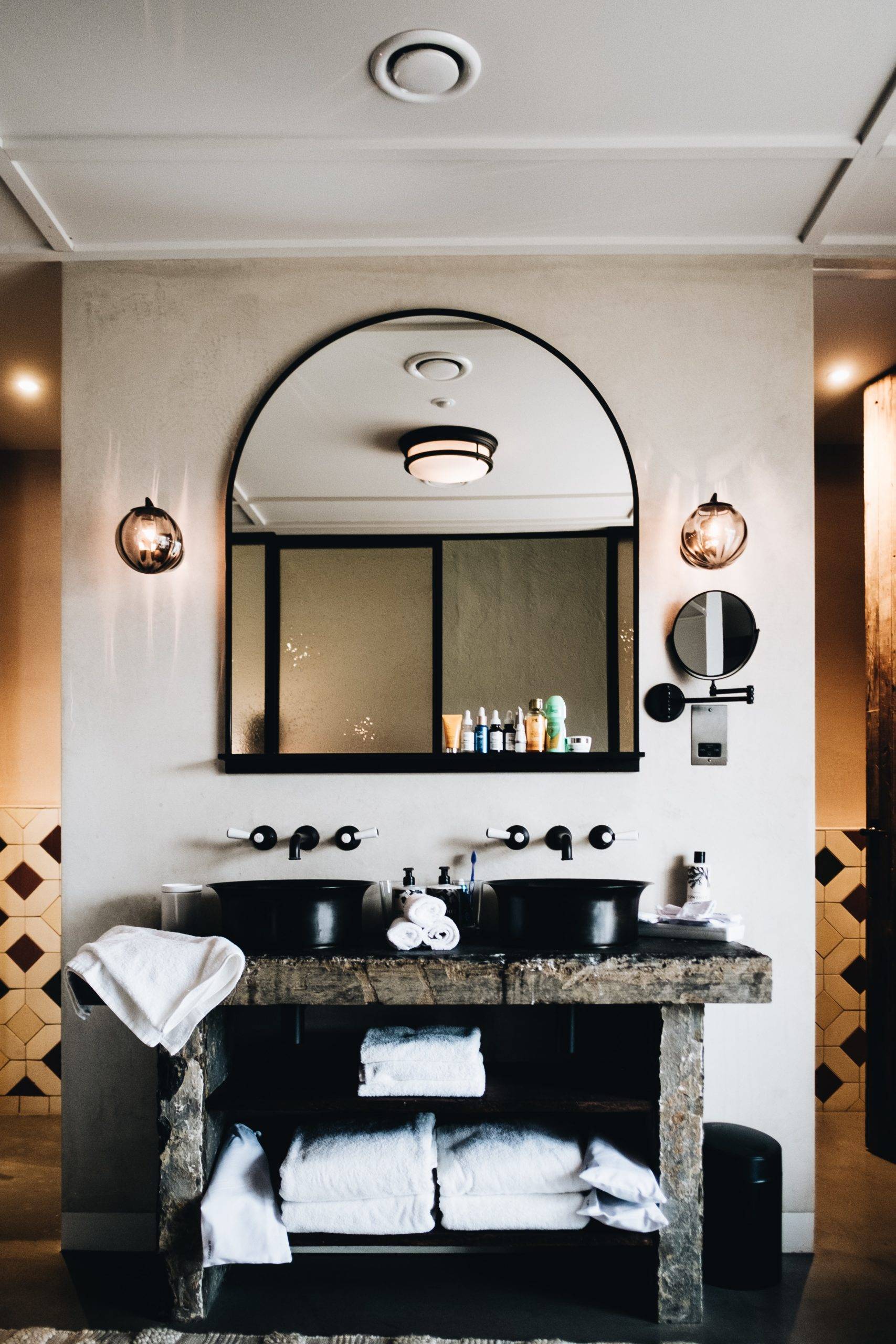 Wall designs and patterns are central to the midcentury modern bathroom. The lighting is a vital element as well. If you put some dark-colored amenities, you should make sure that the ambiance wouldn't feel too gloomy and grim. Adding wall-mounted warm lights gives just the right amount of brightness and glamour. The warm lights can also illuminate the pale wall color and the dark sink and vanity.
Earthy Marble Wall Patterns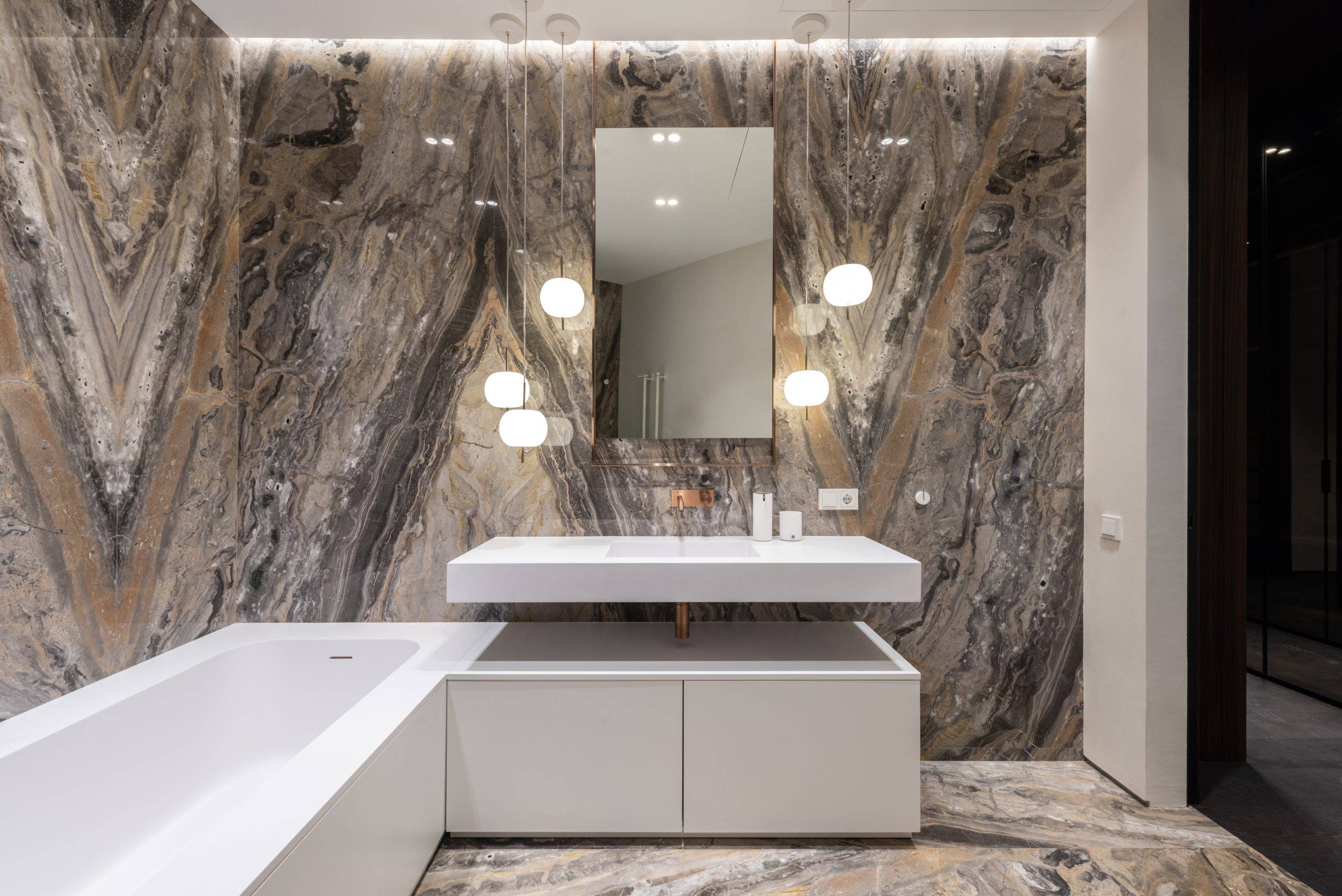 In creating a bathroom, the walls and floor space are mostly redesigned. If you want a midcentury modern bathroom that is clutter-free, simple but very classy, using earth and neutral tones in the walls and floor is the way to go. Marble is always a great choice because of its elegance and texture, not to mention it is very timeless as well.
Vintage Victorian Design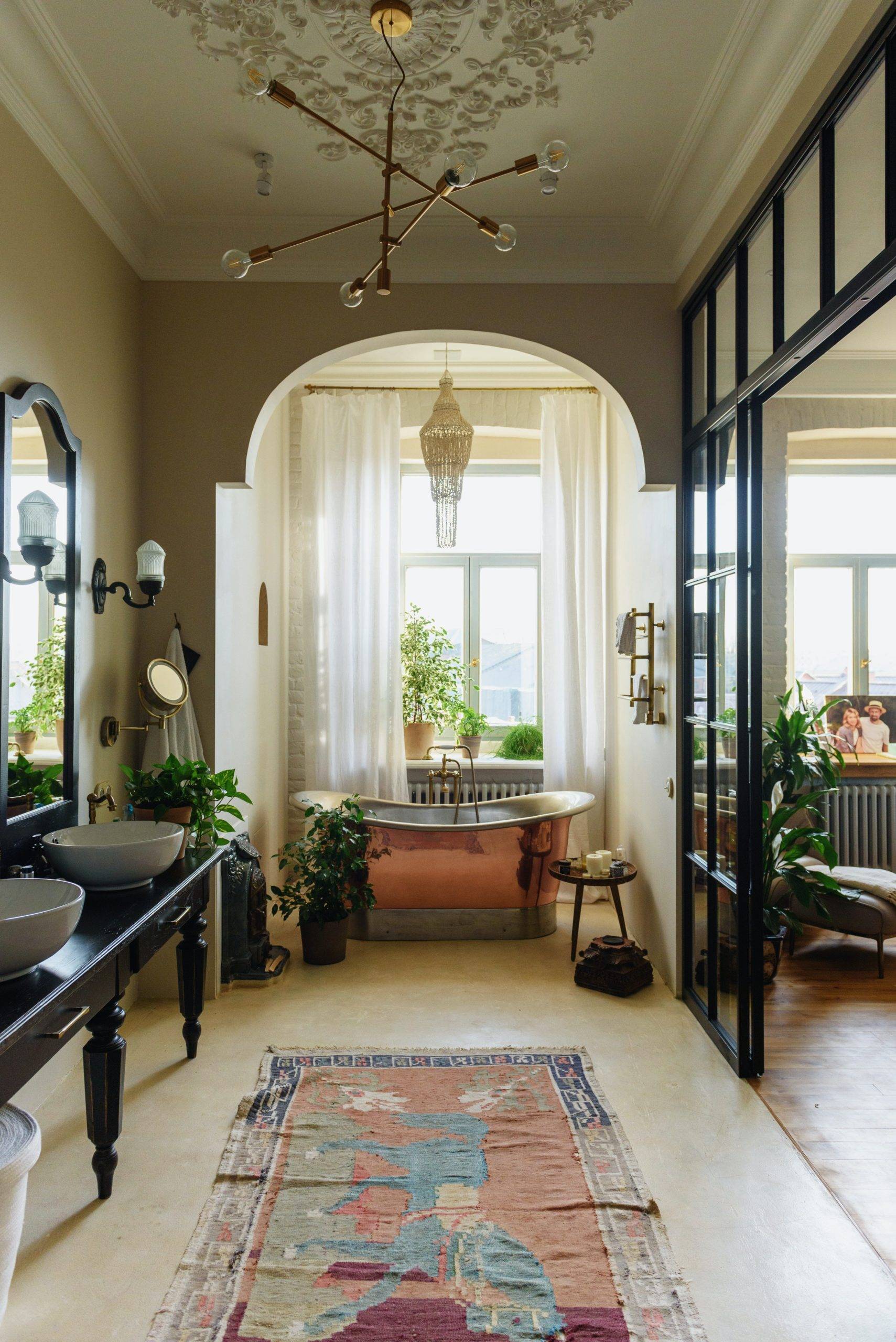 If you want to feel a lush atmosphere every time you enter your bathroom, then this Victorian design is for you! This luxurious bathroom features plain and neutral-toned walls and a white marble floor. It is contrasted by back door frames and vanity tables. The un-lacquered brass bathtub and stool are shaped intricately facing the wide window directly. This creates an airy and bright space in addition to the light curtains and stylish lamps.
Modern Farmhouse Design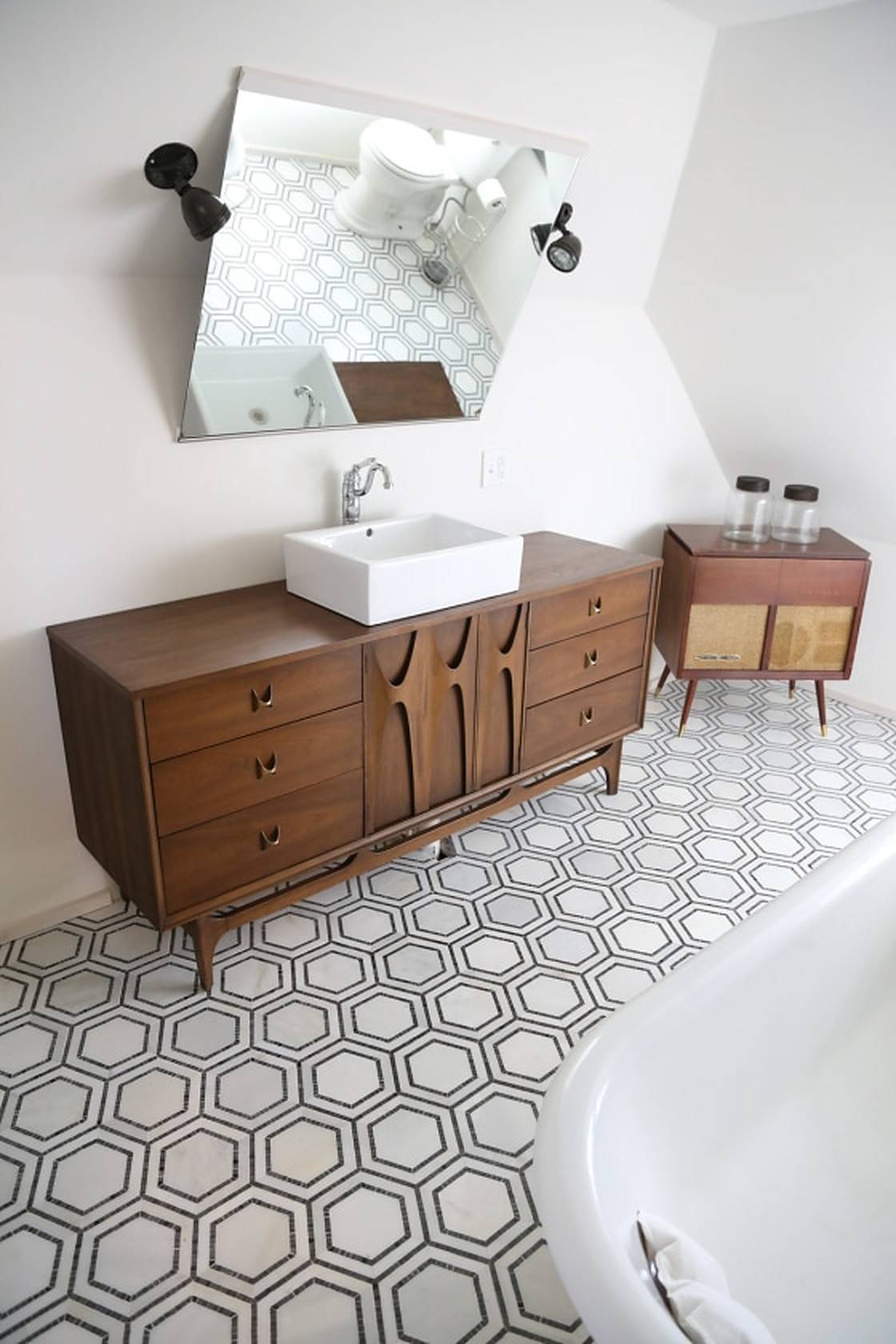 To maximize the space in a midcentury-style bathroom, you can place the decoration on the space below the ceiling. Attaching mirrors and lamps in an angled position widens the space and makes it more stylish. The mirror also reflects the patterns on the floor as well as the long wooden cabinet.
Vibrant and Minimalist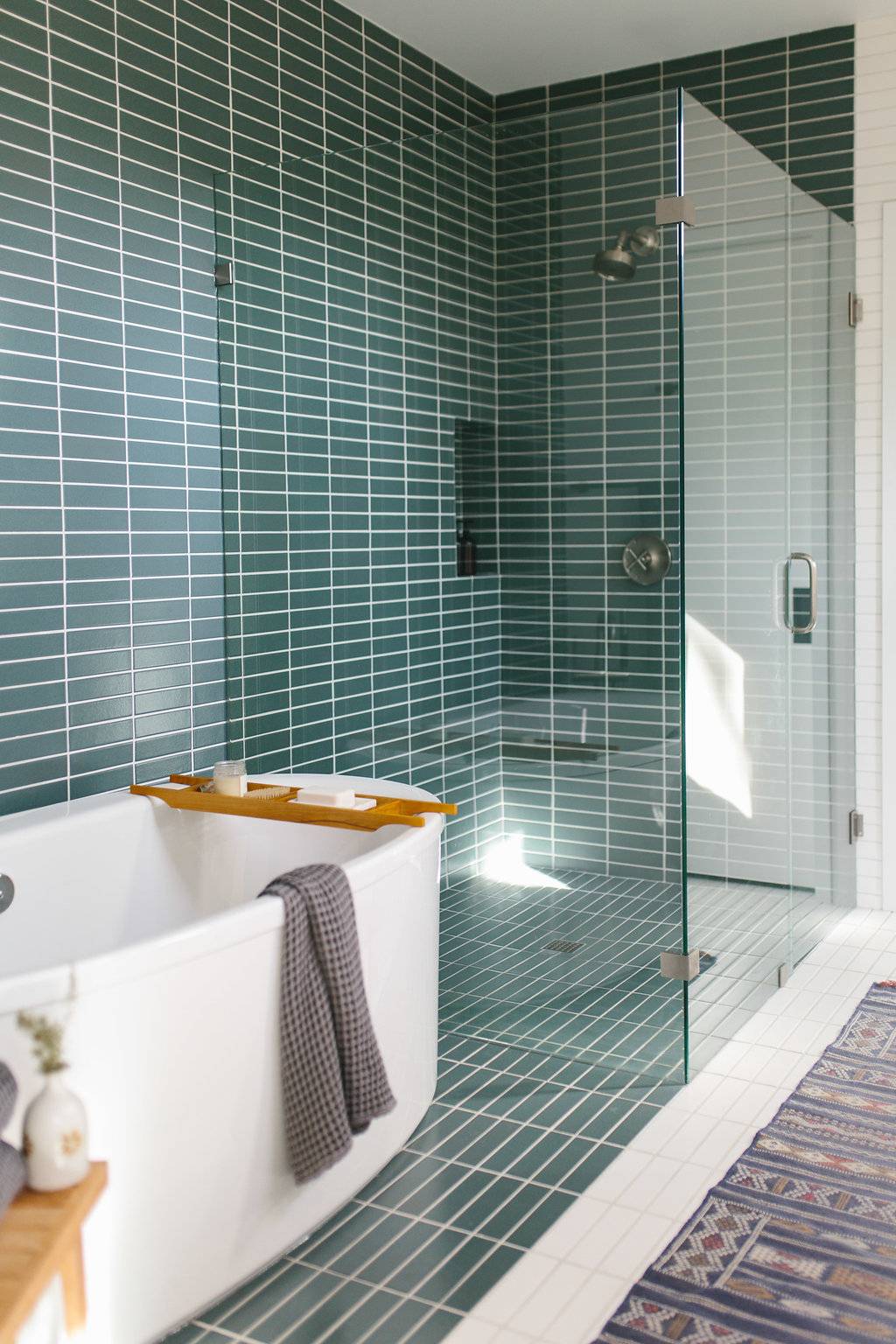 Are you looking for a style to spice up your cramped bathroom space? This midcentury modern bathroom style is for you! You can use a glass wall to separate the bathtub and shower area without making the room appear small. The green-colored wall with a rectangular pattern also makes the bathroom appear chic since it complements the white amenities. This design is also further enhanced by the aesthetic pattern of the rug.
Rustic and Refreshing Tones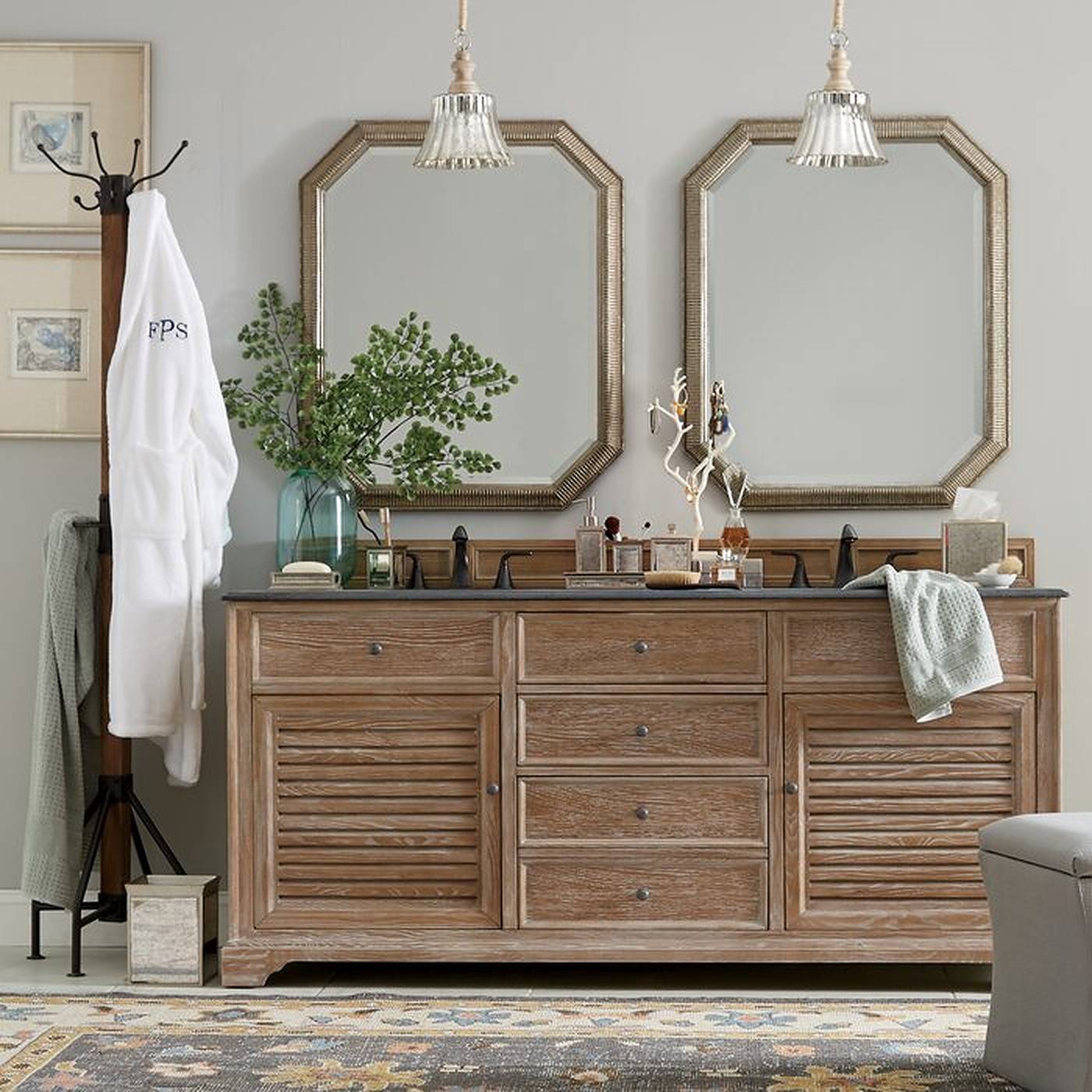 If you want a more traditional design, then this rustic style is for you. It features two large mirrors and beautiful pendant lights. The rustic wooden cabinet goes well with the black countertop and gray-colored wall. Adding a plant as an ornament and putting a rug completes the style.
Contrasting Patterns and Colors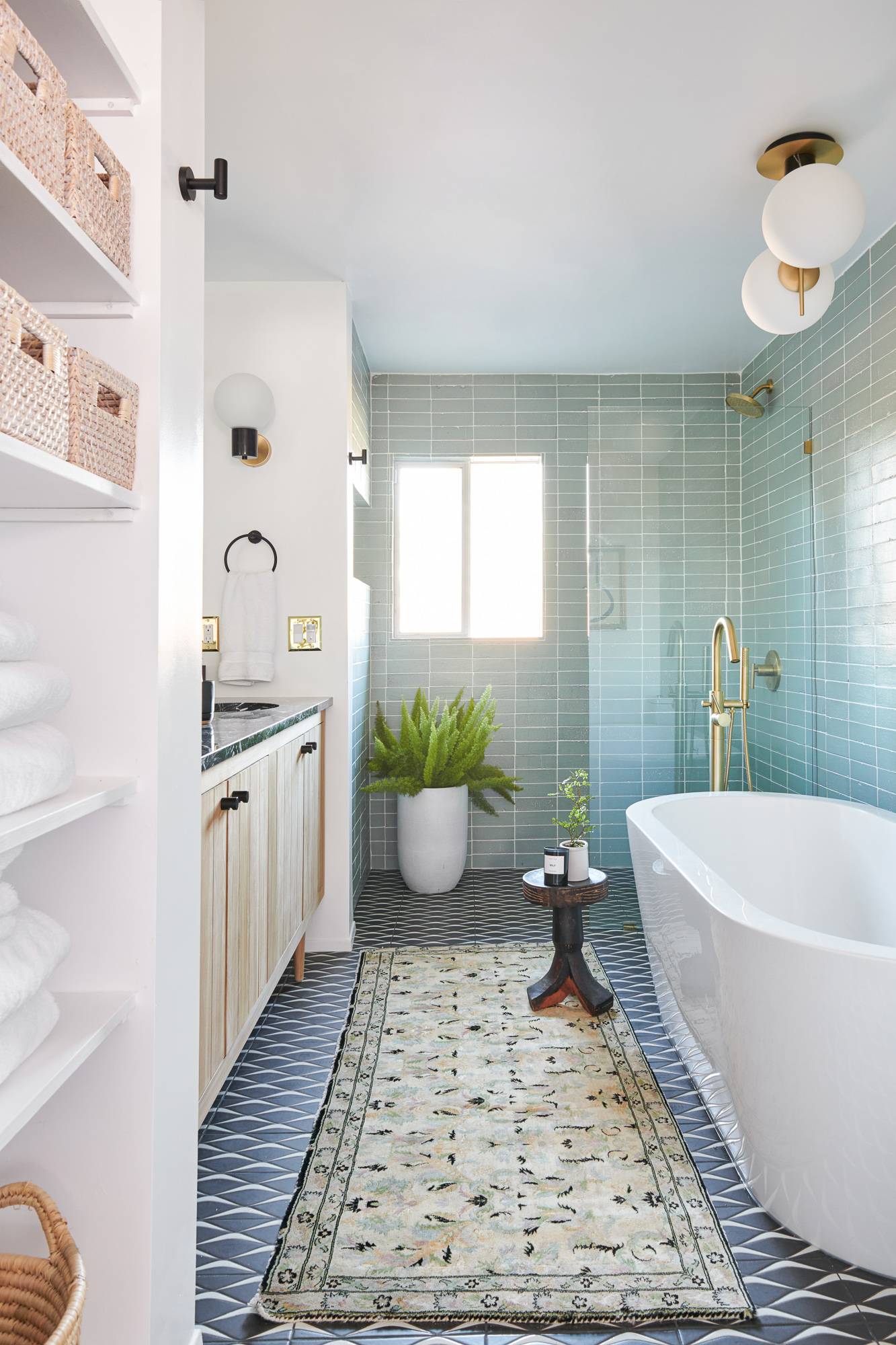 This midcentury modern bathroom style is for those who love interesting prints and patterns. Brick walls, marble countertop, and a wildly patterned floor surprisingly look good together. Right accessories such as gold faucets, modern lamps, and wooden furniture help tie the design to form a cohesive look.
Monochromatic and Clean-line Appearance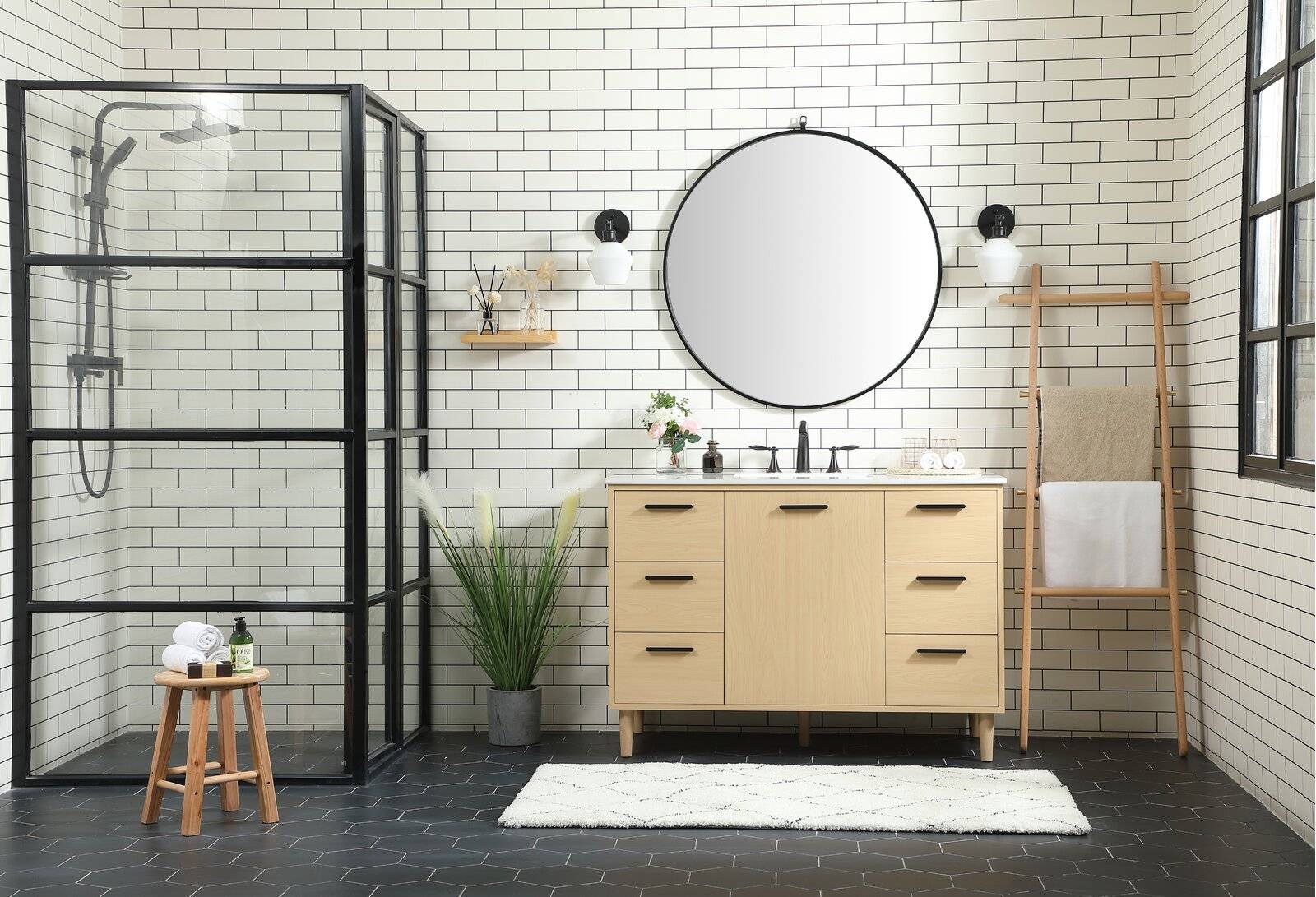 Balance and contrast are important in the visual interest of a midcentury modern bathroom style. You don't need bold and bright colors to achieve it. Even with plain and neutral tones, you can still make the design stand out. Floor with black tiles paired with white brick walls provide a simple but classic style. The wooden furniture also balances the contrast between the dark and light-colored accessories in the room.
Patterned Walls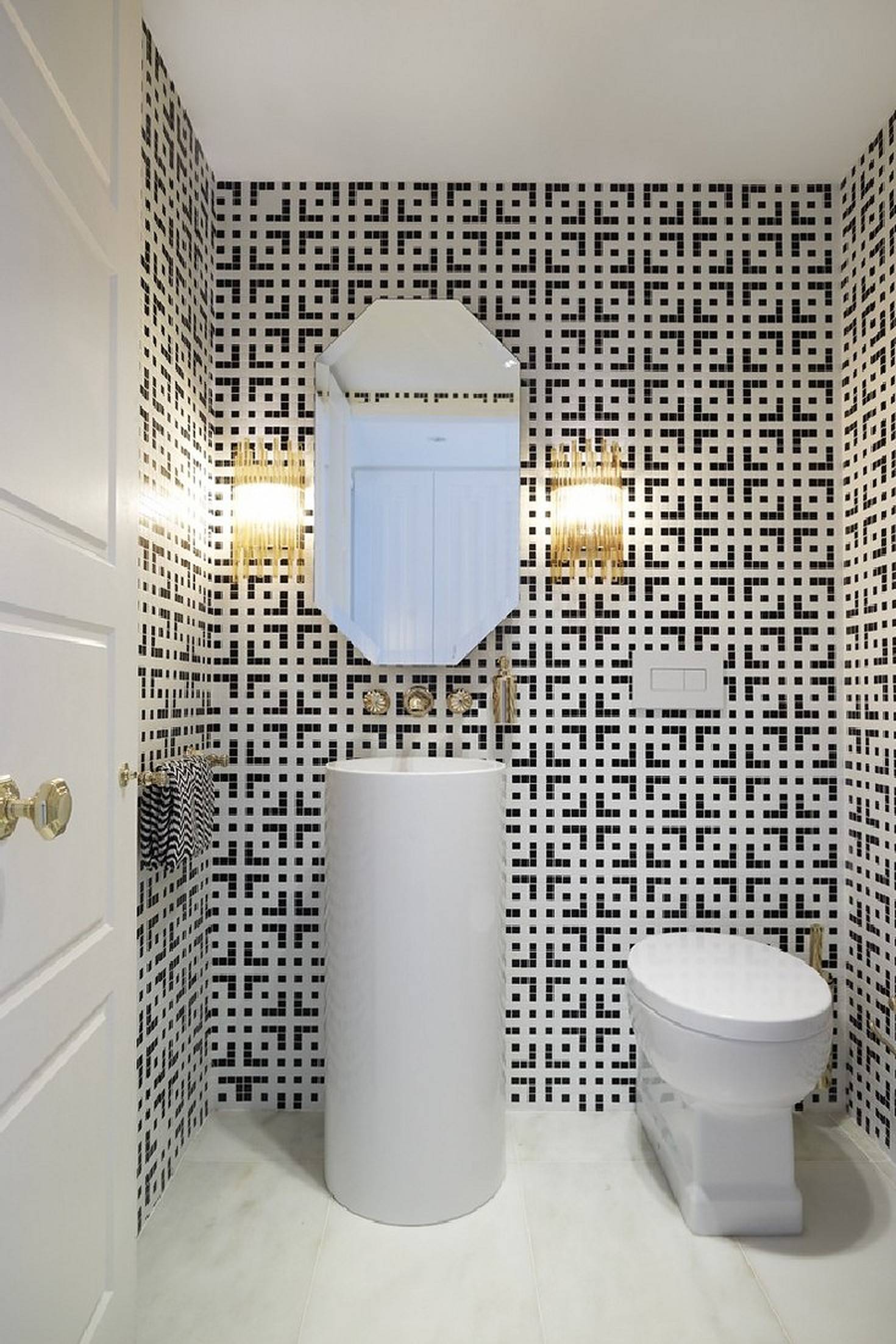 In a midcentury modern bathroom, the tiles used have intricate patterns most of the time. That doesn't mean that you have to go big with the renovations. A plain all-white interior can be enhanced by adding patterned tiles on the walls. This involves a simple color palette but it makes the overall design unique. Adding geometric mirrors and warm lights complete the style and make it even more striking.
Contemporary and Wooden Design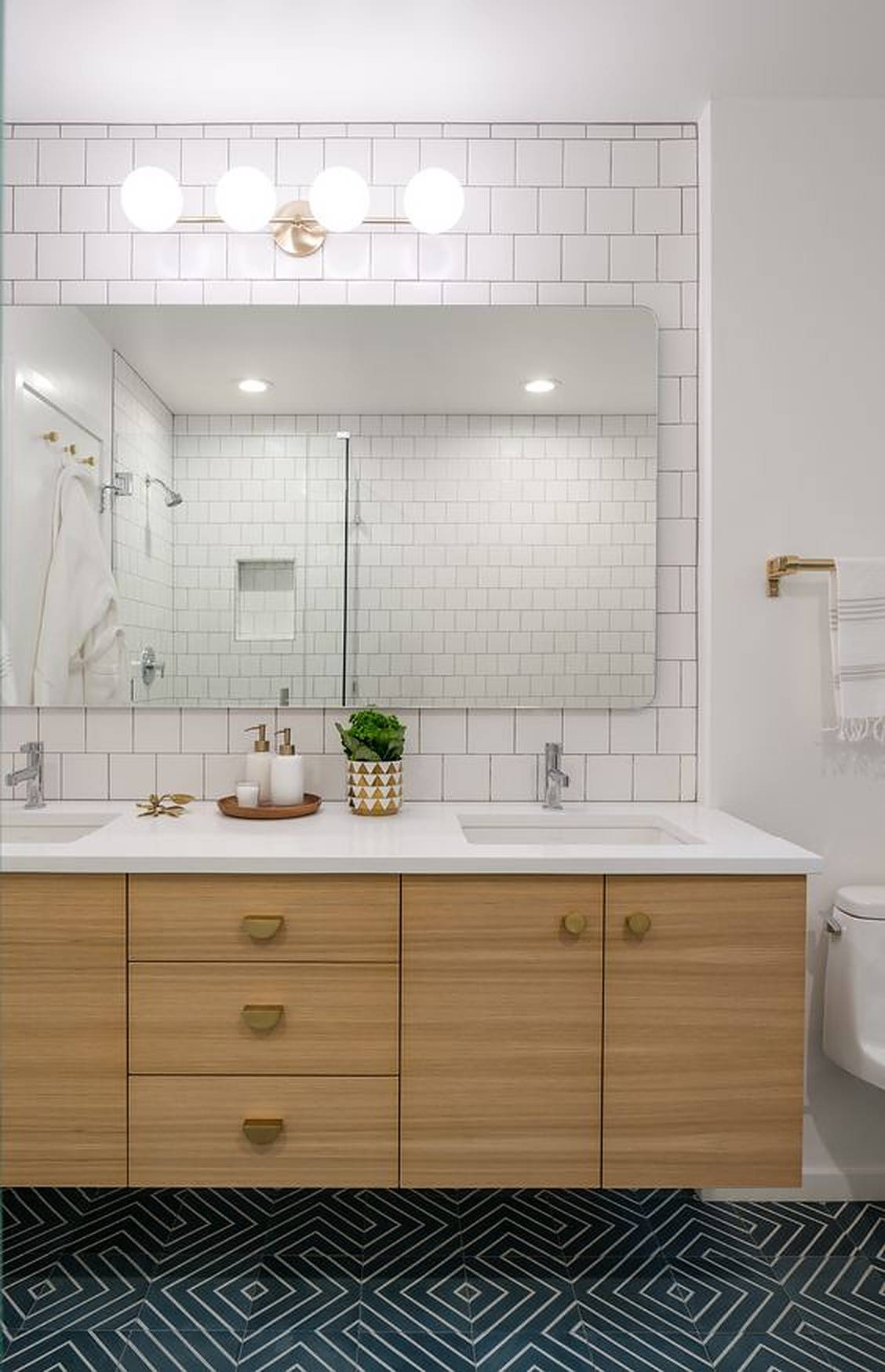 Then, again you can never go wrong with white and neutral tones. If you want to keep it neat, classy, and timeless, white walls with rectangular patterns are a great choice. The wide vanity mirror, circular lights, and metal faucets provide a contemporary feel. The overall interior and aesthetic are further improved by the brass ornaments and dark-colored floor.
Takeaways
The midcentury modern bathroom style is one of the most popular designs today. You can match a wide range of patterns, colors, and ornaments of your choice. It gives you more freedom to successfully remodel your space without going beyond your budget. You just have to be creative and resourceful in merging traditional and modern designs without compromising the functionality of your bathroom.