We're in the middle of a laundry basket revival. Yes, you heard us! Thanks to a wide array of cloth and woven basket designs (not to mention, a slew of geometric wire baskets), doing laundry has never been more stylish. Why bother purchasing a well-designed laundry basket or hamper? Because sometimes it's fun to make the most mundane of tasks a little bit special. Plus, the minimal look of these containers makes them perfect for organizing your interior and cutting down on clutter. Can you find a favorite in the selections that follow?…
Related: Perfect Small Laundry Room: Space-Savvy and Stylish Designs
Cloth Baskets and Bins
Laundry baskets made from cloth are becoming more and more popular, especially baskets that are sturdy and hold their shape. This Grid Laundry Basket from ferm LIVING will go with any color scheme you showcase in your laundry room. Simple, modern and stylish: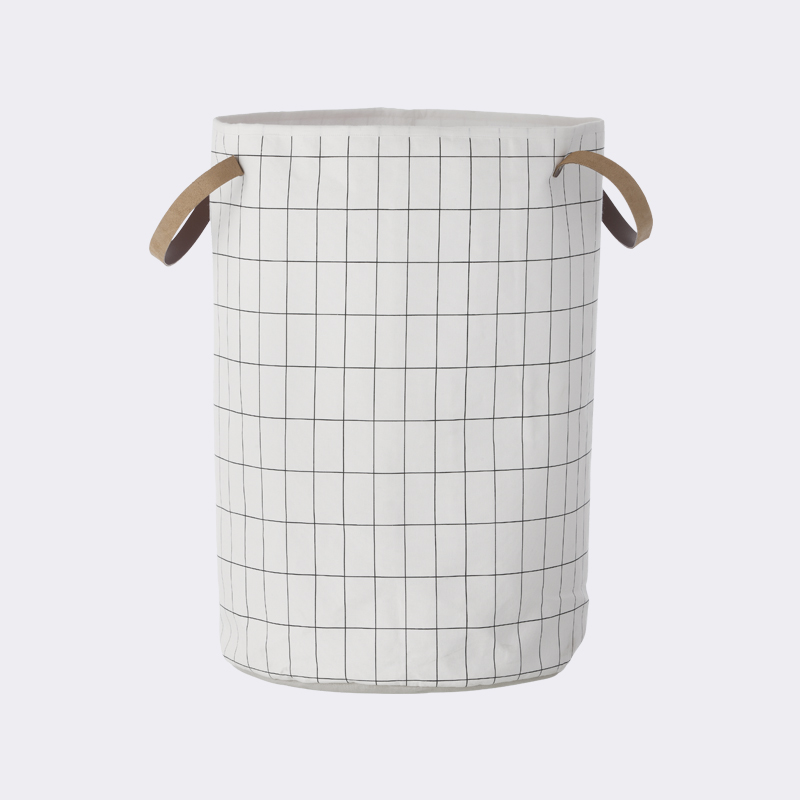 ferm LIVING's new Colour Block Laundry Basket celebrates abstract style in the latest fall colors. Like the basket above, it features leather handles that make it easy to transport: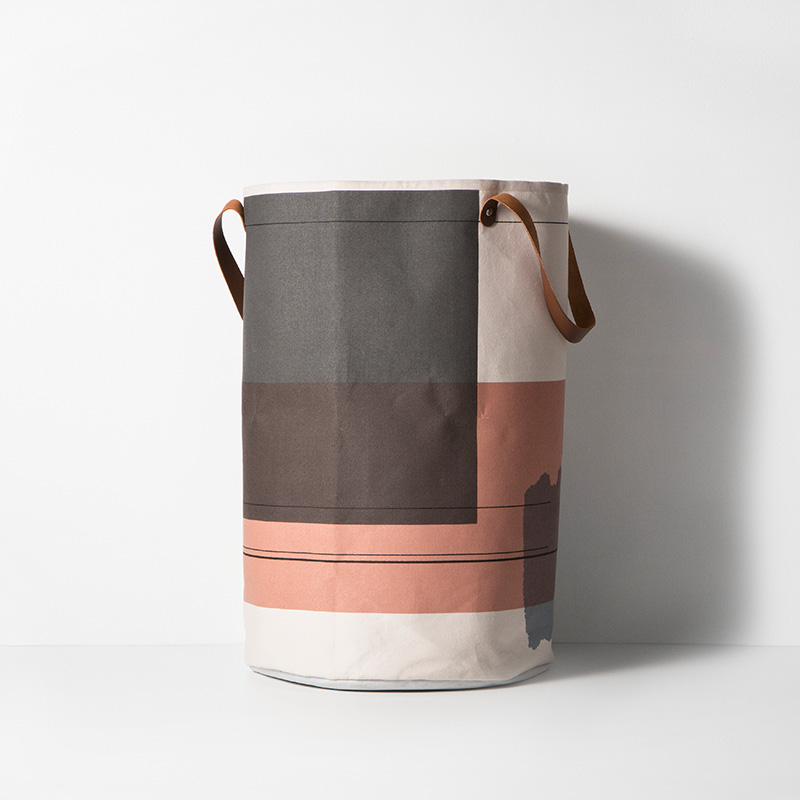 Don't hesitate to check brands that sell kids' items to find the laundry basket of your dreams! Available in six colors, The Land of Nod's canvas hampers feature a rolled top, as well as sturdy sides. Handles make the hampers easy to lift when needed: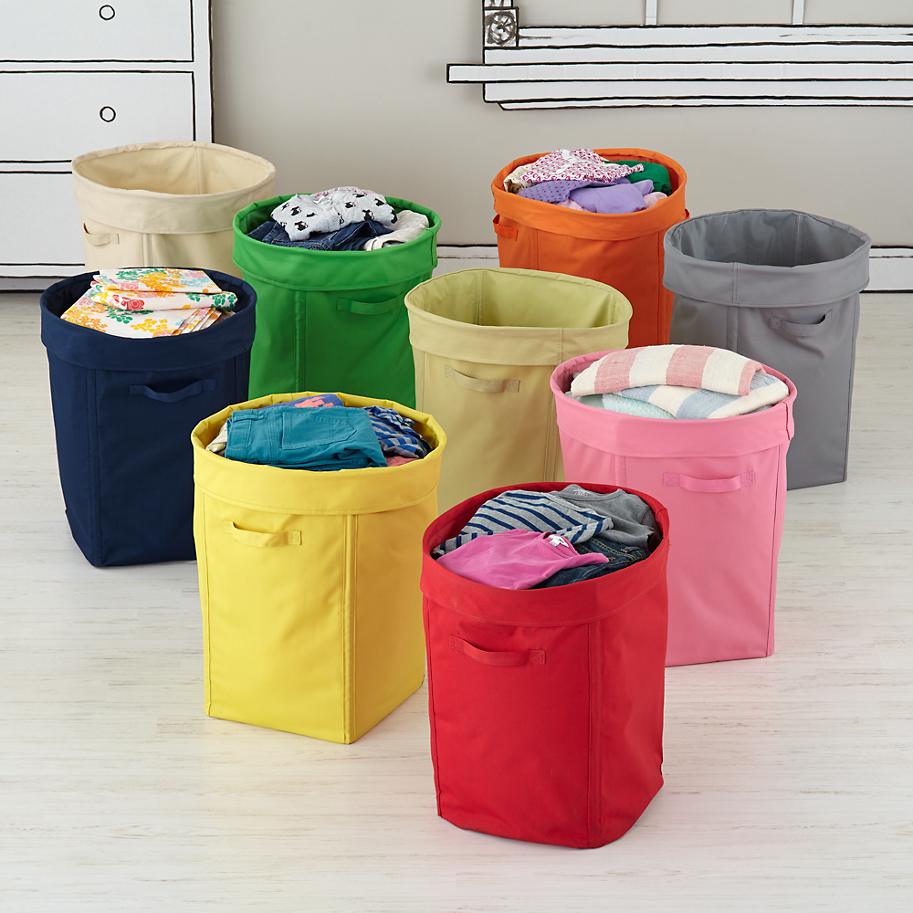 Also from The Land of Nod is this Pinstripe Floor Bin, which is made from 100% cotton (shown at the bottom right of the photo). Rope handles add a nautical twist, and a "handy" one at that! Easy transportation is key if you're using this item as a laundry basket: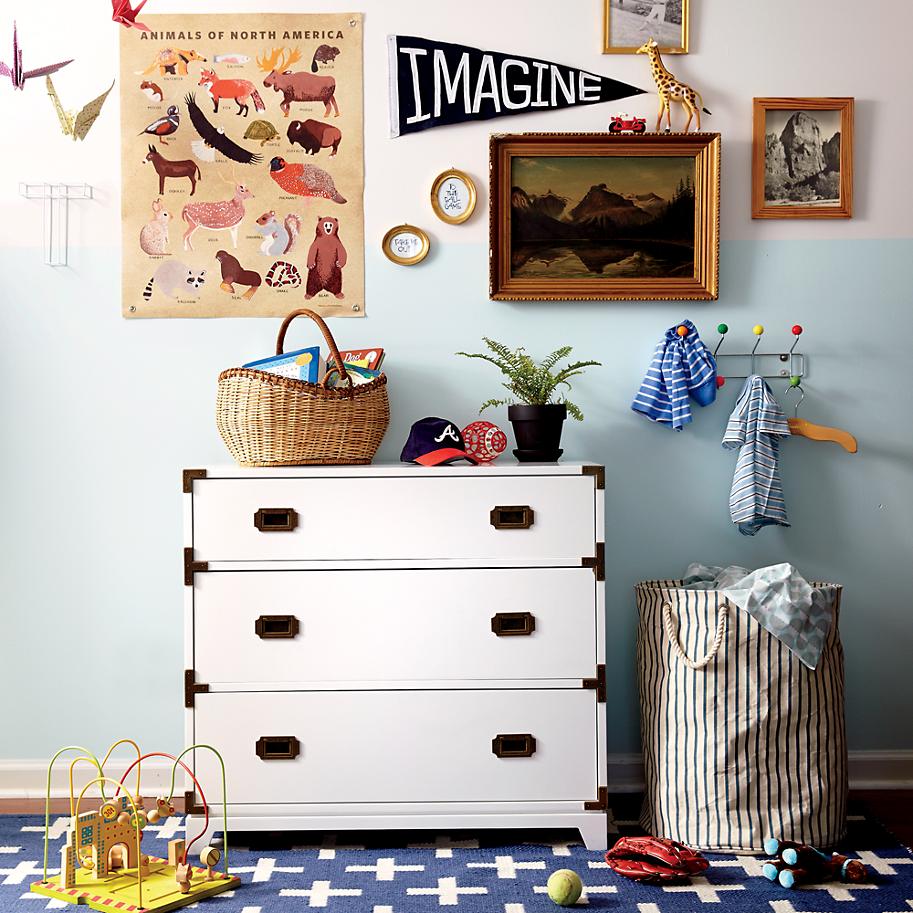 Last but not least, The Land of Nod's Greyscale Hamper is crafted from sturdy felt in a grey two-tone pattern that is modern, understated and even a bit sleek: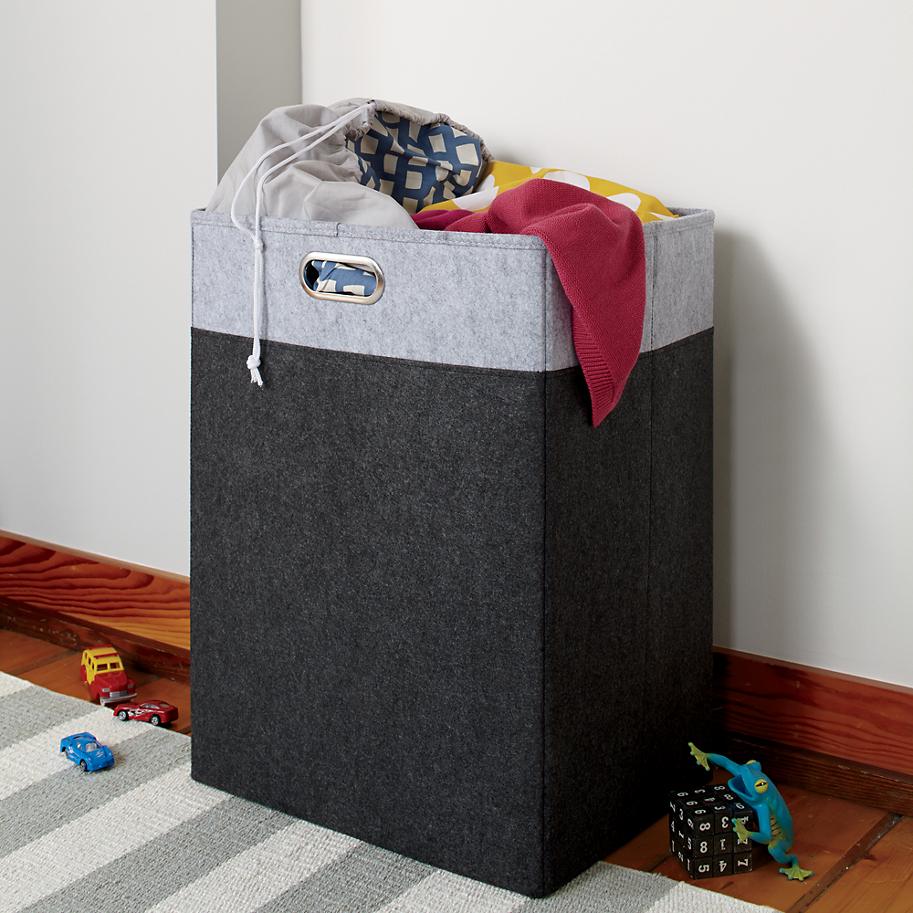 Anthropologie's Watercolor Hamper Tote features leather and wooden handles, as well as a watercolor-style geometric design on cotton canvas: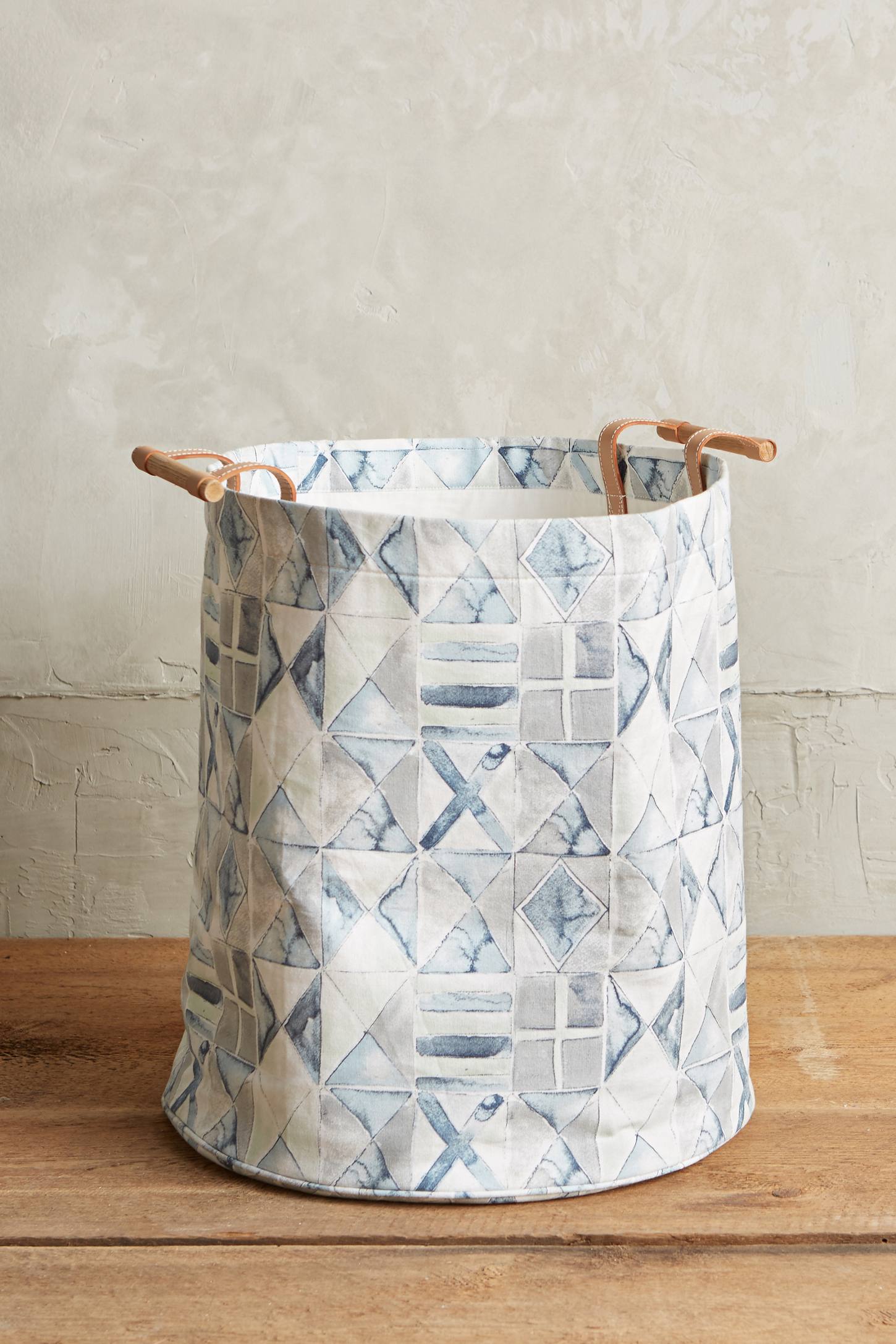 Anthropologie's Handpainted Dusk Basket features a design that can't help but exude Southwestern flair. Use it to stash and tote clothing, and don't hesitate to keep it on display at all times: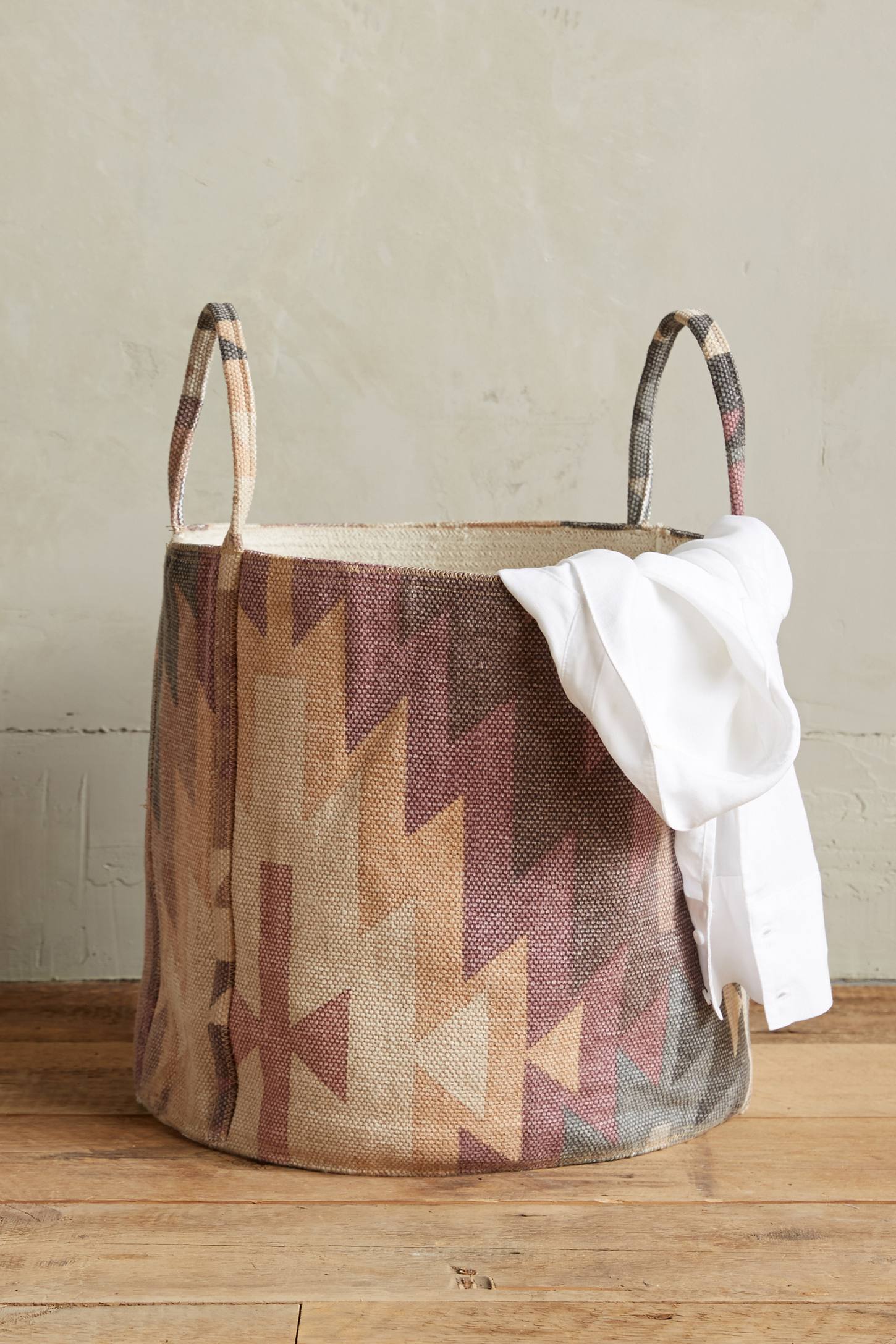 Sometimes pure and simple is the way to go! This Minimal Laundry Basket from Urban Outfitters features a steel frame and a mesh bag. Classic and crisp: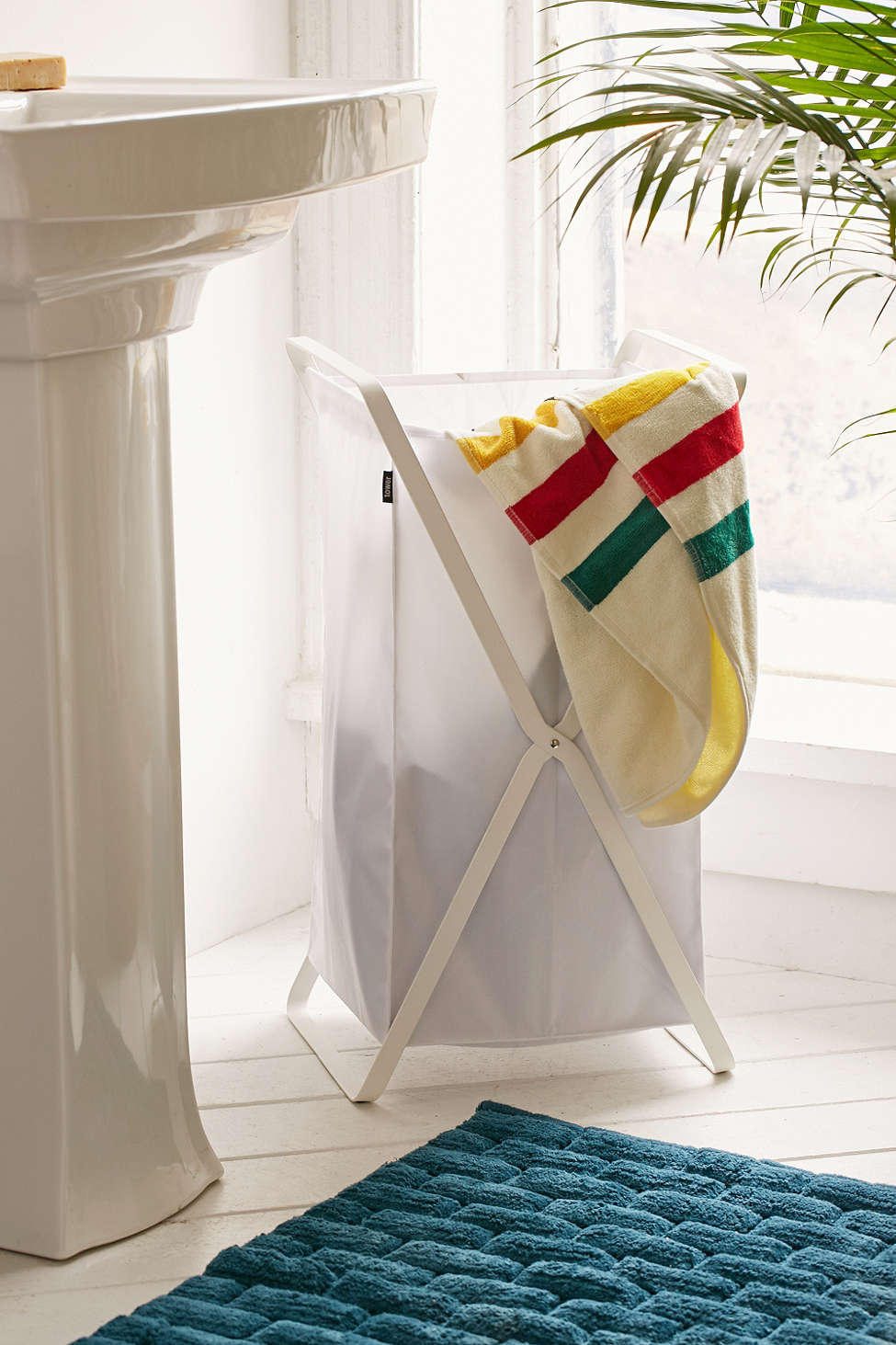 If you have to leave home to do your laundry (whether the washing machines are down the hall or a few blocks away), consider a laundry "basket" that will double as a bag. PBteen's Duffle Hamper with Crossbody Strap is available in two color options and features a striking zig zag design: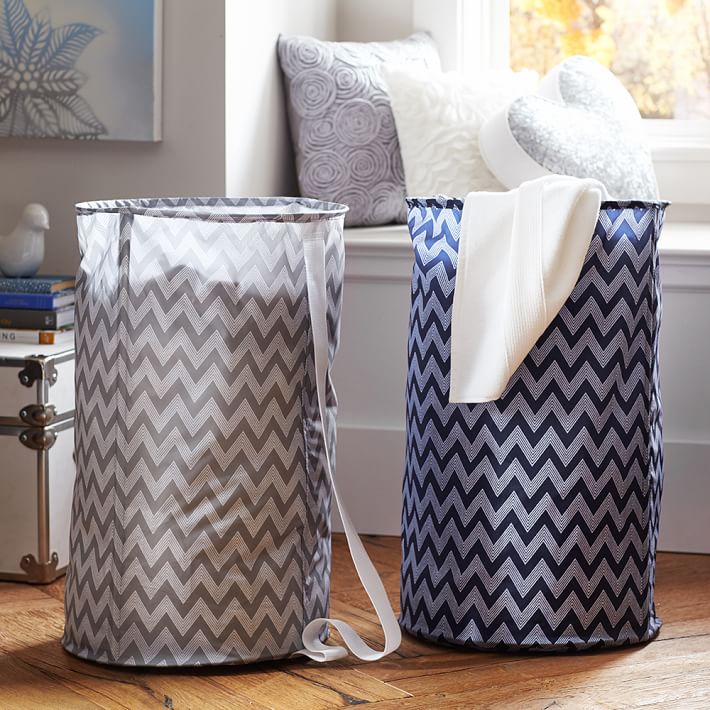 Woven Laundry Hampers
Why not go woven with your laundry basket? Woven containers add an earthy touch, and they're perfect for eclectic spaces. The Land of Nod's Charming Hamper in Pink Herringbone is hand made of environmentally friendly, sustainable materials by Wolof artisans in Senegal, West Africa. Also available in aqua, the hamper can be used as a toy basket as well.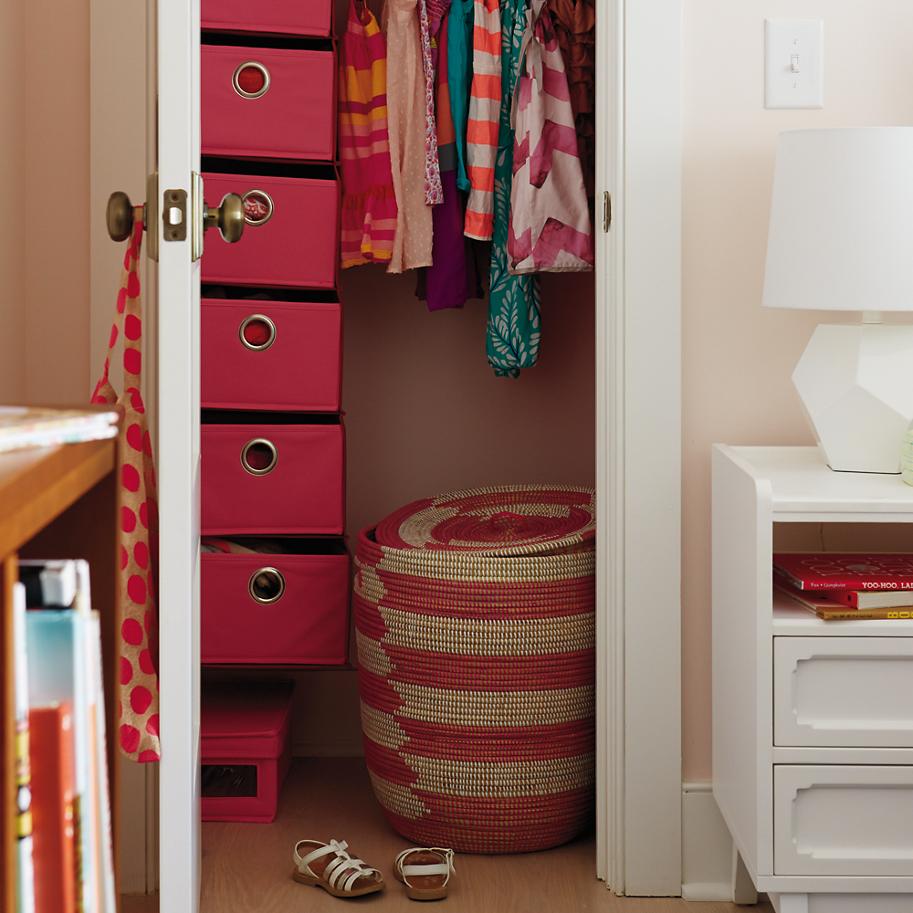 Looking for neutral tones? Below we also see the Charming Hamper in Silver Stripe: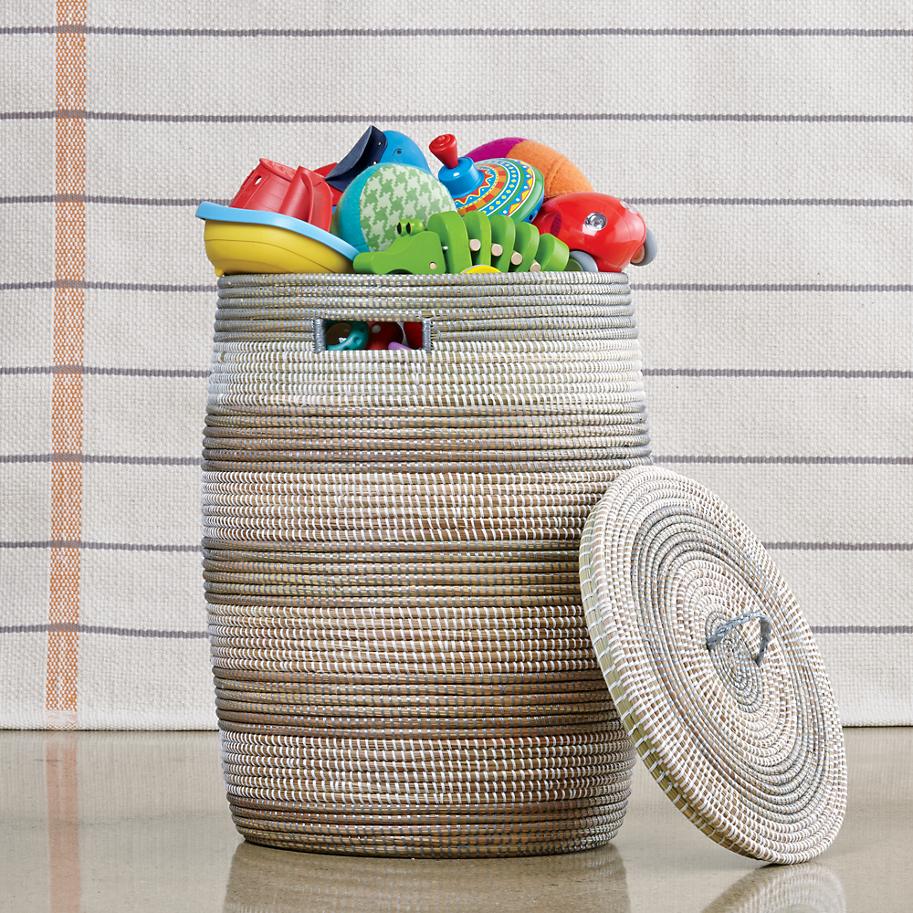 If you like a multi-colored look, check out this Marketplace Hamper, also from The Land of Nod (shown at the back of the photo below). Did you notice that these first three woven hampers feature lids that help keep clothing contained? Plus, the lids create a clean, tidy look!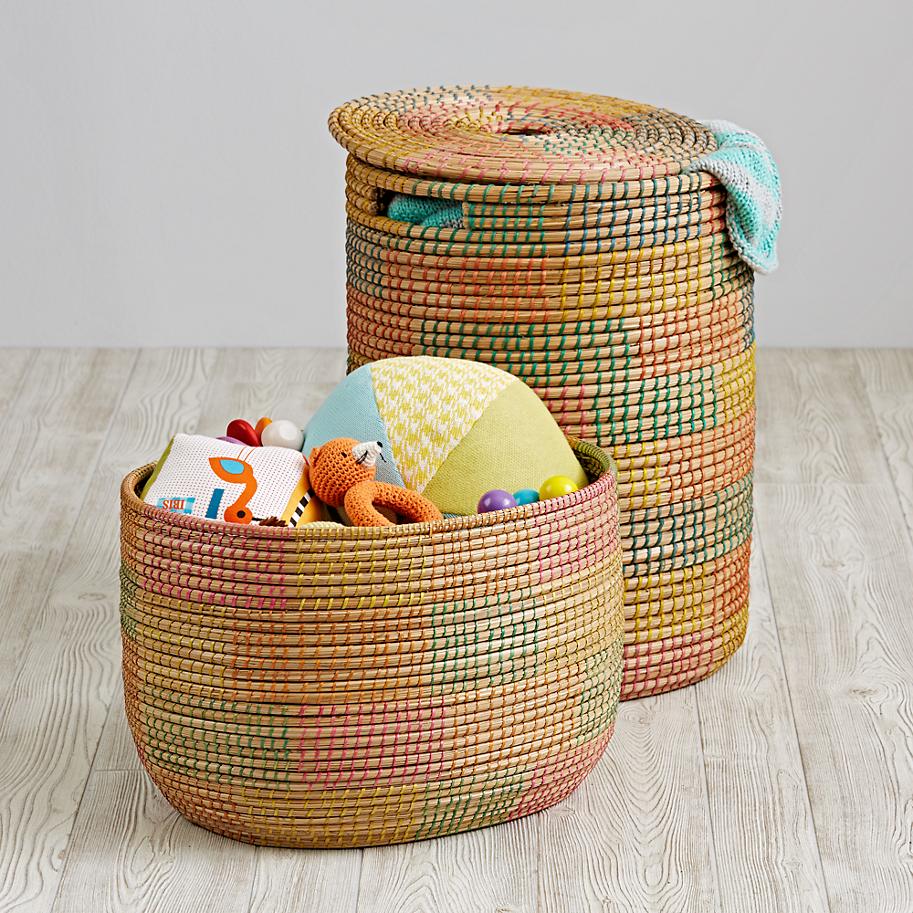 Like The Land of Nod's Charming Hampers, West Elm's Graphic Printed Large Baskets are woven by Senegal's Wolof artisans. Millet grass and recycled plastic threads are the materials of choice: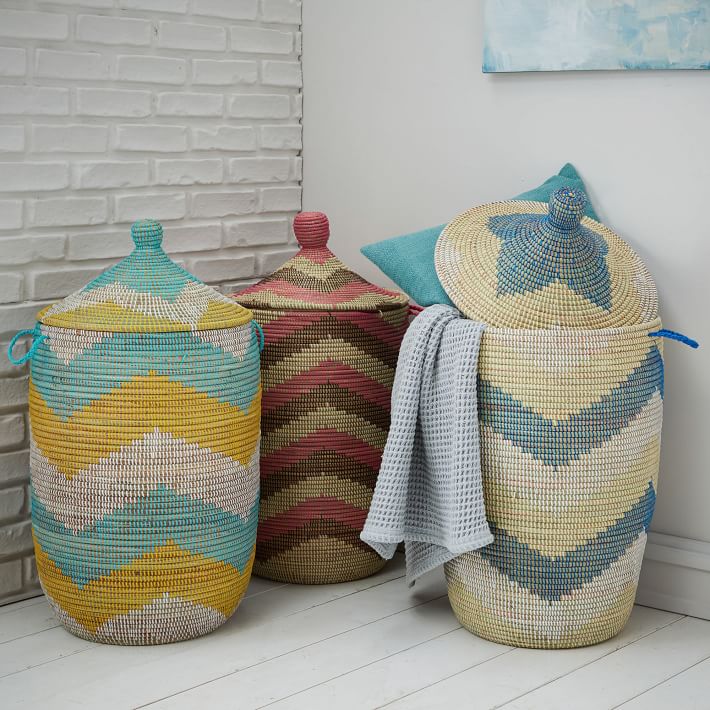 Don't forget the tassel! Anthropologie's Balinese Tassel Basket is handcrafted from twisted pandanus wood. Perfectly on trend, it will add a dash of boho chic style to the laundry room: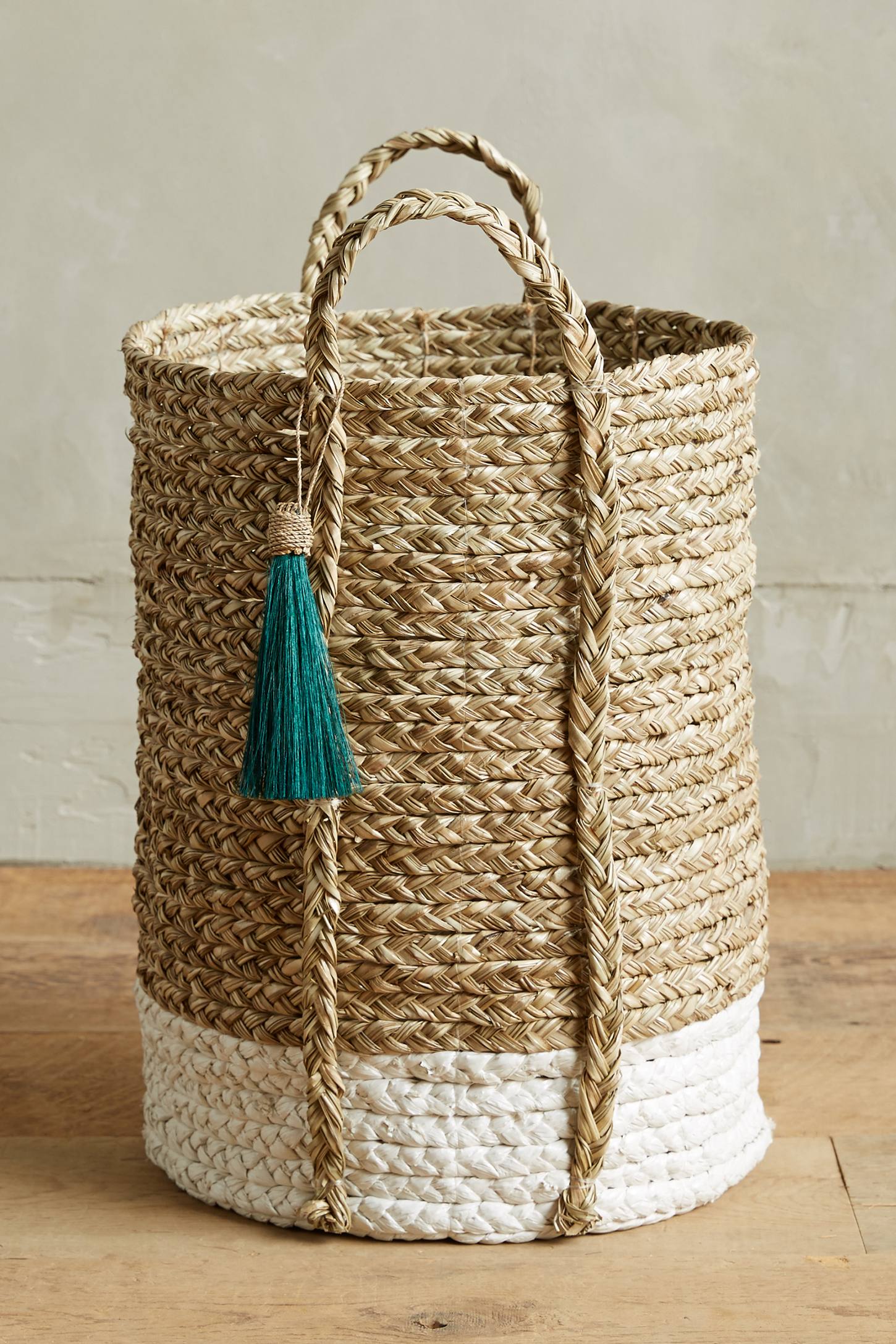 This Taman Laundry Basket, also from Anthropologie, has a geometric look that's softened by the abaca fibers from which it's crafted: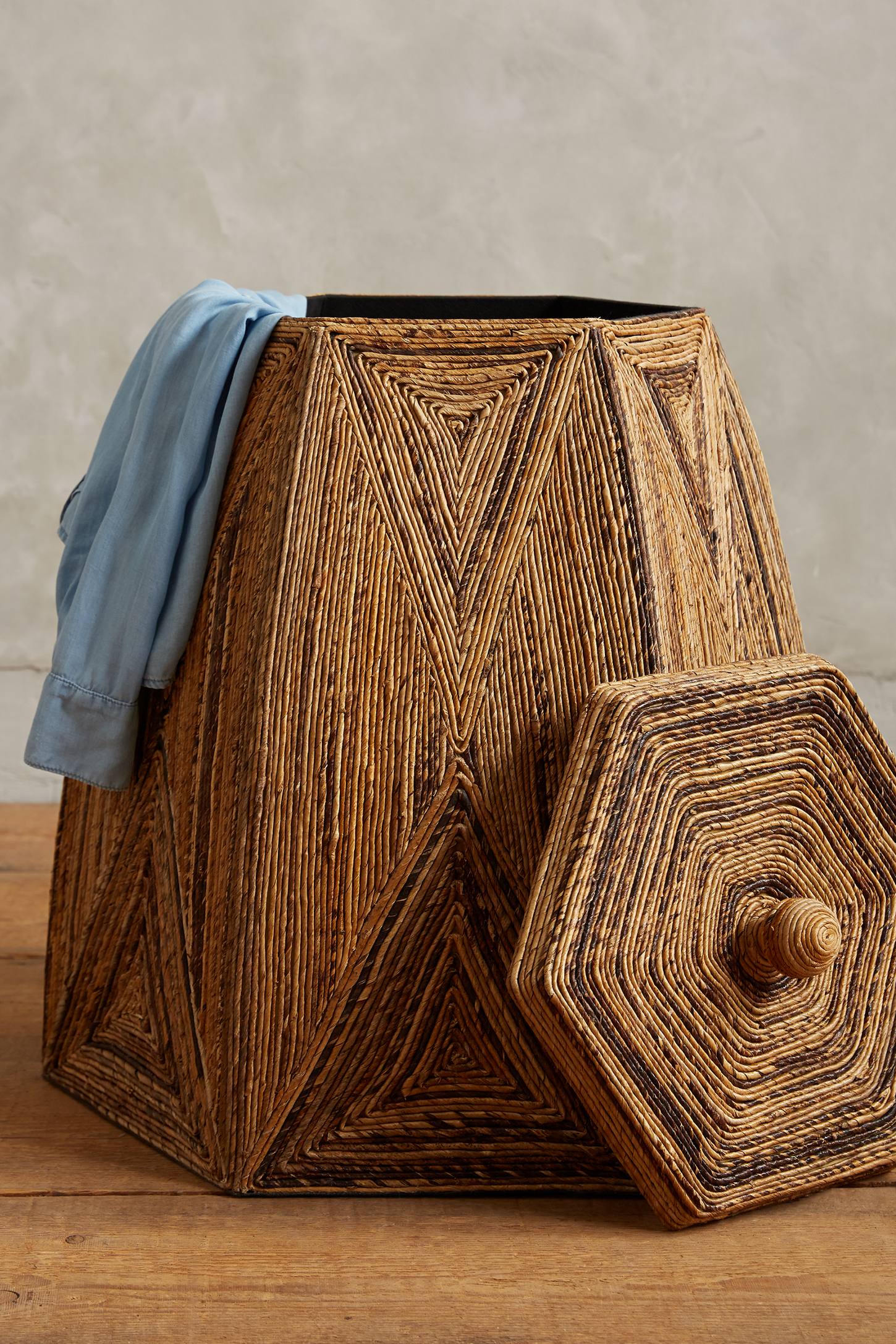 If you like the woven look but you're searching for a basket that's extra durable and easy to clean, check out Crate & Barrel's Grey-White Stripe Laundry Hamper, made from woven polyethylene. Plus, it can tote up to 22 pounds of laundry!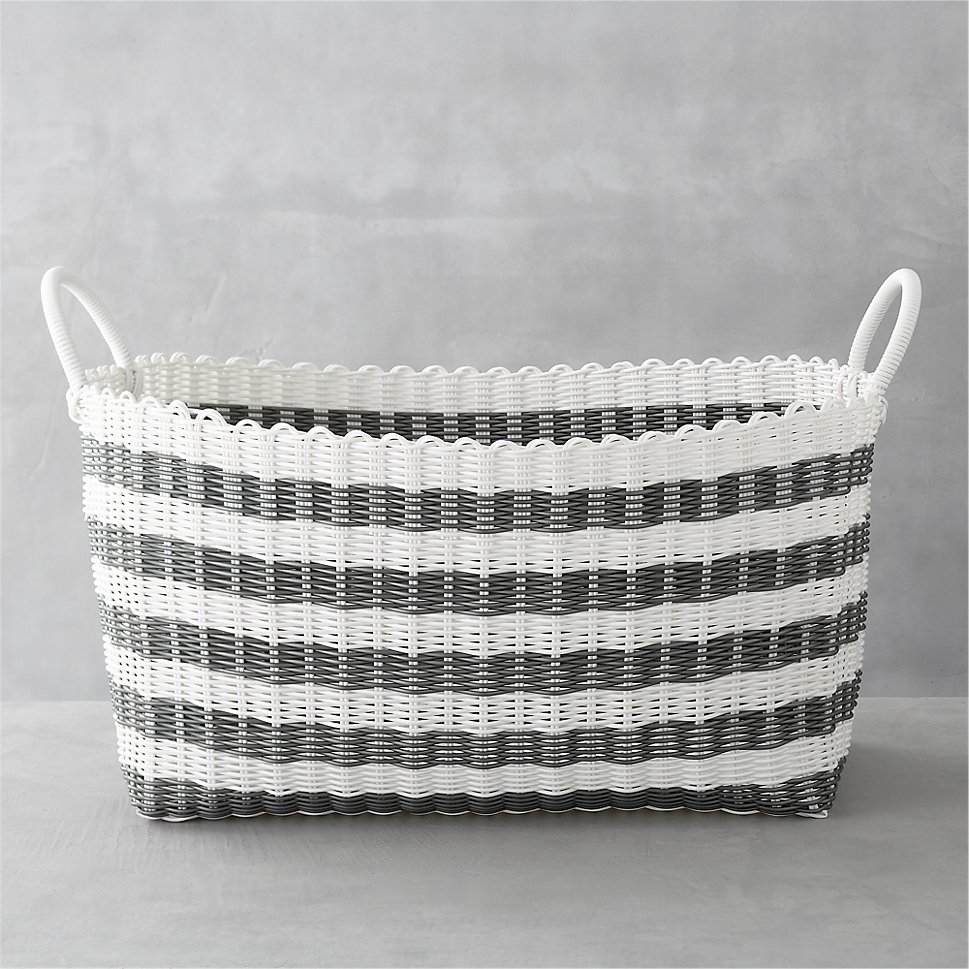 Wire Laundry Baskets
From woven to wire, ferm LIVING offers wire baskets in a range of colors and sizes. What we love most about them: if you don't want to use them to hold laundry, you can transform them into tables!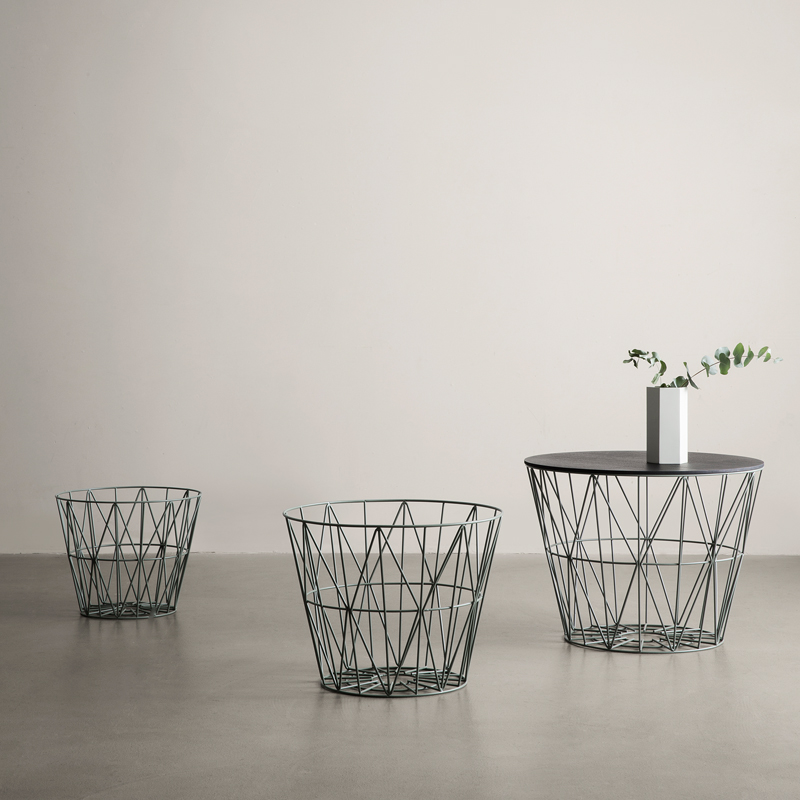 Below we see the same basket in a soft shade of rose. Which color is your favorite?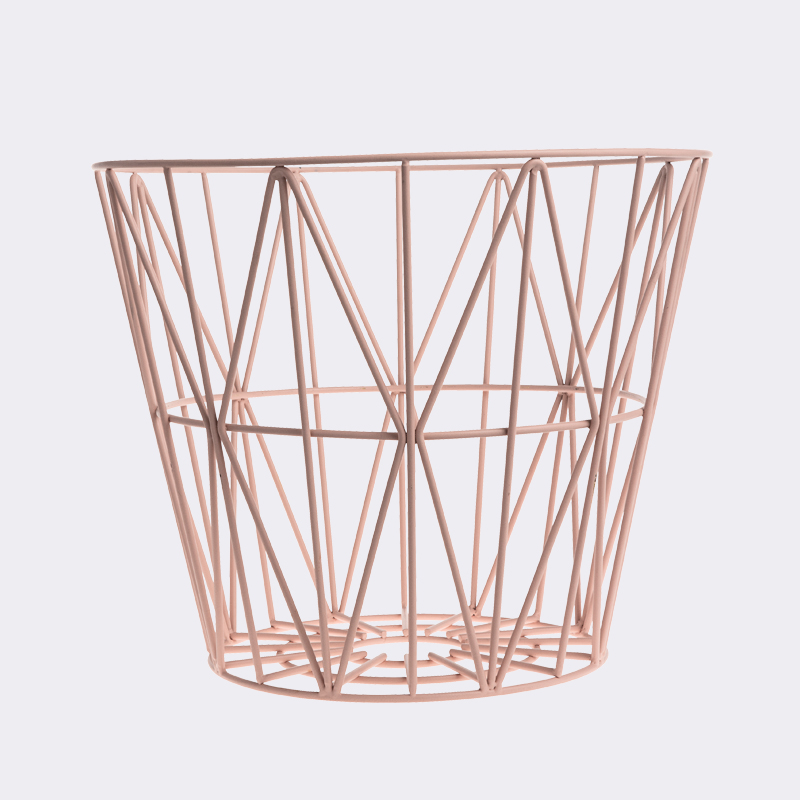 Crate & Barrel's Wire Hamper with White Liner Set features a grid pattern, as well as convenient casters that make this piece perfect for rolling along…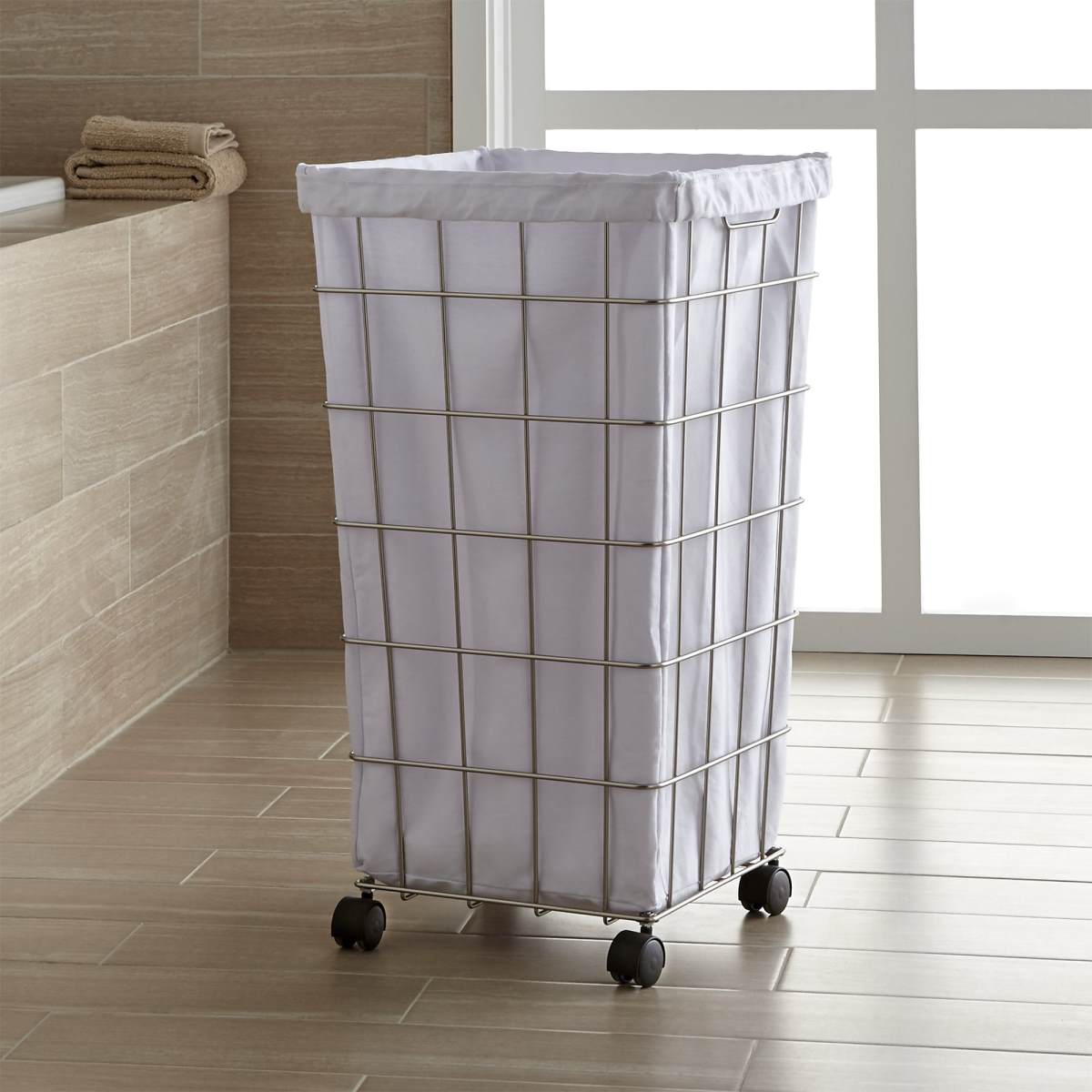 For an earthy take on the metal wire basket, check out these Framed Canvas Bins from Anthropologie. A wrapped iron frame supports a linen liner in cream: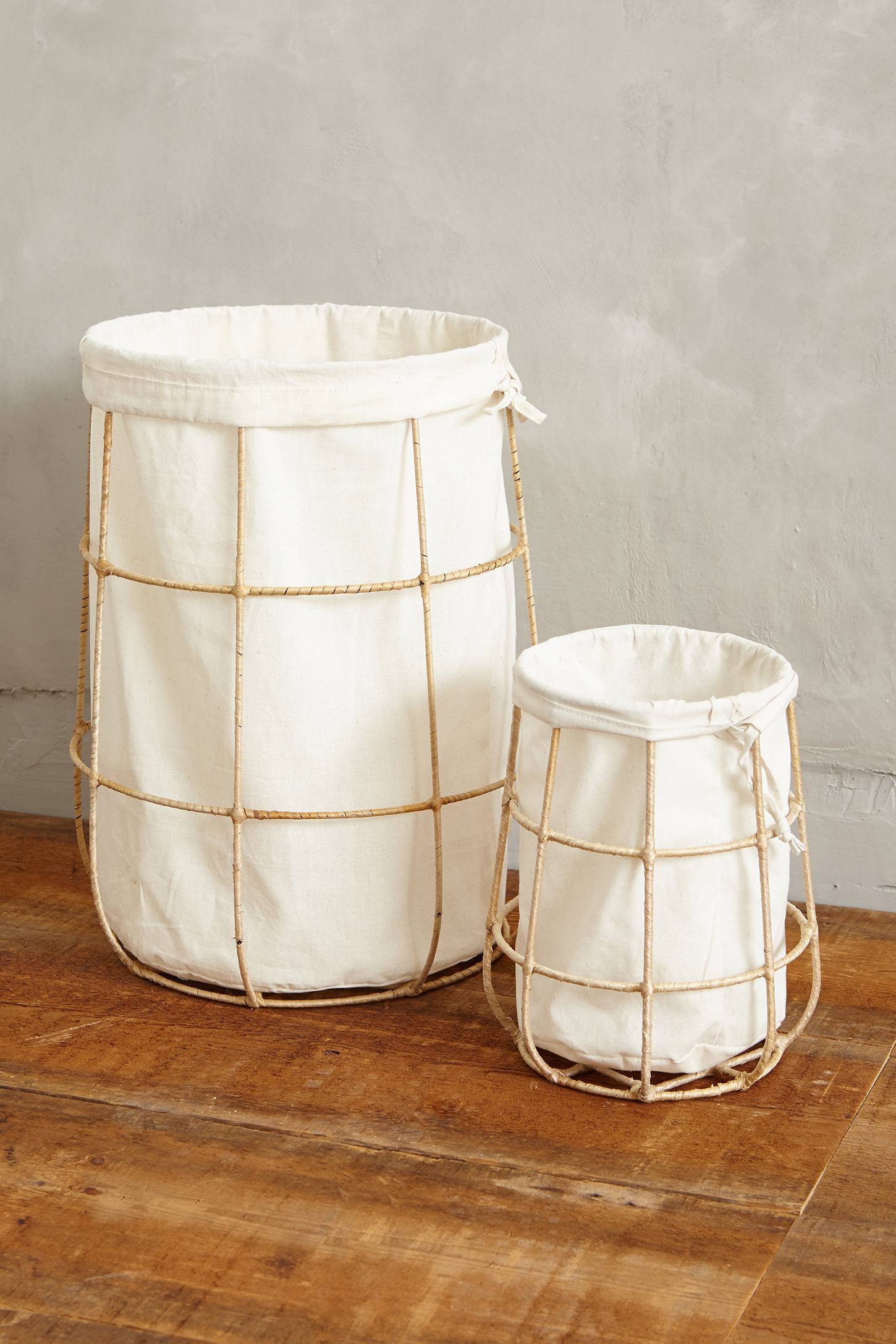 When it comes to laundry baskets and hampers, do you prefer cloth, woven or wire?…