A little bit modern, a little rustic, and maybe even a little eclectic—a lake house never fails to exude a peaceful vibe. There is a reason why we often picture out a body of water if we need that calming peace. If you have a home nestled near one, well, that's very lucky of you. We rounded up a great list of the best lake house decor so you can make the best out of it.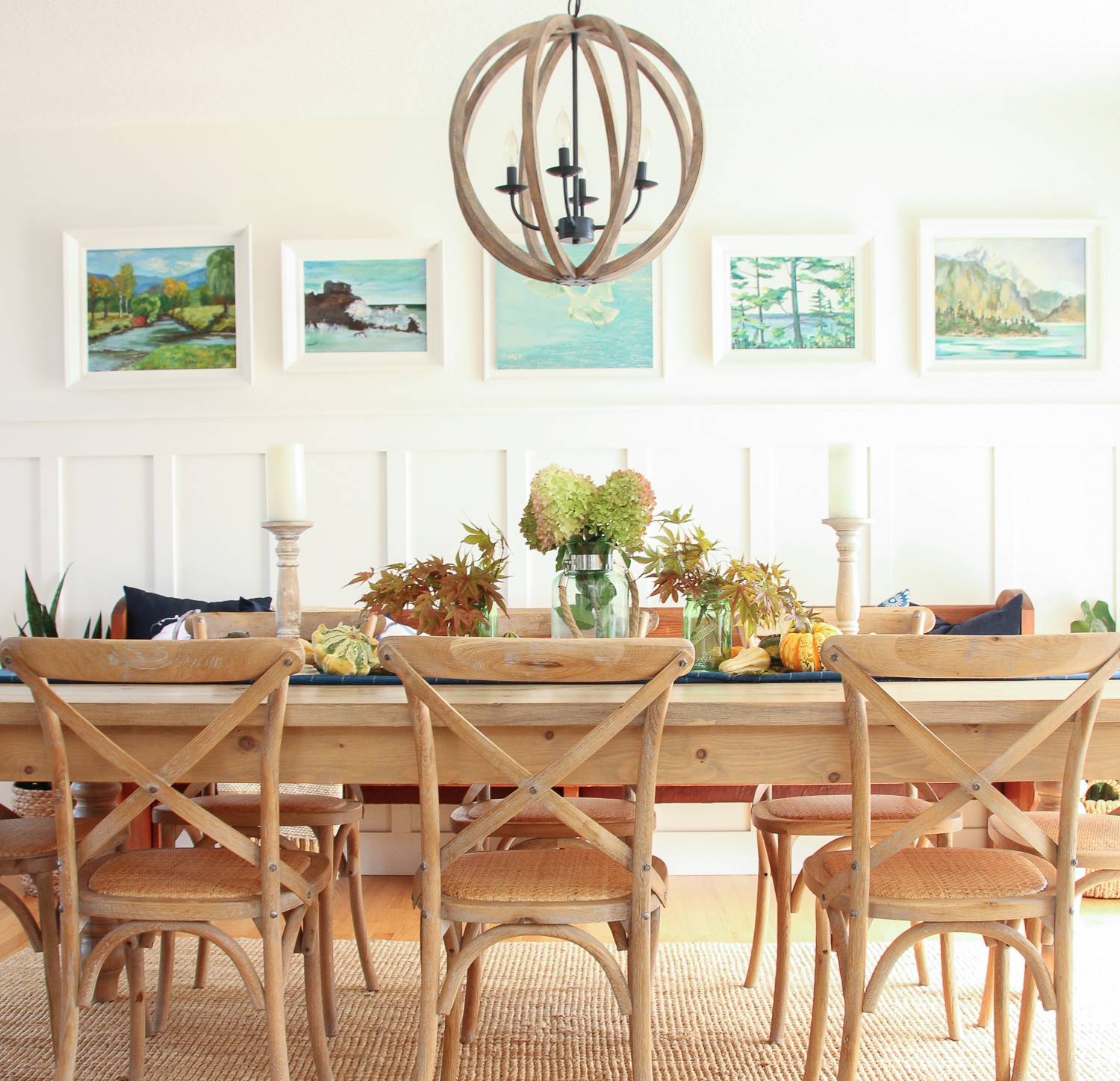 The lake house decor invites a welcoming retreat for a waterfront home. But even if you are miles away, we don't see any reason why you can't keep the same in your home. So here are lake house decor inspirations for that serene and relaxing vibe to dress your home with.
15 Best Lake House Decor
Say It Loud with Wall Boards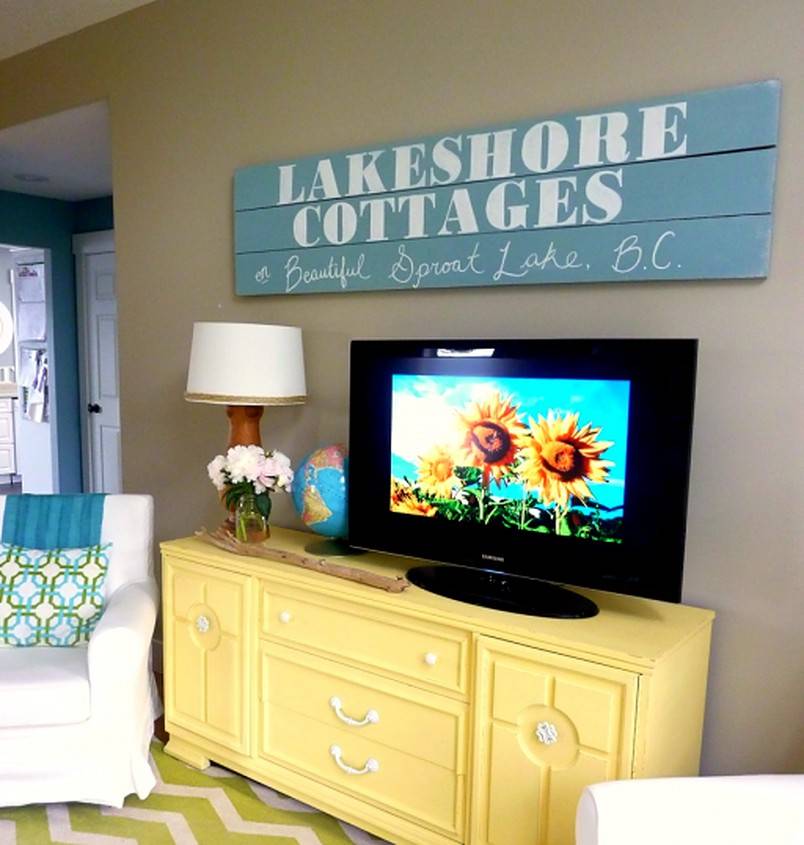 Get inspired by your environment by hanging a wallboard that reminds you where you are! This fancy lake house cottage also reflects its beauty through a well-coordinated color scheme. The turquoise wallboard, lime-green rug, and canary-yellow desk fit right into this lakeside home. It balances the spritely, yet relaxing feel everyone would look for in a vacation house.
Or Maybe Slide-in a Headboard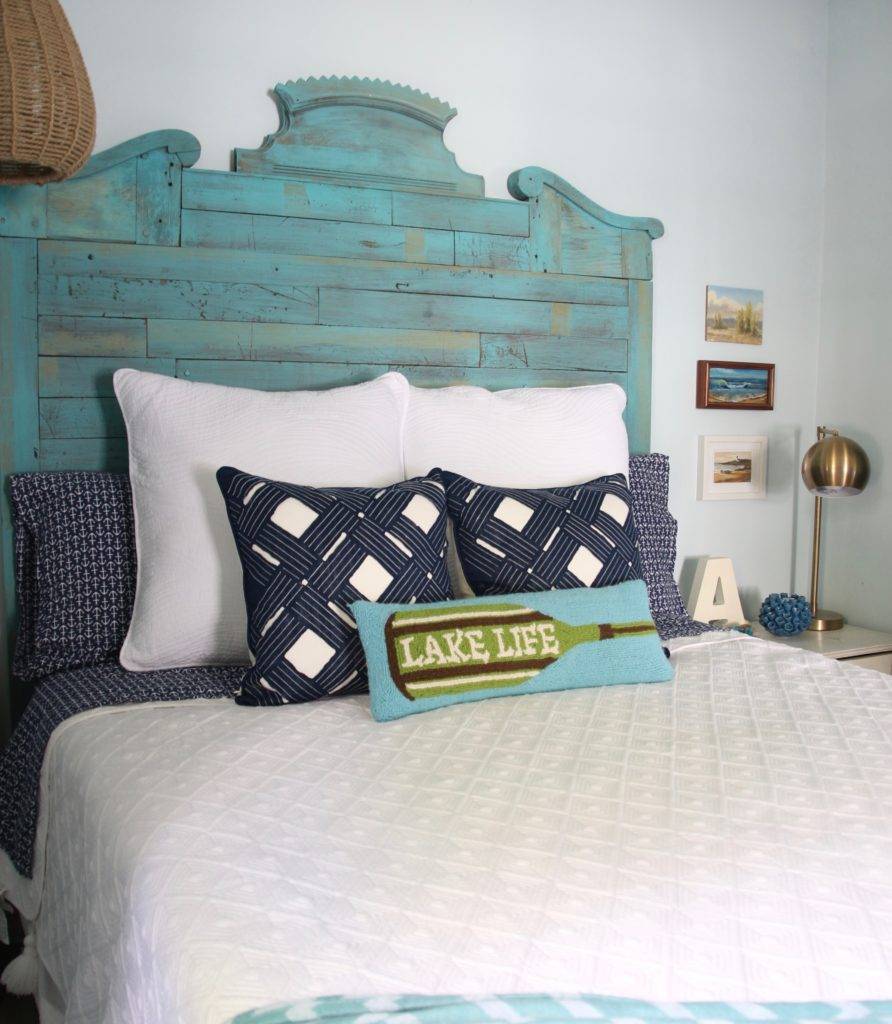 This turquoise reclaimed wood headboard definitely sets the room in a lake house vibe on point. It even has a top-crown piece that even the god Neptune himself would be proud of. The crisp-white quilt and navy-themed pillows perfect the luxe lake house decor and set the mood for relaxation.
String Up a Gallery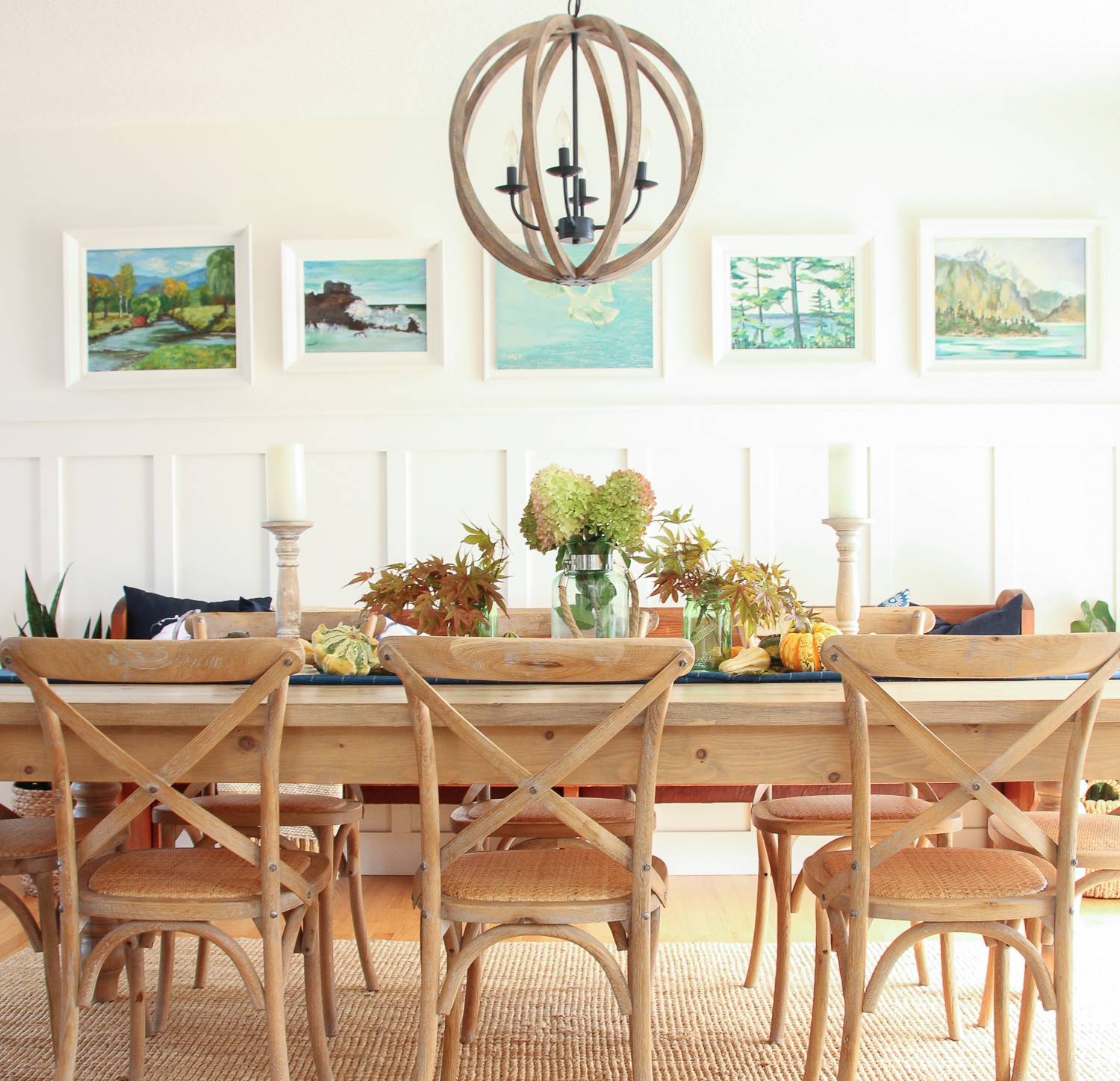 Make your home more welcoming with a lake house decor that exudes the sense of the great outdoors. You can find these inspirational pieces on thrift stores with various designs of your choice. A gallery can sew together your theme like in this rustic lake house dining room. Pictures that paint a story also make a stunning piece of art to brighten up any drab wall.
Hang Up A Decorative Paddle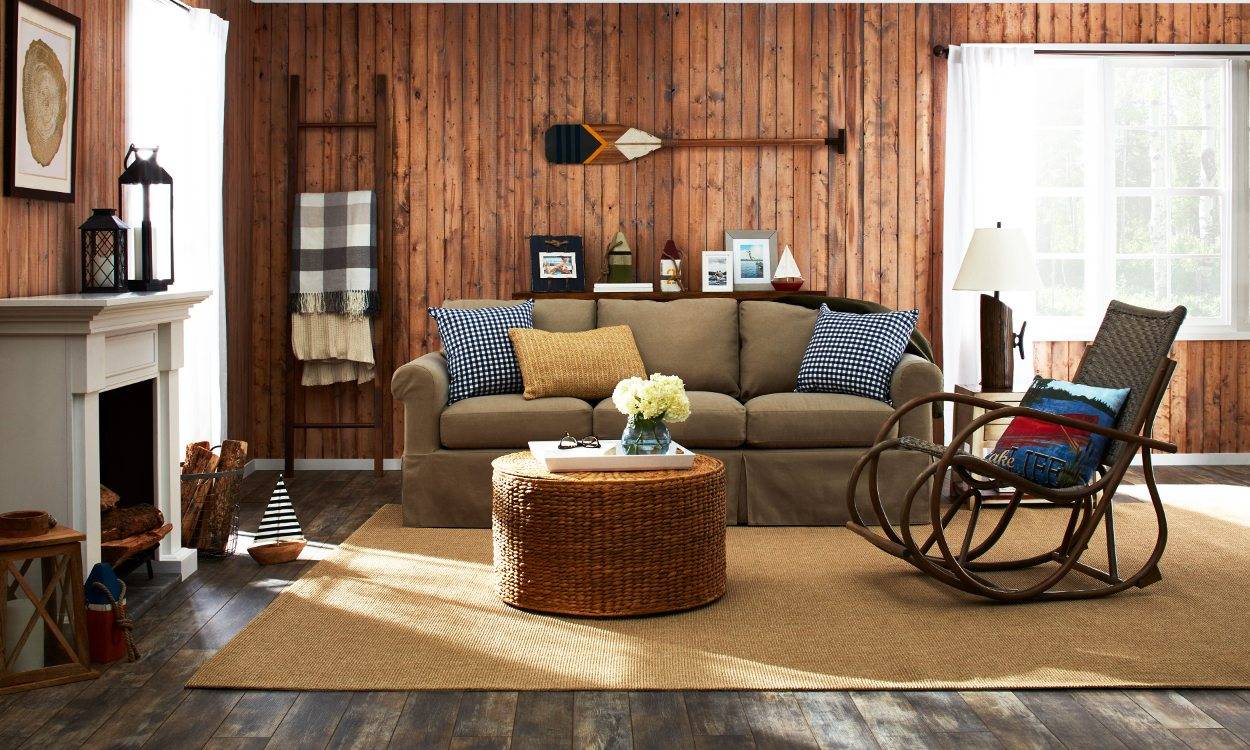 This fabulous living area is filled with bits and pieces of nautical elements that are not hard to notice. Yet, they are well spaced out to prevent overwhelming the room with details. Hanging one huge element as a focal point will reflect the overall room setting. Hence, you can tell that you are in a lake house just by the single paddle up this rustic wall.
Wrap it up in Blue Gingham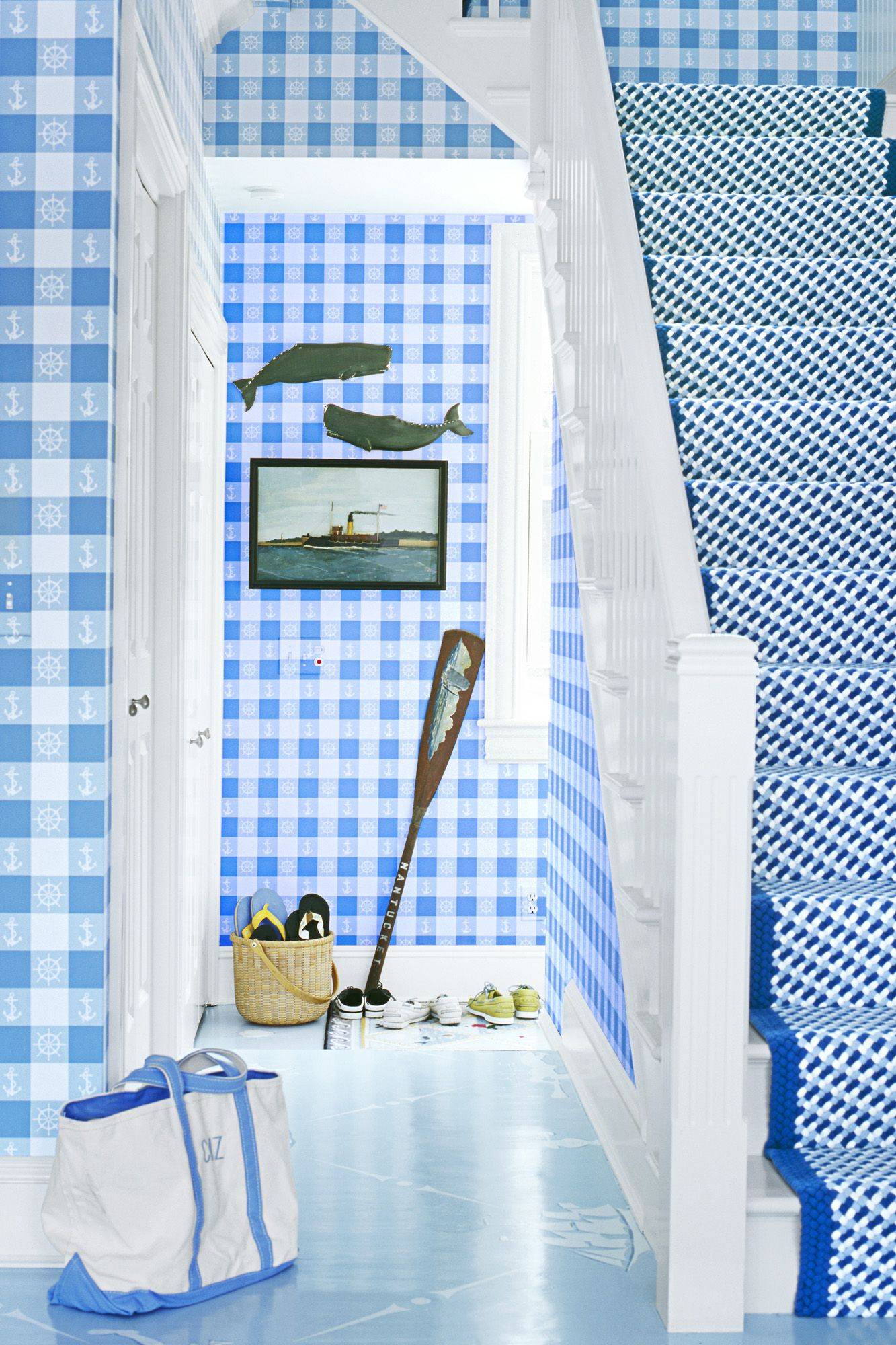 Lake houses often take inspiration from colors that are reminiscent of water. If you want to hit it boldly, you will never go wrong with wallpapers as a lake house decor. See this gingham hallway that breathes in the tranquility and peace of placid water. The matching stair runners also convey flowing energy and perfect its calming atmosphere.
Introduce Greenery in Sturdy Planters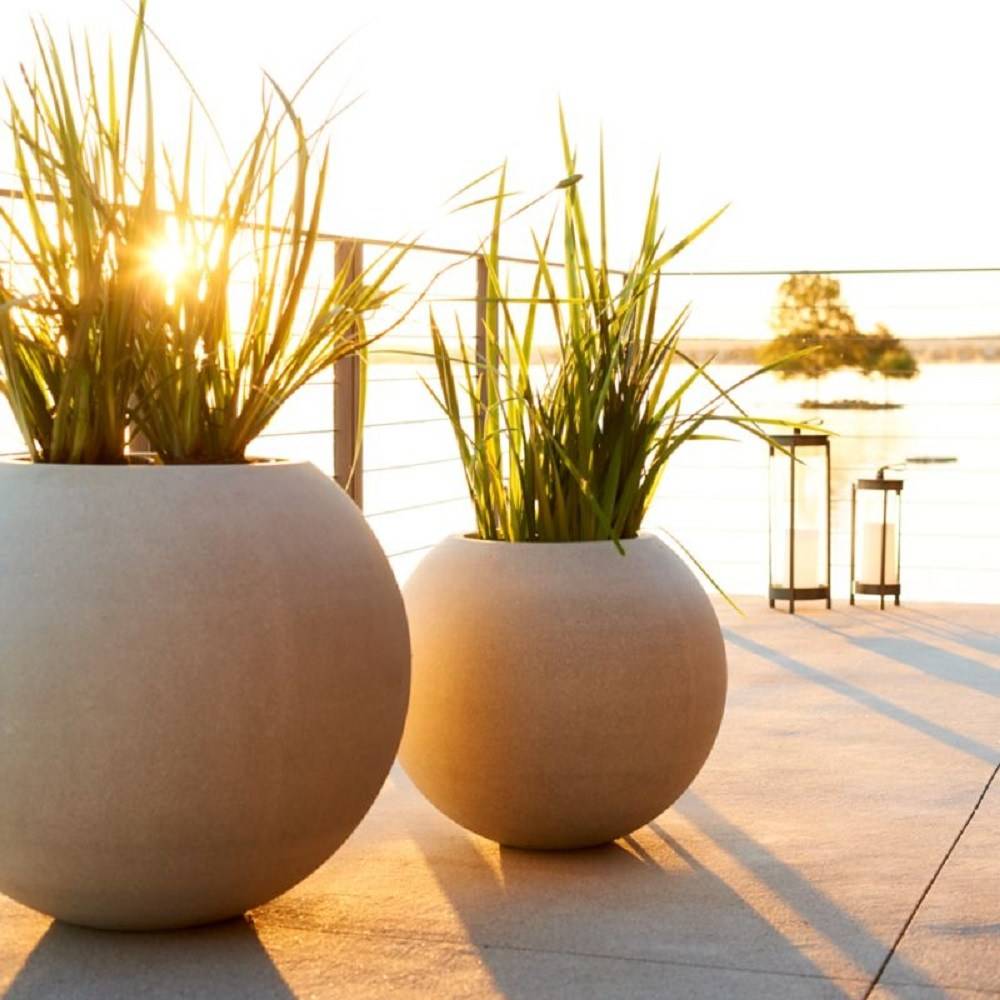 For that balcony overlooking the wide lake, little greenery on the side adds a little bit of romance. Display your plants in sturdy, decorative planters like this sphere pot. These planter balls come in different sizes to create that hand-thrown appeal. For this lake house decor, choose stable and strong materials that can withstand all weather elements. Planters made of composite materials such as fiberglass, cement, and sand are perfect choices.
Extend a Welcoming Feel by the Doorway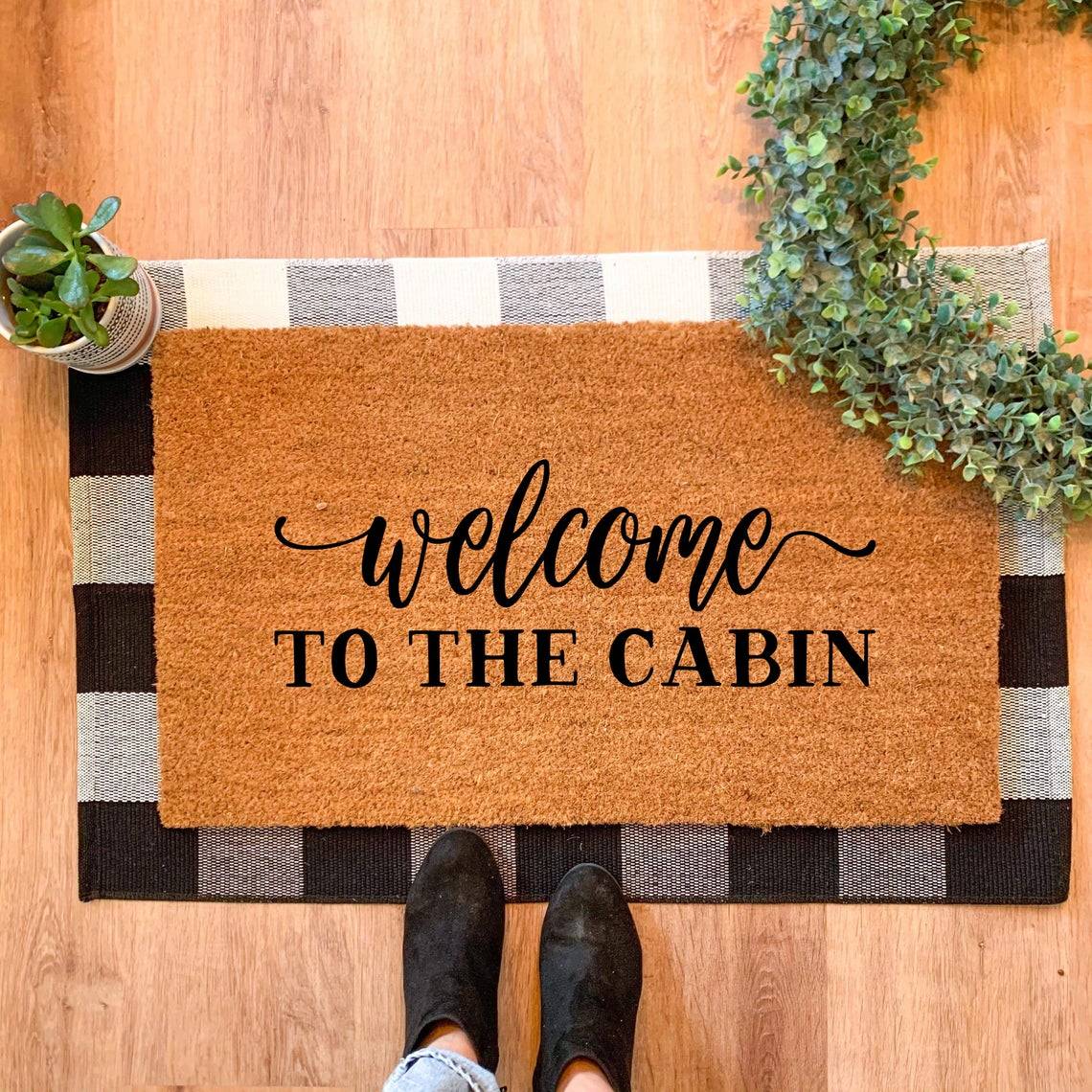 A simple, but thoughtful lake house decor, is a gem to get started with. Make your home feel more breezy and homely with welcoming door mats because, why not? Doormats are functional since it removes dirt and debris by the door. It also comes in a slew of designs, but we particularly love this rustic "welcome to the cabin" door mat for any lake house.
Don't Forget the Bathroom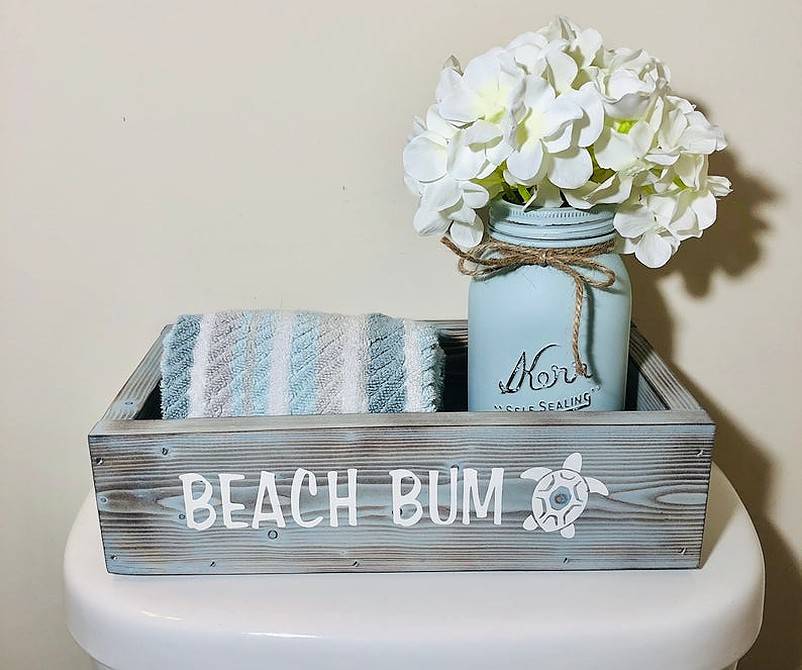 Extend the inspiration to the bathroom with unique lake house decor and ideas. Create artful statements like this stained-wood bathroom storage box. Stow your trinkets or toilet paper away, add some fanciful flower vase, or stash it with fresh flowers. Extra decors like this will let you feel the calming vibe even behind your closed bathroom doors.
The Wall is a Blank Canvas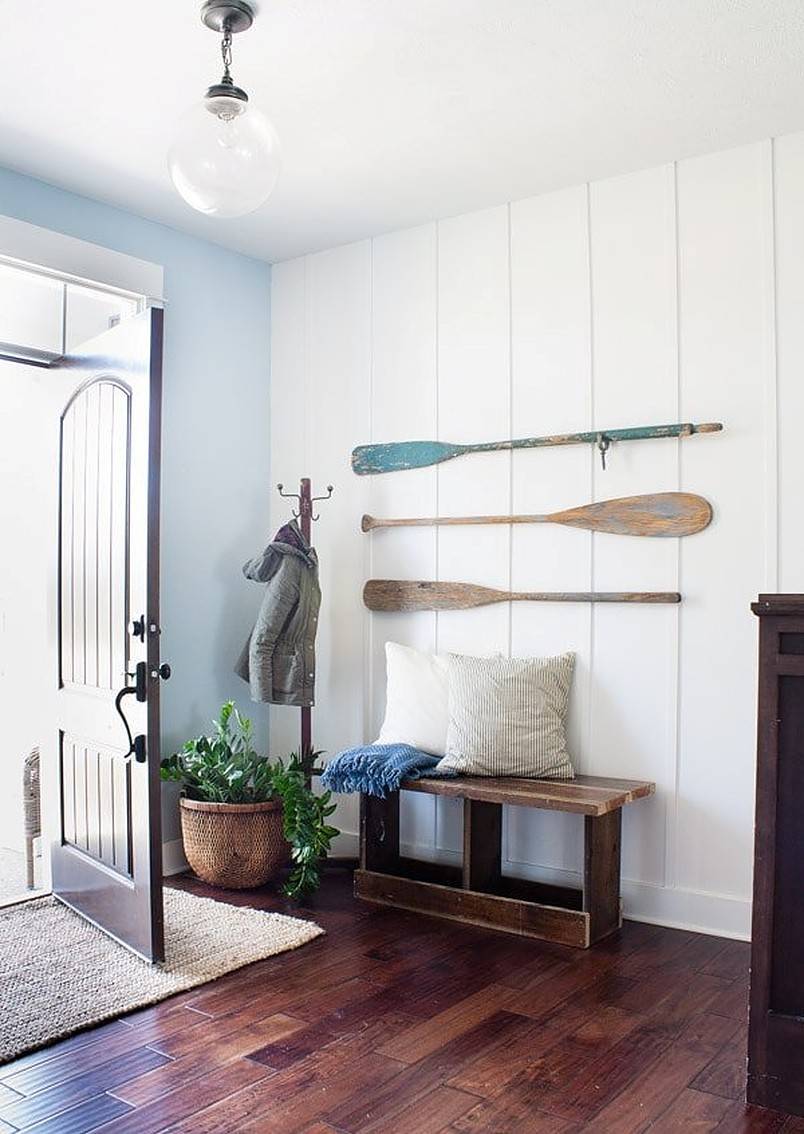 Keep your home simple and minimalist with a lake house decor that speaks volumes. Some themed pieces like these rustic paddle boards are a lovely addition to an entryway. They convey an uncluttered feel while introducing the lake house ambiance into the room.
Display the Catch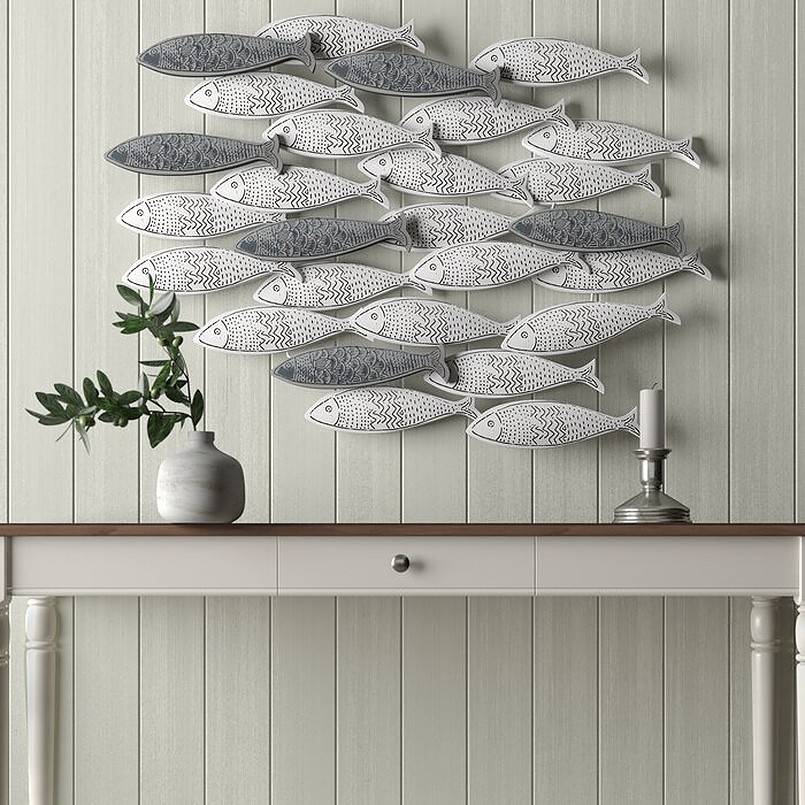 How about displaying some quirky lake house decor like this school of fish? This handcrafted artisan decor is another way of introducing a funky detail into your home. This striking centerpiece will surely add a lively feel to your coastal home. Put it on a neutral-colored wall and make it shine in its space to spark a conversation among your guests.
Add Fashionable Textures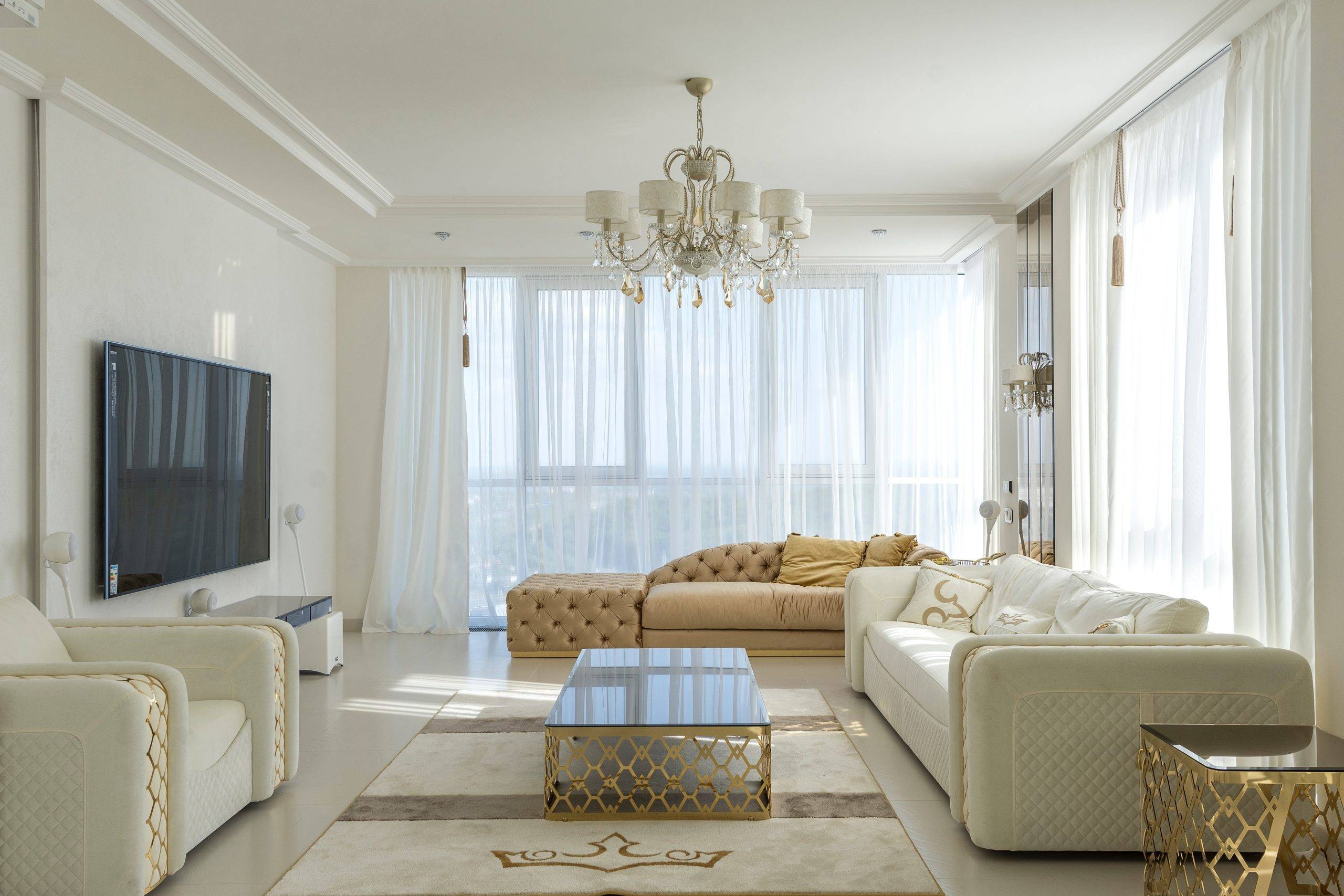 The sheer window treatment has a lot to do in introducing a cozy feeling into a room. Lake houses often boast of stunning views that it is a shame to tuck it underneath thick curtains. So, give the focus to the outside with see-through curtains. You can also make the room more entertaining by introducing more texture like this upholstered sofa set and daybed. Such a relaxing comfort will surely never let you want to go anywhere out.
Swing a Charming Chandelier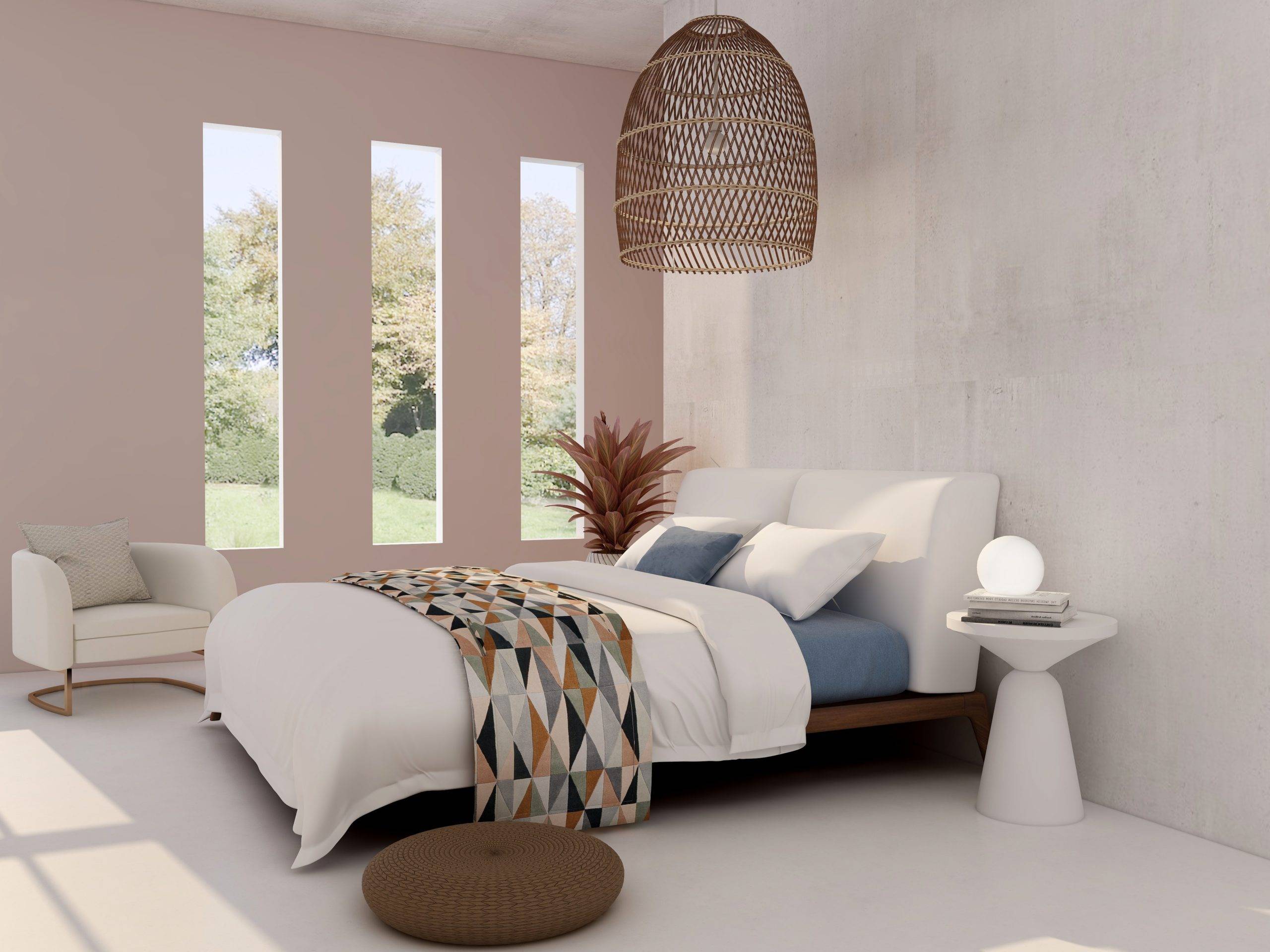 Some artful and decorative lighting also adds a distinctive beauty to any home. Turn on your lights to a fabulous lake house with this woven pendant chandelier. This dome ceiling light will transform your entire room into a stunning piece of art by dusk. It is a fashionable modern lake house decor that is definitely worth a space in your lake house ceiling.
Green Decorative Items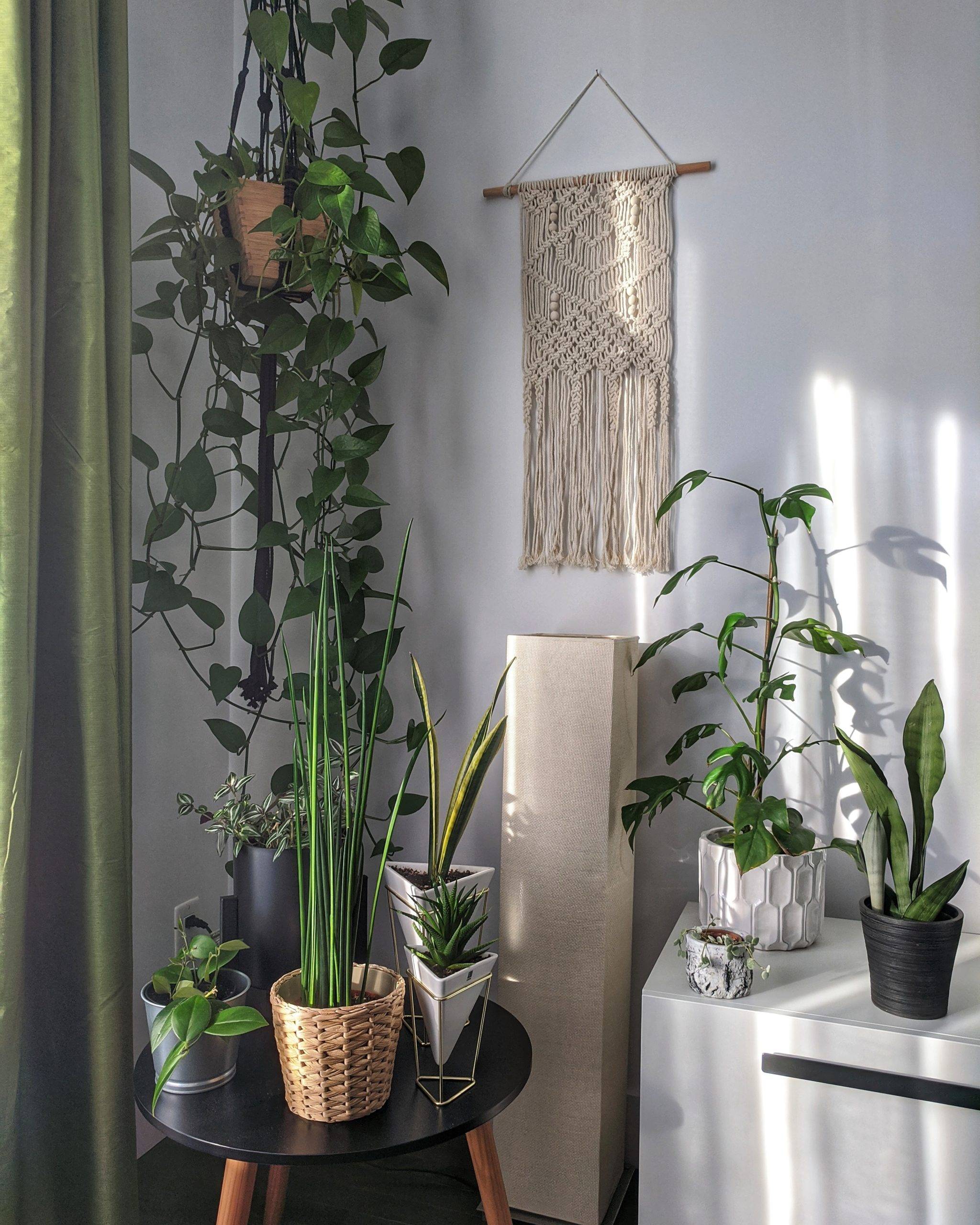 Aside from the resembling blue water, natural greens are also a valuable color scheme of a lake house. Don't go any further with lake house decor than sliding in some live plants in your corner. It literally freshens up the room and complements it with a naturally relaxing sense. So, keep your home alive through various plant displays in decorative planters.
Play it with Spirited Hues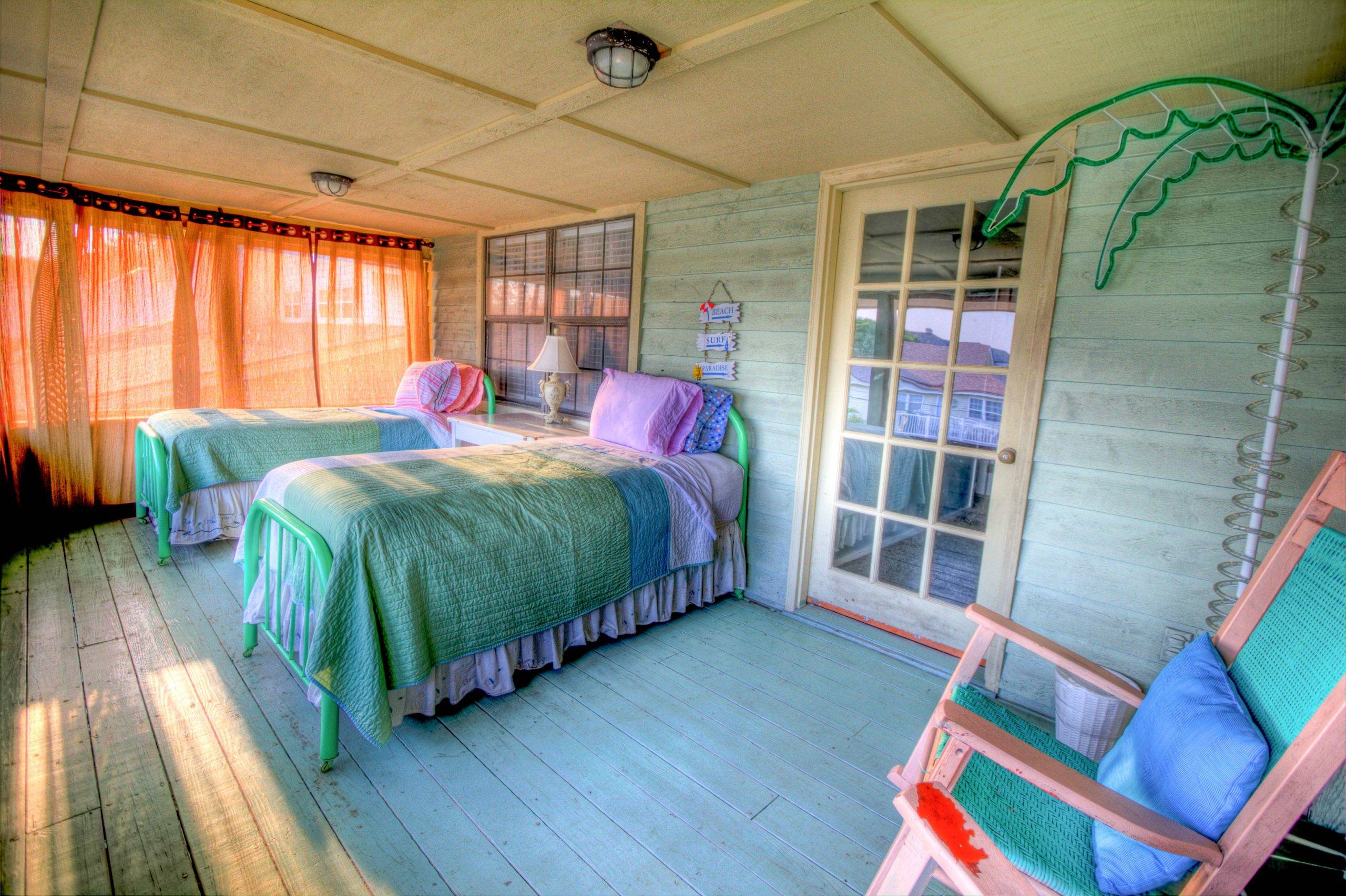 This bedroom is nothing but every inch lovely from floor to ceiling. It pools together all the playful colors to bring out an underworldly difference. The pale shades fill the space with light and make it more expansive. The soft orange window treatment, on the other hand, creates a cohesive and interesting look. A little paint job is a perfect lake house decor that can go a long way for a relaxing lake home.
Get Animal Patterns for Mountain Style Lake Cabin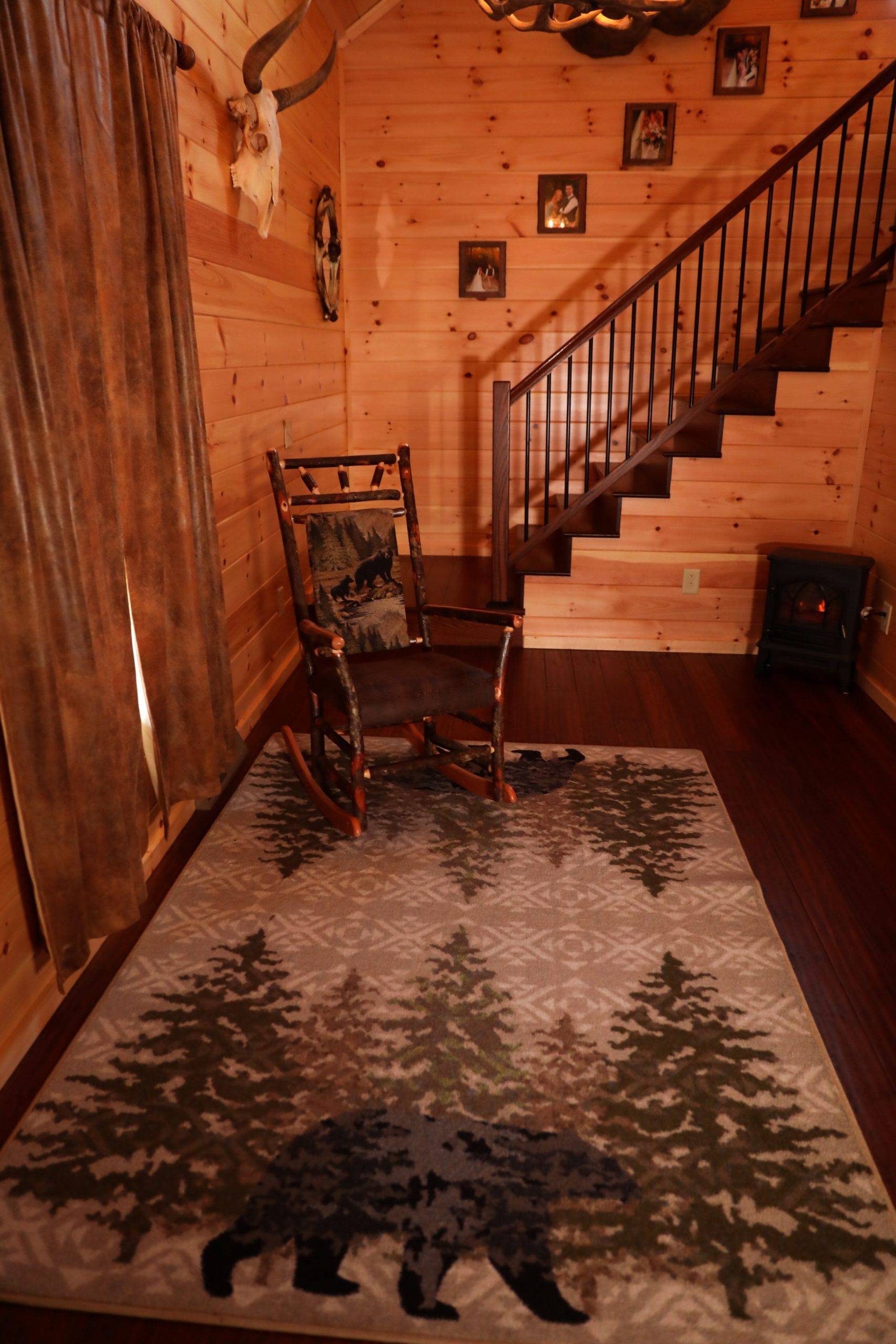 If your lake house is perched near the mountain, then make its environment your inspiration. The wooden floor and wall recreate the authentic lakeside mountain look. Lake house decor that takes inspiration from wild animals is also a fine addition. The bear-printed rug and wicker chair are a perfect mainstay for this vintage home. Take notice of the game horn by the wall that makes a rare lake house decor one can ever get.
Takeaway
The lake house is the best venue for unwinding and relaxation. It is also a great place for family vacations and get-together. The greatest lake house decor will guarantee that your place is always at its picturesque and comforting best. The pure color schemes, accent objects, wall decors, and even window treatments can make a difference. With the best lake house decor, you can even turn your drab urban apartment into this theme inspiration.
Getting inspiration and ideas from other lake houses will also generate your own creativity. So encourage yourself to unleash your own artistry. Who knows, your lake house decor may become the next big thing!