With design classics, there is often a tendency on the part of companies to revisit their form, playing with colour, materials and size. It might be that brands feel an item requires a refresh or a renewed level of attention. It might coincide with trends, seasons or anniversaries—of a product's release or its designer's birthday. Whatever the case, considering a design classic from a different perspective can prove a thoughtful gesture on the one hand or a provocative act on the other. A good case in point — Kay Bojesen's Wooden Monkey is now available in oak/maple and oak/smoked oak versions (the original is made with teak and limba wood).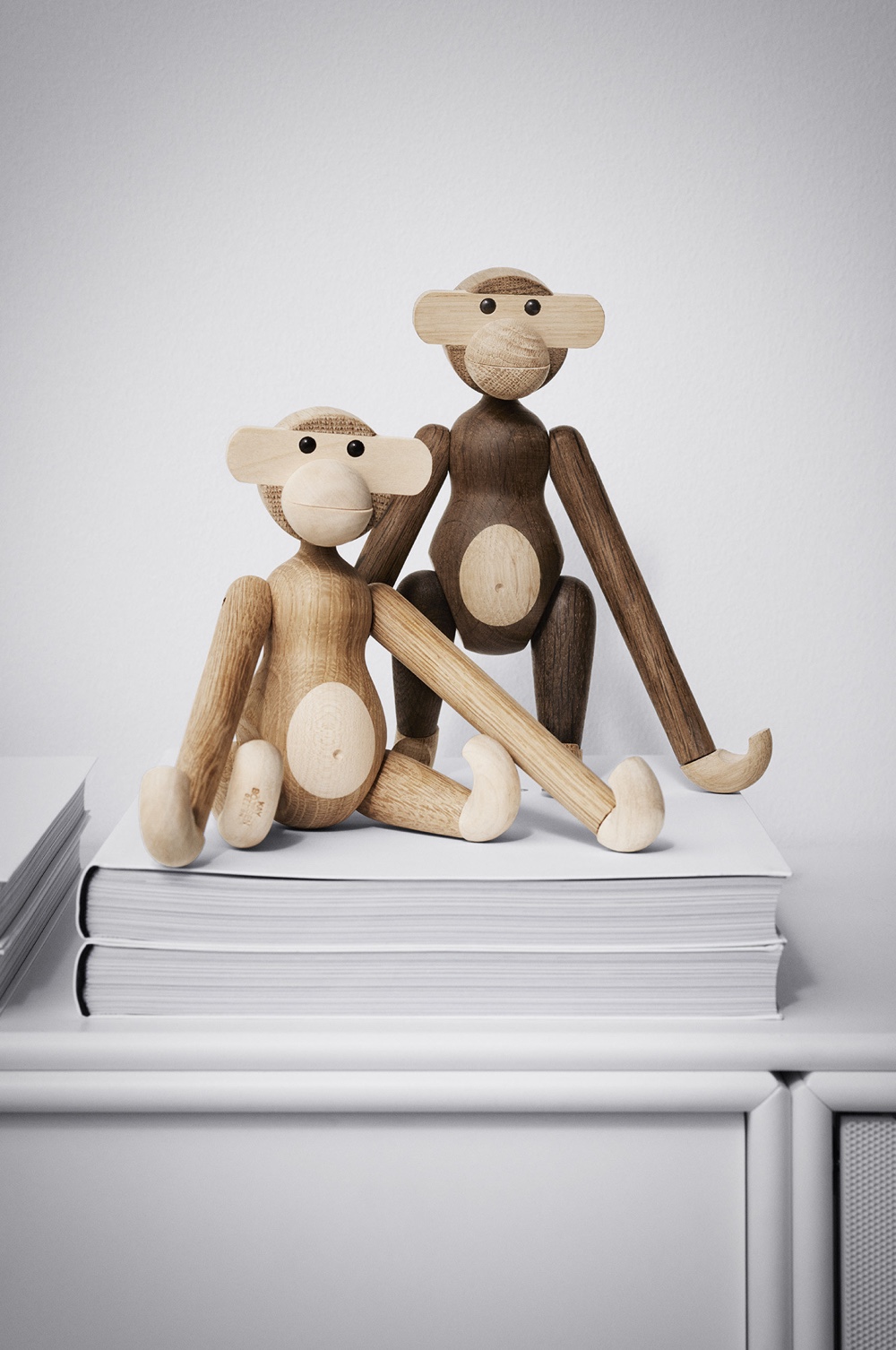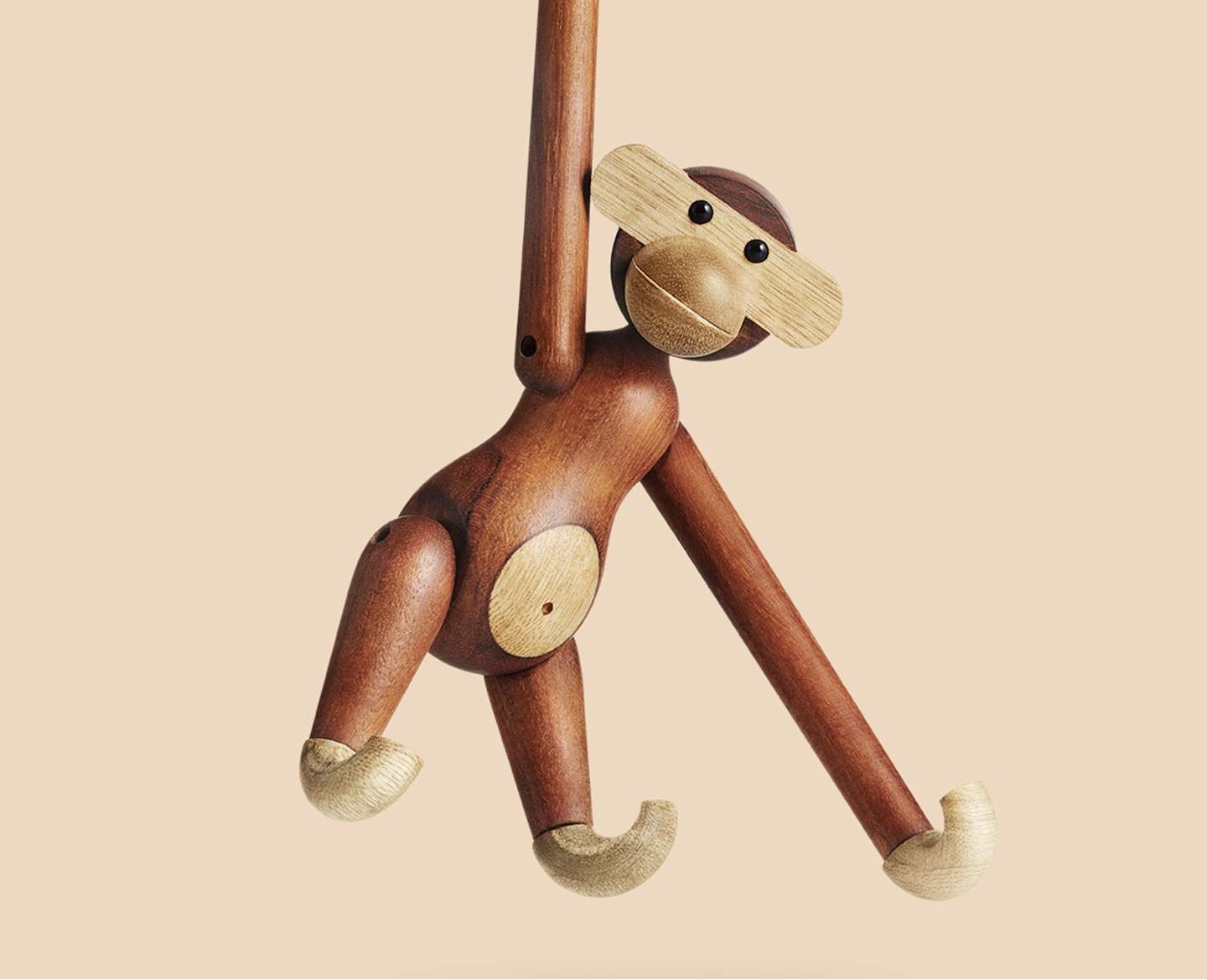 A classic with cult status
Kay Bojesen's classic Wooden Monkey is doubtless his most famous wooden character. Created in 1951, the Monkey is beloved by fans around the world. At first conceived as a quirky hat rack/coat peg for a children's furniture exhibition (so the story goes), the Monkey transcended this notional idea and achieved something of a cult status with thousands of design aficionados.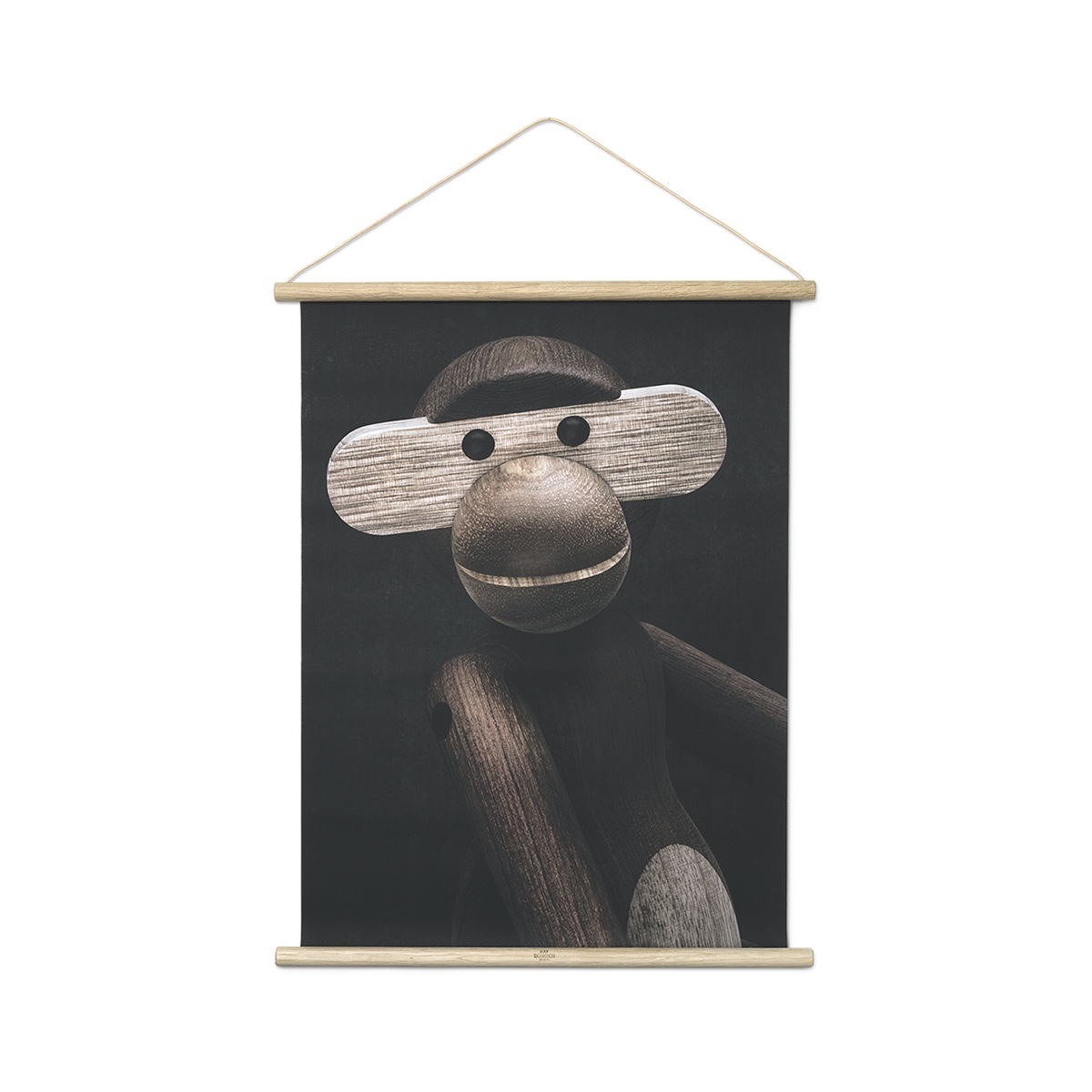 The man who brought wood to life
Danish silversmith and designer Kay Bojesen (1886-1958), could bring wood to life—his wooden toys were artistic, colourful and filled with character. Despite numerous designs—in both silver and wood—under his belt, it is his Monkey that has gained most acclaim. The birth of his son Otto in 1919 ignited Kay Bojesen's fascination for children's toys and reminded him of his own childhood—a time when his father would carve wooden figures for him, encouraging a very young Kay to be creative and playful.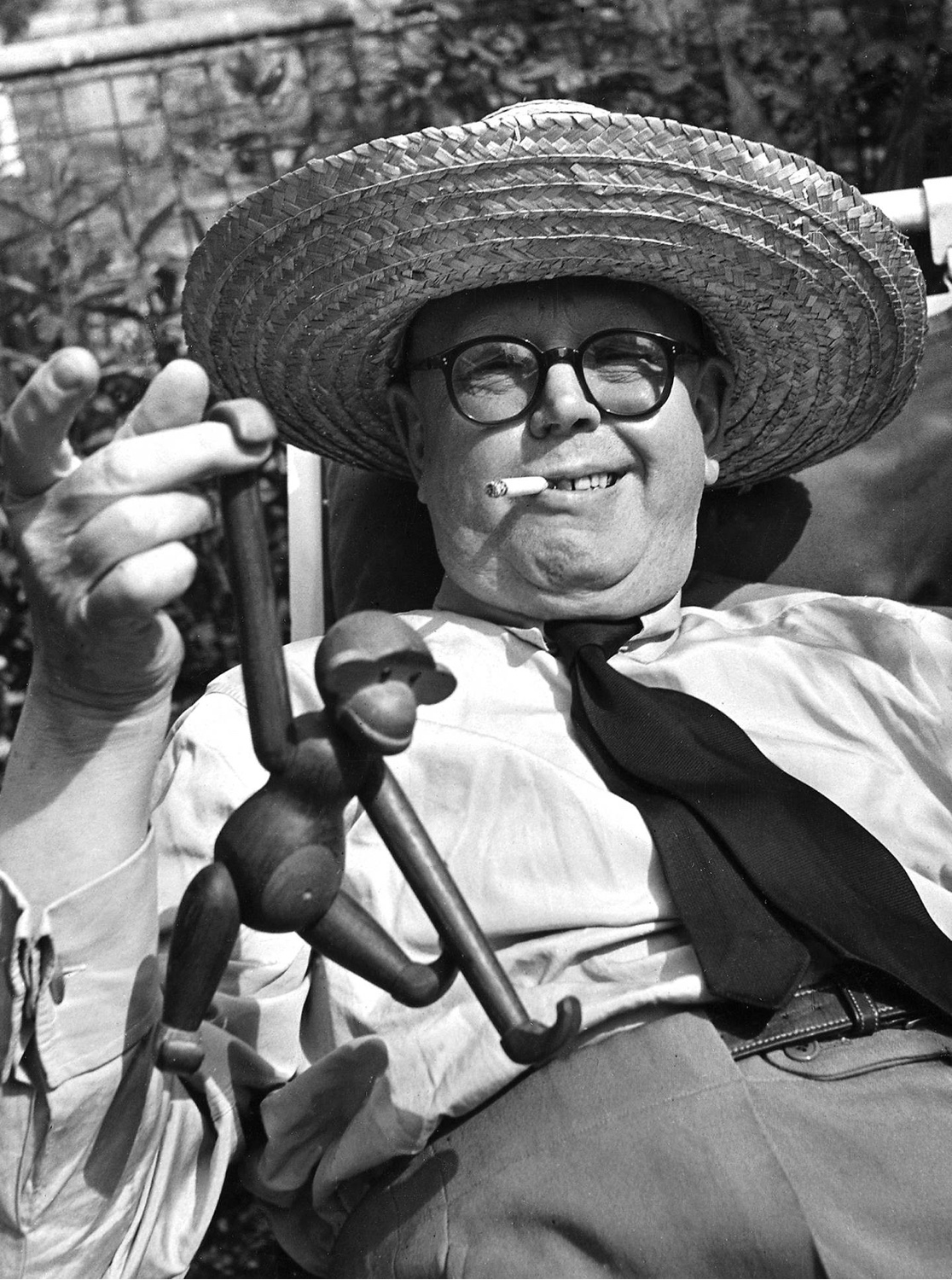 It was in the 1930s that Kay Bojesen truly indulged his passion for wood (in this decade designing and crafting his horse, dachshund, zebra and Tim the terrier). In 1932, he opened a basement shop and workshop at 47 Bredgade, Copenhagen, where he worked for the next twenty-six years. Rather than creating true to life animals, shaped with perfect detail, Kay Bojesen made toys from a child's point of view—they were simple, fun-loving, solid and soft.
An intricate and lovingly crafted design
Today, Kay Bojesen's legacy is fiercely guarded by his four grandchildren. The Rosendahl Design Group was chosen by the Bojesen family to develop, manufacture and distribute their grandfather's popular wooden toys under the banner 'Kay Bojesen Denmark'. And of all of Kay Bojesen's wooden creations, the Monkey is his most unique. It is made for Kay Bojesen Denmark by the Danish family-owned Brdr. Krüger, a self-producing design company whose commitment to quality and craftsmanship has been nurtured through five generations—Brdr. Krüger has been crafting the Wooden Monkey in its workshop since 1992.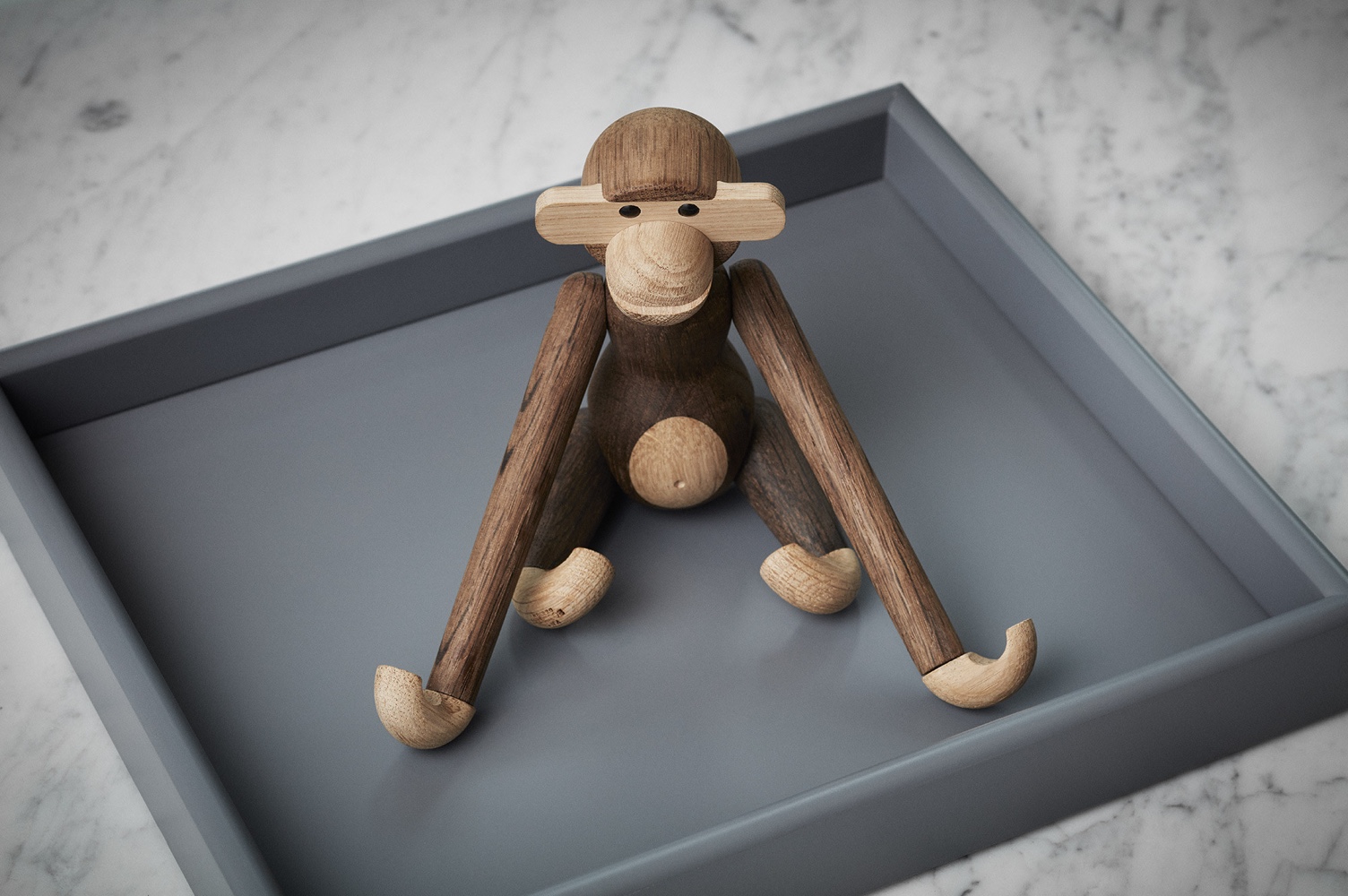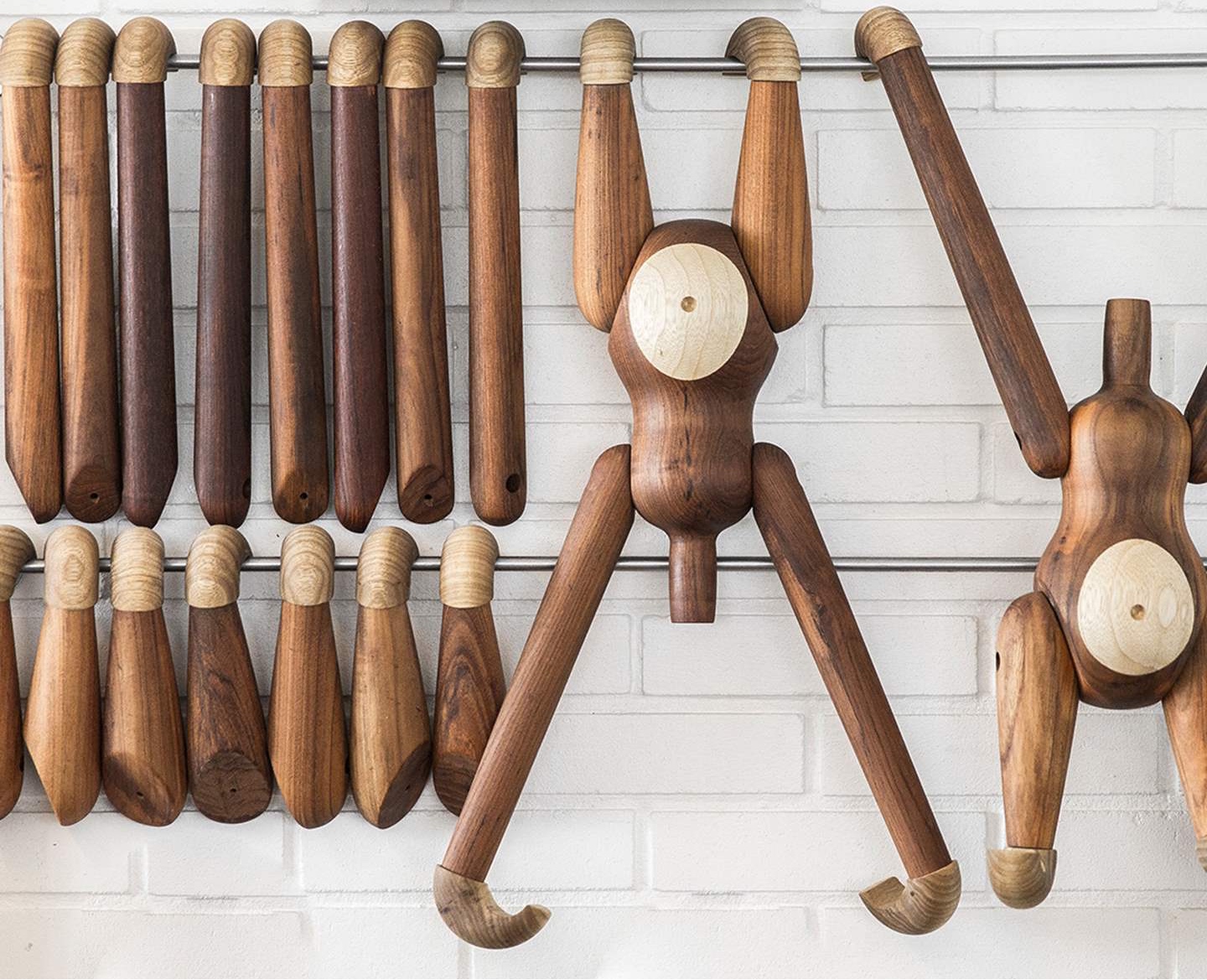 Consisting of thirty-two individual parts, the Wooden Monkey's design is intricate and detailed. Made (originally) with teak and limba hardwoods, the skilfully crafted Monkey has a number of moving parts: head, arms, hands, legs and feet. Its ability to move ensures the Wooden Monkey has a range of characterful expressions, gestures and poses, from sitting to standing to hanging. With a knowing, impish grin, expressive eyes and a friendly gait, the Monkey is a wonderfully intelligent, fun-loving, easy-going companion, designed for a lifetime of commitment.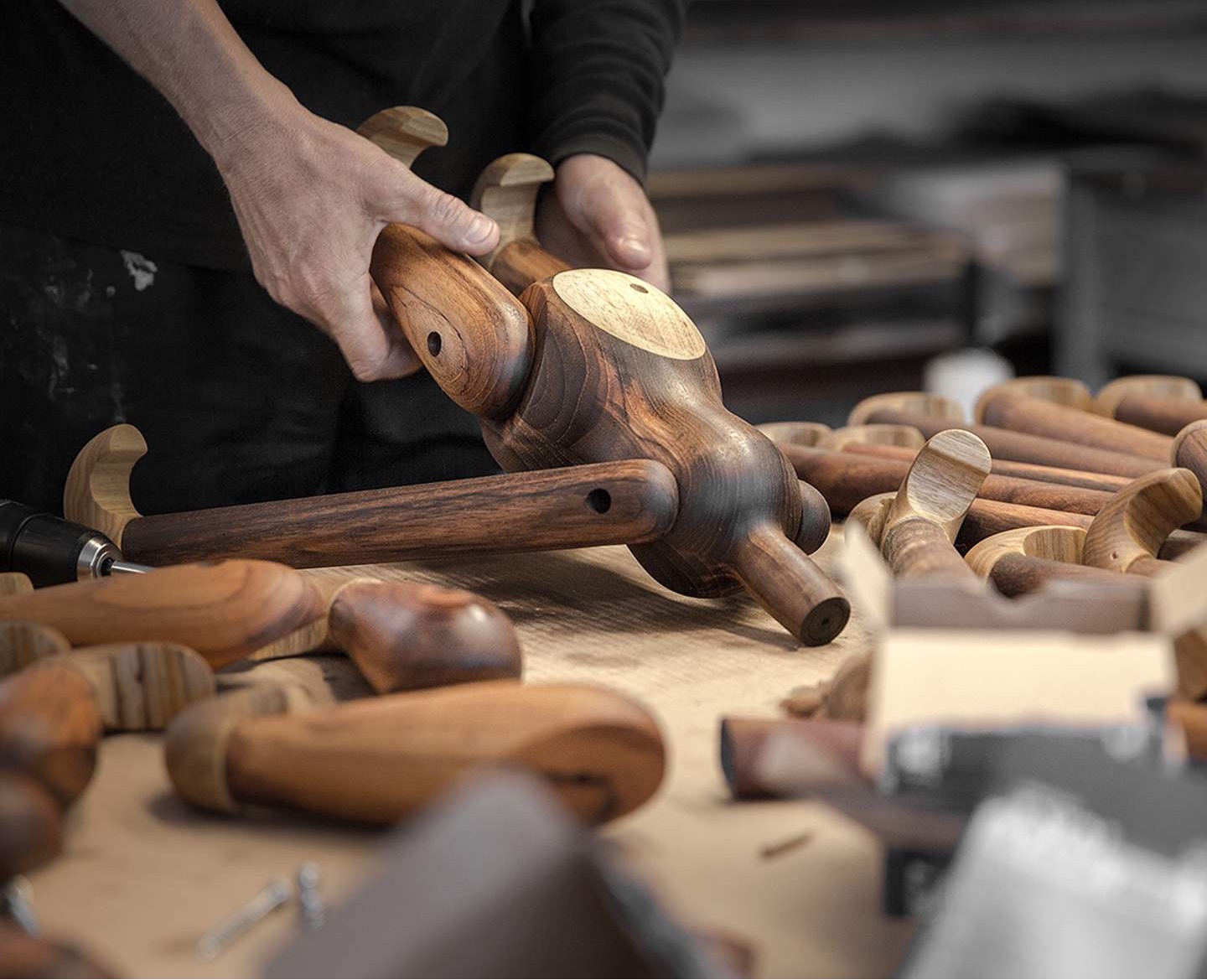 The Wooden Monkey's brothers
Kay Bojesen Denmark is launching two revised Wooden Monkeys—one in oak and maple woods and one in oak and smoked oak. At first glance, they appeared as somewhat faded, even inferior, versions of their teak and limba brother. And yet I realised that my initial reaction was a knee-jerk one—a kind of 'why mess with the original' response.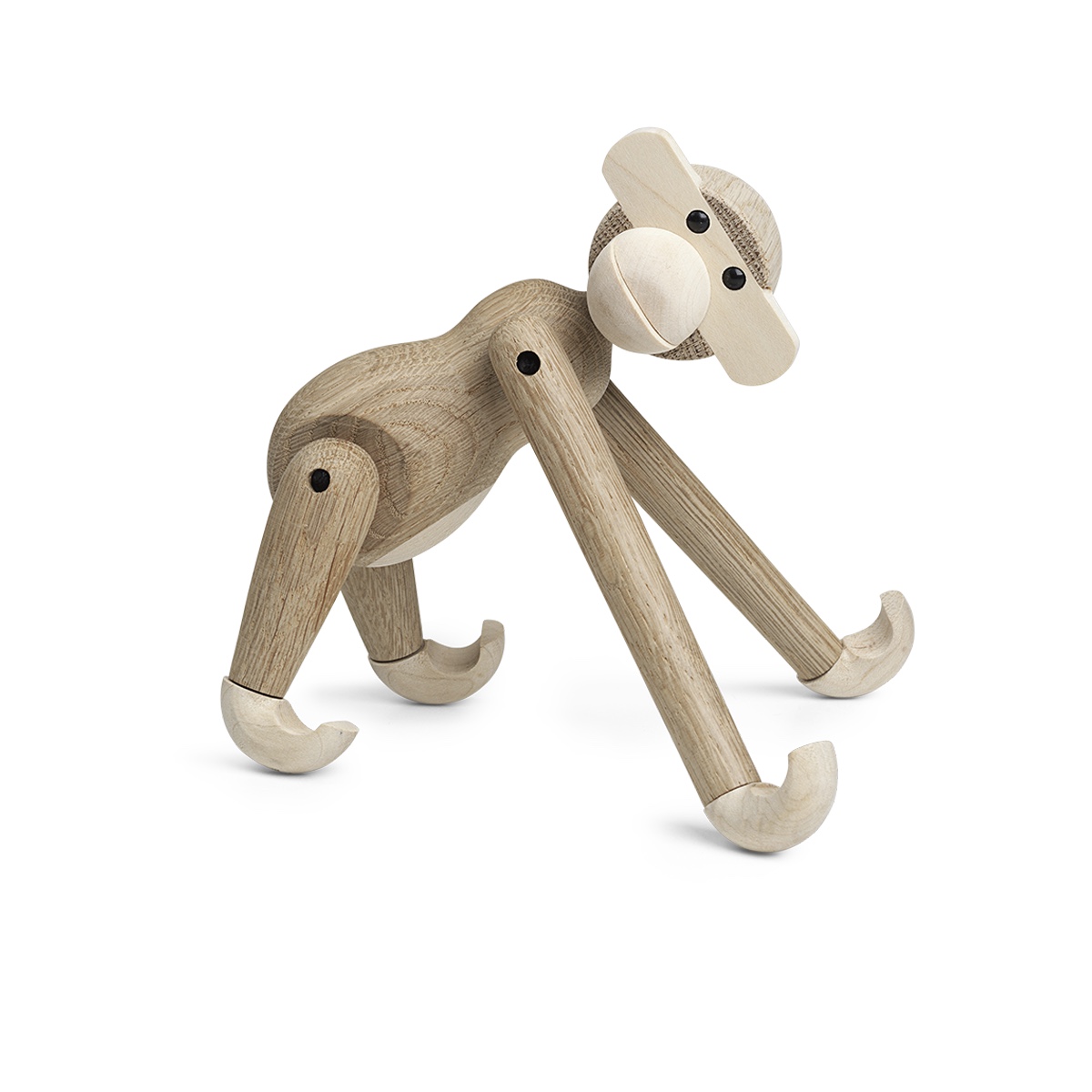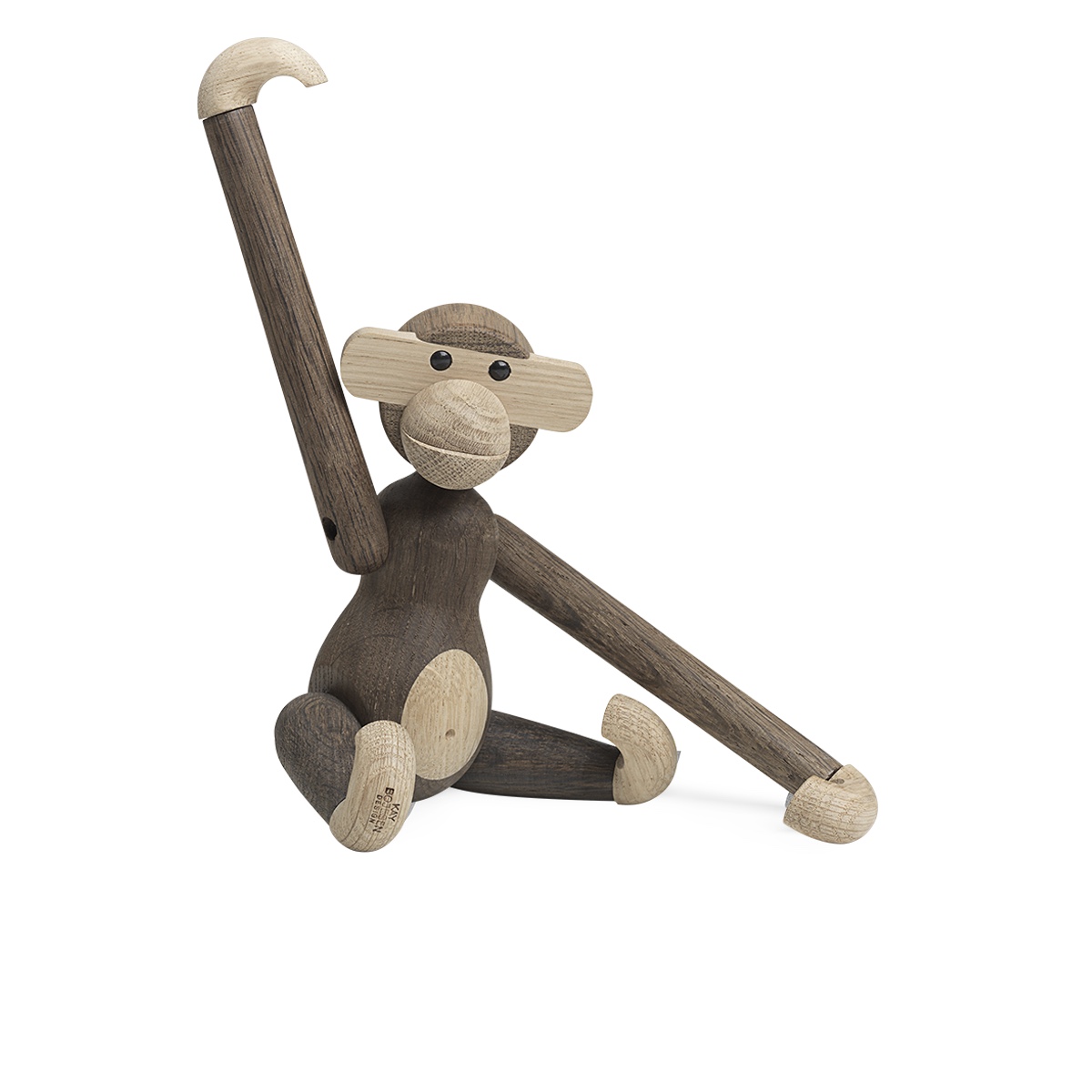 In a bid to further widen the Wooden Monkey's appeal, Kay Bojesen Denmark is perhaps reaching out to those purist fans of Scandinavian design, the people who prefer traditional paler woods and smoked woods. While the darker teak and limba Monkey remains head of the troupe (he is the elder brother), the new lighter variations work well with Scandinavian furniture design styles, mixing easily with new and old classics.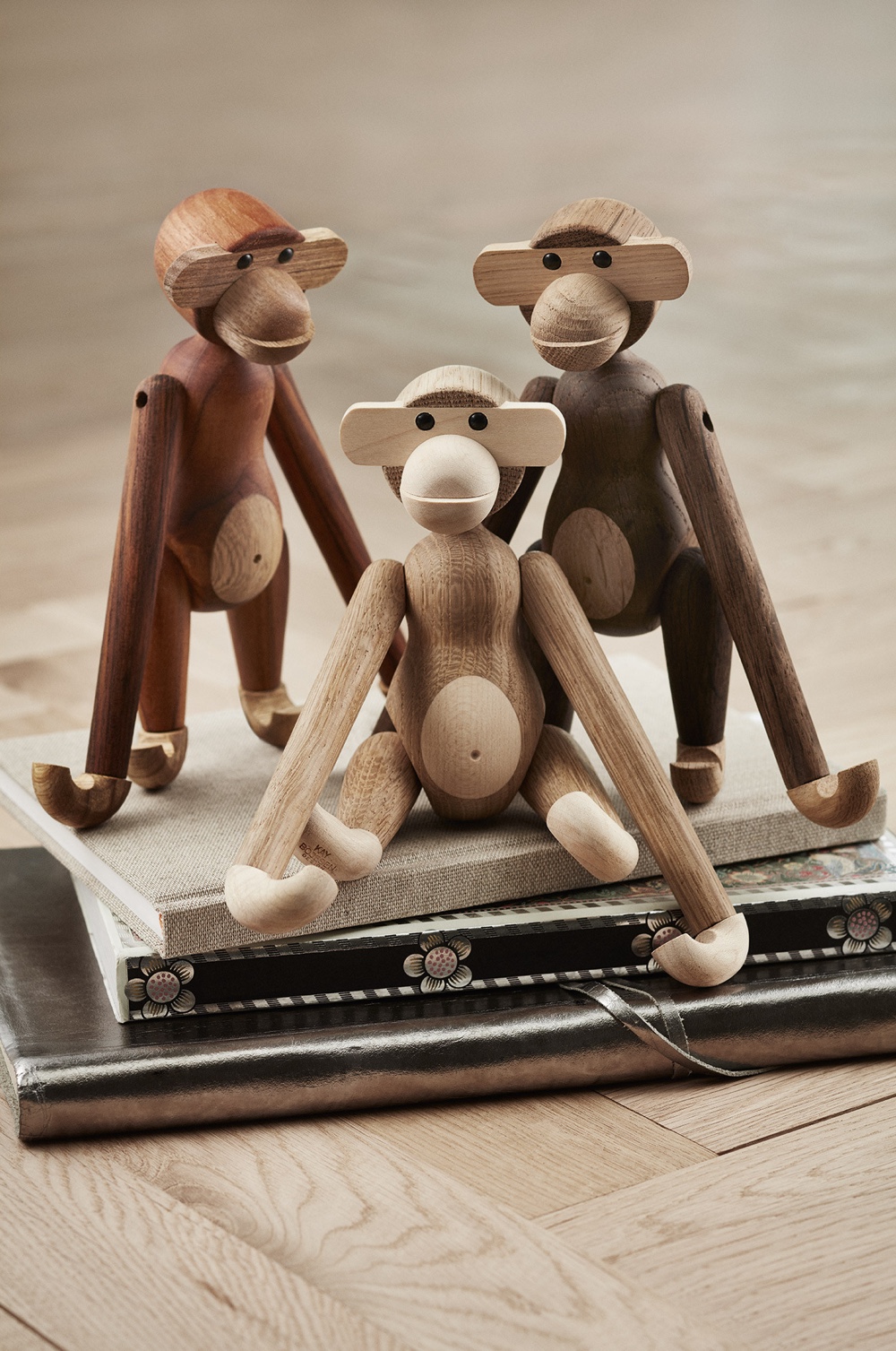 Across all three Wooden Monkeys—teak/limba, oak/maple, oak/smoked oak—that same lovable and mischievous personality remains. Furthermore, excellent Danish craftsmanship is assured and each Monkey's timbers will only age gracefully with time.