The magic of the holidays can't be denied, and if you enjoy keeping up with the latest design trends, there's a LOT of fun to be had this time of year! Today we round up our favorite holiday DIY projects and designs of 2017. Let's dive right in with this year's trendiest holiday palette: pink + assorted bright tones. Aww Sam takes wintery pink to vibrant heights (shown in the photo below). There's much more rosy fun to follow, plus plenty of other palettes and styles to enjoy. Whatever look you're going for at home this December, we've got you covered…
Rosy and Bright
As mentioned, pink is making a big splash this season. If the decor itself isn't pink, the backdrop is often a shade of blush when it comes to design blog photos! Other colors thrown into the mix include various shades of green, red, and even peach! It doesn't get more fabulous than this DIY Christmas Balloon Tree from Sugar & Cloth! If you need a party centerpiece, this just might be your golden ticket:
On a similar note, StudioDIY's Christmas Balloon Wreath is a picture-perfect holiday focal point. Note: if you're pressed for time, this little number is easier to put together than it looks!
Aww Sam's DIY Pom Pom Christmas Tree is whimsical, colorful and FUN!! For a shortcut, use store-bought pom poms rather than making your own:
Also from Aww Sam is this pink Christmas party, complete with wintery white accents and sparkling silver details. There's a lot of design inspiration to be taken from this festive scene:
One of the most charming and colorful holiday DIY projects this year, Studio DIY's DIY Colorful Christmas Village starts with pre-made birdhouses and takes them to a totally enchanting level! Craft paint and glitter are your friends here:
Green, Earthy and Elegant
It's not all playful and pink this holiday! If you like a style that's a bit more traditional (with lots of fresh greenery), check out the amazing decorative details that follow. Let's start with this gorgeous table by Tieghan of Half Baked Harvest (featured at Camille Styles). Twinkle lights, a rustic dining table, and plenty of seasonal produce create a warm, inviting feel:
Camille Styles also featured this charming kids' table, complete with a canopy and a mobile chandelier. Classic children's books served as inspiration for this child-friendly vignette filled with the wonder of the holiday season:
Notice all the greenery featured in this section of the post? Green garlands are a true holiday favorite, and it's easy to be inspired by the fresh, green look of the garlands and other natural accents featured at Francois et Moi:
Also from Francois et Moi is this Perfectly Plaid Holiday Table, which definitely boasts its share of greenery, along with other inviting details:
Combine green with bright pops of orange for a charming spread of Mandarin Tower Table Centerpieces. Placing them on white serving pieces really makes them pop. Check out all the details at A Beautiful Mess:
For a fun twist on holiday decor, try bringing greenery into the bedroom so the holiday cheer isn't limited to the living and dining areas! Homey Oh My features some creative uses for natural greenery, as shown below:
Natural elements don't have to be limited to all things green. Try incorporating touches of wood. These Easy Geometric Hand-Stitched Wooden Ornaments from DIYs.com have a Scandinavian feel. Geometric style meets the earthiness and warmth of wood for an on-trend statement that's both modern and classic:
For an unexpected use of wooden items, try crafting a nativity out of supplies such as finials! How stunning is this Mid-Century Heirloom Nativity?! Check out all the details at The House That Lars Built:
Don't forget about the power of edibles to bring holiday style home! For another hefty dose of winter charm, try crafting this Crepe Paper Christmas Tree Cake Topper (also from The House That Lars Built). It's the enchantment of Christmas…on a delicious cake!
All That Glitters…
Today's final featured palette reminds us that metallics make the holidays all the more festive. Plus, they're great for modern design enthusiasts who want the sparkle without a lot of traditional frills. We at Decoist created our own DIY Metallic Holiday Garland, which can easily be accented with greenery, bows, or the baubles of your choice! Check out all the details here: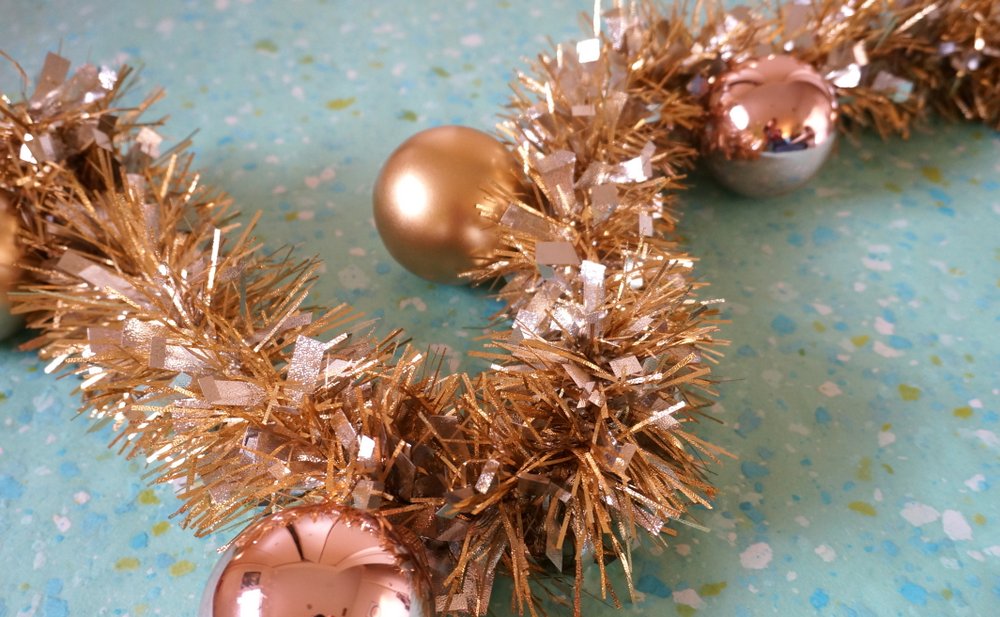 An eos lip balm is at the heart of this upcycled ornament idea from A Beautiful Mess. Gold cone studs and mini gold tassels are shining embellishments. Plus, the ornament can double as a beauty product gift!
We all know that gold really complements the color pink! So combine winter's most on-trend color with a bit of sparkle and make a set of these Faux Suede Fringe Stockings from A Beautiful Mess…
Speaking of fringe, these sugar cookie gift tags from A Subtle Revelry showcase a lot of fringe…AND a lot of sparkle!
Last but not least, A Bubbly Life's DIY Disco Ball Rudolph will put a little disco glam in your holiday. A kid-friendly project that's also a treat for grown-ups:
We hope today's post has provided plenty of seasonal inspiration while showcasing the latest in holiday design trends. We at Decoist wish you and yours a delightful, creative winter!