A holiday bar cart is like a regular bar cart, but with more festivity! Are you getting ready for the fall and winter holidays? It's time to refresh your bar cart, or stock one from scratch if the concept is new to you. The good news: the "cart" is a plus, but you can always set up an impromptu bar on a console table, side table or other surface top. Plus, you can make your holiday bar special on any budget. Today we'll show you how. Read on for tips, hints and design details… [bar cart below from In Honor of Design]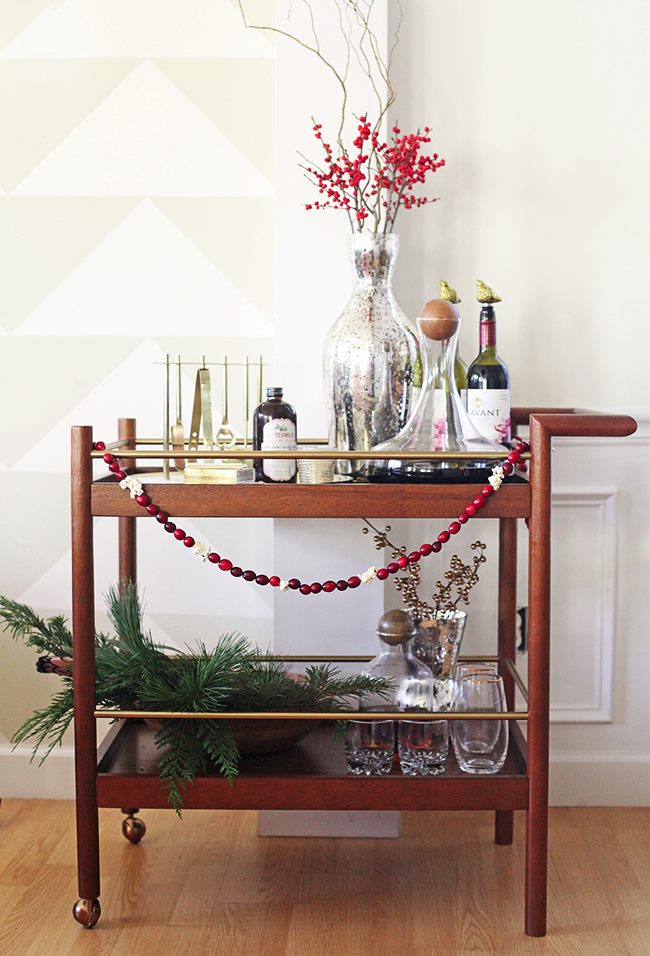 Bar Cart Basics
Let's start with the basics, and then we'll get to the holiday flair! Determining your bar cart liquor budget is a great first step. If you are in fact starting from scratch, begin with tried and true favorites, such as vodka, gin and rum. Don't forget mixers such as sparkling water and juice! For a tiered liquor guide that honors every budget (plus helpful hints such as the value of buying mini bottles of specialty liqueur), check this helpful bar cart stocking tutorial from A Beautiful Mess: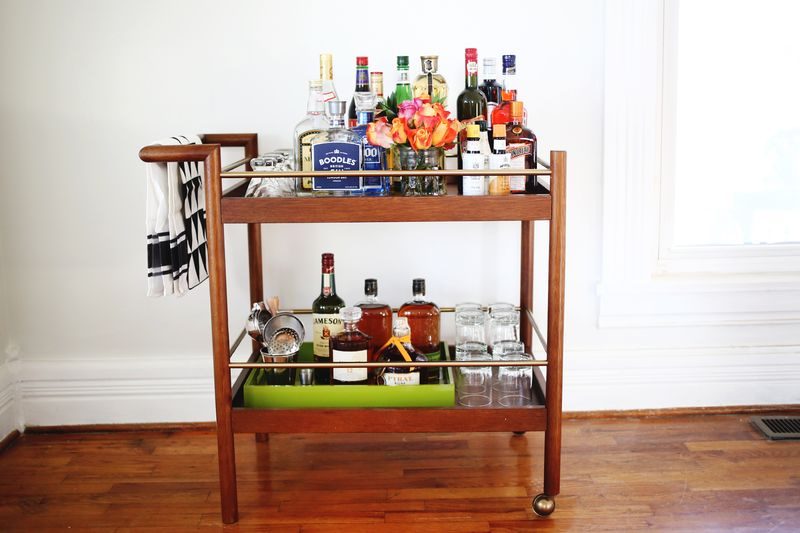 There are also important tools you want to consider, such as a mixing glass, a muddler and a stirrer/spoon. Looking for a good deal on a set? The Mixology 7-Piece Barware Set from West Elm has the basics covered: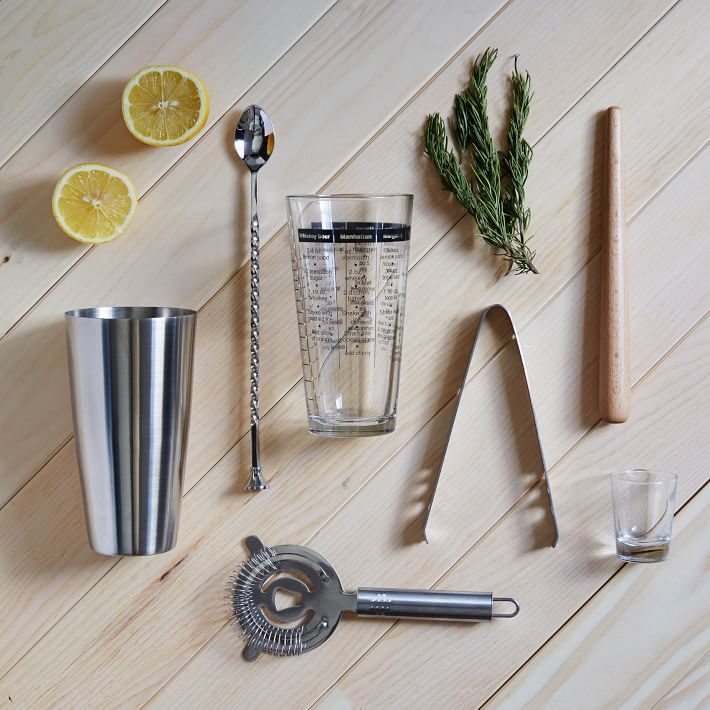 Take some time to think about your bar cart style. There are SO many possibilities! Start with the look and feel that you're going for. Do you like to have many items accessible on your cart, or do you prefer a clean look with only the essentials? Are you wanting to add a bit of decor into the mix? This stylish bar cart from The Classy Issue focuses as much on decor as it does on beverages. [via Camille Styles]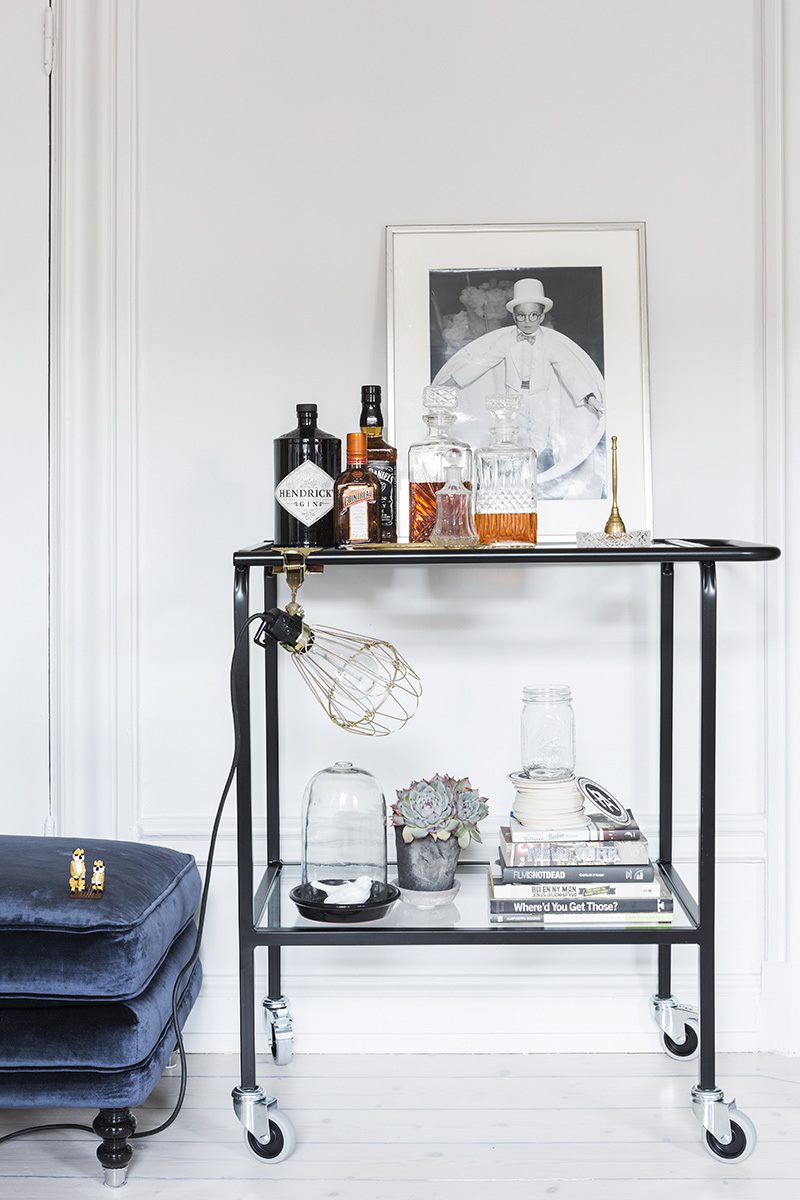 Your bar cart can mirror the style of your home (and your holiday decor). What's your design style? Are you a fan of Midcentury modern? Perhaps your bar cart can reflect a retro, clean-lined look, as shown by the bar cart below from Lonny: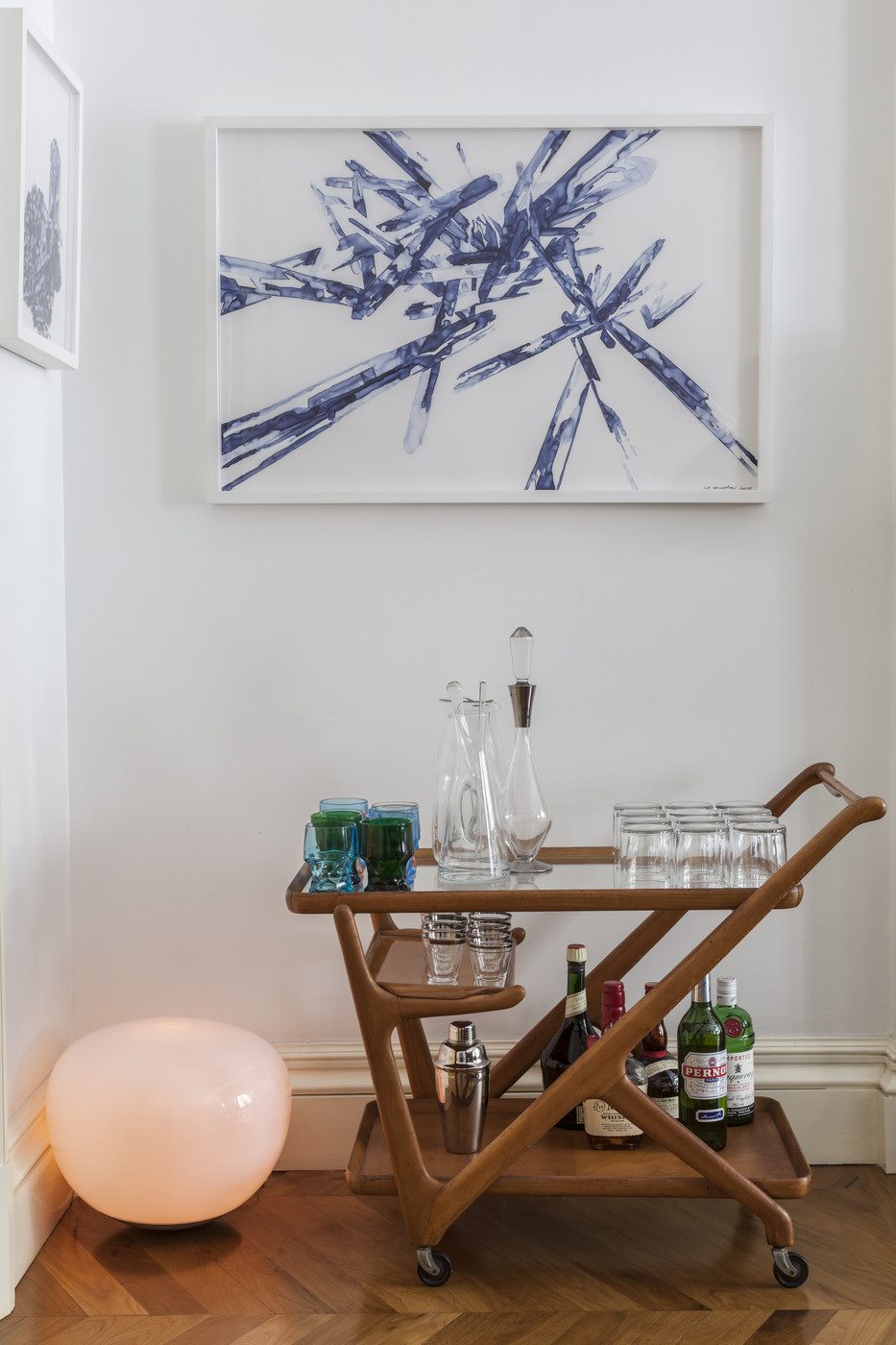 Do you like serving the liquor directly from bottles, or are you a fan of decanters? Make a list of the serving pieces you'll need for the holidays, and start looking for bargains. For example, estate sales are a great place to find antique decanters! [from Lonny]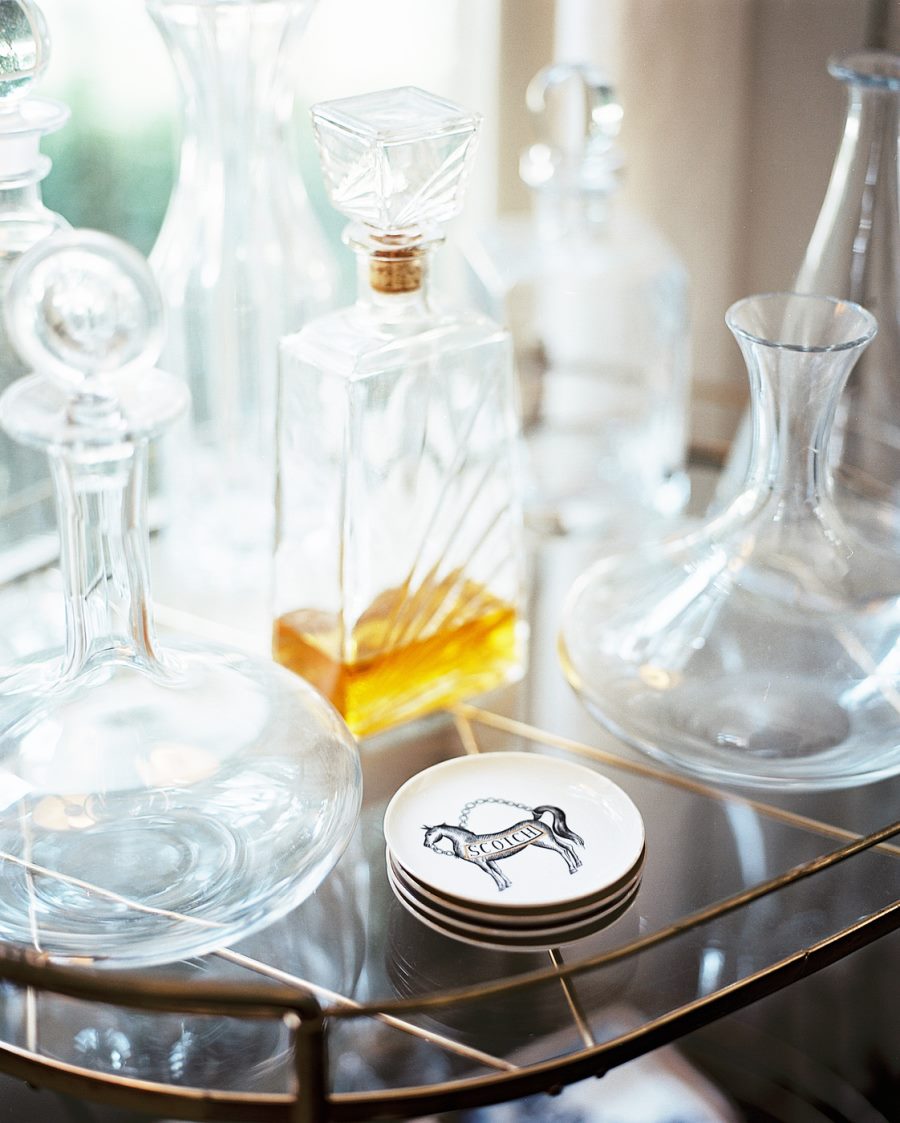 Holiday Style
Now let's move into the holiday style department, shall we?! Dressing your bar cart for the holidays can be as simple as adding some festive napkins, fresh greenery and seasonal decor to the top of the cart. [from Hank & Hunt]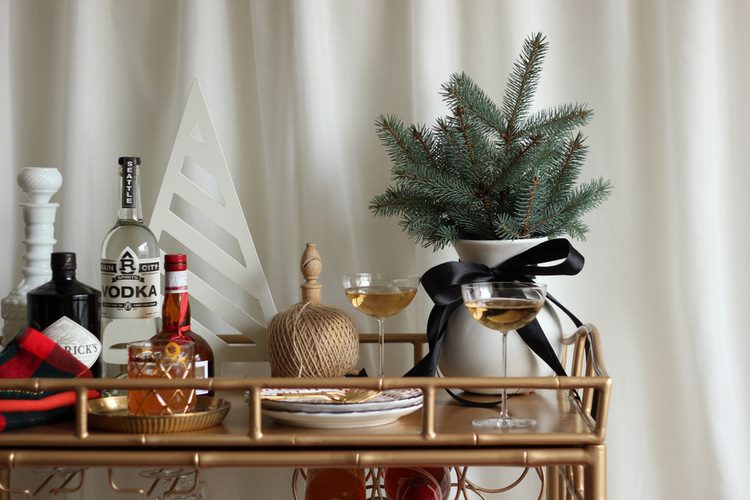 But now is also a great time to consider your holiday alcohol selections. Switch out lesser-used bottles of liquor and sub in some seasonal favorites. [Valet Bar Cart from West Elm]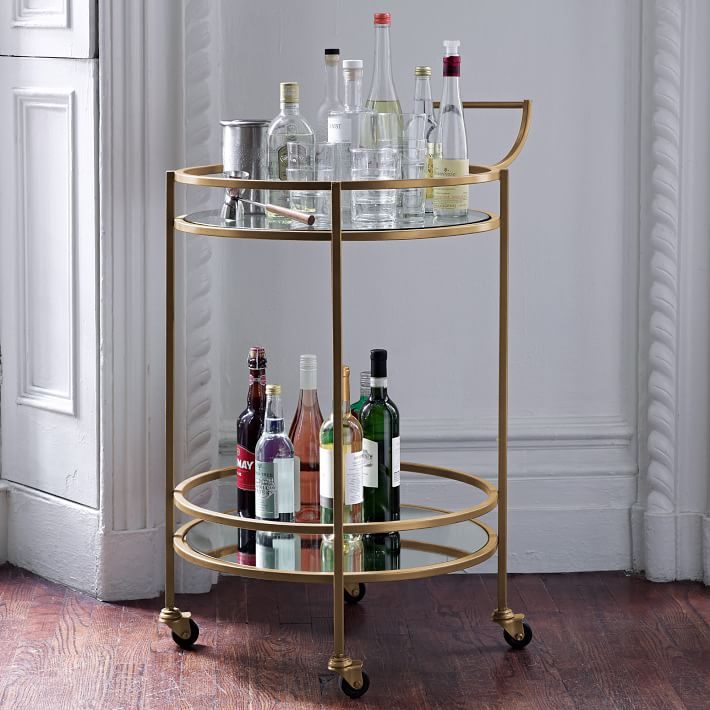 For some fabulous suggestions of specific seasonal selections, head on over to BloombergBusiness for a descriptive list, complete with pricing. Bring on the bitters and apple brandy!
One helpful hint when deciding what to stock is to gather a few cocktail recipes that you'll serve time and time again during the fall and winter months. Then purchase the ingredients involved. On a budget? Pick one good cocktail. We're loving this Cranberry Orange Margarita by Elsie Larson of A Beautiful Mess!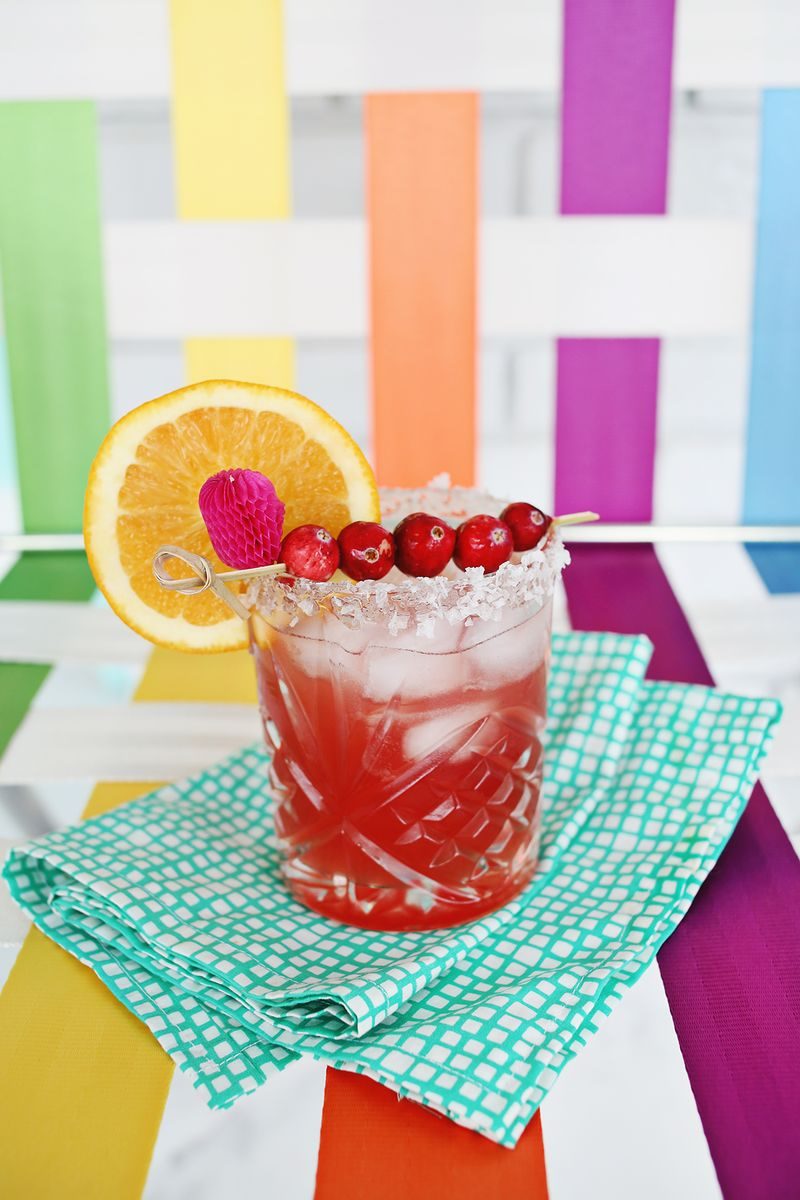 Don't forget the champagne! Always a holiday favorite, something bubbly can never be wrong during this festive time of the year. If you're having a party, use the top tier of your bar cart to display the alcohol you need within arms' reach. [from Lonny]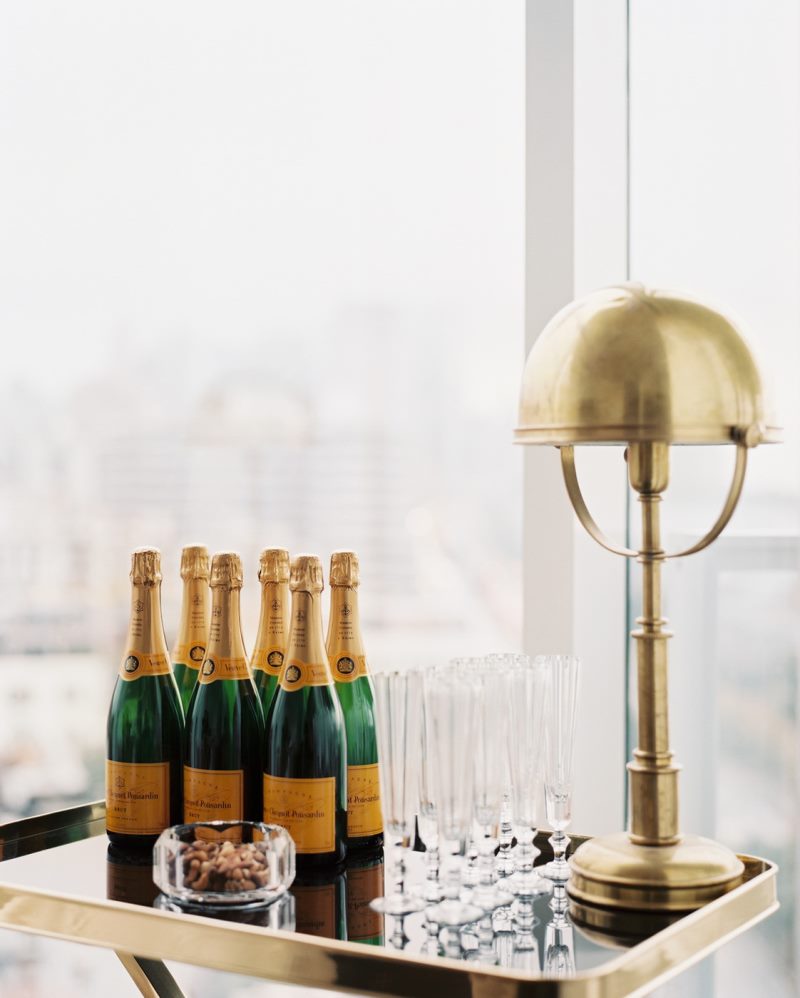 If you feel so inclined, display seasonal glassware in holiday hues. Cut glass and crystal are popular choices, as the facets catch the sparkle of the holiday lights! [from Lonny]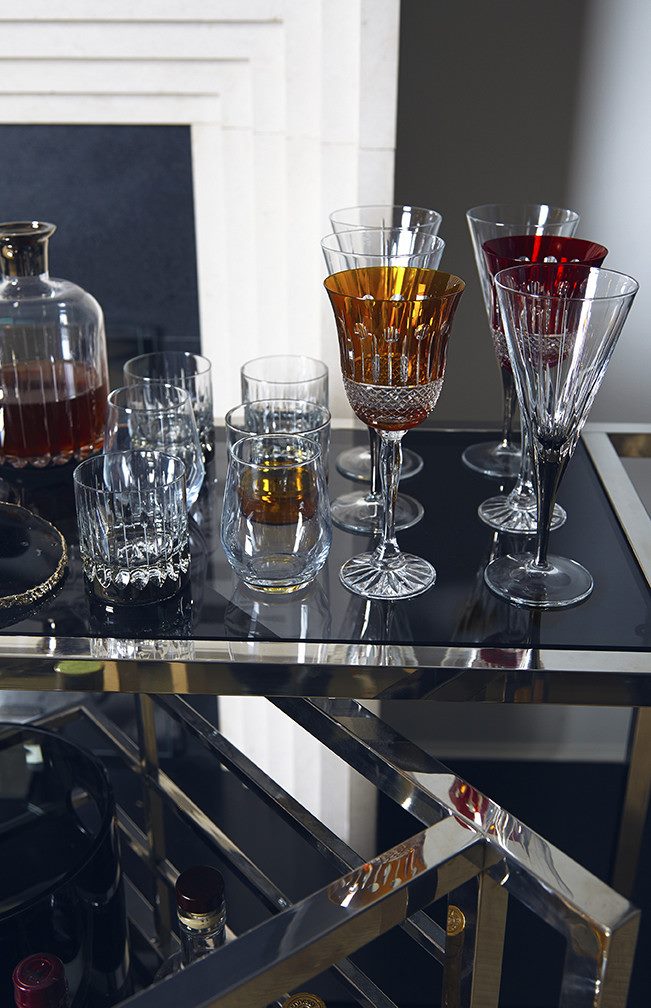 Just as with the decanter reminder in the previous section, stock up on serving pieces such as pitchers and wine chillers, which will make it easy for you to pour your festive cocktails for guests. You can never go wrong with sleek and shiny! [Porter Bar Cart below from CB2]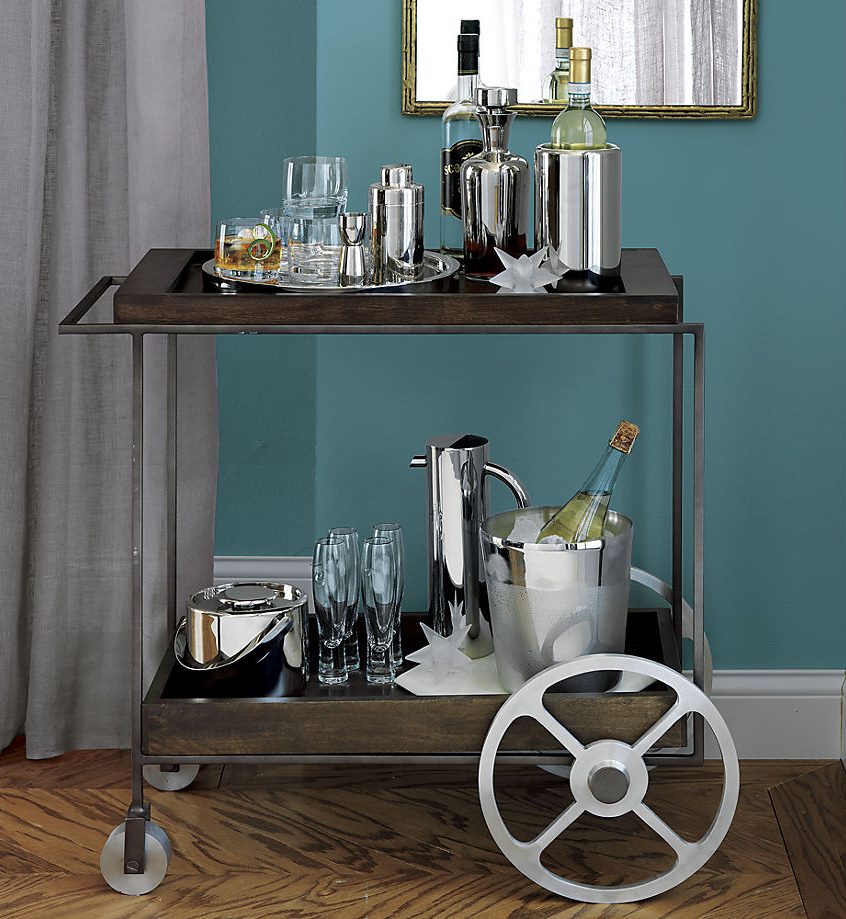 And let's not forget finishing touches such as bottle openers and striped straws. A beautifully designed paper straw can take a cocktail to the next level! [from The Life Styled via HGTV]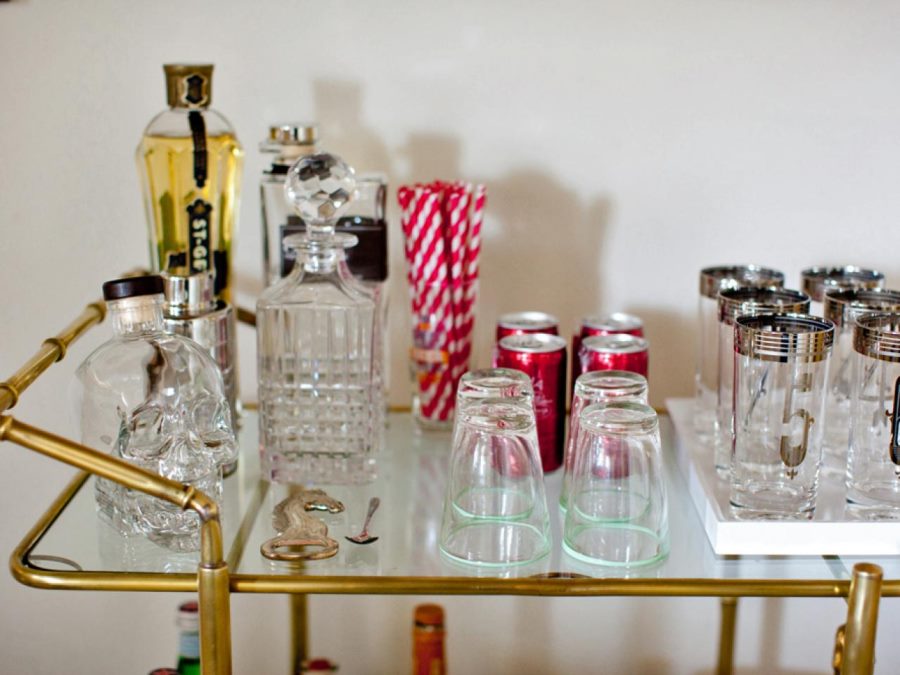 In terms of the holiday decor, you can go for one large statement or opt for a variety of flourishes, including fresh greenery. Below we see a beautifully styled holiday bar cart from Deuce Cities Henhouse: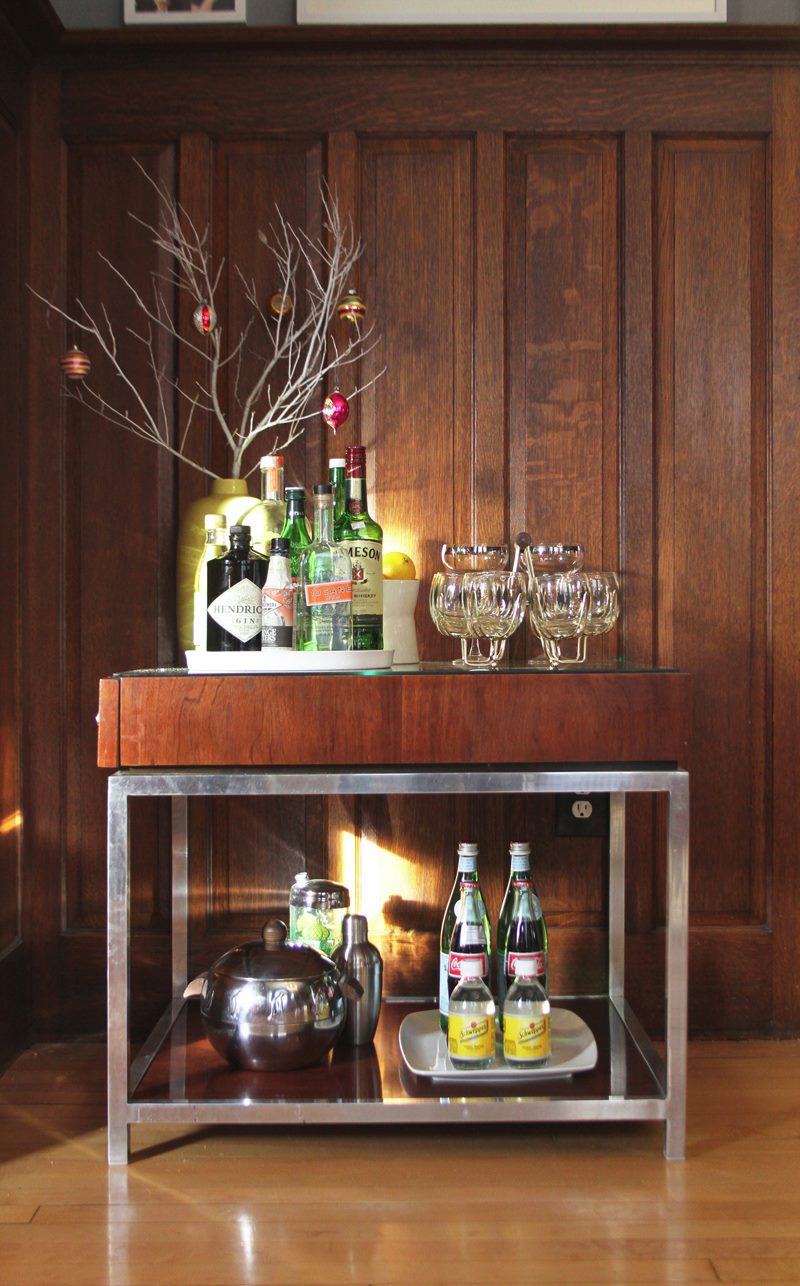 And of course, anything that sparkles and shines is welcome. Holiday-themed bottle stoppers and figurines make a big difference! Just be sure not to overcrowd your work and serving space with trinkets. In other words, make sure the cart is as functional as it is stylish. [from The Doctor's Closet via HGTV.com]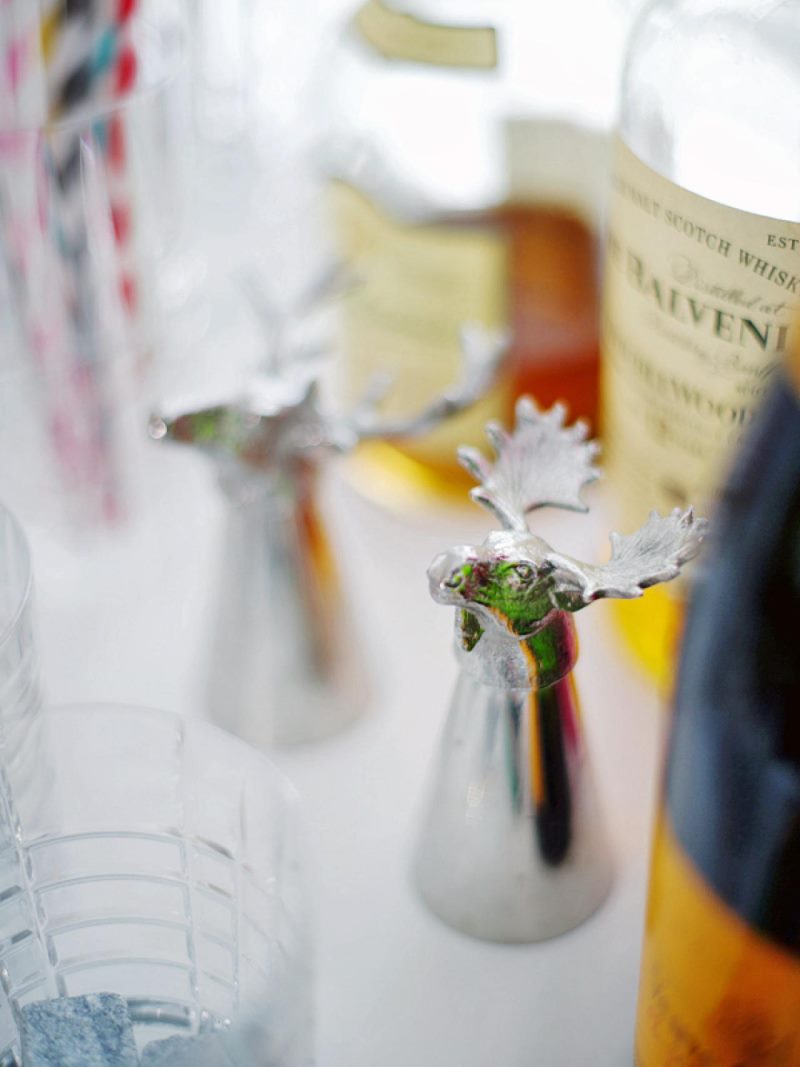 Remember the fresh greenery we mentioned above? A garland also gets the job done! Go for metallic tones if you want a bar cart with wintery shine. You can make your own, or purchase a garland to make it easy. Below we see the Glitter Kraft Gold Star Garland from West Elm: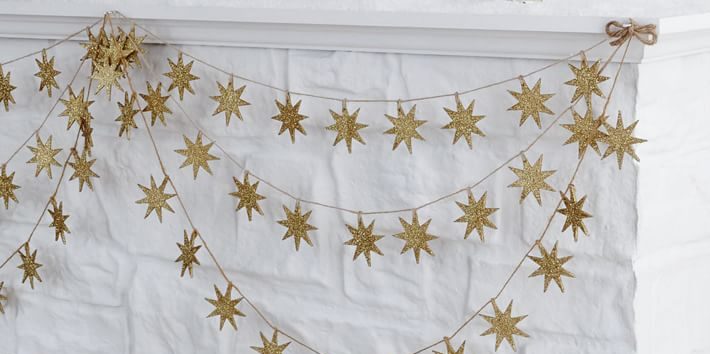 Bonus points if your holiday flourishes reflect the overall design style of your interior! This retro glam holiday bar cart from Devon Rachel features special touches such as vintage glasses and a garland from Anthropologie: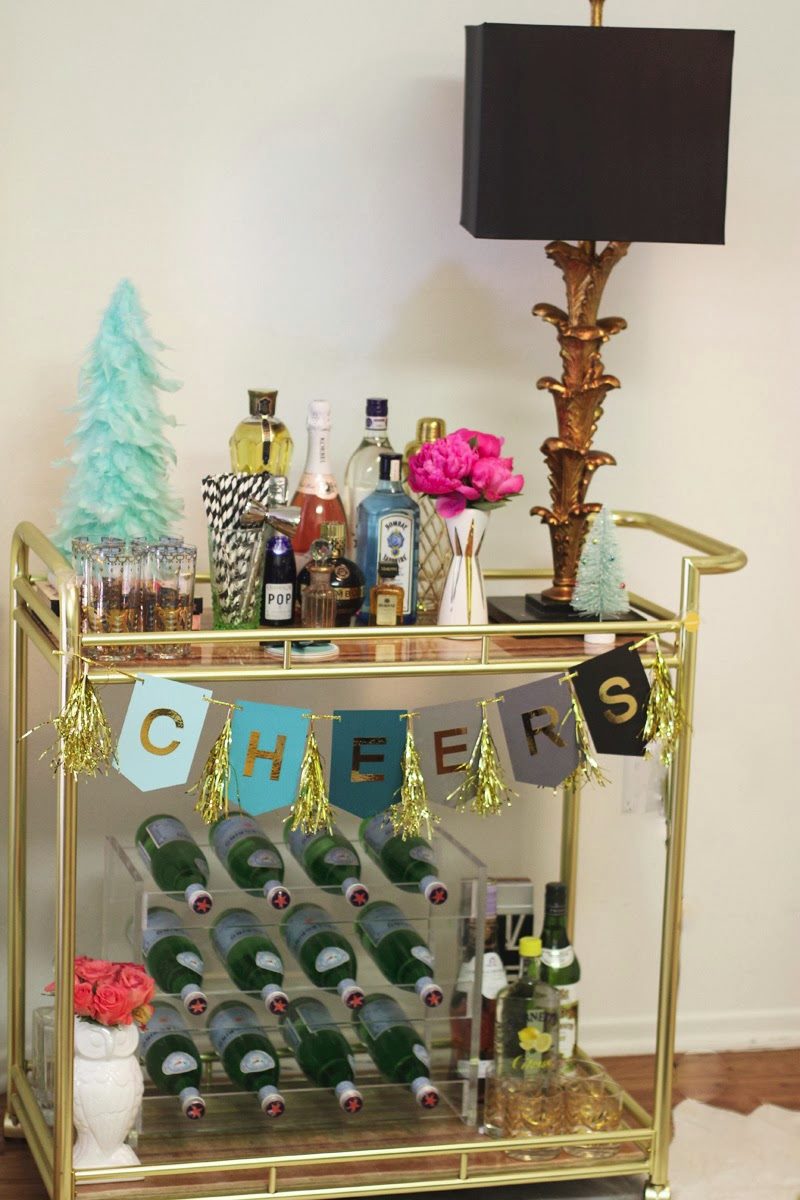 Remember that you can convert any surface top into a holiday "bar cart." And this "cart" can come and go depending on the day if you're challenged for space. In today's final image, we see a party-ready spread featuring pieces such as a collection of Cylinder Pink Champagne Flutes from CB2: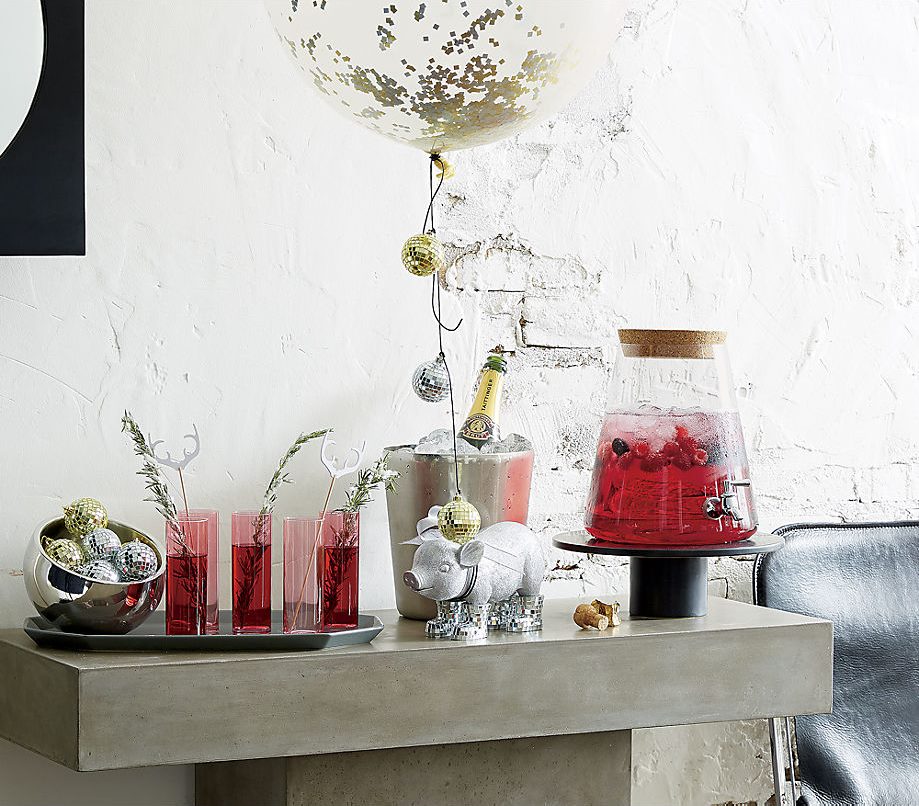 How will you add holiday flair to your bar cart this season? Are you starting from scratch or styling a bar cart already in progress? Enjoy the process and let the good times roll!