Many of today's most elegant, sleek bathrooms feature showers with glass doors. But if your shower requires a curtain, there are plenty of chic options that will give your powder room a luxury look. Today we've rounded up a collection of high-end shower curtains that will elevate your interior to spa status! We've also included links to purchasing information if you're in a shopping mood. Enjoy…
Powerful Patterns
We begin with shower curtains featuring patterns and prints, and nothing adds modern decadence quite like marble designs. That's why we're crazy about this Marble Shower Curtain from ferm LIVING, crafted from 100% cotton with an acrylic coating: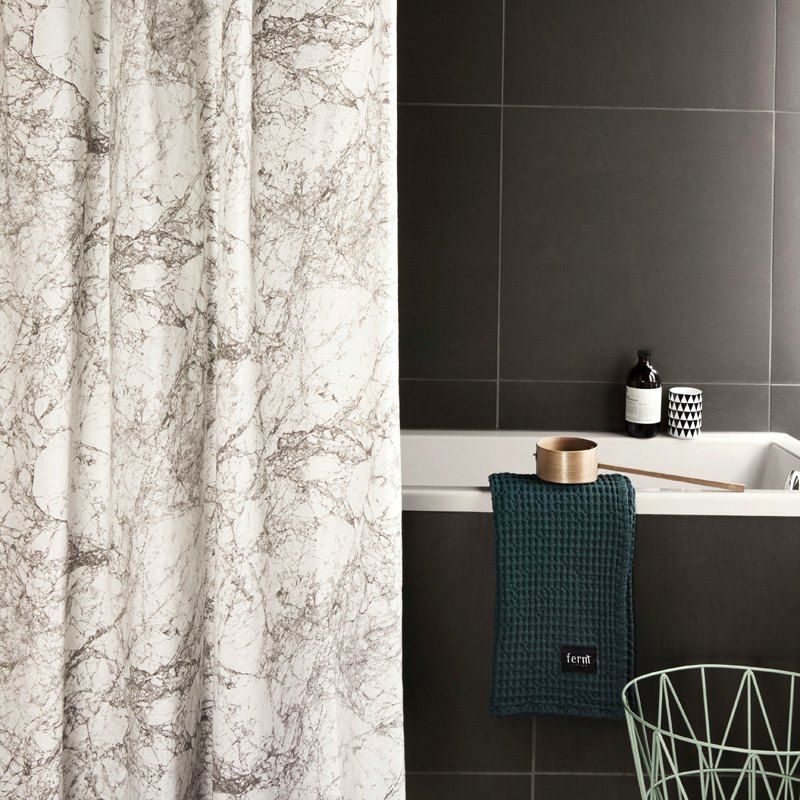 We can't discuss shower curtains without shining the spotlight on Thomas Paul selections, which are always designed with creativity. Below we see the 72″ Octopus Shower Curtain in Ink (left), as well as the Octopus Vineyard Shower Curtain (right), both of which are hand silk screened and hand sewn: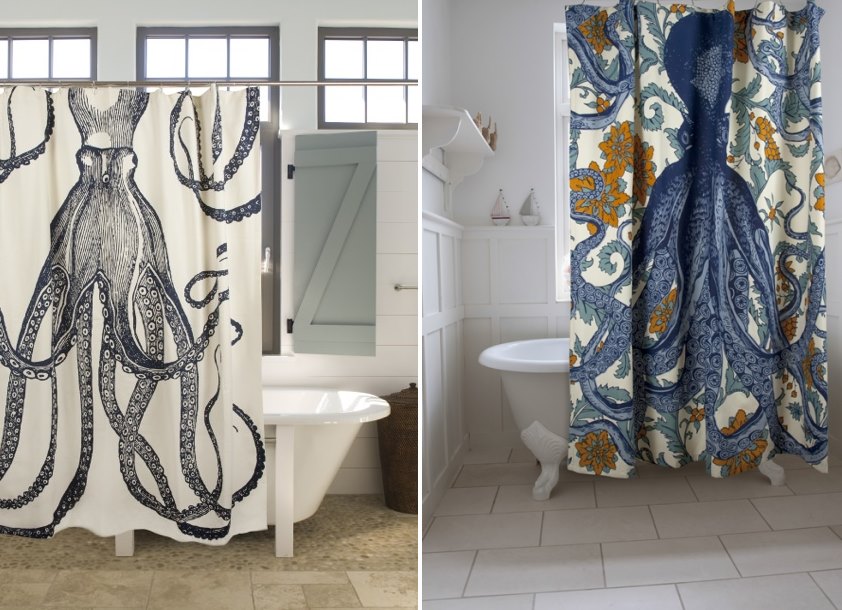 The Fish Scales Shower Curtain from Jonathan Adler brings retro luxury home, thanks to a Deco-style pattern on cotton duck canvas: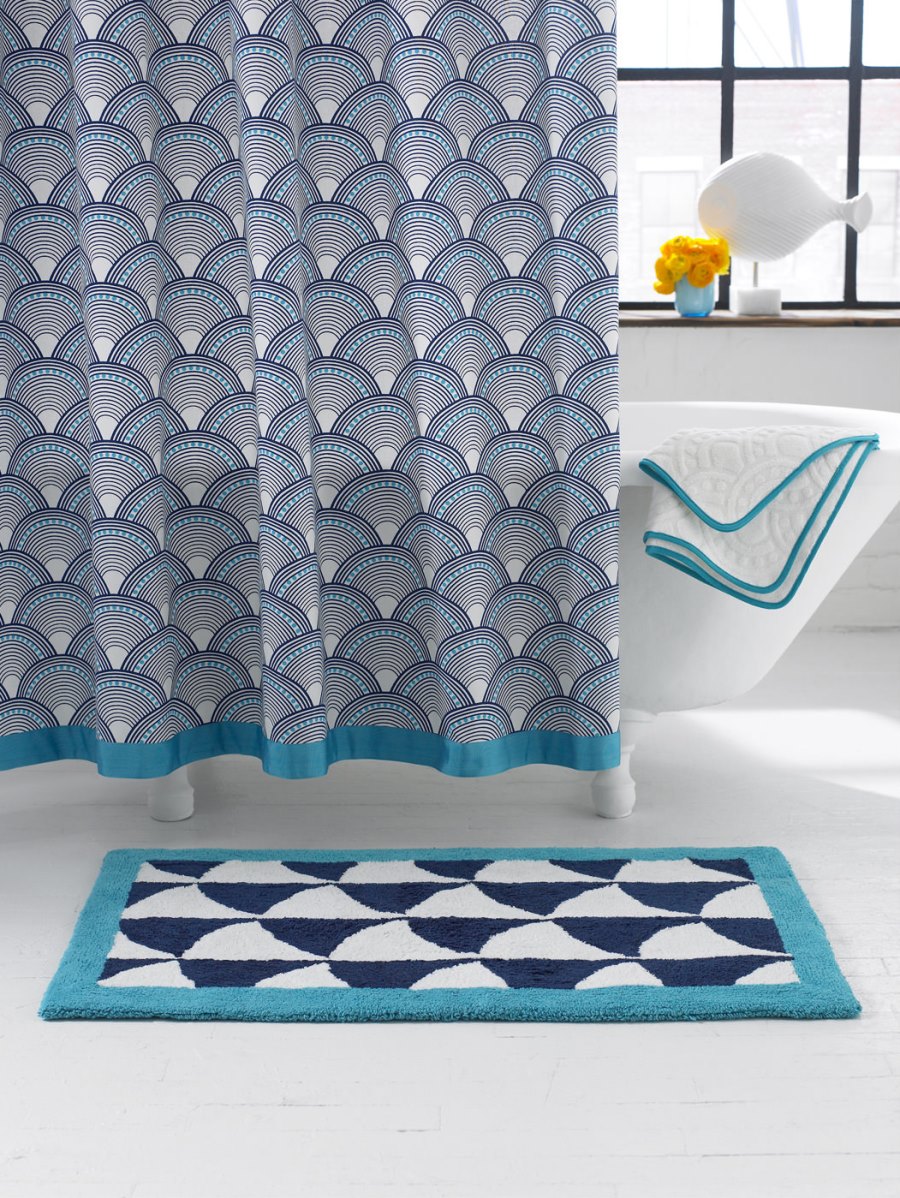 Here's another Jonathan Adler item, this time a vision in grey and navy. Say hello to the aptly named Hollywood Shower Curtain, which exudes Hollywood Regency style: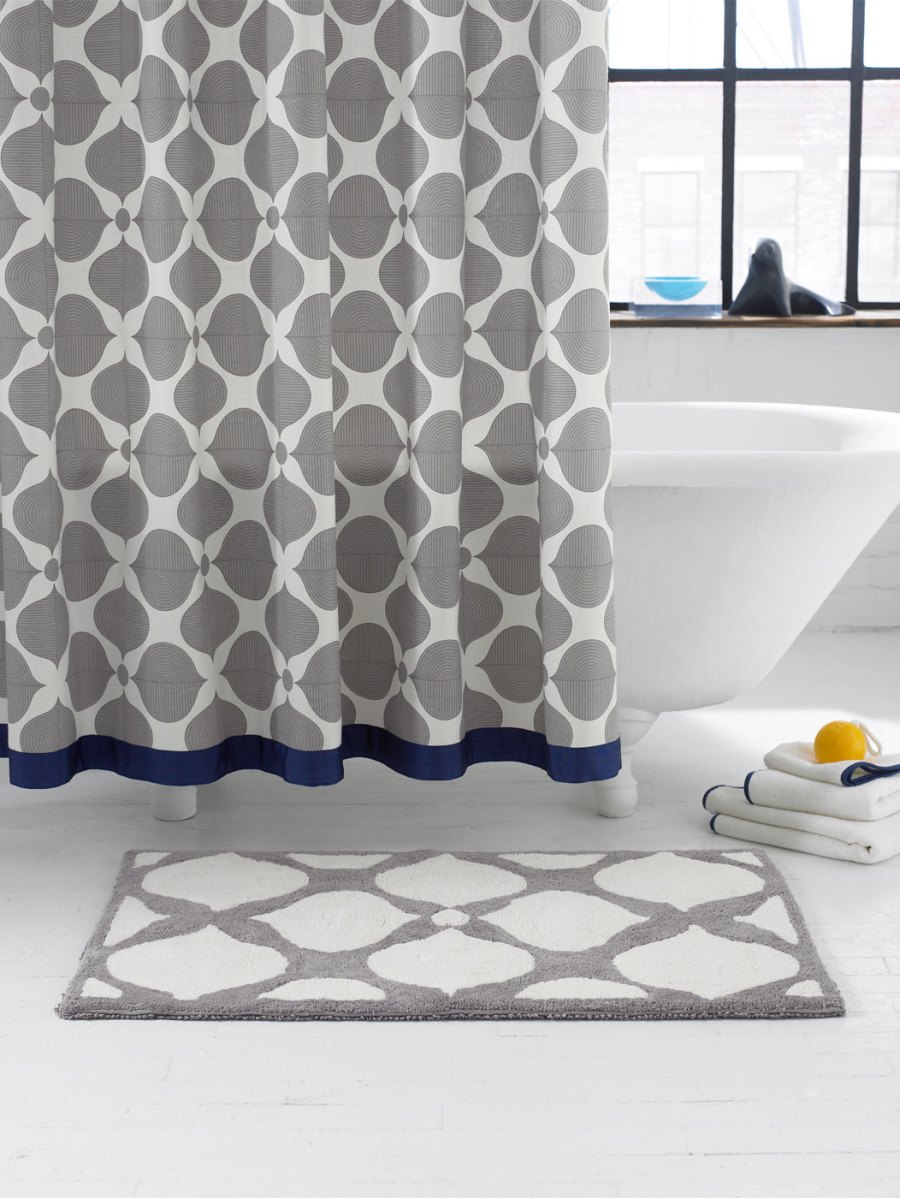 For a modern take on chevron and herringbone motifs, check out the Feather Shower Curtain from Serena & Lily, made from 100% cotton canvas: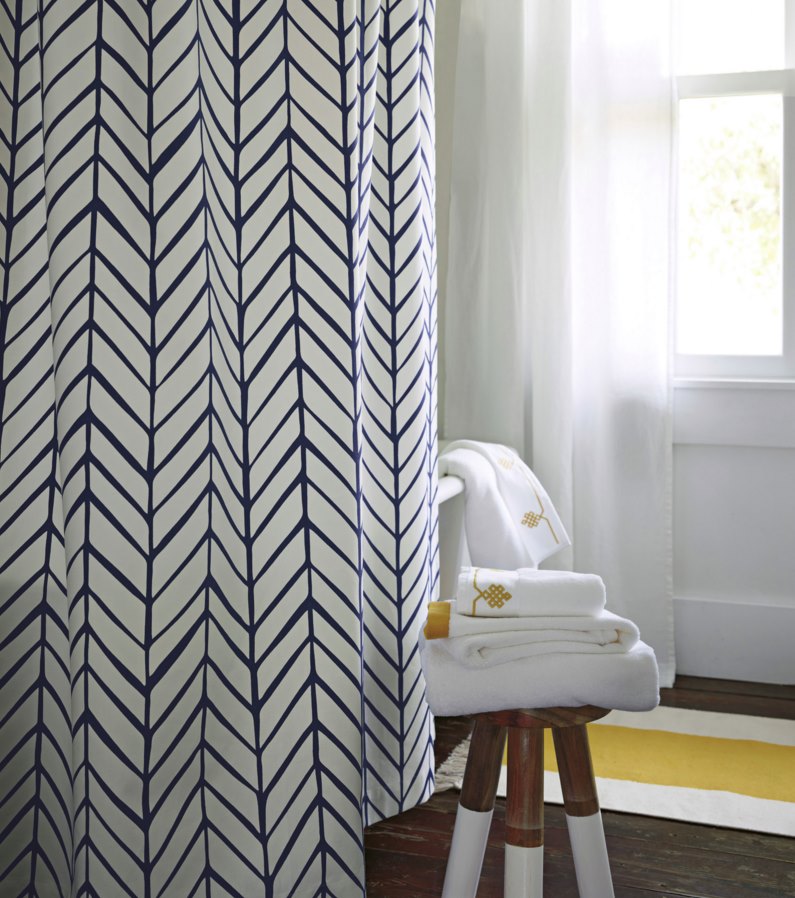 Luxury Materials
Not a fan of patterned shower curtains? Keep it simple. After all, when the materials are high quality, they can speak for themselves without pattern and print. This Heathered Cotton-Linen Shower Curtain from Restoration Hardware is "woven with premium long-staple cotton from Turkey." Plus, it's super lightweight and fast drying, adding convenience to the mix!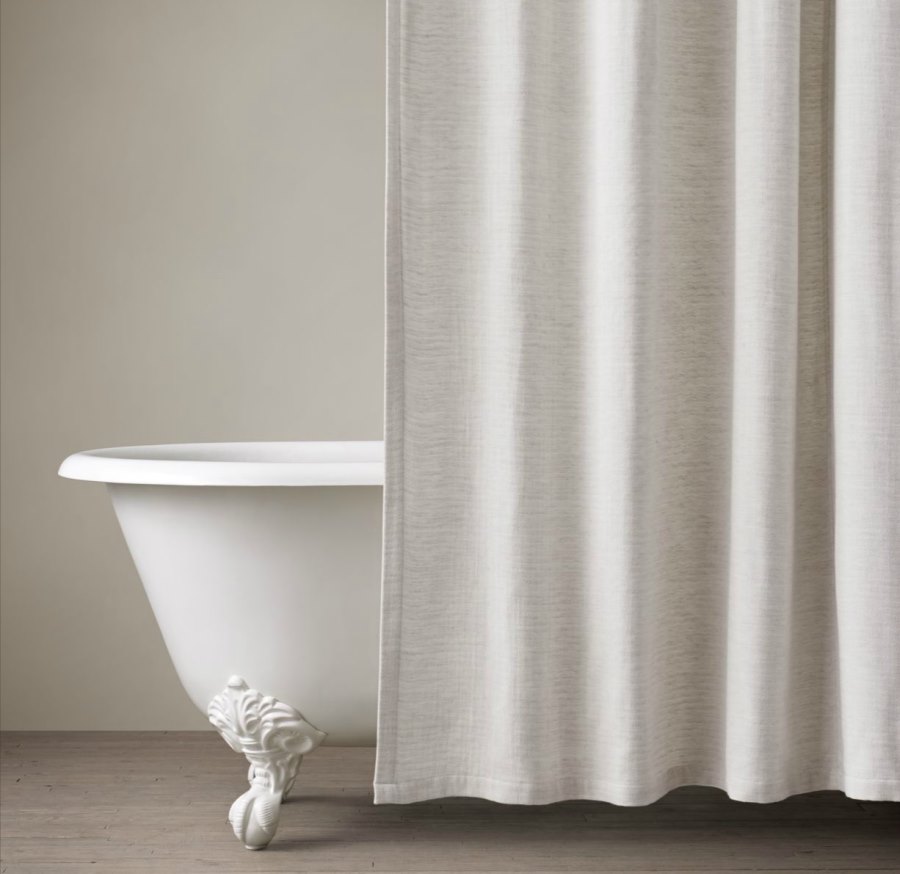 Restoration Hardware also offers a Parallel Border Turkish Cotton Shower Curtain by Italian linen maker Carlo Bertelli. A cotton sateen double border is available in a range of color options. Or you can keep it neutral, as shown below: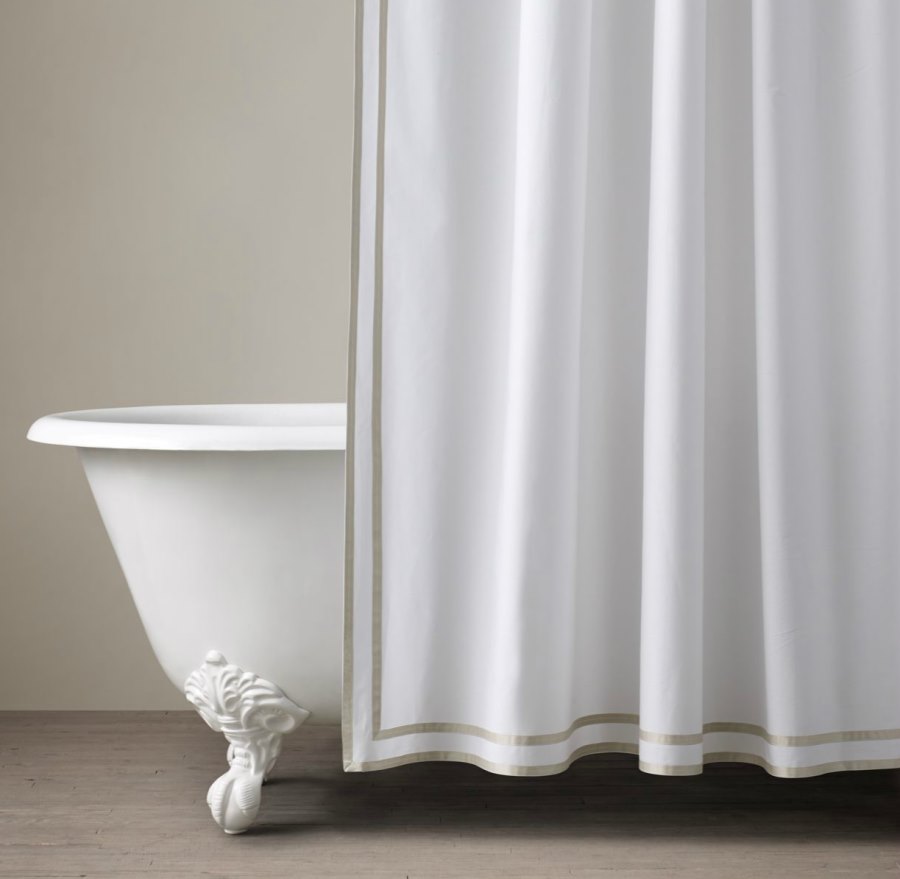 Pure cotton matelasse is the material of choice for the Diamond Matelasse Shower Curtain, which is lightly brushed and diamond-stitched. Naturally elegant!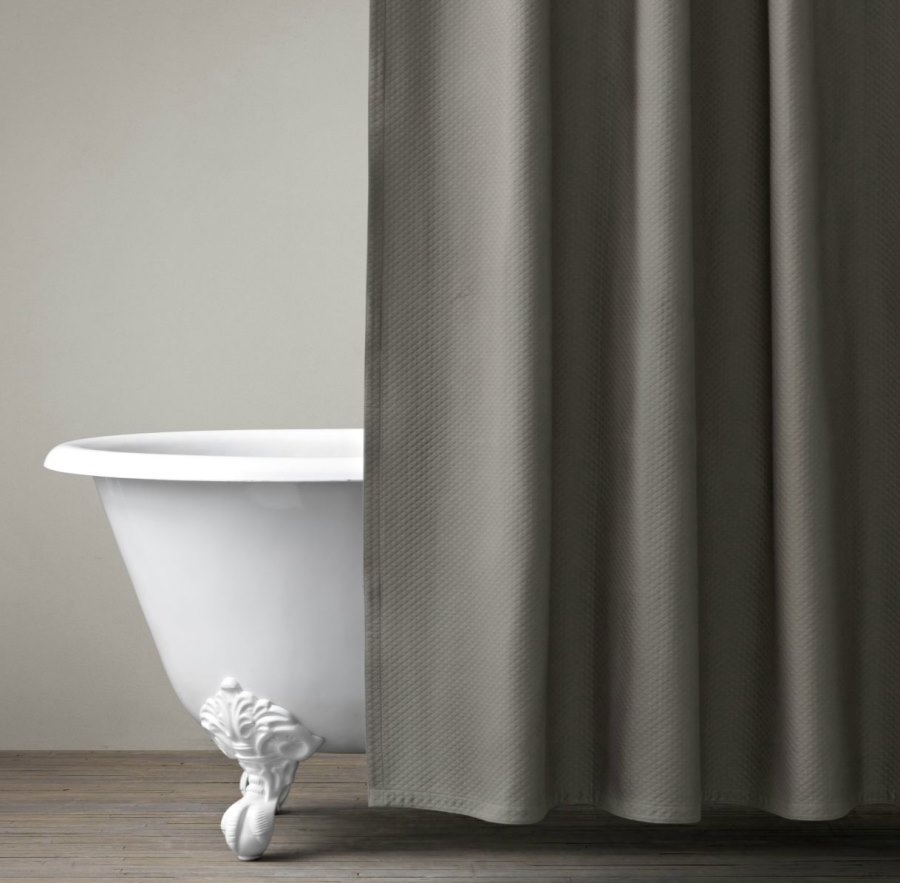 Add some flair with tassels! This French Tassel Shower Curtain from Serena & Lily couldn't be more festive, yet the pure white cotton of the curtain keeps things crisp and understated.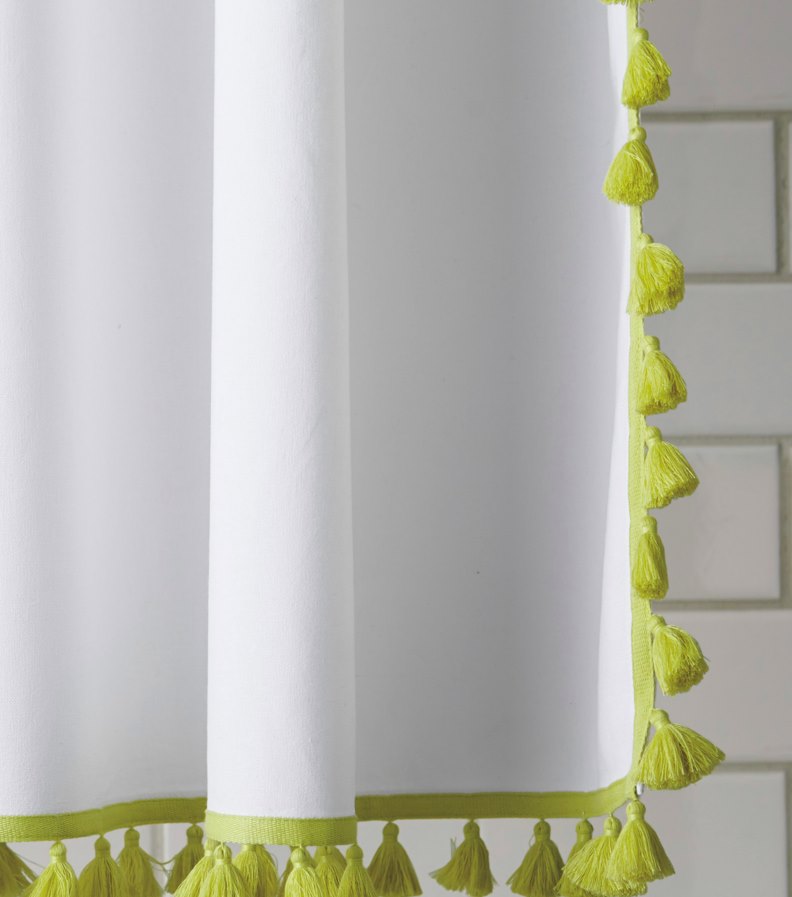 Pique cotton shines, thanks to a stripe of peacock blue. It's the Peacock Alley Pique Tailored Shower Curtain from Anthropologie, and it's simply striking: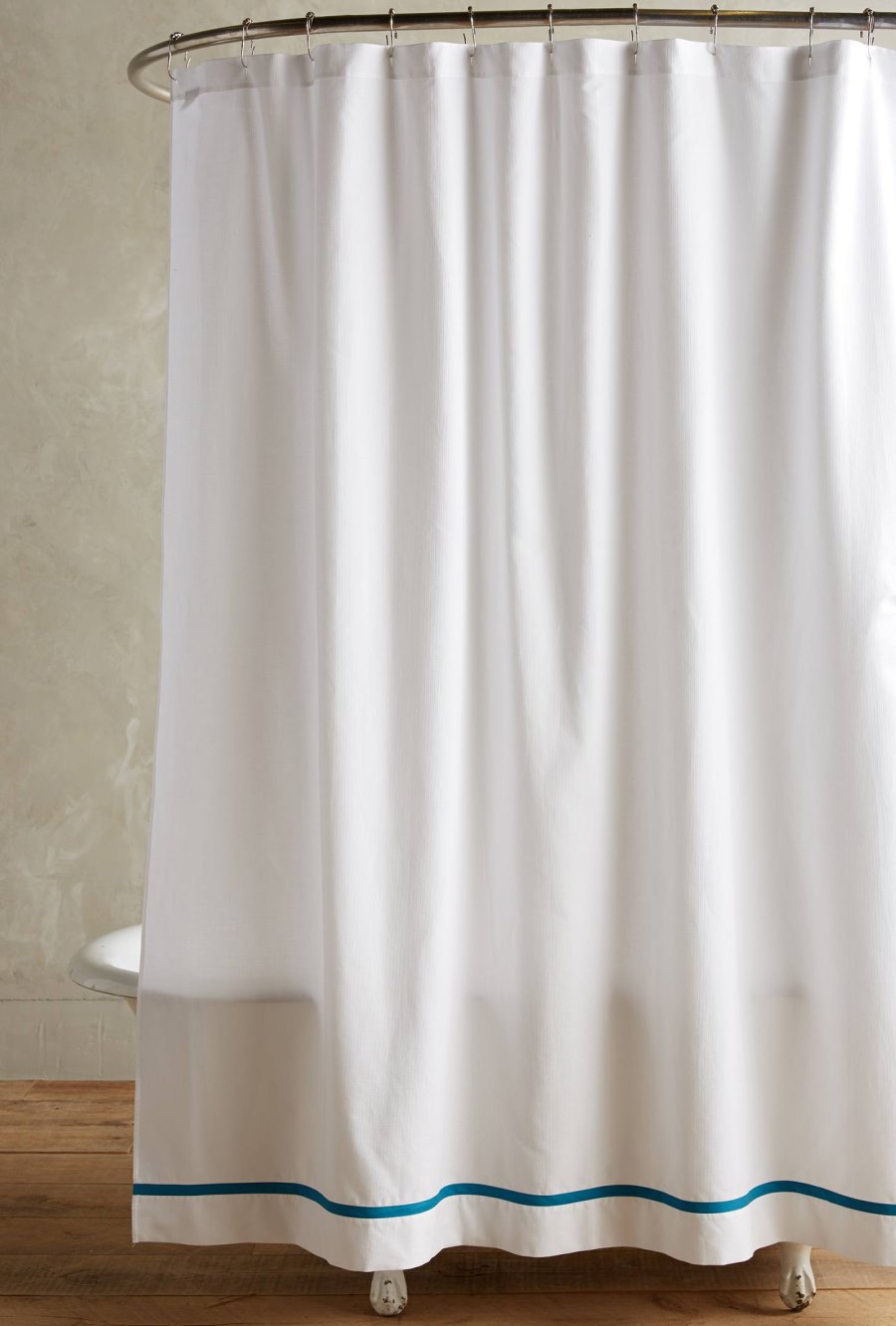 Also from Anthropologie is the Draped Wisteria Shower Curtain, and it's hard to believe it's made from nothing more than cotton. There's power in strategic stitching!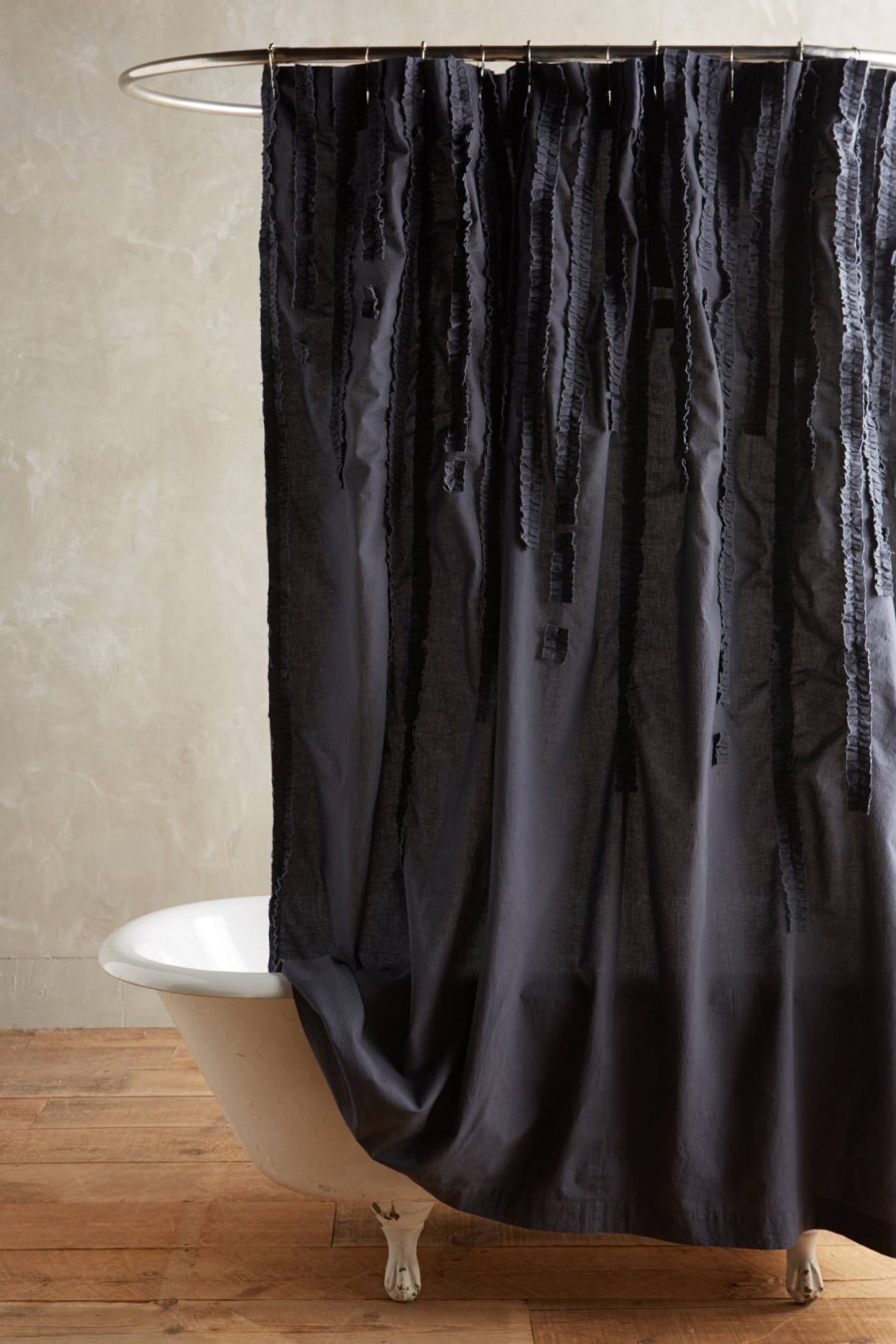 Cascade Coil
We now spotlight an unusual shower curtain choice that's continuing to grow in popularity: Cascade Coil. This exciting material consists of woven aluminum coils that add eye-catching texture but also serve a clear purpose. After all, the coils trap water and direct it downward, so a shower liner is purely optional. Yes, a curtain filled with holes gets the job done! Below we see the Serenity Luxury Shower Curtain with Brite Aluminum Finish by Cascade Coil: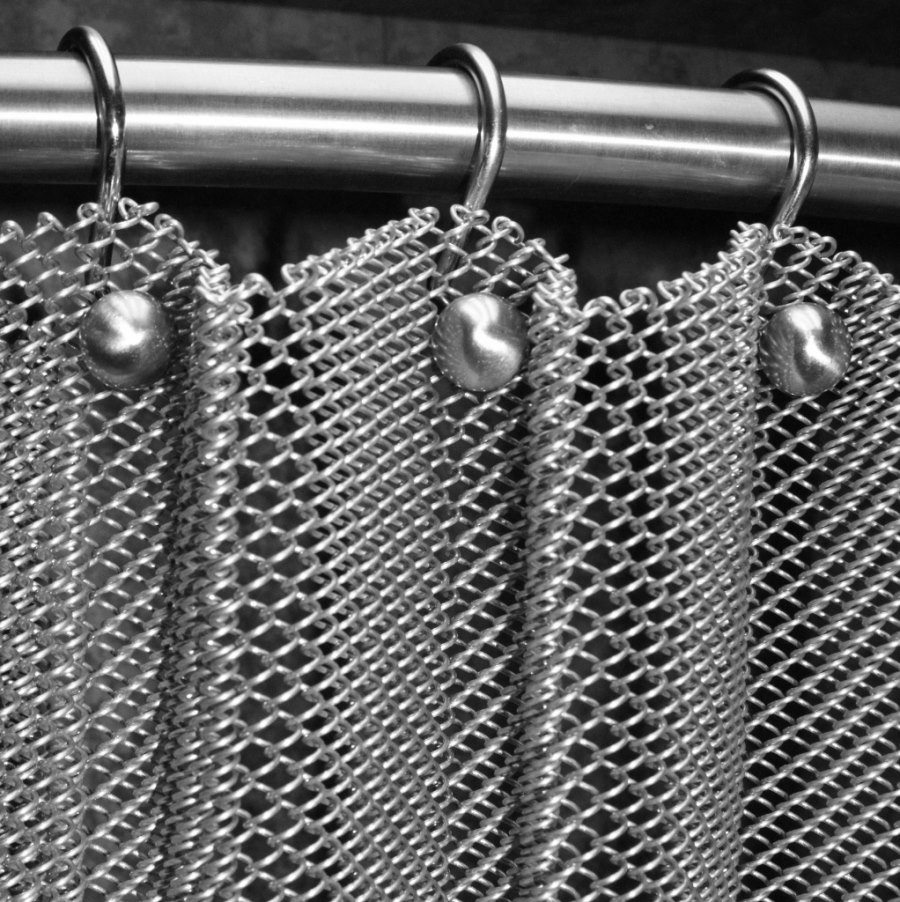 In fact, Cascade Coil also has a warming effect since the aluminum heats up from the steam and creates a warm barrier that enhances your shower experience, especially on those chilly evenings. The look is modern, sleek and high-end.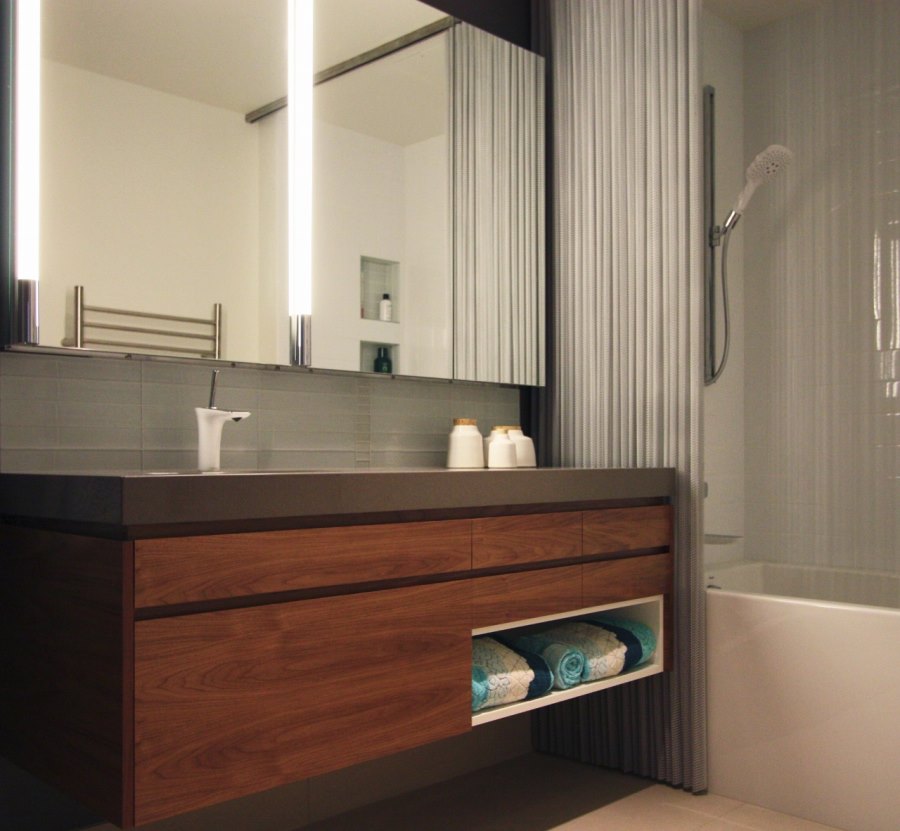 Cascade Coil is growing in popularity, as it creates a contemporary look and can even veer into industrial territory. Plus, it's practical and functional, and you can choose your own weave size, finish and more! [image via Houzz]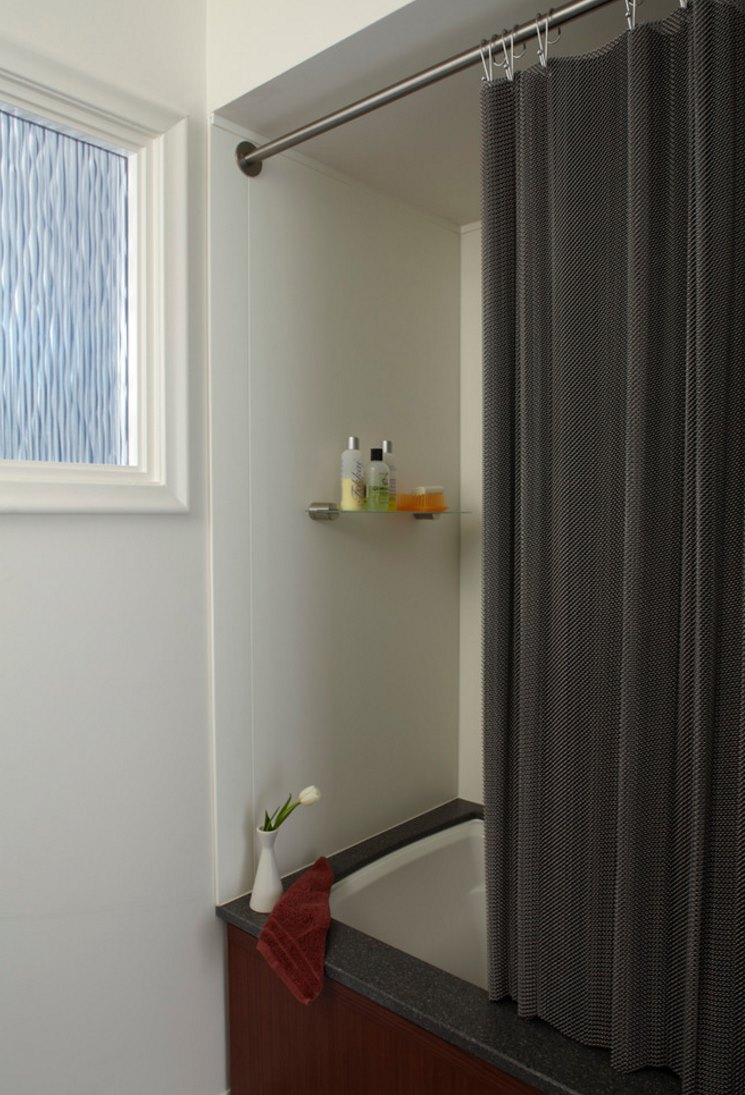 Not to mention, Cascade Coil is lightweight, easy to install, and rust-, fade- and stain-proof. And it's 100% recyclable. The perfect solution for those who don't want to feel boxed in while showering. See how the light shines through the curtain in the image below? [from Garrison Hullinger Interior Design]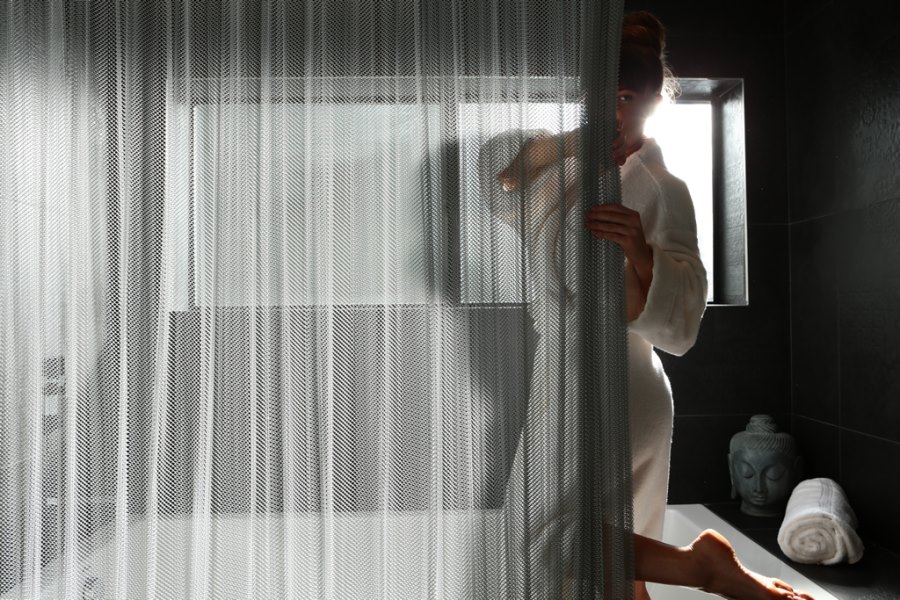 Ceiling Solutions
Last but not least, we highlight the way ceiling-mounted curtains and rails can add a designer look to the powder room. For example, in the bathroom below, we see a custom-made curtain mounted on a ceiling track system, a strategic choice by Tobi Fairley Interior Design. [image via Houzz]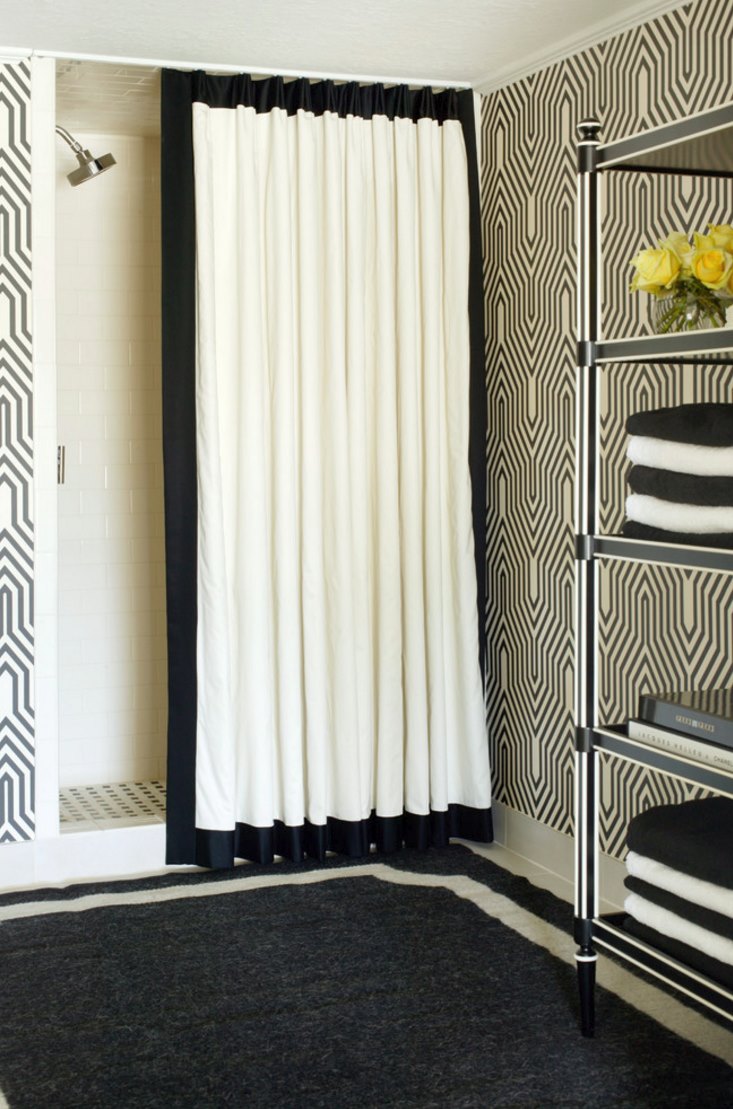 Ceiling tracks create a seamless look, as they eliminate the need for the standard shower rod. There are even curved track options, as shown below. [from Interior Designer Ideas]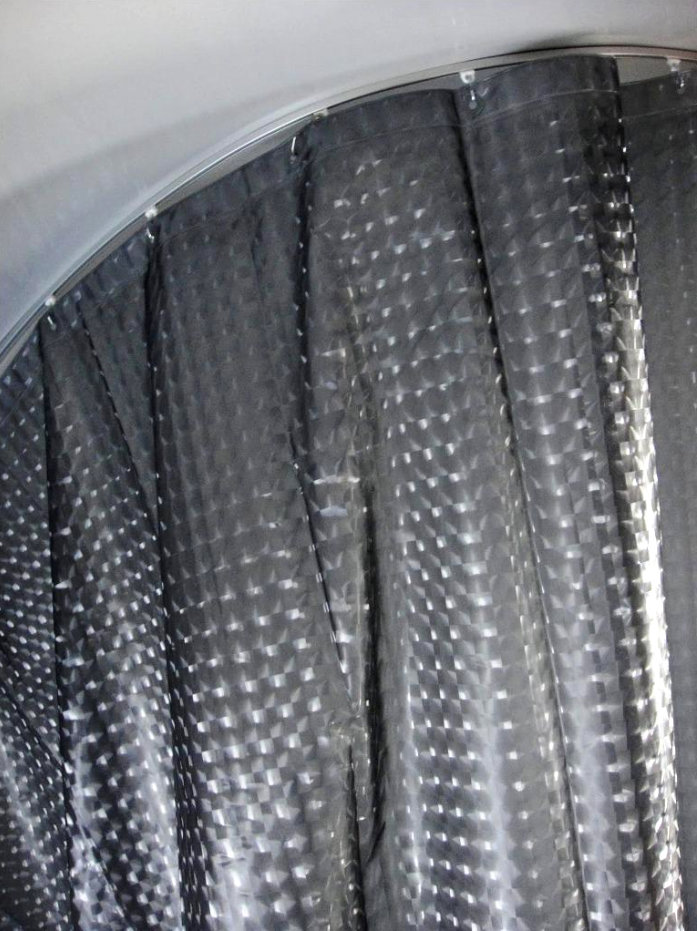 Don't forget about options such as mounting the curtain rail from the ceiling, which can be ideal for showers over standing tubs. In the next image, we see a Rectangular Shower Curtail Rail from Just Shower Rails. [photo by James Balston, from Oliver Burns]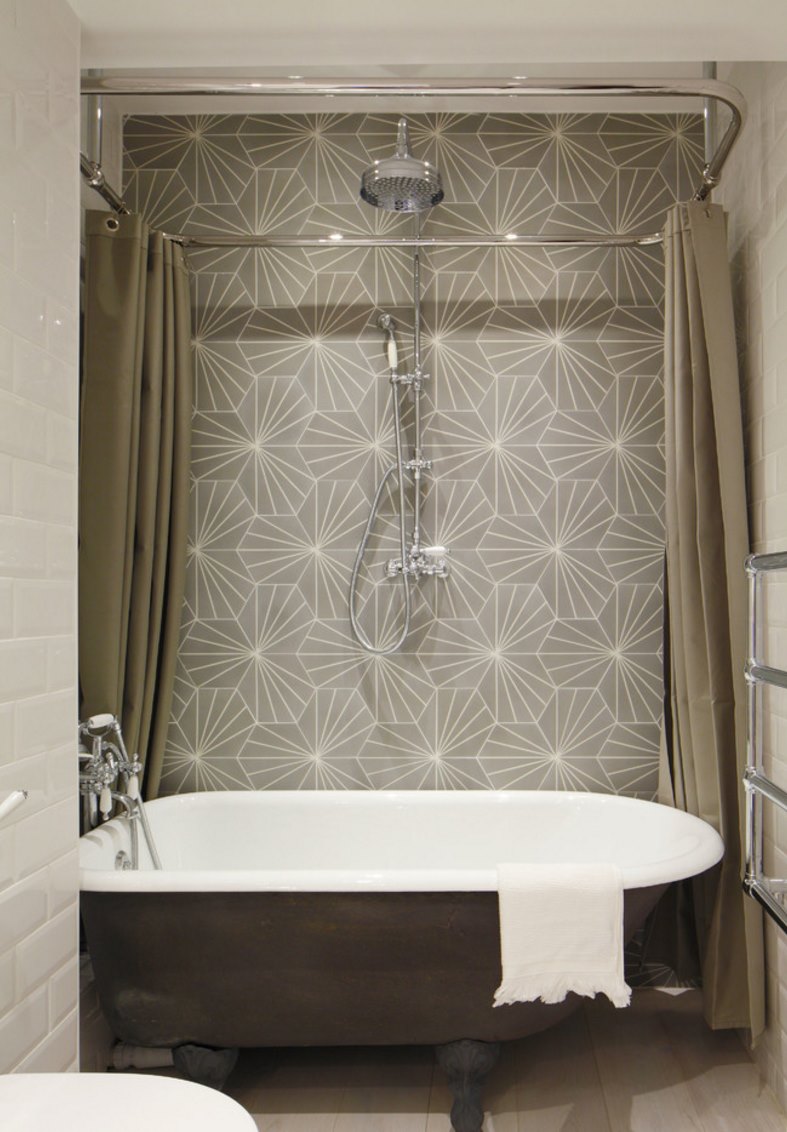 Did any of today's featured high-end shower curtains catch your eye? Tell us about your favorites by leaving a comment below…
Liked the story? Share it with friends.