We're still in the throes of winter, but every now and then, a warm afternoon will surface, and it's easy to imagine those days of lounging on the patio. Who's ready for spring?! Apparently we are, because we couldn't help but round up a collection of high-end patio furniture selections for your design inspiration. If you're in the market for some quality pieces or you simply love a gorgeous photo featuring outdoor decor, this post is for you. Enjoy dreaming of warmer days as you scroll through the images that follow…
Outdoor Sofas from RH Modern
We begin with some stunning outdoor seating options from RH Modern. "Sleek" is the word! First up: the Paros Collection, featuring two finishes (weathered and natural) and 228 fabric possibilities! Designed by Ann Marie Vering, these pieces are crafted from teak. Below we see a sofa from the collection, among other furnishings:
The Cypress Collection has a mid-century look, thanks to clean lines and strong angles. Once again, you can pick and choose when it comes to color (hello, 228 fabric options!), and once again, we also see the stunning design of Ann Marie Vering: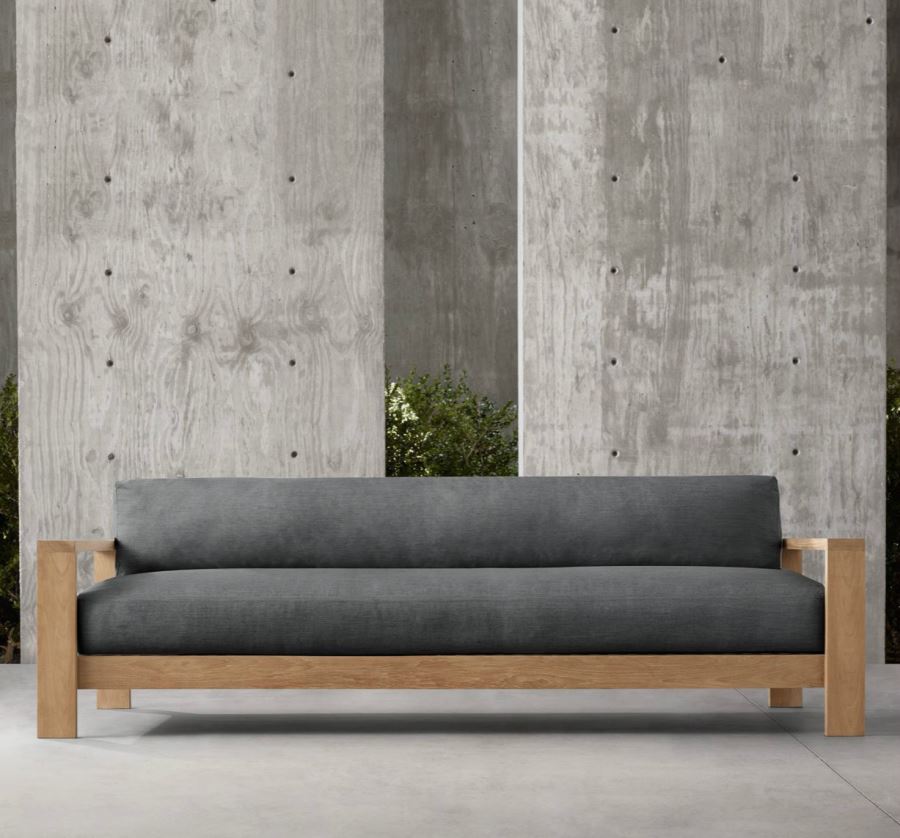 When aluminum frames meet woven Sunbrella® straps, you have the Montecito Collection, available in Slate and White finishes. The sofa, shown below, is crisp and perfect for modern outdoor spaces.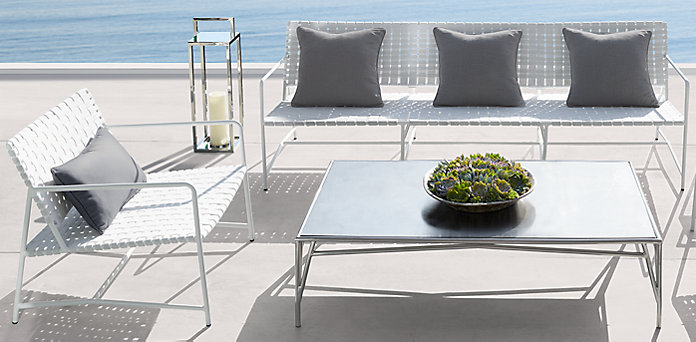 Horizontal slats take center stage in this Cadiz 60″ Sofa. Designed by Spanish firm Gandía-Blasco, the sofa is crafted from aluminum and available in silver, black or matte white finishes. And true to RH Modern form, you can choose from a range of fabrics to customize a piece that will take center stage on your deck or patio!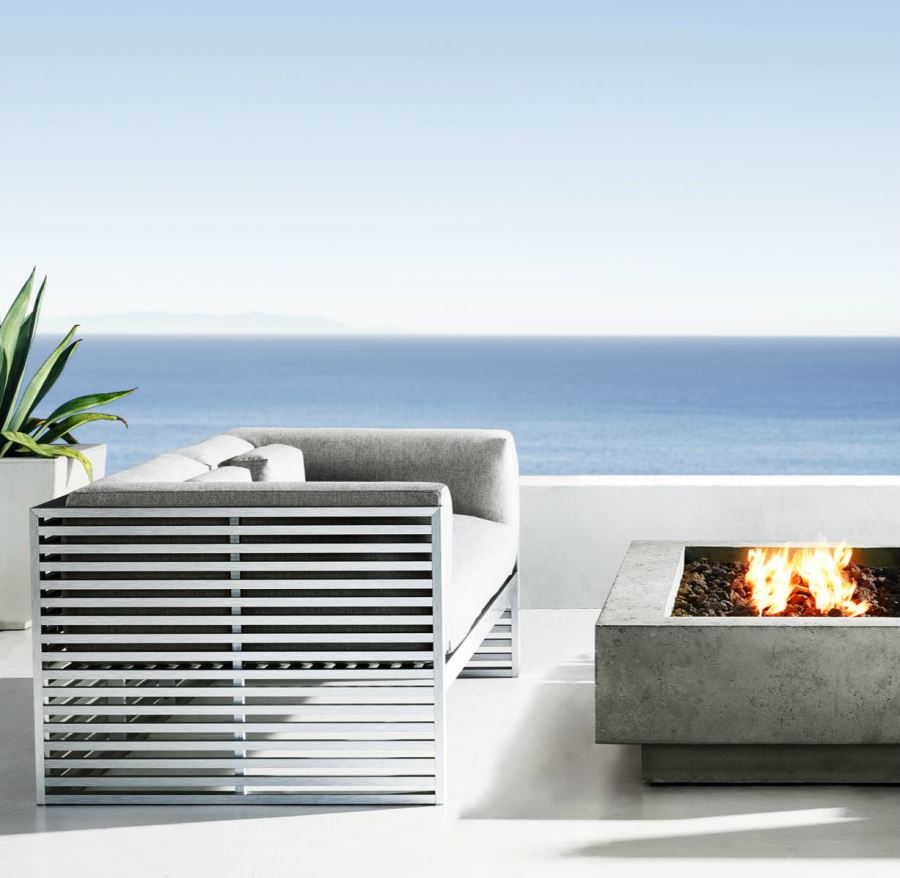 Expansive seating is alive and well in the Espanto Collection, especially when it comes to the Espanto Slipcovered Sofa, designed by Nicholas and Harrison Condos. Enjoy the beauty of right angles, and cover those edges with a slipcover in either White or Fog.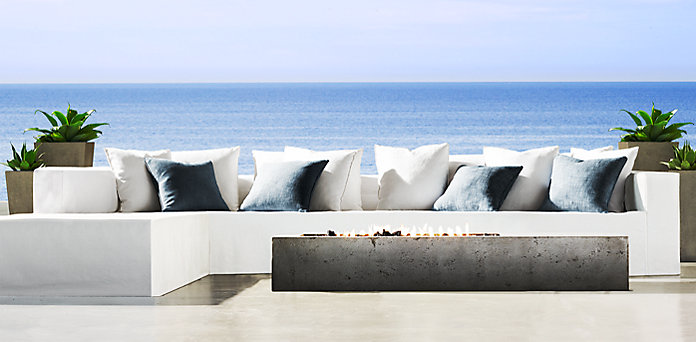 Outdoor Dining Options from Room & Board
If you enjoy dining outdoors, you'll love the chic offerings of Room & Board. We begin with the seating, and this Finn Chair is hard to ignore. A gently flexing frame allows the chair to move a bit with you for added comfort. Plus, with a range of Sunbrella® fabric options to choose from, the design possibilities are endless!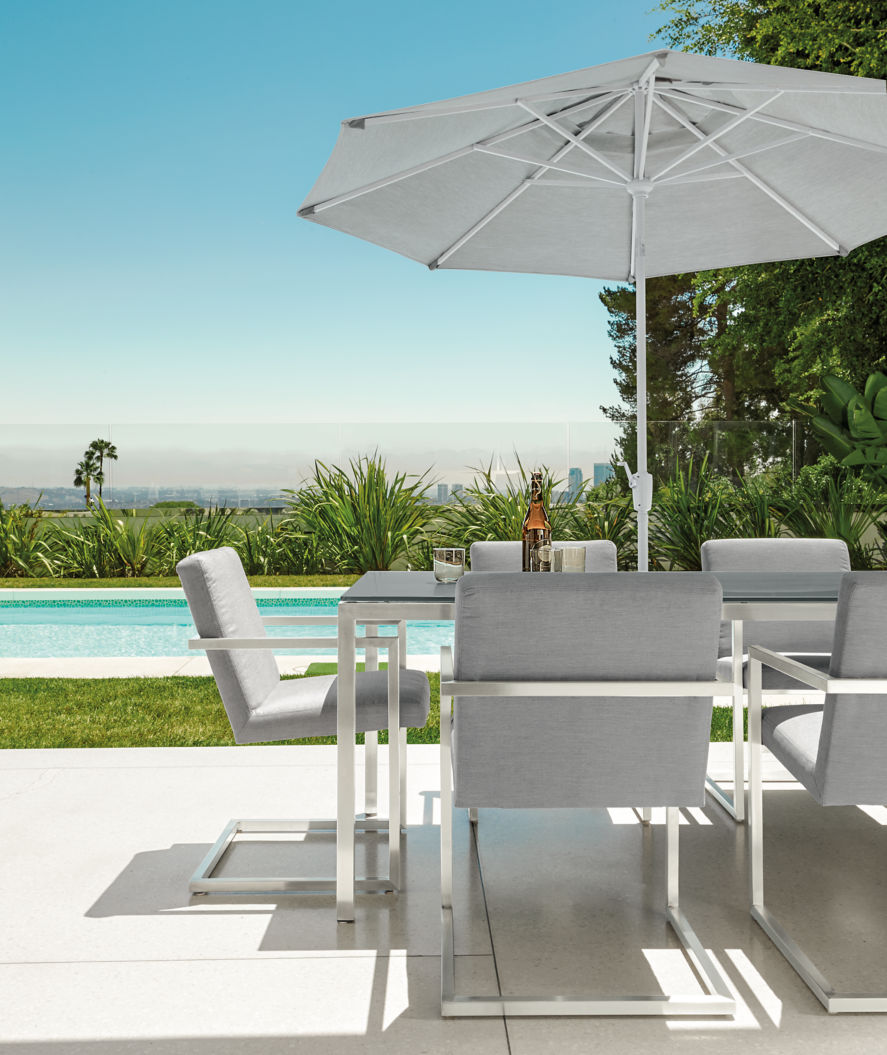 The Carmel Chair combines stainless steel and Sunbrella® fabric for a breezy, sculptural form that takes modern dining to a new level. Peruse a range of color options for both the frame and the cushion.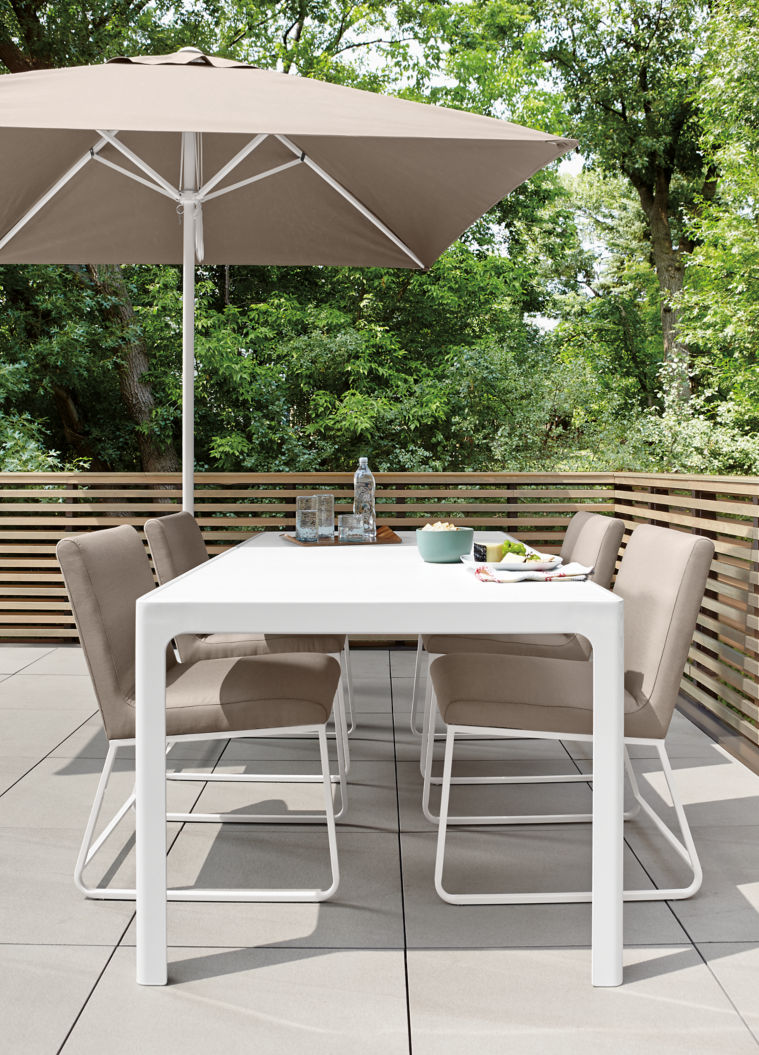 For a style that's clearly elegant, check out Room & Board's Tiffany Chairs. Designed by Casprini, these molded plastic pieces are lightweight, making them perfect for both indoor and outdoor use (or a bit of both).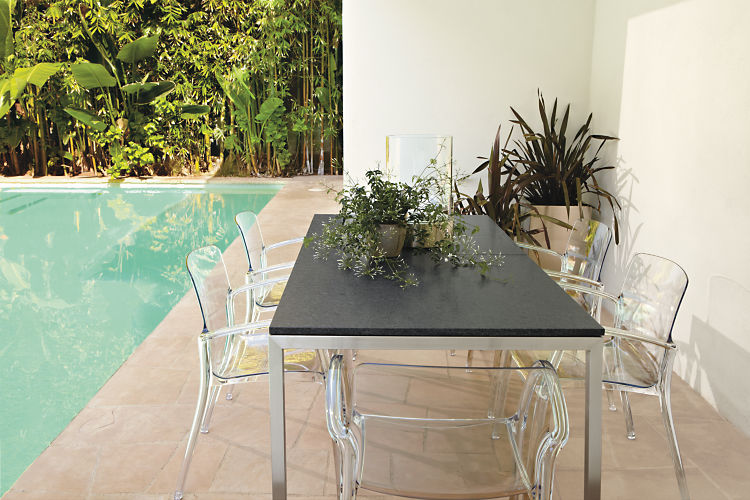 When it comes to tables, Room & Board offers clean-lined modern designs, and the Crescent Table is both sturdy and sleek. Powder-coated aluminum is the material of choice, and there are three sizes to choose from, as well as color options for both the base and the top.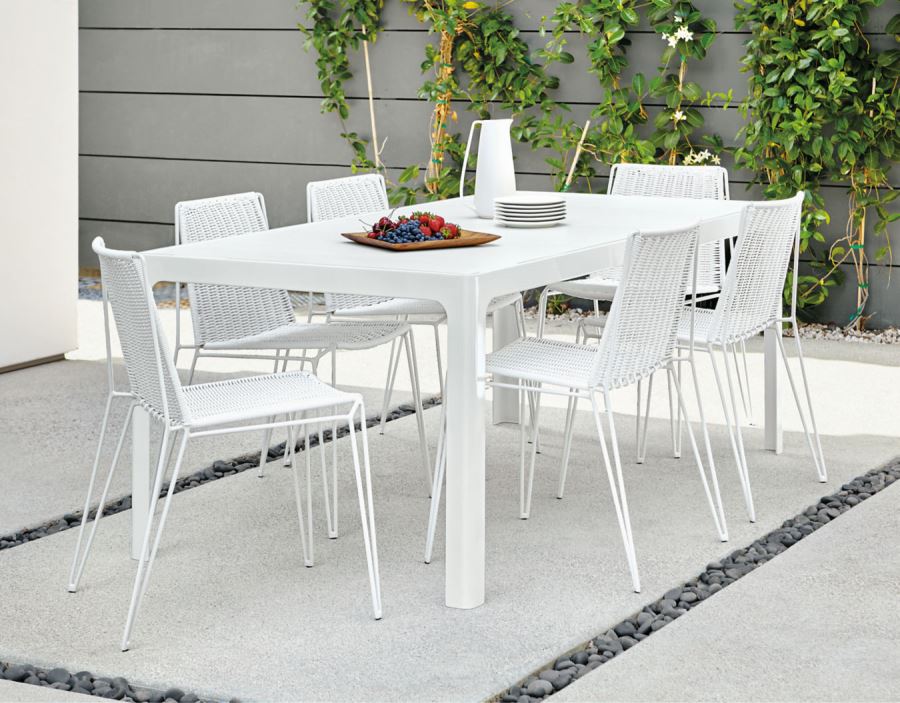 Trade angles for curves when you select the Montego Round Table, which blends ipe wood with hand-welded or powder-coated stainless steel. Choose from two different sizes, as well as frame options in shades of grey and white: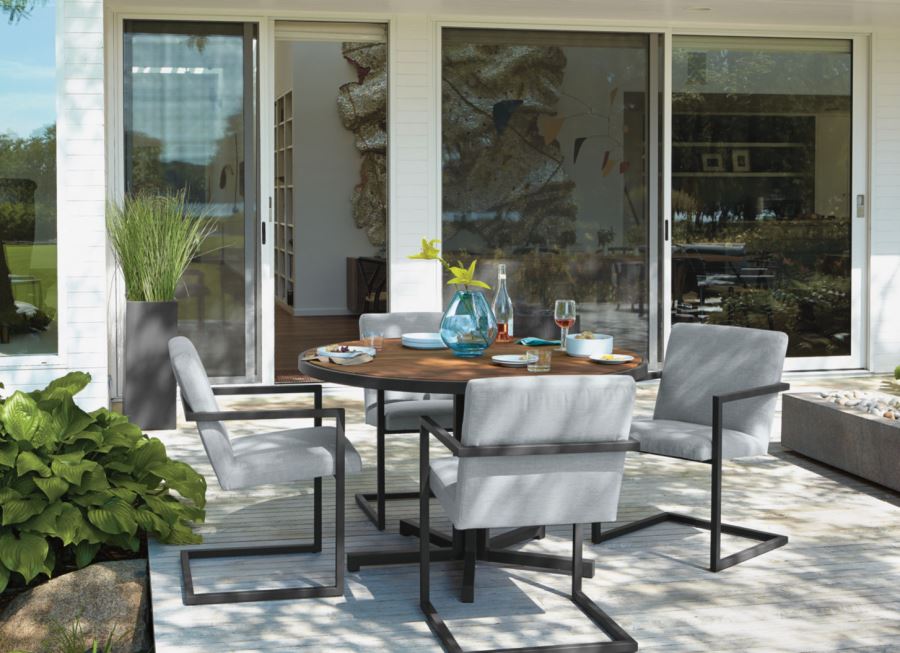 Lounge Chairs from Design Within Reach
Ready to lounge? Luckily, Design Within Reach is here to help! The brand's Sol y Luna Adjustable Chaise is an adaptation of Dan Johnson's Gazelle Collection, made by Brown Jordan using durable cast aluminum: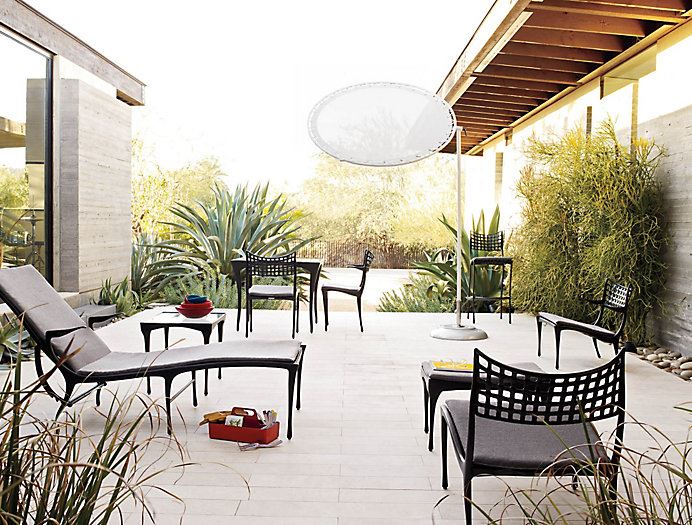 The Finn Lounge Chair shown below is designed by Jonas Bjerre-Poulsen and Kasper Rønn. The chair's teak frame will develop a silvery patina over time, or you can oil it so the original color remains. Sunbrella fabric covers the seat cushion, adding a mildew-resistant element to the furnishing.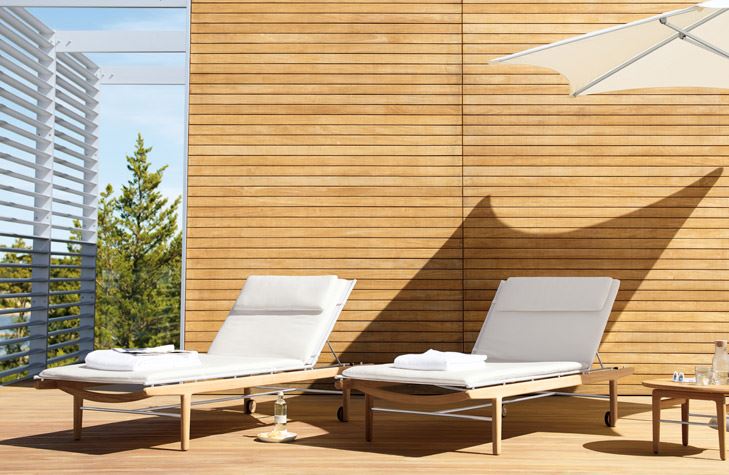 The Walter Lamb Chaise was originally made with bronze and copper tubing salvaged from sunken Pearl Harbor naval ships! Weatherproof brass is the material of choice today, along with marine-grade, UV-stable cording. So chic!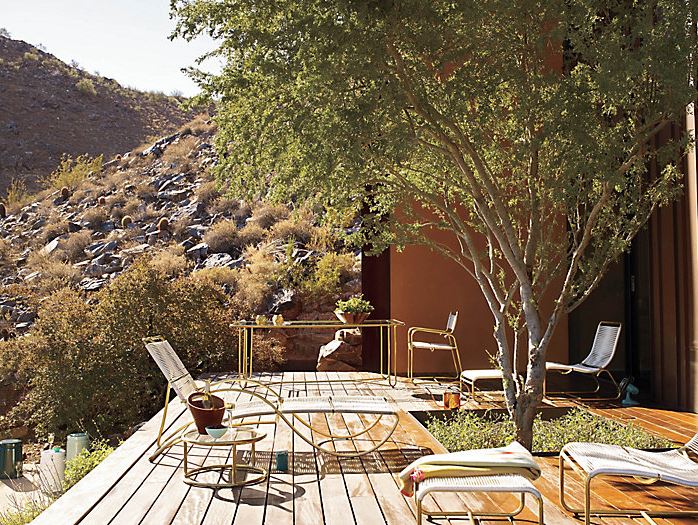 Created by Matthew Hilton, the Eos Chaise Lounge is lightweight and rust-proof. Powder-coated aluminum and all-weather Textilene® bring the design to life, and two subtle wheels make this chair a mobile piece.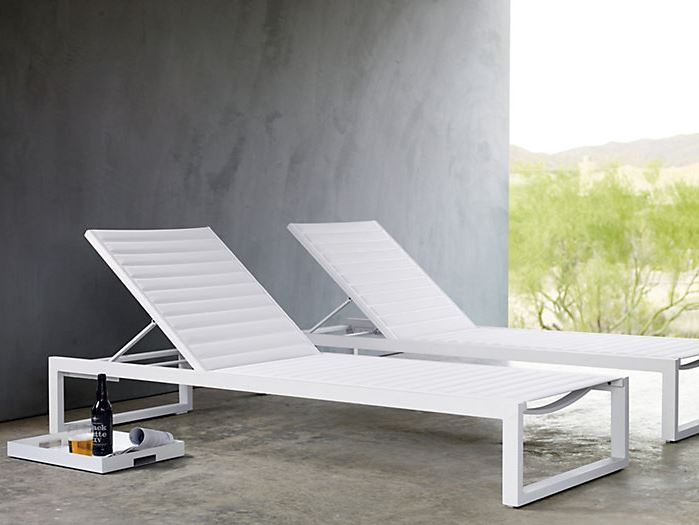 At the lower left of the photo below, we see the 1966 Adjustable Chaise Lounge, designed by Richard Schultz for Florence Knoll. Since 1966, the furnishings from Schultz' collection (including the chaise lounge) have been re-engineered using more modern materials, and we have a hunch this chair is here to stay. In fact, the chaise can be positioned fully flat, or at one of four different angles for reclining.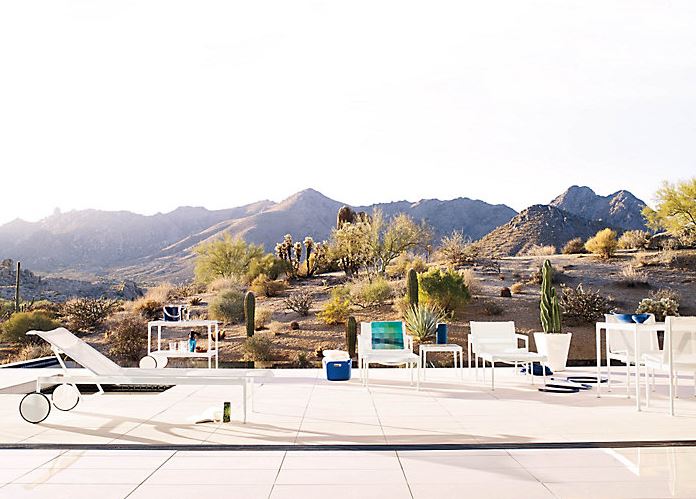 Fire Pits and Lighting from Terrain
While technically not furnishings, the fire pits and lighting options below will illuminate your outdoor space, bringing your furniture to life once the sun goes down. We browsed the offerings of Terrain to find a few pieces that would make lovely additions to the high-end patio. This Geometric Fire Pit is crafted from solid steel. We love the angles and geo style!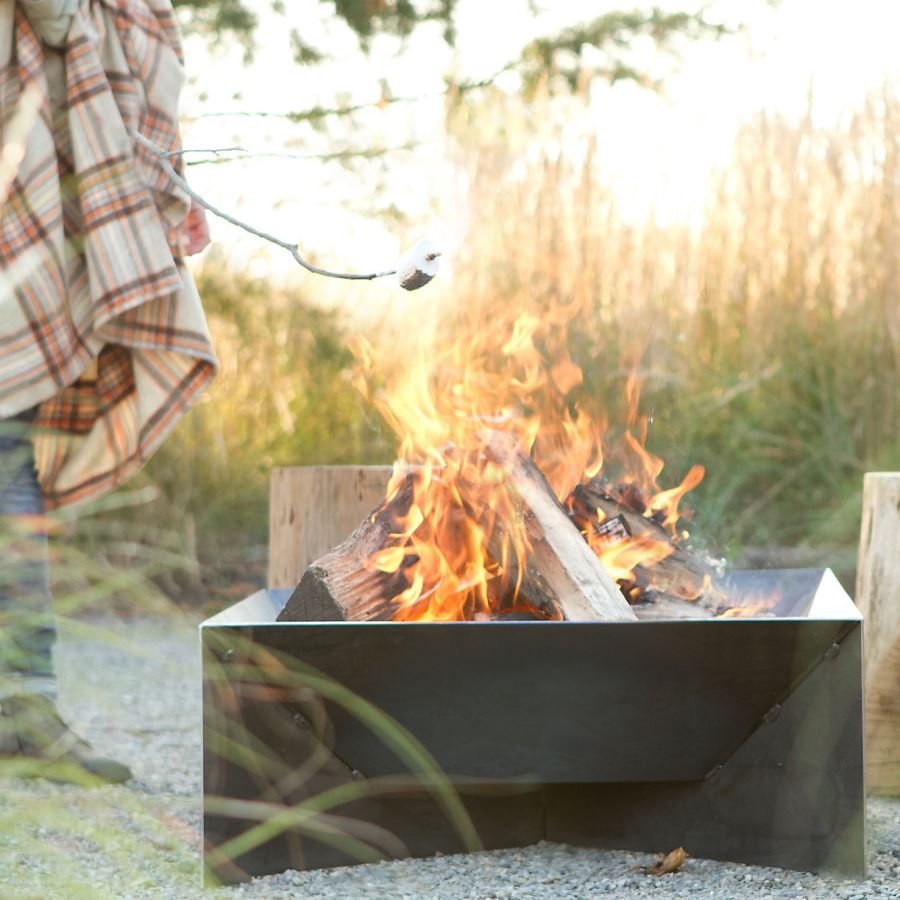 For a curvier option, check out the Raw Steel Fire Pit, crafted from raw, hand-welded steel. The look is rustic, yet the piece would also thrive in modern outdoor spaces: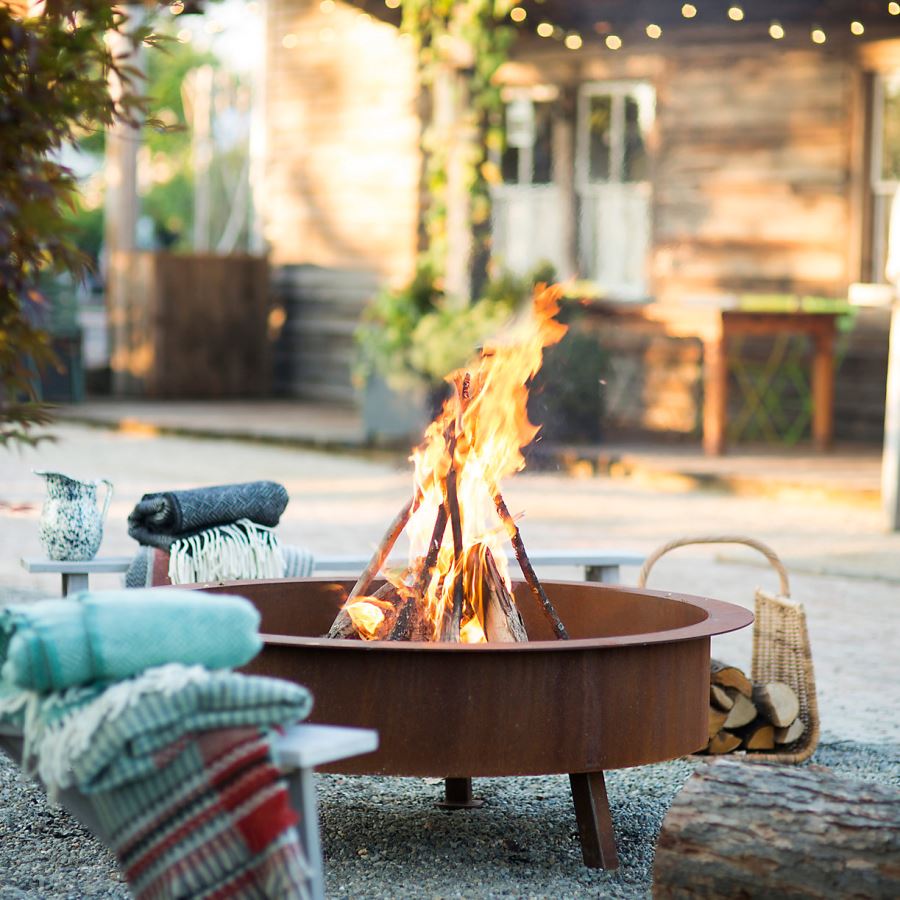 Don't forget to hang some lights overhead! These Stargazer Garden Trellis String Lights have a vintage feel, yet the overall form is modern. Punched iron makes a stylish statement: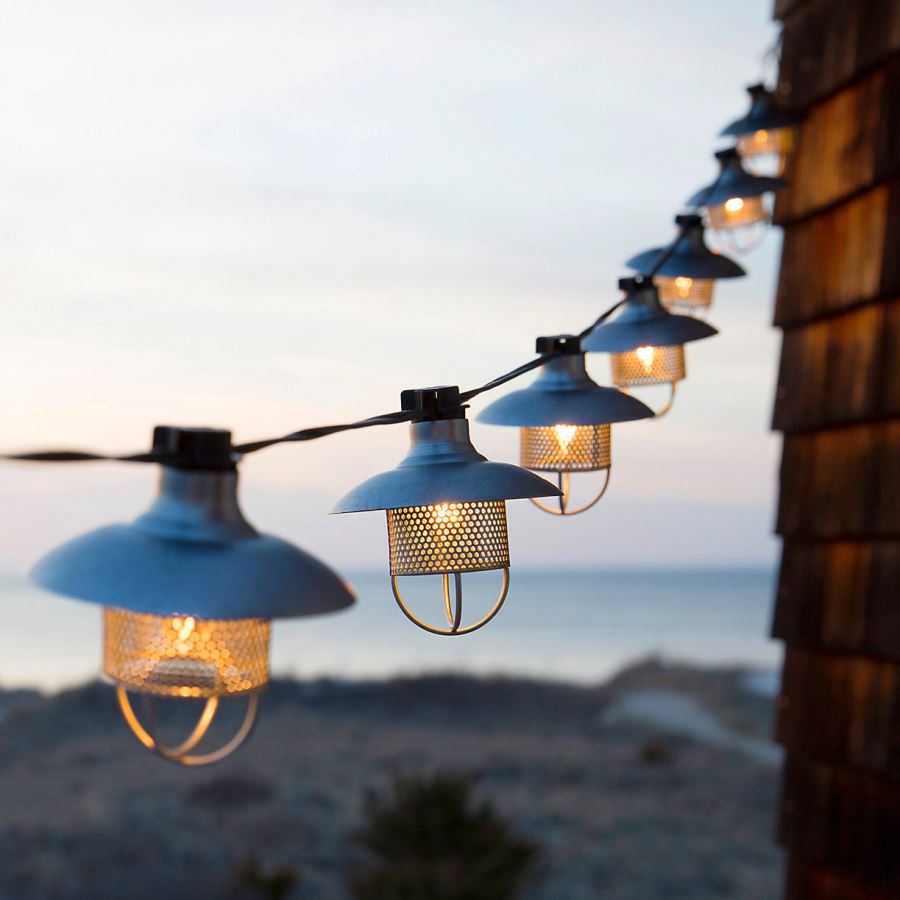 Lanterns can add a dash of elegance to the high-end patio, and these Lacework Oval Lanterns are positively enchanting! A metal form surrounds a glass candle insert to create a picture-perfect source of illumination. Choose from three different styles, or purchase all of them to display in a group.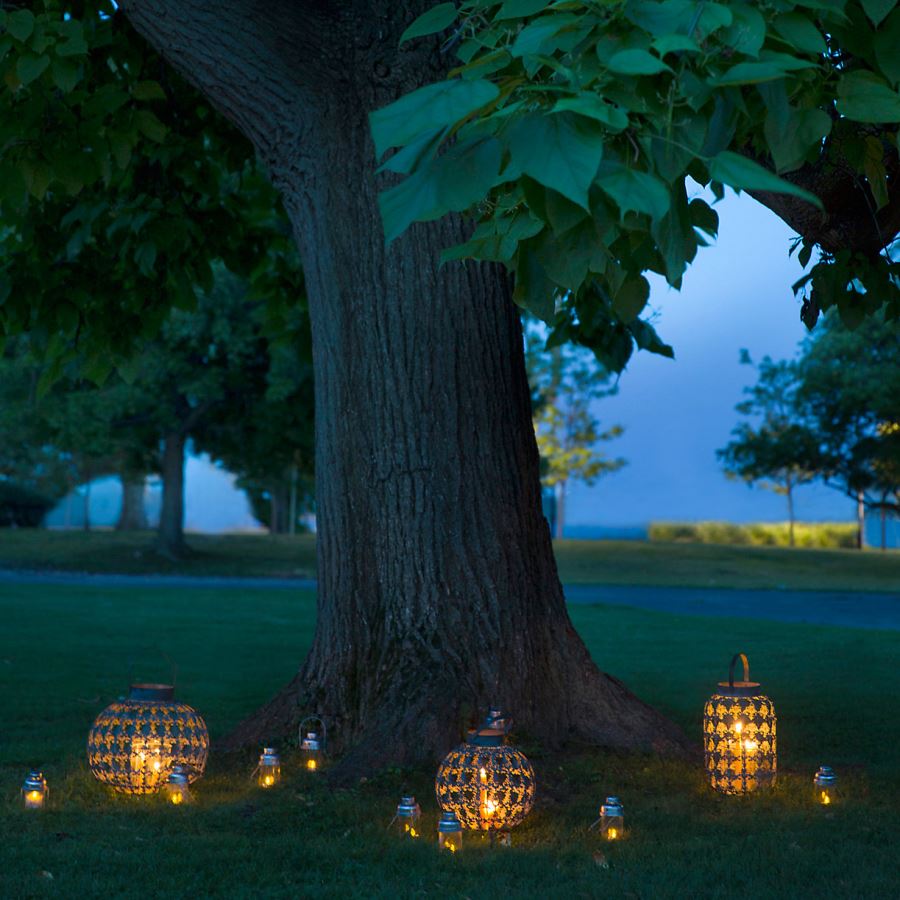 Last but not least, we see a similar lacy pattern in these Stargazer Arabesque Lights, which are recommended for indoor use. Perhaps you could hang them around your indoor patio or in a window with a view of the outdoors. That way, you could enjoy them from both areas!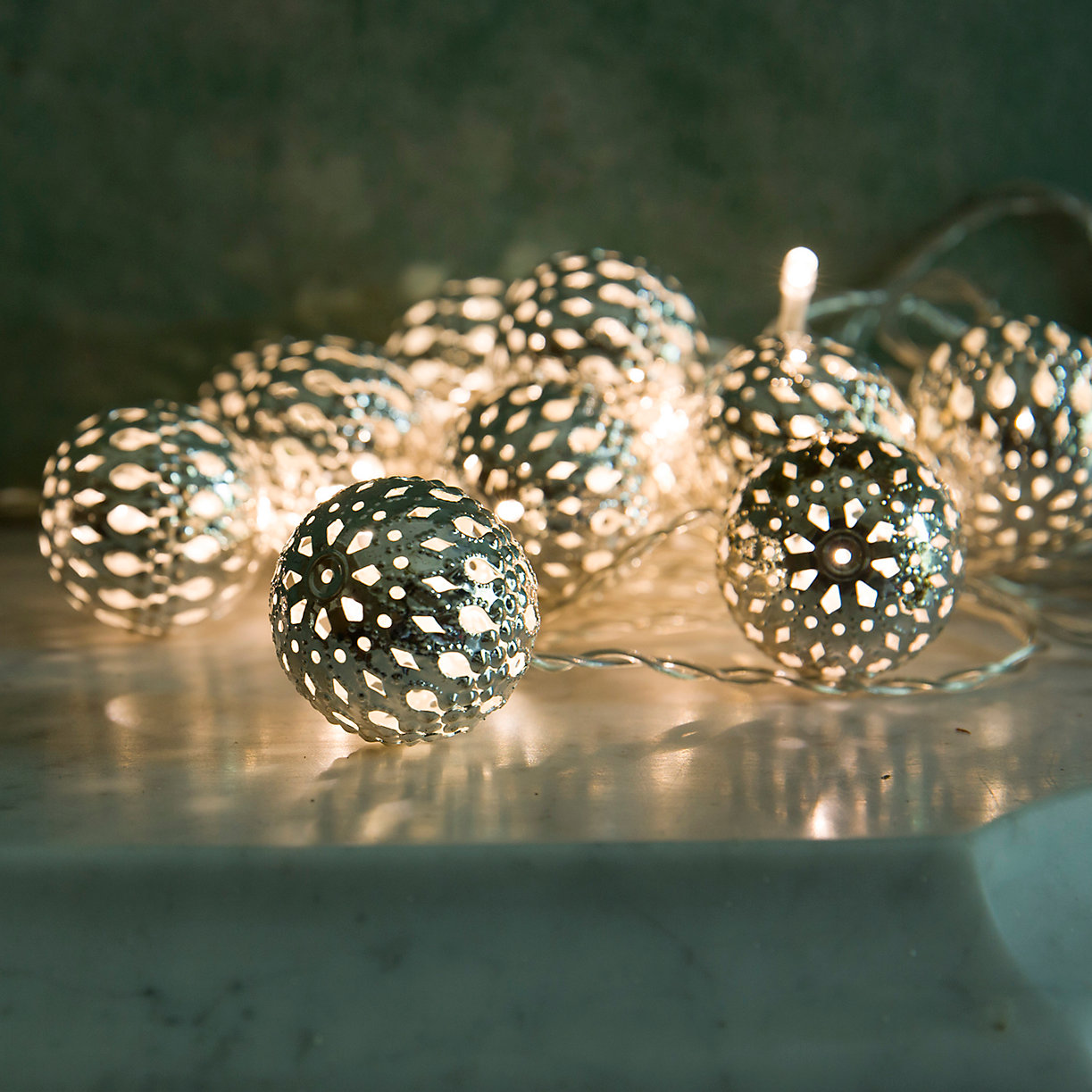 Today's featured finds prove that high-end outdoor style is alive and well. Plus, there are always bargains to be found, so you can get the look even if you're on a budget! Here's counting down to the warm days of spring…