If the only thing missing from your powder room is a high-end vanity, today's post is for you! If you're a dreamer who loves to envision your future luxury home, today's post is also for you! Below you will find an assortment of powder rooms featuring high-end bathroom vanities. Enjoy browsing the elegant bathrooms below, and may they inspire you to create a space where you can freshen up and prepare for the day…
Points to Consider
As you make plans for your bathroom vanity, there are a few issues to consider. For one thing, what will be the purpose of your vanity? Will it simply hold the sink, or do you need for it to provide storage as well? [from Red Cover via Lonny]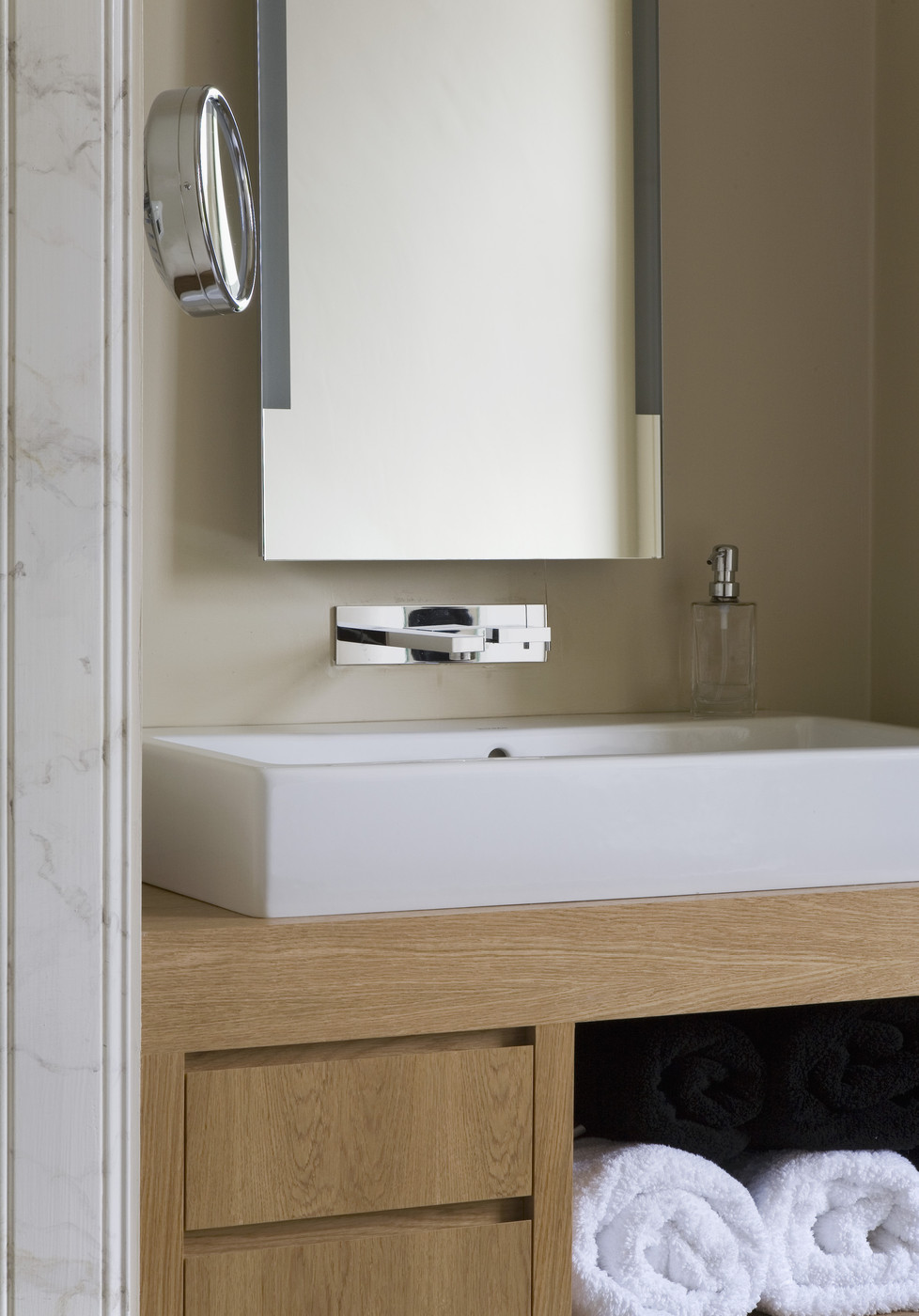 Do you wish for your vanity to seamlessly blend into the surroundings, or are you hoping to create contrast with a striking color or material? [from Red Cover via Lonny]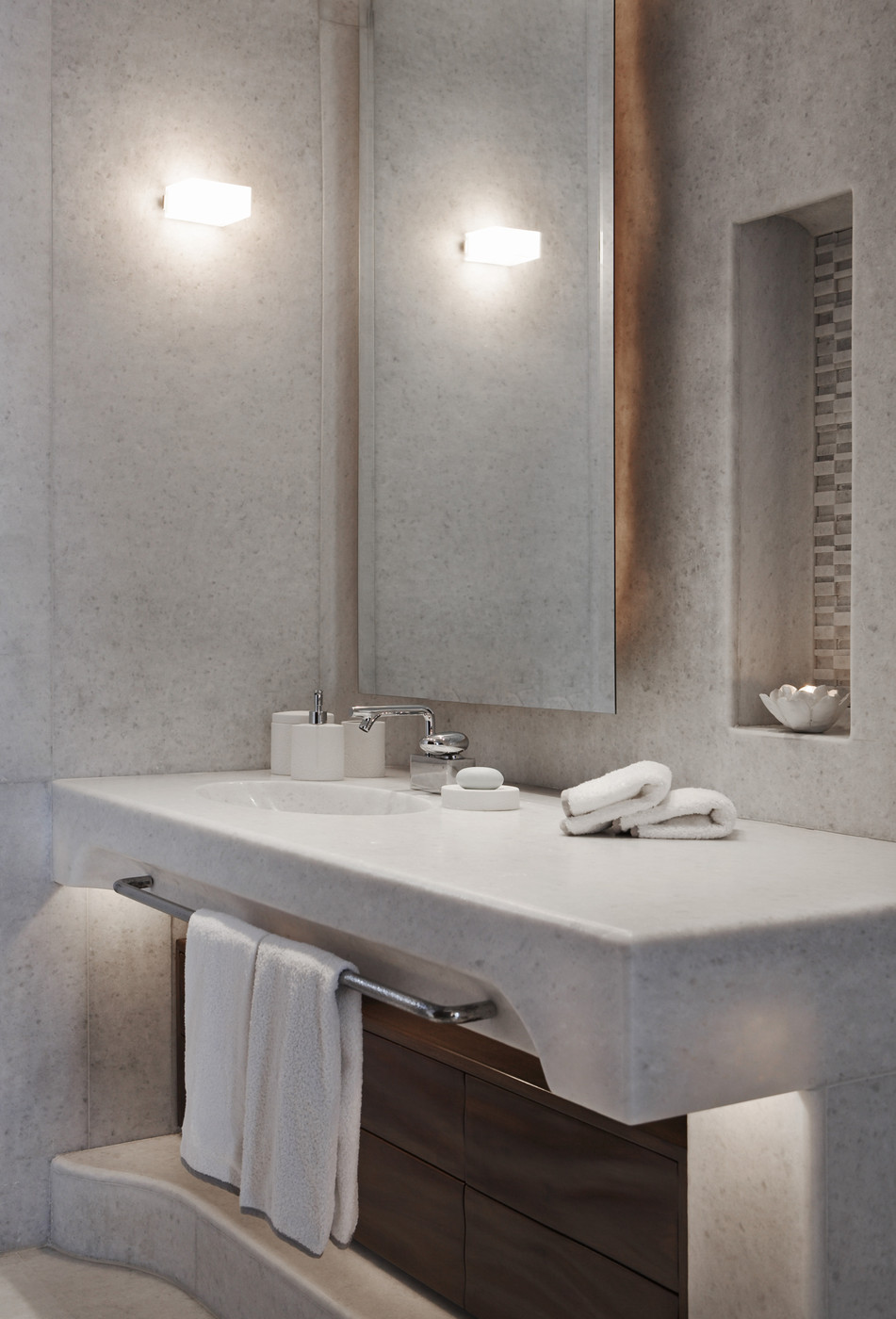 Will your vanity be a place where you can sit and get ready for the day? If so, leaving room for seating is helpful, and having an under-counter space to place your legs may be essential if you want to be comfy (and close to the mirror). [from Lonny]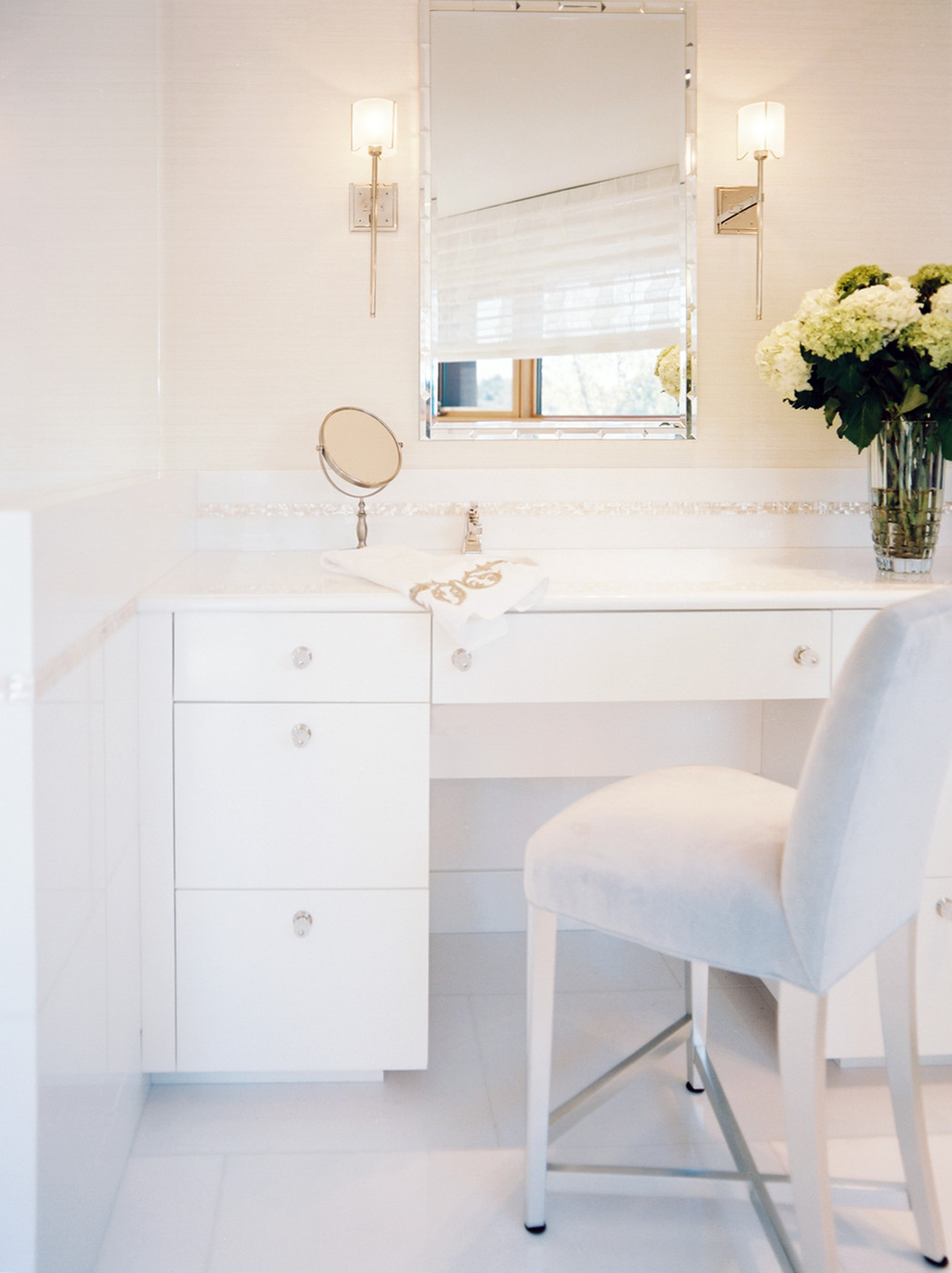 Pull up a Chair
Speaking of seating, many bathroom vanities do not include seating space. But if you're considering a vanity that does, here are some photos that will provide plenty of design inspiration! A chair with a back can add comfort and support. Bonus points if it's a true style statement, like the one below! [from Mali Azima Photography]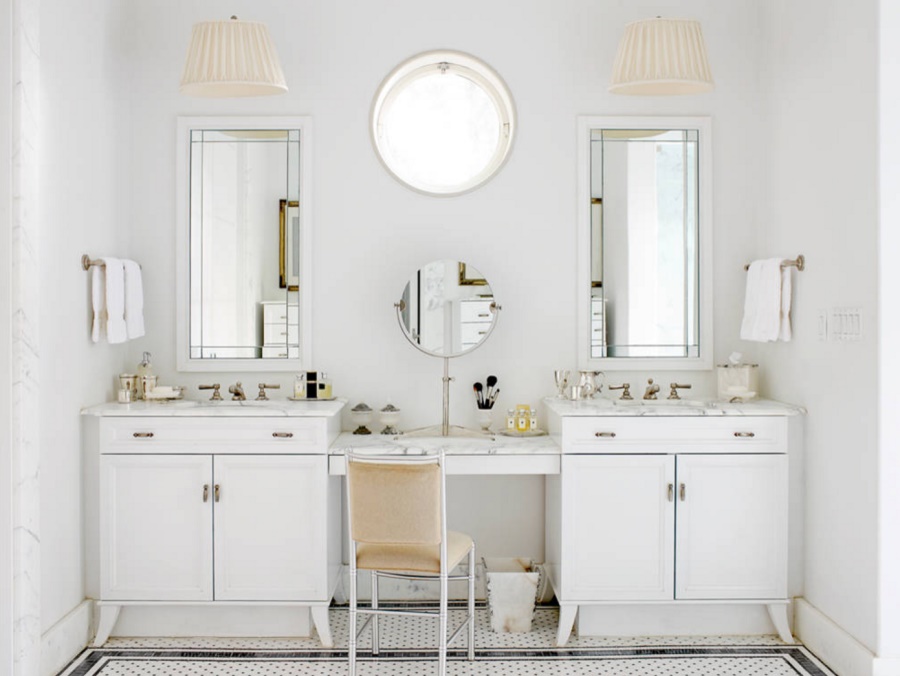 This tropical bathroom features a wooden vanity with a stool that helps to express the breezy style of the space. [from Red Cover via Lonny]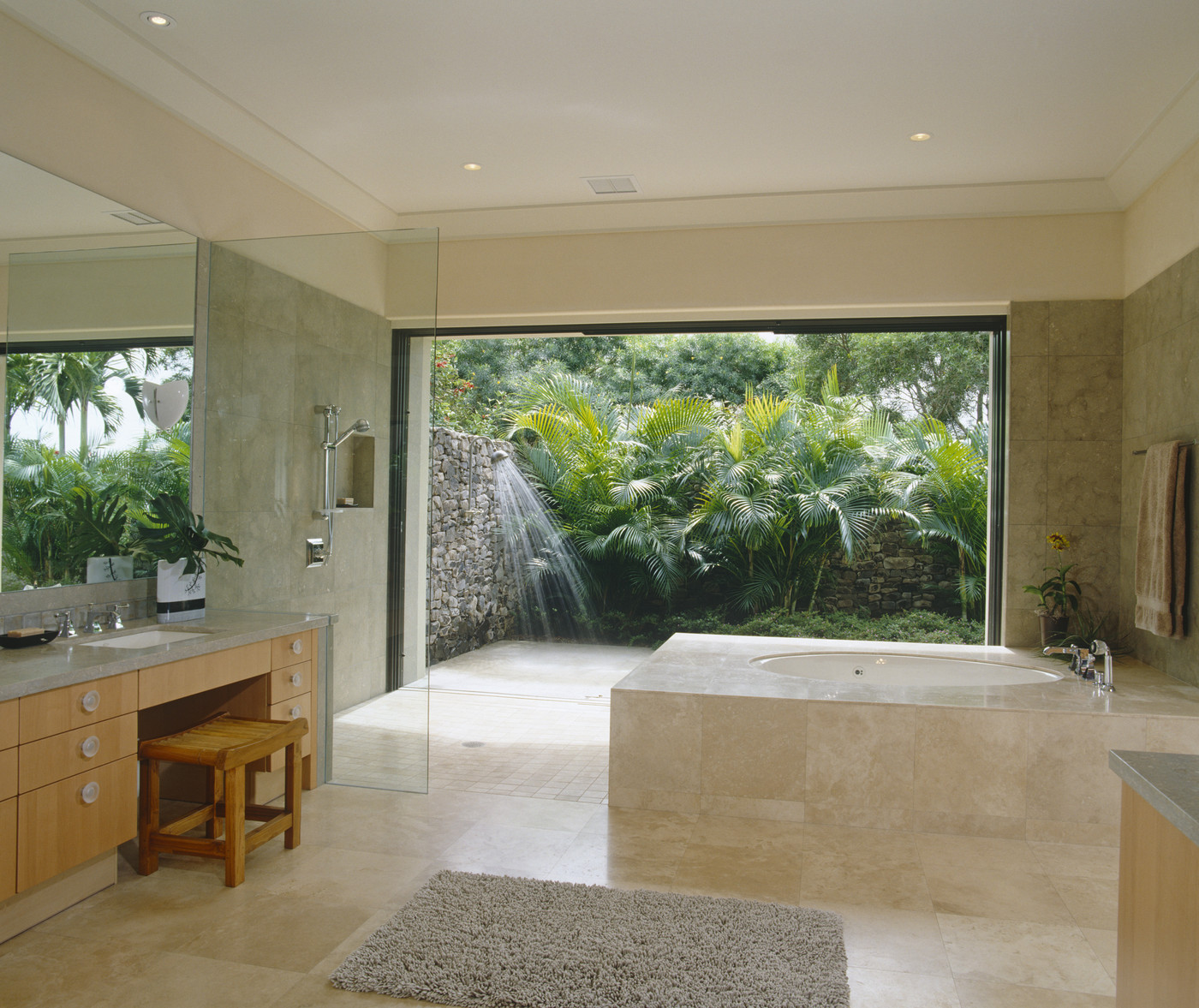 Or you can go grand! How fabulous is this gilded interior?! For a powder room that includes an abundance of stone, regal accents and a sculpted bust, would you expect anything less than a stool that doubles as a showpiece?! [from Red Cover via Lonny]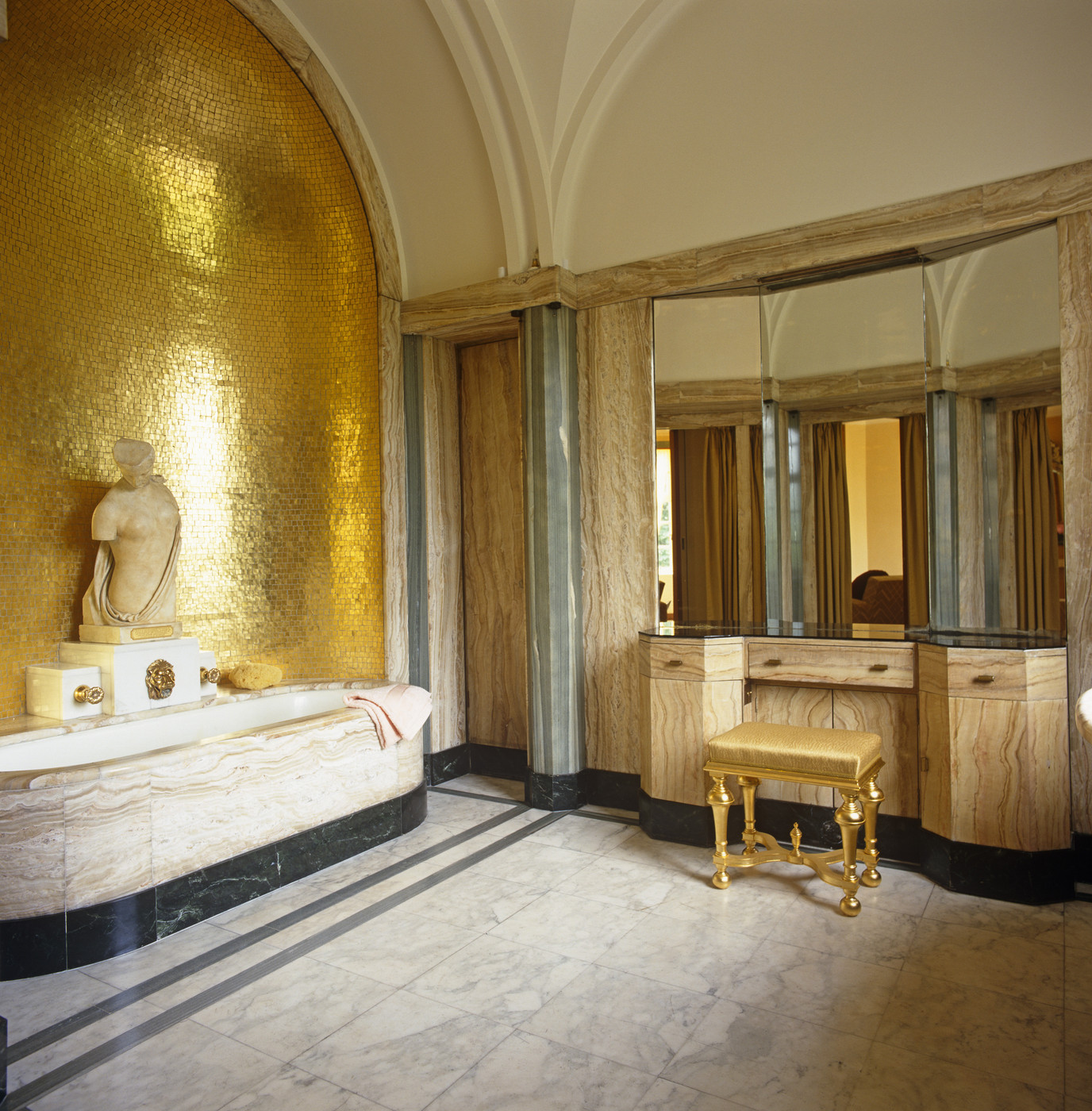 Custom Vanities
Let's talk custom vanities. If you want your vanity to perfectly fit into your powder room, maximizing both space and style, going custom is the ideal high-end option. Below we see a sleek wooden custom-made vanity from Change Your Bathroom, Inc.: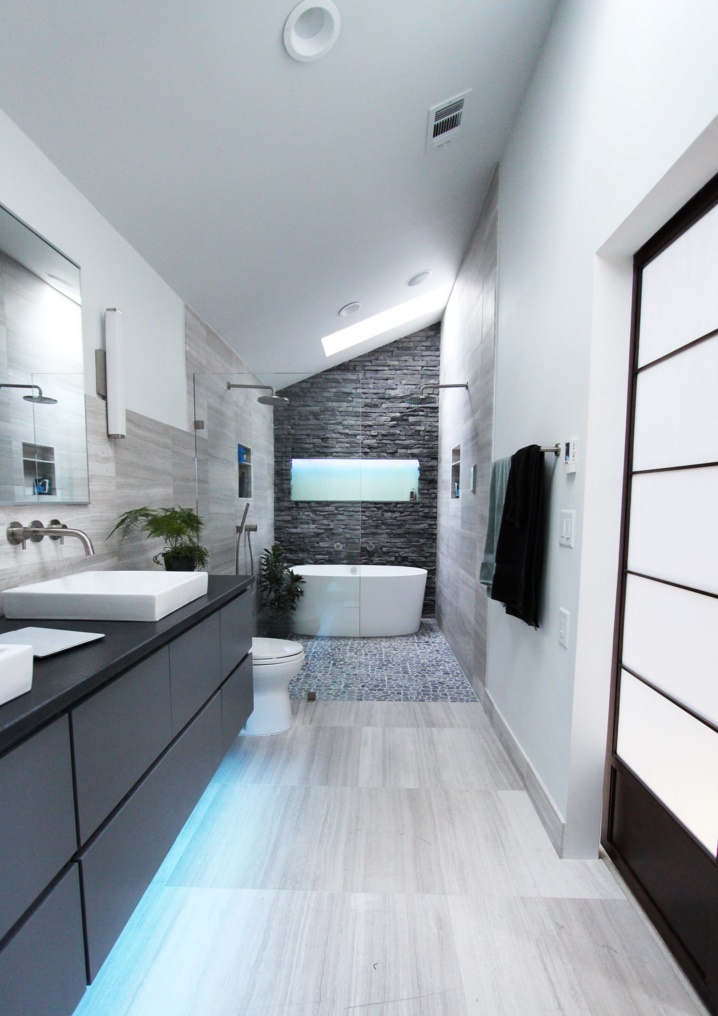 Customizing the vanity gives you the flexibility to get it just right. For example, the vanity and mirror below are custom-made for this powder room, and let's just say that a 12-step dark stain process was involved to get the perfect look. Love that contrast! [by Lori Shaffer via Houzz]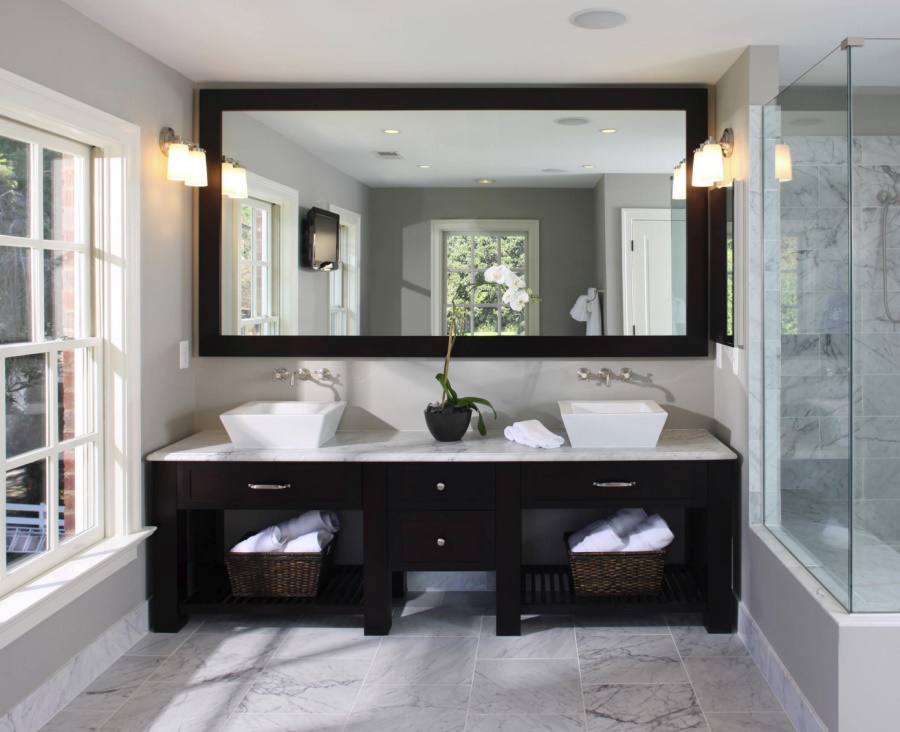 High-end style makes a bold statement in the powder room below, thanks to a custom vanity that holds two sinks and provides a bath storage area. [from Annabelle Chapman Architect via Houzz]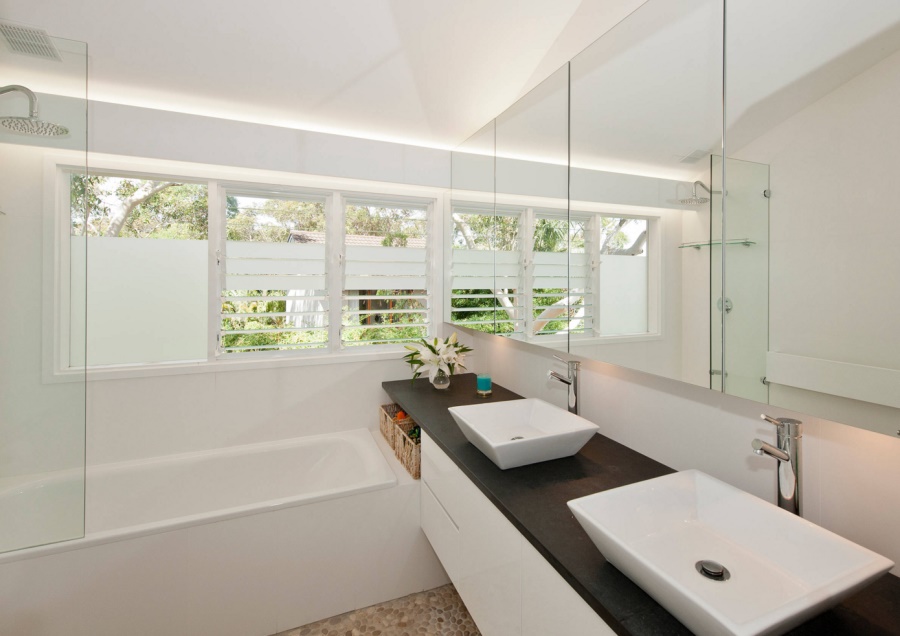 High-End Glamour
Next we take a look at some high-end options that celebrate some of today's top trends. The first three vanities are available for purchase through RH Modern. Brass is back, and this Bezier Double Long Floating Vanity designed by the Van Thiels is a striking combination of metal and wood. Its clean-lined look and bold feel are inspired by 1970s postmodern design. As with all of the RH modern vanities that follow, this one is available in a variety of metal and wood combinations. Below we see brown oak and burnished brass: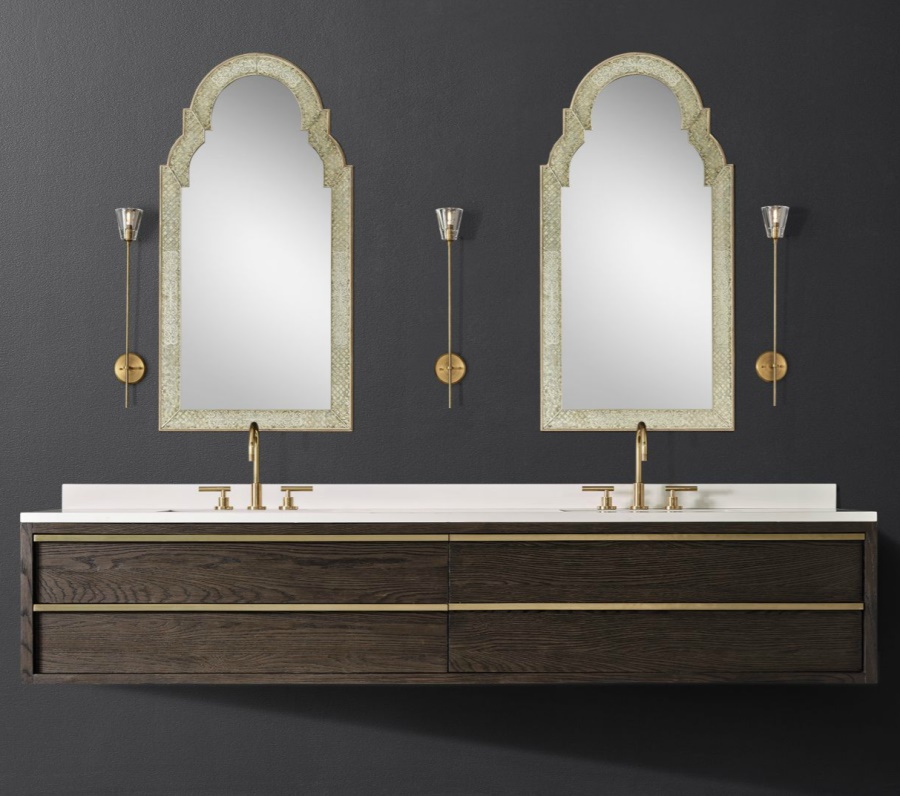 The Machinto Double Vanity designed by the Van Thiels adds a hint of rustic style to the powder room. Clean lines and a mixed materials look (thanks to wood and metal) complete the composition: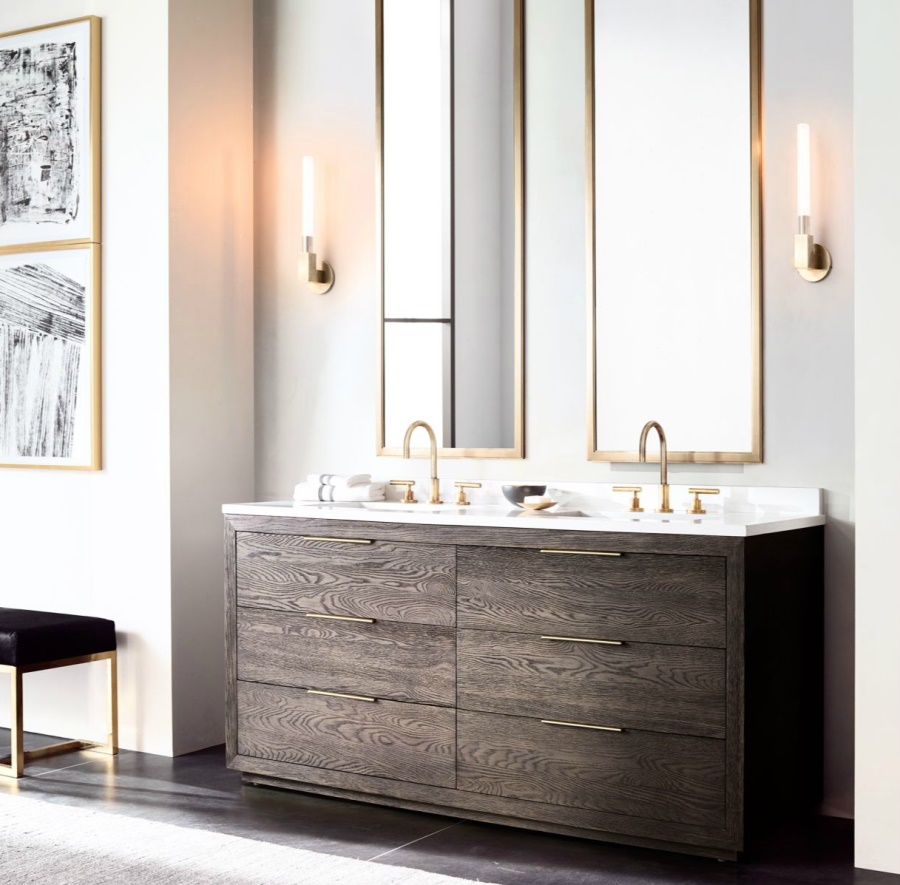 While RH Modern is known for its luxe, retro-modern style and its bold use of brass, there are plenty of silver-toned faucet options to choose from. Next we get a glimpse of the Bezier Single Extra-Wide Floating Vanity. Once again designed by the Van Thiels, this piece can be purchased in a range of materials and combinations. Below we see the power of grey oak and pewter. Cool tones rule in this vignette!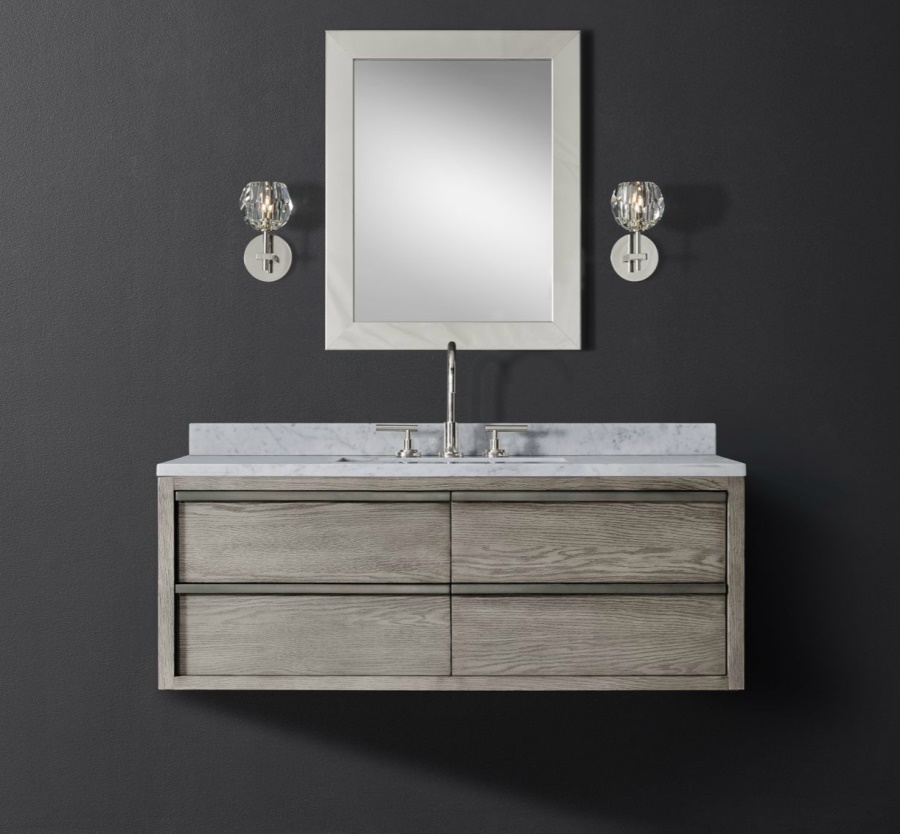 Next we enjoy a trio of luxury vanities from Nella Vetrina. First up: the Four Seasons, shown below in lacquered tan. Yet you can choose from 30 lacquered colors and make other specifications to create the perfect high-end vanity for your powder room. Love that glass countertop!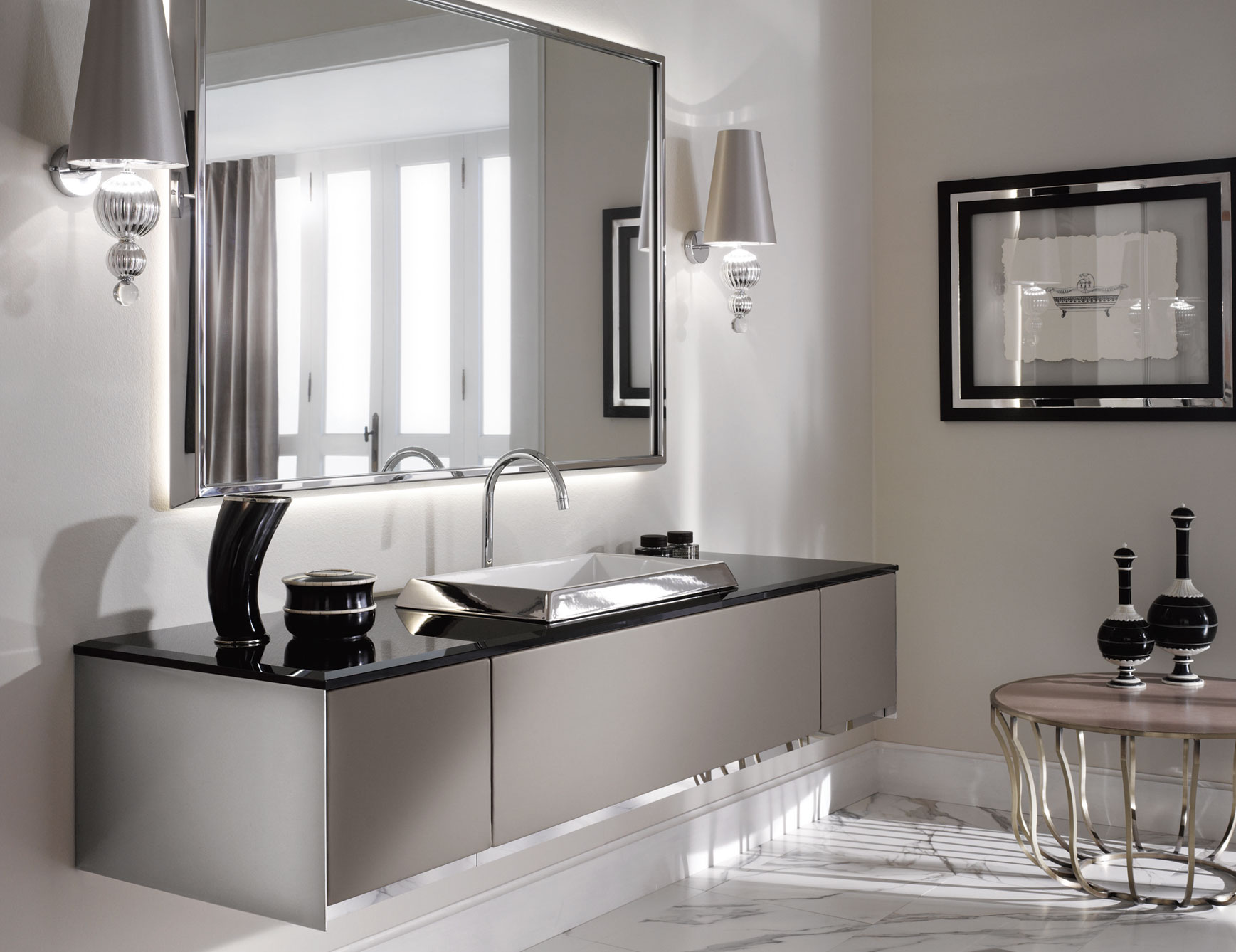 Nella Vetrina gives design enthusiasts a range of options with each creation, and Kubik is no different. Choose from wenge, palissandro and walnut wood, as well as 40 matte and brushed gloss lacquered colors.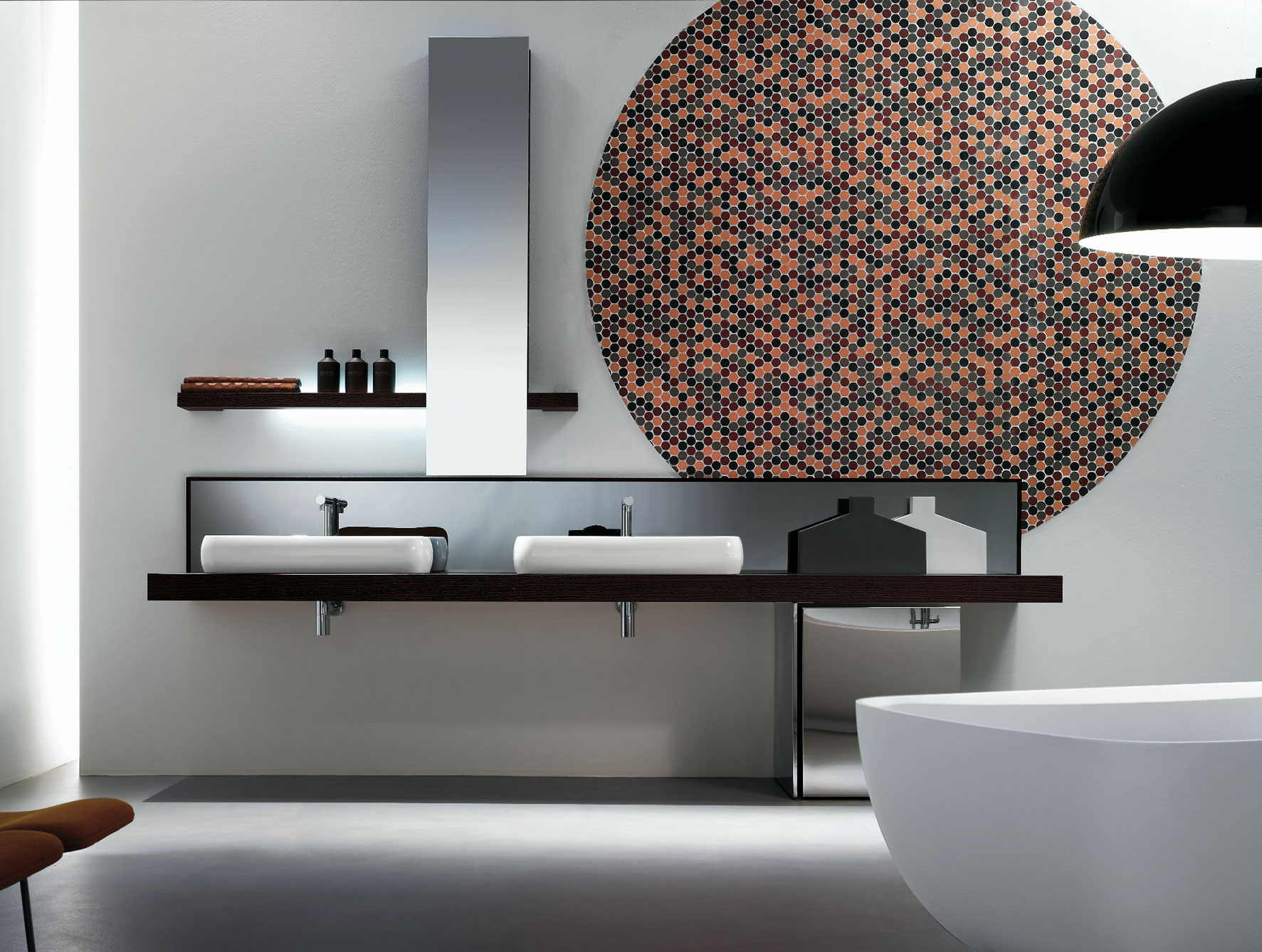 Frame can be combined with other pieces to create the perfect custom vanity for your space. And if under-counter storage is what you're after, the design below will do the trick: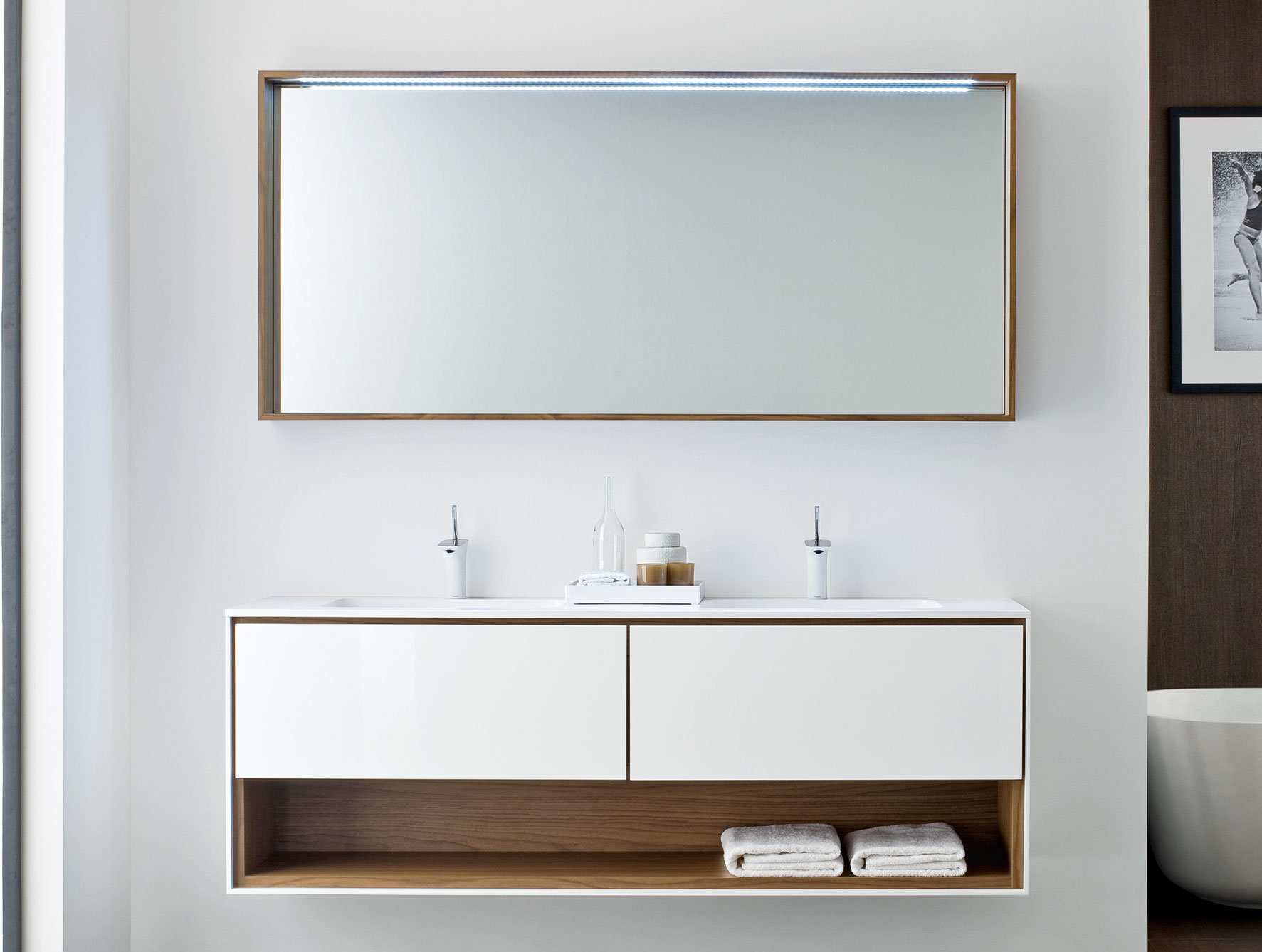 The Look for Less
We end today's post by celebrating the art of getting a high-end look for less. Let's start with the Ketho collection by Duravit, designed by Christian Werner. A great option for those on a budget, the chic vanity offers bountiful storage space and a range of design options. Below we see raised washbasins.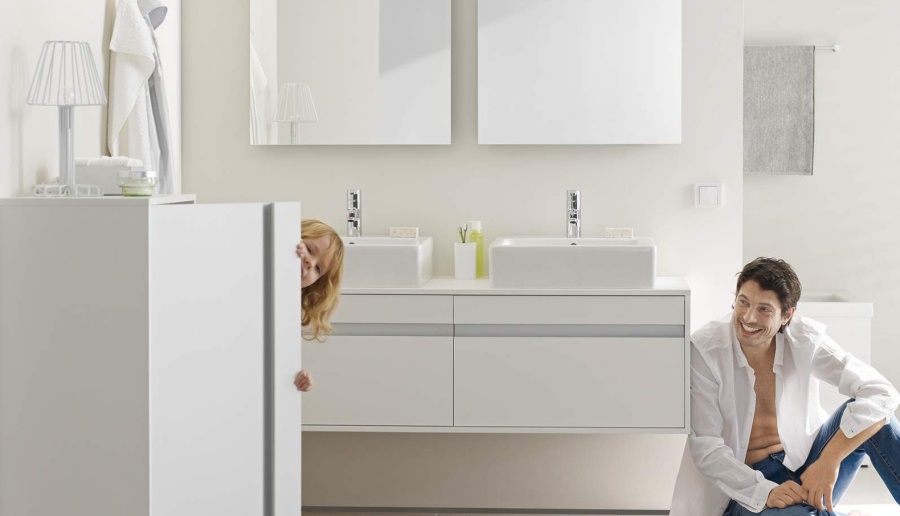 However, in the next image, we see how the sinks can be inserted into the vanity for a seamless look. An aluminum handle adds sleek style, and matte finishes create subtle modern flair. So many options…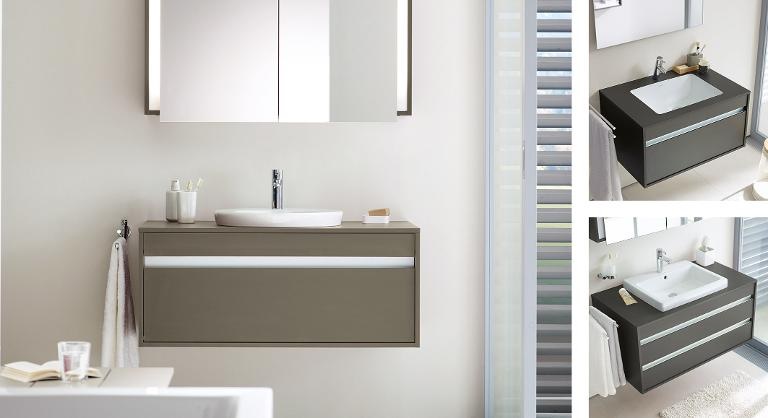 In our final image, we see a vanity in a space designed by Projekt Home and featured at Houzz. There was much interest in this vanity on Houzz, and some claimed the piece is from IKEA with a custom walnut finish. Would you consider tweaking a super affordable purchase to get the high-end look for less?!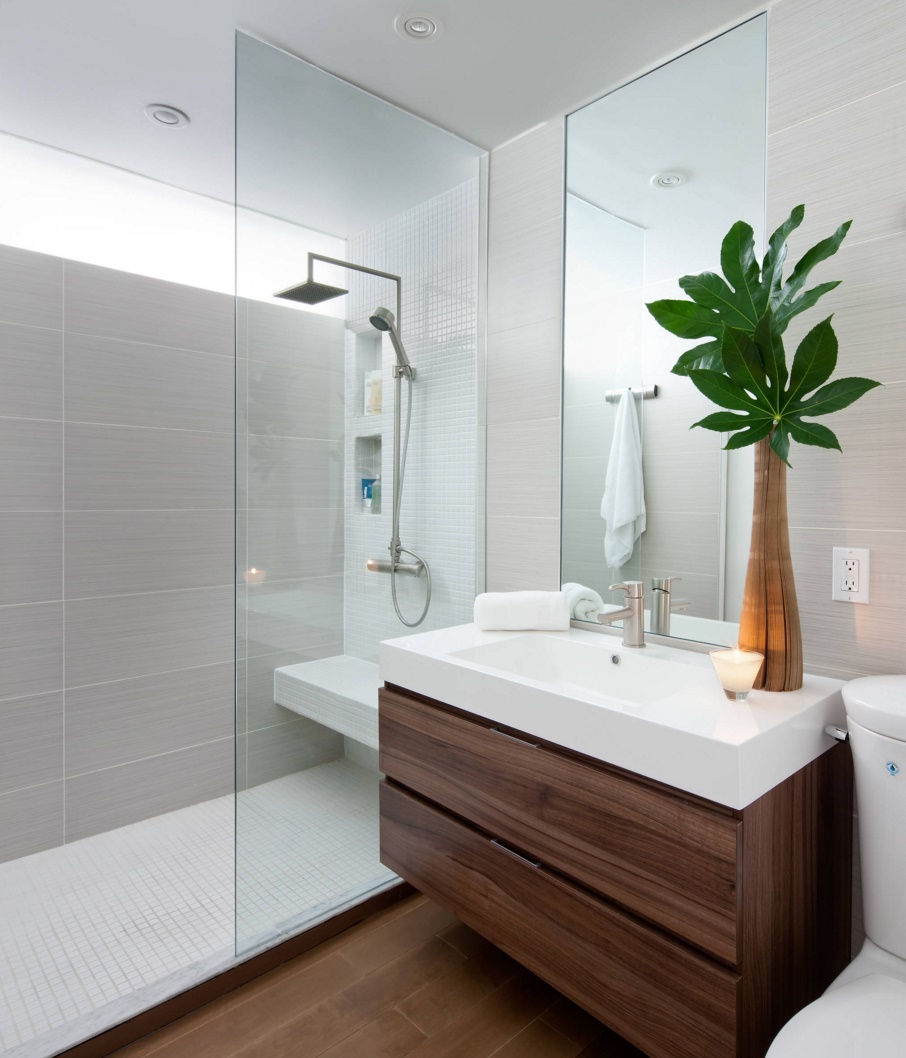 As you browsed the images above, did you note the decor that graced the surfaces of these fabulous high-end vanities?! Our favorite decor addition: plants. Sometimes less is more, and one bold dash of greenery is an amazing way to create a clean yet luxe look in the powder room!