If you're in the midst of a bedroom makeover and looking for a big statement to anchor the space, today's post is for you. If you aren't planning to purchase a new bed, and the idea of upholstering plywood for a DIY headboard isn't quite what you had in mind, don't fret! A range of creative solutions awaits you. Keep reading as we round up our favorite DIY projects and helpful purchases that prove headboard alternatives can be more fun than the real thing!
As you scroll through the ideas below, you may find exactly what you're looking for. Or perhaps an image will inspire your own unique take on the project at hand. Get creative and have fun beautifying your sleeping space! [painted headboard below by Geneva Vanderzeil, featured at Bunnings Warehouse]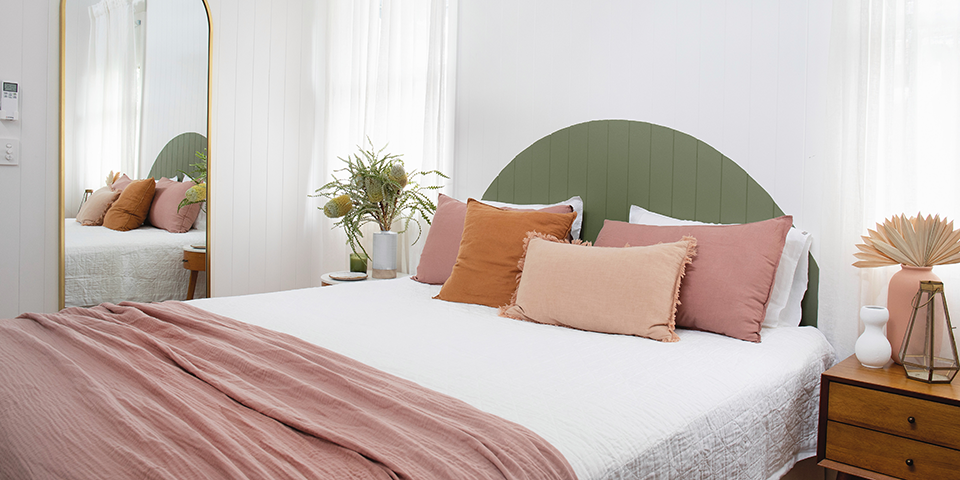 Embellish the Wall
Sometimes the answer to your headboard project is not about the bed at all. By beautifying the wall that serves as a backdrop, you have everything you need to set the stage. While the DIY trim accent wall featured below isn't a super-quick solution, it's easier than it looks. Not to mention, it definitely packs a powerful punch with its retro-modern aesthetic, and any bed that backs up to it will get the spotlight it truly deserves. Check out A Beautiful Mess for all of the details.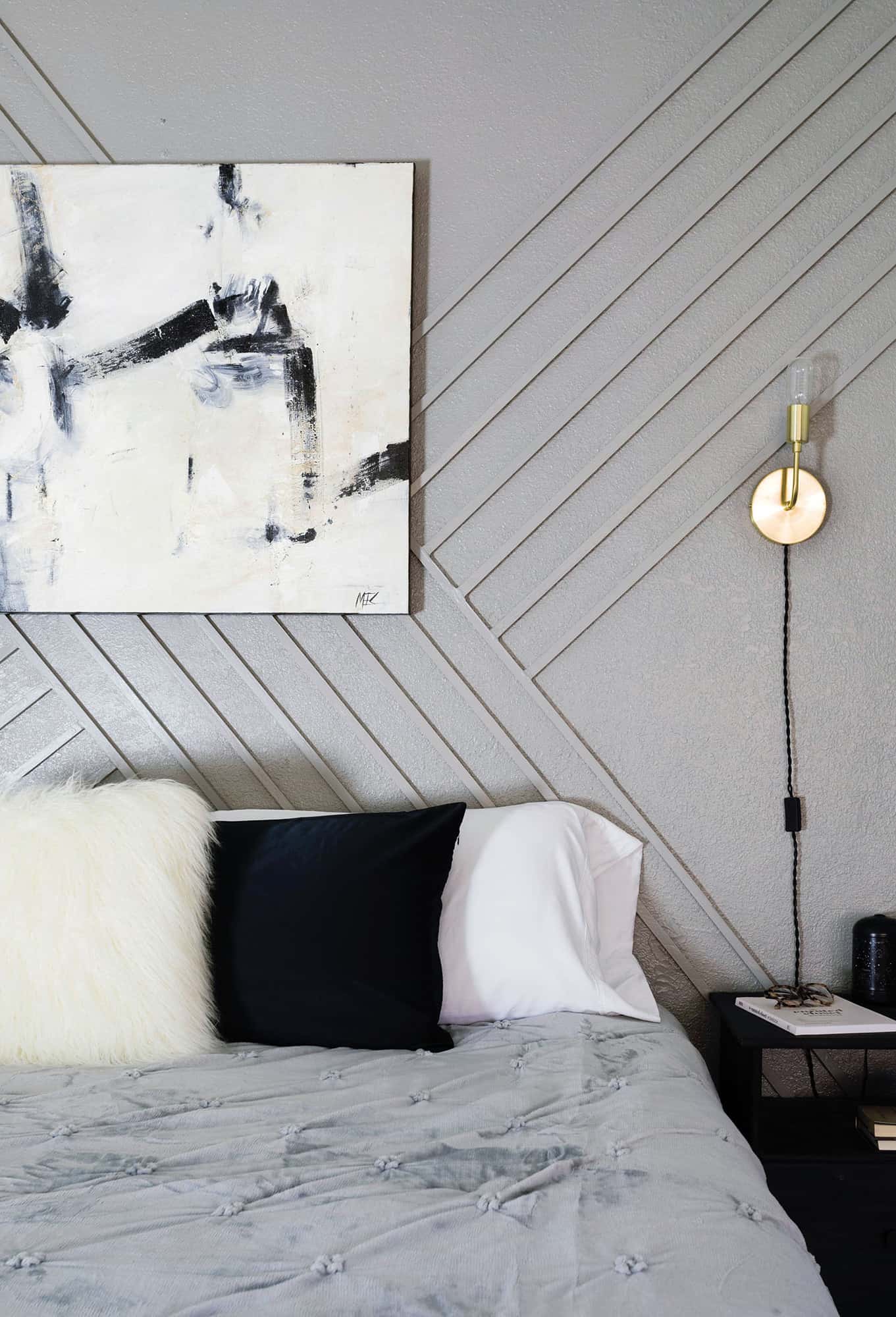 As we've seen above, sometimes it's all about the wall. And sometimes the exact embellishment you've been searching for is paint! Painted headboards are some of today's most popular headboard alternatives, especially in modern spaces. Creating simple geometric forms such as rectangles and arches can be the perfect strategy for framing your bed. Featured at Apartment Therapy, this painted headboard proves that a little color goes a long way: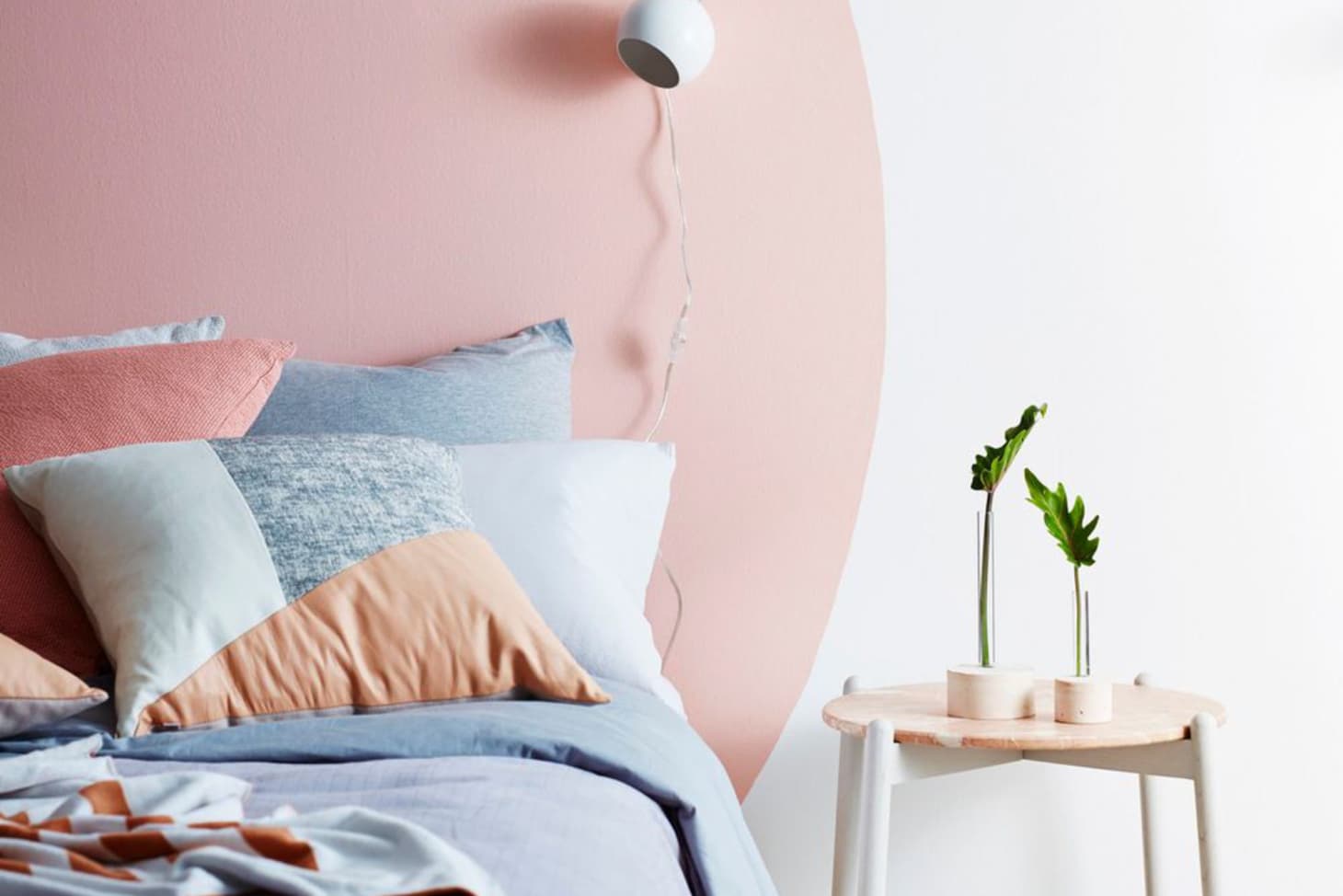 For a wall solution that's less permanent than paint, consider washi tape. Featured at Martha Stewart, this washi tape headboard is a commitment-free, faux headboard that's as easy to remove as it is to create. [photo by Angie Cao]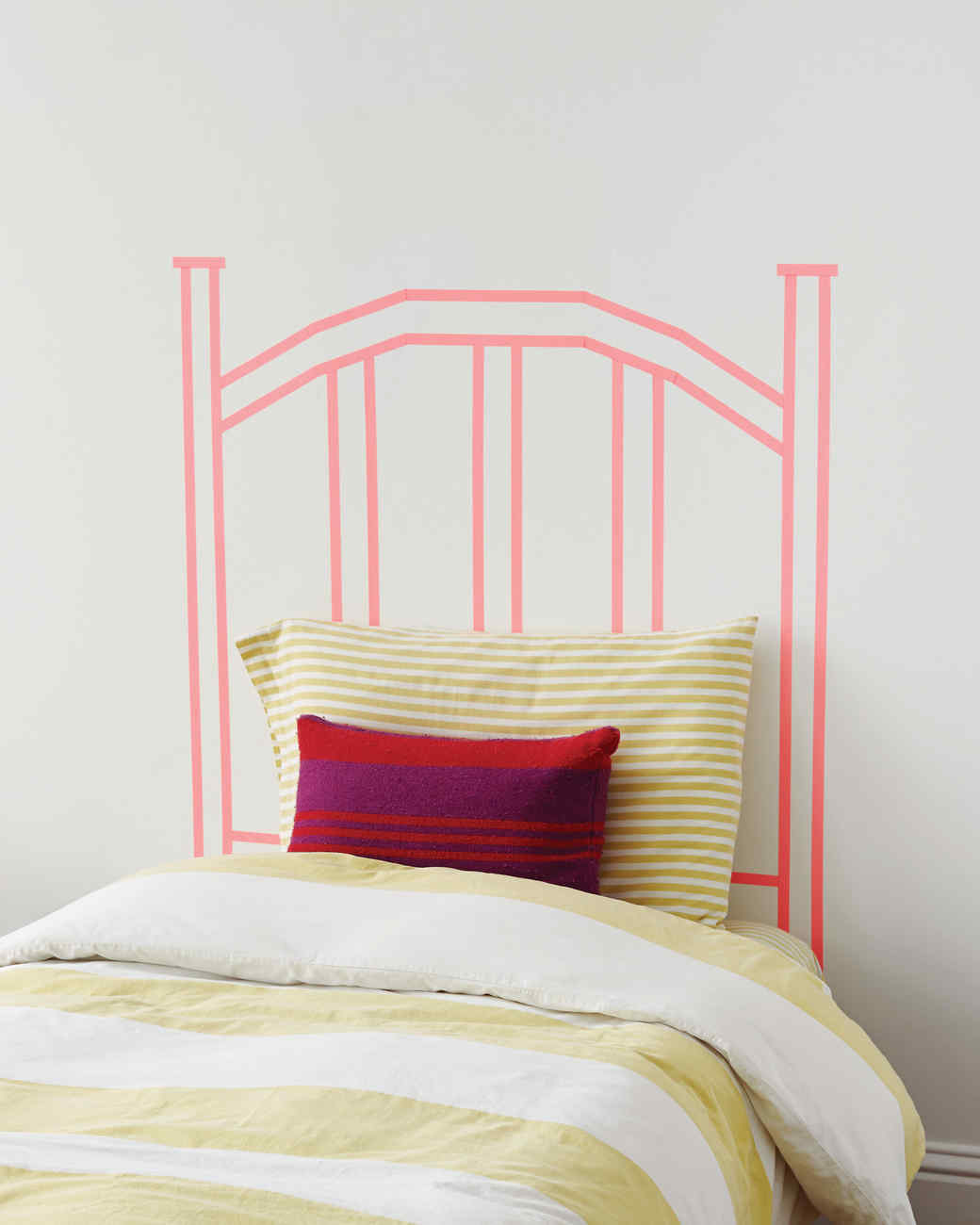 Last but not least, don't forget about headboard decals that can easily be affixed to the wall. This large rainbow wall sticker from Etsy shop Lilin Momo Designs is perfectly on trend with its rainbow motif and terracotta gradient of color:
Display Something Interesting
How's it hanging?! As you'll see with the featured headboard ideas below, hanging an eye-catching item (or collection of items) can serve as a creative solution to your headboard conundrum. Let's start with the power of abstract art. When painted on a piece of canvas in vivid colors, the look is substantial, dramatic and fun! [photo by Brittany Ambridge, featured at SF Girl by Bay]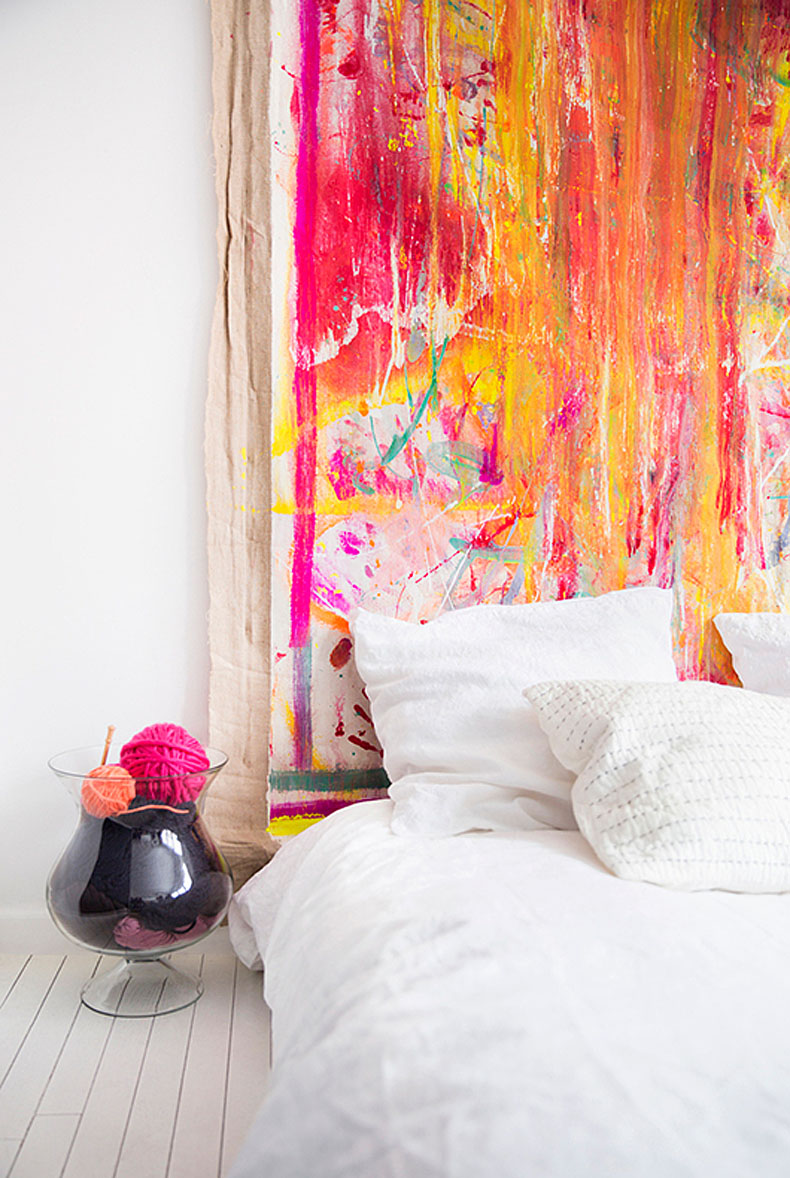 A wood wall art project is a great way to craft a special headboard that showcases your creativity. If you're not in a DIY mood, you can even purchase a piece of wooden art to get the job done. In the next featured image, we see the work of Etsy shop Eleventy One Studio. Stay tuned for more on headboard alternative purchases later in the post!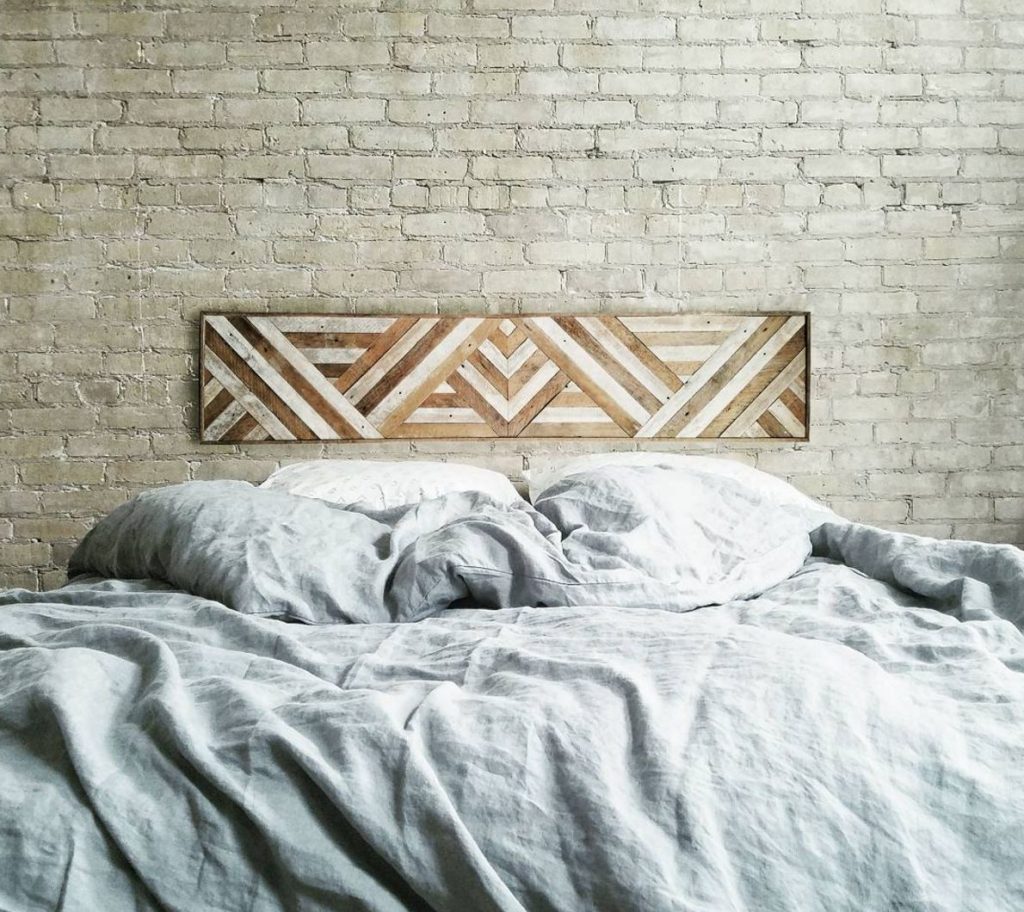 How clever is the wooden rod/throw pillow approach, shown below?! The key is making sure the pillows are secure. In this case, durable loops made of a sturdy material get the job done. [photo by Whitney Leigh Morris, featured at Domino]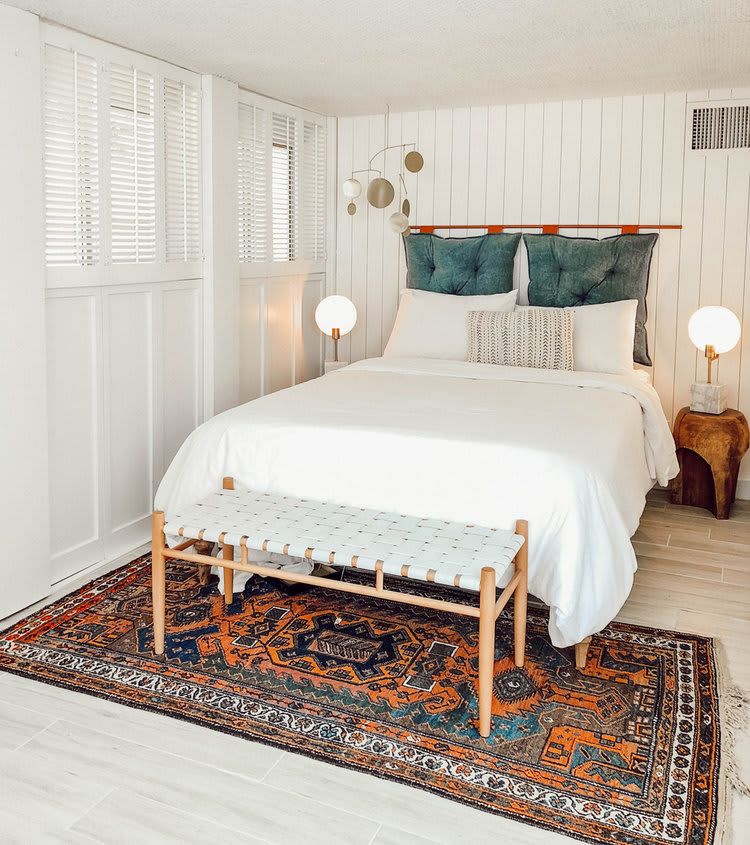 Here's another take on the project, this time featuring a gold-toned rod and a series of chair pillows that can easily be tied in place. Vivid teal serves as the perfect pop of color in this all-white space. Check out the DIY details at HGTV: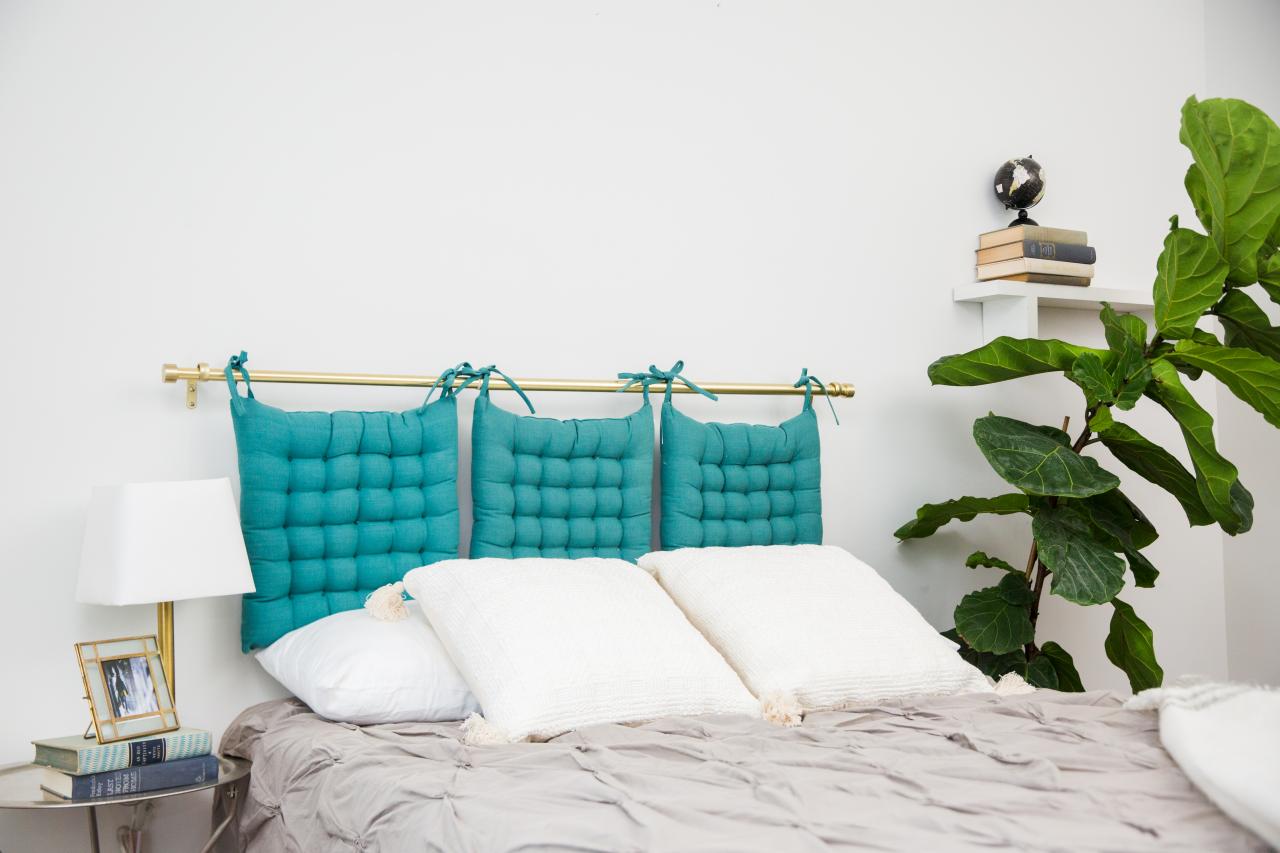 This DIY woven headboard created by Sarah Sherman Samuel involves an easy arrangement of jute placemats and petite rugs. Small nails get the job done, and the result is earthy modern style at its finest: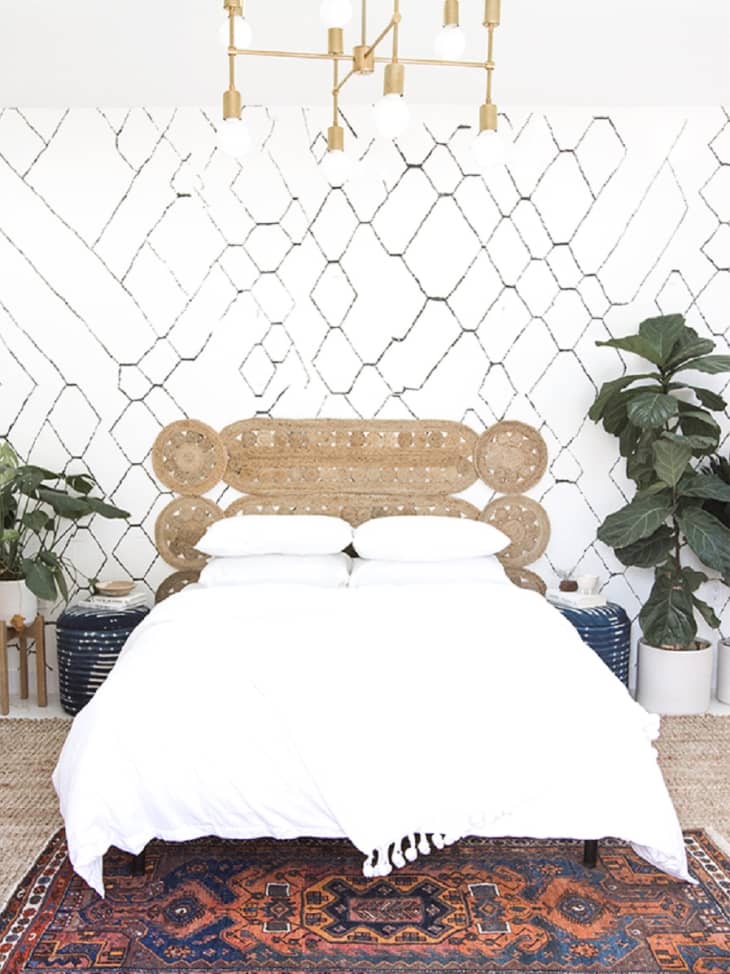 Last but not least, consider hanging a tapestry above the bed for an instant dose of color and pattern. Whether you tack it to the wall or enlist the help of a curtain rod, be prepared for a grand finish that serves as a bold statement. In this particular project, the length of the tapestry creates a sense of height by drawing the eye upward. [photo by Winkie Visser, featured at Apartment Therapy]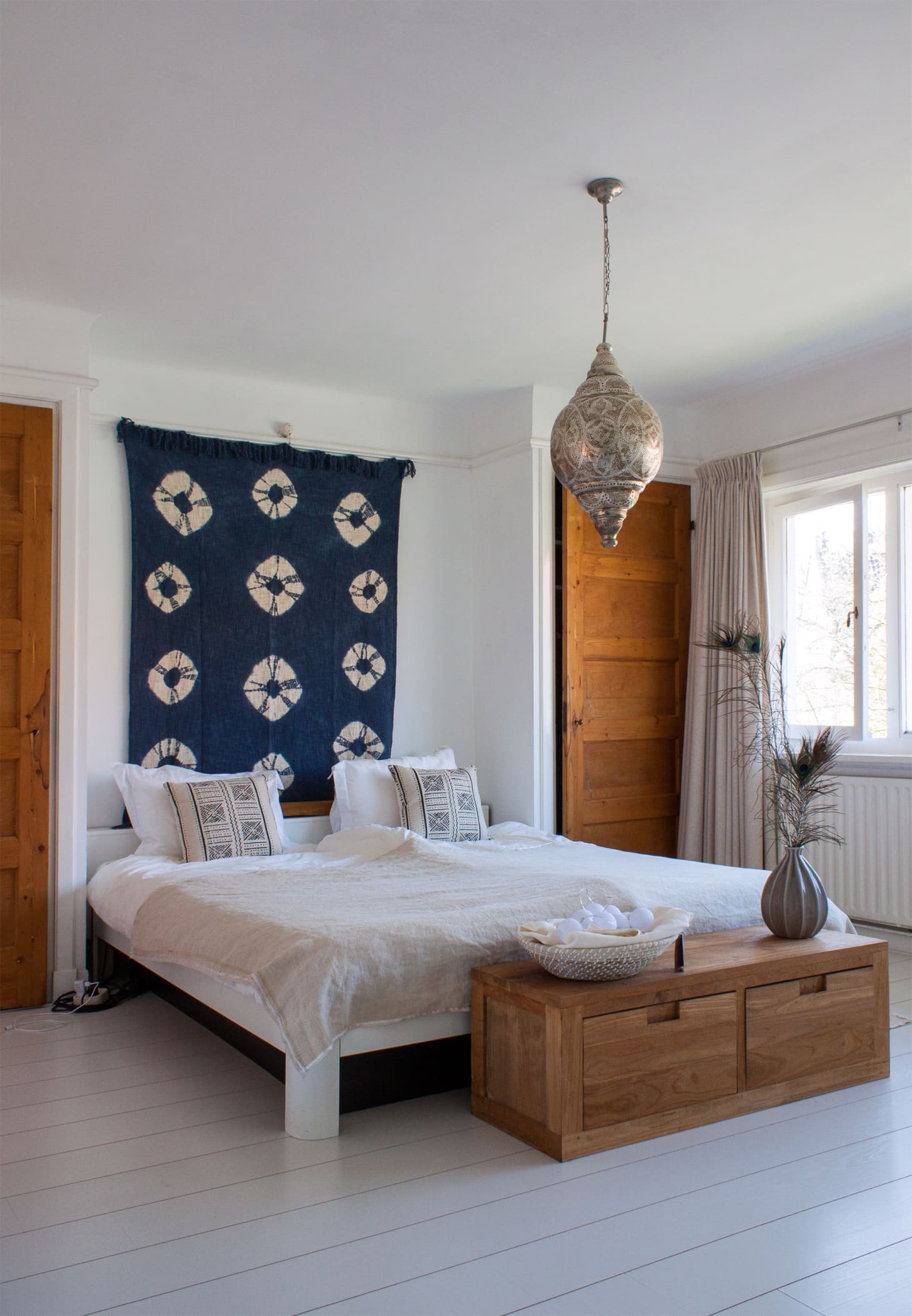 Make a Strategic Purchase
For time-saving headboard alternatives that create a finished look, check out this collection of interesting finds that can be purchased with the click of a keyboard. All are wonderfully unexpected, beautifully designed, and from Urban Outfitters. First up: a giant fan that channels a retro tropical feel. Say hello to the bamboo Palmera Fan Headboard, which has received stellar reviews as an exquisite statement piece: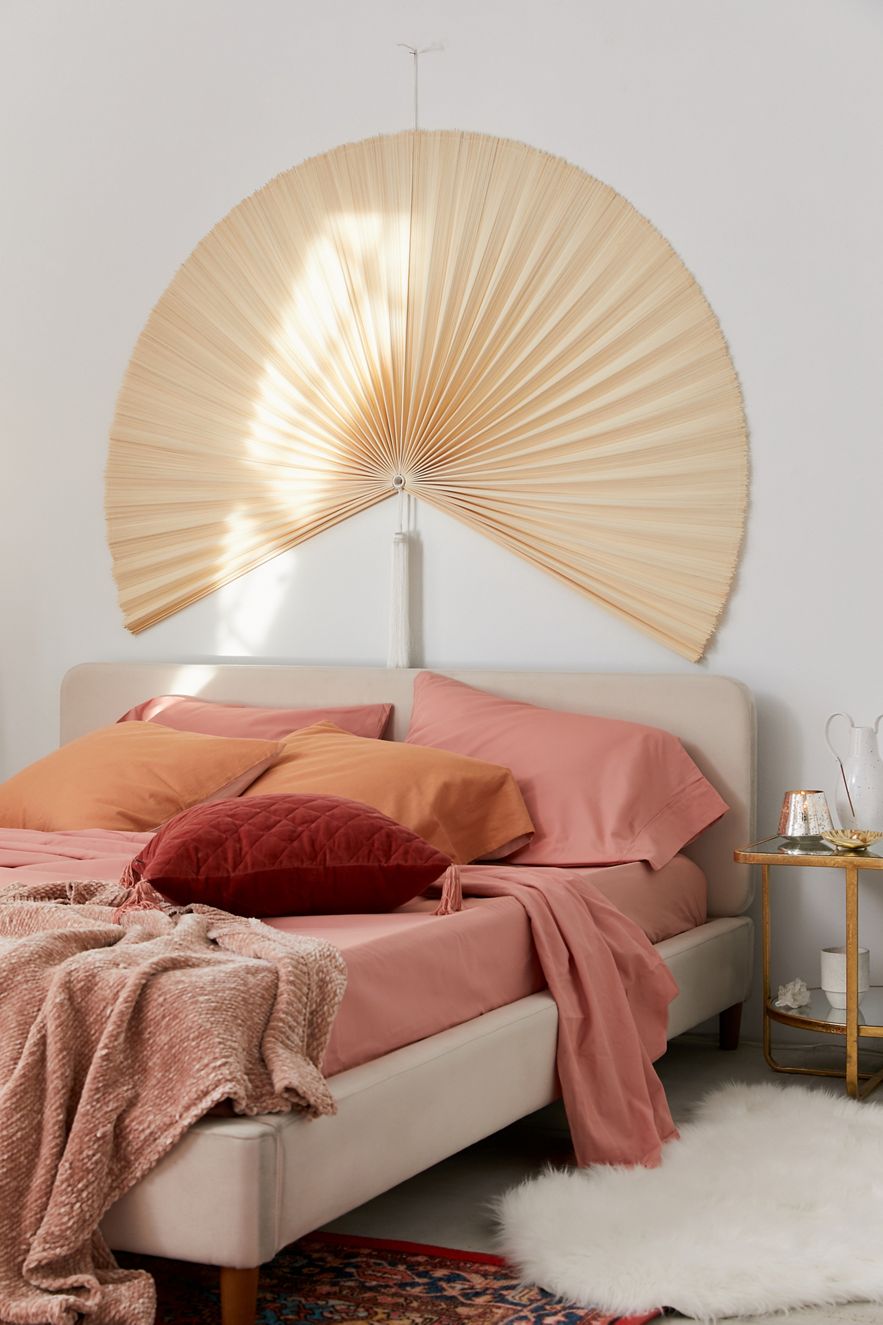 For an earthier take on the item above, check out the Woven Fan Headboard, which is also crafted from bamboo, yet embellished with iron framing.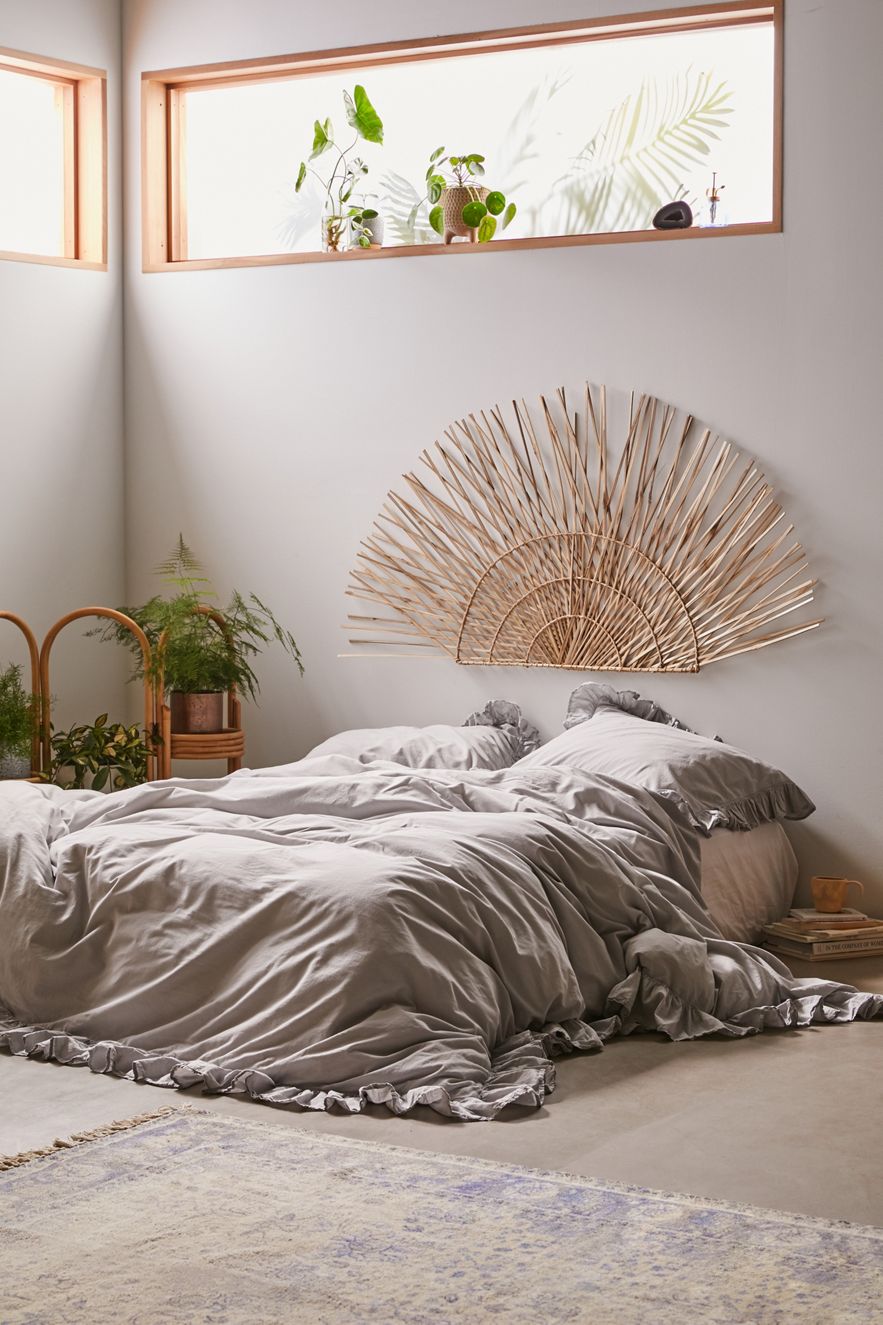 Wall hanging, anyone?! The Semara Macramé Headboard serves up a big dose of geo style, which makes it a fabulous focal point to hang right above the bed: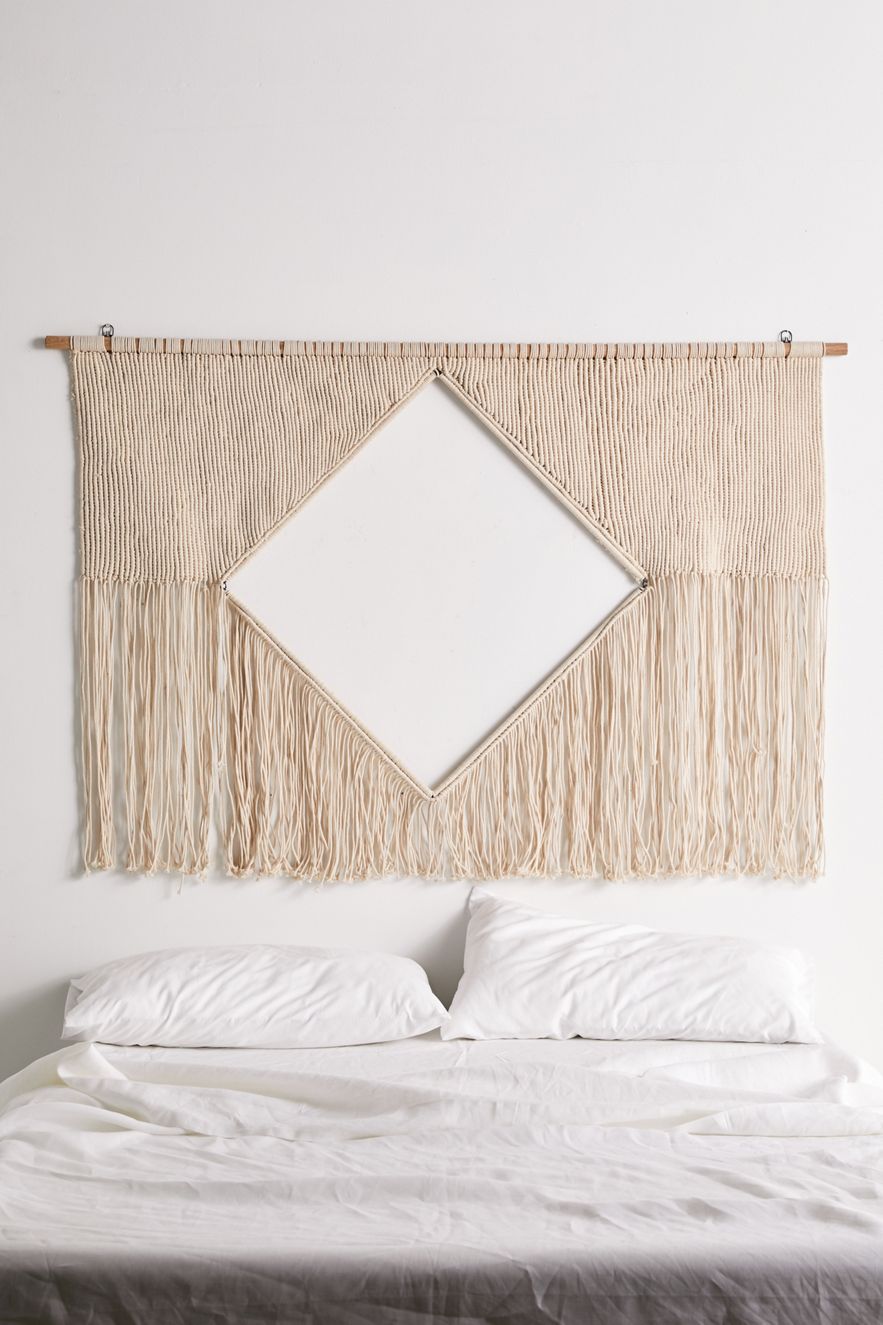 Last but not least, the Yoji Arc Headboard is so fabulous, it can be used in any room of the house. As you might guess, we're drawn to its modern headboard possibilities. Crafted from ridged acacia wood, this piece is also embellished with fringe, creating a "mixed materials" feel that's very on trend.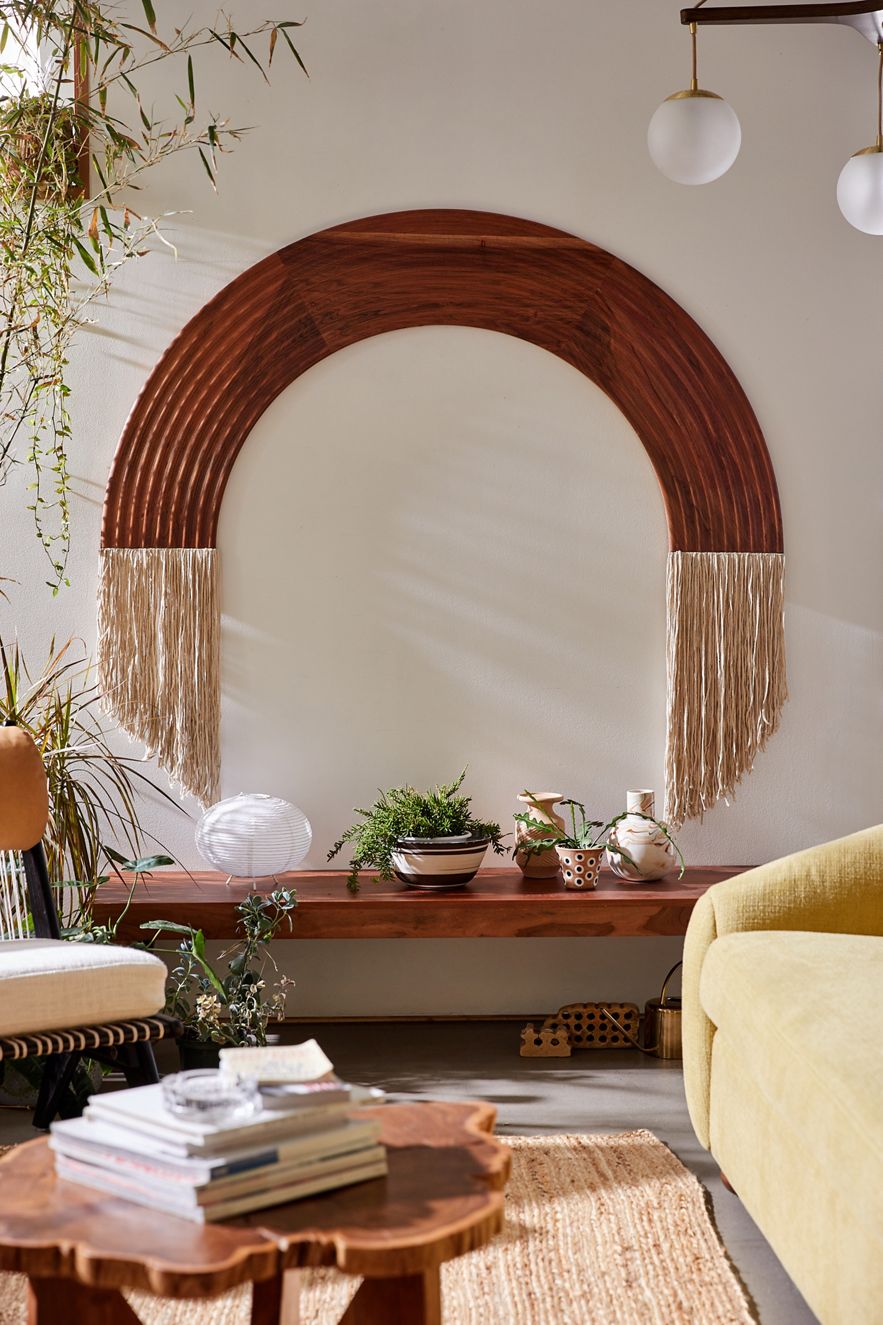 If any of the headboard purchases above are no longer available, they can still serve as helpful reminders that wall art options such as a large fan or a striking wall hanging are effective headboard alternatives. Opt for finds that match the scale of your bed. In other words, don't be afraid to go big.
As you get ready to embellish your sleeping space, make sure to choose high-quality materials that you can truly live with. After all, they'll be hanging right above your bed! Go for non-toxic supplies that help you breathe easier at night. On that note, cheers to a good night's sleep in your newly decorated space. Whether you make your own headboard or buy it, the (night) sky's the limit. Happy decorating, and thanks for reading!