A garden shed is still an essential part of most backyards. It stores important garden tools and keeps our yard looking clean and uncluttered! Beyond that, it can also be an incredible decor element, an enchanting piece that truly makes your backyard stand out! Lately, garden sheds are even being turned into modern art studios or home workplaces. Whatever you may use it for; here are the most magical 30 garden sheds to serve as inspiration!
The Classic Garden Sheds
You know the ones! The classic design, one that is almost imprinted in our brains because we have seen it so many times and yet it never gets boring! They have a very rustic style that sometimes feels like it's from another time and that's precisely why it fits into a countryside backyard so incredibly well!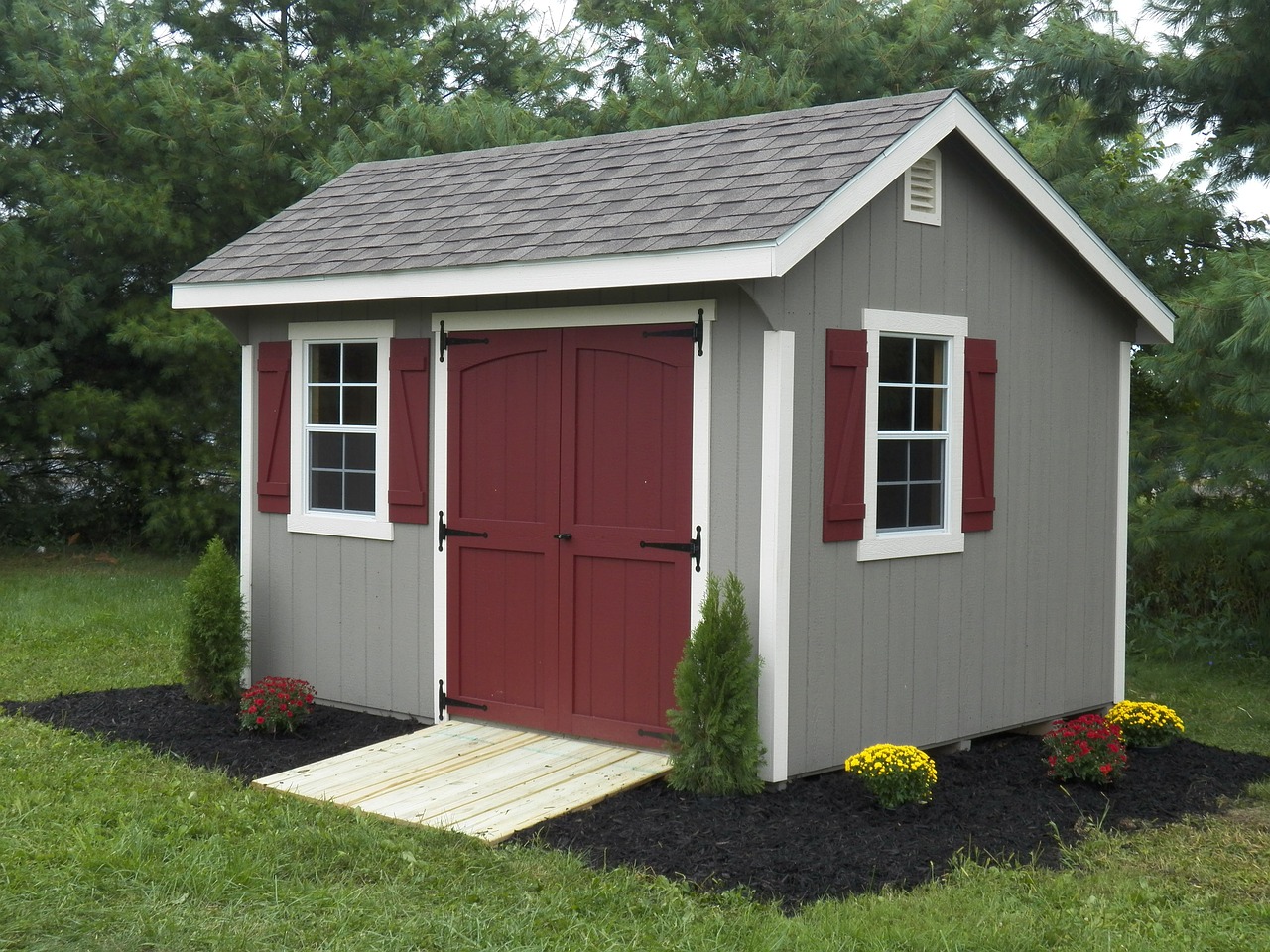 While the design may be simple and resembles a miniature barn, the colors are ones to look out for! The neutral walls are the ideal backdrop for the bold red doors and windows that make this garden shed truly noticeable and special! The blend of the two contrast colors offers a dynamic aspect to the age-old garden shed design!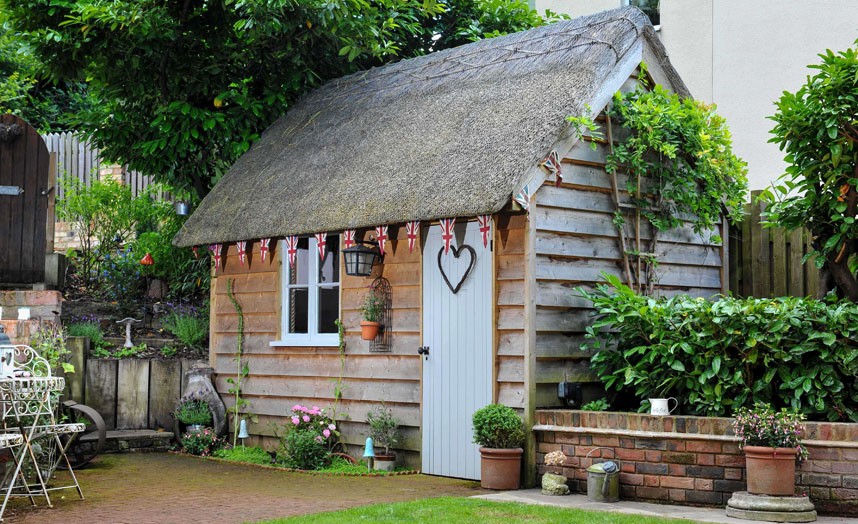 A little wooden garden shed surrounded by green plants is an incredible piece to have in your backyard, especially if you add the significant touch of bright white doors that are the only indication this shed hasn't been there for centuries!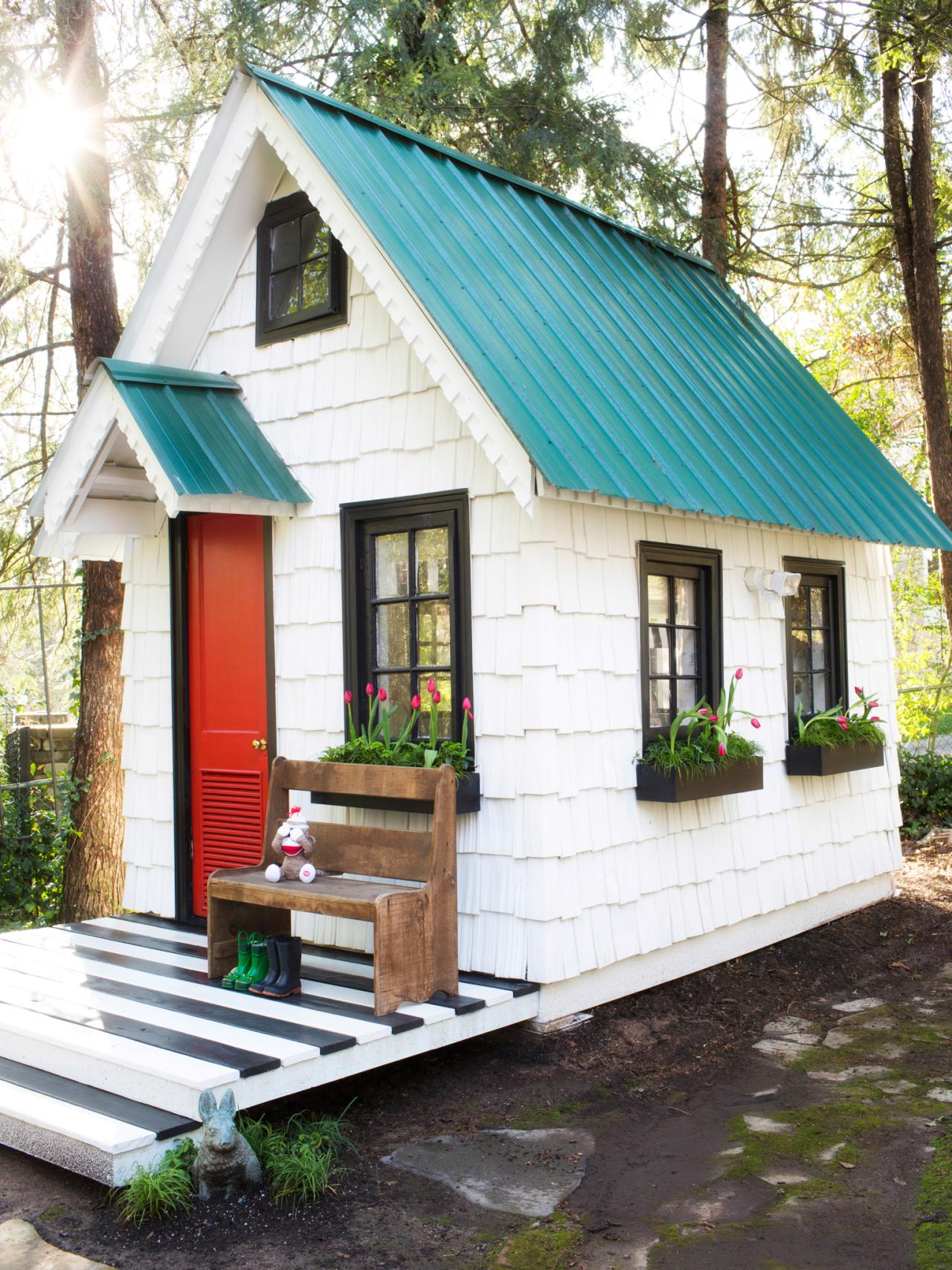 This garden shed looks like a miniature house and has an exceptional look thanks to the fresh and vibrant choice of colors! The turquoise roof and the red doors create an absolute focal point and stand out against the white exterior!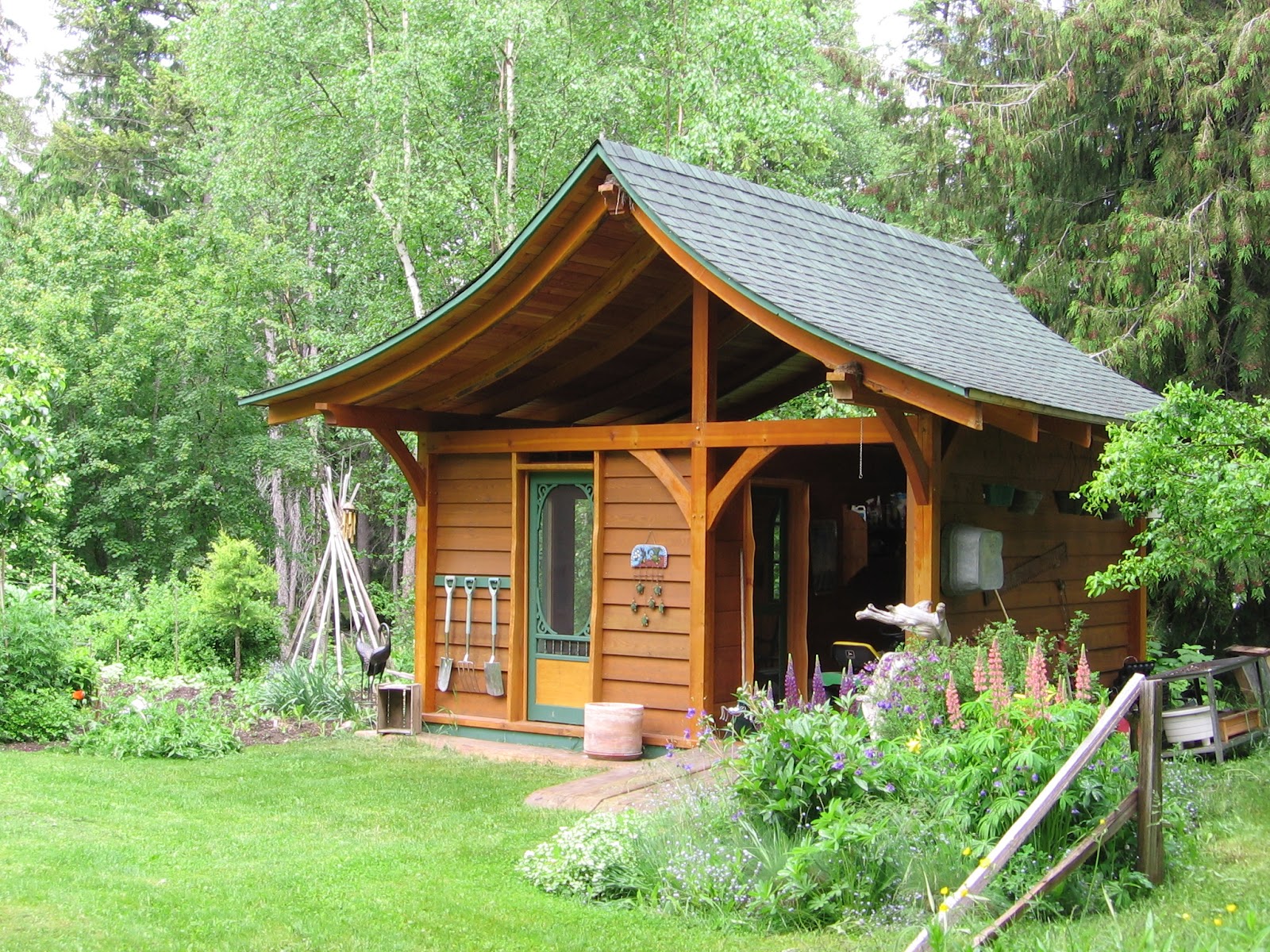 A traditional wooden shed with a charming look is perfect for a big green garden! Nature's most perfect combination seems to be that of wood and green, so make the best of it by incorporating some green into the shed itself!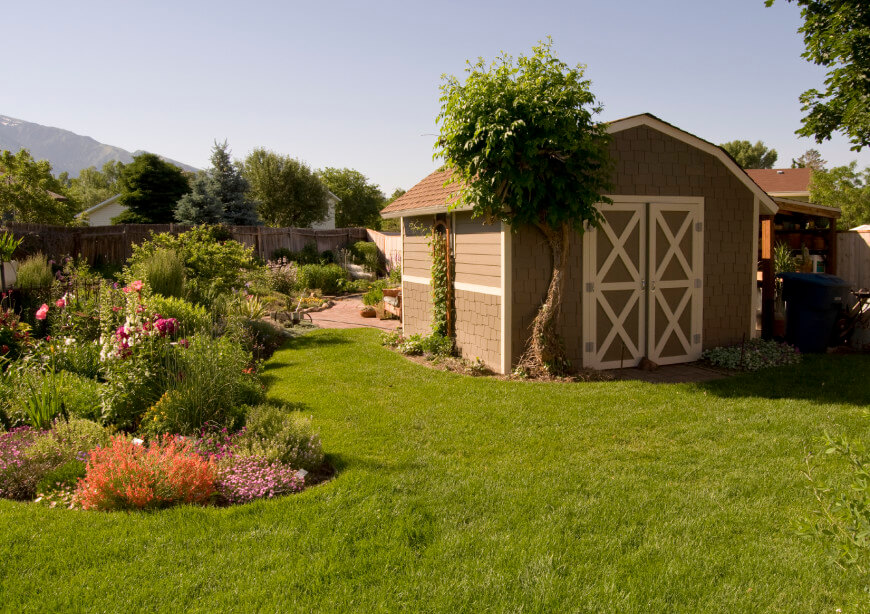 Having a big garden can lead to a lot of open space and the classic garden shed is the perfect element to fill it up! Choose the colors found in nature, such as light brown, to make it blend in and look like an organic part of your yard!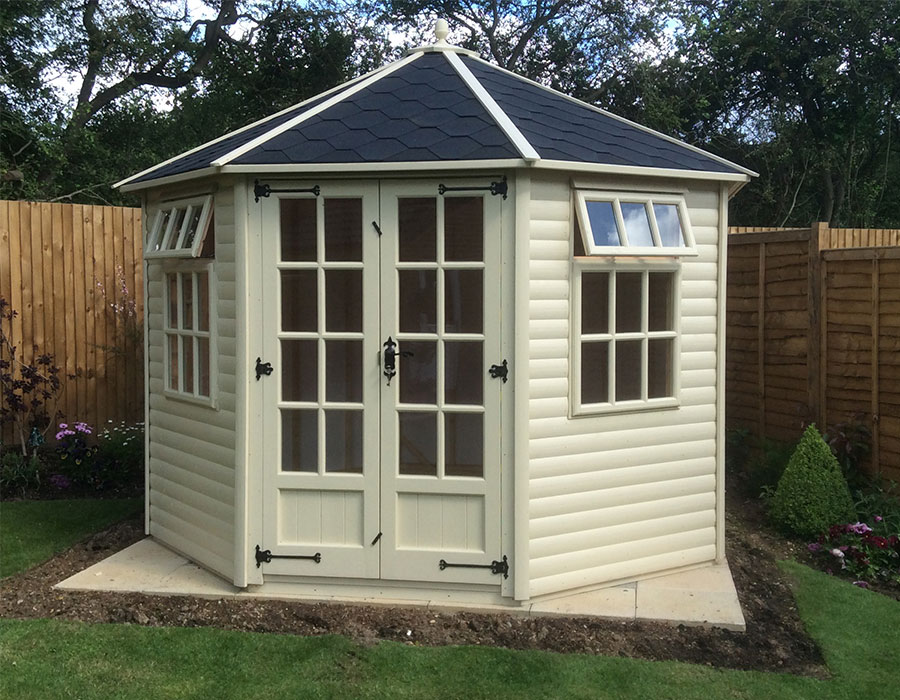 This shed surely strays away from the classic and predictable design, considering its dynamic geometric shape, but it does bring a fresh perspective to the traditional backyard shed!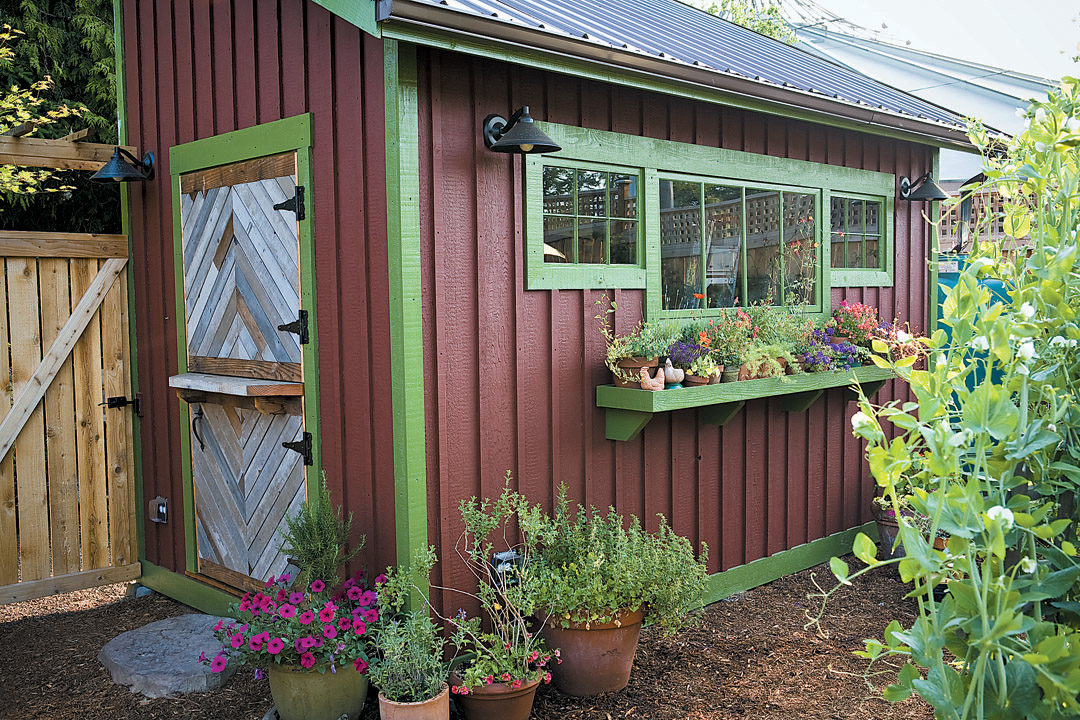 Choose a darker shade of red for your wooden backyard shed and add a trim of radiant green, to create a colorful symphony that honors the traditional build of a shed and brings a hint of novelty to the garden!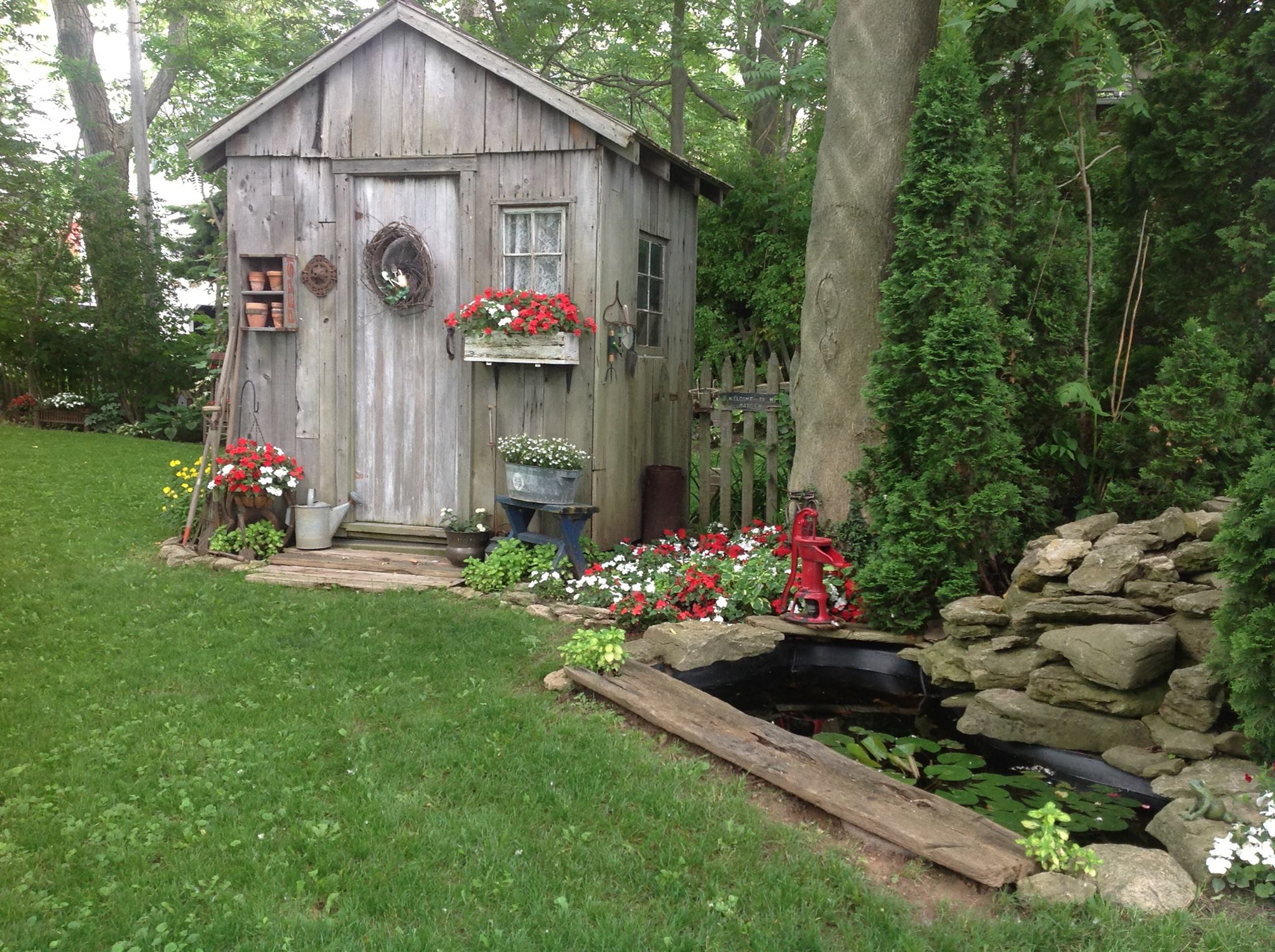 Surround your rustic garden shed with flowers to bring something new into the setting dominated by something old. The rural look of the garden shed will be pleasantly softened by the blooming florals.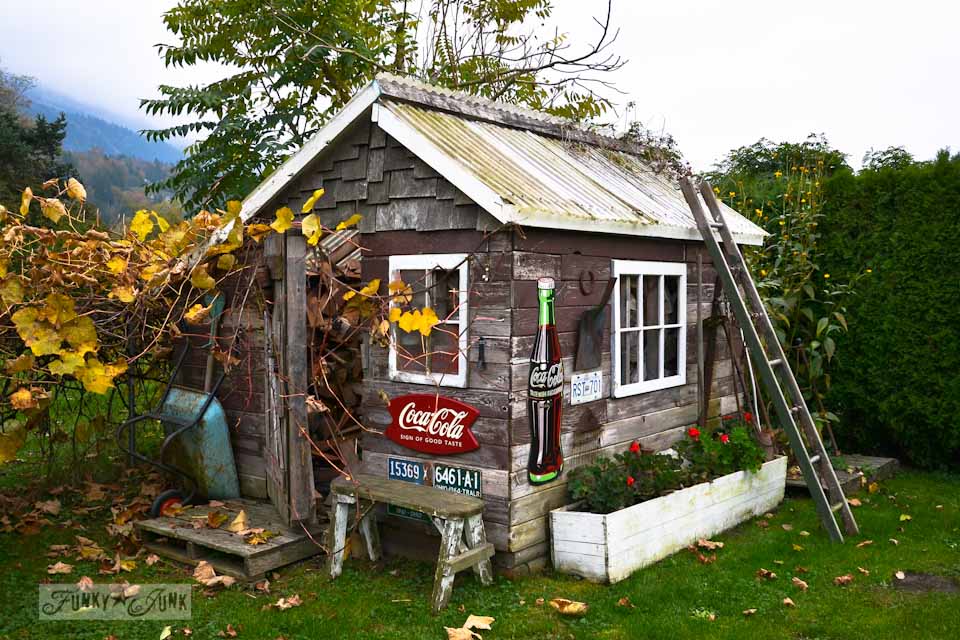 An old rustic garden shed can only benefit from being creatively decorated with a couple of vintage ornaments that add to the overall rural style!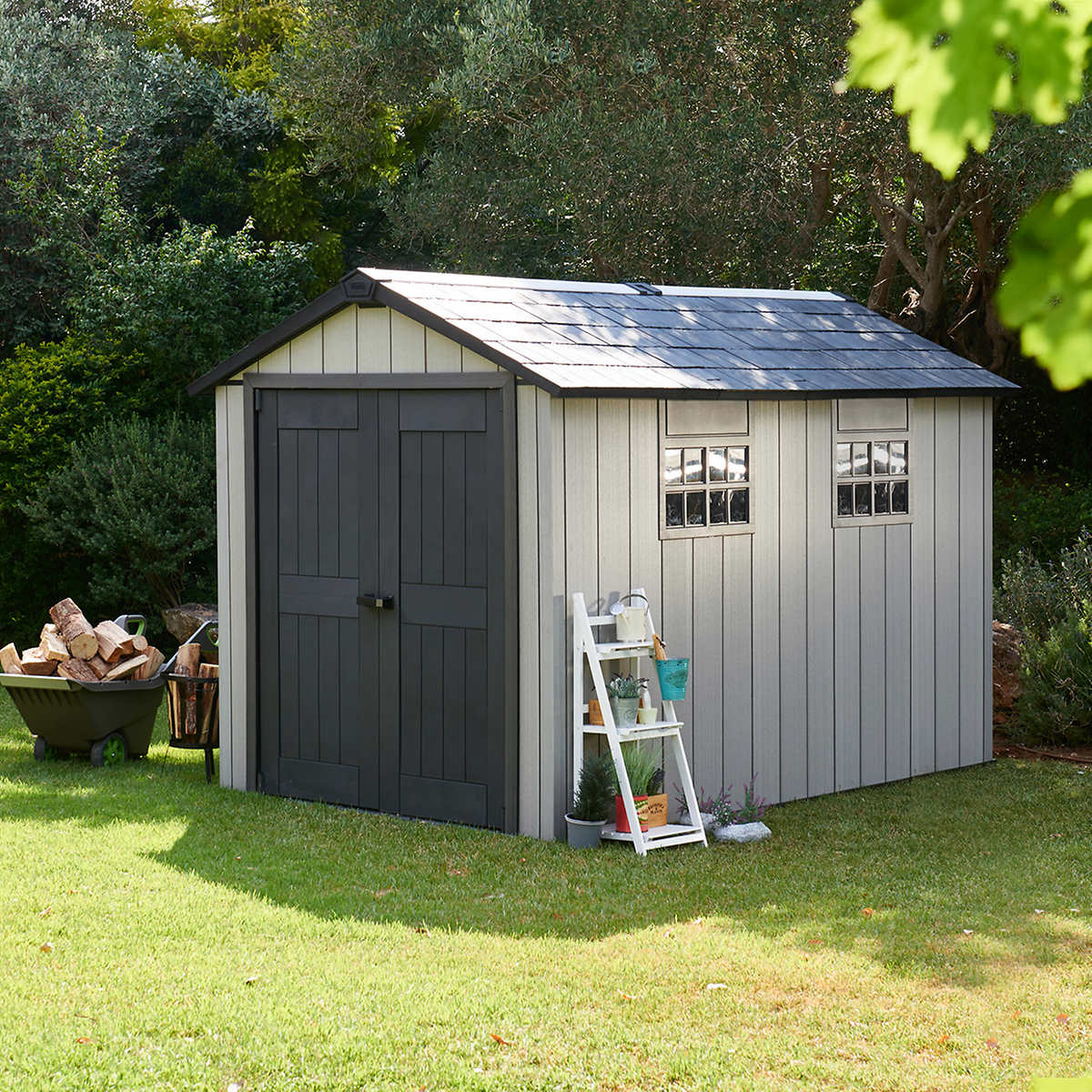 A simple gray shed with a familiar design is a great option for a neat and orderly garden! The subtleness of its appearance will put the greenery in the center of attention and keep your garden looking fresh and balanced.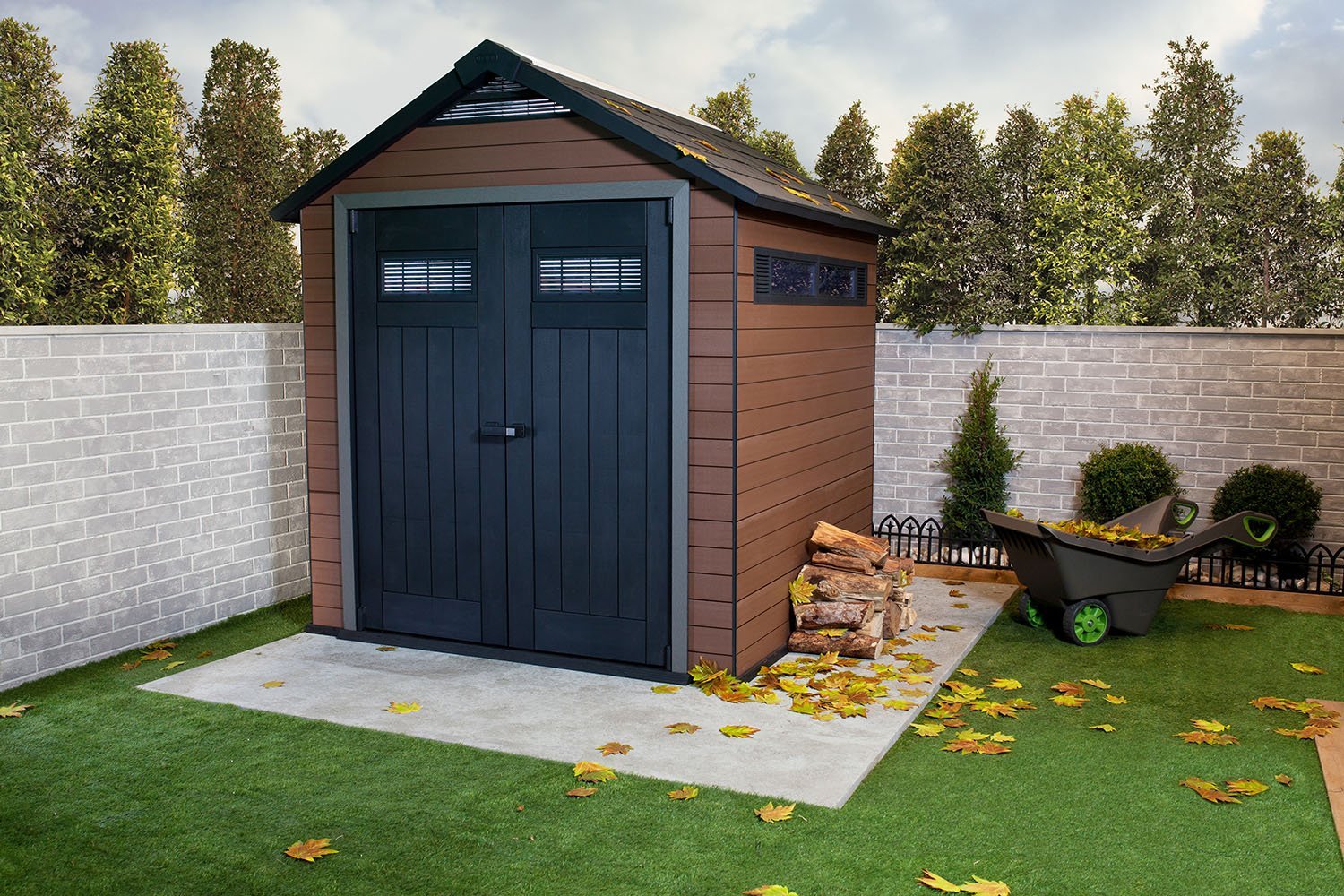 Even an urban garden can have a shed that is inspired by a traditional design. Contrast the bright green color of the grass with a combination of brown and navy blue!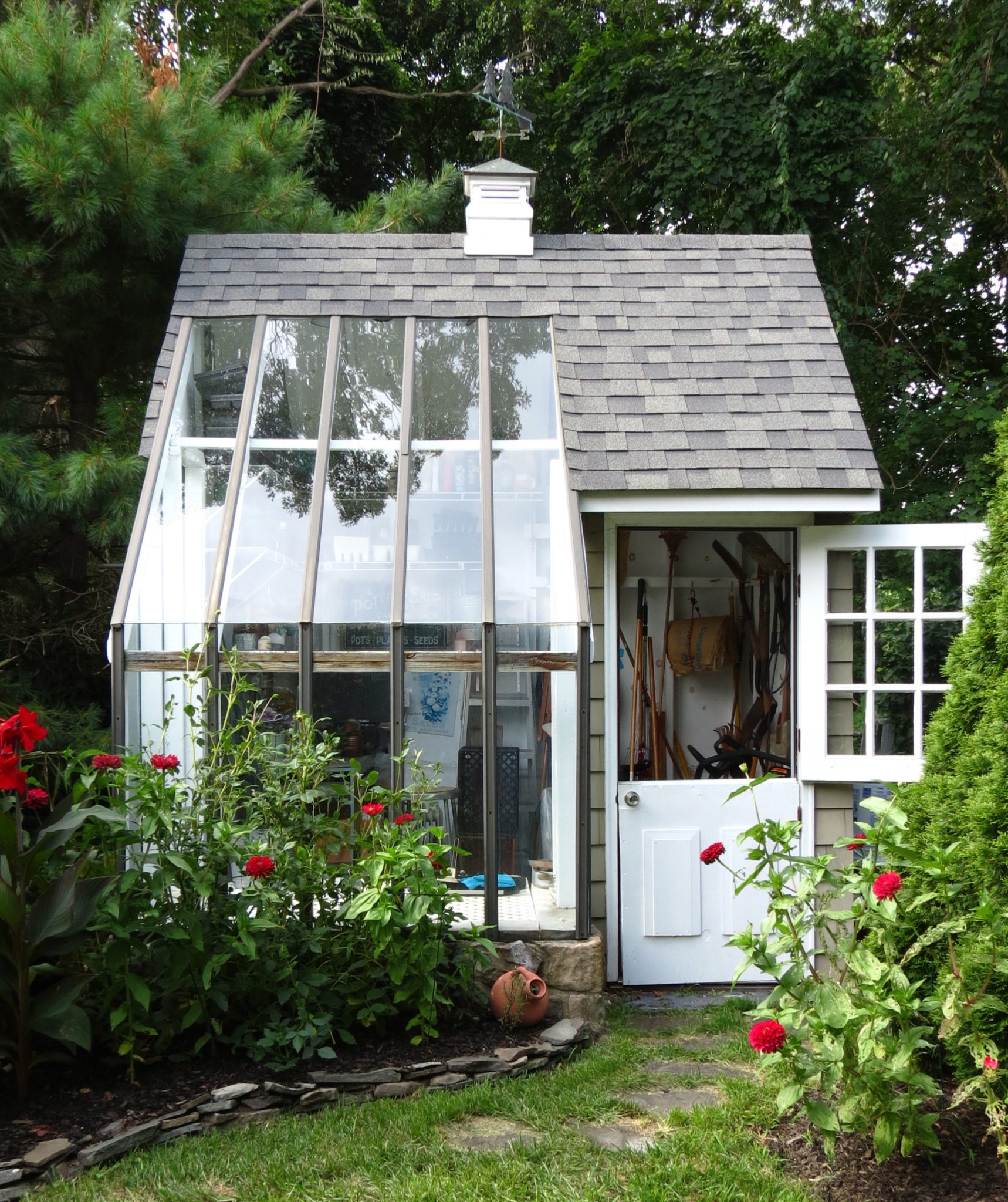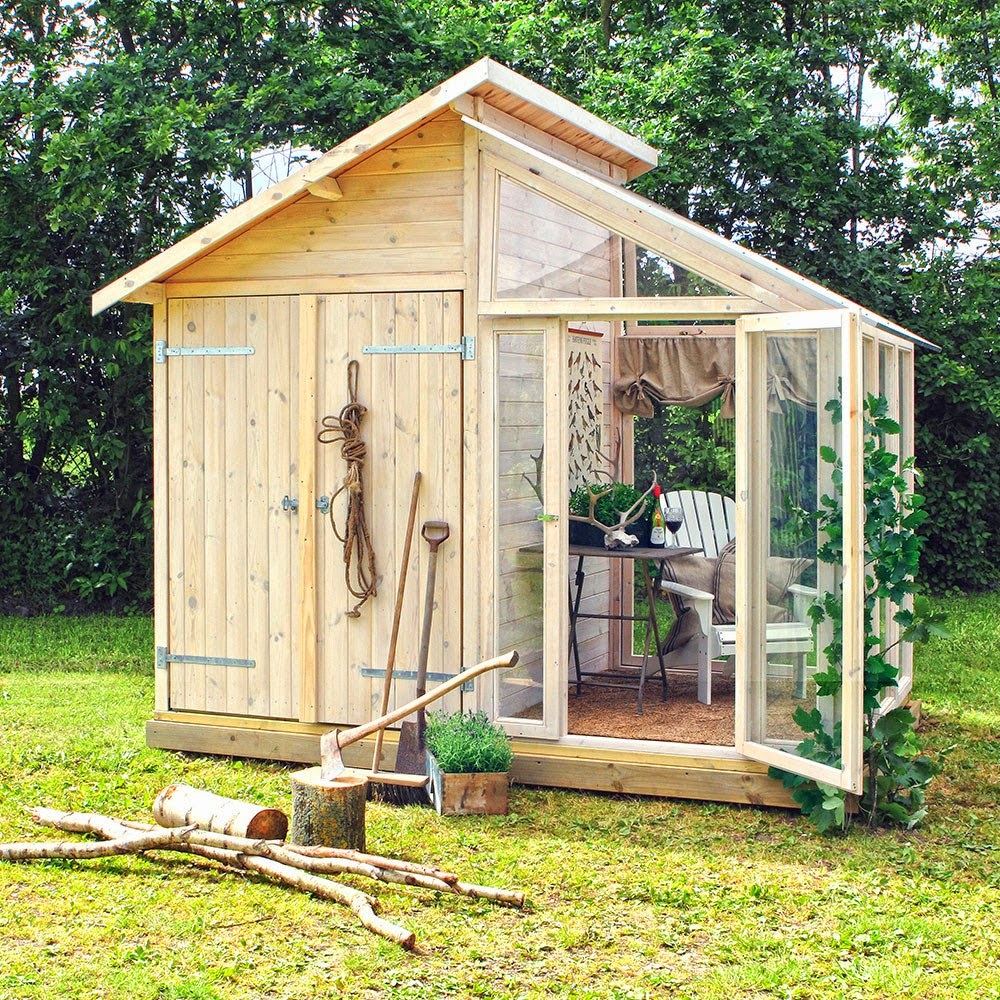 A greenhouse-inspired garden shed is a fantastic place for growing plants or enjoying in the rays of sunlight! If you don't need a full greenhouse, you can only opt for half of it! Keeping one side of the garden shed closed up honores the traditional design, while opening up the other side makes the space feel much bigger and brings a touch of the outdoors inside the shed too.
Modern Garden Sheds
There are many new garden shed designs that people have fallen in love with, due to their incredible functionality or a refreshing look. A garden shed can now be turned into an art studio or a home office with a beautiful interior decorated by the latest trends, matching the stunning modern exterior!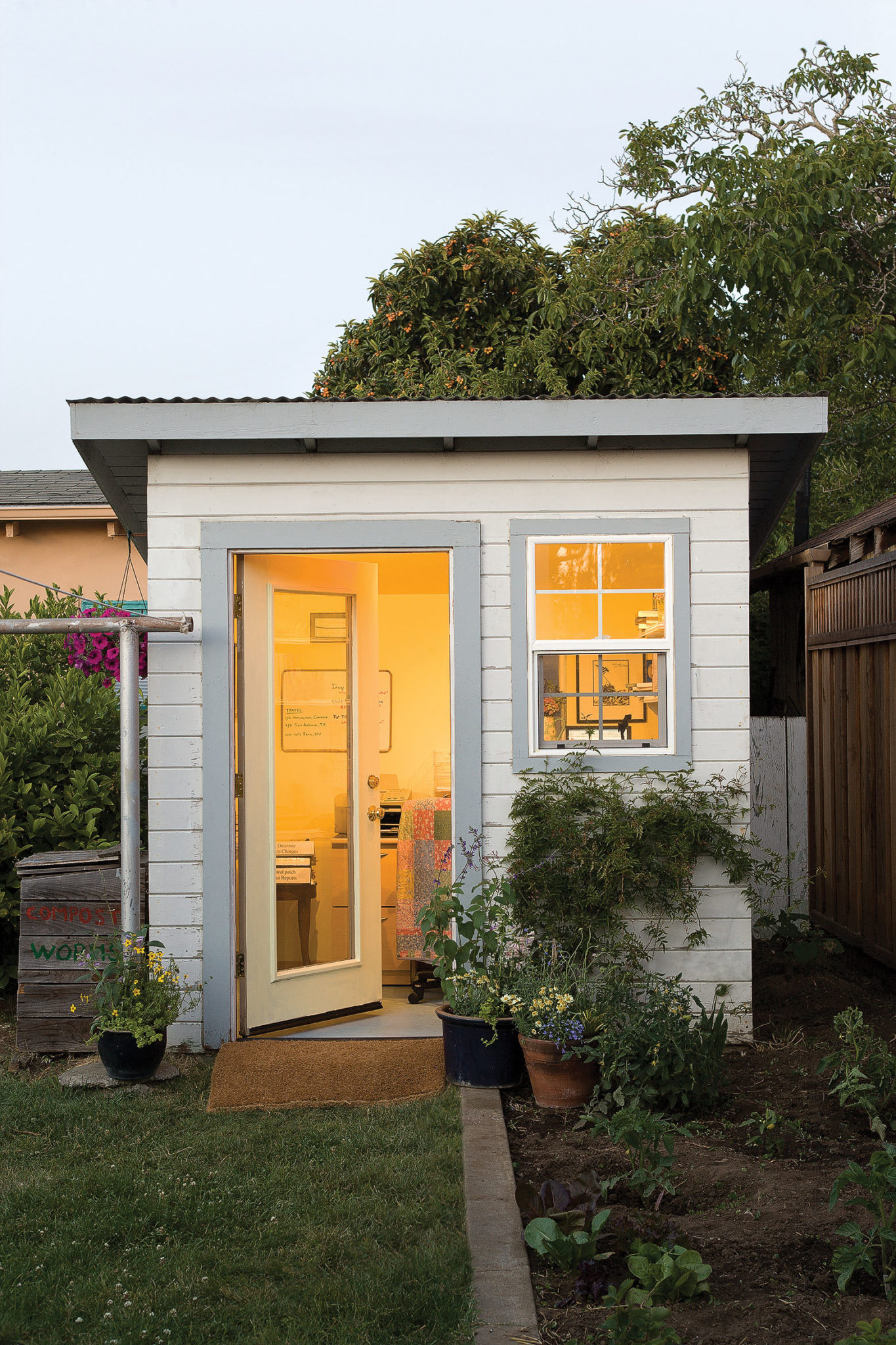 White is a great color choice for a modern garden shed, because it creates a clean and fresh exterior that visibly stands out in the yard! Combined with a gray window trim, the whole shed feels harmonious!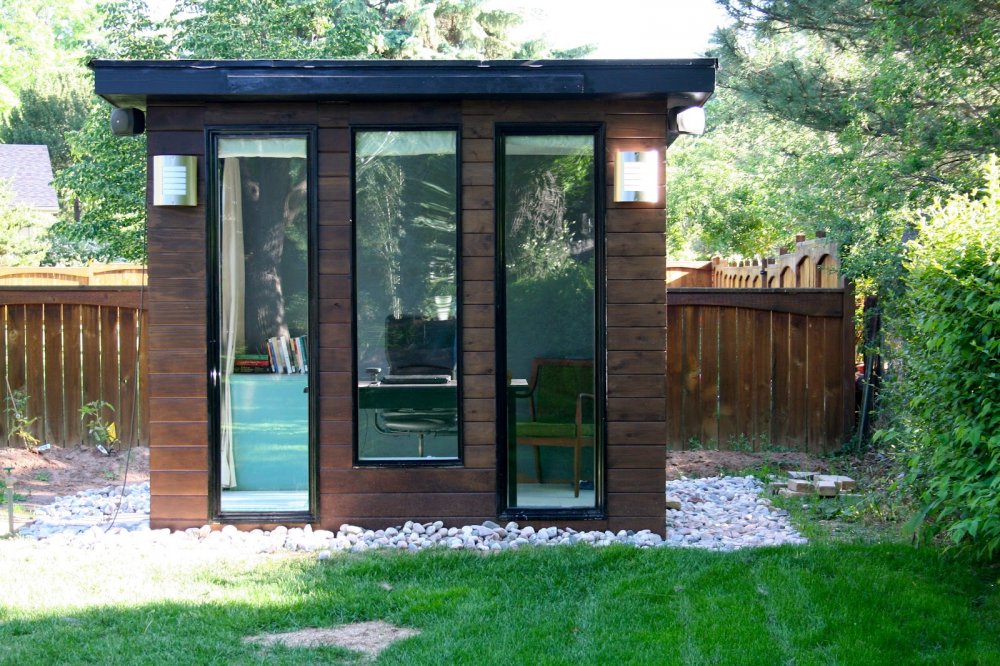 If you'll be using your garden shed as a working area, you'll want to make sure you get a lot of daylight in the little space. Tall windows are a must!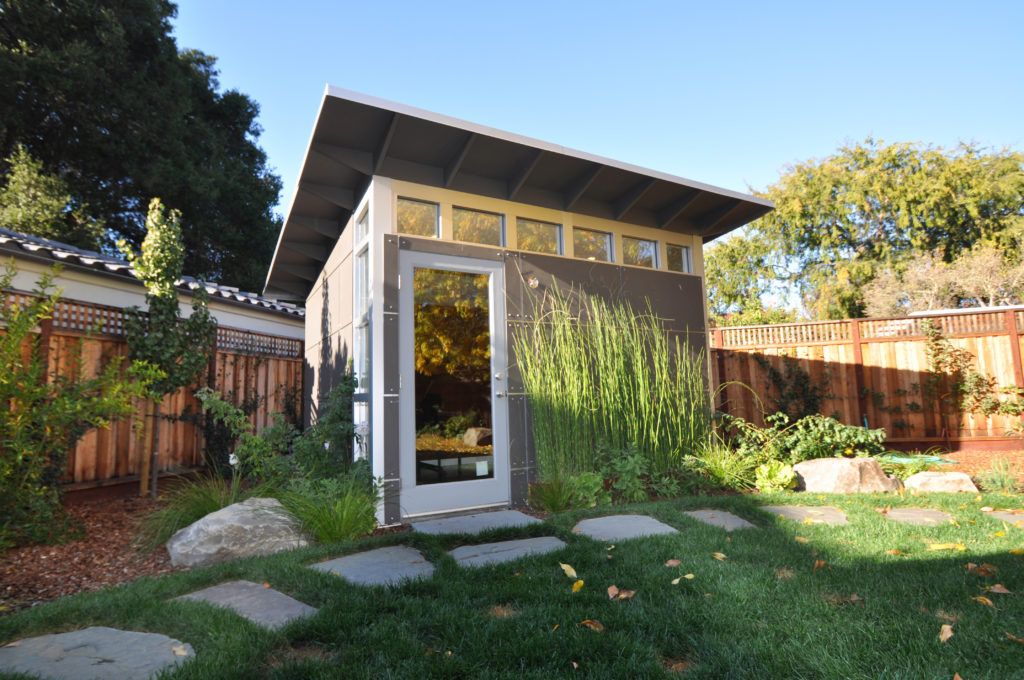 If it was four sizes bigger it would count as a luxurious, modern house, but this time it's just a very stylish and modernized garden shed! It's truly an outstanding piece to have in your backyard!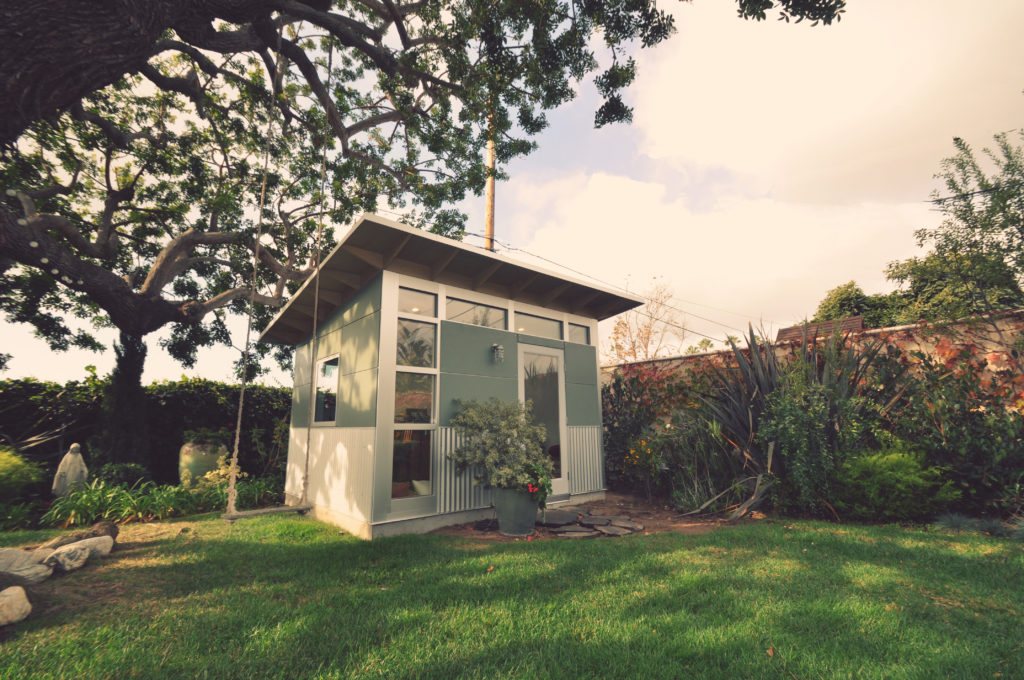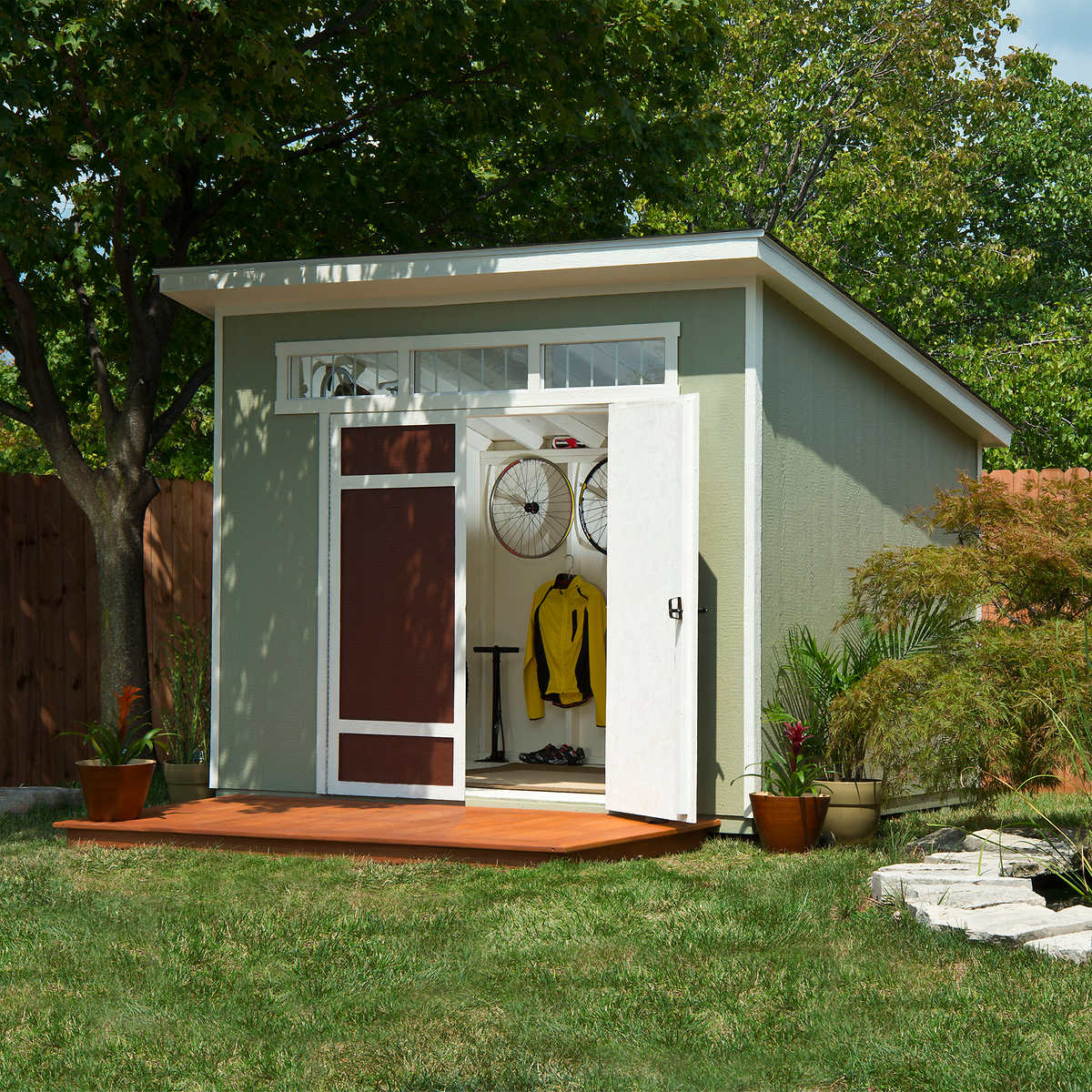 When you choose the colors you can already find in your natural garden for the shed's exterior you instantly assure that it will totally fit into the yard and become an organic part of it. A delicate shade of darkened green is a balanced choice that can always be upgraded with some red wood or a dynamic design.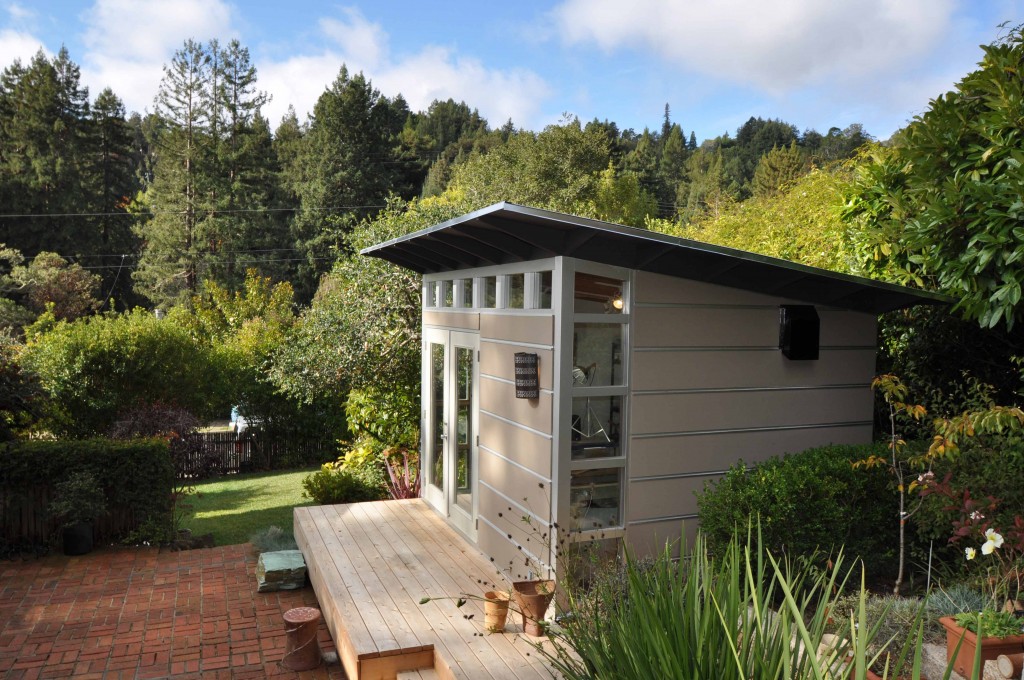 If the space allows, your garden shed can even have its own porch! This creates a beautiful hangout place in your backyard, perfect for social gatherings or peaceful evenings in solitude!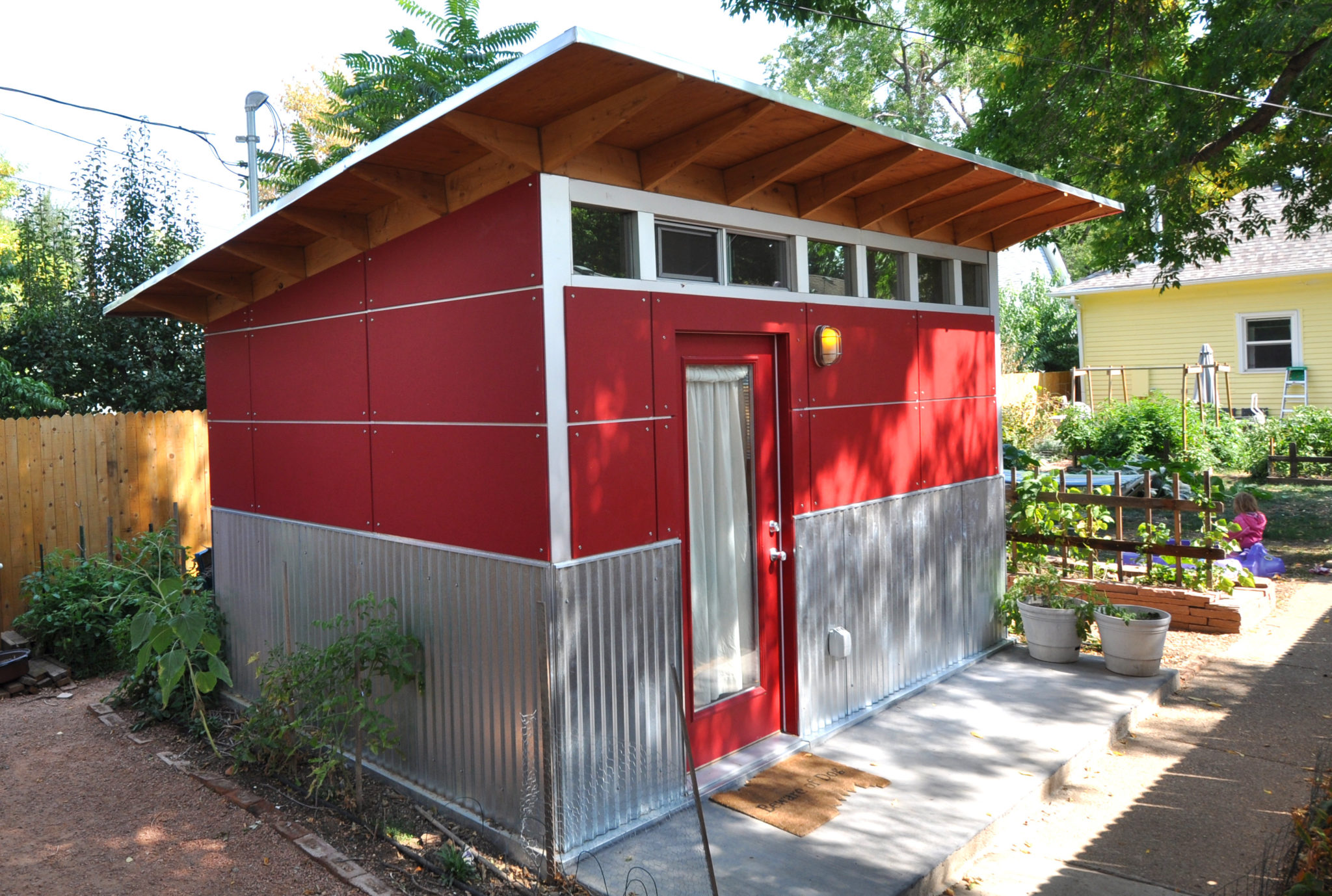 Where some people want their shed to blend in, others only cringe at the thought! To make sure your shed absolutely stands out and is the most vibrant piece on your property, paint it on a bold and bright shade of red that can be seen from far away!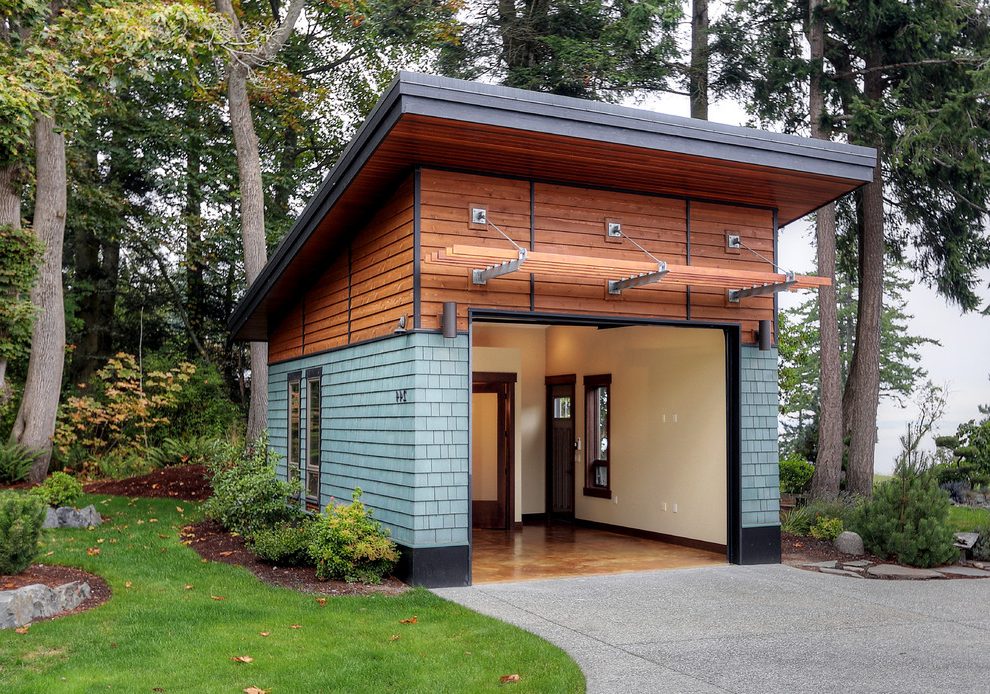 Whether you repurpose a garage or build a garage-inspired garden shed from scratch, the result remains the same: a unique and original element in your backyard that represents the latest modern decor concepts.
Fairytale Garden Sheds
Some garden sheds have such an incredible charm they look like they've just escaped a fairytale. They look mysterious and inviting at the same time, like a secret you can't wait to uncover!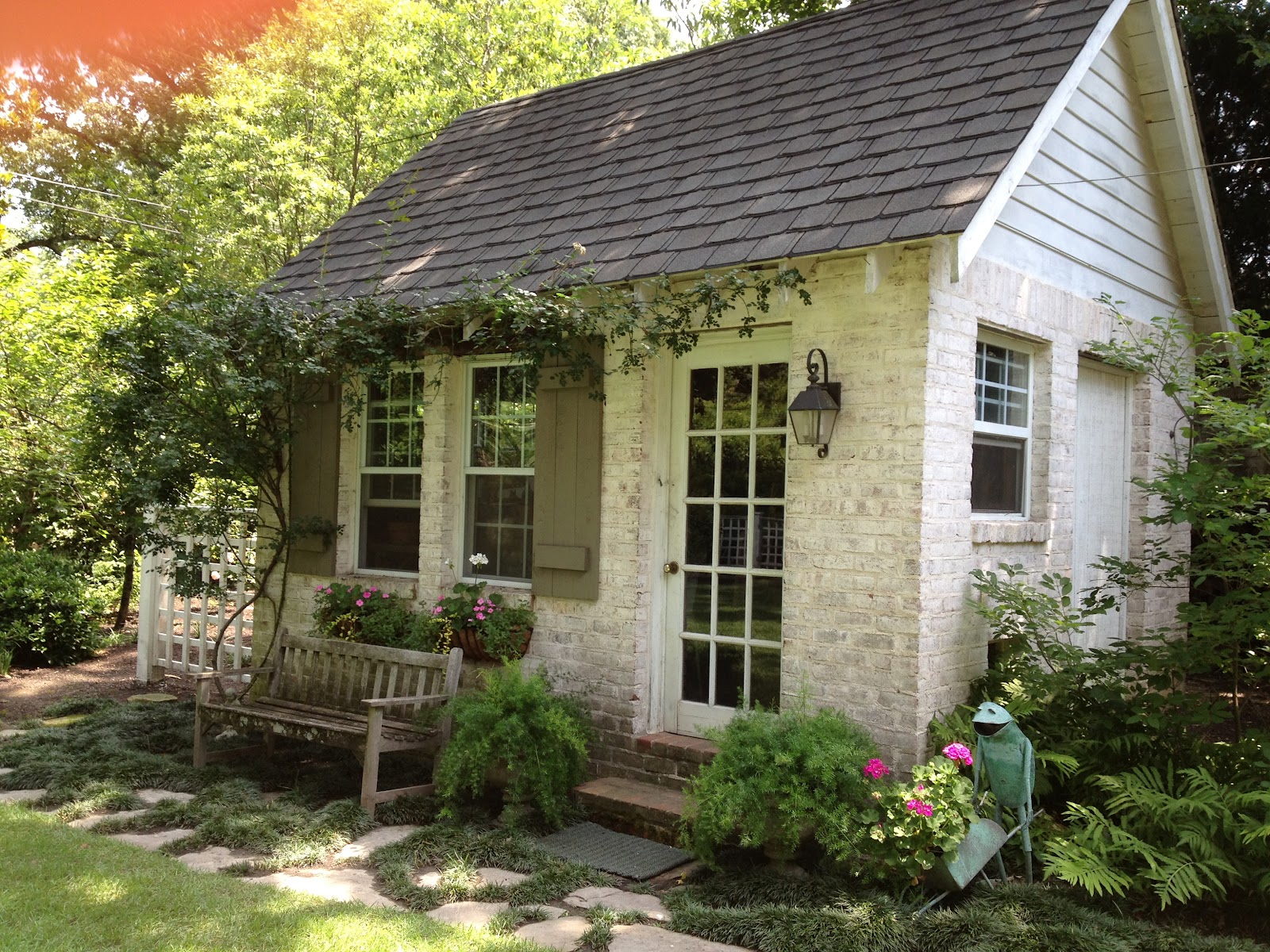 A little stone shed is a welcoming element that has the power to leave every guest speechless, not to mention inspire you every single day! Because stone is such a natural element the greens surrounding the shed are all the decor it needs!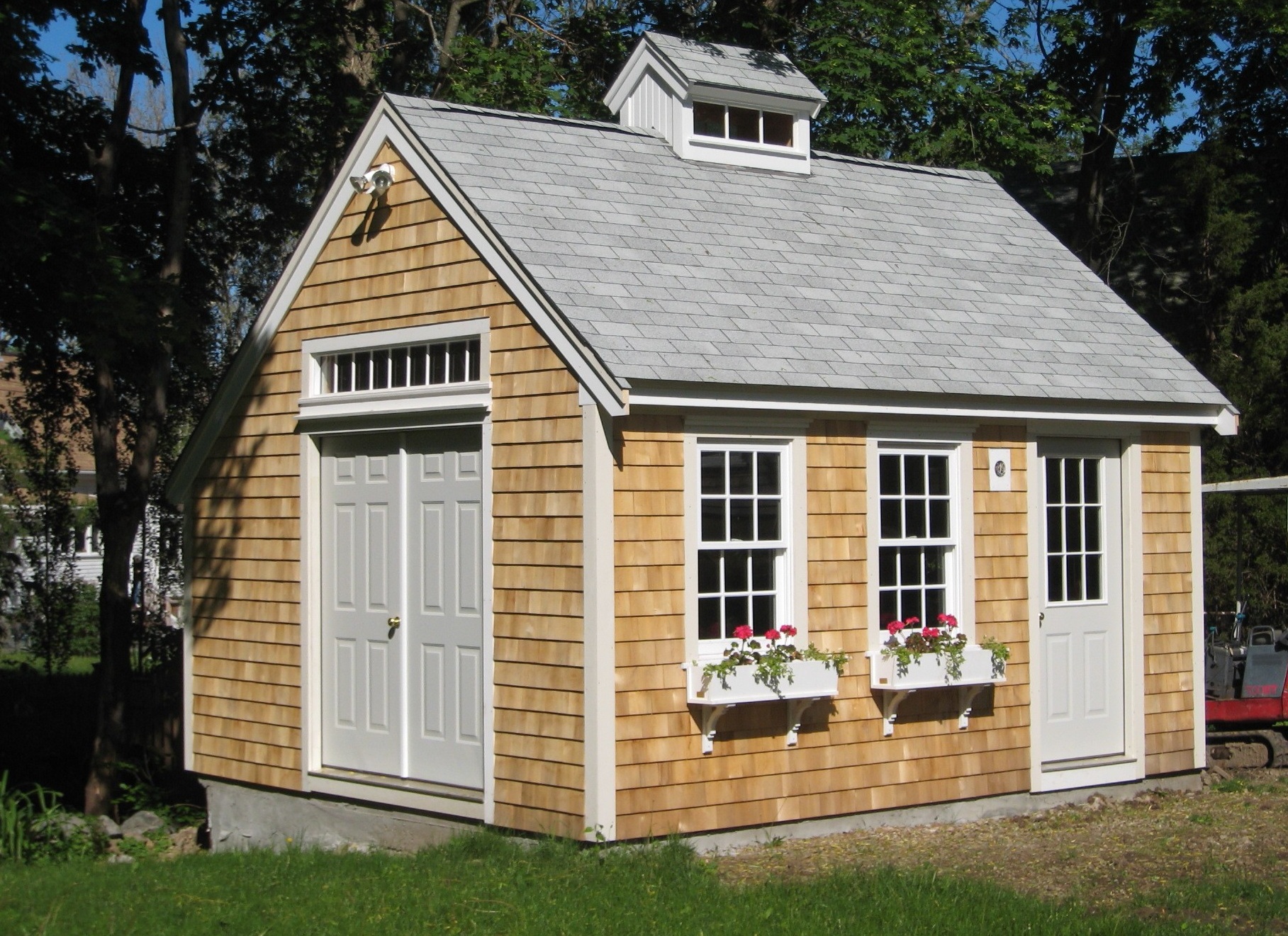 This simple house-like garden shed almost feels like someone may be living in it, probably thanks to the charming flowers carefully placed on the window sills!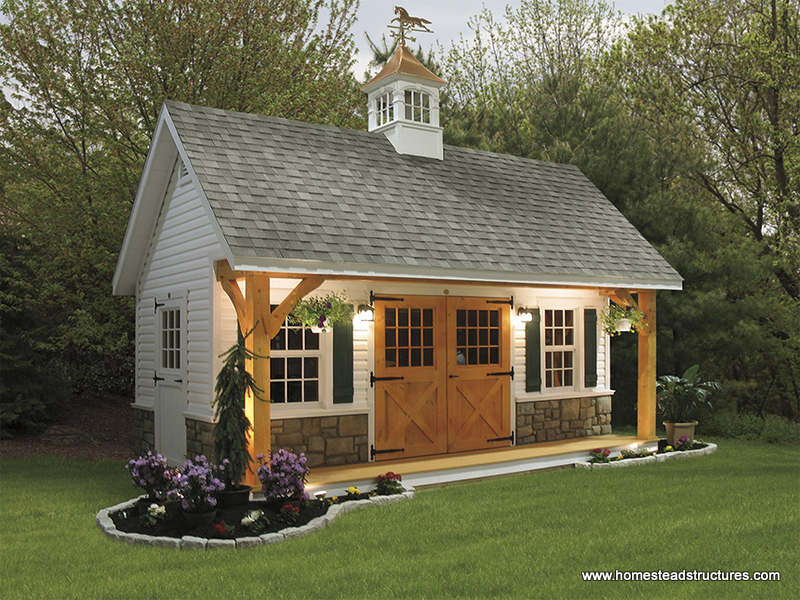 Even a bigger garden shed can have a comforting presence. The wooden beams and barn doors channel the countryside and are undoubtedly the most familiar elements of rural exteriors.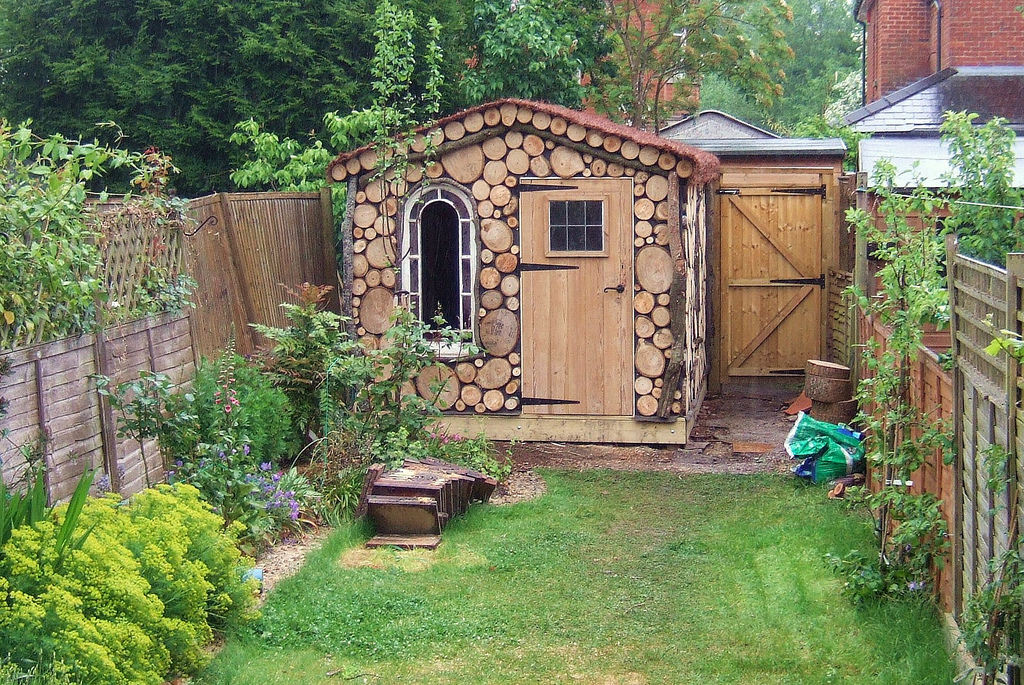 To make certain that your garden shed will be a good fit for a small backyard, pick only natural materials for its exterior and create an unforgettable element that isn't only functional, but also carries a strong feeling of authenticity!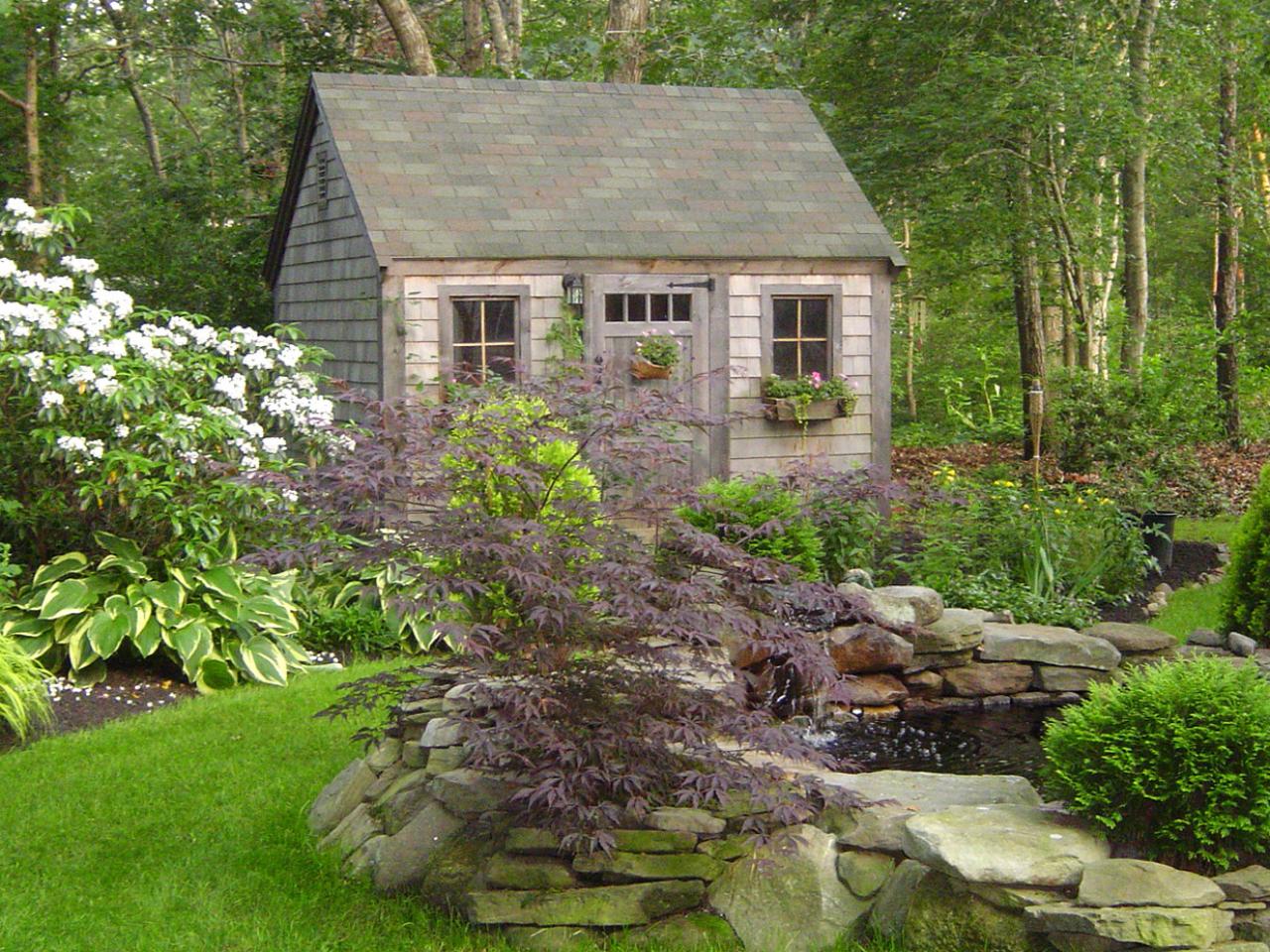 You can choose a more obscured place for your fairytale garden shed and so emphasise its mysterious energy and secretive ambiance!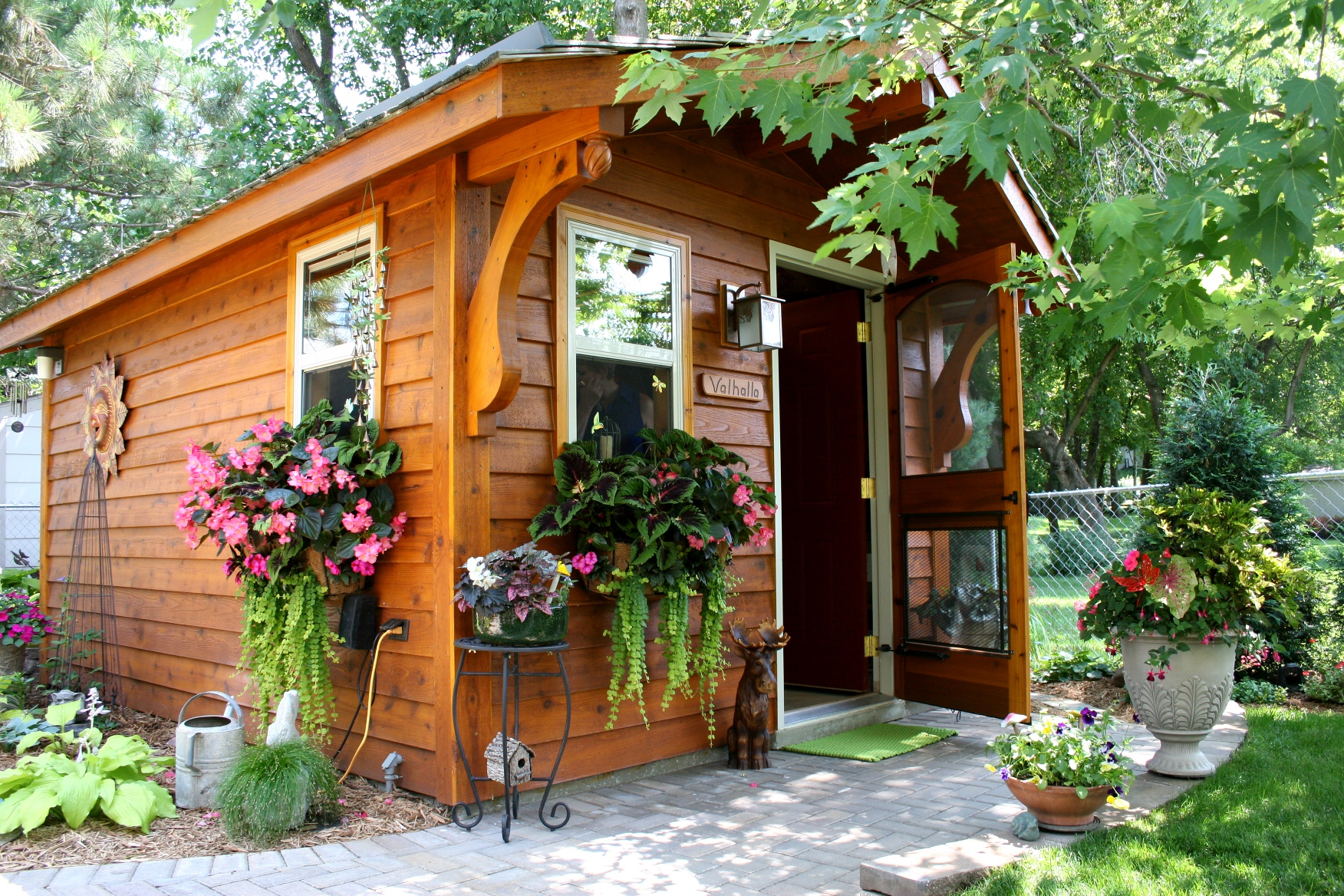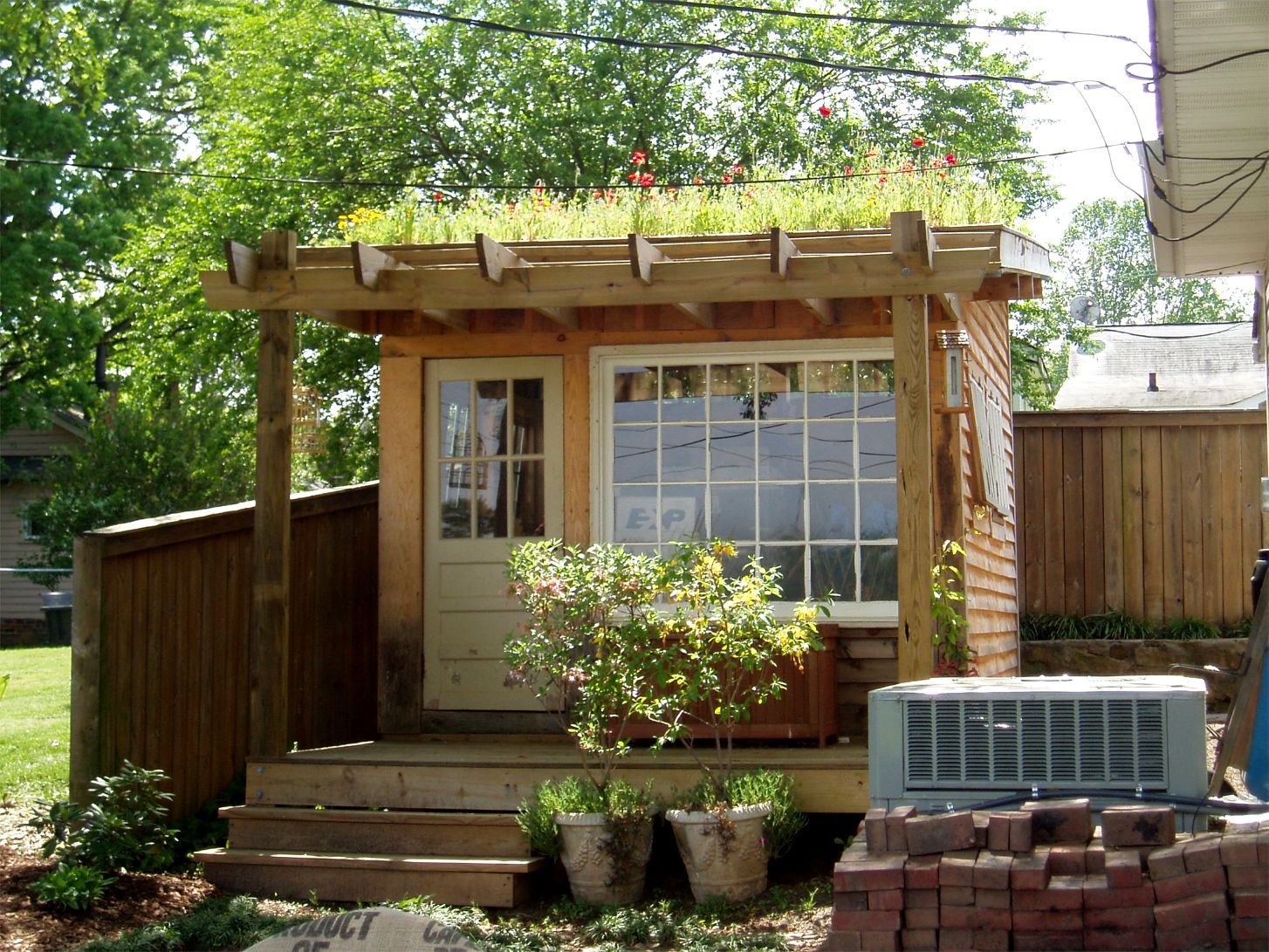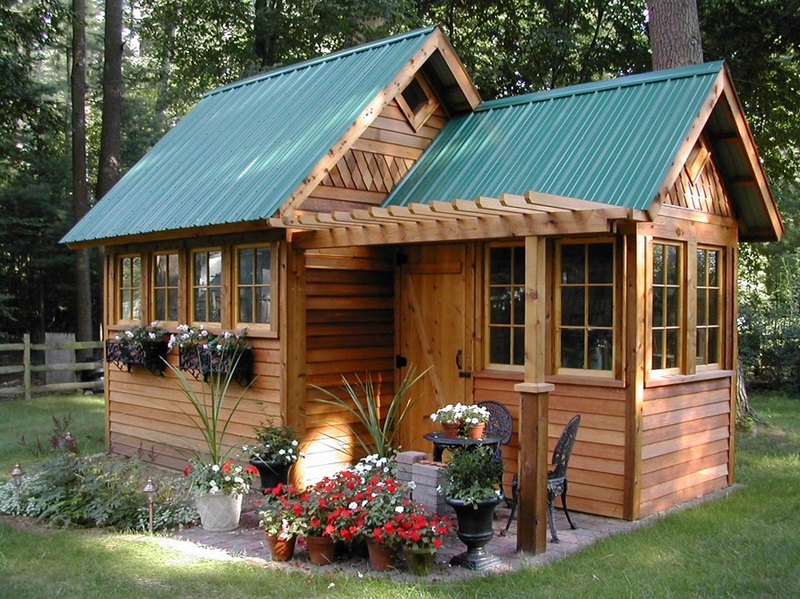 Rustic wooden garden sheds carry a charm like no other! Whether they have very few windows or tend to let in more light, they feel tiny and cozy, much like a safe space you'd want to enter at any time. They bring a warm element to your backyard (thanks to their wooden exterior) and because of their simplistic appearance, you can really decorate it with dynamic – using only florals and other plants. This way, even though the garden shed always stays the same, the scenery will always be changing!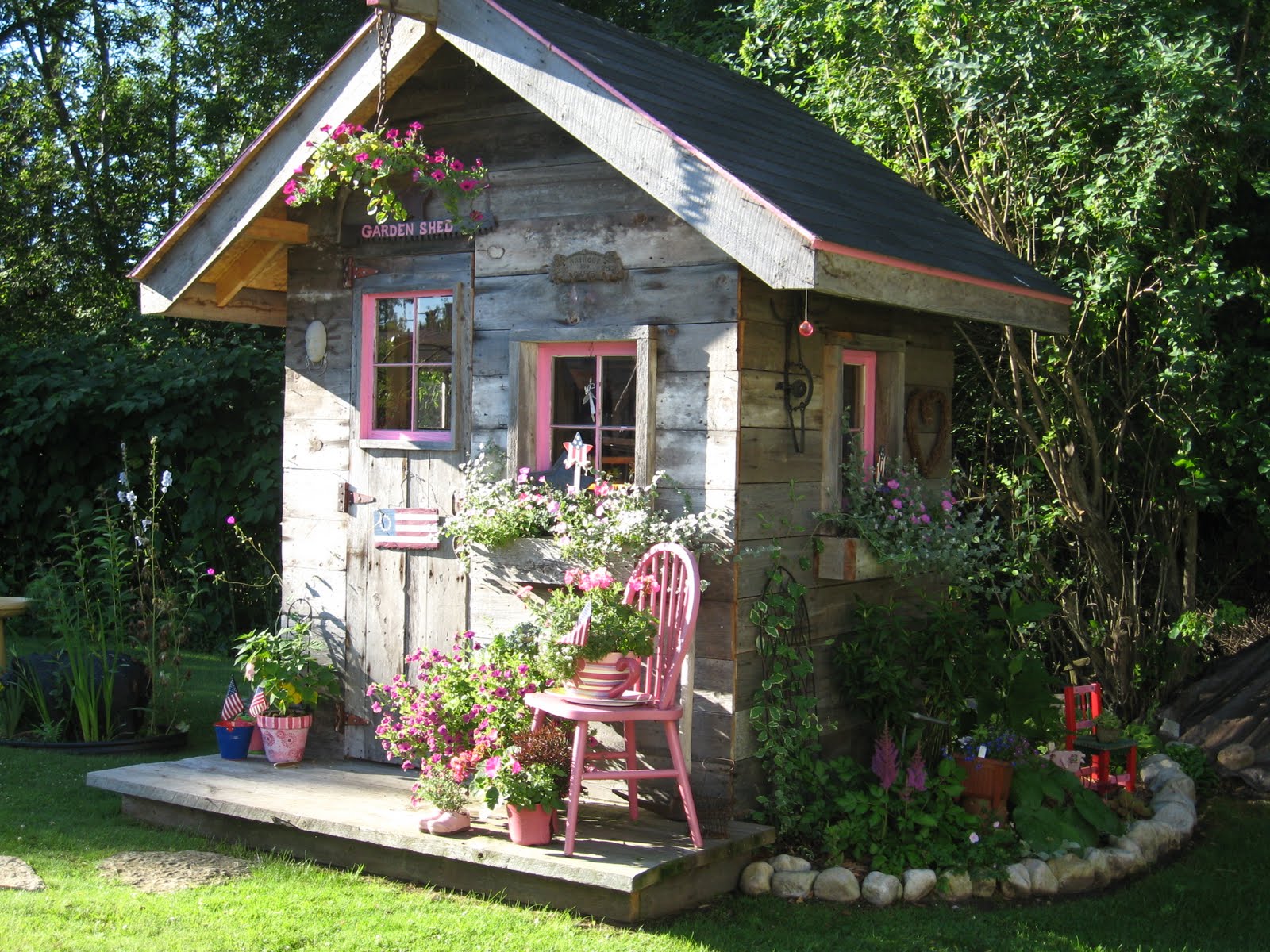 This cute little garden shed is a lovely example of a shabby chic exterior! The paled and rustic look of wood is instantly beautified by the touch of pastel pink!