Here at Decoist, one of our favorite things about fall is the arrival of new and exciting collections from top designers and brands! This season, metallic tones are still going strong, as many of the offerings that follow involve materials such as copper, stainless steel and brass. Today we present three of our favorite new collections, from a set of designer tools for coffee aficionados to an array of furnishings and decor items created with the help of a talented designer and musician. Call this post "design news," because we're wanting to share these unique pieces with the world! Enjoy…
Brew by Tom Dixon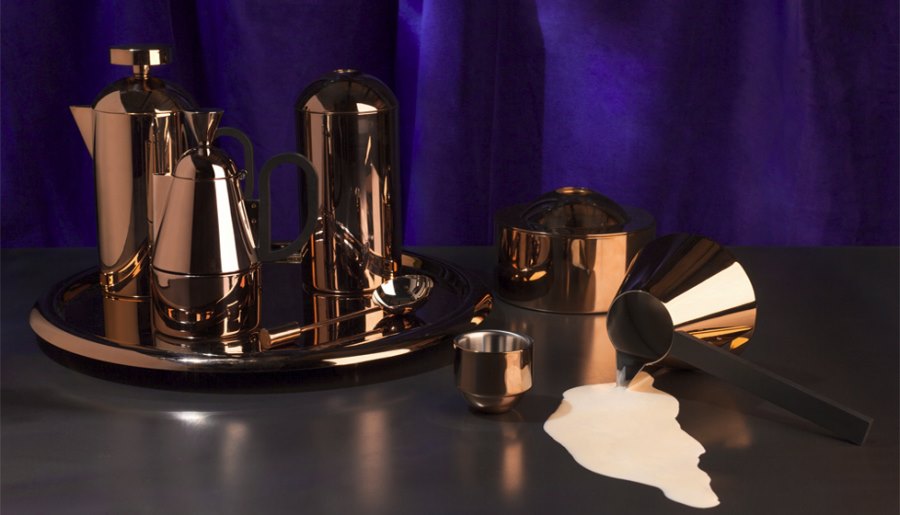 We begin with a coffee collection recently launched by Tom Dixon: Brew. What could be more perfect for ushering in chilly autumn mornings and cold winter evenings? Described as "a massive suite of gleaming tools for coffee obsessives," Brew celebrates "the coming together of heat, steam, water and coffee grounds – a tribute to the mysteries of the modern-day coffee ceremony."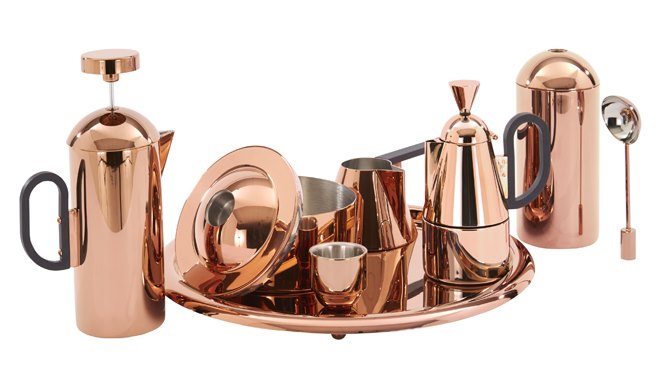 No stage of the coffee ritual is ignored. The collection encompasses every necessity: caddy, scoop, cafetiere, stovetop, milk pan, espresso cups, biscuit tin and serving tray.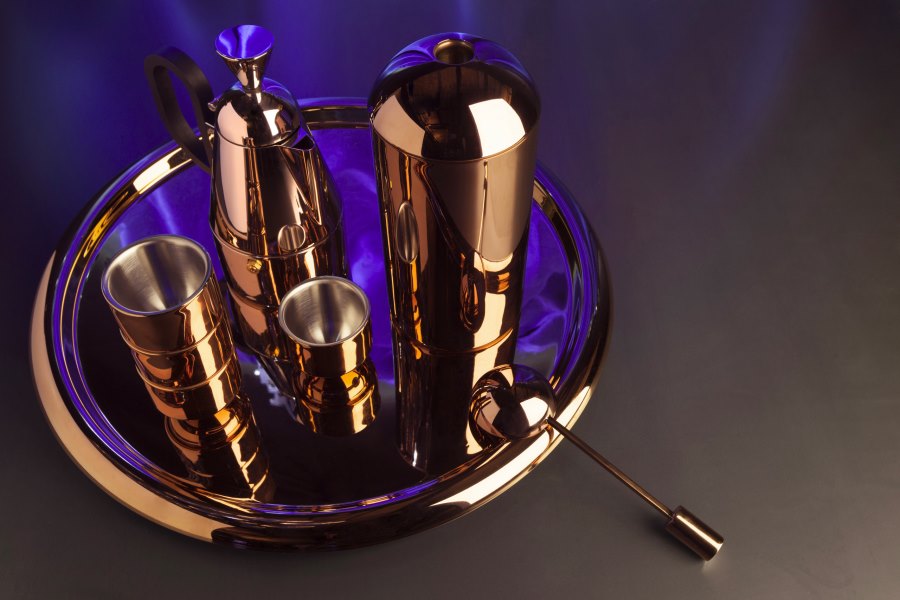 Created from stainless steel coated in vaporized copper, each piece celebrates the beauty of sleek forms, from lines and angles to cylinders and domes. Below we see a few pieces from the collection, including (clockwise from the top left): Brew Coffee Caddy, Brew Stove Top espresso-maker, Brew Espresso Cups and Brew Cafetiere.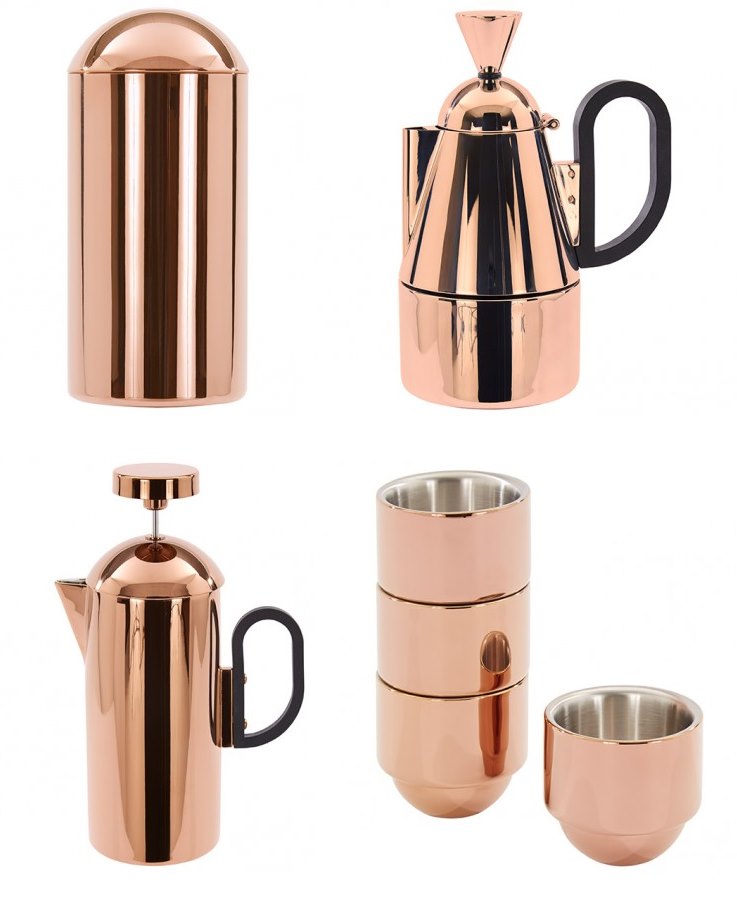 If you're not a big coffee drinker, this collection just might change your mind. There's no shame in being in it for the design!
CB2 x Kravitz Design by Lenny Kravitz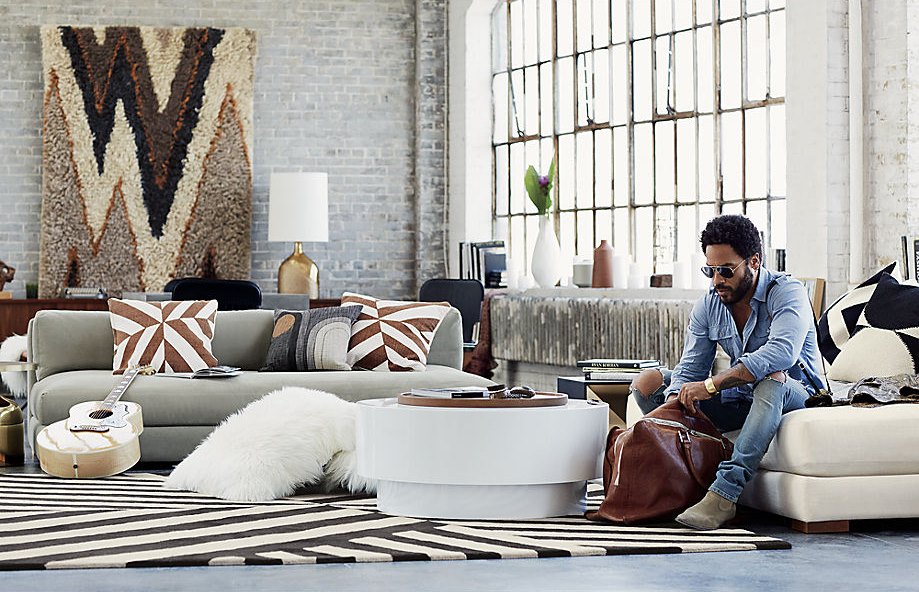 If you thought the new collection by CB2 and Lenny Kravitz was the musician's first foray into interior design, you'll be delighted to learn that Kravitz is a seasoned designer who founded high-end company Kravitz Design in 2003. And if you're already a fan of his design work, you're likely to be a fan of the collection as well.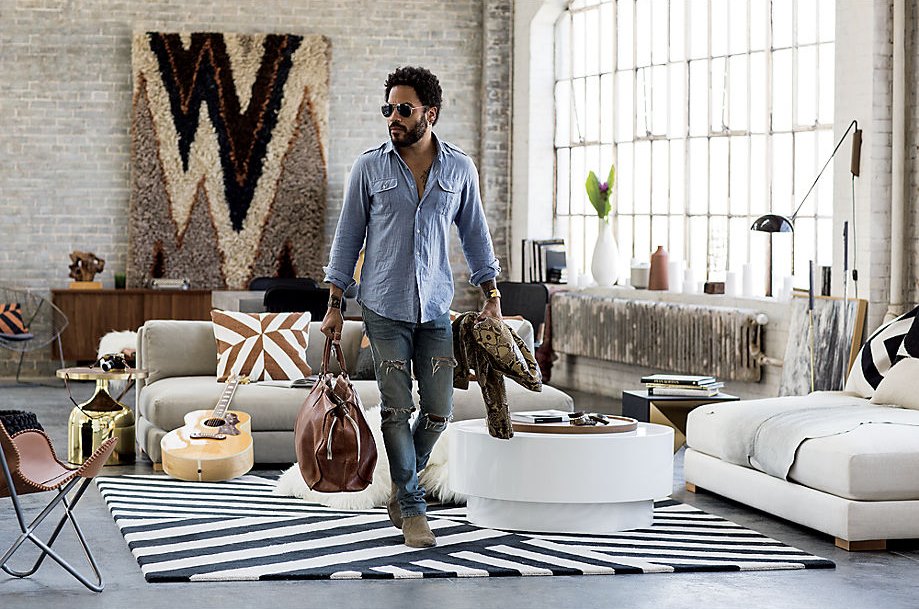 We're grateful for pieces that put a new twist on popular design trends. One hot item from the past few years: the black and white rug. Kravitz Design's and CB2's version features alternating black and white bands at unexpected angles. Say hello to the Changes Rug: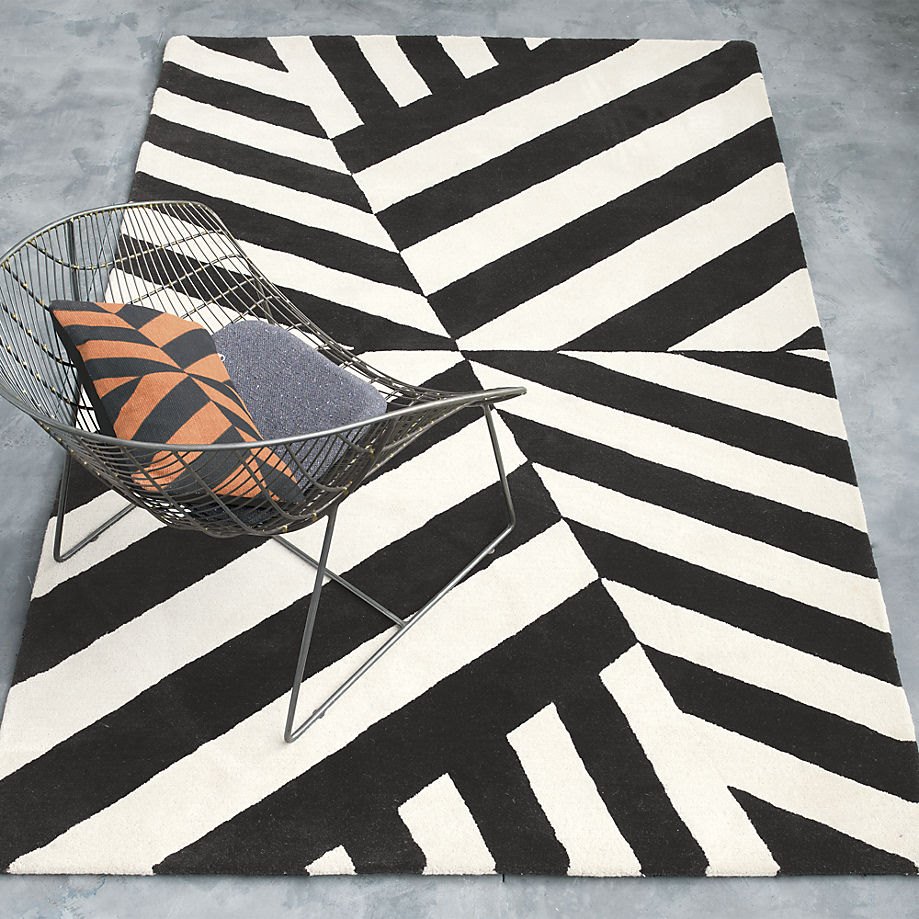 There's something very glam about Kravitz' and CB2's designs and motifs. In fact, the collection merges '70s New York studio club culture with the California rock 'n' roll scene. Throw in a global influence inspired by Kravitz' own travels, and you have a shiny yet earthy array of offerings showcasing materials such as natural woods, leather, lacquer and brass-plated sheet metal.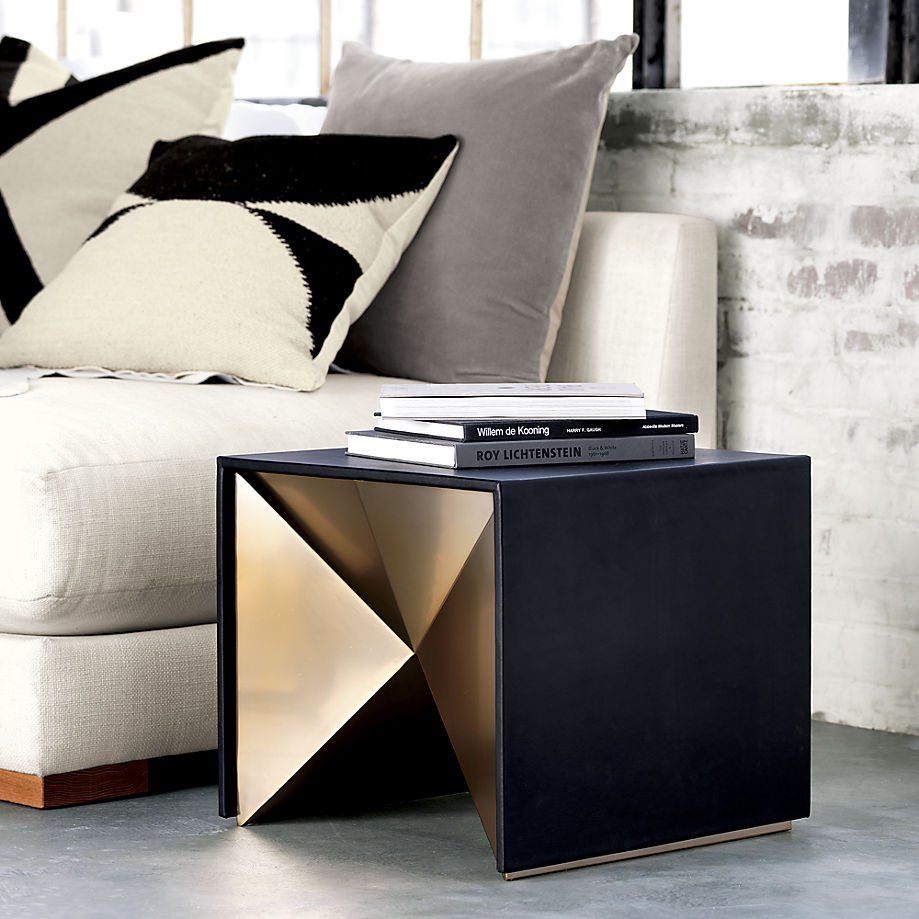 Above we see the Nova Side Table, and below we get a glimpse of the Changes Console. Note the geometric motifs, bold angles, and clever combination of materials such as metal and lacquer.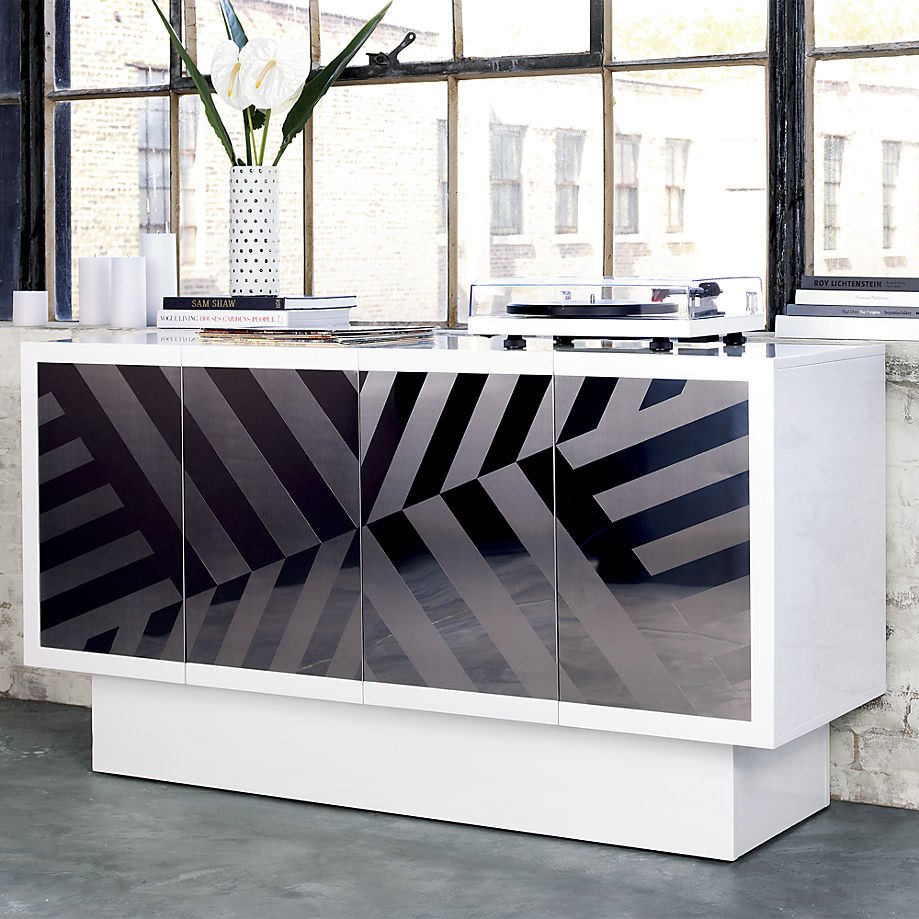 While there is definitely an air of glamour in the collection, there is also a focus on comfort. Kravitz Design notes, "The collection crosses many different styles and environments, but everything is inspired by comfort…feeling good in your environment." Below we see a collection of pillows that represent the ultimate combination of elegance and comfort: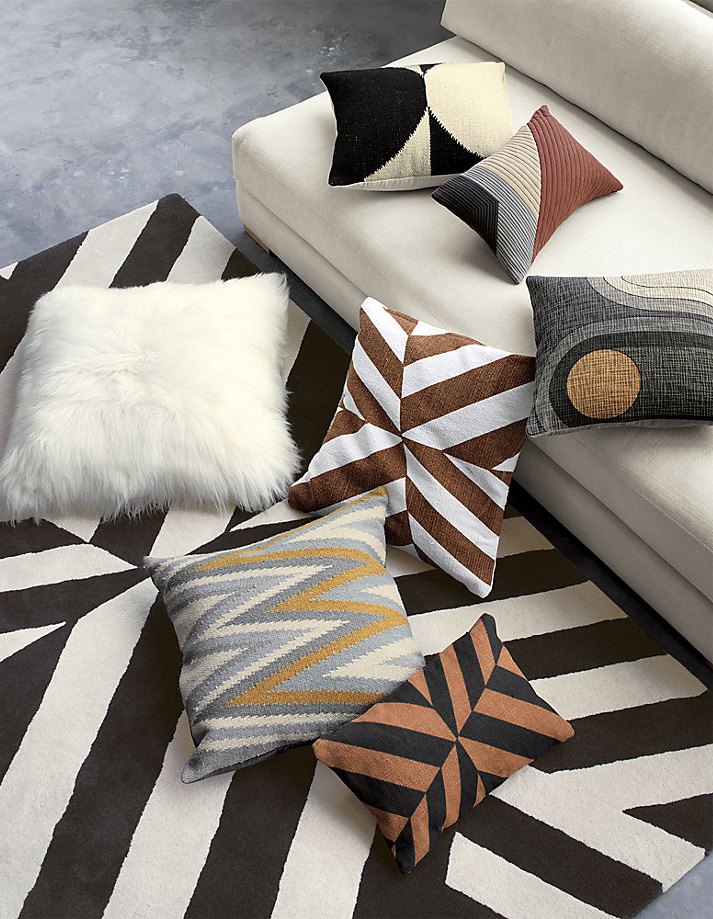 Check out the entire CB2/Kravitz Design by Lenny Kravitz Collection to see more interesting offerings (like the Rake Black Nickel Chair featured in the next image). Happy shopping!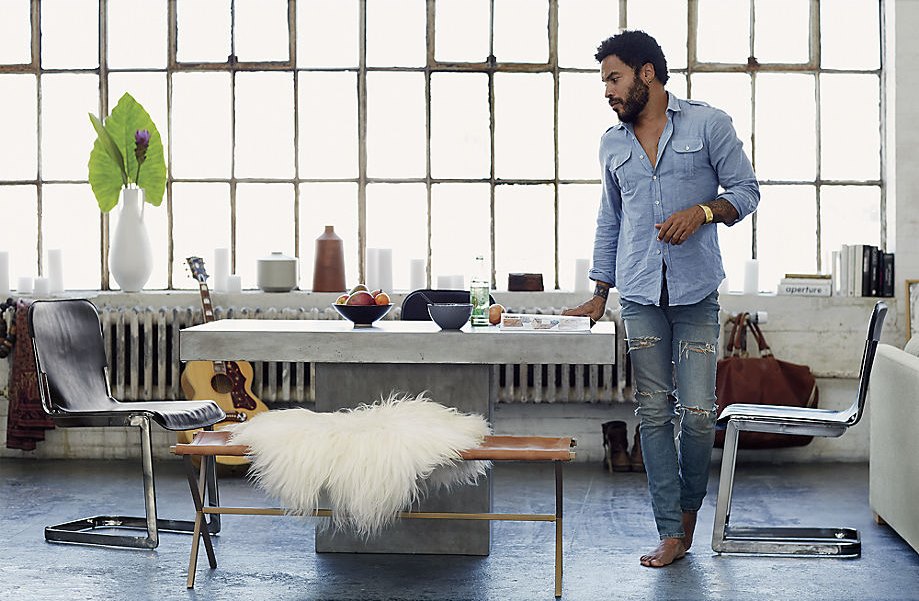 The Christmas 2015 Collection from ferm LIVING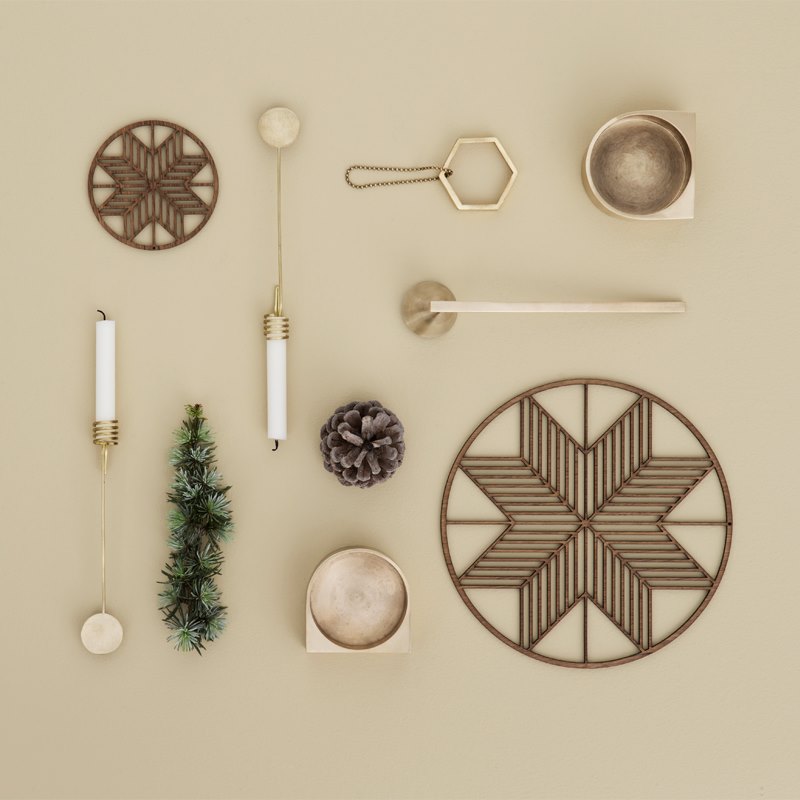 Each year we eagerly anticipate ferm LIVING's new holiday collection, and this year it's all about geo forms and a modern take on Scandinavian flair. Blending favorites from the 2014 collection with stunning new pieces, the Christmas 2015 Collection is nothing short of striking…and we've got the product shots to prove it! The ornaments below reveal how simple forms and materials can make as big of a holiday statement as tinsel and frost: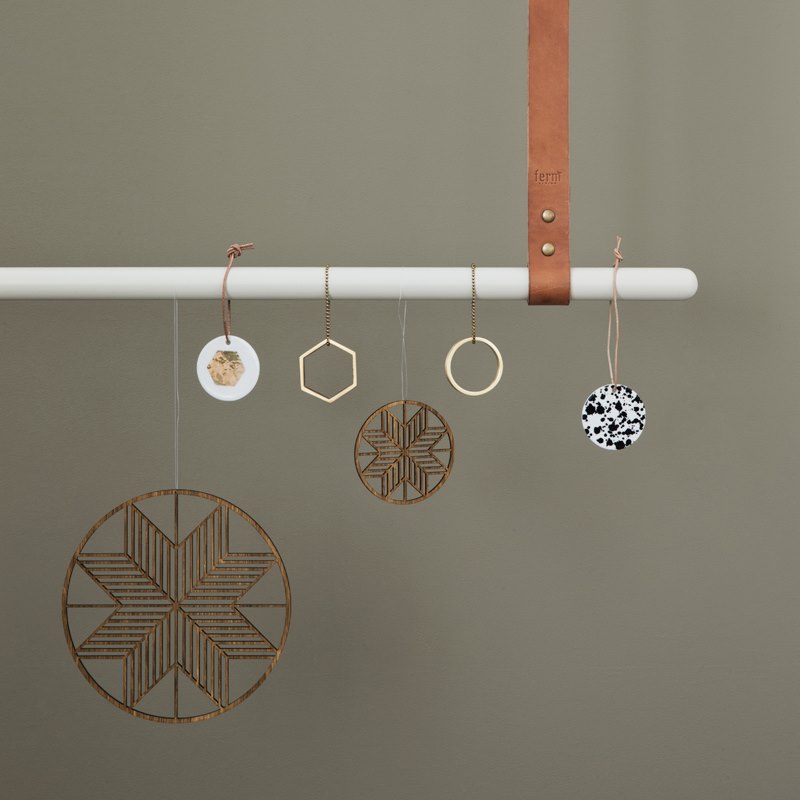 Instead of displaying all of your ornaments on the tree, try hanging a selection of your favorites from this Candle Holder Circle. You can hang it as shown below or feature it as the centerpiece of your table. The best part: this piece doesn't have to be packed away once the holidays have come and gone!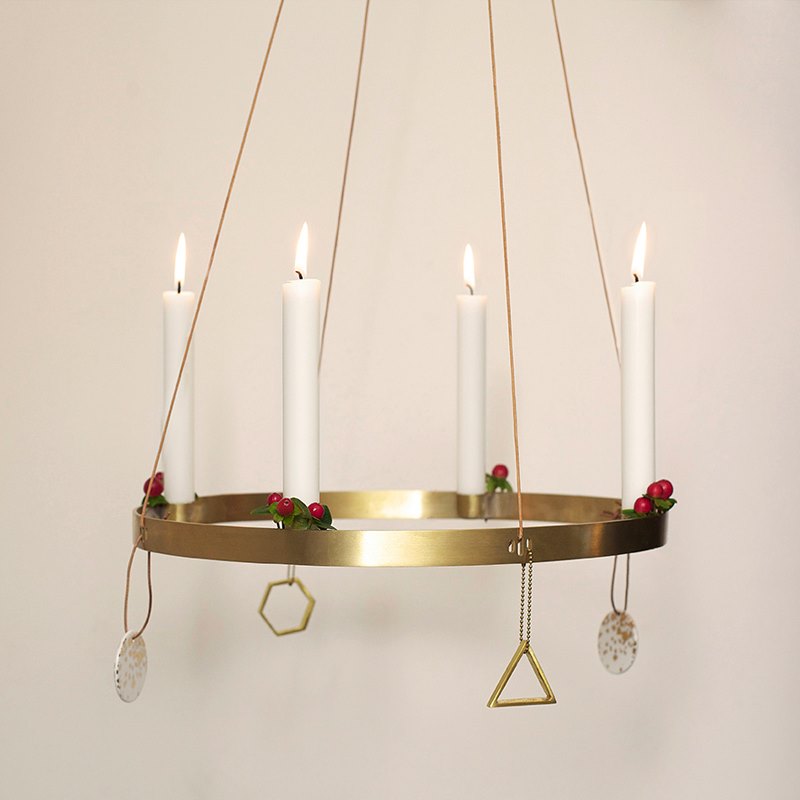 We're loving the use of colors such as rusty maroon, cream and deep teal in this year's holiday collection. Clover and rust are two of this fall's hottest colors, and it's no surprise that ferm LIVING is once again leading the pack when it comes to winter visuals. In the next image, we see a collection of Christmas Tree Candle Holders, crafted from solid brass: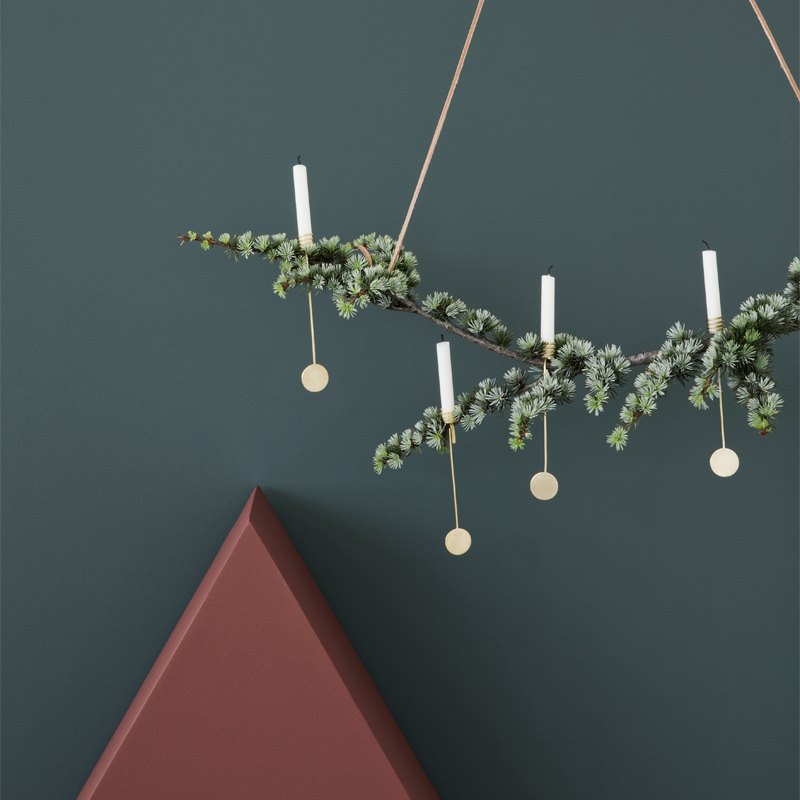 Do you look to product photography to inspire your own seasonal decor? Below is a stocking showcasing the perfect simplicity of grey and white diagonal stripes with black trim. A modern vignette worth admiring!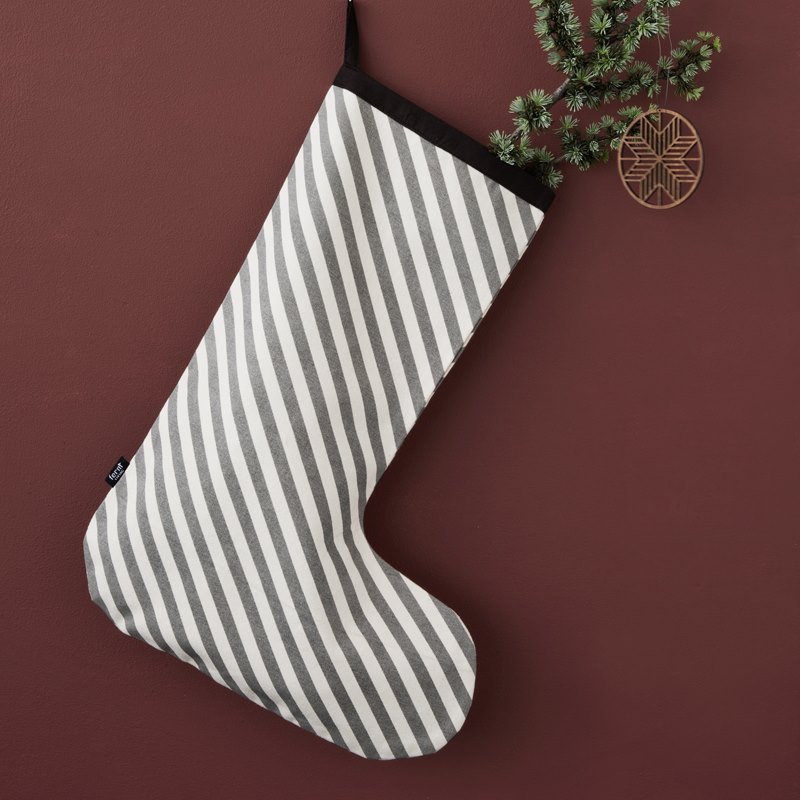 This photo featuring ferm LIVING's Christmas Tree Blanket has given us a few gift wrap ideas…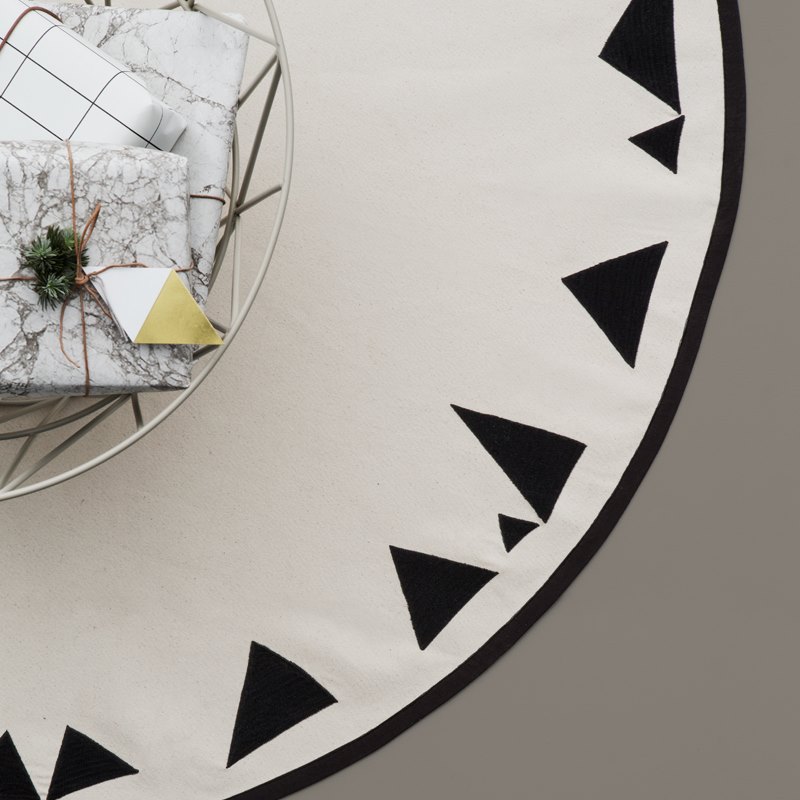 Last but not least, we can't think of a more perfect way to top your holiday tree than with this Brass Christmas Tree Top Star, made from 100% solid brass: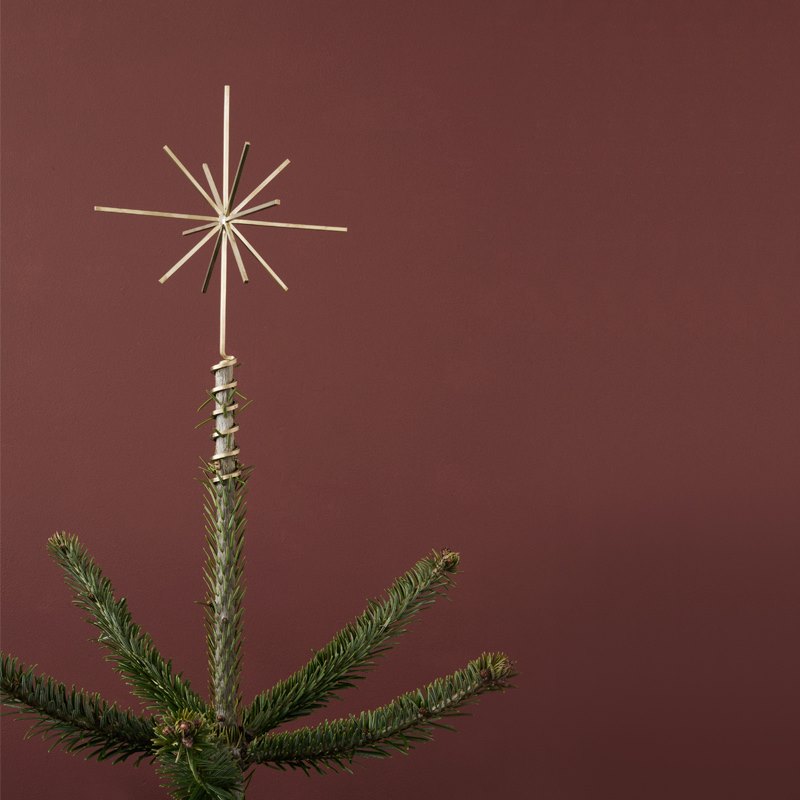 Christmas arrived early this year with today's featured trio of stunning new collections. Hope you've enjoyed the photos, as well as the design inspiration!