It's fun to gather design ideas as you create your fall table! Whether you're hosting a dinner party for friends or you're already planning your Thanksgiving feast, today's post will inspire you with unique fall table design concepts that feature some of today's top trends, from mixed metals to interesting flatware. Keep reading for gorgeous images and helpful hints…
Unique Color Combinations
We love fall tones such as burgundy, mustard and rust. But when we decorate with them time and time again, we almost stop seeing them. Try infusing your fall table with something a little bit unexpected in the color department. For example, midnight blue breathes new life into gold tones, as shown in this stunning table featuring Chilewich Drift Brass Placemats from CB2: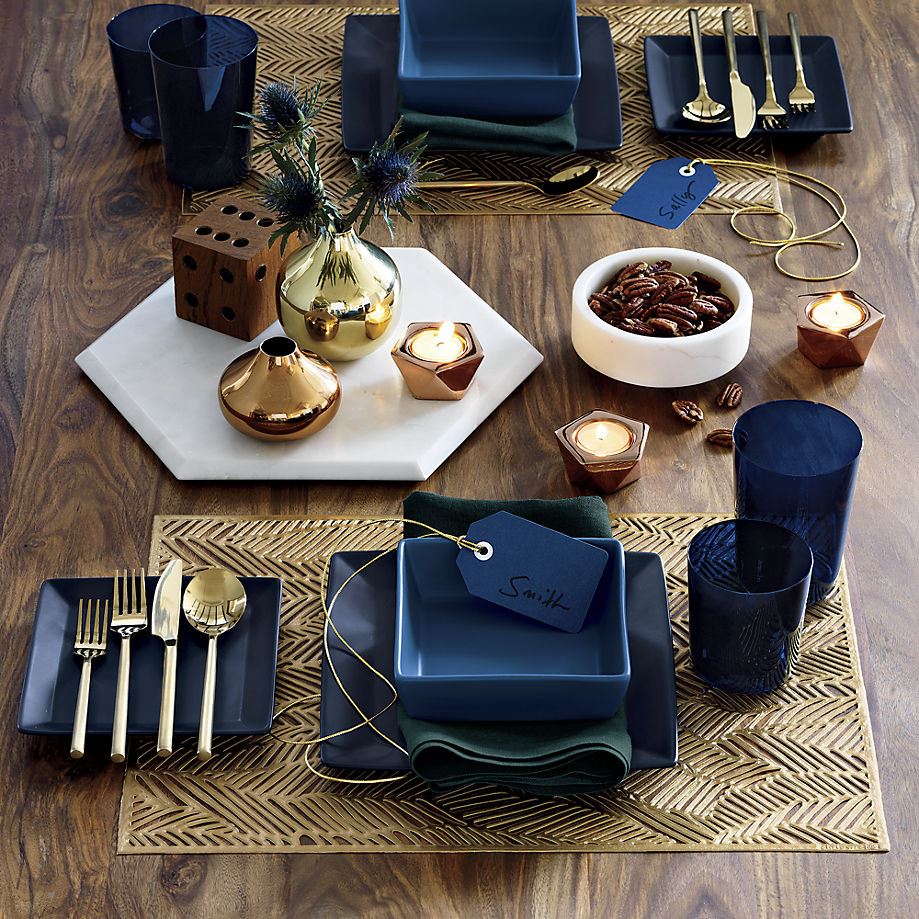 We're smitten with this fall table designed by Camille Styles. The use of jewel tones is a refreshing departure from the usual fall palette. Our favorite part: the way the golden hues of the drinks in the decanters on the mantel contrast the purple tones on the table!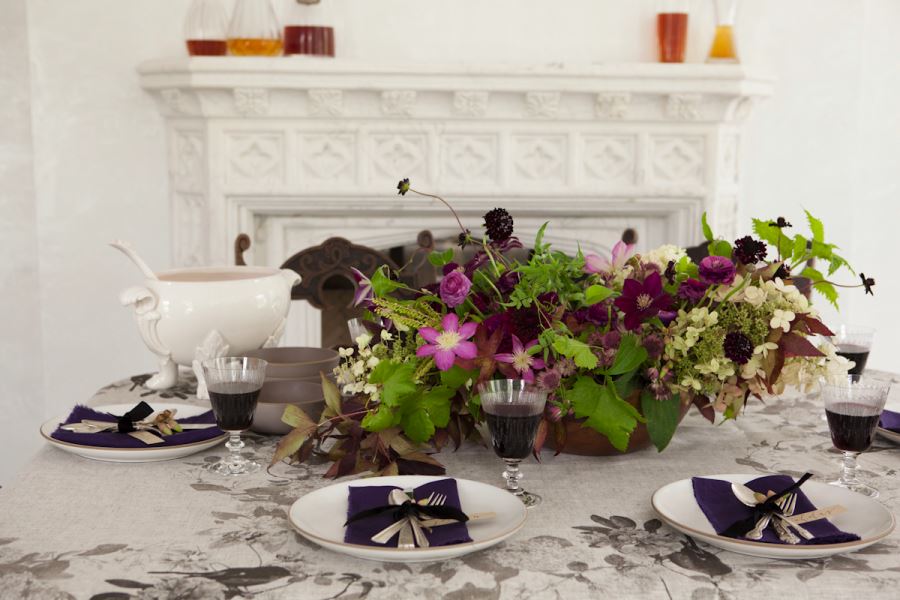 We're seeing more and more green tones at the fall table, and we love variations such as teal and mint. They pair especially well with coppery hues, as shown in by the table setting below, another lovely creation from CB2: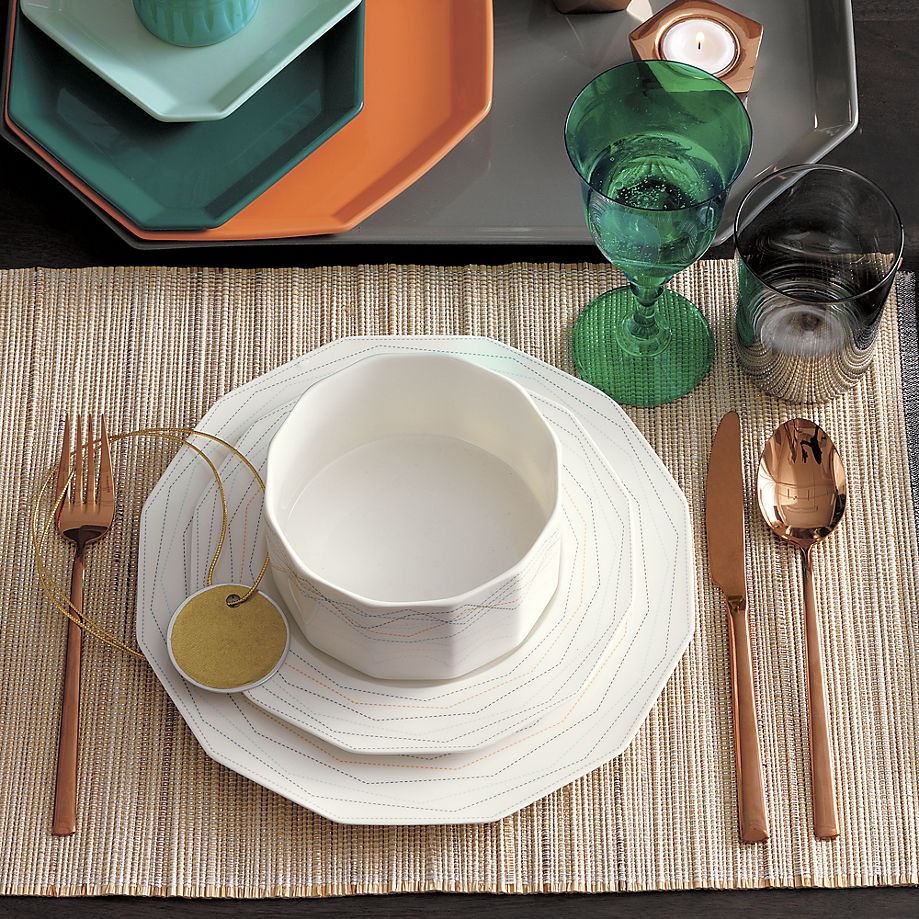 The color black is making its way into a growing number of table settings, as it adds contrast and drama. And many food photographers are infusing their shots with lush, dark tones. It's tempting to take a cue from them and show off our fall food against a backdrop of rich hues, as shown below by this gorgeous photo of Blackberry Rose Sorbet from Eye Swoon: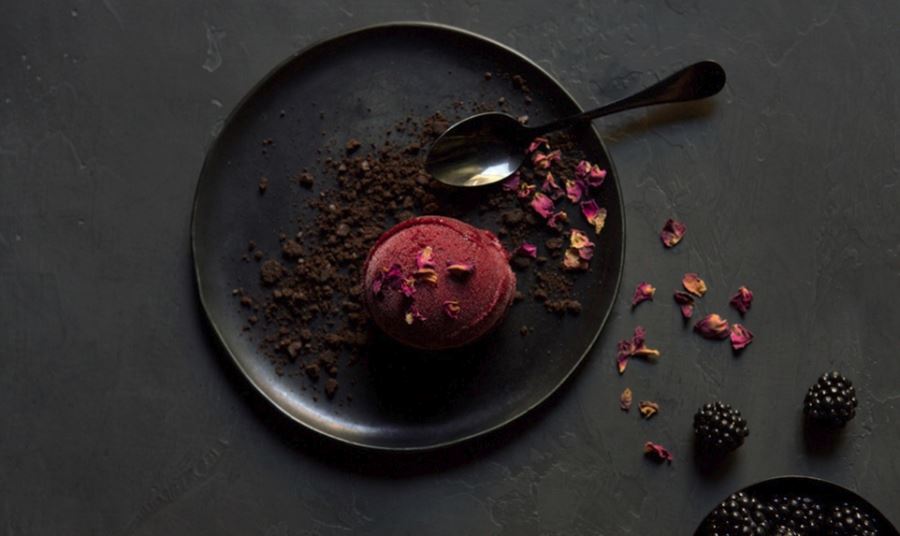 White is never a bad idea when it comes to showcasing fall food. While it's not an unusual color, its use during the fall isn't always typical, as people gravitate toward earthier hues in bulk. The bright fall table inspiration below comes from Design Love Fest. Note how the food can really take center stage against the white backdrop: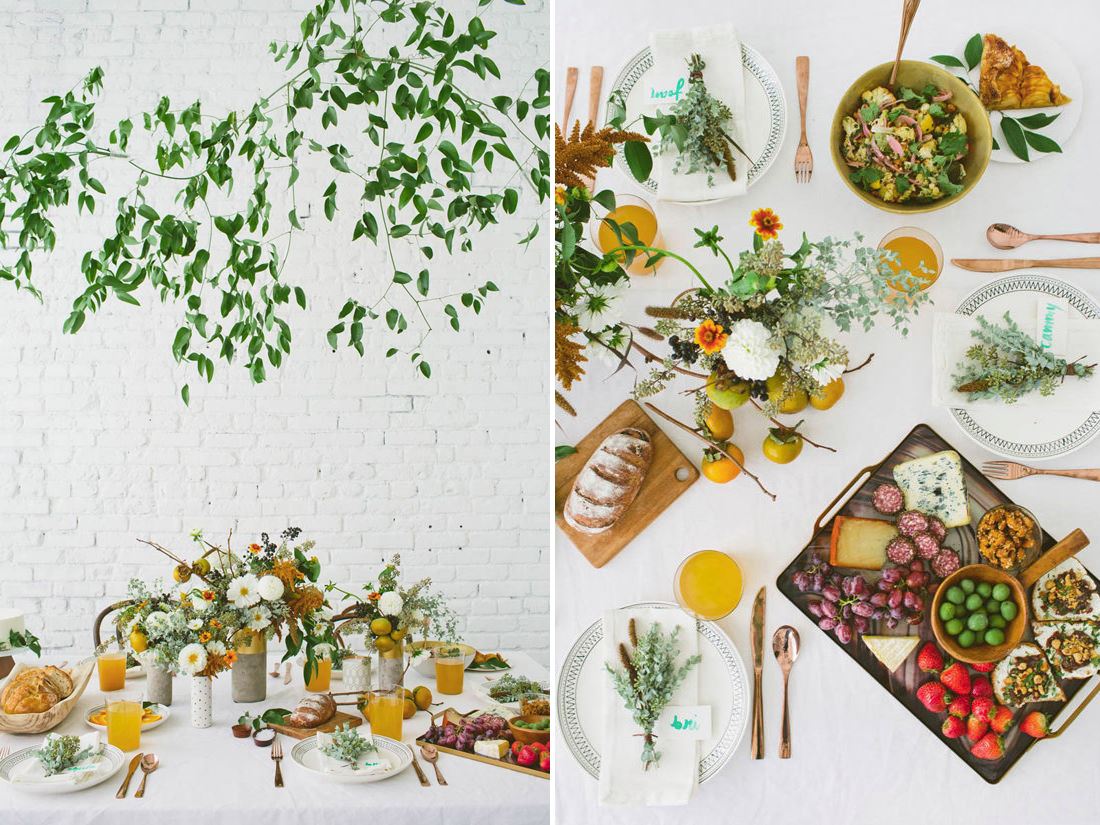 We end by featuring one more table from CB2, this time a refreshing blend of clean lines and neutral tones. We're loving the introduction of creamy yellow in particular, as this warm hue adds a touch of fall flair while keeping it crisp.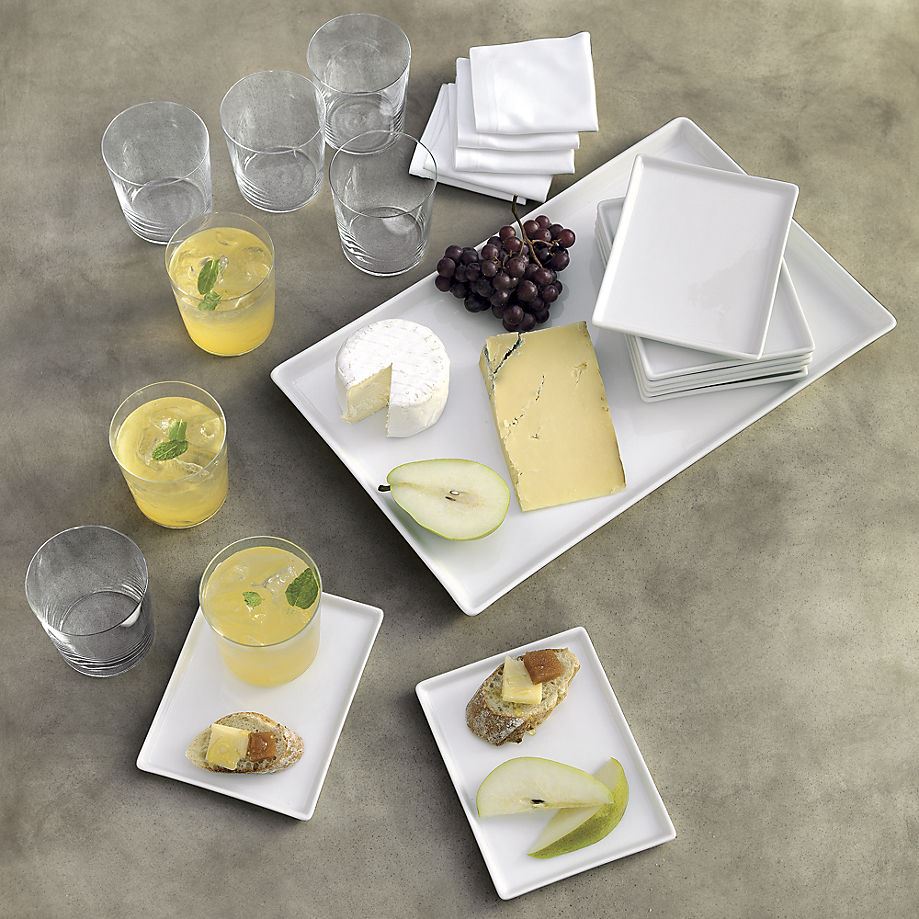 Mixed Materials
If you enjoy mixing materials such as marble and stone, you'll find a lot of inspiration in today's design realm. For one thing, the "mixed metals" look is still going strong, and it shows no signs of letting up. Gold and silver tones can be found throughout this festive beverage spread from CB2:
Copper and silver make a fetching combination in the photo below featuring the Carmen Pineapple Ice Bucket from CB2. Add the teal from the backdrop, and you have a wonderful fall palette of warm, cool and metallic tones!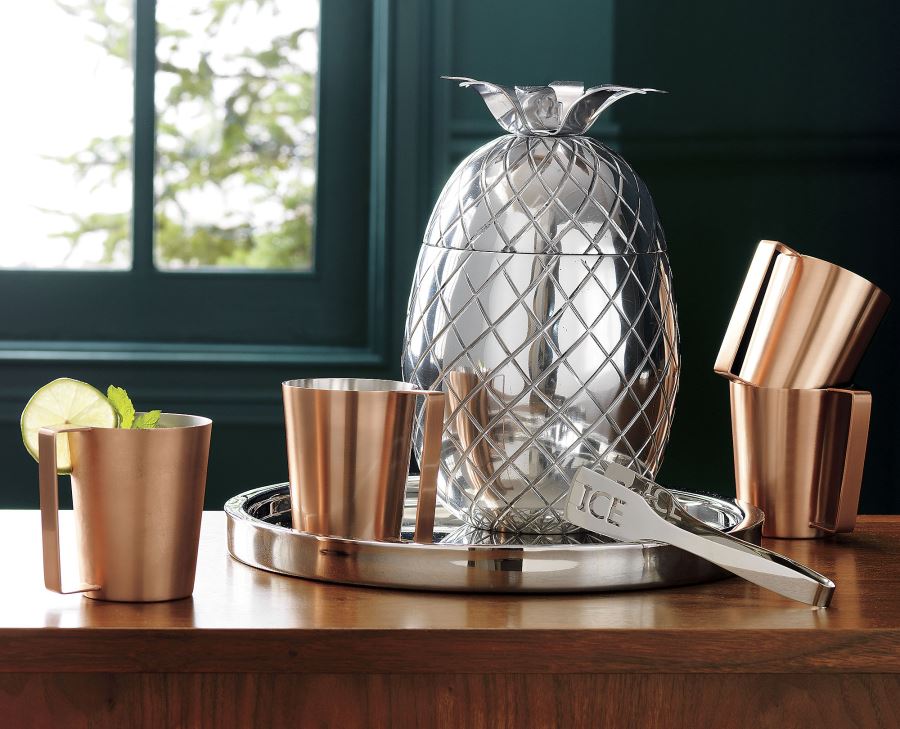 Even non-metal items such as grey stoneware can take on a silvery look when paired with shades of gold. Below we see a modern table from ferm LIVING, complete with a geo brass napkin ring. More on geo style later in the post…
Marble and metal make another eye-catching combination, as shown by this Crosshatch barware from DwellStudio, photographed against a marble backdrop. Try incorporating marble into your fall table style by adding serving pieces into the mix, such as marble hexagonal trays.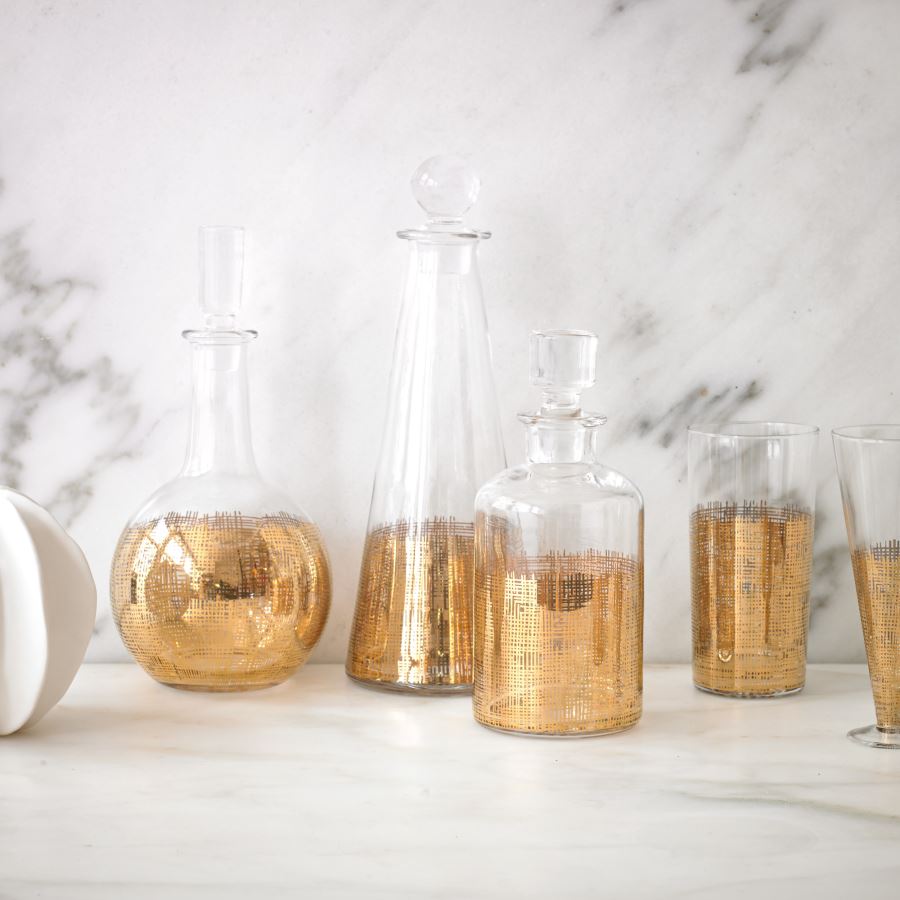 Adding marble to your table through floor tile is a creative way to make a modern statement. While floor tile is as affordable as it is striking, we wouldn't recommend serving food directly on the tile. But go crazy with the decorative touches! This fall table from Mirror80 features brass bowls, marble tile and pumpkins with silver accents: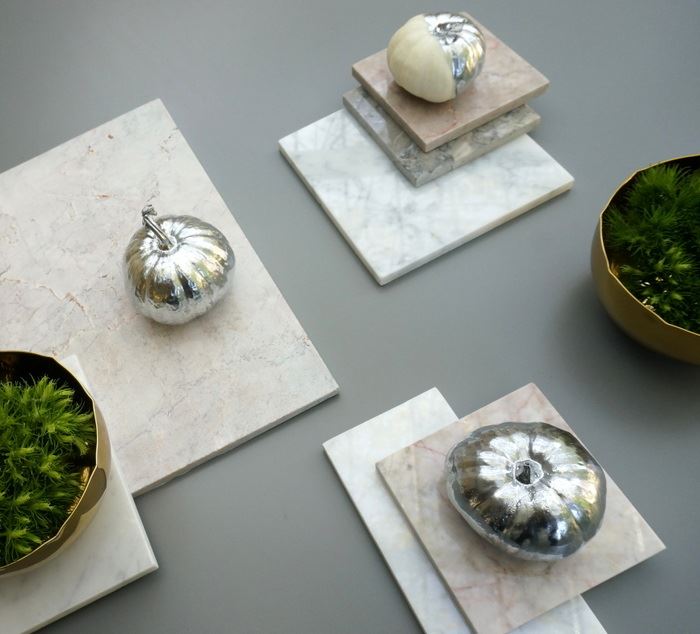 These Mirror Chargers from West Elm show the beauty of warm tones paired with black, which is reflected in some of today's top flatware designs as well. Not to mention, the use of mirrored surfaces against a wooden tabletop is quite striking!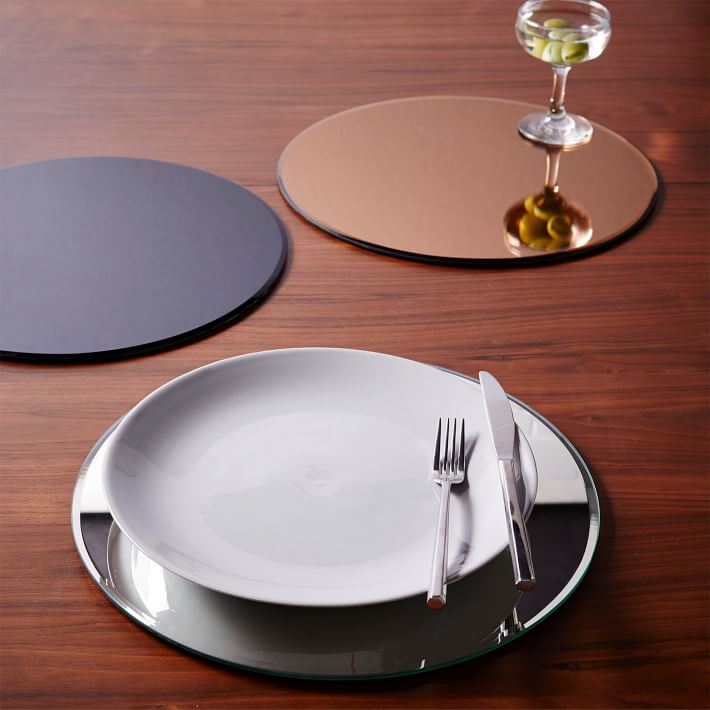 You can also add a metallic touch to organic materials such as leaves with the help of gold spray paint. And they're perfect for scattering across your fall table! Learn more at The Sweetest Occasion: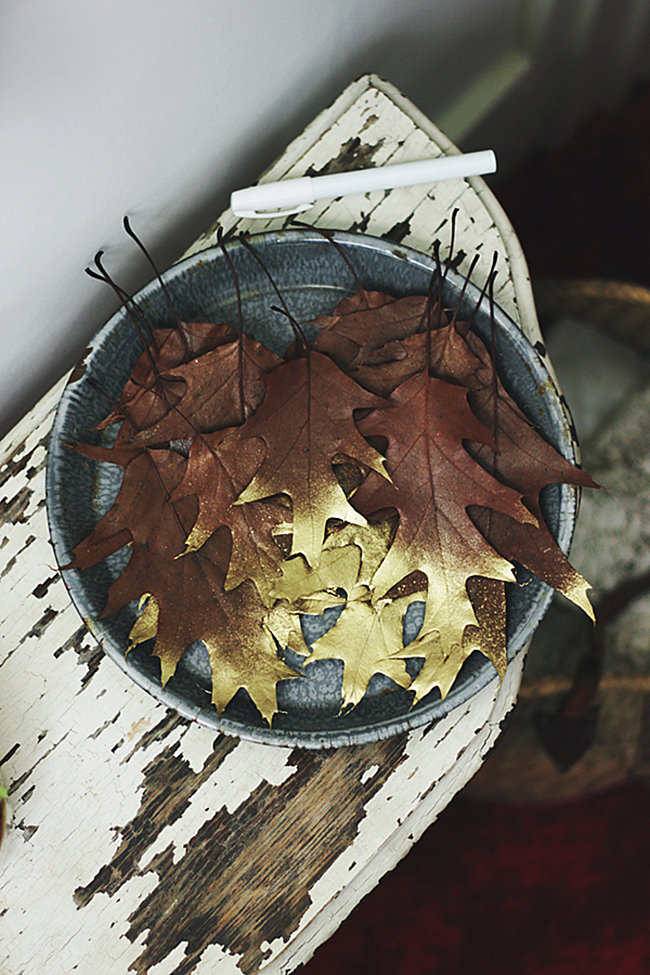 Geo Style
Some of the most creative fall table ideas come from the addition of geo statements! For example, this Set of 4 Drink Rocks from CB2 is crafted from marble and soapstone. The stones are able to chill your beverages without diluting them, but it's tempting to display them as geo objects on the fall table, don't you think?!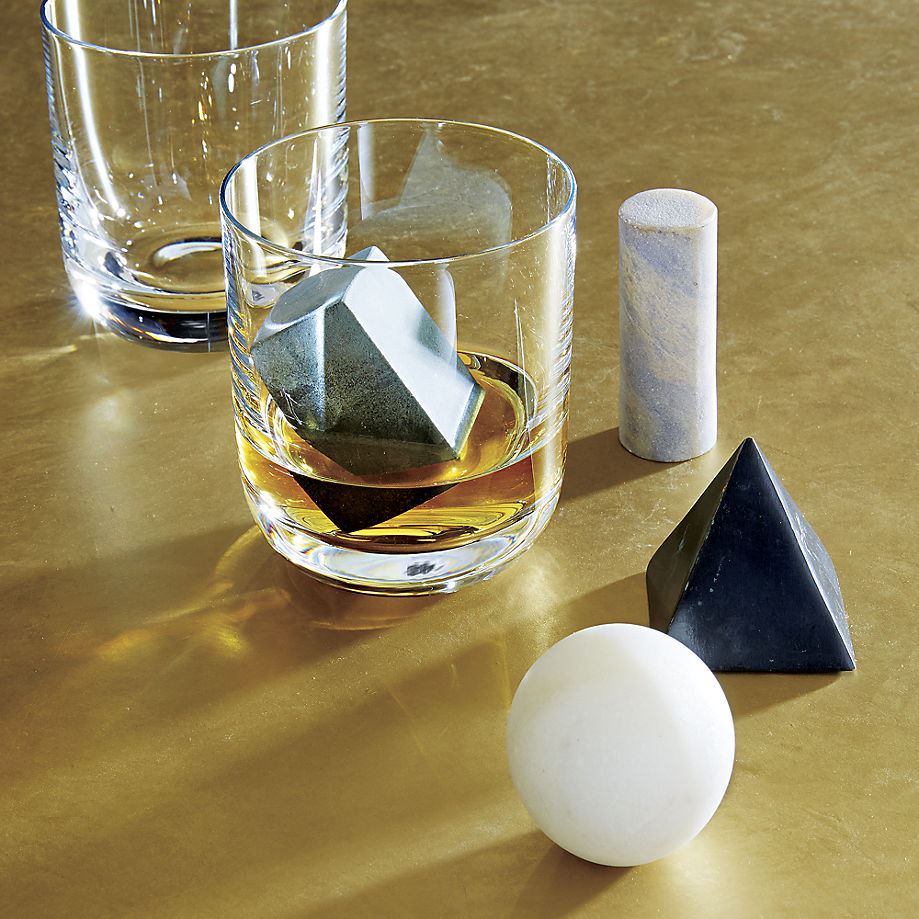 For a practical dash of geo style, turn to Carrara marble tiles to craft some easy place cards with the help of this quick tutorial from Sugar & Cloth: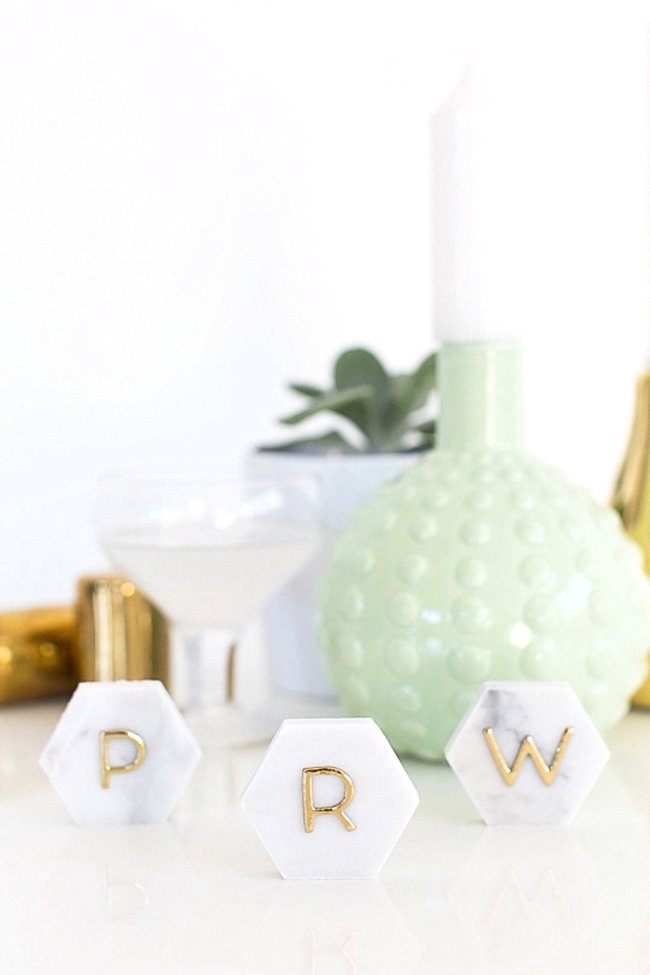 These Linea Coasters by The Vintage Vogue (available through West Elm) are hand painted by designer Charlotte Cannon. Choose from white and gold or black and gold for a dash of geo style with a hint of minimalist Deco flair. Use them under drinks at your fall table, or incorporate them into a beverage table for a dramatic statement: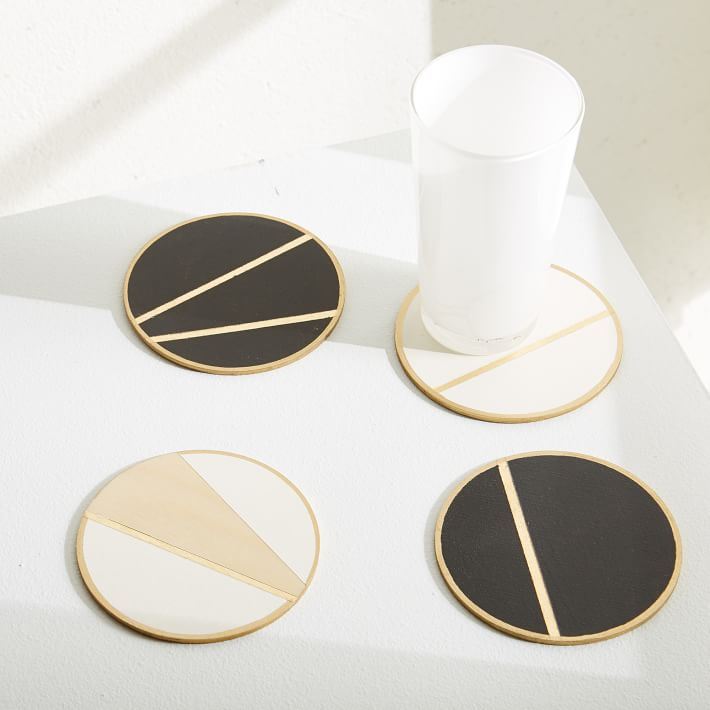 Don't forget that adding geo style to your table can be as simple as incorporating cut glass drinkware into the mix (or something acrylic)! This Quilted Arcylic Drinkware from West Elm proves that vintage-style geo motifs on glassware make a big statement: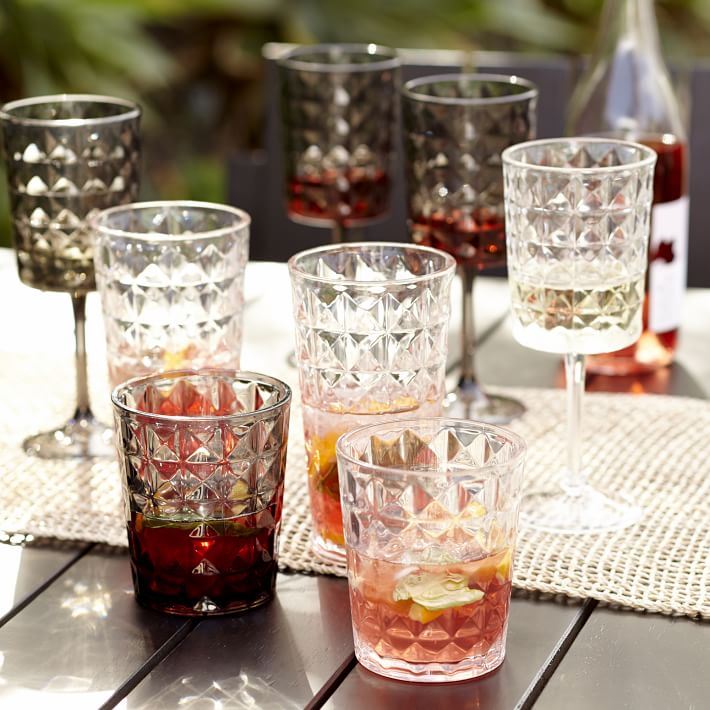 What are your fall table plans this year? Do you enjoy brainstorming design ideas as much as we do?!