The only thing more delicious than the fall food that graces our tabletops each autumn is the decor that emerges from the new collections. As the air turns chilly and we anticipate a season of gathering, entertaining, and connecting with others, let's explore ways to make this time of year extra special. Keep reading for decorative elements that will take your home (and tabletop) to new heights as you indulge in fall entertaining… [photo from Anthropologie]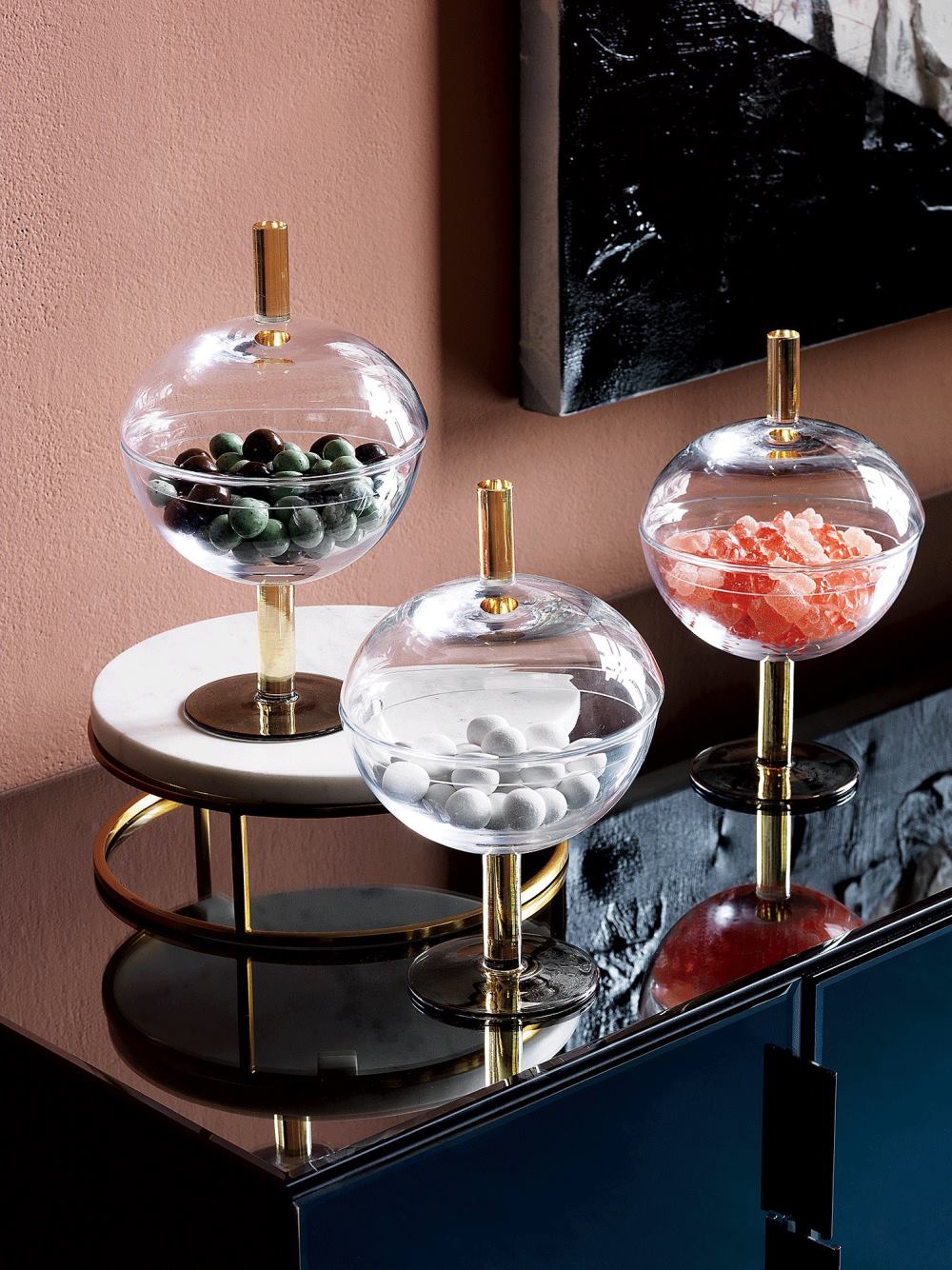 Striking Vignettes
There's just something about a welcoming vignette that showcases some of fall's best design elements. Rich colors and interesting foliage in the entryway never disappoint, as shown in this image from CB2: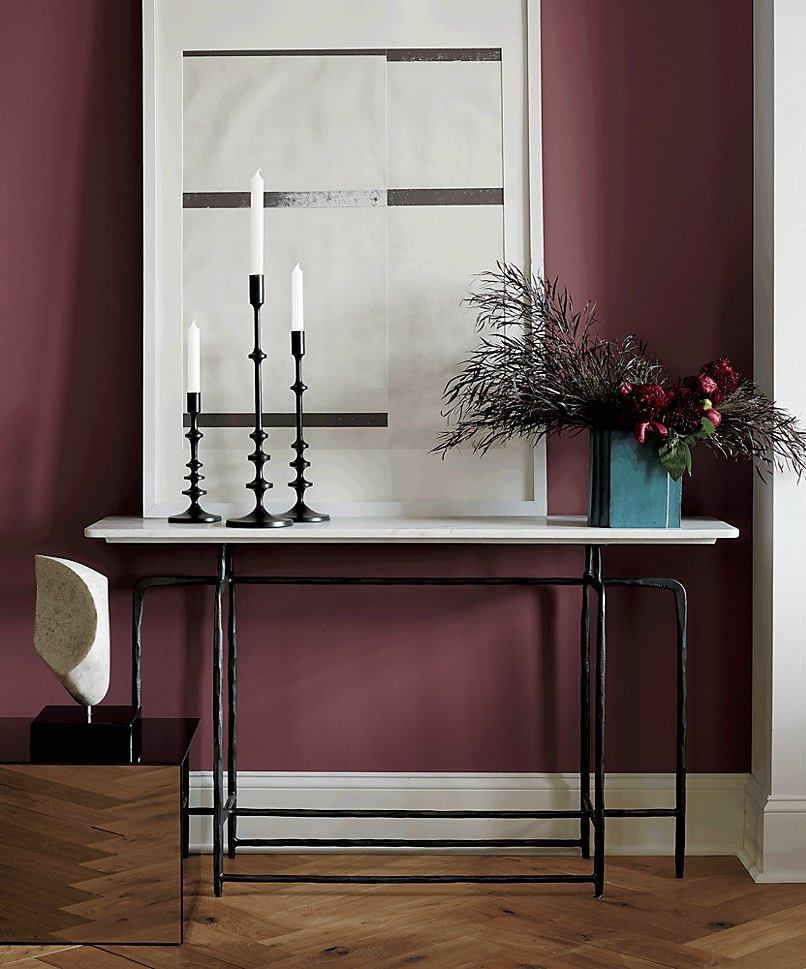 Dark backgrounds and illuminating foregrounds are also quite striking. Even if you don't have dark walls to contrast your metallic decor, you can always go with a charcoal tablecloth to offset your favorite serving pieces in the dining room. [image below from ferm LIVING]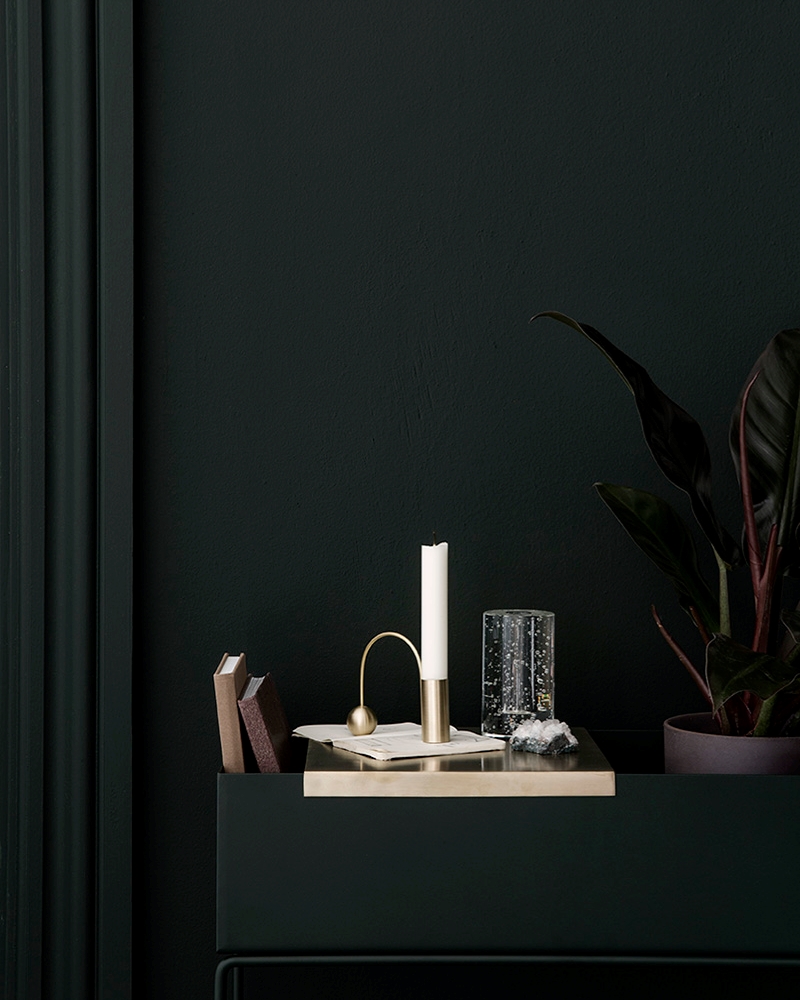 Monochromatic style makes a big impact, so pick your favorite hue and layer it in your living room or dining room! Shades of rusty rose take center stage in this space by ferm LIVING: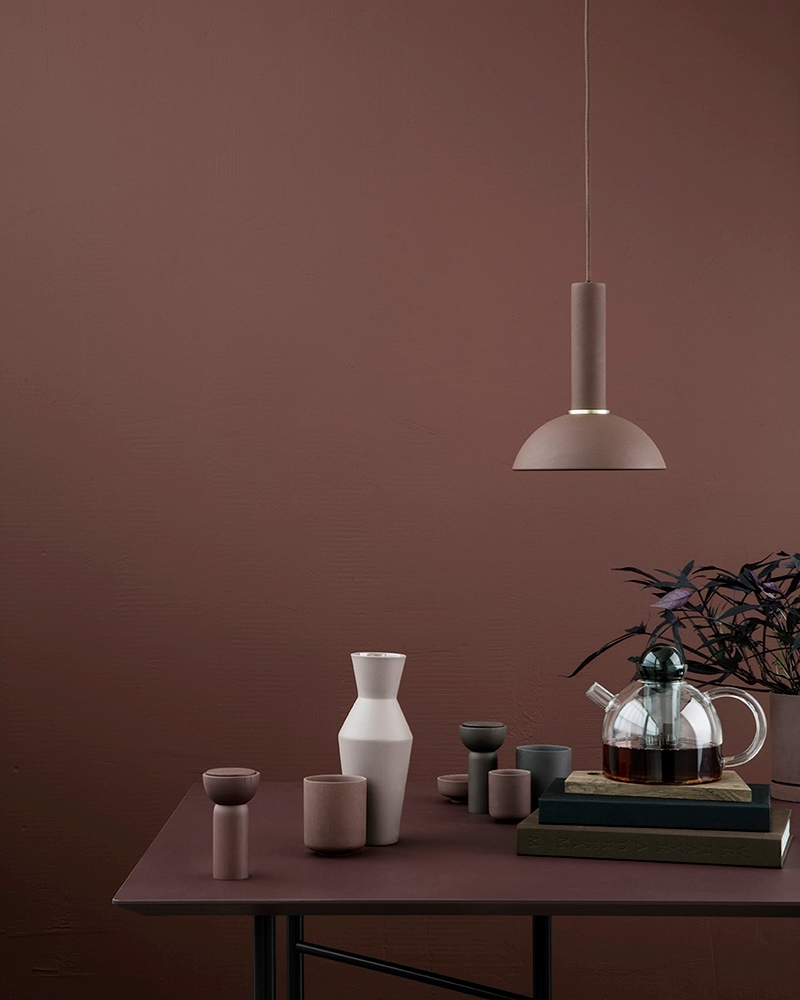 Neutral Tones
Neutral is the new chic. In fact, today's neutrals are anything but boring, especially when you accent them with metallics. So layer the concrete, grey and stone, and throw in a dash of copper or gold. This Project 62 tableware from Target gets the job done: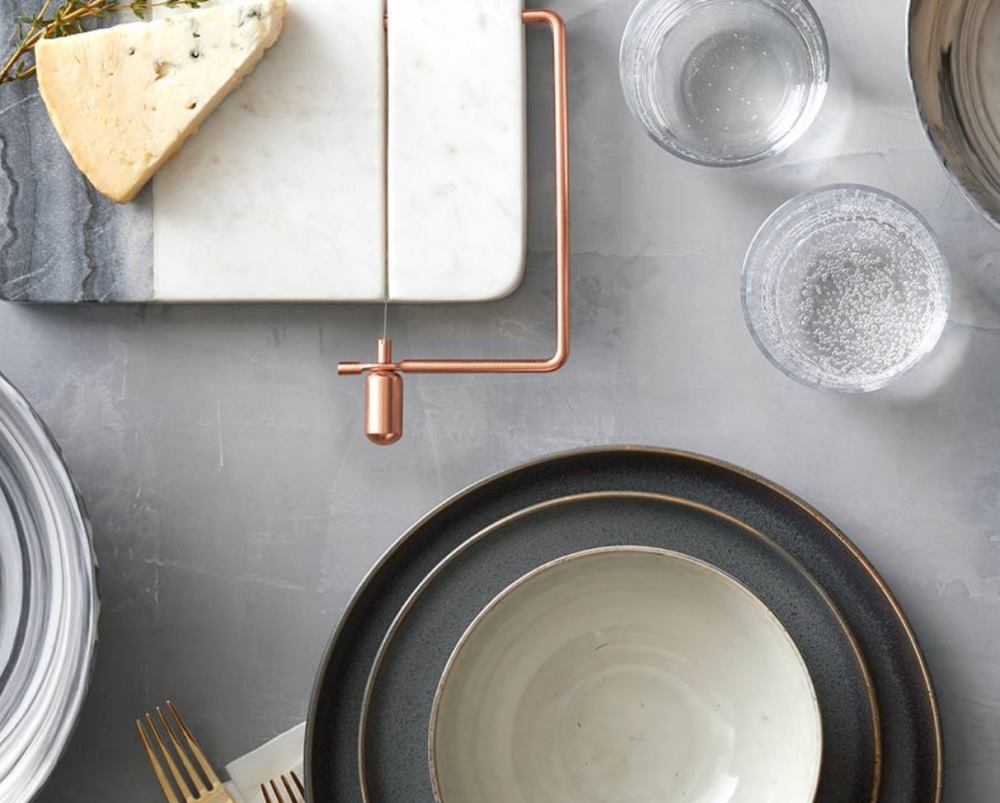 A neutral backdrop is the perfect canvas for fall foliage. Whether you're stuck with neutral walls in a rental or you've sought out neutral paint for your home, let fall tones come to life against beige, grey and taupe backgrounds through houseplants and floral arrangements. [photo from ferm LIVING]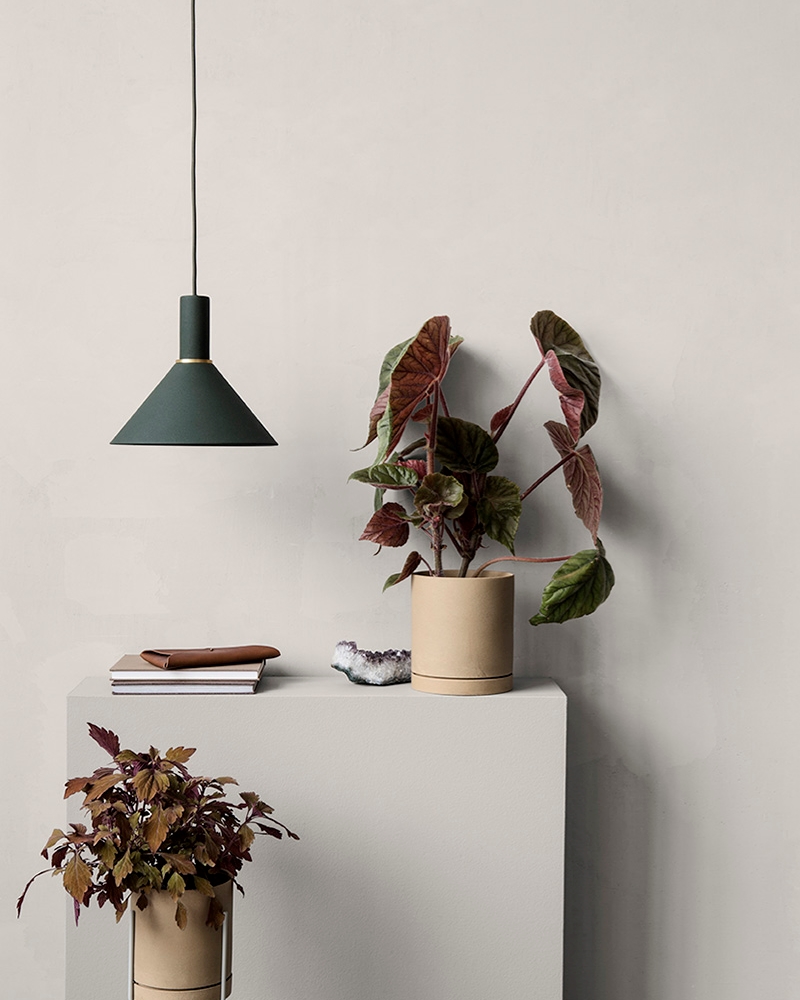 Shades of deep green beautifully complement neutral tones such as grey. Set a table in grey, and incorporate punches of rich green via lighting, dishware, gourds, and other interesting elements. This grey-meets-green table setting is the work of ferm LIVING: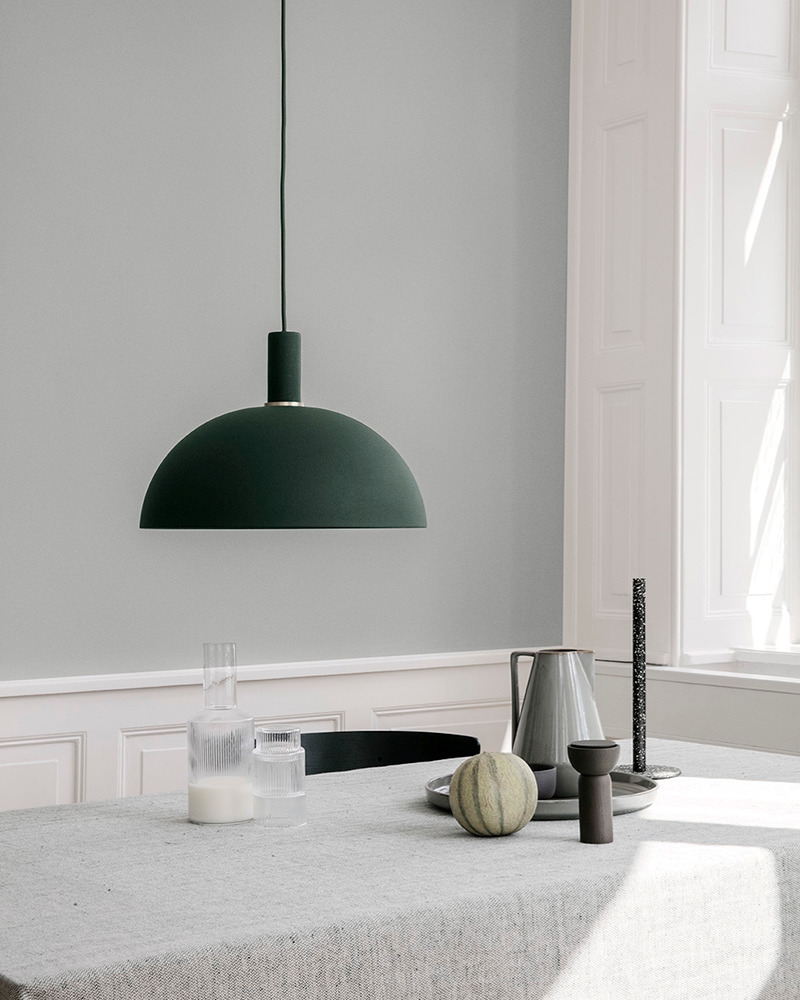 Wooden pieces can channel the earthy feel of fall, especially when a range of variations are showcased. These Drupe Mills are perfect for holding ground spices, salt and pepper. Ash wood is the material of choice, presented in six different colors: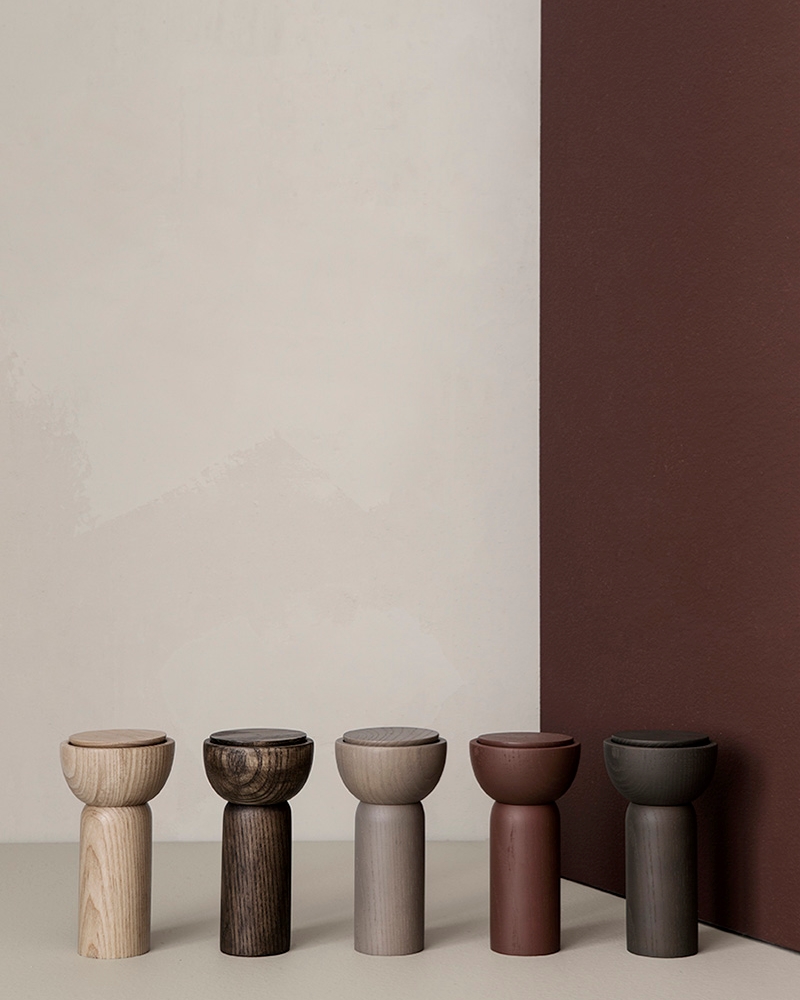 Dark Tableware
Have you noticed a growing number of black dishware and flatware selections? Perfect for capturing the contemplative mood of fall and winter, dark colors can also create a sense of decadence. These Ember Wood Bowls from CB2 are made from natural acacia wood, finished with a grey or sheer black stain: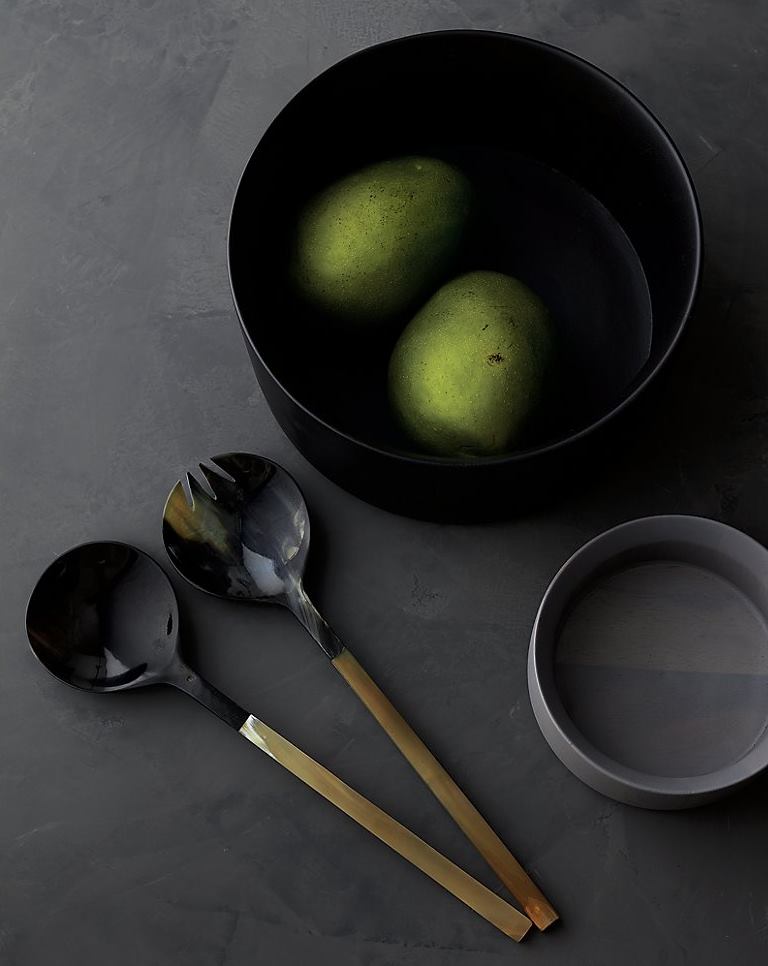 Speaking of decadence, black dishware is brought to life by gold flatware and berry tones, especially as the holiday season nears. [image from CB2]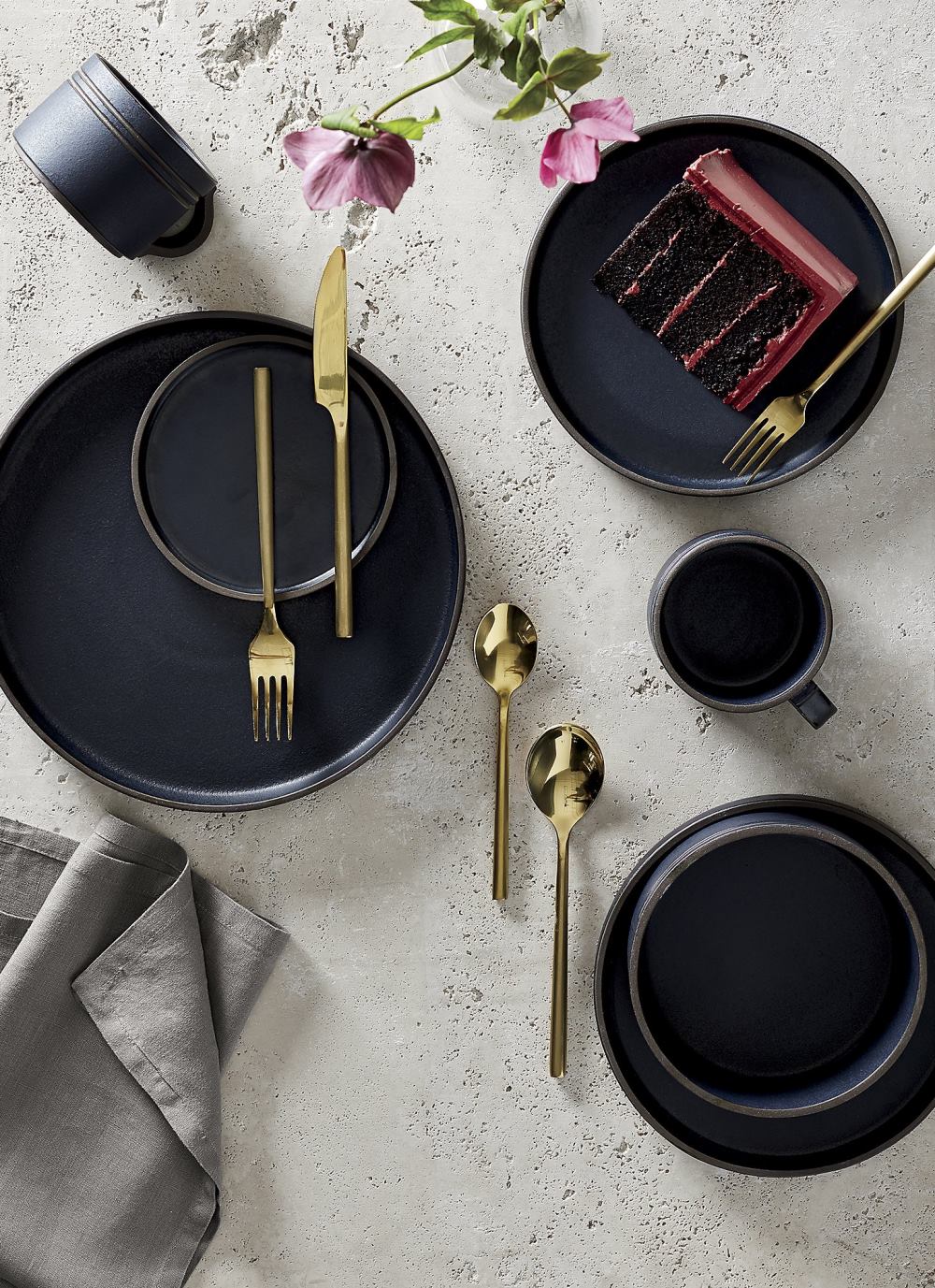 Special Serveware
Fall gatherings are special, so your serveware can mirror the festivity of the season. These Mini Gianna Dishes with Lid from CB2  showcase three shades of glass: clear, smoke and amber. Use them to display candies and other delicious edibles as you entertain: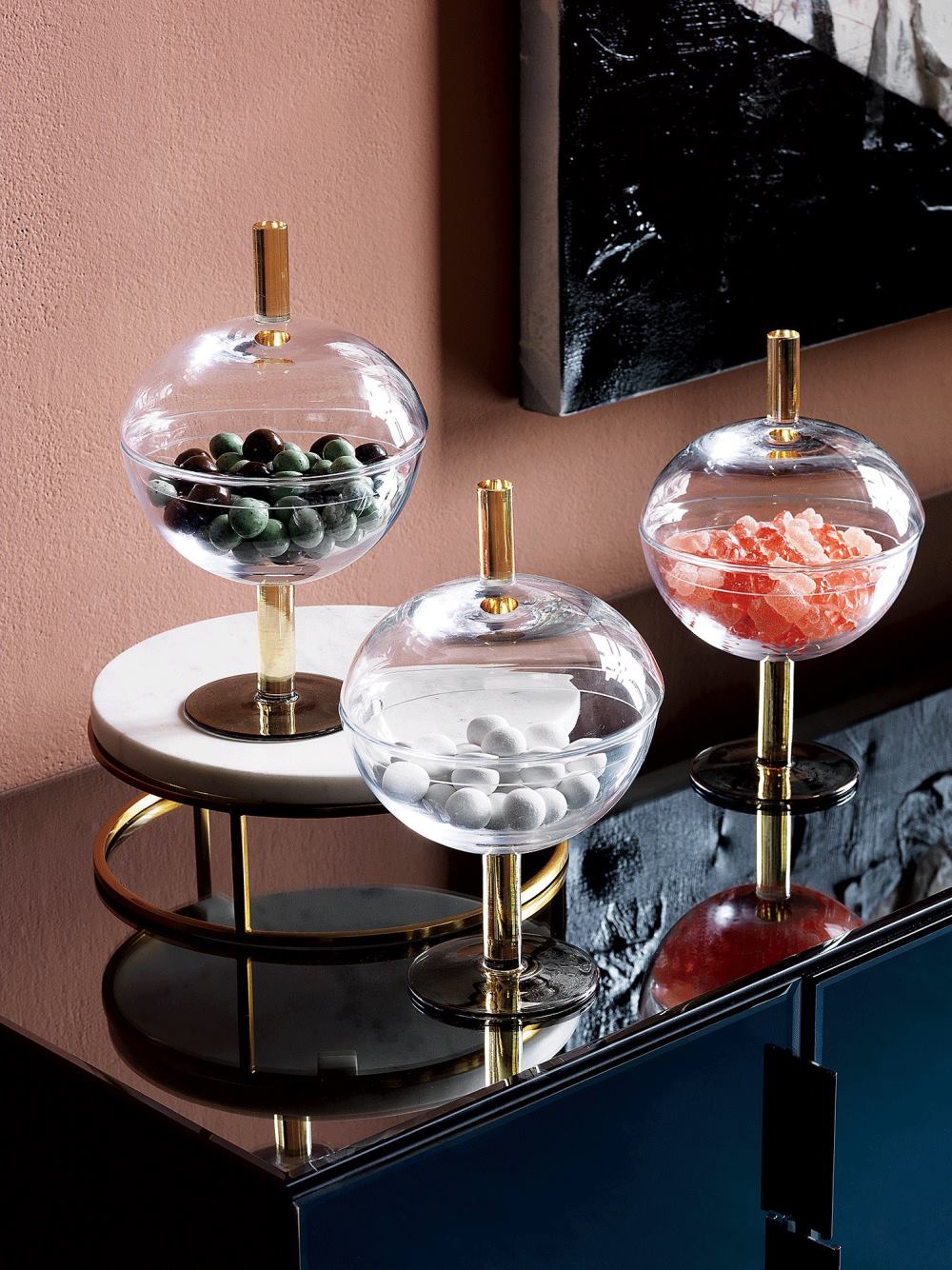 Use serving pieces to complement the food you're presenting to guests. The subtle blue-green hue of this Agate Cheese Board from Anthropologie is the perfect counterpart to the rust tone of the figs: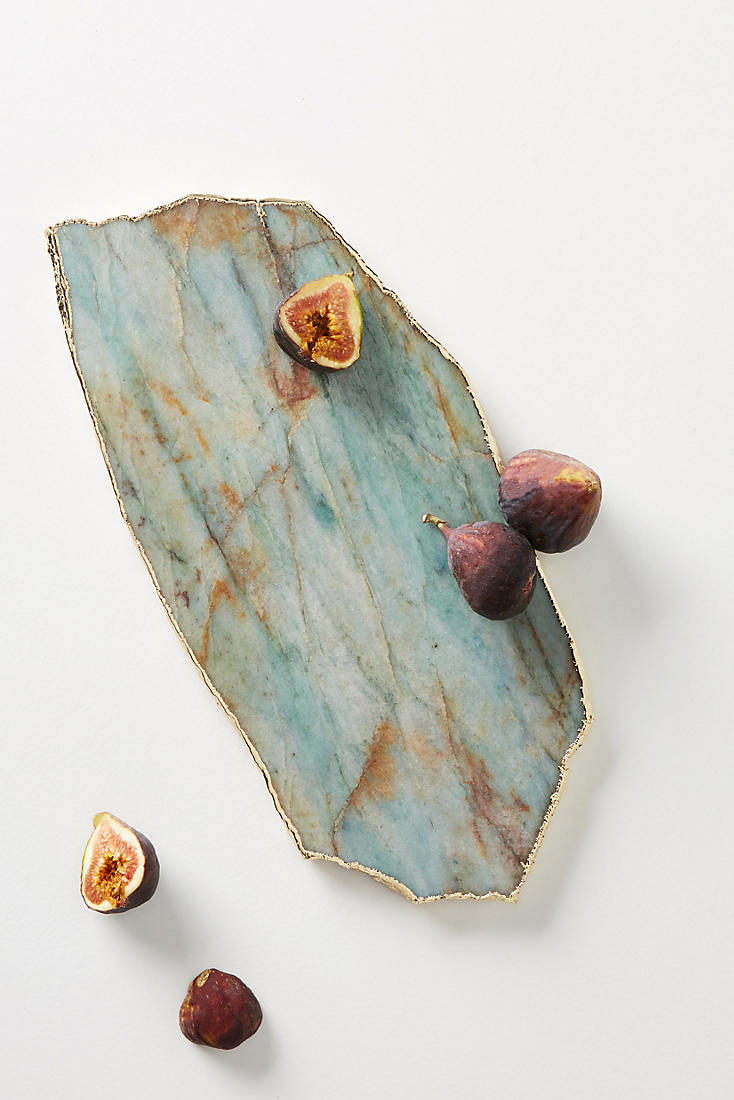 Something Sparkly
Fall marks the beginning of entertaining season! From Halloween to Thanksgiving and the holidays, there are many occasions for wining, dining and shining–ha! So bring some sparkle to your table with a few special pieces, such as this Irina Gold Martini Glass from CB2. Cocktail, anyone?!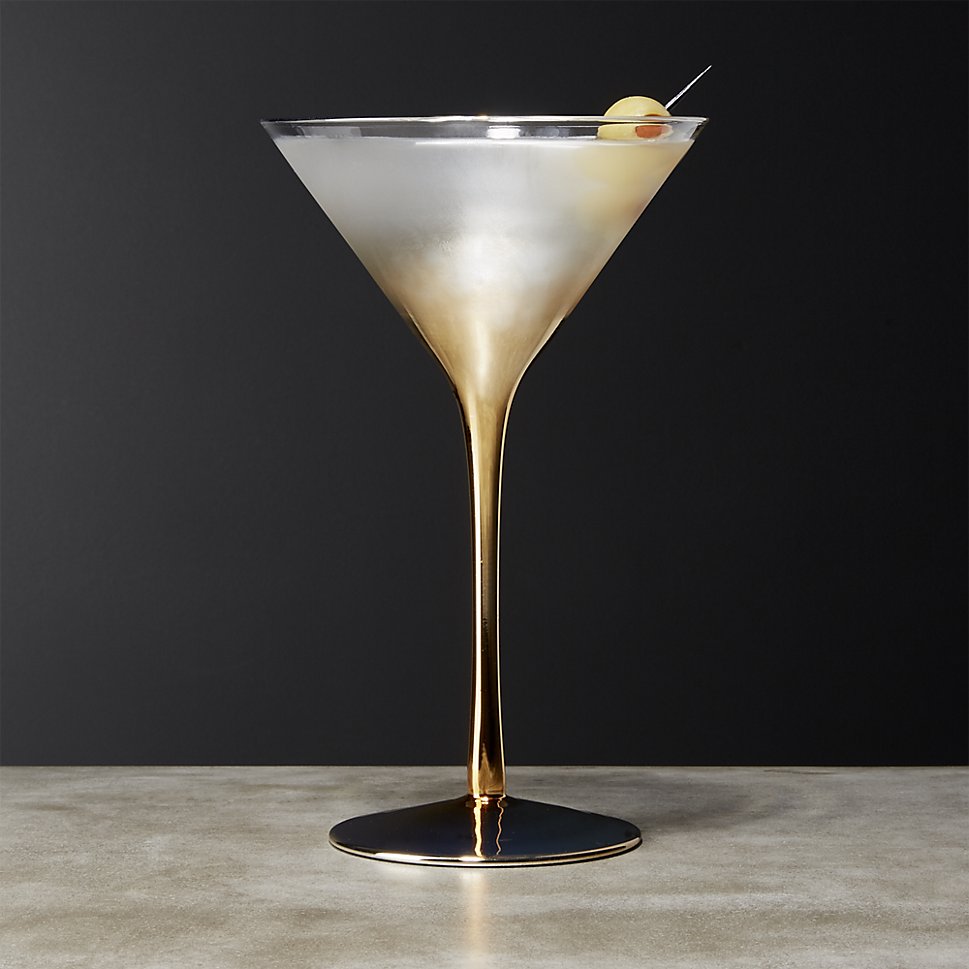 Gold flatware is another way to enliven your table this fall and winter. Whether you go gold with bigger pieces such as ladles and serving spoons or you embellish each place setting with this Vika Sky Flatware from Anthropologie, rest assured that you can find selections that are dishwasher safe: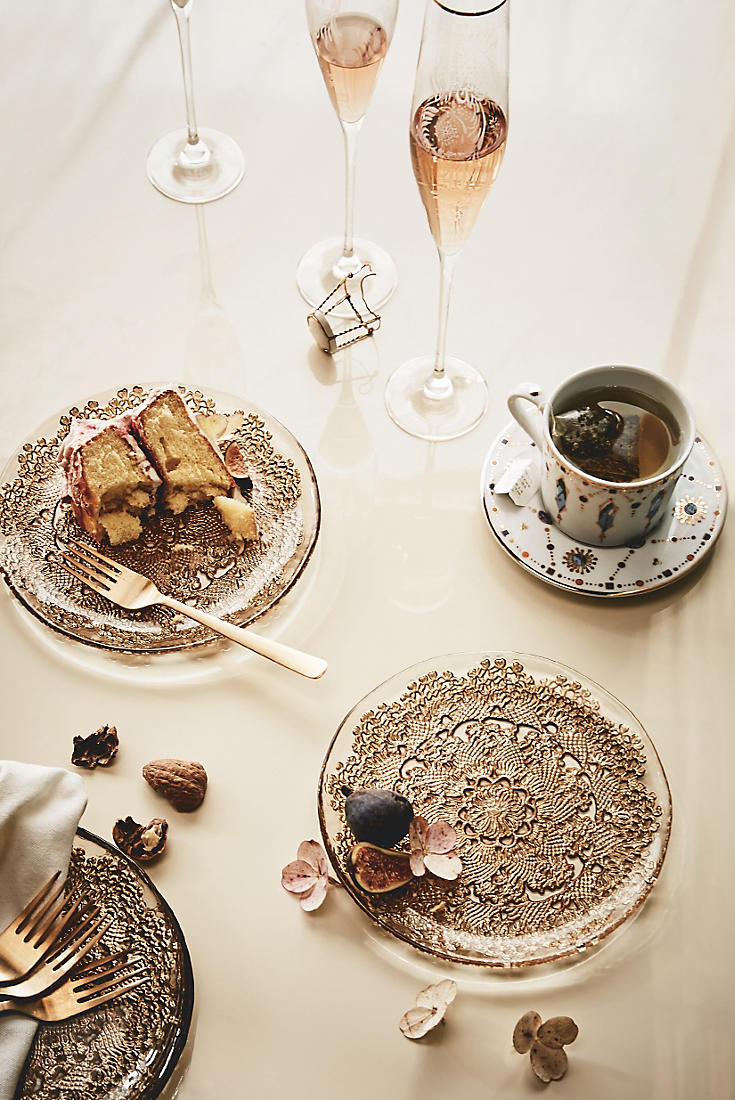 The holidays will be here before we know it! Pick up a few sparkly decorations such as these Paiette Ball Ornaments, which can be displayed in a bowl until your tree or garland is ready for embellishment. Bonus points if you noticed the ombre effect created by the scales: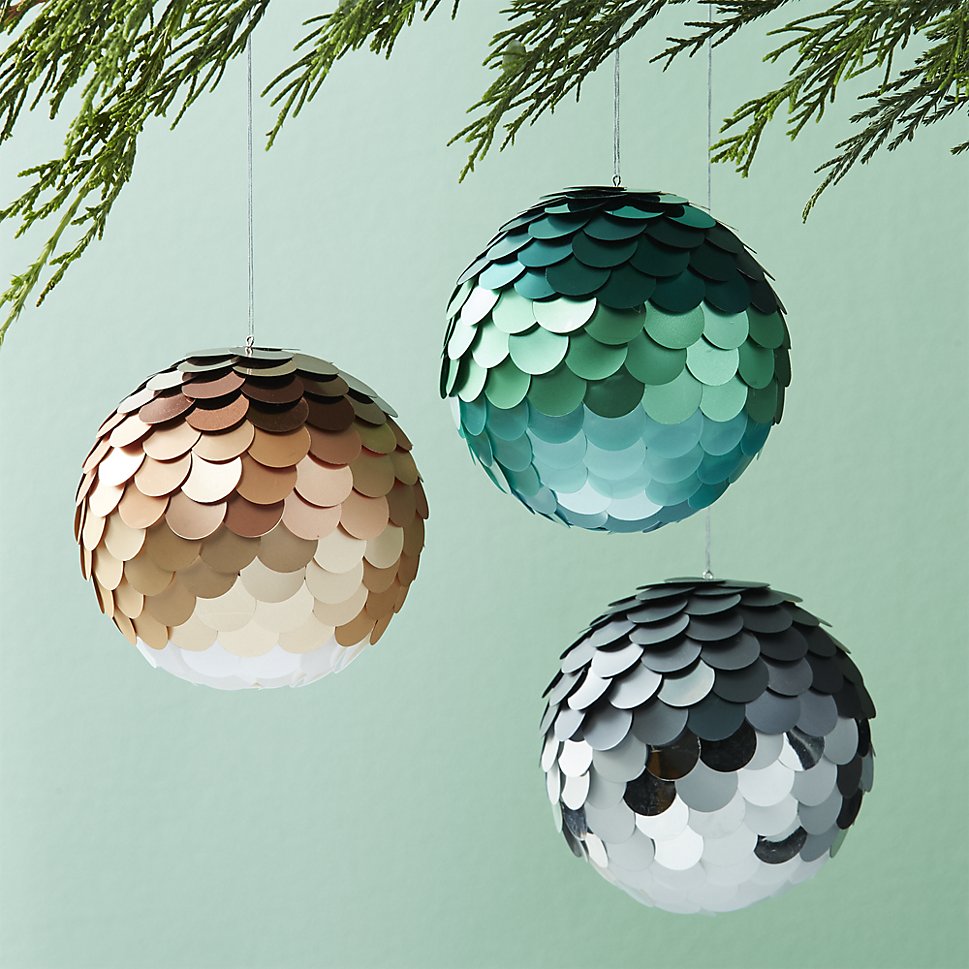 Unique Gift Wrap
Whether you're hosting this fall or being welcomed as a guest, treating the ones you love is a special part of autumn and winter. Put a unique spin on your gifting with artistic wrapping paper. This Gift Wrapping Book from ferm LIVING speaks volumes: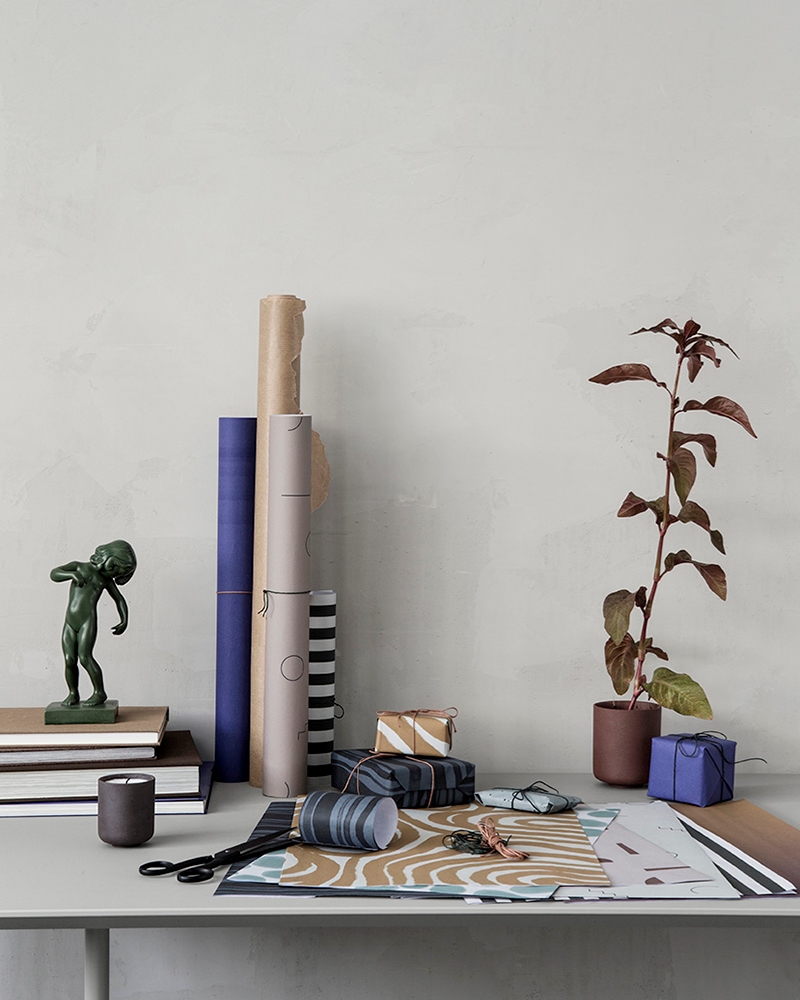 ferm LIVING also offers a collection of Gift Tags to complement their wrapping or be used on their own. Gold details bring the tags to life, along with interesting hues such as royal blue and burgundy: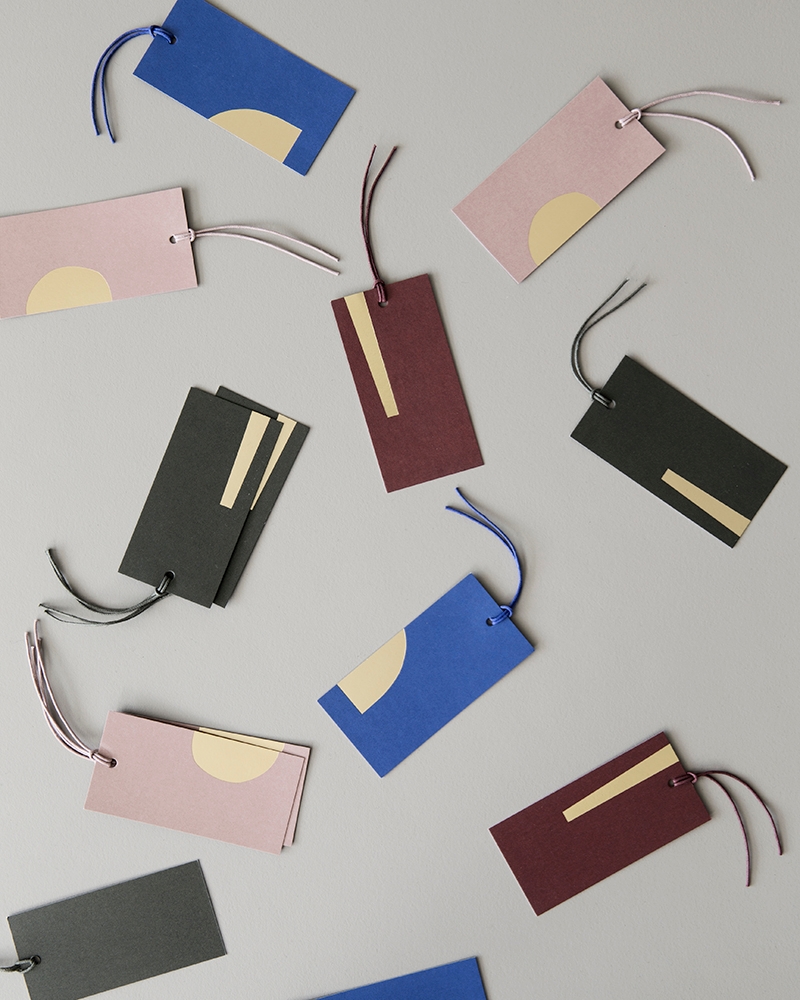 Entertaining is a favorite fall activity, and today's featured design elements have shown just how many ways you can go the extra mile as you welcome guests to your home. Get creative and have fun with it! And of course, Happy Fall!!!