Whether you call them throw pillows or accent pillows, what they offer is definitely color, class, pattern and 'something different' in a room filled with more of the same. Throw pillows are a great way to give the living room, bedroom or even the reading nook a seasonal flavor and to embrace new trends and colors before you commit to them fully. It is easy to fall in love with throw pillows and easier to use them as they demand absolutely nothing in terms of redecorating. But buying new throw pillows (or even just the covers) can be an expensive affair. As always, it is DIY ideas that come to the rescue.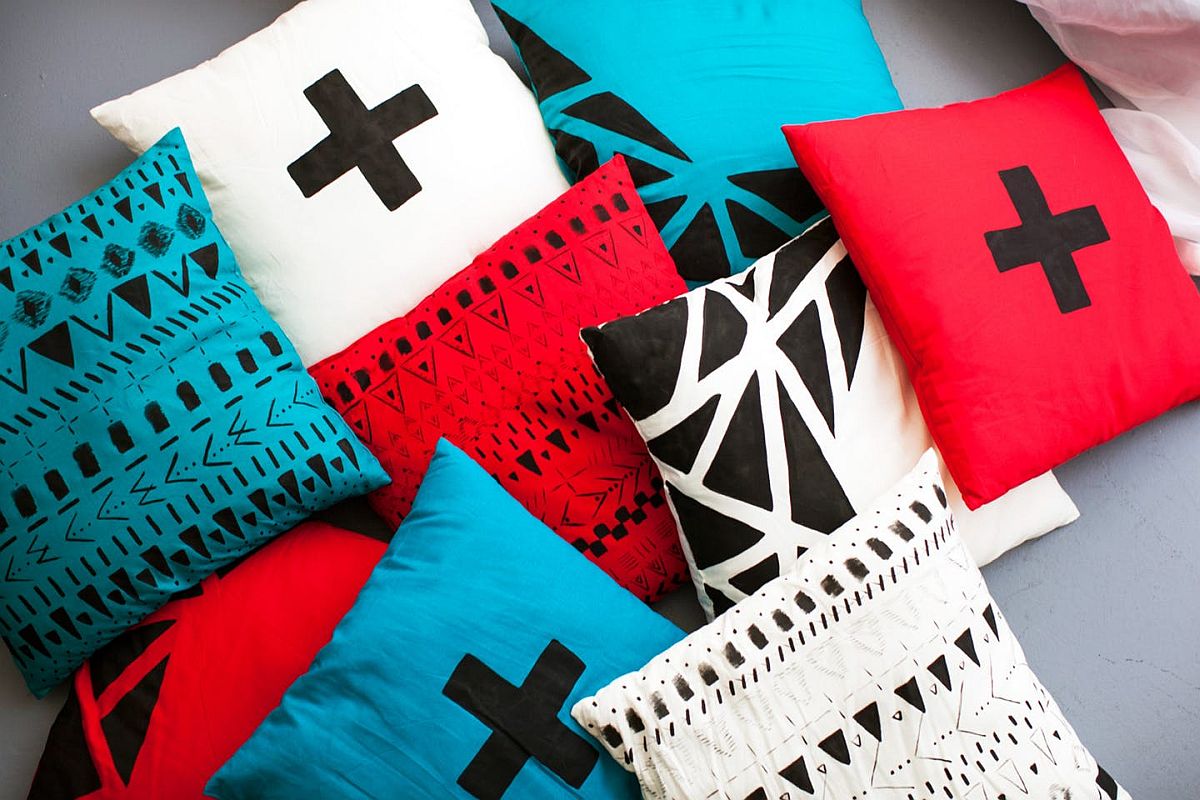 DIY throw pillows come in as many hues and patterns as your creativity and crafting skills permit! It really is that simple and once you got a hang of the basics of it all, you can craft an endless lineup of throw pillows. Be careful though, it ca become a real obsession and fast! As always, we have 10 fabulous DIY throw pillow ideas for you today and each introduces you to a different crafting technique. Some are super-easy and barely take a few minutes. Others require an hour or two. But rest assured, they are all worth trying out.
Color, Pattern and Pizzazz!
For most throw pillows are a way to add accent color to the interior and do so with flexibility and playfulness. You might want to swap between throw pillows every few months and if that is true then an idea like the no-sew DIY throw pillow comes in pretty handy. All you need are some colorful old scarfs and a coupled of minutes to tie a quick knot. Yes, it really is that simple! Exquisite and spirited, the Watercolor-Inspired Throw Pillows from Brit+Co take a little more effort to craft and yet open up a world of endless patterns and hues.
RELATED: New Throw Pillows for Spring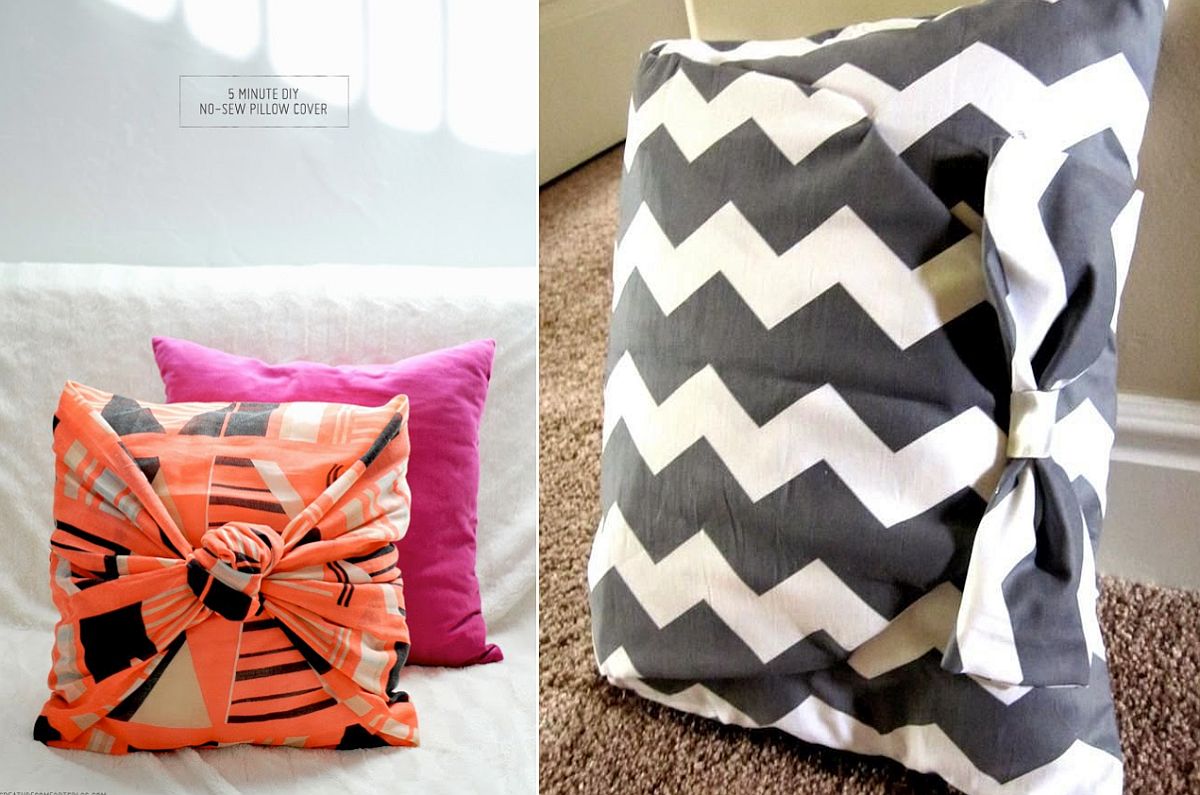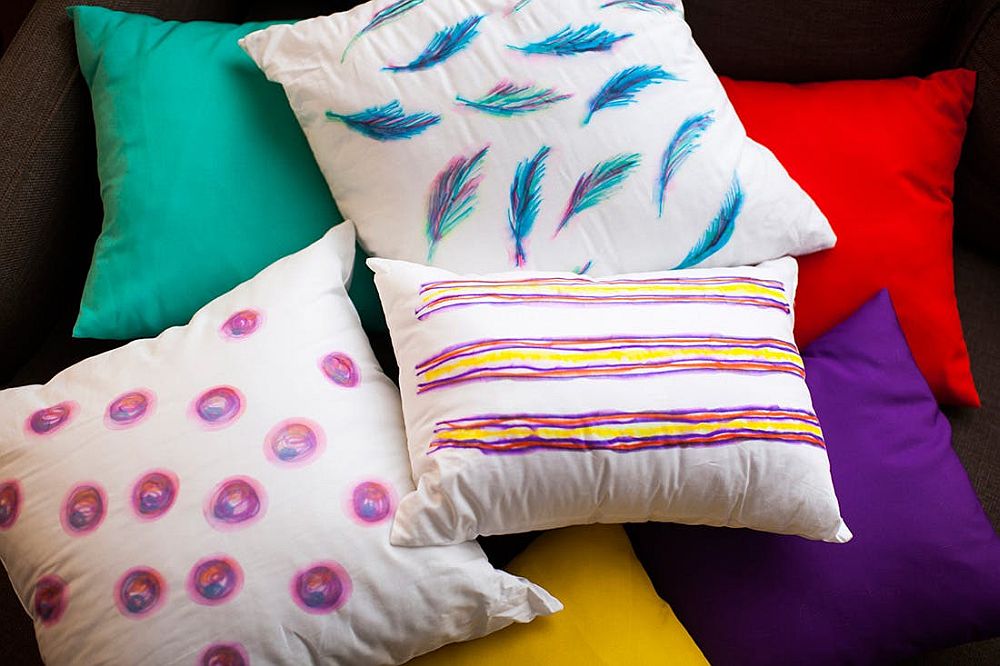 Whether you love geometric prints that move away from flowery patterns and give the living space a more modern look or love the shabby chic style and want more ornate designs, crafting both is equally easy. You can mix and merge patterns as well to create unique fusion of styles, giving the interior a personality of its own. It is hard to believe DIY crafts could be so easy and fun!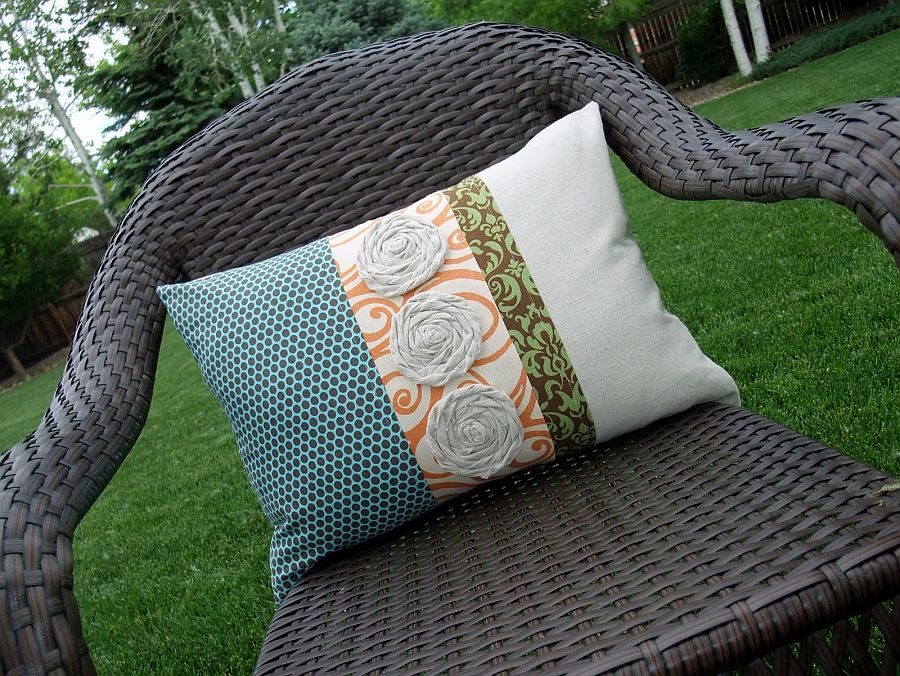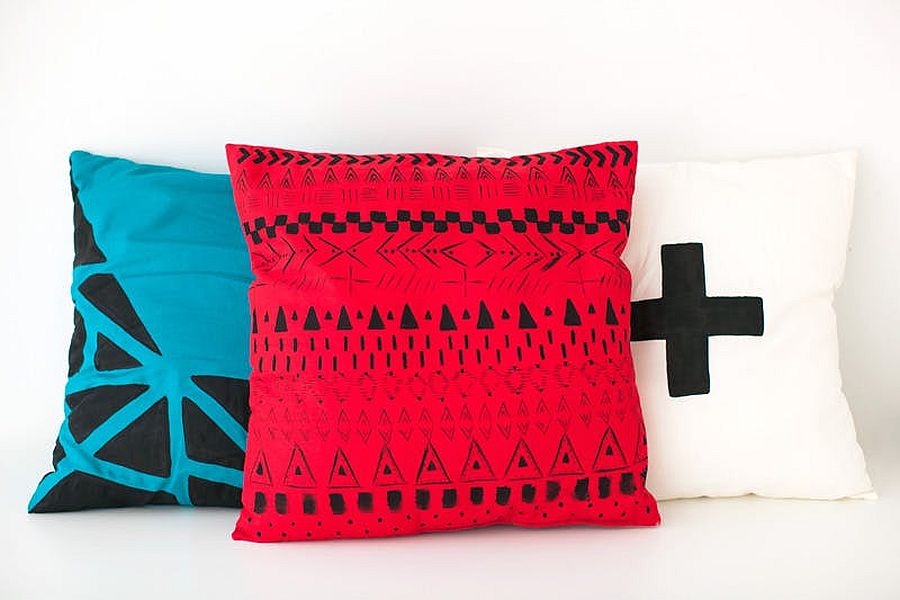 Glittering Festive Vibe
Looking for a throw pillow idea to dress up your home for the Holiday Season ahead? Then DIY Holiday Sequin Pillows are absolutely perfect for you. These gorgeous throw pillows can bring dazzle to any room that they adorn and the look great even beyond the Holidays. You can obviously change the pattern to create Sequin Pillows for different occasions and switch between them with changing seasons. The 'Home sweet Home' throw pillow is another classic that is easy to craft and takes very little in terms of the supplies one needs.
RELATED: Make A Creative Statement With A New Throw Pillow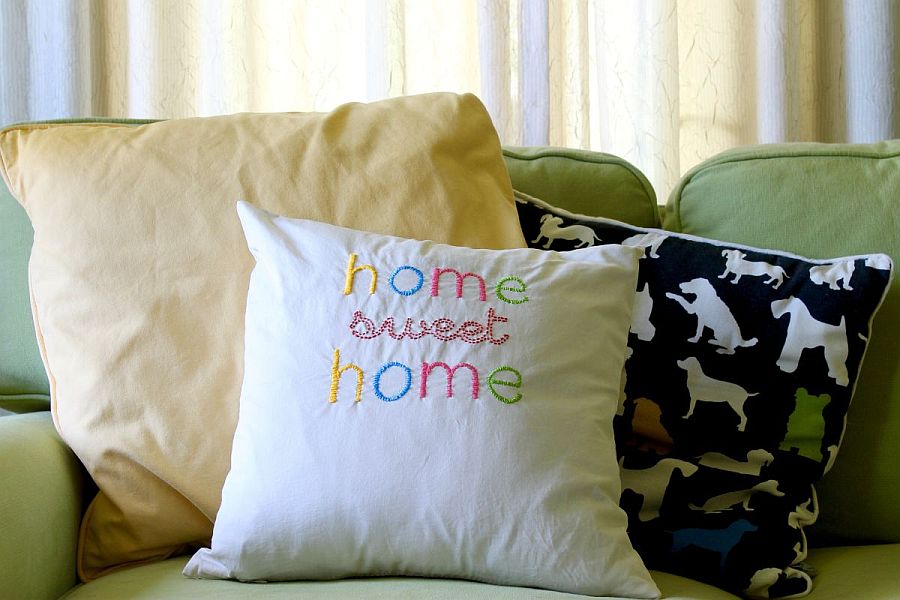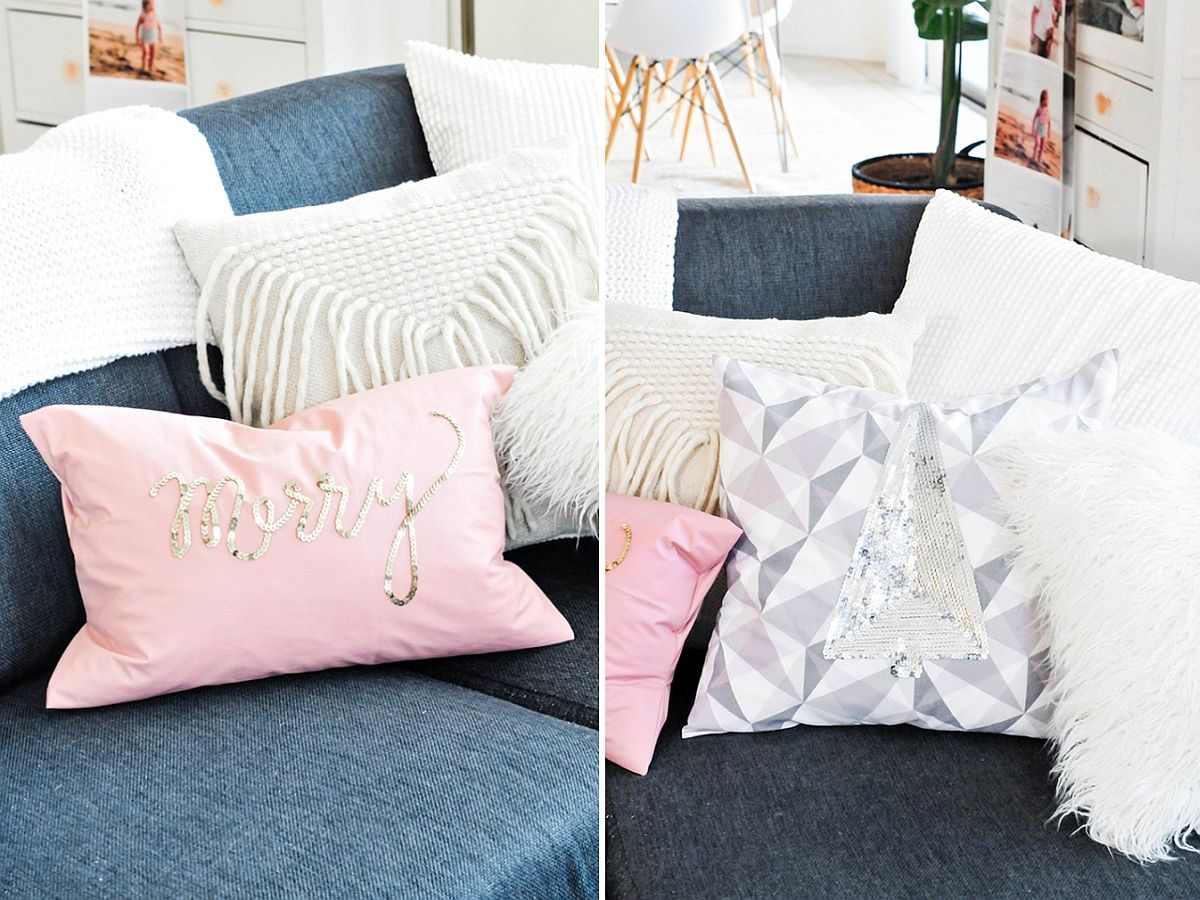 Comfy and Chic
Sometimes it is the most uncanny things that come in handy when you are crafting. As winter rolls along, maybe it is DIY Sweater Pillows that your living room needs. A few old sweaters or those from the thrift store, neat folding and a button are two should get the job done here. They look both chic and seasonal and you can change pillows covers with ease down the line. Those with shabby chic bedroom or living room should definitely give the yarn fringe pillow DIY a shot while throw pillows in blue and white are great for coastal style home. As always, it is about choosing a throw pillow that complements and accentuates the ambiance of your home
RELATED: Floor Pillows And Cushions: Inspirations That Exude Class And Comfort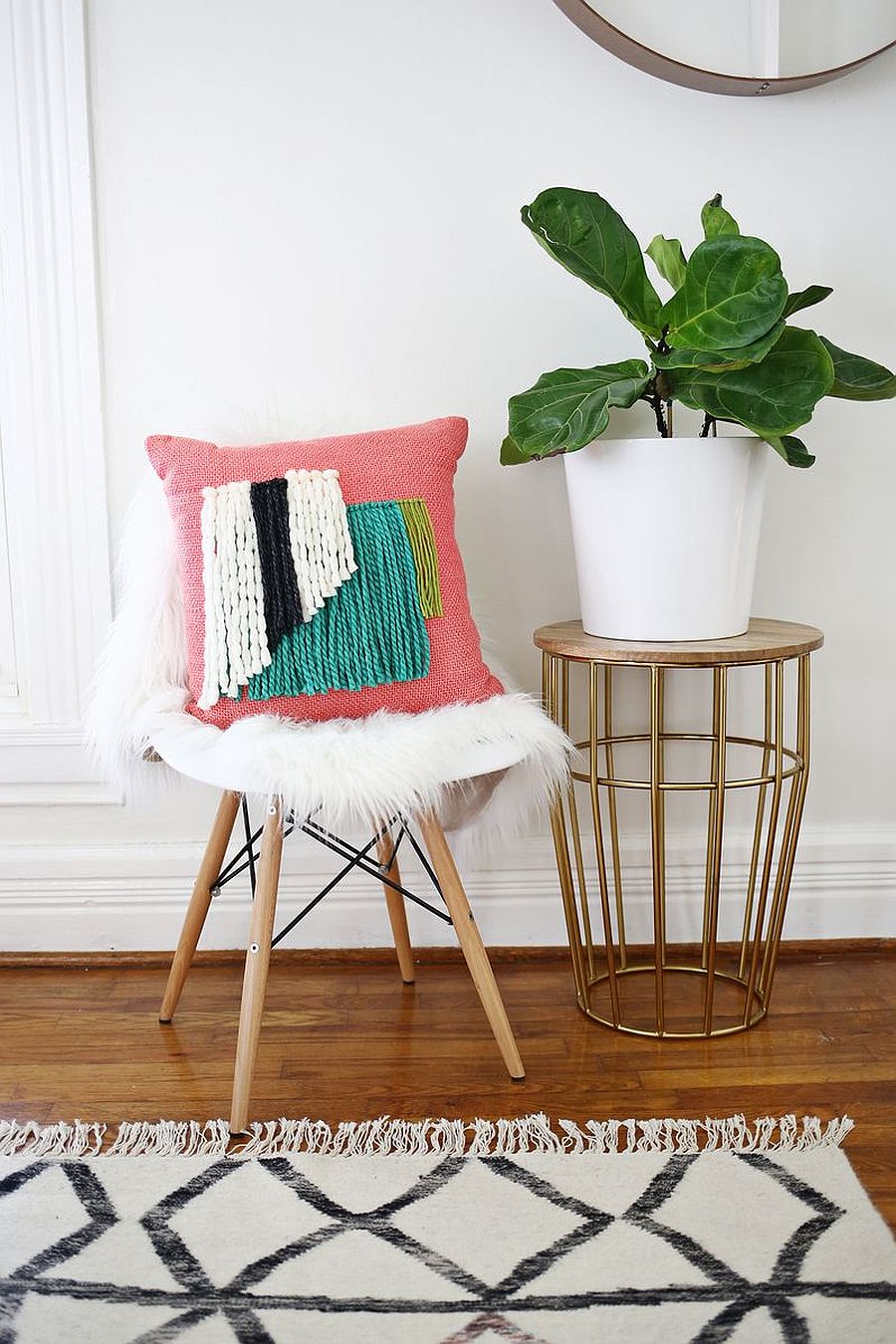 Ready to give your living room a dashing makeover this Holiday Season with a homemade throw pillow?