Today's DIY project is perfect for summer, especially if you're looking to add a splash of tropical style to your wall! Affordable and colorful, this framed palm leaf art couldn't be easier to make. If you have an hour and a few simple supplies, you're well on your way to creating a pair of breezy prints that will make it feel like vacation all year long in the room of your choice. So grab some faux greenery, art paper and a glue gun, and let's get started…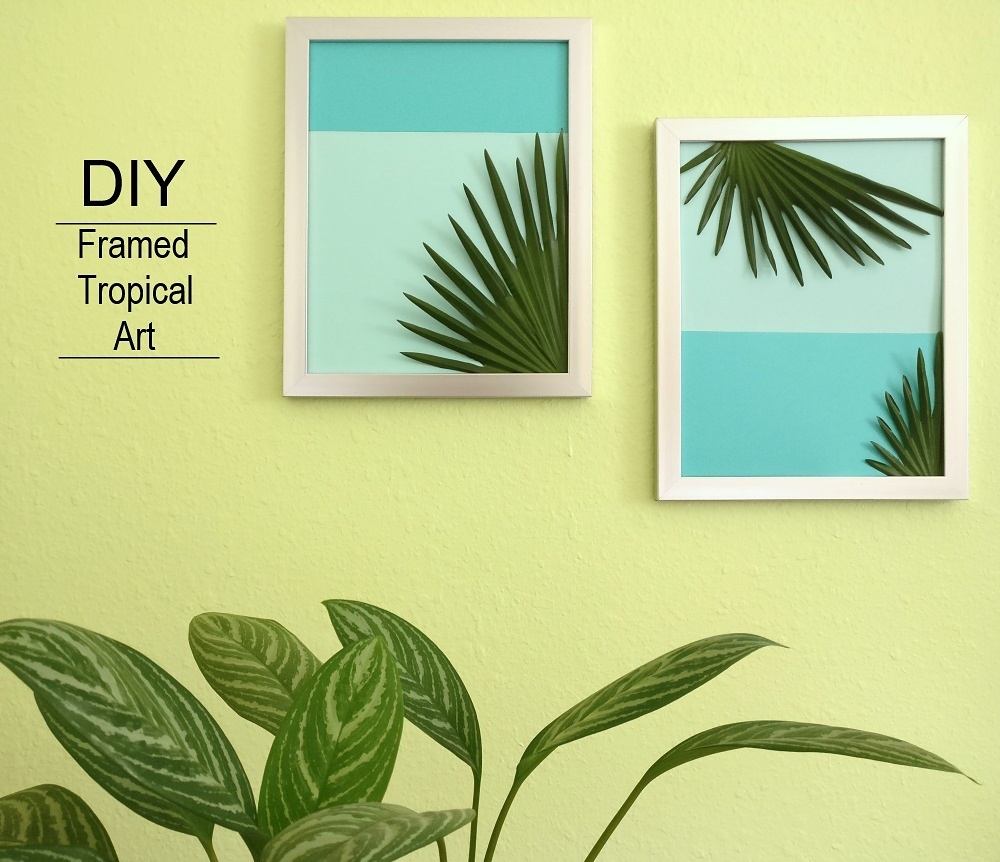 DIY Tropical Art Supplies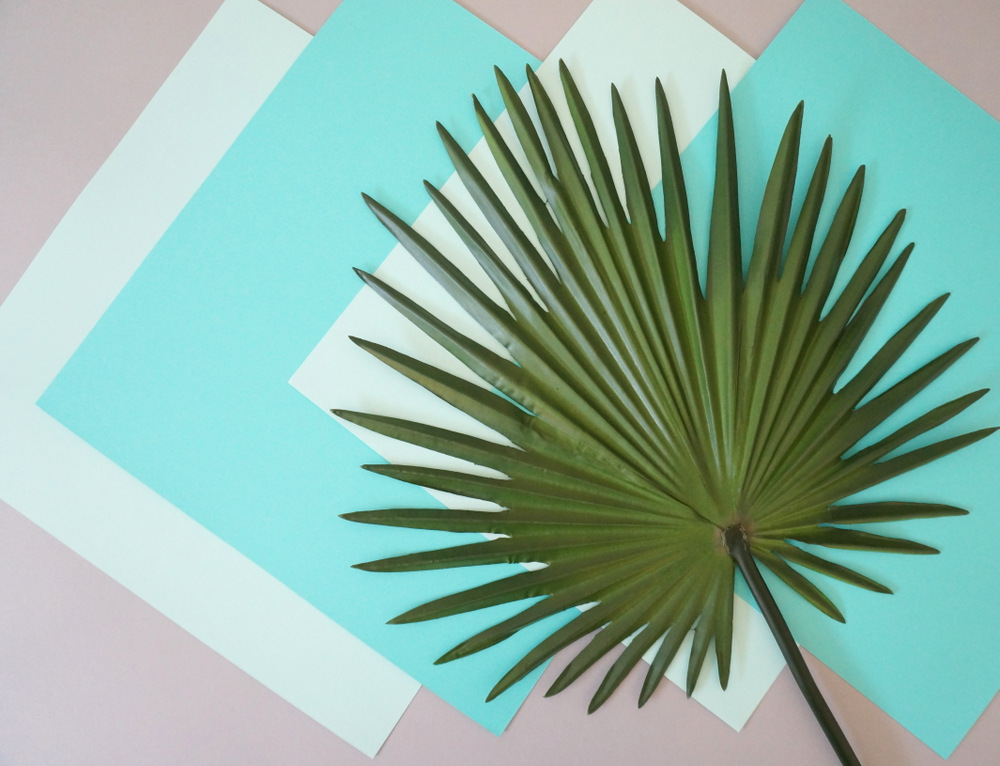 If you can hit a sale on frames and/or artificial tropical greenery, this project is super affordable. If you're on a budget, put your money toward a quality faux palm leaf. Some are paper-thin and obviously fake, yet others are more substantial and have the shine and thickness of real tropical greenery. On that note…
Here's what you'll need to get started:
1-2 faux tropical leaves
art paper (such as scrapbook paper) in the colors of your choice
1-2 frames
scissors
a wire cutter (optional)
a paper cutter
glue or tape
a glue gun
a pencil
a ruler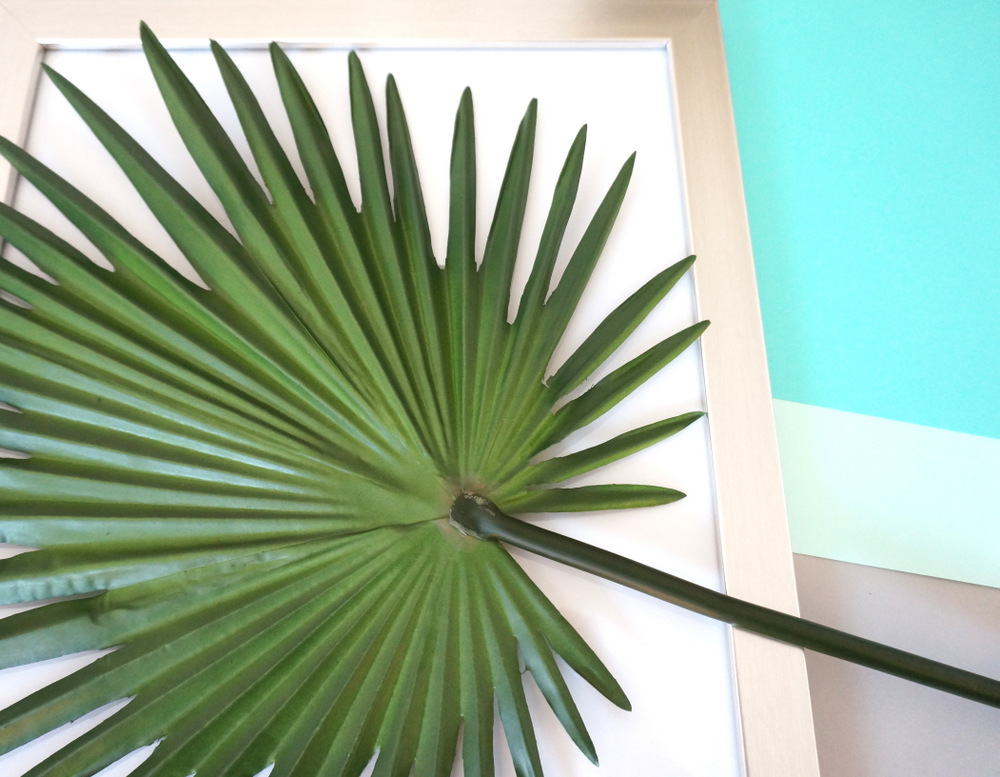 If your faux leaf is not perfectly flat, it helps to have a frame that offers a little bit of leeway in terms of depth. I bought frames with mats (shown above and below), and I removed the mats before framing my art. I figured if the frames could accommodate the thickness of a mat, they could handle the thickness of my tropical leaf! Shadowbox frames will also work. You can do this project with one leaf and one frame, two leaves and two frames, or one leaf and two frames. For my project, one faux fan palm provided me with enough greenery to fill two 11 x 14″ frames!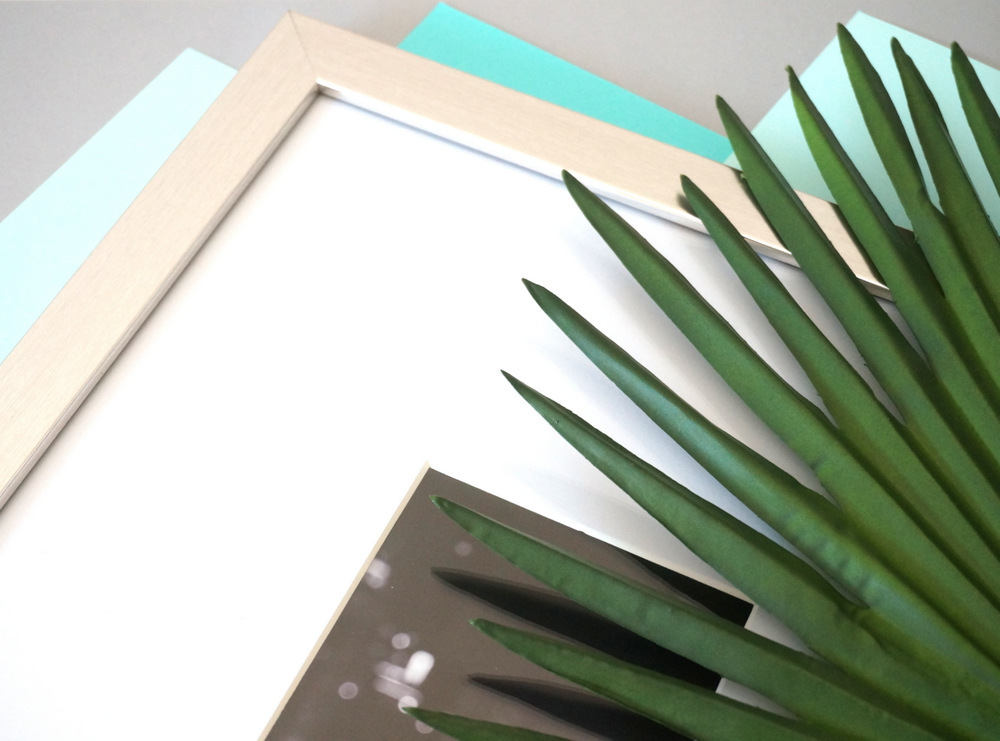 Project Steps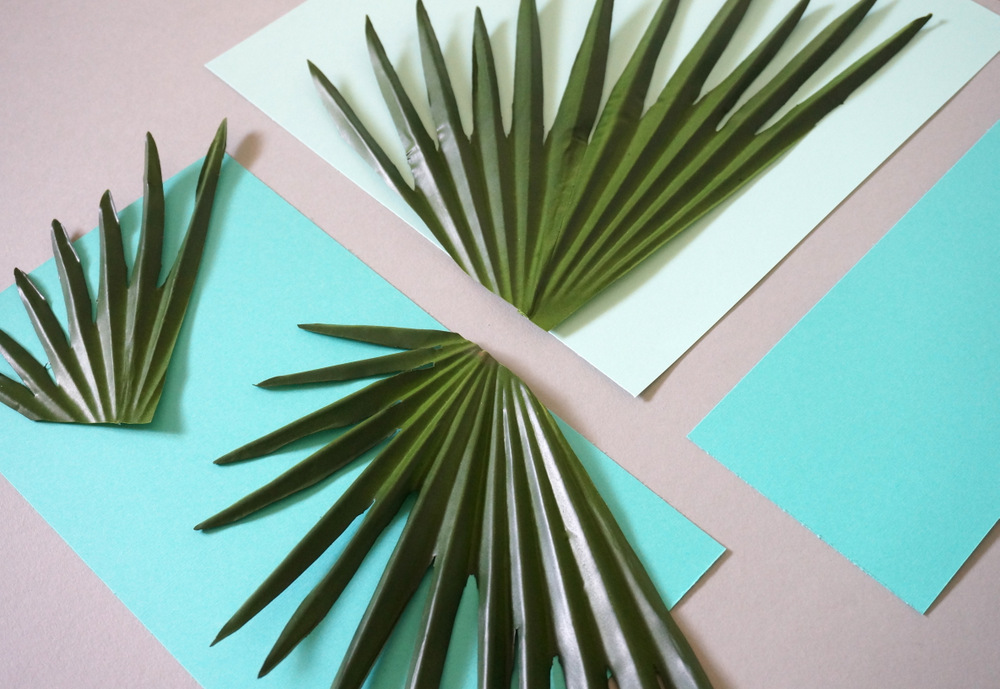 Step 1: Cut your art paper and greenery to fit your frames
I used scrapbook paper in shades of blue as the backdrop for my tropical greenery. A pencil and a ruler will come in handy here, as will a paper cutter for super-straight lines. I opted for a simple color-blocked design, so only a few cuts were needed.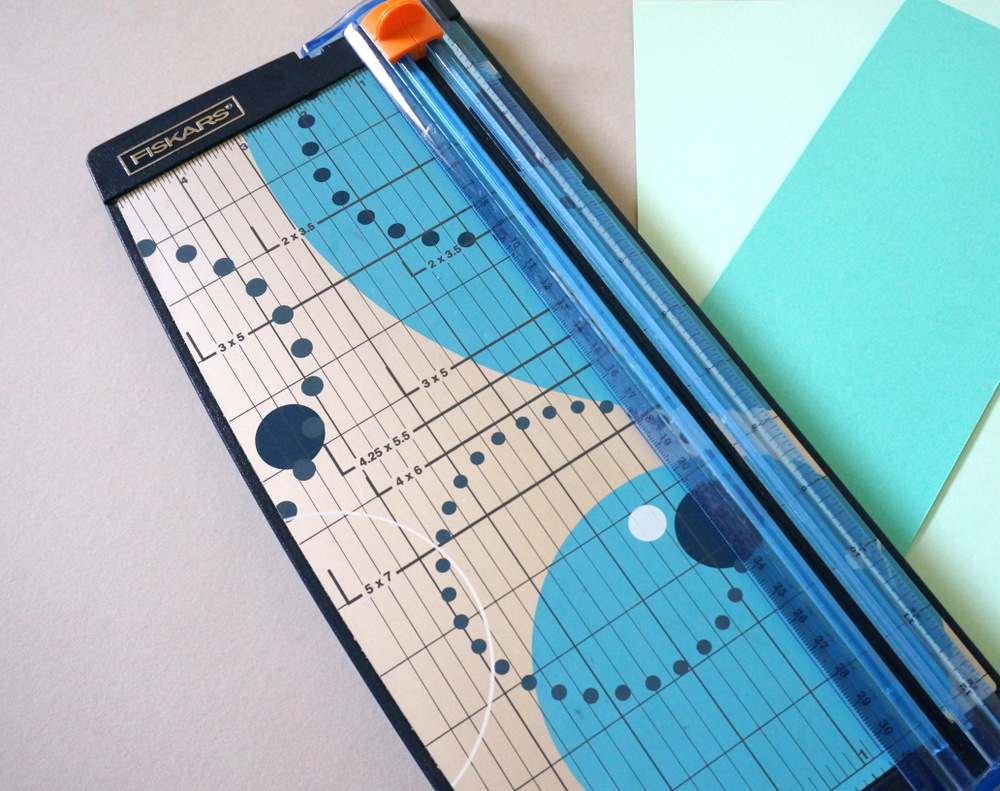 For the faux tropical leaf, scissors may do the trick in terms of cutting, although a wire cutter may be necessary if your greenery features thick internal wire, or if cutting the stem is essential. Have fun experimenting with different layouts of paper and palms before you make anything permanent!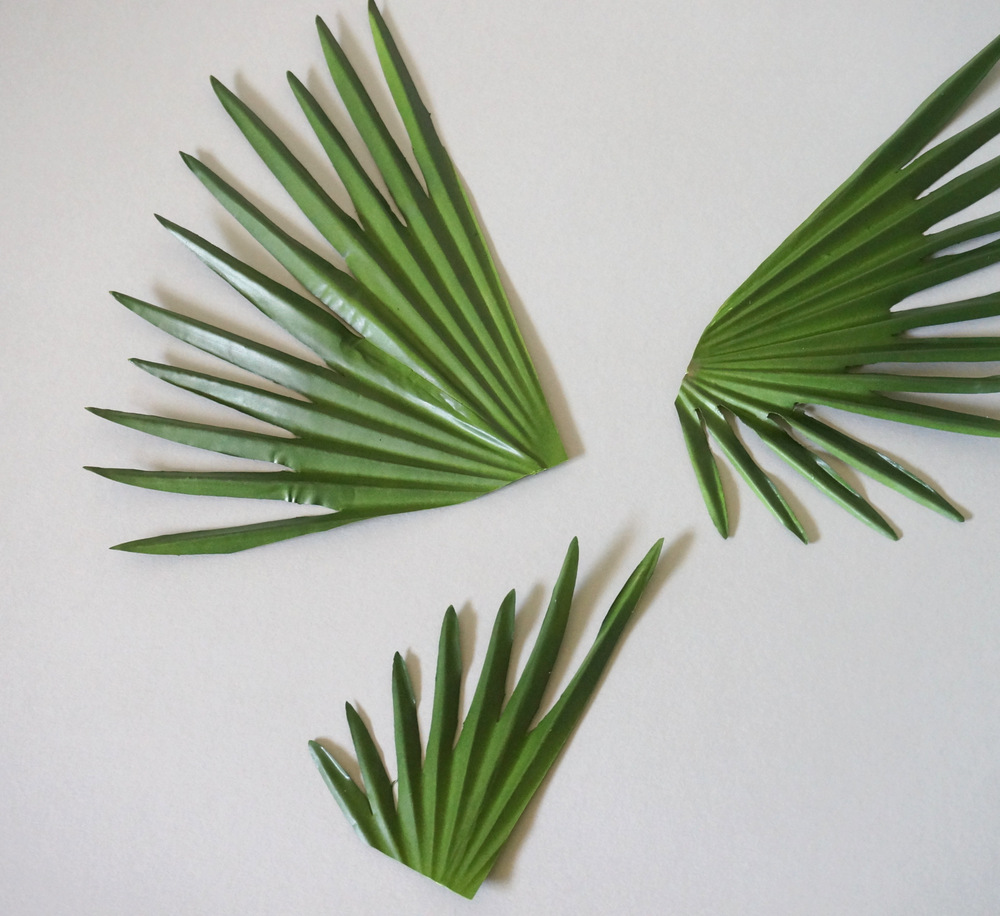 Step 2: Create a backdrop for the tropical greenery with the help of paper and glue
As you can see, two horizontal stripes (a super thick one in aqua and a thinner one in turquoise) were ideal for my design. I used a glue stick as my adhesive. You may choose to glue the paper strips to one larger piece of paper. I actually glued mine to the frame backing (the portion facing the inside of the frame), as I don't plan on re-using these frames for anything but this artwork!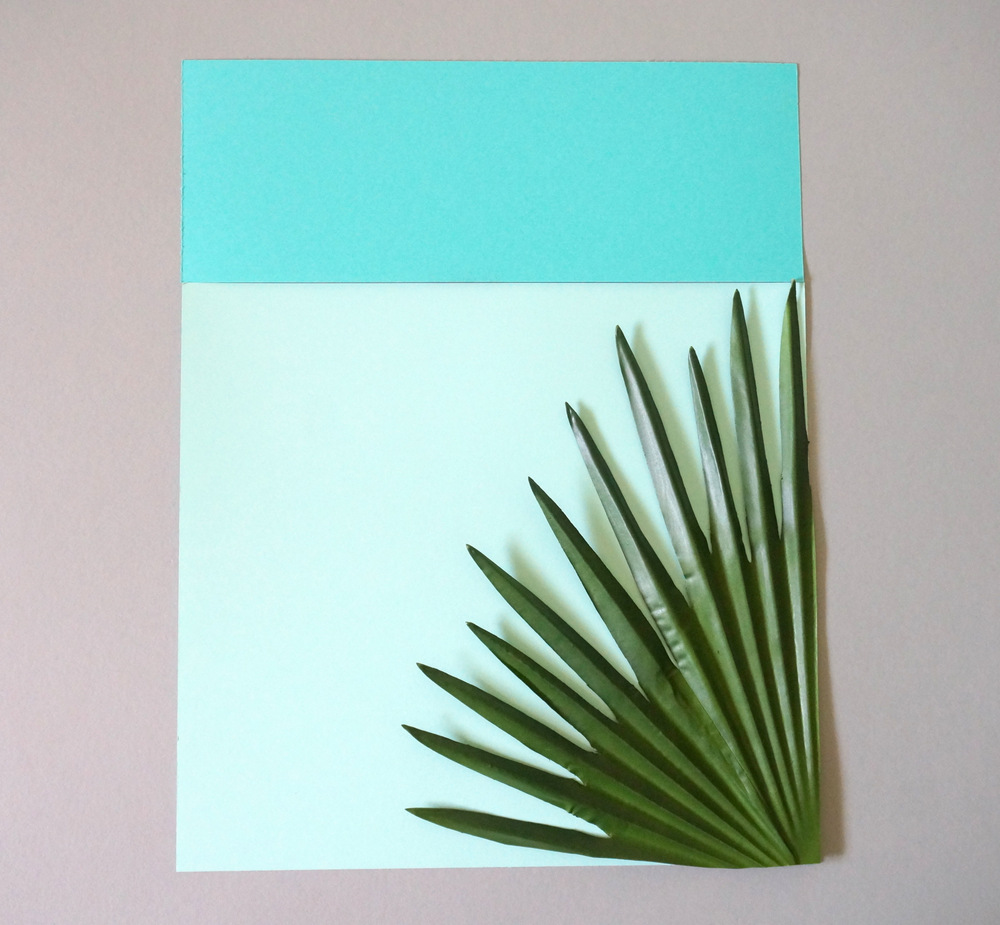 Step 3: Use a glue gun to attach the faux greenery to the paper backdrop
You may only need a few dabs of hot glue to get the job done. While the glass of the frame might take care of taming stray pieces, you will likely want to ensure that any protruding leaves of greenery are secured with glue.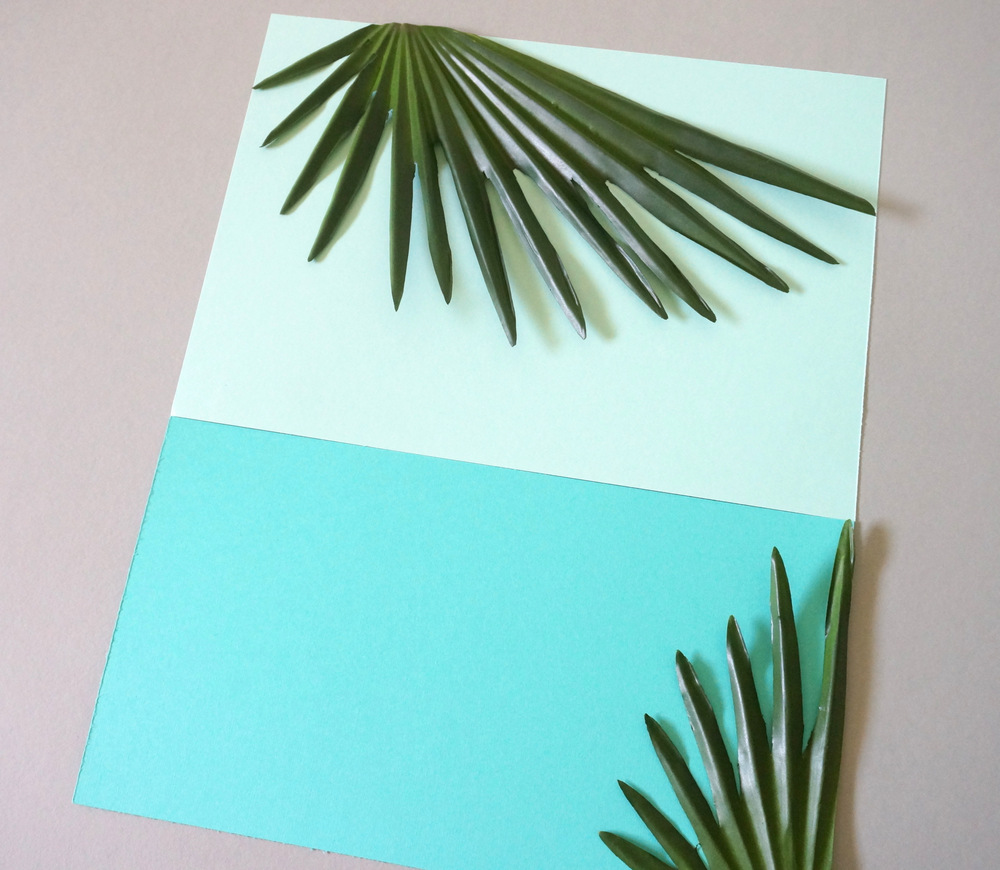 Step 4: Frame your artwork and display it with pride
I told you this was an easy project! If you find that your greenery is too thick to be confined to a frame, simply leave out the glass for a 3-D effect.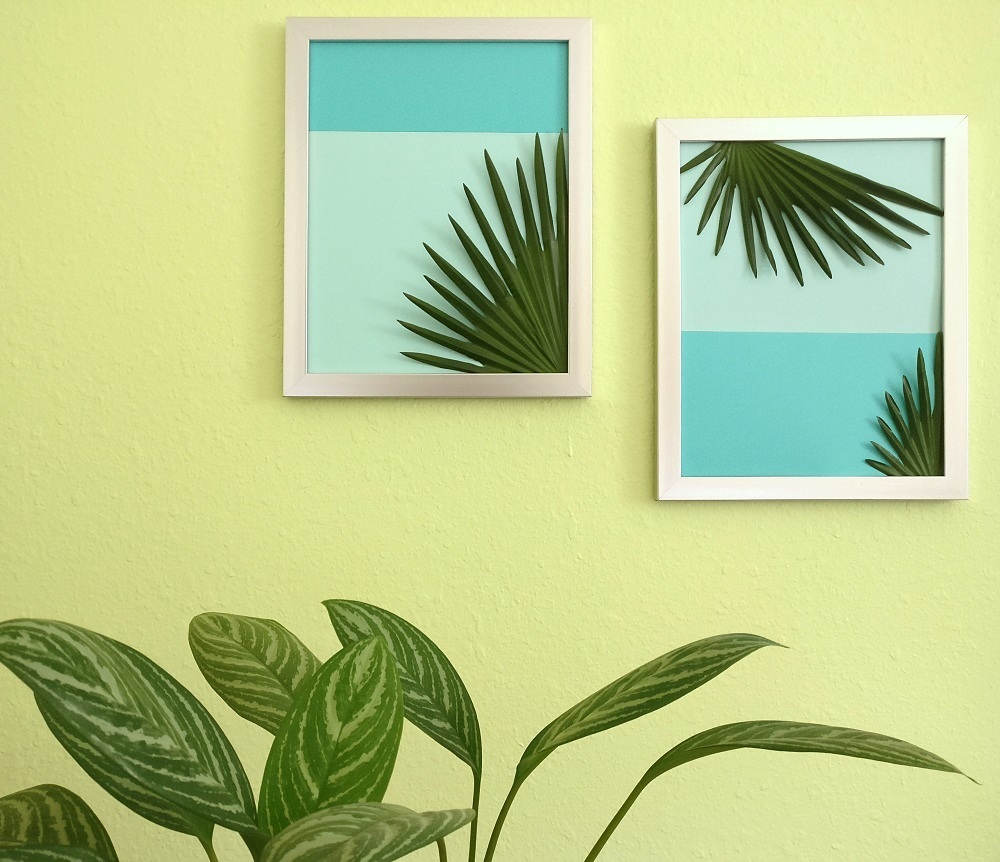 Here's to an easy-breezy summer, complete with a tropical vibe at home!