The modern rustic design trend has swept through the interior spaces of decor lovers everywhere. One easy way to achieve the look is with a wooden pallet bed or headboard. Sometimes referred to as a "skid," pallet boards are the wooden planks underneath merchandise or cargo that can be lifted and moved by forklifts. Some clever DIY decorators have repurposed pallet boards to build seating, bed frames, day beds, and headboards that fit effortlessly into the rustic decor theme. Otherwise known as farmhouse chic, the style is admired for its natural feel and earth tones complemented by rough textures like rope and wood. Using elements from the rustic trend can make any space feel more like home with warm colors, cozy cottons, and wooden furniture. Whether you know someone who is handy with a skill saw, or you're feeling up to the task yourself, you can build an affordable pallet bed that will bring the rustic theme to life in any bedroom space.
Of course, this project requires a bit of labor, patience, and skill if you choose to build the pallet at home. A bit of research will show that there are quite a few helpful resources on Youtube to make sure you build the project safely and properly. Another option to consider is purchasing one at the local hardware store to skip the slivers or buy a skid building kit directly from Lowes. We found our favorite pallet beds to get you inspired to create the perfect lounge spot somewhere in your home.
Modern Minimalist Pallet Beds
In some rooms, the pallet bed takes center stage in a minimalist decor scheme and acts as the focal point of the room. When accented minimally by using little to no wall decor and cleverly placed furniture, the pallet bed will remain the immediate point of focus in any space. Additionally, the wood can be painted or stained to specifically match your existing decor or furniture. The most popular choice remains the original wood grain, however, some decorators have proven that staining or painting the wood can elevate the design feature and help tie the space together. The spaces featured below are pallet beds that successfully manage to fit into the minimalist design trend, while still being statement pieces of furniture.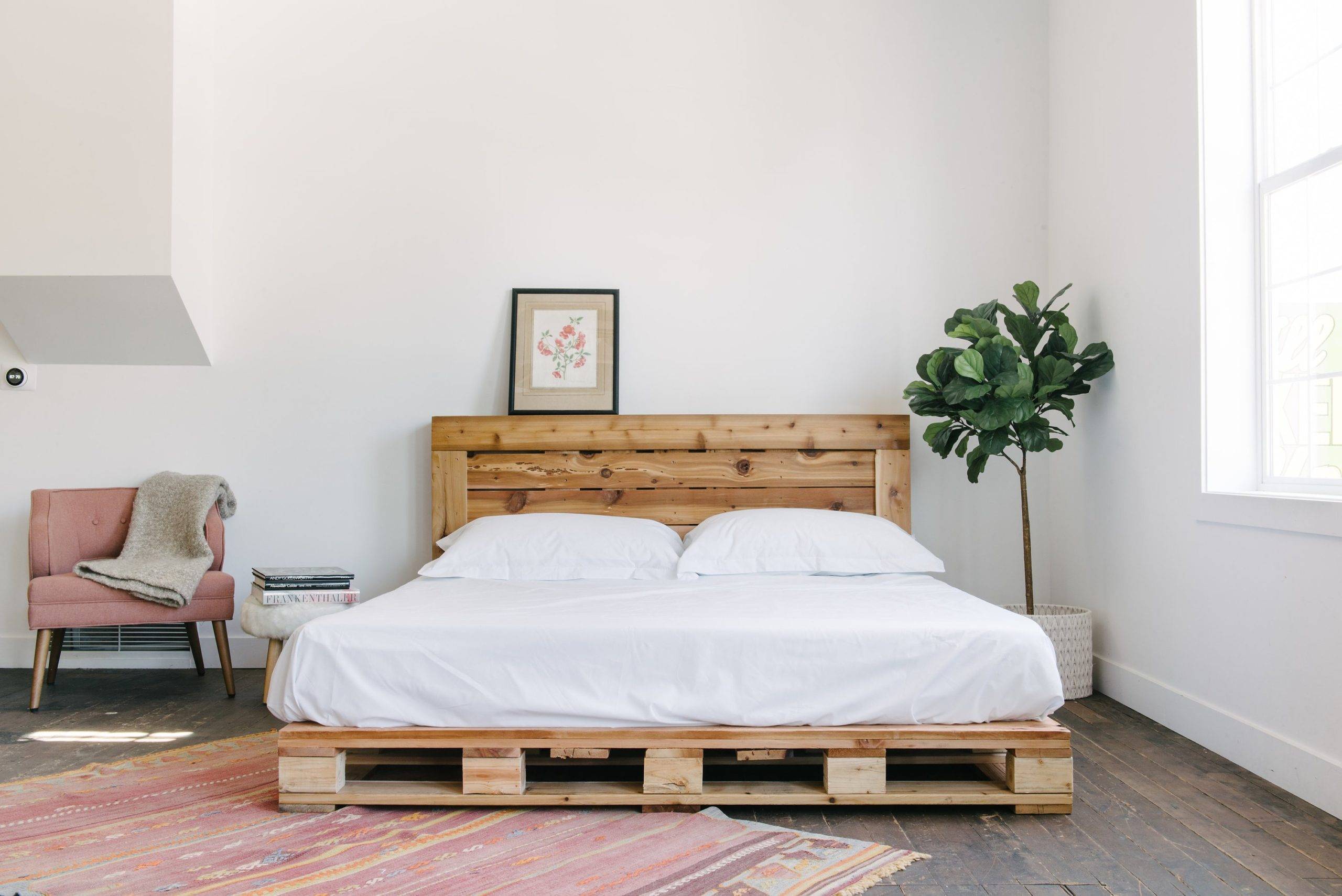 Minimalist bedroom with a pallet bed and accent chair. Image via PalletBeds on Etsy.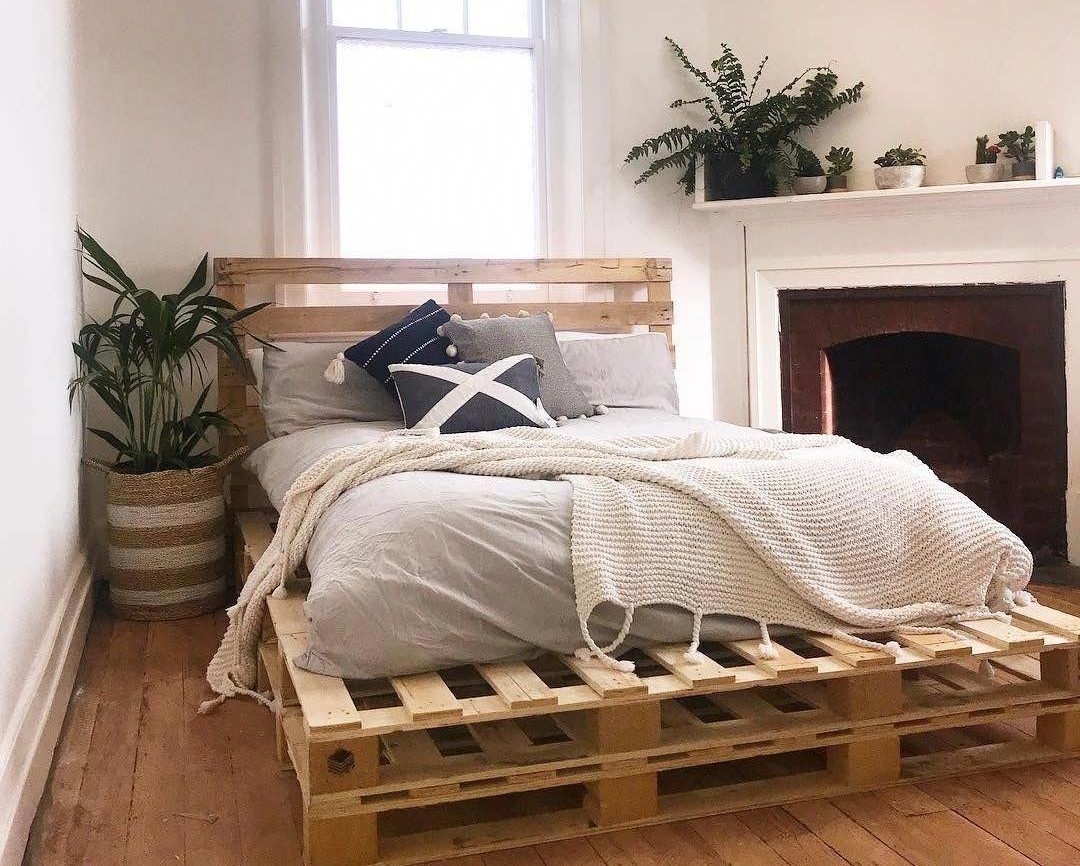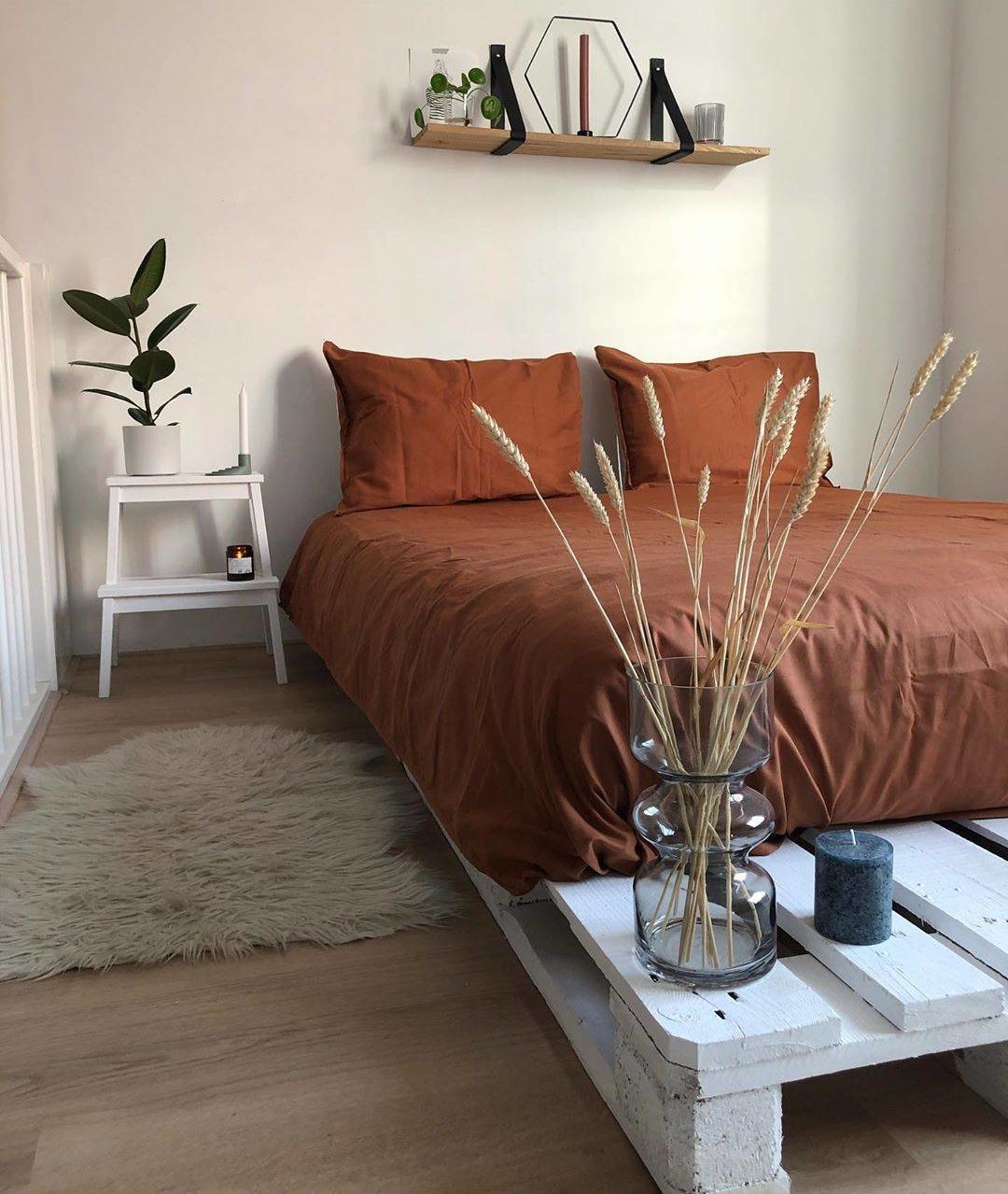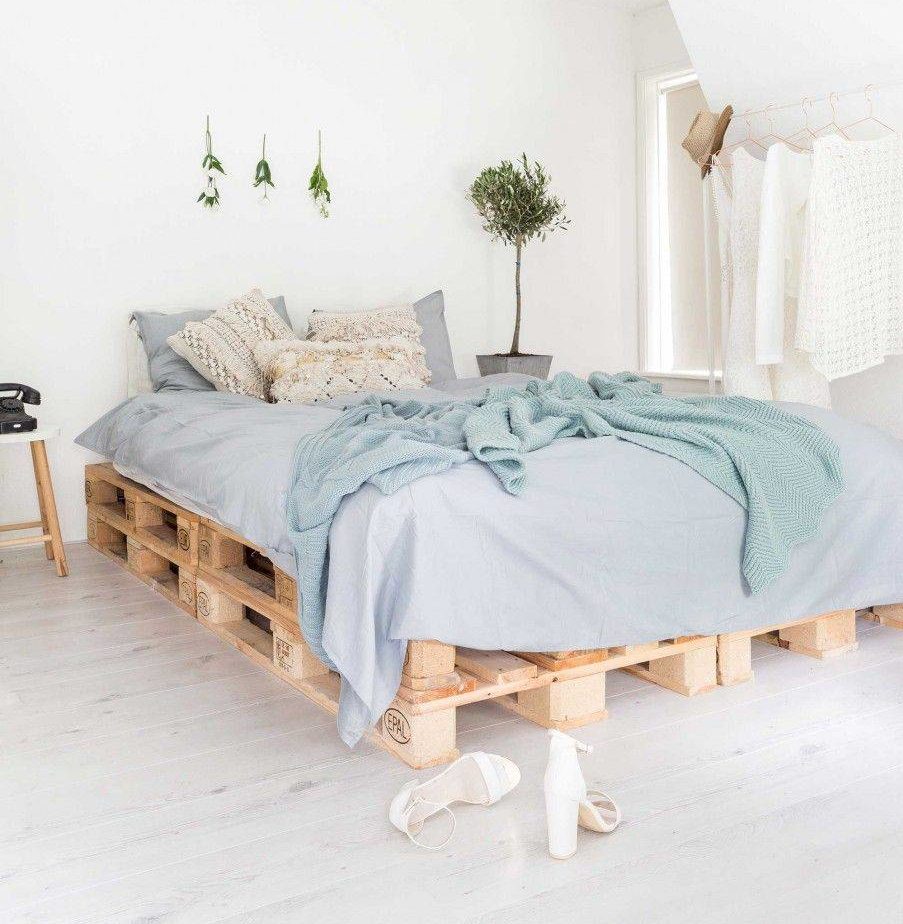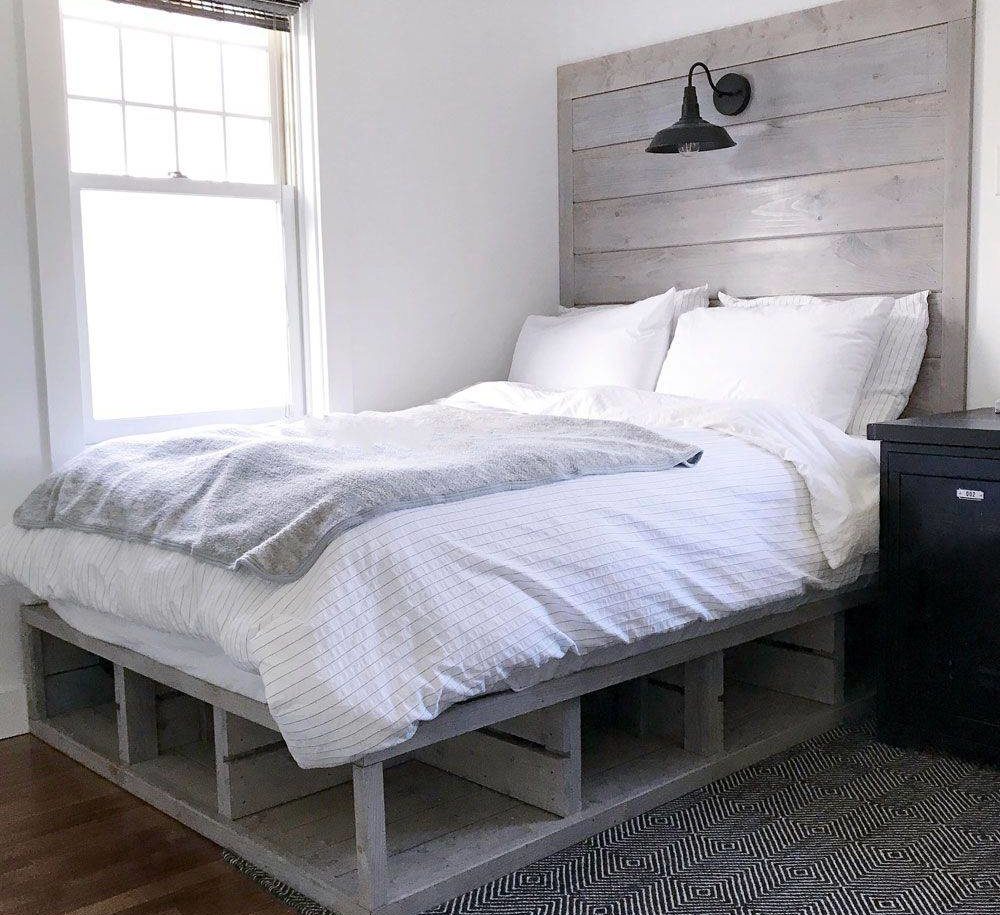 Chic Feminine Pallet Bed Ideas
Since the pallet bed can be built at home in the garage, it makes for a popular project among woodworkers and DIY enthusiasts. People have a tendency to assume that it would be difficult to style this low-budget bed frame option in a feminine or modern chic design style. To prove the opposite is true, we rounded up the most dreamy bedroom spaces that are delicately feminine and have a pallet board bed frame. The best way to accomplish the effortlessly chic style of the pallet bedrooms below is to choose a bright color pallet, incorporate beautiful bedding, and style a funky rug. Adding themed wall art or a statement lighting option (like a small neon sign) are the final elements you need to tie together the prettiest relaxation spot in your home.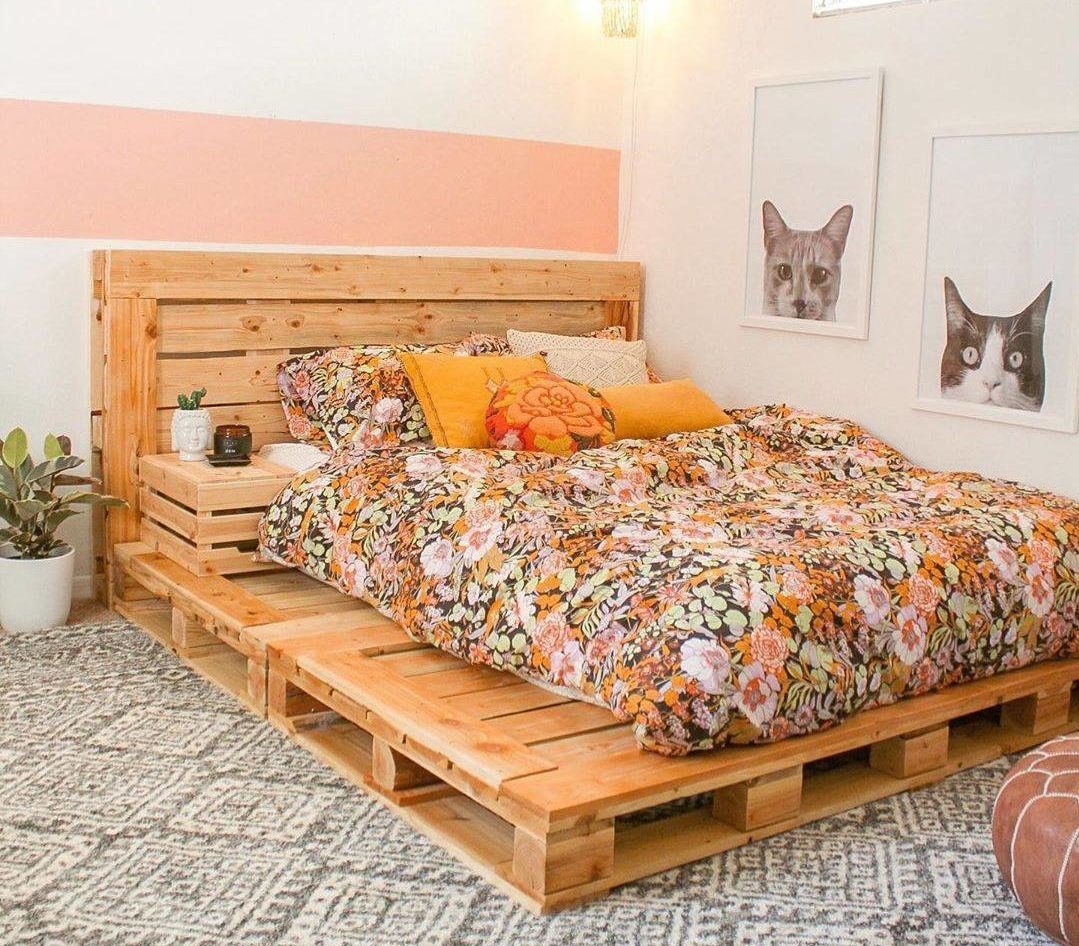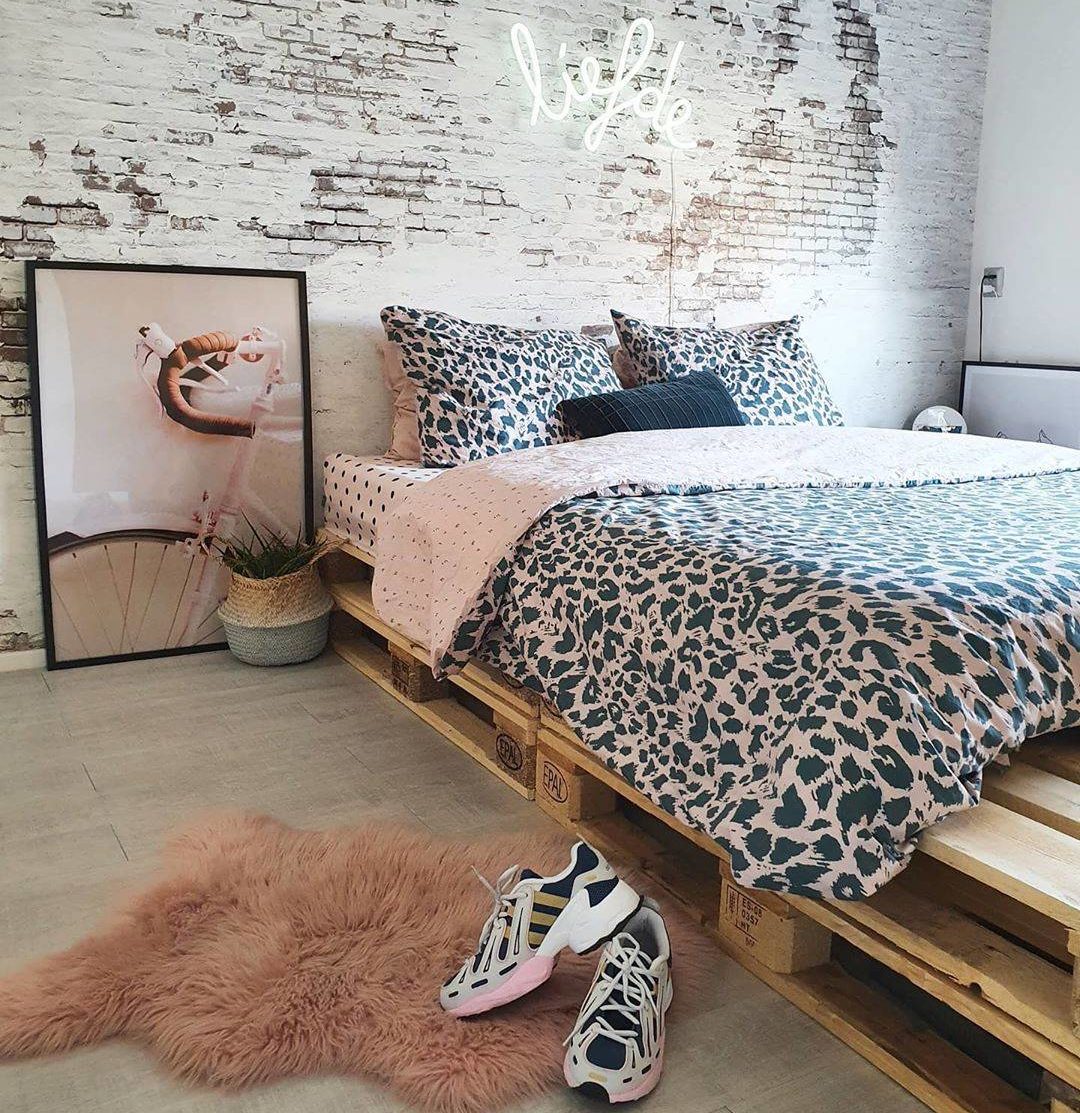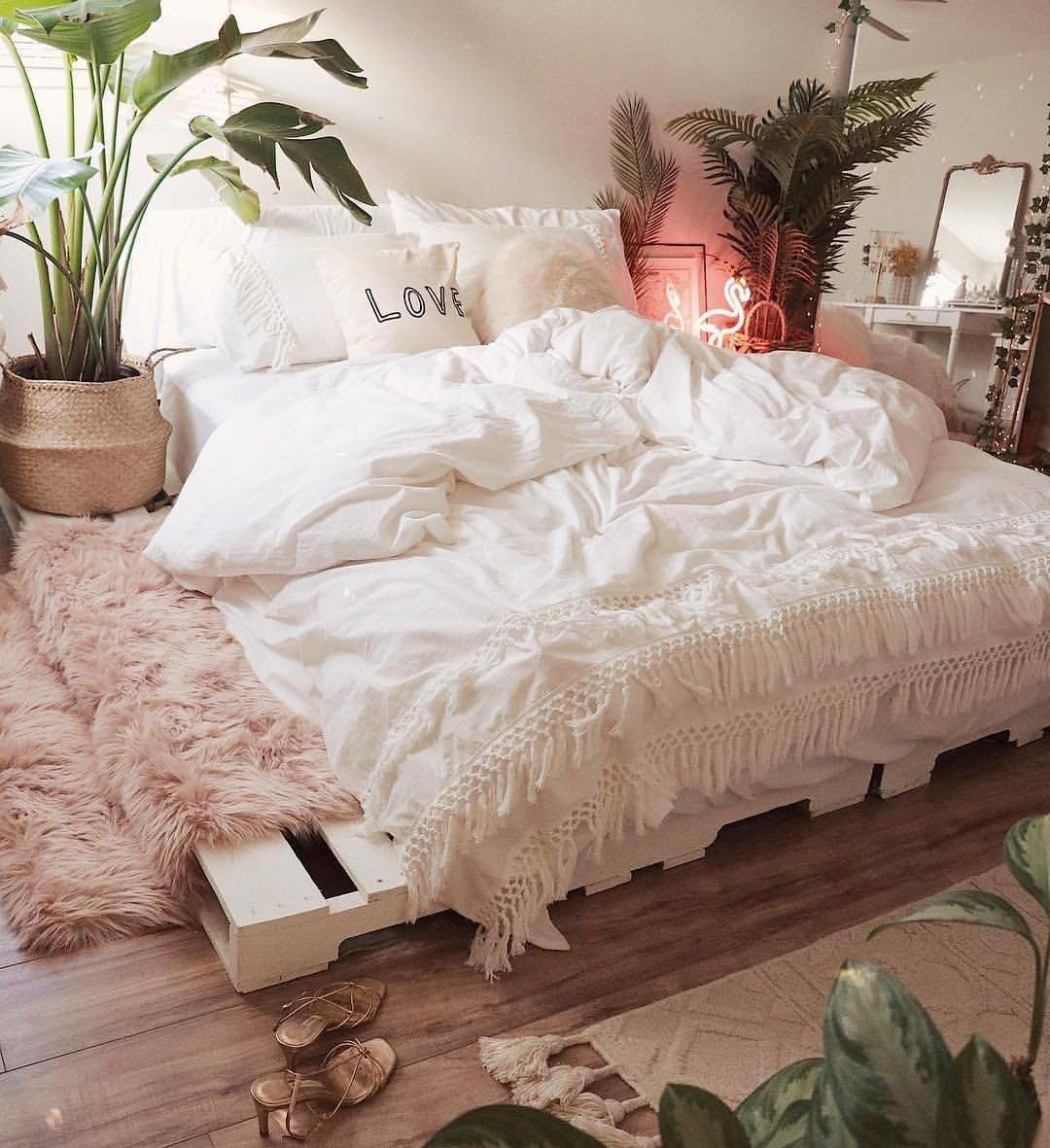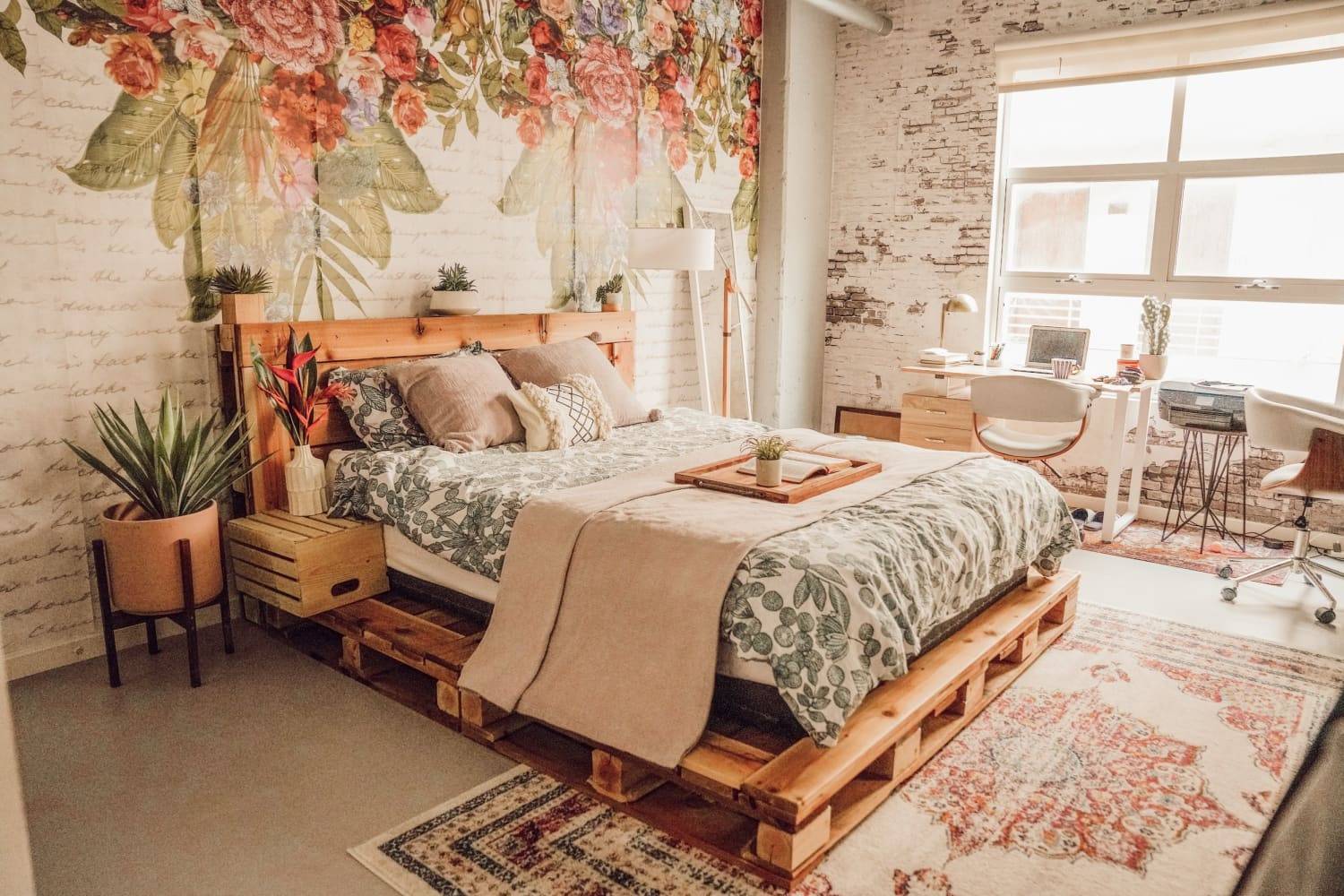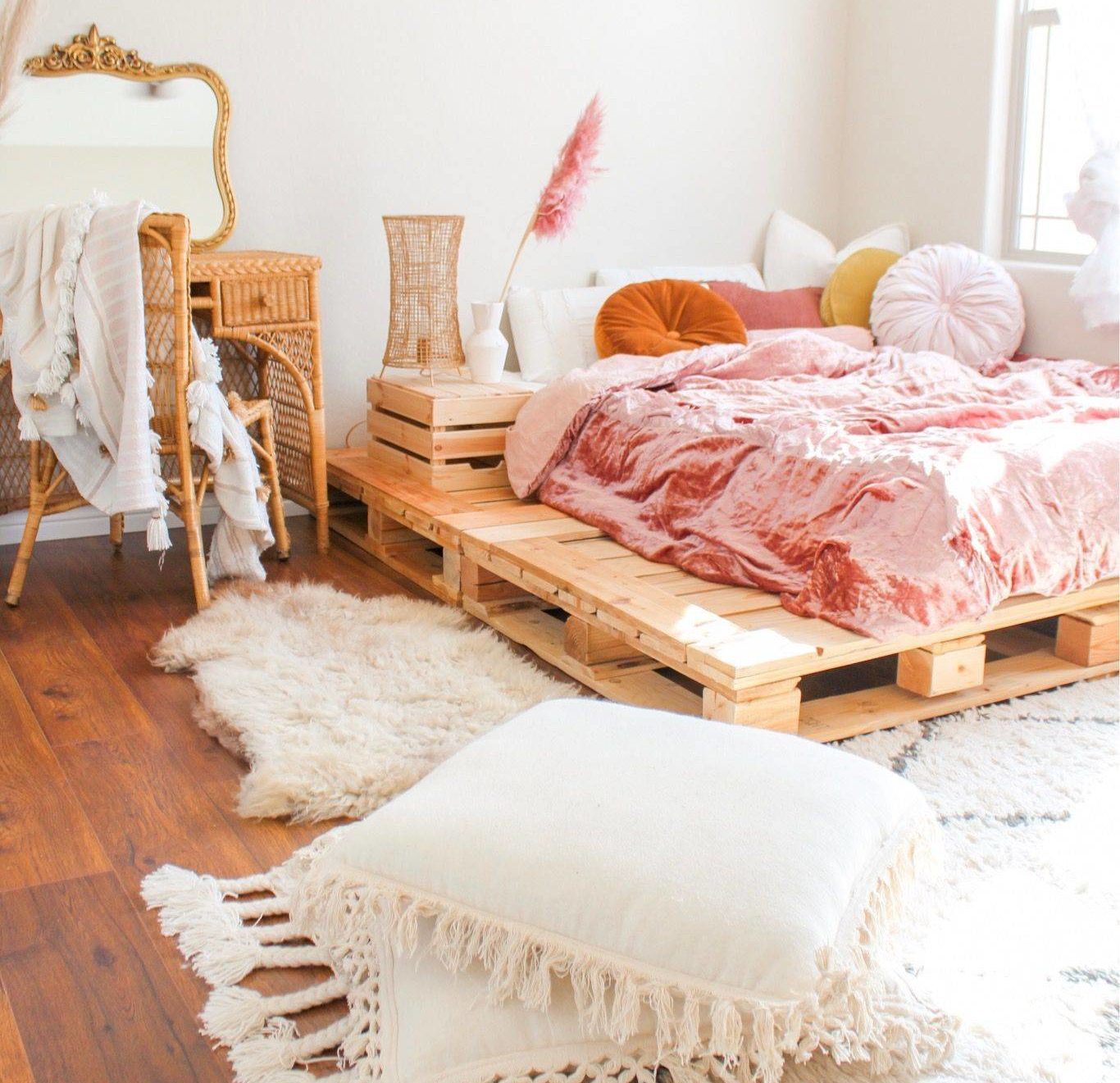 Pallet Beds in Rustic Rooms
As we mentioned in basically the first sentence of this article, the rustic decor trend is undoubtedly one of the easiest trends to style the pallet bed in. The earth tone colors and various textures of the rustic theme endlessly complement the natural wood material and country feel of the pallet boards. These pallet beds are often left in their natural wood grain with no stain, paint or significant sanding to change the look; they are best accented with rope materials, wooden furniture, and sandy earth tones. Textured rugs and patterned throw pillows are also great decor items to help achieve the rustic trend in your home. Check out some examples of pallet beds in rustic-themed rooms to get ideas on how to style them in your own home: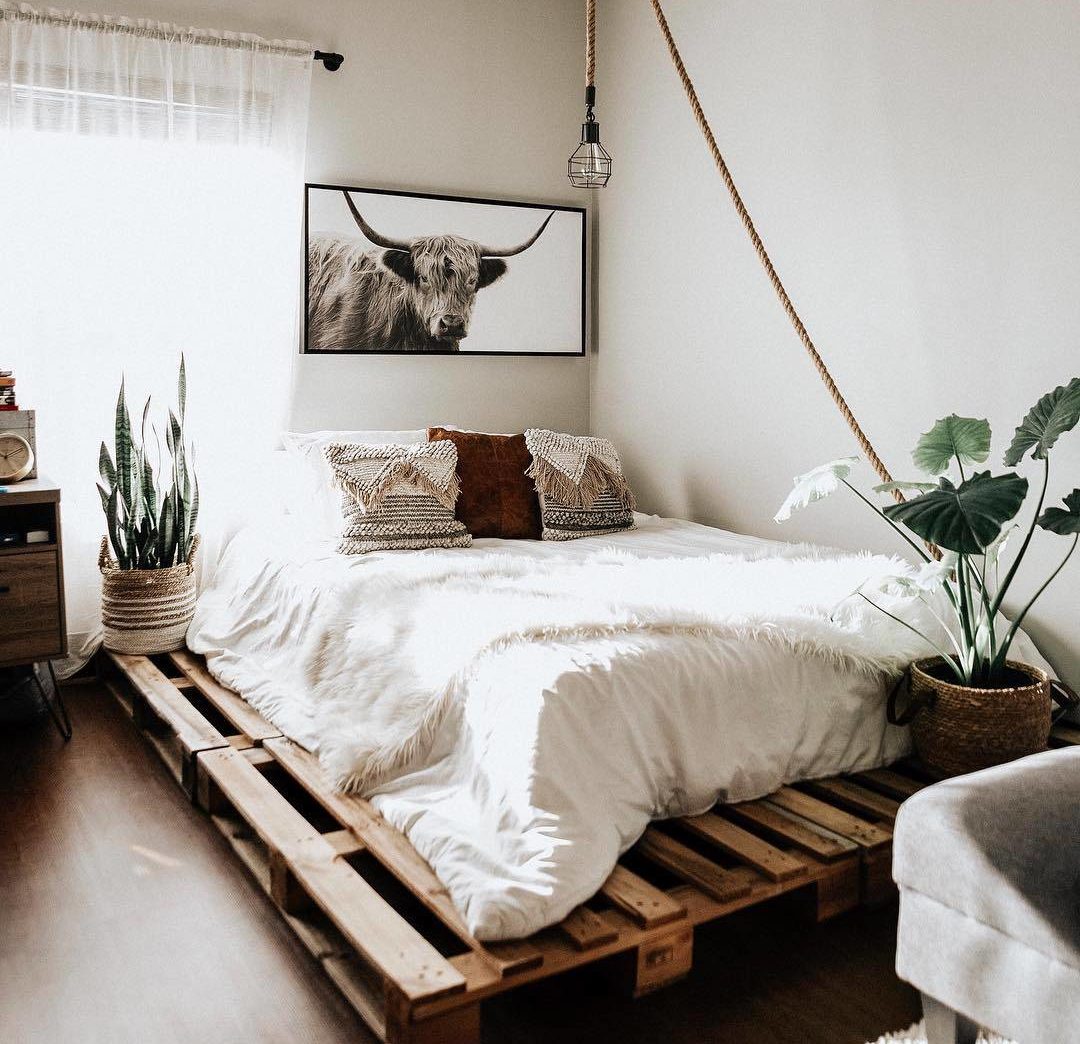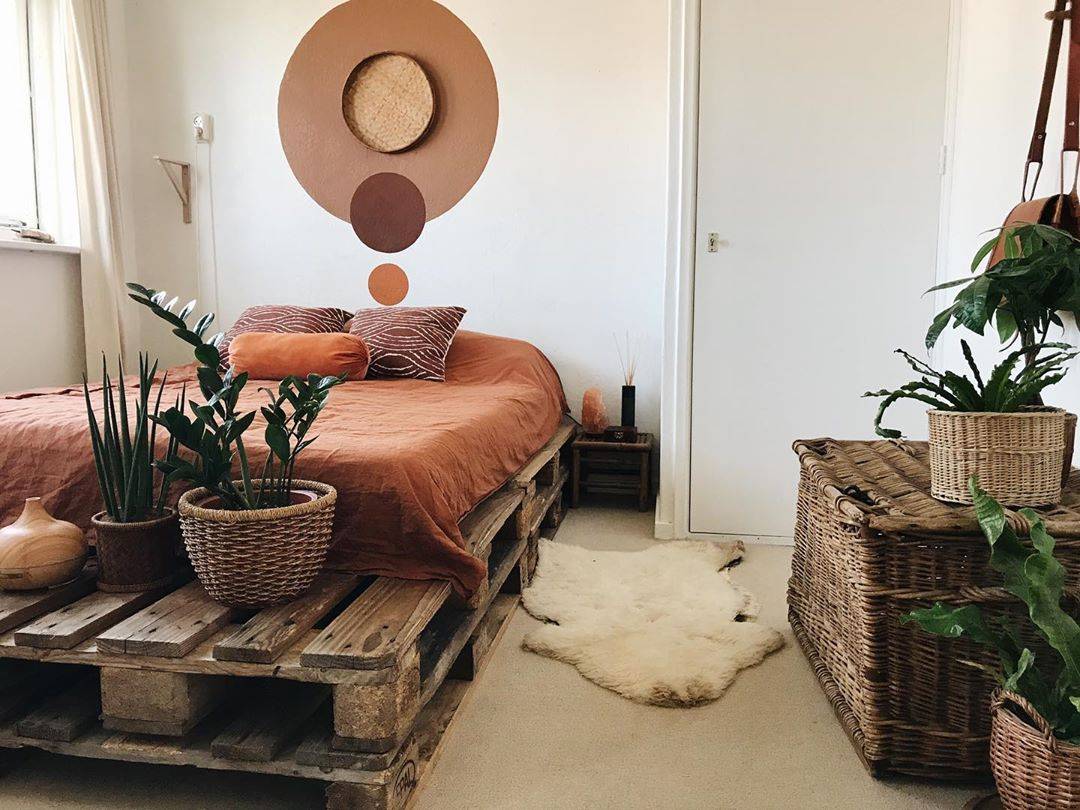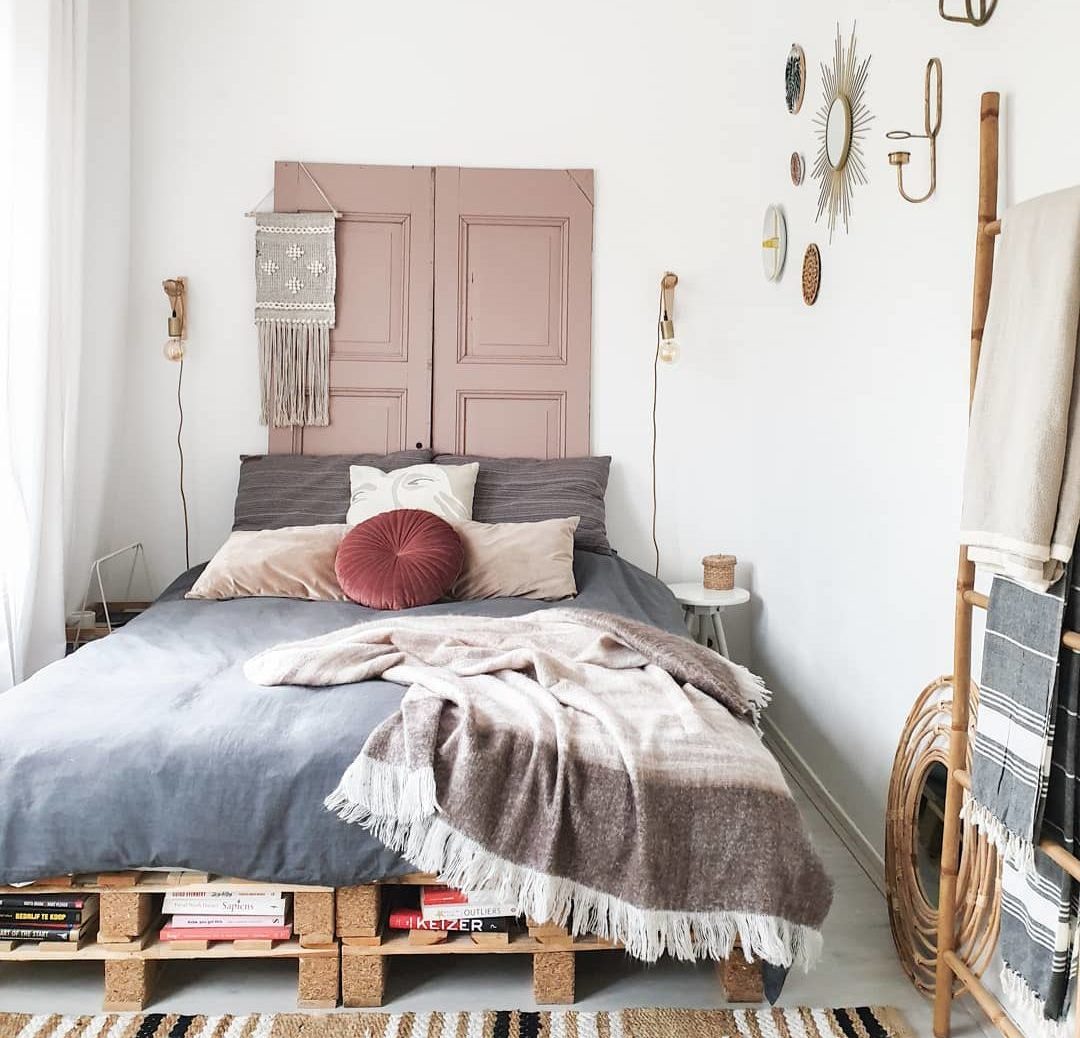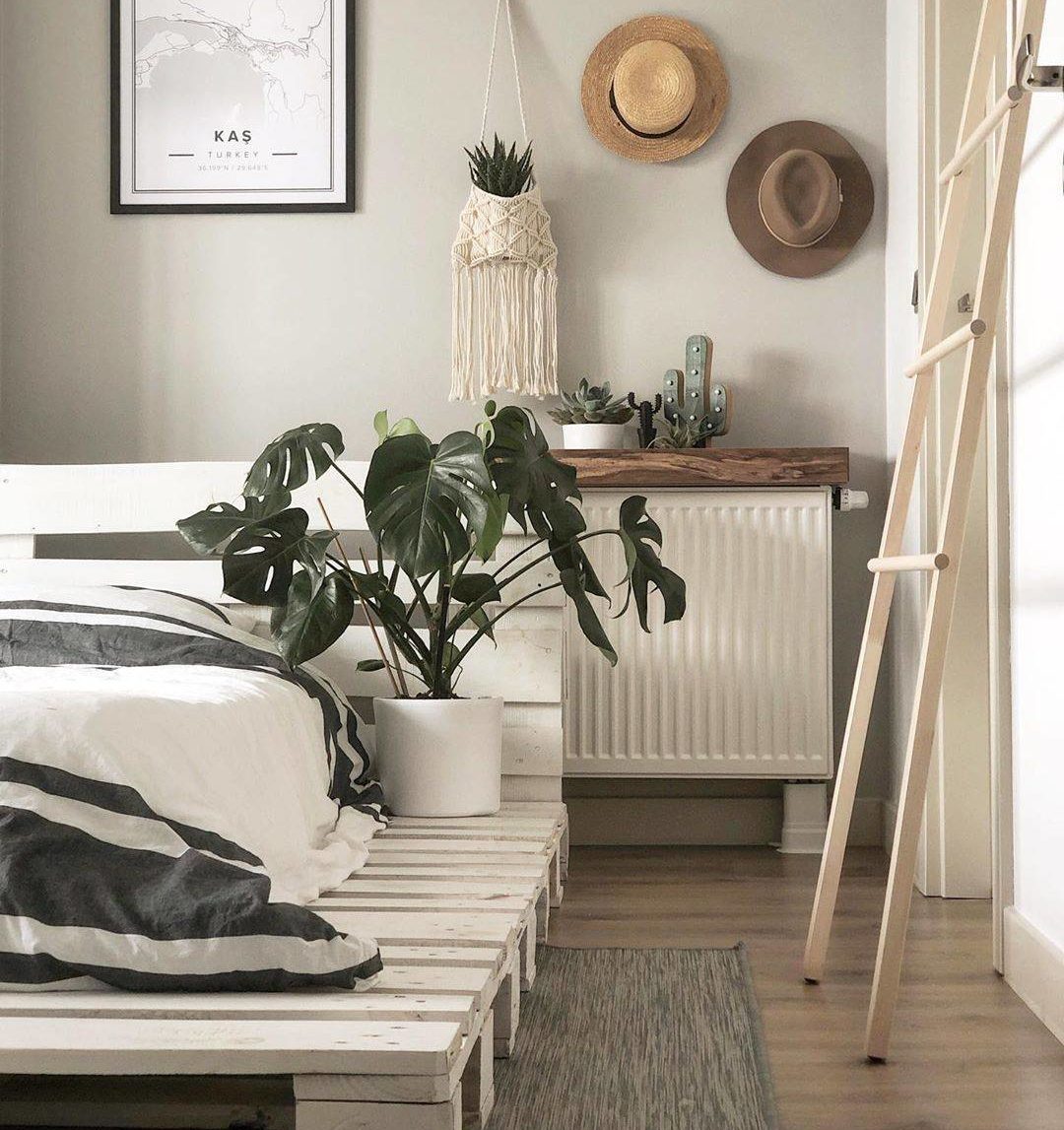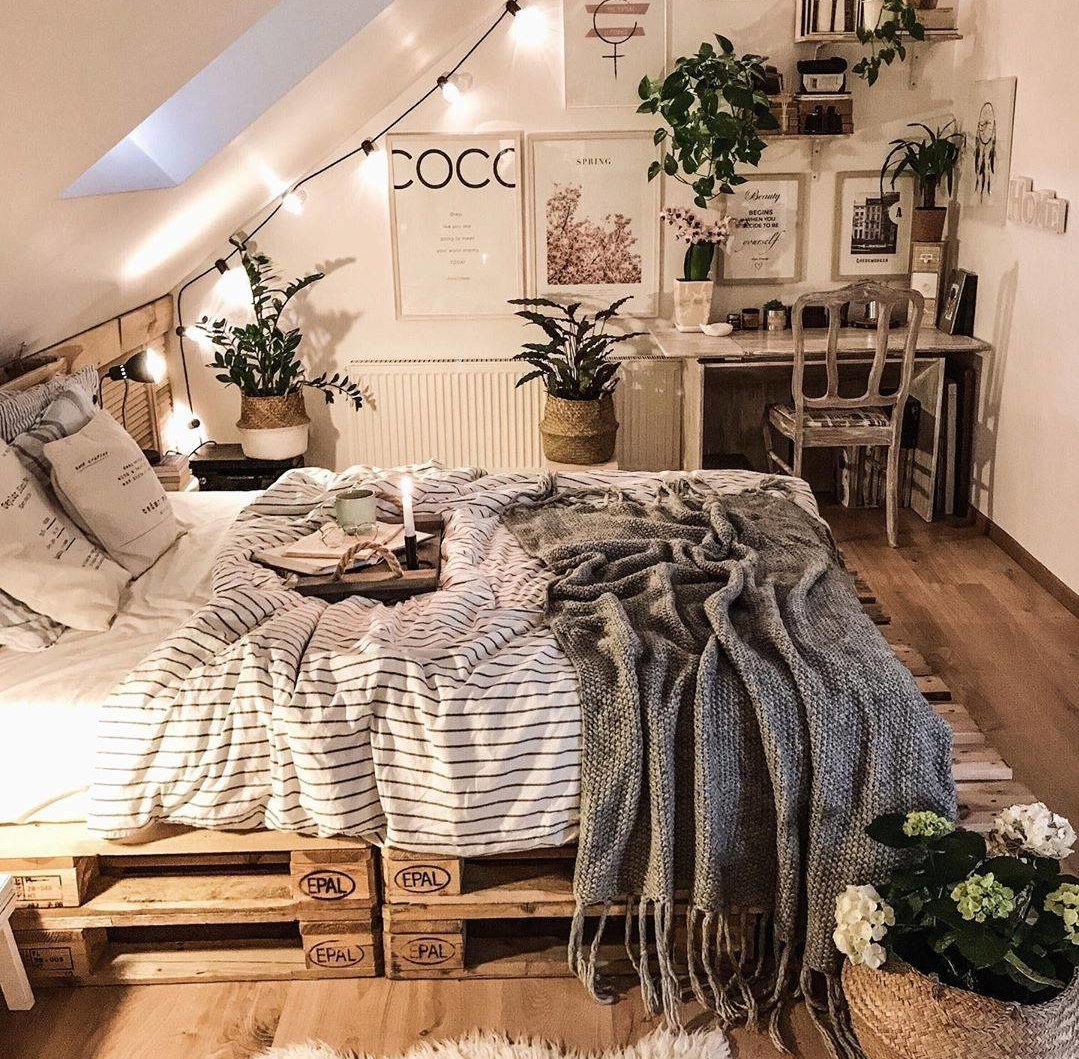 Pallet Beds Plus Trendy Neutral Decor
We've established that the pallet bed can be styled in a minimalist trend, a chic feminine bedroom, or a country-rustic-inspired home. The following spaces were designed with traditional masculine or neutral themes in mind, using grey and brown color pallets and fairly minimalist decor. The wood usually speaks for itself and is left in its natural rustic state or sometimes stained a light grey color. Check out these neutral spaces inspired by calm weather and earth tones with a central pallet bed feature: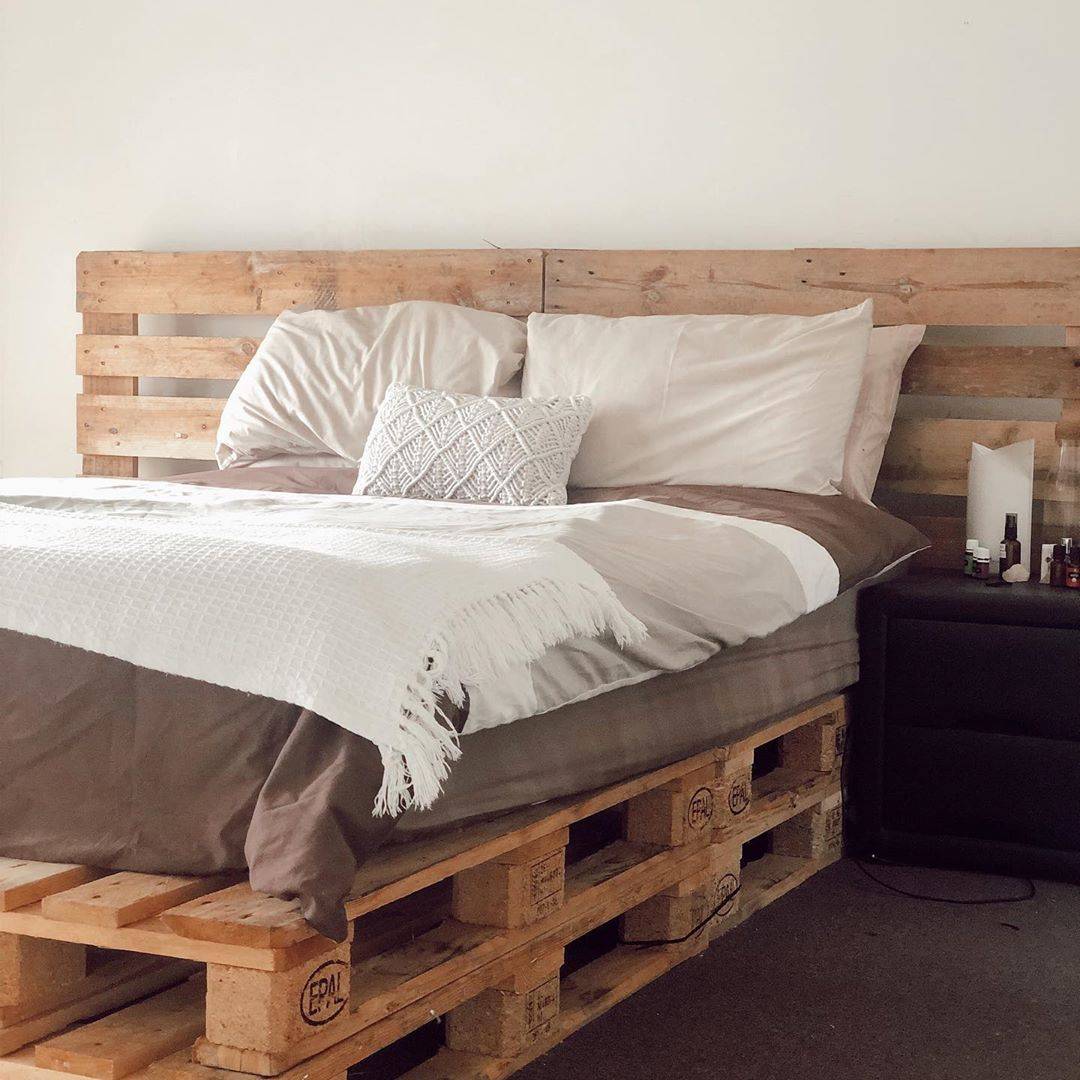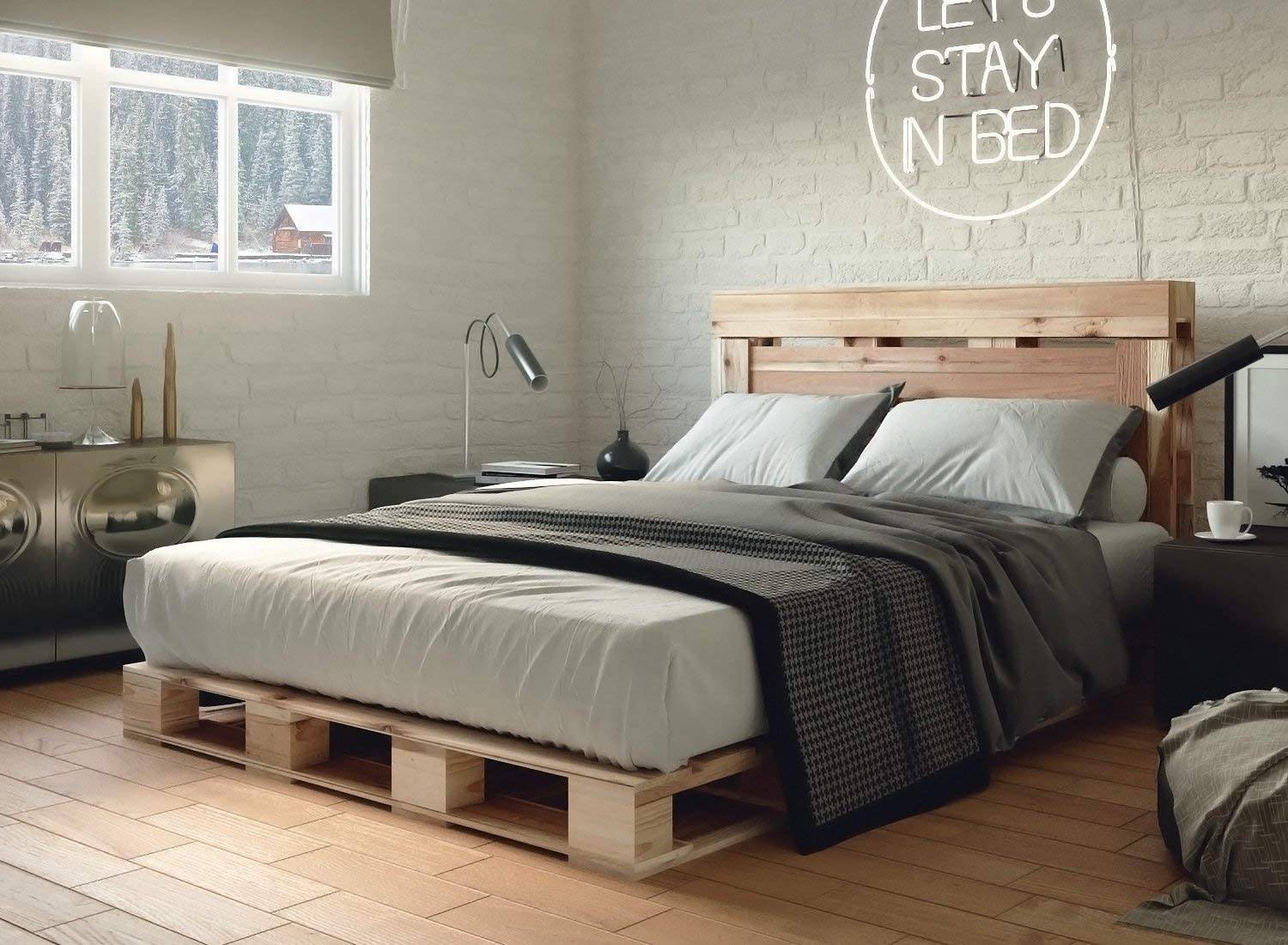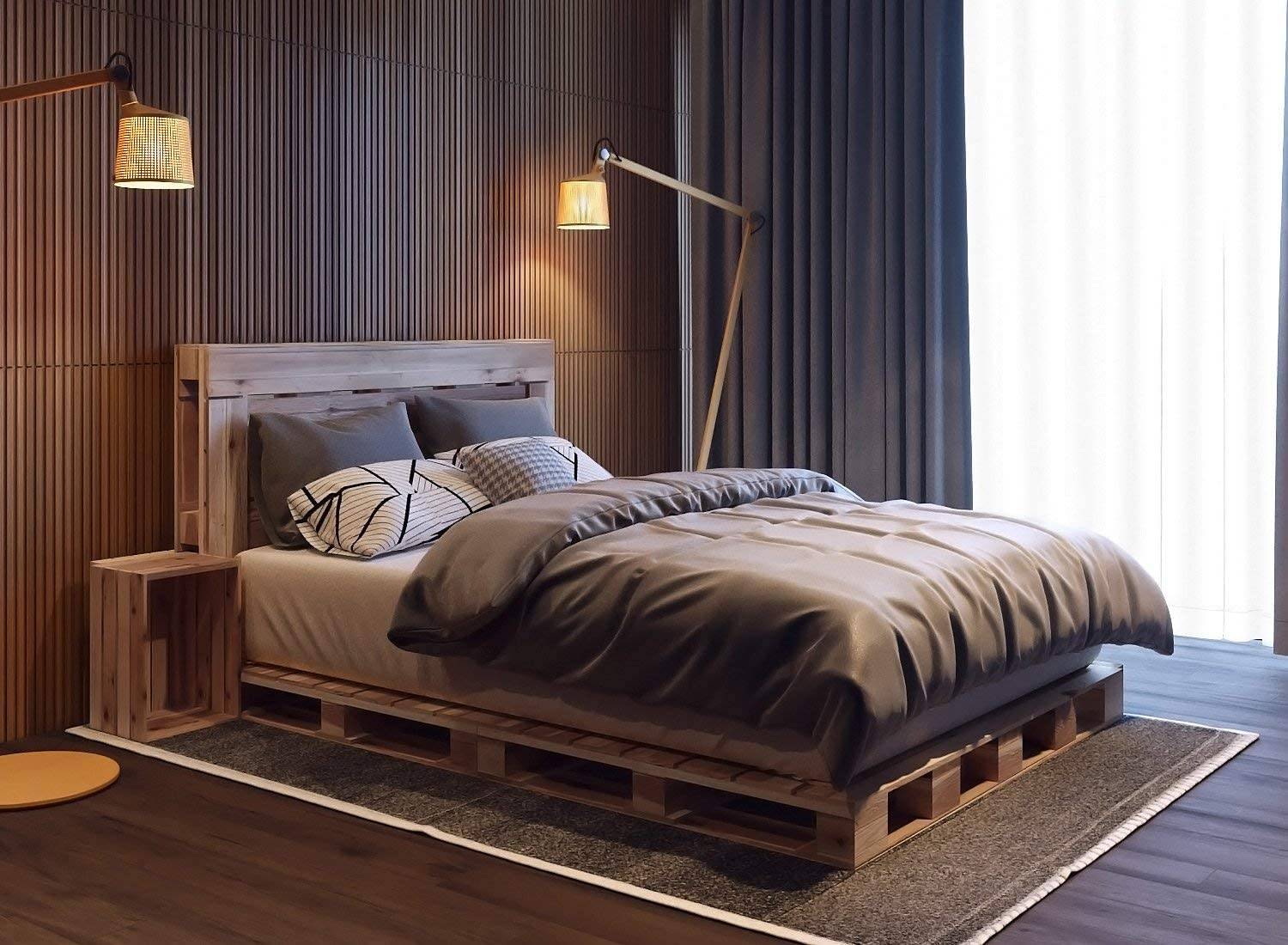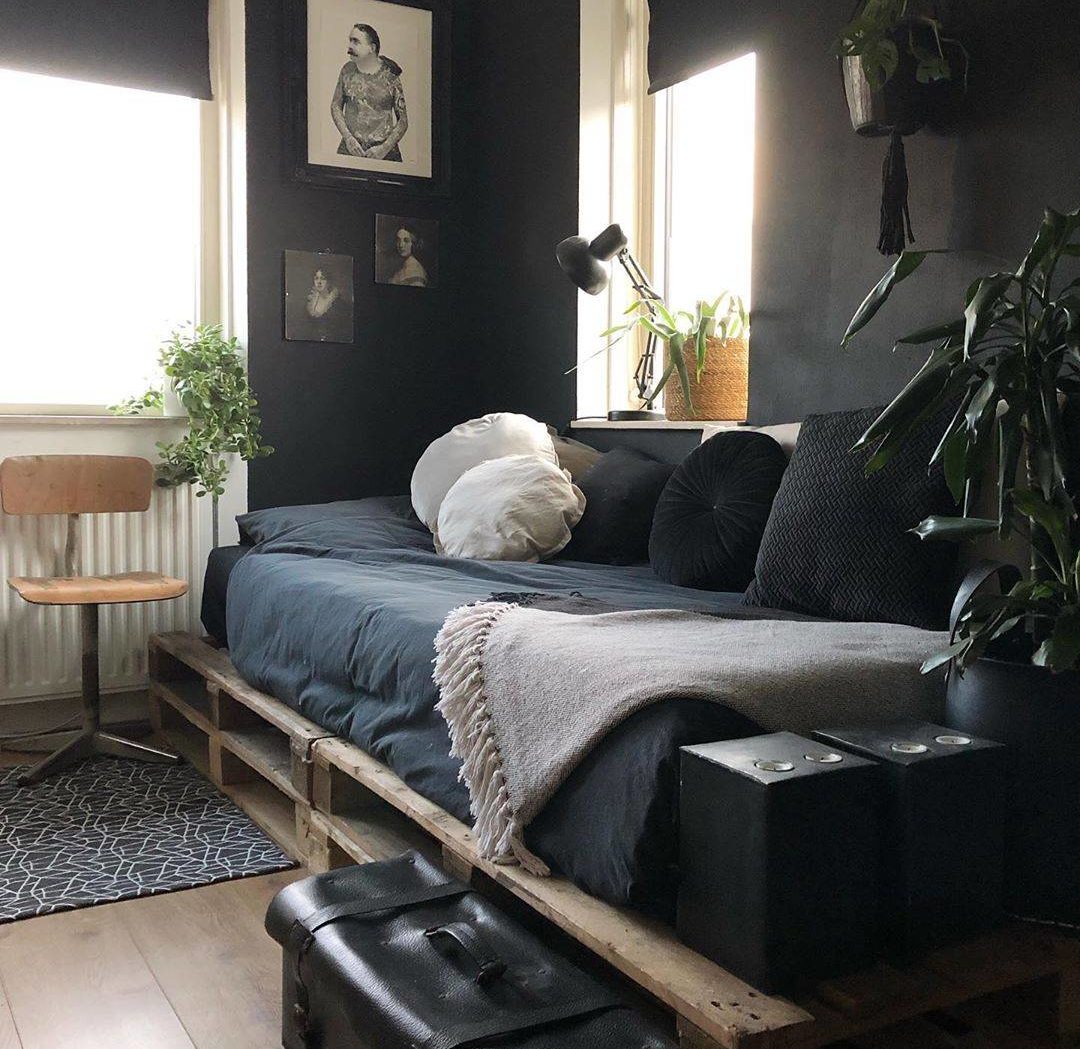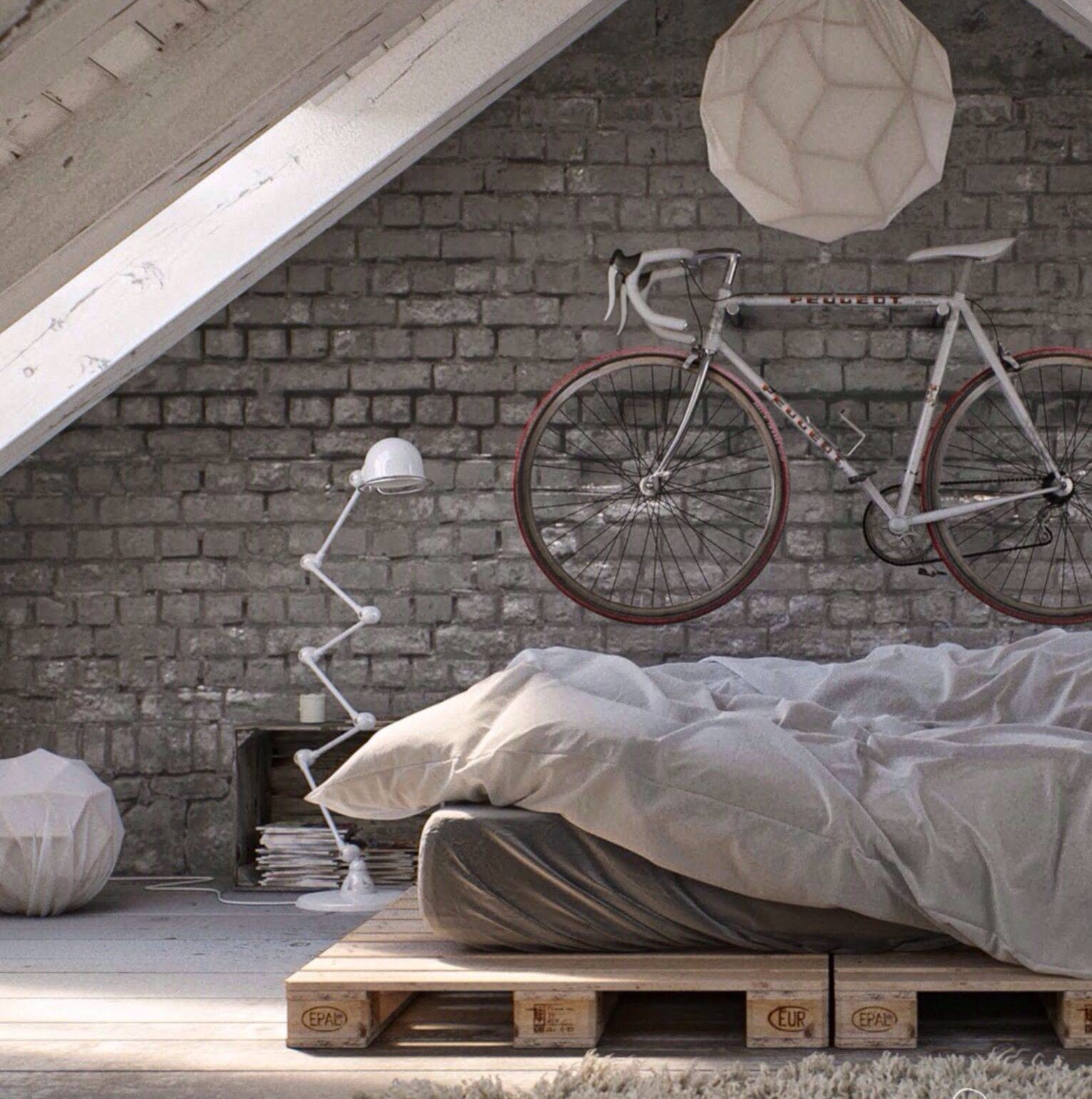 Evidently, the wooden pallet responsible for protecting and transporting cargo goods can function for a lot more than its original purpose. Recycling and repurposing wood pallets or skids to build modern functional furniture has gained popularity in recent years for its affordability and environmentally friendly benefits. Choosing to DIY or build one yourself is a low-budget option that is most often associated with the farmhouse decor trend. However, as you can see, there are many different pallet bed ideas that are trending right now to fit a range of design styles. Regardless of whether you have a modern, feminine or neutral decor preference, there is a place for a pallet platform in your home.