Brick walls have been a hot trend for a while in interior spaces and there are many ways of incorporating an exposed brick wall into the overall design narrative. With its reddish sheen and textural charm, the brick wall has been an absolute revelation in the interior design world for the past few years. But today, we take a look in a slightly different direction and explore the beauty and uniqueness of white brick walls in dining rooms. You can create a gorgeous brick wall in white either by whitewashing it or even using paint. In case of whitewash, a single coat will still expose much of the original brick wall and create patches of white and red that have their own charisma. Paint on the other hand tends to create a more modern backdrop.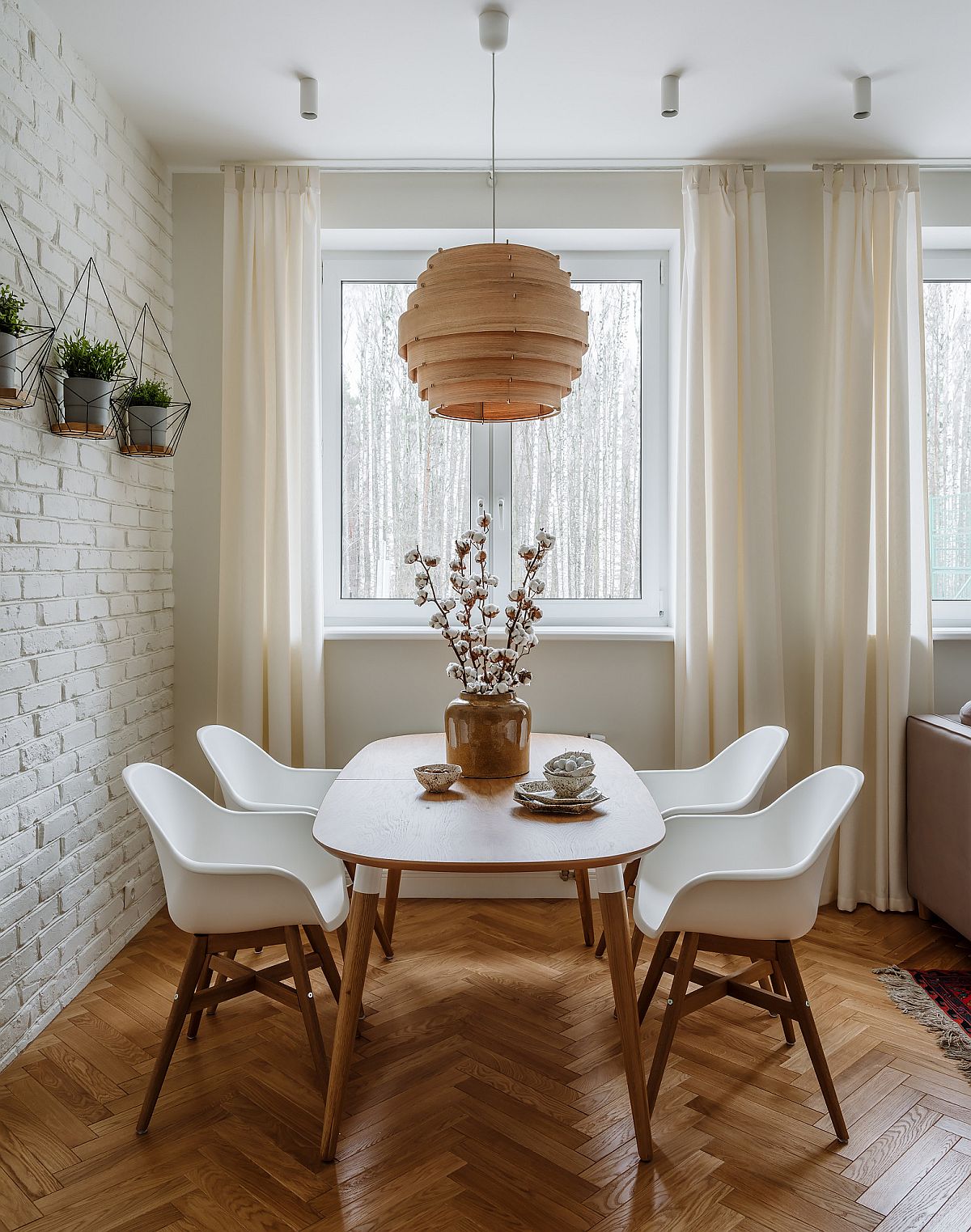 Brick walls in the dining room is an idea that obviously does not work for everyone. The main reason behind this is the fact that many of us do not have an aged brick wall to showcase hidden beneath all the layers of plaster on the outside. But for the lucky few who have homes with brick walls, the idea of peeling off the additional layers on top and allowing the bricks covered in white to shine through is a trendy and eye-catching choice. From the industrial to the contemporary, this is a round up of the best dining rooms with white brick walls –
Just a Hint of Color
In the modern dining room with brick wall backdrop that has been either whitewashed or painted in white, color is generally kept down to a minimum. Too much of color in this setting can create a cluttered look. This is truer when you want to showcase the beauty of the brick wall in the background in an understated manner. The best way forward is to add pops of color – be it in the form of bright banquette seating and dining table chairs or seasonal accents that make a big difference to the overall setting without costing a whole lot. Wall art, flowers, vases and pendant lights can all bring in minor doses of color that combine to create a cheerful and inviting dining space.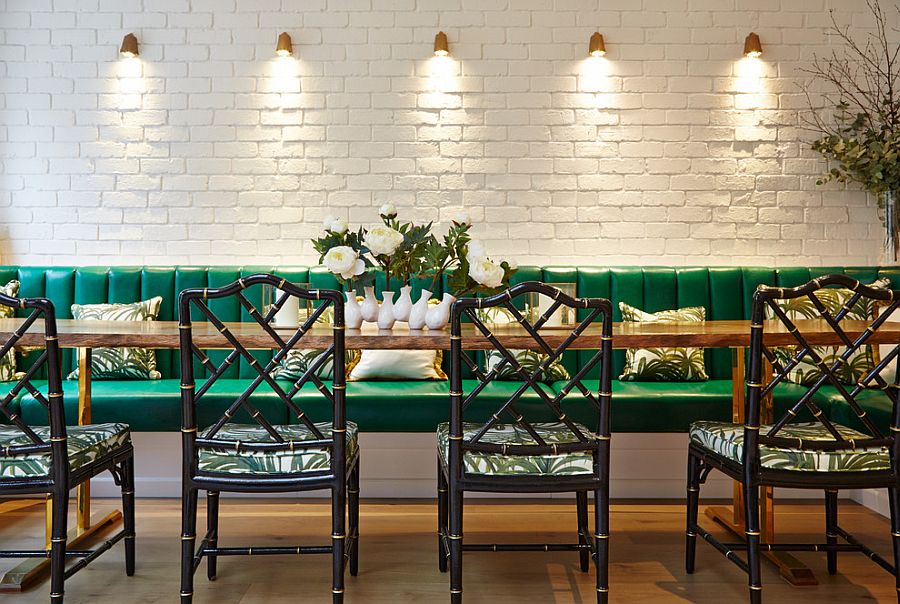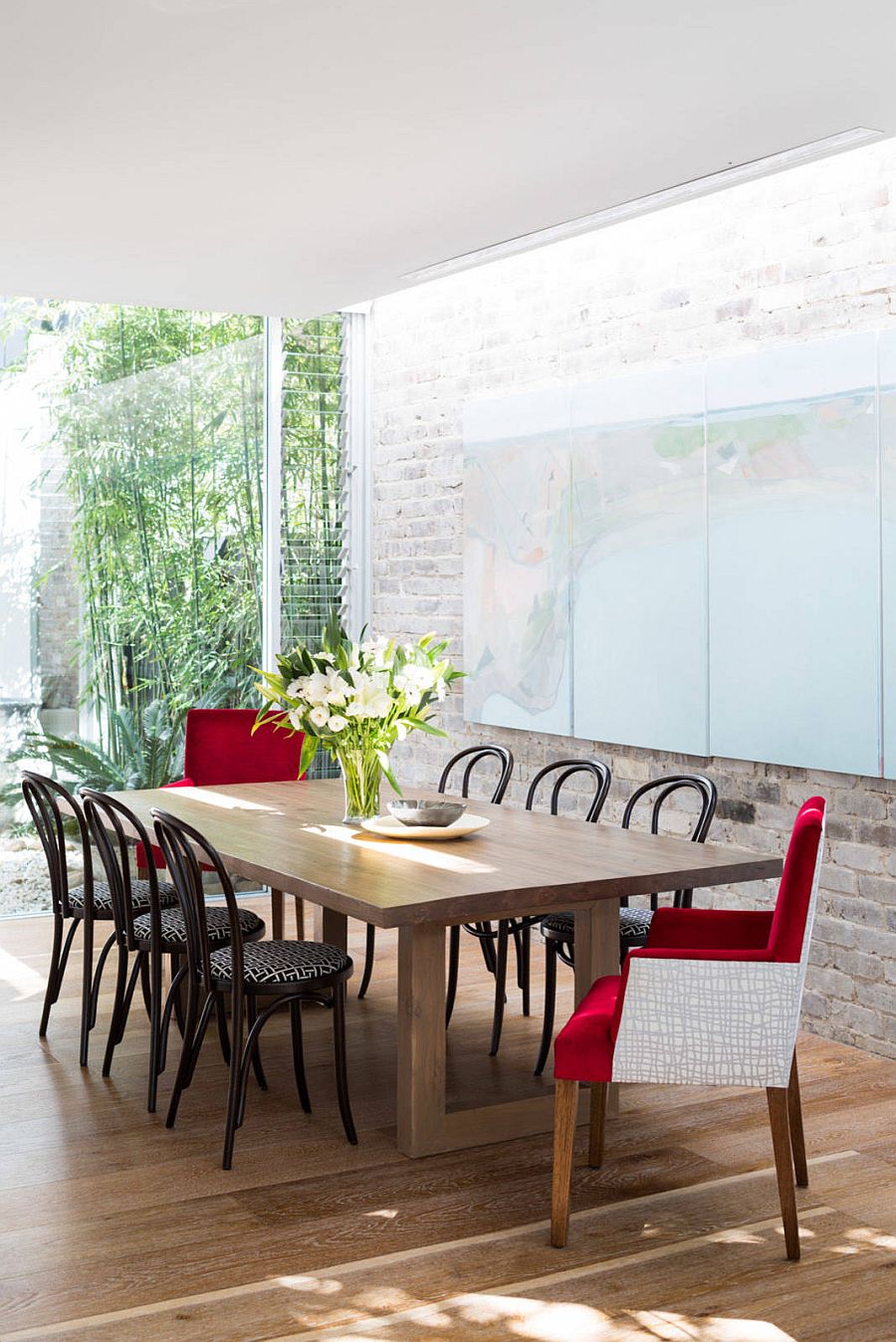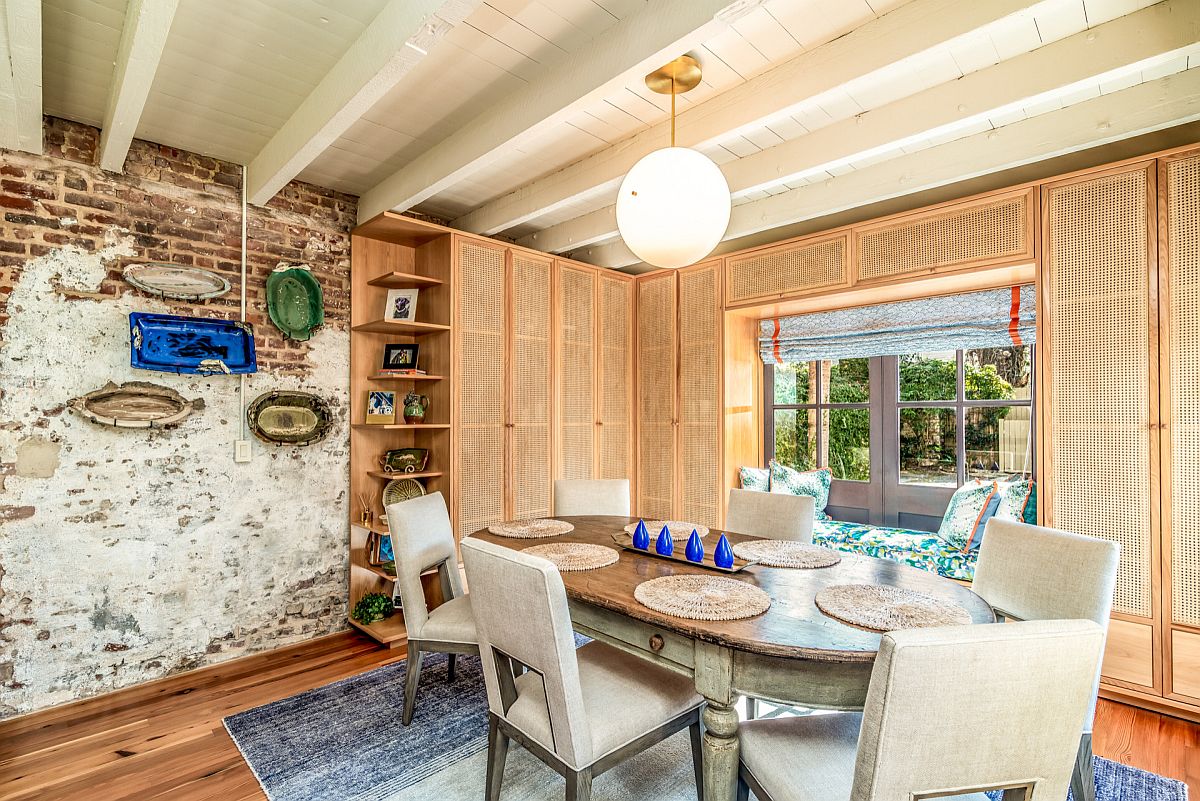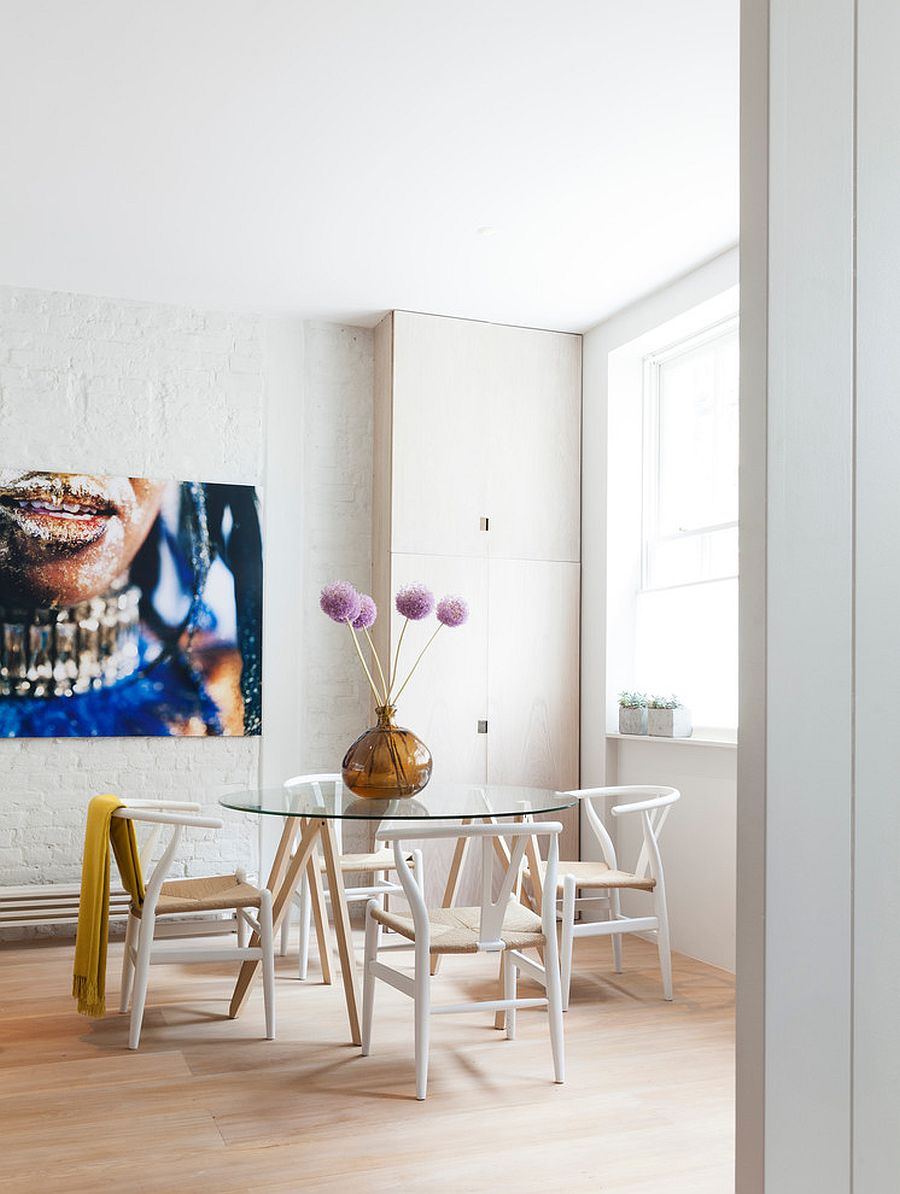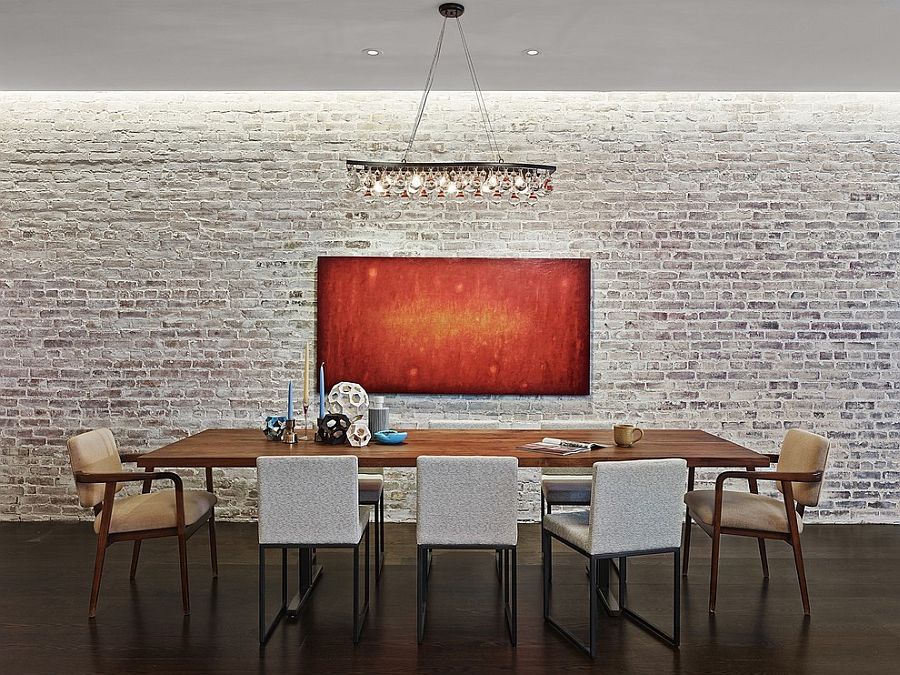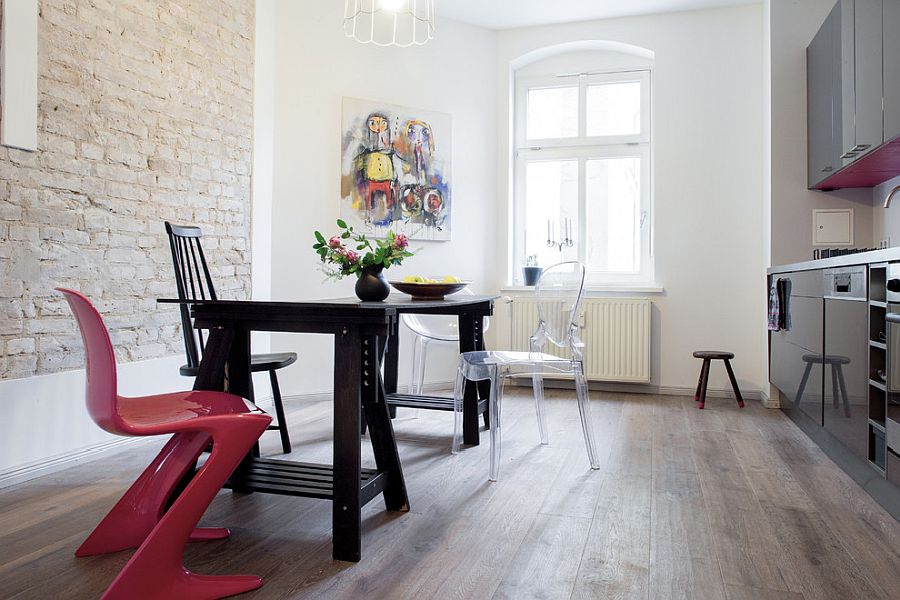 Modern Sheen for Exposed Brick Walls
Even exposed brick walls generally need to be sealed properly so that they do not deteriorate rapidly and house bacteria and moulds in possible damp spots. Another layer of white paint on top or even whitewash only helps further. In case of whitewash, a single coat brings a much different look to a brick wall that gets three to four coats of whitewash. The choice depends on the style of the room. A single coat of whitewash looks good in the shabby chic, eclectic and farmhouse style dining rooms while a wall with more even white tone is right for modern, beach style and transitional dining areas.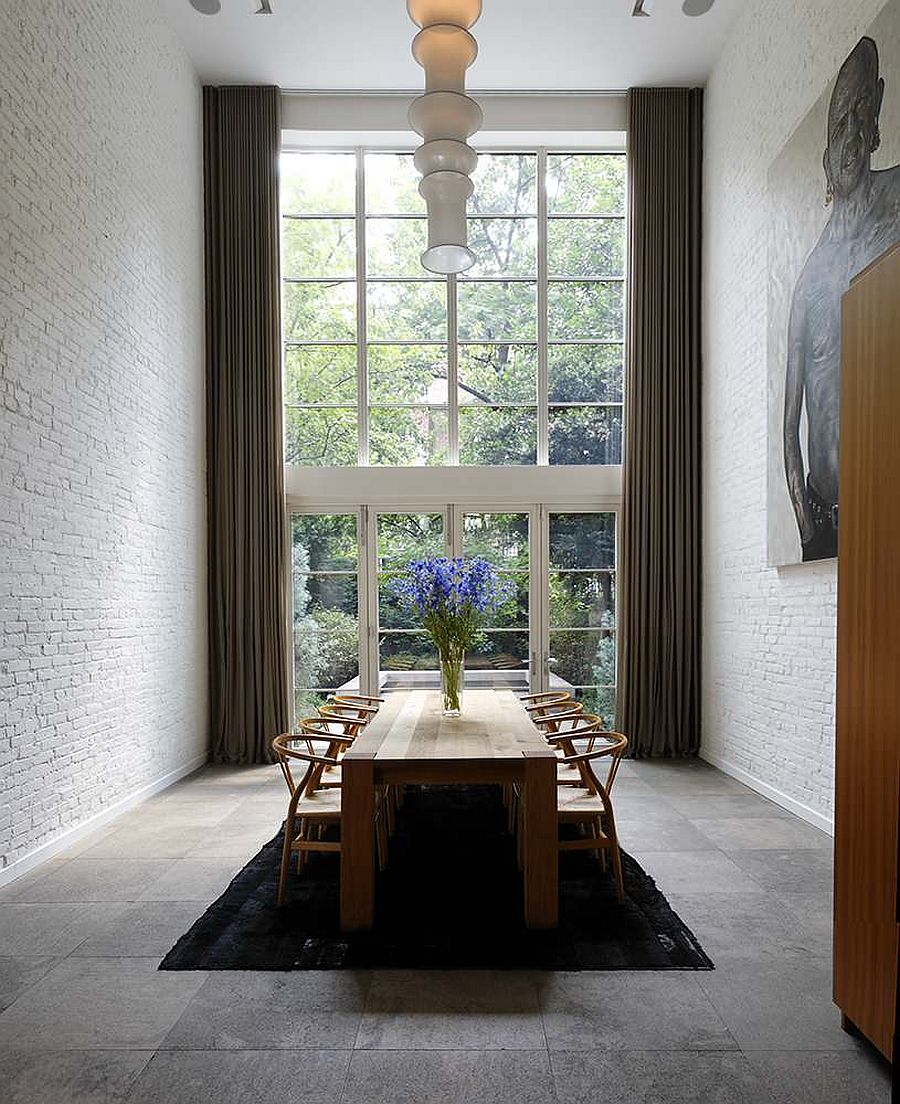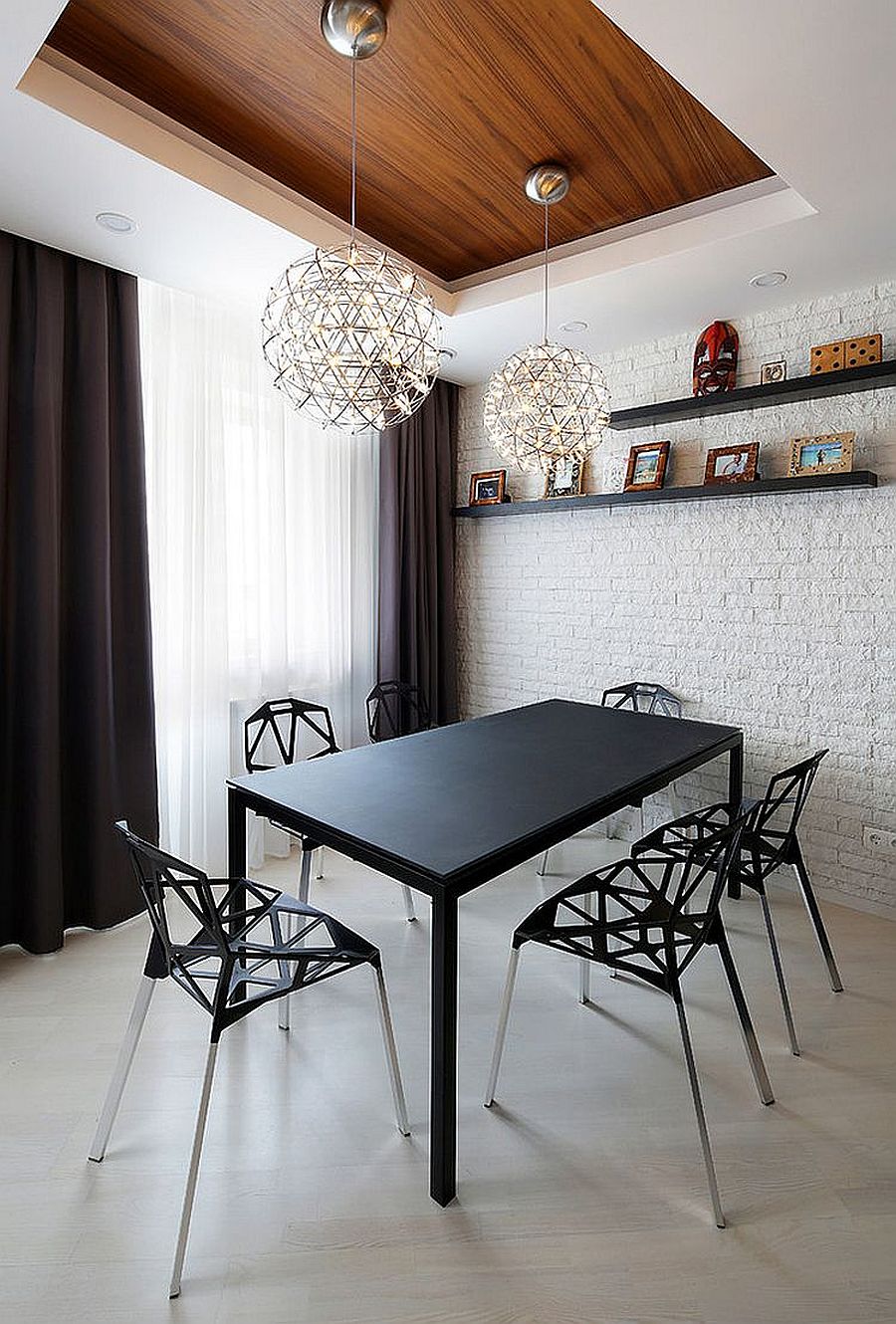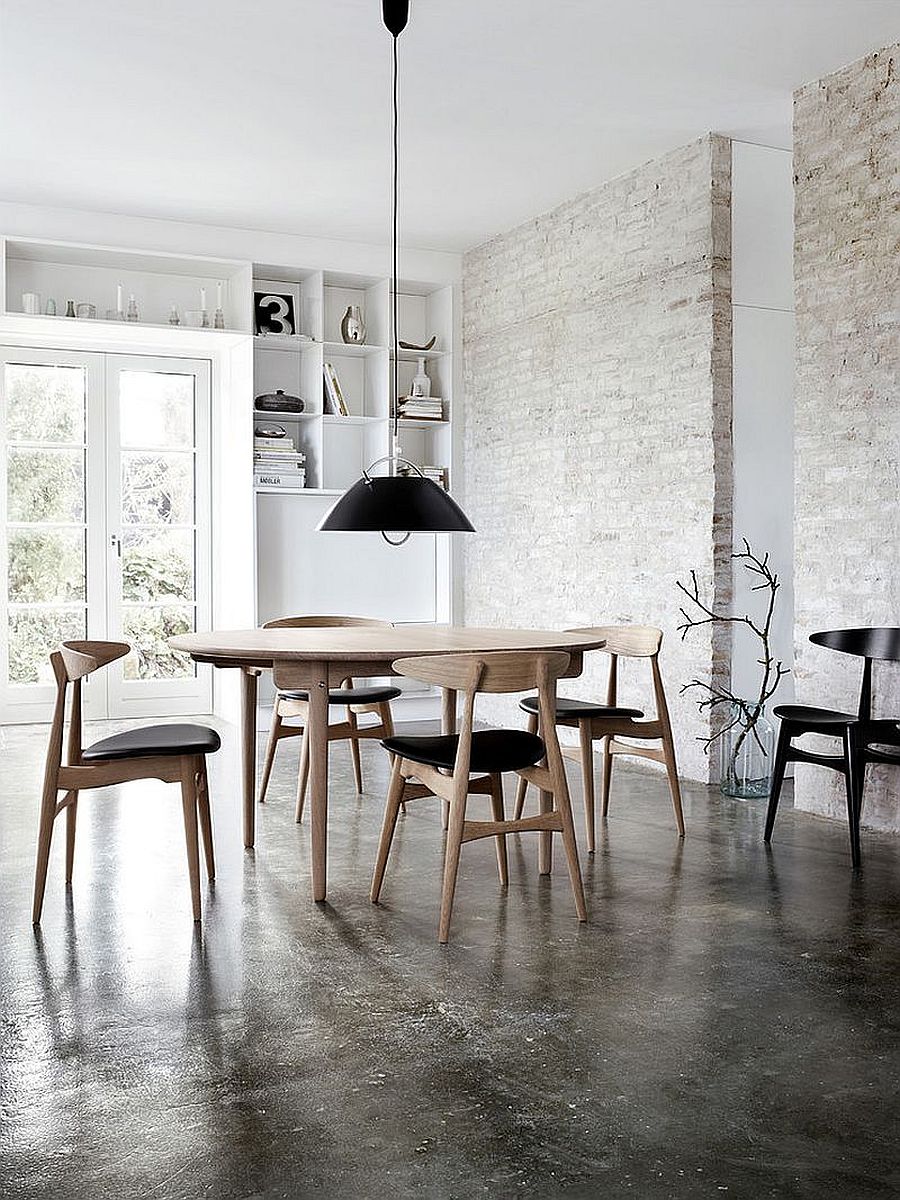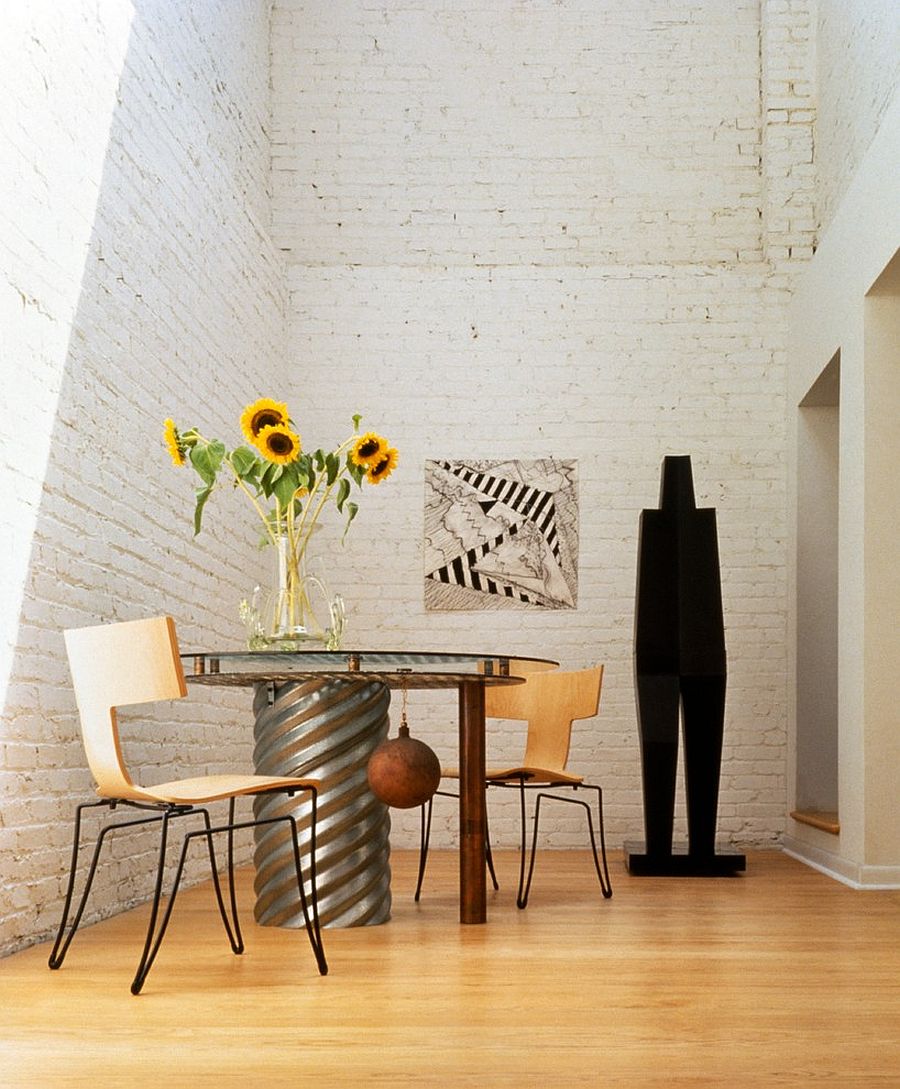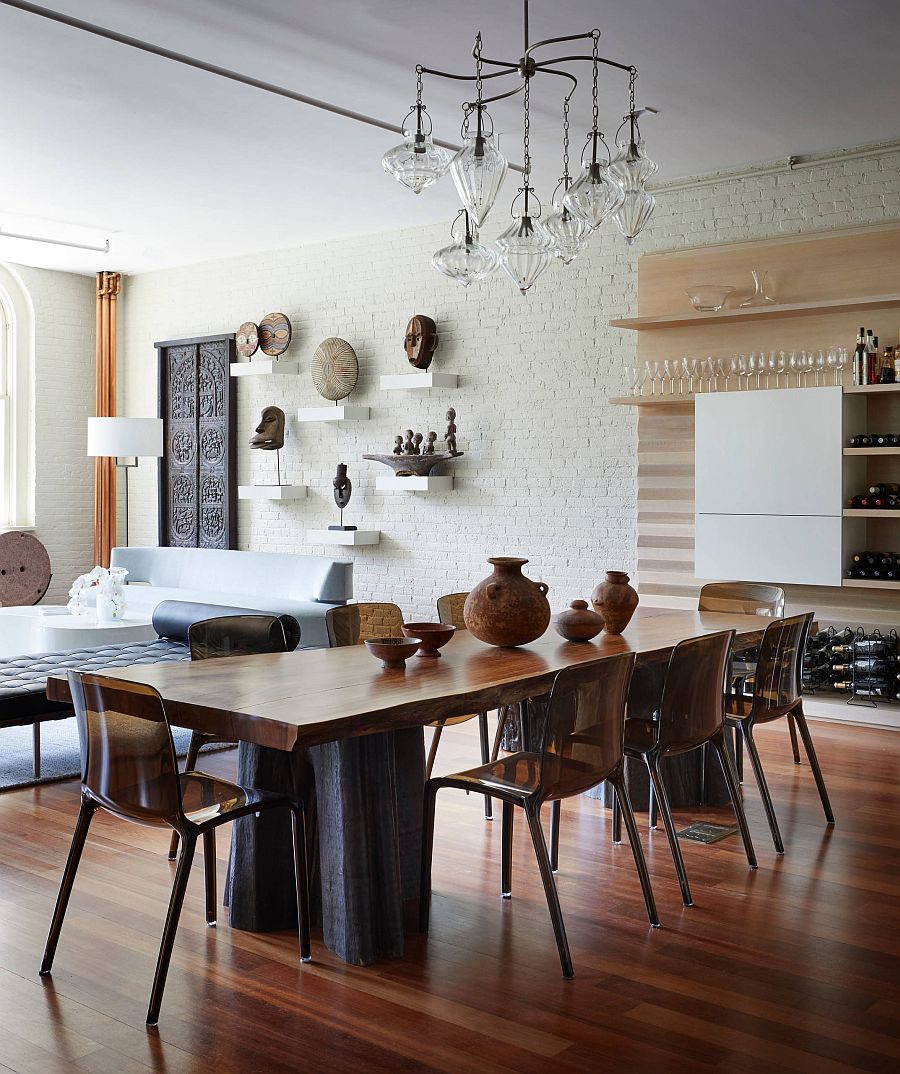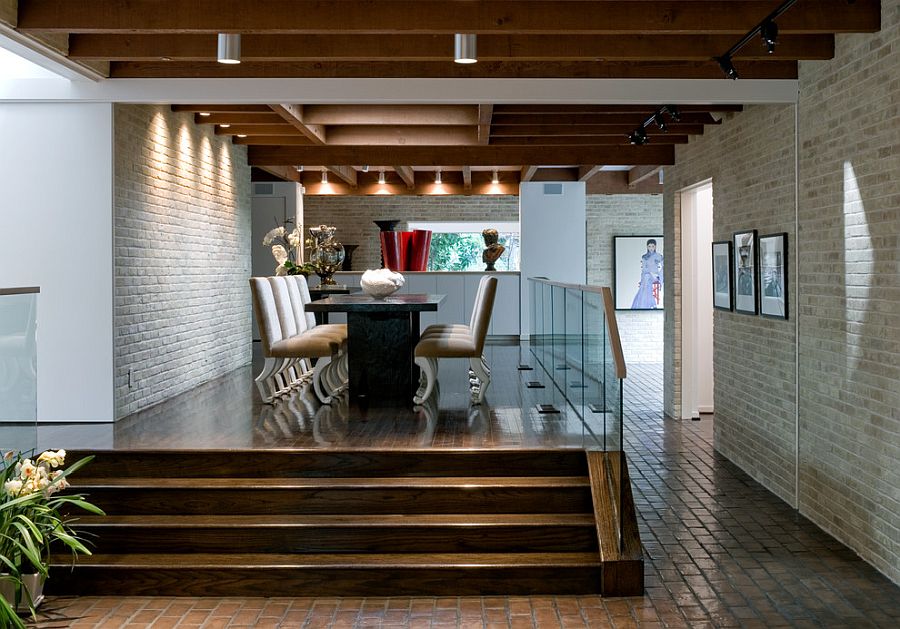 Lighting, Textural Contrast and More
Lighting for the dining room with a white brick wall is not that drastically different from what you would do in most other dining spaces. But if you want to highlight the whitewashed brick wall itself, then a skylight above or right accent lighting are an absolute must. Keeping the room as neutral as possible is another easy way to accomplish this. In farmhouse, rustic and traditional dining rooms, this wall becomes a part of the larger narrative of textural contrast as materials like wood and concrete also come into play. A blend of these different finishes gives the room a fabulous, inimitable appeal.