We all know decorating a living room can come with a bit of pressure. It's the place where you'll spend a lot of time and also host guests. First impressions matter so you want to get it right. You're considering adding a cowhide rug to your living room and if you count on what we say, it's a great choice.
A cowhide rug is made from the skin of a cow and usually comes irregularly shaped. It has a luxurious, yet simple feel, and has different shades based on the cow's color. When it comes to using a cowhide rug, living room designs have to be kept simple and the colors minimal. Your rug can last for several years depending on how well it was cured and it is easy to maintain. The living room arrangement can be a bit tricky but with our help, you'll pull this off.
Cowhide on Rectangular Rug

Cowhide rugs usually have irregular shapes and irregular patterns. This makes them look great when placed on a larger rectangular area rug. The cowhide adds character to the plain rug and gives the entire space a fresh look. It is important to take note of colors and their various shades when using this arrangement. You can use a one-colored cowhide or a patterned one, although one-color choice rugs are easier to work with for newbies.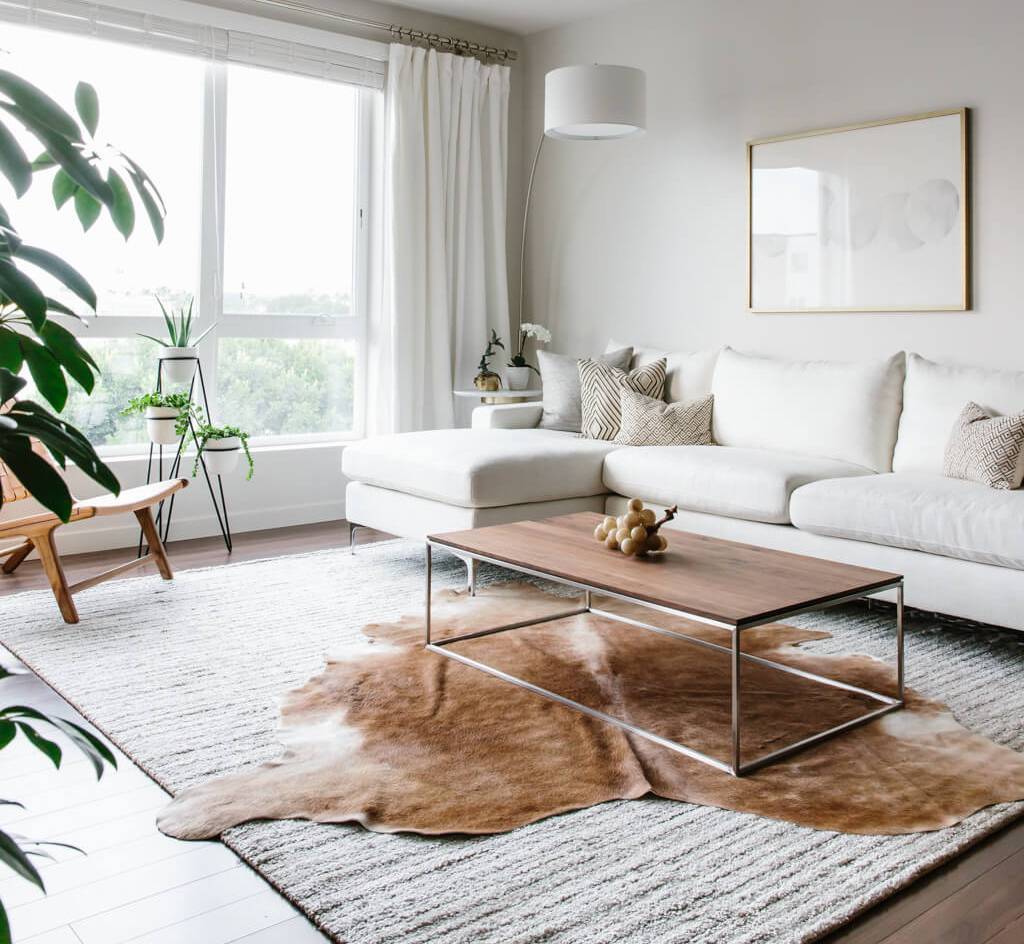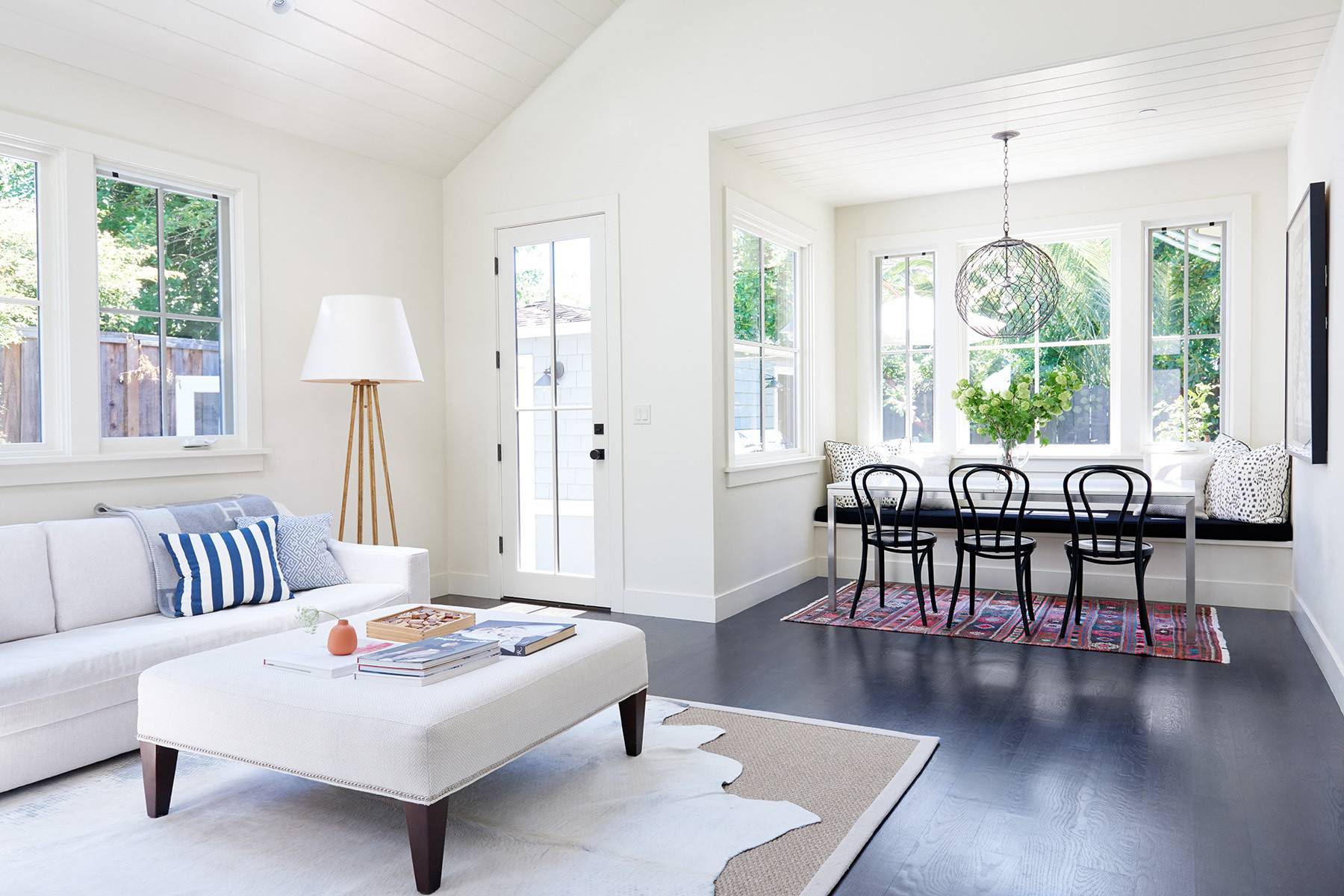 Brown Color Palette Living Room

There is a masculine feel to a space designed with a brown color palette especially when it tends towards dark shades. Introducing a cowhide rug often adds to the ruggedness but if it has spots of whites on it, it can help to soften the look without disrupting the intended style. The rug will help mark the center of the living space regardless of the kind of floor plan used. It also works well in small apartments.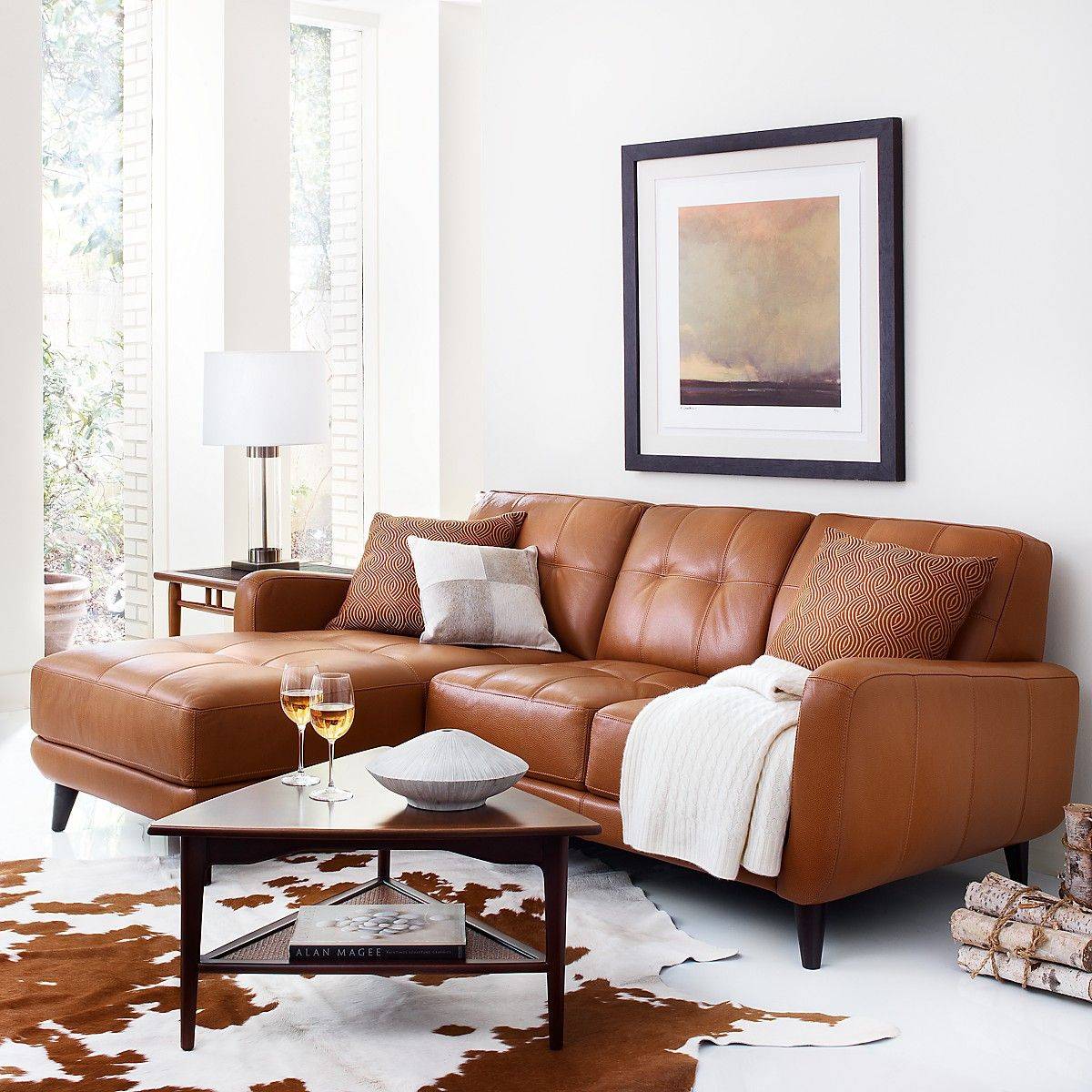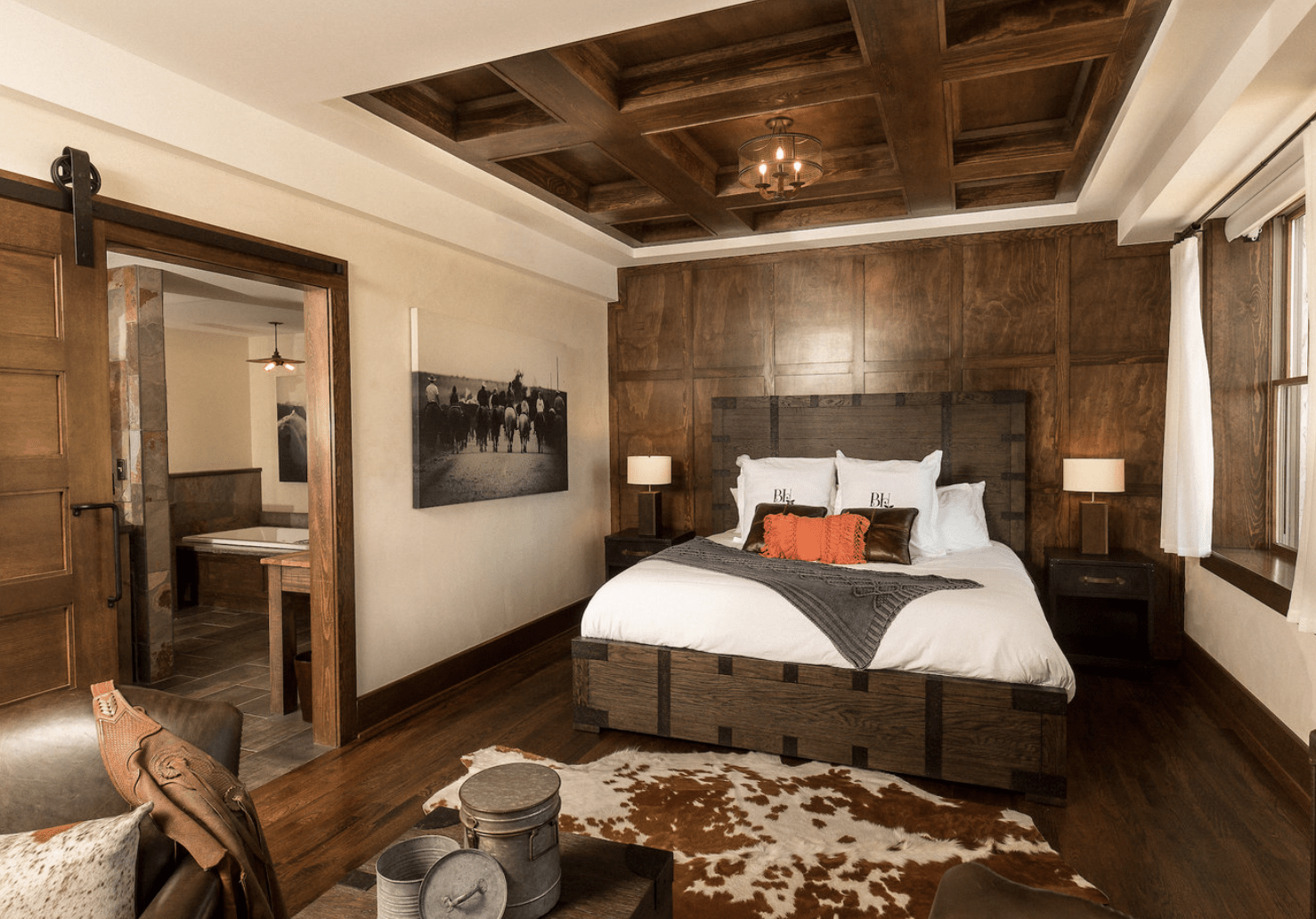 Sparsely Decorated Room

If you've got a large space and only a few pieces of furniture, you need a piece that will tie it all up so your room doesn't look empty. A cowhide rug has enough character to power up the look of the room. For even more character, make sure it is irregularly shaped and multi-color.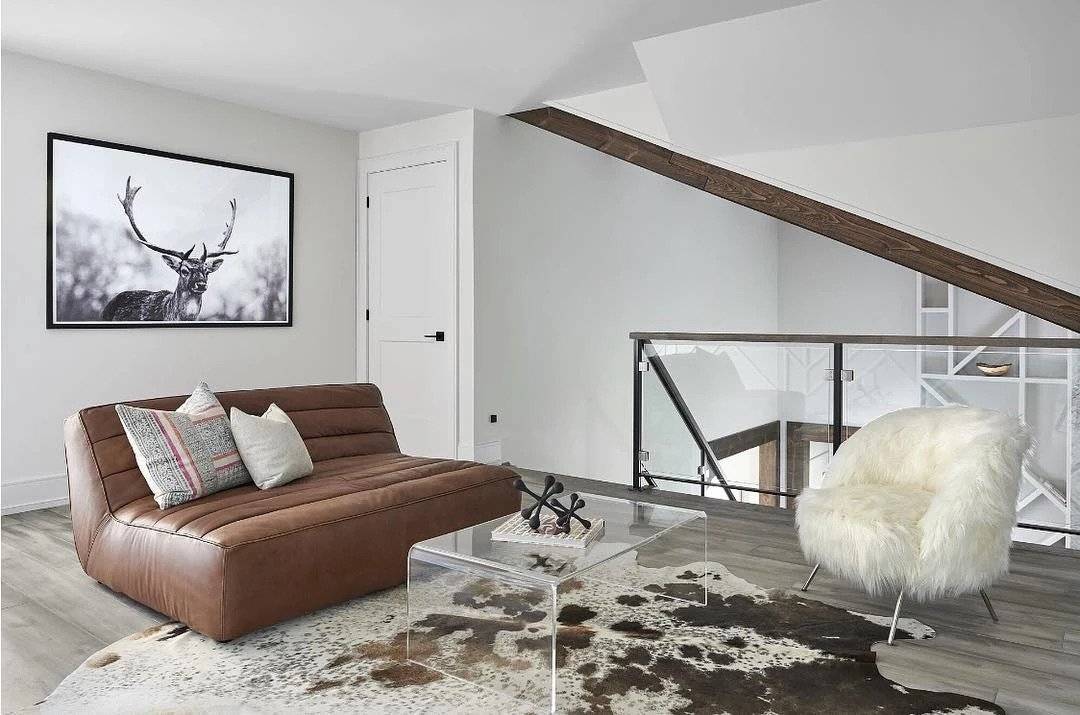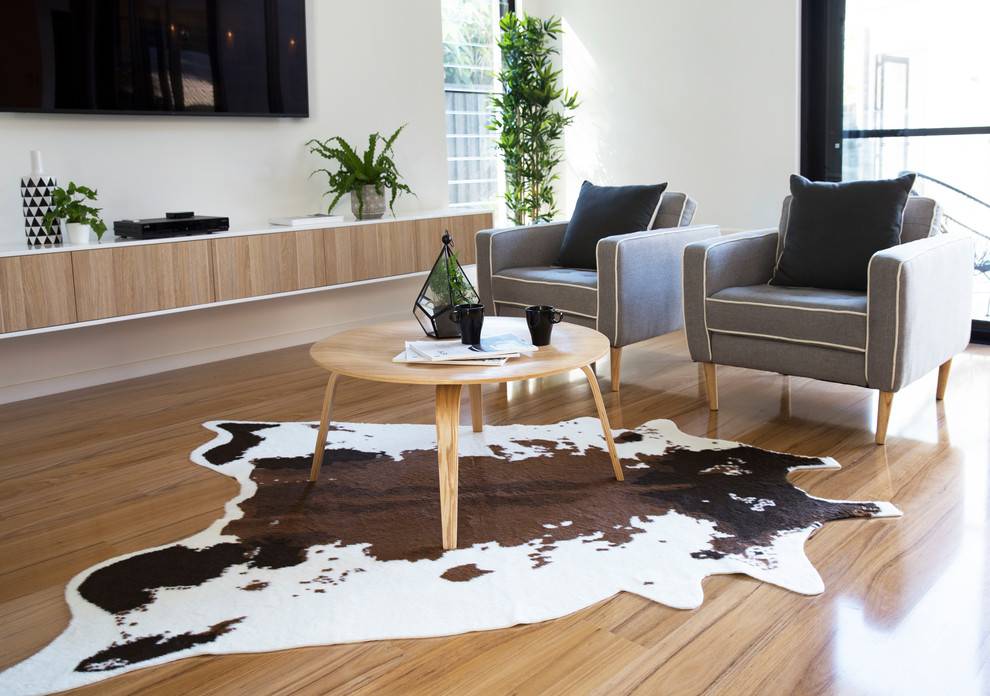 White and Clean Look

There are not a lot of people who like to have their entire space filled with white accessories and decor pieces but you might be one of the very few. When you look up pictures of cowhide rugs, only patterned rugs may come up because they are more popular, but there are also white cowhide rugs. They will easily blend in with your decor style and you'll have nothing to worry about.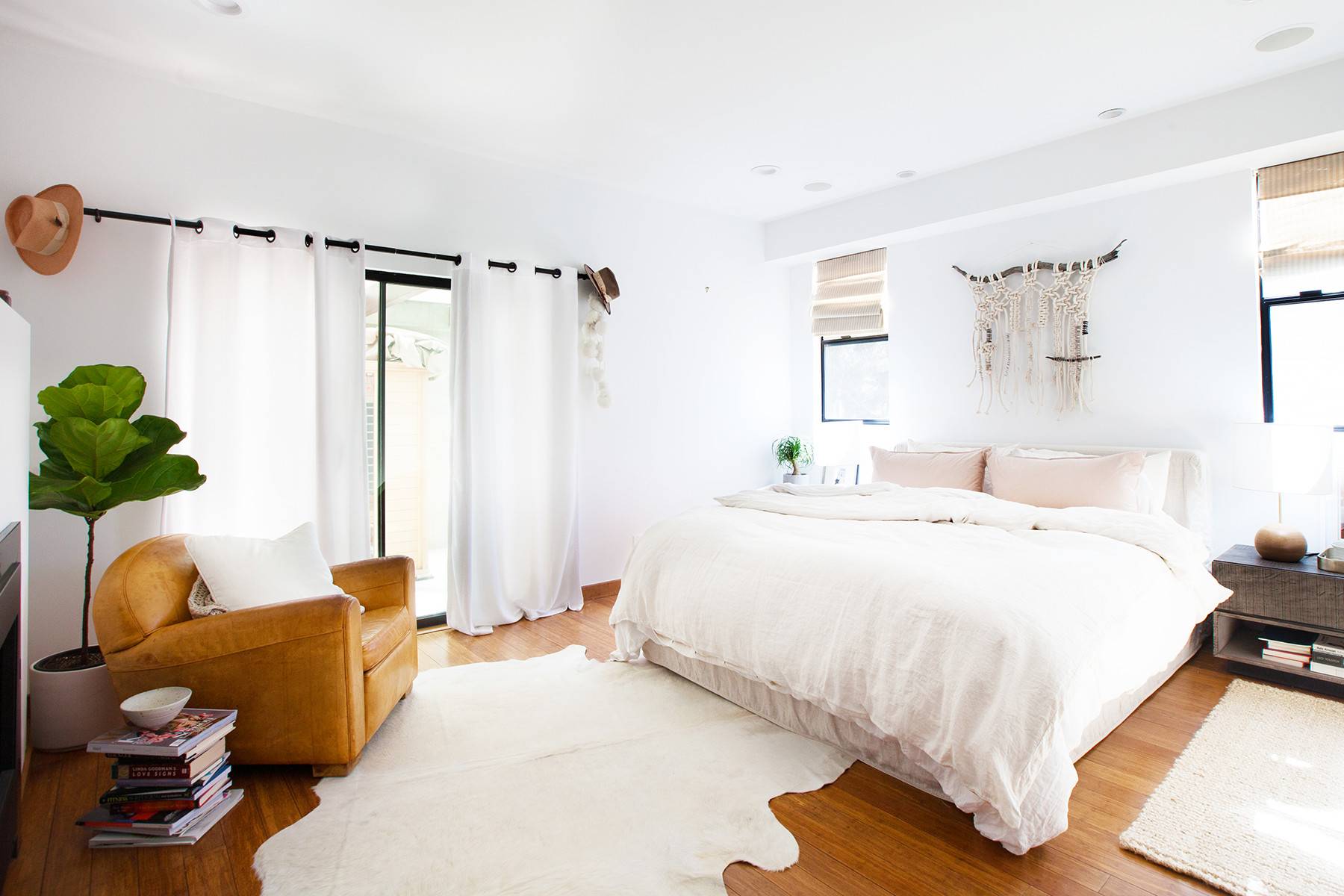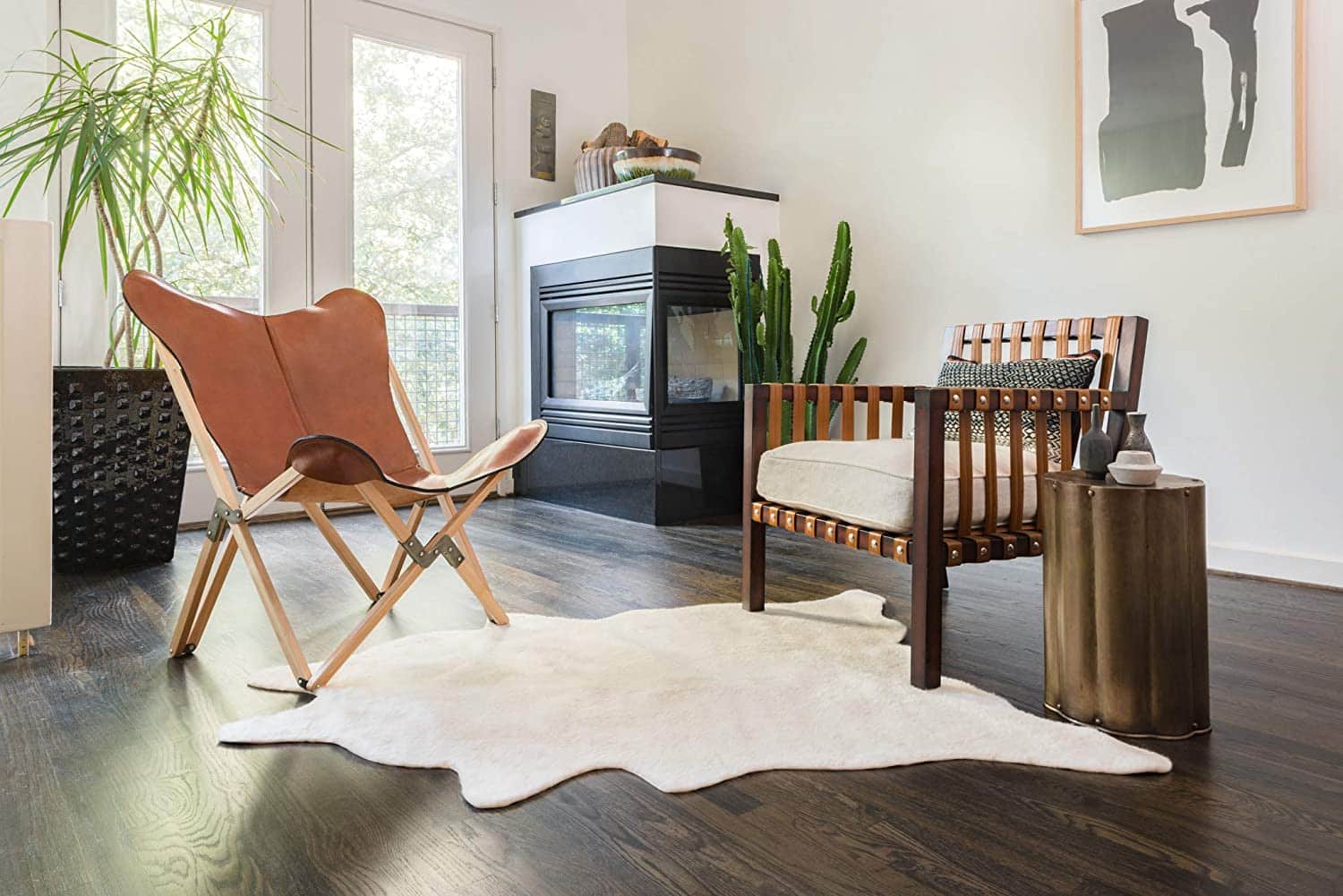 Cowhide Rug in Bedroom with Wallpaper

Wallpapers are common in a living room designed as a den. This doesn't mean a cowhide rug can't come into the picture. Not at all! Of course, there is care to be taken by avoiding other patterned items like furniture and wall frames but generally, you can rock both well. If the room is small you might have to go easy on the kind of pattern your wallpaper has to avoid making your space feel smaller and clustered.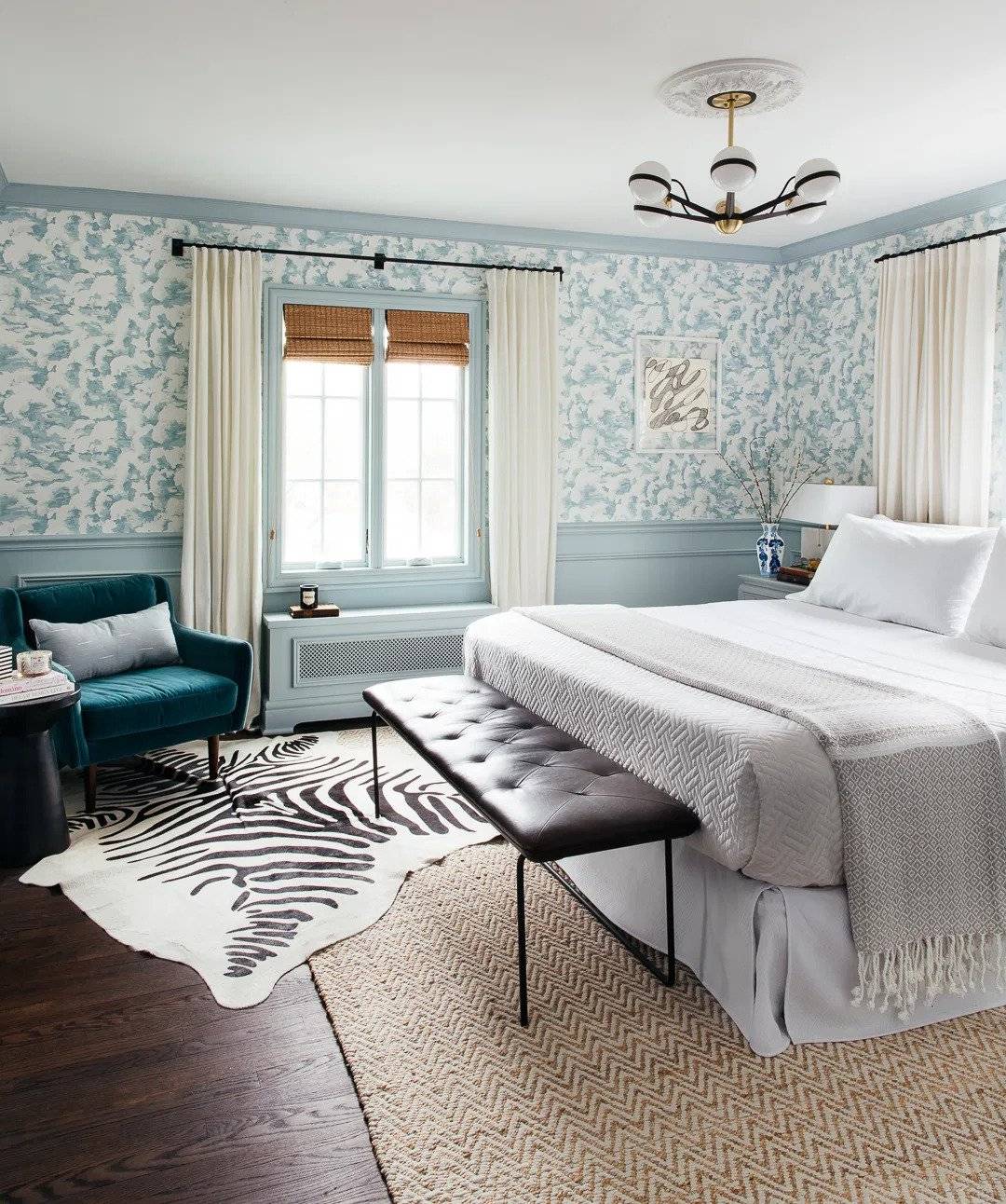 Scandinavian Style Living Room
The Scandinavian style has influenced a lot of decorations and architectural designs. It's easy to see why it is so loved. It is simple, minimal and there is a lot of emphasis on clutter-free. It is also modern and has a sleek feel to it. The good news is that the cowhide rug also has a place in this style. With minimal furniture and soft colors, there is room for a rug with so much character.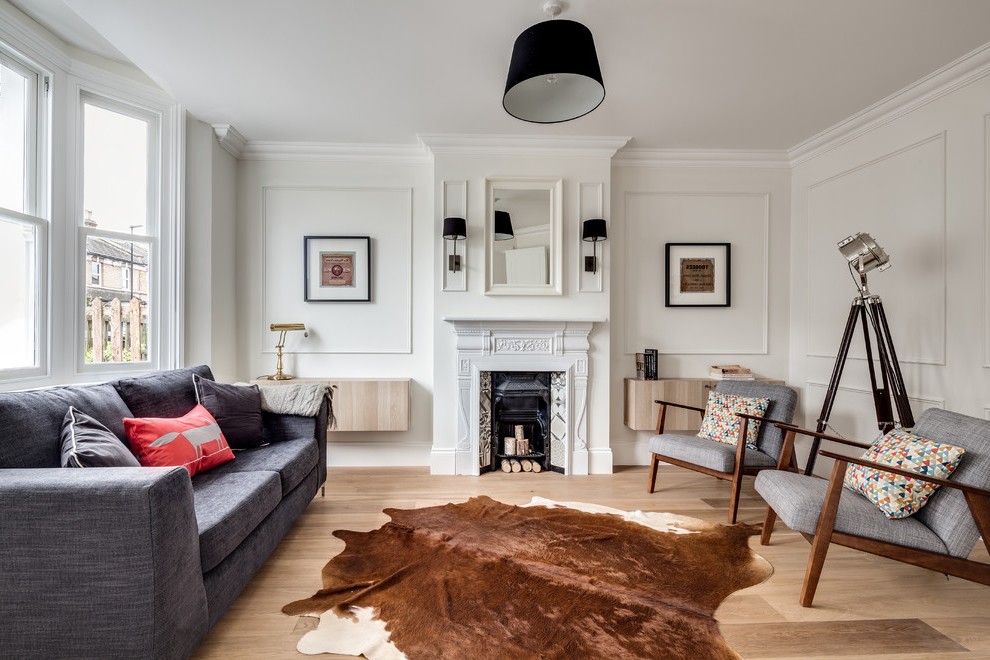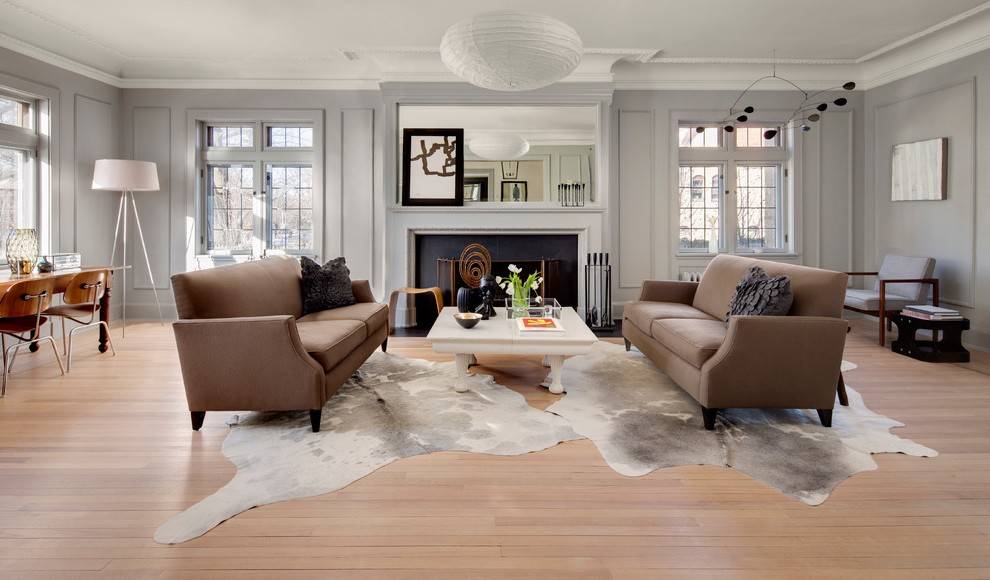 Patterned Furniture

It can be a risk having patterned furniture in a room with a cowhide center rug but it can be done well. The idea for this cowhide rug living room design is to make sure the patterned furniture does not have loud colors and maybe even have the same colors as the rug. A better option is to purchase an already dyed cowhide rug so it spots one color. With a single-colored cowhide rug, you can spot any kind of furniture you like.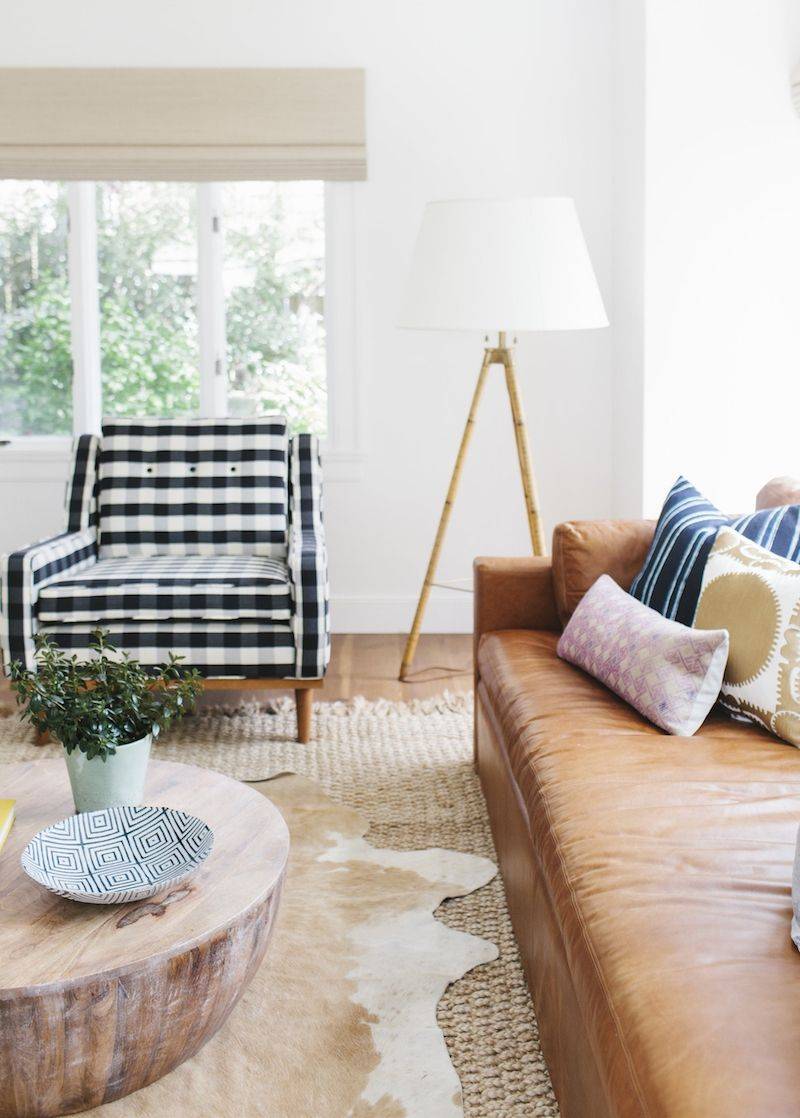 Eclectic Mix of Furniture

An eclectic mix of furniture is an arrangement not a lot of people try because it can be hard to find a balance. When done correctly, it can be quite genius because it leaves people wondering how the furniture of different shapes, sizes, styles, and even colors seem to fit together. It's expected to have second thoughts on adding another unusual piece but one piece of advice is all you need and you're ready to go – purchase a plain colored cowhide rug.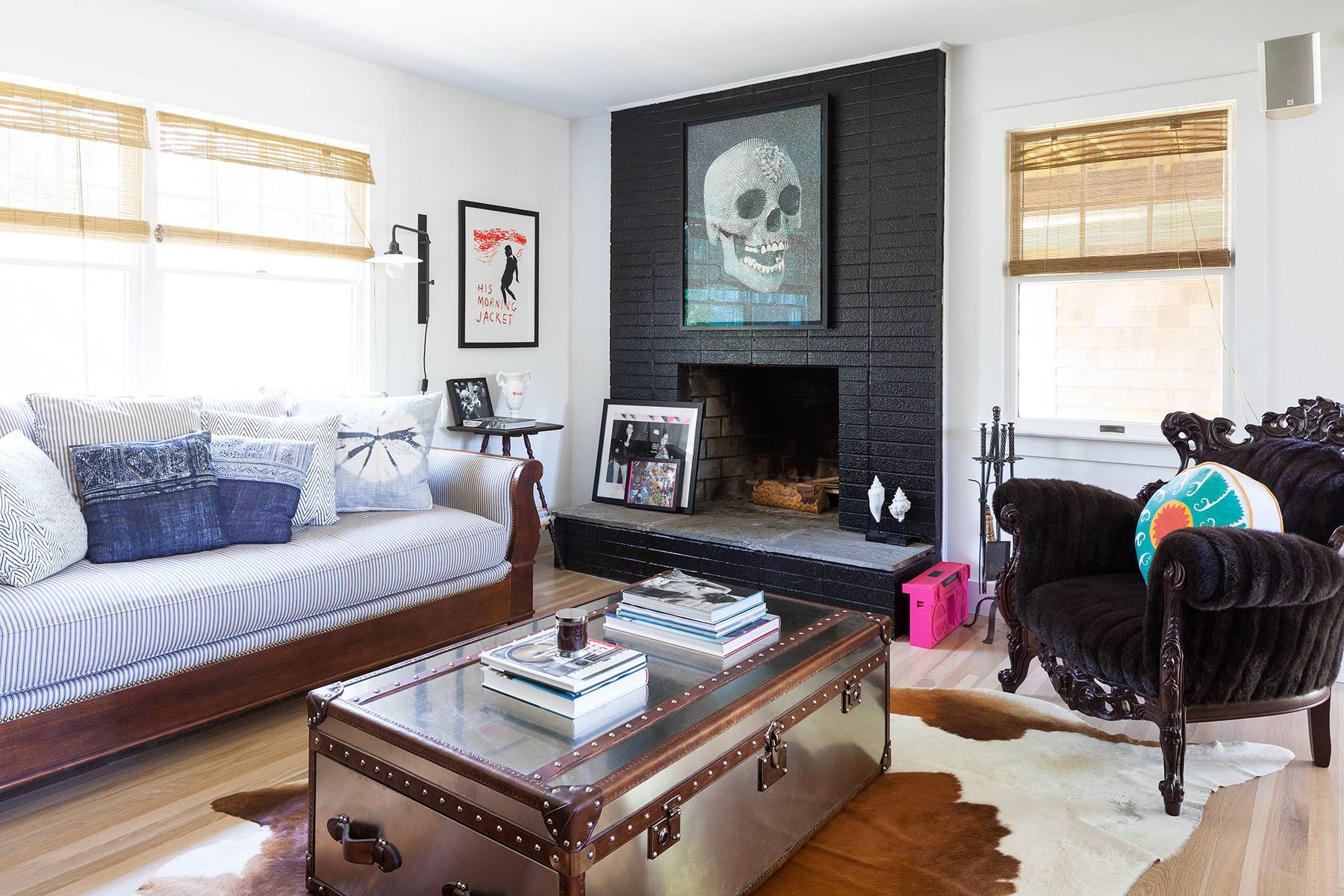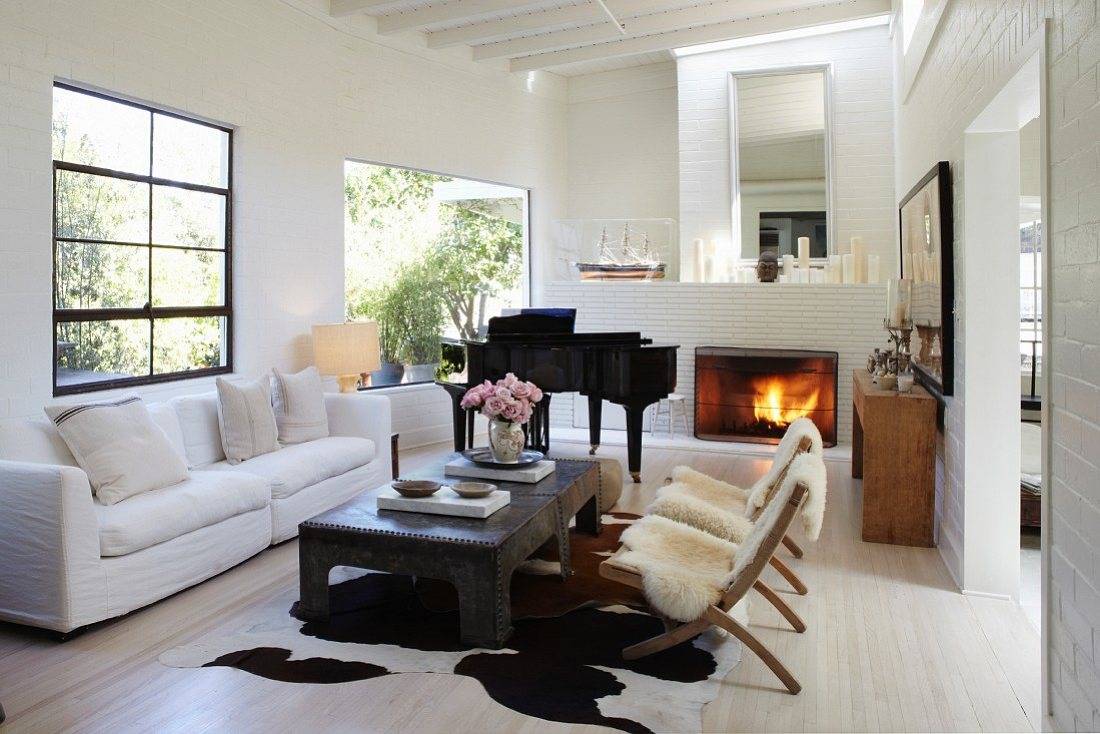 Minimalist Space

Cowhide rugs are not always left in their original colors. Sometimes, manufacturers process them to change their color simply to make them look more vibrant. For a minimalist space, you need something like this to prevent your space from looking drab.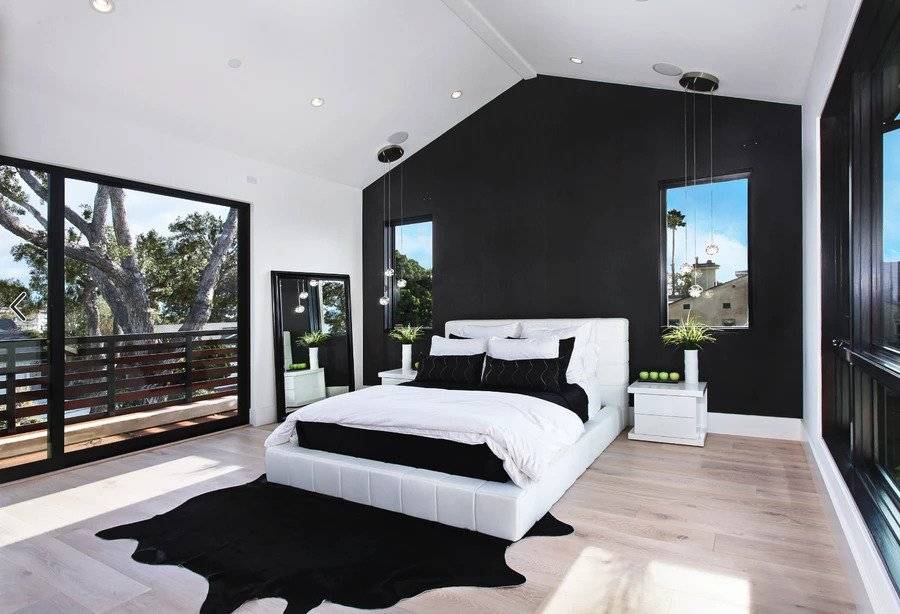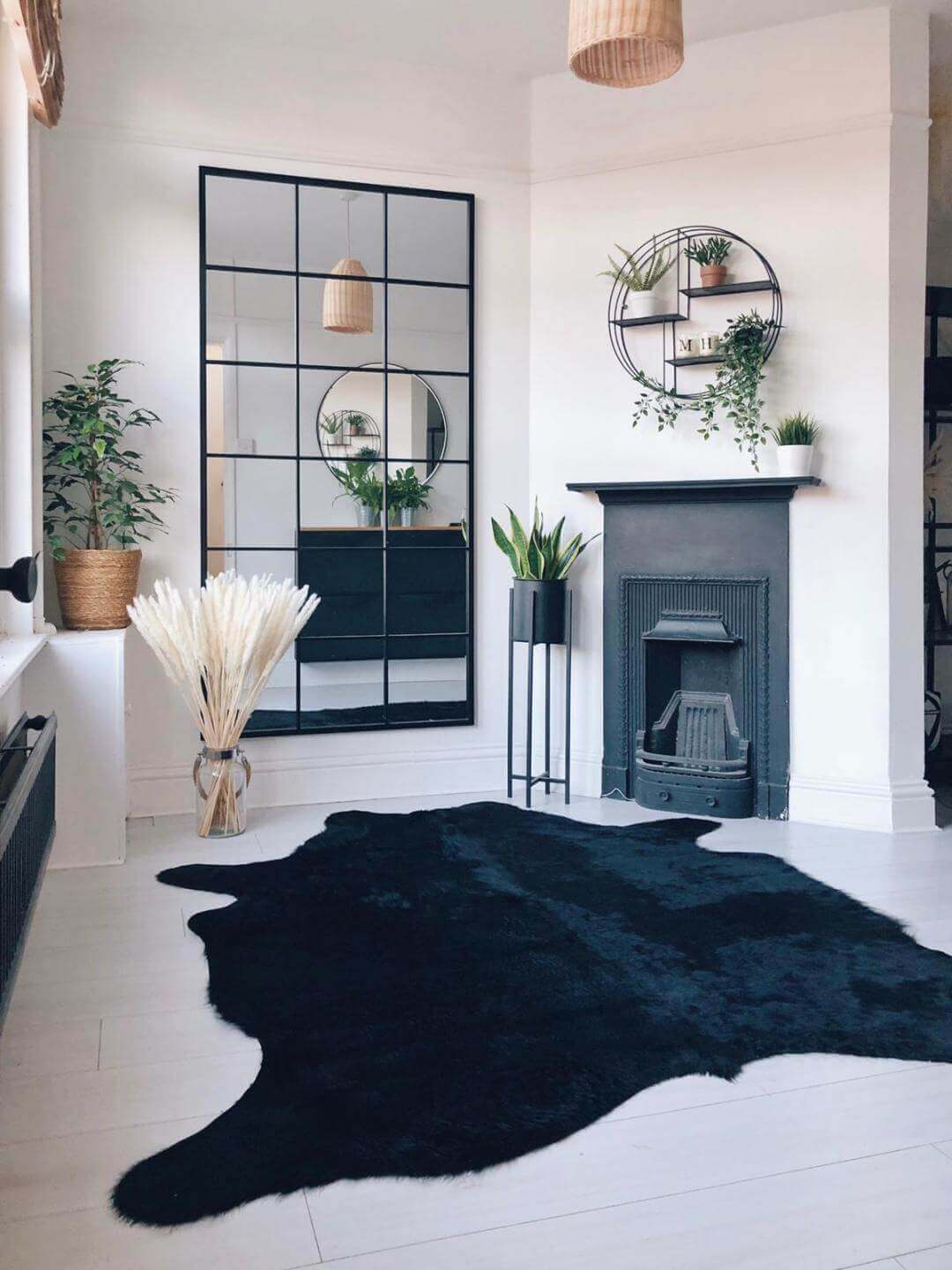 Now you have enough ideas to help you with your cowhide rug dreams. You're sure to now know how to use a cowhide rug in your living room decor. Sometimes, you never know how well an arrangement will look until you place it and see for yourself. Don't be scared to try these out. If it doesn't look like you want it in your living room, not to worry, cowhide rugs can be used in other spaces.