Every now and then it is a good idea to get away from it all and find a relaxing retreat where life crawls down to a more relaxing pace. Of course, it is even better when such a place is right there in your very own backyard! Designed by Flavin Architects, the Eastern Point Retreat is a fabulous guest house with a lap pool, hot tub and a lovely garden right next to it and a captivating view of the distant Gloucester Harbor. Designed for homeowners who absolutely love sailing and the view of the busy harbor from their Massachusetts home, the contemporary guest house welcomes the outdoors inside with its large glass walls and an open design.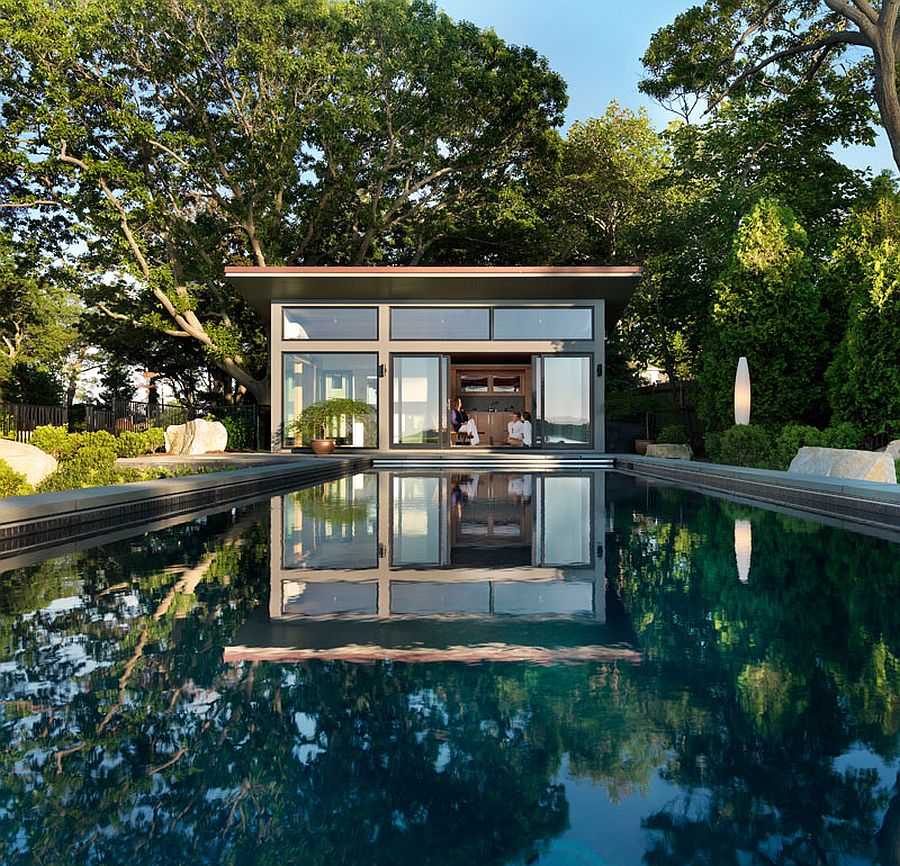 Transition between the interior and the serene landscape outside is pretty much seamless here with the interior of the guest house being inspired by yacht design. Minimal and modern, décor here is kept to a bare minimum. An open living area is coupled with hand-crafted, custom kitchen and a rejuvenating bath, turning this stylish escape into the perfect haven for an unforgettable staycation. At times, it is hard to imagine that this guest house sits next to a more reserved 19th century shingle-style home.
RELATED: Modern Modular Summer Retreat In Brazil Invites Nature Indoors!
With a simple, modern fireplace in the corner, beautiful ambient lighting and outdoor lighting that highlights the very best of the curated landscape along with the lap pool, life at Eastern Point Retreat is as alluring after sunset as it is during daytime. A guest house that transports you into a more relaxing realm! [Photography: Nat Rea Photography]