Brown is a neutral and natural color that, when used in the right environment, can create a warm, stable feeling in any room. An excess of brown or wooden furniture can create a dark, heavy feel in your space. That's why it's important to integrate shades of brown into a color palette with colors and shades that complement it. When looking for a neutral shade to paint your home with brown is often passed over for whites or grays, but you shouldn't rule it out! It's all about knowing the colors that go with brown—and the best ways to incorporate them.
What to Consider When Decorating with Brown
When choosing a color that goes well with brown, you want to think about what you're trying to convey. Brown is a diverse color with many shades ranging from deep chocolate hues to red browns such as Sienna to pale browns such as camel. If you're looking for a neutral base to build a room around, you could opt for lighter shades like beige or camel. If you have a few pieces of dark brown furniture or wood accents in any room, you'll want to balance it out with lighter fabrics and paint colors. If you struggle to figure out what colors go with brown, you're not alone. It's not a part of the traditional color wheel so it doesn't generate as many clear color scheme suggestions, but that means you have more opportunity to let your creative side take the lead! To get you started and guide you through your design journey, here are a few color combinations that work well with brown.
Brown & White
You've heard before that white goes with just about every color, and brown is no exception to that rule. Pairing any shade of brown with a crisp white will give you a clean contrast that works well in a room like a formal dining room or living room. If white and brown are your two main colors in any room, make sure you vary the shades to keep it interesting. Shades of dark brown or woods such as teak pop well against white too. For this living room they chose to use white as the main color, with brown furniture and wood accents providing the contrast.
Brown & Orange
Since brown and orange are such similar colors you might shy away from pairing them together, but we're here to save you from that mistake. When placed in a primarily brown space, orange accents will serve as the perfect energizer for the room. A pop of orange in a brown room comes across as trendy or artsy, especially against darker woods. For a more warm, sophisticated color scheme, you can try pairing a dark chocolate background with orange and cream accents.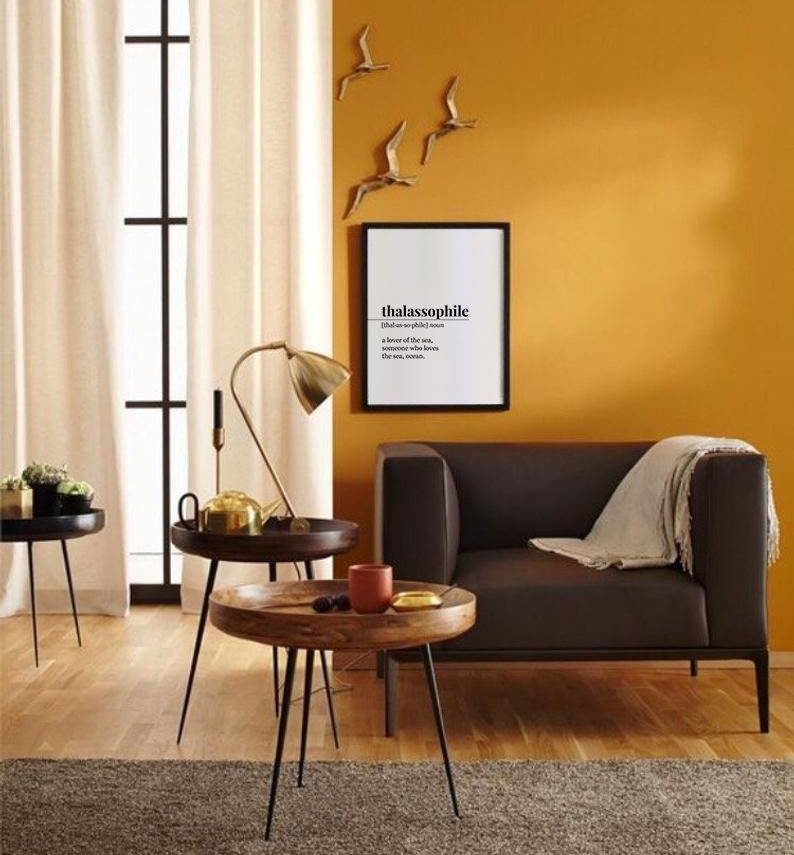 Brown & Green
Brown is a color perceived as natural and neutral; pairing it with green plays into the grounding feeling of nature, bringing it into your home. Lighter shades of green like mint soften the darker furniture in a room. Using darker shades of green paired with dark brown accents or wooden furniture creates a darker, moody vibe that would work for a den or office space, as seen in the photo below. There are few combinations of green and brown that wouldn't complement each other thanks to the two colors being natural foils in nature.
Brown & Yellow
When considering the best colors to go with brown in your home, yellow should be at the top of your list. You could opt for a lively shade of yellow to give you a needed pop of color, or consider a rich shade of golden yellow. Pairing brown with yellow creates a contemporary vibe in a bedroom or sitting room. Using the 60-30-10 rule would work well when pairing yellow and brown. 60% of the room should be a neutral shade such as white, with 30% of the room decorated in various shades of brown, and the last 10% is reserved for yellow accents.
Brown & Mustard Yellow
It may not sound like two of the most appealing color choices, but hear us out! There's a time and a place for using mustard yellow in your home. It's not a color that you want to overdose on, but it's a great stabilizing color. Mustard yellow can bring contrast to a room primarily built around browns and other earth tones without being too vibrant or overwhelming.
If you're looking for more suggestions on working with yellow, here's a few more ideas on colors that go with yellow.
Brown & Purple
A more unexpected pairing that you might not come up with yourself is pairing browns with purple. Deeper shades of purples and browns can make larger spaces feel cozy in a way that brighter colors can't achieve. When pairing purple and brown, always focus on the opposites. Darker woods like walnut pair well with pastel purples, and lighter brown woods pair well with deep shades of purple like plum or bright shades like amethyst. Brown and purple work very well in a room with yellow accents as well, if you're looking to add a third color to your color scheme.
Brown & Blue
You won't find brown on the traditional color wheel, but since its closest shade is orange, many use blue as a complementary color for brown. Combining blue and brown tones can make a relaxing environment out of an ordinary bedroom. Brown leather paired with navy blue makes a room feel rustic and refined, whereas pale blue paired with beige or a lighter wood creates a more serene environment. The cool tones in shades of blue mix well with the warm browns of darker wooden furniture without leaving the room feeling too dark or heavy.
For more ideas on how you can use blue around your home, we have more suggestions on colors that pair with blue.
Brown & Pink
Brown might not be the first color you think of when decorating your daughter's bedroom, but you'd be surprised how well it can pair with shades of pink. Pairing brown with shades like rose or fuchsia creates a feminine space without overdoing it. If you're going ahead with a pink room, the natural order would be to start with a brown base and brown or wooden furniture, using shades of pink as your accents in things like pillows, curtains, or artwork. You could choose a more subtle, subdued shade of pink for the wall as well, like this room with a pink-peach shade on the walls.
Brown & Black
Much like a brown and white pairing, brown pairs well with black to create a classic color palette in any room. When using black as one of your main colors, you must make sure to balance it well. Lighter shades of brown or light woods work better so the room doesn't appear too dark. In spaces with black furniture, brown accents can add depth and interest to the room, whereas black can create drama against brown furniture.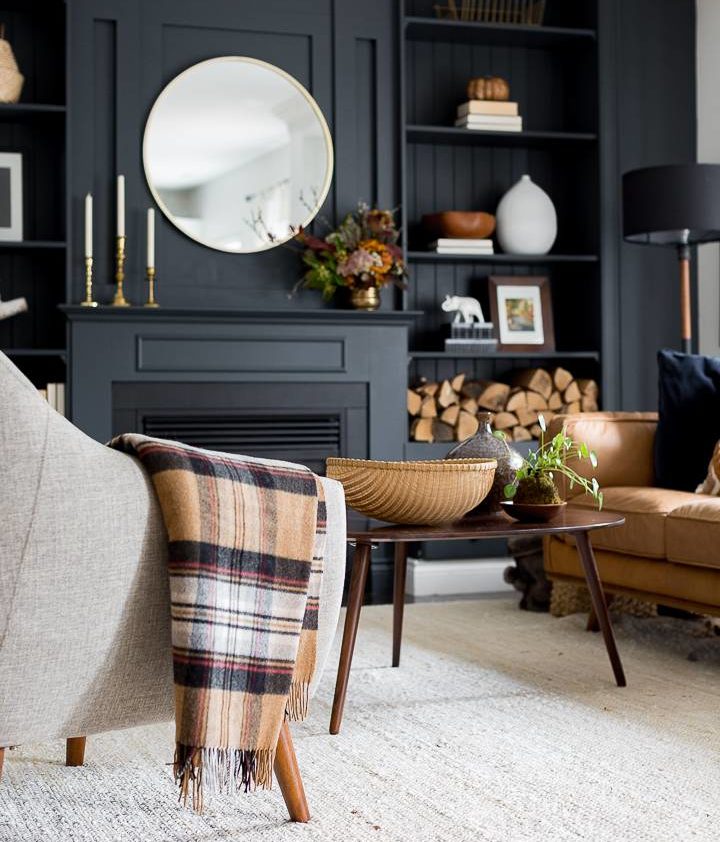 Brown & Red
When it comes to pairing brown with red, it's all about the shade of red that you choose. A room such as a home library or study might call for a moody color palette centered around darker hues of red, whereas a clean, modern bedroom can benefit from a pop of color in the form of a bright red throw blanket or reading chair.