It would not be an exaggeration to say that the formal, dedicated dining room is increasingly becoming a thing of the past. Homeowners are going down the path of the eat-in kitchen coupled with an informal dining area to address their dining needs. This also frees up space for a room that can be either the additional bedroom, guest room or even the home office. It is an understandable switch in preferences but one that also demands a change in decorating choices. In an open plan living, giving the dining space a distinct identity is a tricky task. A task that is made much easier with the help of a dashing, colorful rug!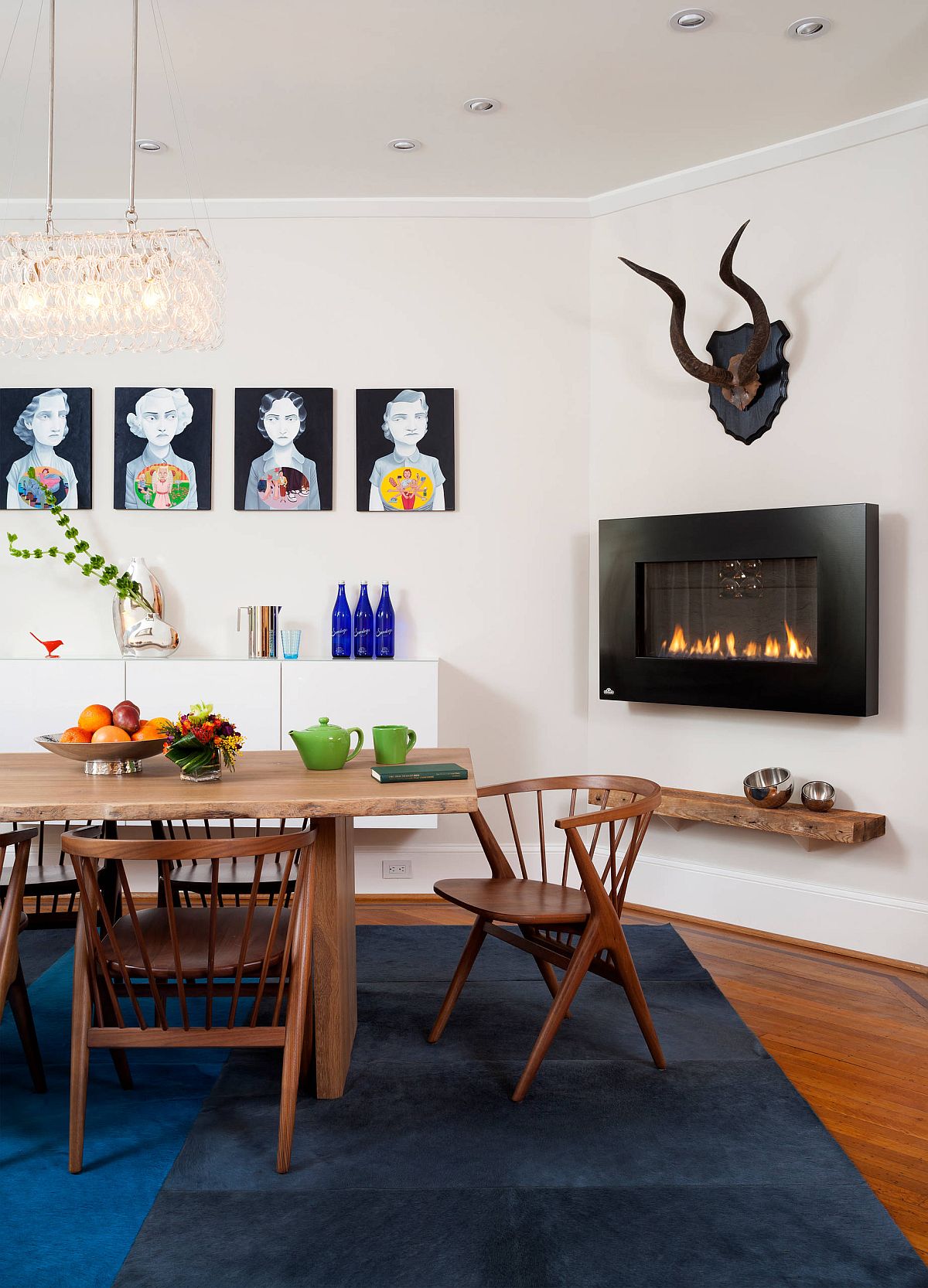 One of the hot decorating trends of winter 2019, the colorful dining room rug easily delineates the dining area and gives it a unique presence. In a world filled with neutral hues, the smashingly beautiful rug with bright presence holds its own. You will not have to search far and wide to get one that perfectly fits your taste. But before you turn the colorful rug and its aesthetics into your priority; do consider the functionality of it as well. You still want a rug that is easy to maintain, clean and is large enough to ensure that the chairs do not extend beyond its limits when pulled out.
Colorful Rugs Cutting Across Styles
The bold and colorful rug is one that cuts across decorating styles with ease. Its finish and material might be constrained by the style you choose, but not so much the color. This is truer when you have an open plan living in white, gray and other neutral colors coupled with wood or concrete. The rug you pick defines the boundaries of the dining space in here and can also determine its style. You can work up from the rug and then choose matching chairs, a table that fits its size and additional accessories as well. Repeat the color of the rug with wall art, vases or other additions in the dining room to shape a more beautiful setting,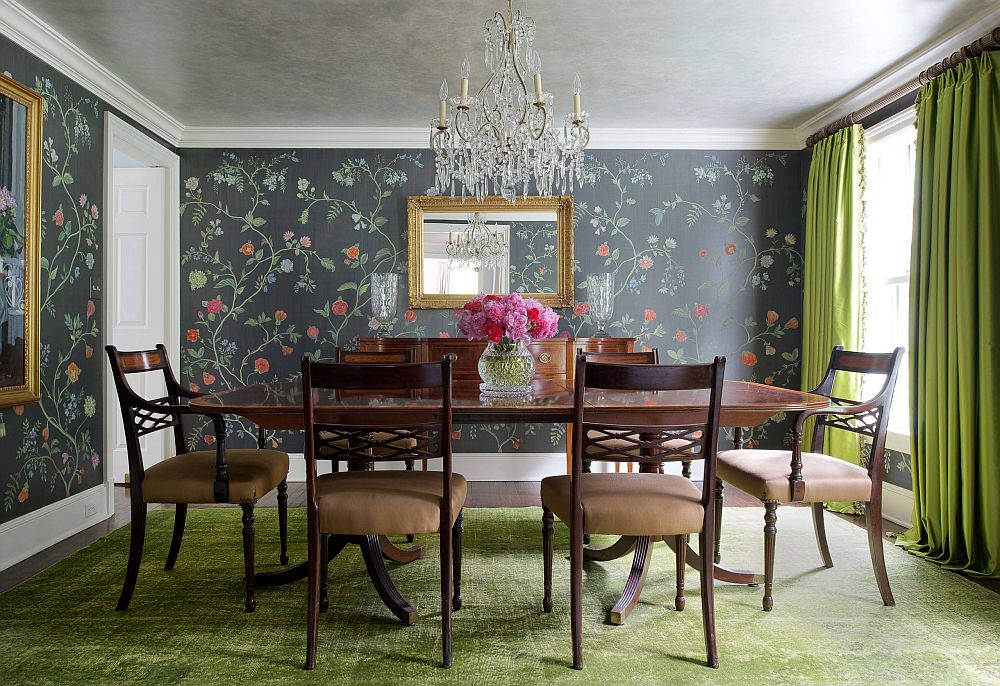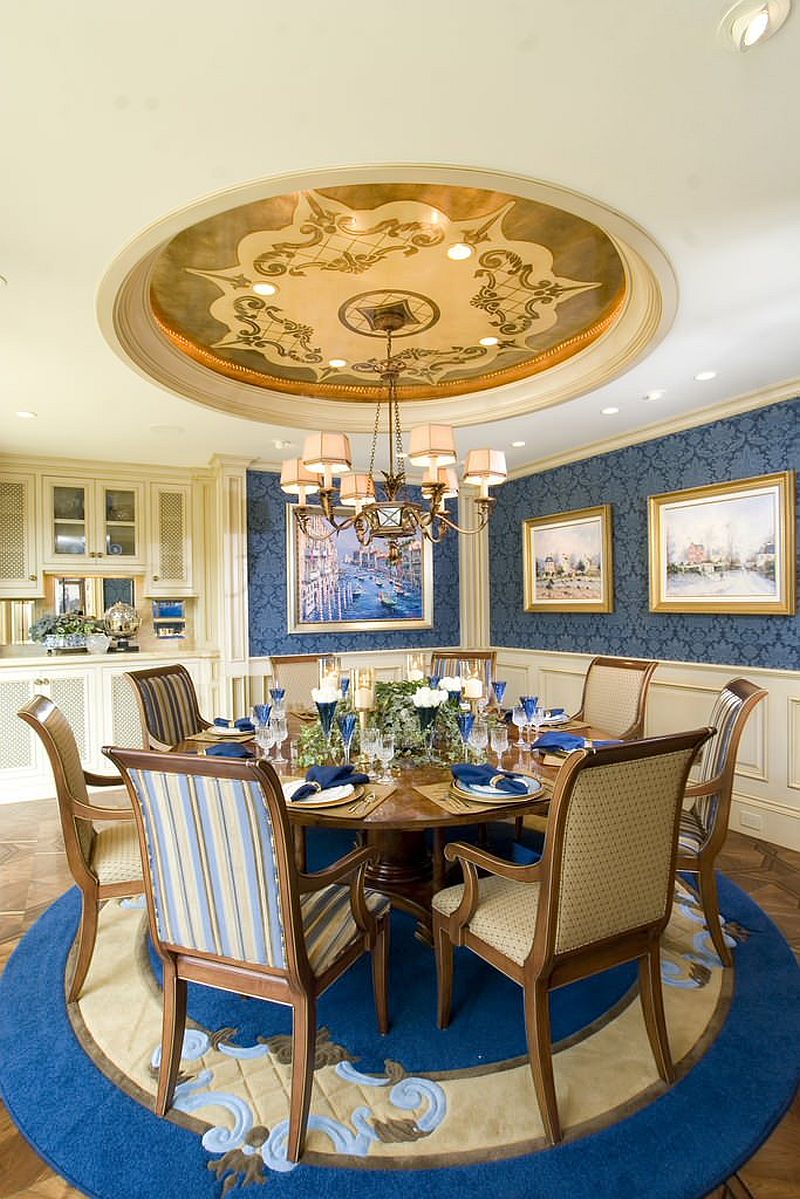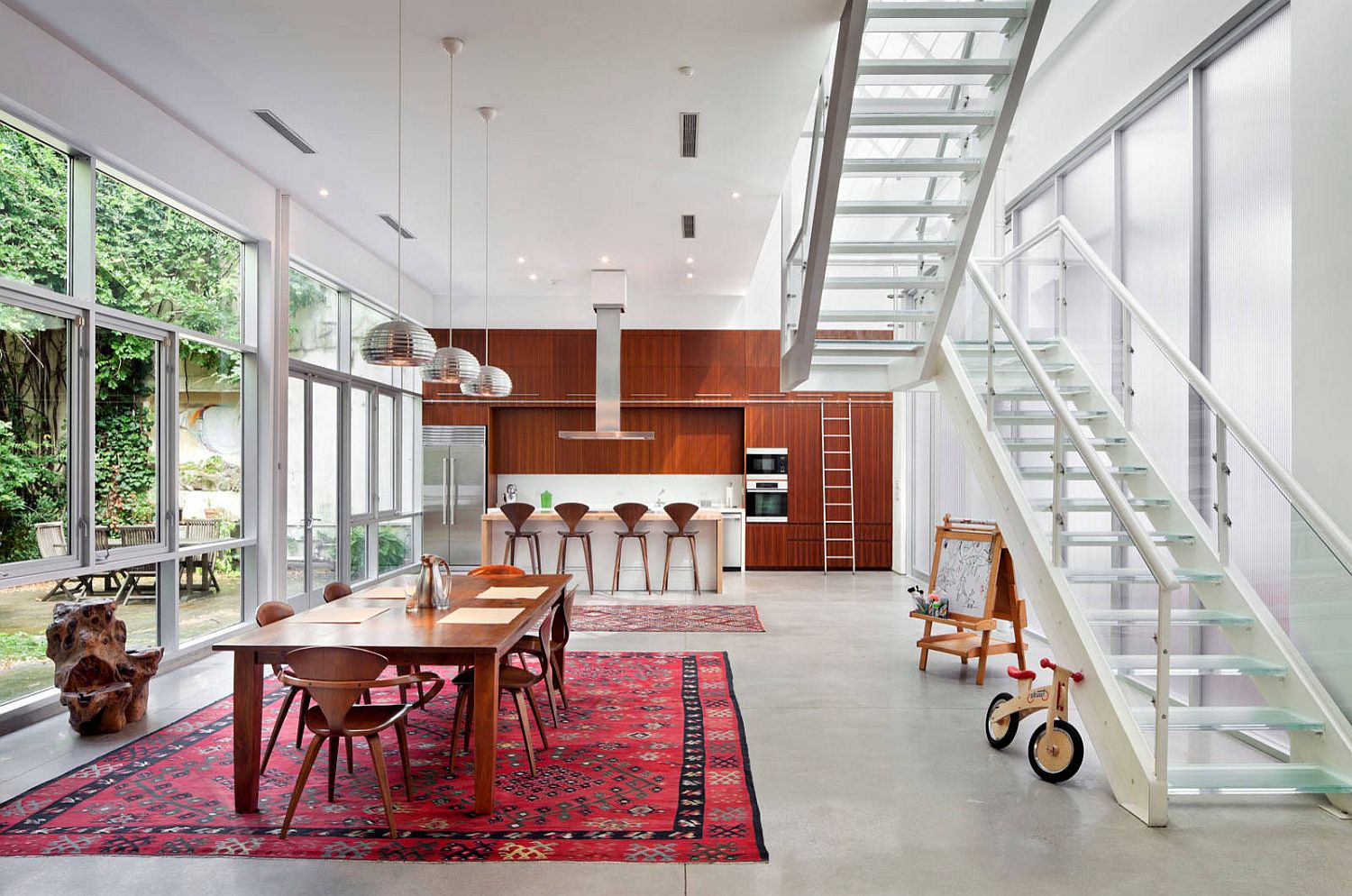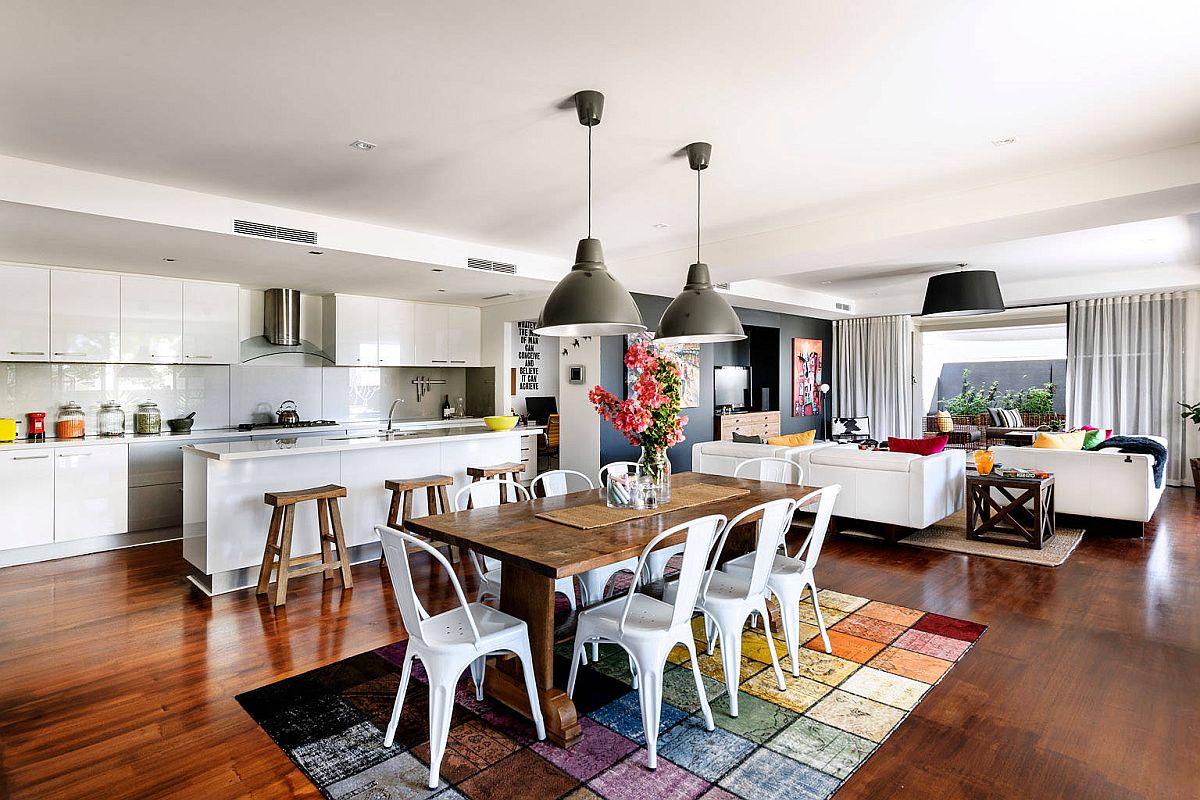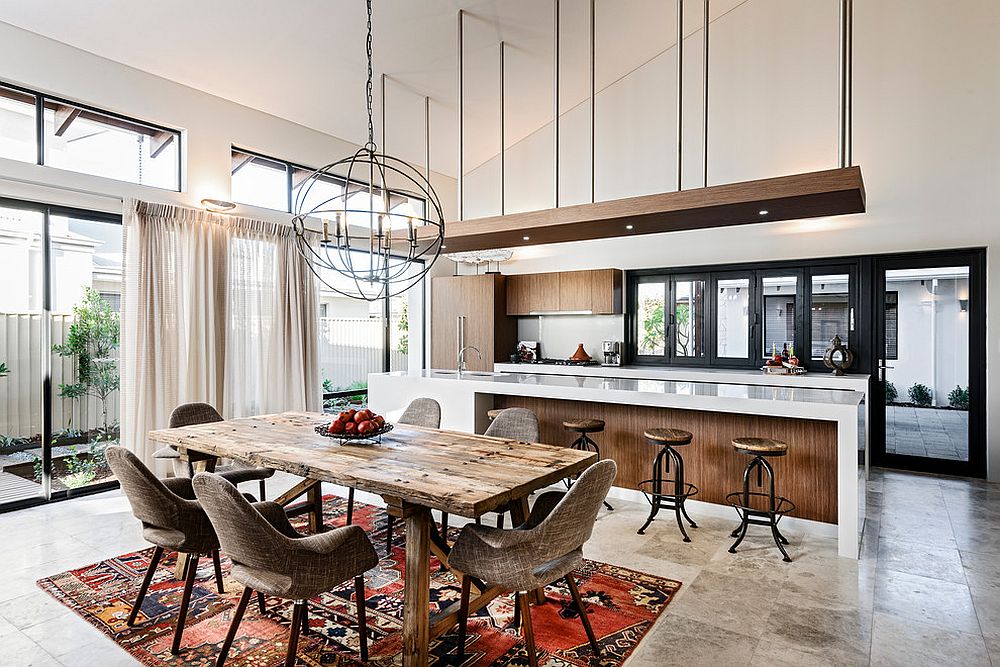 For the Neutral Dining Space
Dining spaces in contemporary living room or those with beach, Scandinavian or modern styles tend to have a neutral backdrop. This automatically elevates the visual presence of the colorful rug. One of the most popular colors in here is the bright purple rug in its many variants. Purple rugs are a hit in modern dining rooms with its many shades bringing brightness and a touch of royalty to even the dullest spaces. Splashes of pink bring femininity to the dining room and complement a shabby chic look while blue rugs are perennially popular especially in beach style spaces.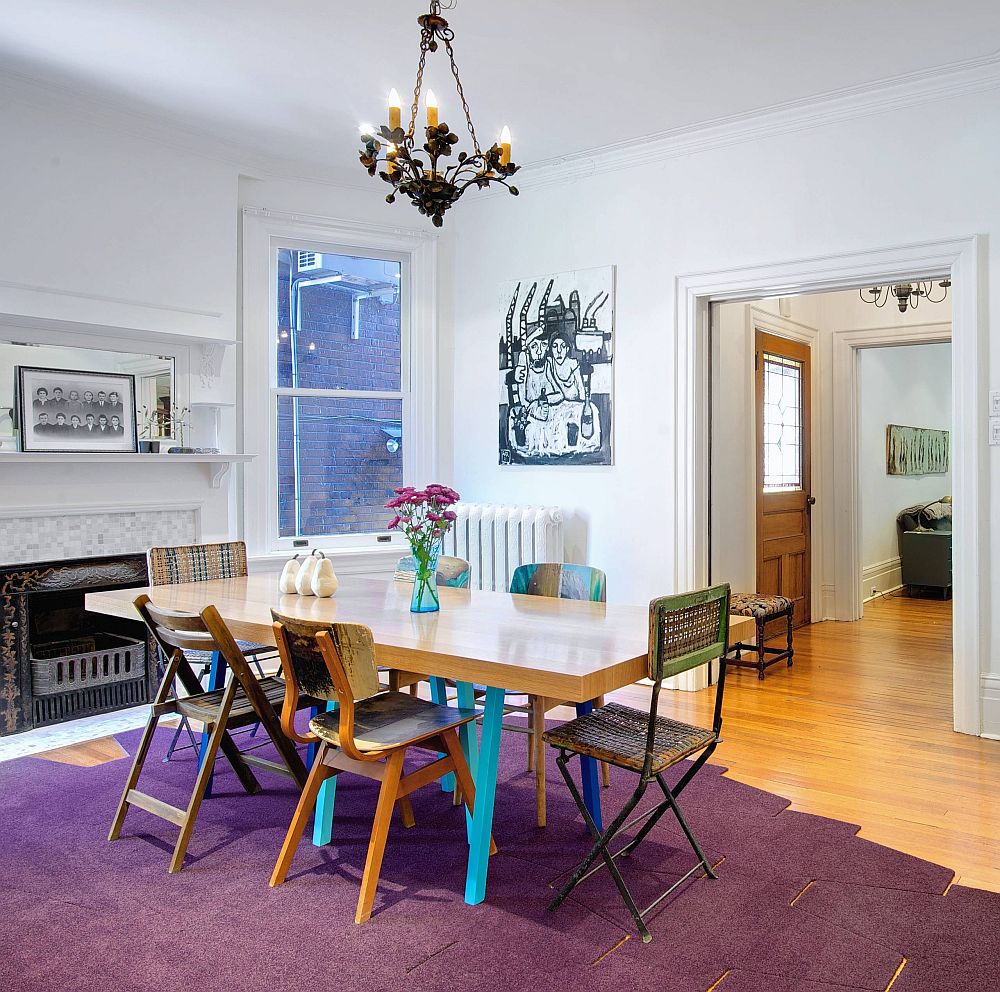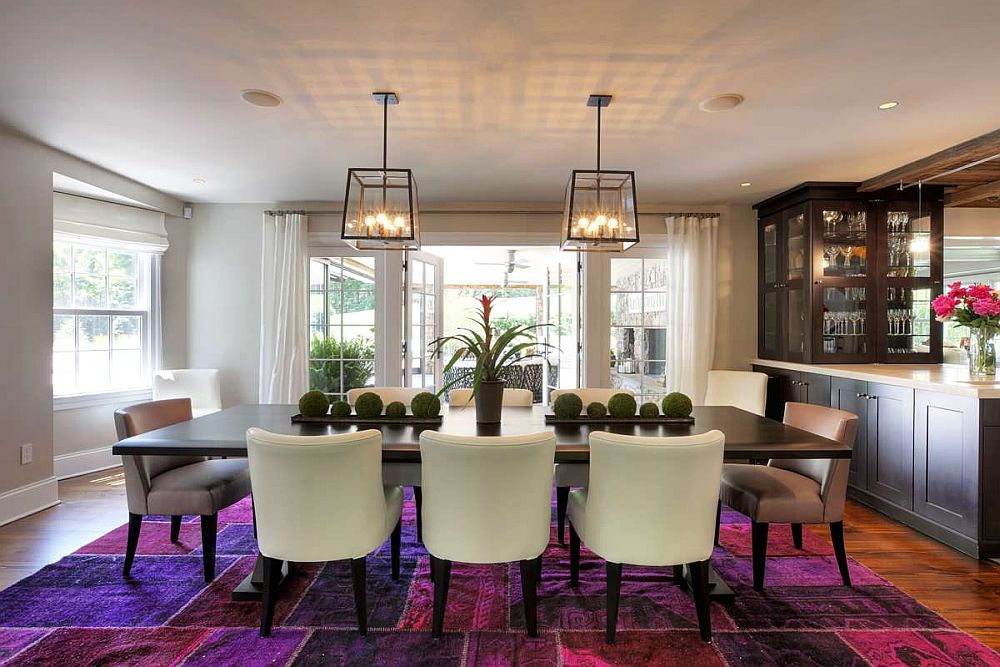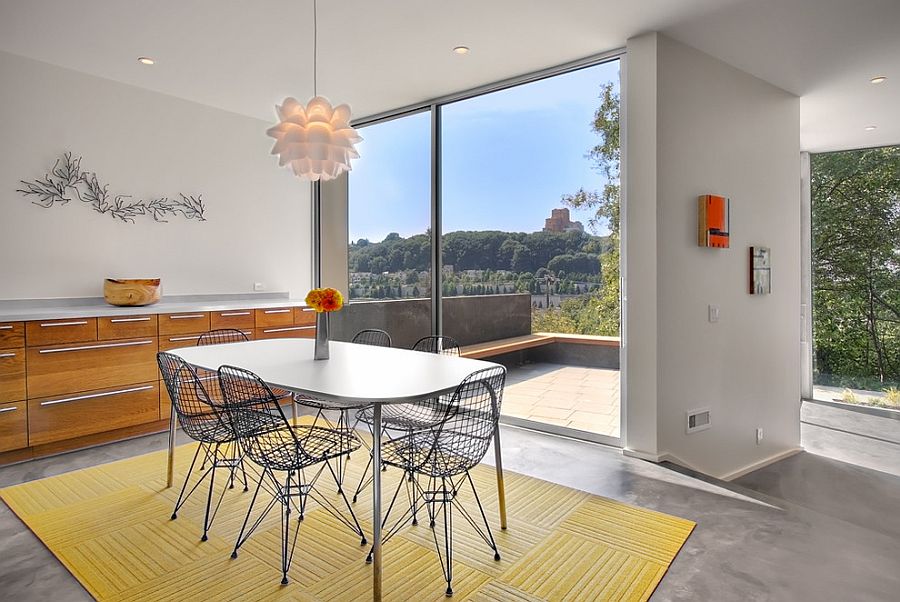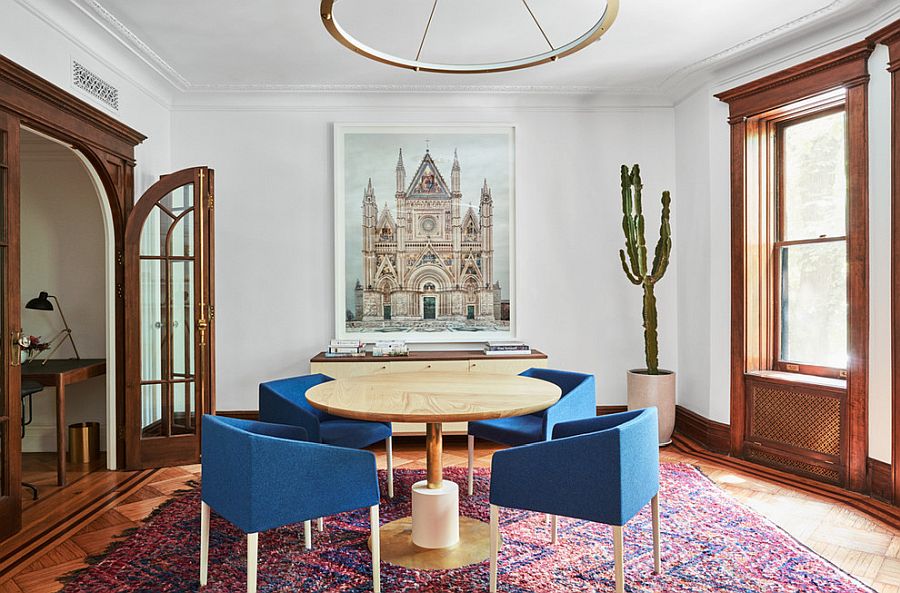 Pattern Along with Color
Rugs can either just bring solid splashes of color or you can use them to usher in both color and pattern at the same time. Striped rugs with multi-colored charm add playful appeal to the dining space while rugs with broader stripes are much classier and sophisticated. Persian rugs full of intricate pattern may not be exactly apt for the dining room, but if you can afford one, then by all means go ahead and splurge this winter. As you head into the festive season, shopping for the perfect rug with bright presence can be a smart budget choice indeed.