From the cubes and rigid walls of the 90s, a change in millennium saw a shift toward living spaces that got rid of partitions and embraced open and breezy spaces. Since then, the open plan living space has only gained popularity in homes across the world, and it is hard today to imagine any top-notch home without one. With a wide range of advantages that include a cheerful and spacious living environment and a setting that brings together the entire family, it is easy to fall in love with the open floor plan. But when it comes to color and paint choices, it presents a whole new decorating conundrum.
No one wants a featureless and bland living area where everything seems mundane. A lack of color can often create precisely this, while too much color creates a disjointed space filled with visual clutter. Finding the right balance that lies somewhere in between the contrasting ends of this spectrum is hard indeed. That is precisely why we have put together some useful tips that will help you in picking the right hues for your open plan living space. And yes, there are some lovely inspirations that showcase how to get it done as well!
1. A Neutral Backdrop
This is obviously the easiest option, but with muted colors, you need not always opt for a monochromatic look. A backdrop that is draped in white is a classic that never fails, and it not only works well in the kitchen, dining space and family room connected with the living area, it also allows you to work with contrasting styles as well. Instead of trying to create interest using color, think of wallpaper, textured walls and contrasting finishes that bring textural variance to the setting. Even styles like eclectic, contemporary and shabby chic can sit next to one another thanks to the unifying background.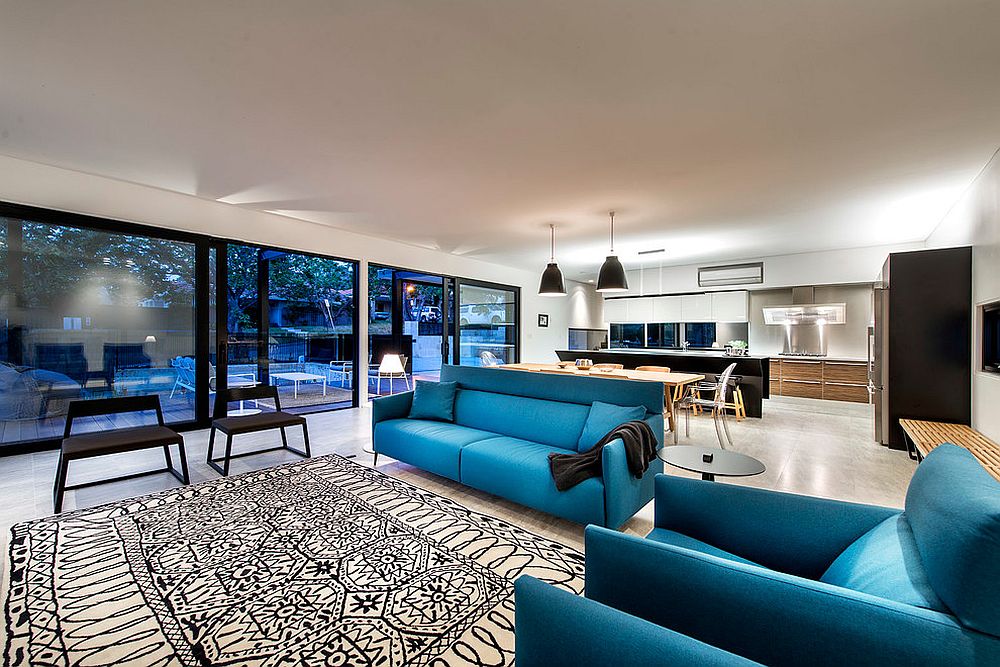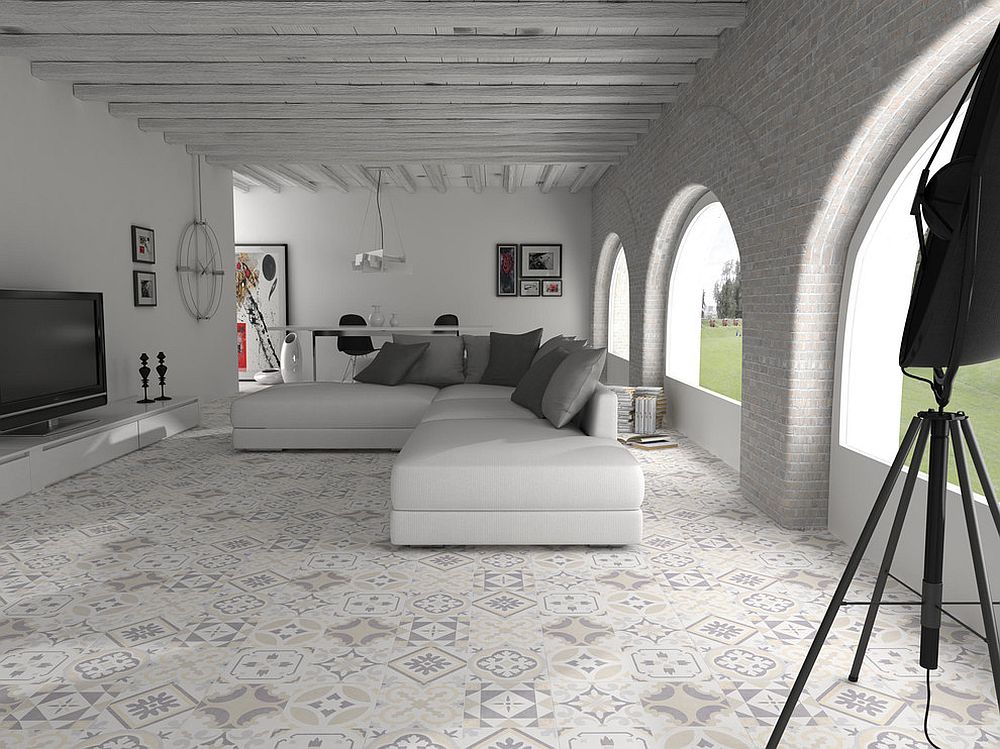 2. Shades and Tones
If you are not happy with just a large, flowing backdrop that seems the same everywhere, try out the tone-on-tone approach. This is the next best option for those who want to keep the background of the open plan living space as coherent as possible but with subtle, beautiful contrast. You can transition from lighter tones to darker versions of the same color gradually as you step from one section of the living area to another. Alter the shade of the color as well for a more distinct and noticeable change.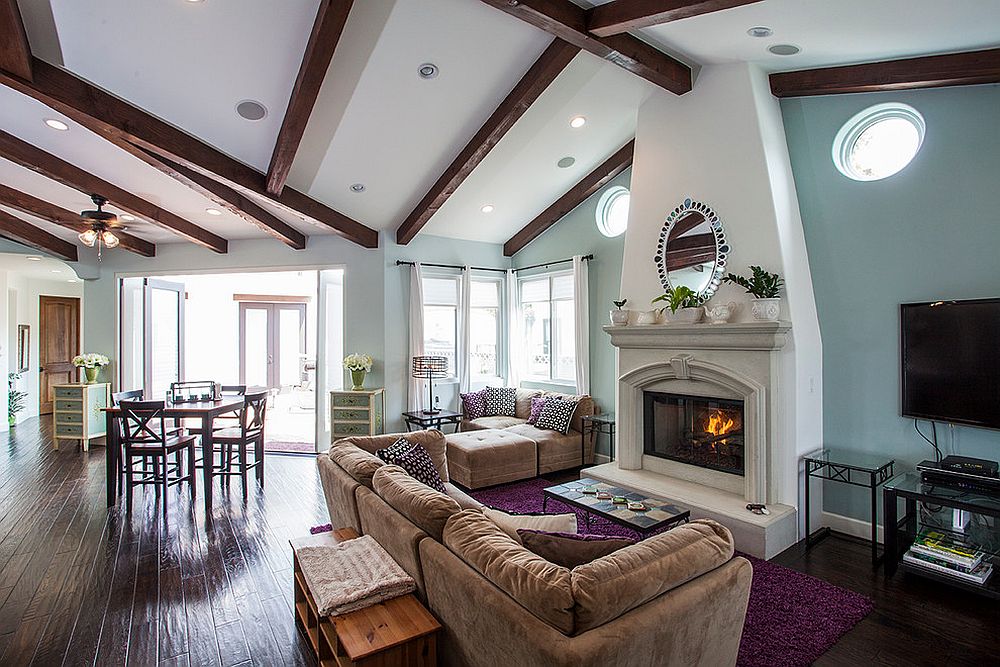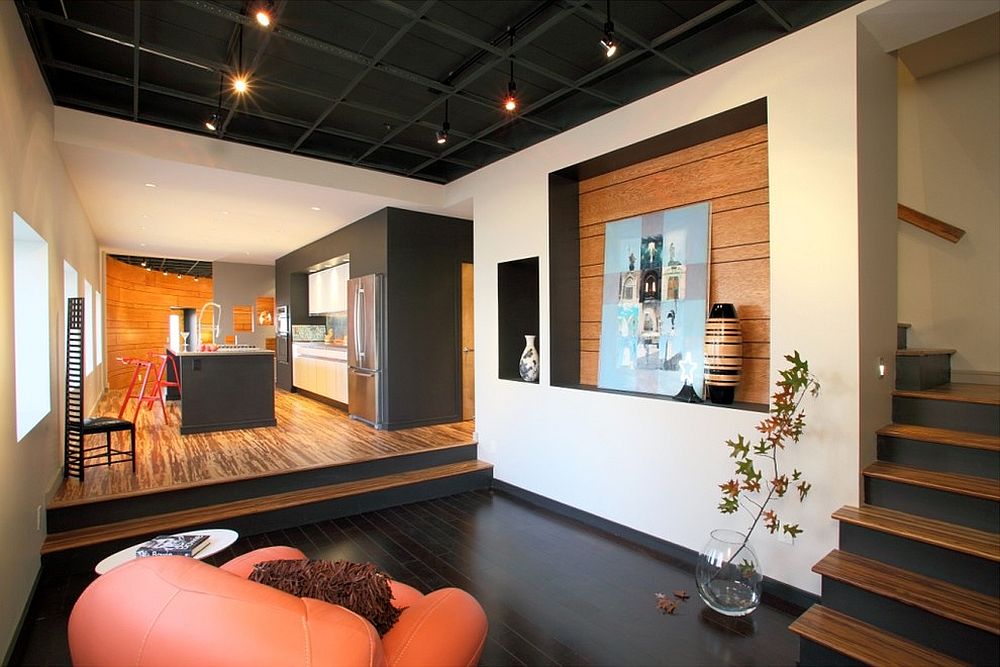 3. Meet the Color Wheel!
Have you heard of the color wheel? If not, then it is time to get acquainted! The color wheel allows you to easily pick analogous colors and triadic color schemes that will allow you to completely transform the open floor plan. While analogous colors are those that sit next to one another on the color wheel, triadic colors are obtained by using an equidistant triangle on the color wheel. While this sounds complicated in theory, it is pretty simple to work with, and these two systems ensure that you can add a healthy amount of color to the open floor plan while creating a sense of curated design.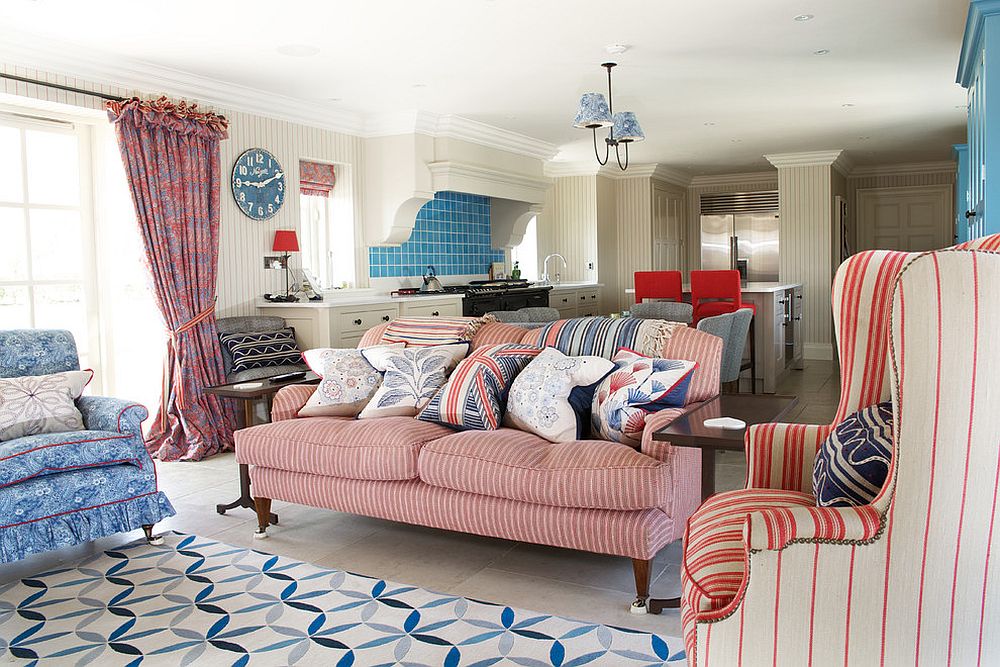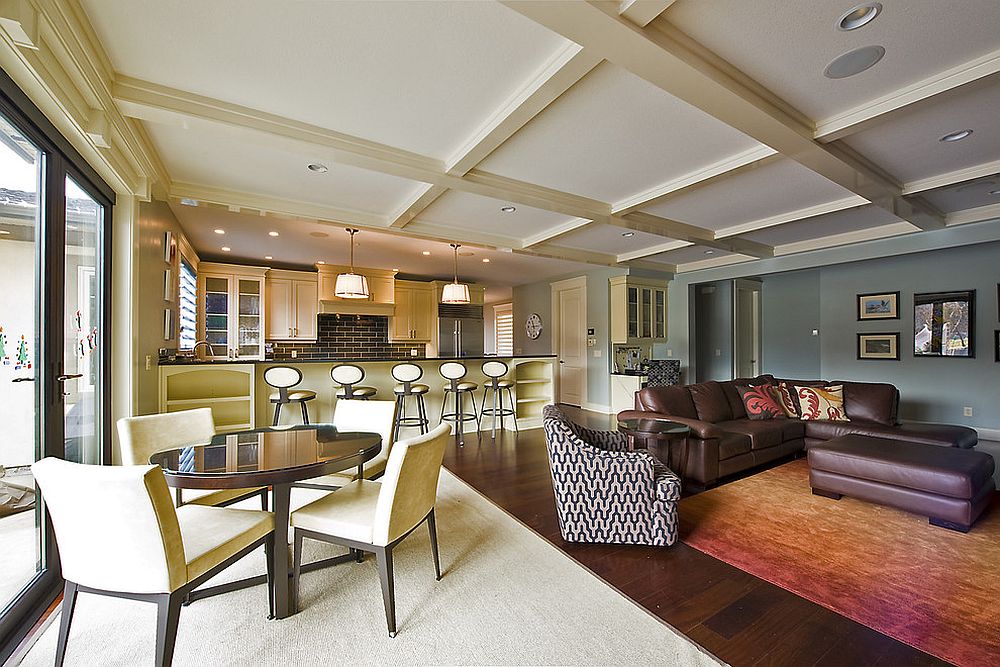 4. Delineate and Unite
While some homeowners want to use color to delineate individual areas in the open floor plan, others turn to the same color to unite all the disjointed spaces. A bright accent wall in the living area, kitchen cabinets in the same hue and bright pendant lighting draped in a similar color in the dining space instantly shape a flowing visual and tie together seemingly varied sections of the living area. The opposite approach is to give each section its own individual accent hue while keeping the backdrop constant. This easily helps in identifying where one room ends and the other begins!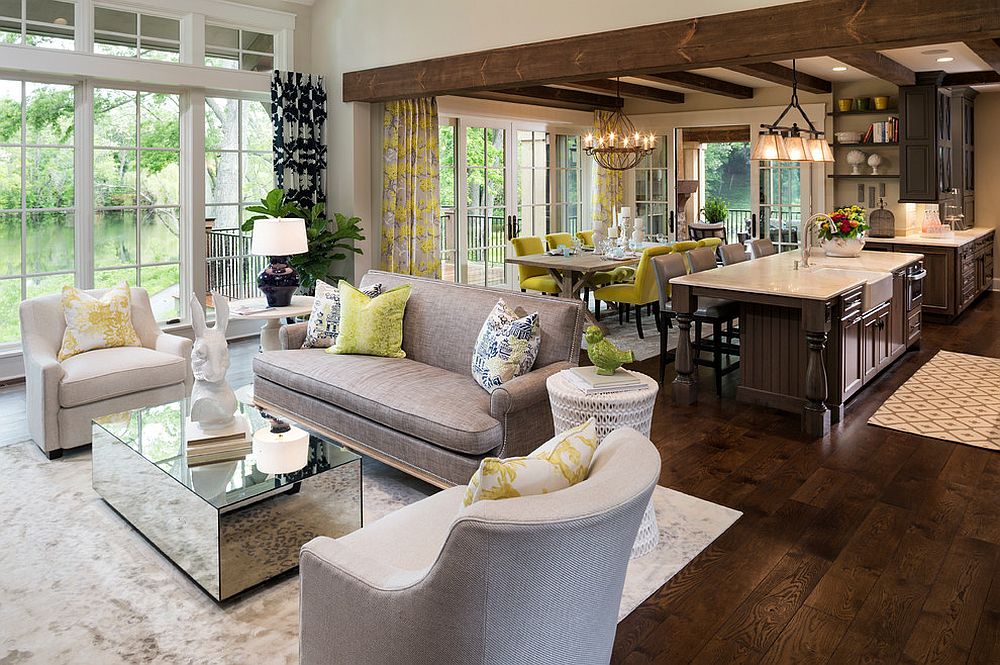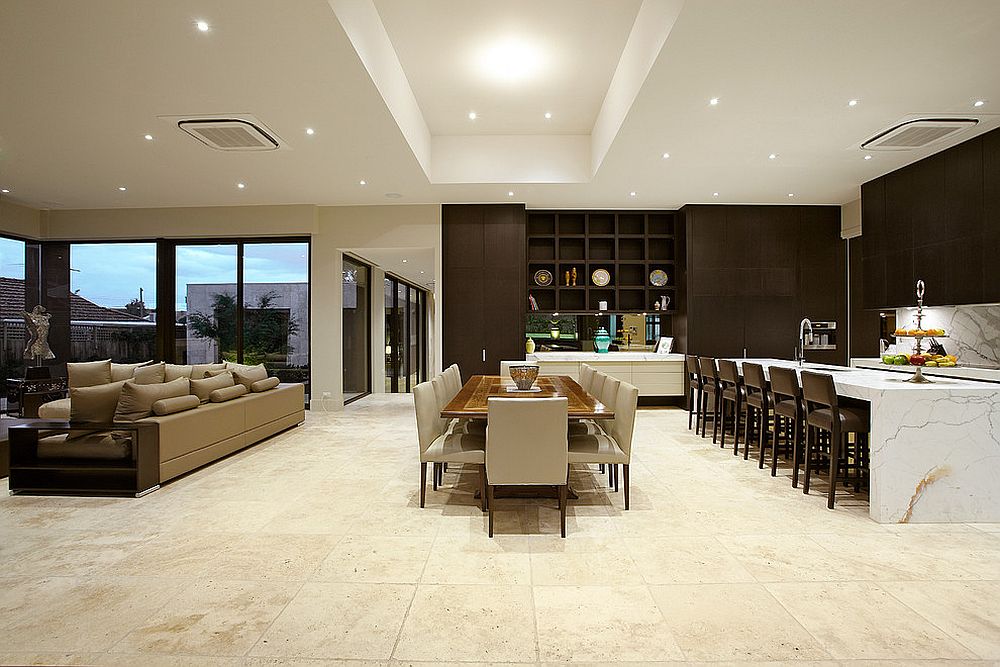 5. Pops of Bright Accents
There is no doubt that accent décor, accessories and even colorful wall art have gained prominence in recent times thanks to the use of the open floor plan. Using accent pillows or even a bold, flamboyant couch, one can add color to the open living area without ever varying the backdrop. Vivacious and patterned china is a popular choice in the kitchen, while a large, vintage buffet or dramatic artwork is the way to go in the dining area. Of course, you can pick, choose and alter between these gorgeous accents with changing seasons and trends!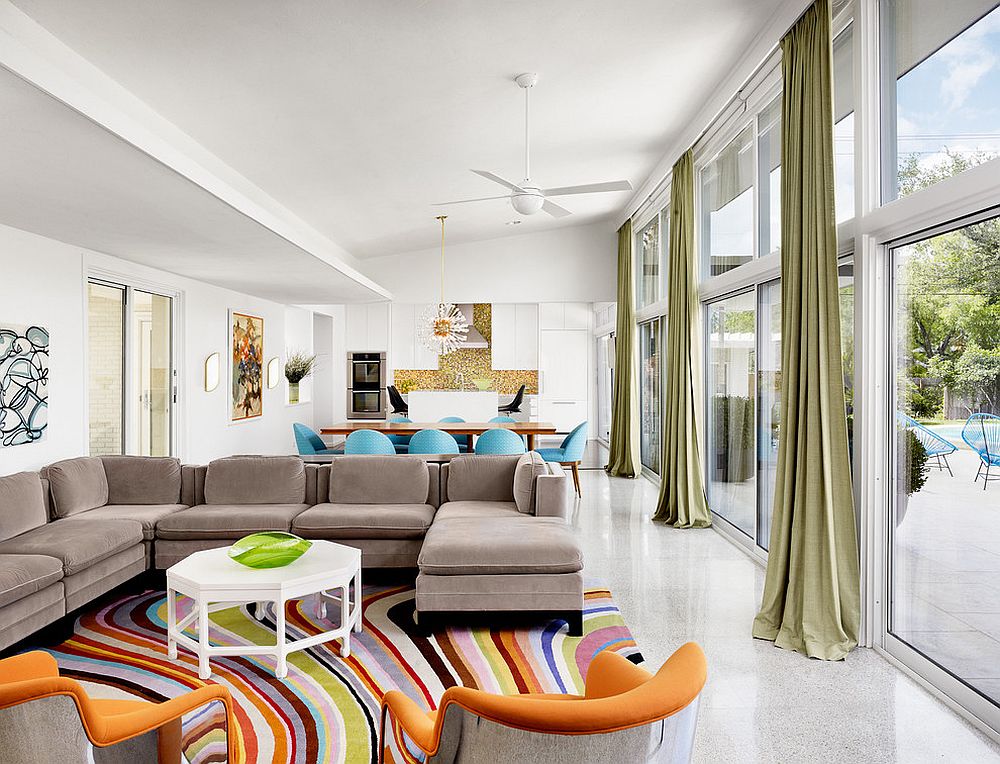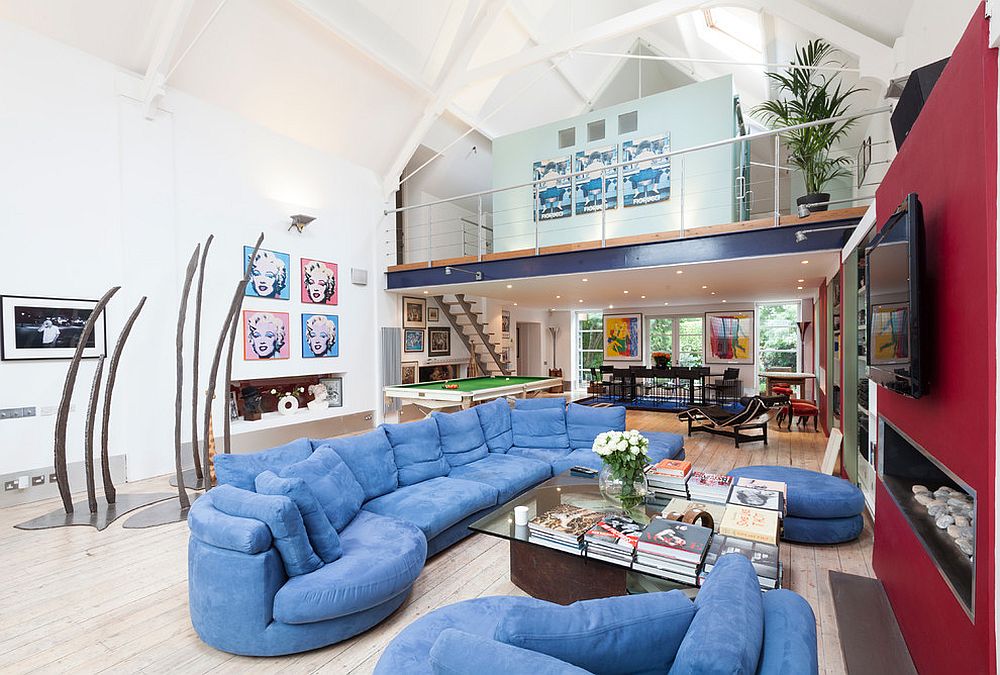 6. Shared Architectural Features
Another ingenious way to use color in an open floor plan is to turn to darker hues to anchor the large and airy interior. Since white, lighter tones of gray and cream are the most used choices, painting the window frames in black is a cool way to give the interior better definition. Ceiling beams also allow you to transition from one room to next without changing the wall color. Bookcases in the living area with the same finish and hue as the kitchen cabinets or a modular wall storage system that serves both rooms in a seamless fashion also offer a smart contemporary alternative.