The checkerboard pattern has long been present in home design and by now has a strong historic impression. It has the power to make a room look grandiose and luxurious. Whether the pattern is monochromatic, which is the most common choice, or gently colored, the room instantly gets a dynamic look that feels organized and precise. The pattern itself is a wonderful choice for a bathroom, as it makes it seem bigger and slightly more special. Check out these 30 vintage checkered bathrooms!
Diagonal Monochrome Checkered Pattern
This type of checkered pattern offers a lot of dynamic within a monochrome space. The diagonal shapes give the illusion of spaciousness and even the smallest bathrooms seem like they extend further than they actually do. If you are in love with monochrome bathrooms but worry about them becoming too monotone, a diagonal checkered pattern will not let you down!
RELATED: Black And White Bathrooms: An Elegant And Timeless Trend
What is a relatively small bathroom instantly gains in space when it has a diagonal checkerboard floor! The pattern is perfect for narrow spaces that need the illusion of expansion. Say goodbye to claustrophobic bathrooms and hello to ones that feel like a dynamic cozy space!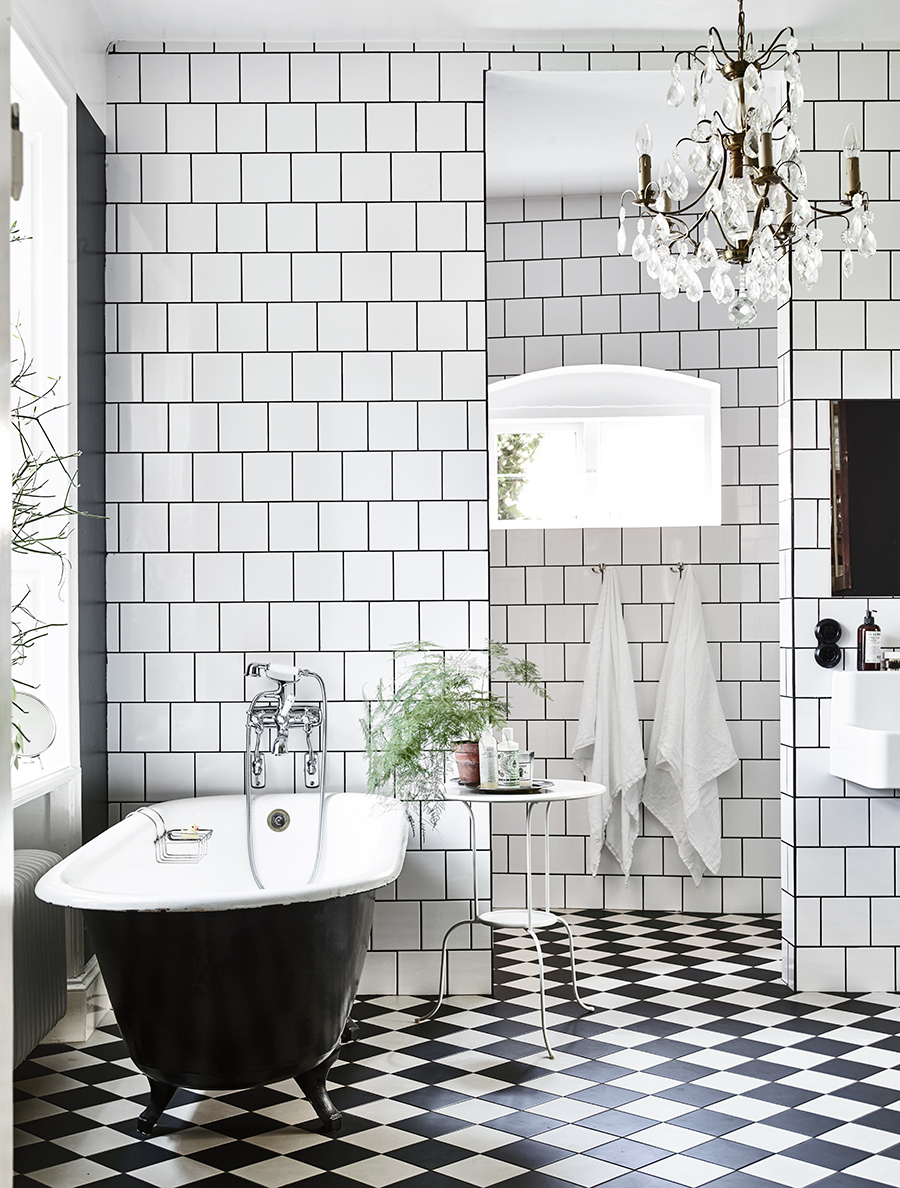 A bathroom with checkerboard floors is a playground for a monochrome interior. Whether you lean towards very bright bathrooms or darker ones, the diagonal checkerboard will work amazingly with both! As a decoration tip, a dark black bathtub is just the element that a bathroom like that needs, in order to nail the glamorous look!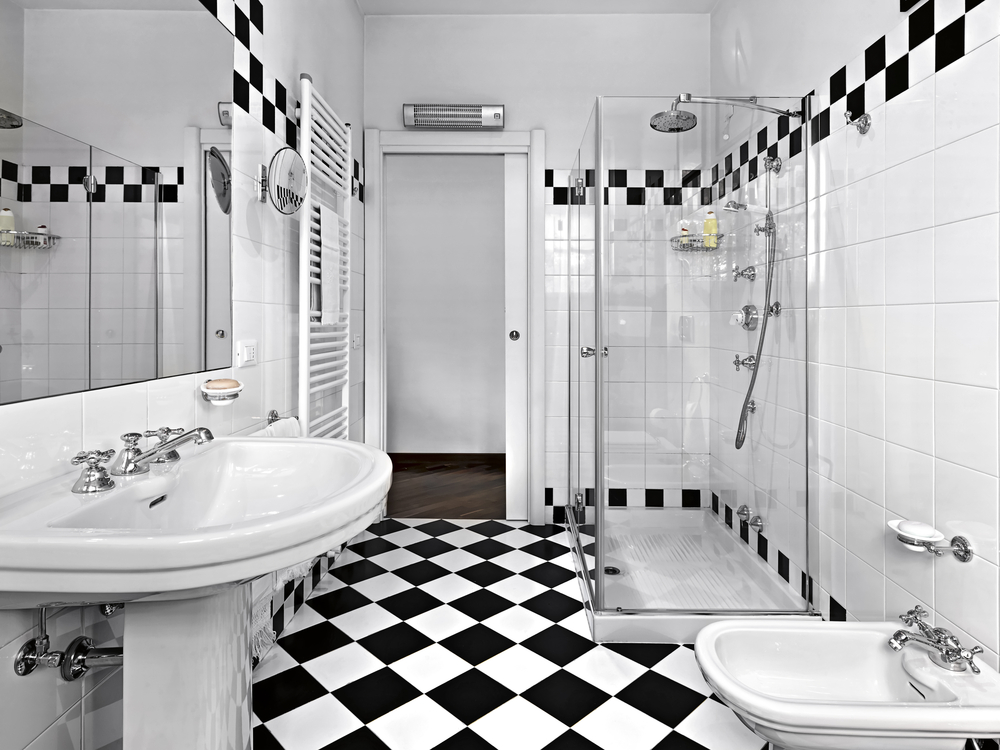 Placing a glass shower into a monochrome bathroom will open up the space even more, making it brighter and more transparent. If you feel like extending the checkered pattern beyond the flooring, add some to the walls as well and play with mixing the diagonal and straight checkerboard tiles.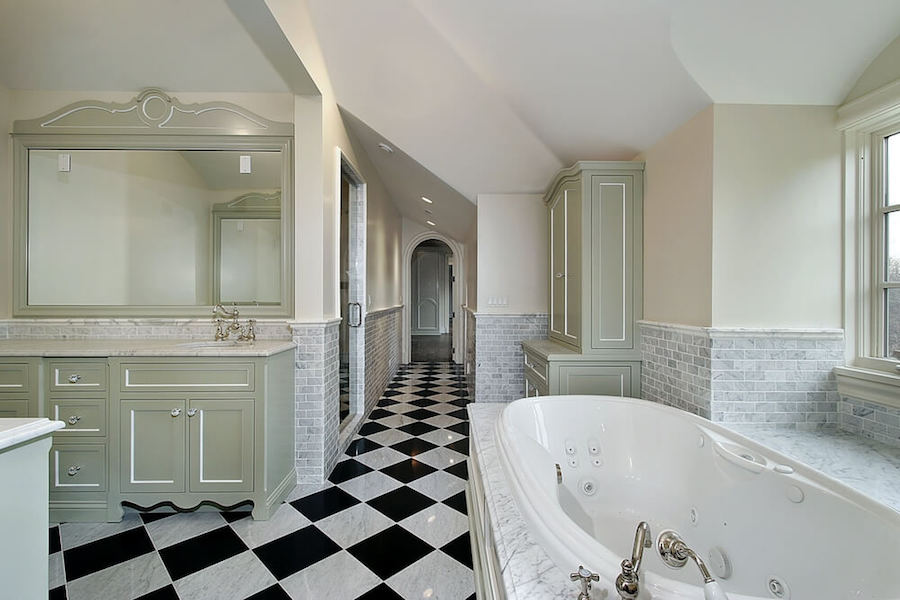 Vast and luxurious bathrooms already have a grandiose look to them, but if you don't want to get too carried away with the modern look, a checkered floor will balance the scale with its vintage flair.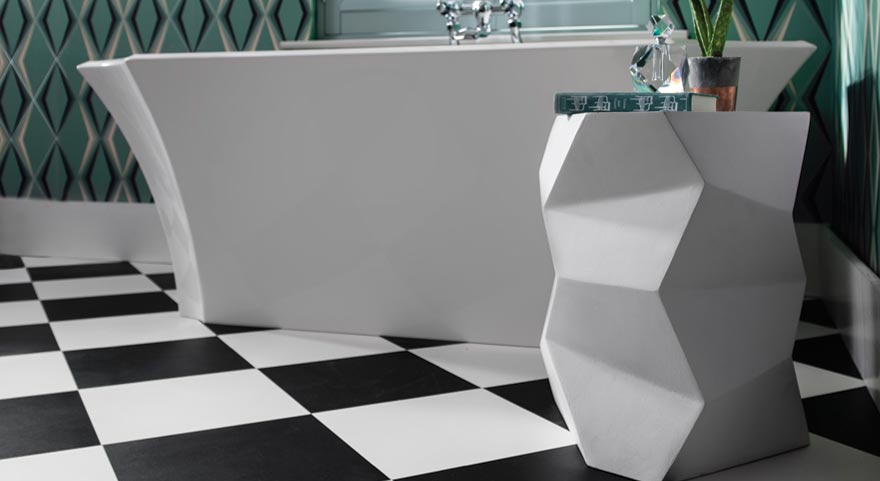 But don't think that a monochrome checkerboard can't perform in a modern setting. The squared shapes offer stability, giving you the freedom to pursue other decor elements that don't have such defined shapes and can really go all out on contemporary bathroom pieces!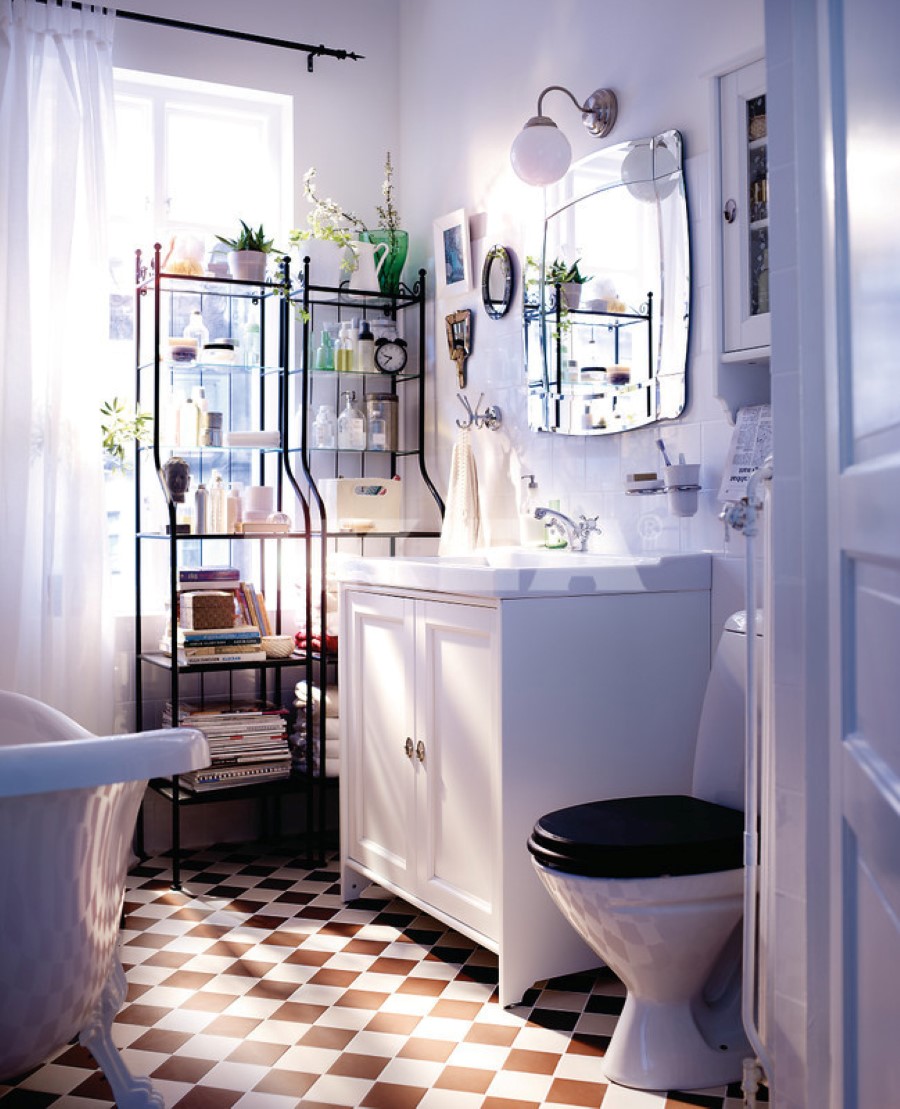 The vintage coziness that comes with checkerboard floors is an absolute treat. Even though they're black and white, the tiles will look incredibly beautiful when lit up by the morning sun!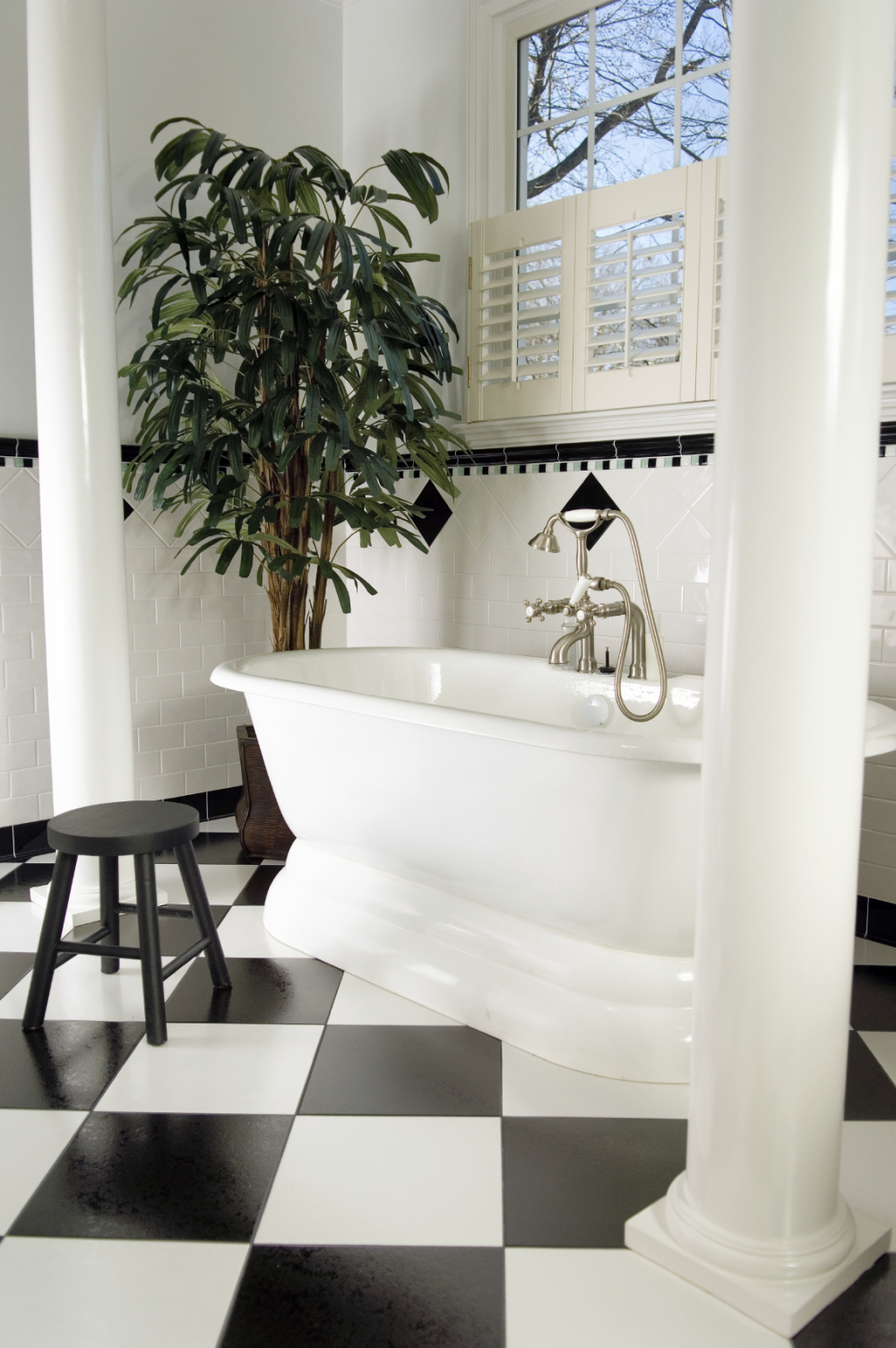 A clean and uncomplicated setting is well complimented by a checkerboard pattern that, with its dynamic diagonal look, prevents the monotony.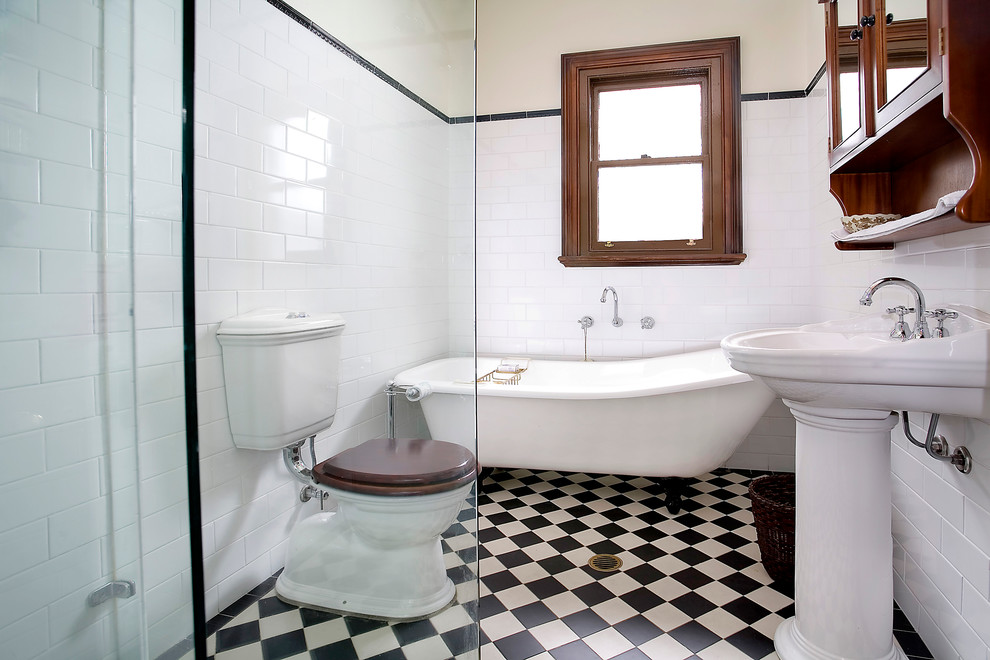 This bathroom is a great example of how flexible and versatile checkerboard floors can be. If you want to include some farmhouse decor, you are at all liberty to do so as it will only complement the old-fashioned style of the room.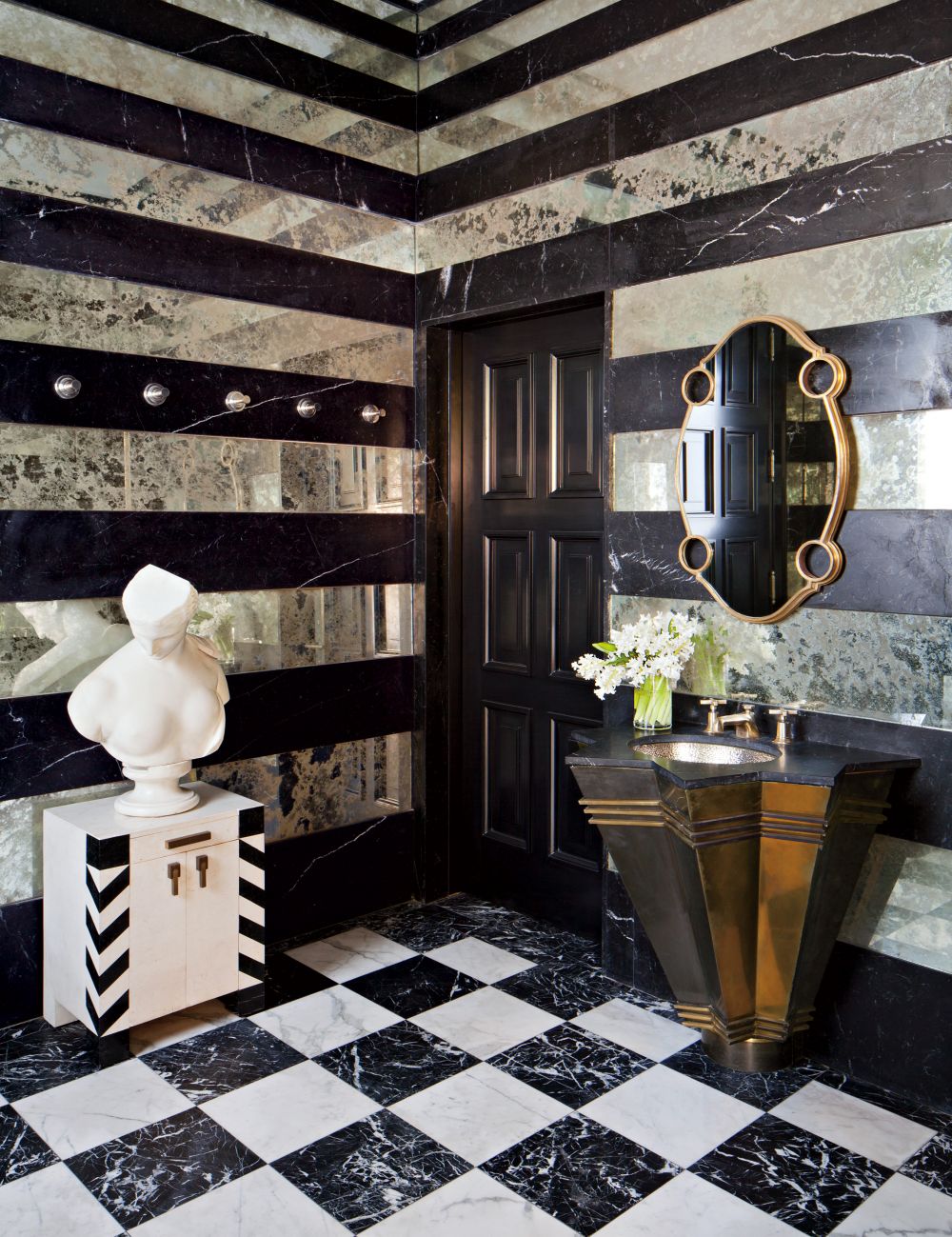 You can alter the pattern itself to reach a more prestigious look, just like these marbled checkered floors do for this state-of-the-art bathroom!
Straight Monochrome Checkered Pattern
If the diagonal checkered pattern is too dynamic for you and you'd rather stay within the frame of classic and traditional, the straight monochrome checkered pattern could be the suitable alternative! The pattern feels old-fashioned, although versatile enough to be appropriate even in the bathrooms that are slightly leaning towards contemporary interior.
RELATED: Checkered Patterns for Home Decor: Charming or Cheap?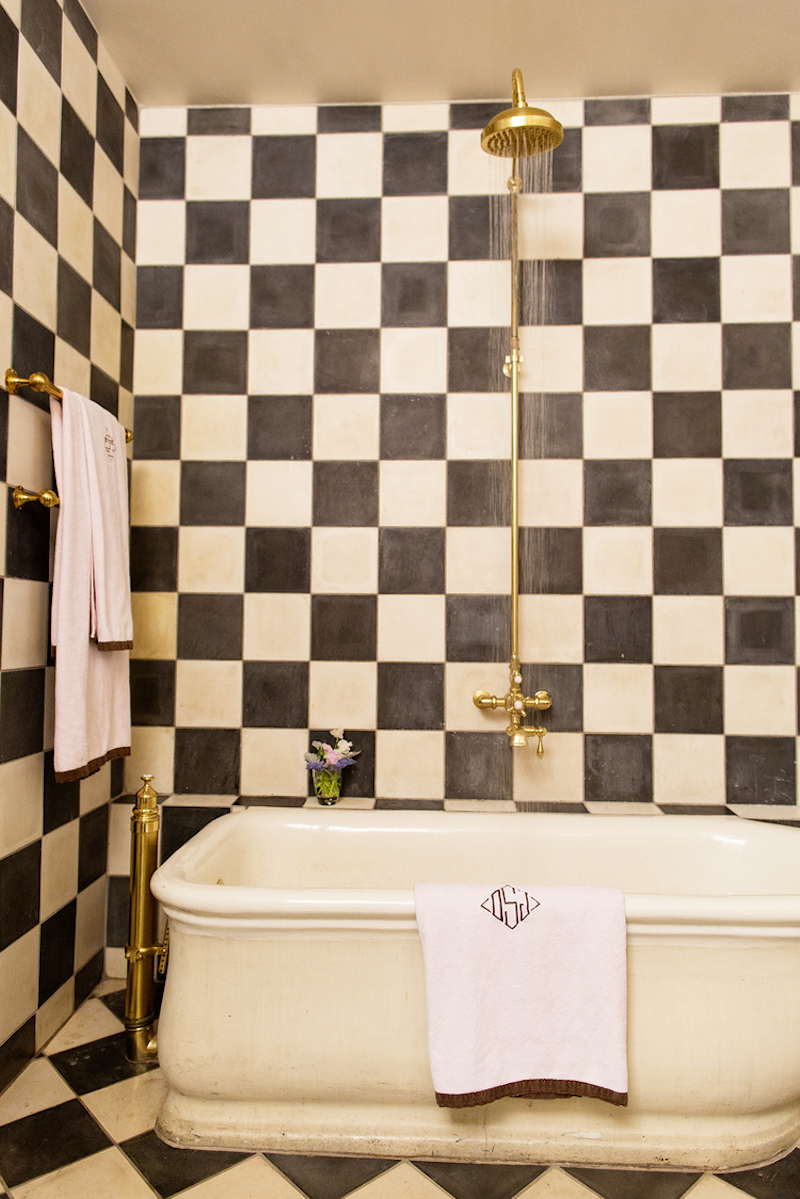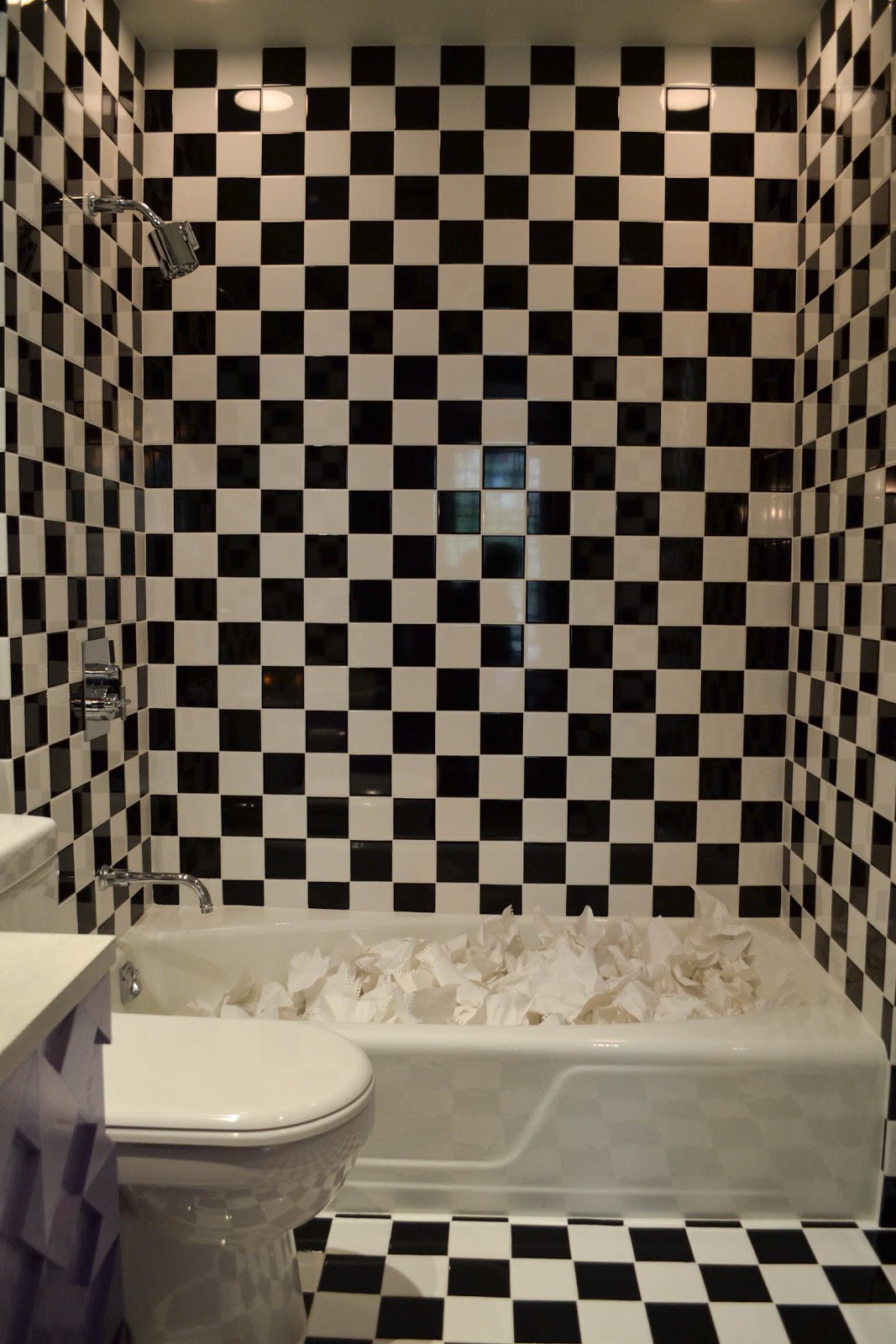 Your love of checkerboard patterns doesn't have to begin and end with checkerboard floors! The monochrome walls look just as beautiful, fully encompassing the room into its straight pattern and conservative energy.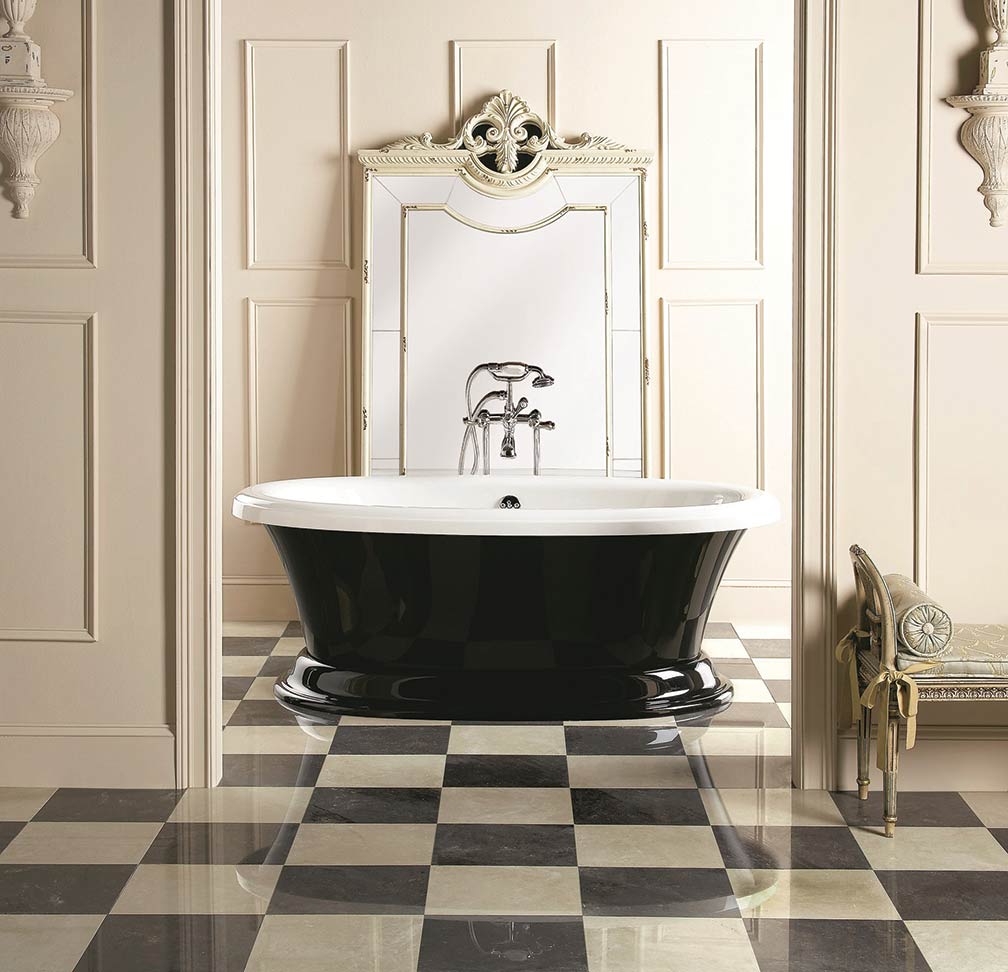 A bathroom styled like one of royalty is ideal for straight checkerboard flooring. The styling celebrates tradition, sticks to a consistent monochrome color scheme and appears magnificent!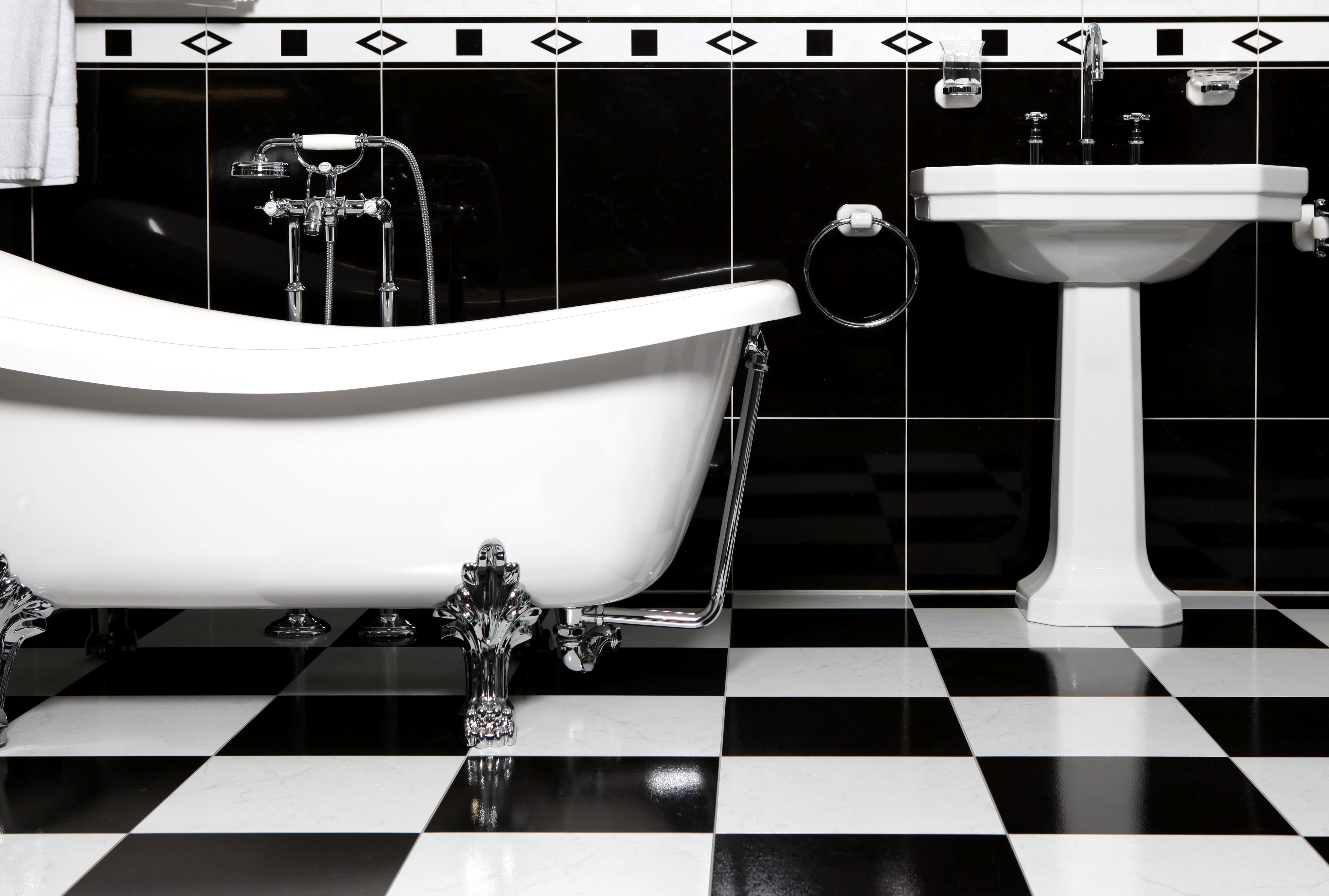 The more you emphasise the contrast between the black and the white, the more your bathroom will feel like a unique, timeless place!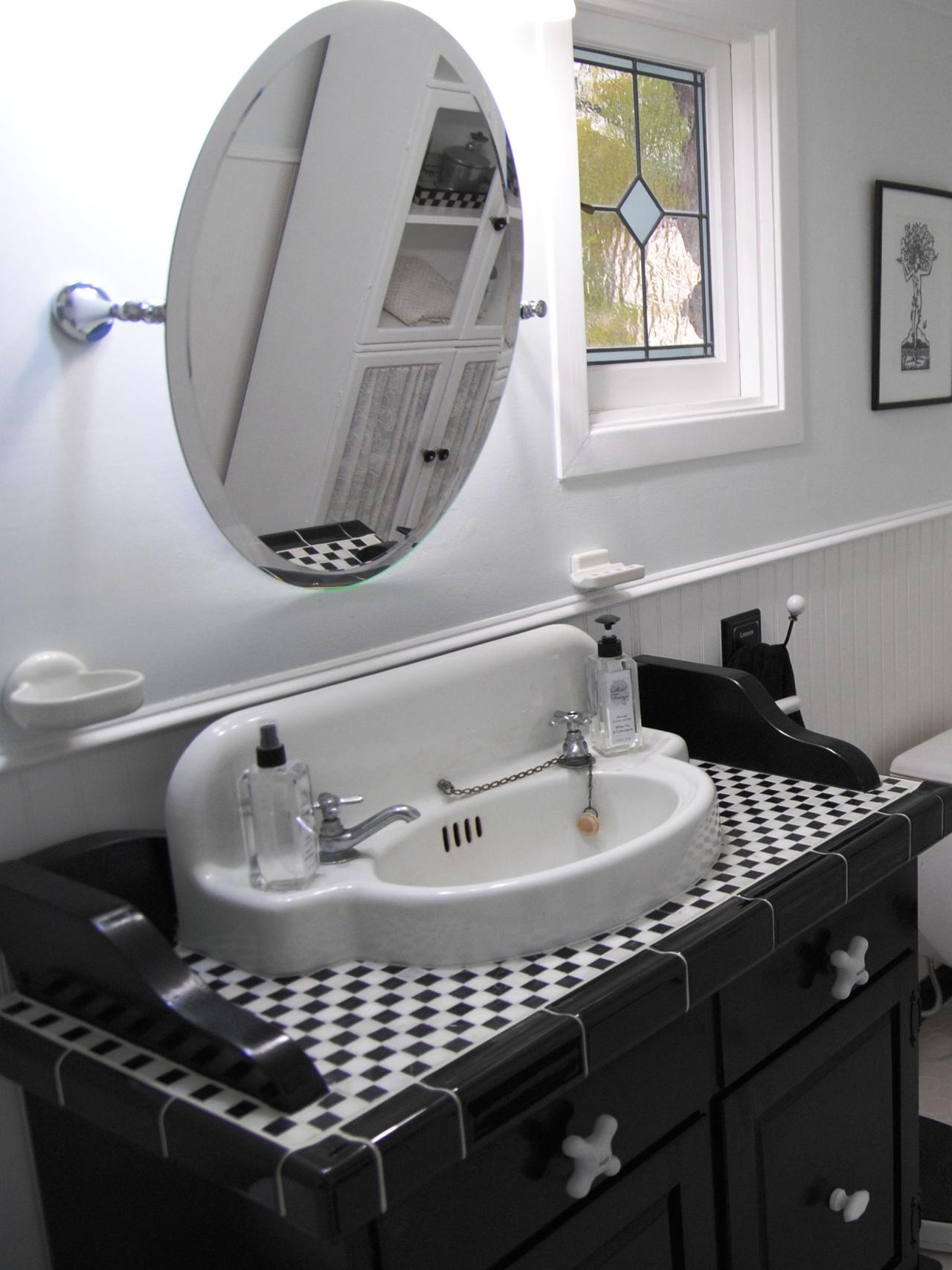 Don't feel too intimidated by bathrooms with top-to-bottom checkerboard interior. If you want to keep it subtle, add a small checkered addition to your vanity and be amazed at how it instantly changes the spirit of the room!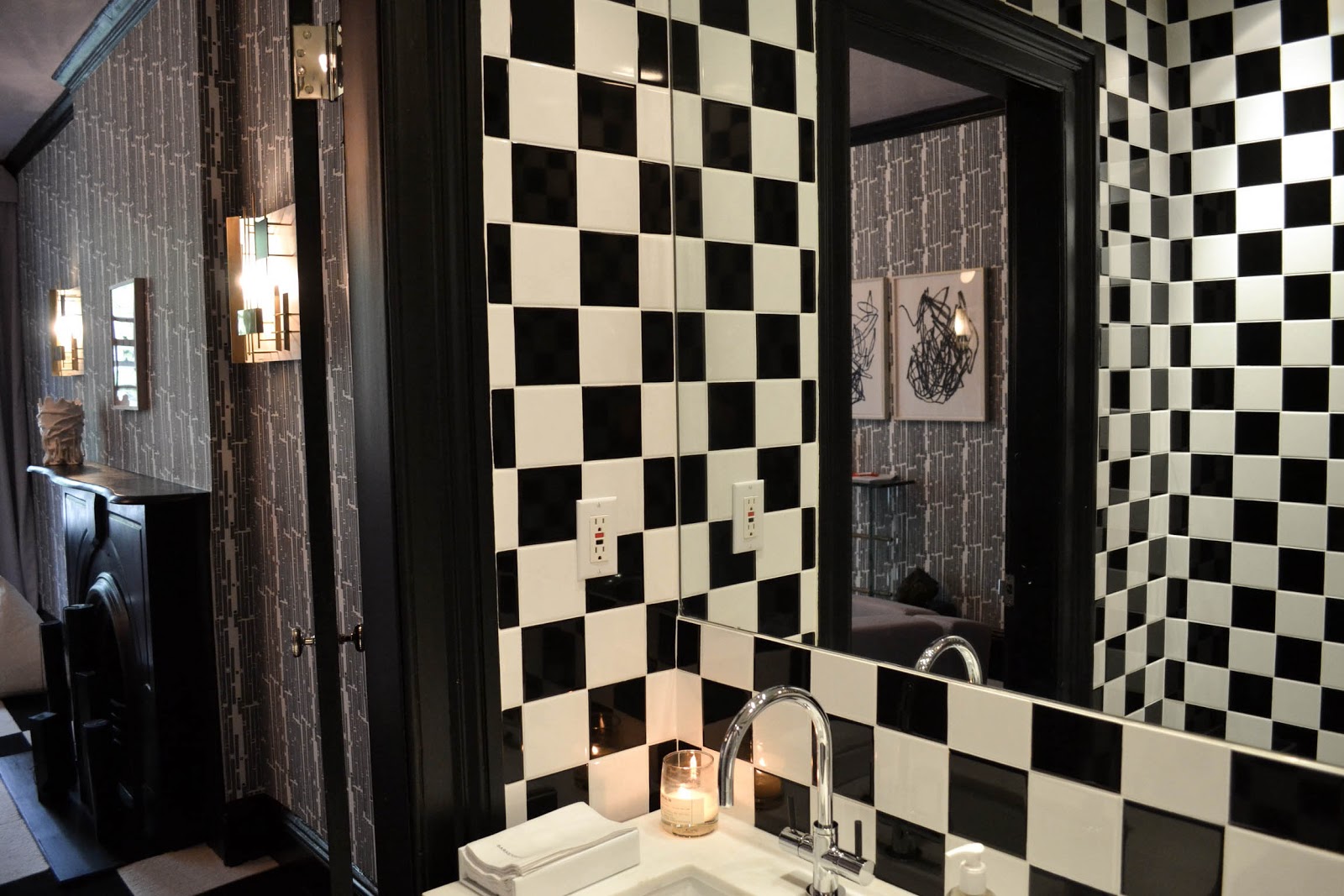 Or, as opposed to the previous example, dress up the entire vanity in a checkered pattern, capturing the prime look!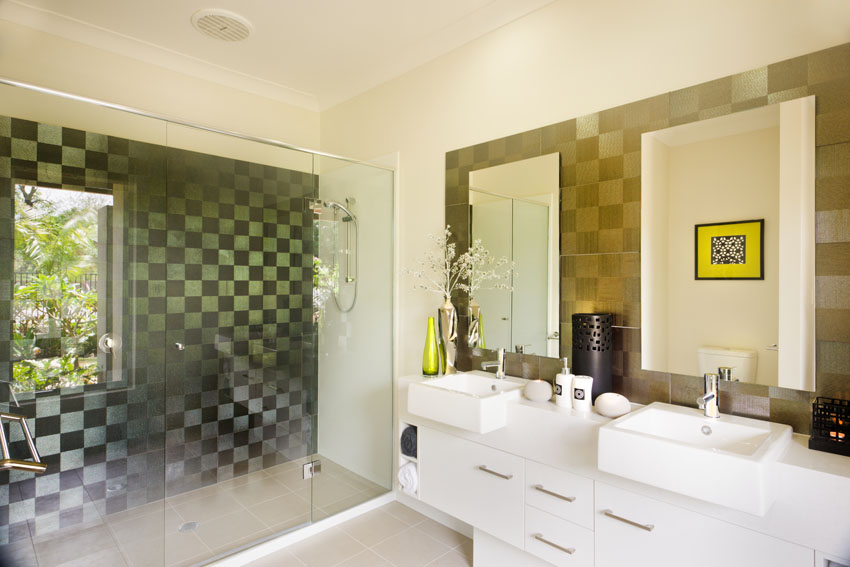 Whenever you are introducing patterns into your living space, try to be innovative and shoot for ideas that are original and unique! Who knows, maybe you develop a trend that catches on! This dark checkered shower is certainly one of those stylings that we could totally see becoming the next big hit!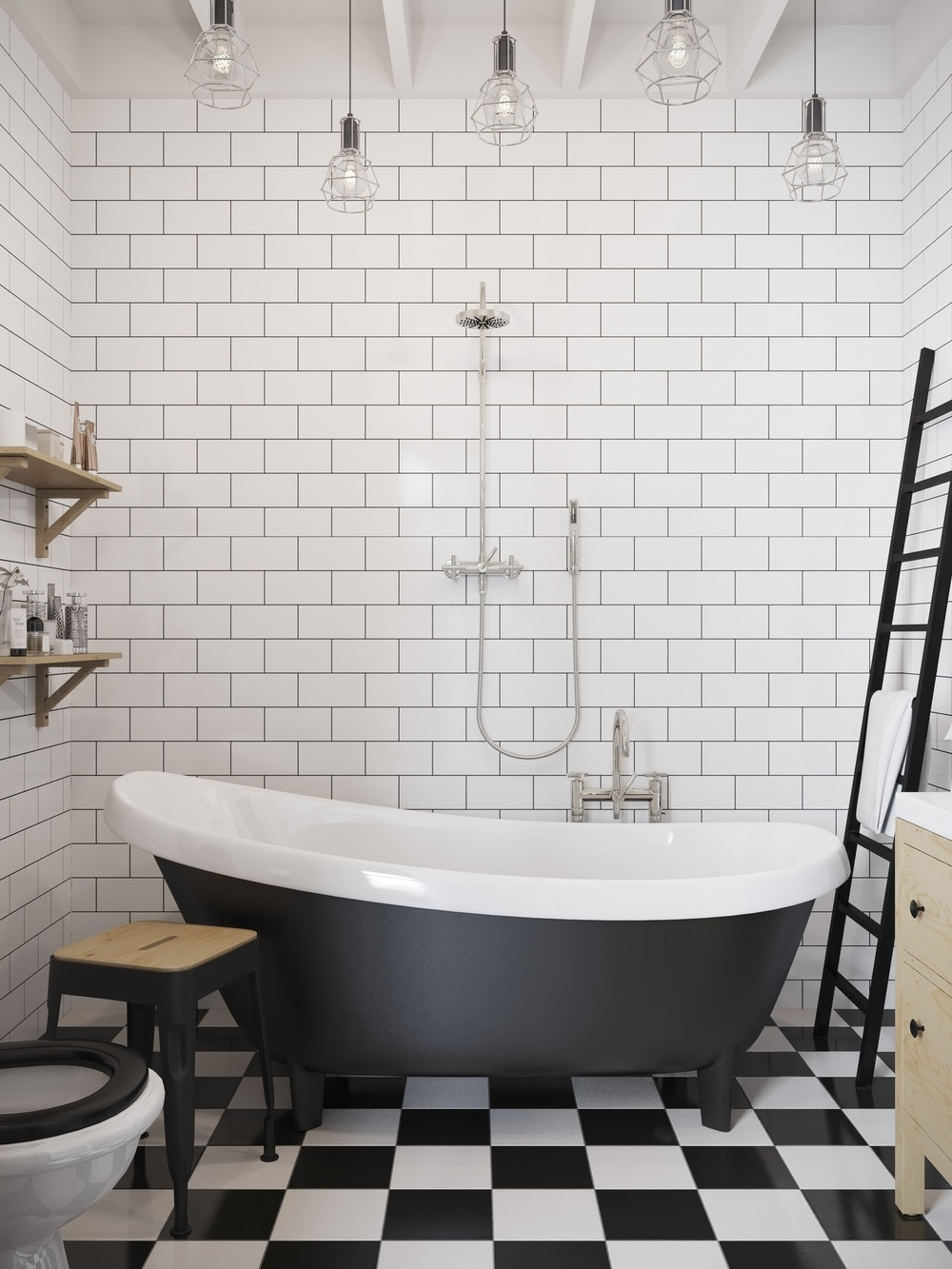 Checkerboard flooring is a great companion to subway tiles. The combination creates an orderly and organized bathroom where every element has its designated purpose and nothing seems left to chance.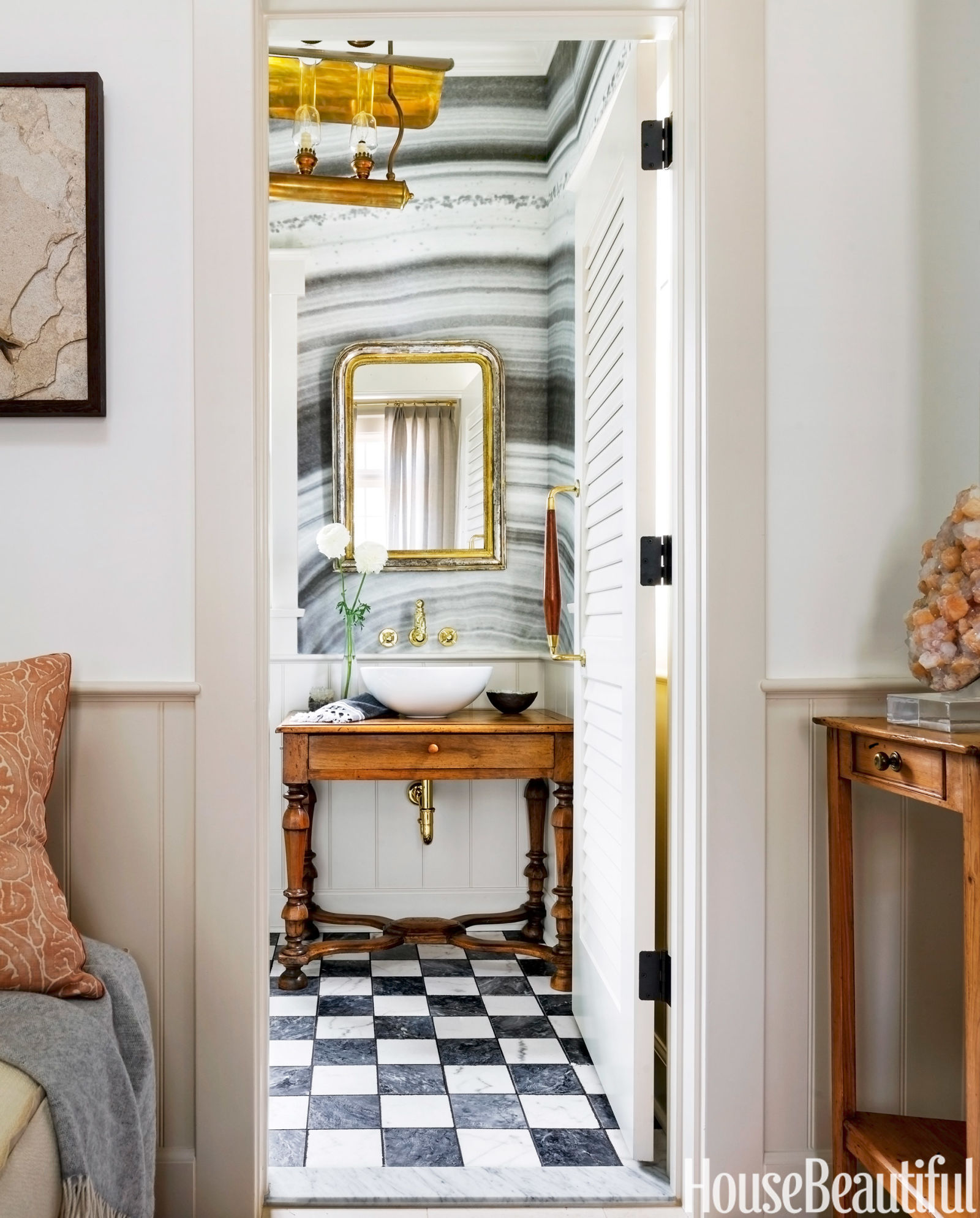 A contemporary bathroom with rustic elements has that balanced feel that easily impresses and is only enhanced by noticeable checkerboard floors.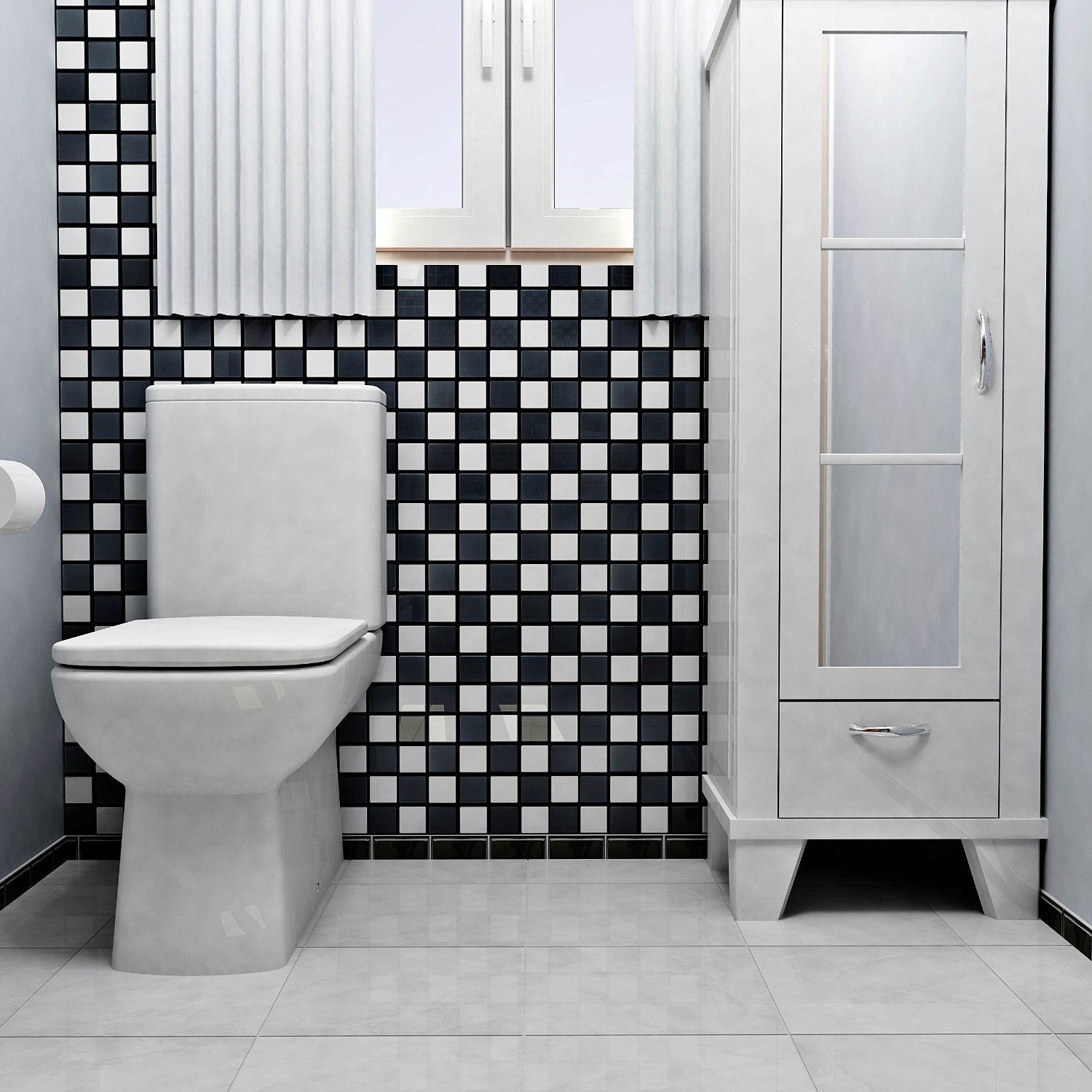 Checkered patterns don't all look the same; we've proved this much! Even within the (what seems like narrow) limits of the popular monochrome pattern, you have the opportunity to decide whether you want a darker or brighter pattern, a bigger or smaller one!
Gently Colored Checkered Pattern
When you love the vintage vibe of a checkered pattern but want something more progressive than just the old-fashioned black and white color scheme, colored checkered bathrooms are the perfectly balanced result! Choose gentle colors, either neutral tones or ones that aren't too enhanced, in order to allow other decor pieces in the bathroom to be in the center, whereas the floor simply sets the mood for the entire space.
The neutral checkerboards with their almost faded look can hardly be described as colored, but they are indeed somewhere in between the monochrome and gray color tones. They offer a softer perspective on the classic checkerboard, perhaps less striking and more subtle.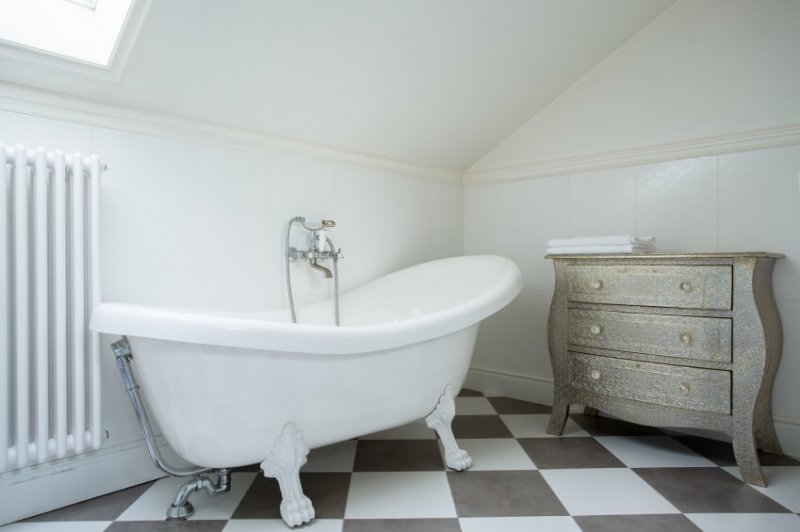 Even when the checkerboard floors are colored in gentle cream tones, the bathroom can still hold a strong vintage appeal. Everything depends on the furniture pieces you choose to place in it!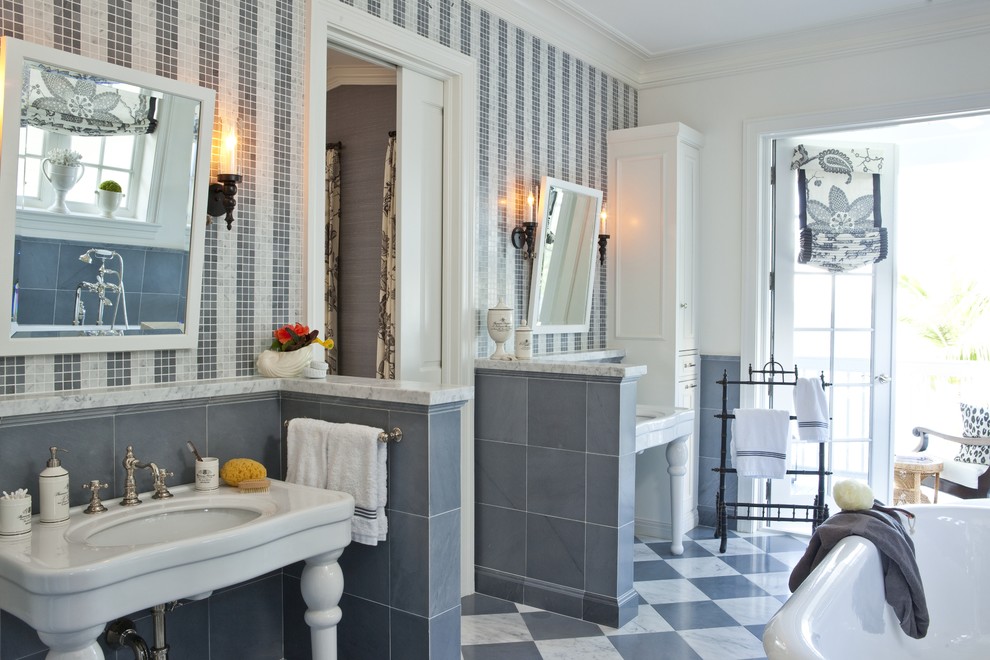 When opting for a colored checkered pattern, it's worth considering matching the color to the rest of the tiles. This will create cohesion and will make your bathroom appear livelier.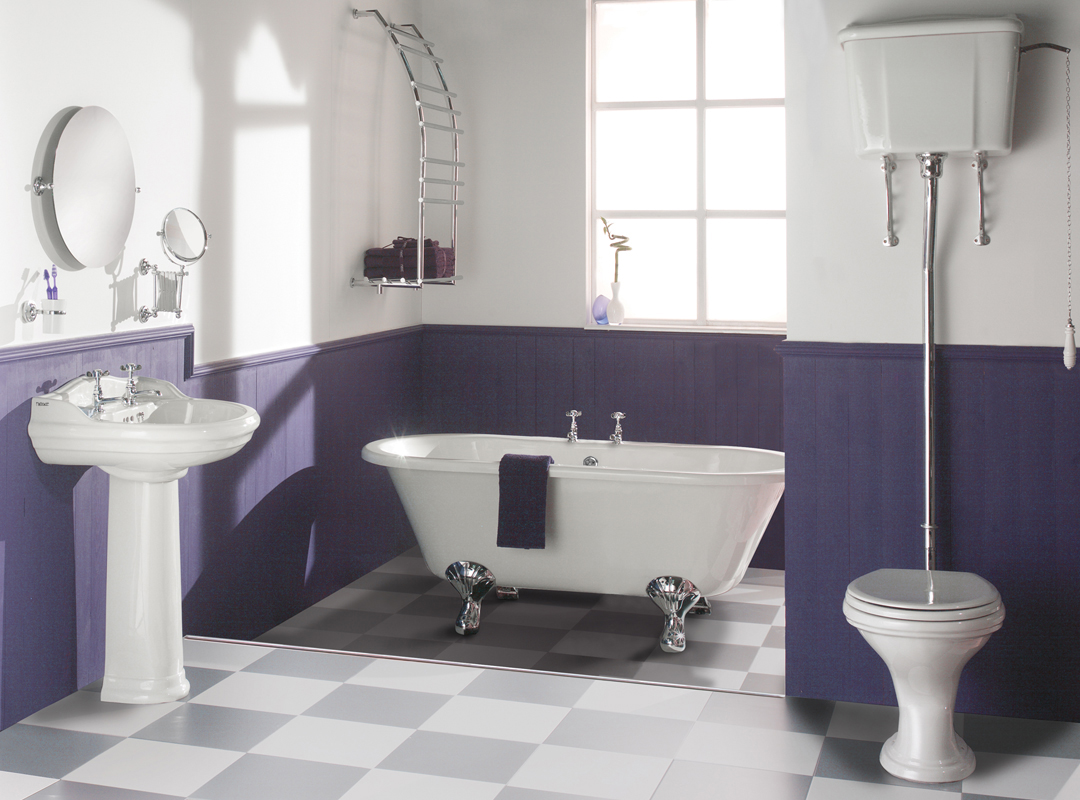 Subtle grey checkerboard floors come as a great resource in a beautifully colored bathroom, as they allow the colors to be the center of attention but not at the cost of having to look at a plain floor.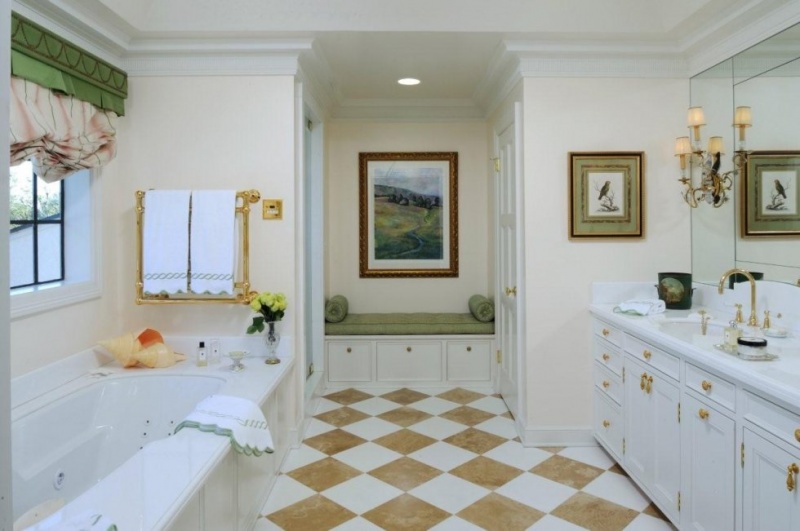 A glamorous and posh bathroom that already radiates in many elements of gold and the bright white interior can only be improved by energizing gold-toned checkerboard tiles.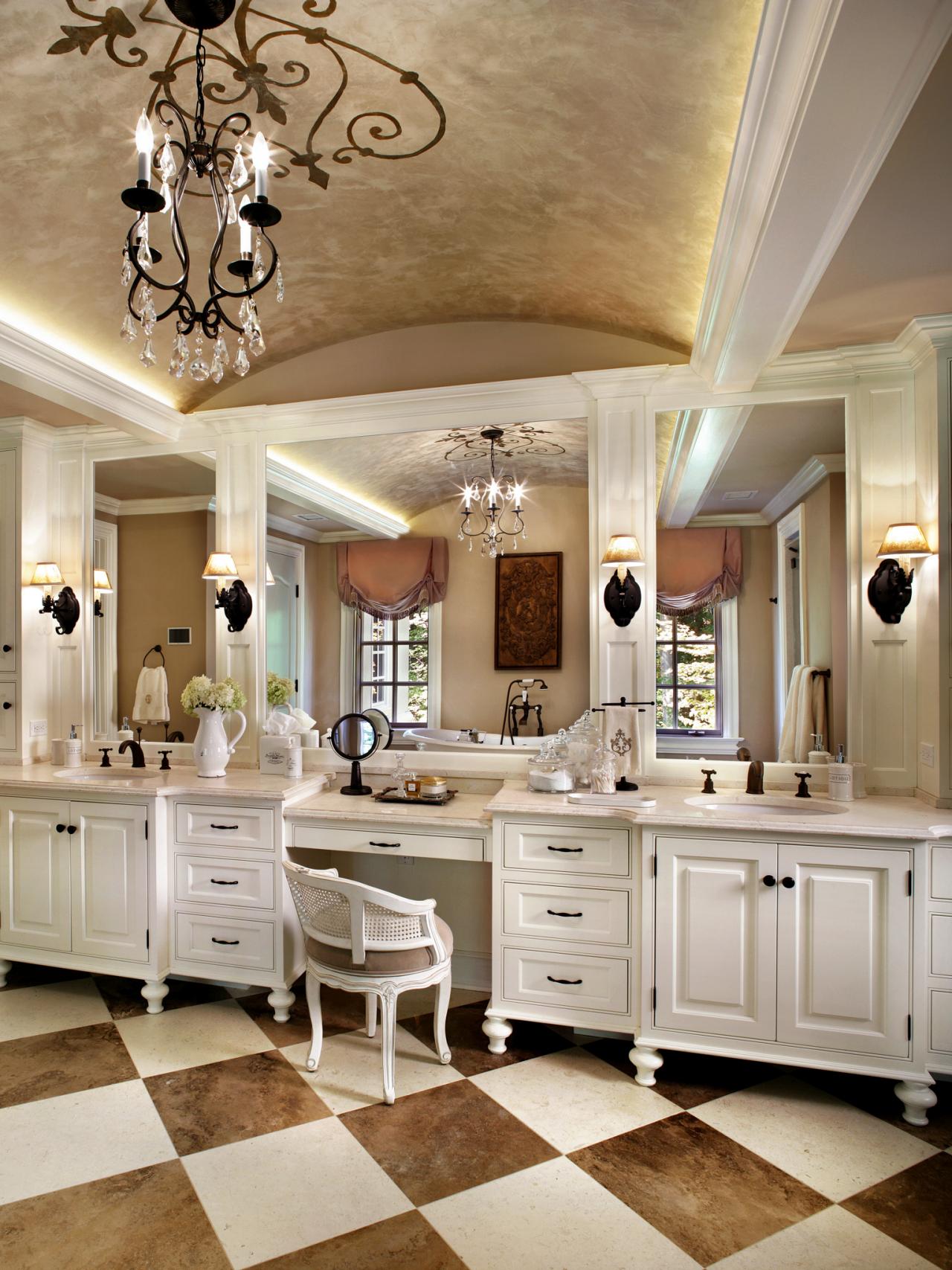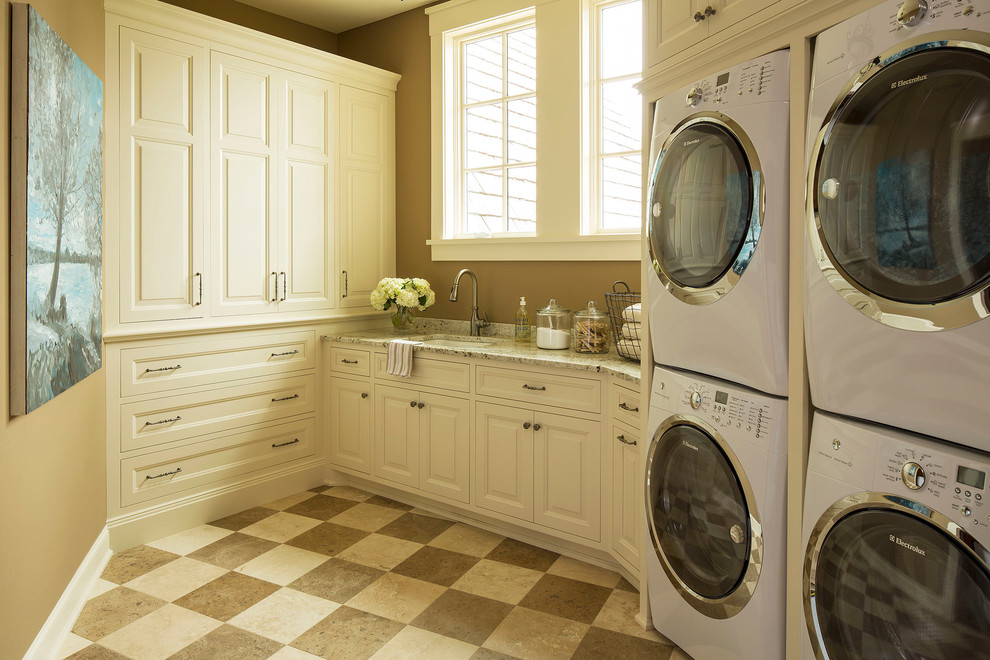 Somehow checkered floors seem the to be at their most charming when they perfectly match the other elements in the bathroom. Adding to the space's ravishing look, they contribute to a colorful harmony where, even though the color pallette is modest, the entire bathroom feels absolutely without a fault.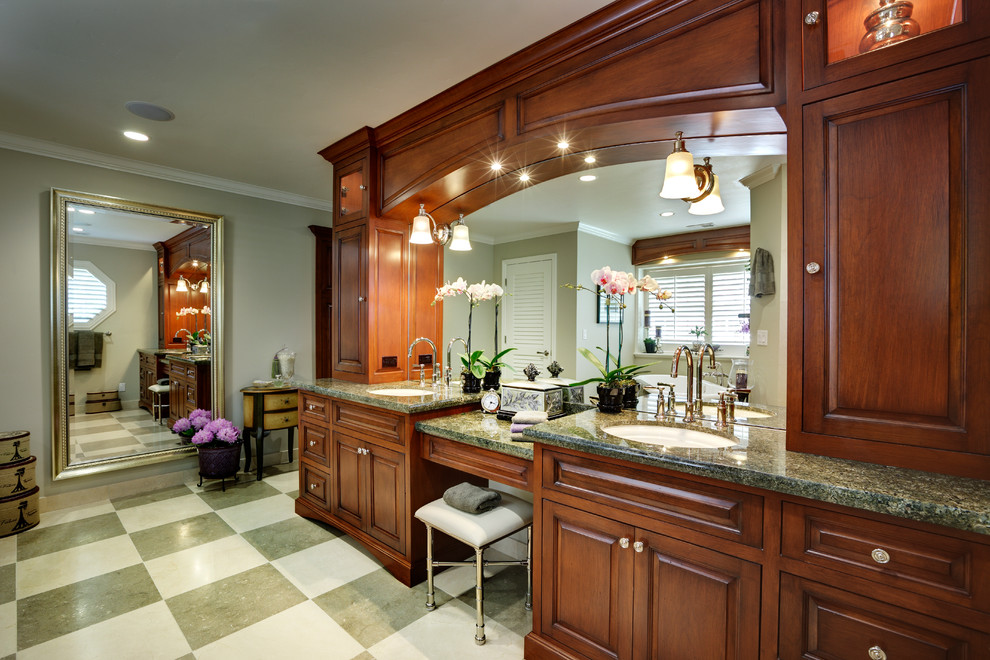 If your bathroom consists of many wooden elements and you're sceptical of how they would pair with a black and white pattern, a checkerboard flooring in a neutral color tone that matches the countertop is a safe bet!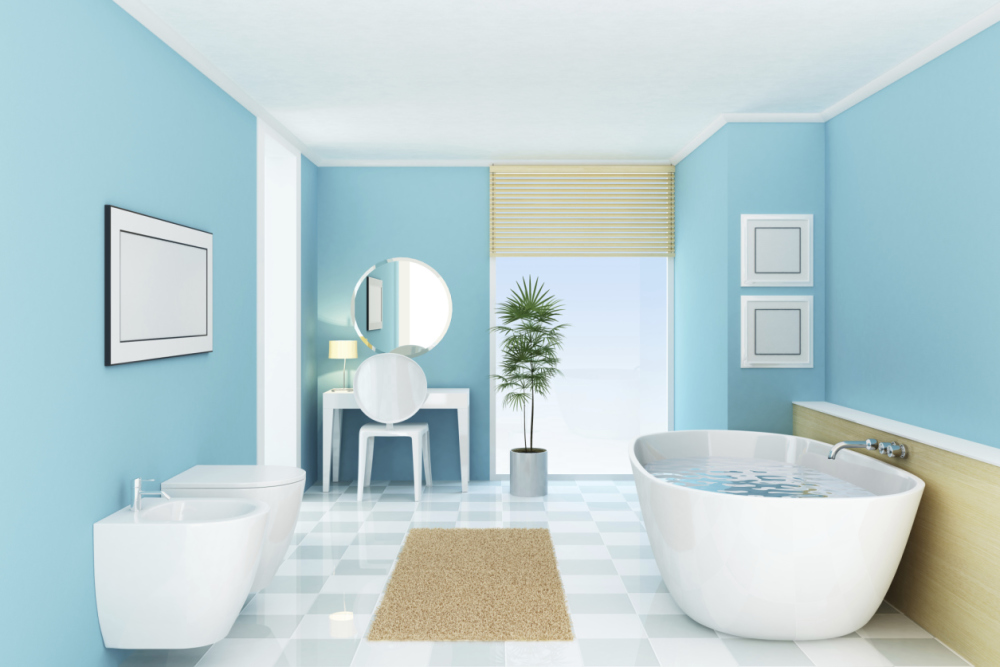 However old-fashioned a checkerboard pattern may feel like, bringing a touch of tradition into an extremely vibrant bathroom can only stabilize it and offers another outlook on the hidden magic of gentle colored checkered patterns.