If you're a fan of modern design, you'll be delighted to know that this fall, Restoration Hardware launched RH Modern. Then again, if you're a fan of modern design, you've probably gotten the memo! Inspired by an array of design trends and developments, from a renewed interest in urban living to the popularity of 20th century vintage furnishings, RH CEO Gary Friedman has guided the brand toward a new venture that celebrates modern design in all of its bold, clean-lined glory. Today we focus on RH Modern furniture and decor crafted from brass. After all, the material has made a comeback in recent years, and this new collection of lighting, furniture and accents proves that the best in brass is yet to come…
Brass Lighting
Designed by Jonathan Browning, the Cannele Linnear Chandelier represents sleek lighting at its finest. Featuring slim hurricanes and Edison bulbs, the chandelier is a sculptural statement with a warm glow: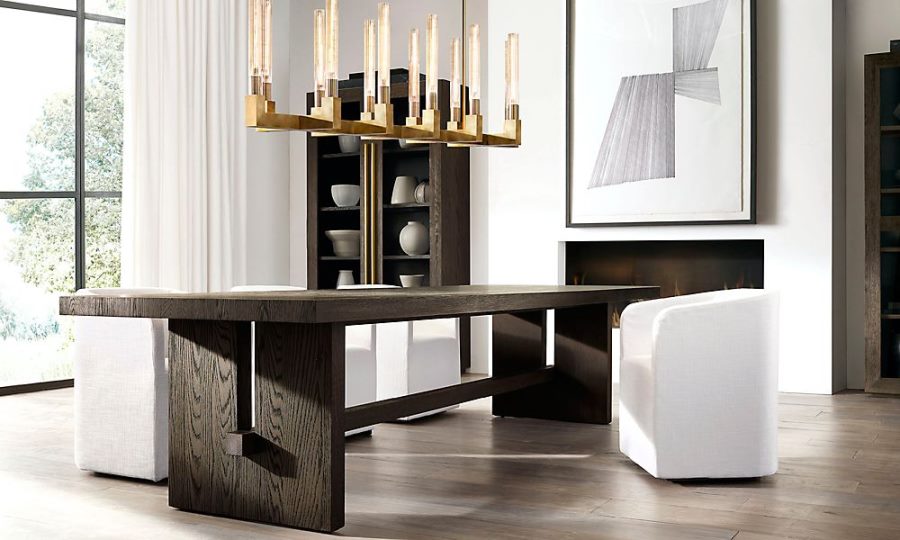 Layers of crystal and glass come together to form the Luciano Chandelier, a piece that evokes the elegance of 1920s French Deco style. A modern take on the waterfall pendant: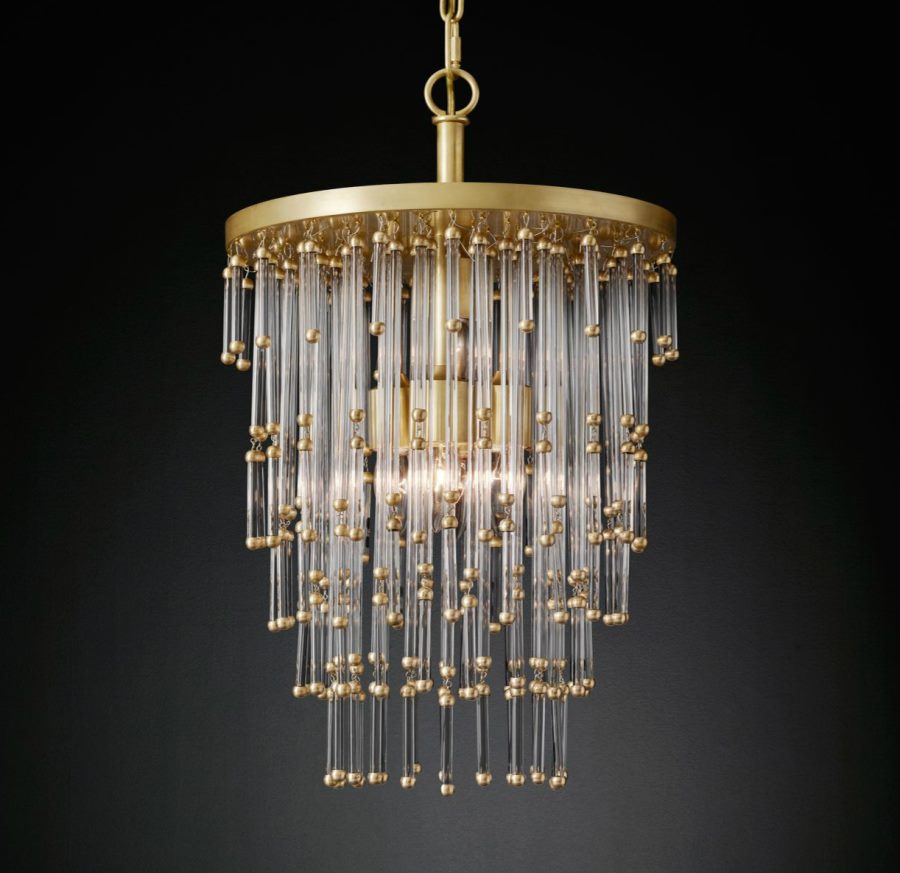 Isn't it lovely when everything falls into line? No wonder the Aquitaine Linear Chandelier has such a serene feel. Yet this lighting piece designed by Jonathan Browning demands to be noticed. It must be the line of brass forms topped with LED bulbs!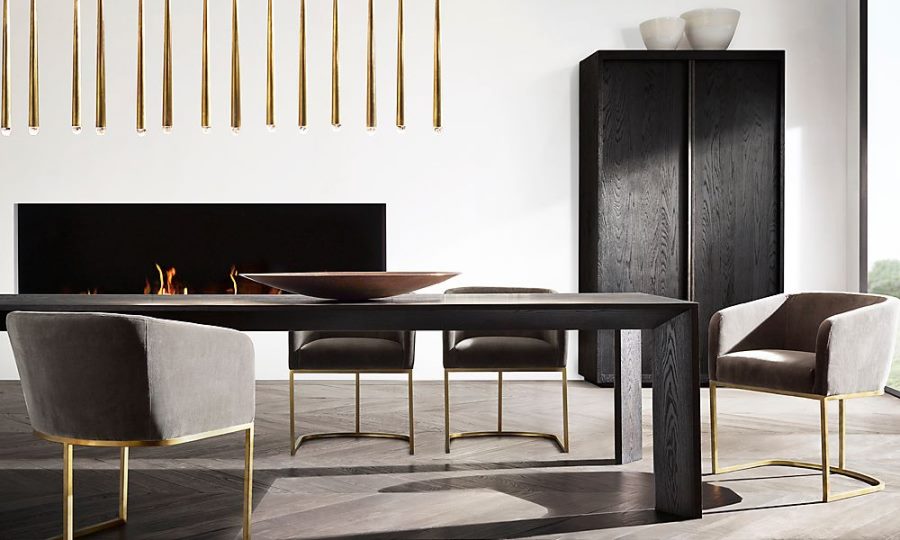 From chandeliers to tabletop lighting, the Dixon Table Lamp (pictured on either side of the bed below) channels '50s minimalist style. Designed by Thomas O'Brien, this columnar lamp celebrates the beautiful pairing of brass and geometry: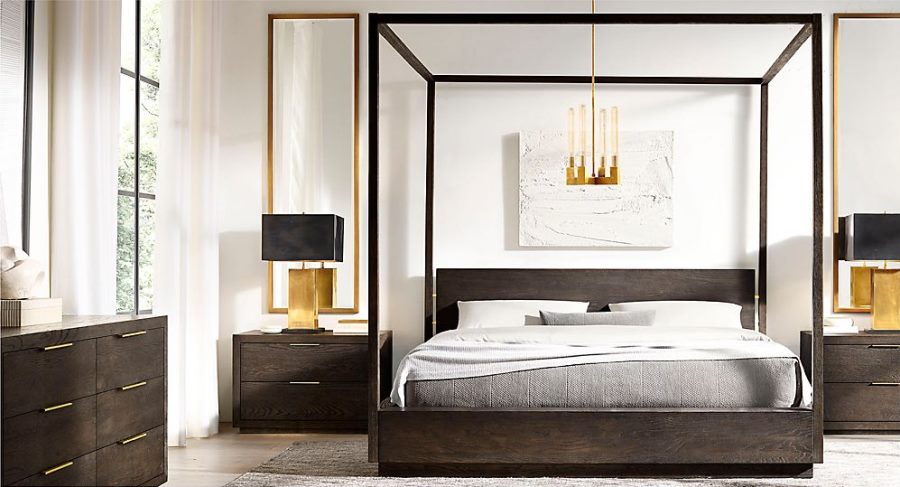 Brass Furniture
Brass furnishings can be found throughout RH Modern's collections. We're showcasing three of the most prominent brass pieces, starting with the Draper Brass 4-Poster Bed with Headboard. A cube-like form is accented by an inset base that makes the bed appear to be floating. Let's hear it for solid wood wrapped in brass sheet metal!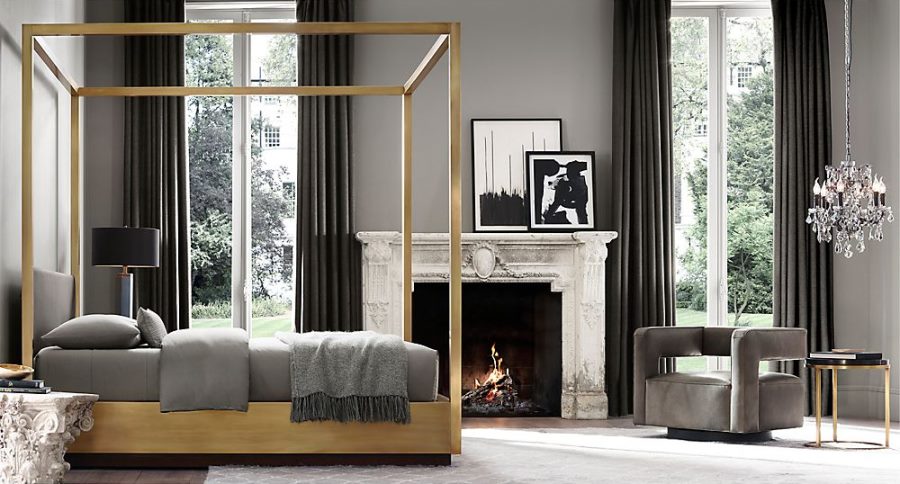 The black Hair-on-Hide Chairs in the image below feature a design by Milo Baughman in partnership with Thayer Coggin. Once again, we see the power of a cube (this time in chair form), which is beautifully contrasted with the flat-bar frame on which it rests: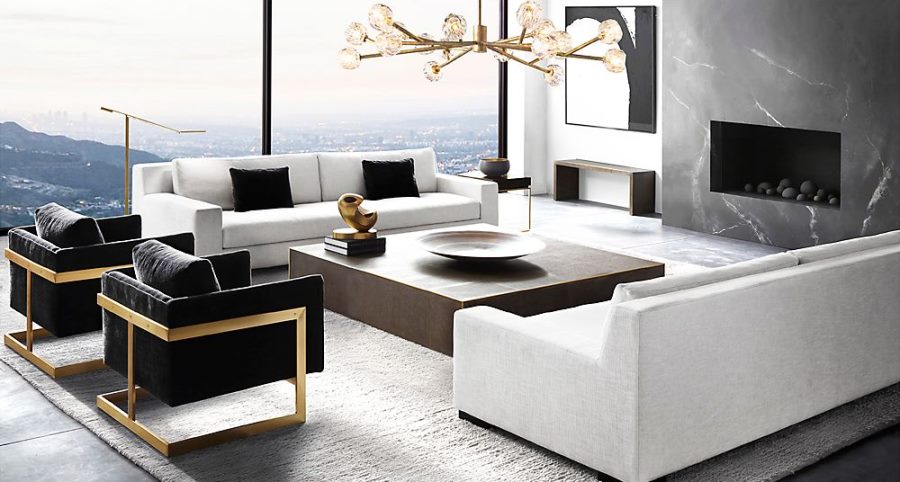 A substantial base makes all the difference. This Wythe Live-Edge Rectangular Dining Table is inspired by late 1970s postmodernism. Polished brass is the perfect choice for a base featuring rectangular supports: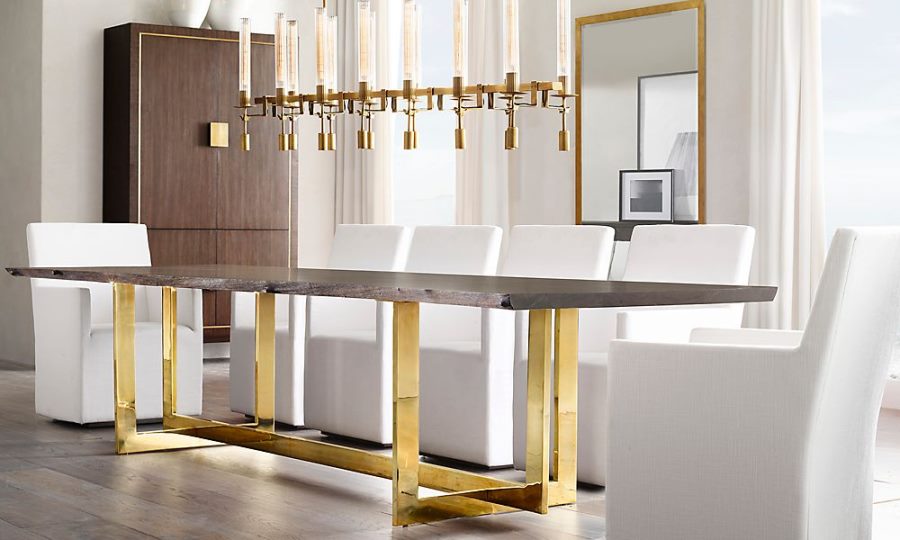 Brass Accents
We end today's post with a focus on brass accents, from objets d'art to sink faucets. Below we see the Brass Offering Bowl, inspired by "temple offering vessels". The piece embraces the power of asymmetry: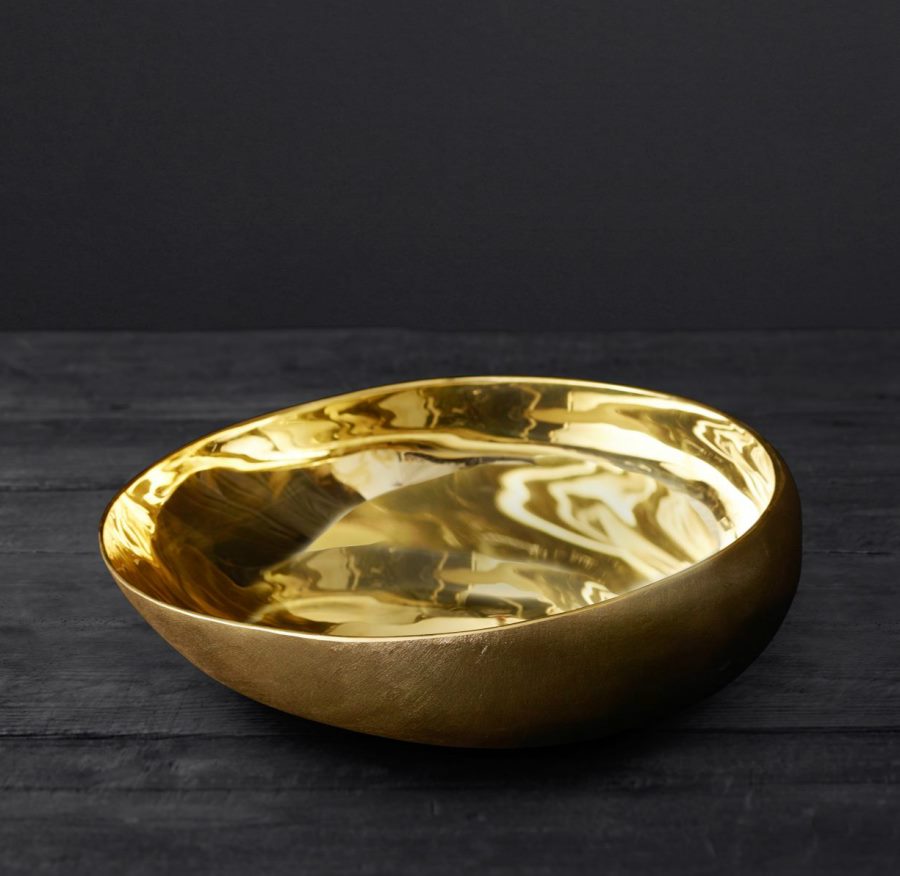 A brass frame around a rectangular mirror adds definition and contrast. In the next image, two Pendant Mirrors grace the white walls of a dramatic modern living area. RH Modern's Pendant Mirrors are available in eight sizes and three finishes. Of course, we're partial to the brass!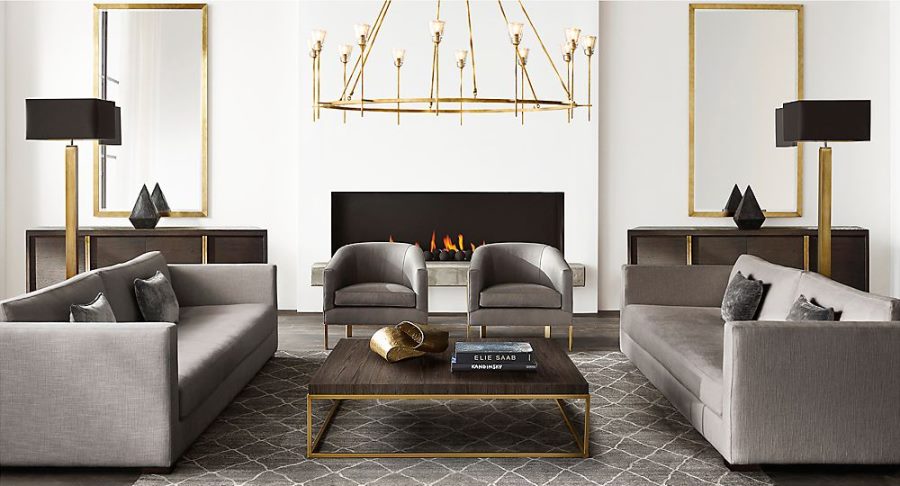 When brass meets hexagonal forms, geo style comes alive. These Kline Hexagonal Pillar Candle Holders are also available in square and cylindrical styles. As you can see, there's power in numbers, so don't hesitate to display them in a group: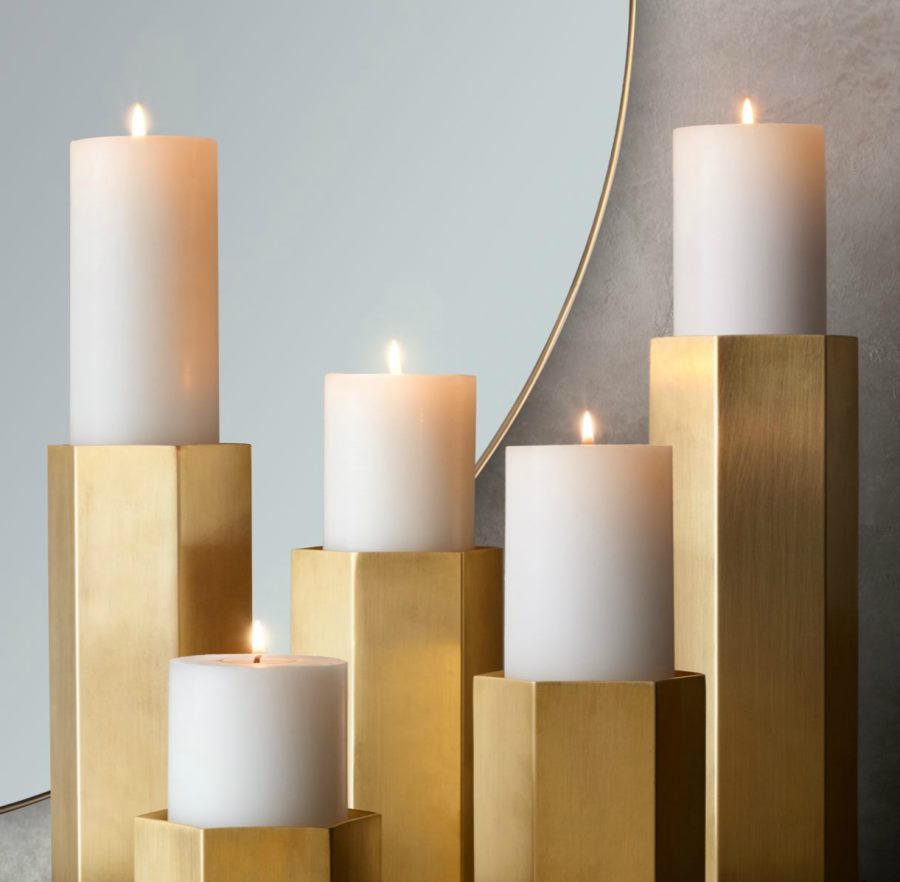 When brass meets hardware, the result is a fresh take on the functional. RH Modern offers an array of sink faucets, drawer pulls and other hardware options in brass. Get creative. Be bold. And don't be afraid to throw in a little marble to play up the sleek factor: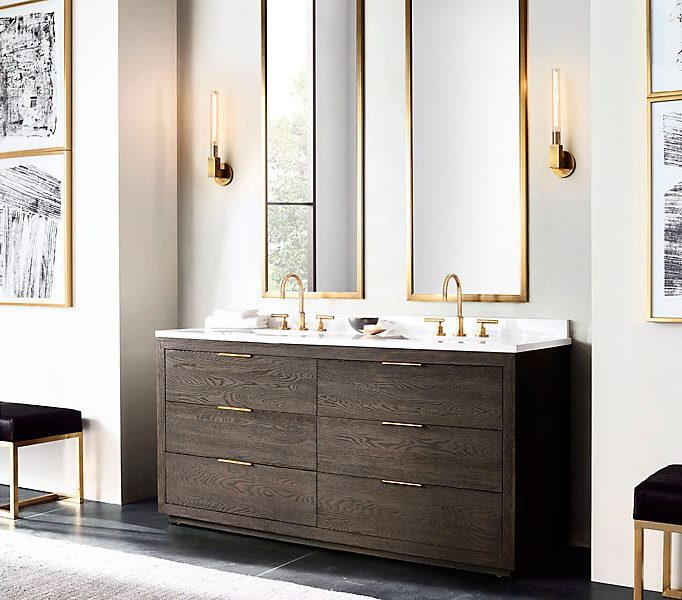 Be sure to check out all of RH Modern's new offerings. The sheer number of products just might surprise you. So much fabulous design to take in! Hope you enjoyed today's little preview of the fun.