Fresh starts and clean slates can be a dream for design lovers. There's nothing like a new coat of paint, an empty corner, or a blank wall in need of artwork. Don't let the possibilities overwhelm you. Embrace the chance to select bathroom wall art that evokes a sense of serenity. After all, the powder room is a place where you may unwind after a long day and start each new morning. Often a space where showering or bathing occurs, a bathroom has the potential to feel like a spa when thoughtfully curated pieces are involved.
Now more than ever, beautiful wall art is easy to track down at an affordable price. From Etsy digital downloads to stellar finds from Society6, the budget-friendly possibilities abound. Keep reading as we showcase a collection of our favorites, all the while profiling the top trends in bathroom wall art… [abstract wall art below featured at Lonny]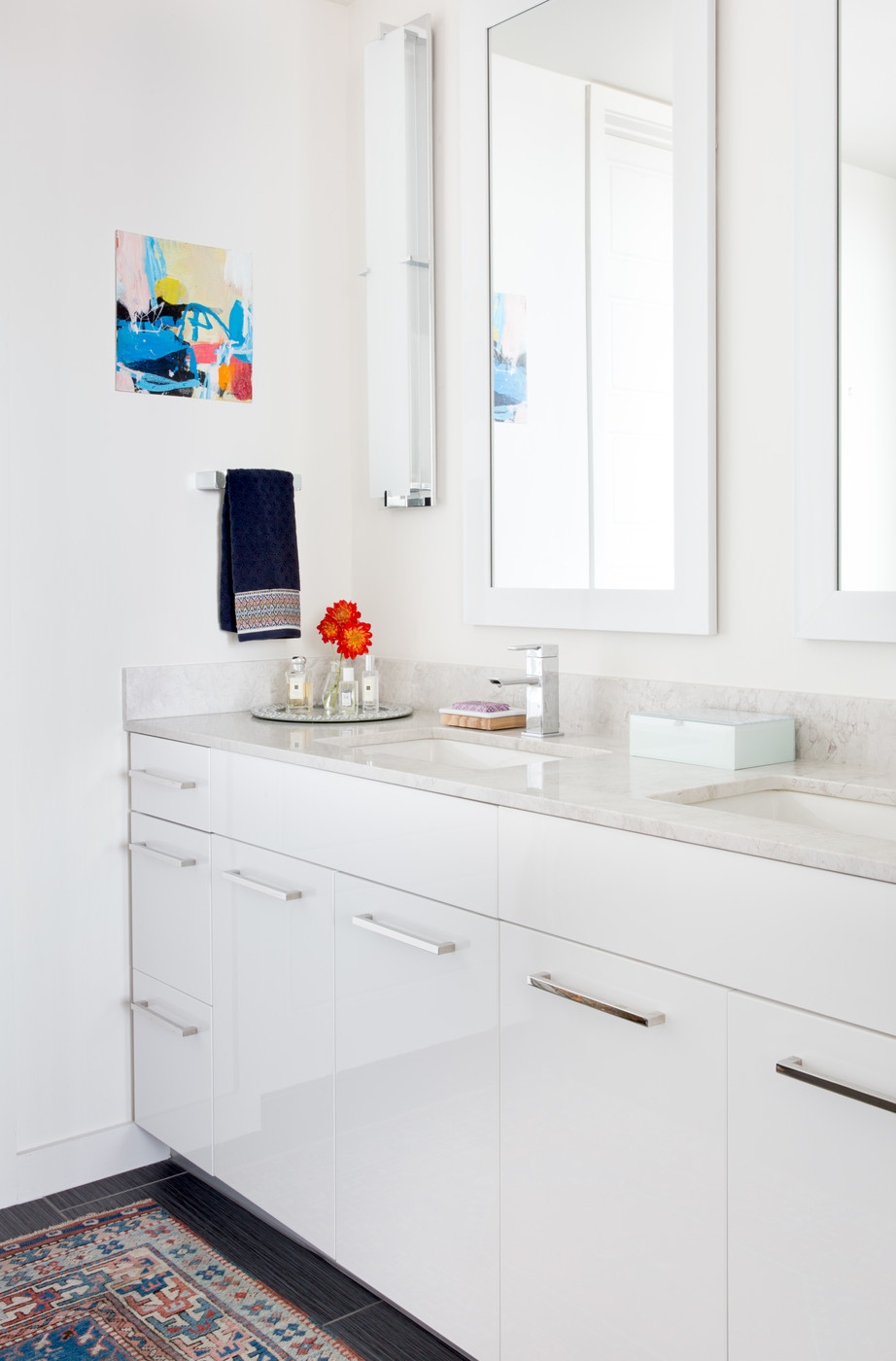 Abstract Art
One of today's biggest wall art trends involves abstract forms. Modern and striking without being overly detailed, abstract pieces also have the potential to showcase the color story for your powder room. For their guest bathroom remodel, Sugar & Cloth founder Ashley Rose and her husband (photographer Jared Smith) chose wall art that channeled the modern, laid-back vibe of their space. The pair of abstract pieces below features perfectly on-trend hues that beautifully complement the bathroom's aquamarine subway tile (photo by Jared Smith):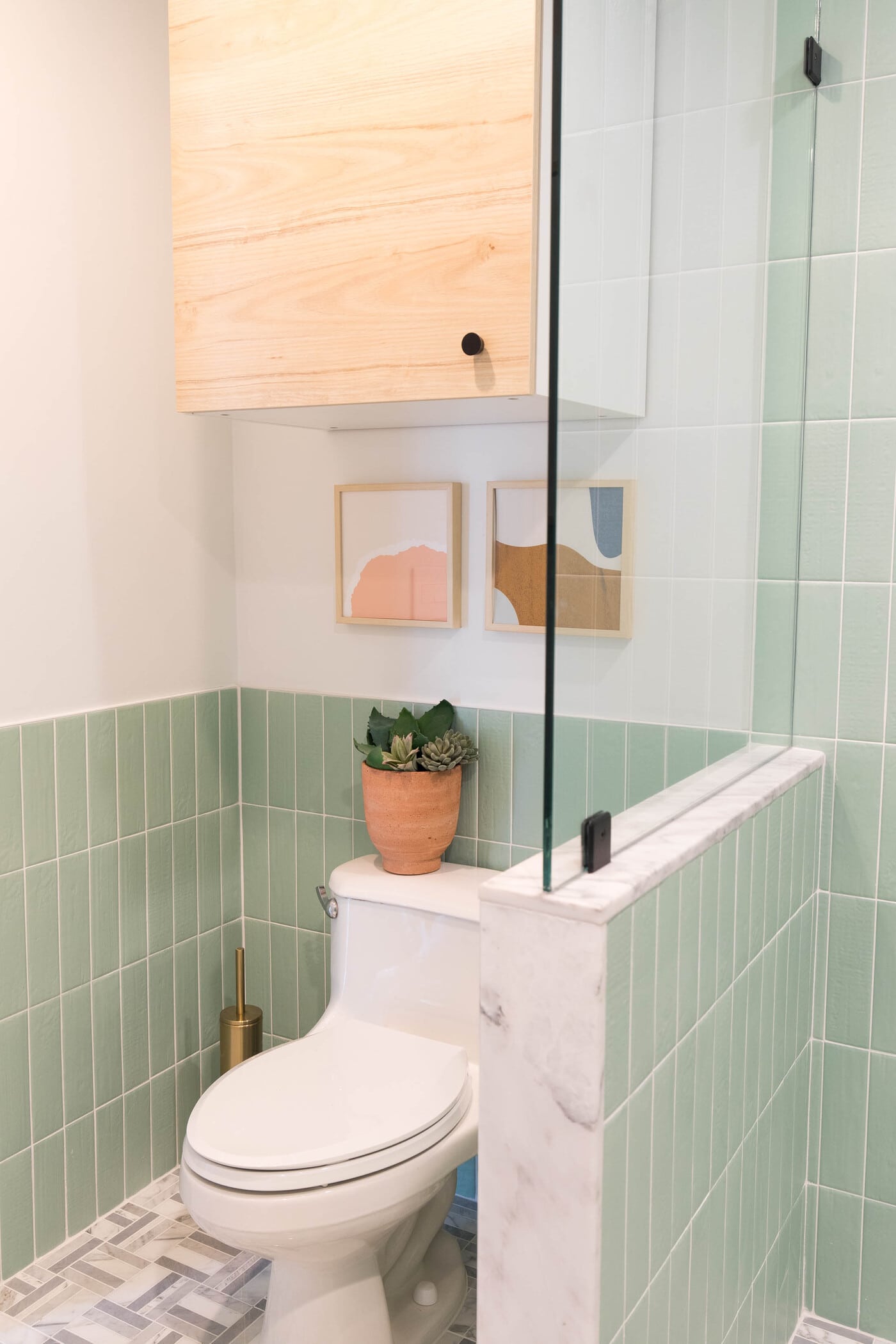 Designer Emily Henderson has featured some beautiful abstract artwork in the master bathroom of her mountain house. The pieces' simple forms are anything but ordinary, especially when light wooden frames are involved. The artwork (by Addie Juell) features neutral tones that enhance the clean palette of the space: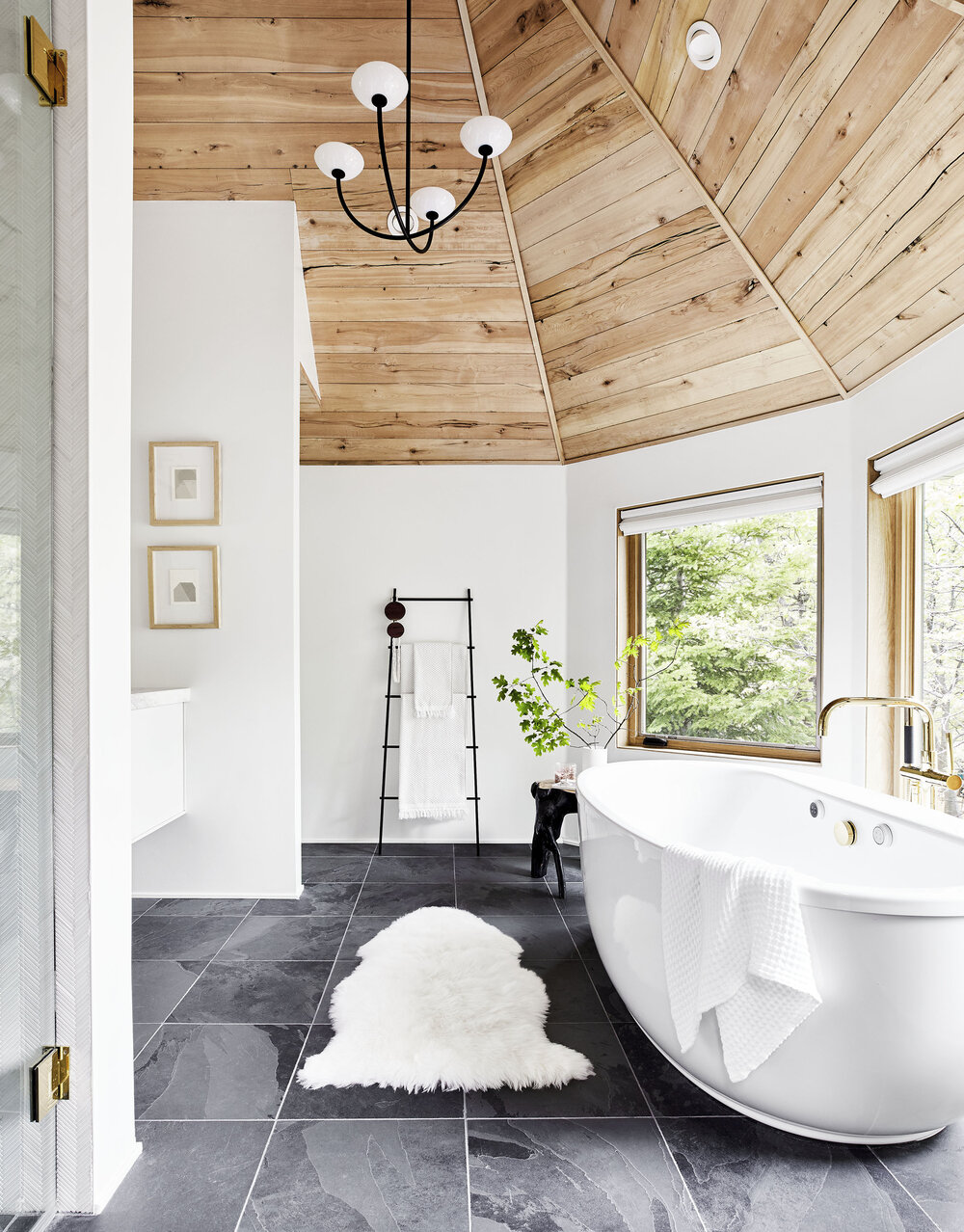 Abstract art can take on a recognizable form, and this stunning Face 1 Art Print by Justina Blakeney was the perfect fit for the master bathroom shared by Studio DIY founder Kelly Mindell and her husband, photographer Jeff Mindell. The palette of warm tones and emerald green reflects the color story of the space, and the artwork's geometric shapes perfectly come together to create a unified whole: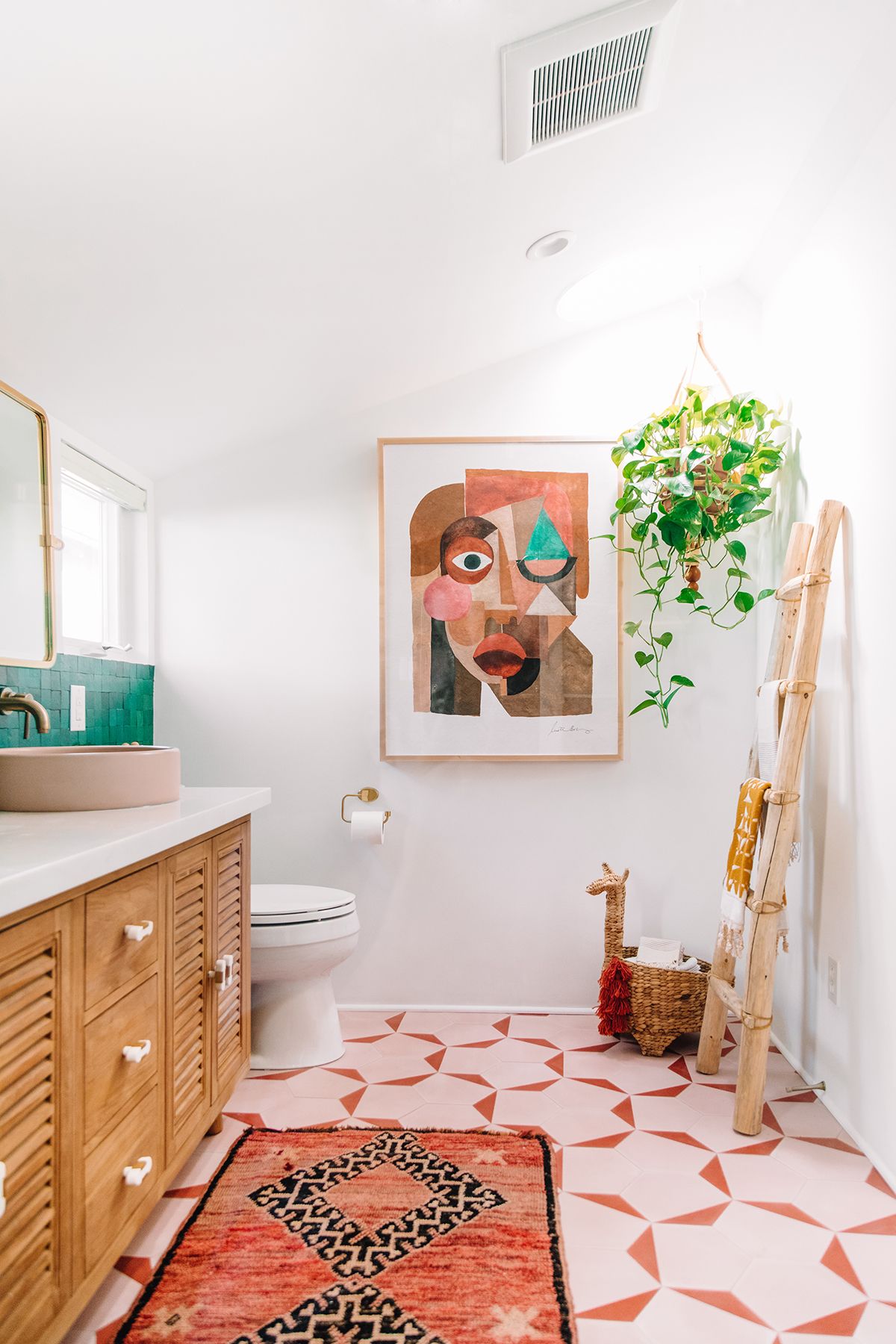 Dreamy Photographs
Great escapes are worthy of your wall. Photographs from travels, destinations you hope to reach, and aerial photography (often of the coastline) dominate when it comes to bathroom wall art. The aerial beach photography of Gray Malin has taken the lead in this arena, and here we see one of his pieces at work in his very own master bathroom! The soft hues from Australia's Whitsunday Islands are the perfect complement to the design elements of this soothing powder room: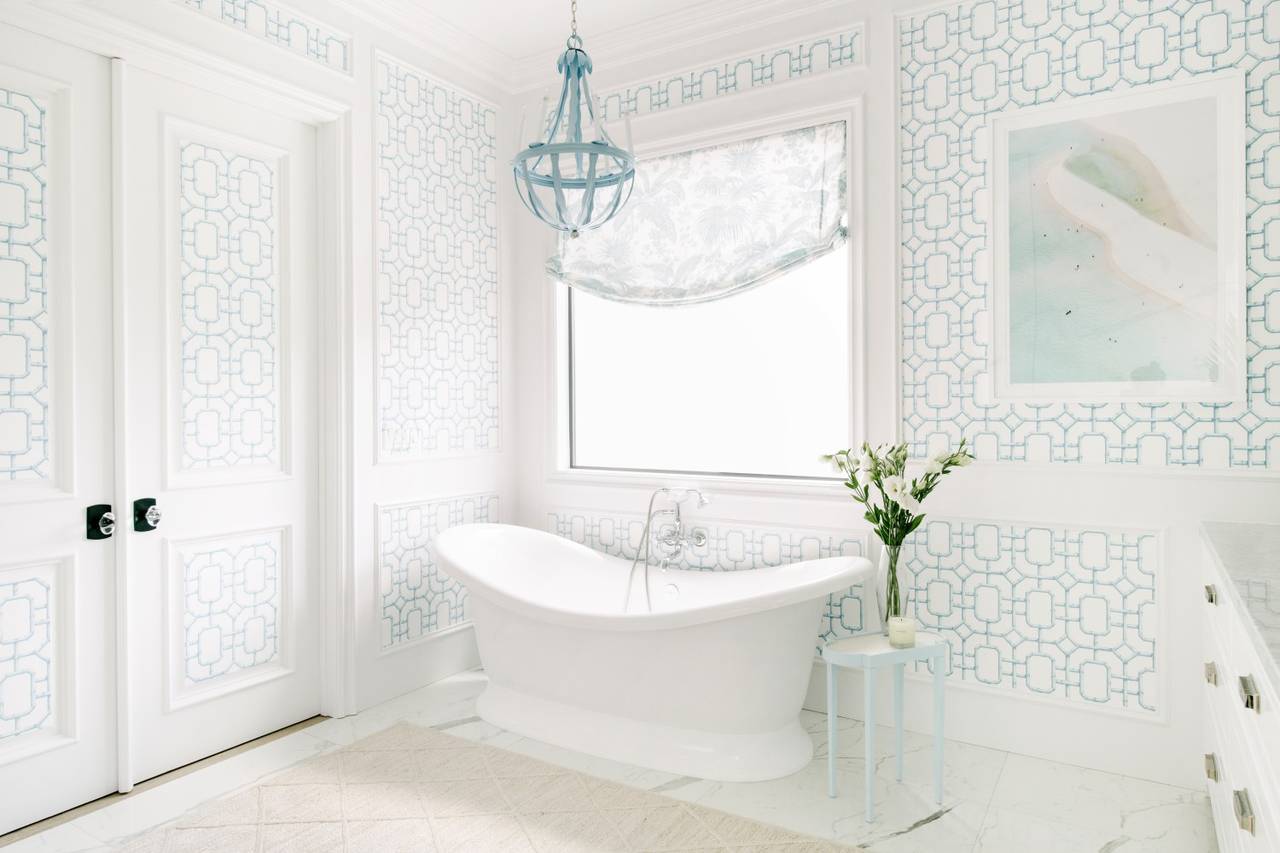 You can also purchase aerial photography from marketplaces such as Etsy and Society6. Even retailers like Urban Outfitters are offering aerial selections, such as this Sea of Love art print by Ingrid Beddoes: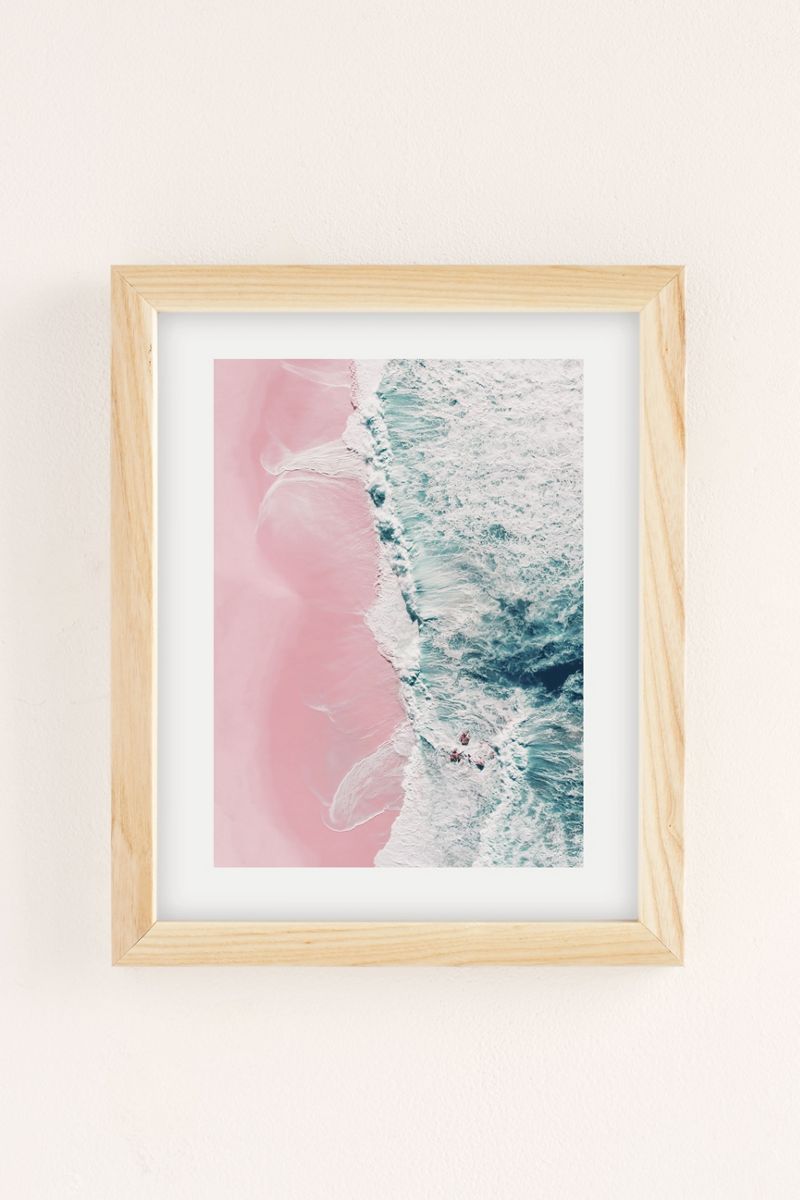 A Beautiful Mess blogger Laura Gummerman purchased this large Tessa Neustadt Pacific Art Print (from Urban Outfitters) for her bathroom makeover. It's the perfect solution for the room's mint walls, and the large scale of the photo is a surprisingly fitting choice for a small space. While we see a product photograph below, you can check out the photo in Gummerman's space here.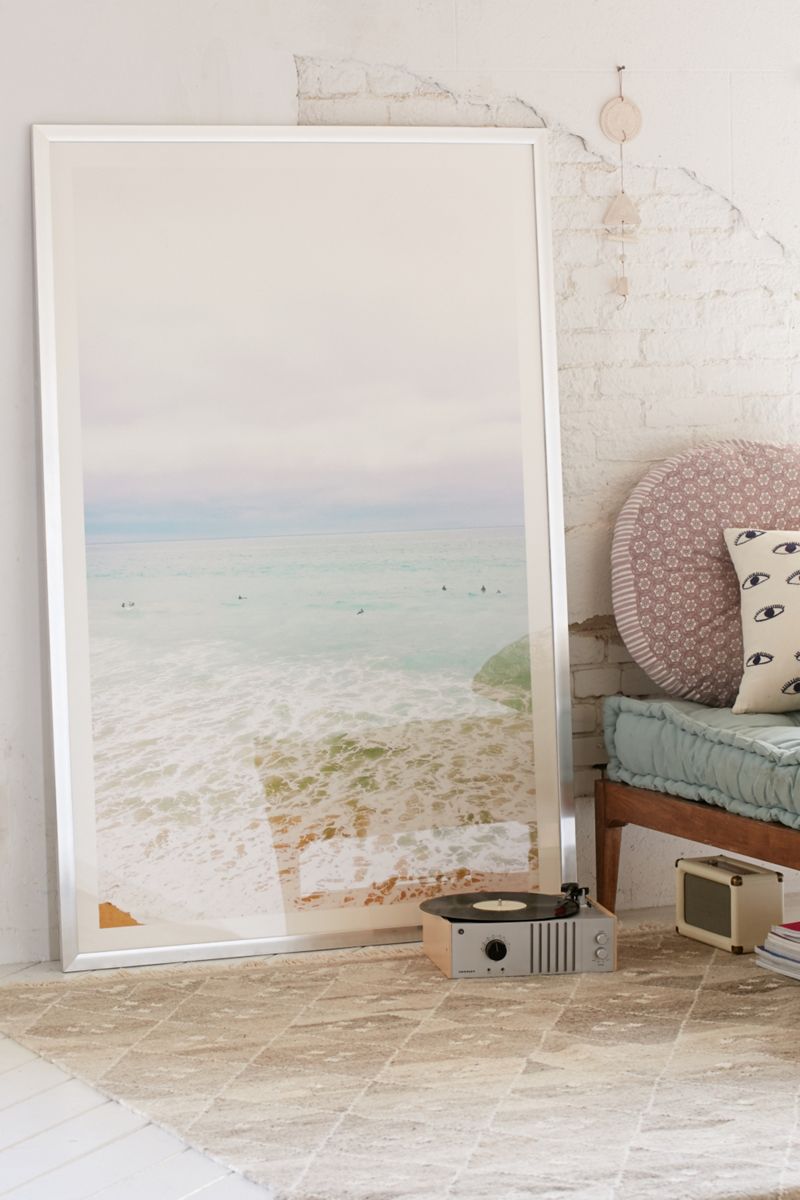 In her renovated studio bathroom, lifestyle expert and blogger Camille Styles features a photo taken in Italy by friend/photographer Kristen Kilpatrick. Photographs that you are personally connected to add another layer of comfort and meaning to your space. Don't hesitate to frame some of your own travel photography in your powder room. It will serve as the promise of future vacations!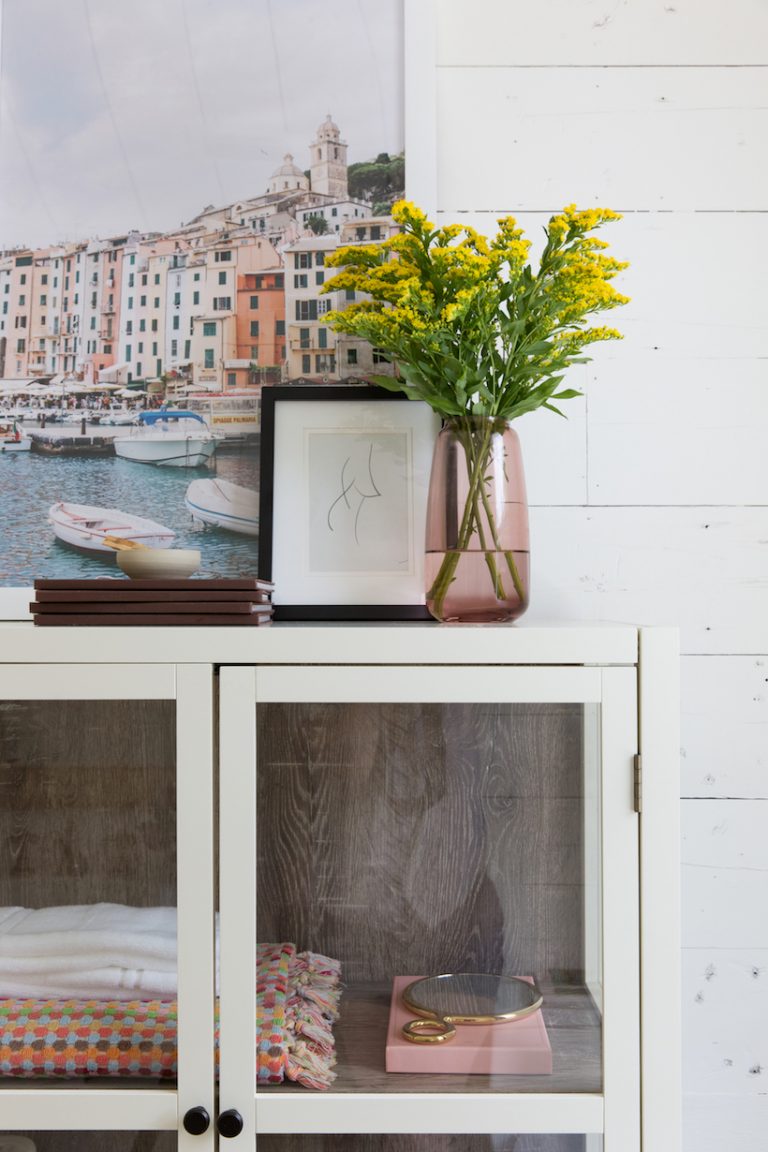 Line Art
We're in the middle of a line art revival. This style of artwork celebrates the beauty of line and curve, often against a white background. The simplicity and serenity of these pieces make them ideal for bathroom wall art purchases. If you're feeling artistic, pick up a pen or marker and give line drawing a try. You may be one doodle away from your next framed wall art wonder! Urban Outfitters' Nadja Minimal Line Art Woman Face II Art Print can be purchased with the frame of your choice: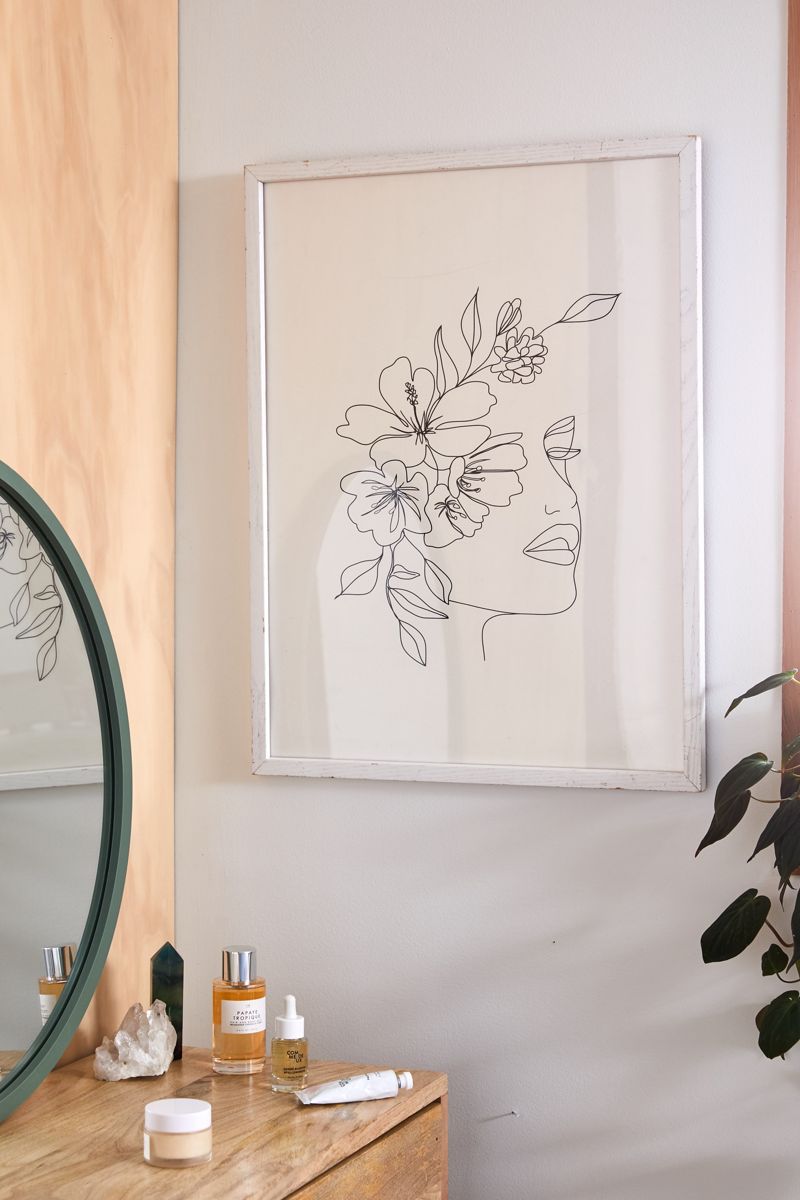 Also from Urban Outfitters, this Quibe One Line Nude Art Print is minimal and lovely. Less truly is more when the design is this flawless. Not to mention, this piece is perfect for a space where bathing and uncluttered style are priorities: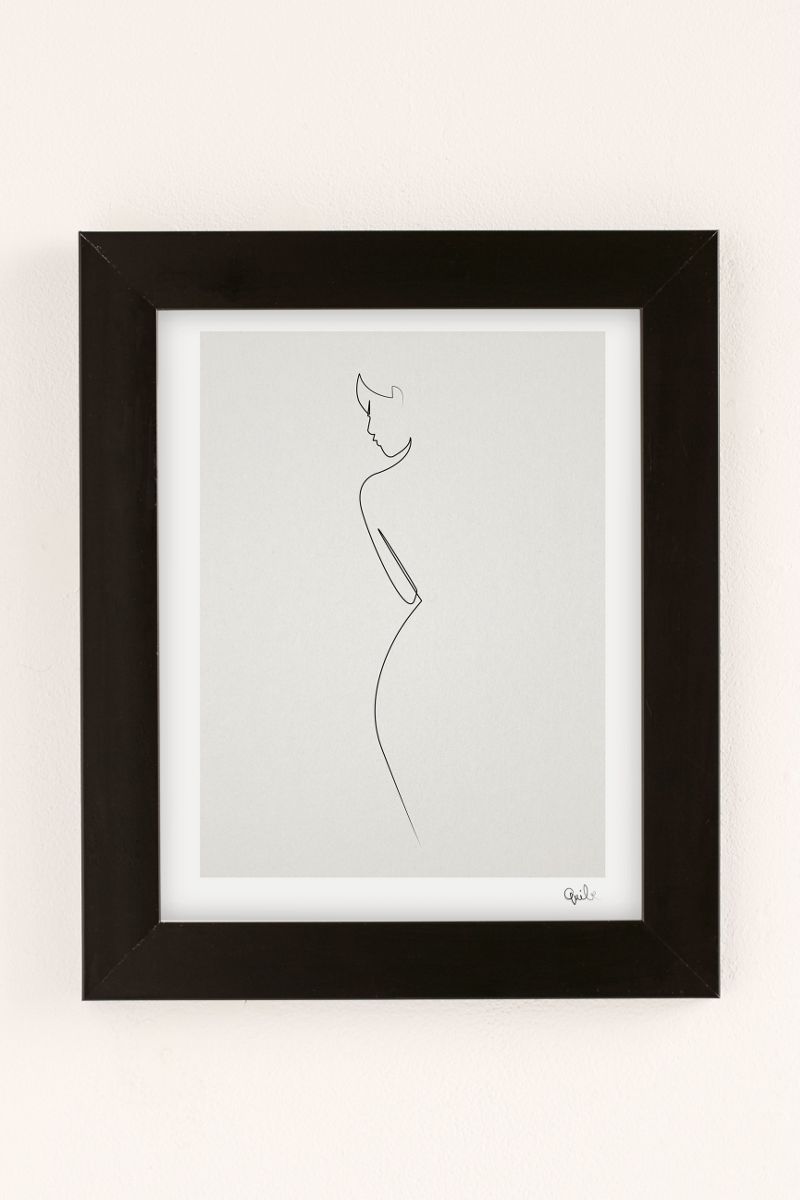 Stylish Expressions
While cute sayings and puns may seem played out at this point, this graphic design trend shows no signs of letting up. You may be ready to look beyond the slew of cursive signs boasting terms like "gratitude" and "mindful", but there's something to be said for letting words pull double duty as wall art. Especially in the powder room where slowing down, starting the day, and wrapping up for the night are tasks that may lend themselves to a bit of contemplation. Rest assured a new wave of artists and graphic designers are taking words, phrases and expressions in a fresh direction. Below we see minimalist "Don't Overthink It" artwork from Etsy shop The Peoples Prints. The piece is offered as a digital download and is printed by YOU, cutting your costs and delivering instant style: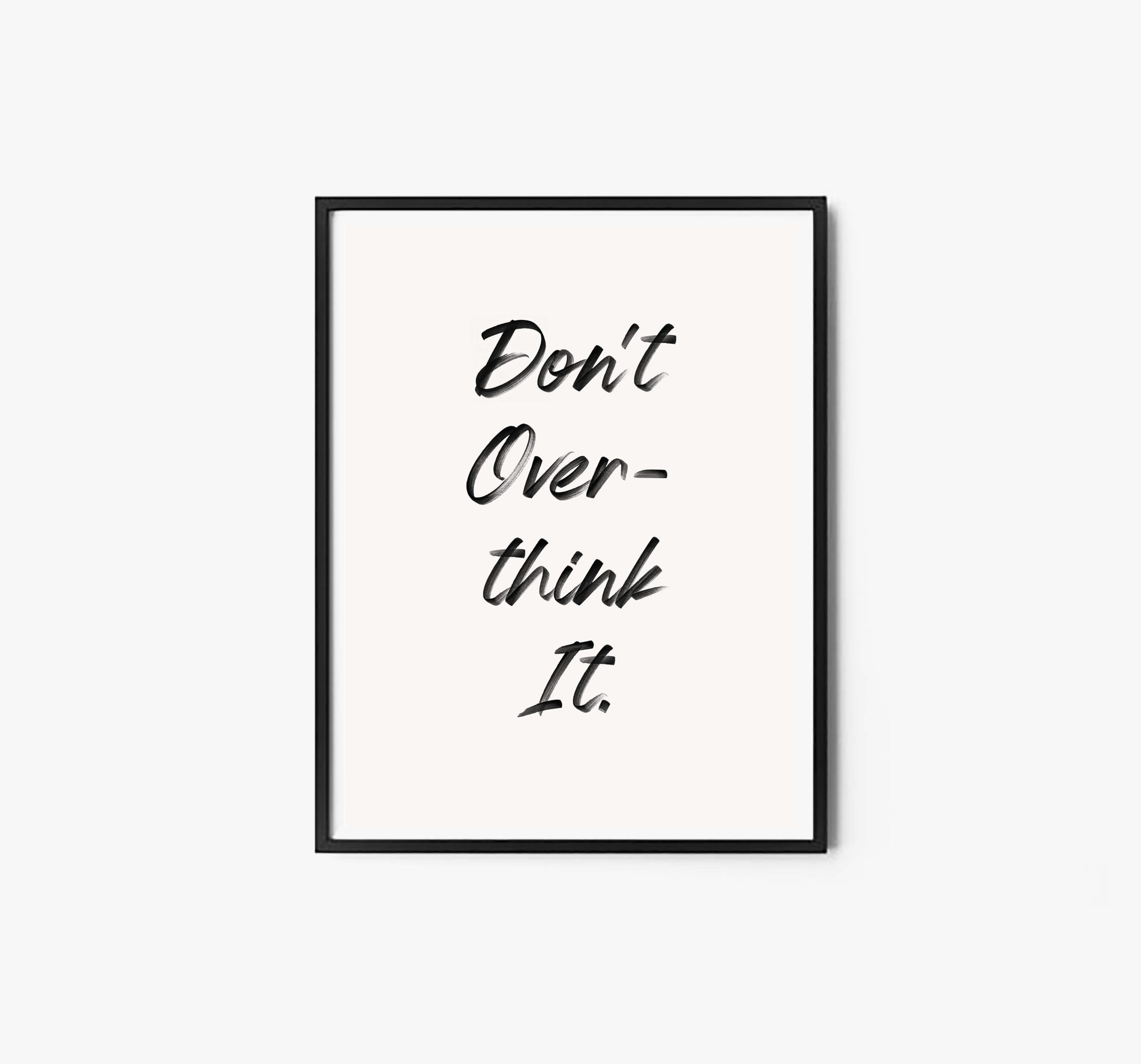 We featured the master bath of Laura Gummerman earlier in the post, but when it came to remodeling the space on a larger scale, she opted for quote artwork by openmatter (via Society6). A warm palette takes center stage in the text. Simple and eye-catching! Check out the entire remodel reveal here.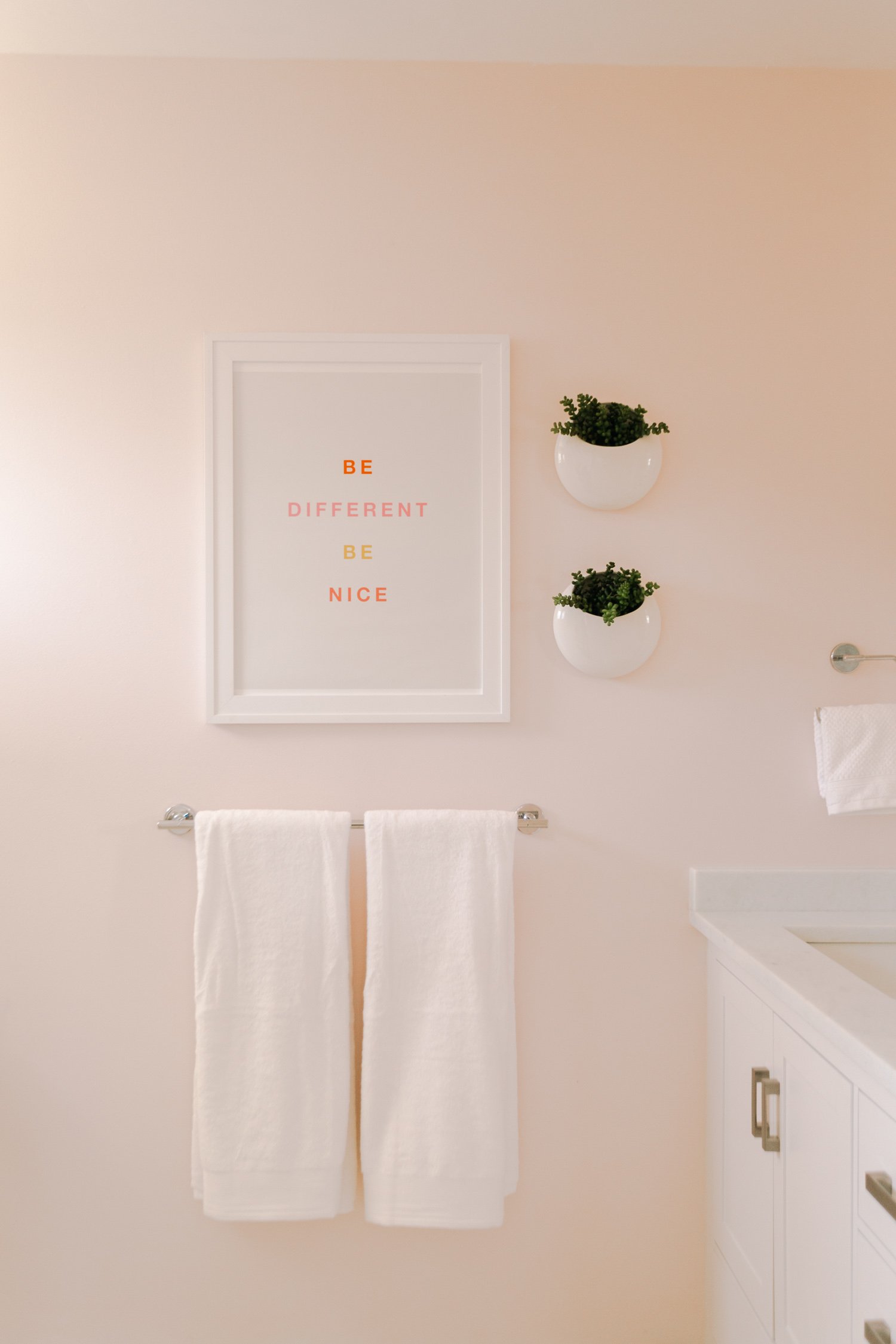 For her kids' bathroom renovation, Studio DIY founder Kelly Mindell combined a jewel box feel with a celebration of wild style. Meenal Patel Studio's Hear Me Rawr! Print is a standout piece that packs a lot of personality into its one-word message: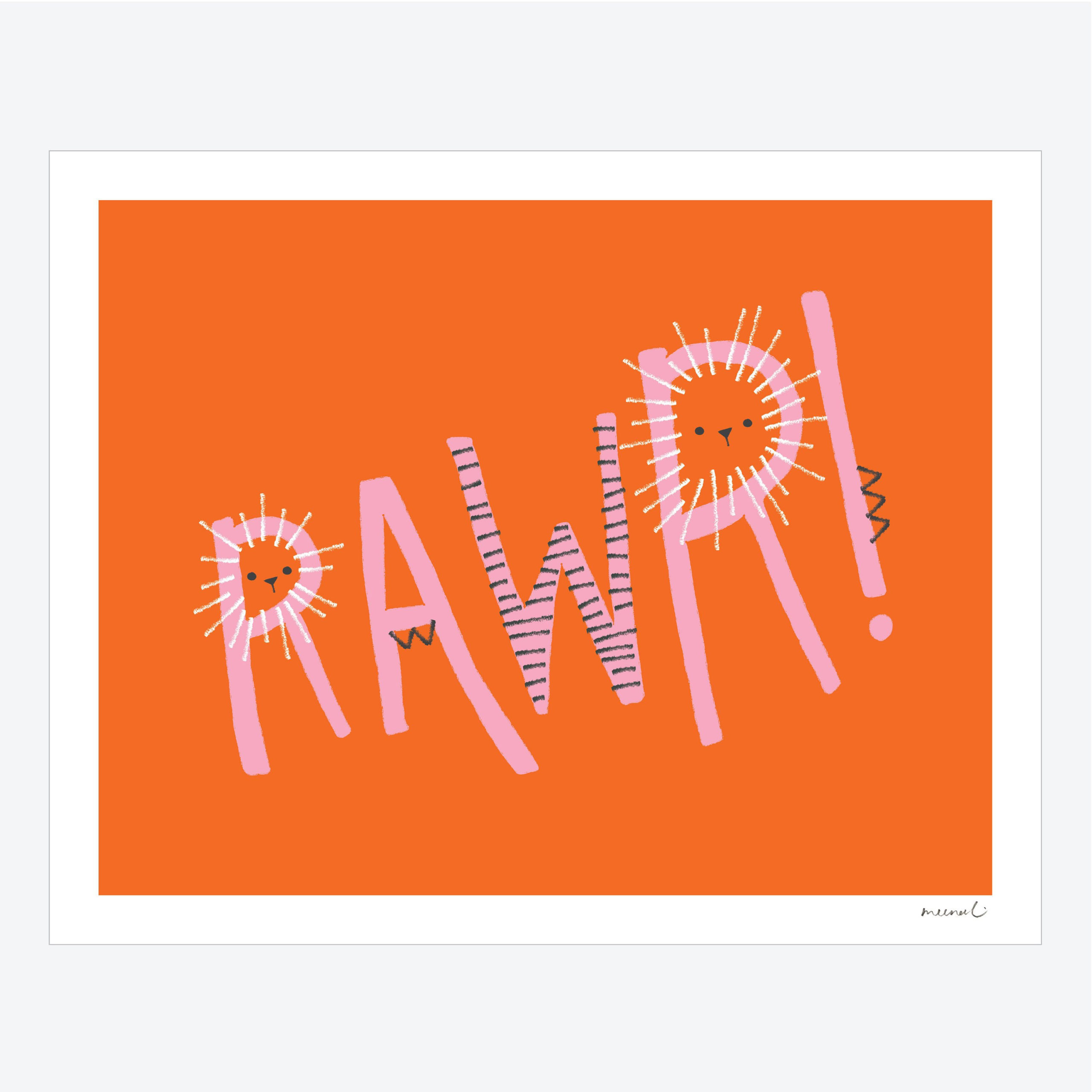 See the piece in Mindell's stunning powder room here. We hope today's post pointed you to some amazing sources for bathroom wall art. Happy decorating!!